No landline required!

The Winners Manual
by Jim Tressel

What It Means
To Be A Buckeye
by Jim Tressel

The Rivalry
Now available on DVD!

| | |
| --- | --- |
| | |


| | |
| --- | --- |
| | The (red) story links, or the 'read more' graphic, will open new (pop-up) windows to the source of the article, audio or video, so you can read/hear/see the rest. If your browser is set to block pop-ups, please set it to always allow them from our site. You will not get any annoying advertising pop-ups, of any kind, generated by this site...ever. |



Fickell on field, Heacock in booth as Buckeyes change coaching assignments
August 31, 2009 Source: Cleveland Plain Dealer - "Ohio State defensive coordinator Jim Heacock getting in the faces of his linemen on the sideline has been a familiar sight at Buckeyes' games in recent years. No more. Now the yelling will be left to co-defensive coordinator Luke Fickell.

The Buckeyes have changed four of their gameday assignments among the coaching staff for this season. Heacock and running backs coach Dick Tressel had been on the field, and now they will be in the coaches' box above the stands.

Fickell and quarterbacks coach Joe Daniels had been in the booth, and now Fickell and Nick Siciliano, the new quarterbacks coach taking over for Daniels, who moved into more of an administrative role, will both be on the field...

...The coaches upstairs get a better idea of the big picture and trends of the game as they point out flaws and adjust the gameplan. The coaches on the field can break down the finer points with players, individually or in a group. Plus, there's the yelling. Here's the final distribution for this season: ON THE FIELD...IN THE BOOTH..."







Early games aren't gimmes
August 31, 2009 Source: Columbus Dispatch - "The Ohio State Buckeyes' early-season sechedule is often criticized. Last year, it was back-to-back games with Youngstown State and Ohio University before the third game at USC. This year the Buckeyes will open the season with games against Navy on Saturday and USC on Sept. 12. Navy and USC played in bowl games last season...This is only the second time in 10 years that OSU has opened with two opponents coming off bowl appearances. The last time was in 2005, when the Buckeyes first met Miami University (which played in the 2004 Independence Bowl) and Texas (Rose)..."



Critical year for Bollman's offense
August 30, 2009 Source: Columbus Dispatch - Ken Gordon writes: "...This year seems to be setting up as a watershed season for Bollman, who has become a fast and favorite target for fans unhappy with: (a) a conservative offense and/or (b) struggles on the line. In 2008, the offensive line underachieved. The Buckeyes remained solid when running the ball (24th in the nation), but the pass protection was poor (tied for 83rd in sacks allowed)..."


College Football Power Rankings: Head Coach
August 30, 2009 Source: Rivals.com - "...5 Jim Tressel Ohio State..." (also rankings for Offensive and Defensive Coordinators-10 Jim Heacock- and all player positions)






Cleveland WR Tyrone Williams Will Be A Buckeye
Tyrone Williams, the #1 rated WR in the State of Ohio, has committed to Ohio State's Class of 2010 and becomes the 12th member of that class and the second wide receiver. Williams, who attends East Cleveland Shaw HS and is 6'7" 217lbs, said: "Ohio State has it all; they have great coaches. I couldn't wait, I spoke to Coach Jim Tressel today and told him I wanted to be a Buckeye." His HS Head Coach Rodney Brown said: "He is dominating." The four star WR had scholarship offers from a number of schools including West Virginia, Kansas, Cincinnati, Michigan State, Illinois, Akron and others. Welcome aboard, Tyrone!



ESPN's Take On New OSU Commitment
August 30, 2009 Source: Bucknuts - "Here is what Billy Tucker of ESPN.com had to say about the newest OSU commitment: The Buckeyes signed a great possession/red zone receiver last year in Duron Carter (Fort Lauderdale, Fla./St. Thomas Aquinas), and they just received a commitment from another sure-handed outside target for the future. Williams has awesome size; is built more like a power forward and an Ohio State hardwood recruit than a receiver. He could end up as a tight end or H-back in Columbus if his large frame continues to physically develop...has a very large wingspan to go along with his awesome height and he knows how to utilize both to create mismatches on the jump-ball versus smaller defensive backs...he has matching athleticism, body control and coordination. Williams is very athletic and consistently adjust his body naturally to come down with the difficult grab. He will surprise you with his top-end speed as well...Williams may need some refinement but he has very impressive physical tools for the Buckeye's coaching staff to mold and develop...Williams is the sixth four star prospect for Ohio State's 2010 class which landed in the top-10 on our most recent class rankings..."



Shaw's Williams chooses OSU
August 30, 2009 Source: Cleveland Plain Dealer - "Imagine 6-6 quarterback Terrelle Pryor throwing lob passes to 6-7 wideout Tyrone Williams in the back of the Ohio State end zone. Buckeyes fans can begin the fantasy now. "He's the best quarterback I've ever seen in college, and he's really fast, too," Williams said. "I looking forward to catching balls from him." Williams (6-7, 215), a wide receiver at Shaw High School in East Cleveland, made an oral commitment to Ohio State on Saturday. He has grown almost two inches and put on more than 15 pounds since the start of last season. He is taller than any wideout playing at or committed to OSU. Shaw coach Rodney Brown said Ohio State coaches promised not to make Williams a tight end..."







Ohio State buckeye-ing a title?
August 30, 2009 Source: Detroit Free Press - "Though it might pain Michigan fans to hear it, the Big Ten owes a major debt to Ohio State. With the Buckeyes' remarkable consistency the past seven years -- six seasons of at least 10 wins -- they have secured their place as one of the nation's elite programs. They've rolled over elite offensive and defensive players and still plow through the Big Ten with no consistent competition.

Yet they're decried nationally for their struggles in the spotlight. Losses in three straight bowl games to national championship-worthy opponents shouldn't be the measuring stick of their greatness. Given their geographic limitations, they've been remarkably consistent. Name another cold-weather program in the past 30 years that has played at such a high level for seven seasons (not even Penn State did so in the 1990s). The Buckeyes are almost never upset by a vastly inferior team..."







Analysis: For title-hungry OSU, the future is . . . next year
August 29, 2009 Source: Cleveland Plain Dealer - Doug Lesmersies writes: "Ohio State will play for the national championship. But not this season. Next season.

"I don't think there's any doubt Jim [Tressel] will win a national championship with Terrelle [Pryor] when you look at his ability and his confidence and Jim's ability to put things together," Texas coach Mack Brown said before the Fiesta Bowl last season.

It's hard to argue with that line of thinking, but right now -- in year two of the partnership between the sophomore quarterback and the ninth-year Ohio State coach -- national title talk with the Buckeyes is jumping ahead.

When the season starts a week from today, the Buckeyes have to prove themselves at left tackle, receiver, linebacker and, crucially, in the punting game. There are two games among their first four that they could lose -- visits to Columbus by USC on Sept. 12 and by Illinois on Sept. 26.

As we've learned, it's best not to rely on that homefield advantage -- three of OSU's five regular-reason losses in the previous four years came at Ohio Stadium.

That's why I think Ohio State will lose multiple conference games for the first time since 2004. But that still won't keep the Buckeyes from grabbing a share of their fifth straight Big Ten title..."



Mobley transfers from Ohio State
August 28, 2009 Source: BuckeyeGrove.com - "The 2009 season is not even here yet but the Buckeyes took a hit on the defensive line on Friday night when lineman Willie Mobley announced that he would be transferring out of the program and become a UCLA Bruin.

..."I want to thank the whole Buckeye family for supporting me through my injury and everything," Mobley said. "I have learned so much from coach Tressel and the rest of the coaches and my teammates...This had nothing to do with the state of Ohio or the fans or anything," Mobley said. "This is just something that was best for me and something that I had to do."...

...Mobley will now be reunited with his family, who have recently moved to the Los Angeles area..."



Buckeyes' Boren ready for his second shot
August 29, 2009 Source: Rivals.com - "Four words set off a firestorm of controversy from Ann Arbor to Columbus: "Family values have eroded."

That is what offensive lineman Justin Boren alleged about Michigan in the spring of 2008 after announcing he was transferring from Michigan to Ohio State. A rivalry already double-dipped in hatred was spiced up with the unthinkable: a player transferring from one school to the other - and spouting off about it. What would Woody and Bo think?

"I believe Justin can be a good player," said Ohio State coach Jim Tressel, who is 7-1 vs. Michigan. "I think he has worked solid and looks good. We are counting on Justin."..."



With camp now behind us, here are our super seven surprise players of the fall:
August 29, 2009 Source: The Ozone - "7. LB Jonathan Newsome – Had he not come out of Glenville, few people would have known the name Jonathan Newsome...One of those under-the-radar type prospects, Newsome did not really even have a position when he got to Ohio State this summer. He started off at the LEO spot but quickly moved to Sam linebacker after Tyler Moeller was lost for the season...Both coach Tressel and linebacker coach Luke Fickell have raved about Newsome this fall and it looks like he's going to have a future on the field.

6. OL J.B. Shugarts...5. FB Zach Boren...4. WR Taurian Washington...3. WR Duron Carter...

2. OL Andrew Miller – It might be surprising to see Miller's name here...If they were being honest, most people would admit they wrote Miller off from day one when it came to winning the starting job, but here he is still battling for that spot on Aug. 29. He was splitting time on the first team with Adams in the spring and Shugarts in the fall, but took nearly every snap with the ones during Wednesday's practice, and there's a good chance he might just go out and win the thing. Not bad for a converted tight end. He lacks the big name of a Shugarts or Adams, but Miller was far more consistent as a pass blocker throughout the off-season...

1. RB Jordan Hall – ...As the third back in the class of 2009, Hall was written off as a certain redshirt before the Buckeyes lost Carlos Hyde to academics. Even after that, few saw Terrelle Pryor's high school running back getting reps during his first season in Columbus, especially with Jaamal Berry on board to back up Boom Herron and Brandon Saine, but it only took three weeks for Hall to change everyone's mind. Not even the 5-foot-10 he is listed at, Hall proved himself to be much more than a "scat back" this fall. Not only can he catch passes out of the backfield, but Hall runs with a surprising amount of power for a player his size....

Next: Some Fall camp players who disappointed..."



Mike Adams Suspended
August 28, 2009 Source: Duane Long Report - (Duane Long (and other sources) are reporting that Mike Adams has been suspended for both the Navy and USC games. No confimration from OSU at this time.) "There is good news and there is bad news with Mike Adams. The bad news first. He will be suspended for the first two games of the year. I will not comment on why. There is much speculation. I cannot confirm it so I will not go into it. The good news is this shows he was not pushed down the depth chart because of performance..."



10 Buckeyes You Don't Know About Yet
August 28, 2009 Source: Columbus BlockONation - "The Buckeye football blog BlockONation continues its series on "10 Buckeyes You Don't Know About Yet," with profiles of linebackers Brian Rolle and Austin Spitler. And, there are links to the other players who have been previously featured..."



Third choice makes good first impression
August 29, 2009 Source: Columbus Dispatch - "If Terrelle Pryor, in his first scrimmage as an Ohio State quarterback, had been 5-of-11 passing for 8 yards, concern would have rippled throughout the team. Kenny Guiton, though, posted those statistics last weekend, and coaches and teammates continue to praise his progress. That's the difference that hype and expectations can make. Pryor came to Columbus last year as the nation's No. 1 recruit -- a vastly talented prize. Guiton arrived this summer as a curiosity -- a throw-in to the 2009 recruiting class. The upside is that Guiton can progress at an unhurried pace, away from the scrutiny and without the pressure..."



Alamo Bowl no longer to take Big Ten teams
August 29, 2009 Source: Columbus Dispatch - "...The Alamo Bowl will be the Pac-10's top game after the Rose Bowl starting in the 2010 season. Organizers announced a four-year deal replacing the Big Ten's fourth team with the Pac-10's No. 2..."



Schedules part of Big Ten's problem in bowl games
August 29, 2009 Source: Centre Daily Times - "For a league that has been considered among the nation's elite for many years, the Big Ten's reputation is being slapped around like Larry Fine's face by Moe Howard in a Three Stooges short. As the Stooges might say, the Big Ten's character "soitenly" has been "murdalized."

Much of it has been of the league's own making, especially in the postseason. Matched up mostly against squads from the Pac-10, Southeastern and Atlantic Coast conferences, the Big Ten teams have often looked like Stooges.

Consider: The Big Ten is 9-20 in bowl appearances over the last four seasons. The league was 1-6 last bowl season, with its teams being outscored 200-114 in the six losses. Big Ten teams are 0-6 in their last Bowl Championship Series appearances, having been outscored 222-118. Only one of those losses (Ohio State's 24-21 defeat to Texas in the 2009 Fiesta Bowl) has been by less than two touchdowns..."



Numbers don't lie for Big Ten
August 28, 2009 Source: ESPN - "Ohio State has been the Big Ten flagship, but the Buckeyes haven't received much help the past few seasons. The conference has its chances this season, but will need to turn those opportunities into victories...Big Ten will earn respect once its starts accumulting wins...Ohio State has not ranked lower than No. 21 in the Sagarin computer ratings in any of the past six seasons. The other 10 teams in the league have ranked in the lower half of the FBS nationally at least once during that time...The Big Ten has had only three teams finish in the Sagarin top five in the past six seasons -- and none since 2006. That has been doubled by the Pac-10 (six -- all USC) and more than doubled by the SEC (seven) and Big 12 (seven)..."






Ohio State Names 2009 Football Captains
August 28, 2009 Source: OSU Official Site - "Seniors Kurt Coleman, Austin Spitler and Doug Worthington were elected as 2009 captains of the Ohio State football team, as announced to the squad today. An offensive game captain will be selected each week.

"This is an honor - I'm so blessed to be in this position," said Coleman, a four-year safety from Dayton, Ohio (Northmont) who is majoring in sport and leisure studies. "It's not just a title - I want to lead our team the best way I can to make sure we reach our potential."

"It's a blessing to be able to represent this team,"said Worthington, a fifth-year defensive lineman from Athol Springs, N.Y. (St. Francis HS) who is a communications major. "I'm just an extension of the seniors and coaching staff. It's a great honor."

"I'm honored and truly grateful to be in this position," said Spitler, a fifth-year linebacker from Bellbrook, Ohio (Bellbrook HS) who will graduate Sunday with a bachelor's degree in communications. "I want to lead this team to best of my abilities; hopefully we'll go far."

The last time Ohio State had only defensive players as permanent captains was in 2002, when Mike Doss and Donnie Nickey were captains of the national championship squad.

The 2009 Buckeyes open the season Saturday, September 5, hosting Navy in a noon game at Ohio Stadium. That contest will be televised by ESPN."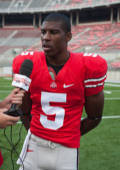 New Faces: Taurian Washington
August 28, 2009 Source: Eleven Warriors - "Despite playing his high school ball in Michigan's backyard, Taurian Washington was a Buckeye fan. Today, he's playing for the team he always wanted to play for...Washington stole the show at the 2008 spring game, leading the Gray squad with four catches for 71 yards, including a 51 yard touchdown strike from Bauserman. Of note is the fact that he also had another score, on a 63 yard bomb, also from Bauserman, but that was called back on an offensive holding penalty. Following up this performance, he stepped out as a Greg Oden clone at the team's media day and was poised for even bigger things, especially with teammates gushing about how well he caught deep balls.

The 2008 season came and though Washington traded in #19 for #5 and earned his first letter, he failed to record a reception and saw the bulk of his 28 minutes come as a special teamer. The prevailing wisdom was that he needed to work on picking up coverages and becoming more consistent as a receiver to earn more snaps, but I couldn't have been the only fan wondering what he might do to help spark a sometimes stagnant group of receivers last season.

T-Wash was up for another round of spring game heroics in April when he led all receivers with 92 yards on four catches. Nearly half of those yards came on a bomb over Chekwa, or as he's sometimes known, Ohio State's top cornerback heading into this season. Ratchet up the hype meter again, please.

So what does this mean for 2009? Washington will surely evoke some Bam Childress chatter, but the fact that he scored a touchdown on his first reception and has blown up in the only two spring games he's played in 3 leads me to believe he could be a difference-maker if he's on the field. He probably runs in the 4.6-4.7 range and having someone that stretch the field and can keep the safeties off Pryor is a good thing..."



Unlikely Difference-Makers For the Ohio State Buckeyes
August 28, 2009 Source: Bleacher Report - "Taurian Washington: If you follow this blog at all, you know that I have been pretty hard on Ray Small. In fact, a few weeks back I contended that I think he is an incredibly overrated as a wideout. I am optimistically holding my breath that he will redeem himself in his senior year, but the facts are that Small is a much better return man than wide receiver. That is why I name Washington an unlikely difference-maker.

After watching him the last few seasons in person, I really don't think he is ever going to be a phenomenal route-runner or an overly physical wideout. Luckily for the Buckeyes, they already have those areas covered with guys like Posey, Carter, and Sanzenbacher. What the Buckeyes need, as they did a season ago, is a burner who can go and get the long ball. I think this is where Washington will find his niche in the offense, and if he performs like he did in the past two spring games the Buckeyes will find the missing link in the passing game...

Aaron Pettrey...J.B. Shugarts...Andre Amos/ Devon Torrence...Brandon Saine/ Jordan Hall..."






Ohio State football traffic will be snarled
August 28, 2009 Source: Associated Press - "Ohio State University is telling football fans to pack some patience in their tailgate kits because of likely road construction delays after next month's games. University officials say work being done on state Route 315 - the highway running alongside the Columbus campus - could make the drive away from Ohio Stadium twice as long as usual. Construction also is restricting traffic on some local streets near the school, including High Street, the city's main north-south thoroughfare.

Officials are estimating delays of up to two hours after the Buckeyes' day games Sept. 5 and Sept. 26 and up to three hours following the Sept. 12 night game against Southern California..."

(For additional information click HERE. Source: OSU Official Site)

Ohio State Releases Football Fan Game Plan
August 28, 2009 Source: WBNS 10TV - "...Getting To And From Ohio Stadium...New Radio Station Offers Directions To Campus Around State Route 315 Detours...Day of Game Parking Information..."







Buckeye Broadcasts Available on New Game-Day Radios for 2009
August 28, 2009 Source: OSU Official Site - "Ohio State Sports Marketing and Live Sports Radio (LSR) are pleased to announce an exciting new product to enhance the fan football game-day experience. Starting this season, all Buckeyes football game-day broadcasts (both home and away games) will be offered to fans with NO BROADCAST DELAY while at the stadium. Use the following link to see a demonstration of this product.

These radios will allow fans to listen to the Ohio State Sports Properties broadcast of Paul Keels and Jim Lachey while attending any home or away game. You can purchase them through www.livesportsradio.com for $20 (plus S&H), with a pre-season special (Buy 2 Get 1 Free), which is available on-line only, through August 31st, 2009 (coupon code 102509)..."







College football Week 1 preview: How much has Terrelle Pryor improved as a passer?
August 28, 2009 Source: Sporting News - "1. The evolution of Terrelle Pryor: The potential, frankly, is scary. Let's not compare Pryor to Vince Young just yet, because by his junior season, Young had developed into an accurate thrower and complete quarterback.

Pryor isn't there yet, but there better be some indication against Navy that he has made significant strides as a thrower if Ohio State can win a big game out of conference. Forget about saving anything for the huge nonconference game against USC a week later. Let it all hang out against Navy, and test the rebuilt offensive line and receivers for four quarters..."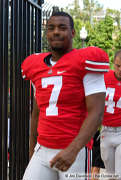 Nickel back can plug in all over
August 28, 2009 Source: Columbus Dispatch - "The term starter doesn't carry the cachet it once did in college football. Take the case of Ohio State nickel back Jermale Hines. His name isn't listed among last season's starters in the preseason media guide, but it follows the traditional formation of four defensive linemen, three linebackers and four defensive backs. Hines plays as the fifth defensive back, or the nickel. But look up the game-by-game starters, and Hines is there six times in the first 10 games, before he suffered a minor injury.

"We play so much nickel that we kind of look at Jermale as a starter anyway," coach Jim Tressel said.

Hines has helped redefine the nickel back position for the Buckeyes, with his linebacker-like size -- 6 feet 2, 210 pounds -- and safety-like coverage ability. He doesn't play only on sure passing downs, like a traditional nickel, and he's not always doing the same thing.

It's "like a linebacker/safety," Hines said. "That's because sometimes I'm blitzing, sometimes I'm in zone coverage, sometimes I'm man to man. I do a little bit of everything."..."



Is Glenville's Jermale Hines pushing Anderson Russell for a starting safety spot at Ohio State?
August 25, 2009 Source: Cleveland Plain Dealer - "Near the beginning of Ohio State's preseason camp, Jim Tressel, on his own, threw out the idea that though the Buckeyes returned two senior, three-year starting safeties in Kurt Coleman and Anderson Russell, those starting jobs weren't locked in. Tressel, like me, thinks junior Jermale Hines is a very good player.

So what have we seen the last two times we've observed Ohio State's practice? Hines working not just at the star position as Ohio State's nickelback, but working at safety with the first team as well. And when that happens, it's Russell that's working at the star.

"I think Jermale played very well," Tressel said Monday when asked about Hines' performance in Saturday's scrimmage. "He played both the deep part of the safety position and the nickel part of the safety position, and so did Anderson. So those guys are both ready to do that. We played so much nickel that we kind of look at Jermale as a starter anyway. ... He's going to play a lot."

Yes, he will play a lot. He ranked ninth among defenders in minutes playef a year ago. Those are starter minutes. Yet he played about half as much as Russell did - 176 minutes to 331 minutes.

The Buckeyes do play their nickel a lot. And against the scout team running the Navy offense, Hines was on the field even though the Midshipmen have almost no passing game. Coleman said that Hines has been running with the first-team defense against the Navy look as basically the third linebacker. Hines is a good guy to have on the field to run and chase down a ballcarrier.

But beyond that, what will the Buckeyes do against a team like USC? The Trojans aren't a spread team. They'll have three receivers on the field sometimes, but not all the time. In that big game, when the Buckeyes are in their base defense, who will be on the field, Hines or Russell?

In the past, it has always been Russell. But it seems like that may not be the case now. Russell has played the star position in the past, so moving him there now in practice isn't about teaching him that position. Maybe there are things in their skill sets that make the Buckeyes like Hines deep in the nickel and Russell more on the slot receiver and in run support.

But maybe Hines will take some of Russell's snaps at safety in the base defense, too. Everyone agrees that Hines deserves to be on the field a lot....."






CFN 5-Year Program Rankings - No. 4 Ohio St.
August 27, 2009 Source: CollegeFootballNews.com - "So the Buckeyes have lost three straight BCS games and two national titles. There are bigger crimes. OSU is one of the nation's top programs, even if it has become a punching bag and the poster program for those who think the Big Ten is overrated. But the facts are undeniable. The 49 FBS wins over the last five years are among the best in the country. Winning 83% of conference games is third best among BCS schools, falling only behind USC and Oklahoma, and there aren't any clunkers. When OSU loses, it loses to someone BCS good. There aren't any gaffes to Stanford or misfires against Colorado.

The ranking already shows how elite the program is, and there's a chance at doing even more and getting back to the No. 2 spot it was at in 2004 if the team plays up to expectations. The 8-4 2004 season drags the ranking down a little bit, with the loss to Purdue the last time the Buckeyes lost to a team that didn't end up in the BCS, and then came the special run that should continue. The negativity on a national scale hasn't hurt recruiting, Jim Tressel has a jewel to build around in Terrelle Pryor, and the best will go on...."







"A number of players stopped by after practice to answer a few questions from the media. We spoke with Brandon Saine, Brian Rolle, Chimdi Chekwa, Dane Sanzenbacher, Dexter Larimore and Ross Homan about fall practice and the upcoming football season."





Five reasons the Ohio State Buckeyes will beat USC
August 27, 2009 Source: Examiner.com - "...The following are the five reasons that Ohio State will enjoy the spoils: 5) The OSU offensive line vs. the USC front-seven: Advantage OSU...4) Terrelle Pryor and the Buckeye receivers vs. the USC secondary: Advantage OSU...3) USC quarterbacks vs. OSU secondary: Advantage Buckeyes...2) OSU front-seven vs. USC offensive line: Advantage Buckeyes...1) USC is not deserving of their high ranking in 2009..."



Players: Camp tougher, better
August 27, 2009 Source: Columbus Dispatch - "It was billed as Hell Week, but for Ohio State football players, it might have been Jell Week..."We came together as a team," linebacker Ross Homan said yesterday. "It was just all football; sleep and football. It's been a very intense, very physical camp, and I think it's going to help us." With the season opener against Navy nine days away, camp is almost over. And there were signs yesterday in practice that some things are on the upswing..."



Ohio State asks fans to salute Navy on Sept. 5
August 26, 2009 Source: ESPN - "...Buckeye Nation undoubtedly will make things tough for Navy when toe meets ball around noon ET on Sept. 5, but for a few moments before, Ohio State fans are being asked to serve as a welcoming committee. Ohio State wants its supporters to stand and cheer when Navy's players and coaches take the field before the opener. The athletic department has produced an online video that outlines the request and reads: "Buckeyes know there are some things more important than football ... On September 5th, Buckeye fans can show our appreciation with a simple, yet powerful gesture ... rise to your feet and cheer when the U.S. Navy team when they take the field."..." (Former Ohio senator and U.S. Navy pilot John Glenn will dot the "I" with the OSU alumni band at halftime of the game. Source: Cleveland Plain Dealer)



Preseason top 25: No. 8 Ohio State
August 27, 2009 Source: LA Times - "The Times' Chris Dufresne unveils his preseason college football top 25, one day (and team) at a time. This is a big year for the Big Ten Conference and poster-program Ohio State, still making equity withdrawals from the miracle of the 2002 season that ended with a stunning double-overtime win over Miami in the Fiesta Bowl..."



Heads up on hits
August 27, 2009 Source: Columbus Dispatch - "NCAA trying to reduce helmet-to-helmet contact with rule that allows for offending player's ejection...As part of an effort to reduce the number of concussions and spinal injuries, the NCAA has toughened its rules to permit conferences to suspend an offending player for his next game for helmet-to-helmet hits, even if the officials on the field missed the call..."



CBS Preseason Blog Poll
August 27, 2009 Source: CBS Sports - "Ohio State #6..."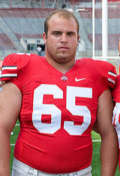 Wednesday Practice Report
August 26, 2009 Source: The Ozone - "...Boren returns to action: The biggest difference between Wednesday's practice and the one that took place under the lights Monday, other than the fact players were in shorts and shoulder pads, was the presence of left guard Justin Boren. After suiting up in full pads Monday for the first time since injuring his left knee in practice two weeks ago, Boren was back in his rightful spot on the left side of the line with the first group on Wednesday. From where I was standing, it looked like Boren was moving well laterally during pass protection drills and he even took part in the scrimmage portion of practice thanks in large part to the fact there wasn't live hitting.

With the right side of the line seemingly settled as Michael Brewster, Bryant Browning and Jimmy Cordle, Boren's return finally starts to bring the OSU offensive line picture into focus. The Buckeyes still have yet to name a starter at the left tackle position, but junior Andrew Miller spent nearly the entire day working with the first team offensive line. Sophomore J.B. Shugarts got a few snaps with the ones towards the end of practice, but for the most part he was working with the two's while Mike Adams continued to go with the three's. Miller looked good out there and was the only tackle to slow down Thad Gibson all day.

Pryor impressive Wednesday: Anyone who made it down to the Horseshoe Monday night to watch sophomore quarterback Terrelle Pryor throw the ball likely came away underwhelmed. Pryor did have a handful of very nice passes, but he also had some ugly ones, particularly when he was working with the wide receivers during the one-on-one drills in the North end zone.

Pryor looked like a different player Wednesday, particularly with his accuracy in the short and intermediate passing game, where he looked better throwing the ball than any other time we've seen him during fall camp. Unofficially, Pryor completed 12 of his 15 passes during the 7-on-7 portion of practice while going 8-of-11 with a drop by DeVier Posey during the full scrimmage. The one area where Pryor struggled was throwing the deep ball, which is ironic because he was more consistent with his deep ball last year than his short stuff...

Speaking of Cris Carter's boy: The youngster appears to be moving up the depth chart as fast as anyone on the team this fall. Despite a wealth of talent at the wide receiver position, it was Carter who moved up from the second team to join Posey, Sanzenbacher and Washington on the first group when they went with four wides Wednesday...

Defensive quick hitters: Senior Anderson Russell and junior Jermale Hines split time playing safety and Star with the first group today. Russell took almost all of the snaps at safety when they were in the base defense, but he did move down to play some Star when they were in the nickel.

On the outside, corners Andre Amos and Devon Torrence continue to alternate with the ones. Amos started the day with the first group, but both players saw plenty of action.

Freshmen linebackers Dorian Bell and Jonathan Newsome along with sophomore defensive end Solomon Thomas all got some reps with the second group today while Storm Klein spent most of the afternoon working with the threes. Thomas looked good yet again as he beat Shugarts for an easy (touch) sack.

Fellow freshman John Simon also spent the day working with the second group and even drew the occasional double-team from the offensive line, one of which freed up Thomas for a sack on the outside.

Defensive end Nathan Williams took some snaps at the Sam linebacker position today. That made room for guys like Solomon Thomas to get some reps at defensive end.

According to Brian Rolle, linebacker Austin Spitler will resume camp activity with the team tomorrow..."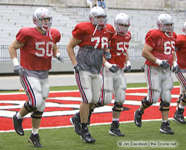 Boren Brings the Nasty but not the Answer
August 26, 2009 Source: The Ozone - "...Getting Justin Boren back this week will be a huge boost for the offensive line, there's no question about that. He is a punishing run blocker, and although he has yet to play a game for the Scarlet and Gray, the other linemen clearly look to Boren for an extra boost of confidence and aggression, of which they will need plenty in week two against USC...Their problem, however, is not with run blocking. As much as the Buckeyes will benefit from Boren's return, it does not address their biggest issue on the offensive line heading into the 2009 season, specifically who will be the team's starting left tackle and how will they protect quarterback Terrelle Pryor...

Senior Jimmy Cordle is being asked to move from guard over to the right tackle spot to help give the Buckeyes some more mobility on the outside, but he has very little experience going against pure speed rushers. Converted tight end Andrew Miller appears to be the most natural pass blocker of the group – which is probably why he has stayed in the competition for so long – but the one player who could help the Bucks the most has been demoted to third team.

Rated as one of the top pass blockers in the country coming out of high school, Mike Adams is the one guy with the potential to become a dominant pass blocker on the left side of the line. You wouldn't know it from watching him in practice, but Adams is quick and agile for a player his size. It might be too late for him to do enough to get back into the race at left tackle..."






Linebackers Homan, Rolle determined to fill some big shoes for Ohio State's defense
August 26, 2009 Source: Cleveland Plain Dealer - "...With Spitler on the sidelines but expected back very soon from a calf injury, it is Rolle and Homan who have been the most solid preseason components of a pretty deep and interesting linebacker group that includes four freshmen on the second and third teams in Bell, Storm Klein, Jordan Whiting and Jonathan Newsome...Homan showed his ball-chasing abilities in Saturday's scrimmage, though he sat out the second part of it while coming back from minor knee injury from which he is now fully recovered. "He's a guy who's going to stick it out," Rolle said. "He's one of the quickest guys on the defense, and he knows a lot more than people give him credit for."

Rolle, who unlike Homan has never started at linebacker, is doing more learning on the fly, though Homan said he clearly knows the defense. "He's had a great fall camp," Homan said. "He's very quick and instinctive." And confident. Rolle turned summer belief into fall reality while earning his starting spot, even while linebackers coach Luke Fickell reminds him to slow down at times and Rolle works on his on-field discipline. "The coaches didn't say you're going to be starting, but at the same time, I knew I worked so hard," Rolle said. "I'm a guy that can move and I'm agile, and that's kind of bad for most offensive linemen. I get guys here telling me, 'Slow down a little bit.'..."







Wilson eager to strut his stuff
August 26, 2009 Source: Columbus Dispatch - "After two years of injuries, Lawrence Wilson, a fifth-year senior defensive end, says he's ready to prove himself... ...Wilson, an Ohio State defensive end whose past two seasons have been ended by major injuries: a broken right leg in the 2007 opener and a torn anterior cruciate ligament in his left leg halfway through last year. Now a fifth-year senior, he came into preseason camp excited, proclaiming his knee fully healed and eager to finally fulfill his considerable potential.

"I have to reintroduce myself, because not everybody knows (about me)," he said. "I only played half a season. I made a few plays here and there, but I didn't establish myself the way I wanted to. I believe these first three or four games is going to be me re-establishing myself to the fans and to the nation what I can do."

But less than two weeks into camp, Wilson sat out the jersey scrimmage. At Monday's open practice, he participated in individual drills but not in full-team situations. That does not appear to be a good sign.

"Lawrence has been a guy that's been kind of ongoing," coach Jim Tressel said. "I think he's getting a little bit fresher. When you're coming off major surgeries, I think the training causes a little bit of slowness to coming back."...







Sporting News' Top 100: No. 9 Ohio State
August 26, 2009 Source: Sporting News - "There are some who would consider it a bit over the top to take shots at the Buckeyes, who have been the conference's gold standard for much of this decade. They have won or shared the last four conference titles and played in two of the last three BCS championship games. But when you establish high standards and don't reach them, people are going to criticize. Just ask Oklahoma.

The Buckeyes had a fine 2008 season by most schools' criteria, but their three losses came to top-10 teams and were on the heels of the humbling defeats in the past two BCS title games. Ohio State has been good, but it hasn't been able to make a big splash nationally.

Will that change in '09? We'll find out quickly, since USC visits The Horseshoe on Sept. 12. You can bet there will be plenty of people using that game as a way of determining whether Ohio State—and by extension the Big Ten—is capable of competing with the big dogs.

Can the Buckeyes do that and gather the necessary momentum to carry them through the Big Ten and past a first-rate bowl opponent? Right now, the answer is no. The loss of seven offensive starters, including running back Beanie Wells and wideout Brian Robiskie, along with the departures of defensive playmakers James Laurinaitis, Marcus Freeman and Malcolm Jenkins, leave the Buckeyes in something of a rebuilding mode, even though that term is not necessarily welcome in Columbus.

At least Terrelle Pryor returns at quarterback. Some may wonder if that's a good thing, given the rookie's growing pains last year, but there's no denying Pryor's skills and his fit for the spread offense..."



All eyes on Pryor for No. 6 Buckeyes
August 26, 2009 Source: Associated Press - "Everywhere he goes, the eyes are on him. He would stand out anywhere because he stands 6-foot-6, a willowy athlete's body replete with tattoos. But in a city of more than 750,000 football-mad people, in a state that reveres its Buckeyes and particularly the guy who directs the Ohio State offense, no one takes their eyes off Terrelle Pryor. When he goes out, he wears dark sunglasses to avoid the swarms of Buckeyes fans. "I try it but it doesn't work," he said...

...Pryor has become accustomed to the attention. He fed off of it as the nation's No. 1 quarterback recruit out of Jeannette, Pa. He dealt with it last year when he took over as Ohio State's starting quarterback four games into what would be a 10-3 season, including a share of a fourth consecutive Big Ten title and a third straight Bowl Championship Series appearance.

Now, as one of the few recognizable names on a talented but not well known sixth-ranked Buckeyes squad, Pryor is a rock star in shoulder pads. "I think he accepts that," offensive lineman Andrew Moses said. "If you're a quarterback at a university like this you're going to know that's going to be a part of the deal. Terrelle just wants to be the best player he can be for his team. I don't know if he's really nervous about it. He doesn't show it."

A year ago, Pryor came to campus as the school's most acclaimed quarterback recruit since Art Schlichter in 1979. He watched Todd Boeckman, a first-team All-Big Ten player who led the Buckeyes to the national championship game the season before, direct the offense for three games. But after the Buckeyes were throttled by Southern California 35-3, Ohio State coach Jim Tressel stunned many by benching the fifth-year senior starter and replacing him with Pryor, who had yet to attend his first day of college classes.

The results were mixed. Pryor's numbers were good , 631 yards rushing and six touchdowns, a 61-percent completion rate with 12 TDs and four interceptions, and an 8-1 record as a starter (he was at wide receiver for the first play of the bowl game, even though he played most of the game at quarterback). But he came up short against the two toughest opponents left on the Buckeyes' schedule. He failed on a short fourth-down run while trying to lead a fourth-quarter comeback at home against Penn State and then had a mediocre outing against Texas in the Fiesta Bowl. Ohio State lost both games.

He seldom threw the ball farther than 15 yards all season, leading some to question whether he could throw it far and accurately. He often disdained the pass to break out of the pocket on a run. Tressel said he believes there's a natural progression for a young quarterback, and compares Pryor's maturation with that of the Buckeyes' 2006 Heisman Trophy-winning quarterback, Troy Smith. "He'll evolve every year from that standpoint, not unlike Troy," Tressel said..."











"Here are two videos from Monday night's practice, as Ohio State worked on plays from the 5-yard line with the OSU band going crazy just yards away. Both are loud. The first video features Terrelle Pryor completing a slant for a touchdown to Taurian Washington, then backup quarterback Joe Bauserman throwing incomplete."





Ohio State football: Season hinges on key players
August 25, 2009 Source: Columbus Dispatch - "The Ohio State football team that hit the ground running in last night's open practice in Ohio Stadium was still a part known, part mystery to the 5,500 in attendance. But by the time the season starts Sept. 5 against Navy, there will be knowns and little-knowns among the players who must step up their game if OSU is to live up to its preseason ranking of No. 6 in the country and the favorite to win a fifth straight Big Ten title. All positions are vital to that pursuit, of course, but as practice unfolded, we picked out four of the knowns and four of the little-knowns who could prove to be the keys to success:

The knowns
• Sophomore quarterback Terrelle Pryor tops the list for obvious reasons. Not only is he a returning starter who went through some great times and some tough times a year ago, he is considered the national face of the team...
• Sophomore running back Daniel Herron is the heir apparent to Chris "Beanie" Wells...Now he must prove he can be the man who carries the ball 10 to 15 times per game even while the coaches work in Brandon Saine and freshmen Jaamal Berry and Jordan Hall, the latter of whom has been rising steadily in the preseason.
• Junior defensive end Cameron Heyward wore a protective boot last night because of a sprained right ankle he suffered Saturday. The Buckeyes don't just need him to mend in a hurry -- they need him to take another step up with his physical game that already has him projected as a possible first-round draft pick should he leave early for the NFL. That also goes for junior defensive end Thaddeus Gibson.
• Junior linebacker Ross Homan is the returning defensive starter everyone seems to forget. Nagged by injuries, he must rise this season to be the leader of a young group of linebackers. Throw fifth-year senior Austin Spitler into that group, too, because though he's been around seemingly forever, this will be his first shot at full-game responsibility.

The little-knowns
• Junior left guard Justin Boren tops this list because he might be the most famous Buckeyes player never to have started a game for OSU. But he started as a freshman and sophomore at Michigan before deciding to switch sides in The Game. He was limited last night to rest a mild knee sprain, but he has brought a nastier approach to a line that lacked it last year. As for talent, there are whispers the coaches might try him at left tackle, if needed.
• Junior left tackle Andrew Miller is in a fight with sophomore J.B. Shugarts, and it appears Miller is No. 1 headed toward the Navy game. It would be his first start, which means his second start as a collegian could come against -- gulp -- Southern California. Talk about the need for someone to step up his game in a hurry; left tackle is the linchpin for what promises to be a revitalized line.
• Sophomore wide receiver DeVier Posey leads a cast of newbies who must step into the breach left by NFL draftees Brian Robiskie and Brian Hartline...after minor duty last year, Posey must prove he can run the right routes and make catches consistently. The same goes for junior Taurian Washington, sophomore Lamaar Thomas and freshman Duron Carter as junior Dane Sanzenbacher, the only receiver with earned spurs, tries to show the way.
• Senior cornerback Andre Amos has fought back from major injuries a couple of times to earn a shot at starting in this, his fifth year. It appears he is making the most of it in his duel with junior Devon Torrence. Replacing first-round draft pick Malcolm Jenkins with at least competent personnel is the most important task for the defense..."

Canon-Mac senior beating heart problem
August 30, 2009 Source: Pittsburgh Tribune-Review - ...Hagan had a heart condition called Wolff-Parkinson-White syndrome, where an extra electrical connection between the atria and ventricles causes the heart to beat irregularly, sometimes resulting in cardiac arrest. Suddenly, Hagan was told by a cardiologist he would never play football again because of a condition he's had since birth — a condition that went previously undetected...He now has, planted in his chest, a small monitor that checks everything his heart is doing. He is on medication to get his heart's full functionality back to normal and expects to be cleared to play in about a month...

...Now Hagan is practicing, doing everything but hitting. He has verbally committed to Ohio State, whose officials told him they would honor his scholarship, whether he was able to play or not..."

Heart condition keeping Hagan's season on hold
August 25, 2009 Source: Washington (PA) Observer-Reporter - Chad Hagan was the 11th oral commit to the Buckeyes Class of 2010 on August 6: "Chad Hagan plans to play football for Ohio State University next fall. Hagan commited to the Buckeyes and head coach Jim Tressel during a recent trip to Columbus.

Consider the oral commitment slightly open as the Canon-McMillan High School senior wants to see what else is out there. For instance, Wisconsin is recruiting Hagan as a running back while Ohio State plans the use him at safety. "Ohio State knows I'm committed to them and they know I'm looking at other schools," Hagan said, moments after Monday afternoon's football practice broke. "But I plan on playing at Ohio State. I felt like that's the place where I belong. Coach Tressel, he's a top-notch guy and I loved the atmosphere."

Hagan also plans on playing for Canon-McMillan this fall. He'll find out Thursday if that's a possibility. Hagan, a 6-2, 232-pound freakish athlete with 4.3 speed and offers from Michigan, Illinois, North Carolina State and Syracuse among others, has Wolff-Parkinson-White syndrome, a heart disorder which can create a rapid heartbeat. "It was something I noticed a while ago but I always thought it was normal," Hagan said. "Now that I know more about it, I feel safe with it."

...The heart problem was discovered in April, as Hagan prepared to have surgery for a stress fracture in his shin. At first, he took the news well, but when one doctor said Hagan would never play sports again, it became difficult to deal with. "When the doctor said no sports, I felt like my whole world was crashing...On Thursday, Hagan will see one doctor in the morning and the other in the early afternoon. At some point, Hagan - one of Canon-McMillan's top basketball players since his freshman year - believes he'll be cleared to play in 2009..."







Ohio State should challenge for Rose Bowl berth
August 25, 2009 Source: Chicago Tribune - "...Sophomore quarterback Terrelle Pryor a key to season...No matter what his time in the 40 is:

Ohio State will contend for a Big Ten title if ... its players don't get kidnapped. And the Buckeyes develop a strong running game to take the heat off Pryor. The offensive line underachieved last year. Tailback Dan "Boom" Herron and Brandon Saine are not tackle-breakers. They need holes.

The indispensable Buckeyes are ... Pryor, all-league safety Kurt Coleman and left guard Justin Boren, a Michigan transfer viewed as Ohio State's best O-lineman. Boren sprained his right knee Aug. 14 but should recover in time for the season opener.

In a word, the schedule can be described as ... glitzy. Non-league games against Navy, Toledo (in Cleveland) and New Mexico State don't tingle the spine, but the Sept. 12 date with USC certainly does. The Buckeyes don't play Northwestern or Michigan State.

Last season's defining moment was ... Pryor's fumble on third-and-1 against Penn State with a 6-3 lead and 11 minutes to play. The 13-6 loss prevented an undefeated Big Ten season.

The season will be considered a success if ... Ohio State beats USC and earns its first trip to the Rose Bowl since the 1996 season. If the Buckeyes win in Pasadena, that's gravy..."



In the Wake of Three Years of Ridicule, the Buckeyes are Finally Making Progress
August 25, 2009 Source: Chicago Tribune - "Defense wins championships. Or that's how the old adage goes. Whether or not it's always true, I'm not sure. But one thing I know is for sure, Jim Tressel is nobody's fool, and you could tell by his coy grin on Saturday afternoon after the OSU intra-squad scrimmage, he knows that the Buckeyes have a very special defense...In the interim, Tressel has patiently listened to the ridicule the last three years as the national media have left his Buckeyes and the rest of the Big Ten for dead...

...With that said, perhaps Tressel is in the best place to finally get his vindication. I would use the word revenge, but we all know that Tressel isn't like that. He's a man who always exemplifies grace, integrity and sportsmanship, no matter how difficult the situation....

...Thinking back to 2002, the defensive line rotated eight players and the linebackers were six deep, which included two freshman named Hawk and Carpenter. The defense was fast and arguably the best in the country. I remember the national media saying Ohio State wouldn't be able to match Miami's speed in the 2002 championship game, but the Buckeyes literally shut them down, holding them to seven points for three quarters. I look at the 2009 team and I see the same ingredients...

....If there's one thing Buckeye fans have learned about Tressel, it's that he's the master of utilizing the talent available. Tressel has shown great flexibility to mold his system to the players available, not to a particular etched-in-stone scheme..."



The Oklahoma and Ohio State Predicament
August 24, 2009 Source: CBSSports.com Community - Silver_Bullet's Silver Lining wrote: "A great coach once said, "The only meaningful statistic is number of games won." Number of games won is a very important statistic, because without wins, a team and/or program would not be able to accomplish much, obviously. Many programs today would take a nine win season in a heartbeat, especially those who are used to winning only five or six a season...Many fans evaluate a particular team or program based on its recent achievements, like winning a specific conference or a national title. Although I don't have a problem with this per say, I don't like it when I hear things like Nebraska couldn't even beat a high school team today, Oklahoma is "Choker U" or Ohio State has no heart and can't win a big game, and that these programs are no longer "elite"...There's no doubt Ohio State has faced a lot of scrutiny the past several years as a result of losing national titles to Florida and LSU, and a few other high profile games. I've heard it all from Ohio State didn't deserve to be there to Ohio State players don't have the heart or desire to win big games. I've even heard talk about how Ohio State didn't deserve to win the national title in 2002, after they beat a team (fair and square) that dominated it's opponents that season by an average score of 42-18. Instead of complaining why Ohio State was overrated and didn't belong in the 2007 national title game, look at the reason(s) why they got there...

...Ohio State has lost against the following teams in high profile games: 2005 to #1 Texas, 2005 to #3 Penn State, 2006 to #1 Florida, 2007 to #1 LSU, 2008 to #2 USC, 2008 to #8 Penn State, and the last loss to #3 Texas in the '09 Fiesta Bowl. Ohio State has a record of 43-8 since 2005, with the eighth loss to #18 Illinois in 2007. Between the 1998 and 2004 seasons, Ohio State posted a 65-22 record which includes a 4-2 bowl record. The four wins were in high profile BCS bowl games. So since 1998, Ohio State has enjoyed a 108-30 overall record…5th best in the nation. 2002 was a national championship season for the Buckeyes..."





Jim Tressel met with the media prior to Monday's open practice at Ohio Stadium. He tackled a number of topics, including injury updates, upheaval on the offensive line and more.

Thoughts from Monday's Open Practice
August 25, 2009 Source: The Ozone - "...It's scary how this defensive line can keep rolling talent on to the field even when they are without one or two of their top guys...

...Outside of the defensive line, the group that really impressed both myself and Mr. Ed were the wide receivers, particularly during one-on-ones in the red zone. The three that really stuck out to me tonight were DeVier Posey, Taurian Washington and Duron Carter, but really all of them had their moments...

...Junior Devon Torrence made an excellent play to intercept a Pryor pass in the end zone intended for Washington. He and Andre Amos shared reps with the first team defense yet again, and I continue to flip-flop on who will win the job across from Chimdi Chekwa this season. Both have had their moments and today it was Torrence...

...Offensively, the Buckeyes have shown some new wrinkles this spring, but the one play that looks like it might stick is the shovel pass. Maybe it is something the staff saw on film specifically for Navy, or maybe even USC, but it seems to be something work on a few times per practice. It doesn't get much attention in the football ranks, but the shovel play is actually a great low risk, high reward play...

...Once again the offensive line showed it could run block Monday night, and that's without starting left guard Justin Boren, who is expected to return to practice full time by the middle of this week. Andrew Moses got the nod in his place once again with the first group, but the guy who impressed me at the position is Corey Linsley. The freshman also got some reps with the first group Monday and he just looks like a kid with a bright future at the guard position. He is quick and strong for a freshman..."




Impressions from the open practice
August 24, 2009 Source: Columbus Dispatch - Dispatch OSU football beat writer Ken Gordon writes: "...I noticed was the offensive line rotation. As usual, it was interesting. First team (left to right): Andy Miller-Boren (remember, this was individual drills)-Michael Brewster-Bryant Browning-Jim Cordle Second team: J.B. Shugarts-Corey Linsley-Jack Mewhort-Andrew Moses-Marcus Hall Third team: Sam Longo-Connor Smith-Scott Sika-Evan Blankenship-Josh Kerr Who's missing? Mike Adams, who came into camp rotating with Miller at first-team left tackle. By last weekend, he was third team. Now, he's merely rotating in and out with the third team.

--- Tressel said RB Jaamal Berry, recovering from an offseason surgery, has been practicing just once a day when the team holds two practices. As a result, he's a little behind. It will be interesting to see if either he or Jordan Hall, the other freshman tailbackm will redshirt. Won't they have too many RBs, with Daniel Herron, Brandon Saine, and Jermil Martin around. One of the youngsters sits out the year, right?

-- Clearly, safety Jermale Hines is pushing Anderson Russell for the starting free safety job. Tressel said Hines is rotating with Russell both at "deep" safety and also at the "star" or nickel back, spot. It seems to me that if Hines continues this way, it could lead to seeing Hines on the field in base defense and Russell on the bench..."




Tressel Talks Injuries, Fall Surprises
August 24, 2009 Source: BuckeyeSports - "...Tressel gave his most comprehensive injury update of the spring and said that the host of injured Buckeyes are expected to all be ready to go when the season starts Sept. 5 against Navy. "Right now, knock on wood, I don't think we have anyone that you're sitting there saying, 'Gosh, I don't think we're going to have them this fall."

...Standouts: Tressel said a few players have caught his eye this fall, particularly after the team's jersey scrimmage. Asked to name one player who has surprised him the most, Tressel pointed to fullback Zach Boren, who had missed spring practice due to injury after entering OSU as a linebacker. He also singled out junior wide receiver Taurian Washington and freshmen running back Jordan Hall, offensive lineman Corey Linsley and Duron Carter as players who caught his eye.

...Positions: The left tackle position remains up for grabs, although two players have apparently risen to the top of the battle. Heading into practice, Tressel said Andrew Miller and J.B. Shugarts were even with each other for the right to start at the position. "They are both going to get pretty similar reps," Tressel said. "I think there's an ongoing battle going on." ...Of the five spots on the line, Tressel said two players have been solid enough to nail down their spots and demonstrate leadership: center Michael Brewster and right guard Bryant Browning. When Boren returns, Tressel said he feels the former Michigan Wolverine can add to that.

Concerning the running back position, Tressel said he feels he has more depth at that position than at any other point during his OSU tenure. Freshmen Jamaal Berry and Hall have looked solid, he said, although Berry has been limited to one practice a day after coming off a spring surgery..."










Buckeyes confident they can run ball despite unsettled offensive line
August 24, 2009 Source: Cleveland Plain Dealer - "Though there isn't a No. 1 left tackle yet and starting left guard Justin Boren won't be back in practice until sometime at the end of this week - at least that's what coach Jim Tressel is hoping - Ohio State offensive line coach Jim Bollman had one facet of the Buckeyes' line he wasn't worried about after Saturday's scrimmage. "He said, 'I'm not worried about running the ball. We'll be fine running the ball,' " senior right tackle Jim Cordle said.

In fact, the Buckeyes in general don't seem very concerned about their running game, even though they're replacing first-round draft pick Beanie Wells. Though nobody was pleased with the offense as a whole Saturday, the run half of the offense seems to be categorized as been-there, can-do-that. "I really think our running backs have played well this entire camp," Tressel said.

...Tackles and tight ends: One thing that could help the pass protection, especially against those speed-rushing defensive ends, is the change in the coaching arrangement for this season that has the tight ends and tackles, at times, working together in practice and in meetings under John Peterson, while Bollman works with the interior linemen. In previous seasons, Peterson coached just the tight ends and Bollman handled the entire line. Many times when the Buckeyes have given up big sacks, missed assignments on the edge have been to blame as much as the tackles getting beaten. "It's better communication and making sure we're all on the same page in all the protections," Ballard said..."



O-line knows it must improve
August 24, 2009 Source: Columbus Dispatch - "No doubt, some Ohio State fans already have pushed their well-worn offensive line panic buttons. It's less than two weeks before the season, they might say, and our best lineman is banged up, we don't know who will start at left tackle and the line gave up six sacks in a scrimmage Saturday. "The pressure is on for us," right tackle Jim Cordle said, "because (in) the past couple of years, we've underperformed."

• Left guard Justin Boren sat out because of a sprained knee. He is expected back for the Sept. 5 opener against Navy. In his place were Andrew Moses, normally the second-team center, and Corey Linsley, a freshman with about a dozen college practices to his credit.

• Quarterback Terrelle Pryor was in a black no-contact jersey, so several of the touch sacks might not have been sacks in a real game.

• The offense was working on specific types of plays, and one of the top priorities Saturday was to focus on Pryor in drop-back passing mode. Of 56 plays run by the starters, 36 were designed as passes (64 percent) -- certainly not a normal run-pass ratio. Of those passes, there were only about three designed rollouts. The coaching staff wanted to test Pryor's pocket-passing skills in a controlled environment. That made him more vulnerable.

• Along with that, the defense blitzed liberally, unlike in the spring game when blitzing was limited to certain down-and-distance situations. "We wanted to send the kitchen sink at (Pryor) and at the O-line," coach Jim Tressel said.

• The line got better as the scrimmage went on. Pryor was sacked five times in the first 14 pass plays, then once in the final 22.

• And oh, by the way, Ohio State's defensive front might be as good or better than any the OSU offensive line faces all season. At left tackle, Tressel said the order heading into the weekend was Andy Miller, J.B. Shugarts and Mike Adams, but said change is possible. By the latter half of this week, Tressel said, decisions need to be made, at least for who starts the opener. Tight end Jake Ballard said he thought left tackle "might come down to Andy getting the start and see where it goes from there."

For his part, earlier in camp, Pryor said he liked what he saw from the line. "They're a lot slimmer, a lot leaner and I told them the other day they look real good," Pryor said. "I'm excited to see how they do."...







"Buckeye Bits: Dexter is an experienced veteran at defensive tackle ... will continue to factor heavily into OSU's defensive line rotation this fall ... an extremely tough, physical player...Something you may not know about Dexter: He is an accomplished ceramics artist, his work was selected to be shown in Washington, D.C., at a student artist exhibition during the 2009 NCAA Convention..."



Do Preseason Polls Mean Anything?
August 24, 2009 Source: KansasCity.com - "No poll is worth much unless it is the final poll – and then it means everything. But it would be incorrect to say preseason polls mean nothing. Unlike college basketball, or hockey or baseball or soccer or tiddly winks, Division I football doesn't have a playoff. Because of this unfortunate, and incredibly outdated fact, every poll does matter. By and large, it is hard to pass another team in front of you as long as that team keeps winning. So, naturally, the higher ranked you are from the beginning, the better your odds of being there when the BCS comes a'calling. Still, odds are pretty good that after 13 games, the preseason poll won't have meant much – if anything. I decided to take a look at all the preseason and final AP polls since 1950 – the first year the AP began preseason polling for this analysis...

Here is a list of the schools with the most preseason #1 rankings (three or more) and the number of times they ended #1 in the same season.
School Preseason #1 Final #1
Oklahoma 9 4
Ohio State 7 0
Nebraska 6 0
Notre Dame 5 0
USC 5 1
Florida State 5 2
Miami 3 0 ...

...Ohio State as national champions (preseason ranking).
1954 20
1968 11
2002 13..."



Preseason Consensus Poll: Aug. 24 Update
August 24, 2009 Source: Bucknuts.com - "We have the third and final edition of the 2009 Preseason Consensus Poll. We look at who the magazines and web sites have ranked as the top teams in college football. We also project the various BCS bowls for the upcoming season, including a familiar face in the title game...6. Ohio State, 449



ESPN to screen USC-Ohio State game in 3-D
August 24, 2009 Source: Associated Press - "ESPN says it will test its ability to televise football games in 3-D with a special screening of the game between No. 4 USC and No. 6 Ohio State at three theaters on Sept. 12. Tickets will be given away to fans listening to ESPN radio affiliates in Los Angeles, Dallas and Columbus, Ohio, later this week..."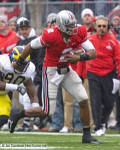 Pryor will run, but how often?
August 23, 2009 Source: Columbus Dispatch - "It's Sept. 12 and Southern California is in town. The score is tied, fourth quarter, and Ohio State is facing a third-and-10. The Trojans have good coverage on the Buckeyes receivers, and the protection is breaking down around quarterback Terrelle Pryor. What will Pryor do?

Last year, the answer would have been obvious: run. Thrust into the starting job during his freshman season, Pryor was sometimes slow to read defenses and more comfortable using his legs. In his nine starts, he averaged 11 rushes and 15 passes.

This season, though, might be a different story. Pryor came to Ohio State intent on developing into a pro-style quarterback -- it was part of the deal when he committed and a big reason he chose the Buckeyes over spread-option offenses such as at Michigan and Oregon. "He's got to get into a system that is going to develop him to be an NFL quarterback," said Pittsburgh Steelers quarterback Charlie Batch, who was a Pryor confidante during the recruiting process.

...So that brings us back to that third-and-10....It's a question that hangs over Ohio State as the season approaches: How much will Pryor run this year? And how much should a quarterback run, even after he begins developing into a better passer? It's a delicate balance. Coach Jim Tressel knows that, having gone through it with Troy Smith a few years ago...."


2009 NCAA Football Rankings - Preseason: Buckeyes ranked 6th in Associated Press, USA Today Coaches' and ESPN.com's Power Rankings polls.




Analysis: why top five college football teams will (or won't) win it all
August 23, 2009 Source: Austin (TX) American-Statesman - "The bigwigs are back. The "haves" of college football make up the top five teams in The Associated Press' preseason poll...Here are the top five teams in the country, and why they will — or won't — make the BCS national championship game: ..."



2009 CFN Preseason Rankings - The Top Ten
Source: College Football News - "6. Ohio State- Preview | Offense | Defense | Depth Chart Why Ohio State should be No. 1...Why Ohio State isn't No. 1...Relative Strengths: Quarterback, Defensive Line...Relative Weaknesses: Linebacker, Running Back...What to watch for on offense: The line...What to watch for on defense: The rotation on the end..."