Transcript from Coach Tressel Weekly Press Conference
October 7, 2008 Source: OSU Official Site

October 7, 2008 Source: Big Ten Network

A.J. Trapasso Addresses Media &amp OhioStateBuckeyes.com, Shaun Lane & Brandon Smith Talk to OhioStateBuckeyes.com and Ross Homan, Alex Boone, Beanie Wells & Nader Abdallah speak to the media.

Ohio State Player Post-Practice Quotes
October 7, 2008 Source: OSU Official Site








Wisconsin Game 10/04/08:
Offensive Player of the Week: Chris Wells, RB
Defensive Player of the Week: Ross Homan, LB
Attack Force Award: Nader Abdallah, DT
Jim Parker Lineman Award: Alex Boone, OT
Special Units Player of the Week: A. J. Trapasso, P
Jack Tatum Hit of the Week Award: Shaun Lane, DB
Scout Team Champions: Offense: James Georgiades; Defense: Cedric White; Special Units: Zach Domicone
10 Biggest newcomers
October 6, 2008 Source: ESPN - "...4. Terrelle Pryor, Ohio State, QB: The spark the Buckeyes needed in the wake of the USC debacle. Pryor has been as good as advertised with an effortless running style that keeps defenses on their heels. Even though Pryor is prone to making some overly ambitious decisions and ends up in big negative-yardage situations when he'd probably be better served by throwing the ball away, the Buckeyes should be more than delighted to let him learn on the fly, because the great will outweigh the, um, not-so-great. The comeback at Wisconsin was proof of that. On the season, while working primarily to the middle of the field, Pryor has completed 65 percent of his passes and has 5 TDs and just 2 INTs..."







Check out all of the polls on our Polls, Rankings & BCS page...link below








OSU's tough enough
October 6, 2008 Source: Cleveland Plain Dealer - "It's not a national championship, but the 2008 version of the Buckeyes pulled out something Saturday night that neither of the past two Ohio State title game teams had managed. And maybe that's why even coach Jim Tressel wondered if his team could handle it. 'That's what Tress told us, he wasn't sure how mentally tough we've been the last couple of big games,' senior cornerback Malcolm Jenkins said, 'and this was going to be a chance to prove how tough we are.' Ohio State's 20-17 victory at Wisconsin was the 15th time in Tressel's tenure that the Buckeyes won a regular-season game in which they trailed or were tied in the fourth quarter. It was the ninth time the winning score came in the final two minutes of the game or in overtime - but the first time that happened since OSU's 2005 victory at Michigan was secured on Antonio Pittman's touchdown run with 24 seconds to play..."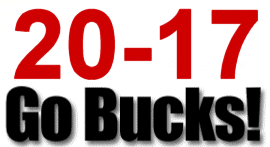 Beanie Wells TD Run vs Wisconsin



Buckeyes Comeback to Defeat Badgers, 20-17
October 4, 2008 Source: OSU Official Site/Associated Press - "Ohio State looked much different under the lights with its new double-threat backfield. Terrelle Pryor ran for an 11-yard touchdown with 1:08 left, and Chris 'Beanie' Wells had 168 yards rushing and a score, lifting the 14th-ranked Buckeyes to a 20-17 victory over No. 18 Wisconsin on Saturday. 'Guys really don't know who to key on, me or Terrelle,' Wells said. 'I like that about our offense, having two guys out there who can really run the ball.' The last time the Buckeyes (5-1, 2-0 Big Ten) played a marquee game at night, they got pounded by Southern California last month. Wells didn't play in that game and Pryor, the talented freshman, wasn't the starter. But Wells is feeling better and Pryor is getting comfortable at quarterback. 'All the hype, and all the people saying, 'You're great,' this is the time to show it,' Pryor said. The 19-year-old Pryor sure did, leading Ohio State on two fourth-quarter scoring drives and snapping a 16-game home winning streak for the Badgers. He also helped his coach, Jim Tressel, even his record at 3-3 against Wisconsin..."

Scoring Summary,Team & Individual Statistics, Drive Chart, Defensive Statistics, Game Participation, Play-by-Play
Postgame Notes No. 12/14 Ohio State at No. 18/17 Wisconsin





Jim Tressel - Post-game - Wisconsin

Source: Bucknuts/ScoutingOhio.com



talk about the come-from-behind victory over the Wisconsin Badgers in Camp Randall Stadium. Source: The Ozone

Head Coach Jim Tressel, A.J. Trapasso, James Laurinaitis, Terrelle Pryor, Chris Wells, Malcolm Jenkins and Brian Robiskie
October 4, 2008 Source: OSU Official Site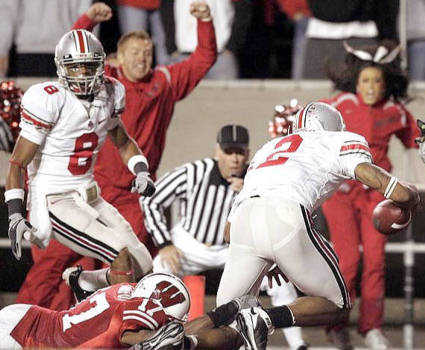 Terrelle Pryor scores the game-winning touchdown with 1:08 left in the game after engineering a 12 play 80 yard drive that consumed five minutes and eighteen seconds.






IT WAS OVER WHEN: Malcolm Jenkins intercepted Allan Evridge, ending the Badgers' comeback drive with just under a minute remaining.

THE STAR: Terrelle Pryor, whose 11-yard scamper into the end zone with 1:08 remaining, won the game for the Buckeyes.

THE STAT: 16 - OSU snapped Wisconsin's 16-game home winning streak, which was second longest in the nation behind Oklahoma's 21; the loss also handed Wisconsin coach Bret Bielema his first career home loss.

NOTABLE: 1) After rushing for 169 yards against the Badgers last year, Buckeye tailback Chris Wells ran for 168 and a score Saturday -- his eighth 100-yard game in his last nine contests. 2) A. J. Trepasso had two 50 yard punts and a 48.8 punting average (net 44.8) for the game; A.J. was huge again in the important batttle for field position. 3) Brian Robiskie's recovery of Brian Hartline's fumble on the last drive, which averted disasterous consequences and saved the game.

FAST FACTS: OSU won its 12th straight Big Ten road game and coach Tressel improved to 3-3 versus the only league team who previously held a winning record against him. OSU has won eight of their last nine road games against ranked teams.


Dramatic Final Drive Gives Buckeyes Hard-Fought Road Win over Wisconsin
October 5, 2008 Source: The Ozone - "'I was telling Terrelle, I always tease Terrelle, I told him this is a man's world. He's stepping into manhood right now because it's going to be a long drive and he's going to face some adversity and we did that.'------OSU tailback Chris 'Beanie' Wells to freshman quarterback Terrelle Pryor as the Buckeyes offense began its final possession of the game..."



Team Statistics (Final)
Ohio State vs Wisconsin (Oct 04, 2008 at Madison, Wisconsin)


Team Totals
OSU
WIS
FIRST DOWNS
17
19
Rushing
10
11
Passing
7
8
Penalty
0
0
NET YARDS RUSHING
183
179
Rushing Attempts
40
39
Average Per Rush
4.6
4.6
Rushing Touchdowns
2
1
Yards Gained Rushing
225
198
Yards Lost Rushing
42
19
NET YARDS PASSING
144
147
Completions-Attempts-Int
13-19-1
13-25-1
Average Per Attempt
7.6
5.9
Average Per Completion
11.1
11.3
Passing Touchdowns
0
1
TOTAL OFFENSE YARDS
327
326
Total offense plays
59
64
Average Gain Per Play
5.5
5.1
Fumbles: Number-Lost
4-1
1-1
Penalties: Number-Yards
5-30
3-19
PUNTS-YARDS
4-195
6-252
Average Yards Per Punt
48.8
42.0
Net Yards Per Punt
44.8
37.0
Inside 20
1
1
50+ Yards
2
1
Touchbacks
1
0
Fair catch
1
2
KICKOFFS-YARDS
5-313
3-190
Average Yards Per Kickoff
62.6
63.3
Net Yards Per Kickoff
46.4
40.0
Touchbacks
0
0
Punt returns: Number-Yards-TD
3-30-0
1--4-0
Average Per Return
10.0
-4.0
Kickoff returns: Number-Yds-TD
3-70-0
5-81-0
Average Per Return
23.3
16.2
Interceptions: Number-Yds-TD
1-7-0
1-0-0
Fumble Returns: Number-Yds-TD
0-0-0
0-0-0
Miscellaneous Yards
0
0
Possession Time
30:32
29:28
1st Quarter
8:33
6:27
2nd Quarter
3:31
11:29
3rd Quarter
8:04
6:56
4th Quarter
10:24
4:36
Third-Down Conversions
6 of 12
8 of 15
Fourth-Down Conversions
0 of 0
0 of 0
Red-Zone Scores-Chances
3-3
3-3
Sacks By: Number-Yards
2-11
4-24
PAT Kicks
2-2
2-2
Field Goals
2-2
1-1


The Bottom Line
October 5, 2008 Source: Columbus Dispatch - "Leaves are awarded on a zero-to-five basis, five being the best: Offense (three leaves)...Defense (two leaves)...Special teams (three leaves)...Coaching (three leaves)...Opponent (three leaves)..."

OSU-Wisconsin Report Card
October 5, 2008 Source: Mansfield New Journal - "OFFENSIVE LINE Grade B...RUNNING GAME Grade A...PASSING GAME Grade C...DEFENSIVE LINE Grade C...LINEBACKERS Grade C...DEFENSIVE BACKS Grade A-...SPECIAL TEAMS Grade B...COACHING Grade B..."

Saturday's Bests and Report Card
October 5, 2008 Source: Cleveland Plain Dealer - "You get the sense Mike Brewster will be playing center for Ohio State for a long time. On OSUís first drive, the true freshman took a step to his right, did a little chip block to help on the defensive tackle, then darted left and upfield at Wisconsin linebacker Jonathan Casillas, driving him clear out of the play. The block sprung Beanie Wells on his 33-yard touchdown run for a 7-0 OSU lead. Not shabby for a true freshman...Beanie Wells: A...Badgersí play-calling: B-minus...Wisconsin band: F..."



Primetime premiere: Pryor steps forward in clutch
October 5, 2008 Source: Cleveland Plain Dealer - " The final series was not the end, but the beginning, for Terrelle Pryor...Ohio State beat Wisconsin as Pryor cut straight into tomorrow on the 11-yard option run...On it, he faked a pitch to Beanie Wells, who had already scored on a trampling, stiff-arming first quarter run of 33 yards...ESPN's Mark May had said Pryor wasn't ready for a stage this vast, and Pryor had been stung by the words. 'I made some young passes, and I did some young things,' said Pryor, 19. 'All I need is experience. I wanted to show I'm pretty decent.'..."

Instant Analysis: Ohio State-Wisconsin
October 5, 2008 Source: College Football News - "The long and storied history of Ohio State football has witnessed a parade of icons and images too numerous to count. Saturday night in Madison, Wis., a young man named Terrelle Pryor took one very big step toward earning himself a prized place in a proud programís pigskin pantheon..."

Pryor comes of age in dramatic Wisconsin win
October 5, 2008 Source: ESPN - "In the euphoria of Ohio State's dramatic 20-17 win over Wisconsin, Terrelle Pryor caught up with James Laurinaitis and Malcolm Jenkins in the tunnel outside the visitors' locker room...'We're giving him a hug and he says, 'I'm fighting for you guys,'' Laurinaitis said. 'He cares about these guys that are older and the history of Ohio State. He cares about his future and he wants to be a big part of that.' Pryor took a big step toward solidifying the team's future Saturday night..."

Buckeyes bounce Badgers on the road
October 4, 2008 Source: Columbus Dispatch - "In the end, it was a small contingent of Ohio State fans and players -- not the 80,000 Wisconsin faithful -- doing the jumping around in Camp Randall. OSU freshman Terrelle Pryor had just driven his team 80 yards, covering the final 11 on an option keeper with 1:08 left, to give the Buckeyes a 20-17 victory over the Badgers. In the process, Pryor answered any questions about he would handle his first game on the big stage. The win was the third in Pryor's three starts since taking over for Todd Boeckman, but victories over Troy and Minnesota paled in comparison..."

Pryor's Late Rally Saves Ohio State
October 4, 2008 Source: Buckeye Sports - "Freshman quarterback Terrelle Pryor led Ohio State on a game-winning touchdown drive in the fourth quarter in a 20-17 victory over Wisconsin at Camp Randall Stadium...Several college football experts wanted to see how Ohio State freshman Terrelle Pryor would fare in his first road test before buying into the quarterbackís hype. Consider Pryorís test passed. The 19-year-old led Ohio State to a game-winning touchdown in the final minutes, and the Buckeyes escaped Camp Randall Stadium with a 20-17 come-from-behind victory over Wisconsin Saturday night. After UW tailback P.J. Hill capped off a bruising drive with a 2-yard touchdown run with 7:13 remaining that put Wisconsin ahead 17-13, Pryor led Ohio State on a 12-play, 80-yard drive for the game-clinching score. Pryor connected with Brian Hartline on long passes of 19 and 27 yards during the drive, and Pryor gave Ohio State the lead for good on an 11-yard touchdown run on an option play..."

Camp Randall lacks a key element
October 5, 2008 Source: Columbus Dispatch - "Suspension of band creates sour note with fans. There were only four quarters of action at Camp Randall Stadium last night. For Wisconsin football fans, that's not nearly enough. The Fifth Quarter, the raucous postgame show by the Badgers' marching band, is one of the school's most beloved traditions. But because the school suspended the band for unspecified transgressions, the Fifth Quarter was called off. The band wasn't there to play On Wisconsin or Jump Around. Imagine a Buckeyes game without Carmen Ohio or Hang on Sloopy, and you get the idea. Kyle Walsh, a sophomore flugelhorn player, walked out of the band's normal seating area, 'Section L' and looked a little lost. Ten minutes before kickoff, the section was mostly empty. 'I don't even know what to do in the student section,' he said. 'I've never not sat with the band.'..."








Bret Bielema, QB Allan Evridge, RBJohn Clay, LB Jaevery McFadden, S Jay Valai, TE Travis Beckum, CB Allen Langford, OT Josh Oglesby and C John Moffitt October 4, 2008 Source: Milwaukee Journal Sentinel

Losing Pryor-ity
October 5, 2008 Source: Badger Nation - "Despite having the lead with just over six minutes remaining in the fourth quarter, Wisconsin lets Ohio State go on a 12 play, 80-yard touchdown drive that proved to be the difference in the Buckeyes' 20-17 victory...Pryor, starting in just his third career game, didnít put up big game numbers (144 passing yards and 20 rushing yards), but showed tremendous poise for a 19-year old by leading the Buckeyes on two crucial fourth quarter drives..."

Wisconsin player quotes
October 5, 2008 Source: Wisconsin Official Site - "Quarterback Allan Evridge On the interception at the end: 'I just dropped back and didnít want to take a sack so I was trying to check it down and just didnít see (Malcolm) Jenkins. Thatís my job and I have to see him and they came and made a great pick. Itís just frustrating.'..."

Brett Bielema post-game quotes
October 5, 2008 Source: Wisconsin Official Site - "'Obviously Iím very disappointed for our players, our coaches and the fans...'...On defensive confusion on Pryorís winning touchdown: 'I know from our standpoint we were trying to get in a call from second and long. They had been going with a lot of deep outs, quick outs and quick turns and I wanted to be able to be in the coverage and they switched up and went to the quarterback option in second and long and obviously there wasnít anybody in position to tackle the quarterback.'..."

Opposite sideline
October 5, 2008 Source: Columbus Dispatch - "...Drawing board: Make the receivers catch passes in practice until their hands bleed. One of the culprits of the come-from-ahead loss at Michigan last weekend -- dropped passes -- resurfaced on the Badgers' first possession of the second half. Drops by P.J. Hill on second down and Isaac Anderson on third negated first-down gains and a continuation of the momentum Wisconsin established in the second quarter. The Badgers punted and Ohio State swung the momentum back in its favor by driving to a tying field goal..."






What we learned in the Big Ten in Week 6
October 5, 2008 Source: ESPN - "Five takeaways from the week that was: 1. Terrelle Pryor can get it done under pressure -- As Ohio State prepared for its first trip to Camp Randall Stadium in five years, questions loomed about freshman quarterback Terrelle Pryor and his ability to handle a hostile environment. Pryor found all the answers in the fourth quarter, masterfully leading the Buckeyes on the game-winning 80-yard scoring drive, which he capped off with an 11-yard touchdown run. This isn't your typical freshman, and along with Chris "Beanie" Wells, Pryor has breathed new life into a stale offense..."