Uneven play (and some bumps and bruises) mark Ohio State jersey scrimmage
August 22, 2009 Source: Cleveland Plain Dealer - "Here are 10 thoughts on the most important day of the Buckeyes' preseason...1. Quarterback Terrelle Pryor earned about a B for his play, which included completing 17 of 26 passes for 141 yards...He didn't throw great deep balls, and bounced a couple short passes, but when he feels pressure, Pryor can step up and fire a slant to the middle of the field as well as any quarterback you'll see. He seems to have a connection with both DeVier Posey (three catches for 55 yards from Pryor) and Taurian Washington (six catches for 33 yards)

2. Andy Miller and J.B. Shugarts split the snaps at left tackle with the first team. Mike Adams, previously battling Miller for the job, played only with the third team, and it feels like there must be some particular reason for that demotion. But no word on that. Replacing the injured Justin Boren at left guard, Miller, Andrew Moses and freshmen Corey Linsley and Jack Mewhort all saw time with the first team. The Buckeyes will be glad when Boren is back.

3. The injuries to Boren and everyone else aren't serious enough to keep them out of the Navy game, Tressel said...

4. If fans were allowed in, they would have freaked out when lineman Cameron Heyward, maybe the second-most important player on the defense, when down with a right ankle injury...

5. Linebacker Ross Homan was held out of the second half of the scrimmage while still nursing a minor injury from Wednesday, but he was on the field early and looked as good as any defender...

6. The defensive line -- advertised as the strength of the team -- lived up to its billing. Four-man pressure is the key to any good defense, and though they were facing an offensive line still in transition, this group should give everyone problems...

7. Nickelback Jermale Hines, typically in on passing downs in the "star" position, continues to see the field more and more. For instance, the Buckeyes worked their first-team defense against the Navy scout team for several series and Hines was on the field, even though the Midshipmen rarely pass, as basically the third linebacker. If you need a defender to read, react and chase, there are few Buckeyes better.

8. Aaron Pettrey made a 57-yard field goal with ease. Huge leg.

9. The first play of the scrimmage was a pass to tight end Jake Ballard and the only touchdown [besides a great 35-yard run by Rocco Pentello while playing the role of the Navy scout team quarterback] was a 3-yard pass from Pryor to Ballard. So the tight end lives.

10. Yes, the defense could be very good, and Pryor wasn't himself. But I'm not sure that team Saturday looked like one ready to beat USC. "


Watch Jim Tressel's full post-scrimmage press conference


Jersey Scrimmage Leaves Hazy Situation at LT
August 22, 2009 Source: The Ozone - "With the season-opener against Navy just two weeks away, Saturday's jersey scrimmage was intended to make things clearer for Ohio State Head Coach Jim Tressel and his staff. Instead, things are hazier than ever when it comes to the left tackle position.

Expected to be one of the most intense – not to mention important – position battles of the fall, the race to replace four-year starter Alex Boone on the left side of the offensive line now looks like one that could carry over into the regular season. "We've got three guys competing at that spot with Andrew Miller, J.B. Shugarts and Michael Adams," Tressel said Saturday...

"I don't know (what's going to happen), there's a lot of guys," senior right tackle Jimmy Cordle said. "They moved J.B. over there to get some reps and if he learns it, he could be. Obviously Andy Miller has come a long way, and Mike."

..."It's interesting over there. Obviously we're still trying to find a guy that can consistently play that spot," Cordle said. "If we're still trying to figure it out, then that's how it's going to be. It would be nice to have it, but it doesn't seem like that's the way it's going to be..."

"Kurt Coleman speaks to the media after the Jersey Scrimmage...Todd Denlinger, Doug Worthington, Anderson Russell, Andre Amos and Jake Ballard interviews, 1 to 4 respectively 'Listen to the Interview' links.

Defense Wins Scrimmage and Scarlet Jerseys
August 22, 2009 Source: OSU Official Site - "The Ohio State defensive squad prevailed over the offense in the jersey scrimmage Saturday at Ohio Stadium, 52-44. With the victory, the defense will retain the scarlet practice jerseys until spring practice begins early in 2010...the two-hour scrimmage began at approximately 11 a.m.

There were just two touchdowns scored during the scrimmage. Quarterback Terrelle Pryor connected with tight end Jake Ballard on a four-yard touchdown pass about 75 minutes into the session, bringing the Gray team to within 42-34. Two series later, and after Aaron Pettrey drilled a 43-yard field goal to bring the Gray even closer at 42-37, Rocco Pentello carried the ball 33 yards into the end zone for a 44-42 lead. The defense stiffened from that point, though, and was able to collect eight more points on the remaining series to retain hold of the coveted scarlet jerseys..."



At a glance: Jersey scrimmage
August 22, 2009 Source: Buckeye Grove - "There were no official statistics kept for media purposes so the numbers are going to vary from outlet to outlet but we are breaking down some of the top and key performers from Saturday's scrimmage as the Buckeyes get ready for Monday's open practice and the final week of being sequestered..."



Quick hits from today's Ohio State scrimmage
August 22, 2009 Source: Cleveland Plain Dealer - "...Terrelle Pryor was, by my unofficial stats, 17 of 26 for 141 yards and one touchdown, a 3-yard pass to tight end Jake Ballard. Ballard also caught the ball on the first play of the day, as Pryor rolled right and found Ballard rolling with him. Generally, the passing game was OK.

...Andy Miller and J.B. Shugarts shared the duties at the left tackle spot, while Mike Adams worked only with the third team. Jim Tressel said the tackle order at the moment is Miller-Shugarts-Adams, while Ballard said he thought the season would start with Miller working there and Shugarts pushing him. Bottom line is that based on today, the most important day of the preseason for evaluations, Adams looks to be out of the fight to start there.

...Cameron Heyward had to be helped off the field with a right ankle injury, had ice on his ankle the rest of the scrimmage and was on crutches at the end of the game, but Tressel said he should be fine and the injury isn't serious

...Receiver Ray Small and defensive lineman Rob Rose both played but clearly haven't worked themselves back into the position that their past performance would suggest. Both worked only with the third team.

The first-team receivers were DeVier Posey, Dane Sanzenbacher and Taurian Washington, with Washington looking like a favorite of Pryor's...

...Dan Herron ran strong as the No. 1 back, with Brandon Saine backing him up. Freshman Jordan Hall looked good as a No. 3 tailback option, making more plays than fellow freshman Jaamal Berry.

Andre Amos and Devon Torrence continued to share the first-team reps at the cornerback spot opposite Chimdi Chekwa.

Ross Homan, who hurt his knee in practice Wednesday, played some and looked very good, but was held out of the second half of the scrimmage as a precaution. Brian Rolle was the starting middle linebacker with Etienne Sabino starting on the strongside in Spitler's absence."



Jersey Scrimmage Breakdown
August 22, 2009 Source: The Ozone - "After capturing the Scarlet jerseys in the spring for the first time in quite a while, the Ohio State defense looked determined Saturday to defend their big victory in the semi-annual jersey scrimmage...

Observations: Offensively, the Buckeyes struggled to move the ball consistently – primarily due to the unpredictability of the offensive line – with the exception of Pryor's 13-play drive on the second possession of the scrimmage...

How they lined up - Offense...
...Tailback was an interesting position in this scrimmage. Boom Herron got the start and ran well, and the same goes for Brandon Saine, who split carries with Herron on the first team. Freshmen Jaamal Berry and Jordan Hall both saw time with the second and third groups, with Hall being the more impressive of the two.

...At receiver, it was DeVier Posey and Dane Sanzenbacher getting most of the work with the first unit. Junior Taurian Washington also saw some action with the ones when they went three wide, but senior Ray Small was relegated to working with the third-team offense as a part of his (extended) stay in the doghouse. Freshmen Duron Carter, James Jackson and Chris Fields all saw action on the second team, as did junior Grant Schwartz. Sophomore Lamaar Thomas was held out of action, but coach Tressel said afterward that he could have played in a real game.

How they lined up - Defense:..
Defensive line: The starting front four remained the same Saturday as they have been since the spring: Thad Gibson and Cameron Heyward at defensive end along with Doug Worthington and Dexter Larimore inside. Senior Lawrence Wilson was held out of action and Todd Denlinger saw plenty of action with the first group. Nathan Williams also saw a series with the ones, but he spent most of his time playing opposite Rob Rose or Keith Wells on the second unit. Solomon Thomas split time between the second and third groups and Willie Mobley worked at both defensive tackle and end. Inside, it was Garrett Goebel and John Simon getting most of the reps with the second and third groups.

...On the back side of the defense, it was Andre Amos getting the start at corner across from Chimdi Chekwa, but Amos alternated between the ones and twos with Devon Torrence. Seniors Kurt Coleman and Anderson Russell worked at the two safety spots while Jermale Hines saw most of his action at the Star position with the first group. Hines also worked at safety with the second group alongside either Orhian Johnson or Aaron Gant. Nate Oliver worked at the star position with the twos while Donnie Evege stepped in to play with the second group while Travis Howard was out. Freshmen Corey Brown, C.J. Barnett and Dominic Clarke all saw action with the third group at corner.

...What to take away:
Positives:
The defensive line looked dominant
The offense used middle of the field
They actually threw to the tight ends (4 catches)
Good game for Herron, Saine and Hall running the football
Pryor was sharp in short/intermediate passing game with the exception of one drive
The young linebackers looked good
Secondary played well
Pettrey showed off his big leg, hitting kicks of 54 and 57 yards

Negatives:
Still major question marks on the offensive line, particularly at left tackle
The touchdown allowed to Pentello/ Navy offense is not a good sign
Still no vertical passing game
Another injury, this time to Cam Heyward
Offense has a ways to go as a whole
Three dropped interceptions by the secondary.."



From Eleven Warriors: Jersey Scrimmage Notes: Offense and Jersey Scrimmage Notes: Defense August 23, 2009

Columbus Dispatch Ken Gordon's "my quick report": Offense struggles in scrimmage





What have they done lately?
August 23, 2009 Source: Peoria Journal Star - "By extending their regular season into December, Illinois and Wisconsin hope to be more ready for bowls...Maybe playing football in December can help the Big Ten Conference in January. What's there to lose?

Ohio State coach Jim Tressel wasn't so quick to promote change. "Part of me is an old traditionalist (in) that I always enjoyed Thanksgiving weekend because my dad was a football coach and typically his season had just ended," Tressel said. "Our players, who really train all year-round in our conference setup, have a chance to be home for an extended Thanksgiving weekend.''



Look for OSU to contend for national title
August 23, 2009 Source: Parkersburg (WV) News and Sentinel - "What does the 2009 college football season hold in store for Ohio State? Another Big Ten championship? A very good possibility. Shared or outright, it would be the fifth straight for the Buckeyes, pulling them closer to their record of six in a row from 1972-77. Another BCS bowl game? Probably. OSU has made a habit of playing in them under head coach Jim Tressel. A national championship? Perhaps. With one title in 2002 and playing for two more in 2006 and 2007, the Buckeyes been in three of the last seven national championship tilts - more than any other team. But before that comes 12 regular-season games. They could go 11-1 or even 12-0. But on the other hand, OSU could lose three or four games - that's not likely though, not with the established returning talent they have already in place, the prize players they've stockpiled who will be stepping into vacated positions and another top-5 nationally-rated group of freshman recruits who can be used to be plug any holes if the need for their services arise..."



Economy bites college football season ticket sales
August 21, 2009 Source: Associated Press - "With the economy still sputtering, college football programs across the country are courting fans with ticket discounts, smaller packages and promotions to salvage sales as the season approaches. Some are boosting the use of Facebook, Twitter and traditional advertising to target new buyers as established customers cancel or cut back orders...Ohio is dealing with some of its highest unemployment rates since the early 1980s. But 99 percent of last year's Ohio State football season-ticket holders are renewing their seats for 2009 in anticipation of another strong season..."



Hicks will take official visits to Texas and Ohio State
August 21, 2009 Source: Cincinnati Enquirer - "Lakota West senior LB Jordan Hicks has scheduled official visits with Texas and Ohio State, according to Lakota West sports information director Todd Hummer. Hicks plans to visit Texas for the Colorado game on Oct. 10. He plans to visit Ohio State for the USC game in Columbus on Sept. 12. Hummer said Hicks also plans to take a visit to Florida in December. It's not known whether it will be an official or unofficial visit. Hicks, who is 6-2 and 222 pounds, has narrowed his college choices to (no particular order) Texas, Florida, Ohio State, USC, Alabama and Georgia..." (Webmaster note: Rivals ranks Jordan Hicks the # 1 Outside linebacker prospect in the nation.)

Parent Q & A: Nate Oliver
August 21, 2009 Source: CoachTressel.com - "Nate Oliver has been an outstanding role model to his six siblings. This year Oliver is stepping into the role of an upperclassman, where his younger teammates will start looking up to him as well. After redshirting his freshman year, Oliver made a strong contribution to the special teams in 2008. With eight tackles, Oliver is showing great promise for the upcoming 2009 season...Darlene Gibson accounts for her son's actions for the last decade. ..."



Moeller's alleged assailant charged with felony, arrested this morning and now in jail
August 24, 2009 Source: Columbus Dispatch

Gators fan club takes one on chin because of punch
August 23, 2009 Source: Columbus Dispatch - "The punch that dropped Ohio State linebacker Tyson Moeller in Florida is being felt all the way to Average Joe's Pub & Grill in Dublin...The further fallout from that punch, which will force Moeller to miss the season, has resulted in Average Joe's deciding to no longer play host to the Greater Columbus Gator Club during football Saturdays in the fall.



Suspect named in Moeller assault, but details still scarce
August 19, 2009 Source: Columbus Dispatch - "The questions of who allegedly assaulted Ohio State linebacker Tyler Moeller and where it occurred have been answered, but why it happened remains unclear....According to police and court reports, Moeller was punched by Ralph G. Decker at Gators Cafe & Saloon in Treasure Island, Fla., early in the morning of July 26...Decker, 27, of Kenneth City, Fla., was arrested at 12:20 a.m. and charged with simple battery -- a second-degree misdemeanor punishable by a maximum of 60 days in jail and a $500 fine...There are no details of the incident. The police report states only, "Male injured in fight with other male." According to Moeller's family, Tyler was punched without provocation. A source close to the investigation told The Dispatch the charge might be upgraded to a felony, based on the extent of Moeller's injury."



This man knows a sucker punch
August 21, 2009 Source: Columbus Dispatch - Tim May writes: "The greatest thing about being a sportswriter is the privilege of getting to meet someone new...So it was again earlier this week when Ken Gordon and I were gathering eyewitness accounts of the vacation "sucker punch" that knocked out Ohio State linebacker Tyler Moeller not only for the season but put his football career in jeopardy. One of the names I drew was Terry Craig, so we met by phone. He's 48, a factory worker from Leisure City, Fla., right next to Homestead. His connection to the Moeller affair -- he happened to be in Gators Café in Treasure Island, Fla., outside St. Petersburg that July 25 night because he was in town for OSHA training. As fate would have it, he was standing just a few feet from Moeller when Ralph Gray Decker lowered the boom..."



Defendant's attorney contends OSU's Moeller threatened client in bar
August 19, 2009 Source: Columbus Dispatch - "While several witnesses say Ohio State linebacker Tyler Moeller was punched without provocation in a Florida bar, the attorney for the man accused of throwing the punch said Moeller was threatening his client and that Ralph G. Decker acted in self-defense...Prosecutors say that Decker, 27, of Kenneth City, Fla., probably will be charged with felony battery once they gather medical documentation of Moeller's injuries. If convicted, Decker could face up to five years in prison and a $5,000 fine...Interviews with four witnesses provided the following account of what happened:...Assistant state attorney Richard Ripplinger Jr. said that according to all the witness statements, the Moeller family seemed to have been drinking "moderately" and Decker "to a greater extent." Another witness, Gerald Ramsberger of Treasure Island, also recalled threats being made. "I just looked back and saw two guys screaming at each other, and threats being made up in the face," Ramsberger said. "Then before you know it, (Moeller) is laying on the ground...McQuaide told the Times that Decker began receiving death threats from irate Ohio State fans yesterday, once his name became public..."



Private Buckeyes
August 19, 2009 Source: trueslant.com - "...After the man was identified as Ralph Gray Decker in the Columbus Dispatch, Buckeye blogs and fans launched a campaign, doing everything short of creating a virtual Dog the Bounty Hunter, to track Decker down. They've been so successful they should consider opening their own Private Investigation firm: Some of the guys at Bucknuts have learned a lot more about Decker. And apparently, he's scared. He has changed all of his social site entries to private, and scrubbed as much info as possible. But the real estate agent we are getting to know so well isn't as good at changing his name as he thinks. On this site, he tried to change his name to "Ryan Roberts", but when you hover your cursor over his name, the URL clearly shows his name to be "Gray Decker". Not a smart guy, this character. Bar fights in general are bad news, but if Decker attacked Moeller simply because he was an Ohio State football player as sources mention, his act is even more despicable. Considering his rap sheet, it's quite likely that's the case. However, the online manhunt for Decker makes me extremely uncomfortable...."

Family releases statement on injury to Ohio State's Tyler Moeller
August 13, 2009 Source: Cleveland Plain Dealer

Tyler Moeller showing the effects of the surgery that followed his head injury sustained on a family trip to Florida. Moeller won't be playing this year, but he was there Thursday night with his teammates. Photo: Associated Press





Playing time is now on the line
August 22, 2009 Source: Columbus Dispatch - "The rigors of Ohio State's preseason camp tire the body and the mind, yet many players probably experienced fitful sleep last night. Dancing through their heads were visions of the jersey scrimmage today in Ohio Stadium. It will be offense vs. defense, the closest the Buckeyes come to playing a real game before the opener in two weeks, with the winner earning the right to wear the scarlet practice jerseys. Added to it is the competition for starting jobs and playing time on both sides of the ball. This time a year ago, the most intriguing question about a veteran-laden team was how freshman quarterback Terrelle Pryor might figure in as the season progressed. As it turned out, he was handed the starting job four weeks in. Even though most fans still wonder how much better Pryor will be this season, he's now one of the few givens. Today's action could shed light on how the competition is going at other positions:

Left tackle: Before the special-teams scrimmage Wednesday, J.B. Shugarts was practicing at left tackle. Wasn't he supposed to back up Jim Cordle at right tackle? Weren't Andrew Miller and Mike Adams competing at left tackle? Coach Jim Tressel said as camp started that such a move was possible, if Shugarts or any others showed they might belong among the top five linemen, regardless of position.

Receiver: Dane Sanzenbacher is the returning regular. Expected to step forward are DeVier Posey, Lamaar Thomas and Taurian Washington. But senior Ray Small, who started the month in Tressel's doghouse again, got plenty of time running routes and returning punts (his job a year ago) Wednesday. He appears to be back in the mix. Freshman Duron Carter seems to be improving every day.

Running back: Daniel Herron and Brandon Saine were projected to share time going into the season. But insiders say highly touted freshman Jaamal Berry was playing up to his billing before an injury set him back this week, that freshman Jordan Hall is better than some expected, and that converted fullback Jermil Martin is running with gusto.

Linebacker: Tyler Moeller, Austin Spitler and Ross Homan, the lone returning regular, were the projected three starters leaving spring. Since then, Moeller has been knocked out for the season because of an offseason head injury; Spitler is out because of a calf strain; and Homan limped off Wednesday with what appeared to be a minor knee injury. Brian Rolle, Etienne Sabino, Andrew Sweat and freshmen Dorian Bell, Storm Klein and Jordan Whiting, along with walk-on Tony Jackson, are gaining ground.

Cornerback: Devon Torrence appears to have the edge over Andre Amos for the starting job opposite returning regular Chimdi Chekwa. But the coaches also seem to like the way freshmen C.J. Barnett and Travis Howard have stepped up, and the way Donnie Evege has gotten back into the action after two years of nagging injuries.

Safety: Maybe this is a surprise, considering seniors Kurt Coleman and Anderson Russell are returning starters, but Jermale Hines doesn't want to be just a nickel back. Insiders say his play in practice has him pressing for a regular role."

Terrelle Pryor's development amazes Jim Tressel: Ohio State Football
August 21, 2009 Source: Cleveland Plain Dealer - "It's like he's two different people right now," Tressel told Columbus radio station WBNS FM/97.1 on Friday, the coach's first interview since the Buckeyes started hitting in practice this week. "He's the same athlete he was, maybe then some, but he's 10 times the quarterback he was."

..."I didn't know too much," Pryor said, explaining his journey from a freshman hitting campus last June to a preseason backup to a starter by the end of September. "I just jumped in and I came here in the summer and had no time with the coaches, no one-on-one to learn the defenses and stuff like that. Now I know the defenses like that," Pryor continued, snapping his fingers...

...The athlete is known, but they want more of the quarterback who says the position is becoming second nature. "We'll find out against Navy," Pryor said. "I don't want to put myself above what I think, or below. We'll find out our first, second game. I feel confident."...

"Buckeye Bits: Terrelle is a dynamic quarterback who continues to grow within the Buckeye offense ... experience has helped him understand the game and hone his decision-making ... can make the big throw ... speedy and shifty as a ballcarrier ... conscientious in wanting to improve every facet of his play...Some things you may not know about Terrelle: When I was younger, I dreamed of being an: NBA player..."







College football preview: Big Ten predictions
August 20, 2009 Source: Sporting News - "...WE SAY: Ohio State will finally win a big nonconference game by knocking off USC in Columbus on September 12...Former Ohio State coach JOHN COOPER says: "Because the game is played at night in the Horseshoe, I really believe Ohio State has a good chance of winning. USC is loaded again this year, but they do not have a QB that has played in such a high-profile game. It's hard to win on the road with an inexperienced QB. Ohio State is tough to beat in the 'Shoe. Slight edge to the Buckeyes...

PROJECTED FINISH: 1. OHIO STATE 11-1 (7-1), 2. PENN STATE 10-2 (6-2), 3. MICHIGAN STATE 9-3 (6-2), 4. IOWA 9-3 (5-3), 5. ILLINOIS 8-4 (5-3), 6. MICHIGAN 7-5 (4-4), 7. MINNESOTA 7-5 (4-4), 8. WISCONSIN 5-7 (3-5), 9. NORTHWESTERN 4-8 (2-6), 10. PURDUE 4-8 (1-7), 11. INDIANA 3-9 (1-7)..."







Team-building means no cell phones
August 21, 2009 Source: Columbus Dispatch - "In a players-only meeting Saturday, the seniors broke the news to their Ohio State teammates: The next day, they would be confiscating all electronics. Cell phones, iPods, video game systems ... hand 'em over. The cable hookups were taken out of the walls of the team hotel. To members of a generation accustomed to being in constant communication, this did not go over well.

"They weren't real happy about it," senior kicker Aaron Pettrey said. "A lot of them thought, 'How's this going to make us better football players?' "

One player posted on his Twitter page: "They really bouta turn this camp into da military."..."

...Each summer, coach Jim Tressel assigns a book for his team to read. This year, it was Lone Survivor by Marcus Luttrell. It is an account of a 2005 SEALs mission in Afghanistan. Luttrell led a four-man team, and was the only one to survive an encounter with Taliban forces. Tressel "suggested" to the OSU seniors that they adopt their own version of Hell Week during preseason camp.

"Coach brought it up, and the seniors decided it would be a good idea," Pettrey said..."



Tressel needs to open up playbook with Pryor
August 21, 2009 Source: Wooster Daily Record - "They're calling it "Hell Week" at Ohio State, where the football Buckeyes have started serious preparations for their Sept. 5 home opener against Navy. What Jim Tressel and his staff should be worried about, though, is how to make proper use of the gadgets at their disposal. Namely, one Terrelle Pryor.

...Critics can rail all they want against the Big Ten, but the Buckeyes have had several chances to shut everyone up. Instead, a pair of national title game blowout losses and a 35-3 whipping last season against USC in Los Angeles have left OSU with nothing to say, and OSU fans doing plenty of grumbling.

The biggest issue, at least last season, was the lack of imagination offensively. That, along with the porous performance of the offensive line in recent seasons, has a lot of that grumbling directed at offensive coordinator and line coach Jim Bollman. Tressel, as always, remains loyal to Bollman, who came to Ohio State from the Chicago Bears eight years ago. In his tenure, the only coaches who have left OSU have done so on their own.

But it's no longer cute to call the punt the most important play in football. That worked during the miracle run of 2002, when the Buckeyes had more than a few escapes in low-scoring games. All it is now is frustrating. That's why I'm anxious to see, if Tressel won't make any changes to his staff, the changes he'll make to his offense.

Which brings us back to Pryor, lured to Columbus, in part, by the success Troy Smith had. Since the Florida debacle, though, in which Smith moved as if he was carrying his Heisman inside of his jersey, OSU has been truly offensive offensively.

...If Tressel can't break the string of big-game blowouts then, "Hell Week" will seem like a walk in paradise compared to what comes after that..."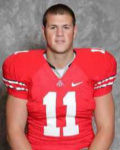 Jake Stoneburner may be a new kind of Buckeyes tight end
August 21, 2009 Source: Cleveland Plain Dealer - "During his recruitment, Jake Stoneburner told everyone who would listen that he had no interest in playing tight end. He was going to college to be a receiver and catch passes. And now he's a tight end. The Ohio State redshirt freshman figures he wouldn't be there if he wasn't going to catch passes.

"I didn't mind being moved because they told me they want me to be a game-changing tight end," Stoneburner said. "That's what teams are looking for, and if they said you're going to be a blocking tight end, that wouldn't be the most exciting thing. But I look forward to trying to be that game-changing player out there."

Every season around this time, there are discussions about the Buckeyes throwing to the tight end more, and it never transpires once the season starts. Yet, Stoneburner, at 6-5 and 245 pounds, has been generating a buzz. Because he has a point.

"I don't think they would move me to tight end to block," Stoneburner said. "I think they have some idea they want to throw it a little bit more."..."






Youngsters Excelling In Fullback Battle
August 20, 2009 Source: BuckeyeSports.com - "For all the hopes from Ohio State football fans about the team opening up the offense in 2009, there's a new development in Buckeye camp compared to past years that shows that I-formation football might not be disappearing. For the first time in a while, the Buckeye offensive coaches say, there are three true fullbacks batting for playing time at a position that traditionally has been one of the most important at OSU.

The three youngsters – redshirt freshman James Georgiades and true frosh Adam Homan and Zach Boren – bring a level of depth to the position that has not been seen in recent seasons.

"We've not had three guys competing at the fullback position since we've been here like we have now, so that's another interesting aspect," offensive coordinator Jim Bollman said. "It's nice to have guys at their position their age learning it. They're great players and they're big guys."...







Recapping the Big Ten position rankings
August 20, 2009 Source: ESPN - Adam Rittenberg, who covers the Big Ten, writes: "While I enjoy doing these and many of you read them and offer your opinions, let me remind everyone that preseason predictions are educated guesses, nothing more...So don't take things too seriously. That said, I'm much more informed about the league and its personnel right now than I was a year ago. There should be fewer swings and misses with these rankings. Here's how things ended up and the top three teams for each category:

Defensive line -- Ohio State, Penn State, Iowa
Linebackers -- Penn State, Iowa, Michigan State
Secondary -- Iowa, Northwestern, Ohio State
Running backs -- Penn State, Wisconsin, Michigan
Quarterbacks -- Illinois, Minnesota, Ohio State
Offensive line -- Iowa, Ohio State, Wisconsin
Wide receivers/tight ends -- Illinois, Minnesota, Michigan State
Special teams -- Michigan State, Michigan, Penn State







"Cleveland Browns safety Abram Elam's brother Matt is one of the top high school players in the nation. (Matt is a 5 star propsect and is ranked #1 on Rivals.com athletes 2010) Matt has made a verbal commitment to the University of Florida, but Abram hinted that his younger brother could actually sign with any school --- even the Ohio State Buckeyes."





Ohio State Buckeyes hope a camp without frills helps bind together young team
August 20, 2009 Source: Cleveland Plain Dealer - "When the Ohio State seniors explained the concept -- no cell phones, computers or TV for a week -- in a players-only meeting last Saturday, some of the younger Buckeyes grumbled. "A lot of them were like, 'How will this make us a better football player?'" Ohio State senior kicker Aaron Pettrey said. "But it's not about that. It's about becoming a team and spending more time with everybody."

Guess what? Pettrey, speaking for the seniors after Wednesday's special teams scrimmage at Ohio Stadium, when only the kickers, punters and long-snappers talked to reporters, said the Buckeyes needed this. "I think so, because we're young. We're a really young team," said Pettrey, a fifth-year senior. "All the teams I've been on have been veteran, with veteran leaders everywhere. The first day I came in [to preseason practice], with all the freshmen here, I thought we got a new team. "We haven't been around together as a group enough. So I agreed with Hell Week, because it can only benefit you -- more sleep and coming together."

The Hell Week name was borrowed from the Navy Seals, inspired by the book Jim Tressel gave the seniors to read this summer: "Lone Survivor: The Eyewitness Account of Operation Redwing and the Lost Heroes of SEAL Team 10" by former Seal Marcus Luttrell..."




Shugarts stock is way up: Tim May writes in the Columbus Dispatch "Sophomore tackle J.B. Shugarts said last week he intended to make an impression in this preseason camp after his star-crossed, injury-slowed freshman season. From evidence gathered yesterday, offensive coordinator and line coach Jim Bollman must believe Shugarts is one of the six best linemen at the moment, and perhaps one of the five best...

...So are the coaches in fact setting up a scenario for Boren's return that would see Boren step in for Miller and Shugarts stay where he was yesterday, No.1 left tackle? It sure looked that way, because Adams was never seen running with the starters. But stay tuned. Saturday's jersey scrimmage in Ohio Stadium should tell more of the tale.



Kick scrimmage highlights: Ken Gordon writes in the Columbus Dispatch, " A few quick notes on the kick scrimmage today in Ohio Stadium:

-- The highlight came on the first play, when Lamaar Thomas took Aaron Pettrey's kickoff in the end zone and raced up the right sideline for a 92-yard return.

-- Jon Thoma looked to have the upper hand at punter. Unofficially, he had eight punts and averaged 41.1 yards, while Ben Buchanan had seven punts and a 38.6 average.

-- Kicker Aaron Pettrey looked very good. He made 9 of 11 field-goal tries, with his misses coming from 45 and 50. But he made three of at least 48 yards, including a long of 53.

We did not get a chance to chat with coach Jim Tressel, so we got no official injury updates. But sitting out with apparent injuries were:
OL Justin Boren (in shoulder pads and shorts, a simple wrap on his right knee).
LB Austin Spitler (not in pads)
RB Jamaal Berry (shoulder pads, shorts)
TE Jake Stoneburner (shoulder pads, shorts)
DB Zach Domicone and DE Melvin Fellows also were in shoulder pads and shorts.

-- Here's the most interesting thing I saw in practice. In Boren's absence, they moved Andy Miller to left guard and put J.B. Shugarts at left tackle..."



Ohio State, Navy Team Up for Pregame Pep Rally Sept. 5
August 20, 2009 Source: OSU Official Site - "The Alumni Associations for Ohio State and the Naval Academy are teaming up to host a one-of-a-kind pep rally prior to the Buckeyes game against the Midshipmen on Sept. 5. The Naval Academy Drum and Bugle Corps, the Middies' cheerleaders and 500 Midshipmen will join Ohio State president E. Gordon Gee, Alumni Association president Archie Griffin, the Ohio State cheerleaders and more for this collaborative pep rally. The Bash is scheduled for 8:30 to 10 a.m. on Saturday, Sept. 5 on the lawn outside of the Fawcett Center. The cost is $10 for OSUAA members and $15 for non-members and includes food from City Barbeque and non-alcoholic beverages from Coca-Cola. Register at www.ohiostatealumni.org by Tuesday, Sept. 1 (unless the Bash sells out before that date)..."







Shugarts provides a sophomore surprise at left tackle in practice
August 19, 2009 Source: Cleveland Plain Dealer - "The hints have been sprinkled throughout preseason camp, and when the Buckeyes took the field for practice Wednesday, they had a different starting left tackle. In the first chance for reporters to see the team since hitting started, sophomore J.B. Shugarts was the first-team left tackle, not Andy Miller or Mike Adams, the two players who had been sharing the job during the spring and the early part of preseason camp. This doesn't mean that Shugarts, a 6-8, 305-pound sophomore, has won the job, but it clearly means that a two-man battle to replace Alex Boone has morphed into a three-man fight. Adams spent his day working at left tackle on the second line...Shugarts said before camp that offensive line coach Jim Bollman had asked him to work on some left tackle drills over the summer, though the assumption had been that Shugarts was more in the mix at right tackle. Now we know why...



Less Than Best Still Good Enough For Thoma
August 20, 2009 Source: Bucknuts - "Jon Thoma didn't flash the smile of a starter after OSU's kick scrimmage Wednesday, but he's still in the lead for the job of punter...Thoma, who has backed up A.J. Trapasso the last three years, is the leading candidate to take over punting duties this season. Thoma booted eight kicks for an average of 41.4 yards in Wednesday's kick scrimmage at Ohio Stadium..."



Kick Scrimmage Report
August 20, 2009 Source: The Ozone - "...it was Pettrey who blasted a 48-yard field goal through steady rain to give the Gray team a 27-24 victory over the Scarlet. "Right now I'm hitting it really well and hopefully it continues," Pettrey said. "Jake (McQuaide) and Jon Thoma are snapping and holding really well. They're not giving me anything to worry about. If I miss it, it's on me, plain and simple. There hasn't been one bad snap all of camp so far..."



Wednesday Practice Report
August 20, 2009 Source: The Ozone - "...The big news of the day was that linebacker Ross Homan went down with (yet another) injury. It happened during the 11-on-11 portion of practice and Homan had to be helped off the field with what looked like a leg/foot injury (he was replaced by Andrew Sweat). He was walking around on the sideline but did not participate in the scrimmage. Punter Jon Thoma said afterward that Homan told him he was fine but felt like taking it easy during the scrimmage...To start with, here's a quick rundown of the status of a few players:...

Pre-scrimmage practice report:
With Boren out of practice, the Buckeyes did some shuffling on the offensive line. I'm sure they have used other combination this week, but today's first-team line was LT Shugarts LG A.Miller C Brewster RG Browning RT Cordle.

The second group up front offensively was LT Adams LG Moses C Mewhort RG C.Smith RT Kerr and the third group went LT Longo LG Linsley C Sika RG Blankenship RT M.Hall

Both Ray Small and Rob Rose participated fully in practice. Small worked with Taurian Washington on the second-team offense while DeVier Posey and Dane Sanzenbacher worked with the ones. Washington also got some reps with the ones when they went with three wide receivers. Rose worked at defensive end with the third group on defense.

Defensively, Devon Torrence was working with the first group today in a secondary that also included Kurt Coleman, Anderson Russell and Chimdi Chekwa. Homan and Brian Rolle were the linebackers with the first group with Jermale Hines playing the star. The first unit up front was Thad Gibson, Cam Heyward, Doug Worthington and Dexter Larimore. That should be the starting four for the season opener.

Andre Amos was with the second group today at corner opposite Travis Howard. Nate Oliver and Orhian Johnson were the safeties. The second group of linebackers was Storm Klein, Etienne Sabino and Andrew Sweat (before Homan went down) with the freshman trio of Whiting, Bell and Newsome working at linebacker with the third group. Adam Homan was the first-team fullback and fellow freshman Reid Fragel got some action on the goal line..."



Why the competition at left tackle is a very, very good thing
August 19, 2009 Source: wewillalwayshavetempe.com - "...The entire season hinges on Terrelle Pryor making strides in the passing game, and the guy who makes sure he can do that comfortably hasn't been decided yet. It has come down to Mike Adams and Andy Miller, and many are concerned about Adams' performance (or lack thereof), because if he can't beat out a converted tight end, how can we expect him to develop into the next Orlando Pace? While I can't allay the fears about Adams' development, I can attempt to reassure you guys that competition is a good thing, especially along the offensive line. Why, you ask? Let me count the ways...



Most overrated? Players say Buckeyes, Irish
August 20, 2009 Source: Detroit Free Press - Steve Schrader, Free Press Sports Writer, wrote: "Who says kids today don't know what's going on? ESPN the Magazine polled 85 college football players on various questions last spring, and some of their responses are pretty sharp. Such as, which programs are the most overrated? More than half said Ohio State or Notre Dame, with the Buckeyes edging the Irish, 24-22. Can't argue with that. There's more in the Aug. 24 issue of the magazine."







Setback For Spitler?
August 19, 2009 Source: Bucknuts - "Austin Spitler has been waiting four years to start for Ohio State at middle linebacker. That wait may be a little longer, though...reports late Tuesday that Spitler had suffered a strained calf muscle during a practice on Monday. The injury reportedly could keep Spitler on the sideline for one to two weeks. It remains to be seen whether he will be available for the season opener against Navy...on Sept. 5. Without Spitler, the Buckeyes could experiment with various looks. Brian Rolle has repped some as well at middle linebacker. Sophomores Etienne Sabino and Andrew Sweat and freshmen Dorian Bell, Storm Klein and Jordan Whiting could all be asked to fill any gaps. The 6-3, 234-pound Spitler redshirted in 2005 and then sat the last three seasons behind All-American James Laurinaitis. He played some as a reserve on defense and on various special teams units..."



Injury to Spitler further weakens revamped linebacker corps
August 18, 2009 Source: Cleveland Plain Dealer - "Already without Tyler Moeller for the season, the Ohio State linebackers suffered another blow when senior Austin Spitler went down Tuesday.

A source close to the team said Spitler strained a muscle in his calf, an injury not nearly as serious as the rumors of a potential knee injury that were drifting through Ohio State Internet message boards on Tuesday night.

The source said the team hoped Spitler would be sidelined for only a few weeks.

That means the Buckeyes, for the moment, are without the players who probably would have been their top two strongside linebackers..."







"Buckeye Bits: Brandon is a talented offensive threat blessed with a combination of breakaway speed and power ... performed well during spring drills ... also a capable receiver ... made big strides in the winter weight program ..."







Ten questions about the 2009 Ohio State Buckeyes
August 19, 2009 Source: Associated Press - "Here are 10 questions swirling around the 2009 Ohio State Buckeyes:
1) How much depends on QB Terrelle Pryor? Everything. He'd better be really good, because most of the Buckeyes' alpha dogs on offense are gone...A year ago, Pryor could ease into the job a bit, seeing his first action against Youngstown State and his first start against Troy. Now, with lots of talented but unproven players around him, he'll have to make all the split-second decisions right off the bat. No matter what, coach Jim Tressel has no choice but to put the Buckeyes' hopes squarely on his back.

2) Who's the tailback? Dan "Boom" Herron will get first shot at replacing Wells. Former high school sprint champion Brandon Saine is now seen as an uber-back, capable of giving Herron a break but also a distinct threat to catch passes out of the backfield. When Wells missed all or most of the first five games a year ago, Herron was handed the reins but didn't exactly run away with the job. He played well (439 yards rushing, 6 TDs) but didn't make anybody forget Archie Griffin. This looks like a potential platoon position.

3) Any freshmen who'll play right away? Despite his arrest on minor drug charges, it appears Jaamal Berry will be in the mix at tailback -- particularly if Herron and Saine can't get a firm grip on the job. The explosive 5-foot-11, 195-pounder is explosive, a commodity which might make him a great alternative in the second and third periods of games after Herron and Saine have run a defense ragged. It figures that Duron Carter's bloodlines (he's the son of legendary OSU and NFL pass-catcher Cris Carter) will get him on the field. Tyler Moeller's season-ending head injury might open the door for an Adam Homan, Storm Klein or Dorian Bell to show what they've got at linebacker.

4) What are some problem areas? The absence of the top two tacklers -- LBs James Laurinaitis and Marcus Freeman -- means that somebody else will have to make up for the loss of 214 of Ohio State's 901 tackles (24 percent!) that that duo had a year ago. Again, there's plenty of talented but unproven players at linebacker...

5) If Tressel's right, and the punt is the most important play in football, then how important is the punter spot? ...Punter A.J. Trapasso is gone as well and he will likely be replaced by the unproven Jon Thoma, who has all of two punts since coming to Ohio State. Keep an eye on this spot, because no one knows for certain how it'll turn out.

6) Will this be a running or a passing team? Silly question. Unless Pryor has suddenly channeled Dan Marino, he'll likely fall back on what he knows and does best -- run, run and when all else fails, run...

7) What drives this team? ...Three consecutive Bowl Championship Series losses have moved the focus to taking care of business in their own backyard.

8) When will we find out how good this team is? That's easy: Sept. 12, around 11:30 p.m. Eastern...

9) Any trap games to watch out for? Not really. The schedule sets up really well for Tressel and Co...

10) OK, what's a reasonable expectation for the 2009 season? ...Yet another BCS berth isn't out of the question coming out of the mediocre Big Ten, although the 2009 Buckeyes appear to be a year away from making a run at the title game for the third time in four years..."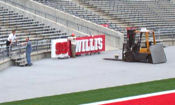 Scoreboards Undergoing Upgrades, National Championship Tribute Signage to be Added
August 19, 2009 Source: OSU Official Site - "Ohio Stadium, home to Ohio State football since 1922, is undergoing upgrades for the upcoming 2009 season. Beginning with the football team's public practice August 24, "The Horseshoe" will present fans with new signage displays and scoreboards in the north endzone and on the east and west fascias of the stadium's C-Deck. For the first time in the Stadium's history, the scoreboard in the north endzone will offer fans a video screen. At 17-feet - by - 44-feet, the LED board will offer fans replays and other game-day features typically only seen on the video board in the south endzone. The ribbon boards on the east and west side have been replaced and expanded to reach endzone-to-endzone and feature an improved LED display.

In addition to the new boards, tribute signage for Ohio State's seven national championship teams (1942, '54, '57, '61, '68, '70, 2002) will be on display near the new scoreboard in the north endzone, accenting the seven currently retired Ohio State jersey numbers of Chic Harley (17), Les Horvath (22), Eddie George (27), Vic Janowicz (31), Howard "Hopalong" Cassady (40), Bill Willis (99) and Archie Griffin (45) also displayed on the north end. As a result of the expanded ribbon boards, the Woody Hayes tribute signage has been moved to the southeast corner of the C-Deck face. All three signage areas will be backlit for more prominent display during primetime telecasts. ..."



Ohio State Buckeyes 2009 College Football Predictions - 2010 BCS Odds
August 20, 2009 Source: Onlinesportshandicapping.com - "The Ohio State Buckeyes are listed at sportsbook Bodog.com as 10-to-1 odds contenders to win the 2010 BCS National Championship. Ohio State is the betting favorite to win the BIG 10 at 3/2 odds..."



OSU counting on USC game to boost recruitment
August 19, 2009 Source: ESPN - Bill Kurelic writes: "There will be many outstanding prospects making official visits to Big Ten schools during the football season, but typically not many of those visits come during the first or second game of the season. However, that is not the case this season. The Buckeyes will play a huge prime-time contest against USC in Week 2, so coach Jim Tressel and his staff hope to take advantage of the weekend on the recruiting front...

A number of the top prospects the Buckeyes hope to land will be in Columbus to see what is expected to be one of the premier games of the college football season, including Under Armour All-Americans DB Josh Shaw (Palmdale, Calif.), DB Lamarcus Joyner (Ft. Lauderdale, Fla./St. Thomas Aquinas), RB Corey Brown (Springfield, Pa./Cardinal O'Hara) and OL Chaz Green (Tampa, Fla./Catholic), as well as the No. 4 prospect on the ESPNU 150, OT Seantrel Henderson (St. Paul, Minn./Cretin-Derham) and P Will Hagerup (Whitefish Bay, Wis.)..."



Four more Buckeye freshman to watch
August 19, 2009 Source: Big Ten Network - "1. Fullback Adam Homan: Looks like the only true freshman who could be a starter. He won't be on the field all the time as a fullback, but he'll give the Buckeyes their most athletic guy at that position in a while. Fellow freshman Zach Boren looks like the No. 2 fullback.

2. Linebacker Storm Klein: After taking part in spring practice, he moved up from the third team to working with the second team at middle linebacker. Several linebackers should rotate and play, and he looks locked into the top six.

3. Running back Jaamal Berry: The Florida back's burst and cutting ability didn't take long to get noticed. "He's got a quick first step and he cuts. He's got nice moves," quarterback Terrelle Pryor said. He should get some carries as the No. 3 back. But fellow freshman running back Jordan Hall has earned some praise so far as well.

4. Linebacker Dorian Bell: Such an impressive physical package, and so committed to making something happen quickly, it's easy to see him making at least a handful of big plays through the season, even if it's on special teams."

Big Ten Examiner Round Table: Buckeye Breakdown
August 19, 2009 Source: USA Today - "As the 2009 college football season approaches, the Examiners from around the Big Ten prepared a preseason look at how they see the conference shaping up. Following the article will be links to all Big Ten schools that have college football examiners. Let's take a look at defending Big Ten Champions, four straight years and counting provided by your Ohio State Buckeye Examiner.

Q: What does your team need to do to improve on their 2008 season?

A: The Buckeyes will need a consolidated team effort to continue to maintain their dominance in the Big Ten. Terrelle Pryor's continued development into an all around quarterback that can beat you with more than his legs will be critical.

The Buckeyes look to be much deeper and improved on the offensive line. The ability to establish the run with Dan "Boom" Herron and Brandon "Zoom" Saine will be important for offense effectiveness and help eliminate some of the pressure that will fall to Pryor.

The defense will be stingy as usual. The Buckeyes have allowed 21 points or fewer 40 times since 2004, tops in college football. Look for the Buckeyes to also continue the tradition of excellent linebackers with Ross Homan, Brian Rolle, Etienne Sabino and Austin Spitler

Q: Is your team looking at a move forward or a move back in the Big Ten? Or are they right in the same area?..."



Capsule previews of 2009 Big Ten football teams August 18, 2009 Source: Cleveland Plain Dealer






"Tim May and Ken Gordon talk about some of the new and returning members of the Buckeyes."

Torrence tables baseball, for now
August 19, 2009 Source: Columbus Dispatch - "...He was drafted by the Houston Astros in June 2007 and given a $125,000 signing bonus. For two summers, he played a partial season for their rookie-league affiliate in Greeneville, Tenn. This summer, he stuck around Columbus to concentrate on football. He has a chance to win a starting job and is locked in a close competition with Andre Amos for the spot vacated by Malcolm Jenkins..."







Boren saga only adds to Michigan-Ohio State rivalry
August 18, 2009 Source: USA Today - "Fans at Michigan would never shed a tear for an Ohio State injury, but they will probably takes some extra joy at Justin Boren's misfortune. Boren, the starting left guard on the Buckeyes offensive line, went down in practice with an injured knee...The big question is whether he will be ready for Ohio State's showdown with Southern California in the second week of the season.

Where do the Wolverines factor into the story? It was Boren who transferred from Ann Arbor in 2008 after the arrival of Rich Rodriguez. On his way out the door, he had some not-so-nice things to say about the new coach.

Boren has lived both sides of one of the sport's top rivalries since he was born, which he relayed in an interview with the Sporting News. His dad, Mike, grew up in Columbus, but played for Michigan's Bo Schembechler after Woody Hayes did not recruit him to Ohio State. Now that Boren is playing for the Buckeyes, he can't wait to get back to Ann Arbor when the schools meet on Nov. 28.

Justin Boren's brother Zach has committed to Ohio State. (Video interview of Zach & Justin Boren)..."



What If Terrelle Pryor Didn't Sign With Ohio State?
August 18, 2009 Source: bleacherreport.com - "Ohio State football always has excitement surrounding it. Naturally, any program that has had the level of talent and success the Buckeyes have had are going to attract a lot of attention. But think about this for a second. What if the Buckeye's didn't have Terrelle Pryor?

I liken it to women's tennis player. Without Pryor, the Bucks are good (Probably between 15th and 20th in the world rankings with a couple tournament wins) But with Pryor, not only does their tennis player become a top-seven player that's won a couple majors, but she becomes super hot. So hot, she's getting modeling gigs on the side.

Now, please don't take this the wrong way. I am in no way commenting on Pryor's looks. I'm just saying that Pryor makes the Buckeyes exciting and at the same time a better team. He passes "The Bladder Test." What's the "The Bladder Test" you ask?..."



Three sleeper teams who could challenge for the Big Ten crown
August 18, 2009 Source: SI.com - "OSU and PSU are top 10 teams because voters underrate the rest of the Big Ten. But they're both vulnerable, making this the year for a sleeper team to challenge. The sleepers: Iowa, Illinois, Michigan State; wild cards: Michigan, Northwestern ..."



SI Previews the Big Ten Race
How They'll Finish, Big Ten Notables, Players To Watch From Unranked Teams, Extra Points





"Buckeye Bits: Thaddeus is a rangy, physical defender who has the ability to make tackles sideline to sideline ... converted linebacker who delivered quite an impact in 2008 ... plenty of big-play potential..."







Eight players eager to make cases for starting roles; unexpected loss of Moeller adds wrinkle to competition
August 18, 2009 Source: Columbus Dispatch - "Etienne Sabino is neither choosy nor demanding on where he might fit in with the Ohio State defense this season. "I just want to get on the field," the sophomore linebacker said. "I want to play on the field. That's all I want. If I am on the field helping my teammates, I'll be comfortable wherever they put me."

...The loss of Tyler Moeller for the season because of a serious head injury suffered on a family vacation stole the headlines last week. But the Buckeyes still have at least eight capable and highly touted candidates for the three linebacker spots. "The competition is going to be intense," junior Brian Rolle said.

This week will end with the crescendo of that intensity, starting with the first two-a-day practice yesterday headed toward the jersey scrimmage Saturday. It will be the closest the team will get to game conditions before the season opener Sept. 5 against Navy....Ross Homan is the lone returning starter, at weakside linebacker.

...It's going to be an inexperienced group, even though fifth-year senior Austin Spitler has been biding his time the past three seasons as Laurinaitis' backup. But it's also a talented group, if the recruiting rankings of the past few years are credible. According to Rivals.com, Spitler was the lowest rated of the eight coming out of high school. He was 48th nationally among inside linebackers in 2005. The rest were in the top 17 or better for their specialty. Sabino was No. 1 among inside linebackers in 2008. Freshman Dorian Bell was third among outside linebackers this year and is the highest-rated prospect overall in Ohio State's incoming class.

Rivals.com ranked Bell, Storm Klein and Jordan Whiting as the third-best group of linebacker recruits for 2009, trailing Notre Dame and Alabama.







"The Ozone had the opportunity to speak with a number of players during Media Day in Ohio Stadium. We spoke with Jaamal Berry, Keith Wells, Zach Domicone, J.B. Shugarts, Mike Adams and Cameron Heyward about the upcoming season."

Adams Slims Down as Competition Heats Up
August 18, 2009 Source: The Ozone - "The competition is at left tackle is shaping up to be a really big deal this fall, but at least one of the competitors for that spot is hoping to stay in the fray by getting smaller...It was getting to be a problem. Mike Adams' massive size had always served him well on the football field. That is until recently. At 6-foot-8 and well over 300 pounds, Adams was literally a mountain of a man by the age of 18.

Nicknamed "Big Mike," in high school, Adams used his size and strength to dominate opponents on his way to being named a U.S. Army All-American two years ago, but the Dublin Coffman product felt himself slowing down (literally) when he got to the college level, and not just because the competition was speeding up. "I have lost about 40 pounds, then I put a few back on, and I'm about 300 pounds right now," said Adams, who enters his second season at Ohio State. "I feel faster, I feel like I can move better all around."

..."It was something I decided to do for me," he said. "To get my body right and help my chance of playing more this year."

Although he was listed atop the depth chart at left tackle in Ohio State's recently released 2009 Media Guide, Adams is anything but a lock to hold down the starting spot this spring. Originally tabbed as the natural replacement for four-year starter Alex Boone on the left side of the line, Adams found himself in a dogfight during spring practice with converted tight end Andy Miller as the Buckeyes look for someone to protect quarterback Terrelle Pryor's blindside..."

Depth Chart from OSU Media Guide



OFFFENSE

QB 2 Terrelle Pryor* ............................ 6-6, 235, So.
14 Joe Bauserman* ........................ 6-2, 220, So.
16 Ross Oltorik ............................... 6-2, 210, RFr.

TB 1 Dan Herron* .............................. 5-10, 193, So.
3 Brandon Saine** ....................... 6-1, 217, Jr.
24 Marcus Williams** ................... 5-10, 202, 5th
33 Joe Gantz ................................... 6-0, 199, 5th

FB 37 James Georgiades ..................... 6-1, 240, RFr.
49 Adam Homan ............................. 6-4, 235, Fr.
41 Jermil Martin ............................. 6-0, 227, RFr.

WR 8 DeVier Posey* ............................ 6-3, 205, So.
5 Taurian Washington* ................ 6-2, 179, Jr.
6 Grant Schwartz** ...................... 6-0, 194, Jr.

WR 12 Dane Sanzenbacher** ............... 5-11, 175, Jr.
82 Ray Small** ............................... 5-11, 180, Sr.
7 Lamaar Thomas* ....................... 5-11, 186, So.

TE 86 Jake Ballard*** ......................... 6-6, 256, Sr.
11 Jake Stoneburner ...................... 6-5, 230, RFr.
81 Nic DiLillo .................................. 6-5, 237, RFr.

OT 64 Jim Cordle*** ........................... 6-4, 297, 5th
73 Josh Kerr ................................... 6-4, 286, Jr.

OG 70 Bryant Browning** .................... 6-4, 312, Jr.
68 Evan Blankenship ...................... 6-3, 290, So.

C 50 Michael Brewster* .................... 6-5, 296, So.
66 Andrew Moses* ........................ 6-3, 280, 5th
72 Scott Sika .................................. 6-2, 280, Jr.

OG 65 Justin Boren .............................. 6-3, 315, Jr.
77 Connor Smith** ......................... 6-4, 321, Jr.
74 Jack Mewhort ........................... 6-7, 290, Fr.

OT 75 Mike Adams* ............................ 6-8, 322, So.
55 Andrew Miller* ......................... 6-7, 295, Jr.
57 Chris Malone ............................. 6-1, 268, Jr.

SPECIALISTS
PK 20 Aaron Pettrey*** ....................... 6-2, 199, 5th
17 Ben Buchanan ............................ 6-0, 200, RFr.
12 Devin Barclay .............................. 5-11, 195, Jr.

P 48 Jon Thoma* ............................... 6-2, 201, 5th
17 Ben Buchanan ............................ 6-0, 200, RFr.

LS 96 Jake McQuaide* ....................... 6-2, 219, Jr.
53 Patrick Howe ............................. 6-2, 204, Jr.

H 48 Jon Thoma* ............................... 6-2, 201, 5th




DEFENSE

DT 84 Doug Worthington** ................. 6-6, 276, 5th
53 Garrett Goebel ............................ 6-5, 280, RFr.
96 Willie Mobley ............................ 6-3, 265, RFr.

DT 72 Dexter Larimore** ...................... 6-2, 300, Jr.
92 Todd Denlinger*** ..................... 6-2, 292, 5th
57 Tom Ingham* ............................. 6-1, 243, 5th

DE 90 Thaddeus Gibson** ................... 6-2, 240, Jr.
43 Nathan Williams* ...................... 6-3, 245, So.
98 Solomon Thomas* ..................... 6-5, 240, So.
94 Keith Wells ................................ 6-5, 210, So.

DE 97 Cameron Heyward** ................. 6-6, 287, Jr.
87 Lawrence Wilson*** ................. 6-4, 274, 5th
9 Rob Rose*** ............................... 6-5, 285, Sr.

WLB 51 Ross Homan** ........................... 6-0, 229, Jr.
36 Brian Rolle** ............................. 5-11, 221, Jr.
42 Andrew Sweat* ......................... 6-2, 220, So.

MLB 38 Austin Spitler*** ....................... 6-3, 234, 5th
6 Etienne Sabino .......................... 6-3, 232, So.
46 Grant Dziak ................................. 5-11, 257, So.

SLB 26 Tyler Moeller** .......................... 6-0, 216, Jr.
41 Tony Jackson ............................. 5-11, 227, So.
32 Storm Klein ................................ 6-3, 225, Fr.

FS 21 Anderson Russell*** .................. 6-0, 205, 5th
8 Aaron Gant*** .......................... 6-0, 194, Sr.
19 Orhian Johnson ......................... 6-2, 178, RFr.

SS 4 Kurt Coleman*** ....................... 5-11, 188, Sr.
7 Jermale Hines** ....................... 6-2, 210, Jr.
15 Nate Oliver* .............................. 6-0, 215, So.

CB 13 Andre Amos** ........................... 6-1, 183, 5th
18 Travis Howard ............................ 6-1, 180, RFr.
14 C.J. Barnett ................................ 6-0, 185, Fr.
32 Taylor Rice ................................. 5-11, 171, RFr.

CB 5 Chimdi Chekwa** ...................... 6-0, 188, Jr.
10 Devon Torrence* ........................ 6-1, 193, Jr.
30 Donnie Evege ............................. 5-11, 189, So.
"He's going to be a great receiver," (Anderson) Russell said. "Malcolm (Jenkins) and Donald (Washington) came out with us a couple times this summer, and he was giving those guys trouble sometimes guarding him."
Name gets him recognition
August 17, 2009 Source: Columbus Dispatch - "It's tough to make a name for himself when people skip over the "Duron" and focus on the "Carter." Carter, a freshman receiver for Ohio State, has been impressive ever since showing up for summer workouts, and that has continued into preseason camp. His father is Cris Carter, a star Buckeyes receiver in the mid-1980s who went on to NFL fame and who has stayed in the spotlight with his work as an NFL studio analyst. The family has worked hard to avoid any sense that Duron is living in his father's shadow. Unlike many parents, Cris was not on hand for OSU's photo day Thursday. 'He's letting me live out my college life,' Duron said. 'He's sort of laying low.'...On the second day of practice, Carter cut across the middle of the field, reached up and snared the back half of a hard-thrown ball firmly with both hands. That triggered a memory in the mind of coach Jim Tressel, who was the receivers coach in 1984 when Cris was a freshman. '(Duron) put those long arms out (and) I thought, 'Man, that looks a little bit like a guy that I had the privilege of working with,' ' Tressel said. Tressel then went on to say that Cris had a horrible first practice at OSU. He couldn't run a route; he tripped and fell. The difference between father and son, Tressel said, was that these days, players arrive at college so much more polished..."

"No. 9 ...Fierce competitor who led the St. Thomas Aquinas Raiders to back-to-back Florida state 5A titles ... their 15-0 record earned them No. 1 ranking in America among prep teams ... 39 receptions for 739 yards and 14 touchdowns as a senior for Coach George Smith ... Under Armour All-America game ..."

Chip off the old Cris? OSU freshman Duron Carter certain he can help offense in '09
August 17, 2009 Source: Cleveland Plain Dealer - "Twenty-five years ago, his father put together the greatest freshman season in Ohio State receiving history. Now, the Buckeyes' returning receivers are as untested as any group in the Jim Tressel era...Ohio State freshman Duron Carter admits he believes he has an advantage over other young Buckeyes. 'There's that sense that my dad has been through everything that a receiver can go through, and he's taught me a lot of things,' he said. 'I know a lot more than the other freshmen receivers.'..."


Five freshmen who could help the Buckeyes this year

FB Adam Homan: Looks like the only true freshman who could be a starter. He won't be on the field all the time as a fullback, but he'll give the Buckeyes their most athletic guy at that position in a while. Fellow freshman Zach Boren looks like the No. 2 fullback.

LB Storm Klein: After taking part in spring practice, he moved up to the second team at middle linebacker. Several linebackers should rotate and play, and he looks locked into the top six.

WR Duron Carter: He might need one injury ahead of him to really make an impact, but he seems like the kind of player who could grow as the season progresses. Knowing the little things goes a long way.

RB Jaamal Berry: The Florida back's burst and cutting ability didn't take long to get noticed. "He's got a quick first step and he cuts. He's got nice moves," quarterback Terrelle Pryor said. He should get some carries as the No. 3 back. But fellow freshman running back Jordan Hall has earned praise as well.

LB Dorian Bell: Such an impressive physical package, and so committed to making something happen quickly, it's easy to see him making at least a handful of big plays through the season, even if it's on special teams





Berry Turning Heads in Practice
August 17, 2009 Source: The Ozone - "A freshman out of Miami Palmetto High School, Berry knows rookies aren't supposed to have high expectations for themselves in year one. Not at a school like Ohio State. Freshmen are supposed to be content running with the scout team and just being a part of the college football experience, but not Berry. He is familiar with the current depth chart at running back, which according to offensive coordinator Jim Bollman has him running with the third group behind Dan Herron and Brandon Saine, but lately Berry has been asking himself why not. 'I feel like I can make an impact at the college level as a freshman,' Berry said with confidence.

A standout from the state of Florida, Berry had his pick of nearly any program in the country coming out of high school. The Under Armour All-American could easily have selected a school that put up more points than Ohio State last season (there were 43 of them around the country) or a program with a better opportunity for immediate playing time, but the Miami native had his eyes on bigger things down the road.

'It feels great to be a Buckeye,' he said with a smile that projected pure joy. 'I'm just ready to play some football right now. I can't wait to get on the field and showcase my talent.'



Foulest 40 villains of them all
August 17, 2009 Source: ESPN - "...I present an alphabetical glossary of Forde's Foul 40: the greatest villains in college football, past and present. (Please keep in mind the fact that one fan's villain is another fan's hero, and that the thin line between love and hate usually is drawn by rooting interest.)...3. Maurice Clarett -- Ohio State running back, 2002 Hated by: Miami; then Buckeye Nation. Claim to Infamy: True freshman battered the heavily favored Hurricanes in the Fiesta Bowl, scoring the winning touchdown in a memorable upset to win the national title. Relationship with Ohio State soured spectacularly after that, and so did his career. Currently in jail. Clarett disparaged Ohio State routinely after he left school and Buckeyes fans returned in kind, stopping only when they pop in a highlight video of the 2002 season...10. Woody Hayes -- Ohio State coach, 1951-78 Hated by: Clemson, and fans of civilized sporting behavior everywhere. Claim to Infamy: Chronically belligerent coaching legend punched his ticket to forced retirement when he punched Clemson nose guard Charlie Bauman, after Bauman had the nerve to make a game-clinching interception in front of the Buckeyes' sideline in the 1978 Gator Bowl. Just like that, Hayes' 238 career victories became a footnote to a new place in history: the coach who slugged an opposing player..."



Big Ten villains, past and present
August 17, 2009 Source: ESPN - "...Here are my picks for Big Ten villains, current and all-time. But as always, I want to hear from you as well. Send me your top villains, current and all-time, and I'll have a post Tuesday with the responses...OHIO STATE BUCKEYES Current villain: The SEC. Whether it's Urban Meyer, Les Miles or Albert E. Gator, the Buckeyes can't stand anyone or anything associated with the SEC, which handed Ohio State losses in consecutive national title games. All-time villain: Bo Schembechler. Buckeyes fans have no love lost for Bo, who worked for Hayes at Ohio State and earned his Master's degree in Columbus before coaching archrival Michigan. Schembechler's Wolverines upset Ohio State in 1969, and he held a 5-4-1 edge in the Ten-Year War..."



Top five villains in college football
August 17, 2009 Source: ESPN - "...Who are the top five villains in college football right now? These five wouldn't win many public opinion polls. 1. Notre Dame head coach Charlie Weis -- Weis' arrogance was somewhat forgivable in 2005 and 2006, when he led Notre Dame to BCS bowls, but his act has grown tired. He has rubbed people the wrong way both in South Bend and beyond, and there will be quite a contingent rooting against the Irish this fall...2. Tennessee head coach Lane Kiffin...3. Alabama head coach Nick Saban...4. The BCS...5. Big Ten commissioner Jim Delany..."







Tressel Cranks up the Hitting as Buckeyes Begin Second Week of Camp
August 17, 2009 Source: The Ozone - "If you happen to be in the city of Columbus this week don't be startled by the grinding, grunting, and groaning sounds in the air. It's just the Buckeyes turning up the intensity in Fall camp. After a week of NCAA-mandate acclimatization the Buckeyes open the second week of fall camp with a full schedule of workouts on the docket, workouts that are probably the toughest of the year. 'It will be the most physical week,' said OSU Head Coach Jim Tressel...'Two practices Monday, one on Tuesday, then two on Wednesday, one, then two, then a scrimmage on Saturday, so that's a bunch of practices. Normally in the spring we have 15 in a month, now we're going to have nine in a week,' said Tressel.

The schedule is demanding and the hitting will be vicious, and that's just what the OSU coaching staff wants. Up until now, everyone has been running around, doing their thing, and looking pretty good doing it. When the hitting starts, however, the real football players, and contributors this fall, begin to really emerge...

'You can stand over the golf ball all you want, people talk about pressure as someone hiccups or something, but pressure is when someone is going to hit you with a silver helmet, and do you know your assignment then, so it changes the game totally. Our (veteran) guys have done that and the new guys will get the understanding of just how physical this game is.'







Buckeyes trying to balance QB's quick feet with keeping him away from big hits
August 16, 2009 Source: Cleveland Plain Dealer - "...The topic was...Pryor and the Wildcat formation that's creeping into the NFL...Taking the idea a step further, the Miami Dolphins drafted West Virginia quarterback Pat White in April with the idea of using him in the formation, utilizing a quarterback with running back skills to make the threat of the pass more real. What about a player like Pryor then, a 6-6, 235-pounder who can run and, if his improvement from the spring continues, throw as well? His skills could dictate another evolution at quarterback, but common sense, and financial sense, might prevent it. 'You can't do it,' Millen said. 'If you're going to pay him that kind of money and you're going to build everything around him, you have to limit and manage the amount of times he's hit.'...let's not ignore the obvious -- Pryor running, either by plan or on a scramble -- is still Ohio State's most dangerous offensive play. It's also the most dangerous thing to Pryor's ability to stay healthy. 'I think you have to worry about that,' OSU offensive coordinator Jim Bollman said. 'I think if you can win a game and not have him run, maybe you do that. On the other hand, we all know he can run, so how wise are you not to run him at all, either? There's a fine line you have to walk.'..."







Buckeyes well-stocked with speed on the edge
August 16, 2009 Source: Columbus Dispatch - "Watching Thaddeus Gibson and Nathan Williams go through pass-rushing drills leaves a lasting impression. Or as fellow Ohio State defensive lineman Lawrence Wilson put it: 'They come off the edge, and they come off the edge fast.'...'I tell him all the time, 'Nate, we can really be a force,' ' Gibson said. 'With that being said, he's buy-buy and locks in on everything the coaches tell him, just like I'm buy-buy to anything the coaches tell me...'...Solomon Thomas, their fellow Leo, said Gibson and Williams are blessed with innate talents. They include a quick first step and, to use a football term, "good hips," which means they can change direction faster than the average man...Thomas said 'When they go out there, they're not nice guys. They have an attitude about 'em and an edge to 'em.'...Don't count out Keith Wells, either. The lean, tall Georgia native also had to watch during the spring while he recovered from shoulder surgery. But he has the potential of making it a four-way tussle because he shares many of the qualities of the other three. 'Nate, Solly, Keith, Thaddeus -- they are men among boys when it comes to that speed and that strength,' defensive tackle Doug Worthington said. 'So it should be very interesting to see what they can do on the field this season. The competition is there, which should make them all better.'...'We've got good depth,' Tressel said. 'Now, those guys have got to improve. They've got to be better than they were a year ago, which I think they will be. But I think we do have a chance to be disruptive.'...



Columbus Dispatch's Ken Gordon reports on his Twitter page: "Rumor: Tressel taking away players' phones, laptops, I-pods as of tomorrow (Monday, 8/17/09). Not sure why, and some players aren't happy about it."

Rivals.com is reporting: "Ohio State is looking to build on its successful offensive line recruiting over the past several years. 6-foot-6, 290-pound Chaz Green has set up his first official visit. The Tampa (Fla.) product is the nation's No. 9 rated offensive tackle prospect will visit Columbus, Ohio and the Ohio State Buckeyes."

Kristofer Green of chicagonow.com, 'The Big Ten's Best 11: Ranking the Coaches', writes: 1. Jim Tressel, Ohio State -- Ninth Season at OSU (83-19, 82%) Since becoming the Buckeye's head man in 2001, Tressel has led Ohio State to a National Title, five Big Ten Titles, and has had the Buckeyes ranked in both the AP and Coaches polls since the start of the 2002 season. Oh, and he's 7-1 against archrival Michigan, the first Ohio State coach to win five straight games against the Wolverines, and has a winning record against every team in the conference except Wisconsin (3-3). Tressel's program, whether you like it or not, is the face of the Big Ten and when it comes to Big Ten coaches it is impossible to deny that his teams have been the most successful in the conference over the past several seasons." MSU's Mark Dantonio is #2, Iowa's Kirk Ferentz is #3...

Intense practices loom as hitting begins: Tim May and Ken Gordon of The Dispatch write: "With five days of NCAA-mandated acclimatization practices behind it, Ohio State dived into the deep end of preseason camp yesterday with the first day of full-contact practice... the acclimatization period enacted in 2003 makes sense, coach Jim Tressel said. But to find his team, he and his coaches must take the clamps off this week. 'You really do grind it up,' Tressel said. 'You've got a lot (of the offensive and defensive formations and plays) in, and you'll really start paring back a little bit and start working on some things. There will be a lot more contact. It will be the most physical week, much more physical than the third week, because that third week, if you get someone bruised pretty good, you might lose them for (opening) game week.'..."

One more chance: Fifth-year Buckeye Andre Amos still hoping to shine on the field...When I'm healthy, I feel like I can do a lot of things, and I know my teammates have noticed that," Amos said, "and their support is great. But it's all on me."...When freshman cornerback Corey Brown made a mistake in coverage against Duron Carter during practice last week, cornerbacks coach Taver Johnson walked toward Brown with words of advice. But Amos called Johnson back, yelling, "I got it," and it was the senior who wound up giving the freshman a lesson..."

From coachtressel.com, the official site of the head coach: Parent Q & A: Jake Ballard, Parent Q & A: Kurt Coleman, Parent Q & A: Anderson Russell, Parent Q & A: Marcy (Connor) Smith

From the Mansfield News Journal, Terrelle Pryor growing in starring role at OSU: "This year, it's like night and day," Tressel said of his sophomore signal-caller as Media Day activities wrapped up inside the 'Shoe. "I sat down the other day with (quarterbacks coach) Nick Siciliano and said, 'Man, what a difference between Day One last year and Day One this year. I saw a lot of progress from Terrelle in bowl practice (before the Fiesta Bowl in January) and I saw a lot this spring. I'd like to think 29 (preseason) practices will be huge. I'd like to think we'll grow and grow and grow."