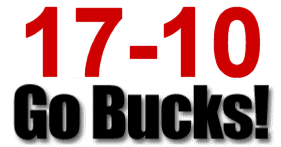 No fun for No. 1
November 5, 2006 Source: Columbus Dispatch - "Fewer than two minutes remained and thousands of orange-clad Illinois fans were jumping and yelling in Memorial Stadium. A loud chorus of "I-L-L" and "I-N-I" echoed across the field in the chilly evening air. The band played, a bell tolled. The Illini trailed by just seven points and were lining up for an onside kick..."

Top-Ranked Buckeyes Dodge Bullet At Illinois
November 4, 2006 Source: Bucknuts - "On a day when No. 2 Michigan struggled to pull out a 34-26 home win over Ball State, No. 1 Ohio State also had its hands full at Illinois. The Buckeyes put together one long scoring drive and rode their defense to a 17-10 win over the upstart Illini to improve to 10-0 on the year..."

The-Ozone Note and Quotebook
November 5, 2006 Source: The Ozone - "It's going to be a 'What happened?' kind of week around the Buckeye nation after OSU's close call at Illinois. Check out what the OSU players and coaches were saying in the-Ozone Note and Quotebook..."

From coachtressel.com: Offensive Stats
Defensive Stats

Quotes & More
November 4, 2006 Source: OrangeandBlueNews.com - "Quoting Illinois' Ron Zook, Illini Players and Jim Tressel..."

Buckeyes Escape With Victory
November 4, 2006 Source: BuckeyeSports.com - "For the first time this season, the Buckeyes were taken to their limits by an opponent. On the road against an overwhelmed but pumped up Illinois team, Ohio State staked a 17-0 lead and hung on for the victory. Read on for more..."

Bucks pass pop quiz OHIO STATE: 17-10 victory closest they've been tested this season
November 5, 2006 Source: The Morning Journal - " In a brief moment of foreshadowing last week, T.J. Downing was discussing how impressive Ohio State has looked thus far and the fact the Buckeyes hadn't really been tested yet. 'Maybe that's a bad thing,' he said..."

Buckeyes Hang on to Escape Illinois with Narrow 17-10 Win
November 5, 2006 Source: The Ozone - "For a just over half the game the No. 1 Buckeyes (10-0, 6-0 Big Ten) played like a number one team, but when the fourth quarter rolled around, it was the fighting Illini of Illinois (2-8, 1-5 Big Ten) that looked like a dominant team..."
Boxscore





Troy Smith is stopped by LB Jeremy Leman

Maturity of a quarterback? When OSU quarterback Troy Smith was flagged for intentional grounding late in the first half, Tressel was yapping to the official along the sideline. Smith gently grabbed Tressel by the elbow and eased him away from the, um, discussion to call the next play.

Valiant effort from Illini falls short of upset vs. Buckeyes
November 4, 2006 Source: ESPN.com - "Top-ranked Ohio State got its first scare of the season. The Buckeyes built a 17-0 halftime lead against Illinois and overcame a ho-hum performance by its offense to hold off the stubborn Illini 17-10 Saturday..." (Play-By-Play, Drive Chart, Box Score, Photos, Video)


Flat in Champaign
November 4, 2006 Source: Columbus Dispatch - "Top-ranked Ohio State picked a good day to struggle, because No. 2 Michigan did, too. But struggle OSU did, at least offensively, against a game Illinois on the way to a 17-10 win in wind-swept Memorial Stadium this afternoon. It extended the Buckeyes' winning streak to 17 games, the nation's longest, with a trip to Northwestern in seven days between them and a showdown with the Wolverines on Nov. 18 in Ohio Stadium..."


Buckeyes hold on in lackluster 17-10 win
November 4, 2006 Source: Cleveland Plain Dealer - "Top-ranked Ohio State got its first scare of the season. The Buckeyes built a 17-0 halftime lead against Illinois and overcame a ho-hum performance by its offense to hold off the stubborn Illini 17-10 Saturday. The Buckeyes (10-0, 6-0, Big Ten) had won each of their first nine games by at least 17 points, but let this one get close, just as rival Michigan did earlier in the day against Ball State..." (Left: Anthony Gonzalez hangs onto a pass against Illinois' Antonio Steele.)


No. 1 Ohio State just happy to get out of Illinois with victory
November 4, 2006 Source: USA Today - "Ohio State started comfortably and appeared in control. By the end, the top-ranked Buckeyes were getting their first real scare of the season. 'I don't know what (being the) overwhelming favorite does for us. It doesn't spot us any points, or get us any first downs,' Buckeyes coach Jim Tressel said Saturday after his team built a 17-point halftime lead and hung on to beat stubborn Illinois 17-10..."





Marcus Freeman keeps the pressure on Illinois' QB Juice Williams (AP Photo/Seth Perlman)






Coach Tressel reacts after the Bucks scored a TD during the first half.

Illinois gives Ohio State fits
November 4, 2006 Source: CentralOhio.com - "Four years ago, when Ohio State's run to a national championship nearly veered off course in this same wind chamber of near-horrors, coach Jim Tressel looked at his football team at the start of overtime and said, 'Isn't this fun?' On Saturday, with a perfect season and 17-game winning streak riding on an improbable onside kick in the final two minutes, Tressel wasn't saying much of anything. He couldn't because his heart was in his throat. 'I almost jumped out there,' Tressel said, reliving how the ball squirted through the hands of Brandon Mitchell before landing in Brian Robiskie's clutches to preserve a 17-10 victory over 2-8 Illinois..."
Ohio State-Illinois report card

Buckeye defenders take tight game as positive
November 4, 2006 Source: Dayton Daily News - "The Ohio State football team's defense was rolling through three quarters. The toughest group in the country to score against had allowed zero points and 100 total yards to Illinois. 'Next thing you know,' said OSU defensive end Jay Richardson, 'they're making a surge.'..."
And Bouncing onside kick finally corralled by Robiskie





Tough game could benefit Buckeyes
November 4, 2006 Source: Columbus Dispatch - "Tackling adversity might create a stronger team later in season...Maybe today it will happen. Maybe Illinois will take Ohio State down to the wire, or at least still be close heading to the fourth quarter..." (This was written before the game)

Wells can't drop his history class
November 4, 2006 Source: Akron Beacon Journal - "While history lessons are part of top-ranked Ohio State's preparation every week, freshman Chris Wells might be ready to change his major. The backup tailback from Garfield High School could have had a rough few days. He lost his third fumble of the season in the shutout victory over Minnesota last Saturday. And Illinois (2-7, 1-4) provides the perfect opportunity for coach Jim Tressel to drive home just how disastrous those bobbles can be..." (This was written before the game)

Offensive coaches try to get handle on preventing fumbles
October 20, 2006 Source: USAToday.com - Maybe 'Beanie' needs to learn about The "Anti-Fumble" grip...





When 38-7 is better than 31-13
October 17, 2006 Source: Men of the Scarlet & Gray - "The folks over at the M-Zone have posted an interesting article on the inherent faults in using score to determine rankings...However, comparing OSU to UM by their performances against Penn St. is comparing apples to oranges...Instead, an "apples to apples" comparison of OSU/UM should use the Spartans as the common opponent..."



OSU's run at No. 1 reaches nine weeks
Source: Foxsports.com -&nbssp;"Ohio State's run at No. 1 is now one week short of the Buckeyes' longest to start a season..."