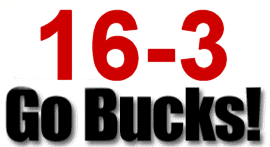 OSU-Purdue Highlights Source: Bucknuts/ESPN




Ohio State 6-1 after 16-3 Win over Purdue
October 11, 2008 Source: OSU Official Site - "Ohio State defeated Purdue, 16-3, Saturday in Ohio Stadium before 105,378 fans and an ABC-TV regional audience. Ohio State did not score an offensive touchdown but its special teams and defense provided just enough points and big plays to secure the victory...Ohio State's defense (kept) the Boilermakers out of the end zone...limiting them to 298 yards of total offense...'It began with special teams,' Jim Tressel, Ohio State coach, said. 'The special teams stepped up today. There was a key punt block and early on A.J. Trapasso backed them up to their goal...'..."

Scoring Summary,Team & Individual Statistics, Drive Chart, Defensive Statistics, Game Participation, Play-by-Play
Postgame Players Quotes
Postgame Notes Purdue at Ohio State


Postgame Transcript From Ohio State vs. Purdue
October 11, 2008 Source: OSU Official Site





| | |
| --- | --- |
| | "It could be as easy here, but I mean we've got to start clicking. The game is no different. It's the same thing as high school, it's just bigger and faster guys. It's like an all-star team on both sides. Everyone says it's harder. It's not hard at all. We just got to start clicking, and it will be just as easy." |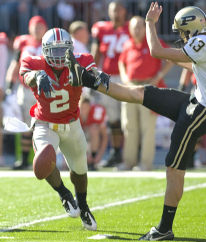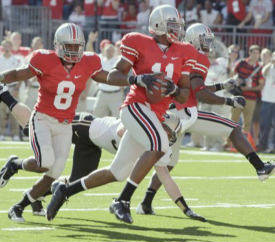 Senior CB Malcolm Jenkins blocks a Purdue punt by Chris Summers in the 1st quarter and freshman LB Etienne Sabino recovers it and goes 21 yards for the Buckeyes only touchdown of the game.






IT WAS OVER WHEN: Malcolm Jenkins blocked a punt and Etienne Sabino returned it 20 yards for a TD, giving Ohio State an early 7-0 lead.

THE STAR: Jenkins, who added an interception to his blocked punt which led to OSU's first touchdown.

THE STAT: 125. Purdue was allowing a Big Ten-most 196-yard average going in, but the Buckeyes couldn't even get Chris "Beanie" Wells to 100 (he had 94); the Bucks gained 125 while holding Purdue to 70.

THE STAT II: 12: Punts, which pretty much puts this version of Tylenol PM in perspective

THE STAT III: Purdue's defense entered the game last in the Big Ten in yards allowed at 435.8 per game but limited Ohio State to only 222.

THE STRATEGY: Hard to tell exactly what it was with the blocking on Ohio State's offensive front, but often it didn't work. Along with Beanie's woes, the elusive Terrelle Pryor was sacked three times. Enough said.

NOTABLE: Purdue's usually porous defense has held the top two teams in the Big 10 (Ohio State and Penn State) to a combined 36 points over the past two weeks.

JUST WONDERING: Could the (insert disgusting headshake here) bland play-calling be a left-brain, right-brain problem with coach Jim Tressel? The left brain is responsible for analytical thinking -- Tress, anyone? -- and the right brain is more random and intuitive. Mathematicians tend to be left-brain dominant, but something doesn't add up, literally, with Tress. When a reporter asked him to describe in one word the offensive performance against Purdue, the Vest answered, "Hit and miss." Hmmm.

(Sources: ESPN/Columbus Dispatch)


Bob Hunter commentary: Buckeyes know what ails offense: need for passing game
October 11, 2008 Source: Columbus Dispatch - "...Coach Jim Tressel faced question after question about the wheezing Ohio State offense, and he kept most of his answers suitably vague. He admitted that the Buckeyes "didn't control the line of scrimmage" but deftly danced around most of the queries as any good politician does -- and he could blow away some of the best ones...The most positive thing he could say about the offense after a 16-3 win over Purdue was that 'we didn't turn it over.' The OSU offense isn't exactly sharing the same dumpster with the U.S. economy, but it's not enjoying the most prosperous of times, either. It managed only three field goals...and that should be a serious concern. Tressel didn't make it sound that way, but he never does. Tailback Chris "Beanie" Wells, more prone to saying what's on his mind than what's on his cue cards, would seem to be a better gauge. 'We have to pass the ball,' Wells said. 'Me being a running back you don't expect me to say that, but that's the truth, we have to pass the ball.' To give him more room to run? 'Not even just to give me more room,' Wells said. 'Just to, you know, have a better game plan. You can't just go in there just running the ball because eventually they're going to stop you.'..."

Buckeyes blame O-line for problems
October 12, 2008 Source: Dayton Daily News - "If you need to blame somebody for Ohio State's abysmal offense, Steve Rehring says put it all on the line. 'I don't think we've played as well as we can as an offensive line at any time this year,' the lineman said after Ohio State's sleep-inducing 16-3 win over Purdue on Saturday. 'We haven't had a game where all of us played our best.' Not many would argue with him..."

O-line shoulders little other than blame for OSU's low output
October 12, 2008 Source: Mansfield New Journal - "Ohio State junior tight end Jake Ballard wasn't about to hold back, not after a performance like that. Mired in the same doldrums that have plagued the offensive line all year, the No. 12 Buckeyes gained just 222 total yards...Most of the struggles started up front, where a small and undersized Boilermaker defense controlled the bigger and stronger Buckeye line. 'Right now, we're not performing,' Ballard said. 'We're not performing like we can. Our whole line is back, and there's no reason why our line and our tight ends can't open up holes for the best running back in the country. (Chris) Beanie Wells is the best running back in the nation, and we need to open up holes. He can't do it by himself and we need to give him a chance to run the ball.'..."

Where's OSU's line? Tressel, Jenkins issuing challenges
October 12, 2008 Source: Canton Repository - "...What is becoming more of a concern is OSU's offensive line, and cornerback and team captain Malcolm Jenkins didn't shy away from challenging his offensive teammates. Particularly on the offensive line. 'They're missing a block here and there,' Jenkins said. 'Defensively, we feel like if our offense gets us 9 points, we should win the game. If we don't, that's on us.'...'With their offense and our offense, you never would have thought that the single touchdown would come from special teams,' Jenkins said. 'When you look at the film, we're just missing a play or missing an open receiver or missing a block here and there. That's hurting us. Whenever we get out offense going on all cylinders, we're going to be very successful.'..."

Buckeyes not doing Pryor any favors by turning freshman into a solo act at QB
October 11, 2008 Source: Cleveland Plain Dealer - "It's one thing to give Terrelle Pryor the reins, something completely different to make him the Lone Ranger...The help Ohio State needs with tougher road games ahead, and Penn State under the lights at home, begins with an offensive line that struggled to discourage the Big Ten's worst defense Saturday....The Buckeyes don't beat Penn State with the pass offense they put on display Saturday. In fact, Troy saw the tapes and sends word it wants another crack at them...Tressel controls the playing time. When last the offense didn't score a touchdown, at USC, the quarterback lost his job. They're getting to the point where at least playing the backup in a supporting role makes sense again."

Buckeyes Horrible and Great in Win over Purdue
October 11, 2008 Source: The Ozone - "... There's two versions of what happened in Ohio Stadium yesterday below, one for each group. Read the one that applies to you...Half-Full, Read On: OSU defensive coordinator Jim Heacock came up with his most aggressive game plan of the season against Purdue's spread offense, for the most part ignoring the zone defenses the Buckeyes have played in the secondary most the season and playing lots and lots of man to man defense on the Boilermaker receiver corps...Half Empty, This is for You: There's no two ways about it, there is just no polishing a turd. If you're offended by that expression you should also be offended by the offensive performance by the Buckeyes that earned that description. The Buckeye offense was simply awful against Purdue, not that that performance wasn't without precedence..."

Wells Held Somewhat In Check By Boilermakers
October 11, 2008 Source: Bucknuts - "Despite playing against the worst statistical defense in the Big Ten, Ohio State tailback Chris "Beanie" Wells was held under 100 rushing yards for the first time this season. Ohio State defeated Purdue 16-3, but the offensive players like Wells were not in a good mood after the game. They know they need to play better in order to win the Big Ten championship. We caught up with Wells after the game for much more..."

The-Ozone Note and Quotebook
October 11, 2008 Source: The Ozone - "Keeping His Head Up, One Dimensional, Flu Bug, We Did What?, Big Play and Hobbled; they're all covered in the-Ozone Note and Quotebook..."



Team Statistics (Final)
Purdue vs Ohio State (Oct 11, 2008 at Columbus, Ohio)


Team Totals
PUR
OSU
FIRST DOWNS
18
14
Rushing
8
7
Passing
10
5
Penalty
0
2
NET YARDS RUSHING
70
125
Rushing Attempts
26
42
Average Per Rush
2.7
3.0
Rushing Touchdowns
0
0
Yards Gained Rushing
93
154
Yards Lost Rushing
23
29
NET YARDS PASSING
228
97
Completions-Attempts-Int
23-51-1
10-14-0
Average Per Attempt
4.5
6.9
Average Per Completion
9.9
9.7
Passing Touchdowns
0
0
TOTAL OFFENSE YARDS
298
222
Total offense plays
77
56
Average Gain Per Play
3.9
4.0
Fumbles: Number-Lost
1-1
0-0
Penalties: Number-Yards
4-34
2-10
PUNTS-YARDS
6-190
6-211
Average Yards Per Punt
31.7
35.2
Net Yards Per Punt
25.8
35.2
Inside 20
1
3
50+ Yards
0
0
Touchbacks
0
0
Fair catch
3
3
KICKOFFS-YARDS
2-138
5-339
Average Yards Per Kickoff
69.0
67.8
Net Yards Per Kickoff
42.5
50.2
Touchbacks
0
2
Punt returns: Number-Yards-TD
0-0-0
2-35-1
Average Per Return
0.0
17.5
Kickoff returns: Number-Yds-TD
3-48-0
2-53-0
Average Per Return
16.0
26.5
Interceptions: Number-Yds-TD
0-0-0
1-0-0
Fumble Returns: Number-Yds-TD
0-0-0
0-0-0
Miscellaneous Yards
0
0
Possession Time
27:20
32:40
1st Quarter
6:25
8:35
2nd Quarter
6:21
8:39
3rd Quarter
5:37
9:23
4th Quarter
8:57
6:03
Third-Down Conversions
5 of 17
4 of 14
Fourth-Down Conversions
2 of 4
0 of 0
Red-Zone Scores-Chances
0-0
2-2
Sacks By: Number-Yards
3-19
2-16
PAT Kicks
0-0
1-1
Field Goals
1-2
3-4
The 'fans'' grade for the Ohio State football team in its game against Purdue, from a Columbus Dispatch online poll: 0% A; 4% B; 52% C; and 44% D

The Bottom Line
October 12, 2008 Source: Columbus Dispatch - "Leaves are awarded on a zero-to-five basis, five being the best: Offense (one leaf)...Defense (three leaves) ...Special teams (three leaves)...Coaching (two leaves) ...Opponent (two leaves)..."

Buckeyes barely merit passing grades
October 12, 2008 Source: Mansfield News Journal - "Offensive Line: C...Running Game: C...Passing Game: C...Defensive Line: B...Linebackers: A-...Defensive Backs: A...Special Teams: A-...Coaching: C..."

Saturday's best
October 12, 2008 Source: Cleveland Plain Dealer - "Ohio State's defense: A...OSU's offensive line: D...Curtis Painter: C-..."

Hang On Droopy
October 11, 2008 Source: Eleven Warriors - "...From my view, the lead actor in this offensive tragedy was the line today. They surrendered three sacks and five TFLs and pretty much did their best to turn young Boilermaker linemen into superstars. There were times when they won the battle up front, but overall the effort was inconsistent at best. The team finished 4 of 14 on third down conversions and three visits inside the Purdue 25 turned into two field goals and a missed field goal, continuing the team's red zone troubles. ..."


Ohio State notebook
October 11, 2008 Source: Columbus Dispatch - "Defensive line displays more passion: ...defensive coordinator Jim Heacock took a page from Tressel's book with the defensive line, getting more vocal and emotional. 'Sometimes, he tries to be quiet,' defensive tackle Doug Worthington said, 'but he knows this group of guys needs a passionate coach -- a coach to get after us and a coach to fire us up when we're not doing good.'...OSU came in averaging a Big Ten-low 1.5 sacks and 4.5 tackles for loss. The Buckeyes sacked Curtis Painter twice and had six tackles for loss, and also limited Boilermakers running back Kory Sheets to 3.3 yards per carry (he came in averaging 5.4)...The Buckeyes got a boost from tackle Todd Denlinger, who saw his first extensive action in several weeks after slowly recovering from a sprained ankle. End Lawrence Wilson suffered a left knee injury in the second quarter and did not return. Tressel said he would undergo a magnetic resonance imaging...Kicker shuffle: After Ryan Pretorius missed a 38-yard field goal attempt early in the second quarter, Tressel sent Aaron Pettrey out the next time OSU was in range. Pettrey nailed a 49-yarder. It was only his second attempt since the end of the 2006 season. He was OSU's main kicker that year, but Pretorius won the job last season and held onto it this year. 'I wasn't surprised (to get the call), because last week I was supposed to take everything from 35 yards and out,' Pettrey said. 'So I've been ready all week. It felt great getting back out there.'..." (Pettrey might regain starting job Source: The Morning Journal)









Opposite sideline
October 11, 2008 Source: Columbus Dispatch - "...What went right: The Purdue defense entered the game last in the Big Ten in yards allowed (435.8 per game) but limited Ohio State to a little more than half that (222) and did not allow the offense a touchdown. Coordinator Brock Spack put together a "posse front" of quicker down rushers and stationed his ends wider on some downs to hem in quarterback Terrelle Pryor, who netted 27 yards rushing..."

Boilermakers Fall At Ohio State 16-3
October 11, 2008 Source: Purdue Official Site - "Defense holds Buckeyes to 222 yards of total offense, out of end zone...Curtis Painter threw for 228 yards for Purdue, becoming just the fourth Big Ten quarterback to surpass 10,000 passing yards. He was 23-of-51 with one interception. The Boilermakers (2-4, 0-2) didn't get inside the Ohio State 30 until the final 30 seconds..."
Purdue Game Notes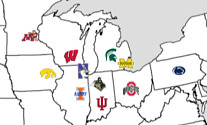 Defensive Notebook: D-Line Vaults Ahead Vs. Boilers
October 12, 2008 Source: Bucknuts -&nbsp"For weeks the scrutiny has been building against the Ohio State defensive line and the Buckeyes finally did something to quash it with a dominating performance against the visiting Boilermakers. They left few running lanes for PU tailback Kory Sheets and befuddled quarterback Curtis Painter in a 23-for-51 passing display with an interception and a fumble. The effort allowed OSU's defensive stars to shine..."






Mr. Bucknuts' Bucket Of Bullets
October 12, 2008 Source: Bucknuts -&nbsp"Mr. B tried to overcome his natural cynicism in looking at the Purdue game. He also looks at some famous quarterbacks, some over-hyped teams and leagues, and the ever-expanding Charlie Weis (myth) plus some really odd topics in his weekly Bucket of Bullets..."

| | |
| --- | --- |
| PURDUE vs. OHIO STATE | |


Head Coach Jim Tressel met with the media on Thursday to discuss the upcoming game against the Purdue Boilermakers. He talks about the injury status of several players and several other hot topics. Source: The Ozone


Youth could be served Saturday for Buckeyes
October 9, 2008 Source: ESPN - "The calls for change started around 9 p.m. ET on Sept. 13, as Ohio State fans watched the same group of players step onto a national stage at the L.A. Coliseum and have the same type of disheartening result. Buckeye Nation wanted to see the kids play, and they're starting to get their wish. Quarterback Terrelle Pryor will make his fourth career start Saturday against Purdue...Center Mike Brewster has earned a starting spot up front...A more interesting spot to watch is wide receiver, where heralded freshmen DeVier Posey and Lamaar Thomas should get an extended look against the Boilers...Another promising young player, sophomore running back Brandon Saine, could see more time Saturday..."

No. 12 Buckeyes Welcome Boilermakers to Ohio Stadium
October 6, 2008 Source: OSU Official Site - "No. 11/12/12 Ohio State (5-1/2-0) hosts Purdue (2-3/0-1) in a 3:30 p.m. Eastern game Saturday, October 11, 2008, at Ohio Stadium (102,329) in Columbus. The Big Ten matchup will be televised by ABC...Ohio State looking for its fourth-consecutive win after its 20-17 win at Camp Randall Stadium last Saturday..."
Ohio State Game Notes (PDF)
Purdue Game Notes (PDF)

OSU Cumulative Season Statistics




Ross Homan One-on-One Source: Big Ten Network



Head coach Jim Tressel met local reporters Thursday afternoon for about 15 minutes to talk more about the Buckeyes' game with Purdue. October 9, 2008 Source: OSU Official Site

talk about the win at Wisconsin and the upcoming game against Purdue in the Horseshoe. Wells talks about his stiff arm and his injured toe while Boone talks about what Terrelle Pryor means to the team.
October 8, 2008 Source: The Ozone


Coach Daniels talked extensively about Terrelle Pryor, covering everything from his poise in the pocket to his throwing motion, as well as a lot of other interesting subjects concerning the freshman quarterback.
October 8, 2008 Source: The Ozone

met with the Columbus media Wednesday after practice at the Woody Hayes Athletic Center.
October 7, 2008 Source: OSU Official Site

Updates on Wells, the offensive line and the young receivers
October 9, 2008 Source: Cleveland Plain Dealer - "Updates from Jim Tressel today:...Beanie Wells missed a day of practice this week with the flu...The Buckeyes have figured out their plan on the offensive line. It's Alex Boone, Jim Cordle and Mike Brewster as starters and a three-man rotation for the two spots on the right side of the line between Ben Person, Bryant Browning and Steve Rehring...Dane Sanzenbacher and Ray Small...are banged up...That means freshman receiver DeVier Posey, and Lamaar Thomas, should be more involved in the offense...Fullback Jermil Martin went to Wisconsin as an emergency fullback with fullback Brandon Smith having to fill in at tight end...But the plan wasn't to use Martin, and ruin his redshirt...That's why the coaches went a little crazy when Martin ran out on the field as part of a special teams unit...In the end, Martin did not play and kept his redshirt possibility alive..."

Q&A: OSU QB Coach Joe Daniels
October 8, 2008 Source: Bucknuts - "Ohio State quarterbacks coach Joe Daniels met with the media for the first time since preseason camp following practice on Wednesday...touched on a wide variety of topics following practice on Wednesday. The discussion included his thoughts about his health as he continues his fight with cancer, what he thinks about Terrelle Pryor emerging as the Buckeyes' starting quarterback and possibly a national star and his feelings about the benching of Todd Boeckman. Here is the interview with Daniels in Q&A format..."

Personnel Update
October 8, 2008 Source: The Ozone - "A number of Buckeyes will miss action this weekend due to injury and a bit of a shakeup along the offensive line could be in the offing as well. Check out the-Ozone Personnel Report ..."
Late Week Personnel Update October 8, 2008 Source: The Ozone







Series Record: The Buckeyes and Boilermakers have met 50 times previously on the football field, with Ohio State holding a 36-12-2 advantage in the series. Ohio State leads 24-5-2 in all games played at Columbus; the two teams last met at Ohio Stadium in 2003, a 16-13 OSU victory in overtime. The Buckeyes were 23-7 winners last season at Purdue.





TALE OF THE TAPE: 2008 Totals
OSU
Offense
PUR
25.7
Pts/gm
25.4
337.3
Total yds/gm
371.4
186.0
Rush yds/gm
117.2
39.3
Carries/gm
30.0
4.7
Yds/carry
3.9
151.3
Pass yds/gm
254.2
24.5
Pass att/gm
39.2
9.7
Yds/completion
11.2
OSU
Defense Allows
PUR
16.2
Pts/gm
25.0
264.2
Total yds/gm
435.8
109.2
Rush yds/gm
196.0
29.0
Carries/gm
39.6
3.8
Yds/carry
4.9
155.0
Pass yds/gm
239.8
31.0
Pass att/gm
38.8
8.6
Yds/completion
10.9

MOST WINS LAST 6 YEARS (2003-08)
1. USC 62
6. Ohio State 58

HOME WINNING % - LAST 6 YEARS (2003-08)
1. Oklahoma 34-1 .971
4. Ohio State 36-3 .923





PUR
Edge in:
OSU
Points/Game
Yards Gained
Yards Allowed
Time of Possession
Penalties
Punting
Fumbles





JENKINS FOR 10
Senior corner Malcolm Jenkins recorded his 10th career interception as a Buckeye in the 20-17 win at Wisconsin.

FIRST AND 10
• Chris "Beanie" Wells needs seven yards to move into 10th place on Ohio State's all-time rushing list while Brian Robiskie needs two catches to move into 10th on the all-time receptions list
• The Buckeyes lead the Big Ten in pass defense and punt return average
• Coach Jim Tressel is 78-17 in eight seasons at Ohio State

Purdue Report Card (2-3)
W, 42-10 Northern Colorado
L, 26-32 Oregon (2 OT)
W, 32-25 Central Michigan
L, 21-38 at Notre Dame
L, 6-20 Penn State

BEST RECORDS LAST THREE FULL YEARS


Rk.
School
2005
2006
2007
Total Pct.
1.
USC
12-1
11-2
11-2
34-5
.872
2.
OSU
10-2
12-1
11-2
33-5
.868



Last Time Out...
October 7, 2008 Source: Buckeye Grove - "Ohio State returns to the friendly confines of Ohio Stadium this weekend to take on Purdue in a conference matchup. Check out how OSU fared in its last meeting with the Boilermakers in this edition of "Last Time Out..."





Pryor In a Class of His Own According to Daniels
October 9, 2008 Source: Bucknuts - "OSU quarterbacks coach Joe Daniels has been coaching nearly 45 years. He has coached a lot of great players, players like Dan Marino and Kenny O'Brien in the NFL, and Troy Smith in college. Now there it Terrelle Pryor, and Daniels says that Pryor has all what it takes to be as good as any of the great players he has coached, and maybe surpass them..."


Williams just the latest freshman to find playing time with Buckeyes
October 8, 2008 Source: Cleveland Plain Dealer - "...'Everyone was dogging me when I didn't go early," Nathan Williams said, "but I didn't listen to anyone else and I just tried to do my thing. They were just working out and running, and I did what they were doing.' He did it so well that Williams worked his way onto the field for 22 snaps against Minnesota two games ago, looking like part of the solution at defensive end against spread offenses. The eighth OSU freshman to play this year, he's one of the best examples of two Jim Tressel tenets that showed up after the loss to USC -- to play fast and to play anyone who can help, regardless of experience. 'He's got good instincts,' Tressel said of Williams. 'He's got excellent speed. He's the kind of guy that can put some pressure on you off the edge. He's going to be a very, very good player.'..."
Saine's time to shine?
October 8, 2008 Source: Cleveland Plain Dealer - "Brandon Saine carried the ball 10 times in the first game of his college career, rushing for 42 yards and a touchdown against Youngstown State last season. He hasn't carried the ball that often since...Maybe this is his week. Wells on Tuesday night said his foot was still sore, though he's ready to play in pain...Backup Dan Herron is out this week after suffering a concussion...Mo Wells is back, though he sat out with an injury against Minnesota and carried just once against Wisconsin. Wells will play...The Buckeyes needs a second option at tailback, and this is Saine's chance to show something. Saine missed about 20 practices during the preseason with a hamstring injury, and Herron flew past him on the depth chart. When Wells went down, Herron established himself between the tackles as a straight ahead guy who could get the job done. So far, Saine hasn't translated his state champion track speed onto the football field on a consistent basis..."
Homan pounded Badgers even with numb shoulder
October 9, 2008 Source: Columbus Dispatch - "Ross Homan says he takes better care of his body this year, but that notion went out the window Saturday on Ohio State's second defensive play at Wisconsin. Homan watched Badgers P.J. Hill take a handoff and head for a hole...Homan ran forward to meet him...It looked just like any other solid tackle after a 5-yard gain. But what Homan didn't tell anyone was that his right shoulder had just gone numb....But he didn't come out of the game -- not until two plays later when Ohio State forced a punt. Then his teammates noticed something was wrong. 'He couldn't even move his arm,' cornerback Shaun Lane said. 'When he came to the sideline, he couldn't even take his helmet off, because the arm was so messed up. But he played the whole game, and that was the second play of the game. It was amazing. I have amazing respect for him and his toughness.' Homan simply shrugs: 'When adrenaline takes over, you don't really feel anything, anyway.',,,Ross Homan is second on Ohio State in tackles..."




Game Preview: Purdue
October 9, 2008 Source: Buckeye Sports - "No. 12 Ohio State continues its 2008 football season Saturday by returning home to face stumbling Purdue at 3:30. BuckeyeSports.com previews the game with key players to watch and a breakdown of the Boilermakers' offensive and defensive units..."


Preview: #14 Ohio State vs. Purdue
October 10, 2008 Source: Eleven Warriors - "...After blitzing Northern Colorado in the opener, the Boilermakers lost to then 16th-ranked Oregon at home in overtime...They bounced back by beating Central Michigan in week three before getting smoked by the Irish and following that up with a tough home loss to Penn State last weekend. The constants through this skid have been poor defense and recently, questionable play at quarterback. Things grew so dire in the loss to Penn State that after suffering 11 straight possessions without scoring points, Tiller yanked quarterback Curtis Painter...Pulling the school's 2nd-leading all-time passer is but one of the luxuries a guy has with one foot out the door..."


Ohio State vs. Purdue
October 1, 2008 Source: The Ozone - "Tony Gerdeman's preview of the Purdue game...Purdue's offensive line has given up eight sacks in five games...The Ohio State defensive ends should be able to win a share of the battles on Saturday, and though they may never actually sack Curtis Painter, just the fact that they are getting pressure on him will cause him to be erratic with the football...Purdue's defense is giving up 436 yards of offense per game..."


Purdue at (12) Ohio State Preview
October 8, 2008 Source: ESPNU - "After a last-second winning effort against Wisconsin last week, Terrell Pryor and Ohio State look to avoid a letdown against Purdue. Pryor is 3-0 since taking over the QB duties. The Boilermakers are facing their second straight Top 25 opponent. QB Curtis Painter is 0-9 against ranked foes...Tressel will make sure the Buckeyes are ready for Purdue, which has lost its last two games and hasn't won at Ohio Stadium since 1988. 'We made enough mistakes (at Wisconsin) to make it hard on ourselves, and now we've got to work on getting a lot better,' Tressel said..."


Purdue Will Try To Stop Losing Skid At OSU
October 9, 2008 Source: Bucknuts - "...Painter is 0-9 as a starter against ranked opponents. Last year against OSU, he completed just 31 of 60 passes for 268 yards and a touchdown...Purdue's defense has also been suspect at times. The Boilers rank 104th nationally in rushing defense (196.0 yards allowed per game) and 108th in total defense (435.8 yards per game)...The top producer on defense has been senior middle linebacker Anthony Heygood (6-2, 230). Heygood leads the Boilers with 44 tackles, two tackles-for-loss and an interception..."


Purdue (2-3) at Ohio State (5-1)
October 8, 2008 Source: College Football News - "...Why Purdue might win: Ohio State has become one-dimensional. It's not as if Pryor can't throw, he completed 13-of-19 passes vs. Wisconsin, but he's tentative and won't take many shots down the field. He doesn't have to...Why Ohio State might win: Ohio State, welcome to the Purdue run defense. Oregon ran for 306 yards and two scores, Notre Dame ran for 201 yards and Penn State ran for 202. Ohio State knows this, and the offense will be Beanie, Pryor, Beanie, Pryor, Beanie, Beanie, and touchdown, repeat...What will happen: Ohio State will never be threatened...CFN Prediction: Ohio State 34 … Purdue 20..." (more)


2008 Purdue Boilermakers Game Preview
October 1, 2008 Source: Buckeye Planet - Analysis and more, including: "...Curtis Painter is the latest in a long line of successful QBs at Purdue. Painter needs only 12 yards in Saturday's game to reach 10,000 yards passing in his career. That would make him the fourth quarterback in Big Ten history to accomplish the feat...He will be making his 38th consecutive start on Satuday, which is the longest active streak in major college football...Looking up and down the roster, the offense is an immensely senior-laden group. It is difficult, therefore, to figure out why the Boilermakers have struggled to a 2-3 start. The Boilermakers, used to piling up yardage like it is going out of style, have been average at best. Their total yardage per game of 378.2 ranks them only 57th nationally, a stat very unlike most of Coach Tiller's successful teams..." (more)


Buckeye Extra Gameday
October 10, 2008 Source: Columbus Dispatch - "BuckeyeXtra.com delivers all you need to know about the Buckeyes' upcoming game. Click here for everything from the top story and key factors to player spotlights and game predictions. Features include: Saturday's Game, Five Key Factors, Play of the Week, On The Edge, In The Spotlight, Meet A Buckeye, (more)..."


PURDUE (2-3, 0-1) vs. NO. 12 OHIO STATE (5-1, 2-0)
October 8, 2008 Source: CBS Sportsline - "...Pryor, who replaced senior Todd Boeckman...For the season, is 42-for-65 for 440 yards with five TDs and two interceptions, while rushing for 312 yards and four touchdowns. 'Every snap he gets, he learns from. He was under duress (against Wisconsin),' Buckeyes coach Jim Tressel said. 'You know Terrelle didn't have everything go his way, but he kept hanging in there.' Maybe more importantly for Ohio State, Pryor has led the Buckeyes to three straight victories as a starter...Ohio State is tied with No. 6 Penn State and No. 23 Michigan State atop the Big Ten standings. After this contest, the Buckeyes visit the Spartans and host the Nittany Lions on consecutive weekends..."


PURDUE (2-3, 0-1) vs. NO. 12 OHIO STATE (5-1, 2-0)
October 8, 2008 Source: Big Ten Network - "The regular season is half over for Ohio State, yet it feels as if the Buckeyes are just finding themselves....since that ugly 35-3 loss at Southern California in mid-September...the Buckeyes have won three in a row, including their first two Big Ten games. They've gotten Beanie Wells back from a foot injury, and freshman Terrelle Pryor has taken over at quarterback. Even though they have not won convincingly, they at least believe they're building some momentum for a stretch run. Going into the season, the Buckeyes had 17 starters back and more than 40 fourth- or fifth-year seniors on the roster. No one expected much upheaval from one week to the next. Instead, there has been almost continual change..."



Crunching the Numbers: Purdue at OSU
October 7, 2008 Source: Buckeye Sports - "Both teams are bringing up the rear statistically in the Big Ten in a category or three, and a couple of Buckeyes enter the contest Saturday with the contest to break into the top 10 in career categories..."

Game Data: Purdue at Ohio State
October 8, 2008 Source: Bucknuts - "We have the pertinent info, depth charts and a prediction on Ohio State's home game with Purdue this Saturday (3:30 p.m., ABC)..."








Purdue Official Site
Cumulative Season Statistics
Depth Chart For Ohio State

Joe Tiller, Head Coach
Ass't Coaches & Team Roster
Source: Purdue Official Site

Purdue QB's accuracy concerns Tiller
October 8, 2008 Source: Lafayette Journal - "...'I thought I might save a bunch of questions by saying Curtis Painter is the starting quarterback and will be,' (Tiller) said. 'Joey Elliott may or may not play. The kickers continue to compete during the week. And knowing I'm from Ohio, there's no sentimental special feeling for me going to Ohio Stadium to play, even though it's my last time there.' Good idea, but it didn't stop the questions about Curtis Painter, who was pulled in the fourth quarter during Saturday's loss to Penn State. The first question? If he noticed anything different about Painter this season that might be the cause of his inconsistency..."

Purdue coach calls out performance of starting QB Painter
October 7, 2008 Source: ESPN - "Purdue coach Joe Tiller leveled his sharpest criticism yet of quarterback Curtis Painter during Tuesday's weekly teleconference. Tiller benched Painter in the fourth quarter of last Saturday's 20-6 loss to Penn State, and backup quarterback Joey Elliott led the Boilermakers to their only touchdown. Painter leads the nation's quarterbacks with 37 consecutive starts, but that string appeared to be in jeopardy after Saturday's performance. Though Tiller said Painter still is the starter, he made his unhappiness with his fifth-year senior clear. 'We need to make throws and they need to be in an area where we can catch the football, not at the ankle level or behind or on a deep throw two yards over the top of his head...' (Tiller said)...Painter, who finished with just 112 yards passing in the loss to Penn State..."

Ohio State preview
October 8, 2008 Source: Off The Tracks - "...Our offense was better last year against a less experienced Ohio State defense and the Buckeyes pitched a shutout for 59 minutes in a nationally televised sellout at Ross-Ade. This year we are struggling even more offensively. Ohio State may still be figuring out things on their own offense, but their defense will likely stop us quite easily...Another key element to any success we have will be the development of a pass rush. Ohio State's protection hasn't been the greatest all season. They have given up 16 sacks through six games...Wells is clearly the catalyst that makes things go, though Pryor has made them much more formidable in recent weeks....On the receiving end Ohio State has good, but not stellar receivers..."




#24 Kory Sheets
POSITION: RB
HEIGHT: 6-0
WEIGHT: 206
CLASS: Senior

Career: Ranks tied for second on Purdue career touchdowns list with 37 (also Leroy Keyes), third with 32 rushing touchdowns, fifth with 222 points, ninth with 2,210 rushing yards, ninth with 5.14 yards per carry, ninth with 3,301 all-purpose yards, 11th with 430 rushing attempts, 19th with a 21.2-yard kickoff return average and 20th with 509 kickoff return yards ... has six 100-yard rushing games...



#71 Alex Magee
POSITION: DE
HEIGHT: 6-4
WEIGHT: 295
CLASS: Senior

2007: Started all 13 games ... had 38 tackles (24 solo, 14 assists), including 4.5 for loss, with two pass breakups, two fumble recoveries, one forced fumble and two blocked kicks ... blocked field goal attempts vs. Notre Dame on Sept. 29 and vs. Michigan State on Nov. 10 ... recorded career-high seven tackles (5 solo, 2 assists) at Michigan on Oct. 13 ... had career-high 3.0 tackles for loss at Indiana on Nov. 17...




2007: Received team's Most Improved Award - Defense for spring season ... honorable mention All-Big Ten by coaches ... appeared in all 13 games, including 12 starts ... shared team lead with 15.0 tackles for loss (also Cliff Avril), including 1.0 sack ... ranked second with 81 tackles (48 solo, 33 assists) ... had three pass breakups and three forced fumbles ... topped team in tackles five times ... recorded career-high 11 tackles three times: at Toledo on Sept. 1 (2 solo, 9 assists), vs. Ohio State on Oct. 6 (8 solo, 3 assists) and at Penn State on Nov. 3 (7 solo, 4 assists) ... had three tackles for loss, including sack, in Ohio State game...




Career: Ranks second on Purdue career completion percentage list at .599 (760-1,269), tied for second with 10 300-yard passing games, fourth with 1,269 passing attempts, fourth with 760 completions, fourth with 8,763 passing yards, fourth with 54 passing touchdowns, fourth with 9,101 yards of total offense, sixth with a 126.4 passing efficiency rating and sixth with 35 interceptions ... has three 400-yard passing games, including one 500-yard performance...




Purdue (2-3) at No. 12 Ohio State (5-1) :





Columbus Weather Forecast



Can't live without you: The 20 most indispensable college football players
October 8, 2008 Source: Sporting News - The Sporting News' Matt Hayes writes: "Most of these guys aren't on Heisman voters' radars, but what do they need with a trophy, anyway? You say valuable, Sporting News college football expert Matt Hayes says indispensable. The players most essential to their teams, ranked in order of importance in relation to national title and conference championship races: ...7. Terrelle Pryor, QB, Ohio State. Six games into his college career, Pryor -- not tailback Chris Wells -- clearly is the player who makes the Buckeyes' offense go."