Mr. Bucknuts' Bucket Of Bullets
December 11, 2006 Source: Bucknuts -&nbsp"With all the shenanigans pulled in cyberspace, the awards being distributed in college football, and Notre Dame preparing for its annual bowl beatdown, you know that Mr. Bucknuts must be lurking somewhere. Well, here he is again with this week's edition of his high ideals and low-brow attacks in another 'Bucket of Bullets'..."

Mr. Bucknuts' Bucket Of Bullets
November 26, 2006 Source: Bucknuts -&nbsp"While Ohio State and their fans were able to kick back and relax this weekend and enjoy Thanksgiving, other teams were back at it on the college gridiron, jockeying for postseason position. There were plenty of developments from the weekend, and Mr. Bucknuts has some views on what transpired and much more in the latest Bucket..."



BCS Analysis: Week 7
November 26, 2006 Source: College FootballNews.com - "USC jumped Michigan to get into the No. 2 spot, meaning a win over UCLA will make it a Trojans-Buckeyes national title game..."
And: USC takes over No. 2 slot in BCS rankings





AP agrees with BCS
November 19, 2006 Source: ESPN - "A close loss on the road to the nation's top team was enough to convince voters that the Michigan Wolverines should still occupy the number two slot in the latest rankings..."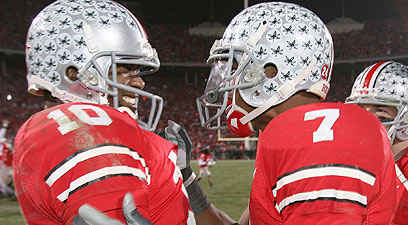 | | |
| --- | --- |
| | At the skull session, Tressel addressed the crowd. He took the mike and in a calm voice said four words: "It's here...we're ready" and then left the stage. |



Buckeyes have Game, will play for national championsip
November 18, 2006 Source: Columbus Dispatch - "What was a tunnel of pride on the way out yesterday became a tunnel of triumph on the way back. Before their game with Michigan, Ohio State players ran through the traditional "tunnel of pride," a double line of former players who gather for the last home game of every season. Moments after their 42-39 victory over Michigan, the Buckeyes fought their way through the frenzy of fans who swirled around the Ohio Stadium field. As players trotted up the tunnel to the locker room, people pawed at their uniforms, held up cell phones to take pictures and screamed in joy. Just inside the tunnel, receiver Ted Ginn Jr. did a pull-up on an overhead bar, trying to see above the crowd and find a teammate in the din. They wanted to be together to enjoy this moment that meant so much: It was a win over their archrivals, their fifth in six years. An outright Big Ten championship, Ohio State's first since 1984. A trip to the national championship game Jan.8 in Glendale, Ariz., their second in five years..."
Saturday's game set an attendance record at The Shoe: 105, 708



Once again Smith at his best against Wolverines
November 18, 2006 Source: Cleveland Plain Dealer - "Troy Smith took care of Michigan one more time and tightened his grip on the Heisman Trophy. Ohio State's sensational quarterback passed for four touchdowns and, as usual, made several big plays in the final minutes against the Wolverines to lead the No. 1-ranked Buckeyes to a 42-39 victory on Saturday. 'Yes and yes - he's the best player in the country and he certainly locked up the Heisman,' said wide receiver Anthony Gonzalez, who caught one of Smith's TD passes..."

Smith secures Heisman as unbeatable Bucks prevail
November 19, 2006 Source: SI.com - "Despite what the lopsided scores week after week may have indicated, Brian Hartline revealed Saturday that his team was never quite as sure of its No. 1 ranking as perhaps many of its fans were. 'There was not one game we didn't go into a little nervous,' said Ohio State's redshirt freshman receiver. 'We always felt a little bit better by halftime once we got out to a lead.'..."

Smith's toughness plays key role, trumps Michigan
November 19, 2006 Source: Columbus Dispatch - "The solution to the mystery of Ohio State's recent mastery of Michigan began with an incomplete pass in the fourth quarter. On second-and-10 from the Michigan 33-yard line, Troy Smith got leveled from the blind side by a bullet train named LaMarr Woodley. Smith's pass to Ted Ginn Jr. fell incomplete, and in a 35-31 game, the crowd must have experienced a brief moment of panic..."

Instant Analysis: Smith was the difference
November 18, 2006 Source: CollegeFootballNews.com - "The backdrop was dramatically and deliciously different from the first 102 editions of this American sports classic, but the outcome was the same as the last two. So was the source of the ultimate result..."
Three And OH MY!
November 18, 2006 Source: BuckeyeSports.com - "A legend has been cemented, and so has a trip to the BCS Championship Game. For the third year in a row, Ohio State quarterback Troy Smith has led his team to a victory over Michigan, and for the second time in four seasons the Buckeyes finish the regular season undefeated..."
Run to title game starts with well-grounded attackNovember 18, 2006 Source: Cleveland Plain Dealer - "The older running back came to the sideline after running a streak through the Michigan defense. The younger running back, who had gone almost as far earlier, grabbed him and lifted him like an explorer about to plant a flag..."

Offensive line key to Buckeyes' victory
November 20, 2006 Source: Toldeo Blade - "As the darkness of early evening settled in outside Ohio Stadium Saturday, Buckeyes running back Antonio Pittman burst through that vaunted Michigan defensive line and saw nothing but fresh turf between himself and the end zone some 56 yards away..."
From CBS Sportsline.com:
Team Stats &nbsp
Full Play-by-Play
Player Statistics & Scoring Summary


GameTracker from CSTV.com
| | |
| --- | --- |
| | Ohio State fans, many of whom took pieces of sod as souvenirs, celebrate on the field after the Buckeyes' win over Michigan at the Horseshoe. |
The-Ozone Note and Quotebook
November 19, 2006 Source: The Ozone - "It was a big win in a big game with big implications. It deserves the biggest the-Ozone Note and Quotebook of the year, and that's exactly what it got. Check out all those little side-stories from the game in the-Ozone Note and Quotebook..."
Buckeyes Claim Outright Big Ten Title in 42-39 Thriller Over Michigan
November 19, 2006 Source: The Ozone - "The-Ozone recap of the big win over Michigan, including comments from both locker rooms and some not-so-gracious comments from Michigan running back Mike Hart..."
Michigan Falls at Ohio State in Big Ten Title Showdown
November 18, 2006 Source: TSUN Official Site - "The battle of the nation's top two ranked teams lived up to its billing Saturday, Nov. 18, but the No. 2 Michigan football team came up short against No. 1 Ohio State, falling 42-39 in Columbus, Ohio, in a game that decided the Big Ten title and a berth in the national championship game..."
Postgame Notes
Transcript of Michigan's postgame news conference
Michigan grades
November 20, 2006 Source: Detroit News - "Offense, Defense, Special Teams, Coaching, Overall..."
First loss leaves Wolverines somber
November 19, 2006 Source: Ann Arbor News - "The smell of victory cigars wafted through the air outside Ohio Stadium, firecrackers popped and catcalls rained down on the University of Michigan football players as they walked from the locker room to board their buses. Many of the Wolverines paid no attention..."
No. 1 OSU Downs No. 2 Michigan, 42-39
November 18, 2006 Source: Bucknuts - "In an offensive shootout and one of the most thrilling games in the history of the rivalry, top-ranked Ohio State defeated No. 2 Michigan 42-39 on Saturday in Columbus. Troy Smith threw for 316 yards and four touchdowns as the Buckeyes clinched a spot in the national title game and their first outright Big Ten title since 1984..."
Ohio State unparalleled on the field
November 19, 2006 Source: ESPN - "The national championship game is now Ohio State against a 10-point underdog to be named later. But let's not fast-forward to the desert just yet..."
Ohio State streaks past Michigan into BCS title game
November 18, 2006 Source: ESPN - "Troy Smith and his Ohio State teammates poured on all the offense they had, and Michigan stayed right on their heels. The No. 1 Buckeyes streaked into the national title game all right, with a dazzling 42-39 win over the Wolverines on Saturday..." (Stats, Indivial Leaders, Scoring Summary)
Decisive moment foretold
November 19, 2006 Source: Akron Beacon Journal - "Sideline pundits share a passing premonition about Robiskie's TD...Brian Robiskie's brother Andrew had a feeling. So did Braylon Edwards..."
No. 1 Ohio State wins shootout with Michigan to secure berth in title game
November 18, 2006 Source: USA Today - "At the end of it all, the offensive numbers were staggering: 81 points, the most in this series since 1902, and 900 yards of total offense. What would Bo and Woody think of a 42-39 Ohio State-Michigan game? Ohio State quarterback Troy Smith was asked. 'Depends on who won,' Smith said with a smile..."
Game Report
U-M defense has no answers
November 19, 2006 Source: MLive.com - "Long after the game ended, the lights at Ohio Stadium shined down on the field dotted with huge brown spots where the turf had been scooped up by fans. The field wasn't the only thing torn up in Ohio State's 42-39 victory over Michigan on Saturday. The Wolverines' defense, the backbone of the team's 11-0 start, turned in its worst outing this season. There were no answers. Just a pile of numbers as unattractive as the pockmarked field..."
Five Reasons Buckeyes Won
November 19, 2006 Source: Dayton Dailey Newws
Believe the hype
November 18, 2006 Source: Associated Press - "Ohio State has punched its ticket for the BCS title game in Glendale, Ariz. on Jan. 8, 2007. The Buckeyes, who have been No. 1 all season, defeated their long-time rivals Michigan 42-39 to earn the right to play for the national championship..."
Video Link: Hear from top-ranked Ohio State after holding off No. 2 Michigan with a memorable 42-39 win, earning a trip to the BCS title game..."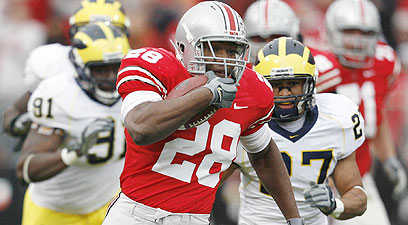 OSU ground game chews up vaunted UM defense
November 19, 2006 Source: CentralOhio.com - "No one was supposed to be able to run on Michigan. The Wolverines defense was reputed to be an impregnable fortress. They were exposed Saturday. Ohio State running backs Antonio Pittman and Chris Wells roared through gaping seams en route to a whopping 187 rushing yards in a 42-39 victory at Ohio Stadium.'Offensively, we took it personally what was being said this week," said Pittman, referring to the alleged futility of trying to run on Michigan. "Our offensive line took it personally. They came out and took care of business.'..."
Ohio State's backs do just fine vs. Michigan's rushing defense
November 19, 2006 Source: Canton Repository - "They heard the questions over and over all week.How could they run the ball against Michigan?..."
Ohio State-Michigan: The Aftermath
November 19, 2006 Source: SI.com - "Today was without question the most draining experience I've had covering a game. There was just so much that transpired and so much to process over the course of that game, there was no way to even start writing about it until after we'd finished with postgame interviews and then, even after I'd filed my story, there was still so much to think about in terms of the ramifications..."
No. 1 OSU tops No. 2 UM in classic for Big Ten crown
November 19, 2006 Source: Toldeo Blade - "Troy Smith came into Ohio Stadium five years ago with nothing but a chip on his shoulder, and a lot to prove. The senior quarterback played his final game here yesterday, displaying a dynamic arm, a steely will to win, and a resiliency that allowed him to carry his team through a sea of adversity on the grandest stage..."
Buckeyes, Wolverines light up Horseshoe scoreboard
November 19, 2006 Source: ESPN - "The next time someone tells you that defense wins championships, sit him down and tell him about the offensive orgy staged in The Horseshoe on Saturday..."
First loss of the season devastates U-M
November 19, 2006 Source: MLive.com - "It was another loss, another defense that failed against Troy Smith and yet another bitter bus ride back to Ann Arbor for the Wolverines after losing the Big Ten championship game to Ohio State, 42-39 as well as a guaranteed trip to the national title game..."
What beats replaying the game of the century? Nothing
November 18, 2006 Source: CBSSportsline.com - "Congratulations, Buckeyes. Mulligan, Michigan. No matter what your plans are for Jan. 8, they'd better include watching these two teams play again. What you saw Saturday night certainly was the game of the century..."
Michigan Deserves Another Shot At Ohio State
November 18, 2006 Source: CSTV.com - "I know this won't be a popular stand. Hell, after what we saw today, neither team may like this idea. But why go through the trouble? You saw Jim Tressel get asked the same question. It's almost obvious that the two best teams in college football were on display here in Ohio Stadium Saturday..."
Michigan painted a target on OSU's defense
November 19, 2006 Source: MSNBC.com - "The Ohio State Buckeyes wanted celebration, not speculation. Good luck with that, Buckeyes. Even though top-ranked Ohio State held off the No. 2-ranked and previously unbeaten Michigan Wolverines 42-39 in a game-for-the-ages that lived up to the hype, the Buckeyes weren't even allowed to take a deep breath..."
Game over, time to mourn
November 19, 2006 Source: The Morning Journal - "Carr's emotions nearly got the best of him following yesterday's 42-39 loss to Ohio State. It wasn't so much about the game as it was about the loss of friend and mentor Bo Schembechler on Friday..."
Illegal-hit call leaves Carr scratching his head
November 18, 2006 Source: Columbus Dispatch - "Michigan coach Lloyd Carr didn't have a problem with the official's call, only the rule that was enforced. The Wolverines, trailing 35-31 with seven minutes left in the fourth quarter, appeared to have Ohio State stopped at the Michigan 40-yard line, when OSU quarterback Troy Smith threw incomplete across the middle on third-and-15. But Michigan linebacker Shawn Crable was called for an illegal hit to the head of Smith as he scrambled out of the pocket, a 15-yard penalty that gave OSU a first down. Three plays later, the Buckeyes scored to go up 42-31. Ohio State won 42-39. "I feel like when a quarterback's in the pocket and he's getting hit, the rule has to protect him," Carr said. "But when a quarterback is scrambling, when's running around, I'm not sure I'm exactly clear why that rule is. "And that was a big play in the game." Crable spent his childhood in Columbus before moving to Massillon, where he attended Washington High School. He was not made available to the media.
(
Webmaster Note
:
If you watched the video replay, it clearly shows a "helmet to helmet" hit by Crable on Troy, which is illegal. Plus Troy was out of bounds. Yet LLLLLoyd questioned it? Compare this to the Texas game. The same infraction was called against OSU. However, that call was considered questionable, at best, by nearly everyone in the media. How did Coach Tressel respond at the time to that Texas game call, when leaving the field at halftime: "Well, you want to protect the quarterback." Carr has been and always will be a whiner.
)