The-Ozone Note and Quotebook
April 13, 2007 Source: The Ozone - "Stepping up, Injury updates, Couldn't watch, Sizing up the QBs, and No returners returning; they're all covered in the-Ozone Note and Quotebook..."

Buckeyes Gearing Up for Jersey Scrimmage
April 13, 2007 Source: The Ozone - "The Buckeyes will conduct the second jersey scrimmage of the season on Saturday. How important is it? According to one OSU offensive lineman, it's real important if you don't want to look like a big marshmallow running around..."

Big Ten Network working hard to be seen
When it launches in August, the Big Ten Network wants to be available in every cable or satellite-wired home in eight states where its schools play.

So far, only satellite provider DirecTV and a handful of small local cable companies have signed on, Mark Silverman, the new sports network's president, said yesterday during a news conference at the University of Illinois.

Silverman joined the new Chicago-based network, co-owned by the Big Ten and Fox Cable Networks, in December after working as general manager and senior vice president of ABC Cable Networks Group.

The Big Ten Network plans to show all the conference schools' football games that aren't broadcast elsewhere - at least 35 a year. It also plans to show at least 105 regular-season men's basketball games, 55 regular-season women's games, 170 other games from sports such as softball and track, and Big Ten championships.

When it launches, the Big Ten Network will be the second TV network in the country devoted to the sports of a single conference. The Mountain West Conference launched its own - The Mtn. - last fall.

The new network also is expected to be a revenue generator for the conference's schools, paying each $7.5 million a year.



Gimpy Ginn wows scouts
April 12, 2007 Source: Columbus Dispatch - "Ted Ginn Jr. wasn't healthy enough to run Ginn-like times, but nobody left his private workout yesterday disappointed in the former Ohio State receiver..."

Ginn has enough for scouts
April 12, 2007 Source: Cleveland Plain Dealer - "With the NFL watching, Ted Ginn Jr. wasn't his old self during a workout at Ohio State on Wednesday, but he may have come close enough. In his first showcase since his national championship game ended with a sprained foot, Ginn ran three 40-yard dashes, timed anywhere from the high 4.3s to the mid 4.4s, with some scouts saying the Buckeye junior did what they expected, while others thought the session didn't go that well..."





Buckeyes rebuild on and off field
April 11, 2007 Source: Canton Repository - "In more ways than one, the dust has settled. Jim Tressel has put the 2006 season and a lopsided loss in the national championship game behind him. Ohio State's football practice facility is just about complete. Now, Tressel has started working on his own renovation project. His team..."





Schoenhoft, Henton like being Buckeye QBs for change
April 11, 2007 Source: Columbus Dispatch - "Rob Schoenhoft and Antonio Henton are no longer in disguise. This spring, they're not trying to scramble like Michigan State's Drew Stanton, wing it like Illinois' Juice Williams or stand and deliver like Florida's Chris Leak. Schoenhoft and Henton are being themselves: candidates for the starting quarterback job at Ohio State, just like front-runner Todd Boeckman. So, instead of emulating the opponent as they did all last season, executing scout-team plays for the benefit of the OSU defense, they're getting to use the Buckeyes' playbooks..."





Spring crucial for young football Bucks
April 11, 2007 Source: Zanesville Times Recorder - "It should also be known that a multitude of key players either exhausted their eligibility or left early for the NFL Draft, leaving the coaching staff searching for replacements. An astrophysics exam might be easier..."





Linebackers Hoping to Play Faster in 2007
April 11, 2007 Source: The Ozone - "Sometimes being fast just isn't enough. Just ask OSU's returning linebacker corps..."



Laurinaitis won't be content to rest on success
April 11, 2007 Source: Columbus Dispatch - "Listening to James Laurinaitis, you wouldn't know he was All-America last season. 'There's a lot of stuff I've got to improve upon in watching (film of himself) last season,' the linebacker said. Like what? As a sophomore in 2006, he won the Nagurski Award and was a finalist for the Butkus and Bednarik awards, was named first-team All-Big Ten and led Ohio State with 115 tackles. He also had four sacks and five interceptions..."



Linebackers are heart of OSU defense
April 11, 2007 Source: Dayton Daily News - " James Laurinaitis is considered one of the best linebackers in the nation. But when the junior All-American and Bronko Nagurski Award winner looked at his fellow Ohio State linebackers after spring practice Tuesday, he saw bigger, faster and stronger..."





Ohio State looking for football leadership in 2007
April 10, 2007 Source: Mansfield News Journal - ""It's huge," Schafrath said of the dearth of senior leadership, "but we're talking about a coaching staff that's been together for several years, and that means a lot. Coaching experience can overcome a lot of that..."



Mr. Bucknuts' Bucket Of Bullets
April 10, 2007 Source: Bucknuts -&nbsp"Mr. Bucknuts compiles his famous annual column of lists - although it comes with his usual biting commentary. Subjects he takes on include the new West Virginia coaching philosophy, recruits that got away, recruits that left early, the best videos in Ohio..."



41-14 Still Casting a Shadow Over Buckeye Football
April 9, 2007 Source: The Ozone - "There are some unusual circumstances surrounding OSU spring football this season, and one of them is the long shadow of 41-14..."



Larimore looks to turn heads
April 9, 2007 Source: Buckeye Grove - "There are plenty of comparisons between Dexter Larimore and former Buckeye Tim Anderson with both bringing a strong wrestling pedigree to Ohio State. With the Buckeyes looking to replace a pair of defensive tackles it appears that the red-shirt freshman should be right in the mix for playing time in the upcoming season..."




Ohio State Spring Depth Chart
2007 Ohio State Roster
Source: OSU Official Site





Late-season slide on minds of defense
April 8, 2007 Source: Columbus Dispatch - "Like everyone else on the team, Heacock has heard plenty about how things went wrong in the 41-14 nationalchampionship game loss to Florida. For the defense, though, it was really the final two games - including the 42-39 win over Michigan - where things began to slide.,,'Those were two good teams (Michigan and Florida), but that has been something of emphasis this spring; we can't play like we did our last two games,' junior cornerback Malcolm Jenkins said..."



Ohio State defensive statistics through the first 11 games and the last two against TSUN and UF.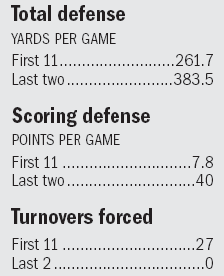 Barton: Small is a worthy replacement for Ginn
April 8, 2007 Source: Columbus Dispatch - "

The biggest surprise of the first half of spring drills for Ohio State offensive tackle Kirk Barton has come in a Small package. 'He is unbelievably fast,' Barton said of sophomore receiver Ray Small, tapped to replace record-setting Ted Ginn Jr. who is headed for the NFL draft. "We get him the ball and he'll just cross the field - touchdown. 'I mean, he is unbelievable. He is going to be something. He can definitely be in the Ted mold.' Considering Ginn set a Big Ten record with six punt returns for touchdowns in his career, Barton knew his assessment of Small was dancing that fine line between analysis and hype. Especially because the last thing most folks remember of Small from his freshman season was him being helped off the field after being knocked woozy by a Minnesota tackler in the flat. 'I know people always say these things when a guy is getting recruited, and you never really know until they're running with the No. 1 offense against the No. 1 defense,' Barton said. 'But he does it.'..."

Gaining Mo - mentum
April 8, 2007 Source: Columbus Dispatch - "

With sophomore Chris 'Beanie' Wells out of action because of an ankle sprain probably for the rest of the spring, junior Maurice Wells has stepped into the breach, coach Jim Tressel said. Maurice Wells had said during the buildup to the national-championship game in January he would consider a transfer because he wanted a chance to play more. Now it seems the Buckeyes are leaning on the 5-foot-10, 190-pounder from Jacksonville, Fla., more and more. He is responding with a strong spring. 'Mo Wells has always worked very hard; he's always been very serious, really focused on wanting to help,' Tressel said. 'I saw him doing a good job in pass protection, fighting like crazy (the past two weeks). 'I think he is taking advantage of the fact he's getting more reps. He is a good football player, and we are going to need him to be good to have a good team in 2007..."

Offense Wins Scarlet Jerseys in Jersey Scrimmage
April 7, 2007 Source: The Ozone - "The Buckeyes made their first trip to Ohio Stadium yesterday for the first of what will be two jersey scrimmages this spring. Check out who won, who stood out, and what happened in the-Ozone Jersey Scrimmage report..."

The-Ozone Jersey Scrimmage Note and Quotebook
April 7, 2007 Source: The Ozone - "New Playmakers, New Number, Old Position, New Defensive Backs, Old Weather, and New Accent; they're all covered in the-Ozone Jersey Scrimmage Note and Quotebook..."

Recruiting Web sites booming, also under fire
April 7, 2007 Source: Associated Press - "On Feb. 7, when most high school football stars signed a Division I national letter of internet, more than 70 million people logged onto Rivals.com...Despite their popularity, they are increasingly coming under attack by coaches and administrators who argue they heap too much attention on young, impressionable student-athletes..."

Inadequate aid?
March 27, 2007 Source: SI.com - "NCAA could take big hit in scholarship anti-trust trial...Has the NCAA illegally fixed the price of an athletic scholarship below the cost of a college education? Or, is the NCAA trying to protect amateurism and competitive balance for its member schools?..."



2007 Ohio State Spring Outlook
April 6, 2007 Source: OSU Official Site - "Jim Tressel might want to consider hanging a vacancy sign outside the Woody Hayes Athletics Center. The veteran Ohio State football coach has 12 rooms for rent following the 2006 season in which the Buckeyes posted a 12-1 record, won the outright Big Ten championship and finished second in the national polls..."





Interceptions offset QBs' touchdowns
April 7, 2007 Source: Columbus Dispatch - "The weather for the Ohio State jersey scrimmage yesterday was reminiscent of a Michigan game. The quarterback play, however, was not - at least nothing like the past three, when Troy Smith churned out one tour de force after another. The Buckeyes' offense and defense squared off for about 120 plays on a blustery, snowy day in Ohio Stadium..."



OSU coaches, defense impressed by QB Boeckman
April 7, 2007 Source: Dayton Daily News - "Ohio State quarterback Todd Boeckman notched two touchdown passes in a closed intrasquad scrimmage at Ohio Stadium on Friday and made a favorable impression on the team's defense. But the 23-year-old junior-to-be from St. Henry knows that what coach Jim Tressel will remember most is the pass Boeckman completed to the opposition..."



Tressel keeps expectations high
April 7, 2007 Source: Columbus Dispatch - "Ohio State's Jim Tressel and his coaches are in the process of finding 11 new starters this spring, including a quarterback, but he said after a scrimmage yesterday that doesn't mean the definition of a successful season will change. 'Just like any other, it's if we play to our potential,' Tressel said. Which begged the question, what is the potential for what is going to be a reloaded team? 'We're capable of being as good as anyone in the country,' Tressel said. 'We felt that every year we've been here and we feel that today..."



Boone going with his gut
April 6, 2007 Source: Columbus Dispatch - "...in the days that followed Ohio State's 41-14 loss to Florida on Jan. 8 in the college football national-championship game, Boone, the Buckeyes' left tackle, was targeted in particular for many of the things that went wrong for Heisman Trophy winner Troy Smith and the offense. What people remembered most, it seemed, was Florida defensive end Derrick Harvey ripping past Boone on several occasions...But that wasn't fair or accurate to single Boone out, offensive coordinator Jim Bollman said yesterday after the sixth practice this spring..."





All three quarterbacks getting their licks in
April 6, 2007 Source: Columbus Dispatch - "The Ohio State quarterback competition is truly three headed as the team prepares for its first live scrimmage of the spring today in Ohio Stadium. Though coach Jim Tressel has said Todd Boeckman is atop the depth chart, players say Rob Schoenhoft and Antonio Henton also are getting time with the first-team offense. 'We rotate,' tackle Kirk Barton said..."

Spring Practice Update
April 6, 2007 Source: The Ozone - "OSU's first six spring practices have been conducted behind closed doors, and the seventh one, the first jersey scrimmage of the spring, will also be closed to the public and media...several members of the football team met with media members yesterday and brought them up to speed on the early goings on this spring. Check out who has stood out in the early drills and who has gotten a little dinged up..."



Defensive line will sport almost entirely new look
April 5, 2007 Source: Columbus Dispatch - "With the departure of three starters and a top reserve off the line - end Jay Richardson and tackles David Patterson, Quinn Pitcock and Joel Penton - practices have been spirited as the youngsters scramble to gain favor..."
First Four





Crowd Of 1,300 Attends Spring Preview
April 4, 2007 Source: Bucknuts - "OSU coach Jim Tressel conducted his annual Coach Tressel's Spring Preview Wednesday at the Woody Hayes Athletic Center. The event, in its 16th year, was begun by former coach John Cooper as a fund-raiser for the Alzheimer's Association Central Ohio Chapter. Click...for comments from Tressel as well as several of his assistants and upperclassman players on the team's progress this spring..."





3 months later, loss to Florida is history
April 4, 2007 Source: Columbus Dispatch - "How strange does this sound: The Ohio State football team emerged yesterday from basketball's shadow. The football team had its fifth practice of the spring, but the first four went by with nary a whisper. This was by design, as coach Jim Tressel wanted the focus to be on the men's basketball players, so he scheduled no interviews (and jetted to Atlanta and back)..."





Buckeyes trying to fill holes on offense, defense
April 2, 2007 Source: ESPN.com - "Think Ohio State will have a hard time getting over the 41-14 loss to Florida in the title game? Well, replacing 18 seniors and three key juniors will be a bigger challenge for the Buckeyes..."





Learning curve begins anew
April 1, 2007 Source: Columbus Dispatch - "Without Heisman QB, OSU is likely to simplify offense...On the Ohio State football spring prospectus, under offensive formation, it reads: 'Multiple.' Of course, it's multiple. What's the alternative, 'One-Dimensional?' The big question is, with so many standout players gone, exactly how multiple can the Buckeyes be?..."
Adding Up The "O"




Wells unfazed by new role
March 30, 2007 Source: Columbus Dispatch -&nbsp"As spring practice began yesterday, Ohio State football coaches and fans fretted about replacing departed quarterback Troy Smith and wondered who would step up for receivers Anthony Gonzalez and Ted Ginn Jr. It's instructive, then, to note the lack of worry about replacing running back Antonio Pittman, who posted back-to-back 1,000-yard seasons..."



Questions: Another starting five for the Buckeyes
March 29, 2007 Source: Cleveland Plain Dealer - "On Saturday, and he hopes Monday, Ohio State football coach Jim Tressel will be in the stands in Atlanta for the Final Four. While flying back and forth as a Buckeyes basketball fan, he'll also be leading Ohio State through its first of four straight spring practices starting Thursday. The last of 15 practices will be the spring game on April 21..."





The Ohio State football team will begin spring practice tomorrow, Thursday March 29. Below is a link to the team's practice schedule. All practices closed to the public unless noted:
Complete schedule
March 28, 2007 Source: Columbus Dispatch




Who will be the next QB at OSU?
March 28, 2007 Source: Akron Beacon Journal -&nbsp"Todd Boeckman will get the first chance to replace Heisman Trophy winner Troy Smith as Ohio State University's starting quarterback, coach Jim Tressel said Tuesday..."

Wait is nearly over for Boeckman
March 29, 2007 Source: Columbus Dispatch - "Quarterback is entering his fourth season with Ohio State ..."



Buckeyes on lookout for senior leadership
March 28, 2007 Source: Columbus Dispatch - "...18 departing seniors plus three juniors who left early for the NFL took with them a combined 666 games played and 336 starts. The fifth-year seniors were the last link to the 2002 national-title team. So as Tressel looks ahead to the start of spring practice on Thursday, one of his first concerns is who will lead the 2007 Buckeyes..."







Ex-minor leaguer appears ready to take shot at QB
March 27, 2007 Source: Columbus Dispatch -&nbsp"Another quarterback likely is headed to Ohio State, but not in time to participate in spring practices...Joe Bauserman orally committed to OSU in July 2003 out of Tallahassee (Fla.) Lincoln High School but did not sign a letter of intent. He chose baseball when he was drafted by the Pittsburgh Pirates in June 2004...Bauserman is 6 feet 2, 220 pounds. He threw for more than 5,000 yards in his final two years of high school..."



2007 Big Ten Team-by-Team Schedules
March 26, 2007 Source: CollegeFootballNews.com - "The unbalanced Big Ten schedule makes for a bizarre setup compared to the other big leagues (check out who misses Michigan and Ohio State), but it makes for plenty of discussion and controversy. Do Travis Beckum and Wisconsin have the right slate to win a second Big Ten title in three years?..."

22007 Big Ten Composite Schedule, including Top Ten Big Ten Games & Non-Conference Games.





Spring Top 25
March 26, 2007 Source: CBSSportsline.com - Coming in at #18...