Wayne Woodrow "Woody" Hayes was born February 14, 1913 to Wayne and Effie Hayes in Clifton, Ohio (a small farm community in Clark and Greene Counties between Springfield and Dayton). At a young age Woody and family moved to Newcomerstown, Ohio in rural Tuscarawas County. As an adult Woody Hayes lived primarily in Upper Arlington, Ohio, an upper class Columbus suburb.

Hayes graduated from Denison University with a B.A. in English and History in 1935 and from OSU with a M.A. in Educational Administration. He was an associate professor at Ohio State and taught during offseason.

He served in US Navy from 1941 to 1946, interrupting his football coaching career for World War II.

One of college football's most colorful figures, "Woody", as he was known, served as Head Coach of Buckeyes from 1951 to 1978. During that time, his teams had a record of 205-68-10. (Hayes had 241 total victories as a college head coach; he was also head coach at Denison, and Miami-OH.) Two times he was selected College Football Coach of Year, and he is the only OSU coach to win multiple national championships.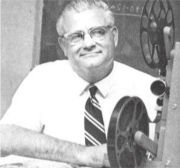 "At 36, he became head coach at Miami of Ohio. In Hayes' first season, in 1949, the Redskins went 5-4. The next year, Miami tore off an eight-game winning streak, capping its 9-1 campaign with a 34-21 victory over Arizona State in the Salad Bowl.

"One player on this team, Bo Schembechler, went on to become an assistant under Hayes at Ohio State, and then coach at Miami and later at Hayes' fiercest rival, Michigan.

"After this outstanding 1950 season, Hayes was invited to join the big time by Ohio State in February 1951. The university was known as the "graveyard of coaches," having had five in the previous 11 years. But Hayes would soon change that.

"Accepting the Buckeyes' head coaching job, he said, 'I'm not coming here looking for security. I came here for the opportunity.'

"In his first year the Buckeyes had trouble adapting to the T-formation that Hayes preferred, and finished with a 4-3-2 record. The next season, however, Ohio State improved to 6-3. More importantly, the team snapped an eight-year losing streak against Michigan, a victory that endeared Hayes to the Buckeye fans.

"In 1953, Ohio State finished with the same 6-3 record even though its starting quarterback, John Borton, suffered a season-ending injury in the third game. Hayes came away from the campaign a strong believer in a powerful running game, and the smash mouth style of football -- what he called "three yards and a cloud of dust" -- became his trademark.
"Hayes also began to view the pass as something not to be trusted. 'There are three things that can happen when you pass, and two of them ain't good,' he said.
"The next season, Hayes and the Buckeyes ran all the way to a national championship. The 1954 team beat Southern Cal, 20-7, in the Rose Bowl to finish at 10-0. Part of the reason for Hayes' success was his accelerating integration into his team, a practice he continued throughout his career.
"Many consider his 1968* team Hayes' greatest. That squad routed Michigan, 50-14, and came from behind to beat Southern Cal, 27-16, in the Rose Bowl, earning Hayes his third -- and final -- national championship. The title came amid a 22-game winning streak.
(*Woody didn't agree: "After concluding his remarks at a banquet in his honor several years after he finished his Ohio State coaching career, Woody Hayes was asked which of his 38 teams was the best. His 1969 team (upset by Michigan 24-12 in Ann Arbor), he answered without hesitation. With that, Hayes slowly turned and stared down the dais at his former protege and long-time rival, Michigan coach Bo Schembechler. Following a long, uncomfortable pause, Hayes said: "Damn you, Bo, you'll never win a bigger game!")
"In June 1974, Hayes suffered a heart attack but recovered in time to be on the sidelines for the season opener. Later that season, Michigan State beat Ohio State to spoil the Buckeyes' bid for an unbeaten season.
"'I wanted that undefeated season more than anything I ever wanted in my life," he said. "I'd give anything -- my house, my bank account, anything but my wife and family -- to get it.'" (From ESPN Classic by Alex Fineman)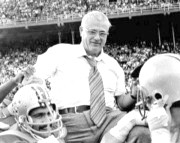 During his 28 year tenure, the Buckeyes won five national titles (three were consensus national championships in 1954, 1957 and 1968), narrowly missing out on four others. Ohio State won thirteen Big 10 titles under Hayes, and 11 of his teams went to post season bowl games.

Four of Woody's teams had unbeaten records and five others ended season with just one loss. Between 1968 and 1970, Ohio State team posted 27 wins and just two losses. During that span they won three Big Ten titles. From 1972 to 1977, OSU won six-consecutive Big Ten championships; those teams had a combined record of 49-8.
In the 1968 game, already up 42-14, Ohio State scored another touchdown. Woody then called for a two point conversion, which they converted. When asked why he did it, Woody said; "Because the rules won't let you go for three."
Hayes usually referred to Michigan as "That School Up North", supposedly because he could not bring himself to speak the name Michigan...hence OSU fans refer to UM as 'TSUN'. He also referred to it as "that state up north" or "that team up north" .
Woody, famous for his hatred for Michigan and anything that had to do with the state, was on a recruiting trip in the state of Michigan, when an assistant noticed that the car he was driving was going to run out of gas and told Woody, who was dozing in the passenger seat. Woody refused to let him pull over for gas and the assistant drove on. The assistant saw the weather was starting to get bad, and worried they'd be stuck in the middle of nowhere, again stressed to Woody they needed to get gas. Woody then erupted: "No, goddammit! We do NOT pull in and fill up. And I'll tell you exactly why we don't. It's because I don't buy one goddam drop of gas in the state of Michigan! We'll coast and PUSH this goddam car to the Ohio line before I give this state a nickel of my money!" They barely made it across the border and stopped, almost literally, at the first gas station they found in Ohio.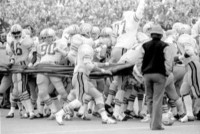 Michigan hired Glenn "Bo" Schembechler in 1969. This started the "Ten Year War" and is probably the greatest era of rivalry. For ten years OSU and Michigan dominated Big Ten play, splitting ten conference titles and finishing second eight times. (Check out the book The Ten Year War - Ten Classic Games Between Bo and Woody)

Schembechler, who played for Hayes at Miami (OH) and was an OSU assistant coach under Hayes, enjoyed nothing more than beating his old mentor. Bo once said about his mentor: "There was plenty to criticize about Woody Hayes. His methods were tough, his temper was, at times,

unforgivable. And, unless you knew him or played for him, it is hard to explain why you liked being around guy. But you didn't just like it, you loved it. He was simply fascinating." (From Bo by Bo Schembechler and Mitch Albom.)


The Ten Year War 1969-1978
Date
Site
Ranking
Results
Big 10 Finish
Attendance
OSU
UM
W
OSU
UM
OSU
UM
11/22/1969
Ann Arbor
1
12
UM
12
24
1st (T)
1st (T)
103,588
11/21/1970
Columbus
5
4
OSU
20
9
1st
2nd (T)
87,331
11/20/1971
Ann Arbor
NR
3
UM
7
10
3rd (T)
1st
104,016
11/25/1972
Columbus
9
3
OSU
14
11
1st (T)
1st (T)
87,040
11/24/1973
Ann Arbor
1
4
T
10
10
1st (T)
1st (T)
105,233
11/23/1974
Columbus
4
3
OSU
12
10
1st (T)
1st (T)
88,234
11/22/1975
Ann Arbor
3
5
OSU
21
14
1st
2nd
105,543
11/20/1976
Columbus
8
4
UM
0
22
1st (T)
1st (T)
88,250
11/19/1977
Ann Arbor
4
5
UM
6
14
1st (T)
1st (T)
105,312
11/25/1978
Columbus
16
6
UM
3
14
4th
1st (T)
88,358
Ohio State, under Woody, has been the only Big Ten school to play in four-consecutive Rose Bowls; the 1972-73-74 & '75 seasons. Twice Buckeyes won a conference record 17-consecutive league games under Coach Hayes.
During Hayes' tenure fifty-six players were selected All Americans; in addition, two players won three Heisman Trophys, three more won the Outland Trophy and two the Lombardi Trophy.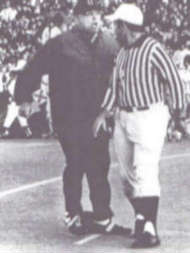 "Woody's style was strength-on-strength, will-on-will, toughness-on-toughness." Woody's philosophy was, "I will pound you and pound you until you quit."

"His conservative style of predominantly running the ball at the opponents is known as 'three yards and a cloud of dust.' Woody believed that the pass should be used as an element of surprise; 'There are three things that can happen when you pass, and two of them ain't good,' he said. Woody won with preparation; he was a notorious perfectionist who paid close attention to every minute detail. He brought his experiences from the Navy into his coaching style; when teams played a Woody Hayes-coached Buckeye team, they had to be ready to face the toughest, strongest, most determined, most disciplined, and most prepared team that they'd be facing that season. His work ethic was harder than any competitor; he would commonly watch tapes and prepare into wee hours of the morning."

The Hayes temper is a thing of legend. Woody would commonly explode into verbal assaults at coaches and players, but he would also be the first to congratulate someone when they performed well. He was famous for throwing and destroying objects; he would always throw his hat, destroy his watch, and stomp on his glasses when he got angry. He would throw anything he could get his hands on. One his favorite projectiles was a water jug that was always on his desk. It was always left empty, and the equipment manager would always have six replacement jugs available for the ones he broke. One time, he even hurled a film projector towards assistant coach Bill Mallory.

"There was also a side of Woody -- a side that he even tried to hide -- that was as compassionate, caring and loving as anyone. He would cry at the slightest hint of sentimentality. He was the first to visit injured players when they were sent to the hospital, and while he was there, he would drop in other rooms and talk to other patients. During the energy crisis, he would walk to work to save energy, and he sold his car because he thought his family was contributing too much to the crisis. One time, he learned of an ex-player that was going to drop out of Harvard Medical School. Hayes learned of it, and despite being right in the middle of a crucial and busy time in the recruiting season, he caught a plane to Massachusetts, walked in the room unannounced, and convinced the ex-player to stay in school. Not only did the ex-player make grades and graduate, but he went on to become the chief of neurosurgery at a prestigious Midwestern medical school." (Some Excerpts from Bucknuts.com)

His career would fatefully draw to a close with his blow to a Clemson player, noseguard Charlie Bauman, in the 1978 Gator Bowl. Bauman had just intercepted freshman quarterback Art Schlichter's short pass over middle on the 18, as Buckeyes, trailing by two, were driving for the go ahead score with just under two minutes to play. There was a firestorm of criticism across the country, and embarrassed university leaders were forced to take action. The next morning after the 17-15 defeat, Hayes was fired. He never coached again. (He also never apologized to Bauman for hitting him.)



Hayes' punch gave OSU easy out
December 2, 2009 Source: Columbus Dispatch - "...There is no way to know exactly what would have happened with Hayes if he hadn't slugged Clemson's Charlie Bauman on the OSU sideline after the nose guard's crucial interception near the end of the game. But by morning, Hayes was gone and with him went any chance of his career turning into a Bowden-Joe Paterno-style campout..."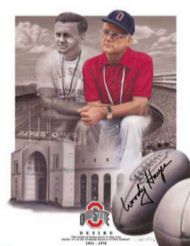 At times, Hayes refused pay raises because he believed they would interfere with winning; as a result, some of his assistants were paid more than he was. In 1978, his last season, Hayes' salary was $43,000.

A favorite story in Ohio is about a man who went to heaven, where at a football game he saw a fat old man in a baseball cap jumping up and down on sidelines.

"Who is that madman?" the new arrival asked St. Peter.

"That's God," St. Peter replied. "But he thinks he's Woody Hayes."

Ohio State paid tribute to Hayes in a ceremony at halftime of Buckeyes' game against Texas, on September 10, 2005. New Athletic Director Gene Smith proposed the large, three-section tribute to honor Coach Hayes in Ohio Stadium, where he roamed the sideline and his teams brought glory and legend to Ohio State football. A simple block 'O' fills left section of the memorial, Hayes' name and years he coached are in middle section and on right is recognition of his Big Ten and national titles. It is located near where Ohio State has recognized Heisman winners, at closed end of stadium on the facing of C deck.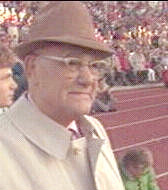 Coach Hayes also received other accolades from the Ohio State faithful in his retirement years: he received an honorary Doctor of Humanities degree from Ohio State in 1986; in 1987, Ohio State dedicated the Woody Hayes Athletic Center; he was honored in 1983 with induction into the College Football Hall of Fame.

Hayes' longtime wife, Anne, was once asked if she'd ever considered divorcing Woody. Her response was: "Divorce, no. Murder, yes."

Woody Hayes once said that when he died, he wanted it to be on 50-yard line at Ohio Stadium. Instead, he succumb in his sleep to a heart attack at his home in a Columbus suburb on March 12, 1987. He was 74.

To most Buckeye fans, Woody will always will be the very essence of Buckeye football.

He may be gone but his legend will for eternity live on and his achievements will forever serve as the measuring stick against which all OSU head coaches are judged.




Woody's generous side often overlooked
December 22, 2013 Source: Columbus Dispatch - "Unlike when it happened 35 years ago, this time everyone sees The Punch coming. Yet, still there is no way to avoid getting hit by it, as a barrage of TV replays, tired jokes and national stories will focus on the left hook that Woody Hayes threw during the 1978 Gator Bowl against Clemson..."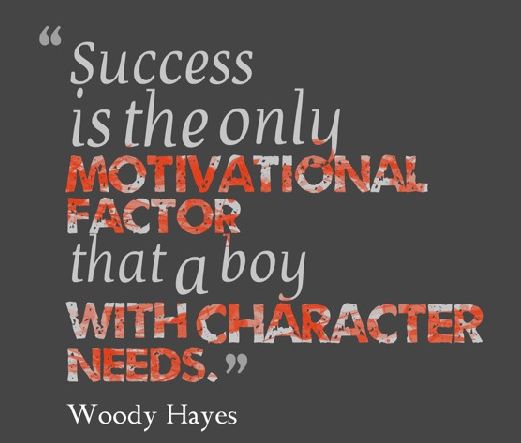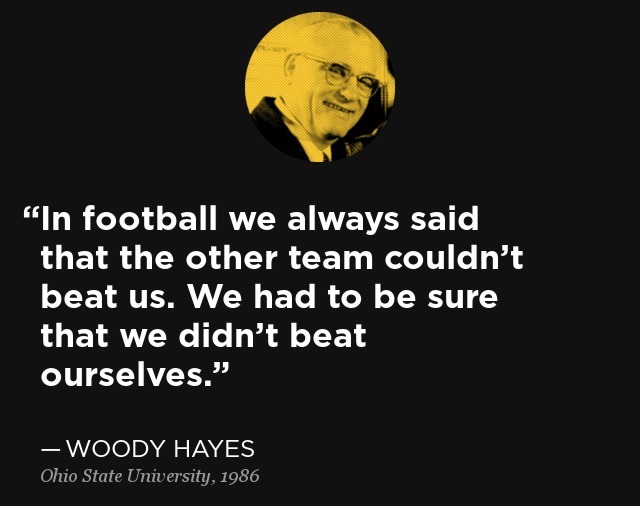 Hayes' final win came vs. Indiana
October 11, 2012 - Among the hundreds of "football as war" analogies too often used to describe the ferociousness of a simple game, one seldom-mentioned similarity bypasses the tired blood-and-guts comparison to strike an intelligent chord.

College football players, like soldiers, follow orders and do as they're told, while the outside world watches and worries. Few among the teens and early 20-somethings — in the military or in shoulder pads — have the inclination to question their situation or consider the context of their circumstances in the midst of daily life.

During the course of a 12-game season, Ohio State players do not ponder their condition nearly as often as the fans who follow them. Instead, they keep their heads down and grind toward the finish...




I remember Woody
October 14, 2010 - Originally Published April 12, 1987, Mike Harden wrote: ...When Woody Hayes wheeled his Chevy into Glenn Webb's Shell Station in West Jefferson, Ohio, he paid scant attention to the loitering locals, the scrawny kid resting his back against the Coke machine. But the kid noticed him, and so did the locals. With the possible exception of an occasional horrific wreck on Rt. 40, not much stirred in the Madison County hamlet. So when Woody Hayes, the Woody Hayes, pulled in for a fill-up on that lazy summer day in 1963, the news traveled up Main St. to Smitty's bar before the coach's gas tank was half-filled and was already old gossip at Doc Mellott's Rexall by the time Glenn had scrubbed the last dead bug from the coach's windshield.

Sideling up to the car, the kid peeked into the window at a back seat buried beneath a pile of helmets and pads. It was proof sufficient. Timidly, he made his way around to the driver's side.

"Are you Woody Hayes?" he asked the thickset driver in the white short-sleeved shirt.

The coach turned slowly to size up a youth whose name would never appear on his recruiting schedule. He formed a fat, fearsome-looking fist, then slowly flexed his arm until a great hummock of bicep was the only thing that stood between his grin and his gape-mouthed admirer.

"What do you think?" Woody asked, nodding toward the muscle..."




I Thought the World of Him
From the book: 'Tales from Michigan Stadium' - "The relationship between Bo Schembechler and Woody Hayes is well-documented. After Michigan upset Ohio State in 1969 in Bo's first year as the Wolverine coach, the media seemed to focus on their relationship. Part of the reason was because Coach Hayes was such a huge figure in collegiate football. When one of his former assistants beat one of Woody's greatest teams in a huge upset, their relationship took on a life of its own. As a matter of fact, Woody once told Bo about that '69 game, "You'll never win a bigger game."...The competition between Bo and Woody wasn't just on the field. After the 1969 game, it moved to the homes of high school prospects in recruiting. Bo had great success in recruiting the state of Ohio, and Woody didn't like that too much...Such was the case with Rob Lytle..."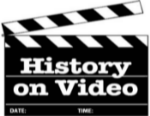 Hayes pregame speech


Woody Hayes Interview


Woody Hayes dots the 'I' during Script Ohio 1983


1978 Gator Bowl-Punch


Woody Hayes vs Charlie Bauman - 1978 Gator Bowl


Nick Saban - Woody Hayes


WTVN-TV CH6 NEWS - Woody Hayes dies, March 12, 1987

Dick Schafrath and the promise he kept to Woody Hayes almost a half century after he made it.





















"I've had smarter people around me all my life, but I haven't run into one yet that can outwork me. And if they can't outwork you, then smarts aren't going to do them much good. That's just way it is. And if you believe that and live by it, you'd be surprised at how much fun you can have."

"Paralyze resistance with persistence."

"There's nothing that cleanses your soul like getting the hell kicked out of you."

"The only meaningful statistic is number of games won."

"Without winners, there wouldn't even be civilization."

"A man is always better than he thinks."

"I don't live in the past. I'm a student of the past, and I try to learn from the past, although some people will say, 'You haven't done a very good job of it.' But for me to live in the past? Hell, no.'"

"Statistics always remind me of fellow who drowned in a river where the average depth was only three feet."

"I can accept failure, but I can't accept not trying."

"The time you give a man something he doesn't earn, you cheapen him. Our kids earn what they get, and that includes respect."

"Success - it 's what you do with what you've got."

"Coaches who can outline plays on a black board are a dime a dozen. The ones who win get inside their players heads and motivate them."

"I'm not trying to win a popularity poll. I'm trying to win football games. I don't like nice people. I like tough, honest people."

"I don't apologize for anything. When I make a mistake, I take the blame and go on from there. I just despise to lose, and that has taken a man of mediocre ability and made a pretty good coach out of him."

"You don't get hurt running straight ahead...three-yards-and-a-cloud-of-dust offense. I will pound you and pound you until you quit."

Woody on Bo Schembechler: "We respected one another so damn much. Now that doesn't mean I didn't get so mad at him that I wanted to kick him in the, uh, groin."

"The height of human desire is what wins, whether it's on Normandy Beach or in Ohio Stadium."

"Make sure you do the thinking with this head (pointing to his head), and not with this head (pointing beneath his belt)." - to his 1974 freshman class

"There are too many people who can too easily identify with defeat."

"The harder you work, the harder it is to surrender."

"You don't have to like me, just respect me."

"Just remember one thing. I can do your job, but you can't do mine." - to an OSU professor

"You know, I still didn't know what the hell he was talking about." - after listening to Sid Gillman describe his passing offense for almost a whole day.

"I could beat Jesse Owens in a 100 yard dash if you gave me enough of a head start."

"You can never pay back, but you can always pay forward."

"I love football. I think it is most wonderful game in world and I despise to lose."

Woody Hayes 1913 - 1987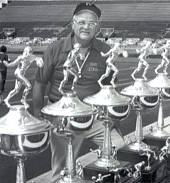 Let's pretend that Woody Hayes, who died March 12, 1987, somehow showed up again. Naturally, when a guy has been gone for so long, he has some questions.

The first thing the legendary Ohio State football coach asks is, "Did we beat that team up north?"

The second thing he asks is, "What's our record?"

The third thing he asks is, "Who's playing in the Rose Bowl?"

When you tell Woody the answer to the first question is, yes, Ohio State beat Michigan, his face lights up with that approving, grandfatherly smile and he says, "Good, I still hate that team up north."