November 30, 2008

PLAYER RANKINGS

Category
Player
National
Rank
Actual
Conf
Rank
Big Ten
Leader
Actual
Rushing
Chris Wells
7
121.22
3
Greene, Iowa
144.08
 
Terrelle Pryor
 
46.08
15
 
 
 
Daniel Herron
 
40.90
17
 
 
Passing Efficiency
Terrelle Pryor
 
152.09
1
Pryor, OhioSt
152.09
Total Offense
Terrelle Pryor
94
149.83
9
Williams, Ill
324.33
 
Chris Wells
 
121.22
13
 
 
Receptions Per Game
Brian Robiskie
 
3.08
T-20
Decker, Minn
6.91
Rec. Yards Per Game
Brian Hartline
39.92
18
Benn, Ill
87.92
 
Brian Robiskie
 
34.92
24
 
 
Interceptions
Kurt Coleman
T-30
.36
T-2
Angerer, Iowa
.42
 
Malcolm Jenkins
 
.25
T-9
 
 
 
James Laurinaitis
 
.17
T-16
 
 
Punting
A.J. Trapasso
41
41.28
7
Mesko, Mich
42.95
Punt Returns
Ray Small
7
15.13
1
Small, OhioSt
15.13
Kickoff Returns
Lamaar Thomas
86
22.09
11
Williams, PennSt
27.00
Field Goals
Ryan Pretorius
T-31
1.27
5
Swenson, MichSt
1.67
 
Aaron Pettrey
 
.42
T-13
 
 
Scoring
Ryan Pretorius
T-62
7.27
7
Ringer, MichSt
10.50
 
Chris Wells
 
5.33
15
 
 
 
Brian Robiskie
 
4.00
T-22
 
 
All-Purpose Runners
Chris Wells
48
124.11
7
Ringer, MichSt
164.50
Sacks
James Laurinaitis
 
.33
T-19
Maybin, PennSt
1.00
 
Thaddeus Gibson
 
.33
T-19
 
 
Tackles
James Laurinaitis
13
10.08
2
Miller, Ill
11.00
 
Marcus Freeman
 
6.33
T-17
 
 
 
Kurt Coleman
 
6.09
25
 
 
Tackles For Loss
Marcus Freeman
 
.75
22
Graham, Mich
1.82



Check out all of the polls on our Polls, Rankings & BCS page...link below






Mr. Bucknuts' Bucket Of Bullets
November 30, 2008 Source: Bucknuts -&nbsp"Mr. Bucknuts picks on other teams this weekend plus some old faithful subjects like the SEC, Charlie Weis, Kirk Herbstreit, playoffs and Michigan in a close-to-post-season Bucket of Bullets...The only think that Chokin' Charlie is scheming about now is how to keep his Notre Dame job. Progress? Last year, he lost to Southern Cal 38-0. This year – 38-3. So, I guess there are signs. But – 91 total yards? This from the self-anointed offensive genius?..."





Buckeyes remain a work in progress
November 30, 2008 Source: Columbus Dispatch - Tim May and Ken Gordon weigh in - Unfulfilled season produced plenty of talking points: "From the crash at Southern California to getting pushed against the wall by Penn State, Ohio State did not race clean through the 2008 season as some expected...The last place Ohio State can show improvement is going to be its bowl game...The Buckeyes won't know where they're going until a week from today...The Buckeyes are in the (BCS) at-large pool, meaning they could be invited to the Fiesta, Sugar or Orange, and if that doesn't happen, they probably will wind up in the Capital One Bowl in Orlando, Fla... While we wait, though, we'll take turns looking at five of the issues this team dealt with during the season or continues to deal with as it works toward "getting better" for one last hurrah: ISSUE 1 The quarterback conundrum...ISSUE 2 Offensive inconsistency...ISSUE 3 Early problems on both lines...ISSUE 4 Good wins and bad losses?...ISSUE 5 What lies ahead?..."








Tressel's handling of classy Boeckman in a class by itself
November 30, 2008 Source: Columbus Dispatch - Ray Stein's The Mailbag: "Here's another sign that Ohio State's beating Michigan has become old hat: The hot topic after last week's blood-letting is the backup quarterback...'Mr. Stein: Is it me or is Jim Tressel a coach who is not classy but classless, and not so full of integrity as he would love us to believe but instead full of hypocrisy?'..."

What I'll remember from Ohio State-Michigan
November 22, 2008 Source: Cleveland Plain Dealer - Doug Lesmerises wrote: "Some of you may be tired of Boeckman discussions. Freshman Terrelle Pryor is 8-1 since relieving Boeckman as the starter. But ABC announcer Bob Griese made a point of it Saturday, and I still believe that Jim Tressel didn't handle the benching of Boeckman the way it should have been handled, and there were repercussions in the locker room as a result. Boeckman's throws Saturday -- he was 3-of-3 for 64 yards -- showed how his arm could have helped the offense in a game like the 13-6 Penn State loss. He certainly opened the door for Pryor with his early-season struggles. But it wasn't the fact that Tressel benched Boeckman, but how he benched him, with little communication and no more chances, that lingers in my memory. 'Being a leader, you can't divide a team,' Boeckman said after Ohio State's win. 'I figured the best thing for me would be to be a team player.'

Tom Archdeacon: Boeckman's hometown stands by its QB
November 20, 2008 Source: Dayton Daily News - The Dow Jones and NASDAQ are on a smooth, steady Wall Street ride compared to the way Jim Tressel's stock has plummeted in St. Henry these days. A lot of folks in this fabled Mercer County sports town are upset because they believe the Ohio State football coach has turned one of their favorite sons into a Buckeye scapegoat...A few Buckeye starters are said to have voiced their concerns about some of this in front of the team, while one player is said to have had a spirited closed-door debate with Tressel over these same issues. Tressel — through an Ohio State media representative — was given a chance to respond to these claims, but did not..."

The Boeckman debate
November 20, 2008 Source: Columbus Dispatch - Ken Gordon wrote, in his blog: "I just finished reading Tom Archdeacon's story today in the Dayton Daily News. I thought it was worth weighing in, because there are some heavy-duty issues brought up here...I simply want to give you my opinions of the situation. First, I think Todd Boeckman lost some confidence late last season...Because of that, I think he was going to have to come out early this season and show Jim Tressel he was an improved quarterback. He needed to 'take that next step' that seniors are expected to take, like Craig Krenzel did, like Troy Smith did. Todd did not do that..."






Buckeyes watching, awaiting bowl fate
November 29, 2008 Source: Columbus Dispatch - "With a 10-2 record, the Buckeyes are eligible for a Bowl Championship Series at-large spot...But whether they get a BCS bid will largely be determined by the events of today and next weekend...The game drawing the most interest is Oregon at Oregon State. If Oregon State wins, it will claim the Rose Bowl spot. Assuming Southern California wins its final two games, that almost certainly will push the Buckeyes out of BCS consideration...Ohio State likely would end up playing Georgia in the Capital One Bowl..."

College football: BCS title picture remains unclear
November 28, 2008 Source: Associated Press




Give thanks Ohio State fell short this season
November 27, 2008 Source: Mansfield Newsw Journal - "...There's plenty, though, for which OSU fans should be thankful...Be thankful the Buckeyes didn't win an outright Big Ten title. Be thankful they aren't going to the Rose Bowl. Be thankful Ohio State's next Heisman Trophy winner already has a healthy head start over the last one. It might seem like a mixed bag of blessings, but not really. Maybe the Buckeyes beat Penn State this season with a veteran presence (Todd Boeckman) at QB and maybe they win an unprecedented third straight undisputed Big Ten title for their first Rose Bowl trip in 12 years. But, believe me, OSU is in a better place with freshman Terrelle Pryor at quarterback and will be in a better place than Pasadena come January, whether it be Arizona, Florida or Bourbon Street..."




Offensive line back where it wants to be
November 27, 2008 Source: Columbus Dispatch - "Based on the way they finished the 2008 regular season, the members of the Ohio State offensive line can sit down today and gobble up, as opposed to going "gobble, gobble" as they wait until Dec. 7 for their bowl assignment. 'I thought our linemen played great,' OSU running back Chris 'Beanie' Wells said after finishing the regular season with three straight 100-yard rushing games, which included a 42-7 win over Michigan last Saturday. No one was awarding the line such platitudes earlier this season. Not after the way it was made a laughingstock by the Ohio University defensive front, or the way it was cleaved by Southern California in a 35-3 loss, or the way an otherwise tame Purdue created chaos with consistent penetration, or the way a Penn State defense all but shut down OSU offensive operations for three quarters in a 13-6 loss. 'Before the Penn State game, there was a lot of criticism going around,' right guard Steve Rehring said in a profound understatement..."







OSU doesn't make the grade
November 27, 2008 Source: The Morning Journal - "Around most college campuses, a 10-2 record, conference championship and guaranteed New Year's Day bowl (or better) would be reason enough to flip cars and burn couches in celebration of a job well done. Then again, we knew long ago that Ohio State was the exception to most rules...Here are the postseason grades, position by position, on a team that was very good. It just wasn't part of the elite..."


From a Columbus Dispatch online poll: 2008 in review - What grade do you give the Ohio State football team's regular season?
Results: 6% A - 72% B - 20% C - 1% D - 1% F





Buckeyes become interested spectators
November 24, 2008 Source: Columbus Dispatch - "It appears a surging Ohio State team will get a chance to restore its battered national reputation in a bowl game, but there's no guarantee it will be a Bowl Championship Series game. Moments after beating Michigan 42-7 on Saturday, Buckeyes players were looking ahead at possible destinations. 'It better be a BCS game, that's my only requirement,' receiver Brian Hartline said. 'The Orange Bowl would be a huge honor, or Fiesta, whatever they're talking about now. All of them would be a huge honor.' But they're also all a huge 'if.'..."

The Buckeyes' bowl breakdown
November 23, 2008 Source: Cleveland Plain Dealer -
"• Rose Bowl: ...is out because the Nittany Lions win the head-to-head tiebreaker and the Big Ten's automatic bid...
• Capital One Bowl: If Oregon State wins out and takes the Pac-10 title, Ohio State almost certainly will be bumped out of an at-large BCS bid by USC. That would push the Buckeyes to the bowl for the second-place Big Ten team...
• Other BCS bowls: If Oregon State loses and USC goes to the Rose Bowl, Ohio State is nearly assured of an at-large bid...

The order of selection, basically, is Fiesta, Sugar, then Orange this year, and the Fiesta, despite the Buckeyes playing in Arizona in 2003, 2004 and 2006, would be very interested in Ohio State. The opponent in Glendale, Ariz., on Jan. 5 at 8 p.m. would be a Big 12 team, either Texas, Oklahoma or Texas Tech. However, regardless of selection order, there is room for the bowls to make a backroom deal. There's a train of thought that the Orange, stuck with a mediocre ACC champ, would be very interested in the Buckeyes. That would be in Miami on Jan. 1 at 8:30 p.m. Decision time: Nothing will be known for sure until the final BCS standings and the bowl selections are announced on Sunday, Dec. 7, at 8 p.m. "










Check out all of the polls on our Polls, Rankings & BCS page...link below






Mr. Bucknuts' Bucket Of Bullets
November 23, 2008 Source: Bucknuts -&nbsp"Mr. Bucknuts takes in all the Michigan game hoopla and says all that needs to be said. Plus, there are the usual gratuitous shots taken at the usual college football suspects...Now, all the losers in the Ann Arbor area have a new area code: 7-1-0. There is an even more special area in that particular hell reserved for the last two senior classes at Michigan: 0-4-4. That should remind them of their record against The Ohio State. Hey – call again next year, fellas!..."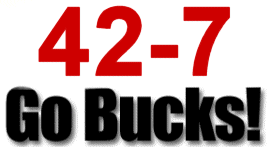 | | |
| --- | --- |
| MICHIGAN vs. OHIO STATE | |





Ohio State Wins Fifth Straight vs Michigan Highlights



FoxSports.com breaks down OSU win over Michigan and has a highlight video (two videos)


No. 10 Ohio State Claims Share of Conference Title With 42-7 Win Over Michigan
November 22, 2008 Source: OSU Official Site/Associated Press - "First Beanie then Boom then out went the lights on Michigan's season. Chris "Beanie" Wells and Dan "Boom" Herron ripped off back-to-back 42- and 49-yard runs early in the third quarter, with Herron's a touchdown to give Ohio State a 21-7 lead, and the Buckeyes rolled from that point on to clinch a share of their fourth-consecutive Big Ten Conference championship with a 42-7 win Saturday in front of 105,564 chilled but happy fans in Ohio Stadium. The win not only clinched a fifth shared or outright Big Ten championship for Ohio State under coach Jim Tressel, but it also was the fifth-consecutive win for Ohio State over Michigan – a program first in 119 seasons of football. It also marked the seventh win over Michigan in Tressel's eight seasons at the helm. 'It's hard to believe because it's just so difficult,' Tressel, Ohio State head coach, said regarding the team's five-consecutive wins over Michigan..."

Scoring Summary,Team & Individual Statistics, Drive Chart, Defensive Statistics, Game Participation, Play-by-Play
& Postgame Notes From No. 10 Ohio State vs. Michigan



Coach Tressel and Coach Rodriguez before and after...



Mastery over Michigan
November 23, 2008 Source: Associated Press - "Ohio State has never dominated Michigan the way it does right now. In the rivalry's most lopsided result in 40 years, the Buckeyes won their fifth straight over that hated school up north for the first time, ending a dreadful first season for Wolverines coach Rich Rodriguez with a 42-7 beating Saturday. 'I've been here for one of them,' Rodriguez said. 'That's the only one I can really comment on. They have one in a row on us from what I see.' Ohio State (10-2, 7-1) used five big plays to win by the biggest margin in the rivalry since Woody Hayes was prowling and growling on the sidelines in a 50-14 rout of Michigan in 1968 -- the game in which he said he went for a late 2-point conversion "because I couldn't go for three!'..."




Tressel Press Conference After Michigan Source: Bucknuts




Buckeyes Roll Over U-M, Clinch Another Title
November 22, 2008 Source: Buckeye Sports - "...The teams sputtered at the beginning of the game, combining for negative net yardage as the clock wound under 4:30 in the first quarter. But OSU junior tailback Chris "Beanie" Wells quickly ended that with a 59-yard touchdown burst to begin the scoring. Wells led the Buckeyes' offensive charge with 134 yards on 15 carries, part of a rushing attack that generated 232 yards. Redshirt freshman Dan "Boom" Herron added 80 yards and two touchdowns on eight carries. OSU freshman quarterback Terrelle Pryor experienced an uneven day in his first taste of the rivalry but still managed to complete 5 of 13 passes for 120 yards and a pair of touchdowns. He also had an interception, his first pick since the Penn State game in late October. Senior co-captain Todd Boeckman came on in the fourth quarter and directed the final touchdown drive for the Buckeyes. He completed all three of his pass attempts for 64 yards and a touchdown. All told, Ohio State accounted for 416 yards of total offense while limiting the Wolverines to 198..."




Captains Postgame Press Conference
Captains Todd Boeckman, Brian Robiskie, James Laurinaitis and Malcolm Jenkins met with the media after the game.
Source: Bucknuts



Player Postgame Quotes From No. 10 Ohio State vs. Michigan
November 22, 2008 Source: OSU Official Site/Associated Press - "...Terrelle Pryor, freshman quarterback - On the offensive change in the second half: 'The offensive line really stepped up. I think Beanie's big touchdown run really gave us the momentum. We just kept punching at them.'...Nader Abdallah, senior defensive end - On the team's mindset before the game: 'We weren't thinking about beating them five times in a row. We just wanted to play hard and win because it was Michigan.'..."


Players Postgame Michigan
November 23, 2008 Source: The Ozone - "The players had a lot to say after their 42-7 trouncing of arch-rival Michigan. Brian Hartline talks about Todd Boeckman and how he handled his situation, Terrelle Prior talks about many aspects of the game and Kurt Coleman gives the defensive perspective."

Ohio State seniors solidify legacy
November 22, 2008 Source: ESPN - "Ohio State's senior class always will be viewed through two different prisms. Within Buckeye Nation, they will forever remain conquering heroes, a group that dominated the Big Ten Conference and archrival Michigan like none before. Ohio State won outright Big Ten titles (2006, 2007) or shared the championship (2005, 2008) in all four seasons that they played. Ever since the fifth-year seniors set foot on campus back in 2004, Ohio State hasn't lost to Michigan. The Buckeyes' 42-7 victory against Michigan on Saturday ensured the seniors their own chapter in team history..."

Postgame Transcript From No. 10 Ohio State vs. Michigan




IT WAS OVER WHEN: Dan Herron sprinted 49 yards for a TD to give the Buckeyes a 21-7 lead early in the third quarter.

THE PLAY: Beanie Wells, who paced the Ohio State rushing game with 134 yards and one touchdown, goes 59 yards for a TD and the Buckeyes 1st score.

GAMEBALL GOES TO: The Ohio State seniors!

THE STAT: 43: This was the 43rd win for Ohio State's graduating senior class, which ties the record set by the 1995-1998 and 2002-2005 senior classes.

THE STAT II: 35: The 35-point margin ranks as the second-larges margin for an Ohio State win against the Wolverines. Ohio State had a 38-point margin over Michigan in the 1935 win.

THE STAT III: 5: With the win, Ohio State has won five-consecutive games against Michigan, the first time the Buckeyes have done so in school history. Ohio State has has now won seven of the last eight games against Michigan, the exception coming with the Wolverines' 35-21 victory at Michigan in 2003. Jim Tressel is the first Ohio State coach to win seven of eight games against Michigan. Ohio State's all-time record vs. Michigan improves to 42-57-6. Since 1951, the Buckeyes hold a 30-26-2 advantage. Since 1934, the teams have met 75 times, with Ohio State holding a 36-35-4 advantage.

THE STAT IV: 2: Ohio State had two TDs of 50-plus yards (one of 49). The Buckeyes had just one such score on the season.

THE STAT V: 1: Terrelle Pryor became the Buckeyes' first freshman quarterback to beat Michigan (only other to start was Art Schlichter in 1978).

THE STAT VI: 284: The Buckeyes gained 284 of their 416 total yards on just six plays, three going for touchdowns. That doesn't include Ray Small's 80-yard punt return that set up another score.

THE STAT VII: 808: Ohio State is 808-306-53 in its 119th season of play. The win total ranks fifth all-time in Division I college football. The only other schools to have 800 or more wins are Michigan, Notre Dame, Texas and Nebraska. Penn State seeks its 800th victory today against Michigan State.

THE STAT VIII: 83: The win improves Jim Tressel's record with the Buckeyes to 83-18 (.822) and his career record to 218-75-2 (.742). Tressel's 218 wins rank as the third-most among active FBS coaches, just ahead of Virginia Tech's Frank Beamer and behind Penn State's Joe Paterno and Florida State's Bobby Bowden.

TELLING STAT: 12: Michigan's offense had 12 plays that went for negative yards.

NUMBERS FOR DUMMIES: 1928: The last time Michigan lost to two teams from Ohio. The Wolverines lost to Ohio State and Ohio Wesleyan in '28 and Ohio State and Toledo this season.

NUMBERS FOR DUMMIES II: 1 of 17: Michigan on third-down conversions

ONE-LINER: West Virginia enjoys its biggest win of the season.

ONE-LINER (Michigan edition): No need for bomb-sniffing dogs when the Wolverines never left the bus.

TRANSLATING TRESS: What he said: "Michigan never stops playing. They've done that for 125 years ..." -- during halftime interview...What he meant: "Uh, make that 124."

JUST WONDERING: Just wondering: Is this how Michigan fans felt during the 1990s when the Wolverines went 8-2-1 against the Buckeyes? Ohio State vs. Michigan is supposed to be Hatfields vs. McCoys, not Hatfields vs. the Munsters. A bumbling Michigan is bad for business when that business is built on The Game being a two-way rivalry.


(Sources: OSU Offical Site/ESPN/Columbus Dispatch/The Webmaster)




Beanie Wells, who overcame an early season foot injury that kept him out of three early games, ran for 134 yards Saturday to become the sixth Buckeyes running back to record back-to-back 1,000-yard seasons.

The other five to achieve the feat:
Antonio Pittman 2005-06
Eddie George 1994-95
Keith Byars 1983-84
Tim Spencer 1981-82
Archie Griffin 1973-75

Wells ranks seventh in the nation in rushing yards per game with 121.2 and is tied for 24th in overall rushing yards with 1,091.



On 1st down from the Buckeyes' 41 yard line, with 4:06 left in the 1st quarter, Chris 'Beanie' Wells gets the ball and breaks free right up the middle. When Michigan safety Stevie Brown (3) finally tackles Wells it's in the end zone after a 59 yard run and the Buckeyes first score in the 42-7 rout.

Team Statistics (Final)
Michigan vs #10 Ohio State (Nov 22, 2008 at Columbus, Ohio)


Team Totals
MICH
OSU
FIRST DOWNS
11
13
Rushing
7
7
Passing
3
6
Penalty
1
0
NET YARDS RUSHING
111
232
Rushing Attempts
41
43
Average Per Rush
2.7
5.4
Rushing Touchdowns
1
3
Yards Gained Rushing
155
267
Yards Lost Rushing
44
35
NET YARDS PASSING
87
184
Completions-Attempts-Int
8-25-0
8-16-1
Average Per Attempt
3.5
11.5
Average Per Completion
10.9
23.0
Passing Touchdowns
0
3
TOTAL OFFENSE YARDS
198
416
Total offense plays
66
59
Average Gain Per Play
3.0
7.1
Fumbles: Number-Lost
2-2
0-0
Penalties: Number-Yards
3-15
2-20
PUNTS-YARDS
12-438
7-243
Average Yards Per Punt
36.5
34.7
Net Yards Per Punt
27.3
33.3
Inside 20
3
3
50+ Yards
2
1
Touchbacks
0
0
Fair catch
3
1
KICKOFFS-YARDS
2-119
7-445
Average Yards Per Kickoff
59.5
63.6
Net Yards Per Kickoff
43.5
43.7
Touchbacks
0
0
Punt returns: Number-Yards-TD
2-10-0
5-110-0
Average Per Return
5.0
22.0
Kickoff returns: Number-Yds-TD
7-139-0
2-32-0
Average Per Return
19.9
16.0
Interceptions: Number-Yds-TD
1-34-0
0-0-0
Fumble Returns: Number-Yds-TD
0-0-0
0-0-0
Miscellaneous Yards
0
0
Possession Time
29:25
30:35
1st Quarter
5:47
9:13
2nd Quarter
8:00
7:00
3rd Quarter
10:36
4:24
4th Quarter
5:02
9:58
Third-Down Conversions
1 of 17
6 of 14
Fourth-Down Conversions
2 of 2
0 of 1
Red-Zone Scores-Chances
1-2
3-3
Sacks By: Number-Yards
3-25
3-22
PAT Kicks
1-1
6-6
Field Goals
0-1
0-0



Fans' Report card Columbus Dispatch: What grade do you give the Ohio State football team in its game against Michigan? 27% A+ - 50% A - 21% B - 2% C

The Bottom Line
November 23, 2008 Source: Columbus Dispatch - "Leaves are awarded on a zero-to-five basis, five being the best: Offense (three leaves)...Defense (four leaves) ...Special teams (four leaves)...Coaching (four leaves) ...Opponent (one leaf)..."

Post-game grades for Ohio State-Michigan
November 23, 2008 Source: Cleveland Plain Dealer - " Ohio State's big play ability: A: Jim Tressel claims he knew this would happen. The Ohio State coach said that by watching film of Michigan's veteran defensive line, he had a feeling that the Buckeyes' yards would not come in a steady stream, but in only a smattering of gigantic plays...OSU offensive line: A: What started out as just an average grade rocketed up the charts with the help of a couple of massive holes opened up for both Beanie Wells and Daniel "Boom" Herron. Wells' 59-yard touchdown run in the first quarter was the result of an untouched burst through the line, while Herron breezed through with plenty of room to spare on all sides for a 49-yard touchdown in the third quarter...Michigan's first half offense: B-:For a half, at least, the Wolverines were actually in it. On the first drive of the game, safety Stevie Brown intercepted Terrelle Pryor and returned the ball to the OSU 13. Michigan failed to score on that series, though, and to make matters worse, K.C. Lopata's 35-yard field goal attempt was wide left..."

Ohio State report card
November 23, 2008 Source: Mansfield News Journal - "OFFENSIVE LINE: B...RUNNING GAME: A-...PASSING GAME: B...DEFENSIVE LINE: A...LINEBACKERS: A...DEFENSIVE BACKS: A...SPECIAL TEAMS: B...COACHING: A..."


What does it all mean, Basil?
November 22, 2008 Source: College Football News - " ... Don't just dismiss the blowout win over Michigan as an obvious victory that was supposed to happen. This win showed just how huge the gap is between the two programs. It was wide before, and now it's a Grand Canyon with no hope in the foreseeable future of it closing up too much. However, even with the blowout win, don't ignore the problems on the defensive line in the first half. Michigan was able to shove the OSU front four around, but nothing came of it because the skill players couldn't do anything. It didn't hurt to have James Laurinaitis and the back seven clean up everything..."




Rodriguez didn't particularly like a question about...Saturday, snapping, "I've been here for one of them. So that's the only one I can really comment on. They've got one in a row on us, from what I've seen."

Asked what he learned through the tribulations of this season, he said: "That probably being quieter is better. Coach Tressel and I talked about that before the game. I said, "Coach Tress, the quieter I am, the less drama I have to deal with." Rodriguez made a similar comment a few weeks ago, expressing disbelief that every word out of his mouth would be heavily scrutinized by fans and media members. Well, yeah. This isn't Morgantown.

Better answers expected soon from Rodriguez
November 22, 2008 Source: mlive.com/Ann Arbor News - "Now he's asking Michigan fans to believe he can do it again. Somewhere amid the mess in Columbus on Saturday, where another Rodriguez-coached team with three wins mercifully ended a dreadful season, he again insisted that given time and patience, his plan will work. It had better start working soon..."

Chaos on the sidelines
November 23, 2008 Source: Spawn of MZone - "An in depth look at the fight that took place on the sideline during The Game...One of the more interesting parts of the Michigan - Ohio State game was the chaos that appeared to erupt on the sidelines early in the 1st quarter. At this point Michigan had already intercepted a Pryor pass and missed a FG. The horseshoe crowd was obviously very loud and confusion seemed to setting in...Here is the video. Keep in mind, the fight between Stewart and..."


| | |
| --- | --- |
| | Michigan running back Brandon Minor (4) watches the scoreboard as the clock runs out during the the fourth quarter of Michigan's 42-7 loss to the Buckeyes. |

Michigan Ends Season With Loss at No. 10 Ohio State
November 22, 2008 Source: UM Official Site - "IThe University of Michigan football team contained No. 10 Ohio State for 30 minutes of football, helping the underdog Wolverines enter the locker room with a manageable 14-7 deficit, but the Buckeyes awoke in the second half, scoring 28 unanswered points in a 42-7 victory Saturday afternoon (Nov. 22) at Ohio Stadium..."


Things would be different if U-M had Terrelle Pryor, but don't play 'what if' game
November 23, 2008 Source: Detroit Free Press - "Is there anything positive for Michigan to take away from Saturday's 42-7 loss?...How much different would this season have been if Terrelle Pryor had come to U-M?...What will be this unit's most-remembered loss? Ohio State, Toledo, Michigan State?: Toledo. Ohio State has beaten U-M five straight years -- this loss was worse than the others but also less painful for fans, because it was expected. Michigan State is just better than Michigan this year. Losing to an awful Toledo team is ridiculous and never should have happened..."

Opposite sideline
November 23, 2008 Source: Columbus Dispatch - "Facts of the matter: Reports of Michigan's demise were not exaggerated. This was already the losingest Wolverines team in history, and the folks from Up North did not disappoint the Ohio State faithful. The defense gave up numerous big plays and the offense was mostly incapable of creating them. Special teams were a disaster. Michigan had a chance to make a game of it in the third quarter, but the same self-destructiveness that has haunted this team struck again. They can't be this bad next year, can they?...Telling stat: Michigan's offense had 12 plays that went for negative yards..."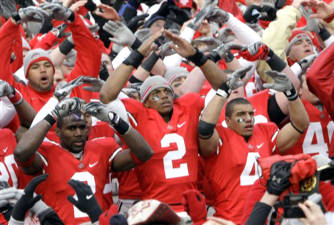 Malcolm Jenkins, left, Terrelle Pryor and Kurt Coleman and the rest

of the Buckeyes sing Carmen Ohio after beating Michigan 42-7 November 22, 2008.



28 Buckeye seniors were honored before the win Saturday over Michigan.