Boren considering OSU after departing Michigan
March 27, 2008 Source: Columbus Dispatch - "One week after beating out Michigan for top quarterback prospect Terrelle Pryor, Ohio State found itself in the running yesterday for Michigan lineman Justin Boren, who announced he's leaving the Wolverines..."Ohio State would be a good fit for Justin, and that's why he's not at Michigan anymore, because Michigan is not the right fit for him," said Mike Boren, who played under Bo Schembechler in the early 1980s..."

Ex-Wolverine Boren blasts U-M program: 'Family values have eroded' under Rodriguez
March 27, 2008 Source: Detroit Free Press






Spring Personnel Report
March 27, 2008 Source: The Ozone - "It happens every spring. The Buckeyes shuffle some personnel to try to fill needs and take advantage of skills. This spring is no exception. Check out who's moving where, who's sitting out spring, and other personnel issues..."

News and notes for the start of spring football practice
March 26, 2008 Source: Cleveland Plain Dealer - "Jim Tressel spoke today to preview Ohio State's spring football practice, which begins Thursday. Let's jump in with the personnel news...The backup quarterback job for the spring isn't owned by Antonio Henton. Former minor league baseball player Joe Bauserman has come a long way since showing up last August, and impressed the coaches during bowl practice..."

Spring is in the Air
March 26, 2008 Source: OSU Official Site - "Coach Jim Tressel believes his veteran team needs different challenges than in previous springs. "We have 47 guys on the roster who are entering either their fourth or fifth year, so we don't want spring practice to seem like the same old, same old. We want to focus a little bit differently in how we present the material we need to improve. 'We will focus on mentally challenging our group in terms of their football knowledge and thinking. We're also asking them to train through spring practice with a harder regimen in the weight room. We're asking more from our guys mentally and physically because they want us to test them on how good they can be. We need to continue evolving in terms of who we are offensively and who we are defensively, and how far we can go. I am as excited about this spring as I am for any of them.'..."


A New Approach
March 26, 2008 Source: BuckeyeSports.com - "Ohio State head coach Jim Tressel is already learning that fielding a team that returns nearly every single starter can lead to an entirely different set of challenges. As a result, the 2008 Buckeyes will kick off a spring with an altogether different kind of feel compared to what they endured one season ago..."





2008 Spring Preview - The BCS Will Be...
March 25, 2008 Source: CollegeFootballNews.com - "No need to play the season, here are the 2009 BCS matchups with the national title projection...Make no mistake about it, like it or not, Ohio State is the most talented team in America. With James Laurinaitis, Malcolm Jenkins and Alex Boone all putting off their millions for another year, arguably the best kicking game in the country, Beanie Wells running the ball, depth everywhere, and Terrelle Pryor providing a possible bolt of lightning here and there, it'll be a shocker if the Buckeyes don't roll through the regular season, and that includes road trips to USC, Wisconsin and Illinois..."





Spring Practice Preview
March 24, 2008 Source: BuckeyeGrove.com - "Some make fun of Ohio State for losing its final game in each of the past two seasons, but at least those losses came in national championship games. It's not a stretch to suggest the Buckeyes, who have 18 starters back, could make a third consecutive championship game appearance. Replacing All-Big Ten offensive tackle Kirk Barton and getting better at defensive tackle will be among the top priorities. If quarterback Todd Boeckman looks good this spring, the Buckeyes should reinforce their status as the class of the Big Ten. Here's a look at the Buckeyes going into spring drills..."





OSU Spring Data: Events, Depth Chart
March 24, 2008 Source: Bucknuts.com - "As Ohio State prepares to open spring football on Thursday, we have updates on two of the spring's biggest events -- Coach Tressel's Spring Preview and the spring-ending Scarlet and Gray Game. Plus, we have a look at a projected OSU football depth chart heading into the start of spring drills..."











Pryor pledges allegiance to scarlet and gray!
Terrelle Pryor, recognized as the high school player of the year by USA Today, Parade, EA Sports, Scout, Rivals, PrepStar, Superprep and PrepNation and who was the MVP of the U.S. Army All-American Bowl in December, signed a national letter-of-intent Wednesday to attend Ohio State. The 6' 6" 230lb. QB, who runs a 4.4 forty, totaled 4,238 career rushing yards and 4,340 career passing yards, the only player in Pennsylvania high school sports history to both rush and pass for at least 4,000 yards in their career. Pryor also led his school, Jeannette SHS, to state titles in both football and basketball this year, only the third school in PA history to achieve the feat. He also scored 2,285 points in basketball. For now, Pryor said he does not plan to play basketball in college. Regarding the Buckeyes all-conference quarterback Todd Boeckman, Pryor said, 'I'm looking forward to working with Todd Boeckman and Henton and I'm looking forward to competing, because that's how I am. I certainly don't want to redshirt...being brought along a little slowly might be the best thing for me...I know college is a big step up and there's a lot to learn.' Pryor is happy to be done with recruiting. 'This has been very tough,' he said. 'I didn't really like the attention, and it got worse after I didn't decide. But I had to do what was right for me and my family. I'm excited about the decision.' Welcome aboard, Terrelle!


Jim Tressel Teleconference
Source: OSU Official Site - Head coach Jim Tressel speaks to the media via teleconference Wednesday on the signing of Terrelle Pryor.
| | | |
| --- | --- | --- |
| | | Coach Tressel: "This is an exciting day for the Buckeyes with Terrelle choosing Ohio State to be his football family. We're so proud of him, with his football and basketball success, and think he's handled it tremendously well. Terrelle has a passion to be a great quarterback in every aspect. We think his future is tremendous. We couldn't be happier...I think everyone is aware of the fact that he has the kind of ability that once he understands the system and knows opposing defenses and all the rest, then he's going to have a chance to express his physical abilities and his playmaking ability. No question about it, you try to find as many ways you can to get playmakers into the ballgame." |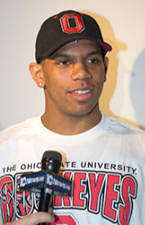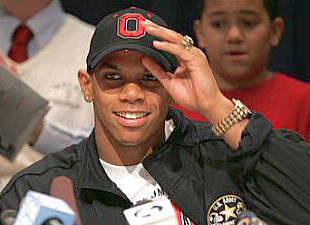 Terrelle Pryor: Facts and Myths
March 20, 2008 Source: The Ozone - "Jim Tressel is one of the most patient coaches in the nation...While many other coaches and programs would have wilted under the pressure of waiting for the No. 1 player in the country to decide, Tressel and Co. didn't...Now that Pryor is officially a Buckeye, many want to know how he will be used..."

Buckeye recruit Pryor, Tressel dispute Clarett comparison
March 23, 2008 Source: Canton Repository - "Is Terrelle Pryor another Maurice Clarett? That is the comparison being drawn, mostly by fans of schools that Pryor shunned last week for Ohio State...Comparisons to Clarett are, at this point, plain wrong..."

Terrelle Pryor's commitment to Ohio State is only the beginning
March 19, 2008 Source: Cleveland Plain Dealer - "'He's a dynamic playmaker at quarterback,' said Jeremy Crabtree, a national recruiting analyst for Rivals.com. 'And we've seen in college football today if you have that dynamic guy at quarterback -- a guy who can change what should be a sack on third and 8 into a touchdown run or who can make a big throw in the clutch -- you can go a long way with some other pieces of the puzzle missing.' The presence of Pryor, who becomes the most naturally gifted OSU freshman quarterback at least since Art Schlichter 30 years ago, amplifies those possibilities..."

Pryor picks OSU: What it means
March 22, 2008 Source: CollegeFootballNews.com - "The crown jewel of the 2008 recruiting class picks the Buckeyes. Here's what it all means to the four schools involved in the courtship: Penn State, Michigan, Oregon and Ohio State. Now what are the quarterback situations at each school?...Ohio State is already a national-title level juggernaut that simply needs a final piece of the puzzle..."

Touché, Terrelle
March 19, 2008 Source: SI.com - "Hyped QB Pryor was smart to pick Ohio State over UM..."


Pryor and Reitz Follow-Up Video
March 21, 2008 Source: SuperPrep.com - "Jeannette has seen more media this year than it has seen in all its years in existence combined. Terrelle Pryor has been the reason why, but it should get back to normal now that he has made his decision..."

Ohio State Buckeyes to see Terrelle Pryor on the field soon
March 20, 2008 Source: Cleveland Plain Dealer - "Terrelle Pryor will play at Ohio State. This season. 'The thing you need to do as a coaching staff is get the people on the field that can make plays and design things for what people are ready to do,' Ohio State coach Jim Tressel said Wednesday after Pryor signed his National Letter of Intent with Ohio State. 'He's excited about learning the offense and he's excited about helping any way he can. He has great respect for Todd Boeckman and all the rest of the guys..."

Top recruit Pryor picks Ohio State
March 20, 2008 Source: USA Today - "...His father, Craig, had hoped that he would attend nearby Penn State, also a Big Ten school. His quarterbacks coach at Jeannette, Roy Hall, thought that Ohio State should be his choice. His football coach, Ray Reitz, had shown a preference for Michigan, as did Pryor's mentor, Pittsburgh Steelers quarterback Charlie Batch. Pryor's grandmother, Marlene Arnold, and Hall's brother Larry were simply praying for the decision...'Ohio State is going to win a national championship with him,' said Rivals.com's Mike Farrell. 'He changes everything you have to do on defense.'..."

Hello Columbus
March 19, 2008 Source: ESPN.com - "When I called Coach Tress he welcomed me to the Ohio State family," said Pryor, who made his decision hours before the announcement...'The sky's the limit to athleticism,' said Tom Luginbill, the national football recruiting coordinator for Scouts, Inc. 'He draws comparisons to Vince Young, who can save a play on the run and has the ability to improvise.' The two-time Pennsylvania player of the year chose Ohio State over Oregon, Penn State and Michigan. But it really came down to blood rivals Ohio State and Michigan...'Terrelle will be in a great situation from the start,' Luginbill said. 'Ohio State has an accomplished quarterback and 20 starters back. Terrelle will be utilized like Tim Tebow at Florida as a freshman where he was brought into situations which didn't create failure; he'll have doses of the offense.'..."


Captain's Corner: The Pryor Impact
March 23, 2008 Source: Bucknuts.com - "Will Terrelle Pryor live up to the hype? Jerry Rudzinski says yes, but maybe not right away. Read on for his thoughts on Pryor in this version of the Captain's Corner..."

What does Pryor's Buckeye future hold?
March 19, 2008 Source: Rivals.com - "Jim Tressel is one of the most patient coaches in the nation...While many other coaches and programs would have wilted under the pressure of waiting for the No. 1 player in the country to decide, Tressel and Co. didn't...Now that Pryor is officially a Buckeye, many want to know how he will be used..."

The Definitive Terrelle Pryor Timeline
March 20, 2008 Source: Bucknuts.com - "ESPN's Henry Gola takes a look back at the last year-and-a-half and the journey Jeannette, Pa., quarterback Terrelle Pryor has taken to Wednesday's press conference, where he signed a letter of intent for Ohio State..."

Jim Tressel 1, Rich Rodriguez 0
March 20, 2008 Source: Detroit Free Press - "It's still basketball season and already Rich Rodriguez is 0-1 against Ohio State...Rodriguez came to U-M with one edict: Beat the Buckeyes. Pryor was the first head-to-head test, and Rodriguez couldn't get it done..."

Tressel: Pryor will be good fit with Buckeyes
March 20, 2008 Source: Pittsburgh Post Gazette - "Judging by comments from Pryor and Ohio State coach Jim Tressel, Pryor won't be redshirted his first year at Ohio State. Although Todd Boeckman is the returning starter at quarterback for the Buckeyes, Pryor figures to see playing time...Tressel believes Pryor is a good fit for Ohio State's offense. 'The beautiful thing about what we have always tried to be is we've tried to be an offense that has just about every single thing in the playbook that you could possibly have,' Tressel said. 'Then you have to utilize your people for that.'..."

Art Schlichter's advice to new recruit? Be patient
March 20, 2008 Source: Mansfield News Journal - "Take it from the most coveted quarterback to play for Ohio State until Wednesday's signing of Terrelle Pryor. The 6-foot-6 prep All-American should be in no rush to make his mark with the Buckeyes. 'When you're a quarterback taking a step up to college or the pros, it's a tougher position than most to step right in and play,' said former OSU All-American Art Schlichter..."

Signed, Sealed And Delivered
March 19, 2008 Source: BuckeyeSports.com - "Ohio State, the last piece of the puzzle that was your 2008 recruiting class has finally been added. After opting to continue his recruitment indefinitely beyond National Signing Day, Terrelle Pryor put an end to the madness and signed on the dotted line Wednesday morning, becoming a Buckeye in the process..."

One Giant Pryor Commitment
March 19, 2008 Source: Bucknuts.com - "Terrelle Pryor It took and extra six weeks, but in the end things turned out just the way Buckeye nation hoped it would. Jeannette, Pa., quarterback Terrelle Pryor has selected Ohio State over scholarship offers from Michigan, Penn State, Oregon and many other schools across the country. The first big battle between Jim Tressel and Rich Rodriguez has gone to the Buckeyes..."






Final two: Pryor to pick this week
March 17, 2008 Source: Rivals.com - "It's finally over, or at least it will be by the end of the week. The recruiting process for Jeannette, Pa. quarterback Terrelle Pryor, the nation's No. 1 player, will end this week when he announces which school he'll sign with. Pryor has said publicly it is down to two teams but won't say which two. Here's Rivals.com National Recruiting Analyst Mike Farrell's take on the situation..."

Pryor Wins State Title, Says Decision Is Imminent
March 15, 2008 Source: Bucknuts.com - "Jeannette, Pa., quarterback Terrelle Pryor helped his high school basketball team claim a state championship on Saturday. He then told reporters he has narrowed his college choices to two schools and he plans to announce his choice in the coming week..."





Big Ten Spring Ratings: Where They Stand
March 5, 2008 Source: Bucknuts.com - "ESPN.com's Adam Rittenberg shares his team ratings for Big Ten football heading into spring football. It is no surprise where Rittenberg has Ohio State, led by All-American linebacker James Laurinaitis, ranked. But you may be surprised where he has some of the other league teams placed..."





2008 Special Teams Outlook
March 3, 2008 Source: The Ozone - "The outlook for special teams in 2008 is mixed. When discussing special teams it's tempting to look just at the kickers, but the truth is that on every special teams play there are 11 players on the field, each with a job. Additionally, the return game is a very important aspect of special teams that does not involve a kicker for the returning team. That being said, we'll look at the kickers and other specialists first, then the other aspects of special teams play..."





Big Ten Spring Primer: In Search Of Respectability
March 3, 2008 Source: Bucknuts.com - "ESPN.com's Adam Rittenberg takes a team-by-team look at the Big Ten with his Spring Primer. He discusses how the conference, as a whole, will search for respectability after a pair of BCS bowl losses in January. Illinois, with QB Juice Williams returning, will look to take the next step in 2008..."





Preview: Big Ten Breakdown
February 28, 2008 Source: Rivals.com - "Ohio State is reloading, Michigan is rebuilding, Iowa hopes it will be rebounding and Michigan State and Illinois appear to be resurfacing. Overall, though, the Big Ten's image seems in need of repair its 3-5 bowl record in 2007, which included some lopsided losses. Perhaps 2008 will be rejuvenating. The work starts now. Here is our Spring Preview for the Big Ten..."

BCS dark horse could emerge from Big Ten





2008 Spring Preview - Top 40 Non-Conf. Games
February 26, 2008 Source: CollegeFootballNews.com - "As spring ball kicks in, it's time to start looking ahead, way ahead, with the 20 big questions of the off-season beginning with the 40 Top Non-Conference Games. There are several big first-time matchups, while two juggernauts square off in a national title-like showdown...1. Ohio State at USC, Sept. 13: It's the epic matchup of superpowers you really wanted to see over the last few seasons, and it could've been the 2007 BCS Championship game if the Trojans hadn't gagged against UCLA. These two have played each other in a slew of recent Rose Bowls, right? The last game between the two was in 1990, with USC winning 35-26. The last Rose Bowl matchup was in 1985, and the last Buckeye win over the Trojans came in the 1974 Rose Bowl. The winner will likely be the nation's No. 1 team, or at least No. 2, with full control of its national title destiny..."





Spring Practice Position Battles
February 26, 2008 Source: Buckeye Commentary - "Ohio State does not start spring practice for a while. Meanwhile, the Buckeyes return the majority of its statistic-producing players from last year. In fact, the team returns almost identically in most categories. Ohio State returns 95% of its passing yardage, 99% of rushing, and 99% of receiving yards. The defense is stacked as well with 762 of 850 tackles returning (90%)...Here is a look at some potential battles in spring practice and beyond..."





"B" Marks the Spot for Ohio State in 2008
February 26, 2008 Source: bleacherreport.com - "The 2008 Buckeyes are not a team searching for an identity. They are a team returning 39 of the 44 players from their two-deep roster ...They brought in one of the best classes in their history and some have even said this class is better than the 2002 class...They will rely on a slew of "B" names even more this year, to carry them to their third straight BCS Championship game..."










Jamie Wood is Buckeyes 8th commitment in the Class of 2009
February 24, 2008 - Pickerington (OH) Central wide receiver and defensive back Jamie Wood committed to Ohio State on Sunday during his visit to OSU. Wood, who led his team in receiving yards and receiving touchdowns last season and was named Pickerington Central's offensive MVP, is 6' 2" 185 lbs and runs a 4.5 40. Wood said, 'I've loved the Buckeyes since the day I was born, since I knew what football was. So to be able to have this opportunity, to be able to decide whether to be a Buckeye or not, why would you pass that up?' He already had scholarship offers, in addition to Ohio State, from Penn State, Illinois, Stanford, Kentucky, Indiana, Cincinnati, Northwestern, Miami-OH and Akron. Welcome aboard, Jamie!


2008 Football Outlook - Part One - Offense
February 21, 2008 Source: The Ozone - "Every year sometime after signing day we take a look at OSU's prospects for the next season. This year's three-part series begins today with a look at the OSU offense: Introduction, Offensive Line, Running Backs, Fullbacks, Quarterbacks, Tight Ends, Wide Receivers, Offensive Highlights and Lowlights..."

2008 Football Outlook - Part Two - Defense
February 25, 2008 Source: The Ozone - "The-Ozone's look at OSU's 2008 football prospects continues today with a look at the defense: Introduction, Defensive Ends, Defensive Tackles, Linebackers, Corners, Safeties, Overview..."




Chris Fields commits to the Buckeyes
February 19, 2008 - Chris Fields, from Painesville (OH) Harvey, is the seventh commitment in the Buckeyes 2009 recruiting class. The a 6'1", 183-pound wide receiver, who runs a 4.45 40 and is considered to be a national top 100 recruit said, "I always wanted to pick the best college and Ohio State was the best college. I'm excited. I can't wait to be a Buckeye." Fields was already being recruited by a number of schools including: Oklahoma, Notre Dame, Florida, Penn State, Illinois, Tennessee, Iowa, Akron, Florida State, N.C. State and Georgia Tech. Welcome aboard, Chris!


Fields orally commits to Ohio State
February 20, 2008 Source: Cleveland Plain Dealer






Pryor still likes four, moves toward decision
February 18, 2008 Source: Rivals.com - "For quarterback Terrelle Pryor, Rivals.com's No. 1 player in the recruiting class of 2008, the last 11 days have been somewhat peaceful. On Feb. 6, National Signing Day, he announced that he wouldn't be signing a Letter of Intent that day - unlike thousands of other high school football players...Pryor admits he was set to sign with Ohio State the day before Feb. 6, but a conversation with his father, Craig, made him think twice. His father wanted him to take another look at Penn State and take an official visit..."






Ohio State football: Buckeye basketball fans take on Rich Rodriguez
February 17, 2007 Source: Cleveland Plain Dealer -&nbsp"Add it to the rivalry's lore - in Rich Rodriguez's first public appearance as Michigan's football coach, Ohio State students interrupted his halftime speech at Sunday's basketball game with a "Tressel" chant from the upper rows of Crisler Arena..."






Network may be hurting Big Ten more than helping
February 17, 2008 Source: Columbus Dispatch - "...Regardless of whether cable or conference deserves the blame, a question begs for an answer: Is this situation (the Big Ten Network) good for the Big Ten? 'It obviously is a concern,' Buckeyes coach Thad Matta said. 'I don't know the answer or the direction to look to get it fixed.'..."





Buckeyes, Trojans, Vols on the rise in updated Top 25
February 12, 2008 Source: ESPN.com - "National signing day and the deadline for underclassmen to enter the NFL draft are behind us. So it's a good time to revise the way-too-early preseason Top 25 for the 2008 college football season. Ohio State, Tennessee and USC moved up...#3. The Buckeyes fared much better than expected in personnel losses, with only junior defensive end Vernon Gholston declaring for the NFL draft. All-America linebacker James Laurinaitis returns to lead what should be a very stingy defense, and tailback Beanie Wells will be a Heisman Trophy candidate. Ohio State is good enough to go through the Big Ten schedule unbeaten, but a Sept. 13 road trip to USC might decide its BCS title hopes..."





Buckeye Coaching Staff Counts on the Quality of their Effort, not Quantity, to Land Top-Notch Recruits
February 12, 2008 Source: The Ozone - "The OSU coaching staff took the 'less is more' approach to landing 19 high quality signees on national signing day. Those of you who are salespersons or have been salespersons you know what a closing ratio is. For those of you who don't know what that is, it's the number of sales you make divided by the number of attempts to make a sale. When it comes to signing football recruits, the OSU coaching staff has a sales ratio that would make them very wealthy men if they decided to turn that skill toward the commercial word..."





Big Ten Signing Day dream team
February 11, 2008 Source: BuckeyeGrove.com - When piecing together a Dream Team of players that signed with Big Ten schools, it's exciting to think of the possibilities. What would Ohio State's star offensive line headlined by Mike Adams look like blocking for Michigan's stud running back class of Michael Shaw and Terrence Robinson. Here is a look at what one Big Ten Signing Day Dream Team might look like..."










C.J. Barnett is a Buckeye
February 10, 2008 - C.J. Barnett, a 6'1", 180-pound cornerback from Northmont High in Clayton, Ohio is the latest player to become a member of the Buckeyes 2009 recruiting class. He committed to OSU Sunday (February 10) while in attendance for the Ohio State-Indiana basketball game. In addition to Ohio State, Barnett had interest and offers from a number of schools including Michigan and Standford. Welcome aboard, C.J.!


Defensive back commits to class of 2009 February 11, 2008 Source: Columbus Dispatch






The Recruiting Game: Part Two
February 10, 2008 Source: BuckeyeSports.com - "It's a long, misunderstood process for fans. Recruiting is a large mix of rules, emotions and salesmanship. In the second part of an ongoing feature, Kyle Lamb attempts to uncover most aspects of the recruiting process in "The Recruiting Game." Learn more about the rules and practices in the second part of this series..."

The Recruiting Game
February 5, 2008 Source: BuckeyeSports.com - "It's often the most controversial and yet misunderstood aspect of college athletics. The recruiting process is analyzed, ballyhooed and dreaded with often little understanding. With a large series by Kyle Lamb devoted to educating fans on the recruiting process, there's no reason to be left in the dark any longer. From start to finish, Lamb goes behind the scenes on how recruiting works..."






Mr. Bucknuts' Bucket Of Bullets
February 10, 2007 Source: Bucknuts.com -&nbsp"Mr. Bucknuts has the 'last word' on recruiting, on Pryor, on the Dick Rod Follies, on the SEC and Michigan and a weird theory (yes, weirder than usual) on Ivy League football. All these words and more in a new Bucket of Bullets..."