Illinois Game 11/15/08:
Offensive Player of the Week: Terrelle Pryor, QB
Defensive Player of the Week: Kurt Coleman, DB
Attack Force Award: Tyler Moeller, LB/S
Jim Parker Lineman Award: Alex Boone, OT
Special Units Player of the Week: Aaron Pettrey, K
Jack Tatum Hit of the Week Award: Not awarded
Scout Team Champions: Offense: Joe Bauserman; Defense: Nate Oliver; Special Units: Joe Gantz
The Ozone Note and Quotebook
November 16, 2008 Source: The Ozone - "Making the Most of Opportunity, Beanie Does it Again, Defense Impressive, Ground Attack, Turning Off the Juice, Looking Back Looking Forward, End-Chanting, and Head to Head; they're all covered in the-Ozone Note and Quotebook..."
Mr. Bucknuts' Bucket Of Bullets
November 16, 2008 Source: Bucknuts -&nbsp"Mr. Bucknuts is back with a critique of the Illinois effort. He speaks video with us and makes fun of Charlie Weis and Dick-Rod (yes, againÖ). He also defends Tressel and rambles on about strange stats, Alabama, Terrelle and more in a freshly half-baked Bucket of Bullets..."



Check out all of the polls on our Polls, Rankings & BCS page...link below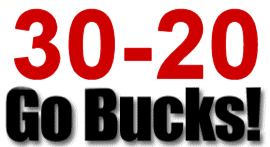 | | |
| --- | --- |
| OHIO STATE vs. ILLINOIS | |





Bucknuts TV: Ohio State-Illinois Highlights Source: Bucknuts/ESPN





Pryor, Wells Each Top 100 Yards Rushing as Buckeyes Top Illini, 30-20
November 15, 2008 Source: OSU Official Site/Associated Press - "No way, Jim Tressel figured, would 11th-ranked Ohio State win by throwing the ball. So on a gray, windy Big Ten kind of day, the Ohio State coach put the game in the hands of Chris Wells -- always a good place to put it for the Buckeyes this season. The junior running back's 143-yard performance sunk Illinois, 30-20, and kept the Buckeyes (9-2, 6-1) in the chase for the Big Ten title. Freshman quarterback Terrelle Pryor added another 110 yards rushing. 'We knew we would have a lot better chance of winning running the ball,' Tressel said. 'You could pass it but you couldn't try to make a living doing it.' The game also served as a little revenge for the 28-21 upset the Illini hung on the Buckeyes last November in Columbus, ruining a perfect season..."

Scoring Summary,Team & Individual Statistics, Drive Chart, Defensive Statistics, Game Participation, Play-by-Play
& Postgame Notes From No. 10 Ohio State at Illinois

Buckeyes Gut Out Tough Win At Illinois
November 15, 2008 Source: Bucknuts - "Updated with notes and quotes. Tailback Beanie Wells rushed for 143 yards and a touchdown and quarterback Terrelle Pryor had 110 yards and a score as No. 10 Ohio State downed host Illinois 30-20. The win puts OSU in position to play for at least a share of the Big Ten title and possibly the Rose Bowl berth next week against Michigan..."


Terrelle Pryor leads Buckeyes past Illinois, anxiously awaits Michigan
November 15, 2008 Source: Cleveland Plain Dealer - "Terrelle Pryor's lesson Saturday was on revenge, and while soaking in a victory, his rivalry class commenced immediately. First, the freshman quarterbacked No. 12 Ohio State past Illinois, 30-20, the film from Friday night still fresh in his head, the one that ended with the Illini celebrating last year's win at Ohio Stadium. It made him feel part of something he wasn't there for. 'I really didn't like that,' said Pryor, who threw for just 49 yards but ran for 110. 'It kind of peeved me off, and I wanted to get a win and lead this team to victory.' Then it was on to Michigan, his first taste of the game next Saturday to come against the worst Wolverine team in history. You know he almost went there, right? Just imagine Pryor in maize and blue. 'That wouldn't be happening,' Pryor said..."

"...While Pryor's success made the Ohio State contingent happy it did nothing but infuriate the Illinois student section who let Pryor have it after the game. What did Pryor think about his post game serenade and how did he rate his own performance after running for 110 net rushing yards. BuckeyeGrove.com has the video of Pryor's post game interview."


Pryor, Illinois Fans Have War Of Words
November 16, 2008 Source: Buckeye Sports - "Oh yes, Terrelle Pryor heard the Illinois fans giving him the business. When the freshman quarterback exited the playing field at Memorial Stadium following Ohio Stateís 30-20 victory against the Fighting Illini, the scattered Illinois students still residing in the north stands gathered to let Pryor have it. With plenty of boos and catcalls raining down on Pryor, he pointed his right arm at the fans, smirking the whole time. A piece of debris floated down from the stands aimed directly at the quarterback, but it fluttered harmlessly to the ground as he headed into the protective tunnel leading to the locker room..."




Bucknuts TV: Tressel Postgame After Illinois Source: Bucknuts


November 15, 2008 Source: OSU Official Site - "Listen to head coach Jim Tressel after the win over Illinois."




IT WAS OVER WHEN: The Buckeyes lined up with Terrelle Pryor and Beanie Wells in the backfield.

THE PLAY: On fourth-and-4 at the 14, the Illini's Anthony Santella dropped to punt. But OSUís Malcolm Jenkins and others burst up the middle and Jenkins deflected the punt out of the end zone for a safety that gave OSU a 9-7 lead with 1:10 left in the first quarter.

GAMEBALL GOES TO: Wells and Pryor, who each ran for over 100 yards and a touchdown. Beanie Wells became the sixth Buckeye to top 3,000 career rushing yards. He rushed for 143 yards against the Illini and now has 3,142 career yards.

UNSUNG HERO AWARD: Sophomore linebacker Tyler Moeller played a key role in two Illinois turnovers-he stripped the ball away from Illini quarterback Juice Williams on a blitz and later hit Williams just as he released the ball and an interception resulted-and had two tackles behind the line of scrimmage as part of his seven stops in the game. "He goes like crazy when heís out on the field, so itís no surprise he figured in on a couple big plays for the defense," Kurt Coleman said.

THE STAT: 1: This was Pryor's first career 100-yard game. It was also the first time two Buckeyes went over 100 yards since Troy Smith and Antonio Pittman did so against Iowa in 2005.

THE STAT II: 305: OSU had a season-high 305 yards rushing.

THE STAT III: 100. Jim Tressel got a win in his 100th game at Ohio State where he is 82-18.

THE STAT IV: 15: This was Ohio State's 15th straight Big Ten road win, two shy of tying the conference record set by Michigan from 1988-92.

THE STAT V: 455: Illinois gained 455 offensive yards vs. Ohio State, a season high for an Ohio State opponent. Southern Cal (348) had the previous high vs. Ohio State.

ONE-LINER: Illinois needed steel-toed cleats for how often it shot itself in the foot.

AS HEARD FROM THE STANDS: "USC" -- Illinois fans taunting OSU fans, who fired back with "Western Michigan," which defeated the Illini last week.

HE SAID IT: Mark May tweaked Pryor again ... "He still throws a bad play." Or maybe a bad pass?

JUST WONDERING: Looking ahead, what will the OSU fan angst-o-meter measure for Michigan's visit to the Horseshoe? The Buckeyes haven't defeated the Wolverines by more than 16 points since 1968, so there is reason to be wary, even if UM seems less dangerous than wet dynamite.

FAST FACT: With today's victory, Ohio State has now beaten Illinois seven straight times in Champaign. The previous six wins: 11/4/2006: #1 OSU 17, ILL 10; 11/16/2002: #2 OSU 23, ILL 16; 11/11/2000: #13 OSU 24, ILL 21; 10/10/1998: #1 OSU 41, ILL 0; 11/9/1996: #2 OSU 48, ILL 0; 10/9/1993: #6 OSU 20, ILL 12.


(Sources: OSU Offical Site/ESPN/Columbus Dispatch/Toledo Blade/The Webmaster)







After A.J. Trapasso pinned the Illini deep in their territory with a punt that was downed at the 8, the Illini gained only six yards. On fourth-and-4 at the 14, Anthony Santella dropped back to punt. Malcolm Jenkins and others burst up the middle. Jenkins blocked the punt, his second of the season, and it went out of the end zone for a safety giving OSU the lead in the game for good, 9-7, with 1:10 left in the first quarter. After the ensuing Illinois free kick, Ohio State took over on the Illinois 43 yard line. Five plays later Beanie Wells scored for a 16-7 Ohio State lead. Treseel commenting on the play, said: "We had a block on. We were in a block-left and (Jenkins) did a great job of disguising like he was double-teaming their gunner. Their personal protector motioned to go out in coverage. Just as he started to motion, Malcolm came in and he was unblocked."

Here's the video of the play, and a few other highlights, via FaDome.

Offensive Notes: Buckeyes Keep It On The Ground
November 15, 2008 Source: Bucknuts - "Ohio State piled up 310 rushing yards in its 30-20 win at Illinois on Saturday. With the windy and cold conditions, the Buckeyes were content to keep the ball on the ground and they finished with just 48 passing yards. But behind the play of junior tailback Chris "Beanie" Wells (144 yards and a touchdown) and freshman quarterback Terrelle Pryor (career-high 112 rushing yards) OSU had no reason to put the ball in the air very much..."
Watch it: 'Beanie' Wells "hurdles over" another defender...

...An OSU 84 yard eight play 4th quarter drive for a TD was highlighted by a 29-yard Chris 'Beanie' Wells gain where he literally hurdled a would-be Illinois tackler. "To see a guy that's that big, be able do do that, he (the tackler) wasn't like diving for his legs. He was pretty much standing straight up. To make that leap is pretty incredible," said Dane Sanzenbacher. "He looked like Edwin Moses out there," Ohio State coach Jim Tressel said, referring to the Olympic hurdling champion. (Watch it HERE in higher quality on YouTube; select "watch in high quality."
| | |
| --- | --- |
| Wells already hurdled one safety this season, Minnesota's Kyle Theret in week five, so why wasn't Illinois safety Donsay Hardeman prepared? | |


Bob Hunter commentary: Wells gives OSU a big edge in bad weather
November 15, 2008 Source: Columbus Dispatch - "Chris "Beanie" Wells can definitely leap tall safeties in a single bound. But then, we already knew that...In the blustery, gray November weather that defines Big Ten country, Superman is often a guy who can throw a team on his broad shoulders and grind out chunks of yards and seemingly endless minutes. He's a guy who can sometimes make those fancy-schmancy basketball-on-grass and run-and-shoot offenses seem like the silly infatuations of coaches who need winter coats when the temperature dips below 60 degrees. Wells is the kind of hard-running hero every Midwestern college football team needs, a savior who can make a wet, windy day seem like the perfect day for a football game..."



Team Statistics (Final)
#10 Ohio State vs Illinois (Nov 15, 2008 at Champaign, Ill.)


Team Totals
OSU
ILL
FIRST DOWNS
16
25
Rushing
13
13
Passing
2
12
Penalty
1
0
NET YARDS RUSHING
305
214
Rushing Attempts
52
35
Average Per Rush
5.9
6.1
Rushing Touchdowns
3
0
Yards Gained Rushing
314
246
Yards Lost Rushing
9
32
NET YARDS PASSING
49
241
Completions-Attempts-Int
6-10-0
20-34-1
Average Per Attempt
4.9
7.1
Average Per Completion
8.2
12.1
Passing Touchdowns
1
2
TOTAL OFFENSE YARDS
354
455
Total offense plays
62
69
Average Gain Per Play
5.7
6.6
Fumbles: Number-Lost
2-1
4-1
Penalties: Number-Yards
4-18
4-40
PUNTS-YARDS
5-198
5-153
Average Yards Per Punt
39.6
30.6
Net Yards Per Punt
39.6
25.8
Inside 20
2
3
50+ Yards
1
0
Touchbacks
0
0
Fair catch
0
0
KICKOFFS-YARDS
5-317
4-208
Average Yards Per Kickoff
63.4
52.0
Net Yards Per Kickoff
49.0
36.2
Touchbacks
1
1
Punt returns: Number-Yards-TD
3-24-0
2-0-0
Average Per Return
8.0
0.0
Kickoff returns: Number-Yds-TD
3-43-0
4-52-0
Average Per Return
14.3
13.0
Interceptions: Number-Yds-TD
1-18-0
0-0-0
Fumble Returns: Number-Yds-TD
0-0-0
0-0-0
Miscellaneous Yards
0
0
Possession Time
33:50
26:10
1st Quarter
8:13
6:47
2nd Quarter
5:50
9:10
3rd Quarter
9:08
5:52
4th Quarter
10:39
4:21
Third-Down Conversions
4 of 12
4 of 11
Fourth-Down Conversions
1 of 2
0 of 1
Red-Zone Scores-Chances
4-4
2-3
Sacks By: Number-Yards
2-12
0-0
PAT Kicks
4-4
2-2
Field Goals
0-0
2-2

Fans' Report card Columbus Dispatch: What grade do you give the Ohio State football team in its game against Illinois? 14% A - 69% B - 15% C - 2% C-

The Bottom Line
November 15, 2008 Source: Columbus Dispatch - "Leaves are awarded on a zero-to-five basis, five being the best: Offense (three leaves)...Defense (three leaves) ...Special teams (four leaves)...Coaching (three leaves) ...Opponent (two leaves)..."

From Columbus' 1460 The Fan radio website online poll: What grade do you give the Buckeyes in their win over the Illini? 6.0 % A - 69.0 % B - 23.0 % C - 2.0 % D

Maligned OSU offensive line gets 'A' vs. Illinois
November 16, 2008 Source: Mansfield News Journal - "Offensive Line: A...Running Game: A...Passing Game: B minus...Defensive Line: C...Linebackers: C...Defensive Backs: B...Special Teams: A...Coaching: A..."





Illini Hang Tough Against Buckeyes
November 15, 2008 Source: Illinois Official Site - "The Illini put up 455 yards of offense against the Buckeyes - nearly 200 yards more than the Ohio State Defense has given up on average this season. This total also was 101 yards more than the Buckeyes gained on Saturday..."


Opposite sideline
November 15, 2008 Source: Bucknuts - "...What went right? The running game, at least early. The Illini were going against the Big Ten's No.2 defense against the run (105.7-yard average), and the rips by Daniel Dufrene, Jason Ford and Williams netted them 100 yards before the first quarter was over. But even though Illinois wound up with 214 for the game, the most by an OSU opponent this season, it couldn't finish off its first-half drives..."