Fancy footwork pays off for Buckeyes' Pryor
November 12, 2008 Source: Toledo Blade - "The conditions were lousy, the field was foreign and the opponent had made him a marked man, so why did Ohio State freshman quarterback Terrelle Pryor perform so remarkably in last weekend's 45-10 throttling of Northwestern? Pryor relied on the same thing that made Fred Astaire, Arthur Murray and Michael Jackson famous - it was the footwork. The poise and confidence and the 9-of-14 passing for 198 yards and three touchdowns came from Pryor's feet being where they needed to be, whether it was stepping up in the pocket, setting himself to throw or escaping trouble..."








Reports: BCS games might air on cable starting in 2010
November 12, 2008 Source: ESPN - "The Bowl Championship Series games could be moving to cable television as early as 2010, according to media reports. The Walt Disney Co., the parent company of ESPN, is among the bidders for the five BCS games -- and according to reports in USA Today and SportsBusiness Daily, the company has bid about $25 million per year more than its closest competitor for the new BCS deal. Fox's four-year deal with the BCS ends after the 2009 season. If Disney's bid for the new deal is accepted, then the BCS games would be aired on ESPN starting in 2010...SportsBusiness Daily reported that in bidding, Disney is offering about $125 million annually to air the games, while Fox is offering about $100 million annually...Fox currently pays about $82.5 million annually to air four of the five BCS games..."

Herbie: Don't count on a playoff -- ever
Source: ESPN Radio - "Kirk Herbstreit tells us why there will never be a playoff in college football..."







Players Speak to Media Tuesday
November 11, 2008 Source: OSU Official Site - "Seniors James Laurinaitis, Malcolm Jenkins, Brian Robiskie, and Rory Nicol addressed the media Tuesday after Jim Tressel's weekly press conference.

Tressel, Buckeyes Look To Illinois
November 11, 2008 Source: Buckeye Sports - "After a decisive victory against Northwestern last weekend, Ohio State returns to action this week in its second consecutive road game. This one will come against Illinois, the team that ruined senior day last season for the Buckeyes and handed them a rare conference loss. Head coach Jim Tressel met Tuesday with the media to preview the contest..."





Buckeyes rarely allow and gain big pass plays
November 11, 2008 Source: Cleveland Plain Dealer - "It's the most important thing Ohio State safeties coach Paul Haynes drums into the heads of his players -- don't get beat deep. And it almost never happens. 'I think we've been doing a pretty good job,' OSU senior cornerback Malcolm Jenkins said. 'But that doesn't matter unless we do a good job Saturday, and we know we'll get tested this week.' No team in the Big Ten challenges a secondary like Illinois, which leads the conference with 39 pass plays of 20-or-more yards this season. The Buckeyes have given up only 16 long pass plays and only six of them have gone for more than 30 yards..."





Winning out can result in BCS bid
November 11, 2008 Source: Columbus Dispatch - "...there is still a strong chance the Big Ten could have two teams make Bowl Championship Series games for the eighth time in the 11-year history of the BCS, and one of them could be Ohio State...If Michigan State and Ohio State win out, it would be a two-way tie since Michigan State finishes at Penn State. But OSU would gain the league's BCS automatic bid to the Rose Bowl because of its win over Michigan State. If Penn State and OSU win out and tie for the title, the Nittany Lions would be the league's BCS automatic qualifier by virtue of their win over the Buckeyes. That would put Penn State in the Rose Bowl...Ohio State would fall into the at-large pool, and yesterday there were various national experts who had the Buckeyes as viable candidates, along with Boise State or Utah, for invitations to the Fiesta, Sugar and Orange bowls, depending upon who makes the national title game..."






Saturday November 15, 2008

NU @ MICH
12:00p
On TV: ESPN2, Live stats
IU @ PSU
12:00p
On TV: Big Ten Network, Live stats
OSU @ ILL
12:00p
On TV: ESPN, Live stats
PUR @ IOWA
12:00p
On TV: Big Ten Network, Live stats
MINN @ WISC
3:30p
On TV: ABC, Live stats


Northwestern Game 11/8/08:
Offensive Player of the Week: Terrelle Pryor, QB
Defensive Player of the Week: James Laurinaitis, LB
Special Units Player of the Week: Shaun Lane, DB
Attack Force Award: Nader Abdallah, DT
Jim Parker Lineman Award: Rory Nicol, TE
Jack Tatum Hit of the Week Award: TBA
Scout Team Champions: Offense: Scott Sika; Defense: Tom Ingham; Special Units: Kyle Ruhl


'Beanie' Wells was been named the Big Ten Offensive Player of the Week for his 140 yard on 28 carry performance against Northwestern. Wella is the first Buckeye to win the award this season.







Statistical Leaders
PLAYER
TEAM
QB Rating
Att
Comp
Pct
Yds
Y/A
Y/G
TD
Int
Int%
Long
Pryor, Terrelle
OSU
153.6
129
84
65.1
1076
8.3
107.6
9
3
2.33
56
Devlin, Pat
PSU
150.6
41
21
51.2
367
9.0
52.4
3
0
0.00
80
Williams, Juice
ILL
141.9
319
182
57.1
2769
8.7
276.9
20
14
4.39
77
Clark, Daryll
PSU
139.6
223
135
60.5
1738
7.8
173.8
11
3
1.35
55
Stanzi, Ricky
IOWA
134.1
192
114
59.4
1482
7.7
148.2
10
7
3.65
59
Weber, Adam
MINN
133.0
318
207
65.1
2256
7.1
225.6
11
5
1.57
71
Kafka, Mike
NU
131.1
46
32
69.6
330
7.2
66.0
2
3
6.52
36
Christensen, Jake
IOWA
120.6
60
35
58.3
390
6.5
65.0
2
1
1.67
40
Lewis, Kellen
IU
120.4
147
88
59.9
982
6.7
122.8
5
5
3.40
79
Evridge, Allan
WISC
119.1
132
71
53.8
949
7.2
158.2
5
5
3.79
42
Boeckman, Todd
OSU
118.4
78
49
62.8
446
5.7
74.3
3
2
2.56
47
Hoyer, Brian
MSU
116.5
279
137
49.1
2029
7.3
184.5
9
6
2.15
82
Bacher, C.J.
NU
109.8
303
179
59.1
1700
5.6
212.5
10
11
3.63
45
Threet, Steven
MICH
107.1
193
98
50.8
1083
5.6
120.3
9
6
3.11
51
Sherer, Dustin
WISC
107.0
122
64
52.5
770
6.3
96.3
3
4
3.28
49
Painter, Curtis
PUR
106.0
295
165
55.9
1762
6.0
220.3
6
10
3.39
60
Sheridan, Nick
MICH
98.4
84
47
56.0
465
5.5
77.5
2
5
5.95
45



Check out all of the polls on our Polls, Rankings & BCS page...link below






Mr. Bucknuts' Bucket Of Bullets
November 9, 2008 Source: Bucknuts -&nbsp"Mr. Bucknuts is still not satisfied...The frrrst quarter was frrreezing and frrrustrating...This was Northwestern, for god's sake! Think about it. There's not a kid on their team that Ohio State wanted. There's not a kid on the starting team at Ohio State that Northwestern didn't want! There was the NCAA's youngest coach with one week to prepare going up against the NCAA's smartest coach with two weeks to get ready. And here's how it started out. On Northwestern's first play from scrimmage, their third string tailback gained more yardage than our All-American tailback gained on his first six combined carries...Here are another half-dozen thoughts I had that might be worth mentioning (you decide):...2) What if we played every first down like it was third down? If we opened up the playbook and tried for 7-8 yards instead of trying to force it off-tackle? Just a thought…"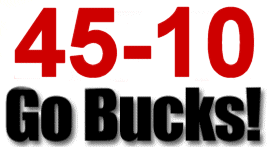 | | |
| --- | --- |
| OHIO STATE vs. NORTHWESTERN | |





OSU-Northwestern Highlights Source: Bucknuts/ScoutingOhio.com






Buckeyes ride 'comfortable' Pryor to romp, regain share of Big Ten lead
November 8, 2008 Source: Cleveland Plain Dealer - "Two weeks ago after his fumble helped lead to Ohio State's loss to Penn State, Terrelle Pryor looked like he wanted to escape. Saturday, after his most complete game as a college quarterback, the freshman was asking to take it all in. 'I just felt real comfortable today,' Pryor said. 'I'm sure it's going to be like this the rest of the year, so we'll be talking a lot. I mean, we've got to be ready. We owe the seniors some stuff, and they're going to be happy at the end of the year.'..."


Pryor talks after the Northwestern game
November 8, 2008 Source: Buckeye Grove - ""...Check out what Pryor had to say and how he graded himself and what is next in the development of Ohio State's future star."

No. 12 Ohio State Downs No. 25 Northwestern, 45-10
November 8, 2008 Source: OSU Official Site/Associated Press - "Terrelle Pryor threw for three scores and Chris "Beanie" Wells ran for two more, leading No. 12 Ohio State to a 45-10 victory over Northwestern on Saturday that showed the Buckeyes are definitely over their loss to Penn State two weeks ago. Pryor was 9-of-14 for 197 yards, and added 33 on the ground. Wells finished with 140 yards on 28 carries...More importantly, the win keeps the Buckeyes' chances for a fourth straight Big Ten title alive. Ohio State (8-2, 5-1) needs to win out and get some help from Penn State and Michigan State, who play each other in the season finale..."

Scoring Summary,Team & Individual Statistics, Drive Chart, Defensive Statistics, Game Participation, Play-by-Play
Postgame Notes From No. 12 Ohio State at No. 25 Northwestern


| | |
| --- | --- |
| | |


Rory Nicol, Marcus Freeman and Beanie Wells talked to reporters after the Northwestern game. Wells talks about his 55-yard touchdown run and about the performance by Terrelle Pryor.



IT WAS OVER WHEN: Ohio State scored its third TD. And its fourth. ... And fifth and sixth.

THE PLAY: Chris "Beanie" Wells' 55-yard touchdown run in the second quarter. The tailback should have been stopped for a 4-yard loss but powered through to ignite the runaway win. Wells now has 2,999 yards for his career and with 1 more yard he will become the sixth Buckeye to reach 3,000 yards.

GAMEBALL GOES TO: Terrelle Pryor. The freshman has to get the ball this week after giving the Buckeyes a confidence booster with a huge rebound from last week's painful loss to Penn State.

THE STAT: 294. Northwestern had just 294 total yards, making the Wildcats the fourth consecutive team held to fewer than 300 yards by the Buckeyes.

THE STAT II: 3. Terrell Pryor was 9-for-14 for 197 yards. Pryor threw more touchdown passes Saturday (three) than in the past five weeks combined (two).

THE STAT III: 1. Northwestern scored one touchdown. In the past four games, the Ohio State defense has allowed only three touchdowns. Ohio State's defense has given up only five offensive touchdowns over the last five games and just 13 total in 10 games.

THE STAT IV: 81: OSU wins for Tressel, tying him with Earle Bruce for third all time behind Woody Hayes (205) and John Cooper (111)

HOW THE TEAM SEES IT: See, we can score touchdowns.

HOW THE POLLSTERS WILL SEE IT: We love this team (now that it can't win it all).

HOW BUCKEYE NATION WILL SEE IT: Nice to sorta resemble Texas Tech for a change.

FAST FACT: Ohio State has now won four straight vs. Northwestern by a combined score of 205-34.

JUST WONDERING: What movies has Tress been watching? He went Texas Chainsaw Massacre on the Wildcats in the fourth quarter by calling for a fake punt while leading by 21. Applaud the move, because too often the Buckeyes play like nice guys instead of Goodfellas.

AS HEARD IN THE PRESS BOX: Tressel has lost all my respect. I thought he was a good guy, but he just tried a fake punt (leading 31-10)." -- a member of Northwestern's student media.


(Sources: ESPN/Columbus Dispatch)





With the scored tied 7-7 at the beginning of the 2nd quarter, OSU had a 1st and 15 from their own 45 yard line. Pryor handed off to 'Beanie' and it appeared he would be stopped for about a four yard loss. However, Wells somehow managed to break away from a host of Northwestern defenders, changed direction and went 55 yards for a touchdown. He got by the last Northwestern defender with a chance to stop him at the 15 yard line delivering his patented 'stiff-arm' that drove the would be tackler to the ground. Wells finished with 140 yards on 28 carries and now has 2,999 yards for his career. With 1 more yard he will become only the sixth Ohio State running back to reach 3,000 yards. Wells, commneting on the play, said: "I ran toward the line and the pile was there. I kind of fell back. But I just keep my feet moving. I gave it a second effort and was able to run out of there."
Here's the video of the play from ESPN via YouTube
or watch it
HERE
in '
high quality
'.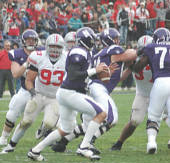 Front four holds its ground
November 8, 2008 Source: Columbus Dispatch - "Defensive line gets in gear after first drive...Quarterback Mike Kafka took Northwestern straight down the field to a tying touchdown the first time out yesterday...Defensive tackle Nader Abdallah gathered Ohio State's scattered front four and delivered a message. 'I just told them, 'Listen. Calm down. Everybody is just trying to do too much. Relax,'" said the senior who implored his teammates to play their game. 'Then we went back out there and played that way, and we took care of business.'...Abdallah and friends sent the Northwestern offense plunging from boom to bust in almost a wink, one of the major reasons the Buckeyes walked off with a 45-10 win. Kafka, who had set a Big Ten rushing record for quarterbacks with 217 yards last week against Minnesota, netted 83 yards on 29 carries yesterday. That was after he had gained 35 yards on 10 carries, including the 1-yard TD run, on the Wildcats' first drive...The defense also forced three turnovers. Russell's fumble recovery after a Jenkins strip set up a second-quarter field goal. Laurinaitis had a diving interception midway through the fourth quarter. And defensive tackle Doug Worthington jumped on a fumble caused by defensive tackle Cameron Heyward on a sack of Kafka, setting up Ohio State's final touchdown..."


What they'll remember from OSU-Northwestern
November 8, 2008 Source: Cleveland Plain Dealer - "No matter how accomplished this senior class is for Ohio State, and the group moved to 41-7 with Saturday's win, or how accomplished the head coach is, and Jim Tressel tied Earle Bruce for third on Ohio State's all-time wins list with 81, it just feels like everything is about Terrelle Pryor from here on out. It will be for the following two years at least..."

The-Ozone Note and Quotebook
November 9, 2008 Source: The Ozone - "...More Varied Attack: It was interesting to see how the Buckeye offense changed this week after the bye week. Missing in total was the option play. OSU did not run one option against Northwestern, a play they had run extensively prior to the bye week. What they did do was throw the ball downfield more, and did so effectively, to complement the running of Wells. Though they didn't run the option, Pryor was still active in the running game, particularly as a scrambler when pass plays broke down. It was the rejuvenated passing game, however, that seemed to be the difference. Most of the improvement in that area came from Pryor who just seemed more effective. 'I think I've progressed a lot on staying in the pocket and releasing it,' said Pryor..."

Big Ten helmet stickers: Week 11
November 8, 2008 Source: ESPN - "Ohio State QB Terrelle Pryor -- Pryor provided the perfect response to the Penn State loss, which he took especially hard. The freshman showcased his special skills against Northwestern, throwing three touchdown passes, keeping plays alive with his feet and converting several third-and-long situations. Pryor completed 9 of 14 passes for 197 yards."


| | |
| --- | --- |
| | Webmaster Note: Add my vote to give a 'Big Ten helmet sticker' to Buckeye super sophomore Jermale Hines. In the photo, Hines, #7, takes down quarterback Mike Kafka in Saturday's game against Northwestern in Evanston. The true super sophomore, from Cleveland Glenville, tied for the team lead with five solo tackles, and six overall, for the game. Somewhat unsung by the media for his contributions, Hines has been playing outstanding football for the Buckeyes. |
Team Statistics (Final)
Ohio State vs Northwestern (Nov 08, 2008 at Evanston, Il.)


Team Totals
OSU
NU
FIRST DOWNS
23
20
Rushing
12
7
Passing
7
10
Penalty
4
3
NET YARDS RUSHING
244
117
Rushing Attempts
45
43
Average Per Rush
5.4
2.7
Rushing Touchdowns
3
1
Yards Gained Rushing
275
165
Yards Lost Rushing
31
48
NET YARDS PASSING
197
177
Completions-Attempts-Int
9-16-0
18-27-1
Average Per Attempt
12.3
6.6
Average Per Completion
21.9
9.8
Passing Touchdowns
3
0
TOTAL OFFENSE YARDS
441
294
Total offense plays
61
70
Average Gain Per Play
7.2
4.2
Fumbles: Number-Lost
0-0
3-2
Penalties: Number-Yards
6-62
7-85
PUNTS-YARDS
3-107
4-129
Average Yards Per Punt
35.7
32.2
Net Yards Per Punt
35.7
31.2
Inside 20
2
2
50+ Yards
0
0
Touchbacks
0
0
Fair catch
1
1
KICKOFFS-YARDS
8-438
3-193
Average Yards Per Kickoff
54.8
64.3
Net Yards Per Kickoff
41.6
50.7
Touchbacks
0
0
Punt returns: Number-Yards-TD
2-4-0
0-0-0
Average Per Return
2.0
0.0
Kickoff returns: Number-Yds-TD
2-41-0
8-105-0
Average Per Return
20.5
13.1
Interceptions: Number-Yds-TD
1-0-0
0-0-0
Fumble Returns: Number-Yds-TD
0-0-0
0-0-0
Miscellaneous Yards
0
0
Possession Time
30:57
29:03
1st Quarter
7:20
7:40
2nd Quarter
9:41
5:19
3rd Quarter
6:03
8:57
4th Quarter
7:53
7:07
Third-Down Conversions
8 of 13
8 of 15
Fourth-Down Conversions
1 of 1
0 of 1
Red-Zone Scores-Chances
5-5
2-3
Sacks By: Number-Yards
4-39
1-5
PAT Kicks
6-6
1-1
Field Goals
1-1
1-1
Fans' Report card Columbus Dispatch: What grade do you give the Ohio State football team in its game against Northwestern? 13% A+ - 58% A - 27% B - 2% C

The Bottom Line
November 8, 2008 Source: Columbus Dispatch - "Leaves are awarded on a zero-to-five basis, five being the best: Offense (four leaves)...Defense (four leaves) ...Special teams (three leaves)...Coaching (four leaves) ...Opponent (three leaves)..."




Northwestern notes
November 9, 2008 Source: Chicago Sun Times - "...Fitzgerald did a remarkable job of containing his agitation when he met with the media after the game. The death-cage competitor within almost came out when he was asked more than once about Ohio State running up the score in the fourth quarter..."

Wildcats can't slow QB Pryor, RB Wells; Fitzgerald mum on OSU piling on
November 9, 2008 Source: Chicago Sun Times - "Pryor was positively wizardly on third downs, nailing five of his first six passes when the chains had to be moved. For the game, Ohio State converted 8 of 13 third downs, effectively keeping the Wildcats' defense on the field long enough to be broken...Wildcats coach Pat Fitzgerald repeatedly refused to comment about Tressel's earth-scorching in the fourth quarter, twice responding, ''I've got nothing to say about that,'' then adding, ''We need to go out and play better for us to win, and we didn't do that...."

Post-Game Quotes - Northwestern vs. Ohio State
November 8, 2008 Source: NU Official Site - "Northwestern Head Coach Pat Fitzgerald: On adjustments made by Ohio State... 'On defense, number one, I thought they tackled better. Seems like they did a nice job loading the box, playing a lot of single safety against us to try and take away our running attack. And they did a nice job at tackling. We thought earlier in the week that we were going to be in a lot of one-on-one matchups in space and we were going to have to come out of those. Tackles, gain yards positively, I don't know if we did that consistently enough today. The credit goes to Ohio State.'...On the play of Terrelle Pryor...'I think the young man made plays. He is a very talented player. And that is what big-time players do in games, they step up and they make plays. That's what he did. He is a tremendous football player, and it only takes one run like that to change momentum. And he made a nice run and kept his feet moving. And you know it won't break my heart if we don't play him again.'...Quarterback Mike Kafka: On the play of Ohio State...'They played hard, all the credit goes to them. When it comes down to it we just need to make plays and take care of the football.'...Linebacker Nate Williams: On tackling Pryor... 'When we did have a spy in there we got it done, and when we didn't he obviously ran for some yards and got some first downs.'..."

Opposite sideline
November 8, 2008 Source: Columbus Dispatch - "...Backup quarterback or not, the lack of a downfield passing game is devastating against a top-quality opponent. The Wildcats barely tried. Kafka completed a 24-yard slant to Rasheed Ward to open the second half, but that was it for throwing downfield successfully....'Our inability to make plays and their ability to make plays in critical situations was very costly.' -- coach Pat Fitzgerald..."