Mr. Bucknuts' Bucket Of Bullets
May 21, 2007 Source: Bucknuts -&nbsp"Mr. Bucknuts is back to talk about recruiting databases, hints at the next big Bucknuts' announcement, ESPN (of course), trashing the Irish, the best college coaches and more in a pre-summer camp Bucket of Bullets..."



Tressel talks faith during breakfast visit to Fort Valley
May 22, 2007 Source: Macon Telegraph - "In a city that bleeds royal blue and gold for its local university and black and gold for its state championship high school football team, scarlet and gray were the dominant colors at a Fort Valley prayer breakfast Monday. The display was in honor of Jim Tressel, guest speaker at the Fort Valley Mayor's Prayer Breakfast. The event's chairman, Gene Waites, joked about the number of Ohio State supporters at the meeting. 'Contrary to popular belief, this is not a Middle Georgia Ohio State Touchdown Club meeting,' Waites told the gathering of more than 200 at the annual breakfast. 'He was nice enough not to mention the last game,' Tressel joked when he stepped up to the podium. 'That's what friends are for.'..."





Breaking down the Big Ten
May 18, 2007 Source: ESPN.com - "Can Ohio State fill its holes on offense and defense? Is Wisconsin the team to beat? Will the Ron Zook's recruiting classes make Illinois a dangerous foe? Can Michigan rebuild its defense? Take a look at what Big Ten questions were answered this spring and what problems linger heading into the fall..."

Big Ten: What we know, what we don't
May 18, 2007 Source: Rivals.com - "The Big Ten is looking for an identity come the 2007 football season...Here are the spring questions that have been answered and remain unanswered around the conference..."





Top Fives: Scooping sponsors while highlighting the best
May 18, 2007 Source: CBSSportsline.com - "...Five best game-day coaches: Jim Tressel: Kills you with kindness, then just kills you. The Sweater Vest can play in any way you want -- ball control, up-and-down, high-scoring or conservative. Ohio State defenses always seem to be great. And, yes Florida fan, I remember the BCS title game...Five best game day atmospheres: Ohio State: The state comes together, 105,000 strong, for a day of drinking, debauchery and dotting the I. Between you and me: Just don't get too close to Tressel when he sings Carmen, Ohio. He's waaay off key...Five best athletic directors: Gene Smith, Ohio State: Scandal drove Andy Geiger into retirement. Smith, the former Notre Dame player, now oversees the nation's largest athletic department. Both basketball and football played for championships..."





All Sports Rankings: Year-End Edition
May 18, 2007 Source: SI.com - "...2) Ohio State (210) -- Though Ohio State rewrote history by losing to Florida in the national title game in football and basketball, the Buckeyes might be able to find some solace in finishing ahead of the Gators in All-Sports Rankings. Even though Ohio State had Top 25 finishes in men's tennis, women's basketball, women's lacrosse, women's hockey, women's softball, men's volleyball and women's volleyball, this year will always be remembered as the year the Bucks were chopped by the Gators..."





Athlon picks OSU 12th in preseason poll
May 17, 2007 Source: Cleveland Plain Dealer - "Athlon Sports, publisher of a popular annual college football preview magazine, has ranked Ohio State 12th in its preseason Top 25, the magazine announced today. Athlon picks the defending Big Ten champion Buckeyes to finish third in the Big Ten in 2007. It named linebacker James Laurinaitis and cornerback Malcolm Jenkins to its Preseason All-America first team and All-Big Ten first team..."



"Robo" Working Hard in Off-Season
May 16, 2007 Source: OhioStateScout.comh - "Brian Robiskie is working hard to become the next highly drafted wide receiver at Ohio State...Brian was banged up a little in the Spring Game, but that has not kept him from working in the off-season to get his body ready for the heart of the Big Ten schedule..."

Wideout Posey may be best in Ohio
May 15, 2007 Source: USA Today - "The competition to see who will be ranked as the top player in Ohio has already been raging for quite some time. As it turns out, there are several worthy candidates in this year's class...There was nobody on the field...that was as polished as DeVier Posey. The 6-foot-3, 190-pound receiver was great during the position drills, and nobody could hang with him during the one-on-one battles. In fact, the Ohio State commitment burned one defensive back so badly on a post-corner route during the one-on-ones, one of the NIKE coaches working the camp repeatedly yelled, 'That's why he's going to O-State.'..."

Glenville WR next in line at OSU?
May 4, 2007 Source: Rivals.com - "Cordale Scott, the 6'3" WR, may be the best prospect in this year's haul from (Cleveland) Glenville, which is never a small accomplishment..." Scott was the Overall Most Valuable Player at the Elite Skills Camp held at Cleveland Browns Stadium in front of 108 college coaches. He already has offers from Ohio State, Wisconsin, Illinois, Iowa and Minnesota.


Beachum remains open
May 4, 2007 Source: Rivals.com - "Recruiting is far from over for Rivals100 prospect Brandon Beachum. Rivals.com AMP spoke with Junior All-American from (Youngstown) Cardinal Mooney about recruiting and more..." The 6-1 linebacker currently has offers from LSU,Florida State, Oklahoma, Penn State, Pittsburgh, Nebraska and Illinois.




2007 Special Team Outlook and Freshmen Who Could Contribute
May 4, 2007 Source: The Ozone - The-Ozone's three-part series concludes...the third installment we look at special teams and also take a look at which freshmen could possibly help out in 2007..."

2007 Offensive Outlook
May 2, 2007 Source: The Ozone - Second in a three part series - "Check out our look at the offense..."

2007 Defensive Outlook
April 29, 2007 Source: The Ozone - "The dust has settled on spring camp, the jersey scrimmage (both of them), the kick scrimmage, and the spring game. The Ozone will now take a look at the state of the OSU football program...starting today...the 2007 Defensive Outlook..."



Ex-center Whaley fits right in at fullback
May 4, 2007 Source: Columbus Dispatch - "...Whaley was having trouble measuring up on his team, simply because a 6-1 center who might actually be 6 feet just looks out of place among an otherwise towering group of linemen. Then the coaches decided to move the 265-pound senior to fullback during spring drills in April, and the perception changed instantly. 'He doesn't stand in the huddle next to 6-5 guys any more; he stands next to 5-11 guys," running backs coach Dick Tressel said. "He's up there with everybody else now.'..."






Takeaways A Team Effort
May 3, 2007 Source: BuckeyeSports.com - Jim Heacock makes no secret about what he wants from his defense: takeaways, sacks and any other method of wreaking havoc he can get. This spring a number of his charges -- some callow, some experienced -- were happy to oblige their co-defensive coordinator. ..."

Searching For Some Identity
May 3, 2007 Source: BuckeyeSports.com - "It's hard to picture a more night-and-day difference than that concerning the Ohio State offense from last year to this one...look at the challenges faced by this year's offense..."



Football Buckeyes Lace Up Track Spikes for 2007 Jesse Owens Classic
May 2, 2007 Source: OSU Official Site - "Last week at the Drake Relays, three Ohio State football players made their track debuts in the 4x100-meter relay. Freshman defensive back Chimdi Chekwa (Chim-dee Cheek-wah), junior All-Big Ten cornerback Malcolm Jenkins and sophomore wide receiver Dan Potokar joined All-Big Ten sprinter Anthony Cole in setting a season-best in the event at 41.57. The unit will look to improve that mark at approximately 4 p.m. Saturday..."





Buckeyes line up more football talent
May 2, 2007 Source: Toldedo Blade - "For a period of time after the humbling loss to Florida in the national championship game, some wondered how long it would take for Ohio State's football program to regain its proud place on the mantel. But a solid recruiting class for 2007, and some stunning early returns on 2008, indicate that the Buckeyes snapped out of their malaise rather quickly, and went to work on re-tooling and re-arming their prolific gridiron machine..."





Big Ten Announces Nine Football Games to Appear on ABC, ESPN and ESPN2 in 2007
May 1, 2007 Source: Big Ten Conference Official Site - "The Big Ten Conference office released the game times and television plans for nine home football contests today to appear on ABC, ESPN or ESPN2, kicking off the first season of a new 10-year national rights contract with the networks. The Big Ten's ABC/ESPN/ESPN2 schedule includes seven prime-time games and a pair of afternoon Homecoming matchups..."

Games involving the Buckeyes:
Sept. 29 -- OHIO STATE at MINNESOTA, 7 p.m. CDT, ABC, ESPN or ESPN2
Oct. 6 -- OHIO STATE at PURDUE, 8 p.m. EDT, ABC, ESPN or ESPN2
Oct. 20 -- MICHIGAN STATE at OHIO STATE, 3:30 p.m. EDT, ABC
Oct. 27 -- OHIO STATE at PENN STATE, 8 p.m. EDT, ABC, ESPN or ESPN2

Three OSU road games will kick off at night
May 1, 2007 Source: Cleveland Plain Dealer

Also, ESPN has announced the Sept. 15 Ohio State game at Washington will be at 3:30 p.m. and televised on ESPN.



Quarterback questions loom for many Big Ten team
April 30, 2007 Source: ESPN - "Of the five schools looking to replace high-profile senior quarterbacks, only Ohio State heads into the fall knowing which direction it will go...Big Ten Spring Wrap and Predictions..."




Click link above for OSU comprehensive coverage

Buckeyes Drafted:
Ted Ginn Jr., WR - First Round, Drafted No. 9, Miami Dolphins
Anthony Gonzalez, WR - First Round, Drafted No. 32, Indianapolis Colts
Quinn Pitcock, DT - Third Round, Drafted No. 98, Indianapolis Colts
Antonio Pittman, RB - Fourth Round, Drafted No. 107, New Orleans Saints
Jay Richardson, DE - Fifth Round, Drafted No. 138, Oakland Raiders
Roy Hall, WR - Fifth Round, Drafted No. 169, Indianapolis Colts
Troy Smith, QB - Fifth Round, Drafted No. 174, Baltimore Ravens
Doug Datish, C - Sixth Round, Drafted No. 198, Atlanta Falcons

UnDrafted Free Agents:
T.J. Downing, UDFA Cardinals
Antonio Smith, UDFA Colts
Brandon Mitchell, UDFA Texans
Justin Zwick, invited to tryout Colts
David Patterson, UDFA Falcons
Stan White, Jr., UDFA Bengals
Drew Norman invited to tryout Browns

Kern elected to Hall
May 9, 2007 Source: Columbus Dispatch - "The starting quarterback with the all-time best winning percentage at Ohio State, Rex Kern, is headed to the College Football Hall of Fame...Kern was a three-year starter for OSU, leading the Buckeyes to the 1968 national title as a sophomore and winning 1969 Rose Bowl MVP honors. From 1968 to 1970, he led OSU to a 27-2 record for a .931 win percentage..."

OSU's savvy Kern wins shrine RSVP
May 10, 2007 Source: Cleveland Plain Dealer

Classy overachiever...gets a permanent home in the Hall of Fame
May 10, 2007 Source: Columbus Dispatch



Considered one of the most prolific quarterbacks in Ohio State history as well as a quintessential performer in the classroom, Rex Kern was the true definition of a scholar-athlete during his Buckeye career.

The first All-America (1969) quarterback to play for legendary coach Woody Hayes, Kern led OSU to three consecutive Big Ten titles and the 1968 National Championship. During his junior campaign, he set a school record for total offense in a single season (1,585) and finished third in the Heisman Trophy voting. He was also named Rose Bowl MVP. In three years as a starter, 'Ramblin' Rex' completed 188 of 364 passes for 2,444 yards and 19 touchdowns.

A recipient of the NFF's National Scholar-Athlete Award, Kern earned All-Big Ten Academic Team accolades in 1970 and an NCAA Post Graduate Scholarship the following year. After receiving his bachelor's degree, the Lancaster, Ohio native twice returned to his alma mater to further his education, ultimately earning his Ph.D. in Health, Physical Education and Recreation.

Kern was drafted by the Baltimore Colts in the 1971 and played four seasons in the NFL, receiving numerous humanitarian awards from the league. He established the Anne and Woody Hayes Endowment for the prevention of child abuse at Columbus Children's Hospital in 2001 and resides in Camarillo, Calif. (Source: College Football Hall of Fame)



Big Ten 2007 Spring Games Wrapup
May 1, 2007 Source: CollegeFootballNews.com - "Quick updates of what happened in the spring games in the Big Ten..."



| | |
| --- | --- |
| | "..Schools which have good academic reputations have ways to get borderline athletes in and keep them in." Harbaugh includes his alma mater, Michigan, in that indictment. "Michigan is a good school and I got a good education there," he said, "but the athletic department has ways to get borderline guys in and, when they're in, they steer them to courses in sports communications. They're adulated when they're playing, but when they get out, the people who adulated them won't hire them." Source: sanfrancsicoexaminer.com |



Top recruits are lining up for Buckeyes
May 6, 2007 Source: Columbus Dispatch - "If you can't beat 'em, go recruit some of 'em. Ohio State coach Jim Tressel hasn't made that his motto, but it felt that way after he and his coaching staff last week landed two of the nation's top offensive line prospects, Mike Brewster of Orlando, Fla., and J.B. Shugarts of Klein, Texas, for the 2008 recruiting class. To get Brewster, who is rated as the top offensive line prospect in the country, Ohio State went fishing in Florida's pond..."







Tyson Gentry Update
May 6, 2007 Source: CoachTressel.com - "Tyson and his family say 'Thanks' for all the support from Buckeye fans!"

Buckeyes bulk up with line recruits
April 29, 2007 Source: Cleveland Plain Dealer - "The big guys were roaming the sidelines at the Scarlet and Gray game last weekend, and soon enough they will fill up the field at Ohio Stadium. More than 900 pounds worth of offensive linemen already have given oral commitments to Ohio State's 2008 recruiting class, and there should be more to come...Ohio State remains in the mix for linemen Josh Jenkins of West Virginia and Kyle Long of Virginia..."

Ohio State is putting together a great recruiting class
April 25, 2007 Source: Sporting News - "It seems like it was just months ago that Ohio State football fans were panicking. In fact, it was. Right around Letter of Intent Day, Buckeyes fans were still smarting from a blowout loss to Florida in the national title game and began lamenting an average recruiting class compared to past OSU standards...things have certainly improved -- especially on the recruiting trail. So far recruits have come in bunches for Tressel and his staff. OSU received four commitments in a 16-day stretch in March. Ohio State had a three-commitment run over two amazing days this week..."

The 100 vs Our 100s, & More
April 30, 2007 Source: Superprep.com - "Lets take a close look at the top 100 (NFL) draft picks from this weekend and see where they were ranked coming out of high school for their respective classes of 2002, '03 and '04..."




NCAA approves ban on recruiting by text messages
April 26, 2007 Source: CBSSportsline.com - "The NCAA's board of directors approved a ban Thursday to eliminate all text messages from coaches to recruits beginning in August, then left open the possibility of revisiting that legislation as early as 2008..."

The coaches got beat by the recruits
April 26, 2007 Source: ESPN.com - "Give a coach a video terminal and he will get to work. Put him at practice, give him a whistle, and unless you want to run until you puke, get out of the way. Coaches love competition, and every last one of them understands how much preparation a good performance demands. So how in the name of all that is Cingular did coaches lose the right to text-message recruits?..."

Text messaging dilemma hits close to home
April 26, 2007 Source: ESPN.com - "Mom...excited that the NCAA decided Thursday to ban text messaging starting Aug. 1..."

The genesis: Ivy League proposal for NCAA would ban text, instant messages in recruiting August 26, 2006 Source: USA Today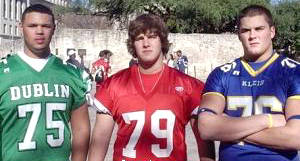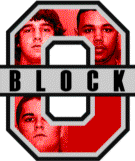 The top rated linemen from Ohio, Mike Adams, 6-8, 305 pounds, from Florida, Michael Brewster, 6-6, 300 pounds, and Texas, J.B. Shugarts, 6 feet 7, 299 pounds, and considered three of the top linemen in the nation, have committed to Ohio State's recruiting class of 2008. They comprise 3/4ths of what is being called by Buckeyes fans "Block-O".



Make It Eight
April 25, 2007 Source: OhioStateScout.com - "The Buckeyes have been on a remarkable recruiting run lately as they have secured verbal commitments from three players in the past 48 hours. Scout.com learned from a solid source late Tuesday evening that Nathan Williams is the latest player to join the Buckeye family..."



OSU Field Renovation Update
April 25, 2007 Source: Buckeye Turf

Check out the progress of the field renovation by viewing the OSU Stadium Webcam; click on the 'Ohio Stadium' link in the site navigation below.





| | |
| --- | --- |
| | April 25, 2007 - Nathan Williams, a 6-foot-5, 250-pound linebacker from Washington Court House OH has committed to the Ohio State Buckeyes. Williams played middle linebacker as junior last season and he was told the Buckeyes want him to play the 'Viper' postion, which Bobby Carpenter did. "I want to smack someone upside the head on every play. I just want to get to the football. I love playing linebacker and I love moving around and blitzing. That is probably my strong suit. I just have to work on my hands a little bit when it comes to shedding the blocker, but I have a nose for the football." "Coach Heacock said I fit their Bobby Carpenter position very well," Williams said. "Ohio State has always been my favorite." As a junior, Williams racked up 149 tackles, 24 tackles for loss and six sacks. He had eight forced fumbles, and five fumble recoveries earning All-State honors. He was starting to draw increased interest from many programs and had offers from Oklahoma, Georgia, West Virginia, Wisconsin, Michigan State, California and Kentucky. Welcome aboard, Nathan! |

Williams gets message; OSU gets speedy recruit
April 26, 2007 Source: Columbus Dispatch - "Nathan Williams learned a lesson about text messaging Tuesday night: If you're expecting an important message, don't spend two hours in the basement..."

Miami Trace's Williams Becomes Verbal No. 8
April 24, 2007 Source: Bucknuts - "It did not take Washington C.H. (Ohio) Miami Trace linebacker Nathan Williams long to decide he wants to be an Ohio State Buckeye. Williams was offered a scholarship tonight by Ohio State and immediately accepted. According to Williams, OSU defensive coordinator Jim Heacock visited his school in rural Fayette County about 35 miles southwest of Columbus on Tuesday. 'I spoke with Coach Tressel a little later on the phone,' Williams said. 'We talked for a bit and then he asked me if I wanted to be a Buckeye. I said I did. He made the offer and I committed on the spot.' Williams is rated as Ohio's No. 7 prospect..."



| | |
| --- | --- |
| | April 24, 2007 - J.B. Shugarts, a 6-foot-7, 299-pound offensive lineman from Klein TX has committed to the Ohio State Buckeyes. Shugarts is a national top-10 lineman and a top-100 prospect in the Class of 2008. 'One school stood out above the rest and is the right fit for me,' Shugarts said of his decision. 'I am honored and proud to pledge my commitment to Coach Tressel and The Ohio State University. I am 110% Buckeye and can't wait to get started. I plan on graduating early and enrolling in January.' Analyst Bob Lichtenfels said, 'Shugarts is one of the top five offensive tackle prospects that I have seen anywhere in the country.' He had offers from Florida, Notre Dame, Michigan, Penn State, Oklahoma, LSU, Texas A&M, Virginia Tech, Florida State, Alabama & Auburn, among others.Welcome aboard, J.B.! |