Players of the Week (Penn State):
Offensive Player of the Week: Todd Boeckman, QB
Defensive Player of the Week: Marcus Freeman, LB
Special Units Player of the Week: Ryan Pretorius, K
Scout Team Champions: Defense: Solomon Thomas; Special Units: Jon Thoma; Offense: Andy Miller
Attack Force Award: Cameron Heyward, DE
Jim Parker Lineman Award: Alex Boone, OL
Jack Tatum Hit of the Week Award: Cameron Heyward, DE






Tressel's motivational tool box well stocked
October 29, 2007 Source: Lima News -&nbsp"For Ohio State senior co-captain Kirk Barton there was no doubt. There was no doubt the No. 1-ranked Buckeyes were ready to play in a 37-17 win over Penn State on Saturday night. And there was no doubt coach Jim Tressel will come up with some interesting motivational tactics with Wisconsin coming to Ohio Stadium this Saturday. 'Tress is the master motivator,' Barton said on Saturday night, as he described some of the things Tressel did to prepare the team for its trip to Penn State..."






OSU-Wisconsin to begin at noon on Big Ten Network
October 28, 2007 Source: Big Ten Conference - "The Ohio State-Wisconsin football game this Saturday at Ohio Stadium will kick off at noon EDT, the Big Ten Conference announced today. This Big Ten game with the Badgers will be televised by the Big Ten Network. The Big Ten Conference also announced that Ohio State's Nov. 10 home game with Illinois will begin at 3:30 p.m. and will be televised by ABC..."

Buckeyes, Badgers give BTN its 'best game'
October 30, 2007 Source: Dayton Daily News - "ABC's decision to air Michigan and Michigan State gives conference's network a marquee matchup..."






Q & A with DE Vernon Gholston
October 27, 2007 Source: Dayton Daily News -&nbsp"...Q What's been the coolest thing that's happened to you at Ohio State? A 'I think finally becoming a starter last year. It was my third year, and with all the things you go through - I had an injury before that - and all the hours you spend in the weight room and all the film study you do just to become a defensive lineman in general, it all pays off when you get that first start.'..."






Buckeyes make statement with offensive power at Happy Valley
October 28, 2007 Source: ESPN.com -&nbsp"Three hours before kickoff, a guy in a grim reaper outfit was swaggering through Penn State's sprawling tailgate acreage. On his chest was a checklist that read: 10/6 -- #1 USC 10/13 -- #1 LSU 10/13 -- #2 California 10/18 -- #2 South Florida 10/27 -- #1 Ohio State Don't fear the reaper, Buckeyes. Meanwhile, the rest of the nation had better commence fearing The Vest. Again..."





Offense rolls, though potential pitfalls await No. 1 Ohio St.
October 28, 2007 Source: Associated Press - "The task only gets tougher for No. 1 Ohio State. While the top-ranked Buckeyes looked awfully good in a 37-17 rout Saturday night of Penn State, potential pitfalls await in their quest for a second straight berth in the national title game. Wisconsin visits Columbus on Saturday, followed by a Nov. 10 visit from Illinois and its potent offense. Finally, there's the annual season-ending rivalry game against Michigan _ this year at the Big House. 'It's a big step winning on the road at any time," coach Jim Tressel said after the Buckeyes improved to 4-5 at Beaver Stadium. "Now we have to so see how good we are at home.'..."





The-Ozone Note and Quotebook
October 28, 2007 Source: The Ozone - "Message to the Band...What, OSU has an Offense?...Sweet Redemption...Knockout Counterpunch...White Out Foiled...Where've Ya Been?...Replay Surprise...Physical Too..."






Mr. Bucknuts' Bucket Of Bullets
October 28, 2007 Source: Bucknuts.com -&nbsp"Mr. Bucknuts gets confrontational as he makes fun of the pollsters, moves Notre Dame into the Top Ten, puts the ultimate jinx on the Buckeyes (bowl discussions, anyone?), covers recruiting, quarterbacks, running backs and some amazing stats in a wide ranging and pretentious Bucket of Bullets..."






Ohio State is college football's model of consistency
October 28, 2007 Source: CBSSportsline.com - "In the topsy-turvy world of NCAA football, the Buckeyes are the lone remaining source of consistency. They show up in that scarlet and gray, stretch, play and win, sometimes with as much ease as that sentence was to type. They are as dependable as your best friend, as reliable as your favorite pair of jeans. And even when they fail to wow you, they do not let you down, always scoring more points than the opposition before going to bed winners. Except for that time against Florida, of course..."









Coaches Poll
Source: USA Today

BCS Rankings
Source: USA Today

AP Poll
Source: Associated Press

Top 25 Overview
October 28, 2007 Source: ESPN - Overview of all Top 25 Teams for the eighth week of the season, including Recap, Box Score, Play-by-Play, Drive Chart, Photos (links to 'previous weeks' results too)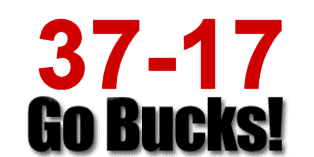 OHIO STATE vs. PENN STATE
QB Todd Boeckman, who played his best game and finished 19-of-26 for 253 yards, one interception and three touchdowns, throws for one of his completions against the Nittany Lions...TE Jake Ballard (86), celebrates catching a third quarter touchdown with teammates during the game against Penn State. Leaping high is OL Alex Boone (75).


No. 1 Ohio State Downs No. 25 Penn State, 37-17
October 27, 2007 Source: OSU Official Site - "Maybe now No. 1 Ohio State will get the respect it's looking for...The Buckeyes' vaunted defense didn't play up to its typical stingy standards, but it didn't need to be with Boeckman on a roll and Ohio State's massive offensive line dominating the line of scrimmage. 'We couldn't stop them," Penn State coach Joe Paterno said. "That was a good football team and they played really well.'..."
Scoring Summary, Team Statistics, Individual Statistics, Drive Chart, Defensive Statistics, Play-by-Play


| | | |
| --- | --- | --- |
| Team Totals | OSU | PSU |
| FIRST DOWNS | 24 | 14 |
| Rushing | 12 | 7 |
| Passing | 12 | 7 |
| Penalty | 0 | 0 |
| NET YARDS RUSHING | 200 | 139 |
| Rushing Attempts | 48 | 23 |
| Average Per Rush | 4.2 | 6.0 |
| Rushing Touchdowns | 0 | 1 |
| Yards Gained Rushing | 219 | 153 |
| Yards Lost Rushing | 19 | 14 |
| NET YARDS PASSING | 253 | 124 |
| Completions-Attempts-Int | 19-26-1 | 16-26-1 |
| Average Per Attempt | 9.7 | 4.8 |
| Average Per Completion | 13.3 | 7.8 |
| Passing Touchdowns | 3 | 0 |
| TOTAL OFFENSE YARDS | 453 | 263 |
| Total offense plays | 74 | 49 |
| Average Gain Per Play | 6.1 | 5.4 |
| Fumbles: Number-Lost | 0-0 | 2-1 |
| Penalties: Number-Yards | 4-36 | 2-9 |
| PUNTS-YARDS | 0-0 | 4-154 |
| Average Yards Per Punt | 0.0 | 38.5 |
| Net Yards Per Punt | 0.0 | 33.5 |
| Inside 20 | 0 | 2 |
| 50+ Yards | 0 | 0 |
| Touchbacks | 0 | 1 |
| Fair catch | 0 | 1 |
| KICKOFFS-YARDS | 8-543 | 3-210 |
| Average Yards Per Kickoff | 67.9 | 70.0 |
| Net Yards Per Kickoff | 38.6 | 48.7 |
| Touchbacks | 3 | 1 |
| Punt returns: Number-Yards-TD | 0-0-0 | 0-0-0 |
| Average Per Return | 0.0 | 0.0 |
| Kickoff returns: Number-Yds-TD | 2-44-0 | 5-174-1 |
| Average Per Return | 22.0 | 34.8 |
| Interceptions: Number-Yds-TD | 1-24-1 | 1-2-0 |
| Fumble Returns: Number-Yds-TD | 1-8-0 | 0-0-0 |
| Miscellaneous Yards | 0 | 0 |
| Possession Time | 37:52 | 22:08 |
| 1st Quarter | 7:29 | 7:31 |
| 2nd Quarter | 10:23 | 4:37 |
| 3rd Quarter | 6:55 | 8:05 |
| 4th Quarter | 13:05 | 1:55 |
| Third-Down Conversions | 12 of 16 | 5 of 10 |
| Fourth-Down Conversions | 1 of 1 | 0 of 0 |
| Red-Zone Scores-Chances | 5-5 | 2-2 |
| Sacks By: Number-Yards | 2-9 | 1-6 |
| PAT Kicks | 4-4 | 2-2 |
| Field Goals | 3-3 | 1-1 |


Highlights Ohio State - Penn State
October 27, 2007 Source: FoxSports.com - "Check out the highlights of the Buckeyes win in Happy Valley..."(and the 'literally lateral madness' of Trinity vs Millsaps)
A Study In Scarlet (and Gray)
October 29, 2007 Source: SI.com - "Ohio State quarterback Todd Boeckman was considered simply a caretaker coming into the season, and while he's been unquestionably efficient all season long, he needed to perform in front of 110,134 in Beaver Stadium to garner that one thing many haven't been labeling him with through Ohio State's rise to No. 1: respect. Boeckman was stellar in Saturday's win at Penn State, patiently picking apart the Nittany Lions for 253 yards and three touchdowns. He won't be joining the ranks of Matt Ryan or Brian Brohm in anyone's eyes, but no one should be calling him just a caretaker any longer."


OSU-Penn State ESPN Highlights
October 27, 2007 Source: Bucknuts.com/ESPN - "The Buckeyes proved to be worthy of the number one ranking with a strong 37-17 win at Penn State. Here are highlights of the game as seen on SportsCenter, courtesy ESPN."



Instant Analysis: Ohio State-Penn State
October 28, 2007 Source: FOXSports.com - "The big, bad, and very bold Buckeyes displayed no weaknesses as they strode into the Beaver Stadium white-out and staged a wipeout of JoePa's boys, who were waiting in the wings to spring an ambush that never came close to happening. Ohio State wouldn't let the Nittany Lions breathe, silencing the (not so) Happy Valley throng with a total team effort. Whatever needed to be done, Ohio State did it with ease, smoothness and polish. Whenever the moment called for something special, the Bucks performed with precision and panache in a clinic at State College..."

Pressure tactics net results
October 28, 2007 Source: Columbus Dispatch - "Solid coverage and hurried throws play big role in victory...'We talked about affecting the quarterback,' Gholston said. 'We were just trying to get after him...So when we got the chance we got pressure.'..."


Buckeyes Bust Lions and Bust Myths
October 28, 2007 Source: The Ozone - "About three myths came to an end in Beaver Stadium Saturday night...The first was that the Nittany Lions would present a challenge to the Buckeyes...two is that the Buckeyes are a team made up of a big-time defense and a mediocre at best offense...The final myth that went up in smoke in Beaver stadium is that the Buckeyes are not deserving of the number one ranking..."


WIPEOUT! Boeckman's solid showing produces big win on road
October 27, 2007 Source: Columbus Dispatch - "Surrounded by a towering sea of white, watched by a hostile crowd 50 times bigger than his hometown, Ohio State quarterback Todd Boeckman calmly dissected Penn State tonight. His passing arm a scalpel, he converted third down after third down and threw three touchdown passes in a 37-17 victory. The "White Out" gathering of 110,134 blanched as they watched the top-ranked Buckeyes absorb an early body blow and rebound to score 21 straight points and win going away..."

Buckeyes Turn Out Lights On PSU's White-Out
October 27, 2007 Source: Bucknuts.com - "Top-ranked Ohio State returned to the scene of its 2005 loss to Penn State. But the Buckeyes were prepared for the White-Out this time around as they took a 37-17 win. OSU got 133 yards rushing from Beanie Wells and quarterback Todd Boeckman threw for 253 yards and three TDs. OSU matched the Big Ten record for consecutive conference wins with 19..."

Buckeyes White Out Penn State's Chances
October 28, 2007 Source: BuckeyeSports.com - "...'We did a good job controlling the tempo of the game with our offense,' Tressel said...'We stopped a few things they were trying to do, and our offense got up on them so I think in that sense it might have made them a little bit one-dimensional,' said OSU's James Laurinaitis...junior linebacker Marcus Freeman led the Buckeyes with 14 stops, including two for loss..."

Postgame Notes From No. 1 Ohio State vs. No. 24/25 Penn State
October 28, 2007 Source: OSU Official Site - "Ohio State won its 19th-consecutive Big Ten game Saturday to build on its school record for consecutive Big Ten wins and tie the conference record... Ohio State has won a school-record 27-consecutive regular-season games dating back to that loss at Penn State in 2005. Overall, the Buckeyes have won 28 of their last 29 games. The previous record for consecutive regular-season wins was 21, set from 1967-69...Offensive, Defensive and Special Teams notes..."


The Bottom Line
October 28, 2007 Source: Columbus Dispatch - "What's the best strategy against a revved-up bunch of hungry Lions? Simple: Act like the top dog in college football. Soon enough those fearsome cats were coughing up hairballs. Me-owww. Leaves are awarded on a zero-to-five basis..."

Game Analysis
October 27, 2007 Source: Buckeye Commentary - "Penn State was so jacked for this game that white out version 2 was unleashed and start time was moved to primetime. These are two indications that the Nittany Lions pointed to this game as one that could right the ship. Ohio State, on the other hand, had redemption on their mind for an inept offensive gameplan the last time in Beaver Stadium..."

Penn State Performance Evaluations
October 29, 2007 Source: Men of the Scarlet and Gray - "Wow, looky here, a performance evaluation on Monday! The Buckeyes looked great in just about all aspects of this game. Let's get right to some evaluations..."
Who Is That Calling Plays?
Last week, I mentioned that I thought maybe the Vest decided to show more emotion as a lesson learned from the loss to Florida. Well, you can add playbook diversification to that list of lessons.

Tressel and the coaches have done a great job of repeatedly throwing the ball downfield to pull defenders out of the box against Beanie. What's been the pleasant surprise is just how many of those bombs are paying off.

In Boeckman, the coaches have a quarterback that is capable of dealing the ball to each of his options and they're taking advantage of this. Stack the box to take away Beanie and they'll throw over top of you. Try to take away Beanie and the receivers, one of the tight ends will come up huge.

Tight end Rory Nicol notched a career high six receptions while fellow tight end Jake Ballard scored a touchdown for the second consecutive week.

How slick has the playcalling been? Consider this quote from Penn State defensive back Lydell Sargeant:

"They pretty much ran everything that we did not see. They did not run anything we were used to or saw in tape. We adjusted to things in the second half, but they ran plays that we could not pick up on."

Rebuild? Try Upgrade
You cannot say enough about the play of Todd, Beanie and the receivers...even the tight ends. As a result, many fans are today thinking what was unthinkable only two months prior: last season was actually the rebuilding year. Not quite, but the way guys have been able to step into shoes left by NFL draftees is the single biggest story of this 2007 season.

Beanie gets 133 on the nation's 9th best rushing defense and Boeckman and the receivers go Mike Leach.

Of course, none of that would be possible without the line doing its thing. The Lions failed to get any type of real pressure after coming in leading the nation in sacks with 35. They got one. But it was meaningless and came pretty late in the game.

You could have driven Mark Mangino through the hole they created for the running game. That group, knocked perhaps the hardest following the Glendale Debacle, are getting it done. Their ability to power the way to scores on 7 of 9 opening drives this season and the number of 85+ yard drives they have churned out has been sick.
(Source: Eleven Warriors)

Buckeye QB shines
Although he's just a first-year starter, Boeckman's poise and accuracy against the Nittany Lions made him look like a seasoned veteran. The 23-year-old junior has 21 TD passes this year, the fourth-highest total in OSU history, and has four games to catch Troy Smith, who set the school record with 30 in 2006. "Todd is maturing every game," Ballard said, "and we're definitely going to follow him wherever he goes."

Beanie feeling good
Ohio State tailback Chris "Beanie" Wells is usually his toughest critic, but even he couldn't deny he had a fruitful outing against Penn State. The 6-foot-1, 235-pound sophomore plowed his way to 133 rushing yards...one week after racking up 221 against Michigan State. "I did feel pretty good," he said. "I did the little things right, and I was running real low." Wells, who has 996 yards this season, said his gimpy left ankle is still an issue, but defenders are usually in need of ibuprofen after tangling with him. "When his pad level is low, he's tough to handle," coach Jim Tressel said. "People have a tough time dealing with him. Our line did a good job. Obviously, they got Beanie to the line of scrimmage, and he made some good cuts from there."

Ballard burns defense
Tight end Jake Ballard caught a 15-yard TD pass on third-and-2 after Boeckman duped the Nittany Lions with a fake hand-off. "When I was coming off the line, I saw the cornerback bite a little bit," Ballard said. "He was there a second too long, and I knew I had him beat." The sophomore from Springboro (OH) had two catches for 20 yards and has nine receptions and two TDs this season.
(Source: Dayton Daily News)

The Tressel balancing act
Finding flaws is becoming difficult because OSU is as balanced as an accountant's checkbook. Offensively, the Buckeyes are more balanced than even last season, when they averaged 169.8 yards rushing and 214.7 passing. The 2007 model averages 198.7 rushing and 220.6 passing.

Defensively, I have yet to spot a weakness, although I'm not convinced the run stoppers are as good as advertised (fourth nationally at 70.9 yards per game). We'll see over the next three weeks against Wisconsin (P.J. Hill), Illinois (Rashard Mendenhall) and Michigan (Mike Hart), whose tailbacks all rank in the top 15.
(Source: Columbus Dispatch)
Captain's Corner: Tressel, Daniels Deserve Kudos
October 28, 2007 Source: Bucknuts.com - "Todd Boeckman had the best game of his career against Penn State and is rightfully getting plenty of praise for his performance. However, Todd's coaches deserve credit as well for helping to get him to this point. Jerry Rudzinski talks about that and more in his latest Captain's Corner..."
How Ohio State's opponents fared
| | | | | |
| --- | --- | --- | --- | --- |
| DATE | OPPONENT | SITE | W-L | THIS WEEK'S RESULT |
| Sept. 1 | Youngstown State | home | 5-4 | lost to Northern Iowa 14-13 |
| Sept. 8 | Akron | home | 3-5 | lost to Buffalo 14-13 |
| Sept. 15 | Washington | away | 2-6 | lost to Arizona 48-41 |
| Sept. 22 | Northwestern | home | 5-4 | lost to Purdue 35-17 |
| Sept. 29 | Minnesota | away | 1-8 | lost to TSUN 34-10 |
| Oct. 6 | Purdue | away | 7-2 | beat Northwestern 35-17 |
| Oct. 13 | Kent State | home | 3-6 | lost to Central Mich. 41-32 |
| Oct. 20 | Michigan State | home | 5-4 | lost to Iowa 34-27 OT |
| Oct. 27 | Penn State | away | 6-3 | lost to Ohio State 37-17 |
| Nov. 3 | Wisconsin | home | 7-2 | beat Indiana 33-3 |
| Nov. 10 | Illinois | home | 5-3 | No game |
| Nov. 17 | TSUN | away | 7-2 | beat Minnesota 34-10 |



"I don't know of many teams that are as well-balanced as that team (Ohio State) is offensively." -- Paterno

Penn State-Ohio State Post-Game Quotes
October 28, 2007 Source: PSU Official Site - "Quotes from both coaches and teams:

Penn State coach Joe Paterno - Q: Was there a point where you felt things started to get away from you guys or what's your general assessment? A: We couldn't stop them. That's a good football team. They played really well. I thought at halftime, we had a shot at it because they were kicking off to us. But, we couldn't make it happen...

Tom Bradley Assistant - Coach Q: How tough is coach Tressel to prepare for? A: They do a lot of different things with the formations. They gave us a lot of unbalanced tonight. They gave us a lot of trips into the boundary. They gave us a lot of looks where the backside tackle is eligible. Within a plan like that there are a lot of little things you have to be ready for...

#1 Justin King CB - Q: Was that the most balanced you have seen Ohio State play? A: Sometimes I thought they were going to pass and they ran, and sometimes I thought they were going to run and they passed...

#10 Lydell Sargent CB - Q: Did Todd Boeckman surprise you at all? A: They pretty much ran everything that we did not see. They did not run anything we were used to or saw in tape. We adjusted to things in the second half, but they ran plays that we could not pick up on. He played well. They scored every down and did not punt at all. We did not make plays today...Q: You usually get a lot of pressure on the quarterback and he had more time today A: They made adjustments on the line and with their routes. They knew what we were going to do, or at least had an idea, and they took advantage of that..."


Penn State was held scoreless in the second quarter for the first time this season.
The 91-yard scoring drive by Ohio State across the first and second quarters was the longest drive, in terms of yards, allowed by Penn State this season. It was a 15-play drive, which is tied for the longest drive in terms of plays by an opponent this season (Michigan also had a 15-play drive).
The touchdown scored by Ohio State in the third quarter was the first touchdown allowed by the Lions in the third stanza this season. For the season, Penn State has out-scored the opposition 78-16 in the third period.
The 60-yard pass from Todd Boeckman to Ray Small was the longest play from scrimmage against the Lions' defense this year.
Ryan Pretorius's 50-yard field goal was the first 50-yard field goal by a Penn State opponent since Michigan State's Dave Rayner made a 52-yard field goal against the Lions in 2004.
Penn State had not lost at home since losing to Michigan 17-10 last season (8 in a row). This is only the second loss in the past 21 home games for the Nittany Lions dating to the last game of the 2004 season.
Penn State now trails the all-time series with Ohio State 12-11 and has dropped the last two matchups. In the last 17 games between the two schools where at least one of the schools was ranked, including tonight, the higher ranked team has won 16 times.
Penn State is now 0-2 against No. 1 teams at home, also losing 34-23 to No. 1 Notre Dame at Beaver Stadium in 1989. The Lions are now 4-10 against No. 1 ranked teams, including a 4-8 mark under Coach Joe Paterno.
Penn State drops to 6-6 at home in night games and 31-20 overall in evening clashes.
Tonight's attendance of 110,134 is the second largest in the history of Beaver Stadium (110,753 vs. Nebraska in 2002). It is also the second home crowd of more than 110,000 this season (110,078 vs. Notre Dame). Seven of the top eight crowds have occurred since the 2005 season.


Buckeyes back up lofty ranking
October 28, 2007 Source: Pittsburgh Tribune - "Ohio State proved worthy of its No. 1 ranking with a 37-17 spanking of the soon-to-be-unranked-again Lions and likely lost a legion of doubters along the way. What is there not to like about these guys? They're big, fast, talented and well-coached. The entire offense could walk into the NFL Scouting Combine tomorrow and not look out of place..."



Former Ohio State quarterback Kirk Herbstreit not surprised by Buckeyes
October 28, 2007 Source: Cleveland Plain Dealer - "ESPN analyst and former Ohio State quarterback Kirk Herbstreit said before Saturday's game he was not surprised by the 2007 Buckeyes. Yet. 'I think everybody expected them to be 8-0,' Herbstreit said. 'I think the thing that will be surprising is if they're able to get through Penn State and get through Michigan. When you're replacing a Heisman Trophy quarterback and two first-round receivers and a 1,200-yard back, when you replace all that and you get back to being 12-0, who does that? That's just not human to be able to lose that many players and come back and get to the point of being 12-0.'..."




Howard Joins The Buckeyes
October 26, 2007 Source: BuckeyeSports.com - "Miami, Fla. defensive back Travis Howard made the call to Coach Luke Fickell today and informed him that he was indeed going to be playing his football for the Ohio State Buckeyes..."

Howard Says He's A Buckeye
October 26, 2007 Source: Bucknuts.com - "...The 6-foot-1 and 185-pound Howard (with 4.43 speed in the 40) had scholarship offers from Florida, Miami-FL, Auburn, Wisconsin, Tennessee, Georgia Tech and North Carolina...Krop assistant coach and former Florida State star Lamont Green is sold on Howard, saying the two-year starter is "our best football player."..."

Welcome aboard, Travis.
Alex Boone blocks out blame from national championship loss
October 25, 2007 Source: Cleveland Plain Dealer - "In his Arizona hotel room after the national championship, a teary Alex Boone told his mother he'd single-handedly cost Ohio State the game in the Buckeyes' 41-14 loss to Florida. For the next several weeks, that was a popular theory. 'I'd turn on the TV and everyone was just dogging me out,' the Buckeyes' left tackle said. "Like, He just lost that game.' And I was like, I did.'...His defining play came when Gators defensive end Jarvis Moss stepped around Boone to sack Troy Smith and forced the fumble that set up the touchdown that put Florida ahead, 34-14. That's when TV analyst Charles Davis asked, 'Have these defensive ends been blocked yet?'..."
Vernon Gholston: A man of few words
October 25, 2007 Source: Columbus Dispatch - "The Ohio State defensive end is legendary for once squatting 455 pounds 20 times. His arms are like the trunks of a redwood tree, his abdomen flat...On the field, he's a terror. He plays the "Leo" position for the Buckeyes, a spot that requires an athletic and versatile player who can rush quarterbacks or drop into pass coverage. He led Ohio State in sacks last year (8.5) and is doing so again this season (5.0). Yet Gholston lets his actions speak for themselves. When he speaks, it's in quiet, measured tones -- perfectly pleasant, but not verbose..."
Ohio State lineman looks ahead with critical eye
October 23, 2007 Source: Mansfield News Journal - "Kirk Barton wears his 2006 Big Ten championship ring about as proudly as a cold sore. Every muscle in his face was clenched as the fuming offensive tackle sat at a podium after Ohio State almost threw away an easy win and No. 1 ranking to Michigan State. 'The only reason you come to Ohio State is to win a national championship,' the senior co-captain said. 'I made a speech Thursday to the team that the only reason I wear my Big Ten ring from last year is to remind me of failure. It's a big, pretty ring, but all it reminds me of is failure. I want the real one -- the real deal.' The 8-0 Buckeyes are four regular-season wins away from getting another shot at some serious bling. But Barton doubts they can get past Saturday night's visit to No. 24 Penn State if they don't shape up and learn from last week's 24-17 scare..."
OSU LB Up for Awards
October 23, 2007 Source: CoachTressel.com - "James Laurinaitis, middle linebacker and captain of the Buckeye's No. 1 defense, has been selected as a semifinalist for the Rotary Lombardi Award along with the Dick Butkus Award. The Rotary Lombardi Award is awarded annually to the best college football lineman or linebacker...The Dick Butkus Award is awarded annually to the best linebacker in college football..."
Chris Wells, A. J. Trapasso, tabbed as Big Ten Best for Play Against MSU
October 22, 2007 Source: The Ozone - "Ohio State running back Chris Wells and OSU punter/kicker A. J. Trapasso were both named Players of the Week in the Big Ten for their performances against Michigan State. Wells was named the Big Ten Offensive Player of the Week based on his outstanding performance. He racked up career highs with 31 attempts and 221 rushing yards while adding a touchdown...Trapasso was named the Big Ten Special Teams Player of the week. Trapasso placed three of his five punts inside the 20-yard line and still averaged 43.4 yards per boot against Michigan State. The junior punter totaled 217 punting yards on the day with a long of 58 yards and also recorded two touchbacks on his five kickoffs..."