Ohio State has questions to answer at it enters spring practice
March 31, 2009 Source: Canton Repository - "Spring football begins Thursday at Ohio State. The Buckeyes are coming off a 10-3 season that would have felt a lot different had they pulled out a Fiesta Bowl win instead of losing to Texas in the final 16 seconds. Head Coach Jim Tressel has 10 players who could be drafted into NFL camps later this month, and that leaves a lot of holes to fill and plenty of questions to answer. Here is the first of five questions facing Tressel and the Buckeyes as they head into spring drills: 1. Will of offseason of lifting and learning make Terrelle Pryor the passing threat Ohio State needs on offense?...2. How much will Beanie Wells' absence hurt?...3. Can the offensive line be salvaged?...4. Can the linebackers hold the school's reputation?...5. Who will replace Malcom Jenkins?..."











RIP Hineygate


From WTVN: "We remember and thank everyone who made 610 WTVN's Hineygate a tradition at Ohio State Football games for over 26 years. Stay tuned for details on the new home on your home for the Best Buckeye Coverage..610 WTVN."



Hineygate Gets 'De-pantsed'
March 31, 2009 Source: Bucknuts - "A 26-year tradition is coming to an end for Ohio State football fans. The pre-and-post-game celebration "Hineygate" in the front parking lot of the Holiday Inn on Lane Ave. will no longer exist. And there won't even be a chance for a farewell of sorts during the 2009 season because the decision is effective immediately. The Holiday Inn was purchased by OSU earlier this year and will be turned into a dormitory that will house over 400 students...





OSU getting richest multimedia contract
March 30, 2009 Source: OSU Official Site - "The Ohio State University Department of Athletics today announced it has reached an agreement with IMG College, a division of IMG Worldwide, and RadiOhio Inc., for a 10-year multi-media rights partnership. The total deal is valued at nearly $128 million, which includes $110 million in guarantees, the largest athletics multi-media rights guarantee in collegiate sports history, and approximately $18 million in IMG's assumption of production, payroll, tickets, and other expenses...The new deal goes into effect July 1, 2009 and will run through 2019..."






Ohio State football: Spring's no break
March 29, 2009 Source: Columbus Dispatch/The Fan - "Each day last week, when Roy Hall peeked into his garage in Jeannette, Pa., Terrelle Pryor was in there working. He wasn't working on Hall's car, mind you. He was lifting weights. The two-car garage of Hall's -- he's not the former Ohio State receiver but a longtime Jeannette High School assistant who recently was promoted to coach -- long ago had become the body-building center for Jayhawks players. It came as no surprise to Hall to see the former Jeannette quarterback pumping iron while on spring break. 'He's been in there every day, and I am talking about two and three hours at a time,' Hall said. 'What I see is how much bigger he's gotten under Ohio State's strength and conditioning program. He told me he weighs 238 pounds and, kidding him, I said, 'You better watch it. They might make you a defensive end.' He is just a specimen. And on top of that, he loves to work out.'..."



SPRING SCHEDULE

Thursday: First of 15 spring practices over the next 3 1/2 weeks

• Saturday: First day of full-contact drills

• April 10: Kick scrimmage. The team is split, with points being awarded only for scores in the kicking game (by field goals, kick/punt return touchdowns or TDs on fake punts or fake field goals).

• April 18: Jersey scrimmage, Ohio Stadium. Closed to the public, it features the offense vs. the defense with the coveted scarlet practice jerseys up for grabs.

• April 25: Spring game, 1:30 p.m., Ohio Stadium. The game will begin after the conclusion of an 11 a.m. men's lacrosse game between Ohio State and Notre Dame. Admission is $5 and covers both games. Tickets can be purchased at the Ohio State ticket office at the Schottenstein Center.






Five Questions Heading Into Spring Practice
March 22, 2009 Source: Buckeye Commentary - "There are a lot of relevant questions for the Buckeyes this off-season but these five stick out in my mind as questions that can be at least partially addressed in spring practice. There are questions regarding the incoming freshman and returning superstars. And, then there are questions about intangibles and the most important play in football. 1. How much will Pryor Improve:...2. Will the Offensive Line Improve via Subtraction:...3. Can the Line Carry the Defense:...4. Can Tressel replace both kickers with success:...5. Will the Buckeyes Find That Killer Instinct:..."





Turnover at the corners
March 15, 2009 Source: Columbus Dispatch - "...The Buckeyes lost 11 years of cornerback experience after their 2008 season ended in January. Thorpe Award winner Malcolm Jenkins and steady backup Shaun Lane were scheduled for departure as seniors, but when junior Donald Washington left early for the NFL draft, the hole became gaping. 'It's always an area of concern, especially with the type of corners we lost,' defensive coordinator Jim Heacock said. 'It's a double-edged sword -- you hate starting off without much experience, but on the other side, you enjoy having so much competition.' The defections leave behind just one player with significant experience at the position: Fourth-year junior Chimdi Chekwa, a veteran of 26 games and 13 starts. One question is how will Chekwa respond to being 'The Man,' without the comfort factor of playing opposite Jenkins? But that pales in comparison to the other question, namely: Who the heck else is going to play?..."



Down on the corner

Ohio State has little experience at the cornerback spot heading into 2009. A look at the candidates for playing time, in order of experience:

Chimdi Chekwa; Fourth-year junior started 12 games last season; has 60 career tackles and two interceptions
Andre Amos; Fifth-year senior, injured most of past two seasons. Has played in 20 games, with 12 tackles and an INT
Devon Torrence; Junior converted from receiver in 2008. Has played in 20 games, mostly on special teams. Has 11 career tackles
Donnie Evege; Third-year sophomore has yet to play a down because of injury
Travis Howard; Coming off a redshirt season
C.J. Barnett, Corey Brown, Dominic Clarke; Incoming freshmen. Barnett will participate in spring practices







| | |
| --- | --- |
| | Ohio State's Jim Tressel is one of six college football coaches who will visit U.S. service personnel in the Middle East as part of an Armed Forces Entertainment tour in May. The delegation is planning to make several stops throughout the Middle East, including Afghanistan and around the Persian Gulf. The tour is organized through the Department of Defense. The coaches will meet for orientation in late May and should be overseas eight days. Others participating this year include Mack Brown (Texas), Houston Nutt (Ole Miss), Rick Neuheisel (UCLA), Troy Calhoun (Air Force) and Tommy Tuberville, who was a part of the inaugural Coaches' Tour last year. For more information, go to www.coachestour2009.com. |





Holding steady on salaries
March 2, 2009 Source: Columbus Dispatch - "Ohio State won't give assistants huge pay hikes like some other schools ...TGene Smith moved swiftly last year to make Jim Tressel one of the top-10 paid coaches in college football. But the Ohio State athletic director is not inclined to join the new rage of large salary upgrades for coordinators and assistants. 'We're just not going there,' Smith said. The outbreak has been confined primarily to the Southeastern Conference -- the initial hot spot being Tennessee, where the Volunteers are shelling out more than $2.5 million next year for four assistants..."









Maker's Mark finds its niche, and it doesn't wear maize and blue
February 25, 2009 Source: Dr. Saturday - "As good as 10 wins and a Fiesta Bowl bid is in the big picture, Ohio State's season was pretty clearly a disappointment. And yet, as one colossal Columbus billboard reminds passing Buckeyes, there will always be one looming reason to toast 2008: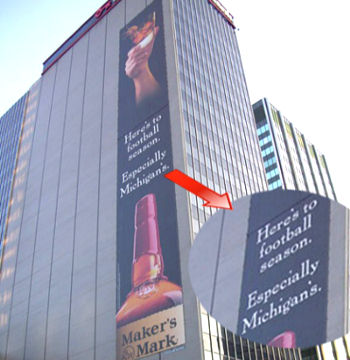 MGoBlog is thinking boycott, although it may be too late: Given their woes last fall, Wolverine partisans may have singlehandedly put the entire industry in the black for the foreseeable future..."




Texas Linebacker Says Yes to Ohio State
Outside linebacker David Durham of Austin (TX) Westlake became the fourth player to commit to OSU's Class of 2010. The 6'3" 228lb linebacker said: "I just fell in love with Ohio State when I went up there and decided that is where I wanted to be. They have great academics, great facilities, and the best coaching staff in the nation and the best environment for college football that you can find anywhere." He already had offers and interest from many schools including West Virginia, Virginia, Texas A & M, Wisconsin, Illinois and Vanderbilt. Welcome aboard, David!



Linebacker from Texas commits
February 24, 2009 Source: Columbus Dispatch - "David Durham from Austin, Texas, committed to Ohio State. The 6-foot-3, 235-pound pass-rusher -- he had 11 sacks last season for a team that made it to Texas' big-school quarterfinals -- became the fourth member of the 2010 OSU class. He had no misgivings, either, even if his high school is a 20-minute drive from the University of Texas, which edged OSU in the Fiesta Bowl on Jan. 5. 'I see myself as being more of a Big Ten kind of player," said Durham, projected as a hybrid defensive end/linebacker such as Ohio State's Thaddeus Gibson.'..."

Michigan fan helps out Buckeyes
February 24, 2009 Source: Cleveland Plain Dealer - "How does a Michigan fan wind up dropping a football recruit into the hands of Ohio State? Pat O'Harra grew up in a Michigan family in Columbus, puffing out his chest during the Wolverines' domination of the Buckeyes through the John Cooper era. He actually graduated from Ohio State but never lost his love of the maize and blue...A former teacher and middle school wrestling coach in the Columbus suburb of Grandview Heights, O'Harra helped start a wrestling program at Westlake High School in Austin, Texas, and in late January the coach brought his team to a high school wrestling event near Columbus..."

Durham Is A Buckeye
February 23, 2009 Source: BuckeyeSports.com - "Ohio State picked up its fourth verbal commitment for the class of 2010 when Texas linebacker David Durham landed a scholarship offer Feb. 23. Find out how he got the offer and what he thinks about becoming a Buckeye in this report..."











Lineman Norwell Commits to the Buckeyes
Cincinnati (OH) Anderson lineman Andrew Norwell became the third junior to join the Class of 2010. The five star 6'7", 273lb OT, ranked in the top five nationally by numerous scouting services, was a first-team All-Ohio Division II selection last season while leading Anderson to the state championship game. The year before, Anderson won the Division II crown. Scout's Dave Berk writes about him: "Great size with the tenacity and aggresiveness you see from players on the defensive side of the ball. Has great body control using great technique in both run blocking and pass blocking. Really hard to find a weakness in his overall game." He had interest and offers from dozens of schools including Stanford, Notre Dame, Illinois, Indiana, Duke and Cincinnati. Welcome aboard, Andrew!



Norwell Gives Bucks More Good News
February 4, 2009 Source: Bucknuts - "Junior offensive lineman Andrew Norwell has given the Ohio State coaching staff more reason to celebrate today as the star tackle has committed to Ohio State. Anderson is the third Top 10 Ohio class of 2010 prospect to commit to the Buckeyes...Anderson, who runs the 40-yard dash in 5.3 seconds, is a devastating run blocker from his left tackle position. He is also outstanding in pass protection and has not allowed a sack in two varsity seasons..."








SEC Football: Debunking The Conference Superiority Myth
February 24, 2009 Source: The Bleacher Report - "Question: How do you reconcile the belief that the SEC is the best conference, with a background in statistical math? Answer: You don't. Almost all SEC football fans are convinced—beyond a shadow of reasonable doubt—that the SEC is the best football conference, and not only that, it's a big step down to second place. The media seems to agree, even after their brief flirtation with the Big 12 in 2008, which came to an abrupt end when the Big 12 South went 1-3 in bowl games. The reality doesn't match the perception—at least not if you try to compare "apples to apples", a key tenet of statistical comparison. How does one go about that? Forget the overall records—conferences play varying numbers of non-BCS teams, and it's hardly fair to compare playing MAC or Sunbelt teams, to games against BCS conference teams. We'll just look at games against BCS teams...."






Taunting would be costlier under rule
February 12, 2009 Source: Columbus Dispatch - "Making it live-ball penalty could negate scores...The NCAA football rules committee said yesterday that it will consider a possible rule change that would allow a score to be nullified if unsportsmanlike conduct occurs during the play before the ball crosses the goal line. If a ball carrier taunts opponents on his way to the end zone, for example, it would no longer be considered a dead-ball foul, which is subject to a 15-yard penalty before the extra point attempt or the ensuing kickoff. Under the proposal, it would be considered a live-ball foul. That means the team would be penalized from the spot of the foul, said Oregon coach and committee chairman Mike Bellotti, and the points would be taken off the board..."












Big Ten Network on the Buckeyes' Recruits





Ohio State Football 2009 Signees
February 4, 2009 Source: OSU Official Site - "Twenty-five of the nation's top high school football players have signed to play at The Ohio State University, Coach Jim Tressel announced this afternoon.

'This class consists of young men who have been successful on the field and in school,' says Tressel. 'Nearly all of them were on a playoff team this fall, and overall, they bring close to a 3.0 GPA to Ohio State, a reflection of the work ethic they are developing to achieve those types of successes.'

The class includes 14 players from Ohio, three from Pennsylvania and Florida, two from Michigan and one from Maryland, Kentucky and Texas. There are 13 offensive (4 OL, 4 RB, 3 WR, 1 TE, 1 QB) and 12 defensive (4 DB, 4 LB, 2 DT, 2 DE) players.

'This is a large class in terms of numbers, and a well-balanced class between Ohio and out-of-state players,' says recruiting coordinator John Peterson. 'At Ohio State, we know you win with people, and these are young people who know what it takes to succeed...."'

( Includes list of 2009 Ohio State Football Signees and individual Biographies)






Coach Tressel Talks '09 Signing day



Big Ten Network on the Buckeyes' RecruitsTressel Welcomes 25 New Signees In 2009 Class
February 4, 2009 Source: Bucknuts - "We have comments from Ohio State head coach Jim Tressel on the 2009 recruiting class as well as audio of his entire signing day press conference and exclusive interviews. Click for more. ..."



Scout.com's Final Team Recruiting Rankings

1. Ohio State Big Ten
2. LSU SEC
3. Alabama SEC
4. USC Pac-10
5. North Carolina ACC
6. Texas Big 12
7. UCLA Pac-10
8. Georgia SEC
9. Oklahoma Big 12
10. Penn State Big Ten
(Rankings as of 2/5/2009 6:00 AM ET; list includes rankings for all 120 FBS schools and 'How are these rankings calculated.')



Class Of 2009 LOI Updates
February 4, 2009 Source: BuckeyeSports.com - "Follow the action on National Signing Day as at least 24 high school athletes fax their letters of intent to Ohio State. Jim Tressel's Buckeyes will add more than 20 new players today on National Signing Day. Click to find out who has sent OSU their letters of intent..."

Ohio State football recruiting updates all day long on cleveland.com
February 4, 2009 Source: Cleveland Plain Dealer - "Read Doug Lesmerises' Buckeye Blog all day long for continues coverage of Buckeye recruiting, including: Capsule breakdowns of each recruit who has committed to the Buckeyes, updating all morning and throughout the day; and coverage of Jim Tressel's press conference this afternoon, with his analysis of the class, which experts may end up ranking as the nation's best. Have a question..."

2009 Ohio State Football Signing Day Tracker
February 4, 2009 Source: Bucknuts.com - "...our Signing Day Tracker. It will be updated all day as players sign and fax their letters-of-intent. We invite you to check back throughout the day to see this class come together. On this page, we have bio information as well as links to stories and video of each OSU signee..."

Analysts find a lot to like in 2009 recruiting class
February 4, 2009 Source: Columbus Dispatch - "Jim Tressel is poised to sign what likely will be the highest-rated recruiting class of his nine at Ohio State, according to the rankings of recruiting service Rivals.com. Scout.com and Rivals.com placed this class No. 1 in the nation entering today's national signing day. Like last year's class, this one has a heavy Pennsylvania flavor at the top. Linebacker Dorian Bell and cornerback/receiver Corey Brown, both of Monroeville, Pa., are considered five-star prospects by Rivals..."

More on all of the Ohio State Commits for the Class of 2009 HERE.










Top Offensive lineman Marcus Hall commits to Ohio State
Marcus Hall, Cleveland (OH)Glenville's talented two-way lineman, gave Ohio State his oral commitment today, two days before national signing day. Hall, who is 6'5" and 290lbs, is considered to be one of the blue-chip prospects nationally, rated No.52 overall by Rivals.com and No.5 among tackles by Scout.com. He is the second Glenville Tarblooder to join the 2009 class; Jonathan Newsome is the other. Hall, considered by most to be the best player in the state of Ohio this year, will graduate early and enroll at Ohio State in time for spring practice. Hall said: 'I really like Ohio State a lot. I'm looking forward to helping coach (Jim) Tressel not just win a Big Ten title, but also win a national championship.' He had literally dozens of offers from schools including Michigan, LSU, Tennessee, Illinois, Miami (Fl), Iowa, Minnesota and North Carolina State. Welcome aboard, Marcus!



Hall Finds Home With Ohio State
February 2, 2009 Source: BuckeyeSports.com - "And the pipeline continues to flow...Marcus Hall from Cleveland Glenville will be a Buckeye. 'It's home,' he told BuckeyeSports.com...Hall called OSU head coach Jim Tressel Monday morning and informed him of his decision. After returning home from an official visit to Tennessee on Sunday evening, Hall said he had made up his mind before he went to sleep that night. 'Tennessee was real nice," he said. "I had grown interested in them because my teammate, Mike Edwards, he committed there. He liked it a lot, so I had to go see what it was like. I came back just knowing I had to go to Ohio State.'..."

Ohio State football: Hall gives Buckeyes seven top 100 recruits
February 2, 2009 Source: Cleveland Plain Dealer - "Glenville's Marcus Hall, who gave his oral commitment to Ohio State this afternoon, is the 26th member of Ohio State's recruiting class, which will become official on Wednesday's National Signing Day. Hall is the seventh Ohio State pledge ranked among the top 100 players in the country by Scout.com, which puts Ohio State behind only USC's eight top 100 players. Here are the OSU members of the top 100..."

Berry stays true to Ohio State
February 2, 2009 Source: Columbus Dispatch - "Florida tailback resists pull from other schools...Take it from Bill Conley, who used to go through this as Ohio State's recruiting coordinator: These are the days that tread on college football coaches' nerves...If only everyone sticks to their word and signs that letter of intent...Jaamal Berry, a running back from Miami, committed to Ohio State at the end of August. He has repeated his pledge several times, even as he expressed interest in other schools from a curiosity standpoint, especially in national champion Florida. 'You always worry about the out-of-state kids, but Jaamal Berry would probably be the biggest concern for OSU for the simple fact he's in Florida and the Florida coaches aren't quitting on him,' Conley said...Carlos Hyde, a power back from Naples, Fla. said yesterday he plans to sign Wednesday with Ohio State, as expected, and that he hadn't been bothered by any other schools trying to change his mind. But then, there was a good reason. 'I changed my phone number,' Hyde said..."

Get a look at all the Ohio State Verbal Commits for the Class of 2009 HERE.






Santonio Holmes Winning Catch!

Here's video of Ohio State's Santonio Holmes game winning TD reception that lifted the Pittsburgh Steelers to a 26-23 vistory over the Arizona Cardinals in Super Bowl XLIII. Holmes was named the game's MVP.
Buckeyes' Alex Boone arrested in California
February 1, 2009 Source: Associated Press - "Ohio State offensive lineman Alex Boone was arrested after being subdued with a Taser during an alleged drunken tirade, authorities said Monday. Boone, 21, was taken into custody late Sunday for investigation of resisting arrest after Orange County sheriff's deputies responded to a disturbance call outside of a home in Aliso Viejo. When they arrived, the 6-foot-8, 312-pound tackle had been jumping on car hoods, yanking on a tow truck cable and trying to break a window, said sheriff's spokesman Jim Amormino. Boone ran away from deputies and was found hiding underneath a patio, authorities said. Boone was combative and uncooperative and had to be taken down with a stun gun, Amormino said. 'He was yelling obscenities at deputies and had a strong smell of alcohol,' Amormino said. 'His blood-alcohol level was at least three times the legal amount.'..."




Texas QB Kenny Guiton joins Ohio State Class of 2009
Dual-threat quarterback Kenny Guiton is the 25th member of the 2009 OSU recruiting class. Guiton, from Aldine (TX) Eisenhower, who is 6'2" and 181lbs, was offered by the Buckeyes on Thursday and accepted almost immediately. He'll visit Ohio State Saturday. Guiton said: "I never thought I would get an offer from Ohio State; it really surprised me. It came out of the blue. I made up my mind pretty fast to commit. As soon as I got the call I knew that Ohio State was all about tradition; I am used to watching them play, and I just knew when they made their offer it was going to be the place for me." Eisenhower coach Ray Evans said. "He can run the ball, but probably his strongest suit is throwing. He's got a real strong arm." Guiton, who completed 117 of 232 passes for 1,670 yards and 17 touchdowns as a senior and was 154 of 291 for 2,592 yards and 17 TDs with 247 yards and nine touchdowns on the ground as a junior, had offers and interest from schools including Kansas, Houston, Iowa State, Northwestern, Kansas State, Rice, Oklahoma State, Purdue, Baylor, Boston College and Prairie View. Welcome aboard, Kenny!



Texas QB jumps on last-minute OSU offer
January 30, 2009 Source: Cleveland Plain Dealer - "Ken Guiton Sr. is a football assistant at Eisenhower High School in Houston, a receivers coach sending three of his players to Texas, Oklahoma and LSU next year. He knows the recruiting scene. And he's never seen anything like what transpired with his son and Ohio State. 'For something like this to happen with a school of this magnitude, and as quickly as it developed, I'm astounded,' Guiton said Friday. 'I'm flabbergasted. And I'm extremely happy for my son.'..."





2009 recruiting class passes first-look test
February 1, 2009 Source: Columbus Dispatch - "In many ways, recruiting is like the NFL draft for major-college football teams. A few who sign national letters of intent Wednesday might provide immediate help in 2009; most, however, will provide a stockpile for the future. Going into this last weekend before signing day, Ohio State had commitments from 25 prospects for a class that at least one recruiting service, Scout.com, rates No. 1 in the country. It could be enhanced if elite players such as offensive lineman Marcus Hall of Cleveland Glenville and receiver Marlon Brown of Memphis, Tenn., pick OSU in the coming days. But if the current list remains the status quo on signing day, how will this class help the Buckeyes in the short and long term? Let's take a look:..."