The Ohio State bandwagon won't be crowded for long.
ESPN college football personality Lee Corso, set to begin his 53 rd college football season as a player, coach or television analyst, spoke to the Atlanta Sports Council's Kickoff Luncheon on Friday and doesn't like what OSU has lost on defense.


Preseason Consensus Poll: July 10 Update
From Bucknuts: "We are back once again with the latest update of our world renowned Preseason Consensus Poll. This is where we take the various published preseason polls from national magazines and Internet sites and mold them into one poll. We take that data and also plug teams into the various BCS bowls. Ohio State, led by QB Troy Smith, is the early No. 1 pick..."

Four Ohio State Players Named to Preseason Watch Lists
From CoachTressel.com: Quarterback Troy Smith, flanker Ted Ginn Jr. and tailback Antonio Pittman have been named to the 60-man preseason watch list for the Maxwell Award which is presented annually by that organization to the College Football Player of the Year...


Barton High on Offensive Line Potential
July, 2006 From The Ozone: "Barton explained that job security was not the only issue involved in the decision to sit out last spring. Simply put, he, along with the OSU coaching staff, felt that with his level of experience there was more to be gained by sitting out than by participating, though that might not have been true for him earlier in his career."


Not football news but...Girls Of OSU Calendar
July, 2006 Several Ohio State University students struck a pose at Put In Bay last week for a new calendar...
Are the Girls of OSU too hot for Ohio State?
Students Pose For Girls Of OSU Calendar
'Women of OSU' pose for calendar

Not football news either...
July, 2006 College Sports No. 1 Fans
Check out Sports Illustrated's Top 14 Celebrity College Sports Fans.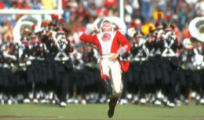 Send TBDBITL To Texas Link
July, 2006 The band needs some help (i.e. financial) to be able to go to the Texas game. As JT has said in the past, they're a big help to the team. Help them out if you can.

Update: TBDBITL is going to Texas!
"Walter E. and Jane Dennis of Columbus, Ohio, have made a $225,000 gift to fund the Ohio State Marching Bandís trip to Austin, Texas..."

Five-star WR Deonte Thompson
From BuckeyeSports.com: "Deonte Thompson WR from Belle Glade (FL) Glades Central, rated by Rivals as the number 4 WR in the country, has an OSU offer. He is thought to be a FSU lean. He attends the same high school that both Santonio Holmes and Albert Dukes attended, Thompson has heard plenty of good things about OSU from Holmes and Dukes, and says when he narrows his list down sometime next month, Ohio State stands a good chance of remaining in contention for his services."

O'Dowd says OSU will make the cut
July 2006 From BuckeyeSports.com: "Tucson (AZ) Salpointe Catholic offensive guard Kristofer O'Dowd is a four-star talent and one of the top 100 players in the nation. The 6-foot-5, 315 pounder had hoped to make a trip to Ohio State this summer but wasn't able to do so. However, he said: 'I can tell you that Ohio State will be in my top six schools.'"

July 2006 This happened in 1973, in Ann Arbor. Who won the game? Check out The Game in the navigation links below.

Listen to what the radio announcer said: They're tearing...

Troy Smith will get diploma, send out message of hope
July 2006 Because of what Troy Smith will do at Ohio Stadium today, kids who are up against it on the mean streets of his youth in Cleveland have a little brighter future...

BuckeyeSports.com Ohio 2007 Top 50
July 2006 "After a seemingly endless wait, it's time to unveil the preseason edition of BuckeyeSports.com's top 50 Ohioans for the class of 2007. We've examined things in detail and come up with a list we think will spur debate but will also provide a roadmap to the best players in the state, including our choice at the top, Cincinnati Colerain's Eugene Clifford. Check out the rankings in this free story from BuckeyeSports.com."

| | |
| --- | --- |
| | From Bucknuts: "Ohio's Top Player Clifford, (6-2, 190, 4.45), denies a leader, but seems to favor Ohio State and Michigan; both have offered. Clifford said, Ohio State has offered me. 'I really connected to coaches, (John) Peterson (recruiting coordinator) and Tim Beckman (defensive backs), when I first met them. Ohio State is a little over two hours from home. My parents want me to go there because it's close and they are big Buckeyes fans.'" |

July 2006 OSU & Many Others Want Ben Martin
Cincinnati (OH) LaSalle defensive end Ben Martin, the Rivals.com No. 2 prospect in the Buckeye state, visited Ohio State this past week. Word is that it will be either OSU or ND that he signs with. Stay tuned.

JSU lands ex-Ohio State back Eric Haw
July 2006 Running back Eric Haw is transferring Jackson State.

OSU on top for Georgia corner
July 2006 Georgia cornerback Vance Cuff has started gaining attention from schools around the Southeastern Conference, but he currently has one a little farther North as his leader. The 5'11, 175-pounder with 4.4 speed is being checked out by most of the SEC. I like the fact that Ohio State is cornerback U, Cuff said. They have the most active corners in the NFL. I have the chance to play on another level if I go there,..I would say Ohio State is my No. 1 choice right now.

Georgia Lineman Has Bucks On List
July 2006 From BuckeyeSports.com: "Gainesville (GA) offensive lineman Nick Claytor, a prime target of the Buckeyes, attended OSU's advanced camp on June 3 and plans to take an official visit when the Buckeyes play Michigan. 'I've been to Ohio State, Auburn and Georgia Tech,' said Claytor, a four-star prospect and member of the Rivals100. 'I'm looking at Ohio State, Auburn, Georgia Tech, LSU and Florida State. It's really down to those five.'"

July 2006 Four Star Linebacker to Visit OSU
Fairfield (OH) High School's Dewey Elliot will be visiting OSU on July 28th. "I've liked Ohio State since I was a child." Everyone is high on this linebacker. However, there is word that he needs to work harder in the classroom to meet OSU's rising admission standards. Hope the Bucks get him...he is a stud!

July 2006
Daniel 'Boom' Herron Talks About Verbal To Ohio State
From Bucknuts: "Herron of Warren G. Harding picked Ohio State over Michigan. At 5-10 and 200 pounds, Herron, with 4.52 speed and a 37-inch vertical, is considered the best running back in the State and a four star player.""Everyone will wonder why he chose Ohio State with Chris Wells there," Harding coach Thom McDaniels told the Warren Tribune-Chronicle. "Dan Herron is a competitor. He's not going to back down to anyone."

July 2006

July 2006
Ranking the 10 best coaches...and the five worst
Sports Illustrated writer Stewart Mandel's offers his take on the best and worst college coaches. JT is on the list but has dropped a notch.

July 2006
Big Recruit For OSU?
Kyle Long, the 6-foot-7, 280-pound son of NFL Hall of Famer Howie Long, is taking an interest in Ohio State. Kyle took an unofficial visit to Ohio State over the Easter holiday. He is one of the country's top projected offensive tackles in the class of 2008.

July 2006
Four-star New York TE to visit OSU
From BuckeyeSports.com: Williamsville (N.Y.) North tight end Rob Gronkowski, a four-star prospect who has 25 scholarship offers including one from the Buckeyes, says he will visit Ohio State before the end of the summer. Gronkowski also says he will likely make an official visit to OSU.

July 2006
Matt Clements, the No. 43 overall prospect, has an offer
From BuckeyeSports.com: Clements of Naples Barron Collier, who is 6'2" 185 lbs and runs the 40 im 4.34 secs, has the size, speed and athletic ability that has made him a must have for several major colleges recruiting him, including Auburn, Clemson, South Carolina, Ohio State and West Virginia. Clements recently broke the Barron Collier school record in the 400-meter dash and is expected to play multiple positions for his team this fall.
Watch
highlight video
of his HS play.

July 2006
Buckeyes Make Martez Wilson's List
Chicago Simeon defensive end Martez Wilson, who racked up 18 sacks during his junior season, is one of the most highly recruited prospects in the Midwest. One of the schools in pursuit is Ohio State and Wilson says the Buckeyes are definitely on his list.

July 2006
Ohio State's Jim Tressel Named To AFCA Board of Trustees
Here's a fun fact that is purely coincidental but didn't stop us from chuckling: Tressel replaces Lloyd Carr on the board.
Vote for Coach Tressel at SI.com

July 2006
New Video: Retro Video 95-98
A collection of some all time favorite players and teams from a fan...tOSU retro video 95-98

July 2006
Check Out The Gamble Pick Against PSU
Some video on the Buckeye Commentary Site...and a great one is Chris Gamble's interception against PSU that sealed the win.

July 2006
Low points in sporting events
The Washington Post put the headbutt uncorked by France's Zinedine Zidane alongside Woody Hayes' reenactment of "Mike Tyson's Punch-Out" in the pantheon of sports' low points. (Appears in sidebar of story)
See the video of Hayes punching Clemson linebacker Charlie Bauman
Click on the Highlight Video & Audio link in the navigation on the main page.
The San Francisco Chronicle is
polling its readers
(you can vote) to get a consensus of what sports' most-maddening moment is.

July 2006
Ex-Buckeye Schafrath fills void as he closes in on degree
"Even as he played 13 years for the Cleveland Browns, clearing paths for Hall of Famers Jim Brown and Leroy Kelly; even as he beat intestinal cancer and paddled a canoe across Lake Erie in celebration; even as he ran 62 miles from Cleveland Stadium to Wooster on a bet; and especially as he spent 13 years as a senator in the Ohio state legislature, something was missing."

July 2006
Eddie leads newest Hall of Fame class
Rivals.com is reporting: Even though his playing days are over, Eddie George is still bringing home honors for his play on the field. The Heisman-winning former Ohio State tailback headlines the 29th class to be inducted into the Ohio State Varsity 'O' Hall of Fame.

July 2006
Eddie George Opens Restaurant:
Eddie George's Grill 27
Eddie George's Grill '27' covers many fields. Named after the former OSU Heisman Trophy Winner and Tennessee Titans running back, the restaurant prominently features '27', the number on his jersey. So there are 27 wines, 27 different kinds of beer, 27 specialty drinks and a 27-ounce porterhouse steak, which in a perfect world would be $27 but is closer to twice the price. About 40 flat-screen TVs envelop nearly every square inch of the place, making it the ultimate media play.Colmbus' NBC4i Online Video Reportand also from NBC4i Online a photo slideshow: Take a look inside Eddie George's restaurant

July 2006
The Truth About Ray Small
The lingering question for months about the Cleveland Glenville speedster and Ohio State recruit, compared to Ted Ginn, Jr. has been: Is Ray Small In? The article above seems to clear this up. And this just in: HE IS OFFICIALLY IN!

July 2006
Home Sweet Home: college football's top stadiums
Well do you agree? Personally, I'm not so sure. Of course this in just one person's opinion...and like rear orifices everyone has one. Take a look and see what you think.

July 2006
Buckeye Nation makes you believe
ESPN's Page 2 tour of college football continues by hanging out in Block O at Ohio State: It's in the faithful. It's in the faith. This is the thing that gives the Buckeyes an edge, the Ohio State spirit, the unwavering practice of devotion, devotion the way Woody would want it, and the way John Cooper never could understand. It's a thing so deep it has no roots, so wide it's got no shores. It's a thing that can't be contained, can't be kept under a bushel, or left lying quiet in a heart. It's a thing that has to be sung out, made manifest.