Fiesta Bowl could turn into referendum on Tressel
January 4, 2009 Source: Columbus Dispatch - "A significant part of Jim Tressel's media day interview at the Fiesta Bowl focused on why Terrelle Pryor wasn't being made available...Tressel might see this Pryor flap as a positive. If those wretched reporters are busying themselves with worries about why his freshman phenom isn't sitting behind a microphone, mouthing mostly bland compliments about the Texas Longhorns, they aren't asking as many questions about the Buckeyes' recent high-profile drubbings by Florida, LSU and USC...Before the 2006 national championship game, he was the unofficial king of college football. He seemed to win every big game, beating both Michigan and his bowl opponents with amazing regularity. OSU fans wouldn't accept even the mildest criticism of him...This Fiesta Bowl, then, is an important moment for Tressel the coach, at least in terms of the public's perception of him. He has gone from being the guy who always wins the big one to the guy who never does, which in the $3 million world of college coaching can be a dangerous place to live. The truth is that a coach is never as good or as bad as his most recent game or games...Tressel will be the same guy who coached the Buckeyes to the 2002 BCS national championship regardless of what happens Monday night against Texas. But this is also true: If his Buckeyes lose big again, 2009 could be a very noisy year."

Over or under?
Outgoing seniors overachieved in many ways, but losing big games might cast them as underachievers






College game comes easy for prep prodigy Pryor
January 2, 2009 Source: ESPN - "More than once after a game this season, Terrelle Pryor noted how college football isn't all that different from the Pennsylvania high school scene he dominated as the nation's No. 1 recruit. After helping Ohio State stomp Michigan State, 45-7, on Oct. 18, Pryor told reporters, 'It's just like high school.' The line became Pryor's trademark this fall as he won Big Ten Freshman of the Year honors and led Ohio State to another BCS bowl appearance as the starting quarterback...Such a good athlete that Pryor's transition from high school to college has been smoother than many had expected, even for a freshman who came to Ohio State with unparalleled hype. Pryor has had his growing pains, but he led the Big Ten in pass efficiency (152.1) and posted an 8-1 mark as the starter..."

Practice makes perfect? Buckeyes hoping month of work lifts Pryor's performance
January 2, 2009 Source: Cleveland Plain Dealer - "Assumptions about Ohio State's chances against Texas in the Fiesta Bowl are formed in part around Terrelle Pryor, a quarterback who may have treated the 45 days between his last football game and his next like a caterpillar in his cocoon...'I think Terrelle's arm has come a long way,' OSU receiver Brian Hartline said Friday. 'It's like amazing. He gets outside the pocket and instead of just being a running quarterback, he keeps his eyes downfield. As far as the passing game, I think the coaches are even seeing it. I think it's going to come full circle.'..."

Pryor no-show irks Fiesta officials, but Tressel's unmoved
January 2, 2009 Source: Cleveland Plain Dealer - "1. Fiesta Bowl folks are peeved, and Ohio State fans don't care: When 30 Ohio State players showed up at Friday's Fiesta Bowl media day, the 22 starters were supposed to be among them. But quarterback Terrelle Pryor and center Michael Brewster, the two true freshmen starters for the Buckeyes, weren't there, and Fiesta Bowl president and CEO John Junker wasn't happy at the unavailability of one of the bowl's most intriguing players. (Tressel said) 'We were asked to bring 30 players, and we sent in a list of players. And I did get one call, 'Did you happen to miss any?' and I said, 'No. You might be talking about Terrelle and Mike Brewster, because they are starters, but they're freshmen.' We decided when we were counting to 30 that there were 30 others that were afforded the opportunity to be here.'..."

Fiesta Bowl deserves better from Tressel, OSU
January 2, 2009 Source: SI.com - "Most fans don't care about the plight of sports reporters...So forget for a moment that Ohio State quarterback Terrelle Pryor wasn't made available during Friday's Fiesta Bowl media day, where the BCS mandates that all starters and a total of 30 players be made available to the press for 30 minutes...He said that Pryor would be better served spending the allotted 30 minutes in a meeting than with the media he's been hidden from for over a month..."





Fiesta Bowl failing to draw tourists to Phoenix
January 2, 2009 Source: Associated Press/Arizona Daily Star - " A sluggish economy, apathetic fans and people concerned about their jobs has led many to stay home and not travel to Arizona for Monday's Fiesta Bowl. Even though it's freezing in the Midwest, Ohio tour operators say they can't get people to book trips to Arizona to take in the big game between Ohio State and Texas. In metro Phoenix, hotels and resorts are pushing low rates and freebies to spur last-minute demand, with luxury Scottsdale resorts going for as little as $119 on Hotwire.com. "The demand here is terrible," said Lisa Cisco, owner of Travel Partners in Dublin, Ohio, a travel agency that has been selling bowl packages since 1979..."






Beanie Wells on the NFL, his health and the Heisman
January 1, 2009 Source: Cleveland Plain Dealer - "Ohio State running back Beanie Wells spoke to reporters this morning and addressed his future for the first time in a while, and my impression hasn't changed - I'm almost certain he's leaving for the NFL after this junior season...On how the Fiesta Bowl will affect his decision...On how his family, with 11 brothers and sisters, will factor into his decision...On Jim Tressel saying he'd go pro if he was in Wells' situation...Have we ever seen you at your best at Ohio State? No. (he said that very quickly) What was the closest? Michigan last year. And you know, I feel like I have so many more great days ahead of me, and I'm just excited..."


| | |
| --- | --- |
| OHIO STATE vs. TEXAS | |


Offense's goal: a healthy diet of run plays
January 5, 2009 Source: Columbus Dispatch - "The last three times the Buckeyes were on the national stage, viewers watched the offensive line get pushed around or run around by the defensive fronts of Florida, LSU and Southern California. While critics have said Ohio State was caught at a speed deficit those nights, it's in the trenches where it really showed the most. The chaos that was created in the vicinity of the quarterback often negated any kind of X-and-O advantage the coaches might have schemed leading into the game. And why should anyone believe things will be any different tonight against a speedy Texas defense that sports the nation's most decorated defensive player, pass-rushing terror Brian Orakpo?..."

Ten Pressing Questions: Ohio State Vs. Texas
January 5, 2009 Source: Bucknuts - "* 1. Will Ohio State get consistent pressure on Texas quarterback Colt McCoy?... * 2. Can Beanie Wells have a big game on the ground for Ohio State?... * 3. Which team is more motivated?... * 4. Will Ohio State rely on Terrelle Pryor to throw 15 or more passes?... * 5. Can Ohio State's offensive line hold up against Texas' defensive line and pass rush?... * 6. Who will win the matchup of Ohio State's defensive backs against Texas' wide receivers?... * 7. Which team will win the special teams battle?... * 8. What impact will the crowd have?... * 9. What new wrinkles will Ohio State unveil offensively and defensively?... * 10. Can Ohio State get a jumpstart on the 2009 season with an impressive showing against Texas?..."

"Head Coach Jim Tressel addressed the media for the final time leading up to the Fiesta Bowl matchup with the Texas Longhorns."
Tressel, Brown Hold Final Press Conferences Before The Game Source: Bucknuts

Personnel Report
January 4, 2009 Source: The Ozone - "There will be a little shuffling along the offensive line when the Buckeye take the field against Texas...Senior offensive guard Ben Person is expected to get the call left guard against the Longhorns...That will move Steve Rehring over to right guard...Freshman defensive end Nathan Williams has been in Jim Tressel's doghouse since his arrest on a shoplifting charge during Christmas break. Williams may not see the field against the Longhorns...safety/linebacker Jermale Hines. Hines also missed time as the season wound down due to injury, but according to both Tressel and Heacock, will be available against Texas...wide receiver Brian Hartline may have broken a team rule while in Arizona and may miss some playing time...OSU tailback Beanie Wells says he is healthy for the game..."


OSU's Boone can set the tone
January 4, 2009 Source: Cleveland Plain Dealer - "Ohio State fans will be thrilled to learn that Brian Orakpo, the best defensive end in college football, has studied the Florida game. That's like teaching a Rottweiler how to chew through his leash. The Gators' 2-year-old national championship destruction of Ohio State -- specifically the offense, and more specifically the offensive line -- occurred on the same field on which the Buckeyes meet Texas in tonight's Fiesta Bowl. In the repetitive highs and rare but public lows, in the expectations and constant observations, in the questions about how to evaluate this Ohio State era, left tackle Alex Boone exemplifies the conflicted views fans have of the Buckeyes. They can be clarified against the No. 3 team in the country, for good or for bad. As the left tackle goes tonight, so go the Buckeyes. He's big. He's loud. He's funny. He's honest. He's nasty. He plays the money position on the offensive line. And whenever he makes a mistake, everyone notices. 'I'm aware of that,' the senior from Lakewood said, smiling when asked of his status as a lightning rod for the Buckeyes' fortunes. 'My grandma reads all those message things and will call me crying or swearing. But if people are mad at me, I can't change that.'..."




Just Facts on the 2009 Tostitos Fiesta Bowl

Team Jerseys – Ohio State will wear its white jerseys and use the west bench. Texas will wear its dark – burnt orange – jerseys and use the east bench.

BCS Bowls – Ohio State is 4-2 in BCS bowl games while Texas is 2-0.

The Coaches
Ohio state coach Jim Tressel is 4-0 in prior Fiesta Bowls, including a 31-24 double overtime win over Miami to win the 2003 national championship. He was the Ohio State quarterbacks, receivers and running backs coach for the Buckeyes when they defeated Pittsburgh in 1984. Tressel is 4-3 in all bowl games and 83-18 in his eighth season at Ohio State.

Texas' Mack Brown is coaching in the Tostitos Fiesta Bowl for the first time. He has guided Texas to four consecutive bowl wins – a school first – and he is guided Texas to 11 consecutive bowl games in his 11 years as coach. He is 114-26 at Texas and 87-15 the last eight seasons.

FIRST AND 10
• Ohio State is 10-2 and 7-1 in the Big Ten
• The Buckeyes are Big Ten champions for the fourth straight year
• The Buckeyes are back in a BCS bowl game for the fourth-straight year and the sixth time under head coach Jim Tressel.
• Ohio State has now qualifi ed for seven BCS games in the 11-year history of the system, which is tied with USC and Oklahoma for the lead among all programs.
• This is the ninth-straight bowl appearance for the Buckeyes, the eighth overall for the Buckeyes under Tressel and the 40th in program history – the most of any Big Ten school.
• Ohio State is 4-2 all-time in BCS games, winning the Sugar Bowl in 1999 and the Fiesta in 2003, 2004 and 2006.
• Tressel has passed former coach Earle Bruce (81 wins) for third place on Ohio State's alltime wins list

OHIO STATE-TEXAS SERIES
The game will mark just the third meeting all-time between the Buckeyes and Longhorns after the two teams faced each other in 2005 and 2006. Texas won, 25-22, in 2005 in Columbus and Ohio State, 24-7, the next year in Austin.

BOWL BOUND
Ohio State has an 18-21 record in bowl games, dating back to the 1921 Rose Bowl, where the Buckeyes were defeated 28-0 by California. The Buckeyes have appeared in 11 different bowl games during their storied history. The Buckeyes are 4-2 in six BCS game appearances. Ohio State holds a 14-18 record in bowl games played on New Year's Day or later. Under Jim Tressel, Ohio State is 4-3 in bowl games.



5 key factors
January 3, 2009 Source: Columbus Dispatch - "1. Tame Colt McCoy: Texas quarterback Colt McCoy has completed 77.6 percent of his passes, and they're not all dink-and-dunk, either (11.8 yards per completion). It's the game's most obvious key -- Ohio State has virtually no chance if it can't get pressure on McCoy. The Longhorns have given up 22 sacks, so it's not like they're invincible. If they give McCoy time, though, they will be. 2. Make Pryor chuck and duck: This is the mirror image of the first key: Texas wants to make Ohio State freshman QB Terrelle Pryor stand and deliver rather than scramble and improvise. At this stage in his career, Pryor is more comfortable throwing on the move. The Longhorns lead the nation in sacks (44), but they must be more disciplined in their pass rush against Pryor and try to keep him from breaking containment. 3. Score touchdowns in the red zone: It's not about moving the ball, it's about scoring points, and Texas has been more effective than OSU at scoring touchdowns when it penetrates the opponent's 20-yard line. The Longhorns score TDs on 78 percent of their red-zone possessions compared with 61 percent for OSU. The Buckeyes need to force a few field goal tries and not to have to settle for so many themselves. 4. Get a big game from "Beanie": In Ohio State's infamous "Big Three" big-game losses, running back Chris "Beanie" Wells has been a major factor in just one: The loss to Louisiana State. He was a freshman against Florida in 2006 and sat out the Southern California game in September because of an injured foot. Against LSU, he gained 146 yards. With Wells apparently poised to make the leap to the NFL, he should be motivated to provide a memorable collegiate finale. 5. Who wants it more?..."

Curious move
January 3, 2009 Source: Columbus Dispatch - Ken Gordon writes: "Let me go on record as saying I question OSU offensive line coach Jim Bollman's decision to start Ben Person at left guard and Steve Rehring at right guard in the Fiesta Bowl on Monday. It's sort of a twisted tale of how it came about, see if this makes sense. First, Rehring -- playing left guard -- gets hurt in the USC game. The next week, Michael Brewster steps in at center and Jim Cordle moves from center to left guard. Next, Person gets hurt eight games into the season. Rehring has recovered now and steps in to Person's spot at right guard. Next, Cordle tweaks a knee against Michigan. He has been practicing, but is not healthy enough to start the Fiesta Bowl. It would seem to make sense to move Rehring back to the left side -- where he made 25 straight starts from 2006 to this year's USC game -- and give Person his right guard spot back, since he has played only the right side in college. But Bollman is going to move Person to left. Person said it took a week or two of bowl practice before he started to feel comfortable, but says he still feels more comfortable on the right side. Considering all the problems OSU's line has had in bowl games the past two years, I personally would not be messing with Person at a brand-new spot against a Texas team that leads the nation in sacks. We'll see how it works out."

Embattled OSU line looks to make statement
January 2, 2009 Source: ESPN - "...'We take the blame,' (Steve) Rehring said of himself and his linemates. 'If people want to blame us, that's fine...' Ohio State's front five has borne the brunt for the unit's struggles for most of the season. Despite returning four starting linemen, the Buckeyes finished 78th nationally in total offense (339.7 yards per game) and didn't truly find an identity until the closing stretch of the season. The topsy-turvy season brought criticism from both outside and inside the locker room...'We have a lot to prove,' (Alex) Boone said. 'We've been up and down all year. We've been talking about that and how we need to get better.'...Speed has become a sore subject for Big Ten teams in recent seasons, and the new spin on the debate is that the major differential can be found on the line of scrimmage, not with the skill players. Rehring doesn't buy it. 'We've got great defensive lines in the Big Ten,' Rehring said. 'I would put our defensive line against anybody and run 40s, across the board. On the offensive line, it doesn't matter. As long as you have good technique and do what you do, you have quick feet, it doesn't matter how fast they are.'..."

"Today was media day in Phoenix, when both teams usually head to the stadium with all of their players to meet with reporters. NFL playoffs interfered with those plans this year, so the teams met with the media at the host hotel with a limited number of players. We spoke with Alex Boone, Marcus Freeman, Head Coach Jim Tressel and others."

Two-quarterback plan not fully unveiled
January 2, 2009 Source: Columbus Dispatch - "Suffice to say, offensive coordinator Jim Bollman was not happy when the news leaked a week ago that Ohio State might put quarterbacks Terrelle Pryor and Todd Boeckman on the field at the same time...'You guys know you can come and see me. I love to talk about game plans. Let's tell everybody what's going on,' Bollman said tongue-in-cheek yesterday. Coach Jim Tressel, meanwhile, earlier confirmed the report...But neither he, Bollman nor the players have gone into detail about how the two-quarterback system will be used, though fullback Brandon Smith said the formation has at least a working name. 'I don't think we have a special name for it. I think some of the guys wanted to call it The Dispatch because they're the ones that broke the news,' Smith said. So will it deliver big news for the offense? 'We'll see what happens,' Smith said. 'We strive to put our best 11 on the field. When those two get out there, there are going to be some things we can do. I'm not quite sure Texas will be prepared for that. Hopefully, it will be an advantage.'..."

Orakpo presents latest challenge for Bucks' line
January 2, 2009 Source: The Morning Journal - "In each of the last two bowl games, Ohio State has struggled to block its opponents best defensive linemen. In the championship game against Florida, defensive ends Derrick Harvey and Jarvis Moss tore through the Buckeyes' tackles all night. Last season, Ricky Jean-Francois and Glenn Dorsey made life miserable up the middle. This time, Ohio State's linemen are concerned about Texas defensive end Brian Orakpo, who is likely better than any ends the Gators or Tigers have had the last two years..."

"The Buckeye offensive players met with the media on Thursday to talk about the upcoming game vs. Texas. Beanie Wells, Brian Robiskie, Brandon Smith and others answer questions from the media."

Buckeyes Practice, Prep and Watch FB Thursday
January 1, 2009 Source: OSU Official Site - "The Ohio State Buckeyes greeted the new year Thursday morning with a 10 a.m. practice in 'shells' at Pinnacle High School before heading back to the Scottsdale Fairmont for additional game prep and lots of college football watching. The Camelback Inn and Resort Spa was the 8:30 a.m. destination for five senior Buckeyes on the offensive side of the ball and offensive coordinator/offensive line coach Jim Bollman. The five – Brian Robiskie, Chris 'Beanie' Wells, Brandon Smith, Rory Nicol and Ryan Pretorius – met with the media for a 45-minute interview session. Some notes, quotes and highlights of the interview session and the day follow..."

Ohio State Defenders Meet with Media
December 31, 2008 Source: OSU Official Site - "Wednesday was the first day of formal interviews leading up to the Jan. 5 Tostitos Fiesta Bowl. The setting was the JW Marriott Camelback Inn Resort and the five senior Buckeyes at the podiums were James Laurinaitis, Malcolm Jenkins, Marcus Freeman, Nader Abdallah and A.J. Trapasso. Defensive coordinator Jim Heacock and co-defensive coordinator Luke Fickell also addressed the media. Some quotes from the media session included:..."


Reining in Colt? Buckeyes know they have a tall task against Longhorns' star QB McCoy
December 31, 2008 Source: Cleveland Plain Dealer - "Ohio State called and former Buckeyes assistant and new Toledo coach Tim Beckman answered...he managed to hold Texas to a season-low 28 points in the Longhorns' 28-24 victory over the Cowboys on Oct. 25. If anyone has a partial answer for the most efficient passing offense in college football history...it's Beckman. What Texas does while completing 77.6 percent of its passes isn't bigger or fancier than the spread offenses that Big Ten teams run -- it's faster. 'It's quick, a lot of get-the-ball-and-go,' Beckman said..."

"Linebacker James Laurinaitis has nothing but respect for the accomplishments and accolades that McCoy has picked up this season and knows that it is hard to fathom just how he can complete nearly 80-percent of his passes..."





Coach Tressel & Rory Nichol on the Fiesta Bowl Source: The Palestra


The Longhorns and Buckeyes sat down for interviews Wednesday morning and then headed to practice.

Buckeyes Put on Pads for Two-Hour Workout
December 30, 2008 Source: OSU Official Site - "Coach Jim Tressel met with the media prior to the start of the Buckeyes' 11 a.m. practice Tuesday. Tressel and staff then worked the team through a scheduled two-hour session under blue skies, mid-60 degree temperatures and another fine day in Arizona. Tressel spent about 15 minutes with local media as well as a contingent of Buckeye football beat reporters. He said the team would practice in pads for about two hours Tuesday. Some additional notes (and quotes) from the session included the following:..."



The Buckeyes took to the practice field on Monday during their first full day in Arizona.

"Head Coach Jim Tressel spoke with the media following their arrival in Phoenix for the Fiesta Bowl."



Tressel not upset about lost 'secret'
December 30, 2008 Source: Columbus Dispatch - "Jim Tressel didn't mind the secret being out for several days that he might use quarterback Terrelle Pryor and Todd Boeckman in the same formation in the Fiesta Bowl against Texas. 'You know, it's true, so I never mind seeing the truth,' Tressel said. Asked if he also thought it gave Texas defensive coaches something to think about, he said, 'Maybe.'..."

Texas knows OSU has more than a lone star at QB
December 30, 2008 Source: Cleveland Plain Dealer - "Texas defensive end Brian Orakpo sounds ready if Ohio State does put quarterbacks Terrelle Pryor and Todd Boeckman on the field together in the Fiesta Bowl and Pryor winds up doing something other than throwing the ball. 'If he wants to catch the ball on a slant, here we come,' Orakpo said with a smile after arriving in Arizona on Monday afternoon. 'That's the name of the game. We'll see.' The winner of the Nagurski and Lombardi awards said the Longhorns prepared in bowl practice for both OSU quarterbacks to play individually on Monday, even though Boeckman didn't complete a pass for six games before the Michigan finale..."

Past collapses keep defense humble
December 30, 2008 Source: Columbus Dispatch - "It was a leading question, designed to draw some bravado out of Ohio State cornerback Malcolm Jenkins: Hey, Malcolm, the Texas Longhorns have put up some big numbers this season, but they haven't faced a defense like yours, have they? Jenkins does not lack confidence; cornerbacks never do. But his answer was decidedly low-key. 'I haven't really looked at their opponents on film, so I can't say they haven't faced anybody like us,' he said. 'I'm pretty sure they're going to be prepared, and we'll see how our defense matches up.' That he resisted the urge to talk up the OSU defense is revealing. First, it's smart...he knows enough not to give the already prolific Longhorns offense further help by providing bulletin-board material...Second, though, Jenkins knows as well as anyone that for all the Buckeyes' defensive prowess the past few years, they have made a habit of falling apart in big games..."

Coaches try yet again to find way to be ready
December 28, 2008 Source: Columbus Dispatch - "...Oh, the Buckeyes' Jim Tressel and the Longhorns' Mack Brown will say all the right things, just as they always do: I think we're ready, we're working hard, I like the guys' attitude and focus. But really, it's all a bunch of blah, blah, blah. Both coaches have been an underdog and a favorite in big games. Both coaches have tried different techniques and tactics to prepare for bowls. And both coaches have won and lost in all the above scenarios. The logical questions surrounding the Fiesta combatants this year are: Will third-ranked Texas (11-1), which came one play from a spot in the national title game, be motivated to prove it was robbed? Or will the Longhorns come our flat because they view it as a consolation game? Will 10th-ranked Ohio State (10-2), which lost the past two national championship games, be fired up to finish off a disappointing season on a high note, or will the Buckeyes once again appear ill-prepared? This is one of the great mysteries not only of football but in all sports: How best to get a team mentally ready to play?..."




At Ohio State's bowl media day Tuesday, Big Ten Network's Katie Witham caught up with Ohio State head coach Jim Tressel for a few minutes to talk about the Buckeyes' pending game vs. Texas in the 2009 Fiesta Bowl. Source: Big Ten Network



Tressel 'more excited' about this bowl game than any other in his career
December 29, 2008 Source: Columbus Dispatch - "Ohio State football coach Jim Tressel didn't mind admitting that he was bubbling with excitement when he stepped off the plane here today, a week away from sending his 10th-ranked Buckeyes against No.3 Texas in the Fiesta Bowl...Tressel said, 'And...for whatever reason I am more excited about this one than any other game I've ever been a part of...There is something special about this team of ours. We've got 28 seniors who have been as unselfish as any group I've ever been around ... and the fact we get to spend seven or eight more days together is awfully, awfully special. And to play against a team like the University of Texas -- we admire and have so much respect for coach (Mack) Brown, his staff and his team and their fans (after two previous games).'..."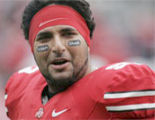 December 19, 2008 Source: OSU Official Site"Nader Abdallah spent a couple moments with Big Ten Network's Katie Witham at Ohio State's Bowl Media day to look ahead at the upcoming Fiesta Bowl game vs. Texas Jan. 5 in Glendale, Ariz. "

Abdallah emerged as leader on defensive line in second half of season
December 23, 2008 Source: Columbus Dispatch - "Nader Abdallah has transformed his legacy from the 'Where are they now?' file to 'How do you like me now?' Once overweight and underachieving, Abdallah, a fifth-year senior defensive tackle, is finishing his Ohio State career as the impact player -- finally -- that he was expected to be as a blue-chip recruit in the 2004 class..."






Buckeyes Look Ahead to Fiesta Bowl Source: Big Ten Network



"Malcolm Jenkins, Ohio State senior defensive back and team co-captain, met with reporters Sunday at the Wexner Football Complex at the Woody Hayes Athletics Center after the Buckeyes learned they would face No. 3 Texas in the Fiesta Bowl Jan. 5 in Glendale, Ariz."




Brian Robiskie Talks About Texas Source: Big Ten Network



Ten Things To Know About Texas
December 10, 2008 Source: Buckeye Grove - "There is plenty of time to learn more about Ohio State's bowl opponent with the game almost a month away, but there's no reason to put off learning the basics about the Texas Longhorns. That's why BuckeyeSports.com has put together these 10 things to know about UT to kick off bowl preparations..."

Buckeyes can't take a siesta at Fiesta
December 9, 2008 Source: Columbus Dispatch - "If familiarity breeds contempt, then Ohio State is booked into the perfect hotel, the same posh Scottsdale Princess resort that served as team headquarters in each of OSU's past four trips to the Arizona desert. The first three of those forays into the lap of citrus shower soap luxury ended in BCS wins. The fourth? Not so much...The Princess again will house Ohio State during this Fiesta Bowl visit -- Texas picked first and chose the resplendent Scottsdale Plaza Resort -- and if the Buckeyes are smart they'll take one look at their mansion-like digs and see a Motel 6 instead. And like it. They should show contempt for the comfortable and harbor an attitude of oppression over indulgence and opportunity over opulence. The Fiesta Bowl on Jan. 5 should be viewed as a test, not a treat. The game is about regaining respect by impressing the nation, and for that to happen, the No. 10 Buckeyes need to win big against No. 3 Texas, which can only happen if Jim Tressel coaches outside his comfort zone, meaning he needs to design a game plan that somewhat imitates the wide-open attacks that dot the Big 12 conference..."




On the edge
January 5, 2009 Source: Columbus Dispatch

When Buckeyes run
EDGE: OSU
The top linemen are healthy, tailback Chris "Beanie" Wells is healthy, all systems are go. And will quarterback Terrelle Pryor be able to wheel and deal even better with a month more of practice? The book says attack the Texas defense with the inside zone and power game, only because the Longhorns didn't see much of that this season -- even as they wound up No. 2 nationally against the run (73.6 yards per game) but in a pass-happy league.

When Buckeyes pass
EDGE: Texas
Someone, maybe make that two someones, better block Texas defensive end Brian Orakpo (10.5 sacks), whose combination of strength and speed OSU has not seen this year. Ohio State, with the freshman Pryor finding his way, almost forgot about the passing game in the waning weeks of the season, and seemed better off. But Texas' Big 12 opponents proved that there are yards to be had by throwing, as long as the quarterback is protected.

When Longhorns run
EDGE: Texas
QB Colt McCoy is the leading rusher (576 yards), but four other players have gained between 261 and 376 yards, so Texas is a respectable 34th nationally at 176.9 yards per game. Ohio State is 20th against the run (114.9), but the Buckeyes struggled down the stretch, particularly against the inside zone play. In its final four games, OSU gave up an average of 150.5 yards.

When Longhorns pass
EDGE: Texas
This is the game's marquee matchup: McCoy and his 77.6 percent accuracy and 32 touchdowns against OSU's sixth-ranked pass defense, which has surrendered only 10 TD passes. A key will be how well the Buckeyes cover Jordan Shipley (79 catches) in the slot. On the outside, Quan Cosby (78 catches) likely will be covered by All-America cornerback Malcolm Jenkins. Running back Chris Ogbannaya also is a factor, averaging 11.5 yards on 42 catches.

On special teams
EDGE: Texas
The Buckeyes have the edge in field goals (good on 19 of 23 attempts, compared with the Longhorns' 10 of 13) and punt returns (12.9 average to 8.2). Shipley has returned both a kickoff and a punt for TDs, and the Longhorns have placed 19 of 36 punts inside the 20-yard line. Jenkins has blocked two punts this season; Texas has blocked six kicks (five punts and an extra point try), led by freshman Aaron Williams' four blocks.

Intangibles, other factors
EDGE: Texas
No. 3 Texas tries to stake a claim to being the best team in the land with at least the Associated Press poll voters. Ohio State tries to put a stake in a two-game bowl losing streak. Ohio State has won its past four appearances in the Fiesta Bowl (the 2006 national title game loss was a separate event). Texas seeks a fifth straight bowl win. ... The succinct series between the two teams is tied 1-1.


Fiesta Bowl Preview:
Ohio State Buckeyes vs. Texas Longhorns
January 5, 2009 Source: Cleveland Plain Dealer - "FOUR DOWNS: Doug Lesmerises' take on what to watch when the ball is snapped...1. Texas middle linebacker Rashad Bobino vs. OSU running back Beanie Wells...2. Texas receiver Quan Cosby vs. OSU cornerback Malcolm Jenkins...3. OSU center Mike Brewster vs. Texas defensive tackle Roy Miller...4. OSU punter A.J. Trapasso vs. Texas punter John Gold..."
ESPN's analysts take a look at the Jan. 5 Fiesta Bowl match-up between No. 3 Texas and No. 10 Ohio State. Check out this eight-minute clip as Kirk Herbstreit, Lee Corso, Mark May, Lou Holtz and Rece Davis break down the Fiesta Bowl during the recent Bowl Selection Special. Source: ESPN/Bucknuts


Ohio State vs. Texas Preview
January 4, 2009 Source: The Ozone - "Tony Gerdeman's preview of the Fiesta Bowl matchup with Texas...If the Buckeyes can't run the ball against Texas, then they have no shot. Yes, quarterback Terrelle Pryor has gotten a lot of practice time in preparation for this game, but the key will still be the running game for the Buckeyes. However, Ohio State will likely spread Texas out and possibly throw the ball early to open up the running game..."


Game Preview: No. 3 Texas
January 2, 2009 Source: BuckeyeSports.com - "The 2008 season for the No. 10 Ohio State football team concludes where five of the last seven have: in the desert. The Buckeyes face No. 3 Texas in the Fiesta Bowl on Monday, and this is the BuckeyeSports.com preview including players to watch for the Longhorns and a look at how the teams compare heading into the contest..."


Preview: #9 Ohio State vs. #3 Texas
January 5, 2009 Source: Eleven Warriors - "...Let's just get this out of the way: Texas is going to move the ball through the air. McCoy is just that good — he can read his receivers' minds and word on the street is that he can levitate for up to two seconds when needed. So the first time you see them moving the chains and picking up third downs on that soft, soft zone, take a deep breath and realize that adjustments will be made and the teams will settle into the flow of the game, just like they did after Vince ripped off chunks of yards on the Longhorn's first drive in the Shoe...While most think the Buckeyes have to run the ball well to have any chance in this game, I think the opposite is true. They certainly must run the ball, but if Pryor does not come out, make the correct reads and get things going with his arm, then we'll have the luxury of watching Texas stack the line to stop Beanie and harassing Pryor on 3rd and longs..."


2009 Fiesta Bowl Texas Longhorns Game Preview
December 31, 2008 Source: Buckeye Planet - Analysis and more, including: ...It has been the Colt McCoy show is Austin this season, and the Heisman finalist certainly did not disappoint, showing the combination of skill, grit, and toughness that Texans love. He was not only the leader of one of the most potent aerial attacks in the nation, he was also the leading rusher for the Longhorns in 2008 with 576 yards, and 2nd on the team in rushing TDs with 10. His 32/7 TD/INT ratio is stellar, and his completion percentage over 375 attempts (77.6%) is completely ridiculous (in a good way)...the D-Line is the clear strength of the Texas defense in 2008, even after the loss of outgoing Tackles Derek Lokey and Frank Okam. The unit is lead by All American DE Brian Orapko. The pass rushing phenom has earned the Nagurski, Lombardi, and Hendricks awards this season where he registered 10.5 sacks, 18 TFLs and 40 tackles while forcing 4 fumbles. With producton like his, Orapko commands a great deal of attention, which opens up opportunities for his line mates...Texas Longhorns Offensive Preview...Defensive Preview..Special Teams Preview..." (more)


Texas Provides Big Hurdle For OSU In Fiesta Bowl
January 1, 2009 Source: Bucknuts - "We take an in-depth look at No. 3 Texas, which will meet No. 10 Ohio State in the Tostitos Fiesta Bowl Monday (8 p.m., Fox). We look at Texas' road to the Fiesta Bowl, the key personnel for the Longhorns and share some notables on this high powered match-up...The Longhorns have several lofty national statistical rankings. UT is ninth in total offense (476.4 yards per game), fifth in scoring offense (43.9 points per game), 20th in scoring defense (18.6 ppg) and 50th in total defense (339.9 ypg). Texas leads the nation in sacks per game (3.7)..."



McCoy, 'Horns turn attention to Ohio State after BCS snub
December 16, 2008 Source: USA Today - "...Texas (11-1) thinks it belongs in the title game...But (Mack) Brown says the Longhorns won't be feeling sorry for themselves...'Playing Ohio State helps (keep a sharp focus). Anyone who has a chance to do that is not going to be flat.'...WHO HAS THE EDGE?

When Ohio State runs: Chris "Beanie" Wells' combination of power and speed makes him difficult to slow down, and the gliding style of 6-6 freshman QB Terrelle Pryor is reminiscent of former Texas star Vince Young. EDGE: Ohio State

When Ohio State passes: DE Brian Orakpo (10½ sacks) should be at full strength. Texas had 44 sacks to help protect a young secondary. Getting to Pryor and bringing him down are different feats. Pryor can throw on the move and had only four interceptions in 152 passing attempts. EDGE: Texas

When Texas runs: QB Colt McCoy was the most productive runner on the roster. Texas wants to protect him from taking big shots by getting other backs more work. EDGE: Ohio State

When Texas passes: The Buckeyes will blitz with MLB James Laurinaitis, who was in the lineup the last time McCoy saw OSU — his second career start. McCoy completed 77.6% of his passes with 32 TDs. Buckeyes CB Malcolm Jenkins is a potential top-10 NFL draft pick. EDGE: Texas

Special teams: The Buckeyes have had big returns — Jenkins can make a play for OSU, as can Texas' leading receiver, Jordan Shipley. EDGE: Ohio State

Coaching: The Longhorns' Mack Brown has won six of his last seven bowls, including four in a row and the 2005 national title game. OSU's Jim Tressel, 4-3 in bowl games, has the Buckeyes in a BCS bowl for the sixth time in seven years. Ohio State has lost two consecutive BCS national championship games by a combined score of 79-38. EDGE: Texas

Intangibles: Texas points to the number — 0.0013, the difference in the Nov. 30 BCS standings between it and Oklahoma, which put the Sooners in the Big 12 title game. The 'Horns are playing for more than style points. Several players, including Laurinaitis, came back as seniors to help OSU eradicate memories of its BCS past. EDGE: Texas

WHO WINS?: If Ohio State is going to regain its credibility in the BCS bowls, there's no better place than the Fiesta Bowl, where the Buckeyes won three times in four years before losing the last two title games. Texas could enter the game focused on impressing voters or disappointed in its fate. It better be the former because the Ohio State defense can shut down quarterback Colt McCoy and the Longhorns. — Texas 23-19"

"Charles Davis wonders if the Longhorns will have their hands full with Chris 'Beanie' Wells and Terrelle Pryor..."

Ohio St.-Texas Preview
December 16, 2008 Source: Fox Sports - "...Heisman Trophy finalist Colt McCoy just finished one of the best regular seasons in Texas history, setting school records with 3,445 yards and 32 TDs to go along with an NCAA-record 77.6 percent completion rate. He also leads the Longhorns with 576 rushing yards and is second on the team with 10 rushing touchdowns. 'He's been the heart of our offense,' Brown said. 'He means to this team what Vince Young meant to the one in 2005. ... I can't imagine a player that means more to his team than Colt does to ours.' Ohio State coach Jim Tressel is well aware of what McCoy and the Longhorns can do on the field. 'They've just been very steady, very consistent,' said Tressel, whose team finished 10-2 and earned a share of its fourth straight Big Ten title. 'They were a top, top team this year and that's what we're going to face.' The Buckeyes are used to facing top teams in a BCS game. They'll be playing in a BCS bowl for the seventh time in the 11-year history of the system, tying USC and Oklahoma for the most appearances. Ohio State, though, doesn't have fond memories of its last two BCS games..."









UT Official Site
Cumulative Season Statistics

Mack Brown, Head Coach
Ass't Coaches & Team Roster
Source: UT Official Site



Texas vs. Ohio State: Who's got the edge?
January 5, 2009 Source: Austin American Statesman

Ohio State run offense vs. Texas run defense
Stats would suggest the Longhorns defense has the edge since they're second in the country and the Buckeyes are 28th. However, Mack Brown has conceded that UT hasn't seen the likes of bruising Buckeye tailback Chris "Beanie" Wells, who managed more than 1,000 yards despite suffering from toe and hamstring injuries. Defenders have been instructed to tackle Wells at chest level to keep away from his stiff arm.
Edge: Ohio State

Ohio State pass offense vs. Texas pass defense
The Longhorn secondary should get a break against the Buckeyes since Ohio State is ranked only 105th nationally in passing offense. The defensive ends will keep an eye on freshman QB Terrelle Pryor, who could gouge them with scrambles. But Ohio State will not be flinging the ball. At times, the Buckeyes will use only two receivers on a play.
Edge: Texas

Texas run offense vs. Ohio State run defense
Longhorns still will use a trio of runners against the Buckeyes. And QB Colt McCoy still has plans to run the draw if he sees Ohio State dropping too many into coverage. Ohio State's defense ranks 19th nationally against the run, allowing 114 yards. They've allowed only one, 100-yard rusher.
Edge: Ohio State

Texas pass offense vs. Ohio State pass defense
McCoy can withstand a miserable game and still be able to break the NCAA completion percentage record. Both Jordan Shipley and Quan Cosby each can hit 1,000 yards for the season. The Buckeye pass defense, led by Thorpe winner Malcolm Jenkins, ranks ninth nationally against the pass.
Edge: Texas

Texas kicking game vs. Ohio State kicking game
The Longhorns' punting duo is averaging 43.4 yards. Hunter Lawrence, who likely will be the field goal kicker, has missed only two this season. Ohio State punter A.J. Trapasso is at 41.3 yds. Kicker Ryan Pretorius has missed four field goals in 18 attempts, with all misses from long distance.
Edge: Texas

Texas returners vs. Ohio State returners
Longhorns have returned only 13 punts this year, averaging 8.2 yards. Buckeyes returner Ray Small is averaging 15.1 on 23 returns. It's a wash in kick return comparisons.
Edge: Ohio State



Orakpo's dedication to hitting weight room produces big results at Texas
January 4, 2009 Source: Columbus Dispatch - "Brian Orakpo came to Texas five years ago as an undersized defensive end from Houston, carrying that dreaded label of 'athlete.' He disappeared into the weight room and emerged this season as a hulking force, wreaking havoc on opposing offenses to the tune of 10 1/2 sacks. Few have had a better view of this transformation than Longhorns senior defensive tackle Roy Miller. 'He used to look like Steve Urkel," Miller said. "Now, he's the black Arnold Schwarzenegger.'...He now weighs 260, is capable of bench-pressing 515 pounds, squatting 600 pounds and running a 4.6-second 40-yard dash. 'I've developed over the years,' Orakpo said simply..."

Longhorns Say Buckeye Defense Poses Tough Challenge
January 4, 2009 Source: The Ozone - "The Buckeye defense will have to find the right balance of discipline and aggression to hold up against Colt McCoy and the high-powered Texas offense. The Longhorns say what they have seen on tape in that regard has impressed them. Check out the-Ozone report..."

Meet Terrelle Pryor: Beyond The Numbers
January 3, 2009 Source: Burnt Orange Nation - "In looking at Terrelle Pryor's freshman season statistics, I suggested the tempting, oft-heard comparison with Vince Young wasn't ideal. The raw numbers help illustrate the point, but in this post we'll look more closely at Pryor's game from a scouting perspective, throughout which the differences between the two will stand out. Why frame the discourse around VY? First of all, because Texas fans know VY -- contrasting the foreign with the familiar might be illuminating. And second, though Pryor is without question a freak of an athlete with stupendous size, agility, and speed for a quarterback, understanding the particular ways that Terrelle Pryor's is both not quite a rusher of Vince Young's caliber and much more of a threat in other ways VY was not (at least at that age) should help nail down what it is that Will Muschamp will be worrying about on Monday night in Glendale..."

Fiesta Bowl defense press conference
January 1, 2009 Source: UT Official Site - "Defensive coordinator Will Muschamp, DT Roy Miller, LB Roddrick Muckelroy, DE Brian Orakpo and CB Ryan Palmer spoke to the media Thursday morning prior to practice...Roddrick Muckelroy On Ohio State running back Beanie Wells: We've got some great backs in the Big 12, but not a big back with quick feet and capable of doing what he's doing. You look forward to games like this. You have to pin your ears back and just go. You live for these games like this..."

Fiesta Bowl offense press conference
December 31, 2008 Source: UT Official Site - "Offensive coordinator Greg Davis, QB Colt McCoy, WRs Quan Cosby and Jordan Shipley, and RB Chris Ogbonnaya spoke to the media Wednesday morning prior to practice...Colt McCoy On how much he has grown as a player since last facing Ohio State: I would say that I have grown a lot. I've overcome a lot of things. I've been blessed to be able to have two more years to play successfully. I know I have become a lot better player than what I was then. At the same time, Laurinaitis can say the same thing. That's why it's going to be a fun matchup. He (Laurinaitis) does a great job leading their defense. With (Malcolm) Jenkins outside, you're going to have to be aware of where he is at all times because he can make plays. The biggest thing for us is taking care of the ball. If you don't turn the ball over and you don't give them a short field and don't give them anything they can capitalize on, we can execute what we are trying to do offensively..."


Texas Press Conference
December 29, 2008 Source: The Ozone - "Texas Head Coach Mack Brown, quarterback Colt McCoy and defensive end Brian Orakpo spoke with the media following their arrival at the Phoenix Sky Harbor Airport."


Tough Practices Prepare Texas For Fiesta Bowl
December 19, 2008 Source: ESPN/Bucknuts - "ESPN.com's Tim Griffin provides some of the perspective from the Texas side as the Longhorns prepare for the Jan. 5 Fiesta Bowl against Ohio State. Click for more on what is happening in Austin..."

Mack Brown Fiesta Bowl press conference
December 18, 2008 Source: UT Official Site - "...On the differences between Ohio State of this year and in the past two years: There's not a lot of difference, but the biggest difference is probably their experience at quarterback...On the concern of playing a smash mouth team unlike the teams in the Big 12: We're really concerned. We have great stats against the run, but not many people lined up and tried to run the ball against us...On if he sees the same kind of intensity in practice like he did last year leading up to the bowl game: We really are..."

Player press conference quotes
December 18, 2008 Source: UT Official Site - "The Longhorns give their thoughts on bowl practice for their match-up with Ohio State...QB Colt McCoy: On Ohio State's defense: They're really good. Ohio State's defense is definitely a big reason they've only lost two games. They've been in a BCS game as long as I can remember. They're a tough opponent. You look their defense, and they're huge. They're probably the biggest defense that we've faced all year. They're front four and their linebackers are really big. So we have our hands full. We have our work cut out for us. They're only giving up 14 points a game. Their pass defense is highly ranked. It's going to be a challenge but we're looking forward to it. On Ohio State LB James Laurinaitis: He was sitting behind me in Orlando, and he was blowing on my neck, telling me I'd better get used to it. I had a few comebacks for him, but it was fun. Getting to meet him and Jenkins, they're both All-Americans, both great players on their defense. It's going to be fun having the opportunity to play against them. I told [Laurinaitis] he needed to thank me for starting him out on his All-American campaign the last three years, because I definitely gave him about the easiest pick he's had his whole career. But he's a tremendous player. He leads his defense in tackles. He gets them where they need to be all the time..."

Can the Horns Halt the Buckeye Ground Game?
December 17, 2008 Source: BurntOrange.com - "It's readily apparent to anyone following Ohio State football that Coach Jim Tressel prefers running the football to throwing it. Like the long shadow of Woody Hayes that falls upon any Buckeyes' coach, Tressel too is an old school, play for field position, win with run and defense kind of guy...While Terrelle Pryor can pass the football effectively enough for a mere true freshman and leads the Big Ten in passing efficiency, Ohio State's 148 yards passing per game (#104 nationally) is all you need to see that no air traffic controller is required when the Buckeyes have the ball. So what about Ohio State's ground game, then—the heart and soul of Tressel's offense?..."




#12 Colt McCoy
POSITION: QB
HEIGHT: 6-3
WEIGHT: 210
CLASS: Junior

291 of 375 passing, 3,445 yards, 32 TDs, 7 INTs; 128 carries, 576 yards, 4.5 avg. and 10 TDs...Career Stats...2008 season highlights video



#98 Brian Orakpo
POSITION: DE
HEIGHT: 6-4
WEIGHT: 260
CLASS: Senior

40 tackles, 10-1/2 sacks for 90 yards, 18 tackles for loss for 102 yards...Career Stats...2008 season highlights video




79 receptions, 982 yards, 11TDs...Career Stats...2008 season highlights video



#6 Quan Cosby
POSITION: WR
HEIGHT: 5-11
WEIGHT: 200
CLASS: Senior

78 receptions, 952 yards, 8TDs...Career Stats...2008 season highlights video




Leading tackler with 106 tackles, 12 sacks and 4 tackles for loss...Career Stats...>2008 season highlights video




Total Offense
Total Defense

No. 10 Ohio State (10-2) at No. 3 Texas (11-1):



OSU
TEXAS
Moneyline
75%
25%
Spread
19%
81%
Total (O/U)
80%
20%


Phoenix Forecast