Mr. Bucknuts' Bucket Of Bullets
August 31, 2008 Source: Bucknuts.com -&nbsp"Mr. Bucknuts is the last one in to critique the Youngstown game. Plus, he adds thoughts about old players, the greatest to have never played, Charlie Weis as a Playmate of the Month (?), exclusive quotes and some near plagiarism in an all-new Bucket of Bullets..."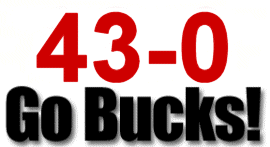 No. 2 Ohio State Rolls by Youngstown State, 43-0
August 30, 2008 Source: OSU Official Site - "...'It was a good day for us,' Jim Tressel, Ohio State coach, said. 'The issue wasn't YSU, but what Ohio State needs to do to get better. It was good to see the special teams playing really solid. Our kickoff coverage was solid and there's lots of great film to study.'...(Chris) Wells...the preseason Heisman Trophy candidate left the game after his 13th carry...'From what I gather, it [the injury] is more of a foot thing,' Tressel said. 'X-rays were negative.'..."

Scoring Summary, Team Statistics, Individual Statistics, Drive Chart,
Defensive Statistics, Game Participation, Play-by-Play

Postgame: Ohio State Player Quotes - Postgame Notes

Starts and fits
August 31, 2008 Source: Columbus Dispatch - "Pryor appears, defense rules, but Wells' foot eclipses all...The Buckeyes defense was suffocating. No Penguins players had any room to maneuver. If someone made a catch, three or four Buckeyes were quickly on the scene. Youngstown State didn't cross midfield until 12:13 remained in the game...All three Ohio State quarterbacks played by halftime. Of the Buckeyes' 11 series, Boeckman directed six possessions, freshman Terrelle Pryor three and Joe Bauserman two...The Buckeyes did not punt, but they struggled a bit at finishing off drives. They settled for five field goals -- four by Ryan Pretorius..."

Source: ESPN

Source: Big Ten Network

Postgame Press Conference Transcript
Source: OSU Official Site

Source: OSU Official Site


Ohio State cruises to romp in opener; RB Wells out with injury
August 30, 2008 Source: Associated Press - "An eerie silence descended on Ohio Stadium when Ohio State's Heisman Trophy prospect Chris 'Beanie' Wells went down with a foot injury in the third quarter of the second-ranked Buckeyes' 43-0 victory over Youngstown State on Saturday. All of a sudden, what seemed like a nice tuneup for the mammoth showdown in two weeks against No. 3 Southern California seemed secondary...The star tailback was hurt in the third quarter after taking a handoff from Todd Boeckman on first and goal at the Youngstown State 2. His feet slipped underneath him as he planted to make a cut, with the ball rolling free as he hit the turf. 'I may have rolled it or planted wrong a play or two before,' Wells said through Ohio State spokeswoman Shelly Poe. 'Something just didn't feel right. Then I think I felt a pop. But the X-rays are OK, so we'll see how it feels in a day or two.'
Tressel declined to speculate if Wells would be available (for the next two games)...'When you see one of the best backs in the country laying there in pain, it's definitely something that you don't want to see,' he said. 'Beanie's a tough guy. I know we're all pulling for him. He's gone to the doctors and he'll do whatever he can to help this team out.'..."

..."Following the game OSU kicker Ryan Pretorious reported that Wells' injury was not in the ankle area or did not involve the achilles tendon. 'I spoke to Beanie and he says it's just his big toe and he'll be fine. He told me here in the training room,' Pretorious said immediately after the game..."
August 30, 2008 Source: The Ozone

Scarlet and Gray Matter
August 31, 2008 Source: Columbus Dispatch - "...Just wondering: Why was Beanie still in the game more than halfway through the third quarter with the Buckeyes leading by 26?..."

Beanie backlash
August 30, 2008 Source: SI.com - "...1) How bad is the injury? 2) Will he be ready to play against USC on Sept. 13? The simple fact that he was back on the sideline is a good sign for Ohio State...But what if? What if Wells can't go against the Trojans or even longer?..."

Six points
August 31, 2008 Source: Columbus Dispatch - "THE PLAY: It would have been Chris "Beanie" Wells' 43-yard touchdown run on Ohio State's opening drive. But instead it's Wells' would-be TD plunge in the third quarter when he suffered a right foot injury; THE STAR: Kicker Ryan Pretorius. He was 4 of 4 on field goal attempts for the Buckeyes, including a 50-yarder, though that was trumped by Aaron Pettrey's 54-yarder in the fourth; THE STAT: The Ohio State defense had plenty, but No. 1 was the shutout. It was the first since a 44-0 win over Minnesota the ninth game of 2006; THE STRATEGY: Be diverse. Ohio State ranged from the I formation on the opening play to the Pistol with freshman quarterback Terrelle Pryor, and rolled up 495 yards; THE MISMATCH: Ohio State defense vs. Youngstown State's new spread offense. The Penguins were spread too thin, it appears, gaining just five first downs, one by penalty; THE REPERCUSSION: On the injury front, it could be huge if further evaluation shows Wells must miss extended time. As for the polls, beating up your little in-state brother won't even raise eyebrows, much less ranking..."



The Bottom Line
August 31, 2008 Source: Columbus Dispatch - "X-rays are negative, they say, but it's hard to see the positives when the team's horse has to be helped off the field. If Beanie's wearing Das Boot for long, the Buckeyes' championship odds get longer. Leaves are awarded on a zero-to-five basis. Offense (three leaves)...Defense (four leaves)...Coaching (three leaves)..."

Grading the Bucks vs. the Penguins
August 30, 2008 Source: Cleveland Plain Dealer - "QB Boeckman: Grade A...looked poised and confident, tossing a 47-yard pass to Brian Hartline on the team's second series, a 31-yard touchdown to Brian Robiskie just before the half, and a 25-yard TD to promising freshman Devier Posey -- who caught four passes for 47 yards -- for a 33-0 lead late in the third quarter. Boeckman finished 14-of-19 for 187 yards and two scores...OSU defense: Grade A A strong showing was expected, but this was utter domination. "You've got to be extremely happy any time you get a shutout, no matter who it is," said senior linebacker James Laurinaitis. The Buckeyes allowed just five first downs and 74 total yards, including minus-11 yards on the ground in 21 attempts. Youngstown recorded just one first down and 28 total yards in the first half, mainly against Ohio State's first line...Pryor: Grade B...Best hit: Ohio State's Jermale Hines set the tone early...Worst tendency: Red zone play-calling. Or maybe it was poor execution. Regardless, too many early drives stalled within the 20..."

Give OSU passing grades on report card
August 31, 2008 Source: Mansfield News Journal - "OFFENSIVE LINE, GRADE: A: Held to less than four yards a carry last year by YSU, the Buckeyes got a better push up front this time from their veteran line to average a crisp 5.8 yards a pop...DEFENSIVE LINE, GRADE: A...COACHING, GRADE: B plus..."
Pretty good for no Pryor experience
August 31, 2008 Source: Columbus Dispatch - "Terrelle Pryor completed his first pass. He scored his first touchdown. He received his first standing ovation in Ohio Stadium. It added up to what seemed to be an above-average debut yesterday for the most celebrated Ohio State quarterback recruit in 30 years. But when asked to give himself a grade after a 43-0 win over Youngstown State, Pryor was not feeling generous. 'A four,' he said -- and he meant out of 10..."
Pretorius kick-starts year with 4 FGs
August 31, 2008 Source: Columbus Dispatch - "After kicking a career-high four field goals yesterday, Ohio State's Ryan Pretorius came into the interview room with a bare right foot and a bandaged big toe. No, he was not sore from overuse. 'I just cut my foot in the shower,' he said. Only three Ohio State kickers have made more field goals in a game -- Josh Huston (2005), Mike Nugent (2004) and Bob Atha (1981) each had five. Pretorius helped bail out an offense that sputtered at times in Youngstown State territory. All four of his field goals came in the first half, helping OSU take a 26-0 halftime lead. It was a confidence boost for a guy with four blocked kicks last season. He made 18 of 23 attempts..."
Late in the game, backup kicker Aaron Pettrey made a 54-yarder, the fourth longest by a Buckeye in Ohio Stadium history. 'There's so much depth on the team,' Pretorius said, 'and it gives our teammates a lot of confidence in us.'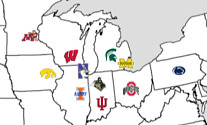 Tressel's Contract Revised
August 29, 2008 Source: OSU Official Site - "Ohio State football coach Jim Tressel has agreed to contract revisions that will make him the highest-paid football coach in the Big Ten Conference, OSU director of athletics Gene Smith announced Friday morning. Under the amended contract, Tressel's compensation increase will be phased in during the current year and will be $3.5 million next year, more than $1 million annually than the previous agreement. He will receive annual increases of 3-4% over the remainder of the term. Tressel is under contract at Ohio State until January 31, 2013...'It is incredible the commitment that Dr. Gee and Gene Smith have made to us,' said Tressel. 'There is no place in the world we would rather be, and we will work very hard to serve Ohio State. The goal that Ellen and I have is to make sure these blessings make a difference to others.'..."





Head Coach Jim Tressel talks about Kurt Coleman's injury, Jermale Hines, the quarterback rotation, Doug Worthington's DUI punishment and a number of other topics.



10 Pressing Questions: How Will The Buckeyes Fare Against YSU?
August 29, 2008 Source: Bucknuts.com - "Youngstown State certainly isn't expected to throw much fear into second-ranked Ohio State in Saturday's season opener, but the Buckeyes still want to take advantage of the opportunities that come with being back on the field and hope to begin to identify themselves. For a closer look at some of the things to look for, click here..."


He's back on his toes-Homan to start at LB
August 29, 2008 Source: Columbus Dispatch - "When Ross Homan showed up to talk with members of the media midway through Ohio State's preseason camp this month, he sported a small brace on his right thumb. That's what linebackers do. If they get hurt -- a jammed thumb, bruised hip or broken finger -- they shake it off. It's part of the creed. So when Homan limped off the field during a win over Washington last season, it was assumed he needed a few minutes until he was back at it again. As a sophomore who had shown great promise the season before as a backup, he was competing with Marcus Freeman to start at weak-side linebacker. And through his career at Coldwater High School, including a Division IV championship run in 2005, Homan rarely left the field as a two-way star. 'I'd have little nagging things here and there, but I could always push through it and play,' Homan said. 'But this was one thing -- I could just not perform even 50 percent.' At Washington, he had suffered a turf toe sprain, which by name seemed innocuous. But it meant he had partly torn ligaments in his foot..."
Buckeye Extra Gameday
August 29, 2008 Source: Columbus Dispatch - "Everything you need for Ohio State vs. Youngstown State — except tickets! Features include: Saturday's Game, Five Key Facors, Play of the Week, On The Edge, In The Spotlight, Meet A Buckeye, (more)..."

Game Preview: Youngstown State
August 28, 2008 Source: BuckeyeSports.com - "No. 2 Ohio State kicks off its 2008 football season Saturday by hosting in-state foe Youngstown State Saturday at noon. BuckeyeSports.com previews the game with notes on the Penguins' new spread offense, key players to watch and a breakdown of what might happen once the ball is finally in the air kicking off the 2008 campaign..."

Youngstown State vs. Ohio State Preview
August 28, 2008 Source: The Ozone - "Tony Gerdeman's preview of the OSU vs Youngstown State matchup is now on Columns and Features..."

2008 Youngstown State Penguins Game Preview
August 28, 2008 Source: Buckeye Planet - "Welcome to another season of college football! The long off-season is finally over, and the Buckeyes are ready to open up against the Youngstown State Penguins. This will be only the second time that Ohio State has faced a non-major college opponent since the NCAA began classification in 1937 (last year's opener against YSU was the other)..."

The-Ozone Note and Quotebook
August 29, 2008 Source: The Ozone - "Personnel Updates, Messin' With Terrelle, First Game Jitters, In Praise of Todd, Hurry Up!, Not Overlooking Shorty, and Shuffling the Stars; they're all covered in the-Ozone Note and Quotebook ..."
Buckeye Experience Valuable Asset in 2008

Coleman out, Jermale Hines to start at safety
August 28, 2008 Source: Cleveland Plain Dealer - "An already depleted Ohio State secondary will be even more short-handed Saturday with Jim Tressel's announcement today that starting junior safety Kurt Coleman is unlikely to play after rolling his ankle in practice Monday. Backup cornerback Andre Amos is also expected to miss the game due to injury. Sophomore Jermale Hines, a Glenville grad who only moved from linebacker to safety during this preseason, is expected to start in Coleman's place..."

Tressel rejects suspension for OSU lineman Worthington following DUI charge
August 28, 2008 Source: Cleveland Plain Dealer - "Defensive tackle Doug Worthington, a major contributor on the defensive line, will play against Youngstown State on Saturday following a July DUI arrest, though his case was continued Monday and his pretrial hearing won't occur until Oct. 1...Tressel hinted Friday that Worthington may miss more than just a few series against Youngstown State, but he's not out..."

Crunching The Numbers: OSU vs. YSU
August 27, 2008 Source: BuckeyeSports.com - "The first game of the season often offers a few juicy numbers worth taking a look at, and Ohio State's 119th season-opener is no exception..."

Game Data: Youngstown State at Ohio State
August 27, 2008 Source: Bucknuts.com - "We have the pertinent data, depth charts and a prediction for Ohio State's 2008 season opener against Youngstown State. The Buckeyes will host the Penguins in Saturday's opening game at noon. It will be televised by Big Ten Network. Click (link) for more...."

Andy Katzenmoyer - 1997 BUTKUS AWARD WINNER - Named Honorary Captain for Game Today vs. YSU
August 30, 2008 Source: OSU Official Site - "Former Buckeye All-American linebacker Anyd Katzenmoyer will serve as Ohio State's honorary captain Saturday vs. Youngstown State. OSU's first Butkus Award winner will join Boeckman, Jenkins, Laurinaitis and Robiskie at coin toss..."




Coach Tressel Addresses Media Thursday
August 28, 2008 Source: OSU Official Site - "Thursday, Jim Tressel met with media for the final time before the Buckeyes and Penguins clash Saturday. Listen to Coach Tressel's comments at the link above..."






Chris Wells, Marcus Freeman, Alex Boone, Brian Hartline
and others spoke with reporters after practice. (Aug 27)
Source: The Ozone


Assistant Coaches Talk About Saturday's Opener
August 28, 2008 Source: OSU Official Site - "Jim Heacock On the defensive players-'The guys are competing well. Everyone is looking good. Dexter Larimore looked great at camp. Nader Abdallah is doing better this year. Todd Denlinger is looking great. I'm looking forward to the first game of the season.'..."





Ohio State Begins 2008 Against Youngstown State Saturday
August 25, 2008 Source: OSU Official Site - "The Game: No. 2/3 Ohio State opens the 2008 season against Youngstown State at Ohio Stadium at noon, Saturday, Aug. 30. The game will be televised by the Big Ten Network. - The Series: This will be the second meeting between the Buckeyes and the Penguins on the football field. The two schools met in last year's season opener Sept. 1 at Ohio Stadium, a 38-6 Buckeye victory. - Ohio State is 174-48-15 in its history against opponents from the state of Ohio; that list includes Akron, Bowling Green, Case, Cincinnati, Denison, Heidelberg, Kent State, Kenyon, Marietta, Miami, Mount Union, Muskingum, Oberlin, Ohio Medical, Ohio, Ohio Wesleyan, Otterbein, Toledo, Western Reserve, Wilmington, Wittenberg, Wooster and Youngstown State. - The Buckeyes have played at least one team from Ohio each season since 1997. Ohio State has not lost to an Ohio opponent since 1921, falling to Oberlin 7-6; the Buckeyes tied Wooster 7-7 in 1924 in Columbus. - Opening Day Numbers The Buckeyes have an all-time opening day record of 102-12-4 and have won their last 29 home openers. OSU's last opening day loss at home was to Penn State in 1978. The Buckeyes' last opening day loss away from Columbus was to Miami in the 1999 Kickoff Classic. - All-time, the Buckeyes are 106-8-4 in home openers since 1890..."
Ohio State Game Notes (PDF)
Youngstown State Game Notes (PDF)



From: The Columbus Dispatch's 2008 college football preview section
August 27, 2008
Ohio State: Offense
Ohio State: Defense
Ohio State: Special teams
Ohio State: Keys to the season
Ohio State roster
Ohio State coaching staff; About the Buckeyes
Ohio State schedule: a closer look
What they're saying about Ohio State
Game 1: Youngstown State, Aug. 30
Game 2: Ohio University, Sept. 6
Game 3: At Southern California, Sept. 13
Game 4: Troy, Sept. 20
Game 5: Minnesota, Sept. 27
Game 6: At Wisconsin, Oct. 4
Game 7: Purdue, Oct. 11
Game 8: At Michigan State, Oct. 18
Game 9: Penn State, Oct. 25
Game 10: At Northwestern, Nov. 8
Game 11: At Illinois, Nov. 15
Game 12: Michigan, Nov. 22

2008 Ohio State Buckeyes Preview
August 25, 2008 Source: Buckeye Planet - "The long offseason is almost over, and Buckeye football will soon be back. Preseason expectations in 2008 are even higher than last year, when a team that had been ranked #10 in the Coaches preseason poll made in to their second straight BCS Championship Game. This year's team has been slotted at #3 in the Coaches preseason poll, and the schedule (with the early visit to #2 USC), seems to give them the ability to play their way into a third straight title game appearance, regardless of what happens to the other contenders..."
Perception of weakness
August 28, 2008 Source: Columbus Dispatch - "One by one, they came to the lectern and praised the quality of their beleaguered league. 'I really believe the Big Ten Conference is strong as ever,' Wisconsin coach Bret Bielema said at the preseason football media days in Chicago. 'The Big Ten Conference is very healthy,' Purdue's Joe Tiller said. Other coaches said much the same thing to the rows of media members inside the banquet room. But outside the doors, Kirk Herbstreit used quite different words to describe the national perception of the Big Ten. 'The Big Ten has always been hated by the SEC and the Pac-10, but it's never been a punch line,' said Herbstreit, a former Ohio State quarterback who is now an analyst for ESPN's College GameDay. 'And right now -- not by me, but from what I hear from other regions -- they mock the Big Ten. They laugh at the Big Ten. They think the Big Ten is the most overrated, overhyped conference in the country every year.'..."






Team Captains talk with Reporters at Press Luncheon Aug 26
Source: The Ozone



Transcript from Coach Tressel Weekly Press Conference, Watch Videos with Captains
August 26, 2008 Source: OSU Official Site - "COACH TRESSEL: This a not a credentialed event? I feel like I'm at team meeting....Well, we're finally to a game week and our guys are anxious to get out there and they've been banging against one another all through April and training together and competing with one another all summer long and preseason comes and you get back to competition and now they're chomping at the bit to get out in Ohio Stadium. They had a little taste of the stadium on the Monday night where the fans were allowed to come and the band was playing and cheerleaders were there and all the rest, and so it's anxious..."



Tressel says Worthington will play, and other notes
August 26, 2008 Source: Cleveland Plain Dealer - "* Defensive tackle Doug Worthington, who had a pretrial hearing on his DUI charge continued on Monday, will play against the Penguins but won't start the game...The Buckeyes are pretty healthy. Running back Brandon Saine is about 95 percent back from his hamstring injury, according to Tressel, and is expected to play...Tressel hopes to get backup quarterbacks Joe Bauserman and Terrelle Pryor action in the first half to get their feet wet...Tressel the decision on which of the 19 true freshmen will play and which will redshirt is still being made. At the moment, the freshmen that have more than a 50-50 shot at playing in Tressel's estimation are Pryor, receivers DeVier Posey and Lamaar Thomas, offensive linemen Mike Brewster, Mike Adams and J.B. Shugarts, linebacker Etienne Sabino and defensive end Keith Wells. He said defensive end Nathan Williams and safety Zach Domicone were on the fence...With Chimdi Chekwa forced to start at cornerback while Donald Washington serves a two-game suspension, the nickelback on passing downs will either be Tyler Moeller or Jermale Hines..."

Herron listed second at tailback for opener
August 26, 2008 Source: Columbus Dispatch - "The season opener, a k a the miracle cure, is just four days away for No.2 Ohio State, and already coach Jim Tressel can see it having an effect on the few of his players who had been infirm the last days of preseason camp...Among those stepping back into the picture is backup running back Brandon Saine...One of the surprises of the first-game depth chart was the notation at tailback. That's where serious Heisman Trophy candidate Chris "Beanie" Wells was backed up by redshirt-freshman Daniel "Boom" Herron, instead of by senior Maurice Wells or Saine..."

Saine working way back from injury
August 27, 2008 Source: Dayton Daily News - "Brandon Saine is expected to make a significant impact at Ohio State this season, but the sophomore running back from Piqua probably won't have a major role on offense in the opener against Youngstown State on Saturday. Saine suffered a pulled hamstring in preseason camp and has been limited in practice. Although he's listed as the No. 1 kick returner on the team's depth chart this week, he wasn't listed among the Buckeyes' top three tailbacks. 'The trainers said today they felt he was like 95 to 100 percent,' OSU coach Jim Tressel said at his weekly media luncheon..."

Bucknuts TV: Jim Tressel
August 26, 2008 Source: Bucknuts.com - "OSU head coach Jim Tressel held his first weekly Tuesday media sessions today, starting with the Big Ten coaches teleconference. Tressel addressed a variety of topics, including when and how much Terrelle Pryor will play against Youngstown State, the status of Doug Worthington, and much more. (Updated at 5:15 p.m. with video from Tressel's press luncheon.)..."

Tressel, Buckeyes 'Anxious' To Get Started
August 26, 2008 Source: BuckeyeSports.com - "Game week is finally here. Ohio State is preparing to host Youngstown State this weekend, and head coach Jim Tressel met with reporters the first of his weekly press luncheons. Get the latest on who will play, who will redshirt and what to expect from the Buckeyes this weekend in this update..."





QB Pryor expected to play for Buckeyes
August 26, 2008 Source: Sporting News - "The most talked-about player on Ohio State has never played a down in scarlet and gray and won't start in the season opener on Saturday against Youngstown State. Terrelle Pryor, acclaimed as the top quarterback recruit in the country last winter, is listed as No. 3 on the Buckeyes' depth chart behind starter Todd Boeckman and backup Joe Bauserman. Coach Jim Tressel said Tuesday that he was hoping all three would get to play in the opening half against Youngstown State...'He's nervous because he's the kind of guy that wants everyone to be pleased with his performance, starting with himself. He's a perfectionist,' Tressel said of the 6-foot-6, 235-pounder out of Jeannette, Pa. 'But I think when it comes down to the concepts that our people have asked him to understand, the true Xs and Os that people have asked him to understand, I think he's done an excellent job.'..."






Fall Camp Wrap Up and Depth Chart Comments - Offense
August 26, 2008 Source: The Ozone - "Quarterbacks: Todd Boeckman is clearly the number one,Jenkins...Tailback: ...Boom Herron has moved past Mo Wells on the depth chart and is also listed ahead of Brandon Saine...Offensive Line: The starters are pretty much as expected, but there was at least one surprise in the backups. Walkon Scott Sika is backing up Steve Rehring at left guard. Kyle Mitchum had been in that backup role but is injured. What is interesting is that Sika is ahead of any number of scholarship players who could have won that role...Fullback: Brandon Smith has moved from tight end to fullback and has stepped up to more or less really claim that job...Wide Receivers: ...The real questions are in the backups and the third, fourth and even fifth wide receiver spots. The "step up guy" of camp was probably Dane Sanzenbacher at the slot position, but don't write off Ray Small there either...Tight End: ...Brandon Smith is still listed as a backup tight end though he is also listed as the starting fullback. Rory Nicol and Jake Ballard will get most the snaps at that position..."

Offensive Notebook: Nicol, Boone, Wells, Hartline
August 27, 2008 Source: Bucknuts.com - "In this offensive notebook, we check in with Ohio State tight end Rory Nicol, left tackle Alex Boone, tailback Chris "Beanie" Wells and wide receiver Brian Hartline. The Buckeyes are preparing for their season opener against Youngstown State on Saturday (noon, Big Ten Network) and they have a lot to say. How good can OSU's tight ends be this year? What does Wells think about Boom Herron? We have those answers and much more..."

Fall Camp Wrap Up and Depth Chart Comments - Defense
August 26, 2008 Source: The Ozone - "Defensive Ends: The biggest surprise at defensive end is not the pecking order but rather the fact that Curtis Terry is listed as a defensive end...Defensive Tackles: The biggest surprise here is that Nadar Abdallah is listed ahead of last year's starter, Doug Worthington...Linebackers: Ross Homan has won the starting position at weak side linebacker, and while that is not a surprise in itself, we think that Homan must have really had a strong spring and fall...Safeties: One of the biggest stories at safety is whose name isn't on the two-deep...Corners: Like safety, the corner position is missing a name. Donald Washington will miss the first two games due to disciplinary issues. In his absence, Chimdi Chekwa is now the starter at corner...Fifth-year senior Shaun Lane is listed as Chekwa's backup. On the other side of the field. Andre Amos and DeVon Torrence are backing up Malcolm Jenkins..."





Ohio State vets focus on YSU
August 26, 2008 Source: Associated Press - "After more than three weeks spent on conditioning or memorizing the playbook, the Ohio State Buckeyes can finally get around to concentrating on an opponent. 'It's so crazy that it came so fast. It's incredible,' said tailback Chris 'Beanie'' Wells...'We're getting pretty eager. You could tell toward the last week of camp that guys are on edge, there's a little more talking, a little more chirping, and we're ready to play somebody else other than ourselves,.' wide receiver Brian Hartline said..."
Buckeyes see some danger in Penguins
August 27, 2008 Source: Columbus Dispatch - "When Ohio State players look across the line of scrimmage Saturday, they won't see Youngstown State as a Football Championship Subdivision team. All they will see are real, live football players -- players capable of inflicting pain. Ask Lawrence Wilson, a defensive end who suffered a broken leg against the Penguins in the opener last year and missed the rest of the season. Ask Alex Boone, an offensive tackle. Discussing the notion that Youngstown State is an unworthy opponent, Boone said, 'All right, then why am I so sore (the next day)?' The fact is, no matter what subdivision, it's a football game, and players will be putting themselves in jeopardy..."

Last Time Out...
August 25, 2008 Source: BuckeyeSports.com - "It was just one year ago when the Penguins invaded Ohio Stadium for the first time. Take a look back at recent history and remember what happened in Columbus - and Ann Arbor - that afternoon...Ohio State's 2007 season opener was not necessarily memorable because of what happened at Ohio Stadium. The Buckeyes easily handled Division I-AA Youngstown State Sept. 1 in a 38-6 victory. However, the dominant subject following the game was what happened in Ann Arbor, Mich., where rival Michigan was stunned by I-AA opponent Appalachian State..."



Athletics Introduces Improved Web Resources in 2008: Football Game Day
OhioStateBuckeyes.com, the official Web site for the Ohio State department of athletics, has rolled out two new features for the 2008-09 sports seasons with an aim to enhance fan experience...'Football Game Day" is an A-Z guide for Buckeye home games designed to answer fans' questions about Ohio Stadium, its policies, procedures, perimeter activities and parking.'..."




Youngstown State Official Site
2008 Media Guide
Youngstown State Game Notes (PDF)

Jon Heacock, Head Coach Source: Youngstown State Official Site





Bring on the Buckeyes!
August 26, 2008 Source: Astabula Star Beacon - "Like almost every kid in the Buckeye State, Jaimie Frasure bled scarlet and gray growing up as he followed the Ohio State Buckeyes. Now, the 2005 Lakeside High School graduate will be out to make the Buckeyes bleed — figuratively, of course — when he and his Youngstown State University teammates journey to Ohio Stadium on Saturday to challenge the Buckeyes..."

Youngstown State pushed by past success
August 27, 2008 Source: Columbus Dispatch - "The adage is that a coach doesn't want to be the coach who follows the legend. He wants to be the coach who follows the coach who follows the legend. That isn't the way it happened for Jon Heacock at Youngstown State. But he said he would not have it otherwise. 'I have always appreciated the fact that I got to follow Jim Tressel,' he said. 'Not that I have to follow him, but I get to follow him.' Tressel left Youngstown State for Ohio State in 2001..."




Youngstown State at No. 2 Ohio State:





Columbus Weather Forecast



Williams Continues Tradition of Under-the-Radar Excellence in OSU Football Recruiting
August 28, 2008 Source: The Ozone - "It has become a tradition in the Jim Tressel era that he and his coaches recruit at least one player that performs way beyond expectations. It appears they have done it again this year with a freshman defensive end that is drawing absolute raves from his teammates and the OSU coaching staff. Check out the complete story..."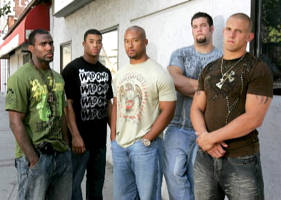 Five Who Stayed
August 27, 2008 Source: Cleveland Plain Dealer - "They stalked down High Street in a pack on a hot July morning, smoothing their Affliction T-shirts, checking their Blackberries, more than a half-ton of young, tough and cool. Not rich, though. Not yet. Stopping near an ATM machine, Malcolm Jenkins threatened to check his account balance. 'There's probably about negative 2 dollars in there,' he said. For postponing potential millions, the five Ohio State Buckeyes -- linebackers James Laurinaitis and Marcus Freeman, receiver Brian Robiskie, left tackle Alex Boone and cornerback Jenkins, who most seriously considered entering the NFL Draft last January and then returned for their senior seasons -- have reaped the rewards of adoration. OSU fans love their guys, but this was even more personal..."





Video board will show close calls this season
August 27, 2008 Source: Columbus Dispatch - "Last year in the first quarter of the Ohio State-Illinois game in Ohio Stadium, some Buckeyes fans were in the dark about a controversial noncall on an apparent Illinois fumble. This year, Ohio State will shed some light on similar plays when it shows instant replay of controversial calls on its video board for the first time, said Mike Penner, assistant athletics director for event services. Big Ten policy gives the university discretion over showing close plays, but it mandates that the university show the play only once and no slower than 75 percent speed, Penner said at a news conference yesterday..."





Loaded with NFL talent, Ohio State kicksoff the year at No. 1
August 26, 2008 Source: SI.com - Stewart Mandel writes: "I realize many of you have already written off the 2008 Ohio State Buckeyes as frauds based on the season-ending performances of their 2006 and '07 teams. That's certainly your prerogative. But here's the thing: I've studied the depth charts of the various contenders frontward and backward. I've spoken with people who know far more about evaluating football talent than I do. And all of it leads me to the same, inescapable conclusion that, presumably, will induce groans from coast to coast. Ohio State is the most talented team in the country this season..."






Boeckman's growth in confidence creates comfort zone for Buckeyes
August 26, 2008 Source: Columbus Dispatch - "With a season's experience as starting quarterback and going into what amounts to his sixth year at Ohio State, there's something different about Todd Boeckman. His father can see it. 'The biggest difference from last year to this year is just, very simply, you can see the confidence he has,' Tim Boeckman said. Boeckman's teammates can see it. 'Todd's the leader, his confidence running the offense is obvious, and you can see the rest of the offense feeding off of that,' linebacker James Laurinaitis said. His coach can see it, too. 'Todd Boeckman has great command of what we're trying to do,' Jim Tressel said. With the 2008 season kicking off Saturday at home against Youngstown State, what the Buckeyes are trying to do, above all, is win a fourth straight Big Ten title and make a third straight trip to the national championship game. As a first-year starter a year ago, Boeckman directed them to both..."

How 'large' can fans expect Buckeyes to be in '08?
August 25, 2008 Source: Columbus Dispatch - Tim May and Ken Gordon opine: "Three weeks after the first practice of preseason camp, the 2008 Buckeyes practice today for opponent No.1: Youngstown State. The Championship Subdivision Penguins aren't expected to be a formidable foe this Saturday, so the focus of this first Inside the Beat column instead will be on Ohio State, our observations and expectations as we head into another season:..."





Big Ten Network, Time Warner reach agreement
August 25, 2008 Source: Cleveland Plain Dealer - "Time Warner Cable customers can watch Ohio State's season opener against Youngstown State on Saturday...Three days after a public exchange between the companies that ended with the Big Ten Network calling a Time Warner proposal a "publicity stunt," the sides reached an agreement Monday night to distribute the Big Ten Network on expanded basic cable in the eight Big Ten states...With roughly 2.5 million customers in the Big Ten region, Time Warner had been by far the largest holdout after the network reached deals with more than 230 carriers, including a June deal with the largest regional carrier, Comcast..."

SEC won't follow path of Big Ten Network
August 25, 2008 Source: Cleveland Plain Dealer - "The creation of the Big Ten Network a year ago created with it a lot of assumptions about the future of college sports on TV. 'In the long run I think the Big Ten Network will be a real positive thing and I think we'll see a Big 12 Network and an SEC Network and an ACC Network and I think that's the world we live in,' Ohio State coach Jim Tressel said, expressing a common sentiment at the Big Ten meetings this July. Count the SEC out. The conference has agreed to a 15-year deal with ESPN..."






Clock changes aim to please coaches, TV
August 24, 2008 Source: Rivals.com - "The NCAA hopes an NFL-style 40-second play clock and other changes will make coaches happy by allowing them to run more plays per game and also please the networks as the games get back closer to the three-hour mark. Under the new rule, the play clock will start when the previous play is called dead. This replaces the officials' ready-for-play signal to start a 25-second clock. Here is a refresher of other important rules changes for the 2008 season:..."

Buckeyes prepared for rule change
August 25, 2008 Source: Columbus Dispatch - "Ohio State's wealth of experience -- a veteran offensive line and a quarterback born during Ronald Reagan's first term -- might have led the Buckeyes to use a lot of no-huddle this season, anyway. Now, an NCAA rule change is going to make it easier to do so..."





Ohio State well stocked at quarterback
August 24, 2008 Source: Columbus Dispatch - "Coach Jim Tressel took census of his quarterback population several times during this year's Ohio State preseason camp and he always liked the number. Usually there were three in line. They were led by returning starter Todd Boeckman, a senior. Then came redshirt freshman Joe Bauserman, 22, whose class standing belies the maturity gained in spending three years in baseball's minor leagues. And there was freshman Terrelle Pryor, the top-rated recruit whose running/throwing talents could, in time, take the offense on a new tangent. 'Blessed is the word that means happy, so I feel blessed that we have three guys like that,' Tressel said..."