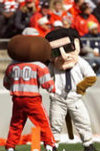 From Bucknuts: Game Data: Penn State at Ohio State

JoePa uses humor to deflect worries about Buckeyes
September 22, 2006 Source: SI.com "Teams have roughed up Ted Ginn Jr., doubled up on him and shadowed him. Now Penn State coach Joe Paterno is trying a novel approach to shutting down the Ohio State receiver..."

The New Border War: Ohio State vs. Penn State
September 19, 2006 Source: Bucknuts "Here is a look at the storied rivalry between Ohio State and Penn State, which will reach its 22nd edition with Saturday's game at Ohio Stadium (3:30 p.m., ABC). The Nittany Lions took an 11-10 edge in the all-time series with last year's 17-10 win at Beaver Stadium..."

Tressel, Paterno Talk OSU-PSU And More
September 19, 2006 Source: Bucknuts "We have a wrap-up posted of OSU head coach Jim Tressel's weekly meeting with national media during the Big Ten coaches teleconference. Also on the call was Penn State head coach Joe Paterno..."

Heacock, Daniels Preview OSU-PSU Game
September 20, 2006 Source: Bucknuts "OSU assistant coaches Jim Heacock and Joe Daniels provide a scouting report for Penn State, OSU's opponent in Saturday's Big Ten opener (3:30 p.m., ABC). Daniels has comments on Troy Smith and the backup quarterbacks. Click this free link for more..."

No. 1 Still Unhappy & Ready To Return The Favor
September 20, 2006 Source: ESPNU "Ohio State already has avenged one of its 2005 losses this season. The Buckeyes have a chance to do likewise this weekend..." Check out this preview.

Audio: Tressel Press Conference Call In

Buckeyes 'better take it up a notch,' Tressel says
September 19, 2006 Source: Columbus Dispatch "Winning three preliminaries might have helped the Ohio State football team maintain its grip on the No. 1 national ranking, but with Penn State coming to town for the start of Big Ten play, OSU coach Jim Tressel said today, it's a whole new ballgame..."



Horseshoe unkind to PSU
September 19, 2006 Source: CentreDaily.com "Penn State could think of a few places it would rather open its Big Ten season than Ohio Stadium..."

Plenty of cause for concern in Happy Valley
September 20, 2006 Source: EveningSun.com "The concerns are many for the work-in-progress Penn State Nittany Lions as they prepare to play the nation's No. 1 team in Ohio Stadium..."

Looking for breakout
September 21, 2006 Source: Columbus Dispatch "Penn State coach Joe Paterno said he doesn't expect Ohio State to be surprised. Derrick Williams said the Nittany Lions have nothing up their sleeves for the Buckeyes, that everything Penn State has done with him the past two games - throwing him the ball, handing it to him, snapping it directly to him - 'is out in the open.' 'What they see," Williams said, 'is maybe what they get...'"

'That guy' makes OSU go
September 19, 2006 Source: The Patriot-News "You know a player has arrived in college football when you don't need to refer to him by name..."

Not quite anger, not quite amnesia about OSU loss to Penn State
September 20, 2006 Source: Lima News "...Tressel and several of his players faced the question of whether the seeds of a possible victory against Penn State could have taken root a year ago when the Nittany Lions beat OSU 17-10 in State College, Pa..."

Penn State limited OSU offense in '05
September 19, 2006 Source: Dayton Daily News "Ohio State's offensive futility against Penn State last year is still a sore subject for Jim Bollman. The team's offensive coordinator came under fire after the Buckeyes held the Nittany Lions to just 195 total yards but managed just 220 themselves in a stinging, 17-10 defeat..."

Penn State running game is stepping up
September 18, 2006 Source: Pittsburgh Post Gazette "Check out the Big Ten statistics through three games and there is one surprising number: Penn State is third in the conference in rushing offense, with 207.7 yards per game. For a team with four first-year starters on the offensive line, this is a pleasant development for offensive coordinator Galen Hall..."

Lions have 'special' problems
September 18, 2006 Source: Pittsburgh Post Gazette "September 17, 2006 Source: Pittsburgh Post Gazette "Penn State's special teams remain anything but special. The Nittany Lions are having troubles with almost every special teams unit from the kickoff return team to the punt team to much-maligned place-kicking unit..."

Penn State Official Site

REHRING IN: Sophomore offensive lineman Steve Rehring was elevated to the top of the depth chart at left guard, past senior Tim Schafer, though both are still expected to play Saturday. They had been splitting time, though Schafer was the starter.

From the Ozone: Depth Chart for the PSU Game

Stats
Ohio State Penn State

National Statistical Rankings
Total Offense Total Defense

Game Matchup



Match-Up Preview - Live Odds - Matchup Edge
PSU-OSU: Line History and Team Page



Betting Preview - PSU at OSU


PLAYERS OF THE WEEK
September 19, 2006 Jim Tressel announced the players of the week for the Cincinnati game at his week press luncheon today:
Offensive Player of the Week - Antonio Pittman
Defensive Player of the Week - Quinn Pitcock
Special Teams Player of the Week - Aaron Pettrey
Attack Force Player of the Week - James Laurinaitis
Offensive Lineman of the Week - Steve Rehring
Hit of the Week - Ted Ginn JR.
Scout Team Offensive Player of the Week - Andrew Moses
Scout Team Defensive Player of the Week - Chimdi Chekwa
Scout Team Special Teams Player of the Week - De'Angelo Haslam

Young defense to be key for OSU
September 20, 2006 Source: Akron Beacon Journal "So far our identity seems to be we're a swarming defense that causes turnovers,'' Richardson said. ``With as much youth as we have, that's a great identity to have. We have a bunch of young guys who want to make plays and are running around and because of that it's causing turnovers..."



Beware Of The Bubble
September 19, 2006 Source: BuckeyeSports.com "For the most part, this year it is the Ohio State defense that is putting pressure on its opponents. The No. 1 Buckeyes have allowed 8.7 points and 293.7 yards per game, just 12.4 more yards per game than it did a season ago. But not all things have been rosy on that side of the ball. One type of play, in particular, has flipped the equation around, with the pressure switching from the opposing offense to the OSU defense. That play is the "bubble" screen, a play intended to stretch the defense and get the ball into the hands of playmakers in open space..."

Ohio State stakes out new turf if needed
September 19, 2006 Source: Columbus Dispatch "...Unless the current field shows marked improvement this week in preparation for Saturday's home game against Penn State, Patko said, it will be cut out and the new field laid down in time for the next home game, Oct. 7 vs. Bowling Green..."

Style points, opposition turnovers saving OSU defense
September 18, 2006 Source: Mansfield News Journal "Hmm, he might be on to something. Even after holding Cincinnati to minus-four yards rushing Saturday (thanks largely to eight sacks), the nation's top-ranked team is eighth among Big Ten teams in run defense and seventh in pass defense..."

Ginn catching on even as a blocker
September 19, 2006 Source: CentralOhio.com "Ted Ginn Jr. appears ready to assume the mantle of go-to receiver for the Ohio State Buckeyes. But who knew he was a throw-two guy as well?..."

Mr. Bucknuts' Bucket Of Bullets
September 17, 2006 Source:Bucknuts "Mr. Bucknuts picks on a lackluster effort by our beloved Buckeyes plus goes out of his way to offend Notre Dame fans on the embarrassing Irish performance Saturday. That, plus recruiting, some silly stats and more ruminations on the Texas fans in this week's Bucket of Bullets..."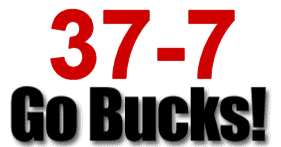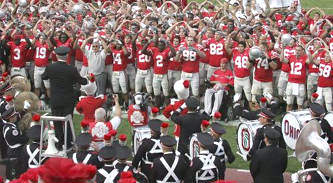 The Buckeyes celebrate and sing Carmen Ohio
after defeating Cincinnati


Captain's Corner: Buckeyes Show Greatness
September 17, 2006 Source: Bucknuts: "OSU's victory over Cincinnati was a lackluster performance in many ways -- a sluggish start, a third quarter six-point lead, plenty of penalties... so why was the win a signal of greatness? Jerry Rudzinski discusses that in this version of the Captain's Corner..."


It's good to have post-game plans,
especially when your team loses, 42-0.

Sign of the Week from SI.com: Though we were tempted to give our award to the Texas fan holding a "LEE CORSO IS A GIANT TOOL" sign during ESPN's Gameday, it instead goes to these two young ladies, who scored front-row seats to the game and let the world know about their post-game plans: "Go Knights! Win or lose, we still booze."

Oh yes, who was their team? UCF (University of Central Florida) and the Florida Gators did the damage.

SI Cover
September 14, 2006 Source: Columbus Dispatch "
'SI' jinx
gives Ginn extra motivation..."

Buckeyes Rushing to Improve Rush Defense This Season
September 14, 2006 Source: The Ozone "A Buckeye defense that has been known as one of the stoutest in the nation against the run over the past few years has given up big chunks of real estate on the ground in the first two games. OSU linebackers coach and co-defensive coordinator Luke Fickell says the problems with the rush defense are the kind that can be fixed, and the Buckeyes are working hard at doing just that..."

Richardson gets free pass Penalty for hit still perplexes Tressel
September 13, 2006 Source: Columbus Dispatch "If the roughing-the-passer penalty against Ohio State defensive end Jay Richardson in the Texas game was supposed to be a teaching moment, coach Jim Tressel indicated yesterday that he wasn't sure what the lesson should be..."





Do you know is this?

Master Football Coaches Award: Laurinaitis named Defensive Player of the Week

From The Ozone: "The accolades for sophomore linebacker James Laurinaitis keep rolling in after his perfomance at Texas this past weekend. Laurinaitis has been named the FWAA/Bronko Nagurski National Defensive Player of the Week. Laurinaitis was earlier honored by the Big Ten Conference and Ohio State as the Defensive Player of the Week. He caused two fumbles, one of them run back 48 yards to the OSU 50 yard line by Donald Washington, intercepted a pass and recorded 10 solo tackles in the game."

The picture to the left is...(From ESPN) "this undated photo provided by World Wrestling Entertainment, Inc. shows Joe Laurinaitis, known as 'the Animal.' His son James Laurinaitis, Ohio State linebacker remembers how excited his middle-school friends would get when they would come over and would join him in raiding his dad's closet and putting on the old man's tights, face paint and shoulder pads. The tights, the paint and the Mad Max-inspired outfit were part of the squared-circle persona of Animal, part of the WWF's Road Warriors aka Legion of Doom."

Conley has high praise for Tressel
September 12, 2006 Source: Bucknuts "...According to the former Buckeye assistant, OSU fans are watching a special era unfold. Ohio State Head Coach Jim Tressel, Conley said, is the best game-day coach he's seen come through Columbus..."

Pat Forde article: Script Ohio
September 10, 2006 Source: ESPN.COM "A QB wearing a white No. 10 jersey is the architect of a big road win. An underappreciated WR plays the hero. Sound familiar? Ohio State hopes the similarities don't end there..."

USC Troubles: Reggie Bush Investigation
September 14, 2006 Source: Yahoo Sports "An eight-month Yahoo! Sports investigation has revealed that Heisman Trophy-winning running back Reggie Bush and his family appear to have accepted financial benefits worth more than $100,000 from marketing agents while Bush was playing at the University of Southern California. The benefits, which could lead to NCAA sanctions for USC and retroactively cost Bush his college eligibility and Heisman..."

North Carolina State coach lacks facts
September 13, 2006 Source: Akron Beacon Journal Terry Pluto of the Akron Beacon Journal takes NC State's Chuck Amato for his comments after the Wolfpack lost to the Akron Zips last Saturday. If you missed Amato's comments he said, in part: "They're in a conference (MAC) that allows non-qualifiers in school," Amato said during his weekly news conference, the Charlotte Observer reported. "Non-qualifiers. Do y'all need to look that one up to write your stories? Do you know what kind of players non-qualifiers are, usually? They're inversely proportional to what their grade-point average is. They can make a big difference..."
Amato is under fire, not for this so much as losing games. See:
firechuckamato.com
And this is a funny and well done takeoff of Napolean Dynamite featuring NC State coach Chuck Amato Here it is:
Chuck "DYNAMITE" Amato
From SI.com on Amato's comments:
Chesty Chuck Strikes Again




We Hate The New Clock Rules.com
September 11, 2006 Source: wehatethenewclockrules.com A petition online opposing the new clock rules. It was only a matter of time before someone was going to do this. 337 OSU fans have signed. And there are over 14,000 more who have signed; Florida and Nebraska fans lead the way, both with over 1000. Check it out.

And from CBS.Sportsline.com:
12 rejected ideas to shorten college football games