| | |
| --- | --- |
| MICHIGAN vs. OHIO STATE | |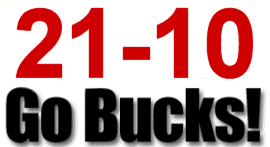 | | |
| --- | --- |
| OHIO STATE vs. MICHIGAN | |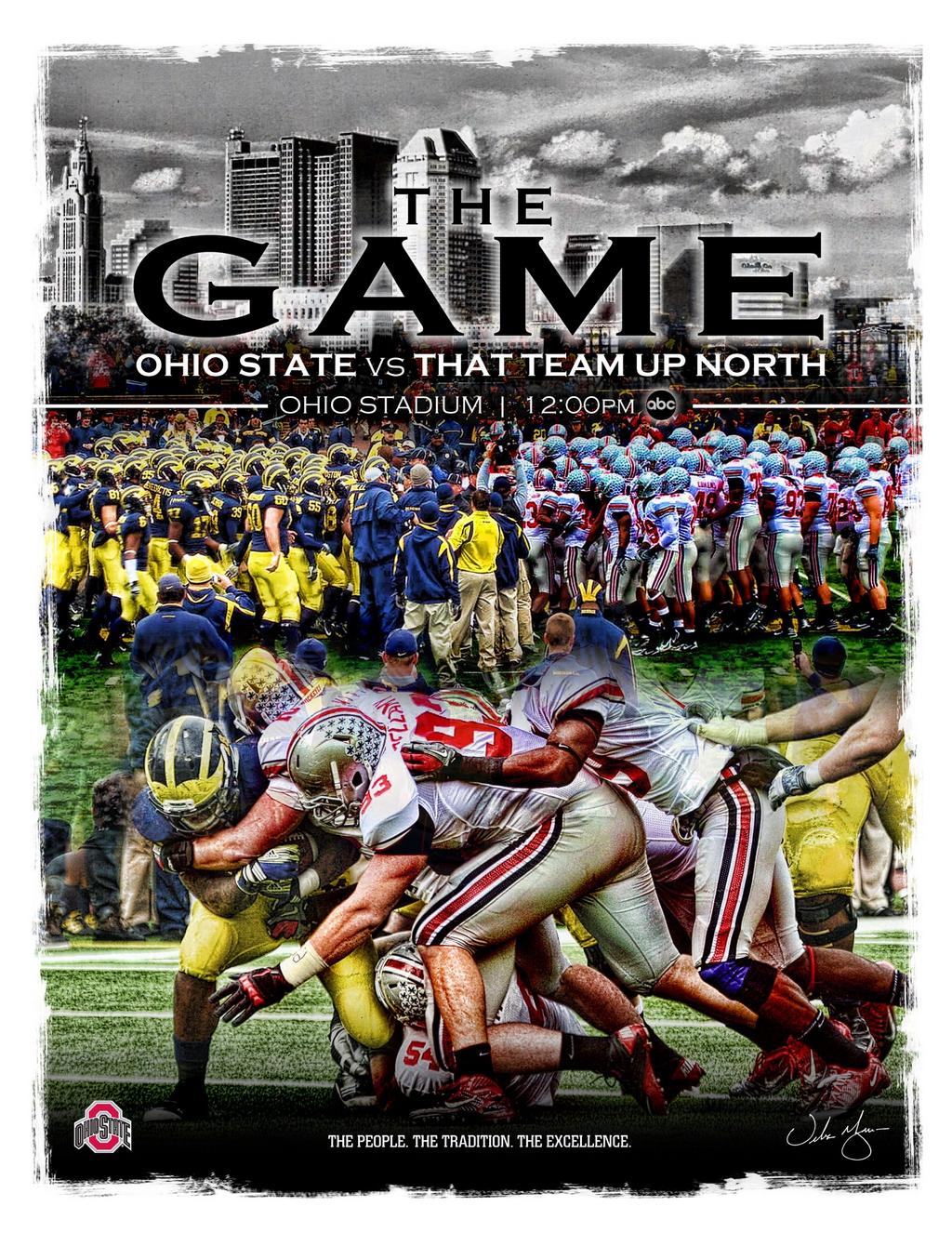 The Big Ten powers that decided in 1935 to schedule Michigan and Ohio State as each others last game of the season must have been able to foretell the future. Today many consider 'The Game' the greatest sports rivalry of the 20th century, including the United States Congress which recognized The Game as the "greatest sports rivalry in history".
It's tough to argue there is one better in all of college sports, especially if you bleed scarlet and gray or maize and blue. Coaches could have great years, but if they lose this single game...


| | |
| --- | --- |
| | Former OSU head coach Earle Bruce was an assistant under Woody Hayes for seven seasons before leading the Buckeyes to a 5-4 mark against Michigan as head coach from 1979-87. He once said, "If you don't win the Michigan-Ohio State game, that's a problem." "You're not going to be recognized for too much success. We've had 11-1 and 10-1 football teams that lost to Michigan and they're not even mentioned in the second breath." |
The first game between the two was in 1897 and they have played each other every year since with seven exceptions: 1898, 1899 and between 1913 through 1917. Ohio State joined the Western Conference (now known as the Big Ten) in 1912, but Michigan left the conference between 1907 and 1917. The conference did not allow any of its members to play Michigan because it had withdrawn from the conference. Michigan rejoined the Big Ten in 1918 and thus the series was resumed. Michigan won the first conference game between the schools in 1918, but then Ohio State had three consecutive wins.
Michigan dominated the early years compiling a 13-0-2 record in non-conference match-ups between 1897 and 1918. The Buckeyes first win against Michigan came in 1919. UM leads the series 57-41-6. However, since 1952, Woody Hayes' 2nd season as head coach, OSU has won 29, lost 25 and tied 2.
From 1968 through 1982, either Ohio State or Michigan won, or shared, the Big Ten Title. The same is true 16 more times in the 22 years between 1984 and 2005.
In 1968 Ohio State beat Michigan 50-14 and went on to win 1968 National Championship. It also ushered out Michigan head coach Bump Elliott.


| | |
| --- | --- |
| | The next year, 1969, Bo Schembechler took over as head coach of Wolverines. He broke Woody Hayes 22 game winning streak and knocked #1 Ohio State from atop the college rankings. Some call this game the greatest college football upset of all-time. Woody said he thought his 1969 team, which went 9-1, was his best, even better than the 1968 National Champions. |
| | |
| --- | --- |
| | The 1969 game was beginning of what became known as "Ten Year War." For ten years OSU and Michigan dominated Big Ten play, splitting ten conference titles and finishing second eight times. Hayes supposedly could not bring himself to speak name of "that school up north," hence OSU fans refer to UM as 'TSUN'. Schembechler, who played for Hayes at Miami (OH) and was an OSU assistant coach under Hayes, enjoyed nothing more than beating his old mentor. After ten years of memorable on-field stratagems, sideline antics, and locker room psychological ploys, the two coaches came out almost dead-even with Bo holding a slim 5-4-1 advantage. |
In 1970 both teams were undefeated and faced each other in Columbus. Woody Hayes' Bucks prevailed beating Bo and Michigan 20-9. At the time, OSU was ranked 5th nationally and Michigan 4th.
On five occasions, both teams went into The Game unbeaten. The Bucks won four and the fifth was a tie: 1944, OSU won 18-14; 1970, OSU won 20-9; 1973, 10-10 tie; 1975, OSU won 21-14; 2006, OSU won 42-39.
Ohio State spoiled perfect seasons for Michigan in 1944, (OSU won 18-14), 1970 (Ohio State won, 20-9), 1972 (Ohio State won, 14-11), 1973 (teams tied, 10-10), 1974 (Ohio State won, 12-10) and 2006 (Ohio State won, 42-39).
TSUN returned the favor, spoiling OSU perfect seasons in 1969 (Michigan won, 24-12), 1973 (teams tied, 10-10), 1993 (Michigan won, 28-0), 1995 (Michigan won, 31-23) and 1996 (Michigan won, 13-9).
Woody vs. Bo: Take a trip down memory lane with this multimedia presentation that highlights the Ohio State-Michigan rivalry during the years that Woody Hayes and Bo Schembechler were at the helms of the Buckeyes and Wolverines. Our timeline features photos from the era, along with video clips from the 1982 retrospective The Ten Year War: Woody vs. Bo. (Source: Columbus Dispatch)


| | |
| --- | --- |
| | OSU's John Cooper, who had 2 undefeated teams beaten by Michigan, which basically cost Buckeyes national championships, won just 2 times in 13 years vs Michigan. Even though he had one of best records in college football (111-43-4) during those 13 seasons, he is almost singularly be remembered for his "failures" against Michigan. |
A new era was born with arrival of Jim Tressel. In January 2001, during half time of the OSU-Michigan basketball game he told an attentive crowd: "I can assure you that you'll be proud of our young people in the classroom, in the community and especially in 310 days in Ann Arbor"

He was right. Coach Tressel was only the fourth coach in Ohio State football history to win his first game against Michigan. After nine games, he has posted a 9-1 record against TSUN. (Only one coach, Francis Schmidt, started 2-0 against Wolverines; he was 4-0 from 1934 to 1937.)

Under Head Coach Jim Tressel, Ohio State has beaten Michigan in all but one game. Read the game-day stories, from the Cleveland Plain Dealer, by clicking on the score:

• Nov. 24, 2001: Ohio State 26, Michigan 20 (Ann Arbor)
• Nov. 23, 2002: Ohio State 14, Michigan 9 (Columbus)
• Nov. 22, 2003: Ohio State 21, Michigan 35 (Ann Arbor)
• Nov. 20, 2004: Ohio State 37, Michigan 21 (Columbus)
• Nov. 19, 2005: Ohio State 25, Michigan 21 (Ann Arbor)
• Nov. 18, 2006: Ohio State 42, Michigan 39 (Columbus)
• Nov. 17, 2007: Ohio State 14, Michigan 3 (Ann Arbor)
• Nov. 22, 2008: Ohio State 42, Michigan 7 (Columbus)
• Nov. 21, 2009: Ohio State 21, Michigan 10 (Ann Arbor)
• Nov. 27, 2010: Ohio State 37, Michigan 7 (Columbus)































Year
Winner
Score
1897
UM
UM 34, OSU 0
1900
Tie
OSU 0, UM 0
1901
UM
UM 21, OSU 0
1902
UM
UM 86, OSU 0
1903
UM
UM 36, OSU 0
1904
UM
UM 31, OSU 6
1905
UM
UM 40, OSU 0
1906
UM
UM 6, OSU 0
1907
UM
UM 22, OSU 0
1908
UM
UM 10, OSU 6
1909
UM
UM 33, OSU 6
1910
Tie
OSU 3, UM 3
1911
UM
UM 19, OSU 0
1912
UM
UM 14, OSU 0
1918
UM
UM 14, OSU 0
1919
OSU
OSU 13, UM 3
1920
OSU
OSU 14, UM 7
1921
OSU
OSU 14, UM 0
1922
UM
UM 19, OSU 0
1923
UM
UM 23, OSU 0
1924
UM
UM 16, OSU 6
1925
UM
UM 10, OSU 0
1926
UM
UM 17, OSU 16
1927
UM
UM 21, OSU 0
1928
OSU
OSU 19, UM 7
1929
OSU
OSU 7, UM 0
1930
UM
UM 13, OSU 0
1931
OSU
OSU 20, UM 7
1932
UM
UM 14, OSU 0
1933
UM
UM 13, OSU 0
1934
OSU
OSU 34, UM 0
1935
OSU
OSU 38, UM 0
1936
OSU
OSU 21, UM 0
1937
OSU
OSU 21, UM 0
1938
UM
UM 18, OSU 0
1939
UM
UM 21, OSU 14
1940
UM
UM 40, OSU 0
1941
Tie
OSU 20, UM 20
1942
OSU
OSU 21, UM 7
1943
UM
UM 45, OSU 7
1944
OSU
OSU 18, UM 14
1945
UM
UM 7, OSU 3
1946
UM
UM 58, OSU 6
1947
UM
UM 21, OSU 0
1948
UM
UM 13, OSU 3
1949
Tie
OSU 7, UM 7
1950
UM
UM 9, OSU 3
1951
UM
UM 7, OSU 0
1952
OSU
OSU 27, UM 7
1953
UM
UM 20, OSU 0
1954
OSU
OSU 21, UM 7
1955
OSU
OSU 17, UM 0
1956
UM
UM 19, OSU 0
1957
OSU
OSU 31, UM 14
1958
OSU
OSU 20, UM 14
1959
UM
UM 23, OSU 14
1960
OSU
OSU 7, UM 0
1961
OSU
OSU 50, UM 20
1962
OSU
OSU 28, UM 0
1963
OSU
OSU 14, UM 10
1964
UM
UM 10, OSU 0
1965
OSU
OSU 9, UM 7
1966
UM
UM 17, OSU 3
1967
OSU
OSU 24, UM 14
1968
OSU
OSU 50, UM 14
1969
UM
UM 24, OSU 12
1970
OSU
OSU 20, UM 9
1971
UM
UM 10, OSU 7
1972
OSU
OSU 14, UM 11
1973
Tie
OSU 10, UM 10
1974
OSU
OSU 12, UM 10
1975
OSU
OSU 21, UM 14
1976
UM
UM 22, OSU 0
1977
UM
UM 14, OSU 6
1978
UM
UM 14, OSU 3
1979
OSU
OSU 18, UM 15
1980
UM
UM 9, OSU 3
1981
OSU
OSU 14, UM 9
1982
OSU
OSU 24, UM 14
1983
UM
UM 24, OSU 21
1984
OSU
OSU 21, UM 6
1985
UM
UM 27, OSU 17
1986
UM
UM 26, OSU 24
1987
OSU
OSU 23, UM 20
1988
UM
UM 34, OSU 31
1989
UM
UM 28, OSU 18
1990
UM
UM 16, OSU 13
1991
UM
UM 31, OSU 3
1992
Tie
OSU 13, UM 13
1993
UM
UM 28, OSU 0
1994
OSU
OSU 22, UM 6
1995
UM
UM 31, OSU 23
1996
UM
UM 13, OSU 9
1997
UM
UM 20, OSU 14
1998
OSU
OSU 31, UM 16
1999
UM
UM 24, OSU 17
2000
UM
UM 38, OSU 26
2001
OSU
OSU 26, UM 20
2002
OSU
OSU 14, UM 9
2003
UM
UM 35, OSU 21
2004
OSU
OSU 37, UM 21
2005
OSU
OSU 25, UM 21
2006
OSU
OSU 42, UM 39
2007
OSU
OSU 14, UM 3
2008
OSU
OSU 42, UM 7
2009
OSU
OSU 21, UM 10
2010
OSU
OSU 37, UM 7
2011
UM
UM 40, OSU 34
2012
OSU
OSU 26, UM 21


Total number of meetings: 109
UM leads series: 58-45-6
primarily because of the Wolverines' record of 13-0-2 during the first 15 games (played between 1897 and 1918).

Since 1951 (the arrival of Woody Hayes), Ohio State leads the series, 32-27-2. The Buckeyes have wins in nine of the last 11 games in the series. Since 1934, the teams have met
79 times, with Ohio State holding a 39-36-4 advantage.

OSU didn't win until the 16th game
in the series (1919)

From 1968 through 1980 the Big Ten
Rose Bowl rep was either OSU or UM

Jim Tressel is only fourth coach in OSU
history to win his first game against Michigan.

Jim Tressel is the first coach in OSU
history to both beat Michigan seven straight
times and win nine of his first ten
games against Michigan.

UM longest winning streak: 9 yrs (1901-09)
OSU longest winning streak: 7 yrs
(2003-10)
Current win streak: 1 yr - OSU









































| | | |
| --- | --- | --- |
| | | Gold Pants: A gold charm replica of a pair of football pants is given to players and coaches following wins over Michigan. charms are engraved with each player's or coach's initials, date of game, and final score. This tradition started in 1934 when new head coach Francis Schmidt was asked how he expected to cope with OSU nemesis from Ann Arbor. His matter-of-fact answer developed into a cliche: "They put their pants on one leg at a time just like everybody else." Schmidt's Buckeyes then went and defeated Michigan four-consecutive times, all by shutout. |
Coaches with five or more games
Coach
School
Games
Record
Percent
Jim Tressel
Ohio State
10
9-1-0
0.900
Fielding Yost
Michigan
20
16-3-1
0.825
Herbert Crisler
Michigan
10
7-2-1
0.750
Gary Moeller
Michigan
5
3-1-1
0.700
Woody Hayes
Ohio State
28
16-11-1
0.589
Francis Schmidt
Ohio State
7
4-3-0
0.571
Earle Bruce
Ohio State
9
5-4-0
0.556
Bo Schembechler
Michigan
21
11-9-1
0.548
Bennie Oosterbaan
Michigan
11
5-5-1
0.500
Lloyd Carr
Michigan
13
6-7-0
0.462
Sam Willaman
Ohio State
5
2-3-0
0.400
John Wilce
Ohio State
11
4-7-0
0.364
Harry Kipke
Michigan
9
3-6-0
0.333
Chalmers Elliott
Michigan
10
3-7-0
0.300
John Cooper
Ohio State
13
2-10-1
0.192
Coaches with four or fewer games
Coach
School
Games
Record
Percent
Brady Hoke
Michigan
1
1-0-0
1.000
George Little
Michigan
1
1-0-0
1.000
Gustave Ferbert
Michigan
1
1-0-0
1.000
Carroll Widdoes
Ohio State
2
1-1-0
0.500
Elton Wieman
Michigan
2
1-1-0
0.500
Howard Jonesst
Ohio State
1
0-0-1
0.500
Langdon Lea
Michigan
1
0-0-1
0.500
Paul Brown
Ohio State
3
1-1-1
0.500
John Eckstorm
Ohio State
2
0-1-1
0.250
Wesley Fesler
Ohio State
4
0-3-1
0.125
Rich Rodriguez
Michigan
3
0-3-0
0.000
Luke Fickell
Ohio State
1
0-1-0
0.000
E.R. Sweetland
Ohio State
2
0-2-0
0.000
Perry Hale
Ohio State
2
0-2-0
0.000
David Edwards
Ohio State
1
0-1-0
0.000
Harry Vaughn
Ohio State
1
0-1-0
0.000
Jon Richards
Ohio State
1
0-1-0
0.000
Paul Bixler
Ohio State
1
0-1-0
0.000
A. E. Hernstein
Ohio State
4
0-4-0
0.000

No game played 1898, 1899, 1913, 1914, 1915, 1916, 1917
Source: Cleveland Plain Dealer