Head Coach Jim Tressel spoke with the media on Thursday to discuss the upcoming game against the Minnesota Golden Gophers. He talked about Beanie Wells, Terrelle Pryor, Ray Smalls' current situation and a number of other (sometime funny) subjects. September 25, 2008 Source: The Ozone

September 25, 2008 Source: OSU Official Site - "Jim Tressel Thursday News Conference ...Jim Tressel spoke to media Thursday and provided an update on tailback Chris "Beanie" Wells..."



Runningbacks Coach Dick Tressel spoke with the media on Wednesday and cleared up almost every question reporters could think of about Beanie Wells' injury status and his readiness to play this Saturday (Just don't ask what the actual injury was to Beanie's foot). September 25, 2008 Source: The Ozone

September 25, 2008 Source: OSU Official Site - "Safeties coach Paul Haynes and running backs coach Dick Tressel spoke with the media Wednesday to preview Saturday's game vs. Minnesota..."

September 25, 2008 Source: OSU Official Site - "Ohio State verterans Alex Boone, Cameron Heyward, Shaun Lane and A.J. Trapasso took time to talk with Katie Witham of Big Ten Network earlier this week. Watch the interviews at the links provided..."

No. 14 Ohio State Hosts Minnesota in Big Ten Opener
September 22, 2008 Source: OSU Official Site - "No. 13/14 Ohio State (3-1/0-0) hosts undefeated Minnesota (4-0/0-0) in a noon game Saturday, September 27, 2008, at Ohio Stadium (102,329). The game will be televised by the Big Ten Network. This will be the 2008 Big Ten Conference opener for both schools. Since joining the Big Ten Conference in 1913, Ohio State is 68-23-4 in conference openers; Tressel In Big Ten Openers (6-1)..."
Ohio State Game Notes (PDF)

OSU Cumulative Season Statistics

Personnel Report
September 24, 2008 Source: The Ozone - "The big news is that it looks like Beanie Wells will be back this weekend, but there is more news than that on the personnel front. Check out the latest on injury updates and changes in the two-deep in the weekly Personnel Report..."

Wells Expected to Return to Lineup at Nearly Full Strength vs. Gophers
September 25, 2008 Source: The Ozone - "Star tailback Chris Beanie Wells is expected to be at nearly full strength when he returns to action this week against Minnesota. Check out the latest on the OSU tailback situation

Coaches Quotebook: Doc On Beanie, Haynes On The Safeties
September 24, 2008 Source: Bucknuts - "Ohio State running backs coach Doc Tressel and safeties coach Paul Haynes met with reporters following Wednesday's practice. What is Tressel saying about the availability and health of tailback Chris "Beanie" Wells? And what does he think about the development of Brandon Saine? And what does Haynes think about the emergence of Jermale Hines? And is Anderson Russell not playing up to par? We have this and much more..."

Hines adding power, speed to Buckeyes secondary
September 24, 2008 Source: Cleveland Plain Dealer - "...'I'm not sure I've seen a guy who can go line up and play a position and probably didn't get coached,' Jim Tressel said. 'He's just got natural instincts and an understanding of the game of football.' At 6-foot-2 and nearly 220 pounds, safeties coach Paul Haynes sees linebacker size and safety speed in Hines, an combination that makes recruiters drool. That's why he has seized the "star" position for the Buckeyes, the role as the fifth defensive back that takes the field on passing downs..."

OSU defense feels need for speed
September 27, 2008 Source: Columbus Dispatch - "Using faster, lighter players is key against spread offenses..."







Series Record: The Buckeyes and Gophers are playing for the 48th time; Ohio State has a 40-7 advantage in the series, with a 20-3 mark in Columbus. The Buckeyes have won the last five games in the series, including a 30-7 OSU victory last season in Minneapolis. (Series info page 21 Game Notes)





TALE OF THE TAPE: 2008 Totals
OSU
Offense
MINN
25.0
Pts/gm
36.2
320.8
Total yds/gm
403.8
163.5
Rush yds/gm
162.0
39.8
Carries/gm
38.8
4.1
Yds/carry
4.2
157.2
Pass yds/gm
241.8
26.5
Pass att/gm
27.5
9.2
Yds/completion
12.2
OSU
Defense Allows
MINN
14.8
Pts/gm
17.5
247.8
Total yds/gm
354.8
98.8
Rush yds/gm
109.8
26.8
Carries/gm
30.3
3.7
Yds/carry
3.6
149.0
Pass yds/gm
245.0
31.3
Pass att/gm
38.3
8.3
Yds/completion
12.0





MINN
Edge in:
OSU
Points/Game
Yards Gained
Yards Allowed
Time of Possession
Penalties
Punting
Fumbles





OHIO STATE W/L RECORDS
Seasons: 119th
All-Time Record: 801-305-53
Big Ten: 443-188-28
Ohio Stadium: 382-105-20
Bowl Games: 18-21
September Games: 144-22-5
September Home Games: 119-10-4





Game Preview: Minnesota
September 25, 2008 Source: Buckeye Sports - "No. 14 Ohio State continues its 2008 football season Saturday by beginning Big Ten play with Minnesota in Ohio Stadium. BuckeyeSports.com previews the game with notes on Minnesota's renaissance, key players to watch and a breakdown of the Golden Gophers' offensive and defensive units..."


Buckeye Extra Gameday
September 26, 2008 Source: Columbus Dispatch - "BuckeyeXtra.com delivers all you need to know about the Buckeyes' upcoming game. Click here for everything from the top story and key factors to player spotlights and game predictions. Features include: Saturday's Game, Five Key Factors, Play of the Week, On The Edge, In The Spotlight, Meet A Buckeye, (more)..."

5 key factors
On the edge

Ohio State vs. Minnesota Preview
September 25, 2008 Source: The Ozone - "Tony Gerdeman's preview of the matchup with Minnesota...The Gophers' "Spread Coast Offense" is starting to pick up steam...quarterback Adam Weber...is currently second in the conference in passing efficiency (164.84) and ninth in the nation in completion percentage (71.8%). He's throwing for an average of 241.8 yards per game, and has seven touchdown passes to just one interception..."


Minnesota-Ohio St. Preview
September 24, 2008 Source: ESPNU - "...Star running back Chris "Beanie" Wells is expected to be back in the lineup for the first time since the season opener as the 14th-ranked Buckeyes begin their quest for a fourth straight Big Ten title...Wells would be joined in the backfield by Pryor...who was 10-for-16 for 139 yards, four touchdowns and one interception in last Saturday's 28-10 win over Troy...The Gophers were last in total defense last season (518.7 yards per game), but are allowing an average of 354.8 yards under new defensive coordinator Ted Roof, who was fired last season as the head coach at Duke..."


Minnesota (4-0) at Ohio State (3-1)
September 26, 2008 Source: College Football News - "...Why Minnesota might win: Minnesota isn't screwing up. Fourth in the nation in turnover margin, forcing 13 turnovers and only losing two, the Gophers aren't beating themselves and likely won't provide much help if the OSU offense is struggling...Why Ohio State might win: The Buckeye receivers should be able to do whatever they want to. Give Minnesota credit, it shut down Florida Atlantic's passing game last week, but the secondary gives up plenty of big plays and can be dinked and dunked on...Who to watch: Who's DeLeon Eskridge? The 5-11, 181-pound true freshman from California has stepped in and given Minnesota's rushing attack some pop and consistency...What will happen: Beanie Wells will change the attitude and the look of the offense, but it'll be Pryor who turns into the star. Weber will give the Buckeye defense a few problems...CFN Prediction: Ohio State 37 … Minnesota 17"

Preview: #15 Ohio State vs. Minnesota
September 26, 2008 Source: Eleven Warriors - "...On offense, they're powered by the Adam Weber (#8) to Eric Decker (#7) combo. Weber, the reigning all-freshman quarterback in the conference is off to a hot start of his sophomore season. He's completing nearly 72 percent of his passes with 7 touchdowns and only one interception. Steady, he's thrown for at least 200 yards and one touchdown in each of his four starts this season and is good enough to play at a lot of places. Decker, his safety blanket, is putting up monster numbers, leading the Big Ten and placing fourth nationally with 32 receptions heading into the game. He's on pace for a 100/1400 season..."


2008 Minnesota Golden Gophers Game Preview
September 24, 2008 Source: Buckeye Planet - Analysis and more, including: ...Second year coach Tim Brewster, previously the tight end coach for the Denver Broncos and San Diego Chargers, has turned things after a 1-11 opening campaign. They have gone 4-0 in non-conference play, avenging 2007 losses to Bowling Green and Florida Atlantic. How much they improve on last season's 0-8 conference mark will determine if they make a bowl game...Minnesota Golden Gophers Offensive Preview...Defensive Preview..Special Teams Preview..." (more)


MINNESOTA (4-0) vs. NO. 14 OHIO STATE (3-1) Preview
September 25, 2008 Source: Big Ten Network - "...Big day ahead of himself: RB Beanie Wells - Sure he's not even guaranteed to play and he hasn't suited up in three weeks, but if he's healthy and in the lineup, he'll put up big numbers. This Week's Big Question: What will Terrelle Pryor do this time? Pryor was incredible, to say the least, in his first collegiate start, throwing for four touchdowns in Ohio State's win over Troy. How we see it playing out: Ohio State 32, Minnesota 20..."




Minnesota Ohio State: Big Ten Stats - Offense




Game Data: Minnesota at Ohio State
September 24, 2008 Source: Bucknuts - "Here is a look at the pertinent information, depth charts and a prediction for Saturday's Big Ten opener between Ohio State and Minnesota at Ohio Stadium (noon, Big Ten Network)..."

Crunching The Numbers: Minnesota at OSU
September 24, 2008 Source: Buckeye Sports - "The 113th season of Big Ten football kicks off Saturday, including the clash between Ohio State and Minnesota at Ohio Stadium. Check out some of the interesting numbers involved in the contest between the Buckeyes and Golden Gophers..."






Minnesota Official Site
Cumulative Season Statistics
2008 Media Guide
Complete Minnesota-Ohio State Game Notes

Tim Brewster, Head Coach
Ass't Coaches
Source: Troy Official Site



The Minnesota Golden Gophers arrived at Ohio State today and took a walkthrough at Ohio Stadium. Head Coach Tim Brewster briefly spoke with reporters before his team headed to the field. September 26, 2008 Source: The Ozone

Takeaways, swagger highlight Gophers' hot start
September 23, 2008 Source: ESPN - "No one would have blamed Tim Brewster or his players for turning their attention to Ohio State as soon as they left the Metrodome field Saturday afternoon...Minnesota will be a heavy underdog in Columbus, but (safety Tramaine) Brock doesn't sound too afraid of the big, bad Buckeyes. 'They're just regular to me,' he said. 'No. 2 [Pryor], he's regular, too. He's nothing special to me. The only person we will be worried about is 28 [Chris Wells], and I don't know if he's playing or not. But everybody else, they're just regular receivers and tight ends.'..."

If the Gophers are to Have a Chance…
September 24, 2008 Source: Eleven Warriors - "We thought we'd bring in the Gopher bloggers that have been running some smack on the Buckeyes for a better part of the last week to get their perspective on what it would take for Minnesota to pull out a victory in Columbus this weekend. PJS from The Daily Gopher was kind enough to provide these five keys..."

Undefeated Gophers Open Big Ten Play at Ohio State
September 24, 2008 Source: Minnesota Official Site - "The Minnesota Golden Gophers are 4-0 for the first time since the 2005 season. The Gophers are receiving votes in the Associated Press and ESPN/USA Today Top 25 Polls for the first time since Nov. 6, 2005. Minnesota will put its undefeated record on the line Saturday at Ohio Stadium, opening Big Ten Conference play at Ohio State. Minnesota grabbed four interceptions last week in a 37-3 rout of Florida Atlantic. The victory capped a perfect non-conference slate for the Gophers..."

On the rise, or out of their league?
September 22, 2008 Source: Minneapolis Star Tribune - "Saturday's Big Ten opener at Ohio State will test how much the Gophers, who went 0-8 in the conference last year, have improved...We're one month in and what do we know? We know the Gophers football team has improved, especially on defense. We know the team is more confident, more aggressive, more successful. But how much more?..."



#8 Adam Weber
POSITION: QB
HEIGHT: 6-3
WEIGHT: 230
CLASS: Sophomore
2007 • FRESHMAN SEASON: Earned third team freshman All-America and freshman All-Big Ten honors from The Sporting News • started all 12 games and was under center for 878 of the Gophers' 887 offensive snaps during the season • completed 258 of 449 passes for 2,895 yards and 24 touchdowns • passed for at least one touchdown in 11 of 12 games • set school records for pass completions, attempts, yards and touchdown passes • averaged 241.2 passing yards per game to rank thrid in the Big Ten and second in the nation among freshmen quarterbacks • also ranked third in the Big Ten and second nationally among freshmen in passing touchdowns • finished as Minnesota's leading rusher with 617 yards on 146 attempts ...

#7 Eric Decker
POSITION: WR
HEIGHT: 6-2
WEIGHT: 215
CLASS: Junior
CAREER NOTES: Has started 15 of 25 games played during his career • enters the 2008 season ranked in the top 15 in four Minnesota career receiving categories • ranks 13th in school history with 93 receptions and 14th in career receiving yards • also ranks tied for ninth in career receiving touchdowns with 12 and 12th in 100-yard receiving games with three...

Simoni Lawrence is one of five junior college transfers that will start on defense for the Gophers...One of the top junior college players in the Northeast • possesses serious athletic ability and should push for early playing time • proven performer against the run and pass • plays well in space and has a nose for the football • three-star prospect by both Rivals and Scout • originally committed to Penn State out of high school as a running back..."


Minnesota (4-0) at No. 14 Ohio State (3-1):




Columbus Weather Forecast




Tressel Becoming Hands On in Effort to Turn Around the Buckeyes
September 24, 2008 Source: The Ozone - "OSU Head Coach Jim Tressel is not one that is likely to be bullied about by the fans or make hasty moves, but Tressel is no dummy either. It's clear that he has come to some of his own conclusions about what if any changes need to be made, and he's taking action...A less-visible change also took place on the coaching staff last week. Tressel gave offensive line coach Jim Bollman a new assistant in his duties as a position coach. The assistant's name is Jim Tressel. 'Last week he was the assistant O-Line coach,' said OSU offensive lineman Jim Cordle. The OSU offensive line has been disappointing this season, and it appears that Tressel has decided to get more involved with helping get that situation turned

around. 'Coach Tressel came down last Monday with the O-line coach and said 'Today we're going to play fast,' said Cordle...'It was the most (Tressel had been involved with the offensive line) in all the years I've been here. It was kind of interesting. He watched us more. He criticized us, pointed stuff out if you did it wrong. He was down there yelling 'Play fast, play fast, '(Cordle said)..."





Team Recruiting Rankings Revealed
September 24, 2008 Source: SuperPrep.com - "While much of the College Football world has lamented Ohio State's appearance in the BCS Title game the last two years, the Buckeyes have gone and used the exposure to their benefit on the recruiting trails. While Terrelle Pryor's much publicized recruitment drew arguably the biggest headlines in recruiting history, Ohio State has been quietly putting together the No. 1 recruiting class in the country..."
Wells and Pryor, together at last
September 23, 2008 Source: Cleveland Plain Dealer - "After missing three games with an injury to his right foot, Ohio State running back Beanie Wells is probable for Saturday's Big Ten opener against Minnesota...Left guard Jim Cordle said Wells ran hard and ran well in practice on Monday. 'We didn't have full pads on yesterday, we were going about 75 percent, and he was going 100 percent,' Cordle said. 'He ran up my back a couple times. It's exciting and it's painful, but we're definitely excited to have him back.'...It will be the first chance Wells has to get major time in the backfield with Terrelle Pryor at quarterback, but while the pairing could be dangerous for defenses, the presence of Wells could curtail Pryor's running. 'You can't be giving everyone our secrets now,' Tressel said when asked if that would happen. 'Maybe.'..."

Beanie 'probable' for Minnesota, Tressel says
September 23, 2008 Source: Columbus Dispatch - "Ohio State football coach Jim Tressel said this afternoon that star running back Chris "Beanie" Wells is poised for a comeback, what with the Big Ten opener vs. Minnesota looming Saturday. 'I'm calling him probable,' Tressel said....Wells ran well in practice yesterday with no complaints about his foot...However, a complication continues to be Wells' adaptation to a more substantial shoe on his right foot, the coach said. It's a stiffer shoe designed both to protect the injured area and prevent sudden extreme flexing of the front part of his foot..."
&

Players Meet with Media Tuesday
September 23, 2008 Source: Bucknuts - "Buckeye juniors Kurt Coleman and Jim Cordle spoke to OhioStateBuckeyes.com during Jim Tressel's weekly press conference Tuesday at the Jack Nicklaus Museum (video); Cameron Heyward, Alex Boone, AJ Trapasso and Shaun Lane interviews (audio); Tuesday Post-Practice Quotes: Cameron Heyward: On goals for Saturday - 'We need to make plays and produce. I've got to get to the quarterback.'; Shaun Lane: On special teams - 'People don't realize how important special teams are. We're just going to keep practicing and I want to get better at what I do.'; Alex Boone: On Beanie Wells' "probable" return this Saturday - 'Him coming back gives us more confidence on the offensive line.'..."





Babb: Troy Game Positives
September 23, 2008 Source: Bucknuts - "With so many people focusing on the negatives surrounding this Buckeye team, Charles Babb wants to focus on the good things to come from Ohio State's latest win...Yes, it was Troy. Yes, it was a serious contest until the fourth quarter. But yes, this game also goes down in the 'W' column for the Buckeyes. There are still plenty of problems with this team. It's a team which will be 9-3 without a continued and concerted effort to improve by the players...I want to take note of what went right..."






Boone Decries Buckeye Boo Birds
September 23, 2008 Source: Buckeye Sports - "It was a situation that made senior offensive lineman Alex Boone upset with Ohio State fans. Tuesday, he spoke out to reporters on what it was like to hear senior team captain Todd Boeckman booed by fans for his two-play performance against Troy in Ohio Stadium...'I think one of the most disappointing things … is the fact that he went out there and he did what he could,' Boone said. 'I think a lot of the seniors were very upset when he got booed. I think that shows a lot of disrespect from the fans. This kid took us to the championship last year – how can you boo him? He didn't play so great against USC, but who did? None of us did. We all got smashed. People started booing him and everyone got mad about that.'..."
Saturday September 27, 2008

MSU @ IU
12:00p
On TV: ESPN, ESPN2 or ESPN Classic
MINN @ OSU
12:00p
On TV: Big Ten Network
NU @ IOWA
12:05p
On TV: ESPN, ESPN2 or ESPN Classic
WISC @ MICH
3:30p
On TV: ABC
PUR @ ND
3:30p
On TV: NBC
ILL @ PSU
8:00p
On TV: ABC


Troy Game 9/20/08:
Offensive Player of the Week: Terrelle Pryor, QB
Defensive Player of the Week: Kurt Coleman, DB
Attack Force Award: James Laurinaitis, LB
Jim Parker Lineman Award: Jim Cordle, OG
Special Units Player of the Week: A.J. Trapasso, P
Jack Tatum Hit of the Week Award: Etienne Sabino, LB
Scout Team Champions: Offense: Ricky Crawford; Defense: Tom Ingham; Special Units: Ben Kacsandi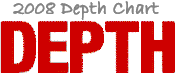 Depth Chart Changes
September 22, 2008 Source: OSU Official Site - If you check the depth chart, as of today, you'll notice some changes. On defense: Thad Gibson is now the starter at DE; Doug Worthington replaces Nader Abdallah as the starter at DT; Cameron Heyward is now the starter at the other DT spot; Todd Denlinger is now 3rd on the depth chart at that position; Etienne Sabino now backs up James Lautinaitis; Austin Spitler, who had been the backup, is out with an injury. On offense: Jim Cordle is now the starter at LG (due to Steve Rehring injury); Mike Brewster takes over as the starting C, with the Cordle's move; Terrelle Pryor is listed as the starting QB.


Gibson into starting lineup, Heyward to tackle
September 22, 2008 Source: Cleveland Plain Dealer - "...We've seen it in games already and it often has been discussed, the idea of some of Ohio State's defensive ends getting time on the inside. Today, former end Cameron Heyward is listed as a starter at defensive tackle on the Ohio State depth chart. Thaddeus Gibson is now a starter at defensive end opposite Lawrence Wilson. Doug Worthington is listed as a co-starter with Nader Abdallah at the other tackle spot, while Dexter Larimore and Todd Denlinger are the backup tackles behind Heyward. This reflects the Buckeyes' best chance to get a pass rush from their front four, and we have seen this some already. But that original four-man tackle rotation just wasn't making enough plays..."








Buckeyes' problems not solved
September 22, 2008 Source: Associated Press - "Before everybody starts oohing and aahing about how Ohio State is back now that Terrelle Pryor is the quarterback, they might want to cool their jets...But ... what's up with the defense? The Trojans outgained the Buckeyes 315-309 and kept the ball for almost half the game. There were many, many examples of them turning a short gain or even a loss into sizable yardage because of missed tackles...Even if you give Troy credit — QB Jamie Hampton came in averaging almost 300 passing yards a game — Ohio State defenders still looked sloppy...On top of that it was either sink or swim for the offense. Yes, Pryor did have four TD passes. But it's not nitpicking to say that a couple of those would have either been batted down or intercepted if the receivers hadn't been open by 10 yards when he let go of the ball. The ball hung in the air like a punt on two of those scoring plays...On three of the Buckeyes' four TD drives, they had to go less than 40 yards to score. On the other one, only 60. So it's not as if the offensive line suddenly started dominating..."






Offense is no passing fancy
September 21, 2008 Source: Cleveland Plain Dealer - "Ohio State ranks last in the Big Ten and 105th in the nation in passing offense, throwing for 157 yards per game, and that could go down in coming weeks...The 15 teams below Ohio State in passing yards include West Virginia, the three service academies and five teams with winning records (4-0 Alabama, 4-0 Connecticut, 3-1 Virginia Tech, 3-1 Georgia Tech and 4-0 Vanderbilt.) Last year, Ohio State had the 84th-ranked passing offense in the country at 197 yards per game. During quarterback Troy Smith's Heisman season two years ago, the OSU passing offense ranked 45th at 215 yards per game..."