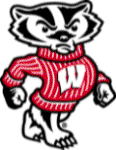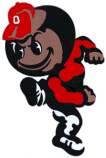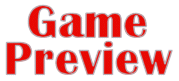 WISCONSIN vs. OHIO STATE


Final Homestand for No. 1 Ohio State Begins with No. 19 Wisconsin
October 30, 2007 Source: OSU Official Site - "No. 1-ranked Ohio State (9-0/5-0 in the Big Ten) hosts Big Ten opponent No. 19 Wisconsin (7-2/3-2) in a noon game Saturday at Ohio Stadium (102,329)..."
Press release in PDF




Coach Tressel Answers Questions Thursday Afternoon
November 1, 2007 Source: OSU Official Site - "Head coach Jim Tressel met with the media at the Woody Hayes Athletic Center Thursday afternoon as No. 1 Ohio State continues to gear up for No. 19 Wisconsin this Saturday at Ohio Stadium..."

Badgers' 2004 victory dance inciting Buckeyes
November 2, 2007 Source: Cleveland Plain Dealer - "While the current OSU coach brushed off any cliched suggestion this week that the Badgers have his number, Tressel has been only too happy to motivate his players for Saturday's matchup...with the reminder that Wisconsin has won three straight games in Columbus and victoriously danced on the midfield block O in 2004. 'That's a bitter taste in everyone's mouth," said tight end Rory Nicol, one of 23 current Buckeyes who witnessed that dance. "I think it's disrespectful..."

INJURY UPDATES:
"Ross Homan went a little bit this week," said Tressel, referring that he did practice some this week, but then added "I don't think he's ready," meaning he's out for the game against the Badgers. Backup safety and special teamer Aaron Grant is also out. Tressel said that "Rob Rose is probably a little bit limited like he was last week, and it's probably not the style of game that you wanted to be limited at that position." Andre Amos is back full go: "For that guy to come back off of a knee surgery so quick, usually you have a surgery like that it takes probably to the end of the season and if you're lucky by Bowl time for a guy to come back, and he came back Purdue week full practice," said OSU corner backs coach Taver Johnson. True freshman DB Eugene Clifford, from Cincinnati Colerain, who has missed time due to an previously undisclosed injury is ready to return this week.

Buckeyes hoping for a November to remember
October 30, 2007 Source: Columbus Dispatch - "There are variations on the theme, but in regards to Big Ten football, it always comes back to this: The games they remember are the ones in November...Wisconsin (7-2, 3-2) is the only Big Ten team to hold a winning record (1-3) over Tressel, who is in his seventh season at OSU. But he said there is no secret to the Badgers' success in that regard. 'Good teams are a nemesis,' Tressel said. '"It's tough to beat good teams.'..."


Transcript From Coach Tressel Weekly Press Conference
October 30, 2007 Source: OSU Official Site - "'Clay brought up the fact that I have my National Day of College Football pin on, and Saturday happens to be the National Day of College Football and recognized throughout the country at all levels and coaches all over the country will be wearing...'..."



Jim Tressel conference call
October 30, 2007 Source: Cleveland Plain Dealer - "Ohio State head coach Jim Tressel addressed the media today in a Big Ten conference call. Hear what coach Tressel had to say about the win over Penn State, the upcoming game against Wisconsin and scheduling in the Big Ten..."


Bucknuts TV: Tressel Press Conference
October 30, 2007 Source: Bucknuts.com - "It's out of the frying pan and into the fire this week for OSU as they come off a big win at Penn State to begin a stretch against the rest of the Big Ten's top teams. Next up for top-ranked OSU is nemesis Wisconsin. OSU head coach Jim Tressel discussed the win over Penn State, what to expect from Wisconsin, the rise of OSU quarterback Todd Boeckman and more during his press luncheon and the Big Ten teleconference...includes video link of Jim Tressel's press conference (13 minutes; courtesy ScoutingOhio.com)..."


Player Luncheon Quotes
October 30, 2007 Source: OSU Official Site - "Buckeyes Rory Nicol and Marcus Freeman speak to the media following Jim Tressel's weekly press luncheon..."


Player Interview - Marcus Freeman
October 30, 2007 Source: OSU Official Site - "Defensive player of the week linebacker Marcus Freeman took some time to talk to OhioStateBuckeyes.com..."

Player Interview - Rory Nicol
October 30, 2007 Source: OSU Official Site - "Tight end Rory Nicol took some time to talk to OhioStateBuckeyes.com..."




Assistant Coaches Bollman, Johnson Speak with the Media Wednesday
October 31, 2007 Source: OSU Official Site - "Offensive coordinator Jim Bollman and cornerbacks coach Taver Johnson spoke to the media Wednesday to talk about the game against No. 21 Wisconsin Saturday..."



Bollman Named Coordinator of the Week by Master Coaches
October 31, 2007 Source: OSU Official Site - "Happy Valley belonged to top-ranked Ohio State, who cruised to a 37-17 victory over Penn State on Saturday night, thanks to the Buckeyes' dominance on offense...For his team's outstanding play, Coach Jim Bollman is awarded the "MCS Nike Game Ball" for the National Offensive Coordinator of the Week..."


Boeckman Continues to Spearhead Improvement of OSU Offense
November 2, 2007 Source: The Ozone - "...Like frogs, first year starting quarterbacks are supposed to have their warts. They're not supposed to handle pressure, they're supposed to be turnover prone, they're supposed to be inaccurate with their passing, and they're supposed to make mistakes with their decision making. Either Boeckman didn't get the memo, or the princess kissed him and turned him into a prince long before the book was anywhere near the end. In his first season as a starter Boeckman is leading the Big Ten in passing efficiency and ranks third in the nation in that statistical category. He has thrown at least two touchdown passes in each game this season and executed the OSU passing game efficiently..."


| | | | | | | | | |
| --- | --- | --- | --- | --- | --- | --- | --- | --- |
| PASSING | GP | Effic | Cmp-Att-Int | Pct | Yards | TD | Long | Avg/G |
| Boeckman, Todd | 9 | 164.3 | 139-209-8 | 66.5 | 1799 | 21 | 68 | 199.9 |