"There was a strong sense in the room of the slippery slope view, that there had never been a collegiate or professional playoff that stopped at four teams." -- Jim Delany, Big Ten commissioner, on the rejected plus-one proposal for the BCS


Four-team playoff proposal turned down by BCS
April 30, 2008 Source: USA Today - "The conference commissioners who manage the Bowl Championship Series opted Wednesday to end their brief consideration of a new plus-one format, which would have built a four-team playoff into the current five-game structure. Their action — or lack of it — assures that the current system will remain in place through at least the 2013 season..."

A Foolproof BCS Solution
May 2, 2008 Source: CollegeFootballNews.com - "Why couldn't...the SEC's Mike Slive, the ACC's John Swofford, and the Big 12's Dan Beebe, tweak the BCS and give the fans what they wanted?...I know, college football playoff proposals are like fantasy football teams, golf stories, and kids. Everyone has one or two and no one has any interest in hearing about them, but I have one that would work with absolutely no room for objection from the powers-that-be... "

BCS formula to stay same for at least one more season
April 28, 2008 Source: USA Today - " College football's Bowl Championship Series will maintain the same method for ranking teams at least one more year — same polls, computer ratings and mathematical formula — that it has used the past three seasons, officials decided Monday. Now, they must determine how to position the best of those teams for a shot at the national title..."

Plus-one system for postseason will be discussed
April 29, 2008 Source: Associated Press - "As they kicked off three days of meetings at an oceanfront resort, the Bowl Championship Series overseers appear to have a better chance of getting a sunburn than making any major changes in the controversial system..."

Plus-one model at a glance
April 29, 2008 Source: Columbus Dispatch










Corey Linsley Commits to the Buckeyes
For a long time the thought was that Corey Linsley was leaning to Ohio State, and on Monday afternoon he ended any speculation when he decided to commit to the Buckeyes, the fifth prospect to commit since the Ohio State spring game. The 6'4" 285 lb offensive tackle from Youngstown (OH) Boardman said, 'Ohio State was my No. 1 choice from the beginning. It swayed from time to time as to how heavily, but for the most part, being from Ohio, Ohio State was my dream school.' Linsley had offers and interest from dozens of schools including Stanford, Illinois, Georgia Tech, Michigan State, Notre Dame, Pittsburgh, Michigan, Cincinnati, Akron and Miami. Welcome aboard,Corey!




Linsley Becomes Lucky No. 13
April 28, 2008 Source: BuckeyeSports.com - "Ohio State picked up verbal commitment No. 13 for its class of 2009 today when Boardman, Ohio, offensive lineman Corey Linsley opted to join the class. A three-star prospect, Linsley gives the Buckeyes two offensive linemen in the fold..."





'08 Buckeyes have full cupboard
April 27, 2008 Source: Columbus Dispatch - "The Buckeyes are back to the offseason-workout phase of their training; the coaches hit the road recruiting, stacking more big names onto the 2009 commitment list; and the fans are left to consider the real possibility that their team could return to a third straight national championship game. Oh, and Terrelle Pryor is scheduled to start OSU summer school on June 16...Dispatch beat reporters Tim May and Ken Gordon hit the past, present and future blocking sleds as they, too, ponder the great beyond for what appears to be one of the more talented teams overall in OSU history..."






Vernon Gholston was the sixth overall pick in the 2008 NFL Draft. He becomes the highest Buckeye selected since the Packers took A.J. Hawk fifth overall in 2006.

Jets bolster defense with Ohio St.'s Vernon Ghoston
April 26, 2008 Source: NewYorkNewsDay.com - "The Jets' hierarchy knew all about the knocks on Gholston...Jets coach Eric Mangini thought Gholston's on-field numbers spoke plenty. 'He broke the sack record at Ohio State,' Mangini said..."...this is a high level of production at one of the best colleges in the country in terms of football.'..."



Jets view Gholston as perfect fit
April 27, 2008 Source: Columbus Dispatch - "'We spent a lot of time with Vernon on and off the field, and we think he will fit in well here,' Tannenbaum (Jets general manager Mike Tannenbaum ) said. 'He can help in all phases of our defense. He can rush the passer, he does a good job on the edge in the run game, he can play over the tight end as well. So there's a lot of different things he can do, and that's why we're excited to have him.'..."

Larry Grant Drafted in the 7th Round by the San Francisco 49ers
Kirk Barton Drafted In 7th Round by the Chicago Bears
Source:Bucknuts

NFL Draft doesn't go Big Ten's way
April 27, 2008 Source: Cleveland Plain Dealer - "It looked like the conference had a chance at making a big first-round splash, but when receivers Devin Thomas of Michigan State and James Hardy fell out of the first round and the quarterback that went late in the first round was Delaware's Joe Flacco and not Michigan's Chad Henne, the weekend didn't got as well as expected for the Big Ten..."








Mr. Bucknuts' Bucket Of Bullets
April 27, 2008 Source: Bucknuts -&nbsp"...If the Buckeyes want to be great next year, they need 2 major things to happen. They have to get much better on the interior of the defensive line and they must find at least two guys who can run and make plays on the perimeter on offense...OSU offered at least 6 guys last year in the state of Ohio, that didn't commit to OSU. That's a high number for Tressel...(but) look at the guys JT got to replace those that he offered and didn't get in Ohio..."




Melvin Fellows Has A Change of Heart and Will Be A Buckeye
Many Ohio State fans were both shocked and chagrined when Melvin Fellows, one of Ohio's premier players in the class of 2009, gave an oral committment to Illinois, the first offer he received, in December of 2007. Well, the Garfield Heights (OH) defensive end Melvin Fellows has reversed field and informed head coach Jim Tressel he will be a Buckeye. Fellows, a Rivals Top 100 player, who is 6'5" and 252lbs, is a strong side defensive end. A starter at defensive end his sophomore year, in 2007 he recorded 98 tackles and eight sacks and had 70 tackles and 10 sacks in 2006. Besides the Illinois offer, Fellows had offers and interest from dozens of schools including Notre Dame, Louisville, Michigan, Wisconsin, West Virginia and USC. Welcome aboard, Melvin!



Fellows Discusses Ohio State Commitment
April 24, 2008 Source: Bucknuts.com - "Garfield Heights, Ohio, defensive end Melvin Fellows committed to Illinois shortly after the end of his junior football season. However in the end he is a Buckeye, giving the OSU staff the news that he will sign with the Bucks rather than the Illini. Fellows discusses why he switched to OSU, whether or not his decision is final and much more with Bucknuts.com..."

Fighting The Illini No More
April 24, 2008 Source: BuckeyeSports.com - "One of the most sought-after prospects in the state of Ohio, Melvin Fellows surprised many people when he issued a verbal commitment to Illinois back in December. But following a trip to Columbus for Ohio State's spring game, Bill Greene has word that the defensive end prospect has changed his mind and will play his college ball for the Buckeyes..."





Taking Inventory: OSU's 2009 Recruiting Class
April 24, 2008 Source: Bucknuts.com - "We take a comprehensive look at Ohio State's 2009 football recruiting effort. We look back at the 12 current verbals and one key transfer, led by Pennsylvania LB Dorian Bell. We discuss how those players are currently ranked and how they will fit in. We look at critical needs and share a list of key prospects that could fill the remaining spots. Click for this exhaustive look at OSU recruiting..."





Burton: Coaches have only selves to blame
April 24, 2008 Source: Rivals.com - "Hey, Ron Zook, are you joking? 'We're turning the recruiting over to the so-called recruiting gurus,' Zook told the Arlington Heights, Ill., Daily Herald. 'Now, all of a sudden, just like you've got basketball coaches complaining that it's turning over to the AAU coaches, now we're turning it over to these guys that can call them..."







IN-DEPTH ANALYSIS: Big states, big schools the pipeline to the NFL
Source: USA Today

Pipeline to the NFL? Big states, schools are key
April 22, 2008 Source: USA Today - "A comprehensive database of the past 20 NFL drafts, assembled by USA TODAY, illuminates trends in geography (school and conference), position and player size. It is no surprise that California, along with Florida and Texas, produce large numbers of draftees...the four largest states in the USA, making up 26% of the population...But those three states out-produce their population when it comes to NFL draft picks. They account for 1,808 of 5,395 players drafted — 34% — according to a USA TODAY analysis of the NFL draft from 1988-2007...

"...Ohio State averaged 8˝ wins and 4.9 draft picks per year in the 13 seasons before Jim Tressel became head coach in 2001. Since Tressel took over, the Buckeyes have averaged 10.4 wins and 7.8 draft picks a year. Recruiting is key, and while Tressel says "I don't know if we are doing anything magical," he concedes his staff might devote more time evaluating recruits than some schools. 'We spend a lot of time ranking recruits and watching extra film,' Tressel says. 'We spend extra time getting to know them, talking to their high school coach, talking to opposing coaches.' Tressel targeted players from Ohio in his first recruiting class because 'the 2002 class was just extraordinary.' Nine Buckeyes from that class were drafted in 2006, including five first-round picks, four of whom played high school football in Ohio: linebackers A.J. Hawk and Bobby Carpenter, center Nick Mangold and safety Donte Whitner..."

NFL database
Where the players come from in every draft since 1988....by high school, college and conference.


Colleges sending most players to NFL

School
Players
Miami (Fla.)
136
Florida State
125
Tennessee
120
Ohio State
116
Notre Dame
115
Nebraska
112
Florida
107
USC
99
Penn State
95
Michigan
91

States sending most players to NFL

State
Players
California
699
Texas
568
Florida
541
Georgia
281
Ohio
231
Louisiana
225
Pennsylvania
171
Virginia
165
Alabama
164
North Carolina
160
Should there be a QB derby?
April 23, 2008 Source: CentralOhio.com - "What if the best quarterback on the roster come September is not Pryor, the nation's No. 1 recruit, or returning starter Todd Boeckman, the reigning Big Ten pass efficiency champion, but a 22-year-old redshirt freshman named Joe Bauserman? We'll never know, will we? By all accounts, no one made a greater impression during Saturday's glorified practice than Bauserman. He completed 7-of-14 passes for 125 yards and a touchdown and had several impressive scrambles. His touchdown was a 51-yard pass to Taurian Washington. A 63-yard scoring play between Bauserman and Washington was wiped out by a holding penalty that had no effect on the play. 'I knew he had that kind of arm last year because he always threw it deep on us on the scout team,' said safety Kurt Coleman, who snagged one of the two interceptions thrown by Boeckman. 'He's come light years ahead from last year. He really showed me something.'..."
Boren's transfer sure to add spice to rivalry
April 23, 2008 Source: Columbus Dispatch - "Offensive lineman Justin Boren has decided to transfer from Michigan to Ohio State, and OSU football historian Jack Park thinks it is an unprecedented move. Citing disenchantment with the new Michigan coaching staff of Rich Rodriguez, Boren -- a sophomore starter in 2007 -- left the Wolverines last month. Coach Jim Tressel confirmed for The Dispatch last night that Boren, who attended Pickerington North, intends to play for the Buckeyes after sitting out the 2008 season because of NCAA transfer rules..."


Traitor? Justin Boren transfers to Ohio State in 'unprecedented' move
April 24, 2008 Source: Detroit Free Press

My new favorite player
April 24, 2008 Source: CBSSportline.com - Greg Doyel writes: "Justin Boren is the man. He left Michigan, ripped Rich Rodriguez and then had the gonads to transfer to Ohio State? I love it. And that's not sarcasm. I sincerely love it. For one thing, I don't love R-Rod. Not after the way he left West Virginia, shredding documents and relationships along the way, and then arrived at Michigan and in one month on the recruiting trail was shadier than Lloyd Carr had been in decades. So Boren calls R-Rod what he is -- a bad guy -- and then leaves. And then transfers to Michigan's biggest rival. Michigan fans are calling Boren all sorts of emasculatory names, but let's be serious: To leave Michigan as he did, and then to show up at Ohio State, shows titanic testicles."





Fellows, Hall, Newsome and more recruiting
April 23, 2008 Source: Cleveland Plain Dealer - "Here's a little more information about where three remaining Ohio State targets from Northeast Ohio stand in their recruitment..."

Ohio State Buckeyes step up football recruiting with Illinois trying to take Ohio high school stars
April 23, 2008 Source: Cleveland Plain Dealer - "...With Illinois coach Ron Zook stalking nearly every one of Ohio State's in-state targets, the Buckeyes have countered with a recruiting flock this April that is more than double its usual size..."





Series With Navy Added To OSU's Future Slates
April 23, 2008 Source: Bucknuts.com - "Ohio State will play home-and-home with Navy in 2009 and 2014. We have an exhaustive look at Ohio State's nonconference scheduling for football for the next decade. OSU endeavors to play one marquee nonconference game per season and that will be true the next two seasons as the Buckeyes play a home-and-home against USC..."





Top 25: Georgia ranks No. 1 after spring practices
April 23, 2008 Source: SportingNews.com - "Here is my post-spring top 25, with each team's pre-spring ranking in parentheses...Ohio State is in the thick of the national title picture -- again. The Buckeyes replace four starters from last fall -- none at critical spots. The addition of uber-recruit QB Terrelle Pryor will give the offense balance, but more impressive is the attitude with which this team went back to work after a second-straight embarrassing loss in the national title game. The reality is this: No other team would've beaten Florida or LSU. The Bucks were the poor saps on the other sideline caught in the tidal wave of two teams with second chances and something to prove..."










Jordan Hall Commits to the OSU
Running back Jordan Hall, of Jeanette PA, a friend and teammate of Terrrelle Pryor, has joined the Buckeyes. "When I went up there I just felt that I was at home with all of the coaches and all of the players...I had been thinking about it since junior day when I went up there, but it really opened up my eyes when I went up for the spring game," Hall explained. The 5'9" 185lb Hall had 891 yards rushing and 20 touchdowns. He totaled 27 catches for 704 yards receiving and nine touchdowns. He also scored touchdowns via kick return, punt return and on an interception return...an amazing 32 touchdowns. He was named to the Pittsburgh Tribune-Review "Terrific 25", Pittsburgh Post-Gazette"Fab 22" and was named First-Team Class AA All-State. Hall held offers from Michigan, Notre Dame, Penn State, West Virginia, Pittsburgh and others. Welcome aboard, Jordan!



Jordan Hall Joins The Buckeyes
April 21, 2008 Source: BuckeyeSports.com - "It seemed like a foregone conclusion for several weeks, and Jeannette, Pa., running back Jordan Hall made it official when he issued a verbal commitment to Ohio State on Monday. BuckeyeSports.com has all the details..."










Five Star LB Dorian Bell is a Buckeye
One of the country's most highly sought prospects, linebacker Dorian Bell from Monroeville (Pa.) Gateway, officially announced a commitment to Ohio State. Scout, who has him ranked #1 at his position in the country, wrote: "Bell is a rare breed of linebacker who could play all three positions. He takes on and can shed blockers or neutralize them. He moves very well through traffic. His lateral speed from sideline to sideline is very impressive. He can cover as well as most high school safeties. Bell is asked to blitz a a lot and he gets to the quarterback in a hurry. He is very explosive off the edge and in pursuit." The 6'2" 221lb OLB had over 30 scholarships offers, including ones from Florida, Michigan, LSU, Notre Dame, Penn State, Pittsburgh, West Virginia and Boston College. Welcome aboard, Dorian!



Gateway's Bell commits to Ohio State
April 22, 2008 Source: Pittsburgh Tribune Review - "Dorian Bell fell for Ohio State the first time he visited, when he was a wide-eyed sophomore. When the Gateway All-American linebacker visited for the Scarlet-Gray Game this past weekend, he was sold. Once Bell saw Ohio Stadium for the first time, it didn't take long for him to make a verbal commitment. He chose Ohio State on Monday..."





Deep, balanced Buckeyes hope third time's the charm
April 21, 2008 Source: ESPN.com - "...The Buckeyes have to replace only four starters (fullback, right tackle, linebacker and defensive end) after making consecutive trips to the national championship game -- and a third straight appearance certainly seems possible..."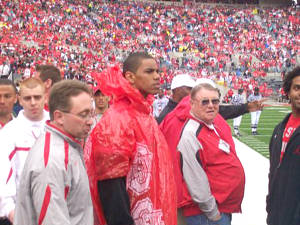 Future Buckeye Terrelle Pryor stands on the sideline before the start of today's spring game. The poncho will be auctioned off by Ohio State for an expected $100,000.




Scarlet Takes Rainy Spring Game Victory
April 19, 2008 Source: Bucknuts.com - "Ohio State wrapped up spring drills on Saturday as the Scarlet downed the Gray 20-7 before a spring game-record crowd of 76,346. It was a rainy day at the Horseshoe. Click this link for more. Note: Story updated at 6 p.m. with notes and quotes..."

Scarlet Pulls Away from Gray, 20-7, in Spring Game
April 19, 2008 Source: OSU Official Site - "Rain did not deter fans from setting an Ohio State spring game attendance record for the third season in a row. A crowd of 76,346 braved the soggy conditions in Ohio Stadium to watch the Scarlet team defeat the Gray, 20-7, in the 2008 Spring Game..."
Spring Game Box Score


Spring Game Breakdown
April 20, 2008 Source: The Ozone - The-Ozone breakdown of the spring game...QB Comments: Joe Bauserman impressed everyone who saw him play, but make no mistake about it, the race is for the backup position, not the starting job. The lone knock on Boeckman in the spring game is his two INTs, one by safety Kurt Coleman and one by linebacker Ross Homan. The pick off by Homan was probably on Boeckman, but the one by Coleman was more a great play by a defensive back than a mistake on Boeckman's part. 'I thought that Todd played solid,' said OSU Head Coach Jim Tressel..."

Spring Game Musings
April 21, 2008 Source: The Ozone - "After watching the spring game live and in person, then watching his recorded version of it repeatedly ad nauseam, Tony Gerdeman has divined all there is to divine from the spring game..."

Ken Gordon breaks down the spring game
April 19, 2008 Source: Columbus Dispatch - Perched in the press box atop Ohio Stadium, Dispatch beat reporter Ken Gordon offers up some quick thoughts on the spring game: What we learned, What we still don't know, Stock up, Stock down, Surprise!, Just Wondering..."

Spring game thoughts
April 19, 2008 Source: Cleveland Plain Dealer - Doug Lesmerises writes: "Here are final nuggets, thoughts and observations from spring and the spring game, with 133 days remaining until the start of the season and 147 until that trip to Southern Cal..."

Big improvement made inside
April 20, 2008 Source: Columbus Dispatch - "Ohio State's defensive tackles had four sacks yesterday, nearly equaling their total for the entire 2007 season. In other words, the Buckeyes' interior defensive linemen followed up a bad year with a good day in the spring game. 'That's a vast improvement from last year, and we've just got to build on that and have a great offseason,' tackle Todd Denlinger said. 'We really have unlimited potential inside.'..."

Front Line Of Buckeye Defense Looking Better
April 20, 2008 Source: BuckeyeSports.com - "Among the most urgent tasks for Ohio State defense this spring was improving up front, and by the time the defensive line racked up five sacks in the spring game, there was a feeling that had been accomplished...."



Bauserman expert, but Scarlet wins 20-7
April 19, 2008 Source: Columbus Dispatch - "...Bauserman, almost forgotten in the quarterback picture when spring began. The former pro baseball player looks expert in his quick setup, in his reads, and in his delivery. But what did you expect from a man with a 95 mph fastball..."

QB Boeckman up and down in Scarlet-Gray game
April 19, 2008 Source: SI.com - "...Boeckman had an up-and-down day, throwing interceptions to Coleman and Ross Homan, but setting up his own 1-yard touchdown plunge for the Scarlet with a 48-yard completion to Brian Hartline...One of the biggest bright spots was Bauserman, who is battling Henton (and, eventually, prized incoming freshman Terrelle Pryor) for the backup spot behind Boeckman. Bauserman made his first appearance late in the half and promptly led the Gray on an 81-yard drive, completing all three of his passes including a 51-yard score to Taurian Washington, who had slipped behind defender Nate Oliver near the goal line..."

Fresh Faces Take Center Stage At Spring Game
April 19, 2008 Source: BuckeyeSports.com - "Several young players took advantage of playing time, while veterans also had a hand in the scoring as the Scarlet took a 20-7 victory over the Gray in Ohio State's annual Spring Game..."