Big Ten Season Begins Saturday for No. 8 Ohio State
September 18, 2007 Source: OSU Official Site - "Ohio State (3-0) begins Big Ten play hosting Northwestern (2-1) in a 3:30 p.m. game Saturday, Sept. 22, 2007 at Ohio Stadium (102,329) in Columbus..."
Press release in PDF






Knee surgery will sideline Piqua native
September 22, 2007 Source: Dayton Daily News - "Ohio State freshman running back Brandon Saine had arthroscopic surgery on his left knee Friday morning and will be out indefinitely, his mother said. 'This could be something that was there a long time, and he just tweaked it a little,' she said. '(The surgery) was pretty much a precautionary thing. They thought it was better to go ahead and take care of it before it kind of gets worse.' Croft didn't reveal specifics about Saine's injury but said the family was told he could be out three weeks..."




September 21, 2007: Reliable sources have informed BuckeyeFansOnly that Brandon Saine was operated on Friday morning to repair damage to a meniscus. The belief is he could be out 3-4 weeks or miss the rest of the season and take a medical redshirt.


Saine won't play against Northwestern
September 21, 2007 Source: Columbus Dispatch - "Ohio State running back Brandon Saine will not play Saturday against Northwestern, a school official said today..."

Sanzenbacher won't play vs. Northwestern
September 21, 2007 Source: Columbus Dispatch - "Coach Jim Tressel said last night that receiver Dane Sanzenbacher will not play. He did not specify the injury, but earlier in the week he said Sanzenbacher "got whacked" last week in the game at Washington..."


Jim Tressel Addresses Media Thursday
September 20, 2007 Source: OSU Official Site - " Jim Tressel, head football coach, spoke with media Thursday after practice to review the week of preparation and preview the game Saturday vs. Northwestern at 3:30 p.m. in Ohio Stadium..."


Football Assistant Coaches Peterson & Haynes Visit with Media Wednesday
September 19, 2007 Source: OSU Official Site - "... 'I think the reality of playing in the Big Ten and how you have to be at your peak will motivate them. This is the new first game of our season.' - John Peterson, tight ends coach..."



Buckeyes Meet with Media at Woody Hayes Athletics Center
September 19, 2007 Source: OSU Official Site - "Ohio State Player Post Practice Quotes..."


Ohio State Player Quotes, Sept. 18
September 18, 2007 Source: OSU Official Site - "Fullback Dionte Johnson and defensive tackle Todd Denlinger meet with the media Tuesday after Jim Tressel's weekly press luncheon..."


Transcript From Coach Tressel Weekly Press Conference
September 18, 2007 Source: OSU Official Site - "Oh well. Our guys had, I think, an excellent experience traveling out to Seattle. Only three of the travel squad had ever been there, so it was great experience for those 67 guys who had never been to the city, and again because school was not in..."

Tressel Talks Washington, Big Ten Play At Teleconference
September 18, 2007 Source: Bucknuts.com - "OSU head coach Jim Tressel began his weekly Tuesday media sessions with today's Big Ten coaches teleconference. Tressel discussed topics ranging from the win at Washington to the New England Patriots controversy...(Note: Video added)"


Jim Tressel conference call
September 18, 2007 Source: Cleveland Plain Dealer - "Ohio State head coach Jim Tressel addressed the media today in a Big Ten conference call. Tressel discussed the Big Ten's struggles as well as his team and this week's upcoming opponent..."


Red-faced Northwestern first Big Ten opponent
September 19, 2007 Source: Akron Beacon Journal - "Wildcats come in off loss to Duke, but familiarity with Sutton, others should help OSU show respect..."

No 'sales job' needed as Northwestern approaches, Tressel says
September 16, 2007 Source: Columbus Dispatch - "Jim Tressel believes his eighth-ranked Ohio State football team is smart enough not to be distracted by the obvious. And the obvious is: Northwestern comes to town for the teams' Big Ten opener on Saturday. It's the same Northwestern that last week allowed Duke to end the nation's longest losing streak at 22 games with a 20-14 win over the Wildcats...'I don't know if it's a 'sales job' when you are continually trying to get better,' Tressel said..."

Buckeyes Not Taking Wildcats Lightly Despite Loss to Duke
September 19, 2007 Source: The Ozone - "How do you get a football team motivated to play a team that lost its last game to Duke to end the longest losing streak in the country? Duke? Duke? Yes Duke, at home to boot! OSU Head Coach Jim Tressel has that task this weekend, and has called on some recent history to keep his team focused..."

Buckeyes Know Not To Overlook Northwestern
September 19, 2007 Source: BuckeyeSports.com - "Northwestern's history over the past decade and a half is one of a team that pulls out big wins even when it seems the Wildcats are down. While many teams around the conference have learned that, Ohio State found out firsthand in 2004. Now, with NU coming off a shocking loss to Duke, the Buckeyes know that it is not a team to take lightly..."


Series Information - Tressel Vs. Northwestern

Tressel 5-1; OSU leads 57-14-1
Date
Location
Result
10/6/2001
at Ohio State

OSU, 38-20

10/5/2002
at Northwestern

OSU, 27-16

9/27/2003
at Ohio State

OSU, 20-0

10/2/2004
at Northwestern
NW, 33-27
11/12/2005
at Ohio State

OSU, 48-7

11/11/2006
at Northwestern

OSU, 54-10





Matchup Edge

NWEST
Edge in:
OHIST
Points/Game
Yards Gained
Yards Allowed
Time of Possession
Penalties
Punting
Fumbles


Last Time Out...
September 18, 2007 Source: BuckeyeSports.com - "The Buckeyes will open their 2007 Big Ten schedule Saturday at Ohio Stadium vs. Northwestern. Check out how the Buckeyes did against the Wildcats in their last meeting in this edition of "Last Time Out..."

2004, '07 only seem similar
September 19, 2007 Source: Columbus Dispatch - "3-0 Buckeyes' loss to Wildcats then a far cry from now..."



Buckeyes Set To Open Big Ten Vs. Northwestern
September 20, 2007 Source: Bucknuts.com - "No. 8 Ohio State will open Big Ten play Saturday by welcoming Northwestern in for the 500th game at Ohio Stadium. We take a comprehensive look at Northwestern and have a ton of notables surrounding Saturday's game (3:30 p.m., ESPN nationally except Ohio and Chicago, where it will be shown on ABC)..."
Northwestern-Ohio St. Preview
September 20, 2007 Source: ESPN.com - "Ohio State looks to establish a school record of 22 straight regular-season wins as it hosts Northwestern in the conference opener for both schools. The Buckeyes are 5-1 in their last six meetings with the Wildcats..."
Game Data: Northwestern at Ohio State
September 19, 2007 Source: Bucknuts.com - "We take a look at the TV clearances, pertinent data, depth charts and a prediction for Saturday's Big Ten opener between Ohio State and Northwestern at Ohio Stadium (3:30 p.m., ABC in Ohio and Chicago, ESPN elsewhere). Click this free link for all the details..."



Tale of the Tape

OSU

Offense

NW
30.3
Pts/gm
25.7
420.3
Total yds/gm
451.3
202.0
Rush yds/gm
168.3
42.7
Carries/gm
36.3
4.7
Yds/carry
4.6
218.3
Pass yds/gm
283.0
29.0
Pass att/gm
42.3
11.9
Yds/completion
11.3

OSU

Defense

NW
7.3
Pts/gm
17.0
197.0
Total yds/gm
366.5
76.7
Rush yds/gm
121.3
29.0
Carries/gm
35.7
2.6
Yds/carry
3.4
120.3
Pass yds/gm
244.7
29.3
Pass att/gm
30.0
7.8
Yds/completion
12.2






Sport's Illustrated On campus kicks of the new year's Cheerleader of the Week with OSU's Allison Humbert a sophomore and proud member of the Buckeyes cheer squad. Wanna learn more about Allison? Click on 20 Questions.



Northwestern (2-1) at Ohio State (3-0) 3:30 PM ESPN
(Source: CollegeFootballNews.com)

Why to Watch: Ohio State made a statement last week that seemed to get lost in the shuffle. It became the chic pick to take Washington over the Buckeyes, but a big second half and a 33-14 win suddenly changed things around a bit. The defense has been stellar, and the offense, while not anything special, has done just enough to get by. That's right, it's Tressel ball. Now OSU starts the Big Ten season against the league's two worst teams, facing Minnesota next week after dealing with Northwestern. The Wildcats won a game they shouldn't have, pulling out a last-second 36-31 miracle over Nevada, and lost a game it shouldn't have, failing to pull out another last second win in the 20-14 loss to Duke. This is an up-and-coming team that'll pull off a shocker or two this year, but it'll have to play a flawless game to get the program's second win over OSU in 28 tries, and the first win in Columbus since 1971.

Why Northwestern Might Win: Washington might not have done too much offensively, but it got a decent game out of QB Jake Locker, who ran for 102 yards and threw for 153 more with a touchdown pass. However, he threw three picks. Northwestern's C.J. Bacher isn't Locker when it comes to running, but he can take off and get yards in chunks. He's also the best passer the Buckeyes have seen so far this year, coming off a 368-yard day against Duke. Ohio State's offense still isn't humming, so if the Wildcats can keep this close, and somehow force a big turnover, it might be a battle deep into the second half.

Why Ohio State Might Win: The defense is playing at a national title level. It didn't allow a touchdown in the first two games, gave up one to Washington in the final moments of the first half, and allowed another in garbage time. The defensive front seven has been dominant, especially against running backs, while the secondary has been stingy. The is the nation's sixth best pass efficiency defense and ninth best overall D against the pass. Northwestern's offense might be good, but it's not going to be able to consistently crank out the long drives needed.

Who to Watch: It's not that Northwestern senior RB Brandon Roberson is bad, he ran for 128 yards against Nevada and 80 against Duke, with a touchdown in each game, but he's not Tyrell Sutton. Sutton, an Ohio native and one of the program's top recruits over the last few years, has been out with a high ankle sprain, but now he's needed. Even if he's not 100%, he's the one guy the Buckeyes will have to account for on every play, and that might be just enough to open things up for Bacher and the passing game. Trying to stop Sutton will be James Laurinaitis, who's playing up to the high level he set last year, coming off an eight tackle, two pick day against Washington. What Will Happen: Ohio State appeared to wake up last week in Seattle, and it could start a big run. The defense will get in the Northwestern backfield all game long, while the Buckeyes should be able to run the ball as long as it wants to.

CFN Prediction: Ohio State 38 ... Northwestern 10 ... Line: OSU -22
Must See Rating: (5 Curb Your Enthusiasm - 1 Kid Nation) ... 2


Crunching The Numbers: OSU-Northwestern
September 19, 2007 Source: BuckeyeSports.com - "This week in Crunching The Numbers, we examine some stat rankings from the nonconference schedule, some history and just how much bigger the crowd for Northwestern's game this Saturday figures to be in comparison to last Saturday..."

Ohio State: Buckeyes look for a quick fix
September 19, 2007 Source: Canton Repository - "No one in Ohio Stateís huddle could put his finger on the teamís slow starts. Head Coach Jim Tressel could. In fact, his prints are all over the problem. The Buckeyes have scored 64 second-half points and rallied from close games against Washington and Akron to pull away after halftime. OSUís offense has scored just 27 points in the first half. 'I guess they can overcome our game plans,' Tressel said, using a little self-deprecating humor to lighten the atmosphere prior to opening Big Ten Conference play..."

Talkin' Tressel: Big Ten Season Begins
September 18, 2007 Source: BuckeyeSports.com - "At his weekly press luncheon, head coach Jim Tressel had a lot to say. Find out his thoughts on his 200th career victory, how Ray Small did in his first contest, what it means to be back in Big Ten play and more in this update..."











Northwestern Wildcats Official Site
Cumulative Season Statistics: Team, Individual & Defensive

NU Football Game Notes (vs. Ohio State) Source: Northwestern Official Site

Northwestern Scout site
Northwestern Rivals site





#18 C.J. Bachťr QB Sacramento, Calif.


Starting quarterback ... Redshirt junior ... Passed the 2,000-yard mark for career passing yardage at Duke and is now 18th on NUís all-time list, three yards behind NU legend Otto Graham...Opened season with an efficient performance against Northeastern: 23- of-29 passing for 243 yards, 1 TD and no interceptions...Had a pass efficiency rating (PER) of 161.08...Completed seasonís first seven pass attempts ... Led NU to a thrilling come-from-behind win over Nevada, directing an 80-yard, six-play drive in just 51 seconds ...Finished 20-of-45 throwing for 227 yards and career-high-tying three TD passes...Added 60 rushing yards, including 35 yards on the final drive, for 287 yards of total offense...Set career highs for completions (30), attempts (50), passing yards (368) and total yards (403) against Duke...His 368 passing yards was the ninth-highest single-game total in NU history (sharing the ninth spot with Brett Basanez, who had 368 vs. Illinois in 2002)...His 403 total yards ranks 11th on NUís single-game best list...Had a career-long 35-yard scramble vs. the Blue Devils ... Had a string of 105 consecutive pass attempts without an interception end on the second play of the game vs. Duke...Has now thrown for 200-plus yards in all eight collegiate starts...Ranked 61st nationally in PER...Owns a 4-4 record as NUís starting quarterback...Named teamís offensive big playmaker of the week the first three games.
#19 Tyrell Sutton RB Akron, Ohio


True junior...Missed his first college game (Duke) with an injury...Doak Walker Award candidate...On preseason watch lists for the Maxwell and Walter Camp Player of the Year awards...NUís fifth-leading all-time rusher (2,596 yards)...Also ranks in schoolís career top-10 for rushing TDís (22), scoring (156) and all-purpose yards (3,344) ... Needs 29 rushing yards to move into fourth place on NUís all-time list and 48 yards to move into third place...Among all college running backs, tabbed the ďbest receiverĒ by Scouts, Inc. (Todd McShay of ESPN.com)...Suffered a lower-leg injury in the first half of the Nevada game and left with just 14 rushing yards on three carries...Despite the injury, did finish the game as NUís leading receiver with five receptions for 59 yards ... Opened the season with a solid performance: 108 rushing yards (24 carries) and 1 TD, along with 24 receiving yards (4 receptions) vs. Northeastern...Was NUís leading receiver with nine catches after two games...Averaging 99.8 rushing yards per career game and 5.6 yards per career carry.


Cats' Sutton expected back against Buckeyes
September 18, 2007 Source: Chicago Sun Times - "Among the best news at bedeviled Northwestern on Monday was word from coach Pat Fitzgerald that star running back Tyrell Sutton likely will return when the Wildcats (2-1) open their Big Ten season at Ohio State (3-0) on Saturday...'I feel pretty confident that he's going to play,' Fitzgerald said. 'I'll know a lot more after [today's] practice.'..."

Northwestern has 12 players on its roster from Ohio, the second-most of any state behind Illinois (26). Four players hail from the Columbus area: Adam Kadela, Ben Rothrauff, Mark Ison and Brian Peters.

Northwestern Starts Big Ten Play With Defending Champ Ohio State
September 18, 2007 Source: Northwestern Official Site - "With a quarter of its season in the record books, Northwestern turns its focus to conference play, starting Big Ten action with defending league champion Ohio State this Saturday, Sept. 22. Kickoff is set for 2:30 p.m. CT (3:30 p.m. ET) at Ohio Stadium in Columbus. ESPN/ABC is televising the game to a national audience. ESPN will carry the game throughout much of the country, but the Chicagoland market will receive the game on ABC (WLS-TV, Channel 7).




Northwestern D Looks To Stop Buckeye Rushing Attack
Source: The Palestra - "The Northwestern Wildcats know they face a tough rushing attack when they travel to Columbus to take on the Buckeyes. Northwestern's palestra reporter Danny Ecker talked to the team about stopping the rush..."


Columbus Weather Forecast

The real Beanie finally stands up
September 20, 2007 Source: The Morning Journal - "With 1:40 left in the first quarter against Washington, the Beanie Wells that fans have heard so much about finally made a big impression. On Washington cornerback Jason Wells, whose ears might still be ringing. Wells took a handoff and surged through the lane on the left side. About 23 yards later he was near the sideline when Jason Wells came crashing high into him -- only to fly off and bounce backwards. Bug, meet windshield..."

Ohio State notebook: OSU enters 500th game in Ohio Stadium
September 20, 2007 Source: Columbus Dispatch - "The game Saturday against Northwestern marks the 500th in Ohio Stadium, nearly 85 years after it opened in October 1922..."

Ohio State Notes: Coleman didn't block Husky kick
September19, 2007 Source: Dayton Daily News - "Teammate Larry Grant actually batted down a 46-yard try in the third quarter - helping the Buckeyes turn a 7-3 deficit into a runaway win - though Coleman had been given credit until a review of the video..."

Ohio State football: Buckeyes could lose juniors to pros
September 19, 2007 Source: Cleveland Plain Dealer - "I have made a pledge to myself, one I will try desperately to keep, to not write stories for the paper about Ohio State athletes who claim, during a season, that they are planning to stay in school and be back the next year..."

Notebook: Classes, Cleveland And More
September 21, 2007 Source: BuckeyeSports.com - "Wonder what it's like to be a student and a member of the football team as classes resume? What does Dionte Johnson remember about his father's NFL playing career? How did Vernon Gholston feel when Ohio State lost to Northwestern in 2004? Find out the answers to these questions in this notebook..."



Role of Tight Ends Not What Was Predicted, but Still Important
September 19, 2007 Source: The Ozone - "All the talk this fall was of the new, expanded role for the tight ends this season. Offensive coordinator Jim Bollman talked about it, tight ends coach John Peterson talked about it, Rory Nicol talked about it, and Jake Ballard talked about it. So three games into the season the duo of Nicol and Ballard have combined for a total of five catches for 33 total yards...That's not exactly what we expected, and apparently not what the people we talked to this fall expected either, but Peterson is anything but worried..."



Top 25 Overview
September 20, 2007 Source: ESPN.com - Previews of games this weeek of all Top 25 teams

This Is Reloading?
September 19, 2007 Source: Eleven Warriors - "Heading into the 2007 season, there were many questions about how the young Buckeye offense would respond after losing Troy Smith and two receivers taken in the 1st round of the NFL draft. While Todd Boeckman isnít putting up Troy numbers (yet), Brian Robiskie and Brian Hartline have more than eased any doubts about the receiving corps..."



Familiar Big Ten foes await Buckeyes
September 19, 2007 Source: Toledo Blade - "After working through the first three games of the season unscathed, the Ohio State Buckeyes move into the heart of their schedule, where eight of the last nine games come against Big Ten Conference competition. Unlike Washington, Akron and Youngstown State, the Big Ten opponents offer a case of dealing with an opponent you know a lot more about..."



His fist-pumping, sweater vest-bursting, sideline-sprinting act was totally out of character, albeit a welcome change from the ashen-face look he wore eight months ago in Glendale.

"I don't remember it being that unusual behavior," Tressel said of his impromptu aerobics routine. "Now, maybe it was. There are certain things I think you're supposed to do, like staying back off the field and keeping your mind on the game, but I've never gone out and said, OK, this week I'm going to do cartwheels down the sideline so that somebody notices me. You know, we've got a job to do."
(Source: Central Ohio.com)


OSU notebook: Tressel electricity lingering
September 19, 2007 Source: Columbus Dispatch - "Buckeyes still abuzz over coach's uncharacteristic leap on sideline...Four days removed from the Jim Tressel leap of joy, people are still talking about it. The way the usually reserved Ohio State coach went booster-iffic on the field after Kurt Coleman and Larry Grant combined to provide the play -- a blocked Washington field goal attempt early in the third quarter..."

Ohio State's Jim Tressel keeps cool on the Buckeyes' sidelines
September 19, 2007 Source: Cleveland Plain Dealer - "Ohio State defensive end Vernon Gholston chuckled Tuesday about watching the replay of the OSU-Washington game, when he saw Buckeyes coach Jim Tressel's full sideline celebration after Ohio State's third-quarter field goal block..."

Tressel not planning any cartwheel celebrations
September 19, 2007 Source: The Morning Journal - "Three days after Jim Tressel showed a little emotion on the sideline, he was still being asked about his reaction to the blocked field goal in the second half against Washington. The normally reserved Tressel jumped up and down on the sideline and pumped his fist after Larry Grant blocked the field goal attempt. Cameras hadn't caught Tressel so animated since the national championship game in 2002. He admitted yesterday he tries to make a point of staying cool on the sideline..."




Buckeyes Winning Back Trust of the Fans with Obvious Improvment
September 19, 2007 Source: The Ozone - "C'mon, admit it, you weren't quite sure about this OSU football team, but now you're starting to think it might actually have a chance to be pretty good. Chances are also good that you're not alone in that opinion, and chances are there are some pretty good reasons for that. Check out the-Ozone report..."



Ramzy: Tuesday Morning Hangover - Week 3
September 18, 2007 Source: Bucknuts.com -&nbsp"It was not a good weekend to be Charlie Weis or Tyrone Willingham. Ramzy looks at the plight of those two coaches and more in his latest column..."



Buckeyes Are Real Deal
September 18, 2007 Source: Bleacher Report - "After unimpressive wins against less-than-stellar Youngstown State and Akron teams, there were many questions floating around Columbus, Ohio. Was Ohio State for real? Did they deserve their ranking amongst the nation's elite? Could this Buckeye squad measure up to those of the past? Were they a contender in the Big Ten race, let alone the nation? Could they win a game against a "real" opponent, the Washington Huskies?..."





OSU's offense hitting its stride
September 17, 2007 Source: CentralOhio.com - "You know itís your day - a milestone day at that - when youíre apologizing to the host school for scoring a touchdown. It sure beats apologizing for not scoring more, the scene one week earlier..."





Buckeye Leaves: A second look at what's left from Saturday's game
September 16, 2007 Source: Cleveland Plain Dealer - "In his third career start Saturday, the OSU quarterback needed to prove he could handle himself physically, mentally and emotionally in a big road game. Physically, he continued to hang in the pocket and take shots from the defense. Mentally, he checked off to the right play call on his 68-yard touchdown to Brian Robiskie. Emotionally, he's getting it. Mr. Quiet got mad at the early mistakes..."



Kurelic's Ohio State Recruiting Hot List
September 16, 2007 Source: Bucknuts.com - "Bill Kurelic's Bucknuts Hot List has definitely changed since it last ran in the middle of August. The man at the top is the same, Terrelle Pryor, but our dandy dozen list of prospects the Bucks would like to add to their recruiting class of 2008 has seen some others move up, down and be added. The Buckeyes' most wanted list is just a click away..."
Recruiting Database

Mr. Bucknuts' Bucket Of Bullets
September 16, 2007 Source: Bucknuts.com -&nbsp"Mr. Bucknuts insists on taking apart Notre Dame, just like everyone else has done in the country. He also comments on the Washington game, chortling over his prediction that the Buckeyes would win easily. And he throws in recruiting stuff, Lloyd Carr circling the toilet in the Big Outhouse and some other random musings and stats in this weekís Bucket of Bullet..."

Herculean Feats Part Of Young DT's Repertoire
September 15, 2007 Source: Bucknuts.com - "A young defensive tackle who struggles to gain weight, is more suited to play end and is the tallest member of the Ohio State defense is not supposed to be tossing people aside in the trenches while he learns a new position -- but that is exactly what sophomore Doug Worthington is doing these days..."

Trapped In An End's Body
September 12, 2007 Source: BuckeyeSports.com - "The Buckeyes are relying on a tandem of largely untested players in the core of their defense, but one of them might be playing out of position. Actually, at times it is hard to tell where Doug Worthington should play -- a fact he agrees with..."

OSU's Worthington eats up opposing linemen
September 12, 2007 Source: Canton Repository - "...OSUís monstrous tackle got his hands under the pads of a Zips lineman. Then he lifted nearly 300 pounds of dead weight and tossed it aside like a salad. For that, Worthington was given the teamís Jack Tatum Hit of the Week Award..."


Buckeyes have taken Horseshoe to the head
September 14, 2007 Source: Seattle Post-Intelligencer - More than Notre Dame, more than Michigan, Alabama, USC or Texas, Ohio State is the Yankees of college football. Because nothing says more eloquently that an American sports enterprise has reached the pinnacle than by being out of control and over the top. None other than the former president of Ohio State, Karen Holbrook, described the mayhem at the summit. A video transcript of her job interview for the presidency at Florida's Gulf Coast University was sent to the Columbus Dispatch newspaper, which reported Aug. 30 Holbrook's description of the local football culture.



| | |
| --- | --- |
| 'When you win a game, you riot. When you lose a game, you riot. When spring comes, you riot. African American Heritage Festival weekend, you riot,' Holbrook said. 'They think it's fun to flip cars, to really have absolute drunken orgies. I don't want to be at a place that has this kind of culture as a norm.'..." | |
| | |
| --- | --- |
| Former Ohio State President Karen A. Holbrook acknowledged yesterday (August 29, 2007) that she might have exaggerated when she described Buckeye football games as "absolute drunken orgies." "Maybe it was a little melodramatic," Holbrook said. Some current and former OSU students, and a former university board president, say that the picture Holbrook painted of Ohio State during a job interview last week in Florida was over the top. | |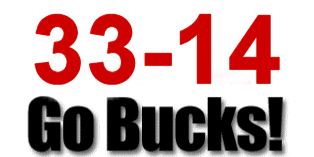 Buckeyes Down Huskies, 33-14
September 15, 2007 Source: OSU Official Site - "Usually stoic in his scarlet sweater vest, Jim Tressel was jumping around the sideline. In the huddle, normally low-key Todd Boeckman barked at his Ohio State teammates, as the quarterback making his third career start joined his coach in trying to..."

Ohio State vs Washington (Sep 15, 2007)
September 15, 2007 Source: OSU Official Site - "Scoring Summary, Team Statistics, Individual Statistics, Defensive Statistics, Game Participation & Play-by-Play"




Team Stat Comparison
1st Downs
21
20
Total Yards
481
346
Passing
218
204
Rushing
263
142
Penalties
10-80
7-49
3rd Down Conversions
6-16
6-17
4th Down Conversions
0-0
2-2
Turnovers
0
4
Possession
32:56
27:04
ESPN: Ohio State vs Washington
September 15, 2007 Source: ESPN - Includes video of ABC's postgame interview with Coach Tressel by Jack Arute, Ron Franklin and Ed Cunningham's postgame commentary, as well as captioned game photos and more...


Game Trax
September 15, 2007 Source: FoxSports.com - "Game Trax | Box Score | Play by Play | Head-to-Head..."


The-Ozone Note and Quotebook
September 16, 2007 Source: Columbus Dispatch - "You probably saw the game, now get the stories behind the story. Find out about A Greater Group, Plenty to Fix, Beetle Juice, Honing it Down, Tough Guy, Locker Impressive, Offensive Line Stinks?, Buckeyes Show Up and Apology. It's all covered in the-Ozone Note and Quotebook..."


Captain's Corner: Buckeyes Survive The Great Northwest
September 16, 2007 Source: Bucknuts.com - "Improved offensive line play and a big day from Beanie Wells were too much for the Washington Huskies. Jerry Rudzinski discusses those topics and more in this version of the Captain's Corner..."

Instant Analysis: Ohio State-Washington
September 15, 2007 Source: CollegeFootballNews.com - "When Jim Tressel jumps up and down like a maniac, his Ohio State players pay attention. The decorated coach played the part of a world-class football analyst, because he seemed to know exactly when his team needed an extra boost on a cloudy Saturday in Seattle. Inspired by their leader, the Buckeyes dominated the final 25 minutes to claim a hard-fought win against Washington..."


The Bottom Line
September 16, 2007 Source: Columbus Dispatch - "Ho-hum wins over a pair of homies proved that the Buckeyes could be bullies only in Mister Rogers' neighborhood. A rare, yet thorough, smack-down on the Coast might get OSU some national love. Leaves are awarded on a zero-to-five basis..."

Report card
September 16, 2007 Source: Cleveland Plain Dealer - "Todd Boeckman's second half: Grade A..."


Football vs. Washington Postgame Notes
September 15, 2007 Source: OSU Official Site - "Postgame notes from the Buckeyes' win at Washington Saturday..."

Laurinaitis picks his moments
September 16, 2007 Source: Columbus Dispatch - "James Laurinaitis proved yesterday that he isn't just a hitter and a tackler. He's also a trickster and a thief. 'It was no fluke he was voted the best defensive player in the country last year,' Washington quarterback Jake Locker said. 'It was well-deserved.'..."

Offensive line provides Wells with room to rumble
September 16, 2007 Source: Columbus Dispatch - "Chris "Beanie" Wells was seeing things yesterday, and they weren't illusions. They were beams of daylight provided, he said, by the Ohio State offensive line..."

Bucks were Saine in running clock
September 16, 2007 Source: The Morning Journal - "How much talent do the Buckeyes have at tailback? They scored yesterday without even trying. Ohio State was just trying to run the clock out in the fourth quarter when Brandon Saine caught a crease on the edge and broke it for a 37-yard touchdown run as the game clock expired. Jim Tressel wasn't upset that Saine scored, but he wasn't particularly happy about it, either. Tressel apologized to Washington coach Ty Willingham for it during their postgame handshake..."

Boeckman takes big step forward as QB
September 16, 2007 Source: Columbus Dispatch - "When Todd Boeckman is asked about himself, he usually answers with a sentence that starts with 'we.' Whether it's intentional or not, it's an especially interesting trait. He's a first-year starter, and it has been clear since last spring that Boeckman's growth and Ohio State's growth would be inextricably intertwined. Boeckman struggled against Washington in the first half. This was his first test -- no, those two extra spring games the Buckeyes played against Youngstown State and Akron don't count -- and it came thousands of miles from home in a place that probably made him feel as if he had his ear 6 inches from the amplifiers at an AC/DC concert..."

From third-string to in charge: QB Boeckman responds in No. 8 Ohio State's latest win
September 16, 2007 Source: USA Today - "Sure, it would have been easy for Todd Boeckman to hand off to Chris Wells. Again. Wells had 15 carries for 78 yards at that point and his 16th carry had already been called. Instead, Boeckman did what Ohio State has been wanting the quarterback to do..."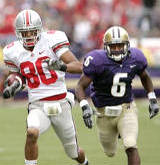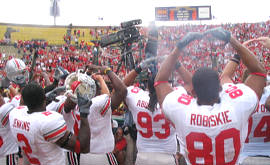 The way the postgame setup is here, we could hear the Ohio State speeches after the game, and it didn't take Jim Tressel long to start talking about the Northwestern game next week. He said, "I've been nervous about this game all year," and brought up Northwestern's victory in 2004.

But after Tressel spoke, senior captain Kirk Barton took a moment to celebrate. He stood and said, "From all your players and your coaches, thank you for your leadership. Congratulations on win No. 200," and he handed Tressel the gameball. Said Tressel, "I'm more interested in 201." (Source: Cleveland Plain Dealer)
How Ohio State's opponents fared
| | | | | |
| --- | --- | --- | --- | --- |
| DATE | OPPONENT | SITE | W-L | THIS WEEK'S RESULT |
| Sept. 1 | Youngstown State | home | 2-1 | beat Stony Brook 42-6 |
| Sept. 8 | Akron | home | 1-2 | lost to Indiana 41-24 |
| Sept. 15 | Washington | away | 2-1 | lost to Ohio State 33-14 |
| Sept. 22 | Northwestern | home | 2-1 | lost to Duke 20-14 |
| Sept. 29 | Minnesota | away | 1-2 | lost to Florida Atlantic 42-39 |
| Oct. 6 | Purdue | away | 3-0 | beat Central Michigan 45-22 |
| Oct. 13 | Kent State | home | 2-1 | beat Delaware State 38-7 |
| Oct. 20 | Michigan State | home | 3-0 | beat Pittsburgh 17-13 |
| Oct. 27 | Penn State | away | 3-0 | beat Buffalo 45-24 |
| Nov. 3 | Wisconsin | home | 3-0 | beat Citadel, 45-31 |
| Nov. 10 | Illinois | home | 2-1 | beat Syracuse 41-20 |
| Nov. 17 | Michigan | away | 1-2 | beat Notre Dame 38-0 |


Special Teams: Where Momentum Swings
September 16, 2007 Source: Bucknuts.com - "It wasn't a perfect day for the OSU special teams against Washington, but they came up big in the third quarter to turn the momentum in OSU's favor for good. A blocked field goal attempt by Kurt Coleman and then a fumble recovery on a kickoff two plays later stunned Washington and sent the Buckeyes on their way to victory..."

Keys to OSU's win against Washington
September 16, 2007 Source: Dayton Daily News - "Ohio State safety Kurt Coleman doesn't know whether he deserves the credit he was given for a blocked field goal, but he does know how important that play became. Ahead 7-3 early in the third quarter, Washington was poised to build on its lead after getting inside the Buckeyes' red zone..."

Buckeyes foil Washington
September 16, 2007 Source: Toledo Blade - "There was a rabid football team waiting for the Ohio State Buckeyes here yesterday. Washington came to this war with an army, and a navy. But Ohio State had the right blood-and-guts foot soldier - linebacker James Laurinaitis - to defang the Huskies, bleach the lavender out of their horde, and sink the hopes of the fleet of several hundred boats moored just outside the end zone, resulting in a 33-14 win..."

Second-Half Outburst Leads Buckeyes Past Huskys
September 15, 2007 Source: The Ozone - "The-Ozone recap of the win over Washington..."

Buckeyes Tame Washington, 33-14
September 15, 2007 Source: Bucknuts.com - "Ohio State scored two touchdowns less than a minute apart in the third quarter and came away with a convincing 33-14 victory over Washington on Saturday in Seattle. Chris 'Beanie' Wells had 24 carries for 134 yards and a touchdown for the No. 10 Buckeyes, who remained undefeated at 3-0..."

Locked Up
September 15, 2007 Source: BuckeyeSports.com - "In a game billed as a chance for Washington - led by quarterback Jake Locker - to put its program back on the map, instead it was the Ohio State defense that stole the show. The Buckeye stop troops helped an opportunistic offense pull away to a 33-14 win in Husky Stadium Saturday afternoon..."

No. 10 OSU turns it on in second vs. Washington
September 15, 2007 Source: Associated Press - "Chris Wells ran for 135 yards and a touchdown and No. 10 Ohio State scored 24 consecutive points in the second half to beat Washington 33-14 on Saturday. Linebacker James Laurinaitis intercepted Washington's Jake Locker twice deep in Buckeyes territory. Last season's Nagurski Award winner as the nation's best defensive player also had a key sack of the Huskies' redshirt freshman star during the decisive sequence of the third quarter. Ohio State (3-0) tied their school record for consecutive wins in the regular season with 21, matching a mark set from 1967-69..."

Special-teams units come to rescue
September 16, 2007 Source: Columbus Dispatch - "and: 200 and counting, He did what?, Target on his back and The inadvertent touchdown..."







Huskies can't hold halftime lead, fall to Buckeyes
September 15, 2007 Source: Seattle Post-Intelligencer - "Washington Huskies defensive coordinator Kent Baer wasn't exactly beside himself after his team fell to the 10th-ranked Ohio State Buckeyes 33-14. Maybe because it seemed like a 'shoulda, coulda, woulda' loss. Baer's defense should have had two interceptions. It could have done better tackling and, if it weren't for a couple freshman mistakes, it would have won..."

Huskies Notebook: Locker shines, struggles against tough defense
September 15, 2007 Source: Seattle Post-Intelligencer - "...Ohio State's front seven also proved faster than any Washington has faced so far. 'That is a fast look and he's never seen anything like that...' Lappano said. 'The speed of the game down there was unlike anything he's seen.'..."
Huskies Report Card

Husky Football Blog: Grading the game
September 15, 2007 Source: Seattle Times - "Here are my grades for the game..."