Ohio State Players of the Week (Minnesota Game):
Offensive Player of the Week: Brian Robiskie , WR.
Defensive Player of the Week: Marcus Freeman, LB.
Special Units Player of the Week: A.J. Trapasso , P.
Scout Team Champions: Defense: Bryan Gray ; Special Units: Mark Johnson ; Offense: Joe Gantz
Attack Force Award: James Laurinaitis, LB.
Jim Parker Lineman Award: Jim Cordle , OT.
Jack Tatum Hit of the Week Award: Shaun Lane.






Tressel turns into riverboat gambler
October 1, 2007 Source: Newark Advocate - "Was that really Tressel going along with a staffer's call for a fake punt from his 40-yard line on its first possession? Was that really Tressel, with 99 yards of carpet in front of his team, swayed into thinking score in the last two minutes of the first half and ultimately swinging for the fences instead of settling for a 14-7 lead?..."
Bucknuts Recruiting Rewind: 9/30
September 30, 2007 Source: Bucknuts.com - "We are back with another edition of our free feature, the Bucknuts Recruiting Rewind. In this feature, the Bucknuts staff gathers to talk about the latest recruiting news -- or just whatever recruiting issues are on our mind. Check out the latest version..."

Bucknuts Recruiting Rewind: 9/30
September 30, 2007 Source:SuperPrep.com - "'I like the coaches at Ohio State a lot,' Terrelle Pryor said. 'I talk with them a lot and we're really close. I really like (quarterback) coach Joe Daniels. He says they'd switch the system to make it fit me like they did with Troy Smith. They have a great offense and are having a really good season.' Pryor officially visits Ohio State on Nov. 3 ..."






Big-play Buckeyes
September 29, 2007 Source: Columbus Dispatch - "Maybe Minnesota will be the first Ohio State opponent to figure it out: The Buckeyes like to throw deep. A lot. Maybe the Gophers are so bad that it won't matter. That will be decided tonight in the Metrodome. But what's already apparent this season is that reports of Ohio State returning to grind-it-out football were greatly exaggerated..."





OSU Kickoff Team Outperforming Predecessors
September 29, 2007 Source: BuckeyeSports.com - "Ohio State's kick coverage team - including at times eight freshmen - has been dishing out big hits and holding teams to worse field position than it did a season ago despite having more ground to cover along the way..."





Babb Bits: SEC's Advantage Over The Big Ten
September 28, 2007 Source: Bucknuts.com - "The nation seems to love to hate the Big Ten Conference, and the critics are getting their fill this year as criticism of the Big Ten is everywhere. Meanwhile, the critics are quick to pour praise on the SEC. The first thing those critics often claim is that the SEC athletes are superior. Charles Babb says that's not the case, but there is another issue that helps the SEC -- one that not many people are talking about..."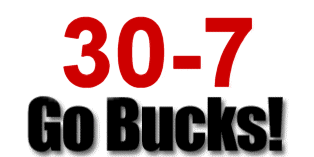 Beanie Wells ran for 116 yards and two touchdowns as the Buckeyes improved their school record regular-season winning streak to 23 games.


Ohio State Improves to 5-0, Defeats Minnesota 30-7
September 29, 2007 Source:OSU Official Site - "Chris Wells rushed for 116 yards and two touchdowns, and the Ohio State defense didn't budge in a 30-7 win at Minnesota on Saturday night..."
Scoring Summary, Team Statistics, Individual Statistics, Defensive Statistics, Game Participation, Play-by-Play




Bucknuts TV: Tressel Postgame
September 30, 2007 Source: Bucknuts.com - "We have video footage of OSU head coach Jim Tressel's comments to the media after the Buckeyes' 30-7 win over Minnesota..."
Video Hightlights Ohio State-Minnesota
September 30, 2007 Source: Big Ten Network - Click on right side graphic links: 'Week 5-Football' and then 1) 'Top Plays of Week' and 2) 'Ohio State at Minnesota'


Postgame Notes From No. 8 Ohio State at Minnesota
September 29, 2007 Source:OSU Official Site - "Ohio State has won 23-consecutive regular-season games. The Buckeyes last lost a regular-season contest at Penn State, 17-10, Oct. 8, 2005. Overall, the Buckeyes have won 24 of their last 25 games..."

Buckeye Big Plays Doom Gophers
September 29, 2007 Source: The Ozone - "On a day marked by big upsets in the college football world the Buckeyes escaped unscathed on the strength of big plays in almost every facet of the game that spelled doom for a determined but outmatched Minnesota team. Check out the-Ozone game report ..."


Team Stat Comparison

1st Downs
24
15
Total Yards
459
277
Passing
209
232
Rushing
250
45
Penalties
5-32
6-60
3rd Down Conversions
7-16
3-16
4th Down Conversions
1-2
1-2
Turnovers
1
2
Possession
31:45
28:15
Complete Stats

Source: Fox Sports



Dominant in the 'dome
September 29, 2007 Source: Columbus Dispatch - "Buckeyes improve to 5-0 to set up showdown at Purdue...Ohio State didn't appear to play to its full strength tonight, but when it did flex its considerable muscles, it was a sight to behold..."

Ohio State - Minnesota Game Trax
September 29, 2007 Source: FoxSports.com - "Game Trax | Recap | Box Score | Play by Play | Head-to-Head"

Wells, No. 8 Ohio St. breeze past Minnesota
September 29, 2007 Source: Associated Press - "Recap, Box Score, Play-by-Play, Drive Chart, Photos..."

Buckeyes Cruise Past Minnesota 30-7
September 29, 2007 Source: Bucknuts.com - "No. 8 Ohio State got 116 yards and two touchdowns from Beanie Wells in a workmanlike 30-7 win at Minnesota. Quarterback Todd Boeckman also threw for 209 yards and two scores in the win, while the OSU defense held the Gophers to just 277 yards total offense. Click this link for all the details..."



Fake punt survives drop
September 30, 2007 Source: Columbus Dispatch - "Ohio State punter A.J. Trapasso finally got the call he'd long been awaiting, and he almost blew it. Trapasso dropped the snap as he took off to run a split second too early on a fake punt during the Buckeyes' first possession against Minnesota. But he picked up the ball and ran 18 yards, courtesy of a punishing block by Marcus Freeman, to the Minnesota 42-yard line. Seven plays later the Buckeyes had their first touchdown, on a 6-yard run by Chris "Beanie" Wells. Trapasso, long a big ground gainer on all manner of fakes during OSU kick scrimmages the past few years, had never been called on in a game before last night."



Tressel takes some chances on 4th down
September 30, 2007 Source: Dayton Daily News - "Ohio State football coach Jim Tressel is more likely to wear his perfectly coiffed hair in a perm than try many bold gambles during a game, but he called for one on the opening possession against Minnesota on Saturday and hit the jackpot..."


The Bottom Line
September 30, 2007 Source: Columbus Dispatch - "Minnesota came out wearing bright gold jerseys to match its bright gold pants. As far as Saturday-night surprises go, that was pretty much the extent of it. Is there another game on? Leaves are awarded on a zero-to-five basis..."

OSU report card
September 30, 2007 Source: Cleveland Plain Dealer - "A: Ohio State cornerback Malcolm Jenkins..."
Captain's Corner: Defense Shuts Down Gophers
September 30, 2007 Source: Bucknuts.com - "In a day of upsets and scoreboard-watching across college football, the Buckeyes quietly got the job done in their final game in the Metrodome. Jerry Rudzinski gives props to the Buckeye defense for another strong showing..."


Fumble bugs 'Beanie'
September 30, 2007 Source: Columbus Dispatch - "Wells' fourth straight 100-yard game ends on a sour note late...'I fumbled today, and I'm very disappointed about that,' said Wells, who thought he'd left that problem (four last season) behind. 'I wasn't focused on the game, and I was thinking about my ankle too much.'..."

Commentary: Tressel's calm demeanor is undervalued
September 30, 2007 Source: Columbus Dispatch - "This would have been a good week for Jim Tressel to have a Mike Gundy-style meltdown. When one of your quarterbacks gets arrested for allegedly trying to buy sex from a prostitute and you have to answer barbed questions both about him and your choice of punishment, it probably would be easy to go off the way Gundy, the Oklahoma State coach, did at a columnist last Saturday. It would be easy, except that the next time it happens with the Ohio State football coach will be the first time..."

The-Ozone Note and Quotebook
September 30, 2007 Source: The Ozone - "Trap game, Putting a Hurt On, Turning Point, Small Big, Hurt not Injured, Todd on Target, Mo Plays Well, Upsets, and Props to the Gophers; they're all covered in the-Ozone Note and Quotebook ..."





How Ohio State's opponents fared
| | | | | |
| --- | --- | --- | --- | --- |
| DATE | OPPONENT | SITE | W-L | THIS WEEK'S RESULT |
| Sept. 1 | Youngstown State | home | 4-1 | beat Missouri St. 49-21 |
| Sept. 8 | Akron | home | 2-3 | lost to UConn 44-10 |
| Sept. 15 | Washington | away | 2-3 | lost to USC 27-24 |
| Sept. 22 | Northwestern | home | 2-3 | lost to TSUN 28-16 |
| Sept. 29 | Minnesota | away | 1-4 | lost to Ohio State 30-7 |
| Oct. 6 | Purdue | away | 5-0 | beat Notre Dame 33-19 |
| Oct. 13 | Kent State | home | 3-2 | beat Ohio 33-25 |
| Oct. 20 | Michigan State | home | 4-1 | lost to Wisconsin 37-34 |
| Oct. 27 | Penn State | away | 3-2 | lost to Illinois 27-20 |
| Nov. 3 | Wisconsin | home | 5-0 | beat Michigan State 37-34 |
| Nov. 10 | Illinois | home | 4-1 | beat Penn State 27-20 |
| Nov. 17 | TSUN | away | 3-2 | beat Northwestern 28-16 |



Minnesota - Ohio State Postgame Quotes
September 29, 2007 Source: Minnesota Official Site - "(Coach Brewster) On the Gophers' performance: 'They're a heck of a defensive football team. The big thing for us was that we were only 3-of-16 on 3rd downs. We have to stay on the field better against a really good football team and keep their offense off the football field. They're very physical with their run game. They threw a couple of balls up and made a few plays in the passing game.'..."
Minnesota - Ohio State Postgame Notes

Hey, that wasn't so bad
September 30, 2007 Source: TwinCities.com - "...As it turned out, it wasn't that bad. I mean, some of us thought the Gophers would need a federal grant to rebuild after the Buckeyes left town. Not so. For nearly one full half, the Gophers were involved in a very close football game. What was all the fuss about, anyway? It's like how thinking about going to the dentist is always worse than actually being in the dentist's chair. Heck, with a final score of 30-7 the Gophers actually covered the point spread, which, as I recall, was 23 and a half..."

Make no mistake, it's a loss
September 30, 2007 Source: TwinCities.com - "...The Gophers (1-4) were held 28 points below their scoring average and managed just 45 yards rushing, but it was nowhere near as one-sided as last year's 44-0 loss at Ohio State - mostly because Minnesota limited turnovers..."



Mr. Bucknuts' Bucket Of Bullets
September 30, 2007 Source: Bucknuts.com -&nbsp"Mr. Bucknuts takes on the wild weekend of upsets and puts the Big Ten into perspective. We are then allowed his wizened take on stupid coaches (the polls), stupid coaches (the games), a mystical walk-on reports and the weekly strange stat sheet. All that and a little bit more in this week's Bucket of Bullets..."






Tallying up the winners and losers from Insanity Saturday
September 30, 2007 Source: ESPN.com - "Three Weekend Observations: 1. Someone will finish No. 1 this season, although you couldn't tell it by the Top 10 teams on Saturday. USC showed a lack of discipline. LSU looked sluggish. Oklahoma stopped playing after 50 minutes. The only highly ranked team that played well was Ohio State. The Buckeyes? It's not fair. It's not even the same team. But if you've moved past their performance on Jan. 8, you're ahead of me...Sorting Through The Carnage: WINNER: Big 10. Frankly, the league isn't very good. But five weeks into the season, Ohio State is ranked No. 4 and Wisconsin is No. 5. With a stingy defense and improving offense (as well as a soft schedule), the Buckeyes are 5-0. The Badgers have struggled to win their last four games. The Buckeyes and Badgers play at the Horseshoe in Columbus, Ohio, on Nov. 3..."









Notebook: Night Games And More
September 28, 2007 Source: BuckeyeSports.com - "Wonder why the Buckeyes have so many night games this season and what head coach Jim Tressel can -- or can't -- do about it? Who is the most athletic member of the Laurinaitis family? Is that really the wing-T formation the Buckeyes have been running? All this and more in this notebook..."

OSU notebook
September 28, 2007 Source: Columbus Dispatch - "Freshman cleared to join team...Little Animal on ice...Dominant 'D'..."

OSU notebook
September 27, 2007 Source: Columbus Dispatch - "Wilson could return for bowl...Wells' ankle 'cranked down on'...Not a snap..."

Wells aching, but Tressel says that's usual for RBs
September 26, 2007 Source: Dayton Daily News - "'I'm sure if you talk to Archie Griffin or Eddie George or any of those guys that carried the ball a lot, they'd tell you that it's probably Wednesday or so before they're really feeling good (after a game),' Tressel said. 'They crank it up on Saturday, and then they're back in the tub until Wednesday. That's the nature (of the position).'..."

Buckeyes must make room for Boom, just in case
September 26, 2007 Source: Columbus Dispatch -&nbsp"...freshman Daniel "Boom" Herron...was told several weeks ago the coaches wanted him to sit out the season. But now?...'We're going to prepare Boom as if he has to make the difference at Minnesota,' Tressel said..."

OSU OFFENSE POWER OR FAKE
September 26, 2007 Source: Canton Repository - "Tressel doesn't sound like he believes that his young offense is taking off. The Buckeyes are on pace to have one of the programs most prolific scoring seasons, averaging 37 points a game. That number got a boost when Ohio State hung 58 on outclassed Northwestern last weekend..."
Lawrence Wilson, a junior defensive end, was injured in the 2007 season opener vs. Youngstown State Sept. 1. He spoke with media for the first time since his injury Wednesday at the Woody Hayes Athletics Center. After answering questions, Wilson stopped reporters to add how much he appreciated the support from Buckeye fans who sent him get well wishes through cards, letters and emails. 'A lot of people sent cards and emails and I just wanted to thank all the fans out there for sending emails and cards,' Wilson, from Akron, Ohio, said. 'They said the whole Buckeye country wants you to get better. I thought that was real nice. They did not have to do that. I just wanted to say how much I appreciated it.' Source: OSU Official Site

Lawrence Wilson Speaks About Injury
September 26, 2007 Source: OSU Official Site - "Defensive end Lawrence Wilson meets with the media prior to Ohio State's game at Minnesota..."






Tressel may kick himself over decision
September 25, 2007 Source: The Morning Journal - "Ohio State has uncharacteristically struggled with its kicking game this year. First-year kicker Ryan Pretorius missed from 44 yards and had another from 32 blocked against Washington. Following a late touchdown Saturday, he never got the kick off on an extra point because of a bad snap. Faced with a fourth-and-one from the 30 on Saturday, Tressel had the opportunity to give Pretorius another chance with a 47-yard attempt. The game was already decided -- the Buckeyes led 35-0 and had long ago beaten any sort of pulse out of the Wildcats. Instead of giving his kicker a little rehearsal for when they really need a 47-yard field goal, Tressel elected to go for it and prove nothing..."






Small awakening
September 25, 2007 Source: Columbus Dispatch -&nbsp"Speedy receiver-return man displayed his playmaking ability in lopsided victory...'He is a great player who brings another dimension to our offense,' (QB Todd)Boeckman said. 'He's fast. He is coming along really well. Injuries set him back, but he's improving every week.'..."






CFN Rankings No. 1 to 119: Week 4
September 24, 2007 Source: CollegFootballNews.com.com - "While everyone's been busy trashing the Big Ten, Ohio State has stealthily climbed to No. 6 in CFN's latest rankings. Full Story..."(Click on the link below for all Top 25 Polls & Rankings)





OSU's speed kills on defense, too
September 24, 2007 Source: CentralOhio.com - "You thought Ted Ginn Jr. was fast? Ten of Ohio State's last 12 scoring drives have taken less than two minutes and six under a minute, so don't be surprised if coach Jim Tressel starts to hold a stopwatch instead of a play chart. Funny thing, though. When Northwestern wide receiver Eric Peterman praised the Buckeyes' speed Saturday he wasn't talking about the offense. 'They have a very fast defense,' Peterman said after the Wildcats absorbed a 58-7 thrashing. 'You can't simulate that speed on film or in practice, especially to play out on game day. They just confused our offense and that speed really helped that.'..."





Winning Big Ten won't be easy
September 24, 2007 Source: Newark Advocate - "Inmates get treated better than Ohio State treated Northwestern, which means all is right in Kirk Barton's madcap world. The warden in 'Shawshank Redemption' came off as more sympathetic than the Buckeyes' offensive tackle as he assessed the force used to subdue the Wildcats and decided the punishment fit a heinous crime committed by coach Pat Fitzgerald. 'He kind of called us out when he said he couldn't wait to get to the Horseshoe,' Barton said. 'The Horseshoe should be like Alcatraz. You shouldn't in your right mind want to come to the Horseshoe.'..."











Jim Tressel and Wells both said the ankle was fine, and that he didn't return because the score was so out of hand. Still, the alarming part was when Wells admitted the ankle is still bothering him:

"Sometimes it does (hurt), sometimes it doesn't," Wells said. "Mainly when I cut, (it hurts)."
(Source: USA Today)

Beanie says ankle injury nothing to worry about
September 23, 2007 Source: Columbus Dispatch - "Tailback Chris 'Beanie' Wells said it loud and clear: If Ohio State had needed him, he could have returned to the game yesterday...He rolled his left ankle at the end of a 6-yard gain, which gave him 100 yards for the day, his third straight game at or above that mark. 'I'm fine, I just rolled it a little bit,' said Wells...The Buckeyes running back stable didn't need any more bad news. Freshman Brandon Saine, who had played well in the first three games, underwent arthroscopic knee surgery Friday to repair torn cartilage...'Brandon Saine, I would expect to miss one more game,' Tressel said of Saturday's game at Minnesota. Wells said he spoke to Saine after the surgery. 'I told him, 'Brandon, we need you back. You better get ready,' ' he said..."






Five Things We Learned This Weekend
September 23, 2007 Source: SI.com - "That Ohio State is the class of the Big Ten. It would be dangerous to read too much into a 58-7 rout of hapless Northwestern -- if that rout didn't come on the heels of a more meaningful win at Washington in which OSU's rebuilt offense apparently found its identity. The assumption coming into the season was that the Troy Smith-less Buckeyes would ride RB Beanie Wells and their defense in a more conservative approach, only Wells was less than dominant in the first two games against Youngstown State and Akron. So against the Huskies, Jim Tressel opened the offense back up and put faith in QB Todd Boeckman -- and it paid off to the tune of 471 yards in offense. Against the Wildcats, Boeckman attacked from the get go, hooking up with WR Brian Robiskie for two long touchdowns in the game's first five minutes. Combined with three turnovers that set up short field position, the Bucks were up 35-0 by the first minute of the second quarter, and Boeckman wound up throwing for four touchdowns.

Throw in a defense that held the Wildcats to 120 total yards, and Saturday's game looked no different than so many during the Buckeyes' undefeated 2006 regular season, with the caveat that Wells (12 carries, 100 yards) is no Antonio Pittman just yet, and none of the receivers are nearly the type of game-breaker as Ted Ginn Jr. Still, I'll take these guys in a heartbeat over offensively challenged Penn State, defensively challenged (though not the past two weeks) Michigan or hanging-on-for-dear life Wisconsin. The one potential wild card: Purdue, which is 4-0 and putting up an average 527 yards of offense but has also played Toledo, Eastern Illinois, Central Michigan and Minnesota. Ohio State visits the Boilers in two weeks."






Ohio State's Brian Robiskie sizzles as Buckeyes roll along
September 23, 2007 Source: Cleveland Plain Dealer - "If there is a picture of his son in this newspaper or others, Terry Robiskie will e-mail, calling himself a "goofy father" and asking for a copy. When Ohio State is playing on television, Terry will make time between meetings in Miami to try to take a peek at the highlights. It was easier last season, when Terry was a Browns' assistant coach. He couldn't make it to the Horseshoe, but the Buckeyes were always on television. Now he tutors former Buckeye wideout Ted Ginn Jr. and the other Dolphins wide receivers..."

Robiskie on a very strong pace
September 23, 2007 Source: Dayton Daily News - "The flanker is on pace to have one of the best seasons as a receiver in Ohio State history. If he stays on pace, Robiskie will finish the season with 1,293 receiving yards, close to the record of 1,435 set by David Boston in 1998. Only four OSU receivers have passed 1,000 yards - Boston, Terry Glenn (1,411), Cris Carter (1,127) and Michael Jenkins (1,076). That's definitely a big "if," but Robiskie isn't worried about it..."

Robiskie A Product Of Grooming, Hard Work
September 22, 2007 Source: Bucknuts.com - "A career outing on opening day. Four catches for 82 yards vs. Akron. Another outstanding performance and a huge touchdown catch at Washington. OSU's Brian Robiskie is well on his way to a very eye-opening junior season -- and it's mostly because of an unwavering work ethic..."









College Football Weekend Review
September 23, 2007 Source: USA Today - "SEC, Big Ten open for businessClose calls (minus one) in the Southeastern Conference, the early favorites in the Big Ten stand out and Louisville suffers another setback while Nebraska avoids losing two straight..."