Ohio State vs Miami - Pass Interference? Replay + Analysis
A replay and analysis of the controversial call from the 2003 BCS National Championship game, played at the Fiesta Bowl. As it turns out, the refs got the call right. Watch the video to find out how.
Referee Lists Best Calls in Officiating History
"What are the best calls of all time? Referee magazine reveals the top picks in its latest feature "The 18 Best Calls in Officiating History." There have been a lot of great calls by referees and umpires over the years in sports history, but Referee reveals its "best of the best" in the March 2007 issue of the magazine. Some the calls that made the list include:...the pass interference call by football official Terry Porter in the 2002 BCS national championship game...In addition to being verifiably correct, the calls were selected based on prominence, difficulty, the stage on which they were made and their impact. The calls came from international, professional, college and high school games...To help compile the list, surveys were sent to members of the National Association of Sports Officials asking for input. Referee also phoned and e-mailed dozens of the greatest officials of all time, asking for their opinions. After months of discussion, the final "best calls" list was put together by writer Paul Hamann and the Referee editors..."

SI column draws NASO ire
"The National Association of Sports Officials (NASO) today fired back at editors of Sports Illustrated over columnist Rick Reilly's column appearing in the 1/13/03 issue. The Life of Reilly column titled "Fietsa Fiasco" takes to task Big 12 official Terry Porter and his pass interference call made in the overtime period of the BCS national championship game between Ohio State and the University of Florida – Miami...

"Rick Reilly must have had just four seconds to write his most recent column, "Fiesta Fiasco." In that short amount of time, he skewered Fiesta Bowl official Terry Porter for having taken a longer-than-normal time to throw the flag for pass interference during overtime. Reilly spends the bulk of his breathless column harping about the slowness of that flag. More offensively, Reilly then also conjured up a connection between Porter not immediately throwing the flag to Porter evaluating the environment ("a stadium that was 90% Ohio State red") and figuring he had better throw it if he wanted to "make it out of there with both his kidneys."

"Not once – not once! – did Reilly have the decency to state a fact: The call was correct. Terry Porter took his time and got the play right. I thought that is what we officials have been asked to do – get the play right. I can only surmise Reilly was rushing his "call" into print and did not take the time to ask those in authority about the rightness of the call or, in a more sinister vein, did and then chose not to tell the readers. Bad call, but I guess time was of the essence."

Upon further review, read Dennis Dodd's CBS Sportline column:
Months later, 'Canes interference call looks right
You Make The Call...it's obvious!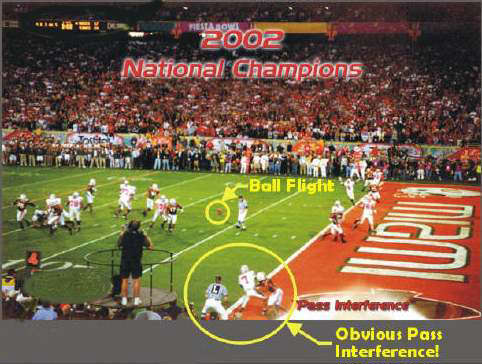 Notice Where Sharpe's Hand is...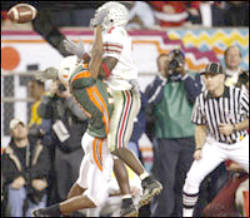 Why wasn't this mugging called? Had it been,
there would not have been an overtime! See the video below.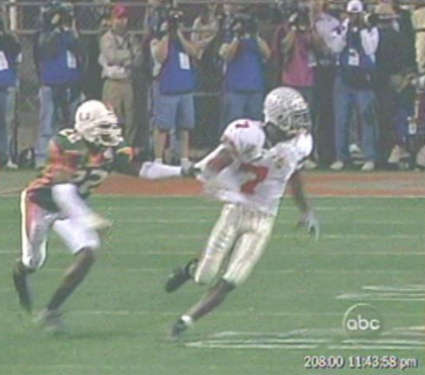 On third down a catch by Chris Gamble, with under two minutes to play, was ruled incomplete due to his being out of bounds. Replays however seem to show that: 1) Gamble had his jersey grabbed on this play which could have resulted in pass interference call and a consequent Ohio first down. 2) Gamble appeared to land inbounds, again a first down. With a first down Ohio State would have been in a position to run the clock out and win the game without it going to overtime. 3) Krenzel was hit after releasing the football which could have resulted in roughing the passer and a first down allowing Ohio State to run out the clock. Instead they had to punt and Groom punted the ball 44 yards.

Dennis Dodd wrote in an SI column Jan. 4, 2003: "What was potentially damaging to the Buckeyes was a blown call at the end of regulation. Gamble caught a sideline pass (barely inbounds, replays showed) that was ruled out of bounds. Had officials made the right call, Ohio State would have had a first down and probably run out the clock."



The video below provides a much better look:

Do you think this was obvious? Not called!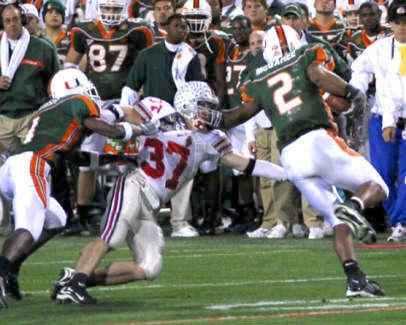 You guessed it! This was not called!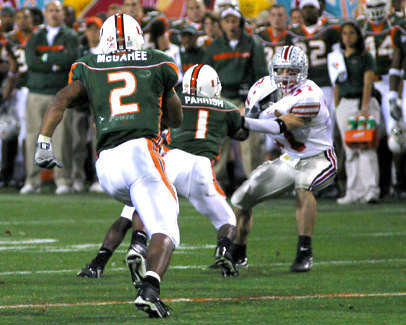 How did the zebras miss this one?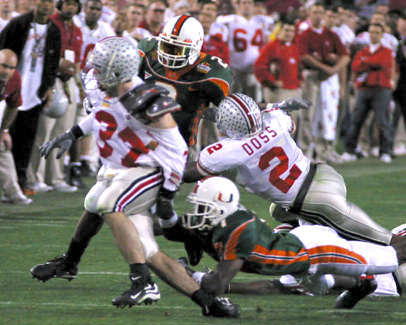 Nope, this wasn't called either.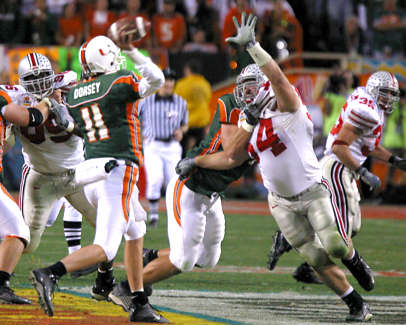 This exchange took place at the Eddie Robinson Coach of the Year award presentation. Tressel was the recipient, and Winslow Sr. was the presenter:

Kellen Winslow, Sr. asked Tressel these two questions, and did so sarcastically:
1) Where can I get one of those sweater vests?
2) How do you define pass interference?

Tressel responded: "First, maybe if you get in the weight room and work out a little bit, you can borrow one of mine.

And the definition of pass interference? Well, when those guys in the black and white striped shirts, and funny pants throw out one of those yellow hankies, then it's pass interference."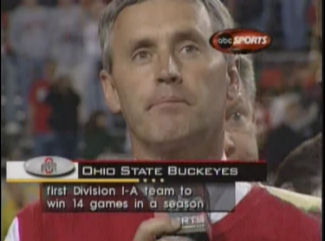 The 2002 National Championship Season of the Ohio State Buckeyes Football Team including stats, schedule results, 2003 Fiesta Bowl, championship game recap versus Miami, play by play, roster, coaches, final national rankings and more.