No landline required!

The Winners Manual
by Jim Tressel

What It Means
To Be A Buckeye
by Jim Tressel

The Rivalry
Now available on DVD!



| | |
| --- | --- |
| | The (red) story links, or the 'read more' graphic, will open new (pop-up) windows to the source of the article, audio or video, so you can read/hear/see the rest. If your browser is set to block pop-ups, please set it to always allow them from our site. You will not get any annoying advertising pop-ups, of any kind, generated by this site...ever. |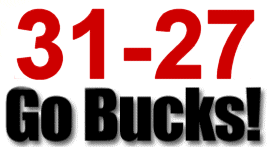 | | |
| --- | --- |
| NAVY vs. OHIO STATE | |






Ohio State Opens 2009 Season with 31-27 Win Over Navy
September 5, 2009 Source: OSU Official Site - "The No. 6 Ohio State Buckeyes hosted the U.S. Naval Academy for the first time in 78 years to open the 2009 season, with the Buckeyes coming out of the hard-fought game with a 31-27 win before an opening game record crowd of 105,092 in Ohio Stadium.

Navy, which had trailed by as many as 13, drew to within two points with 2:23 remaining in the fourth quarter on a 24-yard touchdown run following an interception. Buckeye junior Brian Rolle, who tied for the team lead with a career-best nine tackles, intercepted the 2-point attempt and ran it back for two points to give the Buckeyes a four-point lead (31-27).

The final statistics were virtually equal, with 363 total yards for Ohio State and 342 for Navy. Buckeye quarterback Terrelle Pryor ended the day 14-for-21 for 174 yards and one touchdown and also rushed for a TD. Dan Herron was the leading rusher with 72 yards, including a touchdown, on 17 carries, along with 29 receiving yards on four catches. Brandon Saine had nine rushes for 53 yards for Ohio State. Kurt Coleman was the team co-leader with nine tackles and also had an interception.

For Navy, quarterback Ricky Dobbs accounted for all four touchdowns, with two passing and two rushing. He was 9-for-13 through the air and had 18 rushes for 83 yards on the ground. Marcus Curry led the Midshipmen with 101 yards receiving on just two catches, converting both for TDs..."



Scoring Summary, Team Statistics, Individual Statistics, Drive Chart, Defensive Statistics, Game Participation, Play-by-Play


Postgame Press Conference Transcript

"OSU Quarterback Terrelle Pryor sat down with reporters following the game against Navy. Pryor talked about the game plan, next weeks game against USC and the word "Vick" that he had on his eye-black during the game, among other things."




IT WAS OVER WHEN: Rolle went 99 yards for a defensive PAT

THE PLAY: Rolle's pick on Navy's two-point conversion, which would had tied the game

GAMEBALL GOES TO: Brian Rolle

THE STAT: 3rd Down Conversions-OSU was only 3-12 while Navy was 8-12

THE STAT II: OSU drove into the Navy red zone six times and scored on four of those, but just two of those scores were TDs -- shades of last season.

THE STAT III: Navy quarterback Ricky Dobbs tossed two TD passes; Navy quarterbacks had six TDs last season.

NUMBERS FOR DUMMIES: 4: Catches by Ohio State tight ends, proving that hell can freeze over

NUMBERS FOR DUMMIES II: 105,092 — the largest attendance ever for a Buckeyes season opener

NUMBERS FOR DUMMIES III: 9-1: Terrelle Pryor's record as a starting QB

COACH TRESSEL SAID IT: "It wasn't a dazzling fourth quarter for us, by any means."

COACH NIUMATALOLO SAID IT: "If Ohio State comes in totally focused on us, we had no chance. We felt like we had them in the perfect storm."

AUSTIN SPITLER SAID IT: "This game shows we've got a long way to go."

THEY SAID IT: Lou Holtz had the best line of the day at halftime in the studio: "If (Ohio State's line) can't protect Pryor, he'll run up and hand it to the receiver."

TBDBITL/OSU/NAVY CLASS: The band didn't play the alma mater after the game until Navy's band played theirs. Navy's players and coaches then came down to the South stands and stood behind the Buckeyes for 'Carmen Ohio' before leaving the field. Thumbs up!

THE VIEW: How the team sees it: No one will remember this come bowl-selection time, right?
How the pollsters will see it: That No.6 ranking? Glug, glug, glug.
How Buckeye Nation will see it: In naval terms, that torpedo came too darn close.

TRANSLATING TRESS: What he said: "We always talk about how we like the ball delivered to the numbers or lower." -- explaining that Pryor's fourth-quarter interception sailed too high. What he meant: "Our numbers, not theirs."

PEOPLE WILL BE TALKING: Navy has four players who weigh 275 pounds or more; Ohio State has 24. Navy has zero high school all-Americans; Ohio State has 12. Navy has one player currently in the NFL; Ohio State has 48. Yet such discrepancies meant nothing to the Midshipmen on Saturday, who almost pulled off a colossal upset in front of a stunned crowd of 105,092.

CAUSE FOR CONCERN?: DeVier Posey left the game early with an ankle injury and didn't play in the second half.

PRYOR'S EYE-BLACK PATCHES: Mika (referred to Pryor's sister) under his right eye and Vick (Vick was a nod to Michael Vick) under the left.

SOMETHING WE LEARNED: The Buckeyes will have to play significantly better to beat USC next week.


(Sources: ESPN/Washinton Post/Columbus Dispatch/New York Times/The Webmaster)



Tressel said passing up field goal try was a mistake (+Video)
September 5, 2009 Source: Cleveland Plain Dealer - "...It was Tressel's decision to pass up a 32-yard field goal try in the fourth quarter with a 15-point lead that allowed Navy to get back in the game. Tressel said his emotions took over with about six minutes to play.

"Probably let the emotion of wanting to score and wanting our offensive guys to knock a hole in it get the best of me," Tressel said. "When we didn't make it, what went through my mind? I was hoping the next voice on the phone wasn't [athletic director] Gene Smith because, you know, it was a poor decision. It might not have looked as poor at the moment. The thing I said to our guys, I said, we didn't put it to three scores and that was a poor decision on my part."




OSU-Navy quick thoughts
September 5, 2009 Source: Columbus Dispatch - "Don't make the mistake of saying, "If they can barely beat Navy, watch out for USC...." It will not be the same atmosphere, or the same opponent, and OSU players now have a game experience, particularly the young guys.....you can't always just extrapolate how a team will play one game to the next...

Forget the statistics, what I think should bother OSU fans about this game was the letdown in the second half...

S Anderson Russell may find himself playing less against USC this week. He was victimized on both Navy TD passes...

Terrelle Pryor looked improved, but not spectacular, which is just what I thought I would see. He distributed the ball well, throwing check-downs when nothing was open downfield. He threw only one really bad pass, the INT over the middle that he sailed high...

OSU RBs look pretty good...The offensive line was pretty decent...Dexter Larimore gets some serious push. Brian Rolle is a player. Kurt Coleman is doing just what a captain should do -- make big plays (two turnovers)..."




The Game of next week
September 5, 2009 Source: Sporting News - Matt Hayes wrote: "...The lingering question: How in the world is a team that struggled to put away Navy going to compete next week against powerhouse Southern Cal? This Buckeyes team, rebuilt on both sides of the ball, isn't nearly as complete as the past three seasons when Ohio State was humiliated in big non-conference losses to Florida, LSU and Southern Cal...The only saving grace? Southern Cal didn't look much better. Forget about the bloated score; Navy would beat San Jose State by double digits. USC's first five possessions looked like this: punt, fumble, punt, fumble, punt...Ohio State's cornerbacks routinely lost individual battles to Navy receivers, and quarterback Terrelle Pryor still makes confounding decisions when his protection breaks down (which it will, often, next week). And frankly, Southern Cal proved nothing against San Jose State. If anything, the season opener left us with more questions..."



Postgame Players Quotes (Ohio State vs. Navy)
September 5, 2009 Source: OSU Official Site - "...Kurt Coleman, senior defensive back On possibly overlooking the game: "Obviously, there are things we need to work on. You learn to realize everything that happens is on us. It's all up to us."...Were you looking ahead to USC?: "All of our focus this week was on Navy. Now it's about fixing the mistakes we made for USC."..."




Brian Rolle returns a 2-point-conversion try by Navy 99 yards for a defensive PAT, two points, with 2:23 left in the 4th quarter Saturday that saved the day for the Buckeyes against Navy. Rolle, in his 1st career start, also had a career-high nine tackles.

"When the guy motioned in I said to myself 'there it is.' I was actually supposed to blitz on that play, and I knew what they were running. We practiced it, I saw it and played off what I did in practice and made a big play.

"The guy came out of nowhere," Navy QB Ricky Dobbs said. "I don't know how he broke on it."

Navy's ensuing onside kick went out-of-bounds on the Navy 44. The Buckeyes took possession and were able to run out the clock.

Rolle on being nervous before Navy's two-point conversion: "We were nervous for maybe a second. Then we realized there was no reason to panic now. We knew we just needed to step and make a play."

Rolle on his height: "The guy said he didn't see so I guess that's the great thing with me not being so tall, then I'm out of nowhere with the ball."

Advanced Scouting Help Bucks Stifle Navy Conversion Attempt: As Navy took the field with the game on the line, having converted eight of their 12 attempts on third down, everyone in the Horseshoe was expecting a run – after all, the Midshipmen have led the nation in rushing four straight years. Everyone that is, except the Ohio State coaching staff, who predicted Navy would resort to a play they had used in similar situations in the past. "It was very specific. That's the only two point conversion play we saw on film, so when they motioned we knew it was coming," safety Jermale Hines said after the game. "Before the snap and during the snap guys were shouting it."..."They ran the play on film. They were very successful with that play, they ran it a couple times (on film)," linebacker Brian Rolle said.

(Source: The Ozone)



Rolle's no-blitz decision sparkles: There's a time to blitz and a time not to blitz, and junior linebacker Brian Rolle made the correct call yesterday in Ohio State's 31-27 win over Navy.

(Source: Columbus Dispatch)

Brian Rolle's Game Saver for Ohio State vs Navy
Raise Your Hand If…
September 6, 2009 Source: Eleven Warriors - "… You thought it would take a Brian Rolle conversion return in the waning minutes to secure a win against Navy...For whatever reason, Tressel's Buckeyes once again played to the level of their competition...And for the second straight season, the team heads into a matchup with USC with more questions than answers..."




The Bottom Line
September 5, 2009 Source: Columbus Dispatch - "Offense (3 leaves) Not too shabby: On its 11 possessions, OSU had three TDs, three field goals, only two punts and one (costly) turnover. Terrelle Pryor looked more like a QB than an athlete playing QB, and it was good to see diversity among the receiver set...

Defense (3 leaves) Considering the novelty of the triple option, the Buckeyes seemed to emerge none the worse for wear. More troubling, perhaps, is that Navy scored twice in the second half on fairly simple pass plays with OSU in man coverage...

Special teams (4 leaves) Brandon Saine's opening kickoff return -- reverse! -- provided a spark...

Coaching (3 leaves)...Tress knows now that if you have a chance to put Navy three scores down in the fourth quarter, you kick the field goal...

Fun quotient (5 leaves)...

Opponent (3 leaves) It's hard not to love the Midshipmen. They're beyond disciplined (two penalties), they're going to go until the clock reads 0:00...

Officiating (4 leaves)...It wasn't perfect; one of the few times boos could be heard in the Horseshoe all day was when the crowd let the zebras know they had missed a face-mask tackle on Brandon Saine..."



OSU: Report Card
September 6, 2009 Source: Newark Advocate - "OFFENSIVE LINE: C...RUNNING GAME: B...PASSING GAME: B...

DEFENSIVE LINE: D Ends Doug Worthington and Thaddeus Gibson set up two OSU touchdown drives with a fumble recovery and forced fumble, respectively. An experienced line was supposed to set the tempo this season, but it's still getting gouged up the middle.
LINEBACKERS: C...

DEFENSIVE BACKS: D- Picking up where he left off in the Fiesta Bowl, Anderson Russell got beat on scoring strikes of 16 and 85 yards to slotback Marcus Curry. The first came on third-and-long and capped a 99-yard drive. Ironically, it was Russell's "save" that enabled OSU to down the preceding punt on the 1. Kurt Coleman had a diving interception in the fourth.

SPECIAL TEAMS: A+...
COACHING: C-..."





What the Midshipmen had to say
September 5, 2009 Source: Columbus Dispatch - "...Ricky Dobbs, junior quarterback...On turnovers: "Turnovers just killed us. On the play they ran it back, the guy (Brian Rolle) just made a great break. But I take full responsibility for this one. We have no chance to win with turnovers."..."



Opposite sideline
September 5, 2009 Source: Columbus Dispatch - "...What went right: More often than not, the triple-option offense as executed by Dobbs depended on sleight of hand (and foot) that the Buckeyes had trouble getting their arms around. Navy gained 342 yards of offense and averaged 6 yards per play..."





Road construction to reroute fans attending Ohio State home football games



* Senior receiver Ray Small won't play against Navy on Saturday, which leaves the punt return duties up in the air. Sophomore receiver DeVier Posey is the No. 2 punt returner, with Dane Sanzenbacher and Devon Torrence also in the mix there. The AP reported that OSU spokesperson Shelly Poe said that Small was sick and in bed on Friday

* Senior center Jim Cordle is the first offensive captain of the season. The Buckeyes will rotate the fourth captain for each game between various offensive players this season. (Cordle Says O-Line Is Ready For Battle Source: Bucknuts)

* Ohio State safety Anderson Russell and Navy safety Wyatt Middleton were high school teammates in Georgia, sharing the same backfield.

(Source: Cleveland Plain Dealer)







Ten Pressing Questions: Navy at Ohio State
September 5, 2009 Source: Bucknuts - "Welcome to one of our usual game day features, Ten Pressing Questions.



* 1. How has Terrelle Pryor improved at quarterback?...
* 2. How do the Buckeyes replace Beanie Wells at tailback...
* 3. Who steps into the shoes of Brian Robiskie and Brian Hartline at wide receiver?...
* 4. Will the Ohio State offensive line show marked improvement from a year ago?...
* 5. What will this OSU offense look like?...
* 6. Can the OSU defense contain Navy's option offensive attack?...
* 7. Is this OSU defensive line for real?...
* 8. Who steps up at the linebacker spots?...
* 9. What impact will the special teams have on this game?...
* 10. Is Ohio State a championship caliber football team?...




Friday Walk-through
September 4, 2009 Source: The Ozone - "The Walk-through. It's what teams do the day before the game to make sure all their ducks are in a row for the upcoming contest. This season Brandon Castel will do his own Friday Walk-through to sort out all the reports leading up to the game and get all the ducks in a row with regards to Buckeye personnel. Check out the first installment of Friday Walk-through..."




What they're saying about the Buckeyes
September 3, 2009 Source: Columbus Dispatch - "Here is a sampling of opinions from beat writers around the Big Ten on how Ohio State will fare this season:..."




Ohio State D-line expects to dominate
September 4, 2009 Source: Toledo Blade - "There is a bit of a growl in his voice when Ohio State senior defensive tackle Doug Worthington talks about the role he and his cohorts in the trench need to fill in order for 2009 to be another championship season for the Buckeyes. And there is nothing vague about Worthington's snarl or his expectations.

"We can't just play this year – we need to dominate," he said. "Everybody says they love to play and they want to play hard. But that's not enough for us. We need to be the dominant group out on the field." As it readies for Navy in tomorrow's season-opener, Ohio State has one of its deepest, most athletic and talented defensive fronts in some time. The plan calls for a relentless shuttle of fresh bodies to keep the aggression at a feverish pitch.

"We've got eight, 10 guys who can go right in there and get the job done," Worthington said. "Who's starting doesn't matter, because we're going to be running guys in and out so everybody's rested, and everybody's hungry."..."




Don't let them thru that line (2009 Defensive Preview)
September 3, 2009 Source: Men of the Scarlet and Gray - "What we know: We can safely say that Ohio State will always field a formidable defense. Occasionally, we'll get a defense that is dominating. This year, I think as this front seven develops as a unit, we'll be leaning toward the latter...What we don't know: The cornerback position...What we fear: I personally fear I'm overestimating the team on the defensive side of the ball..."



Drive! Drive on down the field (2009 Offensive Preview)
September 3, 2009 Source: Men of the Scarlet and Gray - "What we know: Let's get the obvious out of the way first...What we don't know: The unknowns. The question marks. Will the line improve? Where will that improvement come from? ...What we fear: What will happen if Pryor goes down?...Another thing I think every Buckeye fan fears is another debacle in front of a national audience..."




Buckeyes are younger but more prepared
September 3, 2009 Source: ESPN - "The most significant number during Ohio State's preseason wasn't 2 (Terrelle Pryor's jersey), 3 (consecutive BCS bowl losses), 4 (consecutive Big Ten titles) or 5 (consecutive wins against Michigan). It was 37. "We had 37 guys that are new to the team," senior safety and co-captain Kurt Coleman said. "There's a lot of things that we didn't know what to expect heading into camp, but during camp, we definitely jelled and we've gone after it. The younger guys are definitely ready to step up and make big plays."...

As a result, the Buckeyes intensified their preparation for the season. There also were differences when the team hit the practice field. "We definitely hit a lot more," Coleman said, "which is good. Usually we go into a season, and we're not really fully prepared for that first game. This year, we're definitely prepared for what we're about to go through. You go into the first week, you don't understand the game speed, you don't understand the real hitting of someone going live...

"I'm going to say this: The guys that play, they're ready," Coleman said. "I would think they were at least a year into the program, the way they play and the way their bodies are. It's amazing the way they came into camp ready to go."..."




Ohio State ponders some new looks on defensive front
September 3, 2009 Source: Cleveland Plain Dealer - "Ohio State fans know the Buckeyes' defensive line is the deepest and most experienced part of the team. The potential success of the defensive line won't hinge only on personnel, because Ohio State should be offering some new defensive looks up front this season. It may be hard to judge against Navy's triple option on Saturday, because that offense is so unique. But when the Buckeyes line up against USC on Sept. 12, they won't be trying the same old things that didn't work a year ago in that 35-3 loss in Los Angeles.

A base 4-3 team in recent years that offered more of a 3-4 look on passing downs, Ohio State in practice seems to be using that 3-4 as its go-to defense, with pass rusher Thaddeus Gibson standing up and roaming from one side of the line to the other with some freedom.

That look isn't completely new, but it's tweaked and more frequent. Also, the Buckeyes are offering a 50 base defense at times, with three down linemen and Gibson standing up outside one tackle and the strongside linebacker, Austin Spitler or Etienne Sabino, offering a bookend by doing the same on the other side.

The main idea is to offer a variety of looks in a variety of circumstances without changing personnel.

"Going from a 4-3 to a 50 completely changes everything," said OSU senior offensive tackle Jim Cordle, who has been facing the changing looks in practice. "They can shift in and out of it and totally throw off an offensive line..."




Buckeyes don't want to be sliced by Navy offensive line's cut blocks
September 3, 2009 Source: Cleveland Plain Dealer - "Northern Illinois' Larry English, a 255-pound outside linebacker who would land in the first round of the NFL Draft, chuckled last November at 260-pound Navy right tackle Matt Molloy. "The first time I came up to the line of scrimmage, he said, 'You've got to be kidding me, man,'" Molloy recalled. "He was laughing at me."

Major college football tackles aren't supposed to look like Molloy. Ohio State's starting tackles have 40 to 50 pounds on him, minimum. But for how the Midshipmen block, size doesn't matter as much as quickness. Ohio State is preparing for Navy players in Saturday's season opener to spend the day going low and taking out their legs with cut blocks, because the Midshipmen know they can't compete up high...

The reaction from defenders usually starts at annoyance and sometimes graduates into something more. "Getting cut [stinks]," said Navy defensive lineman Matt Nechak, who faces cut blocks each week in practice. "Sometimes people get cut and they try to fight them. People will try to cut you and if they miss, they'll keep trying to cut you. It's going to be frustrating, but teams adjust."..."





Tressel's Thursday update
September 3, 2009 Source: Columbus Dispatch - "Some quick highlights from our final access to coach Jim Tressel before the game Saturday:

-- Said DE Cameron Heyward, coming off a sprained ankle, looks fine and has not missed any practice time.

-- Added reserve safety Aaron Gant to the list of players who may miss the game because of injury (others are Ohrian Johnson, Travis Howard, Jermil Martin) ....also Mike Adams (reported suspension).

-- Confirmed that both freshman RBs, Jordan Hall and Jaamal Berry, should play.

-- Said the plan was to get backup QB Joe Bauserman in, somewhere in the third-fourth-fifth series of the game range. This has been the typical M.O. for an OSU opener in recent years. Typically, the backup gets a series early, then comes back in if the game gets well in hand in the second half..."




"Assistant head coach/wide receivers coach Darrell Hazell and cornerbacks coach Taver Johnson spoke to the media Wednesday afternoon after practice to talk about this Saturday's game against Navy (ESPN, noon ET)."







Keys to the season
September 3, 2009 Source: BuckeyeXtra - "Dispatch reporters Ken Gordon and Tim May analyze key factors that could make or break Ohio State in 2009:

Key offensive player-May/Gordon: QB Terrelle Pryor, obviously...

Key defensive player-May: DE Thaddeus Gibson...Gordon: CB Chimdi Chekwa...

Key early game-May/Gordon:Southern California, Sept. 12...

New to view-May: Sophomore receiver DeVier Posey...Gordon: guard Justin Boren, who brings a sorely needed nastiness to the line.

Best offseason move-Gordon: Moving Jake Stoneburner from receiver to tight end...May: when Boren transferred from Michigan after two years as a starter...

Pressure is on-May: First-year quarterbacks coach Nick Siciliano...Gordon:...offensive coordinator/offensive line coach Jim Bollman...

Stat that must change-Gordon: 30.2. That's the average points given up by OSU in its past five games against top-10 teams, all losses...May: Scoring from inside the red zone...

Buckeyes go to a BCS bowl if-May: They win the Big Ten...Gordon: They avoid the big upset...the key will be holding serve against teams such as Illinois and Iowa.

Bottom line-Gordon: It's not rocket science -- teams with superior quarterbacks are the big winners...May: The vibe coming out of camp was that this team seems more capable than last year's of making the big play on both sides of the ball. There also will be some youthful mistakes early, but if this team -- especially the line -- supports Pryor, it's going places..."




Taurian Washington shooting up the depth chart
September 3, 2009 Source: Columbus Dispatch - "Assistant coaches Darrell Hazell (receivers) and Taver Johnson (cornerbacks) spoke a little while ago, and here are some highlights: Hazell said the WR pecking order is as so: DeVier Posey is No. 1, Dane Sanzenbacher No. 2 and Taurian Washington is No. 3. He said those are clear cut. After that, freshman Duron Carter is No. 4, Ray Small is 5 and Lamaar Thomas is 6.

-- Raved about Washington's camp. Said he's shown everything he has not shown in the first two years of his career. Still must see it on the field, but it sounds like Washington is a late-blooming success story.

-- Said Posey is starting to look like a big-time player, maybe not quite there yet. Carter is coming along, but "nothing has been handed to him."

-- Top punt returner is Small, backed up by either Posey or Sanzenbacher. But Small will be running back punts Saturday.

-- Top kick returner is Thomas (despite what depth chart says), followed by Boom Herron. Those are the two who will go deep. Brandon Saine may see some action there, too.

JOHNSON:-- Andre Amos is starting, but it doesn't mean much. Devon Torrence will see time, too, and this could go on for weeks. Said the key now is to see who produces on the field and makes plays.

-- With Travis Howard (the fourth corner) out this week, the No. 4 guy is either C.J. Barnett or Donnie Evege. He said Howard should be back for the USC game..."




ESPN's analysts discuss Ohio State's upcoming season.





Navy no easy opener for No. 6 Buckeyes
September 1, 2009 Source: Associated Press - "This much is certain when it comes to No. 6 Ohio State's recent series of opening-game opponents: Navy is no Youngstown State. While the Penguins were almost grateful to open the season at Ohio Stadium the last two seasons, the Buckeyes recognize that Navy won't be nearly so star-struck..."We've got a great Navy team coming in week one," offensive guard Bryant Browning said. "First off, those guys have won a lot of games. They go to bowl games, and they win. We're usually facing, I guess you could say, a lesser opponent sometimes -- you could say it that way. But Navy is not one of those teams. They're going to come in here looking for a big upset." Ohio State's contest against Navy on Saturday -- the first regular-season meeting between the teams since 1931 -- is not expected to be so lopsided as recent debuts for the Buckeyes. "Navy's no pushover," quarterback Terrelle Pryor said. "And you know they're going to be tough. They serve our country. You also got to appreciate that too because they serve our nation and protect us."

There are also a couple of other reasons why the game could be a problem for the Buckeyes..."




"We have a video interview with OSU senior tight end Jake Ballard from Tuesday's practice. Ballard talks about the challenge posed by Navy in Saturday's season opener. He also talks about the selection of team captains, the development of Terrelle Pryor, the role of the tight end and much more."





Strong practice for offensive line relieves concerns before opener
September 1, 2009 Source: Cleveland Plain Dealer - "..."In full pads, it wasn't like it was shorts or anything, in full pads, our offensive line looked a little bit crisper and quicker and more confident in what they were doing than I had seen them in the last week or so," Tressel said.

Jim Cordle at right tackle, Bryant Browning at right guard and Mike Brewster at center had been set all camp, and with left guard Justin Boren back from a knee injury and Andrew Miller winning the battle with J.B. Shugarts and Mike Adams for the left tackle spot, that side is finally settled as well.

"We needed a left tackle and we got one," Cordle said. "We got Justin hurt, and I didn't think he'd be able to get back as soon as he did, so I was glad to see that. So any kind of questions I had are answered. And myself at right tackle, I've done a great job all camp. I'm feeling great and comfortable."..."




Navy's triple option tests defense
September 3, 2009 Source: Columbus Dispatch - "Buckeyes say they will need discipline, trust in teammates...Defensive coordinator Jim Heacock's bellow echoed through an almost-empty Ohio Stadium as he schooled Ohio State on one of the keys to stopping Navy's triple-option offense.

"Hit the quarterback! Do you hear me? Hit the quarterback!"

Subtle he was not as the defense went against the scout-team version of the Midshipmen's offense. Ohio State will face the real thing Saturday as junior quarterback Ricky Dobbs directs Navy in the season opener in Ohio Stadium.The Buckeyes have been bracing for the triple option for months, going against it some in spring drills and spending unusual additional time on it in preseason camp as they otherwise worked on fundamentals..."



How Will Ohio State Defend Against Navy's Triple Option?
September 1, 2009 Source: Chip Minnich Blog - "...One of the negatives for a speedy defense, such as Ohio State's, is the triple option can effectively neutralize the speed. For linebackers such as Ross Homan or Austin Spitler, Navy will actually try to run right at them with option plays, forcing them to commit to one ball carrier or the other. Here are some basics as to how the triple option works...Here's something else to keep in mind - while Navy seldom throws the ball, creeping up the secondary to assist with run coverage will leave Ohio State very susceptible to play-action passing. While I would expect Ohio State's cornerbacks to play up on the Navy receivers, the safeties need to remember not to overplay the run..."




No. 6/6 Ohio State Hosts Navy Midshipmen in 2009 Opener
August 31, 2009 Source: OSU Official Site - "Ohio State and Navy are meeting for the first time since the 1981 Liberty Bowl; Tressel looking for 14th-consecutive season-opening victory.

Navy At a Glance
Navy returns 25 letterwinners and 13 starters from a team that went 8-5 last season, led the nation in rushing for a NCAA-record fourth-consecutive season (292.4 rushing yards per game) and qualified for the 2008 EagleBank Bowl, losing to Wake Forest, 29-19. Junior quarterback Ricky Dobbs is Navy's leading returning rusher, netting 495 yards and eight touchdowns in 2008. On defense, the Midshipmen return senior inside linebacker Ross Pospisil who recorded 106 tackles in 2008. The Midshipmen are led by second-year coach Ken Niumatalolo who is 8-6 overall at Navy. Niumatalolo is the first coach to lead Navy to a bowl game in his inaugural season as head coach..."




First And 10
• The game kicks off the 120th season of football for Ohio State
• This is the fourth meeting between the schools in football. The last meeting was in the 1981 Liberty Bowl
• Ohio State has won at least 10 games in each of the last 4 years, played in the national championship game twice and 2 other BCS bowls
• Coach Jim Tressel is 83-19 after eight years at Ohio State; 218-76-2 after 23 years overall
• Jim Tressel is 17-5-1 all-time in season openers and 8-0 at Ohio State
• Ohio State is the Big Ten preseason favorite, followed by Penn State and Michigan State
• This is the first visit to Ohio Stadium by a service academy since 1931
• Navy has led the nation in rushing the past four seasons
• Ohio State has won four Big Ten titles in a row
• Crowds of more than 100,000 have seen the last 48 games at Ohio Stadium

Did You Know?
Ohio State has not lost a home opener in 31 years -- Sept. 16, 1978 to be exact. No. 6 Ohio State suffered a 19-0 loss to No. 5 Penn State in Woody Hayes' final season as head coach.

Pregame Information
• Saturday's fly-by will be conducted by The Fighting Bengals of VMFA(AW)-224 stationed at MCAS Beaufort in Beaufort, S.C.
• The Fighting Bengals just returned from a deployment to Iwakuni, Japan.
• The group brought five jets, 10 aircrew, and 11 Marines to Ohio for training and the fly-by.

• At halftime, John Glenn - former U.S. Senator and NASA astronaut - will dot the "i" during the OSU Alumni Band's quadruple "Script Ohio" performance. Glenn not only is being honored for his accomplishments and service to the United States, but also for his work in forming the John Glenn School of Public Affairs at OSU.

Ohio State Notes in PDF





Weekly Coach Tressel Press Conference Transcript, Captains Audio
September 1, 2009 Source: OSU Official Site - "...They (the team) came in in good shape. Probably had as good a fitness testing the first day of camp as we've had and I thought we had a good rugged training camp. And I hear some of the guys saying that it's by far been the most rugged one we've had. I don't have any proof of that, but they seem to be going hard at it and they spent a lot of time together.

...We thought one of the important things with this group -- I think somewhere in the 35 to 37 range of people out of 105 had never been to training camp with us and that's a large portion of your team, so we felt as if they needed to spend a lot of time together and they did that during the preseason. They came up with some good ideas to spend even more time together and now they're anxious to get ready to go and play against a great Navy team..."



"OSU football coach Jim Tressel's press conference from Sept. 1, 2009 (34:28)."

The 2009 football captains, Kurt Coleman, Austin Spitler and Doug Worthington spoke with the media at the weekly press luncheon on Tuesday. They all spoke about the upcoming Navy game, while Kurt Coleman spoke in-depth about the allegations at Michigan and the hours that football players spend on the game.





Receiver grabs passes, not the spotlight
September 4, 2009 Source: Columbus Dispatch - "Sanzenbacher overlooked but tough, reliable...Discussions about Ohio State's receivers seem to start with whether DeVier Posey will develop into a true No. 1 and continue onto the considerable potential of Taurian Washington, Lamaar Thomas and Duron Carter. Even Ray Small gets talked about, though not always for the right reasons. Who's missing here? Dane Sanzenbacher, even though he has more letters in his last name (12) than Posey has career catches (11)..."




Armed and ready
September 1, 2009 Source: Columbus Dispatch - "Pryor might get more chances to throw in revamped passing scheme: "We've got a couple of new things going on that I feel comfortable about and Joe feels comfortable about," he said, referring to backup Joe Bauserman. "Some stuff will be different, but it will be a pro offense, and it's just getting the ball down the field, getting it to the receivers." What would be different is if the Buckeyes threw the ball more than the 20.53 times they averaged last season. With Pryor becoming the starter in the fourth game, coach Jim Tressel and his staff seemed reluctant to put the ball in his passing hand..."



OHIO STATE DEPTH CHART

, as of August 30, 2009 Source: OSU Official Site




Andrew Miller, Andre Amos win starting jobs on Ohio State's depth chart
August 31, 2009 Source: Cleveland Plain Dealer - "...I'm sure we'll still see plenty of players moving in and out at certain spots for the Buckeyes, but according to the depth chart, here is the news..."




TOP FRESHMEN: Freshman fullback Adam Homan, of Coldwater, was included on a list of first-year players Tressel expects to play against Navy. Homan is currently listed No. 2 at fullback behind freshman Zach Boren on OSU's depth chart. Wide receiver Duron Carter, linebacker Storm Klein, defensive back C.J. Barnett, linebacker Dorian Bell, defensive lineman John Simon, offensive lineman Corey Linsley and running backs Jaamal Berry and Jordan Hall are the other freshmen who could get into the game.

Source: Lima News






The following players are out for Navy: Backup safety Orhian Johnson, backup cornerback Travis Howard, backup tailback/fullback Jermil Martin, freshman defensive end Melvin Fellows, backup tackle Mike Adams out for what Tressel called "doghouse reasons." Cameron Heyward, coming back from an ankle injury, may not be 100 percent but wouldn't leave practice Monday when he was supposed to be taking a break.

Source: Cleveland Plain Dealer & Lima News



Last Time Out...
September 1, 2009 Source: BuckeyeSports.com - "The 2009 season kicks off Saturday when the Midshipmen of the Naval Academy sail into Columbus to take on the Buckeyes. The last time Ohio State played Navy was in the 1981 Liberty Bowl, a game in which the Mids gave the Buckeyes all they could handle. Check out how Ohio State turned away the Midshipmen in this edition of "Last Time Out…"





GAME 1: Navy
September 3, 2009 Source: Columbus Dispatch - "Returning stars...Newcomers to watch...Keys to the offense...Keys to the defense..."



Ohio State vs. Navy Preview
September 3, 2009 Source: The Ozone - "Tony Gerdeman's preview of the Navy game...Regardless of what this offense is going to look like in November, or even next week against USC, we can expect a fairly basic attack this week from the Buckeyes, with one or two wrinkles thrown in to excite the influential season ticket holders..."



Gameday+
September 4, 2008 Source: Columbus Dispatch - "Game Predictions...OSU Spotlight: Justin Boren...more"



2009 Navy Midshipmen Game Preview
September 3 Source: Buckeye Planet - Analysis and more, including: ...In Navy they get a quality opponent who played in a bowl game last season and has led the nation in rushing for each of the past 4 seasons. They also get a healthy dose of assignment football as they have to defend the vaunted modified triple option scheme that Navy runs. Discipline will be especially a key this week if the Buckeyes want their superior talent to be able to shine through, because Navy will most likely play a quality football game. Coach Ken Niumatalolo and offensive coordinator Ivin Jasper will need to replace a myriad of important players from last season's productive team, however, including their QB, best WR, top 2 rushers and 2 starters on the line in the interior. Much like the Buckeyes, the Midshipmen are an offense in transition, personnel-wise, at least for the first part of 2009...Navy Offensive Preview...Defensive Preview..Special Teams Preview..." (more)



Preview: #6 Ohio State vs Navy
September 4, 2009 Source: Eleven Warriors - "...Chekwa, Amos and Torrence will likely not face many passes through the air, but their help in run defense and ability to sniff out a run from a play action will prove to be an important role in the outcome of the game. Torrence has looked better than Amos in run protection so don't be surprised to see him more often on the field than off, while for Chekwa, this is also a significant test of his ability stopping the run..."



Navy (0-0) at Ohio State (0-0)
September 3, 2009 Source: College Football News - "...Why Navy might win: USC. With so many new starters and so many players trying to figure out what they're doing, Ohio State might really be focusing on trying to get past Navy. However, these 18-to-22-year-olds wouldn't be human if they didn't at least have a sizeable portion of their attention span on what's coming up next. The date with USC next week should be the non-conference game of the year, and when the task at hand is dealing with the Navy option game, there could be problems. Ohio State is going through a wholesale change at linebacker and the last thing a green group needs to do is show enough discipline to handle what the Midshipmen will throw its way... What will happen: The Navy offense will annoy the heck out of the Buckeyes and it'll hang on to the ball for over 35 minutes, but the Midshipmen won't have any answers on defense to stop the Buckeye running game. The OSU offense won't be crisp, but it'll be strong enough in the second half to pull away and be able to start thinking...CFN Prediction: Ohio State 37 … Navy 13 ... Line: Ohio State -22.5..." (more)





Navy Official site
Navy Notes in PDF
2009 Football Roster
Ken Niumatalolo, Head Coach
Ass't Coaches
Source: Navy Official Site

Navy's Head Coach Ken Niumatalolo spoke with reporters during their walk through at Ohio Stadium. We also have video of Navy players during their walk through.

Navy head coach Ken Niumatalolo talks about his team

Key Notes
• Navy owns 13 victories over BCS opponents since 2003. That number is tied with Utah for the most by a non-BCS team over the last six years.
• Ohio State is the highest ranked team Navy has played since Oct. 30, 1993, when Navy lost to No. 2 Notre Dame, 58-27, at Veterans Stadium in Philadelphia.
• Navy last defeated a team ranked in the Top 10 on Nov. 17, 1984, when the Mids shocked No. 2 South Carolina, 38-21, at Navy-Marine Corps Memorial Stadium.
• Navy is trying to win a record fifth-straight NCAA rushing title this year. Before Navy's current streak, no team had ever won the rushing title more than twice in a row.

Pryor restraint is Navy's approach
September 5, 2009 Source: Washington Times - "At no other time in college football history has there been so much value in a dual-threat quarterback as today. With the growing popularity of the spread offense and the caliber of athletes improving every year, hybrid signal-callers are coveted by nearly every major-conference team. Navy will get a firsthand look at perhaps the country's most dangerous example - Ohio State's Terrelle Pryor - in its season opener Saturday. The 6-foot-6, 235-pound sophomore has run the 40-yard dash in 4.3 seconds and can burn a defense just as easily with his arm..."



Ohio State's status thrives with Tressel
September 3, 2009 Source: Annapolis Capital - "With his trademark sweater vest and wire-rimmed glasses, Jim Tressel looks more like a college professor than a college football coach. In an era when others in the profession are flamboyant and loom large over the program they direct, Tressel is understated and unpretentious. The phrase "substance over style" has been used often to describe Tressel..."What you see is what you get with Jim Tressel. He is straightforward, honest and genuine," Ohio State athletic director Eugene Smith said..."



Buckeyes' 'bolt' tops Navy agenda
September 2, 2009 Source: Annapolis Capital - "Head coach Ken Niumatalolo called him "Usain Bolt in football pads." Linebacker Ross Pospisil said he looks almost identical to former Texas and current Tennessee Titans quarterback Vince Young. There is a ton of hype surrounding Ohio State starting quarterback Terrelle Pryor. Having spent an entire summer reviewing tape of the sophomore phenom, Navy coaches and players say the hoopla is well deserved. "Guys like him don't come along very often. He's bigger than anybody on our defense and faster than anyone on our team. He can throw the ball a mile. He's the ultimate weapon," Niumatalolo said of Pryor. "Terrelle Pryor is as special as you will ever see. He's as complete a quarterback as you could dream to have. He does it all," Navy defensive coordinator Buddy Green said. "He's tall, he's fast and he's strong. He can hurt you with his arm and he can hurt you with his legs. He is quite an amazing physical specimen."..."



#4 Ricky Dobbs
POSITION: QB
HEIGHT: 6-1
WEIGHT: 198
CLASS: Jr.

Was impressive during spring drills ... enters the fall as the starting quarterback ... has the strongest arm among all the quarterbacks ... has good speed and size ... difficult to tackle 2008: Played in seven of 13 contests, starting once ... was second on the team with eight touchdowns and was the team's third-leading scorer (48 pts) ... ran the ball 106 times for 495 yards, the team's third-leading rusher ... played his part in helping the Mids' rushing attack lead the nation in rushing for an unprecedented fourth consecutive season (292.4 yds/gm); Mids hope to follow Dobbs to 7th straight bowl bid






Elected defensive team captain by his teammates ... enters the fall as a starter at inside linebacker ... one of Navy's inspirational leaders on and off the field ... coming off one of the best years for a Navy linebacker in recent memory 2008: A starter in all 13 games at inside linebacker ... Navy's top tackler, he was the lone player to turn in 100-plus tackles by season's end ... contributed 106 tackles, including 64 solo stops ... recorded three tackles for a loss of four yards ... broke up four passes, while intercepting two QBs for a combined nine yards






The lone returnee in the secondary...has a streak of 24 straight starts and will provide valuable leadership for the younger players ... Enters the fall as a starter at rover ... one of the team leaders on defense ... one of the best defensive backs to play at Navy in the last 20 years ... tremendous football instincts ... equally tough against the run and pass ... has good size and speed ... set a Navy freshman record for tackles ... has started 24 consecutive games ... has earned two varsity letters... 2008: A starter in each of the 13 contests during the season, he has made starts in each of the last 24 games dating back to his freshman year ... ranked fourth on the team in tackles with 80, including 57 solo stops .



Navy (0-0) at No. 6 Ohio State (0-0)


Columbus Weather Forecast