Former Olympic gold medalist has quick answers for Buckeyes
September 18, 2008 Source: Mansfield News Journal - "Butch Reynolds knows speed when he sees it. All he has to do is dig out the tape from 1988 and watch himself setting a world record in the 400 meter dash...By comparison, Ohio State must've looked like it was moving in slow motion during Saturday's carnage in California. Except that Reynolds...is not convinced speed was behind their 35-3 loss..."It's not so much about being a step slow, it's about how many As, Bs and Cs do you have on your team?" said Reynolds...Now it looks like Reynolds may be on the fast track back to Ohio State. He has been talking with athletic director Gene Smith about becoming a speed coach working with all of the sports teams..."
Official agreement
September 18, 2008 Source: CollegeFootballNews.com - "...Many fans wondered why a Pacific 10 Conference crew officiated the USC game. Besides the holding call against Person, which was questionable, replays showed the jerseys of linebacker James Laurinaitis and other Buckeyes being pulled by USC blockers with no calls. When the two-year series was agreed to years ago, the schools also agreed to let a Pac-10 crew do the game in Los Angeles. A Big Ten crew will do next year's game in Ohio Stadium. Tressel said he didn't consider the officiating to be a major factor in the outcome. 'We've got to do so well that it's irrelevant how well any other entity does, if you want to be successful,' he said."





Pressure-free zone: Buckeyes pondering why defense couldn't put heat on USC
September 17, 2008 Source: Cleveland Plain Dealer - "He didn't get there. Bottom line. He didn't get there. Kurt Coleman stood seven yards from the line of scrimmage at the snap when he started to sprint at USC quarterback Mark Sanchez Saturday night. The safety's failed blitz set off a chain reaction that left OSU linebacker Marcus Freeman tailing USC fullback Stanley Havili down the sideline as the Trojans hit on their first touchdown pass during their 35-3 romp over Ohio State. It was emblematic of a night when the Trojans rushed fewer players than the Buckeyes, on average, but created a lot more confusion..."








Tressel can feel fans' displeasure
September 17, 2008 Source: Columbus Dispatch - "...Jim Tressel said he wasn't overly worried about what critics of the Big Ten thought about another fall on the big stage by the Buckeyes. He said he was concerned primarily with the feelings of OSU fans...'I don't think you can refute the fact that in what has been considered big games, two national championship games (losses to Florida and LSU the past two seasons) and a big September game in 2008, we have not been successful,'...What seemed to bother fans more than anything was another weak display by an offense that was handled by an aggressive and athletic defense...Rehring is doubtful...Andrew Miller took Rehring's spot on short notice against USC. The coach indicated that several players might factor into the mix this week. For example, right tackle Bryant Browning could shift down to left guard with freshman J.B. Shugarts playing right tackle. Freshman Michael Brewster also could see action at guard."
OSU analysis: Fix the Buckeyes? It's possible, in five not-so-easy steps
September 16, 2008 Source: Cleveland Plain Dealer - "1. Handle the quarterbacks with care:...Pryor will get two-thirds of the practice reps this week to get ready and half the snaps in the game. He took 39 percent of the snaps against USC...But the Buckeyes shouldn't give up on Boeckman just yet...2. Be open to O line options:...Between guys getting beat and missed assignments springing unblocked Trojans, Saturday wasn't a night the line will remember fondly...3. Set the linebackers free:...USC's linebackers played downhill...Ohio State's played side-to-side, constantly facing USC linemen who were reaching the second level and blocking them. Expect a shift that allows the linebackers to attack a little more this week....4. Throw it open on special teams: Put 11 new guys out there on kick return if you must. A year after special teams were a major problem, the Buckeyes missed two blocks on the opening kickoff against USC and nearly saw Dan Herron get split in half on the tackle...5. Toughen up: Boone questioned his teammates after he saw them hanging their heads at halftime. There are other internal concerns about a team that, despite two national title losses, has received a lot of praise while dominating the Big Ten for three years. The coaches have been riding the players harder during what have been reported as two good days of practice. If that doesn't take hold this week, Troy could win..."

Split decision at QB
September 17, 2008 Source: Columbus Dispatch - "Struggling Boeckman, precocious Pryor will get equal playing time against Troy...Asked who was at fault on the play (vs USC) that Boeckman was sacked and fumbled, Tressel said, 'It was the quarterback's hot read,' explaining that Boeckman should have recognized that a blitzer was coming unblocked and thrown the ball quickly to running back Dan Herron. 'He erred,' Tressel said. The criticism was significant, as he usually is not one to assign blame so clearly. Boeckman is not out of time yet, but the sand is quickly draining from his hourglass."

Freshman QB Terrell Pryor edging toward starting role?
September 17, 2008 Source: Mansfield News Journal - "Three games into the season, there's no question Ohio State is searching for answers...Tressel was almost a game-show host he asked so many questions. 'How will we handle this football game? How will we handle getting better at the things we need to get better?' he said, back-to-back, at one point. The most troubling queries facing the 13th-ranked Buckeyes (2-1), who fell eight spots in the rankings after the landslide loss, come at the two most important positions on offense...freshman Terrelle Pryor, a 6-foot-6, 235-pound bundle of speed and agility who is just happens to be the most acclaimed quarterback signing ever at OSU. Pryor has been a quick learner. He has played himself into a battle for the starting spot with Boeckman..."





What Went Wrong For OSU
September 16, 2008 Source: CollegeFootballNews.com - Pete Fiutak writes: "Yeah, I picked Ohio State to beat USC. And Cindy Crawford has a mole. While giving all due credit to USC for the fantastic win, Ohio State has become a fascinating study in underachievement. Itís like the program has become Chuck Knoblauch and canít throw to first anymore. Itís a brain lock and a basic malfunction, and it wasnít always this way. If you remember, there was a reason everyone handed the Buckeyes the national title before the 2007 BCS Championship game against Florida. This used to be a tremendous big-game program under Jim Tressel with a win in the 2003 Fiesta Bowl win over Miami for the national title, Fiesta Bowl victories over Kansas State and Notre Dame, and yearly wins over Michigan. Iíll excuse the loss in the 2008 BCS Championship, LSU was the..."





Off With Their Heads? Not So Fast
September 16, 2008 Source: Bucknuts.com - "Emotions have understandably run high after Ohio State's latest loss on a national stage. Coaching criticism comes with the territory after such a loss, but are a few fans going too far? Charles Babb thinks so and explains why..."






Transcript from Coach Tressel Weekly Press Conference
September 16, 2008 Source: OSU Official Site - "...REPORTER: Have you lost any confidence in Todd Boeckman or is he not being put in a position to succeed because of the offensive line play or none of the above? COACH TRESSEL: Or none of the above?...I told the team when we met...what we have to work on is what we are doing in the game of football that we need to do better. No one has changed any thinking about who they are. Now, is it disappointing that we had a couple turnovers? Absolutely. Is that a problem? Yes. Do I think he's capable of not having those turnovers and doing what we need to do? Yes. Are some of those things in part because we weren't as good as we could have been on the offensive line? Yes. We weren't as good as we could have been out wide? Yes. And everything in between..."



Expect more Pryor, Tressel says
September 16, 2008 Source: Columbus Dispatch - "...Ohio State is going to make some adjustments, Tressel said today, and two of those will be more playing time for freshman quarterback Terrelle Pryor and less for senior Todd Boeckman. In fact, when asked at his press luncheon today whether the starting job for Saturday's game with Troy is up for grabs, Tressel couched his answer. That's because he said he and the coaches sort of couched it as they discussed an "if the game were tonight" scenario late Monday night. 'We came to the consensus that if the game were last night, we would probably have Todd and Terrelle playing about 50-50 in the game,' Tressel said..."

Pryor and Wells sharing the field?
September 16, 2008 Source: Cleveland Plain Dealer - "How about a backfield of Terrelle Pryor and Beanie Wells on a regular basis against Troy on Saturday? It could happen...'Beanie right now is listed as questionable by the medical staff,' Tressel said, noting that Wells did well working out and running straight lines on Monday. 'Today will be the day where he has to go back and do all the cutting and all those kinds of things and that's where we got our setback last week, so we'll have to see how that goes, but we'll update that day-to-day.'..."


Video: Players Meet with Media
September 16, 2008 Source: OSU Official Site - "Jenkins, Laurinaitis and Trapasso talked to reporters after Jim Tressel's press conference..."

Pryor, Boeckman To Split Snaps
September 16, 2008 Source: BuckeyeSports.com - "Many Ohio State fans assumed Terrelle Pryor would play a big role during his freshman season, but few expected it might come so quickly...Jim Tressel said (today) both Pryor and Todd Boeckman will see significant playing time this weekend -- and who will start is up in the air...After consulting the offensive coaching staff, Tressel said the plan for Tuesday was to have Pryor take 65 percent of the reps and Boeckman the other 35 percent. Those figures are partially owing to Boeckmanís experience, but also to the performances of each player..."

Tressel Talks QBs, More
September 16, 2008 Source: Bucknuts.com - "Has anything changed regarding the Ohio State quarterback situation? What is the latest on the health status of Chris Wells? Ohio State head coach Jim Tressel addressed those questions and more during his weekly press luncheon and during his segment of today's Big Ten coaches teleconference..."





Five things Tressel will not talk about
September 16, 2008 Source: LimaOhio.com - "...As a veteran of more than a few post-mortems like this, I can predict with a fair amount of certainty what will happen. There will be a lot of talk about stepping up, taking it to the next level, winning a Big Ten championship and playing them one at a time because you just never know what might happen. No fingers will be pointed...I can almost guarantee you that Tressel will not talk about these five things today:..."





Is Owning Michigan Enough Anymore?
September 16, 2008 Source: Eleven Warriors - "Well, it was bound to happen. In his eighth season in Columbus, after yet another embarrassment on a national stage, St. James Patrick Tressel is starting to feel a little heat. Things have been so good in town for so long ó despite the two MNC collapses...But this latest episode in which his team came out flat, once again made costly mistakes and once again were outclassed by an elite team has the fans and the punditry coming down hard on Tressel for the first time..."







Offensive line back on the hot seat
September 16, 2008 Source: Columbus Dispatch - "...More pressing is the need to greatly improve the play of the offensive line. A contrarian might point out that those linemen are just one man short of the five who launched Wells to a school sophomore-record 1,609 yards rushing last season. But think about it: On almost every memorable big run, Wells either ran through a tackle attempt in the backfield and/or slashed through one or two at the line before sprinting to the horizon. Is that great offensive line play, or is that a rare, great power back making up for insufficient work up front?...What the past two games had in common was the opponents' lack of respect for the OSU offensive front with no Wells in the backfield. The front sevens swarmed on running plays or shot gaps to harass Boeckman or send Pryor running. But even with No. 1 tailbacks available, both against Florida in the 2006 national title game and LSU last year, the big, fast defensive fronts pressed the issue. The Trojans also found a soft spot in the pass protection between the tackles..."
Ohio State looking for answers
September 15, 2008 Source: Rivals.com - "Look at Ohio State coach Jim Tressel. He's flustered...as he tries to explain away another big-game belly flop by his Buckeyes...USC's thrashing of the Buckeyes only reaffirmed what we already knew: The Buckeyes are an overrated product from the badly bloated Big Ten...But even claiming another Big Ten title may not be easy. The defense won't be an issue the rest of the season...there doesn't appear to be a Big Ten offense that's cut from the same cloth as USC's ferocious attack. Bottom line: Ohio State still has a salty defense...The concerns swing to the offense, which managed just 207 yards against the Trojans. The second half was atrocious: 30 yards, with minus-2 rushing...Still, the question: Is this attack good enough even to win the Big Ten?...Quarterback is the position that holds the key to the Buckeyes' ability to rebound from this fiasco..."
USC loss raises big-picture questions for Tressel
September 15, 2008 Source: ESPN - "For years, the sweater vest was made out of Teflon...But after Saturday's 35-3 loss against USC at the L.A. Coliseum, the latest in a series of big-stage letdowns for Ohio State, the demands for change likely won't be silenced any time soon...Don't expect Tressel to change his public approach to handling losses -- or wins, for that matter. He's as predictable as they come, and in many ways, it works. But this lack of fire seems new and could be a major problem..."


USC Game 9/13/08:
Offensive Player of the Week: Dan Herron, RB
Defensive Player of the Week: Malcolm Jenkins, DB
Attack Force Award: James Laurinaitis, LB
Jim Parker Lineman Award: Not awarded
Special Units Player of the Week: A.J. Trapasso, P
Jack Tatum Hit of the Week Award: Not awarded
Scout Team Champions: Offense: Scott Sika; Defense: Tony Jackson; Special Units: Ryan Schuck






Inside the Beat: Picking through the OSU-USC debris
September 15, 2008 Source: Columbus Dispatch - Dispatch's Ken Gordon and Tim May write: "One of the hundreds of e-mails we have received already in the wake of Ohio State's 35-3 beatdown last Saturday at Southern California was titled, "Cleaning up after Ike." The e-mailer likened the people of Texas clearing away downed trees and debris to what he felt Ohio State should be doing today: Clearing away the deadwood from the Buckeyes' starting lineup and/or coaching staff. That's the mood today, certainly. It's tough for Ohio State fans to absorb another blowout, and now they want assurance of change. We take a look at what's ahead:..."

Vanilla offense, soft defense in need of a jolt
September 15, 2008 Source: Columbus Dispatch - "Who's missing from this picture?...Where are the big-game hunters?...Should one misstep cause such a stumble?...What will be the fallout?...Is it time for Tress to show some teeth?...Change the wardrobe?..."






Legends Poll: USC No. 1 among ex-coaches
September 14, 2008 Source: Sporting News - "A day after throttling Ohio State 35-3, the Trojans garnered every first-place vote Sunday in the season's first Legends Poll, presented by Sporting News...11. Ohio State 257..."

Here are the current voting members: Frank Broyles, John Cooper, Fisher DeBerry, Vince Dooley, Terry Donahue, Pat Dye, LaVell Edwards, Don James, Frank Kush, Dick MacPherson, Bill Mallory, Don Nehlen, John Ralston, John Robinson, R.C. Slocum, Bill Snyder, Gene Stallings and George Welsh.



Check out all of the polls on our Polls, Rankings & BCS page...link below

Big Ten power rankings
September 15, 2008 Source: ESPN - "...3. Ohio State -- The Buckeyes still might be the Big Ten's best team, but they haven't shown it so far. A respectable effort without Chris "Beanie" Wells against USC would have kept Ohio State ahead of Penn State, but getting outclassed in every area merits a drop. A senior-laden Buckeyes team has more questions than anyone could have imagined at this early juncture..."

SEC is top conference so far, but Big 12 isn't far behind
September 15, 2008 Source: ESPN - "3. Big Ten: What we believed: With so many star players coming back for another chance to win a BCS National Championship, Ohio State was supposed to run away with its third straight outright Big Ten title. Michigan was supposed to be rebuilding under first-year coach Rich Rodriguez, and Illinois wasn't supposed to be as good as last season after losing star tailback Rashard Mendenhall and several other key players. What we know: The Buckeyes are struggling mightily after three games. With star tailback Chris "Beanie" Wells sidelined with a right foot injury, the Buckeyes narrowly beat Ohio 26-14 and were embarrassed 35-3 at Southern California. The Buckeyes' latest flop in a big game all but eliminates them from the BCS National Championship race. Penn State looks like the class of the Big Ten right now, after routing Oregon State and Syracuse. Wisconsin has the league's most impressive victory, winning at Fresno State 13-10 on Saturday night. Michigan is worse than expected, losing to Utah and Notre Dame. Record vs. nonconference FBS opponents: 16-6..."






Mr. Bucknuts' Bucket Of Bullets
September 15, 2008 Source: Bucknuts.com - "Mr. Bucknuts belatedly files his report on the Collapse at the Coliseum. There are other riffs here on quarterbacking and bereavement and superstition and computers crashing, but all is aimed toward the general OSU despondency and his willingness to help in a new Bucket of Bullets..."





Can Buckeyes adjust sights after USC heartbreak?
September 14, 2008 Source: Cleveland Plain Dealer - "Ohio State was ranked 14th in the coaches poll released Sunday, the Buckeyes' lowest standing since falling to 3-2 after a loss to Penn State in week five of the 2005 season...This was not the Ohio State plan. Twenty-seven seniors are not supposed to add up to a 32-point loss to USC...'When we walked in at halftime and nobody was saying anything, I mean what the [heck], we're Ohio State, we should be screaming and swearing and saying anything we could think of,' Boone said, 'and guys are hanging their head and you don't know what to say to them.'...'It's a long season,' senior cornerback Malcolm Jenkins said. 'We can't sit here and think about this loss and throw the whole season away...'..."

Falling Buckeyes face a crossroads
September 15, 2008 Source: Columbus Dispatch - "...The Buckeyes got rocked Saturday night 35-3 by top-ranked Southern California...But beyond all of that, Boone sees an even more ominous sign, that maybe this Buckeyes team doesn't have the requisite heart. He said it hit him at halftime, when OSU still had a sliver of a chance..So what are they? That's what the Buckeyes need to answer in the coming weeks..."






Quarterback two-step: Buckeyes await fallout from Boeckman-Pryor shuffle
September 14, 2008 Source: Cleveland Plain Dealer - "It didn't sound like Ohio State's starting quarterback job was up for grabs minutes after Saturday night's devastating 35-3 loss to USC...One week after playing eight out of 68 snaps (12 percent) against Ohio, Pryor played 25 of 64 snaps (39 percent) against the Trojans. In neither game did the Buckeyes' offense look crisp, though Pryor averaged almost twice as many yards per play Saturday (5.1 to 2.8) as Boeckman..."

Bob Hunter commentary: Boeckman or Pryor? Shouldn't be a tough call
September 15, 2008 Source: Columbus Dispatch - "With Ohio State's national title hopes on the way to becoming like a vague recollection from a previous life, someone in the Los Angeles Memorial Coliseum press box Saturday night suggested that it may be time for a quarterback controversy. Controversy? Really, is that the right word for slipping Terrelle Pryor into the lineup ahead of senior Todd Boeckman and using him on more plays next week against Troy and beyond? It may make a few people in the Buckeyes locker room uneasy, most notably coach Jim Tressel, but there would be no controversy. Pryor, an all-world talent, showed Saturday night against USC that he is ready, maybe not to run all of the plays Boeckman does, or to read defenses the way Boeckman does, or to hang with the upperclassmen the way Boeckman does, but ready to help the Buckeyes regain some of their lost national respect..."


OHIO STATE SHOULD START TERRELLE PRYOR AT QUARTERBACK OVER TODD BOECKMAN
September 14, 2008 Source: Rivals.com - "Why not? The Buckeyes aren't likely to win the national title following the 35-3 drubbing they took at USC. Pryor showed promise in the loss, going 7-for-9 for 52 yards. He also carried 11 times for 40 yards, offering spark to an attack that struggled. It was clear to anyone watching that Pryor clearly is a special talent who brings more to the table than Boeckman. By starting Pryor, it could invigorate the offense while giving the true freshman much-needed experience. And who knows? Maybe by seasoning Pryor now, he actually may one day lead the Buckeyes to a big win in a big game against a big non-conference foe.





Top 10 obnoxious fan bases
September 13, 2008 Source: FoxSports.com - "... #1 Notre Dame: The Irish rest on their laurels and think they deserve to bless us every Saturday on NBC. The 1940s have been over for a long time, folks. Notre Dame has been irrelevant for more than a decade, yet their myopic fans see light behind a 3-9 year. Call them out as a bad team and their fans bleat, "But you're still talking about us," in Stepford synchronicity. Obnoxiousness, thy home is South Bend...#2 Michigan...#3 LSU...#4 Oklahoma...#5 USC...#6 Clemson...#7 Ohio State: Just how many times are Buckeyes fans going to make a big deal out of dotting that "i"?...#8 Alabama...#9 Florida State...#10 Florida..."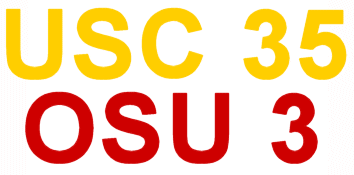 OHIO STATE vs. USC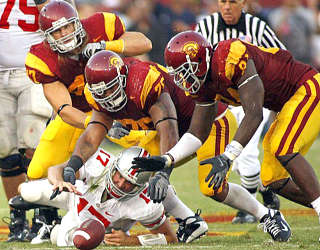 USC defensive players (from left) Clay Matthews, Fili Moala and Kyle Moore
converge on a fumble by Buckeyes quarterback Todd Boeckman during the first half Saturday.



It was over when... Rey Maualuga intercepted Todd Boeckman's pass and tore down the sideline 48 yards for a touchdown, giving the Trojans a 21-3 lead with 2:49 left in the first half...Gameball goes to... Mark Sanchez, who was 17-28 for 172 yards and four touchdowns...Stat of the game... 2.1: No Beanie, big problem for the Buckeyes as OSU had only 71 yards on 34 carries.

Fast Facts

ē USC spotted Ohio State a 3-0 lead before scoring 35 unanswered points. Trojans QB Mark Sanchez threw four TDs while Buckeyes QB Todd Boeckman threw for just 84 yards and had two interceptions.

ē This was Ohio State's worst loss since 1994 and its worst non-conference loss since 1989 at USC. It was the first time the Buckeyes were held without a touchdown since 1996 against Michigan.

ē USC, which has won six straight against Ohio State and eight straight against the Big Ten, held OSU to just 35 second-half yards.



Source: OSU Official Site

Source: Bucknuts.com

September 13, 2008 Source: ESPN

September 14, 2008 Source: Rivals.com

Bob Hunter commentary: Buckeyes don't belong with elites such as USC
September 14, 2008 Source: Columbus Dispatch - "How can I say this delicately? Ohio State isn't No. 5. It's not No. 10. It might not even be No. 15 or 20. When last night's 35-3 loss to No. 1 Southern California is stacked on top of the Buckeyes' national championship game drubbings by Florida and LSU, anyone seeking to assess OSU's national standing might be tempted to get out a pad and pencil and start adding up the number of top major football programs outside of the Big Ten. When they come up with the sum, it's not outrageous to suggest that the Buckeyes can probably be safely placed just outside the group..."



Buckeye Back Talk II

(Columbus Dispatch Online Poll)


Among the best ... or a bust?
Is Ohio State one of the country's top 10 college football teams?
12% Yes
87% No


| | |
| --- | --- |
| | Terrelle Pryor was one of few bright spots for Buckeyes |

Quarterback question

(Columbus Dispatch Online Poll)


If you're Ohio State's football coach, who's your quarterback the rest of the season?
5% Todd Boeckman
77% Terrelle Pryor
18% I'd have Boeckman and Pryor split time.



September 13, 2008 Source: FanDome

This USC team shows it's the best of Carroll era
September 14, 2008 Source: LA Times - "...The Buckeyes' smart and experienced offense felt a Trojans defense that chased them from here to the Alamo Bowl with relentless pressure, constant thumps and two allowed yards in the third quarter...Other Columbus folks will be quick to blame the loss on three turnovers and 10 penalties, including a holding call that negated a first-half touchdown. 'It was a play here, a play there, a penalty there,' said cornerback Malcolm Jenkins. 'We never stopped playing hard.' Oh yeah? That's not what USC folks saw. 'Most of the game, their offensive linemen were talking to each other, then near the end, they just stopped,' said (Kyle) Moore. 'It was like they just wanted to get the game over. They were done.'...To be fair, the Buckeyes had a couple of early moments of competitiveness that were cut short with penalties and mistakes, particularly when guard Ben Person tackled Trojan Averell Spicer on a touchdown pass. But from the middle of the second quarter, the Trojans outgained the Buckeyes, 208-69. 'They got slower, and we just got more charged up,' said Moore..."


Livingston: Time for change, starting at QB
September 13, 2008 Source: Cleveland Plain Dealer - "...What should have happened, though, was for coach Jim Tressel to turn the game over to Pryor. That is because Boeckman, who had a surprising season in the Buckeyes' march to the national championship game in 2007, was turning the ball over as fast as the Trojans could pick it off or scoop it up. He completed 14 of 21 passes for 84 yards, but threw two picks and lost a fumble...Tressel always shows great loyalty to his seniors. This game, however, showed just how insupportable are the deficiencies of a relatively immobile quarterback like Boeckman against a blitzing, swift, destructive defense like Southern Cal's..."
Clueless in Columbus
September 13, 2008 Source: Yahoo Sports - "Here was Jim Tressel, sitting in front of a microphone after his program again melted into a big-game puddle of scarlet and grey. Here was Ohio Stateís leader after another national humiliation, 35-3, this time at the hands of Southern California. Here was the sweater vest, who keeps calling for the same old failed game plan even when heís far from the comforts of the cornfields of the Midwest. Heís an example of coaching insanity Ė expecting the same bad plays to produce different results. Here was Jim Tressel and all he could do was smile and shrug.'The guys fought hard,' he offered Saturday night. 'I donít know that we did
the best we could do, but we fought hard.' So apparently thatís it now for Ohio State. They fought hard. Letís just focus on the moral victory Ė the lament of every blown-out, schedule-padding cupcake in college football. We were overmatched and outcoached, sure, but we fought hard. Only this is Ohio State. The Buckeyes keep getting their ass kicked when they dare to venture out of Big Ten/MAC land and Tressel doesnít look or sound the least bit concerned...'They did everything we saw on film, nothing changed,' said USC linebacker Rey Maualuga, who had five tackles and a pick six.'..."

The-Ozone Note and Quotebook (modified)
September 14, 2008 Source: The Ozone - "Football: Overall Team Speed? Star Power Ruled? Todd Boeckman Sucks? The Buckeyes were Outcoached? Tressel and Company are Out of Date? They're all covered in the-Ozone Note and Quotebook (Modified), now on Columns and Features..."

Five Things: Southern Cal
September 14, 2008 Source: Eleven Warriors - "Last nightís debacle should make even the most diehard fan realize this seasonís hopes were more about hype than substance. I admit I didnít realize this until last night, but itís now loud and clear and inarguable and disgusting. Just taking a quick look at each position in comparison to the Trojans, including the coaches, and you see a list of mismatches. On the field, USC probably has the edge at QB, RB (sans Beanie), WR, OL, DL, LB, Safety, PK, KO, K, and Kick Return. OSU has the edge at Corner and Punter. On the sidelines, USC has the edge at Head Coach, O-Coordinator and D-Coordinator. OSU has the edge in..well, they have no edge at any coaching spot. I guess maybe Fickell could pin USCís D-Coordinator. But if he did, it would probably be negated by a penalty..."


Offensive Notebook: Buckeyes Sputter Yet Again In Big Game
September 14, 2008 Source: Bucknuts.com - "Ohio State's offense clearly had too many mistakes to beat a team like USC. The No. 1 Trojans dominated to the tune of 35-3. Just how much did the loss of OSU tailback Beanie Wells hurt the Buckeyes' chances? His teammates were not making any excuses and freshman Boom Herron didn't play poorly at all. We also have comments from USC defensive stars Brian Cushing and Rey Maualuga..."

Buckeyes Exposed by Southern Cal
September 14, 2008 Source: The Ozone - "The Buckeyes had called the Southern Cal game a statement game this season. A statement got made all right, but not by the visiting team....Sorry Buckeyes, but your mistakes are not what beat you. A really good football team did, one much, much better than you are apt to be soon, with or without Beanie Wells..."

No. 1 Southern California dismantles No. 5 Ohio State
September 13, 2008 Source: Associated Press - "Southern California turned the most anticipated September game in years into a mismatch. Mark Sanchez threw four touchdown passes, Joe McKnight rushed for 105 yards on 12 carries, and the top-ranked Trojans crushed No. 5 Ohio State 35-3 Saturday night in a matchup of two of college football's most successful programs. Ohio State played without star tailback Chris "Beanie" Wells, sidelined with an injured right foot. But moving the ball wasn't the Buckeyes' biggest problem before the Trojans made it a rout. Instead, they were done in by a handful of crucial mistakes..."
Game Report

Instant Analysis: Ohio State-USC
September 13, 2008 Source: CollegeFootballNews.com - "...Jim Tressel had his team prepared to play USC (yes, just like the LSU game)...a plan that bore fruit early (yes, just like the LSU game). A rotation system in which Boeckman and Terrell Pryor alternated snaps (no, not like the LSU game, for once) clearly kept USCís defense off balance in the gameís first 20 minutes. Had the Bucks been able to get that touchdown they missed in the second quarter, a 14-10 tally would have given Ohio State ample reason to believe it could compete with the Trojans, who were evidently rusty and still settling into their season on Saturday. The defending Big Ten champions came out of the gate with a boatload of emotion (yes, just like the LSU game), but when they encountered a moment of crushing disappointment in that significant second stanza, they lost the will needed to stay with the Trojans for four full quarters (yep, just like the LSU game). And so it went: In yet another big game, one..."

No. 1 USC vs. No. 5 Ohio State
Scoring Summary, Team & Individual Statistics, Defensive Statistics, Game Participation, Play-by-Play
Postgame Notes
Source: OSU Official Site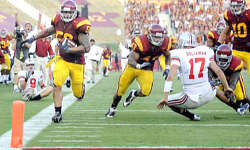 USC linebacker Rey Maualuga heads toward the end zone for a 48-yard touchdown return after intercepting a pass from the soon-to-be knocked down Todd Boeckman of Ohio State late in the second quarter Saturday.
Team Statistics (Final)
2008 Ohio State Football
#5 Ohio State vs #1 Southern California
| | | |
| --- | --- | --- |
| Team Totals | OSU | USC |
| FIRST DOWNS | 15 | 21 |
| Rushing | 6 | 8 |
| Passing | 7 | 10 |
| Penalty | 2 | 3 |
| NET YARDS RUSHING | 71 | 164 |
| Rushing Attempts | 34 | 32 |
| Average Per Rush | 2.1 | 5.1 |
| Rushing Touchdowns | 0 | 0 |
| Yards Gained Rushing | 121 | 184 |
| Yards Lost Rushing | 50 | 20 |
| NET YARDS PASSING | 136 | 184 |
| Completions-Attempts-Int | 21-30-2 | 18-30-1 |
| Average Per Attempt | 4.5 | 6.1 |
| Average Per Completion | 6.5 | 10.2 |
| Passing Touchdowns | 0 | 4 |
| TOTAL OFFENSE YARDS | 207 | 348 |
| Total offense plays | 64 | 62 |
| Average Gain Per Play | 3.2 | 5.6 |
| Fumbles: Number-Lost | 1-1 | 1-0 |
| Penalties: Number-Yards | 10-78 | 8-76 |
| PUNTS-YARDS | 7-293 | 5-176 |
| Average Yards Per Punt | 41.9 | 35.2 |
| Net Yards Per Punt | 40.3 | 35.2 |
| Inside 20 | 1 | 2 |
| 50+ Yards | 1 | 0 |
| Touchbacks | 0 | 0 |
| Fair catch | 1 | 1 |
| KICKOFFS-YARDS | 2-132 | 6-425 |
| Average Yards Per Kickoff | 66.0 | 70.8 |
| Net Yards Per Kickoff | 47.0 | 53.2 |
| Touchbacks | 1 | 3 |
| Punt returns: Number-Yards-TD | 1-0-0 | 3-11-0 |
| Average Per Return | 0.0 | 3.7 |
| Kickoff returns: Number-Yds-TD | 3-46-0 | 1-18-0 |
| Average Per Return | 15.3 | 18.0 |
| Interceptions: Number-Yds-TD | 1-0-0 | 2-48-1 |
| Fumble Returns: Number-Yds-TD | 0-0-0 | 0-0-0 |
| Miscellaneous Yards | 0 | 0 |
| Possession Time | 32:03 | 27:57 |
| 1st Quarter | 11:32 | 3:28 |
| 2nd Quarter | 8:34 | 6:26 |
| 3rd Quarter | 6:16 | 8:44 |
| 4th Quarter | 5:41 | 9:19 |
| Third-Down Conversions | 6 of 15 | 7 of 14 |
| Fourth-Down Conversions | 0 of 0 | 0 of 1 |
| Red-Zone Scores-Chances | 1-2 | 2-4 |
| Sacks By: Number-Yards | 1-11 | 5-36 |
| PAT Kicks | 0-0 | 5-5 |
| Field Goals | 1-2 | 0-0 |


Buckeyes No Match For Top-Ranked USC
September 14, 2008 Source: Bucknuts.com - "The Buckeyes had their third chance in three seasons to prove themselves on a national stage Saturday evening against USC. Unfortunately, for the third straight time, OSU suffered a lopsided loss. USC quarterback Mark Sanchez tossed four touchdowns, leading the top-ranked Trojans to a 35-3 win over a mistake-riddled Buckeye team. Updated at 1 a.m. with a ton of notes and quotes..."

Calamity at the Coliseum: Buckeyes trampled by rampaging Trojans, 35-3
September 13, 2008 Source: Cleveland Plain Dealer - "For one drive, Ohio State had two quarterbacks and a prayer. Running in and out with each play, Todd Boeckman and Terrelle Pryor marched Ohio State down the field in the first quarter and Jim Tressel's innovation looked like some sort of solution to the absence of star running Beanie Wells. It was a mirage. As it had in the desert of Arizona in the national title game two years ago and again in downtown New Orleans at the end of last season, reality dropped on Ohio State like a cartoon anvil. This one will flatten the reputation of football in Columbus for a while..."

Sanchez, defense sparkle in dominant Trojans' performance
September 13, 2008 Source: ESPN - "No. 1 USC shined in the national spotlight, earning pride and style points. No. 5 Ohio State exits L.A. with none of the latter and the former is bruised -- again..."


An angry Alex Boone
September 14, 2008 Source: Cleveland Plain Dealer - "On what happened: 'I think it was our mistakes. We scored once and it gets called back for holding, we get down to the 4-yard line and we get called for holding again, we get called for offsides twice which was stupid. We just kept saying we can't be like that, this is not our football, we don't play like this, what are we doing, what's going on. But at the same time, that's what happened, that's how the game went.'...On how he feels: '(Ticked), extremely (ticked) off. I mean, I don't know what else to say. You go out there and play as hard as you can and that's just what happens. I feel like this is the national championship all over again - stupid penalties, stupid mistakes, I mean, roughing the passer, holding, offsides, personal fouls. I mean, what the (heck) is a matter with us.'...On his disbelief: 'I can't believe that we screwed up so badly. I can't believe this is the second time that this would happen to this team.'..."

Buckeyes' lament: 'Every big game we end up blowing it'
September 14, 2008 Source: USA Today - "...'Every big game we end up blowing it for ourselves, not to say they weren't a great team,' Boone said. 'I think it must be nervousness. Ö. Guys come out here and see 100,000 people and they start to get antsy. We can't play that way.'...As they headed to the bus, Ohio State seemed more resolved than defeated. 'This team is (as upset) as we'll ever be,' Boone said. 'We're going back to work tomorrow. I won't be surprised if guys go home straight to watch film for four hours.'...Added Pryor: "We'll pick it up and be fine Ö From now on, we won't get stopped. We won't. We're going to work hard, study more in the film room, because I don't want to feel like this again and I'm sure nobody else wants to.'..."

Buckeyes falter again in spotlight
September 14, 2008 Source: SI.com - "The Ohio State Buckeyes adapted well to their Hollywood surroundings here this weekend. They provided a town full of screenwriters the perfect script for a blockbuster horror flick. What exactly should we title the latest masterpiece meltdown delivered by Jim Tressel Productions? The Rocky Pick-off Horror Show? Saw (This Already) III? Following his fifth-ranked team's 35-3 thumping at the hands of No. 1 USC here Saturday night, Ohio State star James Laurinaitis said, 'Obviously, we're going to take a beating around the country and around the world.' Actually, that's already been underway for nearly two years now..."


The Bottom Line
September 14, 2008 Source: Columbus Dispatch - "Leaves are awarded on a zero-to-five basis, five being the best: Offense (one leaf)...Defense (two leaves)...Coaching (two leaves)...Opponent (five leaves)..."

OSU-USC report card
September 14, 2008 Source: Cleveland Plain Dealer - "Ohio State's linebackers: D...Ohio State's national championship hopes: D-...Ohio State's preparation: D..."


Bests and worsts from OSU-USC
September 14, 2008 Source: Cleveland Plain Dealer - "...Worst play calling - It's hard to know where Ohio State's play calling was most uninspired, but if you're trying to win a national championship, maybe you could come up with something better than what the Buckeyes tried on third and goal at the USC 18. A handoff to Herron up the middle. Pffft! A 6-yard gain that positioned the ball very nicely for Ryan Pretorius' 29-yard field goal for a 3-0 lead. Maybe a shot into the end zone would have provided the team a shot in the arm..."

Source: Fox Sports

Buckeyes don't deserve BCS hype anymore
September 14, 2008 Source: FoxSports.com - "All week long, you were assured that Saturday night's big game had "national championship implications." It might have. If only Ohio State had shown up. Then again, that's nothing new for the Buckeyes, who have failed to show up for the last two national championship games. What you are left with is less an implication than an emphatically harsh reminder that the Buckeyes do not merit any discussion for the title game. Let them go back home and beat Troy 106-0 next week. Let them run the table in the Big Ten. So what? With Saturday in evidence ó Ohio State and Michigan crushed ó the Big Ten doesn't seem so big anymore..."

Buckeyes have no answers for Sanchez, Trojans' offense
September 13, 2008 Source: Associated Press - "After throwing jabs in the early going, USC and its defense delivered the knockout punch to the Buckeyes. (Recap, Box Score, Play-by-Play, Drive Chart)..."

Buckeyes No Match For No. 1
September 14, 2008 Source: BuckeyeSports.com - "The opponent and conference were different but the result was the same: Ohio State came up short in front of a national television audience when matched up with a highly ranked foe. This time it was No. 1 USC, a 35-3 winner at home over the No. 5 Buckeyes..."

BCS title? Buckeyes won't have to worry about that anymore
September 14, 2008 Source: CBSSportsline.com - "Go ahead, write them off, cuss them, swear you'll never be caught wearing a sweater vest in mixed company again. You aren't alone. Just imagine what folks who aren't fans of Ohio State are saying right now. What, you expected some kind of big game Buckeyes to show up on Saturday at the Coliseum? Maybe in 2009...The Buckeyes proved once again that they can't play with the elite teams outside the Big Ten..."
McKnight, Sanchez lead Trojans rout of visiting Buckeyes

Source: CBSSportsline.com

Six points
September 14, 2008 Source: Columbus Dispatch

Scarlet & Gray Matter
September 14, 2008 Source: Columbus Dispatch - "...Just wondering: Have the Buckeyes become a one-punch pretender? In their past three big games against nonconference teams, Florida, Louisiana State and USC, Ohio State delivered the first blow -- Ted Ginn Jr.'s kickoff return; Beanie's 65-yard TD run; Ryan Pretorius' 29-yard field goal -- but showed itself to be a one-hit wonder...One-liner: Buckeyes counter USC fight song Fight On with catchy little diddy of their own Hold On for another costly penalty...As heard from an angry Ohio State fan: 'After three years I finally have to agree with my wife. Tressel does not walk on water.'...As heard from the crowd: 'I guess the SEC is right. These guys stink.'..."


Wells can only watch
September 14, 2008 Source: Cleveland Plain Dealer - "Injured tailback reportedly asked to play, but was held out...The biggest flag? With 10 penalties for 78 yards, it was hard to pinpoint which one was the toughest for the Buckeyes last night. But offensive right guard Ben Person believes the holding call againsthim, which came on what would have been a touchdown pass to Brian Robiskie, was a candidate...Sanchez can move..."

Pryor plan one bright spot
September 14, 2008 Source: The Morning Journal - "...The plan was to use Pryorís legs to get out of danger, and Pryor executed his well pretty well. While Todd Boeckman was blasted for four sacks, Pryor ran 11 times for 40 yards. He also completed 7 of 9 passes for 52 yards....Boeckman, the senior, made more mistakes than the freshman Pryor. The biggest of which was the interception to Rey Maugula, which he returned for the touchdown and swung the entire game..."

Tressel made tough call on Wells
September 14, 2008 Source: Toldeo Blade - "...The always stoic and business like Tressel announced then that Heisman Trophy candidate Chris ďBeanieĒ Wells would not play against the top-ranked Trojans in last nightís showdown with the No. 5 Buckeyes. That was not what Ohio State fans wanted to hear. The guy who had shredded rival Michigan for 222 yards and a couple of touchdowns in last yearís win would not be in the huddle for the teamís biggest non-Michigan, non-BCS game in years..."

Wells wanted to play, but Tressel decides to sit RB down
September 14, 2008 Source: Canton Repository - "Despite Head Coach Jim Tressel's decision not to play running back Chris "Beanie" Wells, Ohio State's junior big-game breaker tried and begged Tressel to get into the game. Wells told reporters before the game he begged Tressel to change his mind, and even planned to ask again at halftime..."


Pete Carroll on beating Ohio State

USC takes care of No. 1 with 35-3 rout of Ohio State
September 13, 2008 Source: Los Angeles Times - "Junior quarterback Mark Sanchez passed for four touchdowns and linebacker Rey Maualuga scored on an electrifying interception return to lead the Trojans (2-0), who remained in the driver's seat on the road to the Bowl Championship Series title game. USC overcame an early 3-0 deficit to take a 21-3 halftime lead, then turned the game into a rout on two touchdown passes from Sanchez to receiver Damian Williams in the third quarter..."
Source: LA Times

Trojans make Ohio statement
September 13, 2008 Source: Daily Trojan - "Was there ever any doubt? Maybe the clash of the titans label was a misnomer. Maybe Ohio State wasn't as good as we all thought. Maybe USC is better than we all thought...USC's players looked like they were moving at a TiVo-like fast-forward pace. The only way the Buckeyes could have caught them would have been with a pause button...'That was the difference in the game - we had speed,' senior defensive end Kyle Moore said. 'We can break out for 30 or 40 yards, but they'll only get three or four yards because of the speed of our defense. We just kept pounding and pounding and they kept slowing down.'..."

Opposite sideline
September 14, 2008 Source: Columbus Dispatch - "...What went right - Pretty much everything. After the USC offense had a three-and-out to start the game and the defense allowed a field goal after a 17-play drive, it was all Trojans. Mark Sanchez had time to throw, and he picked apart Ohio State's defense. Joe McKnight faked and raced around and through the Buckeyes for 106 yards in only 12 carries before leaving with a migraine headache. On defense, the Trojans benefited from Wells' absence, but OSU fans would have to be in denial to think he would have made that much of a difference. USC dominated Ohio State's offensive line and harassed Boeckman all game. The Trojans sacked him four times and hit him more often than not when he threw..."

Excuse-making Ohio State fans even more embarrassing than Pathetic Buckeyes in 35-3 loss to USC
September 14, 2008 Source: TravelGolf.com Blog - "...The saddest thing about that 35-3 is that by about Tuesday of this week no one who rooted for Ohio State thought they had a chance either. So they whined about missing running back Beanie Wells, the most overrated and insignificant absence in recent football memory. Or they whined about the fact that no one respects the way they kept beating up on the hapless Big Ten to get to national championship games, where they were promptly blown out by the first legit good team they played those whole seasons. (Luckily, the USC on their schedule will save everyone from having to watch another one of those this January)..."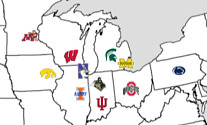 Marlene, Bradley, Lorin and Josh show off their
Buckeye Spirit at a recent wedding in Northern Ohio.