Decade rankings 1-10
July 31, 2009 Source: CBSSports.com - "As a lead-in to our preseason coverage, CBSSports.com continues to rank each Division I-A (120 schools) program based on performance this decade. We're calling it The Golden Decade. This list concludes our ranking of Division I-A during this decade...6. Ohio State: From the day he was hired, Jim Tressel embraced the Michigan rivalry. Turns out he aimed too low. Tres has established himself as one of the Buckeyes' all-time greats. In addition to dominating the school up north, Tressel has won at least a share of five Big Ten titles and a national championship. He's one of four coaches this decade to win a title within two years of taking the job (Larry Coker, Urban Meyer and Bob Stoops are the others). Oh yeah, and he is 7-1 against Michigan..."







OSU football online chat transcript
July 31, 2009 Source: Columbus Dispatch - "Each Friday at noon during Ohio State's football season, Dispatch.com readers can chat online with either Tim May or Ken Gordon... [question] I feel our lack of success in high profile ooc games the last three years is because we have been soundly defeated in the trenches. Our recruiting for OL had been suspect for about 3 straight years, but has improved the last two years. I look for a big improvement in the trenches starting with the 2010 year. Your comments? [ken gordon] Let's put it this way: If the offensive line is not significantly better this year and next, heads should roll. The hype of the "Block O" -- Mike Brewster, Mike Adams and J.B. Shugarts -- needs to be matched by results starting this season. It's ridiculous how often o-line struggles are an early-season issue..."







2009 CFN All-Redshirt Freshman Team
July 31, 2009 Source: CollegeFootballNews.com - "Who are college football's newest stars to watch out for? Richard Cirminiello highlights the best of the best redshirt freshmen on the 2009 CFN All-Redshirt Freshman Team...TE Jake Stoneburner, Ohio State – Stoneburner thinks he's a wide receiver. The scales beg to differ. As he's grown to 6-5 and 243 pounds, he's left no doubts where he'll be lining up, though catching a bunch of passes remains firmly on the to-do list. Although the position has been somewhat marginalized in recent years, he has the athletic ability, speed, and soft hands to force a subtle change in philosophy, especially once starter Jake Ballard graduates this year..."

OSU's Garrett Goebel was named 'Honorable Mention' on the 2009 CFN All-Redshirt Freshman Team - Defense





| | |
| --- | --- |
| | Will Pryor Be Pryor? Doesn't Sound Like It July 30, 2009 Source: Rea's Day Blog - From what Ohio State head coach Jim Tressel said this week during Big Ten Media Days in Chicago, it sounds like the Buckeyes will rely much more on Terrelle Pryor's arm than his wheels this season..." |





Big Ten position rankings: Linebackers
July 30, 2009 Source: ESPN - "...4. Ohio State -- The Buckeyes lose one of the more productive linebacker tandems in recent Big Ten history, as James Laurinaitis and Marcus Freeman move on to the NFL. The good news is Austin Spitler, Tyler Moeller and others have waited their turn and probably would have earned starting jobs on any other team. Spitler and Moeller step into bigger roles along with Brian Rolle, and Ohio State needs bigger things from Ross Homan in his second year as a starter. There are some question marks, but this should be a good group..."



Big Ten position rankings: Defensive line
July 29, 2009 Source: ESPN - "...Defensive line is up first. There's only one elite group on paper, but no truly bad units, either. Really not much difference between Nos. 4-11. - 1. Ohio State -- The group has drawn comparisons to the 2002 line that helped Ohio State win a national title. Ohio State looks loaded at defensive end with Cameron Heyward, Thaddeus Gibson and Lawrence Wilson, a one-time starter who comes off of two major leg injuries. Gibson should have a big year after coming on strong late last fall. The tackles have been a bit iffy in recent years, but Doug Worthington boasts a ton of experience and should shore up the middle with Todd Denlinger, Dexter Larimore and Garrett Goebel. 2. Penn State...3. Iowa...4. Northwestern...5. Wisconsin...6. Illinois...7. Michigan...8. Michigan State...9. Minnesota...10. Purdue...11. Indiana..."






FL WR Is A Buckeye
James Louis a four star wide receiver from Delray Beach (FL) has pledged to join the Buckeyes. He is the first WR in the class of 2010 and is verbal commitment No. 10. The speedy wideout, who runs a 4.45 40, caught 56 passes for 1,128 yards as a junior while earning third-team all-state honors. He becomes the first wide receiver to join the '10 class. He is ranked the No. 26 wideout in the country by Scout and Rivals lists him as the 31st best. 'I know they run a good program because I have a couple relatives that have gone to Ohio State and I've got a couple coaches that actually played for Ohio State and they tell me good things about it,' Louis said. One of those coaches that has worked with Louis is former Ohio State wide receiver Cris Carter, who coaches at nearby St. Thomas Aquinas. Louis had over 40 scholarship offers including from Alabama, Florida, Georgia, LSU, Mississippi, Virginia Tech, Oregon, Pittsburgh, South Carolina, Tennessee, West Virginia, Florida State, Miami and North Carolina. Welcome aboard, Louis!



Under Armour All-American Louis Commits To Ohio State
July 29, 2009 Source: Bucknuts - "...according to Atlantic coach Andre Thaddies. 'He said he committed,' Thaddies said. 'And I've talked to (Ohio State assistant) coach Taver Johnson.' The 5-foot-11 and 180-pound Louis was a varsity starter at running back his freshman season at Boca Raton Olympic Heights. He transferred to Atlantic prior to his sophomore season. Louis caught 32 passes his sophomore year for 420 yards and five touchdowns. He had a huge junior season catching 58 passes for 1,100 yards and 12 touchdowns. Louis had over 30 scholarship offers including Ohio State, Florida State, LSU, Georgia and Virginia Tech before picking the Buckeyes...Louis is one of the top prospects in the talent rich Sunshine State. His commitment marks the second year in a row the Bucks have landed a top wide receiver from the state of Florida..." (Video)







for almost two hours on Tuesday (July 28). In our (The Ozone) first video, Coach Tressel discusses Doug Worthington, replacing the leadership of James Laurinatis and Malcolm Jenkins and what he thinks of his former assistant coaches leading the team in East Lansing. (9:18)

and he digressed into a story about how and why he became the running backs coach at OSU before Kieth Byars' junior year. He also discusses the selection of the new quarterbacks coach, Nick Siciliano(5:11)
Source: The Ozone July 29, 2009





Woody Hayes Among The Sporting News' 50 Greatest Coaches of All-Time
July 29, 2009 Source: OSU Official Site/Sporting News - "Wayne Woodrow "Woody" Hayes, the heart and soul of Ohio State football for 28 years, Wednesday was named to The Sporting News' list of the Top 50 Greatest Coaches of All-Time, as selected by a panel of 118 Hall of Famers, championship coaches and other experts. Hayes came in at No. 27, joining three other Big Ten football coaching legends, Penn State's Joe Paterno (No. 13), Michigan's Bo Schembechler (No. 36) and Chicago's Amos Alonzo Stagg (No. 40). The 14-page feature is part of the new Sporting News Magazine, which hits newsstands this week. Head Coach Jim Tressel was on the Sporting News' Panel that made the selections. Sporting News' Top 50 Coaches list:..."



Woody Hayes: - profile, history, famous quotes, all time record, photo gallery and more in our section dedicated to the coach all other OSU head coaches are measure against.





Golf making Terrelle Pryor a better quarterback?
July 29, 2009 Source: Cleveland Plain Dealer - "Asked Tuesday for the area in which sophomore quarterback Terrelle Pryor most needs to make strides, Ohio State coach Jim Tressel gave two answers. One was technical, and an answer Tressel has given before. It's all about Pryor's feet. If getting his feet set correctly before he throws becomes second nature, everything else will fall into place. The second was more philosophical. Pryor needs to let plays go. He can't dwell on what just happened. To that end, Tressel said a new sport is helping Pryor embrace that...Long drives aren't going to help Pryor throw long passes. But thinking like a golfer might help him think like a quarterback. 'He and I talk about it a lot,' Tressel said. 'If you don't forget the last shot, you are not going to have a very fun day. Same thing with playing quarterback. You have to have a short memory, but you have to learn.'..."







New era, fresh air for OSU
July 29, 2009 Source: Columbus Dispatch - "Rarely has a passing of the torch been so apparent as in the University of Phoenix Stadium locker room in January...On one side of the room, departing fifth-year senior linebacker Marcus Freeman was defiant. The Buckeyes had proved their mettle in giving third-ranked Texas all it could handle, he said...just a few feet away, freshman quarterback Terrelle Pryor sounded a glaringly different tone. He was disgusted at the suggestion of a moral victory. 'It's not good enough,' he said. Nearly seven months later, as Ohio State prepares for preseason camp, there's a feeling of breaking away from the chains of the past, of casting loose from the moorings...Inexperience certainly presents a challenge. The Buckeyes have major voids at offensive tackle, running back, receiver, linebacker and cornerback. Much is being placed at the feet of Pryor. How much has he grown in his first full offseason in the program? 'It's a younger group,' Tressel said, 'and with us not knowing as much about them, it's a little bit harder to feature the things that they do best when you're really not sure yet exactly what they do best.' August will be a frantic month of teaching and evaluating..."

Terrelle Pryor

Ohio State Picked First In The Big Ten
July 26, 2009 Source: OSU Official Site - "The Ohio State Buckeyes were picked as the preseason favorites for the 2009 football season by media members attending the conference's football media day. Penn State was tabbed to finish second, and Michigan State was third. In addition, the media panel named Ohio State quarterback Terrelle Pryor Preseason Offensive Player of the Year and Michigan State linebacker Greg Jones Preseason Defensive Player of the Year. 'It's not so much that it's an honor for me, but I look at it as a compliment to the Buckeyes,' said Pryor of the announcement. 'We take pride in playing in the Big Ten and the conference championships we've won. This just shows that others know we intend to be very competitive again this year.' Ohio State enters the 2009 season in search of its fifth consecutive Big Ten title..."



Transcript: 2009 Big Ten Media Day: Jim Tressel Press Conference July 27, 2009 Source: Big Ten Conference


"Head Coach Jim Tressel held a short interview session with the media following his formal interview at the Big Ten football meetings in Chicago. He discussed a number of topics including possiblity of Terrell Pryor being elected a captain in just his sophomore season." (10:35)

Pryor, Buckeyes Pegged For Success
July 26, 2009 Source: Buckeye Sports - "Tressel said he was surprised that Pryor was pegged as the preseason offensive player of the year with returning signal-callers Darryl Clark and Isiah "Juice" Williams also suiting up. 'I really was (surprised),' Tressel said. 'I guess I had forgotten they do such a thing, and then when it was mentioned I got to thinking, 'Man, there's a lot of good guys coming back in this league. I guess it's a good reminder from an individual standpoint of the respect they have for his ability.'...Summer grades arrive Thursday, and Tressel said he will know then if any players will find themselves unable to report for fall camp due to any academic situations. However, he added that he did not expect any such problems to occur. Asked directly about the status of Keith Wells and Ray Small, he responded, 'I think they're alive and well and at home, I'm assuming.'...Tressel said Berry will not be limited on the field due to his legal troubles..."




Tressel: No suspension for Berry
July 27, 2009 Source: Columbus Dispatch - "Coach Jim Tressel said incoming freshman running back Jamaal Berry will not be held back "by any external circumstances" this fall. The interpretation of that: Berry's pending misdemeanor drug possession charge will not lead to a suspension. Whether -- or how much -- Berry plays is unknown, of course. But there will be no suspension. Otherwise, Tressel was typically middle-of-the-road and non-committal on many issues...Asked if he would allow a sophomore to be a captain, he hemmed and hawed and finally said he didn't think it would be something he wanted to add to a sophomore's plate....so no, Pryor will not be a captain this year..."

| | |
| --- | --- |
| | Feeling the weight July 28, 2009 Source: Columbus Dispatch - "Ohio State was picked as preseason Big Ten favorite, but with that honor comes plenty of responsibility to help the conference gain respect " |





Ohio State's Kurt Coleman on Devon Torrence, Duron Carter, DeVier Posey and others
July 28, 2009 Source: Cleveland Plain Dealer - "Kurt Coleman ran the seven-on-seven drills this summer, as the Buckeyes practiced their passing game like they always do while the coaches aren't allowed to be working with the players. Coleman said he and the other seniors would tell sophomore quarterback Terrelle Pryor to get the offense ready and then they'd get to work in what he called the most competitive seven on sevens he has been a part of. 'Honestly, this has been the best seven on sevens that we've had. I'm not just saying that, because I really believe it,' Coleman said at the Big Ten meetings in Chicago today...On junior cornerback Devon Torrence...'I think he's steps ahead of where he was last year at this time, and I think he's mentally and physically ready to go...'...freshman receiver Duron Carter...'You can tell he's Cris Carter's son. His hands are very, very good...'He knows if a DB is going to play me this way, I need to do this. He's good at adjusting his routes...'...on junior Dane Sanzenbacher and sophomore DeVier Posey...'you've got Dane coming back and he's our leading receiver coming back, hands down...DeVier is definitely that deep threat, that guy you always have to have someone guarding...'..."



Big Ten OK with TV setup
July 28, 2009 Source: Columbus Dispatch - "The Southeastern Conference is now the beast of college football. ESPN is, as Big Ten commissioner Jim Delany repeatedly described it yesterday, the "worldwide leader" in sports programming. So the news that those two behemoths joined forces on a 15-year deal reportedly worth more than $2 billion has sent tremors throughout college football. The deal will extend the SEC's national reach and fill each member's coffers by about $17 million annually. Judging from the media coverage, it would seem that all the other conferences, including the Big Ten, might as well write off any hope of ever catching the SEC. But at the Big Ten media day yesterday, someone forgot to pass out the surrender flags..."







2009 CFN Big Ten Team Capsules
July 27, 2009 Source: College Football News - "2009 CFN Big Ten Predictions and Team-by-Team Thumbnail Views...1. Ohio State - Predicted Record: 10-2 - Conf. Record: 7-1 - Best Offensive Player: QB Terrelle Pryor, Soph. - Best Defensive Player: DE Thaddeus Gibson, Jr.

Offense: The OSU offense took a left turn last season when Terrelle Pryor took over the attack with less deep passing and more running, but things should be more balanced this year. Pryor worked hard this offseason to become a more polished passer, and now there should be more long balls and more chances taking after he dinked and dunked with safe passes throughout the second half of last season. While much will be made about the major losses at running back and receiver, there's more than enough speed and talent to step in and produce. There's no power in the running game, but Dan "Boom" Herron and Brandon "Zoom" Saine can fly. The receiving corps might turn out to be a strength with DeVier Posey about to become a superstar and with Dane Sanzenbacher, Ray Small, and incoming freshman Duron Carter all good enough to put up big numbers. The key to the offense should be the line, which wasn't bad for the ground game last year but struggled mightily in pass protection and didn't have a nasty enough attitude. The addition of Michigan transfer Justin Boren at left guard should make a big different for a group that should emerge as the Big Ten's best with a little time.

Defense: It's hard to call the nation's 14th best defense a disappointment, but it wasn't quite the killer it was supposed to be. However, the Buckeyes allowed a mere 13.92 points per game and gave up more than 21 points to two teams, USC and Texas. This year's D loses all the star power at linebacker, and All-America corner Malcolm Jenkins, but it comes back loaded on the defensive front, especially on the ends. Thaddeus Gibson is about to blossom into a superstar pass rusher on one end, while Cameron Heyward has first round draft pick potential on the other side. Three starters return to the secondary led by corner Chimdi Chekwa, who should be the star now that Jenkins is gone. The spotlight will be on the linebacking corps that loses James Laurinaitis and Marcus Freeman, and while there aren't any stars, Austin Spiller and Ross Homan lead a rock-solid group that should be more than fine..."



2009 CFN Big Ten Preview
July 27, 2009 Source: College Football News - "Penn State and Ohio State have reloaded in a hurry and should be players on a national stage once again, Iowa and Michigan State should improve...Illinois should be closer to its 2007 form than the 2008 version, Michigan should take another step forward...Northwestern will be as strong as it's been in over a decade, and even Indiana and Purdue, likely the bottom feeders, have some major strong points...But none of the positives matter if the league can't make a bigger splash on a national scale. Perception is reality, and while the Big Ten has suffered a bad rap for having problems with USC (hardly an exclusive club), major gaffes like Michigan losing to Toledo, Illinois losing to Western Michigan, Indiana losing to Ball State and Central Michigan, and Wisconsin needing a miracle to beat Cal Poly (before getting destroyed by Florida State in the Champs Sports Bowl) didn't help the cause..."






Big Ten coaches favor longer regular season
July 27, 2009 Source: ESPN - "The Big Ten's sagging national reputation isn't lost on the league's coaches, who have had internal discussions about the need to pick things up across the board. It's obvious where the Big Ten must make the biggest jump -- in late December and January. The league's recent bowl performances, particularly in the Rose Bowl and other BCS games, have fueled the negative perception more than any other factor...The Big Ten's lengthy layoff before bowl season has been a hot topic in recent years, and though the league has no plans to add a 12th team and play a championship game in early December, some teams are finding ways to extend their seasons. Many Big Ten coaches seem to like the idea. Illinois will wrap-up regular-season play Dec. 5 against Fresno State, while Wisconsin likely will play the final regular-season game of the 2009 season Dec. 5 at Hawaii...Illinois and Wisconsin are the only two Big Ten teams with bye weeks this fall, as the league plays its final season without open dates. Starting in 2010, the regular season will end after Thanksgiving, bridging the gap between the bowls by a week..."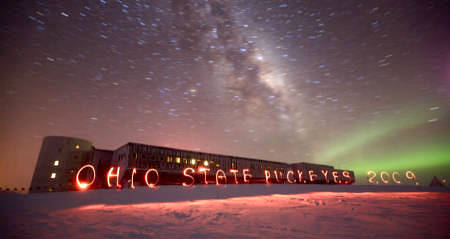 Writing with Light Photos By Patrick Cullis
July 27, 2009 Source: The Ozone - "The mission of the-Ozone is to bring Buckeye news to OSU fans near and far. Sometimes we don't really know just how far is until we actually hear from our readers. That was the case last night when we heard from the-Ozone reader Patrick Cullis. Patrick is a researcher stationed at the Amundsen-Scott South Pole Station. He is researching, of all things, the Ozone hole. He is also a big Buckeye fan and fan of the-Ozone.net web site...Inspired by the prospect of the upcoming season he made a unique photo to express his feeling. Patrick wrote this to us about the image. 'The picture is a three minute exposure, with the text written with my headlamp in front of the Amundsen-Scott South Pole Station. The milky way stretches upward behind it, and a small aurora is flaring up to the side.' We were startled by the impact of the image and wrote to him for permission to use it...We've placed the photos below in a size that is appropriate for use as a screen background..."







Buckeyes look like Big Ten's best again
July 26, 2009 Source: Toldeo Blade - "...as the 2009 preseason predictions, rankings and polls continue to be rolled out...Ohio State is in the top 10 on every significant national list, and the Buckeyes are close to a unanimous choice to win a fifth straight Big Ten championship. 'It is always a head-scratcher, how the Buckeyes get so much early respect in the preseason polls, only to be trashed by every national talking head three weeks into the season,' said Kevin Noon, who tracks OSU football for Rivals.com. While defending national champion Florida is everyone's darling at No. 1, the other usual suspects populate the rest of the top five in most polls - Texas, Oklahoma, Southern California and Alabama. Ohio State is rated as high as No. 5 (Athlon), and is around eighth in the country in most rankings...Ohio State head coach Jim Tressel will take the podium and address the specifics about the Buckeyes tomorrow in downtown Chicago as the Big Ten begins its two-day preseason football media session. He has said the expectations will again be significant...Ohio State is the preseason favorite to win the Big Ten again, primarily out of habit. As the old saying goes, 'To be the man, you've got to beat the man...It will be a two-team race again, between OSU and Penn State. The rest of the teams are scrambling, so it's kind of Ohio State and Penn State, by default'..." (Mark Rea of the Buckeye Sports Bulletin)



Judge To Decide Fate Of Hineygate-Type Party
July 24, 2009 Source: WBNS 10TV - "The fate of a pre-game party on Lane Avenue is in the hands of a judge only weeks before the start of the Buckeyes' football season. A lease dispute between a campus-area bar and Ohio State University may prevent organizers from hosting a tailgate party similar to the popular Hineygate events, 10TV's Kevin Landers reported. Until this year, thousands of football fans gathered at the Holiday Inn on Lane to party before and after home games. But when the university bought the Holiday Inn and turned it into a dormitory, the party came to an end. Former Buckeye and NFL punter Tom Skladany wants to bring the party back, moving it next door to the parking lot of the Thirsty "I" bar, a place formerly known as Wendell's. But there's a problem. The bar sits on property owned by the university, and when the bar's owners failed to pay the rent on time, OSU began eviction proceedings. In court filings, lawyers for the bar argued it is now current on its rent to the university. An attorney for Ohio State said the late payments provide a valid cause for eviction. In court on Thursday, the Thirsty "I" won its fight to force OSU to sign an alcohol permit to allow the bar to plan for OSU's first home game against Navy. That would allow for a Hineygate-type party to continue to be held on Lane Avenue. But a judge will make the final decision on the future of the party during an eviction hearing early next month..."

Jim Tressel

Hey Doug: Doug Lesmerises answers your Ohio State questions
July 25, 2009 Source: Cleveland Plain Dealer - "Hey, Doug: Can you assure us OSU fans that Jim Tressel is every bit as good a coach as Florida's Urban Meyer, Alabama's Nick Saban, Oklahoma's Bob Stoops, USC's Pete Carroll and Notre Dame's Charlie Weis?...Let me try. Since Tressel was hired, Ohio State is 83-19, which is the fifth-best record in that time frame behind USC, Texas, Boise State and Oklahoma. Since Tressel was hired, Ohio State has won at least a share of five Big Ten titles. No other conference school in those eight years has won more than two. Since Tressel was hired, the Buckeyes have played in three BCS championships, tied with Oklahoma for the most in those eight years, while four other teams have played in two...That said, the right fit matters a lot, and while I think Tressel would have done well had he accepted the job at Miami before he came to Ohio State, maybe he wouldn't have proven quite this successful. Carroll is better at USC than Tressel would be. So if every coach in college football was made a free agent right now, and Ohio State had the first pick in the coaching draft, whom would you pick ahead of Tressel? Especially considering Meyer and Stoops are from Ohio and Saban and Carroll were OSU assistants. Lots of options. I'd probably take Meyer first...Tressel's in my top two. Now, if we were picking a coach for one game, coaching teams with equal talent, Tressel would fall lower on my list. I think recent outcomes have proven that logic. I'm not sure for one game that Tressel gives you the tactical or motivational edge that other coaches do, from Meyer to Carroll to Boise State's Chris Petersen."





5 Thoughts On The Big Ten
July 24, 2009 Source: ColllegeFootballNews.com - "Five thoughts on the upcoming Big Ten season...Pete Fiutak, CFN: The Big Ten is rebuilding this year. Ohio State is loaded in several areas, but it's not as strong as recent years. Penn State has some major holes to fill on the defensive line and at receiver (though both areas should be fine), and Wisconsin and Michigan, two programs who need to be great to boost the league's reputation, should be mediocre again. Iowa, Illinois and Michigan State should be strong, but they're not exactly going to capture the nation's imagination unless they can do something splashy early on, and that's the problem; there's a limited number of chances for the Big Ten to show what it can do...Matthew Zemek, CFN: After his untimely turnover a year ago against Penn State, and his distracted, nervous, run-out-of-bounds-before-the-marker performance in the Fiesta Bowl against Texas, Terrelle Pryor—now a sophomore—should take the Big Ten by storm. He possesses the charisma and presence of an A-list leader, and with one season of experience behind him, this battle-tested and defeat-hardened youngster should display the poise of a veteran in 2009. If Pryor fulfills his immense potential, Ohio State should march to the conference crown that avoided the Buckeyes' grasp last season...Hunter Ansley, Publisher, DraftZoo.com: The poor Big Ten. It has a team make the national title game two years in a row and three times in the history of the BCS and it's called weak. It gets two teams into the Bowl Championship Series in eight of the 11 years that system's been in existence, something the SEC has done on only six occasions, and it's labeled unworthy. Ohio State nearly pulls off a huge upset of "should have been in the title game" Texas, losing on a last minute touchdown drive, and just because they scored fewer points they were labeled losers...Jon Miller, Publisher, HawkeyeNation.com: If Ohio State gets passed USC early in the season in Columbus, their schedule sets up well to win all of their games. They will have tests (at Penn State, Iowa at home late in the year), but I see it as a possibility because of the biggest difference maker in the league, quarterback Terrelle Pryor..."



10 Worst BCS Teams
July 22, 2009 Source: Maxim - Danny Sheridan writes in the Maxim Magazine Sports Blog: "Our annual hit list of the nation's most tragic squads...10) Michigan: Cream puffs may pad their record, but most of the Big 10 will eat up Big Blue. 9) Baylor: The Bears' losing squad returns 18 starters, but their schedule is murder. 8) Texas A&M: Went a dismal 0-5 against the Big 12 South last year. 7) Washington: Even star QB Jake Locker can't save the Huskies. 6) Mississippi State: New coach Dan Mullen brings Florida's offense—but none of its players. 5) Indiana: Dumped their best player with no one to replace him. 4) Iowa State: These Cyclones will really blow against the Big 12. 3) Duke: The back-to-back Worst 10 champs ain't called Dookies for nothing. 2) Washingon State: Problem-free! Except at QB, RB, WR, and OL, that is. 1) Syracuse: The Orange have gone 10-37 over the past four years. Time to reward their hard work."





Hearing-impaired football fan sues Ohio State
July 16, 2009 Source: Akron Beacon Journal - "A hearing-impaired Ohio State University football fan has sued the school, arguing that the university should offer captioning on the scoreboard and stadium televisions because he can't hear the announcers. 'When I go to a game, I'm never able to follow the game,' said Vincent Sabino, 32, of Hilliard. 'It takes away from being a fan. It's a game experience thing.' The lawsuit was filed late last month in federal court in Columbus by the National Association of the Deaf in Silver Spring, Md. The suit says the university is violating the Americans With Disabilities Act by not providing captioning at all its venues, including Ohio Stadium, Schottenstein Center and St. John Arena..."



Update: Deaf fan sues Ohio State to get captions at games
July 24, 2009 Source: Columbus Dispatch - "...OSU spokesman Jim Lynch said the university is working with Sabino's attorneys to reach a settlement. Many options, including scoreboard captions, are being examined. Neither he nor Sabino's attorneys would discuss specifics.The first correspondence the university received from Sabino was in a letter requesting action, Lynch said. "The university was in the process of responding to that letter, and we were surprised to see that lawsuit filed prior to the lawyers' getting involved. 'The bottom line is, had the individual called us, we would have taken action.' The letter was mailed and faxed to OSU's Office of Legal Affairs on May 21 and asked the university to respond by June 10, said Laren Knoll, Sabino's Hilliard attorney. The lawsuit was filed on June 30. An NCAA spokesman said schools are not required to report whether they have scoreboard captioning.."







Is commitment 10 right around the corner?
July 23, 2009 Source: Columbus Dispatch - "...there is a good chance that linebacker/defensive back Chad Hagan of Canon-McMillan High School in Pennsylvania soon could be No.10. Reporter Mike White of the Pittsburgh Post-Gazette wrote this afternoon that the speedy Hagan, 6 feet 2, 230 pounds, is almost certain to commit to Ohio State, and that it could come in the next two weeks. 'Ohio State is No. 1,' White quoted Hagan as saying. 'I love everything about them. I plan on making a decision where I want to go soon, probably before the end of this month. I'm going to visit Ohio State again. If I go up there and I'm sold on it again, then that's where I want to be.' His top three includes Michigan and Wisconsin, while nearby Pittsburgh and in-state power Penn State have not offered a scholarship, which Hagan said 'just drives me a little more.'...Veteran recruiting analyst Bill Kurelic said the other night that he wouldn't be surprised to see prized punter/kicker Will Hagerup make his decision in the next few weeks. Though Hagerup has offers from a notebook full of schools, including Alabama, Tennessee, Florida, Wisconsin and Michigan, he is said to be very interested in the Buckeyes, who are among those dangling a scholarship

"






Brian Rolle

Brian Rolle: Could this be his breakout year?
July 23, 2009 Source: Columbus Dispatch - "Linebacker doesn't want to spend his years at OSU 'being average'...For Rolle, the 5-foot-11 junior tackling torpedo from Immokalee, Fla., this could be a bellwether season. The departure of James Laurinaitis and Marcus Freeman left two starting jobs available at linebacker, and though Rolle pressed his case in the spring, he said now is not the time for a visit home. 'I am looking to be one of the best players to come through here, whether some people think I can be or not,' Rolle said...'I've got to work hard through this summer because I know that there's a 95 percent chance I'm going to be starting this year, that I can be a major contributor on defense...'B-Rolle is a football player,' Tressel said. 'He will have a good year.'...'I tell the guys up here who are from out of state, you don't want to come all this way to not be great,' Rolle said. 'You don't want to come up here and waste four or five years of your life being average, or being the college football player who parties all the time but otherwise sits in the background being somebody people never heard of. I want to be somebody who, when they say the name Brian Rolle around here in the future, that people not only will have a story to tell, but a good story to tell.' "





'Big Ten Football Tour' Hits the Road Starting August 11
July 23, 2009 Source: OSU Official Site - "Eleven teams. Fifteen days. And 3,000 miles. That's how far the Big Ten Network's Dave Revsine, Gerry DiNardo and Howard Griffith will travel to bring fans Big Ten Football Tour, a series of 11 90-minute shows devoted to a preseason football practice at every Big Ten university. The shows, which begin Aug. 11 and will air the same night as the practices at 10 PM ET, will feature a true, behind-the-scenes look at individual and team drills as Big Ten teams prepare for the 2009 season....The tour begins at Ohio State (Aug. 11)...Fans along the Big Ten Football Tour route will have a chance to win football tickets and other Big Ten Network prizes by getting updates through the network's Facebook page and Twitter feed. The Big Ten Network also will produce a separate 30-minute football preview show for each Big Ten school. Those programs will premiere during the last week of August. The network will also air a two-part conference-wide preview show at 10 PM ET on Tuesday, Sept. 1 and Wednesday, Sept. 2

"





It's time for "Boom and Zoom" to take over
July 23, 2009 Source: LeBrowns Town - "Two years ago, coach Jim Tressel thought enough of freshmen running backs Dan Herron and Brandon Saine to dub them the nicknames "Boom and Zoom"...Now, after waiting their turn, the debut of the "Boom and Zoom" era will be coming to a Big Ten stadium near you. Both backs have had to overcome adversity to get to their prominent roles in the OSU offense this fall. Saine ("Zoom") was put into to the shuffle of OSU's running backs in 2007, and added a kick to the Buckeye offense with his speed and catching ability. Since his early success, however, Saine has been mostly in pain, suffering several nagging injuries... While redshirting his freshmen year, Herron delivered the "Boom" many times on teammates during practices...'(Herron's) an extremely hard worker that puts his heart into every practice,' Tressel said back in 2007. 'He's going to have a great career here.' Herron's window to play on Saturdays opened when the injury bug caught Beanie and Saine last season, and the Warren Harding product delivered. Herron averaged 4.9 yards per carry on 89 touches, including an 80-yard, two-touchdown effort in the 42-7 rout against Michigan. 'Boom' also zoomed past Texas on his 15-yard touchdown run to put OSU ahead 21-17 late in the Fiesta Bowl. The cliché 'patience is a virtue' has sure proven to be true for Herron and Saine, who now have the backfield all to themselves in 2009

"








Herbstreit 'fire' puts focus on IRS dispute
July 23, 2009 Source: Sporting News - Tax deduction denied to couples who gave houses for fire drills...In March, the Buckeye-turned-ESPN commentator sued the IRS for rejecting a $330,000 tax deduction he and his wife, Allison, took for donating their house at 2321 Onandaga Dr. to the Upper Arlington Fire Division. The donation -- and the deduction -- have been common for at least two decades for Upper Arlington residents who wanted to build new homes on property where old homes resided. Firefighters have used the old houses for training and burn-down exercises. Columbus lawyer Terry Grady said the IRS didn't challenge the deductions until 2004 -- the year the Herbstreits donated their house. 'People have been led to believe (the practice) is sanctioned by the IRS,' said Grady, who sued the IRS on behalf of the Herbstreits and another Upper Arlington couple, James and Lori Hendrix...For the Herbstreits, the IRS decision, also after an audit, meant $134,606 in back taxes and interest. Both couples paid what the IRS said they owed and now are suing to get the money back

"