Watch the Urban Meyer Bill O'Brien postgame handsake above. PSU Head Coach Bill O'Brien said after the game, "We'll remember some things." It appears he was already remembering "some things" as O'Brien's 'driveby' handshake makes very apparent.


OSU Insider
October 28, 2013 Source: Columbus Dispatch

25 words or fewer
After dismantling Penn State, the Buckeyes careen toward offenseless Purdue with a 21st straight win — one short of the school record — in their crosshairs.

In the BCS/polls
The Buckeyes remained No.?4 in everything that matters: the USA Today coaches poll, the Harris Interactive poll and the BCS ratings, which takes those other two polls and combines them with a cumulative average from six computer rankings. Above them in the BCS are No.?1 Alabama, No.?2 Oregon and No.?3 Florida State.

Who's hot?
Braxton Miller, who has gained 300-plus yards the past two games. It took the dual-threat quarterback a couple of outings to shake off thoughts of the mild left knee sprain that kept him out of almost three full games, and he had to deal with another wince on Saturday night. But he stepped back in to play as many had predicted in preseason.

What's not hot?
Drew Basil's squib-kicking form. At least that's what he appeared to be trying just nine seconds before halftime when he instead kicked the ball in onside fashion, resulting in two thoughts: Either OSU was trying to get the ball back with a 42-7 lead, or it was trying to give the Nittany Lions a sporting chance.

What went right?
The offensive plan. The pregame stats said Penn State begged to be attacked through the air, so Miller and his receivers did that from the start. That loosened what had been some rather tight running seams in the Penn State front seven, which is where the Ohio State line and running back Carlos Hyde plundered. On the way to 147 yards (giving him 464 the past three games), Hyde scored two TDs. OSU is ninth nationally in rushing offense (295.6 yards) and eighth in total offense (517.3 yards).

Back to the drawing board
The Ohio State defense seems destined to give up at least one big play in the second half, as the mostly backups did on Allen Robinson's dazzling 65-yard catch-and-run TD. The OSU defense did fall back early when Penn State stole a page from Iowa's three-tight end pamphlet, but Corey Brown stepped in front of one of those tight ends for an interception in the end zone, and safety C.J. Barnett plucked another one headed for a tight end.

Dinged up
Considering middle linebacker Curtis Grant went down after a helmet-to-helmet collision, he's likely on a day-to-day evaluation. Receiver Evan Spencer limped off with a left knee ailment, and special-teams leader Devan Bogard suffered an unspecified lower-leg injury.

Catch that?
In the second quarter, Miller spotted Devin Smith on a deep square-in on the left side with a safety bearing down from the middle. Miller threw the ball to Smith's back (right shoulder), spinning the receiver away from the safety and past the trailing cornerback. It's the kind of throw seldom seen from Miller a year ago.

Up next
Purdue, which in the first year under coach Darrell Hazell has one victory, over FCS member Indiana State. The Boilermakers had last week off, a respite that came at a good time because they were reeling from five straight losses. They are 120th nationally in total offense (278.6 yards), 119th in scoring (13.1) and 104th in scoring defense (34.4). But they are second in net punting (42.68 yards), so there is that.

This week's challenge
After pushing the lopsided snowball over the top, the Buckeyes are obliged to keep it rolling, even if they will be a prohibitive favorite. They also must keep in mind — or perhaps a better approach might be to wipe it from their memory — that OSU has been upset in its previous two trips to Ross-Ade Stadium, and is 2-4 in its past six there. Taking anything for granted is folly.



BCS schedule breakdown shows Ohio State with easier path to unbeaten than Alabama, Oregon, Florida State
October 24, 2013 Source: Cleveland Plain Dealer - Ohio State is fourth in the initial BCS college football standings, but appears to have an easier path to finish unbeaten than the top three.
Voters in the national polls overwhelmingly rate Alabama, Florida State and Oregon ahead of the Buckeyes, but each team faces more or tougher obstacles down the stretch than Ohio State.
We crunched the numbers on the remaining schedules to get a handle on what could stand in the way of unbeaten seasons for the nation's most highly rated teams as they compete for invitations to the national title game.
• BCS No. 3 Oregon's final six games are all against teams with winning records, unlike any other remaining unbeaten.
• No. 2 Florida State and its undefeated ACC counterpart Miami (No. 7) are the lone unbeatens to still have as many as seven games left. Those games include a head-to-head matchup Nov. 2 and a potential rematch in the league title game.
• No. 1 Alabama is slated to encounter more ranked teams than any of the top four, facing LSU and Auburn in the regular season before a possible game against current BCS No. 5 Missouri in the SEC title game.
• No. 4 Ohio State has the easiest schedule of any of the eight remaining unbeaten teams from major conference, both in terms of record and the number or ranked teams left on the schedule (currently just Michigan, but that could change with a Big Ten title game).
The combined record of Ohio State's remaining opponents, including a potential Big Ten title game matchup, is 23-17. Compare that to 30-10 for Oregon.
Ohio State also has fewer games remaining against teams with winning records (3) than all but Florida State (also 3).
A separate question is which teams are strong enough to win the rest of their games, but here is how the schedules stack up.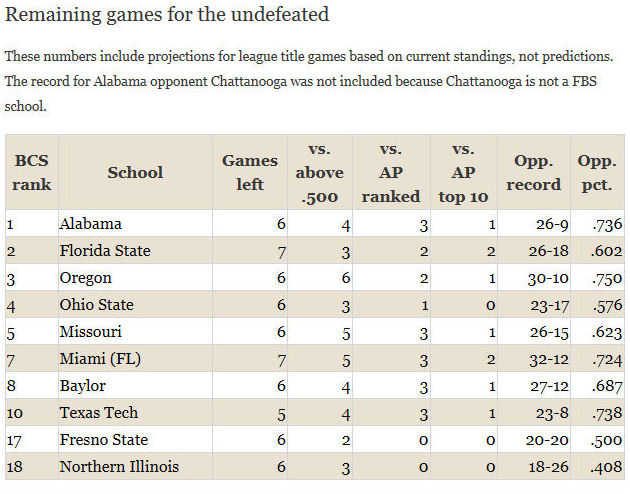 A look inside the schedules finds some quirks and other things of note...



Ohio State recruiting: State Secrets, 10/24 - Raekwon McMillan, Jamal Adams update
October 24, 2013 Source: LandGrant Holy Land - Another big recruiting weekend ahead for the Buckeyes. Several prospects announced on Wednesday that they will be in Columbus on Saturday. Find out who and more.

Coming into the day, Ohio State was already scheduled to host an immense amount of talented prospects on Saturday to watch the Buckeyes square off against the Nittany Lions. That list continued to grow throughout the day on Wednesday.

Starting out with the 2014 class. One of the more important visits that will take place on Saturday will come for '14 ILB Raekwon McMillan.





McMillan is widely considered as the most important target for the Buckeyes. The general feel throughout the recruiting world is that Ohio State currently has the best shot to land McMillan with Alabama, Clemson, Florida and Georgia in the picture as well. The Buckeyes will have about 48 hours to increase their chances to land the talented five-star linebacker. McMillan will be joined by his teammate, '17 ATH Richard LeCounte.

Perhaps the biggest addition to the visitor list for Saturday would be '14 JUCO OT Avery Gennesy. The 6-5, 307-pound lineman from East Mississippi C.C. already has an Ohio State offer to his name along with Ole Miss, Oklahoma, Tennessee, Texas A&M and several others. Gennesy will also be accompanied by a teammate, '14 JUCO safety A.J. Stamps. The 2-star safety currently holds scholarship offers from Kentucky, Mississippi State and Western Kentucky...






OSU Insider
October 21, 2013 Source: Columbus Dispatch

25 words or fewer
In a weekend of upsets, Ohio State danced with the devil again and managed not to get burned, though the judges (poll voters) weren't impressed.

In the BCS/polls
Ohio State was fourth in the first edition of the Bowl Championship Series ratings released last night, behind Alabama, Florida State and Oregon. The Buckeyes lost a spot in the USA Today coaches poll, falling to fourth as Florida State — an impressive winner at Clemson — jumped two positions to third. OSU is fourth in the Harris Interactive poll, which along with the USA Today poll makes up two-thirds of the BCS formula. The other third is a composite of six computer rankings, where the Buckeyes are really lagging primarily because of their strength of schedule.

Who's hot?
Carlos Hyde. The senior running back seems intent on making up lost ground after being suspended the first three games. He has rushed for 443 yards since his return, with 317 yards and five touchdowns in the past two games. His spectacular 19-yard TD run against Iowa was getting replayed coast to coast.

What's not hot?
The way the Ohio State offense starts games. The Buckeyes have cooled dramatically the past two games, so much so that Urban Meyer mentioned it as a concern after the win over Iowa. Those starts have coincided with the OSU defense having obvious problems of its own in the first half against teams that come out throwing. One should have nothing to do with the other. Call it symbiosis.

What went right?
Once the OSU offense got rolling, it was like a downhill run. Quarterback Braxton Miller (222 yards passing and two TDs, 102 yards rushing) had a school-record seventh game with at least 300 yards of total offense. He was 22 of 27 passing and hooked up on a 58-yard TD pass to Corey Brown, the longest of the senior receiver's career. Couple that with way the offensive line was clearing the path again for Hyde, and OSU had 495 yards of offense.

Back to the drawing board
Coverage plans when the opposing team deploys three tight ends need work. It took Ohio State a full half to solve the unexpected puzzle Iowa presented. It was enough to help the Hawkeyes play ball hog up to halftime. In the second half, the OSU defense took control except for one play. But that play was an 85-yard, tying TD pass to a tight end that supposedly lighter, faster Buckeyes couldn't catch. It will not make Ohio State's 2013 highlight video.

Dinged up
Defensive tackle Michael Bennett had to leave the game briefly but returned. Cornerback Bradley Roby was the first OSU casualty of the new targeting rule after his hit on Iowa tight end C.J. Fiedorowicz. Roby was kicked out of the game but will be able to play this week. If it had happened in the second half, he would have been suspended for the first half of the next game.

Catch that?
OSU freshman speedster Dontre Wilson was in on considerably more plays coming out of the bye week. Though he still hasn't popped a big one, the implied threat had an effect. For instance, he came in motion in front of Miller as if to take a handoff for a sweep before Miller stepped back and, seeing the safety bite, found a wide-open Brown on the 58-yard TD pass.

Up next
Penn State, which had a bye last week. The Nittany Lions bounced back from a stunning loss at Indiana to outlast Michigan in a four-overtime thriller last weekend. They got to OT against the Wolverines by letting freshman quarterback Christian Hackenberg throw the ball, primarily to Allen Robinson. Based on the OSU defensive ills, the Nittany Lions likely will come out of the locker room passing.

This week's challenge
The Buckeyes likely will have to withstand another aerial assault by the opposition as they try to stretch their win streak to 20. Of course, their primary concern is about staying unbeaten this year, and staying in the hunt for one of the two spots in the last BCS title game. It's clear now that it's going to take winning out and hoping future upset weekends take their toll on teams all around them.




October 11, 2013 Source: Columbus Dispatch
Cover Story: Jeff Heuerman's first sports love — hockey — is on ice now, but it taught the OSU tight end plenty and eased his transition to football
Ohio State Spotlight on Defense: Curtis Grant
Ohio State Spotlight on Offense: Carlos Hyde
Meet a Buckeye: Drew Basil
Recruiting: Coaches hit recruiting trail on off week
Play of the week: Double wing, right tight zone, left choice
&
more
...
Ohio State Football Bye Week Report Card
October 9, 2013 Source: Scarlet & Game - Coming off a huge comeback win against Northwestern, the Ohio State Buckeyes are undefeated at 6-0 going into a much needed bye week. With some position groups excelling, and some struggling, lets go through the team's report card and see which units grade out the best.
Quarterbacks: A
When healthy, Heisman hopeful Braxton Miller has been as good as advertised. A proven runner, Braxton has taken the next step and improved his in the pocket passing. While still at his best scrambling and making plays, Miller sports a completion percentage of 65% and a 6:2 touchdown-interception ratio. While he only averages 4.1 yards per carry and has no rushing TDs, his running presence is clearly a positive. When hurt, Miller's replacement, Kenny Guiton, was arguably better. With a 13 passing TDs and a 7.4 yards per carry, Guiton made the absence of Miller nearly invisible. Whether Miller vs. Wisconsin or Guiton vs. Cal, the Quarterback has been the star of this team.
Running Backs: A
The two main bell cows of the offense, Jordan Hall and Carlos Hyde, have been nothing short of excellent. Combining for 11 rushing TDs and over 6 yards per carry, they have been just as important as the QBs in this high octane offense. The Buckeyes would not have made it out of Northwestern with a win if it wasn't for Hyde's 26 carries for 168 yards and 3 TDs. Ezekiel Elliot and Dontre Wilson have also added a nice change of pace each averaging over 9 yards per carry, even with only a few touches a game.
Offensive Line: A+
Led by seniors Corey Linsley and Jack Mewhort, this group is the secret star of the offense. Always paving huge running lanes and giving the QB time to go through progressions and throw, this elite unit is one of the best in the country and without it, the offense would struggle more than most would think.
Recievers and Tight Ends: B
While not a being a unit full of play-making studs, this is a group of pass catchers that do whats needed for offensive success. Corey "Philly" Brown and Devin Smith lead the team with each having over 5 TDs and over 350 receiving yards. While the tight end is not a featured weapon in this offense, Jeff Heuerman does have a respectable 10 receptions for over 100 yards. With 4 out of 7 of his receptions being touchdowns, Senior Chris Fields has been a valuable contributor.
Defensive Line: B+
Stud sophmore defensive ends Noah Spence and Adolphus Washington have been as good as advertised. Spence consistently getting pressure on the opposing QB all year and Washington being a force when he is healthy. While going into the season as a perceived weak spot, the interior line has been stout, stifling the impressive running attacks of Wisconsin and Northwestern. Micheal Bennett has been a pleasant surprise, showing spurts of play that show he can be a difference maker.
Linebackers: B
Strong and Middle LB's Joshua Perry and Curtis Grant have been solid in defending the run and in coverage against RB's and TE's but the star of this unit is junior Weak-side Linebacker Ryan Shazier. Shazier is looking like a future NFL first rounder as he is constantly attacking the ball and coming up with huge tackles and stops time and time again.
Secondary: C+
Not originally thought to be a huge weakness with star corner Bradley Roby and senior safeties C.J. Barenett and Christian Bryant returning, but they have struggled mightily at times this year. Roby has not lived up to his first round projection, being mainly responsible for big games from Jared Abbrederis and Rashad Lawrence in consecutive weeks. The unit as a whole also allowed a big day to Cal earlier this season. Now with Bryant out for the rest of the season, the secondary is really going to have to step up its play.


Two-Minute Drill: Updates from Urban Meyer's Call-In Show
October 10, 2013 Source: The Ozone - Meyer said Pittsburgh Brown and Tyvis Powell played okay, but they didn't grade out as champions. He said Doran Grant's interception was a game changer. He said he's told Kerry Coombs that he thinks the coverage can be better, tighter and better fundamentally... Meyer said he's never seen a freshman defensive lineman like Joey Bosa make such a quick impact. He said it's clear that he comes from a football family...* He said that Jordan Hall still has a knee issue that they are working through. "I'm hoping to get him back soon." He said it's a joint issue that has been lingering for a while. They don't yet trust Rod Smith or Warren Ball enough to give them a large load right now...Meyer reiterated that he was close to putting Kenny Guiton in last week. "If it's an offensive lineman, you make that change." But because of the nature of the position and the magnitude of the meaning, it's just not that easy to do. He said that he was close to doing it and it wasn't because of poor performance, it was because of the turnover. He also wanted to see Miller's face after the fumble and he saw "the eye of the tiger", so he stayed with him...He said that Cameron Johnston should have taken the fake punt inside, but he's a freshman and Meyer needs to keep that in mind...


Urban Meyer - Wednesday Q&A 10-09-13
Two-Minute Drill: Updates from Wednesday's Post-Practice Interviews
October 9, 2013 Source: The Ozone - ...said that the team got some rest on Sunday and Monday, and they spent time on fundamentals Tuesday and Wednesday. Tomorrow many of the coaches will be out recruiting, but the coordinators will be around for practice, and they'll begin preparing for Iowa...Meyer called Joey Bosa an impact player, and said that he's never had a freshman defensive lineman like him. "His future is silly." He said that Bosa is strong and that he knows how to use his strength, which isn't true for all strong kids...He said the coaches and team all need a week off. He told his players to get rest and stay out of trouble. They will all return to a weigh-in on Monday and they "better be on the spot"...Meyer said Pittsburgh Brown did "pretty good" at safety against Northwestern. He called Tyvis Powell the most talented of the safety group, and also added that Vonn Bell will continue to improve...Meyer said the pass defense has to get better, but he's not overly upset by it...He said that Jordan Hall has a joint issue in his knee and that he's not sure how severe it is or any type of time table...Meyer called Dontre Wilson a "novelty" and said that he needs to continue becoming a complete football player...Tom Herman, Luke Fickell, Andrew Norwell, Doran Grant, Philly Brown, Joey Bosa updates...



Offensive Coordinator QBs Coach Tom Herman - Wednesday Q&A 10-09-13

Defensive Coordinator/LBs Coach Luke Fickell - Wednesday Q&A 10-09-13


Senior Wide Receiver Corey Brown Post Practice 10-09-13

Junior Cornerback Doran Grant Post Practice 10-09-13

Two-Minute Drill: Updates from Urban Meyer's Weekly Teleconference
October 8, 2013 Source:The Ozone - Meyer said he thinks Braxton Miller is 100% healthy, because Miller tells him he is. They are still cautious with him right now because they don't want him to be too reckless carrying the ball...He said the OSU defense is really good against the run, having contained both Wisconsin and Northwestern. "But the pass defense is very alarming right now."...He said the combination he is looking for ideally at running back is a bruiser like Carlos Hyde and a speedster like Dontre Wilson...Meyer said priority number one during the bye week is cleaning up the pass defense. All of it – coverage and pass rushing. He said priority two is working on their own passing game...

Monday Number Crunching: The Players
October 7, 2013 Source: The Ozone - ...Noah Spence is tied for second in the Big Ten with 3.0 sacks. Steve Miller, Michael Bennett, Joey Bosa, Jamal Marcus and Curtis Grant are all tied at ninth (2.0). The Buckeyes have five defensive linemen who have as many sacks as South Carolina's Jadeveon Clowney (2.0)...Ryan Shazier's 34 solo tackles are six more than anybody else in the Big Ten. His 47 tackles overall are third...Ryan Shazier leads the Big Ten in tackles for loss (8.0), and Noah Spence is tied for fifth (6.0). Joey Bosa is 17th with 4.0...Devin Smith and Philly Brown each have five touchdown catches, and both are on pace for double figure touchdown catches this season. The Buckeyes have never had two receivers top 10 touchdown catches in the same season...Cameron Johnston is ninth in the Big Ten in punting (40.1), but because of the coverage, the Buckeyes are second in net punting...


Monday Number Crunching: The Team
October 7, 2013 Source: The Ozone - ...The Buckeyes are second in the conference in run defense (86.2 ypg) and seventh in the nation. Their 2.69 yards per carry allowed is also seventh......The Buckeyes are second in the Big Ten in punting, averaging an even 40 yards net per punt. The 0.1 return yards per punt is tops in the conference......Ohio State is the only team in the nation with three running backs who have rushed for at least 160 yards in a game this season (Carlos Hyde 168, Jordan Hall 168, Ezekiel Elliott 162). Louisiana Tech is the only other team to even have two running backs......Ohio State's opponents are converting just 25.3% of third downs, which is second in the Big Ten behind Michigan State (22.1%). The Buckeyes are sixth in the nation; the Spartans are first...Ohio State leads the Big Ten with 55 carries of 10 or more yards. That is second in the nation behind New Mexico's 56...

Bowl/playoff projections: Ohio State becomes first eligible team
October 7, 2013 Source: CBSSports.com - Ohio State survived Northwestern 40-30 on Saturday to move to 6-0 and become the first bowl eligible team this season. That means it's time to start the running list of eligible teams for this season. The Buckeyes can pretty much put it in cruise control until they go to Ann Arbor for the Michigan game. The schedule gets a lot softer between now and then.
Stanford also got a good test from Washington, but held on for a 31-28 win. Other than that, it was pretty much smooth sailing for contenders this week. Florida State put a record 63-0 beating on Maryland, which tied the largest margin of defeat for a ranked team.
No upsets at the top means no changes in the BCS portion of the bowl projections, but you will see some new names, like Auburn, Washington State, and Indiana, which beat Penn State for the first time ever.
If we had a playoff this year:
This section of the blog describes what things might look like if the new playoff system were in effect this year. It's different than the regular bowl projections in that it is based on current data. Beginning next year, a selection committee will not only select and seed a playoff, but also put together matchups for the other four bowls in the playoff rotation. The five major conference champions are all automatically placed in one of those six bowls. The American conference is not part of that group. The highest rated team from outside those leagues is also guaranteed a spot.
If a playoff started today, it would probably look like this:
Sugar Bowl: No. 1 Alabama vs No. 4 Clemson
Rose Bowl: No. 2 Oregon vs No. 3 Ohio State
Cotton Bowl: Texas A&M vs Oklahoma
Orange Bowl: Florida State vs South Carolina
Fiesta Bowl: Stanford vs LSU
Chick-Fil-A Bowl: Georgia vs Louisville


OSU Insider
October 7, 2013 Source: Columbus Dispatch

25 words or fewer
And in the seventh week the Buckeyes rested, unbeaten in 18 straight games but bruised from two Big Ten knockdown drag-outs.

In the polls
Ohio State was status quo, remaining No. 3 in the USA Today coaches poll behind Alabama and Oregon, and No. 4 in Associated Press media poll, with Clemson at No. 3. The coaches poll is one-third of the Bowl Championship Series formula, which also incorporates the Harris Interactive poll and a composite of six computer ratings. The first BCS ratings come out next week.

Who's hot?
Carlos Hyde didn't top 100 yards rushing last season until the sixth game, after sitting out two of the first five. He ran for a career-high 168 at Northwestern on Saturday, his first over 100 this season after being suspended for the first three games. Again, it was in the Buckeyes' sixth game. Last week, coach Urban Meyer said of Hyde: "We're going to ride that horse real hard this week." The offensive line and Hyde were the difference in the second half against the Wildcats.

Who's not hot?
Cornerback Bradley Roby had a few whiffs, either going for interceptions or missing a tackle after the catch and allowing a big play. He struggled the previous week against Wisconsin, too. But he blocked a punt against Northwestern and recovered the ball in the end zone for Ohio State's first touchdown. He also was in on a big stop in the middle of the line on another crucial play, so his night was a push. Meanwhile, Meyer said he almost sent backup quarterback Kenny Guiton into the game to relieve Braxton Miller, who had three turnovers, but changed his mind.

What went right?
The Ohio State defense played well in the second half with the exception of a handful of plays, especially on a quick drive that gave Northwestern the lead in the fourth quarter. Cornerback Doran Grant had a game-changing interception. The pass rush picked up, especially as freshman defensive end Joey Bosa came into his own. The Buckeyes had a season-high five sacks, and Bosa had two of them. He also scored his first touchdown, recovering Northwestern's botched last-chance lateral in the end zone as time expired.

Back to the drawing board
The fake punt. Freshman Cameron Johnston of Australia made his first rushing attempt in American football in the first half as Meyer elected to gamble. He had no chance off the left side as the Wildcats seemed ready for it.

Dinged up
Running back Jordan Hall made the trip but was held out because of a knee problem. Several players, including Hyde, left the field after some major hits but returned. Bosa played in relief of Adolphus Washington, who had three tackles in his second game back from a groin strain.

Catch that?
Before the officials' review of a third-down plunge by Hyde in the fourth quarter showed that he had reached the end zone with the ball, Meyer sent his field-goal unit on, then called a timeout. That decision gave the officials time to look at the play again. It also gave Meyer time to change his mind — he put the offense back onto the field to go for a touchdown on fourth down before the officials ruled.

Next
The Buckeyes don't play this week, the first of their two byes this season.

This week's challenge
Meyer plans to give the players extensive time off to heal before the last six games of the regular season. It's obvious that the Buckeyes have cleared the two toughest hurdles in their early Big Ten schedule, and they are still undefeated riding the fourth-longest winning streak (18) in school history. Looking over the coming lower hurdles, the school record of 22 (1967 to '69) is coming into sight.