| | |
| --- | --- |
| | Preview and postgame sections for the 2009-10 season here. |




| | |
| --- | --- |
| | The (red) story links, or the 'read more' graphic, will open new (pop-up) windows to the source of the article, audio or video, so you can read/hear/see the rest. If your browser is set to block pop-ups, please set it to always allow them from our site. You will not get any annoying advertising pop-ups, of any kind, generated by this site...ever. |







Ohio State Pro Day






Spring gives OSU receivers chance to bloom
March 30, 2010 Source: Columbus Dispatch - "When Ohio State opens spring practice Thursday, receivers coach Darrell Hazell will take an open book to the proceedings.

Unlike a year ago at this time when he was seeking two starters to replace Brian Robiskie and Brian Hartline, Hazell has his two starters returning. Senior Dane Sanzenbacher and junior DeVier Posey proved themselves as the 2009 season wore on and combined for 17 catches in the Rose Bowl win over Oregon. But the rest of Hazell's 2010 tablet has very little scribbling in it.

"We have two guys with a lot of playing experience, one guy in Taurian Washington with a little bit of experience, and then a bunch of young guys who need to step up," Hazell said. "This spring will be big for a lot of them because you need to find four or five guys who can help you win."..."







Buckeye Football: Spring spruce-up
March 28, 2010 Source: Columbus Dispatch - "Think of the Ohio State football program like a house about to be put on the market. First, it needs some fixing up - not rebuilding, because OSU doesn't rebuild - but some remodeling." In the Buckeyes' case, the areas of interest include a hinge (offensive left tackle), a joint (Terrelle Pryor's knee), a wall (defensive line) and a security fence (safeties). After the projects are completed, it gets listed, and on April 24, there will be a public open house in Ohio Stadium.

Expectations are high coming off a fifth-straight Big Ten championship, an 11-2 season and a Rose Bowl victory over Oregon. So is this property worth buying? With spring practice set to begin Thursday, Dispatch beat reporters Ken Gordon and Tim May take a look:..."







Spring Preview 2010 - Big Ten
March 23, 2010 Source: ColllegeFootballNews - "...Ohio State-Spring Practice Begins: April 1 Game: April 24: The early spring buzz: Terrelle Pryor, Terrelle Pryor and Terrelle Pryor. 13/2. Those are the early odds for Ohio State to win the national title and it has nothing to do with anything other than the brand name and the burgeoning superstar under center. Pryor's performance in the Rose Bowl has set the tone for the 2010 season, and while the respect is there for the Buckeyes to be on the short list of national title contenders, few can name another player other than No. 2. Pryor is the signature star on another great Ohio State team, and he could become the signature star of the season if he finally plays up to his immense potential for a full season. That starts by continuing to improve his passing ability this offseason. The big spring question is … can the passing attack get better? The Ohio State bread has been buttered with the ground game, especially when Pryor is turned loose, but to take another big positive step forward the air attack has to provide more help after finishing last in the Big Ten and 103rd in the nation averaging 174 yards per game. The receivers are there with DeVier Posey and Dane Sanzenbacher leading the way, and the veteran line should give Pryor time. Now the numbers need to improve.

The most important position to watch is … safety. Kurt Coleman wasn't always consistent, but when he was producing he was a big-time playmaker and game-changer (most notably in last year's Wisconsin win), and Anderson Russell was a solid free safety. It's Ohio State, so more talent is waiting in the wings, but Jermale Hines has to show he's up to the task in place of Russell while Orhian Johnson leads a promising group to fight for the strong safety gig.

Spring attitude: National title or bust. There isn't a sure-thing killer out there this year in the BCS title race, even Alabama has mega-holes to fill, and there's no reason the Buckeyes can't have yet another great year and slip into Glendale. OSU is the most talented team in the Big Ten by far, but the schedule has two major speed bumps having to go to Wisconsin and Iowa. However, Miami is the only non-conference game of note, there's no Michigan State to deal with, and Penn State comes to Columbus..."

| | |
| --- | --- |
| | OHIO STATE football through the years |


Evan Turner rebounded from one of the worst shooting nights of his career with 24 points, and second-seeded Ohio State outlasted foul- and turnover-plagued Georgia Tech for a 75-66 victory Sunday in the second round of the NCAA tournament.









Tressel constantly working on what's under the helmet
March 21, 2010 Source: Columbus Dispatch - #Jim Tressel offered an observation as he watched the upperclassmen returning to his 2010 Ohio State football team go through a recent early-morning workout a couple of weeks ago. "This group likes to work," he said...

More than anything else, Tressel wants his team to be strong mentally, to understand that a loss does not always mean all is lost...

"We spend a lot of time evaluating not only what we've done but who we are. What is this group thinking about? Who does this group relate to? There are some times when you really can latch on to that and the leaders of the team reinforce it. Then there are other times when later in the process we realize, 'We should have been talking about this. "Identifying those is essential to becoming the best you can be, and I think this group is very capable of anything it wants to be."

Turner's shot downs Michigan
March 12, 2010 - Our 'Basketball News' page has video of Evan Turner's 35 foot buzzer beater with .2 seconds remaining which gave the Buckeyes a 69-68 win over Michigan in the quarterfinals of the Big Ten tournament.






Tressel: Pryor's knee is fine
March 9, 2010 Source: Columbus Dispatch - Ken Gordon writes: "Jim Tressel spoke at the annual Pro Football Hall of Fame luncheon on Monday in Canton, and the Canton Repository had this account. What I found most interesting among the tidbits was Tressel talking about Terrelle Pryor's recent knee surgery. There has been much speculation/consternation around the left knee -- and yes, the surgery was indeed performed on the left knee, OSU simply listed the wrong knee in its press release last month.

Tressel certainly sounded reassuring yesterday. The knee's fine, he said, just a minor scope. He is participating fully in off-season workouts, and Tressel even mentioned he was wearing a weighted vest one day recently.

I have been saying all along that this surgery was precautionary, nothing to be alarmed about. Pryor played very well at the end of last year on an injured knee, I can't imagine why fans would be worried how he would play after eight months of rest! That said, Pryor will be strictly off limits to contact in spring drills. Of course, that's usually the case with quarterbacks in spring."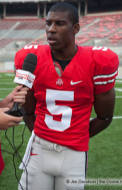 Washington Anxious to Prove Himself in 2010
March 3, 2010 Source: The Ozone - "In Taurian Washington's first game as a Buckeye in 2007, he caught a 37-yard touchdown pass in the season-opener against Youngstown State. Three games later, on September 22, 2007, he caught his third pass of the season. That also happens to be the last time he caught a pass as a Buckeye.

During Jim Tressel's tenure as head coach at The Ohio State University, eight Buckeye wide receivers have been drafted by the NFL--four in the first round alone. And, amazingly, of those eight receivers, none of them were as productive as Taurian Washington in their first four games on campus. Granted, three receptions for 46 yards and a touchdown may not seem like a lot, but it's still better than the likes of Michael Jenkins, Santonio Holmes, Anthony Gonzalez and Ted Ginn Jr. were able to produce.

That very first glimpse of Washington's flash and ability had Buckeye fans yearning for more. As they saw him streaking into the endzone, expectations grew exponentially. Taurian Washington was surely the next big thing. But as the season went on, Washington would only play in a total of six games..."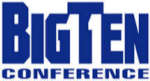 Report: Right teams, more money
March 2, 2010 Source: ESPN - "Advocates of Big Ten expansion now have a report to back them up. An analysis prepared by a Chicago-based firm looked at whether the addition of five schools would generate enough revenue to make expansion worthwhile, according to the Chicago Tribune. "The point was: We can all get richer if we bring in the right team or teams," a source told the Tribune.

According to the newspaper report, the source said the five schools evaluated by the firm William Blair & Company were Pittsburgh, Notre Dame, Missouri, Syracuse and Rutgers, though others also could be considered. The singular issue is money, and whether the conference's current membership would be able to earn more than the $21 million to $22 million it earns per school each year. At the same time, the current Big Ten schools want to make sure they don't lose money if the conference expands.

"You just don't jump into the league and get a full share of what everyone else in this league has established over time," Wisconsin athletic director Barry Alvarez told The Associated Press. "I think someone has to buy their way into the league."...Alvarez sees expansion as a path toward the kind of football title game that keeps the SEC and other conferences on national TV and fans' radar after Thanksgiving, when the Big Ten typically begins a multiweek break before the bowls. "You take a look at the championship week in December and we're non-players," said Alvarez, the former coach who led Wisconsin to football prominence. "We're irrelevant."..."


Big Ten has eyes off Texas and now on Rutgers
March 2, 2010 Source: Cleveland Plain Dealer - "...A story in The Chicago Tribune breaks down why Rutgers is the best fit for the Big Ten. When it comes down to recruiting, revenue, geography and academics, Rutgers stands out amongst schools not named Notre Dame or Texas. In the article:

Why Rutgers? It doesn't hurt that the New Brunswick, N.J., campus is less than 40 miles from midtown Manhattan. Or that the state of New Jersey alone would be the nation's fourth-largest television market -- after New York, Los Angeles and Chicago.

Here are some other factors that could help Rutgers join the conference: Newark Liberty International Airport is 23 miles from New Brunswick, making Rutgers more accessible than many Big Ten campuses. By leaving the Big East, Rutgers could quadruple its annual TV share to more than $20 million. Meaning that unlike with Texas and Notre Dame, an R.S.V.P would be a mere formality..."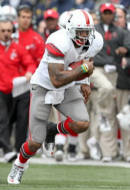 Pryor: Knee scope more than expected
March 1, 2010 Source: ESPN - "Ohio State quarterback Terrelle Pryor said a routine surgery to strengthen a partially torn posterior cruciate ligament three weeks ago turned into a more extensive procedure once the doctor found unexpected issues. Pryor, who revealed before the Rose Bowl he had been dealing with a slight PCL injury, said Sunday at a team charity event in Columbus, Ohio, that the arthroscopy was performed on his left knee, not the right as the school announced in early February. "We just thought I'd strengthen it, but when Dr. [Chris] Kaeding went into it, there were a lot of things wrong with it," Pryor said, according to The Plain Dealer. Pryor, who was expected to be back to 100 percent before spring practice in April, said he had resumed strength training but hadn't rejoined team workouts, according to the Cleveland newspaper. "You lose a type of leadership," Pryor said of missing the team dynamic. "I laid at home for about five days and then I went in and started to do upper body [workouts]. My upper body got real weak because I was sitting at home taking pain pills and I lost a lot of weight because I wasn't really eating. "So I'm going to start getting back with the team workouts," he added. "It kind of [stinks] because you can't work out with your team."

Terrelle Pryor talked with reporters on Sunday and discussed his recovery from knee surgery, what he thinks of the OSU basketball team, Tim Tebow's pro prospects and more!

Pryor eager to get back into workout regimen after knee surgery
February 28, 2010 Source: Cleveland Plain Dealer - "Terrelle Pryor hasn't yet returned to working out with his teammates since having arthroscopic surgery on his left knee 20 days ago and he's disappointed at missing out..."You lose a type of leadership," Pryor said Sunday at a team charity event. "I laid at home for about five days and then I went in and started to do upper body [workouts]. My upper body got real weak because I was sitting at home taking pain pills and I lost a lot of weight because I wasn't really eating. So I'm going to start getting back with the team workouts. It kind of [stinks] because you can't work out with your team."

Pryor said he has started lifting heavier weights with his legs, cramping up at times while he builds strength in his rehab...As a point of clarification, Pryor said Sunday the surgery was on his left knee, the one he told The Plain Dealer was buckling when he walked in late January. In the news release about the surgery three weeks ago, Ohio State reported the surgery was on Pryor's right knee...

Less shotgun: Asked if he was following the NFL critique of Florida quarterback Tim Tebow, Pryor said, "The biggest thing I saw was the way he throws, he comes from down low, so that had to change. But I think he'll do great. He's a great quarterback, I think he'll be a great quarterback. I don't think he should be [criticized] like that." Pryor also recognized that playing primarily out of the shotgun made for a more difficult NFL switch for Tebow, then mentioned that he'd like to get under center more this season so he doesn't have to take his eyes off the ball to look for the shotgun snap. In a year or two, he'll be in Tebow's shoes. "You've got to be able to take the ball under center," he said. "I was watching film of myself and I feel better under center. I think I'm going to go under center myself. I'll have to talk to Tress about that. But sometimes it feels a little bit better under center. We'll have to talk about it, but I'd love to do it a little bit more." "






Football Notebook: DBTH
March 1, 2010 Source: The Ozone - "The start of the 2010 college football season is still sixth months away, but already Ohio State coach Jim Tressel is warning his players not to buy into the buzz that is certain to surround the Buckeyes after their 26-17 win over Oregon in the Rose Bowl. "First thing coach Tress mentioned to us when we had our first meeting after winning the Rose Bowl was DBTH – "Don't Believe the Hype," senior cornerback Chimdi Chekwa said. "Right now we're getting a lot of hype and this is going to be a great season next year, but right now what we're trying to do is just get back to the basics."...

Getting Some Help on D:..."We've got Tyler Moeller back from a year off and he'll be playing some safety. Kind of the "Star" position that Jermale Hines plays," Chekwa said...Winter Workouts Heating Up: With 6 a.m. workouts in full swing, things really started to heat up this winter with the testing phase of the off-season kicking in this past week...He Said It: While bench pressing might come naturally for big guys like Browning, running the 40 is not exactly their forte. Browning was asked about the ferocity of the competition between the linemen when it comes to running the 40 yard dash. "Probably not that fierce," he said with a big grin and a chuckle..."