MSU, December 7, 2013
TSUN, November 30, 2013
Indiana, November 23, 2013
Illinois, November 16, 2013
Purdue, November 2, 2013
Penn State, October 26, 2013
Iowa, October 19, 2013
Northwestern, October 5, 2013
Wisconsin, September 28, 2013
Florida A & M, September 21, 2013
California, September 14, 2013
San Diego State, September 7, 2013
Buffalo, August 31, 2013





| | |
| --- | --- |
| | The (red) story links, or the 'read more' graphic, will open new (pop-up) windows to the source of the article, audio or video, so you can read/hear/see the rest. If your browser is set to block pop-ups, please set it to always allow them from our site. You will not get any annoying advertising pop-ups, of any kind, generated by this site...ever. |

34-24


Ohio State Iowa Highlights






No. 4 Ohio State defeats Hawkeyes, 34-24; Improves to 7-0
October 19, 2013 Source: OSU Official Site - No. 4 Ohio State found a way to keep its winning streak alive just in time.

Carlos Hyde ran for 149 yards, including 106 yards and two touchdowns in the second half, to lead the Buckeyes to a 34-24 victory over Iowa on Saturday.

It was the Buckeyes' 19th consecutive victory, the most in the nation and tying the second-best streak in school history.

But it didn't come easy.

The Hawkeyes (4-3, 1-2 Big Ten) dominated offensively in the first half and led 21-14 at the break behind the passing of Jake Rudock and running of Mark Weisman and Damon Bullock.

But Hyde tied it with the first rushing TD against Iowa this season on Ohio State's first drive of the third quarter, and the Buckeyes took over.

Braxton Miller completed 22 of 27 passes for 222 yards and two touchdowns and added 102 yards rushing for the Buckeyes (7-0, 3-0), who haven't lost in Urban Meyer's two years as head coach.

Rudock threw for three touchdowns, completing 19 of 34 passes for 245 yards with one interception.

After watching Iowa's offense control the first half, the Buckeyes outgained the Hawkeyes 306-153 in the last two quarters. They piled up a 23:05-6:55 edge in time of possession.

Ohio State's All-Big Ten cornerback, Bradley Roby, was ejected from the game for a hit to the head of a receiver in the first quarter.

Teams had run 204 times this season against Iowa's defense before the Buckeyes finally scored against the Hawkeyes. Hyde barely got the nose of the ball across the goal line from a yard out to tie the game at 17 on the first series of the second half.

The teams traded touchdowns - Miller hitting Devin Smith on a 14-yard scoring pass before Iowa evened it on the next snap on Rudock's 85-yard TD pass to Jake Duzey - before Hyde scored again early in the fourth quarter to put Ohio State ahead for keeps.

The TD was set up by an acrobatic play by Miller. He stepped back on third and 7 at the Iowa 28, rolling right when the pocket collapsed. He scampered all the way to the right side, then reversed field and picked up blockers - tackle Jack Mewhort leveled a defender near the end - to gain nine yards and the first down.

On the next play, Hyde took a handoff and bounced off right tackle. He muscled his way to the 7-yard line, where he was hit hard by free safety Tanner Miller, the blow knocking him off balance. He had retreated all the way to the 11 by the time he regained his bearings and turned up the right sideline. Hyde ran to the 3 before vaulting just inside the corner post for the touchdown.

Ohio State's defense finally held and forced a punt, with the Buckeyes adding Drew Basil's field goal to make it a 10-point lead that they maintained the rest of the way.

Tyvis Powell then ended the Hawkeyes' next drive when he intercepted Rudock's pass at midfield.

Roby was ejected late in the first quarter when Rudock tossed a short pass over the middle to tight end C.J. Fiedorowicz. Roby hit him high after an 11-yard gain.

The crowd of 105,264 booed loudly as the play was reviewed, and Roby was sent to the sideline. He then slowly walked to the locker room, all the while shaking his head.

The Hawkeyes dominated throughout the first half, piling up 222 yards against a defense that was giving up 326 per game.

Rudock completed all five passes, including a 2-yarder to Fiedorowicz for the touchdown, after taking the opening kick. Rudock completed passes for 24 and 15 yards, and Bullock, who led Iowa with 56 yards on 10 carries, added 16 more.

After the Buckeyes countered on Basil's 27-yard field goal - the drive stalling when Miller's pass on third and 5 at the 11 was batted down by tackle Louis Trinca-Pasat - Iowa again drove from its 23 to the Ohio State 10 before Mike Meyer's 28-yard field goal.

The Buckeyes needed just four plays to cover 74 yards after the kickoff, with Miller finding Corey Brown alone in the secondary on a 58-yard scoring pass. Brown outran cornerback B.J. Lowery to the end zone.

The Hawkeyes got the ball again and moved almost effortlessly through Ohio State's defense, which is without safety Christian Bryant (broken ankle) but regained Noah Spence and Adolphus Washington, two important injured linemen.

With Weisman, who had 52 yards on 10 carries, going for 21 yards, and Rudock completing 4 of 7 passes, they moved to a third-and-5 situation at the 6. Rudock then lofted a pass to the left corner of the end zone, where Kevonte Martin-Manley had slipped past Armani Reeves - who had come in to replace Roby - to catch the TD pass.

Reeves was also victimized on Duzey's long touchdown catch and run that tied it at 24 late in the third quarter.

Duzey had six catches for 138 yards.





Iowa vs Ohio State (Oct 19, 2013) Source: OSU Official Site


Scoring Summary, Team Statistics, Individual Statistics, Drive Chart, Defensive Statistics, Game Participation, Box Score, Play-by-Play, Play breakdown







Postgame Quotes - No. 4 Ohio State vs. Iowa Source: OSU Official Site






Two-Minute Drill: Updates From the Ohio State Postgame
October 19, 2013 Source: The Ozone - Meyer said it was key that Iowa only had the ball for seven minutes in the second half. He said he knew Iowa was going to be physical, and they were. He called Iowa's defensive line physical and outstanding.

* Meyer said the Buckeyes threw it on first down more than they have all season, and it led to a lot of second and short situation.

* He said he was disappointed in the defensive effort in the first half, saying that Iowa's offensive line was pushing them around.

* On the Bradley Roby ejection, Meyer said, "I thought it was below", referencing that he thought the hit was below the head and neck area. But then he said that he was once fined $30,000 for going after a referee, so he wasn't going to say anything further.

* Meyer called Carlos Hyde's 19-yard touchdown run in the fourth quarter "wild"...




CFN Take: Ohio State Powers Past Iowa
October 19, 2013 Source: CollegeFootballNews.com - Basically … Ohio State got its power game going in the second half, overcoming a 17-10 halftime deficit with two Carlos Hyde touchdown runs and a 14-yard Devin Smith touchdown catch on the way to a 24-7 scoring run. Iowa kept it interesting with a game-tying 85-yard touchdown pass to Jake Duzey, but the Buckeye line and the scrambling of Braxton Miller took over. Jake Rudock threw two first half touchdown passes for the Hawkeyes.

- When Ohio State needs to take over the game, it goes to Carlos Hyde and the power ground game. It did it against Northwestern, and against Iowa the offense bullied its way to the win. Braxton Miller was brilliant, completing 22-of-27 passes for 222 yards for two touchdowns and ran 102 maddening yards for the Iowa defense. Hyde rumbled for 149 yards and two scores, and combining with Miller, they took over the game with grinding drive after grinding drive. The Buckeyes had the ball for over 23 minutes in the second half.

- Iowa was strong in the first half with Damon bullock and Mark Weisman running well and Jake Rudock keeping the chains moving, and it seemed like the team weathered the storm in the second half after the long touchdown pass to Jake Duzey, but the defense couldn't hold up as Ohio State came up with third down conversion after third down conversion.

- The Hawkeyes got around the ball, but they struggled to make the play. Carlos Hyde bounced off of and ran through defenders, but James Morris and Anthony Hitchens did what they could, combining for 23 tackles. Too many of them were made down the field.

- This might have been Ohio State's biggest problem the rest of the way to Michigan. As long as the power running game is working like this, even the dangerous games against Indiana and Penn State shouldn't be a problem. The Buckeyes are showing they can play just about any style.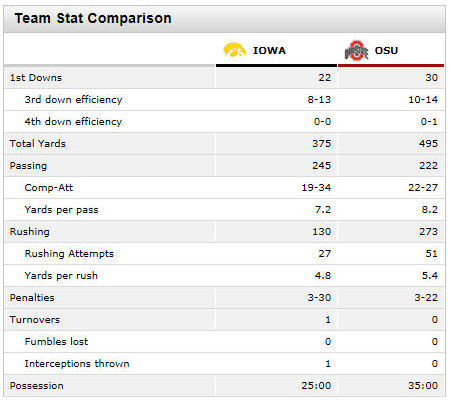 Early in the 4th quarter, 13:24, OSU 1st and 10 at Iowa 19: Carlos Hyde's rush for 19 yards for a TD putting Ohio State up 30-24.

Sequence: With the Buckeyes facing third-and-7 inside Iowa's half, Miller tried to run to the right edge to pick up a first down, but met a horde of Hawkeyes defenders. He spun around and switched direction, running the width of field twice, and managed to find enough of a hole to extend the Buckeyes' drive. On the very next play, Carlos Hyde ran 19 yards to the end zone, somehow absorbing hits and keeping his balance before diving head first over the goal line.

The $79 question: If one play is worth the price of admission, it would be Hyde's 19-yard TD run in the fourth quarter. The latest entry into OSU lore.

Carlos Hyde post game Iowa October 19, 2013



Five Things: Iowa
October 20, 2013 Source: Eleven Warriors - For the second straight week, the Silver Bullets started slow but came up big in the 2nd half, and with the Ohio State offense clicking on all cylinders, that was more than enough to pull away in a 34-24 win over the Iowa Hawkeyes yesterday afternoon in a dank Ohio Stadium. The win improves OSU's winning streak to 19 since Urban Meyer came to town and moves the Buckeyes to 7-0 overall and 3-0 in the B1G. Forced to overcome a halftime deficit for the 2nd time in three conference games, the Buckeyes outscored the Hawkeyes 24-7 over the final 30 minutes, dominating both lines of scrimmage and leaning on the athletic superiority of Braxton Miller and Carlos Hyde. The duo combined for 473 of Ohio State's 495 total yards and 251 of the 273 rushing yards, also having a hand in all four touchdowns. Before we look ahead to what the Buckeyes must do to shore up the continued inconsistencies on defense as they march toward perfection, let's reflect on Five Things that rose to the surface in yesterday's grounding of the Hawkeyes...



Braxton Miller post game Iowa October 19, 2013



Ohio State countdown: Miller's play key to Buckeyes' second-half success
October 20, 2013 Source: News Herald - 9. Ohio State is good. How good is a good question because A) the non-conference schedule was so bad, it's difficult to get a good read on the team; B) injuries and suspensions to some key positions kept players out of action in a number of games, meaning the report card could change dramatically in the coming weeks. So while Ohio State is 6-0, there is a good chance the Buckeyes from here on out will be a different team than what was seen in the first half of the season. 6. So much of Ohio State's well-being on offense in the second half depends on Miller. If Miller's knee isn't 100 percent or if he is apprehensive doing what he did prior to the injury, the Buckeyes will suffer. An immobile Miller is bad because his ability to make plays with his legs is what makes everyone around him better and opens possibilities in the passing game. 4. The front seven on defense has been pretty solid. Sophomore ends Noah Spence and Adolphus Washington have been everything they were advertised to be. Freshman end Joey Bosa has been even better than billed. Michael Bennett showed he can dominate at tackle, too. Ohio State is in the nickel so often they rarely have three linebackers in the game. But Ryan Shazier is far and away the defensive MVP to this point, both in production and leadership, and Curtis Grant has finally played how OSU thought he would when they recruited him...






Roby Penalty Draws Many Opinions
October 19, 2013 Source: Eleven Warriors - When the targeting rule was instituted, Christian Bryant became a media darling at Ohio State. His hard hits made him a candidate to feel the NCAA's wrath. Instead, it was his All-American teammate that became the first Buckeye to be ejected.

In the first quarter of Ohio State's 34-24 win over Iowa, Bradley Roby lunged into tight end C.J. Fiedorowicz. The hit was powerful and put Fiedorowicz on the turf immediately. Also finding a way to the turf immediately were multiple yellow flags.

Personal foul on the defense, 15-yard penalty. Targeting on No. 1. That player is ejected. The ruling did not make Ohio State fans happy.

"Was it below the shoulder?" Ohio State head coach Urban Meyer asked the media. "That's my question. I guess I don't know. I got fined $30,000 one time for going after an official. So I'm not going to do that."

The rule in question is Rule 9, Section 1, Article 4 and it stipulates that if there's any doubt, the referee should throw the flag. The initial contact was shoulder-to-shoulder with Roby's helmet eventually striking Fiedorowicz's. By rule, Fiedorowicz was a defenseless player and the officials' call was correct.

The debate isn't whether Roby should have been ejected or not, but the basis of the rule. Player safety has become a huge talking point in football, and for good reason. But the targeting rule has been criticized since it came into effect. The nature of being ejected is too harsh for some.

"The rule's in place and you live by the consequences of the rule," Iowa head coach Kirk Ferentz said. "I didn't think that was the closest call today, if that's what you're asking. It didn't appear that way to me. That's a tremendous crew of officials that we had on the field today."

Roby's teammates had similar opinions.

"I'm not a referee," C.J. Barnett said, "and I'm happy I'm not. From my perspective, I think it was a great hit. It sucks that it had to get him thrown out the game, but player safety is the most important thing."

Without Roby, the pass defense struggled for large portions of the game again. They allowed 245 passing yards and three touchdowns. Two of those scores came at the expense of Roby's replacement, Armani Reeves.

Roby will be eligible for the entire Penn State game.









Ohio State-Iowa 2013 in GIFs
October 19, 2103 Source: Land-Grant Holy Land - Revisit how Ohio State-Iowa played out as the Buckeyes won their 19th straight.







It was over when... Ohio State was behind at the half, but the offense woke up with the help of Carlos Hyde.

Gameball goes to... Hyde ran for 149 yards and two second-half touchdowns. He averaged 6.2 yards a carry.

Stars of the game: Quarterback Braxton Miller, 22-of-27 passing for two touchdowns and 222 yards, and running back Carlos Hyde, 149 yards and two touchdowns. Hyde's 19-yard winning TD run was a spectacular exhibition of getting knocked back, then going again.

Turning point: Ohio State forcing a punt from Iowa after taking a 31-24 lead on Hyde's second touchdown. The Buckeyes defense, pushed around in the first half then gashed for one 85-yard play in the second half, finally switched off the Hawkeyes with 11:11 left.

Repercussion: The first Bowl Championship Series ratings come out tonight, and what matters most for the Buckeyes in their bid for a spot in the national championship game is to keep winning.

Meyer said he was not entirely sure Roby should have been ejected. The replay appeared to show that Roby's shoulder hit the receiver's chest and then his head, which should not be grounds for ejection.

"I thought it was below (the neck)," Meyer said. "You guys could see, was it below the shoulder? That's my question. I guess I don't know. I got fined $30,000 one time for going after an official. So I'm not going to do that. But I'm curious to find out the rule and the replay official. That's supposed to be all replayed. If that's not true, then I need an answer. We need an answer for that."

Because the hit happened in the first half, Roby will be eligible for all of next week's game with Penn State.

Numbers for dummies 6:55: Iowa's second-half time of possession

Short-attention-span synopsis: Nineteen straight W's. The Horseshoe becomes Hyde Park. After Roby gets run out, Buckeyes answer with "Target this, Iowa."

Ohio State holds the nation's longest winning streak at 19 games, tied for the second-longest in school history (2005-06, 2002-03). The longest is 22 games from 1967-69.

Urban Meyer's teams are 35-2 overall with more than a week to prepare for an opponent.

Corey Brown's 58-yard touchdown reception from Braxton Miller in the second quarter marked the longest catch of his career.

Carlos Hyde's 1-yard touchdown run in the third quarter was the first rushing touchdown allowed by Iowa this season. Hyde's 149-yard rushing performance marked the eighth 100-yard game of his career and his second in a row after rushing for 168 vs. Northwestern.

Devin Smith's 14-yard touchdown reception in the third quarter marked the 16th of his career, tying him for eighth on the Ohio State career list. Smith tied his career high with seven receptions against the Hawkeyes, totaling 72 yards.

Jeff Heuerman caught a career-high five passes against the Hawkeyes.

Miller tallied 324 yards of total offense against Iowa. The game marked his Ohio State record seventh time tallying over 300 yards of total offense in a game. Miller was tied with Joe Germaine for first in program history heading into the game. Miller connected on 22 of 27 pass attempts for 222 yards, a career high for completions in a game. Miller now has back-to-back 200-plus yard throwing games. Miller, already Ohio State's record leader for 100-yard rushing games by a quarterback, had the 10th 100-yard rushing game of his career after finishing the game with 102 yards on 18 carries. Miller moved into fifth place on the Ohio State career total offense list with 6,350 yards, passing Joe Germaine (6,094) and Greg Frey (6,098). Steve Bellisari is next (6,496) in fourth place.

Hyde and Miller each rushed for more than 100 yards, the first time Ohio State had two backs with 100 yard games since last year vs. Indiana. The same duo combined to each rush for 100 yards against both Nebraska and Indiana last year. All-time, 39 tandems have rushed for 100 yards each in a game (six times since 2000).

Ohio State did not punt vs. the Hawkeyes, the first time the team did not punt in a game since Aug. 30, 2008 vs. Youngstown State.

Ohio State is yet to allow a 100-yard rusher this year.

Ryan Shazier led the Buckeyes with nine total tackles, followed by Curtis Grant with eight. Armani Reeves had a career-best six tackles, passing the five he had vs. San Diego State earlier this year.

1: Tackles for loss by Ohio State on Saturday

8-for-8: Ohio State (5-5) and Iowa (3-3) were a combined 8-for-8 in the red zone on Saturday

193: Yards by Ohio State in the third quarter

The Buckeyes have scored 30 or more points in each game this year. The squad entered the year sixth in the NCAA averaging 46.8 points a game.

As heard in crowd: "We head-butt each other all the time and nobody throws a flag. They celebrate." — two guys complaining about the ejection of cornerback Bradley Roby for targeting defenseless Iowa tight end C.J. Fiedorowicz

Welcome home Former OSU defensive backs Malcolm Jenkins and Antoine Winfield were recognized between the first and second quarters.

As heard during halftime: The Ohio State Marching Band performed a tribute to Michael Jackson, at one point spelling out Bad. One media wag wondered if the formation instead represented the first-half play of the Buckeyes defense.

Tweethearts @RKSmith64: I was afraid they might call over-and-back on Hyde's last TD run.

As heard on TV: You would think Rod Gilmore was on the payroll of Frisch's, as often as the ABC analyst said "big boy play." But Gilmore also can "go deep," so to speak. As one viewer noted, Gilmore went existentialist when he observed that Ohio State was "behind the virtual field goal line." As opposed to the imaginary line? Maybe Gilmore should be broadcasting Albert Camus novels instead.



Sources: ESPN, OSU Official Site, Columbus Dispatch, News Herald, Bucknuts



The Bottom Line
October 20, 2013 Source: Columbus Dispatch -

Offense (5 leaves)
The bravura second-half performance included 53 plays, 21 first downs, 306 yards and 23-plus minutes of possession time. That was the foundation, anyway. The icing on the cake was Carlos Hyde's jaw-dropping display of power and balance on the go-ahead touchdown. Epic.

Defense (2 leaves)
Calling the first-half show lousy might be the kindest description for a family paper. The Buckeyes were consistently gashed and frustrated by Iowa's short passes and hard running. With one notable exception, OSU made stops in the second half, but not enough to calm the worry-warts.

Special teams (3 leaves)
Not much to report, except that Cameron Johnston looked good in warm-ups; otherwise he never took the field. Drew Basil was money on his two short field-goal tries and also made a textbook tackle to stop a promising Iowa kickoff return. Way to bring the lumber, tough guy.

Coaching (3 leaves)
The look on Urban Meyer's face while watching his defense flounder was that of a toddler being forced to swallow something nasty, like strained peas. But he and his assistants were rightly beaming as the game got older, looking like parents watching their youngsters figure it out.

Opponent (3 leaves)
Iowa might not be the nation's garden spot for a vacation, but reports on the football team's demise might have been premature. Quarterback Jake Rudock showed gumption, and the backs were hard chargers and the plan worked great — for a half. Are they a bowl team? Maybe, but there's tough sledding ahead.

Officiating (3 leaves)
OSU fans hated the call that sent Bradley Roby to his room for the game, but it looked proper. Roby led with his shoulder but aimed close enough to the receiver's head to make contact with the helmet.


Ryan Shazier post game Iowa October 19, 2013 Source: BuckeyeSports.com


Armani Reeves post game Iowa October 19, 2013 Source: BuckeyeSports.com



Ohio State Stock Market Report: Iowa
October 20, 2013 Source: Land-Grant Holy Land -

Blue Chip Stocks:

Braxton Miller, QB: Time after time on Saturday, Miller made a big play with his arm or his feet, particularly in the second half. He continually scrambled out of trouble, kept drives alive, and put points on the board. Miller's had ridiculous plays before, and he's had good games with better stats, but I would argue this was most complete game as a quarterback. If not his most complete, it was his most consistent, as the OSU offense made the most of their limited opportunities in the first half.

Carlos Hyde, Human Battering Ram: When OSU went into the locker room down 17-10, they needed Hyde to come out and set the tone in the second half. Iowa's defense has been superb in the red zone, only yielding one touchdown in 10 trips, and zero rushing TD's on the year. In the third quarter, Hyde became the human mythbuster, knocking it in from the one, and then in the fourth quarter (see play of the game)

It was one of the more amazing runs I've seen in awhile, and it gave the Buckeyes a lead they would not relinquish. Hyde finished with almost 150 yards rushing on 24 carries, and like the Northwestern game, when the Buckeyes really needed him, he delivered.

Solid Investments:

Jeff Heuerman, TE: Heuerman had an effective day, particularly in the first half. In recent games, the Buckeyes have made a more concentrated effort to use the tight end, and Heuerman has been the primary beneficiary, and is now tied for third on the team with 15 catches.

Philly Brown and Devin Smith, WR: Both Brown and Smith were solid, and both had some big TD grabs. Neither one of them were out of this world, but they were both very good, and have become sure handed targets for Miller.

Junk Bonds:

Defensive line: The Buckeyes defensive line had no answer for the Iowa running game in the first half, and only went away from it once OSU took the lead in the second half. Iowa ran for over 130 yards as a team, and gashed the Buckeyes front four both between the tackles and on the perimeter. But they at least had a complete game, because what they were unable to do in stopping the run they were equally inept at putting constant pressure on Iowa QB Jake Rudock. It felt that the only time OSU could bring pressure was when they had an extra rusher, and it was a disappointing performance for a line as highly touted as this one.

Secondary: Like the line, it was difficult to single out one particularly bad player that stood out, as it seemed they seemed to share the wealth of suckiness. Iowa tight ends had a field day, Jake Rudock threw for 245 yards and three scores, and TE Jake Duzey slipped behind Tyvis Powell and scored on a shocking 85 yard TD pass that stunned 105,254 onlookers.

Buy/Sell:

Buy: Braxton's 4th and 10 run. With Iowa leading 17-10 in the second quarter, the Buckeyes found themselves facing a 4th and 10 at the Iowa 29. Urban Meyer decided to go for it (said it before and I'll say it again--I LOVE the aggression and play to win mentality). Miller rolled out, couldn't find a receiver, came back across the grain, and 17 yards later had a first down at the Iowa 10. It was an electrifying run that maybe half a dozen guys in college football could have made.

Sell: The Philly Brown penalty that negated it. Unfortunately, Philly Brown had a pretty blatant block in the back RIGHT IN FRONT OF THE REF, and when matched with an Iowa holding penalty, the play was negated. OSU still went for it, and Evan SPencer came thiscloseohsoclose to pulling down a perfectly thrown Miller pass down in the end zone, but the play was broken up at the last minute. Iowa got the ball, and a golden scoring opportunity was lost. As a consequence, OSU went into the lokcer room trailing by seven, as opposed to tied.

Buy: Quick strike scoring potential. I love this offense. There are so many weapons, and OSU can literally go from a grind it out, between the tackles power running game on one series, to a 'hey, we need to score right now' mentality on the next. The ABC broadcast made a lot of hay about how little the OSU offense had the ball in the first half, but when they did, they made the most of their opportunities. Down 10-3, and with Iowa dictating the tempo of the game, OSU struck like lightning with a Miller to Philly Brown 58 yard lightning bolt, and tied the game up.

Sell: The long, sustained drives by Iowa in the first half. One of the reasons I was so...unsettled...early on was the way the OSU defensive line was manhandled, and how the linebackers were consistently beat to the edge and were unable to keep contain. Iowa was imposing their will on Ohio State, and the defense had no answers--none--for anything Iowa was doing. Now, all credit to Iowa here, to say OSU wasn't playing to their ability would be an insult to their effort and execution of their game plan. But there is something off with the Buckeyes defense. Either scheme, coaching, player execution, or a combination thereof, but there IS talent there, and it's either not being utilized, or it's being underutilized.

Buy: Increased player safety vigilance. I'm glad that both the NCAA and the NFL has put a greater emphasis on player safety. I remember playing with more than one concussion, and I would be horrified if my son (if I had one) or my grandson took a hit like some of these hits and went right back in to play without being evaluated. I get that there's a fine line between trying to make the game safer while still letting players play the violent sport of football, and I really applaud the effort.

Sell: The Roby Ejection. Now, don't get me wrong, Roby launched and lead with the helmet, and that was a penalty. If the NCAA wants to send a message and institute an ejection, I can understand it in the grand scheme of keeping players safe, or at least trying to. But they should ease into the full game ejection, and next year reverse the policy and go with a graduated penalty. For example, start by making a guy sit out the rest of that series and the next one, or even a half. After the first suspension, then hammer them with a game ejection. It's extremely difficult to re-learn things that have been hard-wired into the development of a player, and it's not something a guy can 'turn off' right away. There have been several HIGHLY questionable ejections of players so far this year, and until the referees can become consistent with instituting the penalty, the players shouldn't have to be ones to suffer for that inconsistency.



The Ohio State University Marching Band performs their "Still Bad, Michael Jackson" halftime show during the Ohio State vs. Iowa football game 10/19/2013. Featuring a Moonwalking Michael Jackson, the Band plays a "Thriller" fanfare, "Bad", "Wanna Be Startin' Something", Billie Jean", "The Way You Make Me Feel", "Man In The Mirror", and "Thriller" reprise. Altogether a thrilling show...