Position:
Head Coach

Experience:
10 years

Alma Mater:
Ohio State '97


On May 30, 2011, Luke Fickell was promoted to the position of head coach of the Ohio State football team. The team's former assistant head coach, co-defensive coordinator and linebackers coach thus becomes the 23rd head coach in 121 years of Buckeye football. Fickell is only the fifth Ohio State head coach in the last 60 years, after Woody Hayes (28 seasons; 1951-78), Earle Bruce (nine seasons; 1979-87), John Cooper (13 seasons; 1988-2000) and Jim Tressel (10 seasons; 2001-10).

"We look forward to refocusing the football program on doing what we do best - representing this extraordinary University and its values on the field, in the classroom, and in life," Director of Athletics Gene Smith said in naming Fickell to the position. "We look forward to supporting Luke Fickell in his role as our football coach. We have full confidence in his ability to lead our football program."

The 2011 season will be Fickell's 10th on the Ohio State football staff. Prior to Fickell's appointment to head coach he was promoted to assistant head coach in March 2011. He also coached the Buckeye linebackers and served as co-defensive coordinator. He was named to the latter position in April 2005. In that role, he was actively involved in game planning and strategy.

Fickell is a Columbus native (DeSales High School, where he was a state wrestling champion) and a 1997 graduate of Ohio State where he was a four-year starter at nose guard while earning his degree in exercise science. Post-graduation, Fickell spent a year on the injured reserve list with the New Orleans Saints before beginning his coaching career.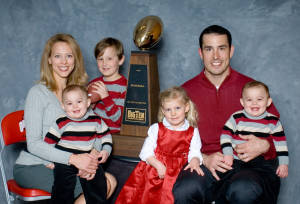 During his first two years at Ohio State, Fickell was in charge of the special teams and assisted with the defensive front. In his role as special teams coordinator, Fickell had specific responsibility for the punting team. Under his tutelage, that unit has excelled, leading the Big Ten in net punting in three of the past five years.

Fickell played for the Buckeyes from 1992-96, redshirting the first year and then starting the next four seasons at nose guard. He started a school-record 50 consecutive games between 1993 and 1996.

Fickell concluded his Ohio State career with 212 total tackles, including 26 tackles-for-loss and six sacks. During his four years in the starting lineup, the Buckeyes posted a combined record of 41-8-1 overall and were 26-5-1 in Big Ten play with a pair of Big Ten co-championships to their credit. With the win over Arizona State in the Rose Bowl, the Buckeyes finished the 1996 season with a sparkling 11-1 record and were second in both major polls in the final rankings.


Luke and his wife, Amy (an Ohio State physical therapy graduate), have four children: Landon, Luca ,and twins Aydon and Ashton.
---
The Fickell File
Hometown: Columbus, Ohio
High School: DeSales
College: The Ohio State University, 1997
Years in Coaching: First as head coach, 13th overall
Wife: Amy
Children: Landon, Luca, Aydon, Ashton
Coaching Assignments
| | | |
| --- | --- | --- |
| 2011-Present | Head Coach | The Ohio State University |
| 2005-2010 | Co-Defensive Coordinator, Linebackers | The Ohio State University |
| 2004 | Linebackers | The Ohio State University |
| 2002-2003 | Special Teams Coordinator | The Ohio State University |
| 2000-2001 | Defensive Line Coach | University of Akron |
| 1999 | Graduate Assistant | The Ohio State University |
---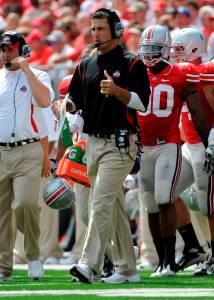 What they are saying about Luke Fickell ...
"Luke Fickell is the perfect combination that makes a great coach. He earns your respect immediately with his knowledge of the game, the fact that he was a great player himself, his endless dedication, his personal interest in each of us and the fact that he wants to win more than anyone."

- A.J. Hawk, Green Bay Packers; Ohio State linebacker (2002-05)

"Coach Fickell was so instrumental in my development as a player and a person. He is one of those guys that already has the respect of the team. He is very detail-oriented, is always extremely prepared and makes sure his players are as well. He treats everyone the same and demands your best each and every day. I have no doubt he will represent Ohio State football and the University with the class and integrity."
- James Laurinaitis, St. Louis Rams; Ohio State linebacker (2005-08)

"Luke is going to do a terrific job for Ohio State. He's had a great mentor in Jim Tressel and he is ready for this opportunity. Luke is also working with a great group of assistant coaches, who are going to provide some outstanding support for him. Buckeye football is in good hands."
- Pat Fitzgerald, Northwestern University head coach
"After playing for some of the greatest coaches in football, I couldn't imagine a more suited person to lead Ohio State football now and in the future."
- Mike Vrabel, Kansas City Chiefs, Super Bowl Champion, Ohio State linebacker (1993-96)


"Luke's toughness, combined with his pride and passion for The Ohio State University, is what has made him a great coach. There is no one more equipped to lead the Buckeyes during this turbulent time than Luke Fickell."
- Ryan Miller, Ohio State linebacker (1993-96)
"I know him very, very well, and we remain close. He's an excellent coach, a great person and he's a person the players respect. But the thing I admire about Luke Fickell is his tenacity. He's very organized, he has a good rapport with the players, he has leadership. He'll do a great job."
- Mark Dantonio, Michigan State University head coach

2011 OSU Football Coaches & Staff

Jim Bollman - Offensive Coordinator and Offensive Line
Stan Drayton - Wide Receivers Coach
Paul Haynes - Safeties Coach
Jim Heacock - Defensive Coordinator
Taver Johnson - Cornerbacks Coach
John Peterson - Tight Ends Coach and Recruiting Coord.
Nick Siciliano - Quarterbacks Coach
Dick Tressel - Running Backs Coach
Mike Vrabel - Linebacker Coach
Doug Calland - Head Athletic Trainer
Robert Sweeney - Athletic Trainer
Jim Borchers - Team Physician
Chris Kaeding - Head Team Physician
Ray Pongonis - Team Physician
Troy Sutton - Coordinator of Strength and Conditioning
Jeff Uhlenhake - Strength Coordinator
Dave Adolph - Program Assistant
Debbie Broeker - Administrative Office Associate
Amy Burgess - Assoc. Director of Internal Operations
Doug Castle - Academics and Evaluations
Dane Chester - Video Intern
Ken Conatser - Academics and Evaluations
Joe Daniels - Assoc. Director of Player Development
Tom Dunlap - Program Assistant
Jerry Emig - Communications and Public Relations
Greg Gillum - Director of Football Operations
Dennis Hoobler - Asssociate Athletics Director
Stan Jefferson - Director of Player Development
Anthony Jordan - Graduate Assistant
Rob Lachey - Equipment Manager
Eric Lichter - Director of Football Performance
Nick Maddron - Office Assistant
Bob Mansfield - Academics and Evaluations
Bill Moffitt - Assitant Building Coordinator
Ben Needham - Defensive Quality Control
Sean Perkins - Building Coordinator
Mark Quisenberry - Video Coordinator
Larry Romanoff - Director of External Affairs
Wes Satterfield - Graduate Assistant
Shannon Smith - Administrative Assistant
Keith Uecker - Offensive Quality Control
Lewis VanHoose - Football Equipment Manager
Rich Weiskircher - Academics and Evaluations
Jon Yeagley - IT Manager