MSU, December 7, 2013
TSUN, November 30, 2013
Indiana, November 23, 2013
Illinois, November 16, 2013
Purdue, November 2, 2013
Penn State, October 26, 2013
Iowa, October 19, 2013
Northwestern, October 5, 2013
Wisconsin, September 28, 2013
Florida A & M, September 21, 2013
California, September 14, 2013
San Diego State, September 7, 2013
Buffalo, August 31, 2013





| | |
| --- | --- |
| | The (red) story links, or the 'read more' graphic, will open new (pop-up) windows to the source of the article, audio or video, so you can read/hear/see the rest. If your browser is set to block pop-ups, please set it to always allow them from our site. You will not get any annoying advertising pop-ups, of any kind, generated by this site...ever. |

Bucks Lose to MSU

34-24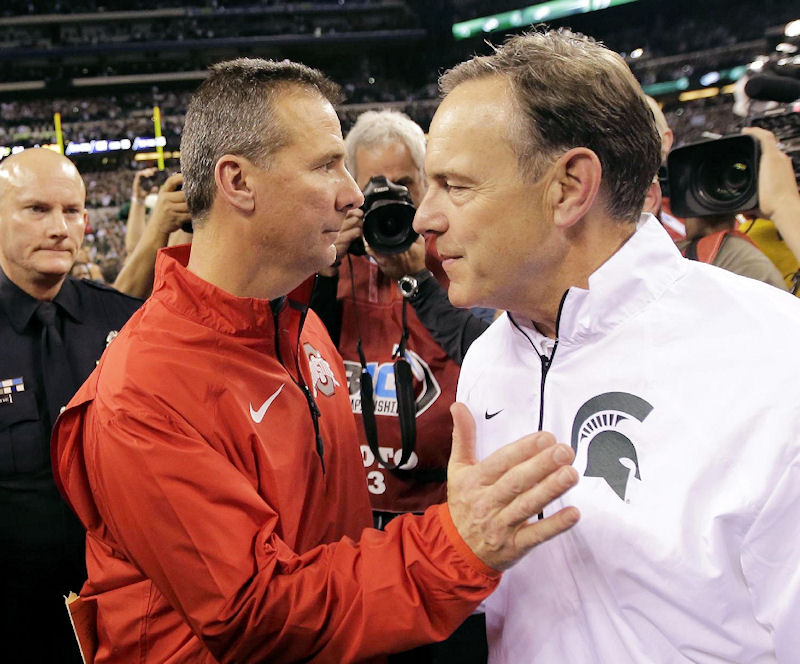 MSU Ohio State Highlights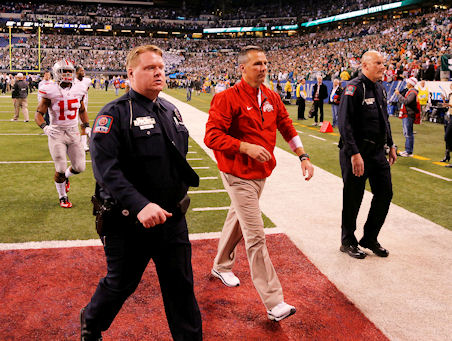 He now knows heartbreak at the precipice of a championship.

Like Woody Hayes, John Cooper and Jim Tressel before him, all of whom suffered critical defeats at the end of multiple seasons, Meyer saw his second-ranked Buckeyes drop a ticket to the national championship game on Saturday night.

All season Ohio State's weakness was a shaky defense that struggled to stop respectable opponents...

Source: Mansfield News Journal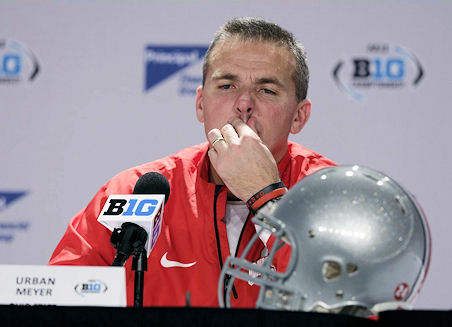 Two-Minute Drill: Updates From the Ohio State Postgame
December 8, 2013 Source: The Ozone - * Meyer said he told the players that he loved them and that he was proud of them. They tried to seize momentum in the third quarter, and then they let it get away from them. He said Michigan State is a heck of a team.

* Meyer was asked about the devastating nature of the loss, and he said it would haunt them for a little while, but it's part of the game.

* Meyer said the fourth and two at the end was run to the boundary instead of the field where it usually goes. He wanted to put the ball in the hands of their best player.

* Meyer said the defense played well in order to get the lead, but they just couldn't hold it. He shook his head when his pass defense was brought up. The loss of Bradley Roby hurt, but he didn't remember Armani Reeves playing poorly.

* He said he was disappointed in the pass defense. "We have to get this fixed."

* Braxton Miller chuckled a bit during a question, but Ryan Shazier hasn't cracked a single smile.

* Meyer said he would have liked to have more touches for Carlos Hyde.

* Meyer said he doesn't think Ohio State's offense didn't do anything differently after they gained the 24-17 lead.

* Ryan Shazier said he was just doing his job on the punt block. He was trying to get the team as much momentum as possible.

* Meyer said Marcus Hall is fine. He was disappointed in his actions, and he said he just didn't feel it was right to play him. He said he made the decision to not play him "a while back".

* Miller said they'll just have to come back and fix the mistakes and come back stronger. Shazier said they have gone through some adversity, but now they need to come back and start working for the next one.

* Carlos Hyde said that Meyer told them after the game that they can't let this loss affect them and allow them to go out and make a dumb mistake. He told them to keep their heads up and get ready for the next game.

* Hyde said that he's been trying to prove every week that he is the best back in the nation, and he couldn't have done any of it without his offensive line.

* Hyde said of the loss, "It's football. It's either win or lose." He said they had their opportunities to score. He also felt like MSU couldn't stop him on the ground. "I feel I could've gotten any yardage we needed in the second half."

* Luke Fickell said Michigan State's offense did what they expected. He said the Buckeyes adjusted well, they just didn't capitalize. "It is what it is, guys gotta make plays."

* Fickell said "the sky's the limit" on Joey Bosa.

* Fickell said losing Bradley Roby was tough, but it's always next man up.

* Tom Herman said they took some shots downfield, but when they don't connect, it's hard to keep calling them when you can't hit them.

* Herman said Braxton Miller did a nice job of sparking the offense to their 24-point surge, but they knew this wasn't going to be a 75% completion day for Miller.

* Herman said they didn't change the offensive plan when they went up 24-17.

* Herman said they practiced the fourth down run against the exact blitz that MSU ran.

* Herman said that Braxton Miller has come leaps and bounds, but "I want to find out how much farther he can go."

* Herman was asked if Carlos Hyde should have had more touches, but he said it was difficult to find formations and plays to get him the ball. He said he didn't know if they could have gotten him the ball more.

* Corey Linsley said that they can't let this loss affect them in their next game, and they have to get back to work and get ready for what's next. He said all they can do now is work and have fun.





Carlos Hyde Postgame Comments



10 Things We Learned from Ohio State's Letdown in Indy
December 8, 2013 Source: The Ozone - 1. Michigan State was the most complete team in the Big Ten. While I do think Ohio State could have, and maybe should have, won this game on Saturday, it was obvious to me that Michigan State was the more complete team. The performance of quarterback Connor Cook gave Mark Dantonio's offense new life and tailback Jeremy Langford racked up 100 yards on the ground against the Buckeyes. While the Buckeyes are a better offensive team that what they showed in this game, their defense continues to be a liability, while Michigan State has become a well-rounded outfit since their early-season struggles on offense.

2. It's possible Ohio State wasn't quite as elite as we thought. I know I'm going to get a lot of fans frustrated by this comment, but I'm not convinced these Buckeyes were really one of the truly elite teams in college football. I'm not saying they didn't deserve to be in that game or to play in a BCS bowl, but there are a lot of good offenses in college football. The truly elite teams have a decent defense to go with it. Having Kenny Guiton as a backup quarterback gives them an advantage over some other top-flight teams, but that didn't come into play on Saturday night. What we did see was a really good offense that looked rather one-dimensional against an equally good defense. The receivers struggled to create separation against Michigan State's defensive backs the Buckeyes put too much on the shoulders of their two best players. In the end, I think this was a really good football team that continued to find a way to win each and every week, but they weren't one of those truly elite football teams that would have gone on to beat Florida State in the national title game.

3. A lack of creativity finally caught up with the Buckeyes. Obviously Urban Meyer and Tom Herman understand their football team better than I do, but all season I've been wondering when we would see this offense get a little more diverse and creative. Relying on the legs of Carlos Hyde and Braxton Miller was more than enough offensive firepower to get the Buckeyes through their soft regular season schedule, but I had a feeling there would come a point where this team would need something more. They showed some things earlier in the season, but as the temperatures dropped and the leaves fell across Ohio, Meyer and Herman resorted back to the offense we saw at the end of last season. I get the idea of wanting the ball in the hands of your best player (Braxton), but at what point do just give up trying to keep the defense off balance?

7. Something has to change on defense. It's hardly fair to blame everything that happened Saturday on defensive coordinator Luke Fickell, but something has to change defensively in Columbus if the Buckeyes are going to compete for national championships. I look at what Dantonio has done with the Spartans as proof that good defense is still possible in today's world of high-flying offense, and the Buckeyes should aspire to that. What we've seen from this OSU defense in 2013 is simply not good enough. Forget what other teams are doing, this program has been too good for far too long defensively to accept the product we saw on the field this season. I'm not saying a change is the only answer, but this is two years in a row where Urban Meyer's team has been held back by its defense. I know he cannot be satisfied with what he's seen, and simply scoring more points offensively is not a good enough solution.

8. The secondary was a mess this season. This isn't exactly something we learned, but it's almost baffling to think how bad Ohio State's secondary was this season, especially when it was supposed to be a strength of the team. Remember, the Buckeyes lost six of their seven starters in the front seven and the back end of the defense was supposed to be the strength of the unit. With four players back, this group was expected to be one of the better backfields in the Big Ten – certainly never on the same level as Michigan State's – but that never materialized. The injury to Christian Bryant didn't help, and neither did the fact his backup, Corey Brown, looked completely out of place at times this season. He was burned on the long touchdown Saturday night, and really never came close to living up to the expectations for a former 5-star prospect. But it's not fair to put it all on Brown. In fact, no one in the OSU secondary looked good on Saturday night, and really all season. Bradley Roby has had his moments, and C.J. Barnett has made a number of big plays – including the interception against Michigan State – but I'm not sure I have ever seen a worse cover unit in Columbus.

9. Joey Bosa is the next big thing at Ohio State. About the only time the secondary didn't look bad on Saturday night was when No. 97 was in the backfield making plays. That just happened to be most of the game. Certainly Michigan State was aware of Noah Spence and decided to pay him a little extra attention, but that doesn't take away from the performance of young Mr. Bosa. It's hard to believe this kid is only a freshman. He had a monster rookie season in Columbus and probably played the best game of his career on Saturday. Bosa was a constant in the MSU backfield and it looks like he could be the next big star for Ohio State on defense...




What Went Wrong?
December 8, 2013 Source: The Ozone - There wasn't a whole lot of information to be gleaned from the post-game comments of the players and coaches, but watching the game left us with some pretty obvious conclusions.

1) MSU's secondary was good, OSU's wasn't. Spartan coach Mark Dantonio has been singing the praise of his secondary all season. Last night we saw why. MSU's corners were able to stay with the Buckeye wide receivers all night, effectively taking them out of the game.

One the other side of the coin, OSU's safeties were like raw meat in front of a hungry lion. The got devoured. C. J. Barnett and Corey Brown gave up play after play all night, and that more than anything else led to OSU's first defeat in two seasons. It wasn't the only thing, that's for sure, but fix that problem, and the Buckeyes win.

The OSU front seven played well against the Spartans, certainly well enough to win, but Barnett and Brown were weak, very weak. Personally, I don't think this is a matter of coaching. It's a matter of lack of talent. The loss of Christian Bryant left OSU with not one, but two weak points in their pass defense, and teams have exploited them since Bryant went down. MSU was the first team to actually be able to turn that weakness into a win, but the writing has been on the wall for a long time. The Buckeyes squeaked past Michigan, but their weakness in the secondary finally caught up with them against the Spartans. With hindsight, the loss is probably less surprising than the fact that it actually took this long to occur. To some extent you can hide one weak link in a defense, but not two. The lack of talent goes on the OSU recruiting effort in the Tressel era. There just wasn't enough quality depth at safety.

On Monday, Urban Meyer said that if the OSU defense didn't play better than it did in the Michigan game the Buckeyes would lose the MSU game. He was right.

2) OSU's passing game is average at best, probably below average in reality. Braxton Miller is a tremendous weapon as a runner, but he still leaves a lot to be desired as a passer. Credit has to go to the MSU secondary (see item 1 above) but there were opportunities in the passing game that were wasted, and a lot of that has to go on Miller. His passing is better than it was last year, but still isn't all that good. He throws with velocity, but not with touch. He also often holds the ball too long leading to unnecessary sacks. He just does not yet have great command of the passing game.

The other half of the equation is the wide receivers. They too are better than last year, but against a good secondary they pretty much disappeared. Like Miller, the receivers still have a ways to go.

After the Michigan game, a candid Urban Meyer said that he did not have a lot of confidence in his passing game against the Wolverines, so the Buckeyes rode Carlos Hyde. Against MSU, we saw why.

3) Not enough Carlos Hyde. Hyde got 18 carries. He probably should have gotten twice that number. The Spartans couldn't control him early in the game, in the middle of the game, and late in the game. In the first two instances, it's because Hyde just overpowered and outran them. Late in the game, for some inexplicable reason, he just didn't get the football.

The most glaring example was the failed fourth and two call in the fourth quarter. Hyde was used as a blocker on that play. What a waste. Urban Meyer said the OSU coaching staff wanted the ball in the hands of their best player, Braxton Miller. With all due respect, Miller might be the best player on first and ten, but on fourth and two there was no better option than Carlos Hyde, and the OSU coaching staff didn't call on him.

Criticizing play calling is a crappy form of criticism. Hindsight is always 20-20, and there is a lot more to calling plays that Joe Averagefan understands. The OSU coaching staff called plays very well all year, and good enough in the MSU game to have a lead going into the fourth quarter, but it is really hard to understand why Carlos Hyde did not get more carries in the fourth quarter. Tom Herman said after the game that he couldn't figure out good ways to get Hyde the football. With all due respect coach, from where I sat, it didn't matter how you got it to him, you just needed to get it to him. MSU couldn't stop him even when they knew he was going to get it. It just didn't matter. He gained yardage no matter what MSU did. Feeding Hyde in the fourth quarter may have actually been enough to overcome the poor play of the OSU pass defense, but we'll never know.

Those are the thoughts of Captain Obvious. It really was so simple that even he could see it.





Five Things: Michigan State
December 8, 2013 Source: Eleven Warriors - Michigan State's gameplan was just better. Before we turn our focus to Ohio State's bowl situation, let's take a look at Five Things that stood out in last night's gut-wrenching loss to the Spartans...



Luke Fickell Postgame Comments



No. 2 Ohio State Falls to No. 10 Michigan St, 34-24
December 7, 2013 Source: OSU Official Site - Michigan State shook up the BCS title chase again Saturday night.

The No. 10 Spartans regained the lead on Connor Cook's 9-yard touchdown pass to Josiah Price with 11:41 left and upset No. 2 Ohio State 34-24 to take the Big Ten title and put Auburn back in the national title hunt.

"Coach (Mark Dantonio) said, `You're the ones.' We're the ones, we're going to the Rose Bowl," Cook said after being selected the game's MVP.

Ohio State (12-1) had the nation's longest active winning streak end at 24 as coach Urban Meyer suffered his first loss since taking over in Columbus.

It was a game that almost defied logic.

The Spartans (12-1) led 17-0 after 21 minutes, then gave up the next 24 points before scoring the final 17.

Michigan State sealed the victory, and its probable trip to the Rose Bowl, with Jeremy Langford's late 26-yard TD run. The Spartans haven't played in Pasadena since 1988.

For the Spartans, it was a monumental win.

They have won 12 games in a season for the first time, won their ninth straight for the first time since starting 9-0 in 1966 and are likely headed to the Rose Bowl for the first time since 1988 - though Dantonio said earlier this week he thought Michigan State could have a claim on the BCS game with a win. The only thing that could keep the Spartans out was a 17-13 loss at Notre Dame on Sept. 21.

"We were inches away but our team was resilient last year, so we felt coming into this season if we could find our identity and pushed it a little bit, we'd get there," Dantonio said during the celebration. "We believed, we believed."

But the upset marked a stunning turn of events.

One week after the Buckeyes cheered when Auburn upset No. 1 Alabama, the Tigers were rooting for Michigan State to return the favor.

Did they ever.

Langford ran 24 times for 128 yards, becoming the first player to rush for more than 100 yards against the Buckeyes this season.

Cook finished 24 of 40 for a season-high 304 yards with three TDs and one interception and was selected the game's MVP.

Even before the final seconds ticked off the clock, Michigan State players were bouncing up and down on the field.

Ohio State's Braxton Miller did everything he could, going 8 of 21 for 101 yards with one touchdown and running 21 times for 142 yards and two scores against the nation's stingiest defense. Carlos Hyde ran 18 times for 118 yards. Both joined the school's exclusive 3,000-yard club Saturday, becoming the seventh and eighth members.

Starting right guard Marcus Hall, who Meyer said would not start, did not play. Meyer said he made that decision earlier this week.

But the loss was stinging.

"I really wanted these guys to experience something special and I think they will," Meyer said. "I think they'll get invited to a very good bowl game and when they do, they'll face a good Buckeyes team."

The Buckeyes took their first lead, 24-17, when Miller scored on a 6-yard TD run with 5:36 left in the third.

Michigan State answered when Michael Geiger's 44-yard field goal barely dropped over the crossbar to make it 24-20, and the Spartans retook the lead, 27-24, when Cook capped an eight-play, 90-yard drive by finding Price wide open in the flat for a 12-yard TD pass with 11:41 left in the game.





Ohio State Univ. vs Michigan State Univ. (12/7/2013) Source: OSU Official Site


Scoring Summary, Team Statistics, Individual Statistics, Drive Chart, Defensive Statistics, Game Participation, Box Score, Play-by-Play, Play breakdown



Big Ten Championship Game Post Game Notes Source: OSU Official Site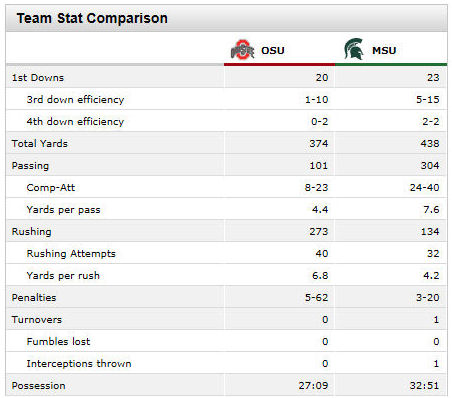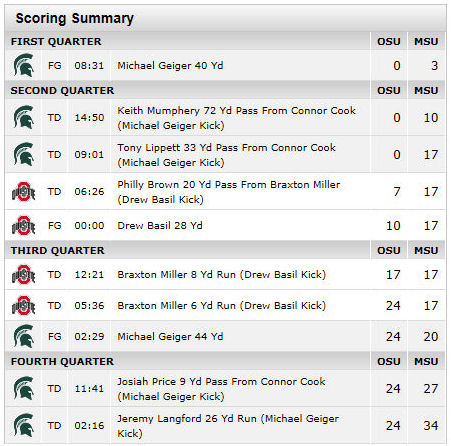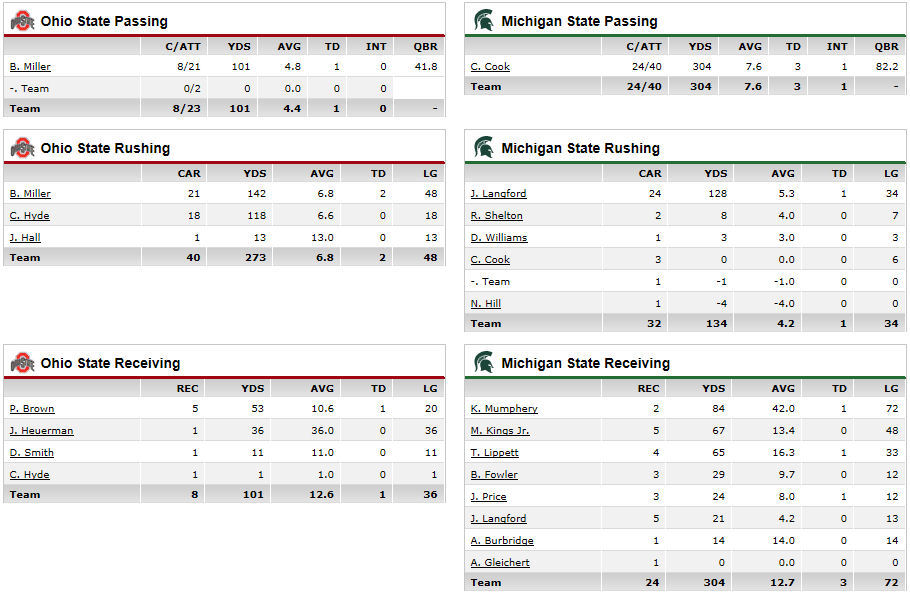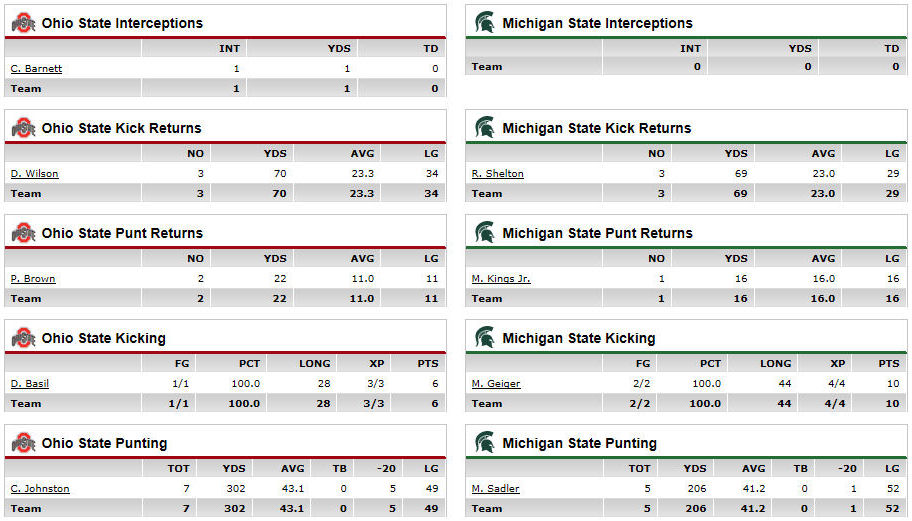 Buckeyes try to cope with rare, painful loss
December 8, 2013 Source: ESPN - Saturday's loss to Michigan State was Ohio State's first in 24 games and not many players, or coach Urban Meyer, knew how to handle it, writes Brian Bennett...



C Corey Linsley felt that he played a poor game





Turning point Braxton Miller was stopped for a 1-yard gain on fourth-and-2 from the Michigan State 39-yard line with 5:41 left by Denicos Allen. The Buckeyes, trailing 27-24 at the time, had gained great field position after Ryan Shazier partially blocked a punt.

Stars of the game MSU QB Connor Cook, an Ohio native, threw for 304 yards and three touchdowns, torching the Ohio State pass defense. And running back Jeremy Langford put the upset away with a 23-yard touchdown run up the middle with 2:16 to play.

"We have to get this fixed," Meyer said. "We're going to get back to work."

Due to BCS bowl replacement selection procedures, it's all but guaranteed the Orange Bowl will select Ohio State. Though the Orange will have the first pick to replace #1 Florida State, they'd need the Sugar Bowl's permission to snag the top at-large team, Alabama. With that all but impossible, they're likely to select either the Buckeyes or ACC (whom has a relationship with the Orange Bowl)'s Clemson.

It was over when... Jeremy Langford broke free for a 26-yard TD to put Michigan State up 10 with 2:16 left to play.

Gameball goes to... Spartans QB Connor Cook, who won game MVP honors by throwing for 304 yards and three TDs.

Stat of the game... 25. Years since the Rose Bowl-bound Spartans have spent New Year's Day in Pasadena.

One-liner: Auburn says the Buckeyes can kiss its BCS.

"That probably is the best team that we've faced in the past two years," junior linebacker Ryan Shazier said. "They beat us."

Just wondering: How good is MSU co-offensive coordinator Jim Bollman feeling right now? The former Ohio State offensive coordinator was criticized by fans at every turn for his conservative play-calling under Jim Tressel. But Bollman turned the tables on the Buckeyes, whose own offense looked stuck in mud.

"You can't question the coaching or the play calling," said senior running back Carlos Hyde, who rushed 18 times for 118 yards but was used as a lead blocker on the most critical play, a fourth down rush by Miller. "You just have to roll with it."

What does losing feel like?

"It sucks," senior center Corey Linsley said with a bloody cut in between his eyebrows.

Joey Bosa walked slowly. Tears streamed down his blushed cheeks covered with eye black and sweat. Defensive line coach Mike Vrabel walked next to the freshman, his arm around the defensive end's burly shoulder. "You're going to be OK," Vrabel encouraged.

Braxton Miller strolled with his helmet in his left hand. His eyes glassed as he peered into the crowd before departing under the blue tarp covering the shadowed tunnel.

Bradley Roby was the he last Buckeye to leave the field. He slumped off with his position coach, Kerry Coombs, holding him. The redshirt junior has already said he is leaving Ohio State after this season for the NFL. He will go with no conference championships, no national titles. Roby shook his head as Coombs whispered into his right ear.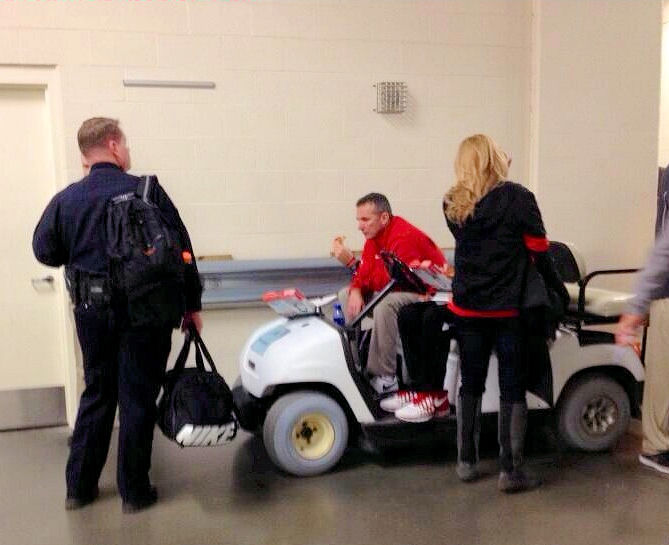 As Buckeye players and coaches exited the locker room, Meyer sat in a golf cart in a corridor beneath the stadium. With his wife, Shelley, and his son, Nate, seated beside him, the 49-year-old coach ate slices of pepperoni Papa Johns pizza. He stared straight ahead.



At OSU, Meyer is 5-1 against ranked teams. The Buckeyes defeated No. 20 Michigan State (17-16), No. 21 Nebraska (63-38) and No. 20 Michigan (26-21) last year and No. 23 Wisconsin (31-24) and No. 15 Northwestern (40-30) this season.

Ohio State is now 1-2 in games trying to reach 13-0. The Buckeyes defeated Illinois 23-16 in overtime in 2002 and lost to Florida 41-14 in the BCS national title game after the 2006 season.

The Buckeyes were held scoreless in the first quarter for the first time since their game at Penn State in 2012.

Braxton Miller went over 5,000 yards passing in his career with 101 yards through the air against the Spartans.

Miller also went over 8,000 yards of total offense in his career with 243 Saturday night. He joins Art Schlichter as the only Buckeyes to accomplish the feat.

The 142-yard rushing game marked the 14th 100-yard game of Miller's career.

Michigan State came into the game allowing 2.2 yards per carry. Ohio State averaged 6.8 yards on the ground Saturday against the Spartans.

Carlos Hyde went over 3,000 career rushing yards after gaining 118 on the ground against the Spartans.

Saturday marked the fourth-consecutive game Miller and Hyde each tallied over 100 yards rushing.

C.J. Barnett's third-quarter interception was the seventh of his career and third this season.

The Ohio State defense has at least one interception in 11 of 13 games this season.

Ryan Shazier recorded his fourth-consecutive double-digit tackle game.

The view

How the team sees it: Now we remember what it feels like to lose. Arrggh.

How the pollsters will see it: Hahahahahahah.

How Buckeye Nation will see it: In Urban we trust(ed.)

Urban observation

What we saw: Meyer getting a pat from Braxton Miller after the Buckeyes tied the score at 17.

What it meant: The OSU quarterback simply was trying to find his coach's pressure-relief valve, which we're pretty sure he never found.

If this were a movie

It would be Gigli. Unwatchable.

They said it

As heard by two Ohio State fans at concession stand: First: "I think that guy was Quentin Tarantino?" Second: "No way. But if it was, then this could be a real blood bath."

Numbers for dummies

0: Points for OSU in the first quarter, the first time the Buckeyes were held scoreless for the first 15 minutes since 2012 against Penn State.

75-25: Percentage breakdown of Ohio State fans to MSU fans in Lucas Oil Stadium.

120: white seats that comprised the lucky horseshoe logo located in the upper deck of the north end zone. Apparently, not enough OSU fans sat in them.

Sources: ESPN, Bucknuts, Eleven Warriors, Columbus Dispatch, OSU Official Site, Land-Grant Holy Land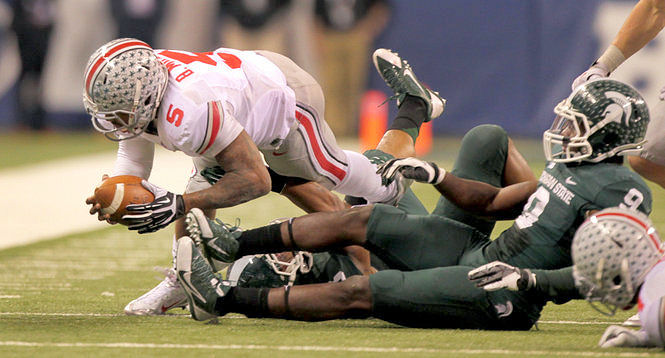 Ohio State Buckeyes quarterback Braxton Miller (5) dives forward but falls short of converting fourth down against Michigan State safety Isaiah Lewis (9) in the fourth quarter. (Marvin Fong / The Plain Dealer)


Fourth down comes up short
Even after OSU CB Bradley Roby left with a leg injury early in the fourth quarter and Michigan State went through the Buckeye defense through the air with ease, the offense had a chance to answer. Ryan Shazier partially blocked a punt and the Buckeyes started the MSU 47. On fourth-and-1, Urban Meyer had a huge call to make. He put the ball in Braxton Miller's hands with RB Carlos Hyde and TE Jeff Heuerman as his lead blockers. Heuerman completely whiffed on his block and LB Denicos Allen brought Miller down short of the first down and Michigan State took over. It was the second drive in a row in which the offense had great field position and didn't do anything with it.



"It was my call," Meyer said. "I wanted to put the ball in the hands of our best player, Braxton. We usually run that play a lot. We ran it to the boundary. I knew they'd pressure us. Thought he might be able to come out the other end of it. It was a chance to go try to win the game."





Almost six minutes still remained. But Corey Linsley clearly understood what had just happened – and what was about to.

A linebacker had shrugged off a block and tackled Braxton Miller a yard short of a first down. Michigan State took over on downs. When Linsley came off the field, he was very upset – we can't repeat what Ohio State's senior center was saying, but in his own words, he was "cussing up a storm" – and it was because he knew.

"That," Linsley said, "was the game."




Buckeyes Offensive Coordinator Tom Herman said they practiced the fourth down run against the exact blitz that MSU ran:

OSU's critical fourth-down call beaten by an Ohio native: With Ohio State facing a critical fourth and two at the Michigan State 39 late last night with 5:46 to play and the unbeaten season and probably Bowl Championship Series title game berth on the line, there was no question who was going take the shot.

It was going to be quarterback Braxton Miller, the first player to win the Big Ten offensive player of the year award two straight times. He'd already rushed for 141 yards and two touchdowns. With OSU trailing Michigan State 27-24 in the Big Ten championship game, Urban Meyer said he wanted Miller on a keeper, and offensive coordinator Tom Herman agreed.

What amounted to a quarterback sweep to the right gained one yard but failed to get the first after blitzing linebacker Denicos Allen, an Ohio native, got away from a block by Jeff Heuerman and caught Miller.

"We're kind of in the gray area (situation wise), fourth and two, do you throw it? Do you run it?" Herman said. "He's our best player. That was a play we had scored a touchdown on (in the third quarter).

"We actually had practiced that play against that blitz. We just didn't execute. I think it was a good call, the right call against what we had expected, the blitz. The kid made a good play, he kind of made himself very hard to block, and kind of blew it up before it ever got started."

Miller finished with 142 yards rushing, pushing his season total over 1,000 for the second straight year, to 1,033.

Thus the Buckeyes have two 1,000-yard rushers, with running back Carlos Hyde going for 118 last night, and upping his total to 1,408. (Source: Columbus Dispatch)






What's the perception of Ohio State now and where do the Buckeyes go from here?



Their national reputation has taken a hit.

The defense wasn't good enough for much of the season, and something has to change.

There will be a lot of holes in 2014 that need to filled, on the offensive line, at running back, at cornerback, almost certainly at linebacker and maybe at quarterback.

One loss left a lot of questions. Source: Cleveland Plain Dealer





The Bottom Line
December 8, 2013 Source: Columbus Dispatch -

Offense (3 leaves)
The pleasant surprise was that OSU often was able to run the ball against stingy Sparty, to the tune of 273 yards. But the Buckeyes came up woefully empty when they needed a first down to kick-start a winning drive. Worse, the passing game was crazy inconsistent, drops and wild misfires gumming the works.

Defense (2 leaves)
Perhaps the most disappointing aspect of the loss was that on the first snap after OSU took the lead, the Buckeyes were gashed for a 34-yard run. So much for momentum, ya know? The pass defense was typically atrocious at times, and the interference penalties were gut punches. In some ways, this result was only a matter of time.

Special teams (4 leaves)
Cameron Johnston did his job with a 43.1 average and only one punt returned. The kickoff coverage wasn't great, but it certainly didn't determine the outcome. Ryan Shazier's partial punt block might have, but the offense couldn't take advantage.

Coaching (2 leaves)
A lot of us thought the Buckeyes' focus would return in full flower after the near-miss at Michigan, and we were wrong. Still, OSU grabbed the lead after a three-legged sack race of a start, before being exposed again. Did it seem the offense was playing without a full deck?

Fun quotient (4 leaves)
In terms of straight-up entertainment, the title game delivered a knockout show. At the start, the place looks like a Christmas party with all the red — uh, scarlet, that is — and green in the stands. But it was weird afterward to see the team trudging up the tunnel while Carmen Ohio played.

Opponent (4 leaves)
Credit where it's due. Connor Cook probably isn't quite the quality of quarterback that the Buckeyes made him out to be but he dropped some beauties into the hands of his guys. Coach Mark Dantonio gets a nod, too, for getting his team to buy into the underdog role.

Officiating (3 leaves)
Mostly it was fine, despite a couple of quirky spots here and there, and a few late-in-the-play hits that were delivered on the white of the sidelines without being called. Wait, did the ref just say Ohi0 State had called timeout?





Jon Spencer's Ohio State Report Card
December 8, 2013 Source: Mansfield News Journal -

OFFENSIVE LINE
At worst, the front five battled the Spartans to a draw in the trenches. Braxton Miller had good protection most of the time and, if anything, waited too long before deciding to run. Pat Elflein started at right guard in place of the disciplined Marcus Hall and wasn't really missed. If he had been, we probably would have seen him. The Buckeyes did a good job of negating end Shilique Calhoun, who came in with 7.5 sacks and 13.5 TFLs. GRADE: b

RUNNING GAME
Braxton Miller was effective running the ball from the get-go but it's in the second half when Miller and Carlos Hyde got it cranked up in concert. Both went over 100 yards rushing again. But when the Buckeyes absolutely needed one yard on fourth down in the fourth quarter, they had Miller run wide behind Hyde and TE Jeff Heuerman instead of his trusty front five. Huh? GRADE: B+

PASSING GAME
For someone supposedly dealing with a stress fracture (first revealed Friday), "Philly" Brown was one of the few guys doing anything offensively for the Buckeyes. He made a 20-yard TD catch when the Buckeyes were on the verge of getting blown out and could have had a couple more TDs on better thrown balls from Braxton Miller. A 26-yard strike from Miller to TE Jeff Heuerman helped draw the Buckeyes even closer at halftime, but it was another mediocre passing performance by Miller, and Evan Spencer didn't help with a big third-down drop in the fourth quarter. GRADE: C-

DEFENSIVE LINE
The Spartans did a nice job of neutralizing OSU's pass rush with screen passes and roll-outs, but freshman end Joey Bosa still broke through containment several times and almost single-handedly wrecked MSU's running game in the first half. Unfortunately, save for a pick by C.J. Barnett that led to nothing, no one other than Bosa was making a play on defense and the Spartans ultimately put it away on a 26-yard run by Jeremy Langford. That run put him over 100 yards, the first back to go over the century mark vs. OSU this season. GRADE: D

LINEBACKERS
Curtis Grant, hobbled by a bad ankle, saw more action than he has in weeks, but didn't do a lot to make his presence known. Ryan Shazier, the Big Ten tackle leader, was guilty of a stupid pass interference on MSU's opening drive, resulting in a field goal. The Buckeyes sorely needed a signature game from Shazier and didn't get it. GRADE: F

DEFENSIVE BACKS
Corey "Pittsburgh" Brown took a poor angle on 72-yard TD pass to Keith Mumphrey after pass interference call on Doran Grant helped set up earlier field goal as MSU jumped out to 10-0 lead. Brown's safety sidekick, C.J. Barnett also got burned for a 33-yard TD by Tony Lippett. Another Grant interference flag set up a go-ahead TD pass in the fourth quarter at Barnett's expense again. Losing Bradley Roby late in the third quarter (leg) for a spell didn't help as yet another QB, this time native Ohioan Connor Cook, had a career game against the Buckeyes, with over 300 yards passing. GRADE: F

SPECIAL TEAMS
Ryan Shazier wasn't having a great game at linebacker, but he did deflect what turned out to be a 19-yard punt, setting the Buckeyes up for a possible go-ahead score in the final period. Instead, they wasted it. The almost-forgotten Drew Basil drew the Buckeyes within 17-10 at halftime on a 28-yard field goal, only his second 3-pointer in the last six games. Cameron Johnston was again a master at dropping his punts inside the 20, one getting killed at the 4. GRADE: A

COACHING Twenty-four game winning streak: kaput. Fate finally caught up with a lousy defense. Obviously the big question at halftime, after the Buckeyes had whittled a 17-0 deficit (largest in the Urban Meyer Era) to 17-10, was what kind of adjustments they would make defensively at the break. Obviously, not the right ones because the Spartans scored 17 unanswered points after OSU went in front 24-17. Because a win here would have secured a BCS title game berth, this loss, in some ways, hurts more than the one to MSU in 1998 that killed the national championship hopes of clearly the best team in the nation. Saturday's loss also ruined what would have been the biggest comeback in Meyer's head coaching career.GRADE: D





OSU postgame: Michigan State vs. Ohio State REPORT CARD
December 8, 2013 Source: Canton Repository -

OFFENSE: C
It took some time for the Buckeyes to find success. They did nothing with their first three possessions against the nation's No. 1 defense. They finally got going with the swift five-play, 84-yard TD drive in the second quarter. Philly Brown's leaping catch in the end zone capped it and sparked the Buckeyes. Big plays, though, in the passing game escaped them too often. Braxton Miller, Devin Smith and Brown all had hands in a failure to connect on deep TD passes. The running game, as it has much of the season, keyed OSU — though the Buckeyes couldn't come up with a huge fourth-and-1 late. Miller and Carlos Hyde each went over 100 yards rushing for the fourth straight game. Urban Meyer gave Pat Elflein the start at right guard for Marcus Hall and Elflein rewarded his coach by playing well. But the inability to convert on third downs (and a fourth down) and find a consistent passing attack really hurt the Buckeyes.

DEFENSE: F
Two third-down pass interference penalties on the game's opening drive set an ominous tone. And OSU's pass defense never really turned it around. The Buckeyes got burned too often downfield, a reminder of past breakdowns in the pass defense that nearly cost them at different points in the season. Michigan State QB Connor Cook threw TD passes of 72, 33 and 44 yards, and picked up big chunks on some other throws. The Buckeyes also got hurt on the ground, with MSU's Jeremy Langford becoming the first 100-yard rusher against OSU this season.

SPECIAL TEAMS: C+
Ryan Shazier getting a hand on a punt midway through the fourth quarter gave the Buckeyes life when they needed it. OSU also got a bit lucky earlier in the quarter when the Spartans caught the Buckeyes off guard with an onside kick after taking the 27-24 lead. OSU caught a break when the ball skipped out of bounds. Cameron Johnston was strong yet again for the Buckeyes, putting four punt inside the 20.

COACHING: D Urban Meyer and Tom Herman have dialed up a lot of winning plays, but OSU's failure to convert fourth-and-1 from just outside the Michigan State 38 late in the fourth quarter was a killer. OSU opted to run Miller on a bootleg around the right end with Hyde as a lead blocker and the Spartans were all over it. OSU's defensive staff never could slow the Michigan State's passing attack. And Spartans head coach Mark Dantonio rolled the dice pretty effectively by going 2-for-2 on fourth downs and showed a lot of guts with his onside kick in the fourth quarter.





Ohio State Stock Market Report: Michigan
December 8, 2013 Source: Land-Grant Holy Land -

Blue Chip Stocks:

Joey Bosa, DE: The future of the Ohio State defensive line is bright. Joey Bosa was a force from the outside, registering a sack and big tackle for loss.

Carlos Hyde, RB: After a slow start, Hyde seemed to take over the game in the third quarter before Ohio State inexplicably went away from him. Hyde finished with 118 yards on 18 carries, and one wonders how many yards he didn't gain when the offense decided that taking the ball out of Hyde's hands was a good idea.

Solid Investments:

Bradley Roby, CB: Roby finally looked like the All-American he was last year. He was solid in run support, was a sure tackler, and was very good in coverage. Where was this for most of the season?

Braxton Miller, QB: Although Miller's receivers had some key drops, he struggled throwing the ball for most of the evening. Yet what he struggled with through the air, he made up for by running the ball, tallying 142 yards on the ground and giving OSU a huge lift when they went down 17-0.

Junk Bonds:

Tom Herman, Offensive Coordinator: Let me be clear here: No one's calling for Herman's head, nor do I think he should be tarred and feathered and paraded down High Street or anything like that. But Herman called an extremely questionable game, and just when OSU seemed to start clicking on offense, Herman seemed to go away from the strength of what was working for the Buckeyes. His overall body of work since he's been in Columbus has been strong, but this will leave a bad taste in all our mouths for some time.

Doran Grant, CB: Costly penalties, and it seemed like guys Grant was responsible for got open when MSU really needed a play. Tough night for the young man, and I'm sure no one feels worse about it than he does.

Buy/Sell:

Buy: Braxton running in the second quarter. Man, it looked bleak when it was 17-0 in the second quarter, but Miller's 56 yard run ignited the offense and lead to a 24 point explosion in the second and third quarter. He was dazzling on the ground at times, and his legs got OSU back into the game.

Sell: Not pounding Carlos Hyde on fourth and 2 with the game on the line. As electrifying a runner as Miller is...when you need two yards how can you not give the ball to Hyde? Or, if you're intent on giving it to Miller, how can you at least not have Hyde in the backfield as a decoy? Everyone in the stadium knew Miller was going to keep it, and MSU swarmed to him. Ball game. thanks for coming. Drive safely, everyone.

Buy: Overcoming early penalties and big plays to get to 17-17. One of the things I love about Braxton Miller is his ability to make one play and spark the entire team. When the Buckeyes were down 17-0, Miller ignited the entire team with his 56 yard run. It seemed to shake off the cobwebs and started a Buckeye rally that eventually saw them get to a 24-17 lead.

Sell: Early penalties and big plays to get into a 17-0 hole. Two huge pass interference penalties coupled with two long scoring passes put OSU in a huge hole early, and it looked like the Buckeyes might get run out of Lucas Oil Stadium. It was as bad a 20 minutes of football I'd seen OSU play since 2011.

Buy: The third quarter. After a forgettable two quarters, save for a couple plays, OSU came out like a team possessed to open the second half. Using Miller and Hyde, OSU seemed to start running downhill, and saw a 17-10 deficit turn into a 24-17 lead. If felt like momentum was really turning, and after a CJ Barnett interception I thought OSU might be closing in for the kill.

Sell: The fourth quarter. But Michigan State's defense held after that pick, and it seemed to energize them. They completely stifled OSU's offense in the fourth quarter, and MSU rallied for a 10 point win, the Big Ten championship, and a trip to the Rose Bowl. Ohio State had their chances, but MSU stopped them at every turn. Seriously, when you block a punt, get the ball at the MSU 47, and then get no points? Terrible.

So, The Chase ends in Indianapolis, on the short end of a 34-24 score in the Big Ten Championship. For OSU, it's been one heck of a run, and although they didn't make it to the national championship, they still have an opportunity to close out the BCS era with a win in the Orange Bowl.

Congratulations to Michigan State, your 2013 Big Ten champions.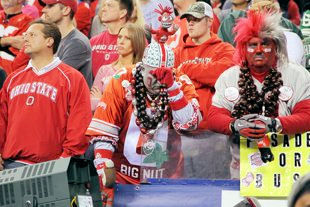 Brian Bennett talks with MSU HC Mark Dantonio about the Spartans' impressive win over Ohio State.



Post-Game Notes: Big Ten Championship Game Source: MSU Official Site

• With the 34-24 victory over No. 2 Ohio State in the Big Ten Championship, Michigan State won its eighth Big Ten Championship in school history (1953, 1965, 1966, 1978, 1987, 1999, 2010, 2013) and its first outright title since 1987.

• Michigan State clinched its fifth Rose Bowl appearance (1954, 1956, 1966, 1988)...MSU owns a 3-1 record in the Rose Bowl.

• Michigan State won its school-record 12th game of the season (11 wins in 2010 and 2011).

• Big Ten Championship Game Most Valuable Player Connor Cook threw for a career-high 304 yards passing on 24-of-30 throws...he also threw three touchdown passes.

• Jeremy Langford set a school record with his eighth-straight 100-yard rushing game, as he collected 128 yards on 24 carries.

• Indianapolis native Isaiah Lewis recorded a career-high 13 tackles and also had a pass break-up.

• Michigan State held Ohio State to 374 yards of total offense, a season low for the Buckeyes.

• MSU snapped Ohio State's 24-game winning streak, which was the longest in OSU history and tied for the fourth longest in Big Ten history.

• Michigan State's nine-game winning streak is the longest since the Spartans won 10 in a row in 1978-79 (last seven games in 1978, first three games in 1979)...MSU has won 14 of its last 15 games.









Michigan State

Dec 7, 2013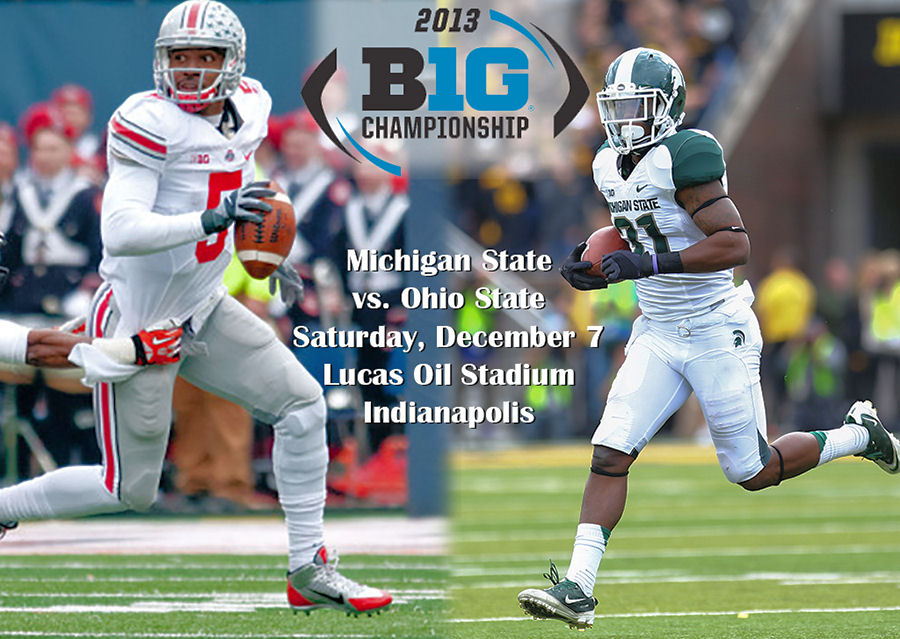 The city of Indianapolis and Lucas Oil Stadium will play host to the third annual Big Ten Football Championship Game on December 7, 2013. Kickoff is at 8:17 p.m. ET, while pregame starts at 6:30 p.m. ET on BTN before switching to FOX at 7:30 p.m. for the remainder of the pregame and the game broadcast. BTN will also have a postgame show following the FOX postgame show. Please check the links for information on this year's game and the events surrounding it, and be sure to check regularly as more information becomes available.

Ohio State Football: Big Ten Championship Trailer
The Chase Continues as Ohio State takes on Michigan State for the Big Ten Championship crown on December 7th at Lucas Oil Stadium in Indianapolis, Indiana.


TBDBITL plays Hang On Sloopy at B1G Championship pep rally Dec 7, 2013 Source:Ohio.com

Can both of these coaches lead their teams to Pasadena?



Ten Questions; OSU-MSU
December 7, 2013 Source: Bucknuts - Obviously, a win tonight would be OSU's 25th in a row. It would give the Buckeyes their 35th Big Ten championship and officially their first since 2009. And it would also send the Buckeyes to the BCS National Championship Game, set for Jan. 6 at Pasadena, Calif.

Click here to participate in our OSU-Michigan State Game Day Thread on the Front Row message board.

As always, we have our Ten Pressing Questions feature to prepare you for today's game. We will provide the answers in our First Look column. Here we go:

* 1. Can the Buckeyes run the ball against Michigan State? – OSU's running game has been phenomenal down the stretch behind a senior-laden offensive line and the exploits of QB Braxton Miller and 1,000-yard rusher Carlos Hyde at running back. OSU is averaging 321.3 yards rushing per game (second nationally), while MSU is only giving up 64.8 yards per game on the ground (first nationally). Something has got to give.

* 2. Can OSU handle MSU's attacking defense? – MSU coach Mark Dantonio and defensive coordinator Pat Narduzzi love to bring the blitzes from every angle. OSU's offensive line has seen a lot of different looks and must be able to adjust on the fly. Led by DE Shilique Calhoun and LB Denicos Allen, the Spartans have recorded 29 sacks this year. OSU has only allowed 15 on the year. It seems that Pat Elflein will start at right guard in place of Marcus Hall after his actions from last week.

* 3. Can Braxton Miller get back on track throwing the ball? – Through halftime of the Purdue game, Miller was completing about 70 percent of his throws. That percentage has dropped to 50 percent in recent weeks as he has struggled in tough weather. Playing inside the dome, Miller will have a chance to get back in a groove, although MSU is No. 1 nationally in passing efficiency defense.

* 4. What OSU receivers will step up? – Devin Smith caught a bomb last week and tight end Jeff Heuerman caught a touchdown as well. Urban Meyer revealed that Philly Brown is dealing with a stress fracture in his leg that has limited him. MSU's secondary, led by CB Darqueze Dennard, is one of the nation's very best.

* 5. Can the OSU defense rebound from last week's horrific performance? – The Buckeyes gave up 603 yards, 41 points and a whopping 31 first downs in last week's win over Michigan. There were coverage issues all day as the Buckeyes made Devin Gardner look like Drew Brees. They simply must do better tonight.

* 6. Can the Buckeyes get after MSU quarterback Connor Cook? – Dantonio likes Cook's poise in the pocket and that's why he made the switch from Andrew Maxwell. But he is just a sophomore. OSU will need DEs Joey Bosa and Noah Spence and blitzing LBs Josh Perry and Ryan Shazier to apply the heat.

* 7. Can OSU contain 1,000-yard rusher Jeremy Langford? – MSU lost Le'Veon Bell early to the NFL. Langford was probably third or fourth on the list of guys to replace him before the season. But he emerged as the starter and rushed for 1,210 yards this season. Ohio State has not allowed a 100-yard rusher yet this season, so this will be something to watch.

* 8. What impact will special teams play? – Ohio State blocked a kick in last year's 17-16 win at Michigan State. Could a big play like that swing it for one team or the other?

* 9. How will the crowd be split in Indy? – It looks like it may be a 60/40 or even 70/30 split in the crowd in favor of Ohio State. Let's say this: The streets of downtown Indy are awash in Scarlet and Gray.

* 10. Can the Buckeyes punch their ticket to Pasadena? – What an amazing finish to the season it would be if the Buckeyes can win their 25th straight game and advance to their fourth BCS national title game in the 16 years of that format. But Michigan State is by far the best team OSU has played in its great two-year run under Meyer, so it will be far from easy.




Ohio State OC Tom Herman and others talking about this showcase game matching up two top 10 teams.



A Dontre Wilson big play, a Michigan State trick and an early OSU lead: 5 Doug Lesmerises predictions
December 7, 2013 Source: Cleveland Plain Dealer -

1. Dontre Wilson will rip off his longest play from scrimmage of the season
The freshman has a 32-yard catch and a 26-yard run. With Michigan State focused on stopping Carlos Hyde and Braxton Miller in the run game, and the corners dealing with single coverage on the outside receivers, there may be plays available to be made from the slot or by the tight ends in the middle of the field. We don't exactly know Wilson's status, with Urban Meyer saying Marcus Hall won't start after his ejection last week. But Hall had a much more flamboyant exit from the Michigan game. Wilson was ejected for throwing a punch, without an additional reaction. So he's expected to play his typical role. On the fast track indoors, Wilson should get a chance or two to turn a quick pass or jet sweep handoff into more than 33 yards.

2. Michigan State quarterback Connor Cook will complete more passes than in any game this season
The first-year starter and redshirt sophomore was a season-best 26 for 44 against Iowa. The Spartans haven't taken a lot of chances on offense this season, but they have to know they'll have to score more than usual to keep up with Ohio State. To keep pressure off Cook, the Spartans may try a bunch of screens, which worked so well for Michigan last week, and other quick passes to give him confidence, back off the OSU pass rush, and go after the weakest part of the OSU defense. He may not break his season-best of 293 passing yards, but 26 could be in trouble.

3. The Spartans will run a trick play
Gee, ya think. Michigan State should play with nothing to lose, and Mark Dantonio isn't afraid to gamble.

"We've done a lot of research when they're called, what time they're called," Urban Meyer said of prepping for the tricks. "They do a nice job with it. They do it in big games, too. That's something we certainly spend time on."

Just because Ohio State might be ready shouldn't stop Michigan State from making the effort.

4. Urban Meyer will go for it on fourth down at least twice
The Buckeyes are 12 of 18 on fourth down this season, averaging 1.5 times a game of going for it. Ohio State may have to grind out shorter chunks of yardage against the Spartans, but don't expect Meyer to settle for field goals any more often than he normally does, and he trusts his offensive line implicitly. He'll want them to rise to the challenge against this MSU defense a couple times.

5. Ohio State will take an early lead but Michigan State will fight back in the second quarter
The Buckeyes are out-scoring opponents 220 to 52 in the first quarter. Michigan's first-quarter score for the season is 48 to 29. What a difference. Isn't that nuts? The Buckeyes' offense, with some quick tempo, should deal a first blow to the Spartans, and maybe go up two scores early before the Spartans' defense is able to adjust. Michigan State hasn't been forced to come from behind a lot, but the Buckeyes seem primed to start fast.





Five things: Ohio State vs. Michigan State
December 7, 2013 Source: ESPN - A closer look at the critical areas and key players as No. 2 Ohio State takes on No. 10 Michigan State for the Big Ten championship in Indianapolis.

Take it easy: The Buckeyes were clearly amped up emotionally against rival Michigan last week, and they paid a pretty steep price for losing focus when right guard Marcus Hall and hybrid offensive weapon Dontre Wilson were ejected. While Michigan State might not get the blood boiling like the Wolverines, there is even more on the line this week for Ohio State, which could mean even more potential for distraction. Obviously the conference title is up for grabs, but after moving into position to play for the national championship last weekend, the Buckeyes know they control their own destiny for a shot at the crystal football. It could slip away easily against the Spartans, who nearly knocked them off a year ago.

Ride Hyde: For all the emphasis Urban Meyer has placed on balancing out his spread attack this season between the run and the pass, one is clearly more effective than the other. And with Carlos Hyde rolling the way he has since Big Ten play opened, unless Michigan State's top-ranked rushing defense can shut him down, the Buckeyes would be best served handing him the ball as often as possible. It doesn't hurt to have Braxton Miller in the backfield with Hyde, and the two have formed perhaps the best tandem in the country this season. Ohio State has been more dangerous throwing the football this year, and Miller's development as a passer does make the offense more difficult to defend. But the rushing game alone has essentially been unstoppable, and if the Spartans don't have an answer early, Meyer and offensive coordinator Tom Herman would be wise to just keep pounding away on the ground.

Talk it out: When they absolutely had to understand each other on the deciding defensive snap against the Wolverines, the Buckeyes made their voices clear and came up with a season-saving stop. But too often before that, communication breakdowns combined with an overeager, individualistic approach to open up holes on misdirection plays and screens that burned the Buckeyes for big plays. Ohio State will have to stick to the script against the Spartans, because assignment errors get magnified as the stage gets larger and the opponents tougher. And Michigan State has been known to pull a few tricks out of its sleeve.

Downtown Devin: While the rushing attack figures to again get more use, the Buckeyes are almost certainly going to need to mix in some deep shots at some point. Devin Smith has already burned the Spartans once for a game-winning, 63-yard touchdown reception, and Ohio State's best threat down the field really needs to make only one play to loosen up a defense that figures to load up the box against the run. The junior now has 18 career touchdown grabs after adding one last week against Michigan, and they've covered a staggering 39.6 yards per score. With better weather conditions inside at Lucas Oil Stadium than the Buckeyes have seen during a cold, windy November in the Big Ten, Smith could sneak behind the secondary a few times.

Award-winning performance: Ryan Shazier didn't hide from the fact he was motivated by perceived snubs at awards season last year, but he didn't have a chance to make his case in the postseason after the hardware was handed out. The junior came up short in both the linebacker and defensive player of the year categories in the Big Ten earlier this week, and while he's a team-first guy, that could provide a bit of extra fuel for somebody who has already been on epic tear statistically. Shazier led the conference in both tackles and tackles for loss and forced four fumbles this season, and he was going to need to add to those numbers regardless of how the balloting went down last week. But another productive outing from Shazier might make a few voters wish they had a chance to do it over again.





Two-Minute Drill: Updates From Urban Meyer's Big Ten Championship Game Press Conference
December 6, 2013 Source: The Ozone - * Meyer said they watched last year's game against Michigan State quite a bit. He said the MSU offense is much more explosive than they were. The defense is similar. He said OSU didn't play great last year offensively in that game.

* Meyer said he thinks his past experiences in the SEC Championship Games helped in the logistics of preparing for this game.

* Meyer said Curtis Grant is still dinged up with a high ankle sprain, but thinks he will play. "Still a little bit of wobble, but he's getting better." Philly Brown has a small stress fracture in his leg, he's not full speed, but he'll go.

* Meyer said Marcus Hall will not start in the Big Ten Championship Game. Said Hall paid the penalties for the fight, but he's still disappointed in Hall's actions after the fight. Pat Elflein will start.

* Meyer said this game will be a great challenge for both teams because it's strength against strength.

* Meyer said he's expecting a tremendous environment tomorrow night.

* Meyer said Kenny Guiton has had a "real impact" on Braxton Miller this year. He related it to how Taylor Decker has improved from watching how Jack Mewhort practices. Miller never got to learn from watching like Decker until this year.

* Meyer said for the past three months, the three-game suspension has had the impact on Carlos Hyde that Meyer wanted, and he hopes it continues to impact him for the rest of his life.

* Meyer said his defense responded well this week in practice. He said he didn't see many heads hanging down.

* He said the Christian Bryant injury was incredibly emotional for everybody. Bryant came with the team to Indianapolis. He said the injury brought the team closer together because it was either that or fall apart and struggle.

* Meyer said the MSU defense is in the top three that he's ever coached against.

* Meyer said he prefers to have conference championship games indoors.

* He said they've spent time researching when and where Michigan State's special teams fake punts/field goals happen.

* Meyer said there are probably some similarities between this MSU team and the OSU team he prepared against in 2006.

* Meyer said Carlos Hyde was a good back last year, but this year he is an exceptional back. His stamina is better, he's leaner and stronger, he makes bigger plays.

* Meyer said that linebacker is still a concern. He said Josh Perry has solidified himself as a Big Ten linebacker. Curtis Grant still has some work to do. They are all getting better though, and they need to continue to try and stockpile that position.

* Meyer said that a defense can put nine in the box to stop Ohio State's run, but that's where Devin Smith and Philly Brown have to step up.

* Meyer said he hasn't heard any of the negativity aimed at his team from the media.

* Meyer said he won't sleep well tonight. He said this will be a "toughness game". "We'll find out if the Buckeyes are a tough team tomorrow night."





Spartans worried about OSU conspiracy theory?
December 5, 2013 Source: Mansfield News Journal - This isn't a conspiracy worthy of Oliver Stone or even Jerry Seinfeld. There are no grassy knolls. No second spitters. No enigmas wrapped in a mystery tucked inside a riddle.

Let's just call it curiosity.

Perhaps in no small part, the Big Ten assisted in the creation of the Spartans' nationally top-ranked defense following conversations with officials after Michigan State's 17-14 loss at Notre Dame on Sept. 20. Two controversial pass-interference calls against the Spartans arguably cost them the Notre Dame game — and, in hindsight, an undefeated season.

Michigan State cornerbacks were allowed to play more physically afterward. And since rarely have been called for pass interference.

Will the Big Ten officials continue that same latitude against an Ohio State team that could give the Big Ten its first BCS championship game appearance in seven years? There are whispers that Ohio State coach Urban Meyer already has appealed to the conference to watch the Michigan State corners closely Saturday.

Spartans cornerback Darqueze Dennard doesn't think there should be any change.

"We've got to go in there with the mind-set to just play our style of football, which is physical," Dennard said. "And the Big Ten has obviously been letting us play, and it's been great for us as a defense, as well. I think that (Trae Waynes) and I both will come in with the same mind-set like we've been playing the last couple weeks after the Notre Dame game.

"We're just going to have to see how the officiating goes and go off of that."

This matchup puts the Big Ten in what should be an uncomfortable position. It might be purely coincidental, but history certainly suggests the conference more easily looks the other way when headline-grabbing transgressions involve its biggest, most nationally influential program.

Before the tattoo scandal cost Jim Tressel his job and reputation, the Big Ten compromised its own ethical superiority when it allowed five suspended Ohio State players to participate in the 2011 Sugar Bowl, despite serious NCAA violations. The conference denied any ulterior motives, but there were suspicions the Big Ten so badly wanted to finally beat the SEC in a BCS bowl game that it created a flimsy loophole to keep those Buckeyes eligible.

Ohio State complied by beating Arkansas, but the ensuing scandal wiped the victory from the record books, if not the memory banks.

And don't you think that if Ohio State offensive lineman Marcus Hall wore anything other than scarlet and gray, he would've received far more than a lame public reprimand from the Big Ten for his double-barreled middle-finger salute to the Michigan crowd last weekend?

The conference steadfastly denies biases toward one institution over another. But it's no secret that Ohio State remains the only Big Ten football program remotely capable of regularly contending for national championships.

MSU coach Mark Dantonio asked Tuesday, "Why not us?" in regard to playing for the BCS championship should the Spartans win Saturday night — and Duke beats Florida State … and Oklahoma beats Oklahoma State … and Arizona State beats Stanford … and nobody can find Alabama after it has gone into hibernation after blowing the Iron Bowl last week.

But the Spartans have a tremendous opportunity Saturday. They can bust down a door they have politely knocked on, hoping to gain entry. They must play their best game imaginable to beat a good Ohio State team.

But the Big Ten should know that curious eyes will be watching Saturday to make sure that MSU only has to beat a team and not a conference as well.

(Note: This was written by Detroit Free Press' Drew Sharp who, as an AP Voter, ranked the Buckeyes #8...two spots lower than any other voter. The lowest besides Sharp ranked the Ohio State 5. See how the all the AP voters voted HERE)





Five key factors for OSU victory
December 6, 2013 Source: Columbus Dispatch -

1. Control the trenches
The Buckeyes' superb offensive line faces its stiffest test. Shilique Calhoun is the Big Ten's defensive lineman of the year, and the other Spartans on the front four are stout, too. The left side of Ohio State's line is excellent, with tackle Jack Mewhort, guard Andrew Norwell and center Corey Linsley earning first-team all-conference honors. But the key might be the right side. Guard Marcus Hall is eligible to play after being ejected at Michigan, but what is his state of mind? Sophomore tackle Taylor Decker has played well, but this will be a major challenge.

2. Establish balance
Michigan State is too good defensively for OSU to be one-dimensional. The Spartans also play an aggressive style that puts their cornerbacks on an island. Their corners, particularly Darqueze Dennard, are first-rate, but so are Ohio State's receivers. If the Buckeyes can keep Michigan State off-balance and gouge the Spartans with a few big plays, that would be crucial.

3. Protect the ball
Yardage figures to be tougher to come by than it has been against other opponents, so avoiding turnovers will be essential. Quarterback Braxton Miller has been careless on occasion carrying the football, and running back Carlos Hyde had the ball stripped from him last week. Coach Urban Meyer said he had told Hyde that he had been carrying it a little loose. Michigan State has 27 takeaways this season, tied for 11th-best nationally.

4. Stay disciplined on 'D'
Michigan hurt Ohio State repeatedly with misdirection, particularly on pass plays. Michigan State doesn't have the individual talent that Michigan does on offense, but that unit has improved. Ohio State must play sound fundamentally, swarm to the ball and take advantage of potential turnovers.

5. Win the kicking game
In a close game, special teams can be the difference. Both teams have excellent punters — Mike Sadler for Michigan State and Cameron Johnston for the Buckeyes. The Spartans' Michael Geiger and OSU's Drew Basil have each missed only one field goal. Ohio State has explosive kick-returners, although they haven't delivered as desired.




Two-Minute Drill: Updates from Urban Meyer's Call-In Show
December 5, 2013 Source: The Ozone - * Meyer said that Michigan did a great job of keeping the OSU defense off balance with screens and misdirections. He said that they have worked on those issues this week. "We expect to be better at it."

* He said teams have tried to throw the ball downfield on Michigan State, but few have succeeded.

* Meyer said that Tyvis Powell has a good future ahead of him at Ohio State. Right now he's playing at a level which makes it difficult to take him off of the field. He thinks he has a future in the NFL.

* He said he's never had a group of running backs and offensive linemen who work as hard as the group he has now.

* Meyer called Carlos Hyde selfless. "He runs for his line and his teammates."

* Meyer on Bradley Roby: "There's no questions about Roby. He's playing very well right now."

* Meyer said that going into the game, if they had needed Pat Elflein to start he would have been okay with due to his work.

* On MSU, he said their offense is much improved. The defense is more than just scheme, "it's excellent players", and those players follow their job responsibilities as well as he's never seen.

* Meyer said it all starts at cornerback for MSU because they're so talented, they allow the safeties to focus on supporting the run. They also bring different looks on the defensive line and back up their blitzes differently than most teams.

* Meyer said that you can stop Michigan State's run, but you can also expose yourself to the play-action in trying.

* Meyer said he thinks his players play so hard because they care about each other and the coaches.

* A caller told Meyer that the offensive line needs to stay on their blocks longer. Meyer said the caller was watching the wrong offensive line because this is the best line in the nation, and the best he's ever been around. He told the caller to enjoy this offensive line because next year's will miss some blocks. He then said that they needed to move on before he explodes.

* Meyer said he hasn't looked at any of the All-Big Ten Awards, he's got bigger things on his mind this week. He said his players feel the same way.

* Meyer on Brady Hoke going for two: "I think the other coach probably did the right thing."

* Meyer said they have to make sure not to get their team too worked up before the game actually kicks off. Lou Holtz told him back in 2006 that you have to make sure your team is hitting its stride at kickoff, and you can't let them get worked up during the day for a night kickoff.

* Meyer said they've turned the temperature up to 78 degrees in the practice facility to prepare for the indoor conditions in Indianapolis. He said they are "hydrating like crazy" this week to battle any cramping issues.




Shawn Springs Talks OSU-MSU Championship Game



KEY MATCHUP
Ohio State quarterback Braxton Miller faces the nation's No. 1 ranked defense. Sure, TB Carlos Hyde has been putting up the big numbers lately, but Miller is the guy who makes the Buckeyes go. And his versatility will be a strong test against the stingy Spartans, who are allowing 11.8 points per game this season.

PLAYERS TO WATCH
Ohio State: RB Carlos Hyde is coming off a record-setting performance against Michigan and is the first 1,000-yard runner Meyer has coached. If he continues to run roughshod this weekend, the Buckeyes should be headed to the national championship game.

Michigan State: QB Connor Cook. When the season began, there was little doubt the defense would hold up in the rugged Big Ten. The question was whether the Spartans could keep up in the scoring column, and the sophomore from Ohio has provided that spark. Source: Associated Press





Dienhart: 10 reasons why Ohio State can win
December 4, 2013 Source: BTNnbsp;- There's a lot to like about Ohio State and its chances to beat Michigan State in the league title tilt and win the Big Ten championship. The biggest hope is a killer offense. Here are 10 reasons why the Buckeyes can win the conference and perhaps go to the BCS title game for the first time since making back-to-back appearances after the 2006-07 seasons.

1. Mojo. The Buckeyes are on a big-time roll, having won 24 games in a row. No one in the nation is hotter. There is an air of invincibility surrounding this team that never has lost with Urban Meyer standing on the sideline. That's a heck of an intangible.

2. Braxton Miller. Is there a more sensational and dynamic player in the nation? Of course not. Miller is the epitome of the old adage "he can score any time he touches the ball." He missed almost three games in September but has been on a roll since coming back from that knee injury, finishing the season No. 2 in the Big Ten in passing efficiency. And the junior has become a better passer, making him one of the nation's ultimate weapons.

3. Something to prove. The Buckeyes went 12-0 last year but were ineligible to win the Big Ten or go to a bowl game while on probation. This team wants to show that it's legit and worthy of its lofty ranking, as this would be a signature win on Ohio State's resume.

4. Carlos Hyde. He missed the first three games while serving a team suspension but has come on to develop into the top running back in the Big Ten—if not the nation. Hyde has eclipsed the 100-yard rushing mark in each of the last seven games. And on a few occasions, he has literally carried the Buckeyes to victory. Remember the game at Northwestern (26 carries/168 yards)? He averages a Big Ten-high 143.4 yards rushing per game.

5. Urban Meyer. The guy is one of the nation's ultimate big-game coaches, boasting two national titles on his resume. He also coached the original BCS-buster at Utah in 2004. Few are better on game day than Meyer.

6. Blockers. This is the top offensive line in the Big Ten. A lot of credit goes to coach Ed Warinner, whose star pupil is tackle Jack Mewhort. Bookend Taylor Decker also is strong, and center Corey Linsley is a star.

7. Front seven. This is an athletic group that has few peers. The d-line replaced all four starters. No issue. End Noah Spence is one of the Big Ten's top pass rushers. Tackle Michael Bennett is an underrated force who makes plays on the interior. And there is no better true freshman defensive lineman in America than end Joey Bosa. The linebackers have gone from suspect to strong, with Ryan Shazier proving to be the ultimate athletic linebacker.

8. Offense. This is one of the nation's most high-powered attacks. The Buckeyes have the Big Ten's No. 1 scoring offense (48.2 ppg); No. 1 total offense (530.5 ypg); No. 1 rushing offense (321.2 ypg); No. 1 pass efficiency offense (164.0). If this game turns into a track meet, the Buckeyes will run away with it.

9. Eyes on the prize. Ohio State knows what's potentially at stake—a trip to the BCS title game. Pressure? You bet, but this team has dealt with pressure all season as the wins have accumulated. Ohio State is everyone's biggest game. No stage fazes this team.

10. Devin Smith and Corey Brown. No, these wideouts won't make Buckeye fans forget about Ted Ginn, David Boston, Joey Galloway or Terry Glenn. But they can get the job done, time and again getting behind defenders for big gains in an underrated Ohio State passing game. Brown has 50 catches for 602 yards and nine touchdowns; Smith has 41 grabs for 644 yards and eight scores. And if MSU sleeps on tight ends Nick Vannett and Jeff Heuerman, it'll get burned.






Big Ten Championship 2013: How Ohio State will run on Michigan State
December 4, 2013 Source: Land -Grant Holy Land - The Michigan State defense is very good. Actually, it is excellent and the one of, if not the best in the country. The Spartans are 4th in the nation in scoring defense, allowing an average of 11.8 points per game (Florida State is first in the country allowing an average of 11 points per game). They allow the fewest yards per game in the country at 237.7 yards per game. To get a comparison, the Buckeye defense is 30th in the country, allowing an average of 355.8 yards per game. Is the pass defense vulnerable, though? It's 9th in the nation allowing 172.9 yards per game and tied for first with Florida State in yards per attempt at 5.1.

The real strength of this Spartan defense is their run defense. They are first in the nation in that category allowing only 64.75 yards per game (by comparison, the second best in the nation is Louisville, averaging 82.82 yards per game). Yards per rushing attempt? First in the nation at 2.23 yards per carry. Rushing touchdowns allowed? Second in the nation with five. Sparty has only let up 777 rushing yards in 12 games; the stout Buckeye run defense has allowed 423 more yards and they are sixth in the nation.

This is where this matchup is so intriguing: the Buckeye run game versus the Michigan State rush defense. Ohio State has rushed for 3,855 yards, the best in the nation, and they are tied for 4th in the nation with 40 touchdown carries.

I chose the Nebraska game because they were one of the only teams to have success versus this Michigan State run defense. The Huskers run similar formations to the Buckeyes, so I thought it would be a good measuring stick to see how the Spartans line up and play against the different formations. Nebraska found rushing lanes the entire afternoon, rushing for 182 yards on 32 carries. With Taylor Martinez out, the Cornhuskers were relying on their two back up quarterbacks and had a 50/50 run/pass split.

Everyone knows what Carlos Hyde, Braxton Miller and the best offensive line in the country do; let's take a look at how they should attack the vaunted Michigan State rush defense.

Film Review...


1. Getting linemen to the second level
2. Not getting to the second level
3. Spread out the defense
4. Short yardage formation
5. Read option

Conclusion

After rewatching this game, I believe the Buckeyes will be able to run against the Spartan's defense. The MSU defensive line looked vulnerable, as they were blocked 1-1, with success for most of the day. I think the big and athletic Buckeye offensive line will win their fair share of battles against the Michigan State front seven which will then open up playaction. I would open up the game by making Miller comfortable, throwing screens and getting him in rhythm, making the linebackers and secondary respect the pass. I would then attack their front seven with Hyde and the offensive line, wearing them down the rest of the game. Once the linebackers are cheating towards the run, that is when Coach Herman likes to use play action and hit Heuerman in the seam or Devin Smith deep...



C Corey Linsley talks about MSU, a tough test from a stout defense and motivation for #2 Buckeyes.



B1G title game scouting report: MSU
December 5, 2013 Source: ESPN - No. 10 Michigan State and No. 2 Ohio State have kicked off 24 football games this year and walked away a winner 23 times.

So at the risk of seeking information from wrong sources, ESPN.com surveyed coaches who faced the Spartans and Buckeyes for tips on how to succeed against the Big Ten championship game participants.

We granted anonymity to the coaches, position coaches and coordinators from inside and outside the Big Ten, in order to ensure the most candid responses...




B1G title game scouting report: OSU
December 5, 2013 Source: ESPN - We complete our look, from the opposing-coach perspective, at the Big Ten championship game with second-ranked Ohio State.

Iowa coach Kirk Ferentz wrapped our report on Michigan State, so let's give him the floor to open the discussion about the Buckeyes, who beat Iowa 34-24 on Oct. 19 -- Ohio State's second-closest game of the year before its one-point escape last week at Michigan.

While the Buckeyes' opponent Saturday night relies on its defense to carry the load, coach Urban Meyer's team leans on an offense that leads the Big Ten in most statistical categories and tops the nation in yards per rush and red-zone efficiency.

"There's really not a weakness," Ferentz said. "Their line is veteran, they've got four seniors up front. They're very good, very well coordinated. The whole scheme and concept is well-coordinated.

"The thing that makes them a challenge offensively is they've got a good receiving corps. They've got, if not the best back, one of the best backs in our conference, and they've got a quarterback who can run and throw. It's like a team that has 12 guys."

And with that, here are excerpts from our conversations with Big Ten coordinators and assistant coaches who played -- and lost to -- the Buckeyes this year. As with the Michigan State report, we granted anonymity to the coaches to ensure the most candid responses...




Five things to know about Big Ten championship game
USA Today - Five things to know about the Big Ten football championship between No. 2 Ohio State (12-0) and No. 10 Michigan State (11-1) at 8:17 p.m. Saturday at Lucas Oil Stadium:...







Tom Herman compares current Buckeyes to 2012 team that played Michigan State



What can be learned for Saturday and what should be thrown out from the 2012 Ohio State-Michigan State game: "We're different"
December 4, 2013 Source: Cleveland Plain Dealer - How long ago was the last Ohio State-Michigan State matchup?

That was the day the Buckeyes found Carlos Hyde.

Seventeen starters – nine from Ohio State and eight from Michigan State – remain from the matchup that was now 19 games ago for the Buckeyes, 20 for the Spartans.

Ohio State's 17-16 win over Michigan State on Sept. 29, 2012, was win No. 5 in Ohio State's 24-game winning streak, and Urban Meyer's first Big Ten game.

Considering how it changed a team that finally got what Meyer was trying to sell them after a rough first month, it may as well have been win No. 1.

A rewatching of that game this week showed how much the foundations for these current teams were in place, and that could be useful for their showdown Saturday in the Big Ten Championship in Indianapolis.

It also showed what could be ignored. Because this is not that.

"We're a lot … we're different," Ohio State offensive coordinator Tom Herman said Monday. "The numbers on the jersey and the names on the back might be the same at a lot of positions, but we're better. We're better than we were last year, and they are, too, on defense. Let's not kid ourselves on that, either...




Scouting Report: Big Ten assistants on Ohio State
December 3, 2013 Source: BTN - The coaches for Michigan State and Ohio State are furiously game-planning for the Big Ten championship game. I asked several Big Ten coordinators who have prepared for and stared down the Spartans and Buckeyes for their off-the-record views and ideas on how to attack each team.

Here's what they said.

***SCOUTING OHIO STATE***

To stop that offense, you better be, No. 1, big enough, and No. 2, athletic enough, to make tackles at the d-line position. The d-line needs to be gap-sound and to get off blocks, or those guys will get through there. And I think Michigan State has four linemen who can do that.

Playing Ohio State is like playing Navy: You have to stop the dive. With Ohio State, stop the inside run. If you can stop the inside runs on the A and B gaps, and if you then can stop the screen game, now you are cooking with gas and you have a chance to make some hay on the play-action passing game and quarterback runs. MSU is physical enough that when they hit the quarterback, it's gonna hurt.

[ MORE: Scouting Report: Big Ten assistants on Michigan State]

Braxton Miller is good. He has really changed his game in one year. He's fast, accurate. It's like having Derek Jeter at quarterback. He can throw it at awkward angles and with some gas on it. He can throw the screen, the seam route, throw with touch. Every time a tight end releases, MSU has to mug him.

It's all very challenging because Miller is so athletic. He's just so elusive. If you have him bottled up in the run game or pass game, he can make you miss in a different way than anybody else in the Big Ten. He can jump-cut in a small area, and all of a sudden, you are just grabbing air.

The aspect of Carlos Hyde coming on and being a very good power runner is also backed by the complexity of the offense. They tend to spread you out, so that gives them the screen game. And they also can throw the ball down the field as we saw vs. Michigan. As far as trying to stop them, I think you have to spy someone on Miller. Once he pops through the line, you need to be able to contain him. If he gets going in the run game, it's a little like Johnny Manziel where he can make so many things happen with his arm and legs. It becomes really difficult to defend.

They are just a well-balanced offense. It's hard to say you are just going to stop Miller or you just are going to stop Hyde. They have good receivers. Devin Smith is really good. You have to play good, fundamental defense. Northwestern was able to cause a few turnovers, which really allowed Northwestern to be in the game.

The other thing about the Urban Meyer offense, he frequently in third-and-medium or first-and-10 will do the quick quarterback rollout and throw the ball into the flat for a five- or six-yard gain. That's always been kind of a staple play. But when you play a tight, man-to-man coverage like MSU, that's not available. That's something to look for.

So, Michigan State needs to take the A- and B-gap running game out, stop the screen and don't let a tight end get off the line of scrimmage. And the Spartans need to make Miller beat them throwing the ball outside the hash marks.

Against their defense, we got after them with an extra man in the run game with zone schemes. If they want to play coverage, we have an extra runner and if we get things blocked up, we can move. Bradley Roby was good, but we thought we could have some success vs. that secondary throwing the ball.

A lot of teams have put up points on them. Michigan has a below-average offense and was able to put 41 on them. It's a good matchup. Michigan State has improved on offense, but Ohio State on defense probably has a lot of self-doubt as it pertains to being able to stop anybody.

Special teams will be critical for Ohio State. You can't emphasize enough the need to not get punts blocked or allow long returns and touchdowns. Ohio State and Urban Meyer are very aggressive at coming after punts. If you just go through your standard operating procedure, there's a chance you'll get a punt blocked against them. MSU punts well but its protection will have to be very good. They have to speed up their operation time. If OSU doesn't block that punt at Northwestern, I think Northwestern wins that game. When we punted vs. OSU, we had an extensive plan to use different formations and tempos and speed up the punt and move the kick point around. We also had some fakes in. You have to be able to slow them down. When it's 4th and over 10 and you are backed up, they will hit you up. They are good at blocking punts. They practice the heck out of it.





On Monday, December 2, 2013, Ohio State and Michigan State players spoke with reporters from around the country about the upcoming Big Ten Football Championship game in Indianapolis. Listen to what group of players each had to say about reaching the title game and their opponents:







B1G Breakdown: Position by position
December 3, 2013 Source: BTN - Here's a look at the matchups for each team. Who has the edge?

Let's go position by position.



***OFFENSE***



BACKFIELD

Michigan State: In September, this area was a mess. Now, it has become an unabashed strong suit. Connor Cook has emerged as the unquestioned leader at quarterback, but he's still a work in progress. His passing can be spotty but he has 17 TD strikes with just four picks. Jeremy Langford is a physical runner who has proven to be the answer at running back, eclipsing the 100-yard rushing barrier in each of the last seven games and has 1,210 rushing yards on the season. No one saw this coming.

Ohio State: Braxton Miller may be nation's most deadly weapon. No one is better in the open field as a runner (891 yards rushing), as he's the quintessential big play waiting to happen. He also has augmented his passing, ranking No. 2 in the league in passing efficiency. Carlos Hyde is a physical runner who can carry the Buckeye to victory. He's arguably the top back in the Big Ten, running for more than 100 yards in each of the last seven games. Hyde has 1,290 yards rushing on the season in about seven games of work.

Advantage: Ohio State

RECEIVERS

Michigan State: This unit was plagued by myriad drops in 2012 and entered the season under intense scrutiny. Well, the receiving corps has stepped up big time. Bennie Fowler (31 catches for 496 yards and six TDs) has been the leader, but Tony Lippett also has been effective with a team-high 35 grabs for 454 yards. Macgarrett Kings, Jr., has been a revelation as a sophomore. MSU doesn't get much receiving-wise from its tight ends.

Ohio State: This group incurred the wrath of Urban Meyer upon his arrival in 2012. Now, it's a strong unit. There is no Terry Glenn, Ted Ginn, David Boston or Joey Galloway, but Devin Smith and Corey Brown are physical targets who run good routes and can make plays. Smith leads the team with 644 yards receiving (41 catches) with eight TDs. Brown has a club-best 49 receptions for 596 yards and nine scores. Evan Spencer is another bigger wideout who can pose some matchup issues. The tight end tandem of Jeff Heuerman and Nick Vannett is sneaky good; they can block and catch. Each is 6-6, 250.

Advantage: Ohio State

LINE

Michigan State: The Spartan front was maligned by injury in 2012, which prevented the unit from developing chemistry and cohesion. But it all has come together for the group this fall, as it has been the strong point of the offense. Guard Blake Treadwell has been the best of the bunch. Tackle Jack Conklin is a former walk-on who is excelling as a redshirt freshman. Center Jack Allen plays with the physicality of a defensive lineman. He's a stud.

Ohio State: Urban Meyer has said time and again how well he thinks this unit has played this year. No doubt, the group has come a long way since the first spring practice in 2012. Left tackle Jack Mewhort is the lynchpin who is among the best in the program's recent history. Right tackle Taylor Decker could be the next great one. Corey Linsley is a force in the pivot. Guard Andrew Norwell is a brawler on the interior.

Advantage: Even



***DEFENSE***



LINE Michigan State: End Shilique Calhoun has made everyone forget about William Gholston. Calhoun plays hard every down and is equally adept at playing the run as he is at rushing the passer. Fellow end Marcus Rush is a bit light in the pants, but he can get after it. Micajah Reynolds is a massive presence (6-5, 320) on the nose. Tyler Hoover (6-7, 310) is difficult to root out of the interior, too. Depth is good, allowing for a rotation of fresh bodies. Ohio State: The Buckeyes had to replace all four starters from 2012. No big whoop. This is an uber-talented group. Noah Spence has emerged as a pass-rushing force with a quick first step. Tackle Michael Bennett is an underrated presence who ran rush the passer. Precocious end Joey Bosa has been one of the most impactful true freshmen defensive linemen in the nation. Guy is gonna be an All-American.

Advantage: Michigan State

LINEBACKERS Michigan State: This is the top group of linebackers in the Big Ten. Max Bullough is the man in the middle, a heady, tough player who is like a coach on the field. Denicos Allen is a safety masquerading as a linebacker. He's always around the ball and in the backfield, excelling in space. Taiwan Jones is a massive presence (6-3, 232) who can take on the run in the boundary. Jairus Jones and Ed Davis bolster this deep corps. So much talent. Ohio State: This was an area of concern in 2012, but it has improved this season. Ryan Shazier is without peer in the Big Ten. He's a deadly blend of athletic ability and power, able to take on blocks and make plays from sideline to sideline. He's tops in the league in tackles and TFLs. He's also the Big Ten's best defensive player. Curtis Grant is a former five-star recruit whose is starting to pay dividends. Joshua Perry and Carmen Williams are promising sophomores who can run and hit.

Advantage: Michigan State

DEFENSIVE BACKS

Michigan State: The Spartans may have the best collection of defensive backs in the nation. Darqueze Dennard may be the top cornerback in America, a true shut-down force who takes away one-third of the field. Trae Waynes is a big corner (6-1, 175) on the other side who is underrated. The safety tandem of Isaiah Lewis and Kurtis Drummond is without peer. Two physical hitters who can play in space.

Ohio State: This is the most suspect area on the Buckeye defense. Losing heavy-hitting safety Christian Bryant to a season-ending injury hurt. He was a senior captain who broke an ankle in the Wisconsin game. Corner Bradley Roby is a future first-round draft choice who is equally adept at covering as he is playing the run. Doran Grant is a physical corner who can be beat. Safeties Corey Brown and C.J. Barnett are solid but can get lost in coverage.

Advantage: Michigan State

SPECIALISTS

Michigan State: The Spartans have one of the nation's top punters in Mike Sadler. He should have been a Ray Guy Award finalists but wasn't. Shameful. Sadler averages 42.4 yards per boot and is adept at placement with 29 inside the 20-yard line. Michael Geiger arrived as the nation's most touted kicking prospect and has delivered, nailing 12-of-13 field-goal attempts. Kid has a big leg, drilling all six of his attempts between 40-49 yards with a long of 49. Macgarrett Kings, Jr., and Andre Sims are good punt returners.

Ohio State: The Buckeyes usually score touchdowns. But Drew Basil is a capable kicker, hitting 8-of-9 field-goal attempts but his long is from just 45 yards. Aussie Cameron Johnston is a good punter, averaging 43.6 yards per boot with 23 kicks inside the 20. Lots of athletes on the coverage teams.

Advantage: Michigan State





No. 2 Ohio State B1G Championship Game Notes
DEcember 2, 2013 Source: OSU Official Site - Kickoff set for 8:17 p.m. ET on FOX...



First and 10

• Ohio State enters the game with the nation's longest win streak at 24 games -- a program record.

• The Buckeyes are making their first Big Ten championship game appearance.

• Ohio State leads the Big Ten and ranks third in the NCAA in scoring with 48.2 ppg.

• Ohio State also leads the Big Ten and ranks second in the NCAA in rushing with 321.3 ypg.

• Ohio State ranks fifth nationally in rushing defense (100.0 ypg) and is one of two FBS schools to not allow a 100-yard rusher in 2013 (Syracuse).

• Junior QB Braxton Miller needs 166 total yards to reach 8,000 yards of total offense (7,834) and only 43 passing yards to top 5,000 for his career.

• Senior RB Carlos Hyde is the first RB under Urban Meyer to rush for 1,000 yards in a season. He leads the Big Ten in rushing in B1G play with 156.1 ypg. His 226 yards at Michigan were the most by an Ohio State RB in the OSU-UM rivalry.

• Hyde and Miller have combined for 1,070 rushing yards with 13 TDs in the past three games.

• Junior LB Ryan Shazier leads the Big Ten in TFL with 21.0. He has 50 tackles in his last three games (16 at UI, 20 vs. IU and 14 at UM).

• Head coach Urban Meyer is 2-1 in conference championship games and 9-2 in games played in December and January.

SIX COMMON OPPONENTS
Ohio State and Michigan State have played six common opponents this season: Michigan, Iowa, Northwestern, Indiana, Illinois and Purdue. Ohio State's total margin of victory in those games was 130 points; Michigan State's was 126.

OHIO STATE INDOORS
The Buckeyes have an official, all-time record of 14-5 in games played indoors. Ohio State has not played indoors since the 2011 Sugar Bowl game vs. Arkansas at the Superdome, a win for Ohio State that was later vacated. The most recent indoor game prior to that was the 2009 Fiesta Bowl against Texas at the University of Phoenix Stadium.

SERIES HISTORY
Ohio State and Michigan State are meeting for the 42nd time overall and for the first time on a neutral field. Ohio State leads the all-time series, 28-13, and has won eight of the last nine overall, including last year's 17-16 win in East Lansing on Sept. 29.

BRAXTON NOW SECOND IN TOUCHDOWNS
Braxton Miller's four-touchdown game against Indiana moved the junior signal caller past 2006 Heisman Trophy winner Troy Smith and into sole possession of second-place on Ohio State's career list. With five more at Michigan Saturday he now has 77 touchdowns responsible for. Miller has 49 touchdown passes and 28 rushing touchdowns. Art Schlichter (1978-81) holds the record with 85.

Ohio State at Michigan State Game Notes






Press Conference Transcript
December 2, 2013 Source: OSU Official Site - Coach Meyer and Coach Herman met with the media during the weekly press conference...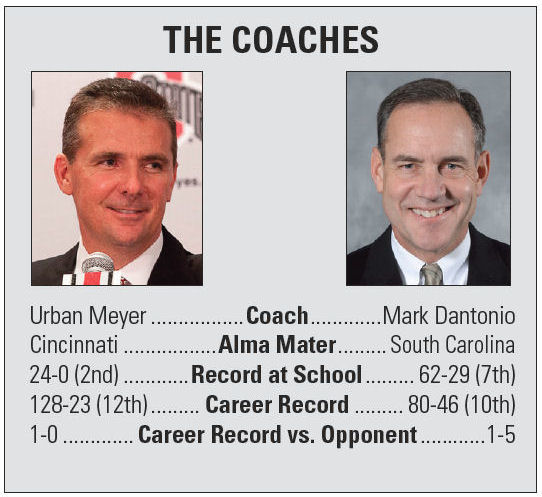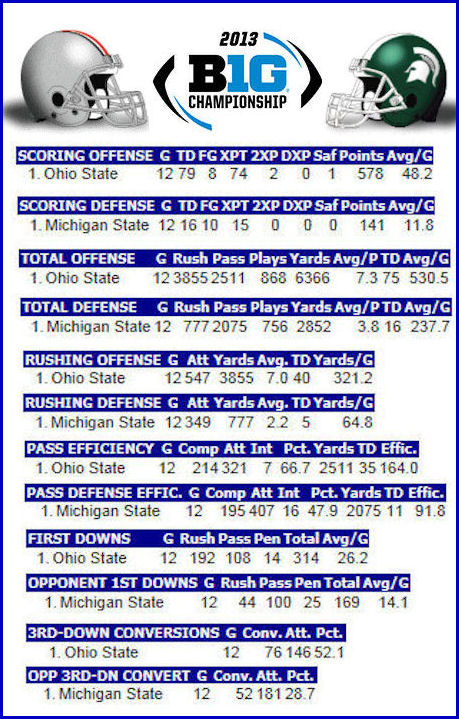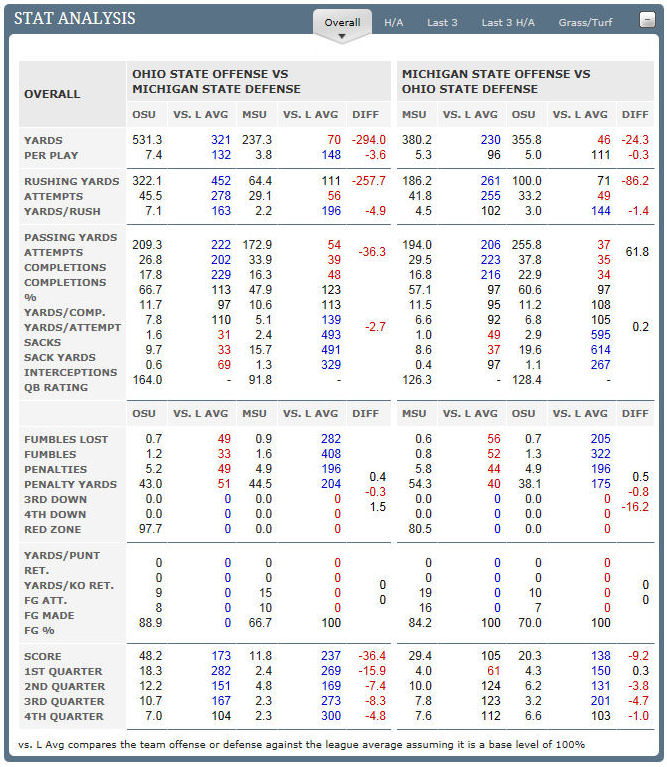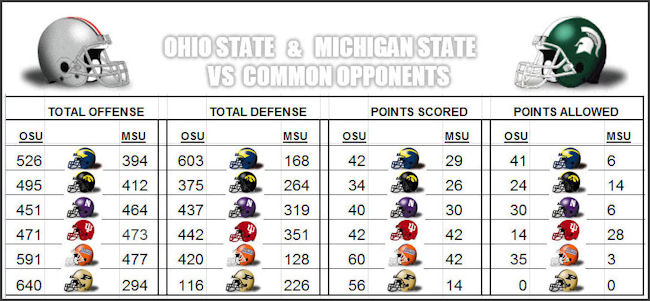 Meyer said Friday that MLB Curtis Grant has been battling a high ankle sprain and will try and play. Backup Camren Williams has also dealt with injury issues. He also said WR Philly Brown has been dealing with a stress fracture in his leg that has limited his availability.



B1G Title Game Data: OSU vs. MSU
December 6, 2013 Source: Bucknuts.com - Pertinent info, depth charts and a prediction as No. 2 Ohio State takes on #10 Michigan State. Coaches: Ohio State, Urban Meyer (second year at OSU, 24-0; 12th year overall, 128-23; vs. MSU, 1-0); Michigan State, Mark Dantonio (seventh year at MSU, 62-29; 10th year overall, 80-46; vs. OSU, 1-5). Ohio State has won eight of the last nine meetings, dating to a loss at MSU in 1999. MSU's lone win in that stretch came in 2011 in Columbus (10-7)...


Indianapolis Weather Forecast


December 6, 2013 Source: Columbus Dispatch


Cover story: Braxton Miller is a leader with a following
Ohio State spotlight: LB Ryan Shazier
Who Has the Edge: Ohio State or Michigan State
Play of The Week: Pistol Y, skinny post
Michigan State spotlight: LB Denicos Allen
Across the ball: Bullough is 'computer on the field' for Spartans
Game predictions: Ohio State vs. Michigan State
Recruiting: Ohio State commitments seeking state titles & more...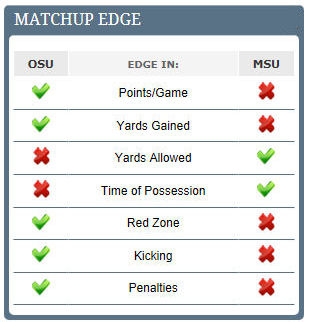 #2 OHIO STATE vs #10 MICHIGAN STATE
Source: Phil Steele Sports - A win here puts the Buckeyes in the BCS Champ gm while MSU looks to be in good shape for their 1st Rose Bowl appearance s/'87 win or lose. The Buckeyes come in winners of 24 str gms (longest streak s/USC '03-'05). It will be Irresistible Force vs Immovable Object here as the Buckeye ground gm is arguably the best in the ountry avg 321 ypg (7.0) and will be taking on a MSU rush D that is all'g just 65 ypg (2.2). The Spartans finished an unbeaten B10 season for the 1st time s/'66. While they have held 5 of their L/6 opp w/o a td, that one opp, Neb had 28 pts and 392 yds and MSU won the gm due to 5 Husker TO's. Now they face an OSU offense that is avg 48 ppg and 531 ypg.

PHIL'S FORECAST: OHIO ST 30 MICHIGAN ST 20





Preview: No. 2 Ohio State vs. No. 10 Michigan State Source: Eleven Warriors





MSU vs. OSU Preview Source: The Ozone






Big Ten Championship Game Predictions: OSU 27, MSU 23
December 5, 2013 Source: OffTackle Empire - The Big Ten Championship Game is upon us. And not only is it meaningful, but it's going to be hardfought according to our...experts. Seven of our writers picked OSU, while five writers picked MSU. Your OTE Writers PREDICT:

OHIO STATE 27, MICHIGAN STATE 23

goAUpher: My completely worthless prediction? MSU holds OSU in check for most of the game but Braxton and Co. are able to break through enough to take a lead that MSU can't top despite a decent offensive performance. Call it Ohio State 35, Michigan State 31

Ted Glover: 34-24 OSU (I originally had it 31-17, but I think OSU will score a little bit more, and it's going to be a closer game than I originally thought)

Jesse Collins: There are a few immutable truths of College Football these days, #1 being that the more we know about an outcome, the more likely said outcome will disappear into an oblivion of randomness. I fully believe that Ohio State can move the ball on MSU, and I fully believe that the front seven of OSU can force Cook to play Superman. I also fully believe that OSU is the better overall team who by all accounts should win. MSU 24-OSU 17 because that would be very B1G of us.

C.E. Bell: There's a reason why Gameday picked Indianapolis. Undefeated Ohio State versus Undefeated in Conference (and should be undefeated overall if referees understood pass interference) Michigan State. Smashmouth Buckeye running game versus smashmouth MSU defense. Meyer vs. Dantonio. This is going to be a brutal, slug-fest of a game. And as much as this might pain the conference.....I think Sparty wins, riding an absolutely tenacious defense, crafty special teams play, and a good enough offense led by Connor Cook to victory. Sparty 19 - Ohio State 14.

Aaron Yorke: I'm no SEC shrill, but it will be nearly impossible for Ohio State vs. Michigan State to top the drama that took place in Auburn on Saturday. However, this should be one heck of a game in its own right. I'm surprised that the Buckeyes are favored by 5.5 right now considering how much they've struggled with inferior opponents lately. They've allowed at least five touchdowns in two of their last three games. I think MSU wins 21-20.

Candystripes: Look, Mark Dantonio is a great coach, and what Michigan State has done this year is impressive. Sparty has had a great year, and will be an excellent Rose Bowl participant. All of that said, Ohio State is going to come out and run over Michigan State in Indianapolis. Urban Meyer is too good of a coach to let his team get complacent now, and unless the solar system class (downgraded from galaxy class) defense of Michigan State forces Braxton Miller into more than 2 turnovers, the Buckeyes are going to win. Ohio State 35, Michigan State 21.

MNWildcat: I hadn't realized until today that Ohio State is ranked second in the nation in rushing yards per game, with 321.3, averaging an absurd 7.05 ypc. That's best in the nation by nearly a half yard. Obscene. Michigan State, equally obscene, is 1st in the nation in rush defense at 2.23 ypc and 64.8 ypg, and that's not even close. You literally cannot ask for a better clash of offense vs. defense in a final. Ohio State will get their due touchdowns, and the onus is on Michigan State to keep up. They try vainly, but fall just short. Ohio State, 30-23.

Jon Franz: I like the Buckeyes. The defense was embarrassed on Saturday. I think they make a statement this week.

Green Akers: Look, I know what's probably going to happen. Urbz's machine is impressive. 4 talented senior linemen plowing the way for Hyde the Dumptruck would be a very good offense even without Braxton Miller, and the defensive line has started to realize its immense potential, too. But I also see a team that just yielded 41 points and 600 yards to a Michigan offense that managed about 3 feet on the ground the previous month...The greatest class in Michigan State history will find a way to get this done. Should be a hell of a game. MSU 30, OSU 28

babaoreally: OSU 24 - MSU 14

hail2orngenblue: Ohio St-31 Michigan St-30. While nation argues for Auburn, other SEC Tigers sitting back waiting to pounce. Mizzou pretty damn good, tough task for Auburn to play at that level 3 straight games. Then we'll get a month of "Ohio St doesn't deserve to be there" vs Winston-less FSU. Fitting death to the BCS

Graham Filler: MSU 21, OSU 17...



Brian Bennett looks at some keys in the Ohio State-Michigan State game



2013 Big Ten Championship Prediction: Michigan State vs. Ohio State
December 2, 2013 Source: WhatIfSports.com - Urban Meyer would earn $100,000 for beating Michigan State in the Big Ten Championship game in Indianapolis.

So much was made about the Buckeyes' defense - or lack thereof – after Michigan lit it up for 41 points last Saturday. However, for those casual football fans, Ohio State's defense has been a bug-a-boo for most of the season. They allowed 20 or more points in seven out of their 12 regular season games. Illinois and its 62nd-ranked scoring offense dropped 35 points on the Bucks a few weeks ago.

Ohio State's hyper-offense has masked a lot of the deficiencies with Braxton Miller and Carlos Hyde pacing the third-ranked scoring offense in the nation at over 48 points per pop.

The Spartans have scored more than 48 points in a game only once this season (vs. Youngstown State). However, their fourth-ranked scoring defense has allowed 20-or-more points only twice this season. Oh, and that pesky Illinois offense that dropped 35 on the Bucks? Sparty held them to three points.

We simulated Ohio State and Michigan State 101 times and the Buckeyes come out on top 55 percent of the time by an average score of 21-20.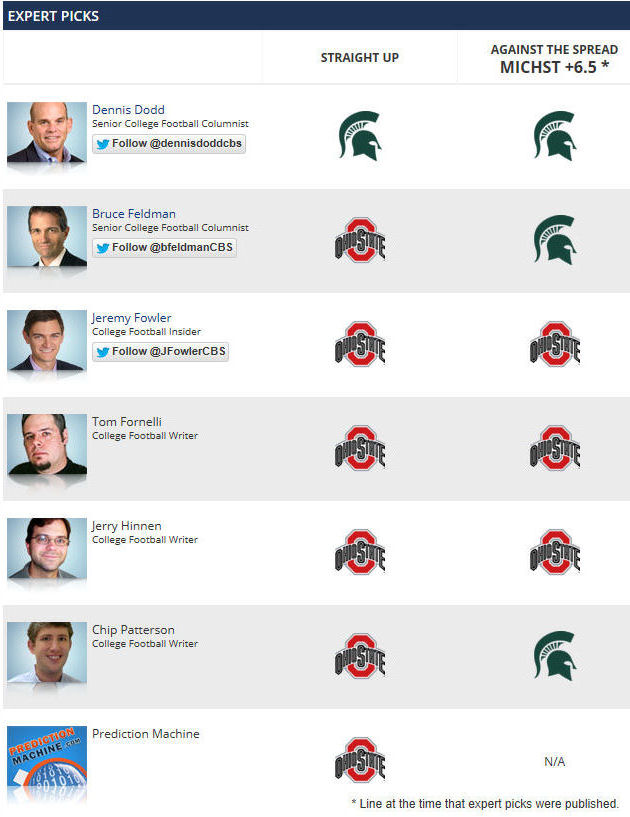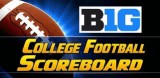 Ask Griff: Big plays, bit hits, turnovers key Michigan State football hopes in Big Ten title game
December 7, 2013 Source: MLive - Lucas Oil Stadium will be filled with big hits and big plays tonight, and that should ultimately be the determine factor.

Think: Big plays, turnovers, and physical force.

"We'll find out if the Buckeyes are a tough team,'' said Urban Meyer, coach of No. 2-ranked Ohio State (12-0, 8-0).

"We're not out here to make friends,'' said Michigan State, coach of No. 10-ranked Michigan State (11-1, 8-0).

So that's the mood heading into the Big Ten championship game, which kicks off at 8:17 p.m. on Fox.

Now, your questions:...

Q: Will a big factor be how tight the refs call the game? scrambling QBs usually equate to lots of holding penalties. aggressive Ds usually equate to lots of pass interference and roughing the QB calls. Other than the ND abomination, every MSU game I've seen has been called pretty fairly for both teams. The national storyline is high-powered offense v. high-powered defense so it behooves the refs to call it cleanly. That being said, whether we win or lose, I hope that penalties are no part of the post-game discussion. If, however, Delany sends the memo, only God Himself will be able to help us.

GRIFF: Obviously the way the game gets called in the secondary will be a big factor. No one has forgotten how the Notre Dame turned out with five pass interference penalties, two or three of them questionable...




Two-Minute Drill: Updates From Mark Dantonio's Big Ten Championship Game Press Conference
December 6, 2013 Source: The Ozone - * Dantonio said they've treated this game as an away game, which they did last year as well. They're not changing anything they've done during their road games this year. That includes their practice schedule.

* Dantonio said this Ohio State defense is the best the Spartans have seen this year.

* Dantonio said that they do still take some things from last year's game. For instance, they now know what to expect from guys like Braxton Miller, Carlos Hyde and Devin Smith. He said everybody playing is a year older than they were last season, so they're a year more experienced.

* Dantonio said that he knew the MSU offense would eventually find a groove, and it's been gratifying to watch it happen this season. He said last year they were more one dimensional than they are now. He said their balance this year allows them to widen the gap in close games this season.

* Dantonio said he has talked to his team about what this game means for the football program and Michigan State's fans. Their goal every year is to win a Big Ten Championship and play in the Rose Bowl, so the significance of this game is lost on nobody.

* Dantonio was asked for his thoughts on Braxton Miller and Carlos Hyde: "In terms of Braxton Miller, I see a magician, a guy with a sixth sense, a guy that can take a bad play and make it a very good play, a guy that can create, a guy that's conceptually – you can know what Ohio State is doing, be right on top of it, do what you do to stop it that particular time, but he can create and make it a good play. We have to be able to defend the loose plays. He's been excellent at that. Second thing, Carlos Hyde is a bull of a runner. He's not just tough, he's fast. We've got to be able to control him. That's designed runs with him. Also has the ability to catch the football."

* Asked if his offense needs to get out to a fast start, Dantonio said they need to be consistent and have more points at the end of the game, not the beginning. But he recognizes the efficiency with which OSU has performed early in games. He said they can't simulate the speed of the game that Braxton Miller provides, so they'll have to adjust on the fly.

* Dantonio said Miller is more of a tailback type of runner than Denard Robinson. Miller is bigger, stronger and will break tackles.

* Dantonio said they went full contact in practice this year in order to get their defense accustomed to tackling a mobile quarterback.

* Dantonio was asked to describe the Ohio State offense: "What you see is an extremely productive offensive football team that is capable of a big play at any point in time, at any given moment, from anywhere on the field."

* Dantonio said he talks to Jim Tressel every now and then, just to "settle" him as a person. He listens to his advice. They don't talk Xs and Os, they talk about situations. "This is a big moment. I would like to think he's sitting back and watching. I don't know if he's got green on or not tomorrow night, but maybe."







NO. 10/9 MICHIGAN STATE (11-1, 8-0) VS. NO. 2/2 OHIO STATE (12-0, 8-0) Game Notes Source: MSU Official Site

• The Spartans are looking to win their school-record 12th game of the season. With 11 victories already in 2013, this marks the fifth time MSU has recorded double-digit wins in a season (10 in 1966, 10 in 1999, 11 in 2010, 11 in 2011), including three under Dantonio.

• The Spartans are the first Big Ten team to win all eight of their conference games by double-digit points since the league went to an eight-game schedule in 1971. In addition, MSU is the first undefeated Big Ten team to win all of its league games by double-figure points since Michigan in 1943 (6-0 record).





Michigan State's top-tier defense ready to put on a show
December 3, 2013 Source: Detroit News - The Spartans just might be "as good a defense as there is in America," as Ohio State coach Urban Meyer suggested Sunday. They're already "by far the best defense I've ever been a part of," according to Narduzzi, who's in his seventh season in East Lansing.

"I haven't been here as long as some of you have been," he added after Saturday's regular-season finale, "but it has to rival as one of the best defenses ever at Michigan State, forget the last seven years."...