MSU, December 7, 2013
TSUN, November 30, 2013
Indiana, November 23, 2013
Illinois, November 16, 2013
Purdue, November 2, 2013
Penn State, October 26, 2013
Iowa, October 19, 2013
Northwestern, October 5, 2013
Wisconsin, September 28, 2013
Florida A & M, September 21, 2013
California, September 14, 2013
San Diego State, September 7, 2013
Buffalo, August 31, 2013





| | |
| --- | --- |
| | The (red) story links, or the 'read more' graphic, will open new (pop-up) windows to the source of the article, audio or video, so you can read/hear/see the rest. If your browser is set to block pop-ups, please set it to always allow them from our site. You will not get any annoying advertising pop-ups, of any kind, generated by this site...ever. |

Urban Meyer quote of the day, postgame Ohio State Northwestern 10/5/13

40-30





10 Things We Learned from a Comeback Win in Evanston
October 6, 2013 Source: The Ozone -

1. Carlos Hyde is a true warrior. If Hyde wasn't going to play for the Buckeyes, he almost certainly should be wearing the white and green of the Spartans after last night. Hyde was an absolute warrior out on the field, and he willed the Buckeyes to victory with pure guts and passion. Those phrases are overused in sports, but anyone who saw Hyde running hungry and running angry against the Wildcats knows exactly what I'm talking about. There was a controlled fury to his game. He wasn't running straight into defenders with reckless abandon. He was using all his weapons against the opposing defense – strength, vision, quickness and tenacity – and Northwestern's defense simply had no answer for the bruising tailback. He racked up 168 yards on just 26 carries, including over 100 yards on the ground in the second half, most of tough, critical yards as the Buckeyes mounted their comeback. Without him, I feel confident saying the Buckeyes are a

2. Braxton Miller has to rediscover himself. One of the reasons Ohio State became a one-man show on offense in the second half of Saturday's game was the erratic play of the team's quarterback. It was Miller's second game back from the sprained MCL he suffered in the season-opener, but he still doesn't look right. He is completing 65 percent of his passes this season, but he's not the Braxton Miller who can single-handedly take over a football game. Whether we will see that guy again this season remains a mystery. Right now, he looks hesitant to really open things up in the running game, and he spent most of Saturday trying to find a soft patch of grass to fall on at the end of each run. He still managed to rack up 81 positive yards on the ground, but none of that could outweigh his mistakes against a pretty talented Northwestern team. His fumble at the two-yard line in a 23-13 game looked like a devastating blow to any comeback attempt for the Buckeyes, but Urban Meyer didn't give up on his quarterback. Now the question becomes what does he do with Braxton going forward? If Miller can rediscover his explosiveness during the bye week, maybe he can find his confidence along with it. If not, he might have to rediscover himself as a player.

3. Kenny Guiton might actually be a better fit to run this offense. What I'm not saying is that Guiton should be Ohio State's starting quarterback. What I am saying is his natural abilities might actually be better suited for Meyer's offense than Miller, who relies more on his freakish physical skills to overcome any deficiencies he might have in running the offense. When Miller is right, it's impossible to take him off the field. He's a home run waiting to happen. He's a magician, one of those rare talents who can pull touchdowns out of thin air, but he's not particularly effective at orchestrating an offense. What really would have made Ohio State's offense dangerous Saturday was a quarterback who could make great decisions on the zone-read play in order to burn Northwestern for crashing down on Hyde inside. Guiton has that natural ability, but Miller has always struggled with the read plays...

10. This team simply refuses to be beaten. At the end of the day, when it was all said and done, the one thing I learned the most about this team was its will to win. This is something we have seen before – see Cal, Wisconsin, Purdue, etc. from last season – but Saturday's win cemented in my mind what this team is all about. They had no business winning that game. They were outplayed and their star quarterback tried to give the game away with three turnovers. Their coach called a fake punt at the wrong time and the Buckeyes took more than 40 minutes to score an offensive touchdown. They trailed by 10 points in the second half against a top 15 team on the road and came back for another victory. And truthfully, who didn't think they would? The whole game I kept thinking Ohio State would find a way to win because, well, that's what this team does. They've won all 18 under Urban Meyer and I don't see that streak coming to an end any time soon...





Five Things: Northwestern
October 6, 2013 Source: Eleven Warriors - ...

DRAWING THE LINE

In what was often a painful performance to watch turned in by the Silver Bullets, particularly by the secondary, the defensive line came up big against Northwestern's electric attack.

Sparked by the beasts in the trenches, Ohio State held the Wildcats to 94 yards rushing on a paltry 2.2 yards per carry, and bottled up a very talented Venric Mark, holding him to 60 yards on 17 carries. Getting solid though not spectacular penetration for much of the night helped hold Mark to just 3.5 yards per pop with a long of eight yards.

The unit also racked up four of the team's five sacks. Joey Bosa led the charge with two sacks, one forcing a punt late in the 3rd quarter as OSU trailed 23-20 and the other on Northwestern's last gasp possession two plays before the true freshman jumped on a wayward lateral providing the game's final margin. Bosa racked up five stops total, furthering his resume as the squad's Most Valuable Freshman.

Noah Spence also picked up five stops and though he registered just 0.5 sacks, he was consistently in the backfield applying pressure and chasing quarterbacks from the pocket.

Michael Bennett, though the numbers show just two tackles and 0.5 sacks, was an impact player in my eyes.

The junior from Centerville constantly created push up the gut, helping free up Ryan Shazier and Curtis Grant to combine for 20 tackles.

Though Ohio State seemed to blitz a good bit of the time, I thought the front four did a solid job of creating organic pressure and typically when the two Northwestern quarterbacks had all day to throw, it was when the defensive staff chose to rush just three guys, something my lack of coaching experience simply can't understand.

And how about Jamal Marcus? He's quietly putting together an outstanding season, typically making an impact on the rare snaps he receives. He made an outstanding play late in the 2nd quarter, sacking Trevor Siemian on 3rd and 6 from the OSU 9-yard line, forcing the Wildcats to settle for a field goal and a 20-13 lead. Think about it, 27-13 at the break was nearly reality if not for Jamal's gigantic play.

SECONDARY STRUGGLES

Through six games, it's hard to know what to make of Ohio State's secondary.

Coming into the season, the group was pegged to be a strength of the team – not just the defense – thanks to a pair of returning senior starters at safety in Christian Bryant and C.J. Barnett, an All-American and projected 1st round pick at corner in Bradley Roby and an emerging cover guy opposite him in Doran Grant.

The group lost Bryant to ankle surgery following the Wisconsin game but the struggles predated, and go far beyond, that particular issue.

Last night, Northwestern quarterbacks completed 11 of 13 passes for 144 yards and a score in the 1st half and finished with with a statline of 25/31 for 343 yards with two touchdowns against one interception. It seems unfathomable that a team could complete 81% of its throws against Ohio State for an entire game so what's the deal?

I'm not a coach but a few things certainly come to light even for the most casual fan. Where it gets difficult is the whole "which came first, the chicken or the egg" part...






Ohio State Northwestern Highlights




Ohio State-Northwestern 2013 in GIFs Source: Land-Grant Holy Land




Urban Meyer discusses Ohio State's victory over Northwestern on Oct. 5, 2013.




Carlos Hyde, No. 4 Ohio State top Northwestern for 18th straight win
October 5, 2013 Source: ESPN - Carlos Hyde ran for a career-high 168 yards and three touchdowns, and No. 4 Ohio State rallied to beat No. 16 Northwestern 40-30 Saturday night and extend the nation's longest win streak to 18 games.

The Buckeyes (6-0, 2-0 Big Ten) remained undefeated since Urban Meyer took over as coach last year.

On a rain-soaked field and with a prime-time audience watching, they rallied from 10 down in the third quarter to take out a team aiming to show it could beat the best in the conference.

Hyde, who was suspended for the first three games after an alleged conflict with a female in a bar this summer, prevented that. He scored on a 4-yard run late in the third and added two more touchdowns in the final quarter to lift the Buckeyes.

He was credited with a 2-yard touchdown after a replay review early in the fourth to put Ohio State ahead 26-23.

Then, after Northwestern's Trevor Siemian connected with Cameron Dickerson on a 12-yard score, Hyde ran it in from the 7 with 5:22 left in the game. That made it 34-30.

The Wildcats' Kain Colter then got stopped on fourth-and-1 at the Ohio State 34 with 2:43 left after he picked up his own fumble, wiping out a late threat. The game ended with Northwestern (4-1, 1-1) lateralling and the Buckeyes recovering the loose ball in the end zone.

Ohio State pulled this one out even though Braxton Miller had a rough night. He threw for 203 yards but had an interception and fumbled twice after matching a career-high with four touchdown passes against Wisconsin last week. He also ran for 68 yards.

Corey Brown added 127 yards receiving, and the Buckeyes beat the Wildcats for the 29th time in 30 games.

Northwestern hasn't beaten a Top-five team since it opened the 1959 season with wins over No. 2 Oklahoma and No. 5 Iowa.

Siemian threw 245 yards and two touchdowns against a defense missing one of its leaders in safety Christian Bryant. He broke his left ankle late in last week's game and is expected to miss the rest of the regular season.

Kain Colter completed all 12 passes for 98 yards and had a touchdown catch early in the game.

Venric Mark added 60 yards rushing after missing three games with a lower body injury, but instead of a signature victory, Northwestern came away with a tight loss.

Northwestern was leading 23-20 early in the fourth when Doran Grant stepped in front of Rashad Lawrence to pick off a pass by Siemian at the 23. He returned it 7 yards to the Northwestern 16, and on third-and-goal at the 2, Hyde reached across the goal line and was credited with the touchdown after a replay review.

That delighted the Buckeyes fans, but the Northwestern crowd had plenty to cheer moments later.

Siemian connected with Lawrence on a 67-yard slant to the 7. Then, with the ball at the 12, a scrambling Siemian found Cameron Dickerson in the end zone on third down. Just like that, the Wildcats were back on top, 30-27, but in the end, it was Ohio State's night.

Ohio State vs Northwestern (Oct 05, 2013) Source: OSU Official Site


Scoring Summary, Team Statistics, Individual Statistics, Drive Chart, Defensive Statistics, Game Participation, Box Score, Play-by-Play, Play breakdown



Postgame Quotes From Ohio State at Northwestern Source: OSU Official Site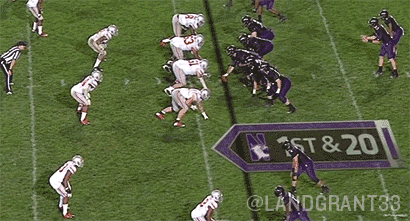 With a little over twelve minutes remaining in the 4th quarter, Northwestern had a 1st and 20 at their 19 yard line. NW QB Trevor Siemian's pass was intercepted by Doran Grant at the NW 23 and he returned it 7 yards to the NW 16. Four plays later the Buckeyes scored on Carlos Hyde's TD to make it 27-23 Ohio State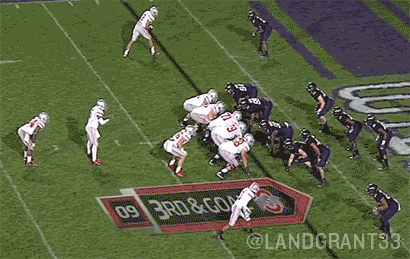 The initial ruling was Hyde was stopped on the NW 1 yard line...but upon further review, TD Ohio State!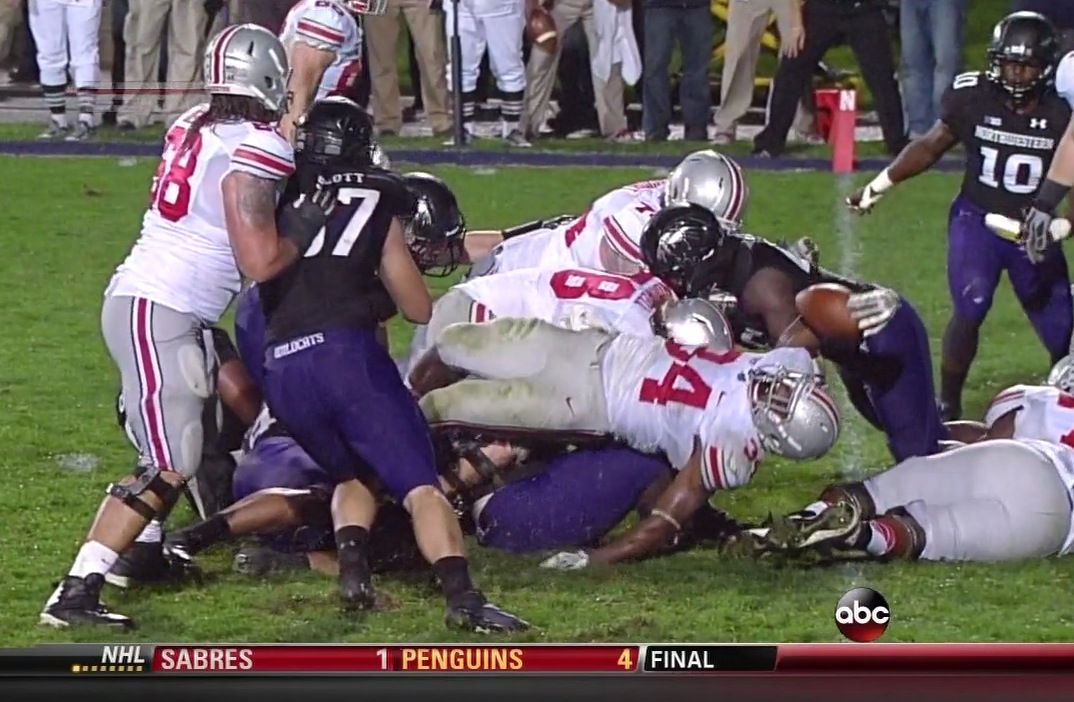 Thanks to Urban Meyer calling a time out, the replay officials clearly got it right!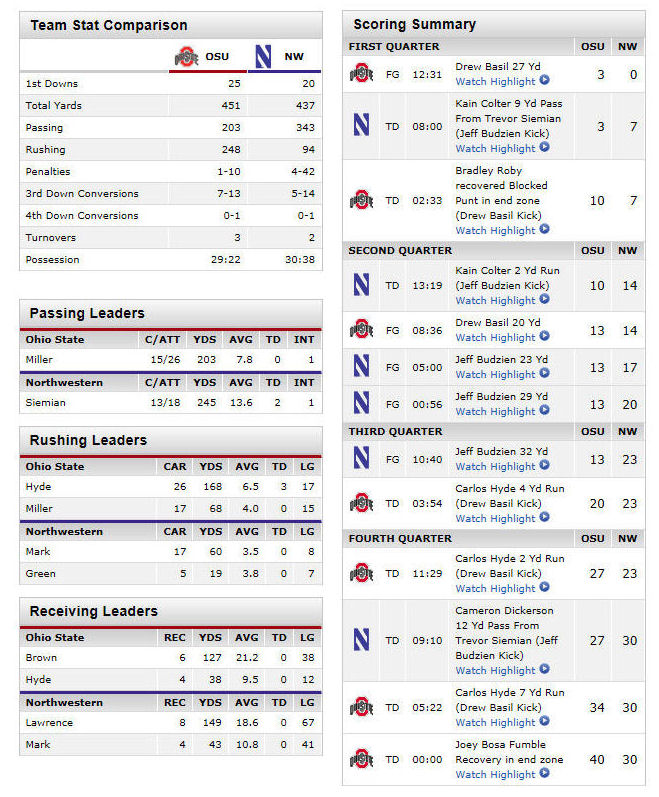 After falling behind 7-3, Ohio State's Bradley Roby made a play which many assumed (prematurely) would set the tone for the remainder of the game, with 2:33 remianing in the 1st quarter: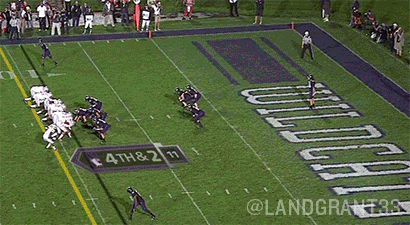 Another angle of Roby's punt block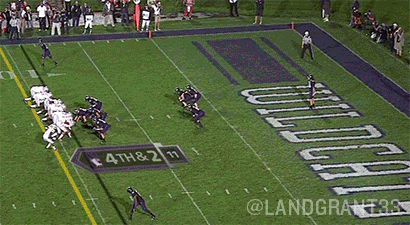 Urban Meyer coached teams are now 20-0 in which they get a blocked punt






Instant Analysis: OSU Survives & Advances
Source: CollegeFootballNews.com - Great teams ... truly great teams ... get it done when it has to be done. That's when the Bucks came to work. Carlos Hyde gave all he had. Braxton Miller gave all he had. For now, it's probably smooth sailing until the final game of the season against archrival Michigan. That game will define much for both schools. But don't for a second let yourself think this Ohio State team isn't deserving of playing for a national title. This was a big win, a whole hell of a lot bigger than rumored title contender Georgia scuffling with Oregon punching bag Tennesse...



Two-Minute Drill: Inside Ohio State's Postgame Source: The Ozone

Ohio State stock market report: Northwestern
Source: Land-Grant Holy Land - ...Solid Investments:
Joey Bosa, DE: Bosa made a couple of big plays in the second half, to include dropping Venric Mark for a five yard loss on a key Northwestern drive late in the third quarter. OSU had closed to within three, and had gained momentum. Bosa's TFL put Northwestern in a 3rd and 16, and they eventually had to punt. OSU took the ensuing punt and went down the field to score, take the lead, and eventually win the game. He also scored a TD on a fumble during the last play of the game, costing gamblers who picked OSU not to cover $300 million. Ouch, and a LOLOL. This is why we don't gamble on sports, kids.

Junk Bonds:
The Secondary. And I mean Lah De Doddy Everybody. Look, I get that you can't play man press coverage on every play, and I get that when you're playing a cover-1 or cover-2 zone, you're going to give up some yardage. And I also understand that if you're playing zone, the goal is to keep receivers in front of you and don't give up the big play. Other than a seriously great interception by Doran Grant, the entire secondary was a hot mess. Northwestern receivers were WIDE open all night, when tacklers converged they consistently whiffed and gave up a lot of yards after contact, and they were out of position all night. There is a ton of work that needs to be done in the secondary. Ton. Of. Work...






It was over when... Northwestern's Kain Colter was stopped on fourth-and-1 at the Ohio State 34 with 2:43 remaining in the game and the Wildcats trailing, 34-30.

Gameball goes to... Carlos Hyde carried Ohio State on an off night for Braxton Miller, rushing for 168 yards and three touchdowns.

Stat of the game... 54. Northwestern hasn't beaten a Top-5 team since 1959, a span of 54 years.

Star of the game Running back Carlos Hyde romped for 168 yards — the lion's share in the second half — and three touchdowns, including the go-ahead with 5:22 to play. He also caught four passes for 38 yards, becoming the go-to weapon as Ohio State clawed out the win.

Turning point On fourth-and-1 at the Ohio State 34, Northwestern quarterback Kain Colter fumbled the snap, then tried to sneak only to be stuffed by Curtis Grant and Joshua Perry. A measurement showed the Wildcats were short, and the Buckeyes took over with 2:40 to play.

Repercussion With the win, the 18th straight, Ohio State remained viable in the national championship race and the team to beat in the Big Ten. With a week off to rest and heal, the Buckeyes are undefeated halfway through the season.

With the win, Ohio State extends the nation's longest winning streak to 18 games - the fourth-longest streak in school history. The longest is 22 games from 1967-69.

Head coach Urban Meyer is now 26-10 in his career vs. ranked teams and 5-0 at Ohio State.

Ohio State has won the last five meetings with Northwestern and 29 of the last 30 overall.

Carlos Hyde rushed for a team-high 168 yards and 3 TDs, marking the seventh 100-yard rushing game of his career and his first of the season.

Hyde's rushing total was a career high and his 26 carries was just two shy of his 28 attempts vs. Nebraska (10/8/11).

Hyde tied his career high with 4 receptions and set a career best with 38 receiving yards.

Braxton Miller is now 20-6 in his career as a staring QB and 16-0 under Coach Meyer.

With 68 yards rushing, Miller passed Rick Leach (2,176) for fifth place on the Big Ten's all-time rushing list among QBs with 2,219 yards.

Bradley Roby blocked a punt in the first quarter and recovered it for a TD. It marked his third career TD on either a blocked or recovered punt. It also marks his second career blocked punt. His last blocked punt was at Michigan State in 2012.

Coach Meyer's teams are 20-0 since 2005 when blocking a punt and 4-0 at Ohio State.

C.J. Barnett recorded 11 tackles. His career high is 12 at Michigan (11/26/11).

Joey Bosa recorded five tackles, two for loss and had two sacks. He also ended the game with a recovered fumble in the endzone for a touchdown.

Curtis Grant finished the game with a career high 10 tackles. He had record seven twice previously, last vs. Wisconsin (9/28/13).

OSU trailed at halftime for the first time this season and first time overall since last year's win over Michigan. OSU trailed 21-20 in that game before rallying for a 26-21 win.

Ohio State's 18-game winning streak is the nation's longest current active streak and is the fourth-longest in school history. The OSU record is 22 straight between 1967-69. After that, OSU had streaks of 19 straight wins in 2005-06 and 19 straight in 2002-03. This is the 15th winning streak of 10 or more games in OSU history.



Sources: ESPN, OSU Official Site, Columbus Dispatch, Bucknuts


C.J. Barnett talks Ohio State win Source: BuckeyeSports.com
C.J. Barnett recorded 11 tackles. His career high is 12 at Michigan (11/26/11).



The Bottom Line
October 6, 2013 Source: Columbus Dispatch -

Offense (3 leaves)
Braxton Miller has had better days, his three turnovers weighing like a stone on the Buckeyes' chances to pull off the comeback. Carlos Hyde wore the man pants, though, and carried his team with 206 total yards and three second-half scores. It's his game ball, and the linemen all get a bite of the apple.

Defense (2 leaves)
Pass defense suddenly looks to be a real trouble spot, the Buckeyes often treating Northwestern receivers with the respect afforded Jamaican sprinters. And then they compound that with poor tackling technique. The pass rush was robust, however, especially when the cards were on the table.

Special teams (3 leaves)
Cameron Johnston showed again he can pin opponents deep, but his Australian-rules act on the fake-punt attempt failed to include any zip. Bradley Roby's blocked punt for a score was a big play nearly forgotten. Drew Basil's kickoffs fell a bit too short against a good return team.

Coaching (3 leaves)
Road wins always play, of course, but what's the deal with the fake-punt call, especially at that spot on the field and at that point of the game? The decision smacked of hubris, and it was a bullet luckily dodged. Next: Has Dontre Wilson transferred and no one mentioned it? Where is the depth?

Fun quotient (5 leaves)
A pregame thunderstorm provided the lightning, but the 60 minutes of tense football provided the thunder. Fans were stuck to their seats, though that might have been the humidity. Northwestern's ticket policy couldn't keep OSU's scarlet from clashing with their purple, but it made some money, at least.

Opponent (4 leaves)
Northwestern showed serious offensive chops with high-quality quarterback play (minus the one pick), hard running (except for one fourth-down slip) and bold play-calling. Defensively, though, the Wildcats often seemed to shy away from Hyde, and delivered no pass rush.

Officiating (3 leaves)
Officials didn't call a single penalty in a let-'em-play first half, then gummed up the works with a too-late review of Hyde's second TD, when he stretched over the goal line.






Northwestern Post Game Quotes Source: Northwestern Official Site







Northwestern

Oct 5, 2013 8PM


"They are very sound on defense. They are not a radar, bizarre looking defense. It's very sound, and sound defenses at times give up yards, but it's hard to score on very sound defenses because at some point, they are going to force you to make up a mistake. They are not going to give up the big one and they are going to force you to make a mistake."
- Ohio State HC Urban Meyer on facing Northwestern's defense



Ten Questions
October 5, 2013 Source: Bucknuts - * 1. Can the Buckeyes continue their string of great starts?
– In five games this year, Ohio State has outscored its opponents 116-21 in the first quarter. Getting off to another fast start would be helpful as the Buckeyes go into a hornet's nest at Northwestern. If OSU can take the Wildcats' faithful out of the game with a fast start, that would be huge.

* 2. Can Braxton Miller take advantage of a porous Northwestern pass defense?
– Northwestern is a distant 117th nationally (out of 123 FBS teams) in passing yards allowed at 308.8 yards per game. Cal's Jared Goff (remember him?) threw for 450 yards in his first career start against Northwestern in a 44-30 loss to the Wildcats back on Aug. 31. Miller's career-high in passing is 249 yards against Cal last year. Another part of this is the fact the OSU staff would rather see Miller distribute the ball than running it himself (like he did 22 times last week against Wisconsin).

* 3. Can the Buckeyes establish the run with Carlos Hyde?
– Hyde had 85 yards on 17 carries last week against Wisconsin. This could be his first 100-yard game of the season if the Buckeyes continue to feed him. OSU is 12th nationally in rushing offense at 287.2 yards per game.

* 4. Can the OSU staff find meaningful roles in the offense for Jordan Hall and Dontre Wilson?
– Hall carried the team on his back in Hyde's absence earlier in the year, but he only had one carry for 5 yards last week. The staff has vowed to get Hall back into the game plan and Urban Meyer admitted he had to cheer the senior up a bit this past week. Wilson had two carries for 21 yards and one catch for 21 yards last week. Sounds like he needs more than three touches, too.

* 5. Which OSU receiver will move into the forefront?
– Each week, a different receiver has shined for OSU. Philly Brown had two touchdown catches last week vs. Wisconsin. Maybe Evan Spencer shines playing back in his hometown.

* 6. How will the OSU offensive line fare?
– The O-line has done a nice job in recent weeks. In four games, NU has just seven sacks. But DE Tyler Scott has three of them. Identifying and blocking him will be key.

* 7. Can the Buckeyes get a handle on Northwestern's spread offense?
– The Wildcats were one of the initial pioneers of the spread offense and have maintained continuity through execution and recruiting over the last decade. NU quarterbacks Kain Colter and Trevor Siemian will likely split time. They do a great job distributing the ball to their receivers and backs in ways where they can make plays. Together, they are completing 70 percent of their throws.

* 8. What impact could returning NU back Venric Mark have on the game?
– Mark had a huge year in 2012, but has been sidelined since the Cal game with a leg injury. The Wildcats are hopeful he will be able to return for this game. He brings an added dimension of speed to the NU offense.

* 9. How will the OSU secondary fare without safety Christian Bryant?
– Bryant, a senior co-captain, was lost for the season last week with a broken ankle. Senior Corey "Pittsburgh" Brown will fill in for him, although others will also be counted on to pick up some of the slack. That group includes Tyvis Powell, true freshman Vonn Bell, Armani Reeves and others. Last week, UW's Jared Abbrederis blistered the Buckeyes for 10 catches for 207 yards. Northwestern has some threats as well, including Christian Jones, Tony Jones and superback Dan Vitale.

* 10. What impact will special teams play?
– OSU punter Cameron Johnston, the freshman from Australia, was a hero with his punting last week against Wisconsin. The OSU return games have yet to hit full stride. Mark could make a real mark for Northwestern in its returns, however.

* Bonus Question: Can the Buckeyes remain undefeated and win a critical road game?
– This is the ultimate question. Ohio State has command of the Leaders Division with its head-to-head win over Wisconsin last week...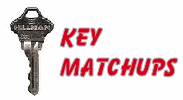 Northwestern WRs Tony Jones, Christian Jones and Dan Vitale vs. OSU CBs Bradley Roby and Doran Grant
Grant actually has had a better season than Roby, the returning All-American. Northwestern's spread offense is difficult to cover. The Wildcats have some of the same concepts as Ohio State's offense in that they like to get their players the ball in space. Vitale, who played as a true freshman, is a tough cover at 6-foot-2, 225 pounds and plays a hybrid WR-TE position. That means a linebacker or safety will have to cover him most of the time. Tony Jones is coming a career-best nine catches for 185 yards against Syracuse. His three TD catches lead the team.

OSU QB Braxton Miller vs. Northwestern S Ibraheim Campbell
NU's 4-3 defense returns seven starters from last year. Having that experience is one of the reasons why the Wildcats are a viable top-10 team. Campbell broke up 12 passes and intercepted two last season. He already has three picks this season. Miller looked good at times last week, but reading the safety doesn't come easy for him. There were a few plays against Wisconsin that Miller's read progressions were cut short and he didn't throw the ball to open receivers. Instead, he tucked it and ran, seemingly reverting to old habits of relying on his feet to bail him out when his arm can't.

OSU DE Adolphus Washington vs. Northwestern RB Venric Mark
Mark has not played the last three games due to a lower body injury. He is a dynamic punt and kick returner as well — the NCAA active leader with a 16-yard punt return average. Northwestern's running game reads the defensive end. Washington played well against Wisconsin, and his groin injury seems to be healed. He will need to be a sure-handed tackler against Mark, whom the Wildcats believe is key enough to hold him out of the last three games to make sure he is ready this week. Mark has fresh legs with just 11 carries this season. Source: Canton Repository



Five key factors for OSU victory
October 4, 2013 Source: Columbus Dispatch -

1. Close it out
Ohio State has dominated early in games — they have outscored opponents 116-21 in the first quarter — only to ease off the throttle later. In the fourth quarter, for example, they have been outscored 17-10. Some of that has been because they've been so far ahead that they wanted to milk the clock. Last week against Wisconsin, though, they got conservative and it could have cost them. This would be an ideal week to show the killer instinct.

2. Win third down
Northwestern has converted 52 percent on third down; Ohio State has stopped opponents 77 percent of the time. If the Buckeyes are that successful against the Wildcats, Ohio State would be in solid shape. Getting off the field regularly on third down would help tamp down the home crowd during a prime-time road game.

3. Settle the secondary
Corey Brown replaces the injured Christian Bryant at safety and must prove up to the task. The Buckeyes also need a bounce-back game from cornerback Bradley Roby, who was repeatedly victimized by Wisconsin's Jared Abbrederis last week. Roby is too good of a player not to rebound.

4. Dominate the lines
This is where Ohio State should have the decided edge. The Buckeyes have an experienced, talented offensive line and should be able to push Northwestern off the ball. On defense, the Buckeyes are young up front but got a boost from the return of Adolphus Washington last week. Northwestern has three new starters on its offensive line from 2012.

5. Be careful with the ball
Northwestern's defense is predicated on turnovers. The Wildcats returned two interceptions for touchdowns against California in the opener and pride themselves on that. Ohio State has been pretty careful with the ball this year, losing only two fumbles and having just three passes picked off. One player who needs to improve his ball security is explosive freshman Dontre Wilson. Northwestern is plus-4 on turnover margin through four games; OSU is plus-5 in five games.



What to watch in the Big Ten: Week 6
Source: ESPN - 3. Venric Mark returns: The Wildcats' offense is about to get quite the boost, as Mark will return after sitting out the last three games with a leg injury. He rushed for more than 1,300 yards last season and he comes back at just the right time for Northwestern. He's a big part of the option attack, which just hasn't been the same without him. And he'll likely play a big role against the Buckeyes. It's great timing for Northwestern -- and terrible timing for OSU.

7. Seventeen and counting Ohio State's 17-game winning streak is on the line against No. 16 Northwestern, and this matchup is once again the Big Ten game of the week. A convincing win here would help boost the Buckeyes' No. 4 ranking in the polls, while a Northwestern victory would help cement the Wildcats' status as a title contender. Pat Fitzgerald has been looking for his gritty team to take the next step, and this is the perfect opportunity. Urban Meyer, meanwhile, hopes to increase the nation's best winning streak and to pave the way to the national title game. Ohio State's the favorite, but no one's counting out the Wildcats.

10. Bradley Roby trying to get back on track: He gave up a few big plays against Cal and then, against Wisconsin, Jared Abbrederis lit him up to the tune of 207 yards for the biggest game a Badgers receiver has had in a decade. Roby wasn't made available to the media this week, but his teammates voiced confidence in the preseason All-American. He is -- was? -- considered one of the nation's top cornerbacks, but that title might be in jeopardy. He's undoubtedly looking for a big play or two to help silence the doubters. Northwestern doesn't have the most high-powered passing attack so, if Roby struggles this weekend, those critics will only get louder.





Two-Minute Drill: Updates from the Urban Meyer Call-In Show
October 3, 2013 Source: The Ozone - Meyer said that Braxton Miller is arguably the most improved quarterback in the country when it comes to fundamentals. He said that ESPN is doing a story on Miller's improvement for Gameday.

* He said that the week leading up to the Wisconsin game was the best week of preparation that Miller has ever had, and he said this week is right up there for him as well.

* He said that we still haven't seen the real Cameron Johnston when it comes to booming a punt. But Meyer also said that they want the opponents to fair catch the punt, they don't want 75-yard line drive punts and a long return.

* Meyer said that Devin Smith avoiding a double team in punt coverage on the final punt of the Wisconsin game was one of the greatest plays he's ever seen in a football game.

* Regarding Carlos Hyde, he said they're gonna ride that horse a little bit more this week.

* He called the receivers arguably the most improved area of the team. He cited their tremendous blocking, which leads to big runs.

* He credited Tom Herman for the production in the redzone, citing Herman's desire to run the jet (hurry-up) offense when they're inside the 20.

* Meyer said that he still needs Christian Bryant because Bryant provides energy to his team and coaches.

* Meyer said that Northwestern can play with any conference in America.

* He said that Northwestern's defense is a 4-3 that will give you yards, but they don't give up points.

* Meyer said that Venric Mark has him concerned on special teams. They have to make sure they have all of their lanes covered.

* He said from what he's seen, Northwestern's quarterbacks are a little different from each other, but not enough to really affect how you defend them.

* Meyer talked about scripting plays, and he said right now they are in "attack mode" because of how much confidence they have in their receivers and quarterback. He said it's much more fun to script this year than last year. He cited Dontre Wilson as one reason why.

* He said the OSU pass defense hasn't been great these last two years. He said the run defense has been great at times. He said pass defense is a combination of pass rush and not leaving corners on an island for too long. He said last week they stopped the run at the expense of putting Bradley Roby on an island, and it worked and it was the right decision.

* Meyer said he's not happy with the pass rush right now, but also that he probably expects too much because he can't get enough of it.

* Meyer said that Braxton Miller is "kind of a prime-time guy. He was ready to go..." against Wisconsin.

* He said that Wisconsin is a very good team who should have come into the Ohio State game undefeated. He's not worried about margin of victory against the Badgers. He said that maybe he's just getting more conservative as he gets older.

* Meyer said that Jim Tressel's decade at Ohio State was one of the great decades in college football history. He said "Jim Tressel Football" is a tremendous brand of football.

* He said Josh Perry has some great momentum right now, which makes two weeks in a row. He said he's practiced very well the last two weeks, and now they just need to keep it going for him.

* Meyer said that Ryan Shazier wants to become a leader "so bad", and he's seeing growth in Shazier.

* He said they piped in crowd noise for 20 minutes yesterday during practice and will do it another 15 minutes again today to prepare for the crowd noise. He said the good thing is that they use so many hand signals, including audibles.

*He said Taylor Decker is a good player right now, but he's expecting him to eventually be a great player.

* Meyer said defensive tackle Tommy Schutt will be back next week.

* Meyer called Noah Spence "Vrabel's kind of player."

* He said he's a little disappointed in the return game right now. He said the good returns the Buckeyes have had were more individual successes than the team blocking properly.









Urban Meyer spoke with reporters following practice on Wednesday (10/2/13)



Tony Gerdeman's Two Minute Drill report on tonight's post-practice interviews October 2, 2013 Source: The Ozone - Meyer said he hasn't heard the hype about this game because they are in lockdown mode in the football facility as they prepare for Northwestern...On Northwestern running back Venric Mark, Meyer said he was fast and a great returner, and that they'd have to cross the t's and dot the i's on him...He said he anticipates something new from Northwestern's defense given that the Wildcats have had a week off to prepare for the Ohio State offense...



Curtis Grant spoke with reporters following practice on Wednesday (10/2/13)






Braxton Miller spoke with reporters following practice on Wednesday (10/2/13)



Miller ready and able to make any throw October 3, 2013 Source: ESPN - The ability to make all the throws was always evident. Tom Herman had seen the impressive arm strength plenty on the practice field, and for some of the criticism the Ohio State offensive coordinator's prized pupil has taken for his accuracy, Braxton Miller is more than capable of fitting a football into a tight spot.

Miller's four touchdown passes against Wisconsin were a display of the wide variety of throws in his arsenal.

But even if a quarterback has the necessary skills to deliver any pass in Herman's playbook, it won't mean much without the confidence to actually pull the trigger when the time comes. And with one perfectly-placed, back-shoulder touchdown throw on a secondary read against a stout defense, Miller provided a perfect example of the difference it makes when those two traits are combined into one dangerous package...



CJ Barnett spoke with reporters following practice on Wednesday (10/2/13)



Can Ohio State stop both QBs?
Source: Land-Grant Holy Land - It is rarely successful and there is the saying that when a team has two quarterbacks it actually has no quarterbacks. But for Northwestern, Coach Fitzgerald has actually found a way to incorporate a two quarterback system that has generated a 14-3 record over the past two seasons with both Kain Colter and Trevor Siemian sharing time behind center...




GAME ANALYSIS
Source: Lindy's Sports - Scouting the running game: The Buckeyes have been getting great push up front and the running game has been dominant. Ohio State is averaging 287 yards rushing per game, and 6.3 yards per carry. With those kinds of numbers, and a stable of talented running backs, a whole lot of options are open for this explosive offense.

Scouting the passing game: This area looks very sound, especially after Miller returned from his injury last week. Guiton was exceptionally accurate covering for Miller during the injury. The receivers have been solid, too, and Meyer has called that group "arguably the most improved area on our team".

Scouting the run defense: The Buckeyes squared off against a Wisconsin team averaging more than 300 rushing yards per game and held it to 104 yards. The plan could likely be the same this week, since Northwestern ranks 18th in the nation with 249.5 rushing yards per game. The Ohio State linebackers will be in the spotlight against the Wildcats, and responsible for shutting down that running attack.

Scouting the pass defense: The Buckeyes took a big hit when defensive back Christian Bryant broke his ankle late in the Wisconsin game. He is lost for the season and will be replaced by Tyvis Powell. Ohio State has to also be more than a bit concerned over how All-American cornerback Bradley Roby was repeatedly beat by Wisconsin wide receiver Jared Abbrederis. Hopefully the all-out emphasis on stuffing the box and stopping the Badgers from running the ball had a lot to do with Roby's tough night.

Scouting the special teams: The Buckeyes shocked the rest of the Big Ten when they handed the punting job to an unknown true freshman from many thousands of miles away – Australian Cameron Johnston. He hit six punts in the Wisconsin game, and dropped all of them inside the 20 yard line. Following Ohio State punts, Wisconsin started its offense from its own 10, 9, 5, 8, 16 and 10 yard lines. That kind of field position advantage pays huge dividends.






Your no-frills but information-packed report on today's B1G Teleconference
Source:The Ozone - Meyer said that it's concerning that they've been outscored in the fourth quarter this season, and he said he takes responsibility for that. He said he's aware of it, but he loves the fact that his offense comes out fast. Meyer said replacing Christian Bryant will be tough, but Pittsburgh Brown is a senior who has played a lot, and he will likely be the guy. He said that Bryant was "very important to me personally". He said injuries are the worst part of the game...

September 24, 2013 Source: The Ozone





No. 3/4 Ohio State Travels to No. 15/16 Northwestern
September 30, 2013 Source: Ohio State Official Athletics Site - Game to be televised in primetime on ABC at 7/8 p.m. ET; teams meeting for first time since 2008 ...



First and 10

•Ohio State enters the game with the nation's longest winning streak at 17 games.

•Ohio State has won the last four meetings with Northwestern and 28 of the last 29 overall.

•Ohio State ranks first in the Big Ten and fifth in the NCAA in first downs with 127.

•Ohio State leads the Big Ten and ranks sixth in the NCAA in scoring with 48.2 ppg.

•Ohio State is outscoring teams 216-21 in the first quarter this season.

•Ohio State is averaging 501.2 yards of total offense per game while giving up only 304.0.

•Ohio State's defense ranks eighth nationally in rushing defense (84.6 ypg). The unit has not allowed a run of 20 or more yards this season.

•Junior Braxton Miller passed Cornelius Greene to become Ohio State's all-time leading rusher among QBs with 83 yards rushing vs. Wisconsin.

•Miller is tied for first with Joe Germaine with six career games of at least 300 yards of total offense.

•Junior LB Ryan Shazier leads the B1G with 7.0 TFL.

•Urban Meyer last faced Northwestern in 2001 in his first season at Bowling Green, a 43-42 win for the Falcons in Evanston.

Ohio State Northwestern Game Notes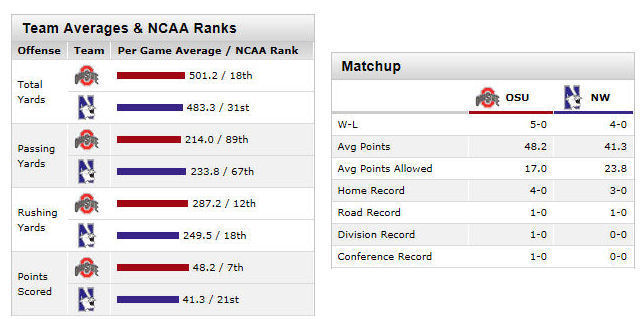 Christian Bryant out indefinitely with broken ankle



Game Data: OSU at Northwestern
Source:Bucknuts.com - Series History: Ohio State leads the all-time series, which dates to 1913, at 59-14-1. That includes a 26-6-1 edge for OSU in Evanston. Ohio State has won 28 of the last 29 meetings with Northwestern. The lone loss was in a prime time game at Evanston in 2004 (33-27 Northwestern win in overtime). Since then, OSU has won the last four games in the series by an average of 42.8 points. That includes win at OSU in 2005 (48-7), at Northwestern in 2006 (54-10), at OSU in 2007 (58-7) and at NU in the schools' last meeting in 2008 (45-10). With the Big Ten adding two more schools and restructuring its divisions in 2014, this will be the only OSU-NU game in a seven-year period. The schools will next play in 2016 in Columbus...and much more...



Evanston Weather Forecast


October 4, 2013 Source: Columbus Dispatch


Cover Story: Receiver Corey Brown made a transition and persevered to become a team leader
Ohio State Spotlight: Bradley Roby
Meet a Buckeye: Tyvis Powell
Who has the edge: Ohio State vs. Northwestern
Game predictions: Ohio State vs. Northwestern
Play of the week: Trips right, short-side choice & more...









Cleveland Plain Dealers' Doug Lesmeries, Ari Wasserman and Zack Meisel offer their predictions for Saturday's game between No. 4 Ohio State and No. 16 Northwestern. More



Preview: No. 4 Ohio State at No. 16 Northwestern Source: Eleven Warriors





Week 6 - Ohio State vs. Northwestern
Source: CollegeFootballNews.com - Why Ohio State Might Win: Northwestern, welcome to the short-to-midrange pass. The Wildcats have done a relatively decent job of keeping everything in front of the secondary and not getting torched too badly deep, but there have been some mistakes. Maine was able to stay alive by dinking and dunking, and Syracuse and Cal were able to get the spread the ball around a bit and push the play downfield here and there. Braxton Miller was fantastic in the first half against Wisconsin, looking decisive with his throws and avoiding the big, costly mistake. Considering the pass rush has been hit-or-miss for the Wildcats, keeping Miller from making plays on the move could be a huge concern.

Why Northwestern Might Win: The Wisconsin connection of Joel Stave to Jared Abbrederis. Considering the Badgers have absolutely nothing going in the passing game without him, an argument could be made that Abbrederis is among college football's most valuable players. All Ohio State had to do was double team him and take chances elsewhere, but that didn't work out so hot with NFL prospect Bradley Roby getting ripped to shreds. Northwestern doesn't wing the ball all over the yard, but it showed against Syracuse that it can be deadly accurate and effective when needed. The Wildcats have a very nice, very underappreciated receiving corps that should be able to allow quarterbacks Kain Colter and Trevor Siemian to

Who To Watch Out For: With all the talent on the field in a huge game like this, it could all come down to a … punter? Did it seem like Wisconsin was always starting its drives in really, really bad places last week? No, not Columbus, but deep inside its own territory time and again. One of the biggest keys so far for Ohio State has been Cameron Johnston, who's averaging 40.5 yards per kick and doing a terrific job of working with the coverage teams for one of the Big Ten's best all-around punting games. Meanwhile, Northwestern has been struggled a bit kicking the ball, averaging just 33.5 yards net per pop. Field position could mean everything to the Wildcats.

- How effective will Venric Mark be? The do-it-all Northwestern star running back is expected to get back on the field again after missing time since the opener against Cal with a leg injury. The Wildcats are terrific running the ball, helped by Colter taking off at quarterback, averaging 250 yards per game, but Mark is a weapon.

- So when is Bradley Roby going to start playing like an All-America defensive back? While he's struggling in one-on-one coverage, getting roasted against Wisconsin and Cal, he has two picks and 21 stops in his four games of work. The Ohio State coaches are blaming the problems on a lack of a steady pass rush, and he's still the team's No. 1 corner, but he has to be far, far better and more consistent.

- This might be a new and improved Northwestern program under Pat Fitzgerald, but to win would mean coming up with something truly special. Since losing 33-27 in 2004, Ohio State hasn't just beaten the Cats four straight times; it destroyed them by a total of 208 to 34. The Buckeyes are 28-1 in the series since a 1971 upset loss.

What Will Happen: Ohio State won't go into "win-the-game" mode this week like it did against Wisconsin. Miller has been too sharp and too good, and there won't be any changing of the gameplan as the Buckeyes come up with a strong road win and start to really and truly look like a top five team.

Prediction: Ohio State 34 … Northwestern 24 ...






Ohio State vs. Northwestern 2013: Game Preview Source: Land-Grant Holy Land





Ohio State vs. Northwestern Preview Source: The Ozone





Big Ten Week 6 Game Power Rankings & Predictionss
October 3, 2013 Source: Athlon Sports - 1. Ohio State (-6.5) at Northwestern (8 p.m. ET, ABC)College Gameday is making just its second appearance in Evanston and its first since Pat Fitzgerald was a player in 1995. Ohio State welcomed back Braxton Miller in style last weekend in an emotional, hard-fought home win over a quality Wisconsin team. Urban Meyer now has to get his team ready for an equally talented but totally different Wildcats squad. Coach Fitz is hoping to get running back Venric Mark, a key cog in his spread option offense, back on the field for the first time since Week 1. Mark helps the Cats' two-quarterback spread system to flourish but how healthy will he be? This is the most talented Northwestern team ever assembled with Big Ten championship aspirations but must battle history this weekend. The Wildcats have beaten Ohio State just once in the last 29 tries and is hoping to shake up the Big Ten with the entire college football world watching on Saturday night.

Big Ten Week 6 Prediction Grid: Ohio St (-6.5) at Northwestern Braden Gall N'Western, 34-31 Mitch Light Ohio St, 27-23 Steven Lassan Ohio St, 34-27 David Fox Ohio St, 38-24





Ohio State at Northwestern Source: Lindy's Sports





Ohio State (5-0, 1-0) at Northwestern (4-0, 0-0)
Source: BTN - Why you should watch: This is a clash between arguably the two best teams in the Big Ten. In fact, it may be a preview of the Big Ten championship game. It's true. The Buckeyes have their sights set on not just winning the league—but the national championship. So, this likely is a must-win game. The Wildcats are looking to take the proverbial next step toward becoming a consistent factor in the Big Ten title chase each season as the program searches for its first league title since 2000. Can NU protect its home field in this prime-time national television clash? The Wildcats last beat the Buckeyes in 2004, with Randy Walker leading Northwestern to victory.

Player of the spot: Northwestern RB Venric Mark. The star has missed almost all of the 2013 season dealing with an ambiguous "lower-body injury." The Wildcats can use his versatile skills, as Mark ran for 1,371 yards last season. He's a threat as a runner, pass catcher and returner. NU needs his playmaking skills. Treyvon Green has been good in Mark's absence, but he's a bruiser who lacks Mark's big-play ability.

Key matchup: Northwestern linebackers vs. Braxton Miller. This is an athletic crew for the Wildcats led by Chi Chi Ariguzo, Collin Ellis and Damien Proby. This group must try to limit Miller's effectiveness as a runner. If not, it will be a long night for the Northwestern defense, which could see Miller, Dontre Wilson and Carlos Hyde in the backfield at the same time.

Key number: 2, number of wins for Northwestern vs. Ohio State since the Wildcats won back-to-back games vs. the Buckeyes in 1962-63. In that span, the Buckeyes are 33-2 vs. NU.





Ohio State Buckeyes' Pass Offense Is Too Much for Northwestern Wildcats' Defense October 1, 2013 Source: Rant Sports





Ohio State Buckeyes vs. Northwestern Wildcats Complete Game Preview Source: Bleacher Report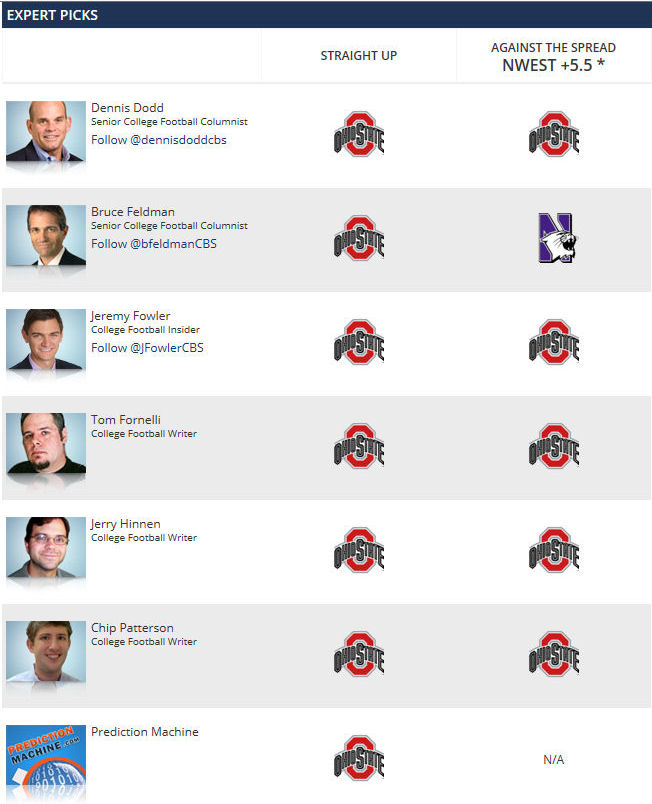 Sports Betting Tutorial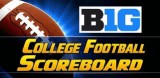 Game Notes NU vs Ohio State Source: Northwestern Official Site

Northwestern, tied for first nationally with 2.5 INTs per game, has scored 59 points off its 11 forced turnovers (35.8 percent of points scored).

Northwestern has won 17 of the last 21 regular season games it has played dating to Oct. 29, 2011.





Northwestern Players to Watch:

–Venric Mark's potential return should give a boost to a Wildcat backfield that is ranked 28th nationally in rushing without him with 998 net yards. Treyvon Green currently leads with a 101 yard per game average.

–QB Kain Colter now has 26 career rushing touchdowns, fifth all-time in the Northwestern record book and tied with Noah Herrin. Colter also had a passing touchdown in his last game against Maine on Sept. 21 and has 37 rushing/passing score in his last 27 games.

–WR Tony Jones topped Northwestern with six catches for 69 yards and a TD last month against Maine. So far he has 24 receptions for 362 yards and three touchdowns and has either led or tied for the team lead in catches.

–LB Damien Proby set a school record with his second quarter interception for a touchdown against Maine. It was the program's third scoring pick-six this season. The interception was also the first of Proby's career.

–LB Chi Chi Ariguzo leads Northwestern with 35 tackles so far this season. He's averaging 8.8 per game, good for 57th nationally. Against Maine Ariguzo recorded a career-high 12, including nine in the first half. Source: Sports Xchange