MSU, December 7, 2013
TSUN, November 30, 2013
Indiana, November 23, 2013
Illinois, November 16, 2013
Purdue, November 2, 2013
Penn State, October 26, 2013
Iowa, October 19, 2013
Northwestern, October 5, 2013
Wisconsin, September 28, 2013
Florida A & M, September 21, 2013
California, September 14, 2013
San Diego State, September 7, 2013
Buffalo, August 31, 2013





| | |
| --- | --- |
| | The (red) story links, or the 'read more' graphic, will open new (pop-up) windows to the source of the article, audio or video, so you can read/hear/see the rest. If your browser is set to block pop-ups, please set it to always allow them from our site. You will not get any annoying advertising pop-ups, of any kind, generated by this site...ever. |

60-35



"Let's just coach and get better. We're down to week 11. Let's get our 11th win."
- Urban Meyer postgame Ohio State vs Illinois November 16, 2013


Ohio State Illinois Highlights



Ohio State-Illinois 2013 GIF recap
Source: Land-Grant Holy Land - Not long after C.J. Barnett's pick, Bradley Roby wheeled in one of his own, and then went ahead and took it to the house to put Ohio State up, 20-0 (pending try, which was good). Roby had some ups and downs during the rest of the game; in addition to laying an Illini player out, he also demonstrated some instances of suspect judgement and effort. Alas, Roby's natural physical skills are all but undeniable.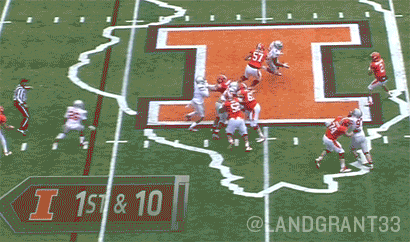 Urban Meyer Postgame
Buckeyes Outlast Illinois...

Source: Bucknuts



Two Minute Drill - Illinois Post-game
November 16, 2013 Source: The Ozone - Urban Meyer Updates

* Meyer opened his press conference by saying that he was a big fan of Illinois quarterback Nathan Scheelhaase. Scheelhaase produced 334 yards of offense total offense.

* Meyer said he needs to learn to "shut his mouth" when he's asked about the national picture and keep his team focused on each individual game.

* He said he doesn't think his team was completely focused on the game at hand.

* He said Carlos Hyde missed the first two plays for academic reasons. He added that it was a small issue, and that it's resolved now. "I have no problem with Carlos," he said.

* Meyer said the weather produced an environment that wasn't conducive for throwing the football.

* He said Jack Mewhort suffered a hyper-extended knee during practice Wednesday and did not practice Thursday. He said the Mewhort did practice Friday.

* He said "it's devastating" when Mewhort isn't in there. He called Mewhort the team's best offensive player.

* He said playing without two starting linebackers kept the Buckeyes out of some situational pressures that they wanted to use.

* Meyer confirmed that linebacker Joshua Perry did not travel with the team because he slipped on ice and hit his head during the week.

* Meyer said they went to the run so much because they were struggling to throw the ball.

Braxton Miller, Ryan Shazier, Carlos Hyde Updates...




Carlos Hyde, Braxton Miller lift Buckeyes from ground in rout of Illini
November 15, 2013 Source: Associated Press - Carlos Hyde ran for 246 yards and four touchdowns and Braxton Miller had another 184 yards rushing and two scores Saturday to push No. 3 Ohio State past Illinois 60-35.

But even with Hyde's offensive explosion, the Buckeyes (10-0, 6-0 Big Ten) needed a third-quarter defensive stop and safety to recover the momentum.

After trailing 28-0 in the second quarter, Illinois (3-7, 0-6) closed to 35-21 in the third on two Nathan Scheelhaase touchdown passes.

Illinois had the momentum when the Buckeyes' Ryan Shazier sacked backup quarterback Reilly O'Toole in the end zone. Illinois recovered his fumble but the safety gave the Buckeyes a 37-21 edge and the ball. Minutes later, a Hyde touchdown put them up 44-21.

Hyde tacked on two late, long touchdowns runs of 55 and 51 yards.

Miller threw for 150 yards and two touchdowns.

Scheelhaase led the Illini with 288 yards passing and two touchdowns.

The Buckeyes defense kept Scheelhaase under pressure all day, sacking him five times and hitting him more than that.

It was one of those hits that kept Ohio State in control when Illinois was getting back into the game.

After Illinois closed to within two scores at 35-21, Scheelhaase had his helmet ripped off at his own goal line. Under the rules, he had to leave the game for a play, bringing O'Toole on.

The Buckeyes teed off on the backup quarterback, with Shazier hitting him from behind and knocking the ball loose. Tight end Matt LaCosse recovered the ball for Illinois to limit the damage to the safety.

The momentum swung swiftly back to the Buckeyes.

On the following drive, Ohio State moved quickly to the Illini 8-yard line.

Miller rolled left and threw an incomplete pass before taking a big hit from linebacker Jonathan Brown. The quarterback stayed on the turf for a time before briefly leaving the game.

Backup Kenny Guiton came on, handing off two plays later to Hyde for the 1-yard touchdown that put the game firmly back in the Buckeyes' grip at 44-21.

Miller's minute or so on the turf was a long one for the nervous Buckeyes, but he returned during the next series and finished the game.

Fast doesn't adequately describe how quick the Buckeyes came out Saturday.

Thirty-six seconds into the game, Miller ran up the middle of the Illinois defense for a 69-yard touchdown and a 7-0 lead. He slowed at about the Illinois 5-yard line, jogging the last couple of steps.

Over the next 15 minutes, it looked like it might be just that easy for a Buckeyes team in search of big wins that might convince voters that they belong in the national title picture.

Hyde put the Buckeyes up 14-0 with just under five minutes left in the opening quarter on an 18-yard touchdown pass from Miller.

Less than two minutes later, corner Bradley Roby added another touchdown, pulling down a tipped Scheelhaase pass and returning it 63 yards.

In those first 15 minutes, the Illini offense consisted of 88 yards and a pair of Scheelhaase interceptions.

But the Illini just wouldn't go away.

Down 28-0, V'Angelo Bentley returned a punt 67 yards for a touchdown with 7:29 left in the half to get the Illini on the board.

Then, down 35-7, Scheelhaase engineered two scoring drives that got Illinois back in the game.

The first ended with a 19-yard touchdown pass to Steve Hull with 2:25 left in the half to make the score 35-14. The second, early in the third quarter, ended with a 1-yard touchdown pass to Evan Wilson. The extra point pulled Illinois to within 35-21.

Ohio State vs Illinois (Nov 16, 2013) Source: OSU Official Site


Scoring Summary, Team Statistics, Individual Statistics, Drive Chart, Defensive Statistics, Game Participation, Box Score, Play-by-Play, Play breakdown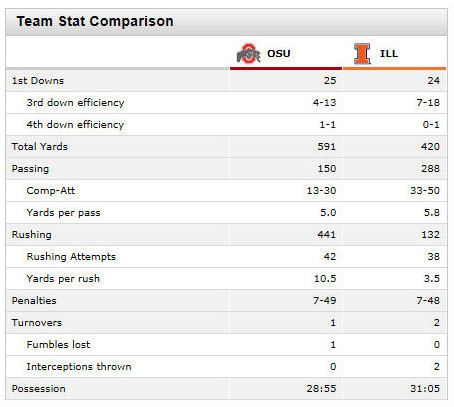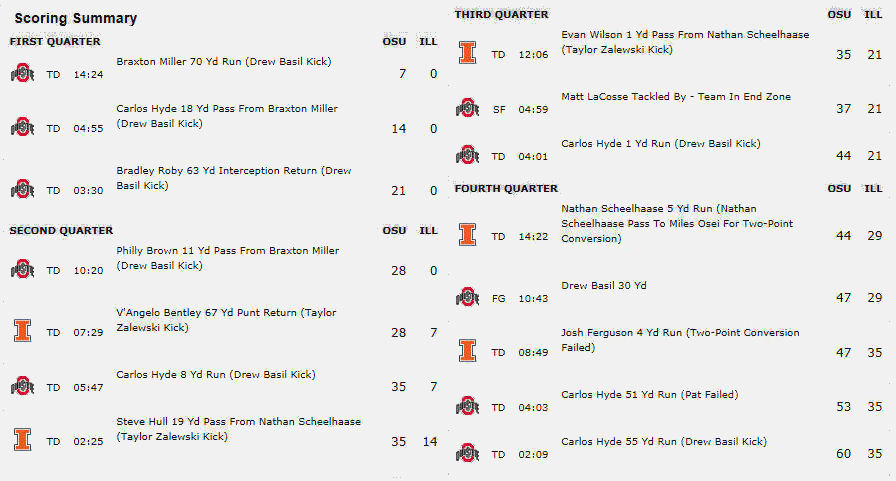 Watch each scoring play highlights above in videos.



Carlos Hyde rush for 51 yards for a TOUCHDOWN; 4th Quarter 4:03 - OSU 2nd and 1 at OSU 49
Carlos Hyde had 24 carries for 246 yards, 10.3 YPC avg and 4 TDs. He also had 2 receptions for 26 yards and 1 TD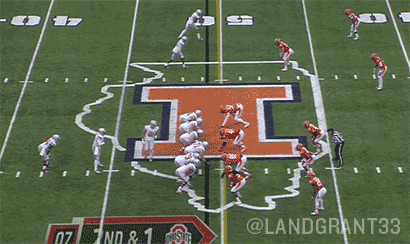 It was over when... It wasn't until Carlos Hyde's 51-yard touchdown run put Ohio State up 53-35 that the Buckeyes could feel safe.

Gameball goes to... Hyde, who rushed for 246 yards on 24 carries and four touchdowns. He also caught a touchdown pass.

Star of the game Carlos Hyde, whose 51- and 55-yard touchdown runs late in the fourth quarter sealed Ohio State's win and lifted him to a career-high 246 yards and four TDs. He's at 947 yards with two games left in the regular season. Hyde has rushed for 821 yards and scored 11 rushing TDs the last five games; an average of 164 yards per game and 8.4 yards per.

Ohio State's offense is really good. The unit has averaged 59.6 points the last three games, scoring 63 (Penn State), 56 (Purdue) and 60 (Illinois) as it tries to make a BCS statement. (I don't care what Urban Meyer says.) The fewest points the Buckeyes have scored all season has been 31 in a 31-24 win over the Badgers. Want more? No team starts faster, as OSU's 192 first-quarter points lead the FBS ranks. This offense is a buzz saw.

Carlos Hyde's 246 yards vs. Illinois today tied Archie Griffin (vs. Iowa in 1973) for third-most yards in school history

Carlos Hyde tied Keith Byars and Pete Johnson for most points in a game (30) and most TDs in a game (5).

Turning point When Illinois' Nathan Scheelhaase lost his helmet during a Tommy Schutt tackle with just over 5 minutes left in the third quarter, the quarterback had to leave for a play. Backup Reilly O'Toole fumbled in the end zone on the next official play on a Ryan Shazier hit, resulting in a safety.

Braxton Miller has tied Troy Smith for 2nd in school history with 68 TDs responsible for (45 TD passes; 23 rush TDs). Art Schlichter in 1st with 85

Despite missing almost three games, Braxton Miller continues to assert himself as the Big Ten's top player. In the six games upon his return, Miller has completed 104-of-154 passes (68 percent) for 1,258 yards with 15 touchdowns and one pick. He also has run 85 times for 512 yards and three scores.

Repercussions It's funny to think that a 25-point win, the school-record tying 22nd straight, on the road in windy conditions with several key players on defense banged up or out might not be good enough for voters as they ponder whether the Buckeyes deserve to remain No. 3.

Stat of the game... 192. The Buckeyes have started hot in games, scoring an FBS-best 192 first-quarter points this season.

Ohio State has scored 178 points the last three games; a record for a three-game stretch. 63 vs PSU, 56 vs Purdue and 60 vs Illinois (178 points) better than the 1995 Buckeyes 70 vs Rice, 72 vs Pittsburgh and 29 vs Notre Dame (171 points).

Ohio State is now rushing for 315.1 yards per game and 6.8 yards per rush. This team has rushed for 3,151 yards. The school record: 4,199.

The Buckeyes registered six sacks with Bosa getting 2-1/2 before leaving the game. Shazier, who also had 16 tackles, added 1-1/2 sacks and 2-1/2 TFLs.

Illinois QB Nathan Scheelhaase recorded a 20-yard rush in the third quarter and a 35-yard rush in the fourth quarter, the first two 20+ yard rushes given up by the Ohio State defense this season.

Illinois posted 420 yards of offense against the Buckeyes in today's game, third straight game and sixth time this season that the Illini have topped the 400-yard mark.

The Illini held Ohio State to 4-of-13 third-down conversions on the day, the fewest conversions and worst percentage (30.7 percent) the Buckeyes have registered in a game this season.

OSU's game captains were C.J. Barnett, Philly Brown, Corey Linsley and Andrew Norwell.

With Curtis Grant out, Camren Williams started in his place. Nickel back Tyvis Powell started in place of Perry. On offense, Dontre Wilson started instead of Hyde at running back.

OSU coach Urban Meyer is now 2-0 against Illinois, while Illinois coach Tim Beckman drops to 0-4 against OSU.

Ohio State now leads the all-time series, which dates to 1902, at 66-30-4. That includes a 36-12 edge all-time in Champaign. Ohio State has won the last six games in the series and nine of the last 10 overall. The lone loss in that stretch was in 2007 (28-21).

Ohio State is now outscoring teams 192-38 in the first quarter this season.

Meyer's teams are now 32-3 in November games since 2003, his first season at Utah.

The Buckeyes need one win over in their last two games to clinch at least a tie for the Big Ten Leaders Division title and a spot in the third annual Big Ten championship game, set for Dec. 7 in Indianapolis.

Just wondering: Would 25-0 have looked better? Ohio State scores 60 — Sixty! — and yet many fans, as well as ESPN talking heads, mutter that the Buckeyes might slip — or should slip — in the polls because they gave up 35 to Illinois. Tweeted one national writer: "This is not how you hold off Baylor."

Urban dictionary
His words: "It did get tight" in the fourth quarter.

The definition: "I don't enjoy tight, so somebody will not enjoy the upcoming week."

They said it

As heard on TV: If there's a Griese in the booth — Bob was a blooper lover's dream — you know it's going to be one heck of a show. Brian Griese, the former Michigan quarterback, had some nice moments. He pointed out that Ohio State's nonconference schedule is not stout but hardly any softer than what Florida State has faced. But it began to go downhill when the ESPN analyst mistook the Illibuck (turtle) for a squirrel. Then he said OSU had only one good pass rusher in Noah Spence. Don't tell that to Joey Bosa.

The highlight of the day — and maybe the season, at least for Buckeyes fans — was when Lou Holtz took Mark May to task for having "had it out for Ohio State since they started doing the show." That might have elicited the biggest cheer from Buckeye Nation.

Numbers for dummies

10: Seconds of in-your-face arguing between Beckman and offensive coordinator Bill Cubit, who nearly came to blows after a safety in the third quarter, prompting one Internet commenter to quip, "Well, they are the Fighting Illini."

3: Divisions of NCAA football where an Ohio team holds the longest active winning streak in the country. Ohio State has 22 straight wins in Division I, Ohio Dominican 15 in Division II, and Mount Union 25 in Division III.

Tweethearts Best responses to @rollerCD on Twitter:

@justinkeller2: Maybe Thad Matta can teach the football team how to play defense

@MontytherealOU: I know what the juice was for today's game. #NyQuil



Sources: ESPN, Bucknuts, Columbus Dispatch, Illinois Official Site, @BuckeyeNotes, BTN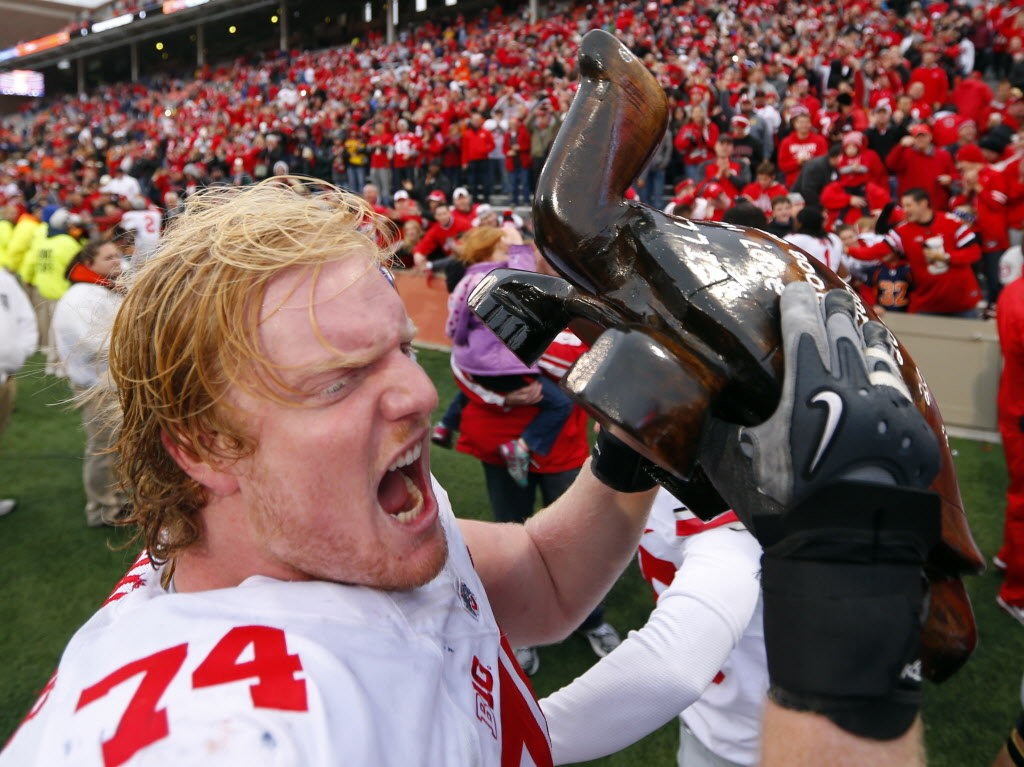 Knee injury proves how much OSU needs LT, Illibuck fan Jack Mewhort

Source: Cleveland Plain Dealer



Mewhort's knee injury derails offense
November 17, 2013 Source: Toledo Blade - Braxton Miller is one of the most electric quarterbacks in the country.

Yet ask coach Urban Meyer to identify Ohio State's most important offensive player, and he said it just might be senior left tackle Jack Mewhort.

His case was bolstered Saturday in OSU's 60-35 win over Illinois when the visitors' offense stalled with Mewhort sidelined for parts of the second and third quarter with a hyperextended knee.

Mewhort tweaked his knee in practice Wednesday, and Meyer said it looked like he "probably" would not play. But Mewhort returned to practice Friday and played the first six series as OSU took a 28-0 lead before Meyer replaced him with junior Darryl Baldwin as a precaution.

Mewhort watched the rest of the half with an ice pack wrapped around his knee, only to return as needed with the Buckeyes ahead 35-21 in the third quarter. In his absence, OSU had three three-and-outs.

Asked about the St. John's Jesuit graduate's absence, Meyer said, "Oh, it's devastating."

"Not just that he's a pretty good player, but he's the man," Meyer said. "He's the rallying point. He's the leader."

Meyer said afterward Mewhort will be fine for next weekend's game against Indiana and kicked himself for pulling the anchor of the offensive line.

"That's my fault," he said. "We've got to win games. It's still football. There are a bunch of scholarship players on the other side and a really good quarterback. When our focus is on [winning], we're pretty good. It was somewhere else today."





The Bottom Line
November 16, 2013 Source: Columbus Dispatch -

Offense (4 leaves)
Carlos Hyde is a load of bricks strapped to a solid-steel freight train traveling downhill with a stiff wind at his back, and when he runs angry, there might not be a better back in the country. Braxton Miller, returning to ground-transportation mode, makes for an unrelenting duo. The 441 total included no garbage-time yards.

Defense (3 leaves)
In the mind's eye, it's easy to see the two picks and the six sacks that allowed OSU to essentially name its score early and late. But in between, it's hard to forget the uneven play and poor defensive positioning that allowed Illinois to claw under the skin and irritate the Buckeyes.

Special teams (2 leaves)
Cameron Johnston got off some boomer punts, and he also saw his stellar net average take a hit, including one return brought back to the house. Bad tackling was the culprit there. Drew Basil missed a field goal and doinked a PAT, and Philly Brown had a forgettable return day.

Coaching (2 leaves)
Probably it was too much to expect OSU to sustain the momentum from its pre-bye swampings, and defensive depth is an issue. But those sound like excuses, and after it was 28-0, the Buckeyes suddenly were no sharper than a hard-boiled egg. Who insisted on sticking with a scattershot passing game?

Fun quotient (2 leaves)
Maybe it's finals week at Illinois, or more likely the students are finally sick of watching the Illini get handed their Big Ten lunch. The end-zone section set aside for the youngsters was about one-third full, and at times the joint was library-silent.

Opponent (2 leaves)
A more-boisterous crowd might have better stirred the Illinois comeback, and give the Illini some credit for at least generating one. A senior QB helps such causes. A defense that treats hard-charging RBs like a flu virus doesn't.

Officiating (2 leaves)
Replay did its job by correcting two minor boo-boos, and could have been used to show other squirrelly spots. Film study, meanwhile, will reveal plenty of instances of linemen tackling defenders, but there's holding on every play somewhere.





Ohio State 60, Illinois 35: Jon Spencer's report card
November 16, 2013 Source: Mansfield News Journal -

OFFENSIVE LINE
Another productive day for the front five, but, then again, they didn't have to go against the Buckeyes' D-line. Darryl Baldwin, subbing for left tackle Jack Mewhort, got beat on a sack, but he's a backup for a reason. The Buckeyes finished with 591 yards total offense and had one 200-yard rusher — and nearly another. Unbelievably, Ohio State averaged 10.5 yards per rush. GRADE: A

RUNNING GAME
Carlos Hyde did not start, reportedly because of an academic issue, but unfortunately for the Illini it wasn't much of a punishment. Hyde was in there on the first series when a fake to him cleared the lane on Braxton Miller's 70-yard TD run up the chute seconds 36 seconds into the game. Hyde finished with five touchdowns, one on a reception, and a career-best 246 yards rushing. Miller threw for two TDs and ran for one and had 184 yards rushing, two shy of a career-best. GRADE: A

PASSING GAME
Maybe the staff was on to something only letting Braxton Miller throw four passes at Illinois two years ago. He was as mercurial as the ever-present winds in Memorial Stadium. He overthrew a wide-open Devin Smith in the end zone, but came right back moments later to connect with Carlos Hyde on a TD to complete a 10-play, 94-yard drive. As bad as the overthrow looked, that's how good an 11-yard TD to Philly Brown was on the fade route. Miller had obvious problems adjusting to the wind as he badly overthrew Smith a second time in the first half and Brown in the second half. His throw up for grabs under pressure in the fourth quarter reeked of panic and could have been disastrous. Fortunately, Brown batted it down. GRADE: C

DEFENSIVE LINE
Back-to-back sacks by Michael Bennett and Joey Bosa on a second quarter series underscored how under siege QB Nathan Scheelhaase was the entire game. Bosa, the impressive freshman, had three sacks — in the first half. Noah Spence, one of the Big Ten leaders in tackles for loss, was also relentless in his pursuit, but for whatever reason Scheelhaase fared better against pressure in the second half after Bosa left with an injury. GRADE: B+

LINEBACKER
With Curtis Grant (ankle) and Josh Perry ("mishap") out, all-but-forgotten Camren Williams made his first start. A four-star recruit out of Massachusetts, Williams has been slow to develop, and he struggled Saturday. Outside of Ryan Shazier, linebacker has been a soft spot all season for the Buckeyes. Illinois was able to exploit that weakness, which won't quiet those disparaging OSU's national title contention. Shazier's sack of backup QB Reilly O'Toole for a safety triggered a nine-point swing in the third quarter that essentially sealed the win. GRADE: C

DEFENSIVE BACKS
For the third straight game, the Buckeyes picked off a pass on their first defensive series. This time, it was C.J. Barnett. But that was quickly trumped by Bradley Roby's 63-yard return with a deflected pass for a pick-6 in the first period, bumping OSU's lead to 21-0. But the secondary, like the rest of the defense, couldn't maintain that level of play throughout against league passing leader Nathan Scheelhaase. Shows what experience means. Scheelhaase is a senior, not one of those freshmen OSU had feasted on of late. GRADE: C

SPECIAL TEAMS
A Glenville player OSU didn't want (yes, there have been a few) came back to burn the Buckeyes went V'Angelo Bentley broke three tackles on a 67-yard punt return for a score. It was only the third punt return allowed all season by OSU and Bentley had to make an over-the-shoulder catch of a 64-yard bomb by Cameron Johnston to get it started. It never looks like Johnston is going to get the punt off in time, but his roll-out, rugby-style first attempt was another 64-yarder that rolled dead at the Illini 4. Johnston also had a 70-yarder with the wind that was killed inside the 10. Philly Brown's no-fear approach to returning punts works sometimes and sometimes doesn't, like on his first return Saturday. He picked up the ball in traffic, retreated and got tackled for a big loss, with a holding call tacked on. Drew Basil had his first failed conversions — one PAT, one field goal — after being perfect on 52 PATs and seven field goals. GRADE: C-

COACHING
It was a milestone day for the Buckeyes and coach Urban Meyer, who has yet to lose at the helm in equaling OSU's longest winning streak, now at 22 games. What's most impressive is how fast the Buckeyes continue to come out of the gate. With Saturday's 21-0 start, OSU has now outscored the opposition 192-38 in the first quarter. Unfortunately, the Buckeyes let their foot off the gas or failed to make in-game adjustments as well as their counterparts. Either way, not good. GRADE: C+





Postgame breakdown: Ohio State vs. Illinois Report Card
November 16, 2013 Source: Canton Repository -

Offense: D-plus
Carlos Hyde saved this from an F. Braxton Miller had more than 100 yards rushing in the first half. Hyde finished with 246 and scored four TDs on the ground. It was a testament to OSU's run game (441 yards and a OSU record 10.5 per carry) but also the Illini's poor defense that was slower and weaker. Miller was not effective nor efficient throwing the ball. He was careless with the ball in the third quarter when it was 35-21. The offense was sloppy after a big lead because Miller was sloppy, and terrible on third down.

Defense: F
Two picks in the first quarter, including Bradley Roby's 63-yard pick-six, made for an easy start. The game wasn't over. Allowing nearly 300 yards in the air, granted against a pretty decent passing attack, wasn't a step forward for a questionable pass defense. And giving up 35 points to Illinois won't help the Buckeyes in the BCS. This performance raised more questions about OSU's defense.

Special Teams: C
Punter Cameron Johnston had just two punts returned out of 27 coming into this game. His rugby-style punt in the first quarter pinned Illinois inside the 5, and helped create the circumstances for Roby's pick-six. Giving up a 67-yard punt return for a TD won't sit well in film review, and it helped keep the Illini in the game. Johnston also had a wind-aided 70-yard punt.

Coaching: C
You have to like Urban Meyer's bravado. His team had 288 yards of offense and 35 points at halftime and he wasn't happy with the way the Buckeyes played. He mentioned to ESPN at halftime about getting up big early and his team didn't play like pros to finish the first half. They would have a tough halftime speech, Meyer said. The fact that OSU's offense sputtered in the middle of the game also reflects on a staff that didn't get them out of their slumber.





Ohio State Stock Market Report: Illinois
November 16, 2013 Source: Land-Grant Holy Land -

Blue Chips:

Braxton Miller, QB: I just laugh and chuckle when Miller runs the ball anymore, because he's just not fair. When he housed a 70 yard run on the third play of the game, I just shook my head in amazement. It was the first of over 200 yards rushing for Miller. He was only 13-29 passing, and he was hurt and missed some time, but today was a day where he showed a ton of maturity, too. Miller has become a complete quarterback this year. On passing plays, he keeps his shoulders square and eyes downfield, looking to make a throw, where in past seasons he would tuck the ball and run. Watching him grow and mature has been a heck of a treat this year.

Carlos Hyde, RB: Carlos Hyde is one of the best backs in recent OSU memory. Until today, I thought he was a step below guys like Antonio Pittman and Beanie Wells, but I don't know that he doesn't belong in that conversation. From a career standpoint, no. But he is turning in one of the best seasons an OSU running back has had in recent years. Barring something catastrophic he'll be Meyer's first 1,000 yard back, and his 248 yards is a career best. But to me, his most impressive play was his TD reception in the second quarter. It was a swing pass to the sideline, and he juked a defender, tiptoed the out of bounds line, and showed a nice burst of speed into the end zone.

Ryan Shazier, LB: Shazier was money again, registering an incredible (but yet somewhat under-the-radar) 16 tackles, 1.5 sacks, and had the defensive play of the game. After Illinois had closed to two touchdowns, the Illini were pinned deep and dropped back to pass into their own end zone. Riley O'Toole didn't see Shazier blitz, and he hit O'Toole hard, knocking the ball loose; the end result was a safety. It shook OSU out of their doldrums, and the offense would add another score to make it 44-21 and essentially put the game out of reach. It also caused Illinois coach Tim Beckman to almost punch offensive coordinator Bill Cubit. Because LOL, Tim Beckman.

Cam Johnston, P: Johnston is a kicking stud. His six punts averaged 57 yards per punt. Five of his six kicks were over 50, and three of his kicks put Illinois inside the 20. When you consider the windy conditions, you can't help but be impressed with what Johnston did Saturday.

Solid Investments:

Joey Bosa, DE: Bosa was a force from the outside, and until he got hurt the Buckeyes defense was playing very well. He had 2.5 sacks and has been the biggest surprise on a defensive line that had a lot of incumbent talent. Bosa made the most of his opportunity when Adolphus Washington was hurt, and hopefully, his injury isn't serious and he won't be out long. He has come on strong in the last few weeks and is becoming the best pass rusher on the defensive line.

Junk Bonds:

Punt Return Unit minus, you know, the punter. When you give up an average of 24 yards per return, to include a 67 yard return for a touchdown...Yeah, it's not a good day.

Buy/Sell:

Buy: Philly's touchdown reception. Philly Brown is one of the most situationally aware receivers the Buckeyes have had in recent years. He knows where the sideline is, he knows where the first down marker is, and he always gives his quarterback a good target to throw the ball to. His 11 yard over the shoulder touchdown was a beautiful throw and catch.

Sell: Philly's first punt return. After a 62 yard punt, Philly fielded the ball at the 25, and tried to make something happen. Not a lot of good generally happens when you field a punt and go East-West, and nothing good happened here. Brown lost 11 yards, and with a penalty the Buckeyes started the drive on their own six, as opposed to the 25.

Buy: The defense having the potential to be very good. For 30 minutes today, the Ohio State defense was insane good. They were stuffing the run, they had picked off Nathan Scheelhaase twice, and were creating all kinds of mayhem for the Illini. They gave Illinois a gift TD towards the end of the first half, but two of the three starting linebackers were out.

Sell: What the defense did in the second half. I'm not sure if it was complacency or if the defensive staff just dialed it back and were willing to give up yards to run time off the clock because the game was in hand, but Illinois made some plays, Scheelhaase made some nice throws, and before you knew it the Illini had gotten to within 14 points, had momentum, and an opportunity to turn this laugher into a ballgame. It wasn't really over until late, and although the defense was dealing with several injuries both before (Curtis Grant) and during (Bosa) the game, it was still a frustrating return to what we saw earlier in the season. After the progress they had made the last few weeks, it was a definite setback.

Buy: The early interceptions from the secondary, to include the pick six. Part of the great play by the defense in the first half was due to turnovers the secondary created on two of the first three Illinois possessions. The first one was on the fourth Illinois play of the game and set up the offense on their 42. the second one turned in to a 63 yard pick six by Bradley Roby, and gave the good guys a 21-0 lead before the first quarter was over.

Sell: The play of the secondary in the second half. And much like the defense stumbled through the second half, it was in no small part due to the secondary. Scheelhaase threw for almost 300 yards as Illinois really had OSU on their heels for long parts of the second half. The Buckeyes went from attacking to laying off, and Illinois made the most of it.

But you know what? 22 straight games without a loss, so we're really splitting hairs on a lot of this. All I'd say is you can't get bent out of shape over what you can't control, and right now OSU doesn't really control whether or not they're #1 or #2 in the BCS. All they can do is keep winning, win the Big Ten, and let the chips fall where they may.

As the previous 22 games have shown, the winning part hasn't been an issue.








Illinois HC Tim Beckman Postgame



"To start off, [Ohio State] is a good football team. No question about it. They've got some skilled athletes, very well-coached. I thought our players battled to the dang end; they never came up short, they continued to fight. Probably the last three or four minutes, as I told them, were disappointing times but proud of the way they competed and proud of the way this coaching staff coached it. We've got two remaining football games and we want our seniors to leave winners and to win that football game that is necessary for them to get this losing streak done. They've worked extremely hard."








Illinois QB Nathan Scheelhaase Postgame



On the comeback: "It was one of those games, if I would have to give a synopsis, you look at it from a boxing standpoint. We came out and they knocked us down twice in part of the first two rounds and I think any time you deal with that it shakes you up a little bit but I was just so happy with the way we responded. I mean we stood up and we fought until the 15th round and just to be surrounded by a bunch of players that are willing to do that, to have a group of seniors like that, that's kind of the mentality we've had not only on the field on Saturday's but in anything we do. I'm just honored to be a part of something like that. There's not a group of guys that I would rather do it with."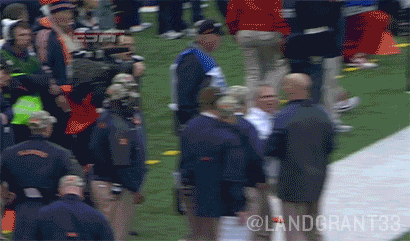 Things got a little bit chippy on the Ilini sideline. Okay, A LOT of bit chippy. Following a failed conversion which arguably changed the entire course of the game, U of I head coach Tim Beckman and offensive coordinator Bill Cubit had to be visibly restrained by fellow coaches to prevent from going to blows. I guess they don't call them the Fighting Illini for nothing, huh?








Illinois

Nov 16, 2013 Noon



Ten Questions: Illinois
November 15, 2013 Source: Bucknuts -

* 1. How will Braxton Miller do after the open week? – Two years ago, Miller came to Illinois as a freshman and threw four passes, completing one for a touchdown in OSU's 17-7 win. As the Buckeyes went into their open week, Miller was on fire. He had thrown for 200 or more yards in his last four games and was completing over 72 percent of his throws on the year.

* 2. Can Carlos Hyde go for 150 yards or more against Illinois? – Illinois surrendered 371 yards rushing in last week's 52-35 loss at Indiana. IU's Tevin Coleman rushed for over 200 yards, himself. Hyde's career high of 168 yards earlier this year at Northwestern could be in peril. Plus, backups Rod Smith and Ezekiel Elliott could also get into the fray as well.

* 3. Can the OSU receivers exploit some things against Illinois? – The Illini are 89th nationally in passing yardage defense, allowing 243.1 yards per game. Between Philly Brown, Devin Smith and the rest, there could be plenty of big plays. Tight end Jeff Heuerman is also coming off a career game against Purdue.

* 4. Can the OSU offensive line play a "clean" game? – The tune-ups are winding down and this OSU offensive line, with four seniors, has just four or five games left together. The tests will get tougher each week going forward as well. This is one of the last chances to clean it up before the big games come in the next few weeks. OSU is third in the Big Ten in sacks allowed (just 11 in nine games).

* 5. Can the Buckeyes apply pressure to Illinois QB Nathan Scheelhaase? – OSU is coming off a six-sack game against Purdue with Noah Spence second in the Big Ten with 6-1/2 sacks. LB Ryan Shazier had two sacks in the win at Purdue.

* 6. Is the OSU secondary ready for the pass-happy Illini? – Remember early in the season when the Buckeyes got torched through the air by California, Wisconsin and Northwestern? The pass defense has pulled together since then with improved play in the secondary. But Scheelhaase leads the Big Ten at 268.9 yards per game. He has six receivers with 20 or more catches, so he has done a good job of spreading it around. Illinois has all but abandoned the run (10th in the Big Ten in rushing at 136.4 ypg).

* 7. How healthy are these Buckeyes? – We may or may not get that answer this week. In the last game, there were a ton of walking wounded with RT Taylor Decker, RB Jordan Hall, RG Marcus Hall, DT Michael Bennett, LB Curtis Grant, LB Josh Perry and others. The hope is that most or all of them will be cleared to play in this game. The Buckeyes will need all of them playing full-go to run the table this year.

* 8. Will there be any big special teams plays? – Bradley Roby had a blocked punt touchdown earlier in the year. There have not been any "true" kick or punt return touchdowns for OSU this year. Is this the time Brown breaks a punt or Dontre Wilson brings back a kick?

* 9. What impact will the weather be? – Temps are predicted in the low 60s with a good chance of rain as the game wears on. Plus, winds could be gusting to 25 or 30 mph. OSU has been lucky with good weather much of this season. One area where it may have an impact is with the crowd. Illinois drew just 45,895 for its last home game, a 42-3 drubbing at the hands of Michigan State. Will the Illinois "faithful" show up, knowing it could be poor weather and their team has lost 19 straight Big Ten games? Hmmm.

* 10. Can the Buckeyes tie the school record for consecutive wins and stay in the national title hunt? – Well, the Buckeyes are a five-touchdown favorite to lay waste to the Illini. This would be OSU's 22nd straight win and that would tie the school record set by the teams from 1967-69. OSU decimated Penn State (63-14) and Purdue (56-0) before its open week. The Buckeyes are third in the BCS standings and need a convincing win to keep Stanford and Baylor behind them going forward.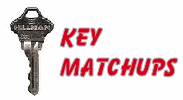 Ohio State football: Key matchups vs. Illinois
November 15, 2013 Source: News Herald -

Illinois offensive tackle Simon Cvijanovich vs. Ohio State defensive end Noah Spence: Cvijanovich, a product of Benedictine High School, is 6-foot-6, 310 pounds. He'll probably get a lot of looks at Spence, a sophomore who is Ohio State's leader in sacks. Spence gets off the ball quickly and gets upfield just as fast. When Cvijanovich is locked up on Spence, he'll have to be up to the challenge to keep Spence off QB Nathan Scheelhaase.

Ohio State linebacker Ryan Shazier vs. Illinois quarterback Nathan Scheelhaase: The Illini are winless in the Big Ten again, but it's hard to pin that on their QB. Scheelhaase has thrown for 2,420 yards and 15 touchdowns. The Buckeyes will want to put pressure on him and not allow him to pick apart the OSU secondary. Shazier is OSU's leading tackler and the heart of the Buckeyes' defense.

Ohio State cornerback Doran Grant vs. Illinois receiver Steve Hull: John Ferguson (37 catches, 483 yards, four TDs) is the Illini's leading receiver, so he might see a lot of OSU's shutdown corner Bradley Roby on Saturday. But Hull is coming off a career game in which he had nine catches for 224 yards and two touchdowns. A converted safety, Hull is a bonafide threat. The Buckeyes will need to keep tabs on him.

Ohio State quarterback Braxton Miller vs. Illinois linebacker Jonathan Brown: Brown (6-foot-1, 230 pounds) is the marquee player on the Illinois front seven. He leads the team in tackles (88), tackles for loss (10.5) and sacks (four). Miller is playing at a high level, passing and running the ball effectively while making all the right decisions. He'll have to keep an eye on the whereabouts of Brown.



Five key factors for OSU victory
November 15, 2013 Source: Columbus Dispatch -

1. Establish the pass
The Buckeyes won at Illinois two years ago despite completing only one pass. They probably could do it again today against a feeble Illini defense, especially the way Carlos Hyde is running. But it's important for Braxton Miller to continue the momentum he has developed in the passing game. He is throwing with confidence and accuracy, aided by receivers who are also on the top of their games. If the Buckeyes can complete some early passes, the Illini will know they're in for a long day.

2. Control Scheelhaase
Nathan Scheelhaase is a four-year starter at QB who leads the Big Ten in completions and passing yards per game this season. He is able to improvise as well as throw from the pocket. If Illinois is to have any chance, Scheelhaase would have to have a huge game. The Buckeyes have to be able to keep him under control, and a few early hits would be a good way to set the tone.

3. Punish Illini's O-line
Injuries and ineffectiveness have been a problem for Illinois' offensive line. Left tackle Simon Cvijanovic is the latest to go down, suffering a sprained ankle against Indiana, and he will be replaced by true freshman Austin Schmidt of Olentangy. Ohio State's young defensive line, meanwhile, is playing well.

4. Don't self-destruct
On paper, Ohio State's offense should be able to steamroll the Illini, who are yielding 482.7 yards per game and aren't good at stopping either the run or the pass. As long as the Buckeyes don't hurt themselves with penalties, turnovers or missed assignments, they should be able to move the ball almost at will against an Illini defense that is likely to blitz often. Controlling star linebacker Jonathan Brown will be a key.

5. Dominate special teams
Ohio State's coverage units have been air-tight this season, and it's returners have been on the verge of breaking one for a touchdown. Illinois is giving up 24.4 yards per kickoff return, 109th in the country, and is mediocre in punt coverage. The Illini will be hard-pressed to stay in the game anyway, and a big play on special teams could be a back-breaker.



SEEKING PROGRAM-TYING WIN: Ohio State is one win from tying the longest winning streak in school history. Woody Hayes' great teams of the late 1960s and early 1970s won 22 consecutive games between 1967-69 for the longest streak in school history. Ohio State has had 15 winning streaks of at least 10 games.





100th OHIO STATE vs. ILLINOIS GAME: Ohio State and Illinois will play for the 100th time since the series was initiated in 1902. Only Ohio State's series against Michigan, which started in 1897 and which has seen 109 games, is older and lengthier than the Illinois series. Ohio State and Illinois played every year for 89 consecutive years, between 1914 and 2002, until the series was interrupted in 2003. The game Saturday will be the ninth consecutive year the teams have played.






Two-Minute Drill: Updates from Urban Meyer's Call-In Show Novmber 14, 2013 Source: The Ozone - * Meyer said they worked hard during the bye week. He didn't feel the need to rest them like he did on the first bye week. He said he liked the demeanor of the team this past week.

* Meyer said their travel roster is down to about 61 players right now due to injuries and lack of development of the young players. "We're just putting filler in there right now." He said the starters are playing too much football right now. Walk-ons who have never played will be making the trip to Illinois.

* He said the offensive line is a great model for the entire team for how they "attack their business", and that includes their work in the classroom.

* Meyer said the entire offensive playbook is in, but now it's a matter of fitting the scheme to the personnel. He said they're not saving anything, it's just a matter of fit.

* Meyer said they he pushed his team harder this past week in part because of the ease of their last two games.

* Meyer on his offensive line: "That's gonna be a painful day when those four starters walk out. We'll never forget 'em."

* Meyer said right now that Ezekiel Elliott has closed the gap for the backup running back with Rod Smith. He's doing everything the right way. "He's ready-made." He also said he's solid in pass protection. He shows up 90 minutes early for meetings. He gets 9s for his academic work (out of 10). He said "he's on point in everything he does."

* Meyer said that the threat of a quarterback run eliminates some complex defensive schemes. Even without running Braxton Miller, teams still have to defend the Buckeyes as if he is going to run on every snap. He cited Jeff Heuerman's 100-yard receiving day as evidence of that.

* Meyer said going back to Iowa, they've had 12 or 13 "second and short" situations in a couple of games, and that's usually a two or three-time per game thing.

* Meyer said that Purdue used much of Buffalo's defensive game plan.

* He called Illinois quarterback Nathan Scheelhaase a dangerous player. He said they'll need to pressure him, but because of his athleticism, he can escape and make plays out of nothing. "You have to hit this quarterback, and continue to hit him."

* Meyer said Illinois is a "blitz-happy team", but the good thing is that Illinois hasn't had time to add too much, having just had a few days to practice for this game.

* Meyer said that Marcus Hall is acting like a sophomore right now in that he is working hard to get better every day, and it's working.

* Meyer on Evan Spencer's comment: "I've got news, I love Evan Spencer but he ain't that good, I'll tell him if he is."

* Meyer said the coverage units are all playing at a very high level. Meyer also mentioned that Warren Ball is in there now as well. Reading between the lines, perhaps we will see Ball get a few carries this week. He said the Buckeyes have the two best gunners in America in Devin Smith and Vonn Bell. He said on kickoff coverage, teams are trying to go wide on them, but the Buckeyes haven't allowed it.

* Meyer said that Cameron Johnston is very good at the rugby kicks, which might be in play this weekend with the wind.

* Meyer said that Ezekiel Elliott, Joey Bosa and Dontre Wilson are leading the pack as freshmen, and it allows Meyer to tell the rest of them to work like these three.

* Meyer said that freshman defensive tackle Michael Hill will have shoulder surgery, and he will be redshirted. He would have played this year if he was healthy.





KEY MATCHUP

Braxton Miller vs. the Illini defense. Good offenses score in bunches on the Illini — Wisconsin had 56 points and Indiana put up 52 — and Miller leads the top-scoring offense in the Big Ten. The Buckeyes are averaging 48.2 points a game and their quarterback is a big reason why. He's completing 72.5 percent of his passes, and he's thrown for 15 touchdowns against just three interceptions. The elusive Miller is also rushing for 58.2 yards a game.

PLAYER TO WATCH

Ohio State: LB Ryan Shazier. He leads the Buckeyes with 73 tackles and has four of the team's 26 sacks. Shazier also has 11 tackles for losses, tied for second in the conference.

Illinois: QB Nathan Scheelhaase. The fifth-year senior has found new life in offensive coordinator Bill Cubit's offense, if not the wins to go with that success. He leads the Big Ten in passing with 268.9 yards a game and has 15 touchdown passes and eight interceptions. Source: Associated Press





Linebackers still concern Meyer Novmber 13, 2013 Source: ESPN - The names are well known to anybody walking around the hallways at Ohio State, and even though he hasn't coaching them, they roll right off the tongue of Urban Meyer.

A.J. Hawk.

James Laurinaitis.

Bobby Carpenter and Brian Rolle.

Meyer could keep going as he makes his point about the tradition and high standards the Buckeyes set for their linebackers. And while the Ohio State coach has one sure-fire addition to that list currently anchoring his defense in Ryan Shazier, the fact that he doesn't have more than that on hand right now continues to put the unit in his crosshairs -- no matter how solidly it might have played lately.

"The linebacker position is still my biggest concern on our team," Meyer said. "The depth is a major concern.

"When you think of the great linebackers [the program has had] -- arguably the last decade as good as a linebackers as anywhere in the country played at Ohio State."

The Buckeyes do have an individual candidate who could make a claim as the best linebacker in the country with Shazier contributing in almost every way imaginable thanks to his incredible combination of instincts and athleticism. And collectively, the first-team unit with Shazier, Joshua Perry and middle linebacker Curtis Grant has helped Ohio State get back among the nation's elite defenses, ranking in the top 10 in total defense, scoring defense and rushing yardage allowed.

But there's precious little depth behind that group of starters. And with no margin for error, even relatively minor injuries like the finger surgery Perry had during the bye week or the ankle and back issues that have slowed Grant, could lead to major concerns for a team in the thick of the BCS title chase. Both of them are expected to play on Saturday at Illinois, but even when they've been completely healthy, Meyer has continued to train his focus on getting more out of that position to take the defense to another level -- one it's historically used to reaching.

And while there's nothing the Buckeyes can do during the season to add more bodies to the roster, that emphasis on development at the position has clearly yielded some results as Perry has chipped in 33 tackles in his first season as a starter and Grant has finally begun living up to his recruiting hype as a full-time player.

"I think it's definitely motivation," Perry said. "I know what we do in our meetings rooms and how we react to that, and we take that as a challenge for us. I think we've been playing a lot better these last few weeks, but it's never good enough. We just have to keep hitting our stride.

"Early in the year, I think we were a team of talented guys, but not necessarily technicians. We weren't great at fundamentals, didn't necessarily have as good of a grasp on the scheme as we do right now. And then when you turn on the film, you see guys running to the ball, definitely with better effort, and I think that comes with confidence from knowing what we're doing."

The Buckeyes also don't keep their successful past with linebackers a secret, which is a true measuring stick.

The statistics this season look good on paper. The team is undefeated and riding a 21-game winning streak. But there's one position in particular that has a pretty high bar it has yet to clear in Meyer's eyes.

"We're nowhere near where we need to be as far as the expectation level of the linebacker play here," Meyer said. "We need to get back to that."

If the Buckeyes need examples of what Meyer is looking for, he's got a lengthy list he can point to in a hurry.






Tony Gerdeman's Two Minute Drill on today's Big Ten teleconference Novmber 12, 2013 Source: The Ozone - * Meyer said the one area that is better than expected is the kick coverage units. The area that isn't as good as expected is the linebacker group. He said they're not bad, but it's still the area of biggest concern for him.

* Meyer said Taylor Decker would probably win the "Reid Fragel Award" this year as the player who came from out of nowhere to be a major contributor.

* Meyer said he's never given thought to this year's schedule and how it could have a negative impact on their national reputation. He said there's one way to eliminate the talk of the Big Ten being down, and that's to go out and win a bunch of games and win the bowl games. He said Wisconsin could play in any league in America and be a top three team in that conference.

* Meyer said that the winning streak means something to him and the team because of the history that's being made, but they aren't talking about it right now.

*Meyer said that they are getting a great look at Braxton Miller's improvement from watching last year's games against this season's opponents. They can see how far he's come by watching what he used to be.

* Meyer said Nathan Scheelhaase has a talent for making plays when a situation breaks down, which is something that has hindered his defense in the past. He said Illinois' defense blitzes a lot, which causes a lot of negative plays.

* Meyer said he was very disappointed in Evan Spencer's comments about wiping the field with Alabama. "I can't stand that." Even though he realizes he was smiling when he said it, he said Spencer won't be talking to the media for a long, long time.

Tim Beckman Updates...







Meyer Says Decker Will Be Ready Source

Bucknuts



Meyer Talks National Picture, OSU Ranking
November 11, 2013 Source: BuckeyeSports.com - There was a lot of reaction among Buckeye fans last night when the new BCS standings – which moved Ohio State up into third place in the standings but saw Stanford and Baylor make up large amounts of ground on the Scarlet and Gray – were released last night, but OSU head coach Urban Meyer doesn't seem totally worried as of yet. Meyer – who admitted he has the Buckeyes ranked second in his vote in the coaches' poll, one spot behind Alabama and one ahead of Florida State – watched a lot of the games this weekend, including Stanford's upset of Oregon, Baylor's blowout of Oklahoma and Alabama's win vs. LSU that shaped this week's BCS standings.

"I did watch a lot of football," the head coach said. "I think there's some very good teams out there. I really enjoyed watching the Oregon-Stanford game, two very good teams. I saw Alabama-LSU, two excellent teams. I watched some of Baylor-Oklahoma. I watched as much football as I could get my hands on. My impression, Alabama-LSU, that was high-level football, so was Oregon-Stanford. So we have a lot of respect for those teams."

And Meyer, someone who has been around football a long time – remember, his team jumped from fourth to second in the final BCS standings in 2006 – knows that a fun November awaits college football's best teams. As such, all his team can do is win and see what happens in what is typically the sport's most topsy-turvy month.

"I've been in this situation before," Meyer said. "You have nothing to do with nothing other than getting ready to go play because there is so much football to be played."

Meyer said he has Ohio State at second in his poll because he has placed Buckeyes there all year – remember, OSU started second in both the AP and coaches' polls this season – and because he likes the progress his team is currently making.

"I feel like we're playing as one of the top teams in the country right now," Meyer said after OSU's back-to-back blowout wins vs. Penn State and Purdue.

Speaking after a Veterans' Day practice that came after the team's second open week of the season, Meyer liked the way his team hit the fields at the Harmon Family Football Practice Park this afternoon heading into this Saturday's game at Illinois (3-6, 0-5).

That is a good sign as the Buckeyes are in the thick of the national title race, and Meyer said the message for his team is that it needs to keep playing as an elite team to be perceived as such.

"It's win the game, but the message is you have to play great," he said. "You are held, to be even mentioned with those other teams, be careful what you wish for. That means you have to practice and play at a certain level. We practiced at a very high level today and we all expect them to play and they expect to play at a very high level because you're in the same breath with some very, very good teams. To maintain that status you have to play very well."

Meyer was also asked about a meeting he had with Florida Atlantic athletics director Pat Chun over the open week. Chun has reportedly expressed interest in interviewing OSU defensive coordinator Luke Fickell for his vacant head coaching job, and Meyer said he did meet with Chun – a longtime OSU staffer before taking the FAU job – this weekend and discussed coaching fits.

"We talked about names, and Pat is a great friend," Meyer said. "There's nothing more I'd like to see than Pat Chun be successful. He's also very respectful of this time of year for us. The No. 1 thing is we talked about a profile (for a new coach) because that's a unique place."

When it comes to injuries, the news was largely good. Sophomore linebacker Joshua Perry, who had surgery on a finger injury last week, practice full-speed today and has not missed significant time. OSU also got a full-go practice out of sophomore right tackle Taylor Decker, who sprained an MCL in his knee late in the Purdue win, and expects starting middle linebacker Curtis Grant – who is fighting an ankle sprain and a lower back injury – back at practice tomorrow after he missed today's workout.





ELEVENWARRIORS.COM: Kerry Coombs Interview - Nov. 11, 2013

| | | |
| --- | --- | --- |
| ELEVENWARRIORS.COM: Jack Mewhort Interview - Nov. 11, 2013 | | ELEVENWARRIORS.COM: Joshua Perry Interview - Nov. 11, 2013 |



No. 3 Ohio State at Illinois Game Notes
October 28, 2013 Source: Ohio State Official Athletics Site - Kickoff set for Noon ET Saturday on ESPN...



First and 10

• Ohio State enters the game with the nation's longest winning streak at 21 games. A win Saturday would tie a program record (22 set from 1967-69).

• The Buckeyes are ranked No. 3 in the BCS rankings after three weeks at No. 4.

• Ohio State ranks third nationally in rushing defense (88.2 ypg). The unit has not allowed a run of 20 or more yards this season.

• Ohio State is one of four FBS schools to not allow a 100-yard rusher in 2013.

• Ohio State leads the Big Ten and ranks fifth in the NCAA in scoring with 48.2 ppg.

• Ohio State is outscoring teams 171-38 in the first quarter this season.

• Junior QB Braxton Miller needs 90 yards of total offense to become the third Buckeye in program history to record 7,000 yards in a career. (see pg. 12)

• Senior RB Carlos Hyde has rushed for 575 yards (7.7 ypc) and seven TDs in his last four games. He is second in the Big Ten in rushing in B1G games with 132.0 yards per game.

• Junior Ryan Shazier (11.0) and sophomore Noah Spence (10.5) rank T-2nd and 5th in the B1G in TFL.

• Head coach Urban Meyer is 31-3 in November games since 2003, his first season at Utah.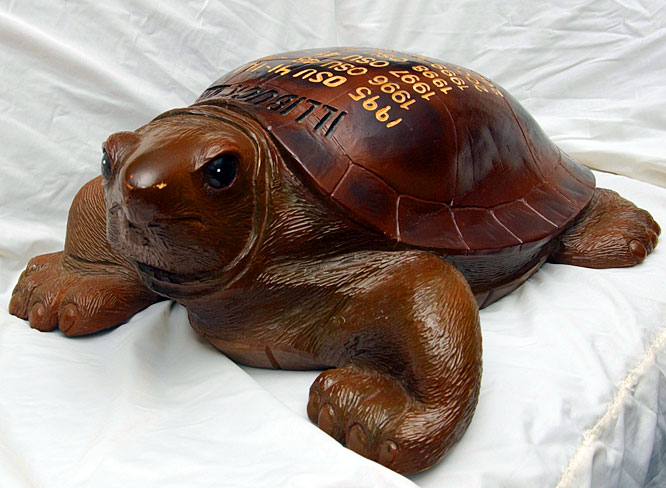 THEY PLAY FOR A TURTLE TROPHY:

The winner of the Ohio State/Illinois game is awarded with the Illibuck, a wooden replica of a turtle. The tradition began with a live turtle in 1925. Illibuck is the second oldest trophy exchanged in the Big Ten, behind the Little Brown Jug trophy played for by Minnesota and Michigan. This is Ohio State's only "trophy" game during the regular season.
Ohio State Illinois Game Notes





Coach Urban Meyer said on Monday that several Buckeyes with bumps and bruises were fine and returning to action to prepare for Saturday's noon start at Illinois. Taylor Decker sprained a ligament in his knee at Purdue and sat out last week. "He's good. He practiced today," Meyer said. "We took him out of full contact. Tomorrow is full contact. He should be ready to go." LBs Curtis Grant (ankle sprain, back spasms) and Josh Perry (dislocated finger) also had lingering injuries. Perry had surgery on his finger and said he was fine. Grant is expected to return to practice on Tuesday. Source: Associated Press



Game Data: Ohio State at Illinois
November 14, 2013 Source: Bucknuts.com - Pertinent info, depth charts and a prediction as No. 3 Ohio State visits Illinois Saturday (noon, ESPN). OSU will try and tie the school winning streak record of 22 games...and much more...


Champaign Weather Forecast


November 15, 2013 Source: Columbus Dispatch


Cover Story: Michael Bennett, son of West Point graduates, has emerged as a leader on the DL
Ohio State Spotlight: Noah Spence
Meet a Buckeye: Nik Sarac
Who has the edge: Ohio State vs. Purdue
Game predictions: Ohio State vs. Illinois
Play of the week: Shotgun, five-wide, bunch left
Recruiting Watch: Dylan Thompson & more...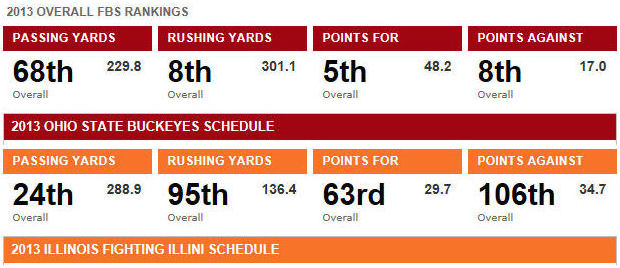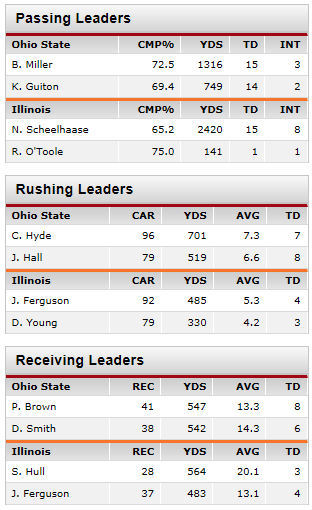 Ohio State vs. Illinois Preview
Source: The Ozone - When Illinois Has The Ball

Like most offenses, the Illini's starts with their quarterback, Nathan Scheelhaase, a four-year starter. He has been very effective in new offensive coordinator Bill Cubit's open offensive scheme.

The senior leads the Big Ten and is in the top 25 nationally in completions and passing yards per game. He is also second in the conference and 23rd nationally in total offense, with 285.7 yards per game.

The Ohio State coaching staff is well aware of what Scheelhaase can do with his arms and his legs, comparing him to Braxton Miller.

Scheelhaase is coming off a career day against the Hoosiers, when he had 450 yards passing and 45 rushing, good enough for third-best in school history.

The entire defense will have to be aware of Scheelhaase because he can hurt them in different ways. He is able to get out of the pocket and make throws, so the Buckeyes will need their defensive line to keep containment...




Ohio State vs. Illinois 2013: Game Preview Source: Bleacher Report






Ohio State Buckeyes vs. Illinois Fighting Illini Complete Game Preview
Source: Bleacher Report - Ohio State Keys to Victory

Pass Early, Run Late
In its last two victories, Ohio State has implemented a game plan that got the passing game going early, only to grind it out with the running game late.

Against the Boilermakers, Braxton Miller threw for 233 yards, and the team only ran for 110 in the first half. In the second half, the script flipped, as the Buckeyes piled up 235 rushing yards compared to just 62 through the air.

Much of that had to do with the blowout nature of the game, which is what Ohio State wants this Saturday. Weather permitting, look for head coach Urban Meyer and the Buckeyes to air it out early.

Pressure the Quarterback
The Fighting Illini haven't done a very good job protecting their quarterbacks, as they're tied 77th nationally in sacks allowed (2.2 per game).

Ohio State is averaging nearly three sacks per game, but that number is on the rise, as the Buckeyes have registered 10 combined sacks against Penn State and Purdue.

That's the result of a more aggressive scheme from the coaching staff. The improved pass rush has helped the defense overall—the Buckeyes only gave up an average of 236.5 yards per game against the Nittany Lions and the Boilermakers...




Preview: No. 3 Ohio State at Illinois Source: Eleven Warriors





Ohio State vs. Illinois: Game Preview Source: Rant Sports





tBBC Game Preview: Illinois Fighting Illini Source: The Buckeye Battle Cry





Preview: Ohio State at Illinois Source: The Cleveland Fan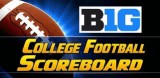 Illinois HC Tim Beckman Press Conference 11/11/13



QUOTE TO NOTE: "Knowing Braxton in high school, his days of being a winner in high school to what he's doing right now, doesn't surprise you. That young man has been around winning programs his whole life." -- Coach Tim Beckman on Ohio State QB Braxton Miller.




Game 10 Notes: Illinois Hosts #3 Ohio State Source: Illinois Official Athletics Site





PLAYERS TO WATCH:

--QB Nathan Scheelhaase is one of 12 finalists for the Wuerffel Trophy, the award which honors the college football player that best combines community service with athletic and academic achievement. Scheelhaase is coming off a 495-yard day (450 passing, 45 rushing) at Indiana, the third-most in school history.

--WR Steve Hull has come out of nowhere to post some remarkable numbers lately. Hull torched Indiana's bad secondary for nine catches, 224 yards and two TDs last week. Only A.J. Jenkins, who bagged 268 yards against Northwestern two years ago, has ever had more receiving yards in a game in school history. Hull has 21 catches for 388 yards in the last four games.

--RT Corey Lewis got to experience an offensive lineman's dream with a TD in the fourth quarter at Indiana, falling on a Josh Ferguson fumble in the end zone to tie the game at 35. Lewis will start his 10th straight game Saturday, continuing his amazing comeback from multiple knee surgeries which cost him 2 1/2 seasons and ultimately earned him a sixth year from the NCAA.





GAME BREAKDOWN

Scouting the running game: The Illini have run the ball pretty well the last two weeks, although Ohio State will be a big step up in class. Still, one suspects they'll try to get the running game established early, if for no other reason than to keep the Buckeyes' offense on the sidelines.

Scouting the passing game: Illinois has to throw, but it wants to dictate when it throws. For that to happen, it has to stay on schedule and not get into third and long against an aggressive defense. Protecting QB Nathan Scheelhaase is essential.

Scouting the run defense: After being torched by Indiana's Tevin Coleman last week, the Illini now face Carlos Hyde. Good luck with that, especially if the front seven continues to get pushed back off the scrimmage line, as has been the case in Big Ten play.

Scouting the pass defense: No matter who quarterbacks for Ohio State -- Braxton Miller or Kenny Guiton -- they throw efficiently and often for profit. That's not good news for a defense which routinely gets strafed down the field because of its inexperience.

Scouting the special teams: Illinois must be wary of protecting its kickers because Urban Meyer-coached teams do a good job at blocking punts and placements. Finding a way to win the field position battle might help keep this game competitive. Source: GlobalPost.com





SERIES HISTORY: Ohio State possesses a 65-30-4 lead in the series and has won nine in a row in Champaign, dating back to 1991. Last year, the Buckeyes cruised past the Illini 52-22 in Columbus.





Illinois Football: Previewing Ohio State's Defense
November 13, 2013 Source: WritingIllini.com - Sometimes when your back is up against the wall, you are able to do things that you did not know you could do. That will hopefully be the case this weekend, as the Illinois Fighting Illini have found themselves in a very tough test, as #3 The Ohio State University visits Memorial Stadium in Champaign, Illinois for a Big Ten matchup that could get out of hand early.

Head coach Urban Meyer will be looking to add another one to the win column and run their winning streak to a nation leading 22 games, and a big reason they could do that is because of their stellar defense.

This team features the third best run defense at 88.2 yards per game, and that is not even the most important stat coming in to the game. Thus far in the season, Ohio State has yet to allow a runner to rack up 100 yards, and they have not allowed a rushing play of 20 yards or greater to materialize.

Just nine games in to the year, that has to be one of the most staggering feats by this defense.

The defensive leaders on the line are junior Ryan Shazier and Sophomore Noah Spence. These two rank in the top five in the Big Ten for tackles for loss and are a big reason this team's run defense is so strong.

The run defense is not the only bright spot for this team, though, as their overall numbers are just as impressive.

Sitting at eighth nationally in scoring defense, only giving up 17 points per game, and tenth in total defense at 311.7 yards per game, this team can shut down an offense almost at will this year.

Buckeye fans have to love the job that the secondary is doing this year, as they are led by senior CJ Barnett and junior All-American Bradley Roby. This team is no slouch in the passing game, and that is shown by junior Doran Grant, who leads the team with three interceptions.

Thus far, the Buckeyes have gotten a pick in every single game this year, which will challenge good quarterbacks, like Nathan Scheelhaase, to move the ball down the field on them. The 26 sacks they have amassed, which ranks second in the Big Ten, does not help matters for opponents either.

Coming in to Champaign this weekend, a team that has allowed only fourteen points total in their last two games will be looking to continue that trend, and the Illini know what is at hand.

One way or another, one of these teams will have a streak continued. Whether the Buckeye's winning streak continues or the Illini's losing streak continues, something has to give.

I wish I could say it will be like 2007. The Illini went in to Columbus, Ohio and shocked the world.

With the level that the Buckeye's are playing right now, it would take a similar miracle this weekend, but on a much larger scale. The Illini defense looks lost out there, and the offense can and will be able to only do so much against this defense.

If you get squeamish, you may not want to turn on the TV this weekend, as the Illini may have a long day on Saturday.

Prediction: The offense gets a little going, someone will finally rush for 20 yards in one play against the Buckeyes, but Ohio State continues to march to the National Championship game. The Ohio State University 52, Illinois 14