MSU, December 7, 2013
TSUN, November 30, 2013
Indiana, November 23, 2013
Illinois, November 16, 2013
Purdue, November 2, 2013
Penn State, October 26, 2013
Iowa, October 19, 2013
Northwestern, October 5, 2013
Wisconsin, September 28, 2013
Florida A & M, September 21, 2013
California, September 14, 2013
San Diego State, September 7, 2013
Buffalo, August 31, 2013





| | |
| --- | --- |
| | The (red) story links, or the 'read more' graphic, will open new (pop-up) windows to the source of the article, audio or video, so you can read/hear/see the rest. If your browser is set to block pop-ups, please set it to always allow them from our site. You will not get any annoying advertising pop-ups, of any kind, generated by this site...ever. |

40-20


Ohio State San Diego State Highlights



Guiton Leads Ohio State to 42-7 Victory Over San Diego State
September 7, 2013 Source:OSU Official Site - Kenny Guiton took over when Braxton Miller left with a sprained left knee, running for one touchdown and passing for two on Saturday while leading No. 3 Ohio State to a 42-7 victory over San Diego State.

Miller watched the last three quarters from the sideline after being sandwiched between two tacklers on the Buckeyes' seventh offensive play. The Buckeyes (2-0) didn't need him.

Guiton, who helped save Ohio State's 12-0 season a year ago, had the most playing time he's ever had in a game. He set career bests with 19 of 28 passing for 152 yards and 83 rushing yards.

It was another disappointing outing for the Aztecs (0-2), who lost 40-19 to FCS Eastern Illinois at home in their opener.

Guiton came in having completed 14 of 25 passes for 144 yards and two touchdowns with two interceptions in his 16 career games. He had totaled 59 yards rushing on 14 attempts.

Ohio State dominated from the outset, but a crowd of 104,984 at Ohio Stadium sat in stunned silence when Miller was injured on Ohio State's first offensive series.

On fourth and 1 at the Aztecs 12, Miller carried to the right side and then cut back. He was trying to squirm for an extra yard or two when he was hit by defensive back King Holder while going backwards, with middle linebacker Jake Fely then hitting him and knocking his helmet off.

Miller lay on the turf for a short time, rubbing his head. He was attended by a doctor, and eventually left the field under his own power, although he limped slightly. A team physician on the bench manipulated his left knee and he grimaced in pain.

Miller was taken from the field on a cart.

In came Guiton, who on the very next play handed to freshman Dontre Wilson, who sprinted around end for a 7-yard score.

The senior from Texas also tossed a 27-yard scoring pass to Corey Brown and then handed off to Jordan Hall for a 4-yard score with 3 seconds left in the first quarter. During the lull before the ensuing kickoff, Miller received a loud ovation as he jogged across the field from the ramp leading to the locker room to the Ohio State sideline.

Miller, wearing a large knee brace, remained on the sideline the rest of the game, never putting on a helmet but occasionally speaking to coach Urban Meyer and his teammates.

Meanwhile, Guiton was large and in charge.

Just like they did a week ago in rolling to a 23-0 lead, the Buckeyes got off to a big early lead. This time, however, they didn't allow the opponent to get back in the game as Buffalo did in Ohio State's 40-20 victory.

Guiton kept around the left side on a 44-yard scoring run. Rod Smith, coming off a one-game suspension for an unspecified violation of team rules, tacked on a 1-yard touchdown to make it 35-0 at the half.

It wasn't the first time in which Guiton came on in relief of Miller and grabbed the spotlight.

Guiton had taken over for an injured Miller late in last season's eighth game, against Purdue. Trailing by eight points with 47 seconds left at his own 35-yard line he led the Buckeyes to an improbable touchdown and then threw a 2-point conversion pass to force overtime. The Buckeyes won 29-22 on the way to the sixth unbeaten, untied season at the school.

Guiton hit a leaping Brown on a 24-yard scoring pass in the third quarter.

His only mistake was a second-quarter interception by cornerback Damontae Kazee - leaping, twisting, one-handed grab that will probably end up on a few highlight reels.

San Diego State, which went 9-4 a year ago and played in a bowl game for the third season in a row, didn't get on the board until late in the third quarter. Backup quarterback Quinn Kaehler flipped a 2-yard scoring pass to Chad Young to make it 42-7. Kaehler, who completed 22 of 36 passes for 216 yards and a touchdown with one interception, took over for starter Adam Dingwell after he was intercepted by Doran Grant on the Aztecs' second possession. Dingwell finished 0 for 5 passing with the pick.

Just a year removed from finishing 20th in the nation with 221 yards rushing per game, the Aztecs were limited to 64 yards on 27 attempts. Last year's leading rusher, Adam Muema, coming off an ankle injury in the opener, carried just three times for five yards.





Postgame Quotes From Ohio State vs. San Diego State Source: OSU Official Site

San Diego State vs Ohio State (Sept 7, 2013) Source: OSU Official Site


Scoring Summary, Team Statistics, Individual Statistics, Drive Chart, Defensive Statistics, Game Participation, Box Score, Play-by-Play, Play breakdown












Urban Meyer Postgame



Two-Minute Drill: Updates from Postgame Interviews September 7, 2013 Source: The Ozone - On whether Braxton Miller could have come back into the game, Meyer said, "I think he could have". He also added that there's a chance the Miller could play next week.

He called Michael Bennett a difference maker. The coaches called him out in front of the entire team following the game.

Meyer said he likes what he's seeing in terms of defensive line depth, citing the extended play that Joey Bosa, Chris Carter, Steve Miller and Mike Hill received...

Curtis Grant Updates: He said everything seemed a lot easier today. He attributed it to the way they practiced this week. They corrected the little mistakes from last week...

Ed Warinner Updates: Regarding Marcus Hall and his false starts, he said that his players were saying that the San Diego State defensive line was jumping, so he'll look at it. Regardless, they need to eliminate those penalties...



Kenny Guiton Postgame

Team Stat Comparison
| | SDSU | OSU |
| --- | --- | --- |
| 1st Downs | 17 | 22 |
| Total Yards | 280 | 445 |
| Passing | 216 | 182 |
| Rushing | 64 | 263 |
| Penalties | 5-50 | 8-75 |
| 3rd Down Conversions | 3-16 | 7-15 |
| 4th Down Conversions | 1-1 | 2-3 |
| Turnovers | 4 | 1 |
| Possession | 27:52 | 32:08 |


Braxton Miller strained his MCL and could have come back into the game, Urban Meyer said. "I think he could have". He also added that there's a chance the Miller could play next week. Adolphus Washington left the game early and has a groin issue. He is day-to-day.



Braxton Miller was injured on this play when he rushed for 5 yards to the San Diego State 7 for a 1st down in the game's opening drive.





It was over when... Braxton Miller left the game early with a knee injury, but backup QB Kenny Guiton came in and didn't miss a beat.

Gameball goes to... Guiton. Threw for 152 yards and two touchdowns while completing 19 of his 28 passes. He also ran for 83 yards.

Stat of the game... Ohio State has outscored opponents 44-0 in the first quarter this season. It put up 23 on Buffalo last week.

Turning point... If it was going to be San Diego State's day, the turning point would have been when Miller left the game at 12:02 of the first quarter. Instead, that marked the point when Guiton entered and completed a touchdown drive for a 7-0 Ohio State lead

Numbers for dummies 0: Return yards the Buckeyes have allowed on seven punts through two games, including four against the Aztecs

Game captains today were Philly Brown, Jack Mewhort, C.J. Barnett and Jordan Hall.

Running backs Jordan Hall and Rod Smith traded jersey numbers. Hall now wears No. 2 and Smith wears No. 7.

Guiton's 44-yard touchdown run at 5:33 in the second quarter was a career-long rush for the senior Buckeye.

Senior WR Corey Brown had touchdown receptions from Guiton in the first and third quarters, respectively, his first career game with multiple TD receptions.

Freshman running back Dontre Wilson rushed for seven yards in the opening drive to claim his first career touchdown.

Junior cornerback Doran Grant posted his first interception of the year - and the second of his career - in the first quarter. Sophomore cornerback Armani Reeves' fourth-quarter interception was the first of his career.

Junior running back Rod Smith scored his first touchdown of the season in the second quarter.

In his first game back, senior C.J. Barnett led the Buckeyes with seven total tackles.

Through two games, Ohio State has scored 44 of its 82 points in the first quarter.

Meyer now has a record of 44-4 in games in August and September as a college coach.

OSU has won 66 straight regular season nonconference home games against unranked teams. That string dates to a 1982 loss to Florida State.

Ohio State's 14-game winning streak is the nation's longest current active streak and is tied for the fifth-longest in school history. The OSU record is 22 straight between 1967-69.

As heard from a stadium usher: "We thought the announcer was smoking weed." — Explaining how the crowd was confused because Jordan Hall (formerly No.7) and Rod Smith (formerly No.2) switched jersey numbers

Tweethearts Best responses to @rollerCD on Twitter: @MontytherealOU: 1st down Dontre Wilson. Get used to hearing that #likethatfreshman; @2talltodd: Leak/Tebow Florida 2006 BCS champs. Guiton/Miller OSU 2013 BCS champs

Sources: ESPN, OSU Official Site, Columbus Dispatch, The Ozone



Ohio State football notebook September 8, 2013 Source: Columbus Dispatch - A budding star?
Defensive tackle Michael Bennett was singled out for praise by Meyer after the junior forced a fumble that he recovered on a sack and later had a stop in the San Diego State backfield that set up a touchdown.

"He's a difference-maker right now," Meyer said. "I can't think of a guy playing better. He's a perfect example of hard work, because this time last year he was nonexistent. When he went in, he was a liability. Now he goes in and he's one of the leaders on our defense."

Bennett, who was slowed by a groin injury much of last season, downplayed his performance.

"I really didn't have that good of a game," he said. "I had a couple good plays, but there was a lot of stuff I need to get better at."

Earning his time
OSU defensive tackle Chris Carter — a massive presence at 6 feet 4, 340 pounds — had never played as much as he did yesterday, except in scrimmages. But he was in on two tackles against San Diego State, and primarily was employed to push the pile and eat up two blockers in the middle of the formation. He also recovered a fumble in the final minute after a sack by Jamal Marcus.

"I think he has improved," co-defensive coordinator Everett Withers said of Carter, a former offensive lineman. "And we had a little package today that had him in it because of their (emphasis on the) run game." ...





2nd Quarter 5:33 - OSU 1st and 10 at SDSU 44
Kenny Guiton rush for 44 yards for a TOUCHDOWN.




Buckeye Leaves: SDSU Game September 7, 2013 Source: BuckeyeSports.com - Ohio State's victory against San Diego State on Saturday included a few standout performances. BSB staffers pick who gets their Buckeye leaves for the game.

Jeff Svoboda: Curtis Grant gets my vote. He was a popular choice last week after a solid performance in his return to the starting lineup after a lost 2012, but I think he was even better against San Diego State. Grant finished with six tackles, second on the team, and was in solid position all day. His pressure caused Adam Dingwell's first-quarter interception, and he even showed leadership at one point, moving Chris Carter into the right position when he was lined up wrong in the second half. Grant had to step up for Ohio State to reach its potential in 2013, and he's done so thus far...

Pat Brennan: After a couple of mostly quiet years in the Ohio State program, junior defensive lineman Steve Miller reintroduced himself to Buckeye Nation during San Diego State game. In doing so, he earned my Buckeye Leaf for this week. For his career, Miller totaled just four tackles and a sack coming into the game against the Aztecs, but he posted two tackles and one massive sack that brought Ohio Stadium to life in the first quarter. On the sack, we saw explosiveness that hadn't previously been exhibited by the Canton (Ohio) McKinely product in game action. Making a positive impact on the game as Miller did in this early-season victory against SDSU could breathe new life into his OSU career...




The Bottom Line
September 7, 2013 Source: Columbus Dispatch -

Offense (3 leaves)
Talk about your Cracker Jack starts — three TDs on three drives and the Buckeyes look unstoppable. Then you peer into the box and see mouse droppings instead of a prize — stop eating! OSU was merely decent after the first, hindered by turnovers and a lack of a power running game.

Defense (2 leaves)
It's tempting to give the defenders a one-day pass, considering Bradley Roby could only watch as Buffalo swiped Armani Reeves' lunch money. There are 10 other players on the field, though, and they did little to establish — let alone distinguish — themselves. Room to grow.

Special teams (3 leaves)
This is practically the definition of a mixed bag. On the one hand you have OSU smashing grapefruit in the Bulls' faces with a pair of successful two-point conversions. But that's offset by the roughing-the-punter penalty and some Philly Brown punt-return bobbles. What's the Aussie word for "meh"?

Coaching (3 leaves)
For a while, it looked like Urban's outfit would make Fielding Yost's old point-a-minute offense look like child's play. But then the Buckeyes got caught in the gears, and their engine became all sputtery. Say, which assistant has the job of making sure everyone is properly hydrated? I mean, next week.

Fun quotient (3 leaves)
Football's back, which is good, and Ohio State's first quarter allowed for thoughts of what might be — can 'Bama even deal with this? Then came the second quarter, and that swamp-butt seat had folks thinking about how good the A/C would feel — how much longer can we deal with this?

Opponent (2 leaves)
Buffalo is the Bulls, but they needed a few more horses to put a real scare into OSU. Star linebacker Khalil is a real Mack daddy, and the offense includes a few gamers. But some of UB's schemes (how about some LBs in the middle of the field?) are head-scratchers.

Officiating (4 leaves)
Mostly, and blissfully, a quiet week. Replay issues? None. Targeting interpretations? Nope. Buffalo decried the personal-foul penalty on Mack that negated a Braxton Miller fumble inside the 5-yard line. It was a key call, but the replay backed it up.





Jon Spencer's Ohio State report card September 8, 2013 Source Mansfield News Journal -

OFFENSIVE LINE
All that talk about needing to keep the foot on the gas obviously was taken to heart by the front five. If anything they needed to ease up after getting flagged for three false starts in the first half when it was still somewhat of a game. There were four false starts total, three of them on guard Marcus Hall. But, hey, didn't notice right tackle Taylor Decker, which is a good thing.
GRADE: B

RUNNING GAME
Dare I suggest backup quarterback Kenny Guiton runs the option better than Braxton Miller? He practically was flawless in that regard after Miller went out with a knee issue in the first quarter. Guiton also ran untouched for a 44-yard score on a quarterback draw. Nothing against Jordan Hall, but who doesn't want to see more of Dontre Wilson? Apparently, Urban Meyer. Although Wilson seems to get a first down every time he touches (and holds) the ball, Meyer is handling him right now like fine china, probably because of two things: 1, he's a freshman and 2, he's about 150 pounds soaking wet. Probably need to pick and choose your spots with this guy, darn it.
GRADE: B

PASSING GAME
Guiton has been masterful at leading or finishing touchdown drives in his career, but he'd like to have at least one pass back. Devin Smith had a couple of steps on the defender, but Guiton badly underthrew the pass for an interception. He threw two scores to Philly Brown against double coverage, which probably says as much about the Aztecs as a duo. Guiton had trouble throwing the deep ball, which could partly be traced to SDSU's "prevent" defense and the broken finger he's been nursing. Meyer said Philly Brown needed to be more involved and he was, catching five passes in the first half alone.
GRADE: B

DEFENSIVE LINE
With safety C.J. Barnett and corner Bradley Roby back in the lineup, the Buckeyes were able to be aggressive in their approach. Adolphus Washington left early with a lower body injury, but hardly was missed. True freshman Joey Bosa was active and the tag team of Noah Spence and Michael Bennett squashed quarterback Quinn Kaehler, causing a fumble the OSU offense converted into a score. Meyer called Bennett the team's best practice player on his radio show this past week. It's carrying over to game day, too.
GRADE: A minus

LINEBACKERS
Curtis Grant kept his helmet on this week and forced a bad pass that resulted in an interception by his namesake Doran Grant. Waiting for Ryan Shazier to make a highlight play. He had one tackle where he lifted the ballcarrier and planted him. Body-slamming will be the next tackle outlawed by the NCAA.
GRADE: A minus

DEFENSIVE BACKS
More Roby and less Armani Reeves was bound to work in OSU's favor. With the Buckeyes' secondary back at full strength, the Aztecs could get little going through the air. Switching quarterbacks didn't help. The Aztecs had four cracks from the OSU 9-yard line at the end of the first half, but from that close with three veterans in the secondary is like trying to squeeze the ball through a tight crack. Doran Grant, who should have a solid career at corner, defended on three of those plays.
GRADE: A

SPECIAL TEAMS
When anybody else catches the kickoff eight yards deep in the end zone, you want him to stay put. When Wilson did it to start the second half, you found yourself imploring him to bring it out. He would have had plenty of chances with the Aztecs because Drew Basil's kickoffs were coming up short. That might have been partly by design, but he was booming everything into the end zone in the opener. It's early but Aussie punter Cameron Johnston hasn't lived up to the hype yet. But it's not like the Buckeyes have many options. The Buckeyes were flagged for roughing the punter for the second consecutive week.
GRADE: C

COACHING
There might have been some discussion about putting Miller back in the game once he returned to the sideline after hurting his left knee (MCL strain) in the first half, but Meyer was wise to sit him out. The lead already as 21-0 and although this would have been a good day to pad the stats, a healthy Miller for the bigger games ahead will mean much more to his Heisman campaign. Now that the Buckeyes almost are back to full strength, it was good to see the defensive staff take a more aggressive tack than it did in the opener. Not crazy about running Hall between the tackles as much as we've seen the first two weeks (remember Maurice Wells?), but glad to see OSU waste no time working a hammer like Rod Smith back into the mix coming off his one-game suspension.
GRADE: A


Alumni Game 2013 Halftime
Are You Smarter Than A Wolverine?





San Diego State

Sep 7, 2013 3:30pm




Ohio State-SDSU: I've Got Five On It
September 6, 2013 Source: Land-Grant Holy Land - Here are five things to look for in Saturday's Ohio State-San Diego State game.

1. Hydration
Believe it or not, Braxton Miller's throwing ability or the youth of the front seven was hardly the key to the game last weekend, it was the hydration of the Buckeyes. With cramps coming up to bite Ohio State in the rear end throughout the game, keeping fluids in their bodies will not only be the key to this game, but to many down the road as well. Arguably Ohio State's most important players on each side of the ball, Braxton Miller and Ryan Shazier, were most effected by the cramping and those are two of the players we cannot afford to lose. There's no question after the first quarter the Buckeye offense lost a bit of it's rhythm and some of that could be due to the fact that the starting quarterback was in and out. Let's face it, the Aztecs, like many other teams on the schedule, don't have the talent to match up with Ohio State, but when you have to battle the opposition and cramping, things could start to get interesting. If this problem is taken care of this week, expect the Braxton Miller and the Buckeyes to be seemingly untouchable on offense.

2. Key on Adam Muema
Missing from the second half of last week's action was San Diego State running back, Adam Muema. Muema had a bum ankle in week one and because of it, SDSU's offense sputtered. A preseason Mountain West all-conference running back, Muema is expected to play on Saturday and will be one of the better backs Ohio State will face all season—Urban Meyer agrees saying, "Many people agree that No. 4 is the best tailback we will face all year, and I probably agree with that." Ankle injuries are always tough and being that this injury occurred just last week, there's cause for concern about just how effective his ankle will allow him to be. If it's fine, SDSU will ride Muema all game, try to keep it close, and melt the clock.

3. Hit the big plays
Eastern Illinois was able to score on four plays of 30 yards or more against SDSU— 37 and 62 yard passes, a 45 yard run, and a 60 yard punt return. The entire Buckeye offense, and special teams, should be licking their chops as game time approaches. Opportunities for big plays will be there whether it's making a correct read on an option, connecting on a huge pass play, or simply just making the one block to ignite a punt return. Poor fundamentals would be the only reason there would be a shortage in game-breaking plays. The opportunities will present themselves, the offense just needs to go play and it will turn into a firework show at the Horseshoe. Prediction: Dontre Wilson get's his first collegiate touchdown—a play that goes for over 50 yards.

4. Jump out to an early lead...again
I have little doubt that if Ohio State wanted to score on every possession on Saturday, they could. Problem is, players get complacent and even coaches suffer from the same thing. Like already mentioned, Adam Muema is one heck of a player and other than defensively, one way to shut him down would be to open the lead to double digits right out of the gate. The Buckeyes pass rush is nasty and SDSU will be introduced to Mr. Noah Spence early and often if Ohio State gets out to a quick start. Make SDSU revert to their week one selves where they put the ball in the air 64 times—a game plan that resulted in just 19 points. Pound them early and let the silver bullets pin their ears back all afternoon.

5. Stay Hungry
Judging by the first quarter last weekend, it looked like the second half was going to be a party in Ohio Stadium for all the young Bucks who were eager to get playing time to show their talents to the world. Well, that was short lived as Buffalo rallied and made things somewhat interesting...interesting enough to have Braxton Miller in for the last snap of the game. I'm not a betting man, but if I were, I'd bet Urban Meyer doesn't let that kind of situation pop up again this weekend. For some reason, I get a feeling that Meyer wants to put up 100 this weekend and he'll do everything in his power to make sure his team plays with a killer instinct all game. You can't take plays off and last weekend was a good lesson to learn moving forward to the rest of the year.





Five key factors for OSU victory
September 6, 2013 Source: Columbus Dispatch -

1. Forget Eastern Illinois
It's easy to look at San Diego State's 40-19 loss to Eastern Illinois last week and think this will be a cakewalk. There's no denying that the Aztecs laid an egg in their opener, but they did win their final seven games of the 2012 regular season in a decent Mountain West Conference. The Aztecs have much to prove after being embarrassed last week. It's the Buckeyes' job to discourage them as quickly as possible.

2. Contain Muema
The Aztecs' offense runs through running back Adam Muema, and when he left in the first half because of an ankle sprain against Eastern Illinois, it was no coincidence that the offense collapsed. Muema is expected to play today, and the Buckeyes need to keep him in check. Muema plays bigger than his 5-foot-10, 205-pound frame, and he has home-run capability.

3. Don't get conservative
The Buckeyes passed only five times in the second half last week. Afterward, offensive coordinator Tom Herman was kicking himself for not staying in full-throttle mode. With running back Rod Smith returning from suspension, the Buckeyes will have more flexibility and can use Jordan Hall in the hybrid spot on occasion. The Aztecs' cornerbacks were picked on often by Eastern Illinois. OSU quarterback Braxton Miller ought to do the same.

4. Attack on defense
The return of cornerback Bradley Roby and safety C.J. Barnett should solidify a defense that played decently but somewhat passively last week. With Roby able to play stifling man-to-man coverage, defensive coordinator Luke Fickell could dial up more blitzes and confusing coverages against quarterback Adam Dingwell, who threw four interceptions last week.

5. Cause turnovers
The Buckeyes came up with only one turnover last week. A more-talented defense should be able to force its opponent into mistakes that turn into quick points. Instead, it was Buffalo with a pick-six and a quick touchdown after a fumble by Dontre Wilson. If San Diego State is to have a chance, it has to win the turnover battle.



San Diego State-Ohio State matchups
September 4, 2013 Source: The News Herald -

Ohio State vs. Itself: This is a biggie, believe it or not. The Buckeyes built a 23-0 lead in the first quarter last week against Buffalo and slogged through the next three quarters. San Diego State will come to play, but the Buckeyes can't let up on the intensity like they did last week. That becomes habit forming, and there are teams on the schedule that can take advantage of such lapses, even if San Diego State probably isn't one of them.

San Diego State QB Adam Dingwell vs. OSU defensive ends Noah Spence and Adolphus Washington: Dingwell attempted 63 passes last week against Eastern Illinois and was sacked four times. OSU had only one sack against Buffalo. The Buckeyes need better pressure than they got last week.

Ohio State DB Bradley Roby and Doran Grant vs. San Diego State WRs Colin Lockett and Ezell Ruffin: Having Roby back in the lineup should help this week. Roby and Grant will look to lock down receivers who neared 100 yards last week. If OSU can get some pressure on the QB, then look for Roby and Grant to take advantage of rushed throws with interceptions.

Ohio State RB Jordan Hall vs. San Diego State LB Jake Foly: Hall tore up Buffalo with a career-high 159 yards on the ground last week. Foly is on the Bednarik and Lombardi Award watch lists. The Aztecs allowed more than 170 yards on the ground last week. Can OSU capitalize on that this week, too?



"I want to score every time we touch the ball. I'm disappointed if we don't score."
- Urban Meyer


Urban Meyer answered questions from the media following practice on Wed. Source: The Ozone

Curtis Grant answered questions from the media following practice on Wed. Source: The Ozone

Marcus Hall answered questions from the media following practice on Wed. Source: The Ozone



Wednesday Practice Update: San Diego State Week
September 4, 2013 Source: Eleven Warriors - Meyer touched on the Buffalo game, what to expect with San Diego State and a few personnel issues...




The Big Ten weekly teleconferences featuring the head coaches all 12 teams: All other Big Ten Coaches Teleconferences





No. 2/2 Ohio State Hosts San Diego State
September 2, 2013 Source: Ohio State Official Athletics Site - Buckeyes are 3-0 all-time vs. the Aztecs, having last met in 2005 in Columbus ...



First and 10

• Ohio State enters the game with the nation's longest winning streak at 13 games.

• Ohio State and SDSU are meeting for the fourth time. The Buckeyes are 7-1 all-time vs. current members of the Mountain West Conference.

• The Buckeyes have won all three meetings vs. SDSU in Columbus in 2001, 2003 and 2005.

• Ohio State will try and improve to 2-0 for the fourth consecutive season and seventh in the past eight years.

• Ohio State is 67-7 (.905) at Ohio Stadium since the start of the 2002 season.

• Junior Braxton Miller (2,063) needs 18 yards rushing to pass Cornelius Greene (2,080) and become Ohio State's all-time leading rusher among QBs.

• Senior RB Jordan Hall recorded career highs of 159 yards rushing, two TDs and 21 carries in the win over Buffalo.

• Hall needs 45 more all-purpose yards to reach 3,000 for his career.

• Head coach Urban Meyer is 43-4 in his career in games played in August/September.

• Meyer is 2-0 in his head coaching career vs. San Diego State, both wins coming at Utah in 2003 (27-6) and 2004 (51-28).

Ohio State San Diego State Game Notes





Offense prepares for another three-man front
September 5, 2013 Source: Columbus Dispatch - It's another week, and it's going to be another 3-3-5 defense for the Ohio State offense, especially the line, to decipher with San Diego State visiting Ohio Stadium on Saturday. Right guard Marcus Hall said there is a benefit to the back-to-back challenge.

"San Diego State has a lot of athletes on their defense," he said. "I mean, not taking away anything from Buffalo, they did, too, but that definitely prepared us for this defense."

Not that all 3-3-5 defenses are equal.

"It was a big benefit (going against Buffalo), though it was a different look from what we're seeing this week," coach Urban Meyer said. "It's such an abnormal defense, but it's not really because a lot of teams now do it (three-man front). The coaches have got to do a good job, too, making sure they see it enough so it's not that unusual."

Hall said, "I think we're better suited this week to go against it, and to make less mistakes."

The problem against Buffalo might have been leaping to a 23-0 lead and then "we kind of let our foot off the gas pedal," Hall said. "We talked about that as a whole offensive unit. So we'll be focusing on starting off fast like we did, then keep maintaining it." ...




September 2, 2013 Source: OSU Official Site





Urban Meyer Presser Recap: San Diego State
September 2, 2013 Source: Eleven Warriors - Meyer touched on the Buffalo game, what to expect with San Diego State and a few personnel issues...



Meyer didn't leave any room for interpretation as it pertains to C.J. Barnett. The fifth-year senior safety – who missed the opener with a sprained ankle – will definitely play for against the Aztecs. "CJ's going," Meyer said. The coach was also asked about fifth-year senior center Corey Linsley who started the opener but left after the first quarter due to a foot ailment (had offseason surgery). "We're just going to be smart," Meyer said. "He only played about 16 snaps (against Buffalo) and that was by design. He's had a good week of practice and his reps will increase."

Source: Bucknuts



Game Data: San Diego State at OSU
Source:Bucknuts.com



Columbus Weather Forecast


Sepember 6, 2013 Source: Columbus Dispatch


Cover Story: Safety Christian Bryant has matured into a leader for the Buckeyes
Ohio State Focus: Bradley Roby
Meet a Buckeye: Adolphus Washington
On the edge: Ohio State vs. San Diego State
Game predictions: Ohio State vs. Buffalo
Play of the week: Pistol 3, Wide H, Inside Option & more...





Opponent Preview: San Diego State Source: BuckeyeSports.com




Team Averages & NCAA Ranks
Offense
Team
Per Game Average / NCAA Rank
Total Yards

440.0 / 55th

460.0 / 48th
Passing Yards

318.0 / 31st

199.0 / 77th
Rushing Yards

122.0 / 80th

261.0 / 26th
Points Scored

19.0 / 91st

40.0 / 32nd
Source: ESPN


Zach Meisel and Ari Wasserman break down Saturday's game between the Buckeyes and Aztecs.
Source: Cleveland Plain Dealer



San Diego State (0-1) at Ohio State (1-0) Sept. 7, 3:30, ABC Source: CollegeFootballNews.com
Why You Should Give A Hoot: Not so fast, Ohio State. Sure, considering San Diego State just got whacked at home by Eastern Illinois out of the FCS, it seems like a layup of a week. Yes, the offense was humming against Buffalo in the 40-20 win, and all appears to be right with the world. However, this is a very, very good Aztec team that had a very, very bad day in the 40-19 loss to the Panthers of EIU, and now this might be a trap game. The AP poll doesn't matter, but style points do, and Ohio State dropped a slot in those rankings, while staying No. 2 in the ones that matter – the Coaches Poll. The 40-20 win over UB might not have been enough of a blowout, and now, after the Aztec problems, anything less than complete annihilation will do. However, the defending co-Mountain West champs could provide a surprising push.

Why San Diego State Might Win: The Ohio State secondary is about to be tested. Buffalo was able to make things interesting for a little while in the second quarter because of a decent passing game that was able to do just enough to get by. It also helped that the Buckeyes kept making mistakes, with a key fumble and nine penalties working to keep it close, but there's still a wee bit of a question mark about the revamped defense. Adam Dingwell and the Aztecs have the ability to stretch the field far better than Joe Licata and the Bulls did.

Why Ohio State Might Win: Who said there's a concern with the Buckeye defense? Buffalo's Branden Oliver has NFL potential, the OSU kept him to a tough 73 yards on 26 carries. San Diego State star running back Adam Muema ran for just 17 yards against EIU on ten carries before leaving with an ankle sprain. The Aztecs need as many weapons as possible to keep up in a firefight, and they might not have enough. EIU's Jimmy Garoppolo bombed away at will for 361 yards and three touchdowns.

Who To Watch Out For: … in the receiving corps. Braxton Miller makes everyone look better, but the SDSU focus and concern might be on RB Jordan Hall, he rumbled against UB for 159 yards and two scores. That should open things up that much more for a receiving corps that hit big play after bit play. Devin Smith averaged over 20 yards per catch, while Chris Fields caught two touchdown passes and averaged 17.7 yards per pop. - Dingwell is still the starting quarterback for the Aztecs. He threw 63 times for 318 yards against EIU, but he also killed the team with four picks. He's too good of a veteran to not play night-and-day better. - Ohio State All-America corner Bradley Roby is expected to come back from his one game suspension and be a key playmaker. He might not start, but he'll be in right away. Also returning from an ankle injury is safety C.J. Barnett, who could be even more important than Roby against an Aztec team that'll try to get physical with the ground game. - San Diego State held the ball for close to 38 minutes, but the five turnovers, seven penalties, and a key special teams breakdown late proved too costly. It also didn't help that the offense couldn't close out drives with touchdowns; Wes Feer hit four field goals.

What Will Happen: San Diego State will play much, much better. The offense will click a little bit early, and the defense will come out steaming after last week's problems. It won't matter. The Buckeye defense will show for a second straight week that all is fine in the world, even if the opponent puts a few points on the board.

Prediction: Ohio State 34 … San Diego State 14 Line: Ohio State -28 o/u: 53.5





Ohio State vs. San Diego State Preview Source: The Ozone





Preview: San Diego State at No. 3 Ohio State Source: Eleven Warriors





Ohio State vs. San Diego State 2013: Game Preview Source: Land-Grant Holy Land





Video analysis: What can OSU expect from San Diego State? Source: Mansfield News Journal





San Diego State (0-1) at Ohio State (1-0) – 3: 30 p.m. ET, ABC/ESPN2 Source: BTN

Why you should watch: Can Ohio State stay sharp for four quarters? The Buckeyes raced to a 23-0 lead through one quarter over Buffalo last week only to look average the rest of the way. National championship-caliber teams need to bury teams like Buffalo—and San Diego State, which got whipped at home in its opener by FCS Eastern Illinois, falling 40-19.

Player on the spot: Braxton Miller needs to sharpen up. He had his moments but eventually left the game with leg cramps. He also was sacked four times and made a bad decision on a screen pass that was intercepted and returned for a touchdown. Strut your stuff, Braxton. This is your season.

Key matchup: Ohio State running backs vs. San Diego State front seven. Jordan Hall ran for a career-high 159 yards last week. But the Buckeyes welcome back from suspension running back Rod Smith. This nice collection of backs needs to run roughshod vs. an overmatched Azetcs' squad.

Key number: 20-17, the scoring edge Buffalo had on Ohio State the rest of the game after the Buckeyes jumped to a 23-0 first quarter lead. Stunning.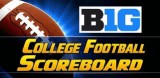 SDSU HC Rocky Long talks about Saturday's game at #3 Ohio State.


Adam Dingwell, Cody Galea and Colin Lockett talk about this weekend's game at #3 Ohio State.