| | |
| --- | --- |
| | Preview and postgame sections for the 2009-10 season here. |



| | | |
| --- | --- | --- |
| Can't get enough Ohio State Buckeyes news? Neither can we. Because it's impractical to post everything on this site we'd like to, we started a Twitter account. Follow us on Twitter and get more Buckeyes news...see our Twitter feed on our main page. Get updates via SMS by texting follow buckeyefansonly to 40404. | | |

| | |
| --- | --- |
| | The (red) story links, or the 'read more' graphic, will open new (pop-up) windows to the source of the article, audio or video, so you can read/hear/see the rest. If your browser is set to block pop-ups, please set it to always allow them from our site. You will not get any annoying advertising pop-ups, of any kind, generated by this site...ever. |





PRESEASON PICKS: How Ohio State and other Big Ten teams rank in 14 national publications' top 25 preseason polls:


Blue Ribbon College Football Yearbook
1. Ohio State
2. Alabama
3. Boise State
4. Oklahoma
5. Florida
—
8. Iowa
12. Wisconsin
23. Penn State

Sporting News
1. Alabama
2. Ohio State
3. Boise State
4. Miami (Fla.)
5. Florida
—
8. Wisconsin
13. Iowa

Phil Steele's College Football Preview
1. Oklahoma
2. Ohio State
3. Alabama
4. Texas Christian
5. Nebraska
—
14. Iowa
18. Penn State
23. Wisconsin

Athlon's
1. Alabama
2. Ohio State
3. Southern California
4. Boise State
5. Oklahoma
—
12. Iowa
16. Wisconsin
23. Penn State

Yahoo Sports
1. Alabama
2. Ohio State
3. Boise State
4. Oregon
5. Nebraska
—
8. Iowa
11. Wisconsin
19. Penn State

BleacherReport.com
1. Alabama
2. Boise State
3. Ohio State
4. TCU
5. Texas
—
6. Iowa
9. Wisconsin
17. Penn State

The Gold Sheet/VegasInsider.com
1. Boise State
2. Alabama
3. Ohio State
4. Nebraska
5. TCU
—
6. Iowa
11. Wisconsin
22. Penn State
Lindy's
1. Alabama
2. Boise State
3. Ohio State
4. Texas
5. Florida
—
6. Wisconsin
10. Iowa
24. Penn State

ESPN.com
1. Alabama
2. Boise State
3. Ohio State
4. Texas
5. Virginia Tech
—
9. Wisconsin
11. Iowa
23. Penn State

SI.com
1. Alabama
2. Boise State
3. Ohio State
4. Texas
5. Iowa
—
10. Wisconsin
12. Penn State

CBSSports.com
1. Alabama
2. Boise State
3. Ohio State
4. Florida
5. Texas Christian
—
8. Iowa
10. Wisconsin
19. Penn State

NationalChamps.net
1. Alabama
2. Ohio State
3. Boise State
4. Oregon
5. Texas
—
8. Iowa
10. Wisconsin
13. Penn State

CollegeFootballNews.com
1. Alabama
2. Florida
3. Texas
4. Ohio State
5. Nebraska
—
9. Wisconsin
12. Iowa
13. Penn State

Football Action
1. Alabama
2. Ohio State
3. Boise State
4. Texas
5. Iowa
—
11. Wisconsin
22. Penn State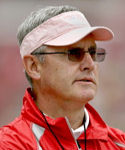 Ohio State coach Jim Tressel gives team-building exercise a homespun feel
July 31, 2010 Source: Cleveland Plain Dealer - "In five days, the Ohio State players will move into their team hotel for the start of preseason camp. This summer, most of them had their first glances at how the big guy lives. One of OSU coach Jim Tressel's latest team-building exercises was to invite his players to his Upper Arlington home, each class having a cookout and game night called "Competition at the Crib," according to senior receiver Ricky Crawford.

"I had never been to his house before," said fifth-year senior offensive lineman Bryant Browning. "I was just saying to somebody earlier this year, 'I don't know where coach Tressel lives.' Then we had this thing, and it was real fun."

Tressel always attempts to motivate his players by pitting them against each other, and this was no different. The way the players explained it, it should come as no surprise that there was a Tressel plan for the fun..."






Jim Tressel, Ohio State football head coach, met with media briefly Tuesday after speaking to the participating families of "Operation: Military Kids Hero Camp" inside the Woody Hayes Athletics Center.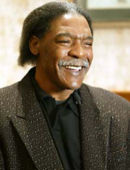 Jack Tatum, 61, dies of heart attack
July 27, 2010 Source: Columbus Dispatch - "Jack Tatum, lionized as a hard-hitting safety for the Ohio State Buckeyes and later the NFL's Oakland Raiders, died today in California of a heart attack. He was 61. John Hicks, a friend and former teammate, said he learned of Tatum's death from another former teammate, Tim Anderson, who was with the Tatum family in California.

Tatum had suffered from numerous health problems in the past 10 years and had a leg amputated in 2003. Hicks said he recently was treated for kidney and liver failure.

"We have lost one of our greatest Buckeyes. When you think of Ohio State defense, the first name that comes to mind is Jack Tatum. His loss touches every era of Ohio State players and fans," Ohio State football coach Jim Tressel said..."


Ex-Raiders safety Tatum dies
July 27, 2010 Source: ESPN





The Breakdown: Offensive Tackles
July 25, 2010 Source: BuckeyeSports.com - "One day after taking a look at the men who will protect the middle, we move outside for this edition of The Breakdown. OSU comes into the season with one entrenched tackle in J.B. Shugarts and one battle for a starting role, plus some young guys trying to figure out their spots in the pecking order.

J.B. Shugarts...Shugarts turned in a solid sophomore season and is expected to hold down the right tackle spot as he becomes an upperclassman. He should continue to be one of the most athletic linemen on the team...

Mike Adams...Noted as someone who has needed to work on his aggressiveness, Adams looked improved in that regard and much more experienced during the spring. He seemed to separate himself in his bid to reclaim his role as the team's starting left tackle and figures to start there when the season begins...

Andy Miller...Miller has done his best to adapt to the offensive line and that work paid off with a starting role a season ago. This year, coaches say he's in a battle with Adams to start at left tackle, but he seemed to struggle in spring and may have lost ground. Either way, Miller can still expect to play in 2010...

Marcus Hall...The fact that Hall played a season ago shows the OSU offensive staff likes his talent, but he figures to continue to be the backup right tackle behind Shugarts in 2010 unless injury intervenes. He can also play left tackle if needed but has rarely done so at OSU...

Josh Kerr...Going into his final season, Kerr looks like a depth player for the Buckeyes....

Sam Longo...Coaches like Longo's athleticism but he still figures to be a project whose best bet is to play as an upperclassman. He'll provide depth for the Buckeyes in 2010. ..."

Andrew Norwell ...It's hard to find anyone who doesn't project great things for Norwell, the No. 8 player in the nation among all prospects in his class according to Scout. However, not many people expect greatness in 2010 with talented players ahead of Norwell..."







Buckeyes early risers this summer
July 23, 2010 Source: Columbus Dispatch - "No one looks forward to the alarm clock going off at 5 a.m., including Dane Sanzenbacher. But the Ohio State senior receiver said that for members of the football team this summer, when the alarm sounded, the attitude was you hit snooze, you lose. He said there was something exhilarating about being up at the crack of dawn, about to dive into another offseason workout...

Whether the 2010 Buckeyes, considered contenders for the national championship by most prognosticators, gained a step on their competitors with their summer work remains to be seen. That work ends today, with the players getting a week's vacation before returning the next week for a few days before reporting to preseason camp Aug.5...

The workouts routinely are run by the seniors and upperclassmen. The workouts have included wind sprints, weight room, endurance exercise sessions in a sandpit, and seven-on-seven scrimmaging, in which the skill players on offense primarily passed against the skill players on defense. "Obviously, a lot of the stuff is pretty similar to most summers, but what I've noticed most this time is the amount of extra work everybody has put in," Sanzenbacher said. "There's always been guys who do extra stuff, but the number of guys doing it this year, that's been the big change."…"







Can Pryor follow Young's path in 2010?
July 21, 2010 Source: ESPN - "During a recent interview with ESPN Radio 1620 in Omaha (they can't get enough of me in Nebraska), I was asked about Terrelle Pryor's progress at Ohio State and whether he can follow Vince Young's path in his junior season with the Buckeyes.

Pryor always has drawn comparisons to Young, even before he arrived at Ohio State as the nation's top recruit in 2008. The two quarterbacks have shown some similarities in the early stages of their college careers, although Young really surged during the second half of his sophomore year. Pryor has been a bit less consistent, while still showing flashes of his immense potential.

One major connection between Pryor and Young is their performances in the final games of their sophomore seasons, the midpoint of most players' college careers. Both quarterbacks shined in Rose Bowl victories, Young against Michigan on Jan. 1, 2005 and Pryor against Oregon nearly seven months ago. Both players earned Rose Bowl Offensive MVP honors for their efforts in Pasadena...

As we all know, Young built on his Rose Bowl performance with a fantastic junior season, passing for 3,036 yards and 26 touchdowns to go along with 1,050 rush yards and 12 rushing touchdowns..."

SOPHOMORE YOUNG VS. SOPHOMORE PRYOR AT THE ROSE BOWL
Vince Young and Terrelle Pryor each had standout Rose Bowls wins to cap their sophomore seasons:

| Player | Opponent | Score | Comp | Pass Yds | Pass TDs | Ints | Rush Atts/Yds | Rush TDs |
| --- | --- | --- | --- | --- | --- | --- | --- | --- |
| Young | Michigan '05 | 38-37 | 16 of 28 | 180 | 1 | 1 | 21 for 192 | 4 |
| Pryor | Oregon '10 | 26-17 | 23 of 37 | 266 | 2 | 1 | 20 for 72 | 0 |






The Breakdown: Running Backs
July 20, 2010 Source: BuckeyeSports.com - "Our pre-camp look at each position on the Ohio State roster moves on to the running back position. The Buckeyes have always been known to have excellent players toting the rock, but this year's squad might be known mostly for its depth, and more help could be on the way.

Brandon Saine...Ohio's top prep player as a senior in high school...Saine figures to continue to share carries with Dan Herron and a host of talented younger backs in 2010, but his versatility – Saine can block, run, and catch – could help him separate from the pack. Naturally quiet, Saine is also expected to be a leader on the field in 2010...

Dan Herron...A back who doesn't usually hit the big play instead to provide steady work with no big mistakes, Herron can expect to split time near the top of the running back depth chart in 2010...

Jordan Hall...A high school teammate of Terrelle Pryor...Small and quick, Hall boasts good vision and solid explosion. He showcased those tools in a limited role in 2009 and could expand his playing time with a good camp...

Jaamal Berry...Berry was a highly touted four-star back coming out of Miami in the class of 2009 and runs with skill and tenacity. Perhaps the most talented back of the group, Berry will get carries in 2010, but just how many will be up to his play in fall camp. Like Hall, Berry is a breakout candidate if everything shakes out right for him...

Jermil Martin...Martin has been a subject of transfer rumors, but an Ohio State spokeswoman told BuckeyeSports.com that he was still enrolled at OSU as of July 19...

Carlos Hyde...Hyde, Scout's No. 1 fullback in the class of 2008, spent 2009 at Fork Union because of academic issues before arriving for '10 spring ball...Another big body, Hyde has talent but – like so many others here – will have to see how things break when it comes to playing time...

Roderick Smith...was a four-star tailback and the No. 8 player at his position in the 2010 class, running for 1,855 yards and 19 scores as a senior...Smith is missing summer workouts with an academic issue head coach Jim Tressel expects to be cleared up by fall..."







Fresh Faces: Ohio State
July 19, 2010 Source: ESPN - "My look at three newcomers to watch for each Big Ten team in 2010 continues with Ohio State.

OFFENSE: Chris Fields, WR, Fr., 6-0, 185...need a No. 3 target after Duron Carter left school. Taurian Washington is a veteran option, but Fields should get ample playing time this fall. Fields added some weight during the offseason and boasts excellent speed.

DEFENSE: Melvin Fellows, DE, Fr., 6-5, 249...Fellows isn't an every-down player yet, but he gives Ohio State the ability to be flexible with a guy like Heyward.

SPECIAL TEAMS: Ben Buchanan, P/K, So., 6-0, 195...Special teams are a bit of a concern entering the season, but Buchanan could put a lot of folks at ease with his play. He takes over the starting punter spot after averaging 42.8 yards on four attempts in 2009…"







Mr. Bucknuts Unveiled!
July 18, 2010 Source: Bucknuts.com - "...The Boarding House…here we come again with warning labels and explanations!...As we started saying on Thursday, the incoming recruiting class has now had some time to impress their veteran teammates (or not).

We talked to one savvy vet who said the defensive young Bucks to catch his eye are Christian Bryant and Jonathan "Big Hank" Hankins. Well, how about on the other side of the ball, we asked?

Without hesitation: "The receiver from Pennsylvania – Corey Brown," he said.

Bear in mind, this savvy vet is a defensive player. He went on to describe Brown as "extremely fast. Extremely." As a point of clarification, there are two Corey Browns on the team and each hails from the Keystone State. There's the aforementioned receiver from Springfield Cardinal O'Hara and the defensive back from Monroeville Gateway. It may be easy to tell them apart going forward because one will be on the field and the other … not so much.

But is Good Corey Brown the answer to the third receiver question asked more now that Duron Carter traded Columbus for Coffeyville? If so, GCB could be the type of explosive presence the offense craves. We will all find out together…"



Buckeye Football: Captains and Concerns
July 14, 2009 Source: Bucknuts.com - "The news in regards to Ohio State football has been scarce of late. So, let's create some. How does a little banter about captains and concerns strike you? Not being concerned about who the captains will be (there is a host of deserving seniors to choose from this year unlike perhaps last season) but just a guess on who the captains will be, followed by the question marks I have for the 2010 Buckeyes. And since we're talking about a team that will likely open the season ranked No. 2 in the nation, there won't be many of the latter..."






Flash Forward: Quarterback
July 13, 2010 Source: The Ozone - "Time doesn't slow down for anyone. Not even Terrelle Pryor. While it might look like everyone else is moving in slow motion when Pryor is running with the ball in his hands, even the fleet-footed quarterback out of Pennsylvania can't outrun the time he's been given...In our latest "Flash Forward" piece we take a look at Pryor, Miller and the future of the quarterback position at Ohio State.

2011 Commitments: (1) Braxton Miller (6-2, 185, Class of 2011) While Miller is no Terrelle Pryor in terms of size and pure athleticism, he is easily one of the top-rated quarterbacks in the country for 2011 and the first real "franchise quarterback" to commit to the Bucks since Pryor back in the spring of 2008...Assuming Pryor returns, that would rule out the possibility of Miller following in his footsteps by competing for the starting job as a true freshman, but the race will be wide open after Pryor leaves in 2012. Kenny Guiton looked very good in the most recent spring game, and incoming freshman Taylor Graham (son of former Buckeye Kent Graham) has a cannon arm, but Miller would likely have every opportunity to compete with both of them..."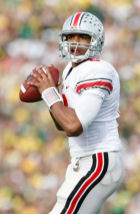 Evaluating the Mechanics of Big Ten Quarterbacks - Terrelle Pryor
July 7, 2010 Source: The Rivalry, Esq - "...Snap (B):...Retreat Speed (A):...Footwork (C):...The Fake (A):...Adaptation (D):...

Release (C):

· Survey (C): His impatience and inexperience didn't do him any favors last season. At times it looked like he either focused on his primary receiver, or didn't know what his progression was, or didn't have time to run through it because of pressure, or a combination of the three. Consequently, he would hurry a throw or just tuck it and run. When he did stay in the pocket and run through his progressions, he usually made a very good throw. Again, very inconsistent, and there was no discernable improvement from game to game. It was one step forward, one step back all season.

· Stance (B): Overall, his stance is good. He stands tall in the pocket and starts reading the field as he is in his drop, or as soon as he gets the snap from the spread. Even as he rolls out, his head is up, scanning the field or looking for an opportunity to run.

· Step (C): When Pryor is decisive, his step into the throw is big league. He delivers a good, accurate fastball with deceptive speed. However, when he is indecisive, he hurries his throw, tends to throw off balance or off his back foot, and he relies too much on his natural ability and arm strength to get him by. That worked in high school, but it has been proven that doesn't work in The Big Ten.

· Wrist/Throw (C): Although he has a strong arm, his three quarter to sidearm Uncle Rico technique makes me want to cringe. His throws tend to sail, and his receivers bailed him out time and time again last season with great catches (see Ballard, Jake, Rose Bowl). That said OSU coaches haven't tried to correct it, so it is what it is. Hey, it worked for Vince Young, and Pryor put it together in the Rose Bowl, so we'll see...

How the Offense Affects Mechanics (A): This seems like an odd grade considering I gave him a 'D' in adaptation but consider this before you crucify me here: this offense is tailor made for Pryor's talents and it was this offense that was the blueprint for Troy Smith and his 2006 Heisman trophy season. He is a fast, dynamic runner with a stiffarm like a sledgehammer, something even Smith didn't even have. He has a very good and veteran offense surrounding him, and he has shown tantalizing glimpses of what he can do passing the ball. Pryor has been under the microscope almost from day one—he was starting as a freshman, taking over for a senior captain. As a sophomore, for all the wailing and gnashing of teeth, he only threw 11 interceptions all year against 18 TD passes. Oh, and OSU won the Big Ten, beat Michigan, and won the Rose Bowl, so it's not like he presided over Armageddon. This offensive scheme plays right into his talents, and if he can harness his talent the sky is the limit for Ohio State and their starting quarterback.

The key for Pryor in 2010 is patience and a better feel for the game, which he should have as a junior and legitimate team leader. Overall: B-...Report Card on other Big Ten QBs..."






Recruiting Nuggets: Washington, Glenville, & Ohio
July 7, 2010 Source: Bleacher Report - "...2) Will the Glenville pipeline stay intact?

...the panic has been thanks to the comments of the players themselves. OL Aundrey Walker has hinted that he is open to heading elsewhere and is no lock to go to OSU, but then again so did Marcus Hall. The bigger rumor came from the aforementioned Shane Wynn. In a recent article on Rivals.com he claimed that Miami (FL) was his clear leader...

3) Will the Buckeyes grab any big names out of state at this point?...With Ohio talent like Doran Grant, Trey DePriest, Shane Wynn and Aundrey Walker left, who cares what is going on elsewhere?..."







Flash Forward: OSU May Hold off on Tailbacks
July 7, 2010 Source: The Ozone - "With a stacked running back class on the horizon in 2012, it looks like Ohio State will stay put in the class of 2011, especially with their currently loaded backfield. Of the Buckeyes' six Heisman Trophy winners, all but one have played the tailback position. It has been a while since OSU didn't sign a running back in their recruiting class, but it looks like that might very well be the case in 2011.

After landing four tailbacks and two fullbacks in the last two recruiting classes, the Buckeyes seem content to fill spots in this class with more pressing needs, like offensive and defensive line. They have only offered one running back in Orlando's Demetrius Hart, but at 5-foot-8, he's more of a scat-back who has a top three of Michigan, Alabama and Auburn..."







Flash Forward: Major Changes Ahead at WR in 2011
July 6, 2010 Source: The Ozone - "The departure of Duron Carter has probably changed the recruiting outlook for the Buckeyes at wide receiver. Brandon Castel's Flash Forward series continues today with a look at that position and OSU's personnel needs going forward.

In our latest "Flash Forward" piece we take a look at how the wide receiver position is shaping up for Ohio State in 2011...Projected 2011 Returning Depth Chart...2011 Commitments: (2)...2011 Targets: High: Shane Wynn (5-7, 147, Cleveland Glenville)...Low: DeAnthony Arnett (6-0, 167, Saginaw, Mich.), Darius Jennings (6-0, 180, Baltimore), A.J. Sebastiano (Coconut Creek, Fla.)..."







20 Questions About the Buckeyes in need of answers
July 5, 2010 Source: The Ozone - "Well, we've peppered the Big Ten and the nation with twenty questions, and now it's time to bring things a little closer to home and answer some questions about the Buckeyes. If you don't agree with some of these answers, feel free to try a little harder.

(1) Will the Buckeyes have a 1,000-yard rusher this year?...
(2) Will the Buckeyes have a 1,000-yard receiver this year?...
(4) Can the Buckeyes win at both Iowa City and Madison?...
(6) Is this Terrelle Pryor's final season at Ohio State?...
(7) Which true freshman will have the biggest impact on the field this season?...
(10) Will the Buckeyes feature an elite talent at running back this year?...
(11) Will we see the "pass-happy offense" of the Rose Bowl, or the power-running attack that actually got the Buckeyes to the Rose Bowl?...
(13) How badly will safeties Anderson Russell and Kurt Coleman be missed?...
(14) Cornerback Devon Torrence's struggles this spring were just an aberration, right?...
(15) Is less depth on the defensive line actually a good thing this year?...
(18) Will the special teams be better this year?..."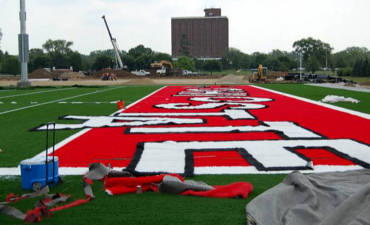 Columbus Eastmoor safety signs on: Tanner, 6-1, 190 pounds, is 17th to join 2011 class
July 3, 2010 Source: Columbus Dispatch - "Whether Ron Tanner II winds up making plays to remember for Ohio State remains to be seen, but he proved yesterday that he has a flair for the dramatic. The safety from Eastmoor Academy, sitting at a table with his family, asked his older sister Rickeya to hand him the cap of the college he'd chosen. She handed him a Michigan one that he pulled on quickly, and the crowd of about 100 gasped; some even booed.

He pulled it off, smiling, then asked a friend to bring him his real cap, with a block "O" on the front. Tanner pulled it on and the onlookers roared as he became the 17th commitment to the recruiting class of 2011. "I was just having some fun," he said later. His mother, Kim, said she knew that hijinks were planned. "But I didn't know he was actually going to put it on his head," she said, keeping in mind that their basement was painted scarlet and gray for a reason. "I'm like, 'OK, is your head about to burn up because you've got that Michigan hat on?'"..."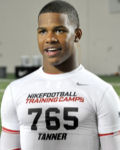 Buckeyes Land Four-Star Safety
July 2, 2010 Source: BuckeyeSports.com - "...Ohio State picked up verbal commitment No. 3 this week when Columbus Eastmoor Academy safety prospect Ron Tanner picked the Buckeyes at a press conference at his high school. A four-star prospect, Tanner is rated the No. 7 safety in the nation by Scout.com. As a junior, he recorded 83 tackles and seven interceptions on defense and doubled as a quarterback, where he threw for more than 1,200 yards and 12 touchdowns. Tanner is the third defensive back to commit to the Buckeyes in this class, joining Plantation, Fla., safety Jeremy Cash and Toledo Rogers cornerback DerJuan Gambrell..."