Braxton Miller, Taylor Graham, Ken Guiton and Joe Bauserman get reps at quarterback for Ohio State during the first spring practice of 2011.

Source: Eleven Warriors/YouTube

Ohio State's wide receivers and defensive backs battle during the first spring practice of 2011.

Source: Eleven Warriors/YouTube

Ohio State's defensive line performs drills during the first day of spring practice.

Source: Eleven Warriors/YouTube

Spring Practice 2011: Offensive sets featuring Bauserman, Guiton and Graham

Source: Eleven Warriors/YouTube
Breaking down the QBs
Source: BuckeyeGrove.com 3/31/11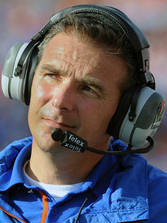 Ohio State Football: 10 Reasons Why Urban Meyer Could Replace Jim Tressel
March 31, 2011 Source: Bleacher Report - "Admittedly, I have been very critical of Urban Meyer in the past as evidenced here.

But considering the scandal surrounding Ohio State coach Jim Tressel, there is a chance the Vest will be forced out of his job.

Although he might not be considering resigning, the NCAA might force a show-cause ruling on Ohio State, all but forcing the university to let him go.

While Urban Meyer resigned his position as head coach at Florida due to health issues, he will coach again.


Here are 10 reasons why Meyer, either this season or sometime soon down the road, would be OSU bound when the tenure of the Vest is over.


10. Coaching in the Big Ten Is Less Stressful Than in the SEC...
9. Ohio State Can Give Him Enough Money...
8. Meyer Can Recruit as Well as Tressel...
7. Meyer Is Going to Coach Again Eventually...
6. Fits in Well with Winning Culture...
5. Meyer's Championship Pedigree...
4. Ohio State's Cupboard Is Anything but Bare...
3. Meyer's Style Is More Flashy with the Same Results as Tressel...
2. Braxton Miller...
1. Urban Is a Buckeye at Heart
A native of Ashtabula, Ohio, Meyer was a lifetime OSU fan, a graduate student at the university and was an assistant coach under Earle Bruce.

Ohio State's coaching job is one of Meyer's dream jobs...

Whether or not Meyer opts to take the job whenever Tressel leaves Columbus remains to be seen.

But if he is able to deal with his health and personal problems in the right way, there may be a headset at Ohio State with his name on it..."


Tressel's character is on trial, and that hurts
March 31, 2011 Source: Columbus Dispatch - "Those who demand that Jim Tressel bleed outwardly for his indiscretions were denied their pound of flesh, but that does not mean he escaped yesterday's spring practice preview unscathed. The internal bleeding continues...Tressel was hurting, the anguish in his slimmed face brought on not by having to answer but by the questions themselves. It was not the tone of the queries, which was respectful. It was not the subject matter itself, which was fair. The embarrassment, and Tressel's ongoing punishment - besides his five-game suspension and $250,000 fine - is that the questions need to be asked at all..."

Tresselís opening statement to the media.
Source: Bucknuts.com 3/30/11

Beginning portion Tressel's Q&A session at end of press conference.
Source: Bucknuts.com 3/30/11


NCAA president: Time to discuss players getting sliver of revenue pie
March 30, 2011 Source: USA Today - The NCAA's new president is adamant that, on his watch, there'll be no straying from college athletics' most time-honored tenet: "It's grossly unacceptable and inappropriate to pay players Ö converting them from students to employees," Mark Emmert says...(however) Emmert acknowledges it's time for a serious discussion about whether and how to spread a little more of the largesse to those doing the playing and sweating..."






Ohio State 2011 Spring Preview
March 2011 Source: College Football News - "The early spring buzz ... Anything interesting happen this offseason? Even with the suspension of the Tattoo Five for five games, and with Jim ďJunk FolderĒ Tressel getting a nice little sabbatical for his shenanigans, itís easy to forget that this still might be a national title contending team that should, at the very least, be in the hunt for the Big Ten title. The Buckeyes still have more talent than anyone else and theyíre getting the star players back in time for the meat of the conference slate, so spring ball will be all about getting everyone through the storm of the first half of the season. Get to Lincoln, Nebraska at 5-0 or 4-1 with a decent performance against Miami, and itíll be Game On.

The big spring question is ... Whoís going to play quarterback? Obviously itís Terrelle Pryorís ship to sail come October 8th, but is it going to be Joe Bauserman under center as the steady, safe option or will super-recruit Braxton Miller be thrown to the wolves right away? Everyone in America but the Ohio State coaching staff knew that Pryor was a better option as a true freshman than Todd Boeckman, and the same might be true in this case. If itís Miller, heíll have two games against Akron and Toledo to figure out what heís doing. It could be the biggest spotlight position battle in all of spring football.

The most important position to watch is ... Besides quarterback, defensive back. Itís Ohio State, so the second team secondary is full of NFL talent and is probably better than about 100 other defensive backfields, but the 2011 group will need some time and some seasoning. Three starters are gone including top cover-corner Chimdi Chekwa, and while there isnít a passing game to worry about until October 1st against Michigan State, the faster the new secondary can come together, the better. Fortunately, thereís an all-star in the making in Orhian Johnson at safety to build around.

Spring attitude... No excuses. Itíll be easy to blame problems this year on the suspensions and the off-the-field distractions, but the Buckeyes are still better than Miami, Nebraska, and everyone else on the schedule. The problem, though, as always, is that OSU will be everyoneís bullís-eye game, and the craziness around the program could be just enough to allow an Illinois or a Penn State to pull off a win. No one is going to feel sorry for this team and no one is going to give it a break. Also, no one is going to predict a run to the national title. Itís the rare case that Ohio State can make itself out to be a bit of an underdog, in a way, but there still arenít any excuses for a team this talented...

Looking Ahead Ö Itís all about surviving the first five games to get past the suspensions. Ohio State might be in the hunt for the national title if Terrelle Pryor, DeVier Posey, Dan Herron, and the other suspended players arenít rusty for the showdown against Nebraska. There are plenty of replacements needed on defense and there are enough question marks on offense to worry about a random loss, but if the Buckeyes are 5-0 and can get by the Huskers, watch out.

Why To Get Excited Ö Itís Ohio State. The backups can play. While not having the four best offensive players Ė Terrelle Pryor, DeVier Posey, Dan Herron, and Mike Adams Ė for the first five games will be a problem, the Buckeyes should be able to sleepwalk through games against Akron and Toledo and the defense should be just strong enough to get by Miami, Colorado, and Michigan State. Even if the team drops one game, it should get the benefit of the doubt in the national title chase if everything clicks once the stars are back...

Five Ohio State Recruits You Should Care About..."



Ohio State coach Jim Tressel should not be defined solely by his wrongdoings
March 27, 2011 Source: Cleveland Plain Dealer - Bill Livingston writes:..."The whole sad, shabby memorabilia-for-sale scandal at Ohio State gets worse in terms of perception for Jim Tressel. The reality is more measured, as far as Tressel's wrongdoing goes. Still, it is not enough to mitigate the damage to his image as the "Senator," a man strict in his rectitude. It is not enough to clean the stain from his legacy as the Vest, a self-contained, disciplined coach who casts the biggest shadow in Columbus since Woody Hayes..."




Coach Tressel's reputation taking a hit: "...If the news from the NCAA is bad, OSU fans should be prepared for a conclusion much like was seen in Knoxville this past week..."

Source: Chillicothe Gazette 3/27/11


The Case for Regicide
March 25, 2011 Source: Eleven Warriors - Ramzy writes:..."Jim Tressel is an incredibly skilled football coach and program steward. However it is increasingly apparent that he is inversely skilled in the delicate dark arts of cheating and lying...as an Ohio State fan and college football realist, I'm far more concerned with his galling lack of sound decision-making that led to all of this..."

Video honoring the Ohio State Football Seniors that the team watched the night before the 2010 game against Michigan.




INDIANAPOLIS - The NCAA Division I Committee on Student-Athlete Reinstatement has upheld the staff decision for five football student-athletes from The Ohio State University.

According to this decision, Mike Adams, Daniel Herron, DeVier Posey, Terrelle Pryor and Solomon Thomas must sit out the first five games of the 2011 season for selling awards, gifts and university apparel, as well as receiving improper benefits in 2009. These student-athletes must also repay money and benefits ranging from $1,000 to $2,500.

"While we are disappointed that our appeal request was denied, we respect the NCAA and accept its ruling," said Gene Smith, Ohio State associate vice president and athletics director. "The players are sorry for the disappointment they have caused, will learn from their mistakes, and will strive to earn the confidence and support of everyone associated with the university through their future conduct."

"The university remains steadfast in its commitment to continually improve the compliance education process," said Dr. John Bruno, faculty athletics representative to the Big Ten and NCAA and Ohio State professor of psychology. "We believe that we do a good job in educating our more than 900 student-athletes, but we strive to do better to help them make good decisions."

The reinstatement committee is the final appeal opportunity. The independent committee is composed of representatives from NCAA member colleges, universities and athletic conferences. It can reduce or remove the conditions, but cannot increase the conditions imposed by the staff.

Reinstatement decisions are made based on the collective facts of the case, withholding guidelines developed by the reinstatement committee, as well as any mitigating factors presented by the university.

More information on the NCAA student-athlete reinstatement process can be found on the NCAA's website.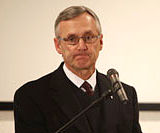 Tressel decides to sit for five games, too
March 18, 2011 Source: Columbus Dispatch - "After NCAA affirms five players' penalty, coach takes action ...Whether it was bowing to national criticism or simply a change of heart, Ohio State football coach Jim Tressel said last night that he wants to share in the five-game suspension that five of his players are now facing for sure.

Ohio State announced that it was granting Tressel's request to have his two-game suspension extended for the start of next season. The announcement came moments after the NCAA denied an appeal and let stand the five-game suspensions it had levied in December on quarterback Terrelle Pryor, running back Daniel Herron, receiver DeVier Posey, left tackle Mike Adams and defensive end Solomon Thomas. The players, all seniors next season, received discounted rates from and/or sold memorabilia to a Columbus tattoo-parlor owner, violations of NCAA rules. Ohio State had appealed the severity of those suspensions...

The NCAA has yet to rule on Tressel's case and could still reject Ohio State's penalties. The case involves a breach of NCAA Bylaw 10.1, which compels coaches and administrators to act if they receive even a hint of a violation and to be forthcoming when asked about such things...

"Throughout this entire situation, my players and I have committed ourselves to facing our mistakes and growing from them; we can only successfully do that together," Tressel said in a statement released by OSU. "I spoke with athletics director (Gene) Smith and our student-athletes involved, and told them that my mistakes need to share the same game sanctions.

"Like my players, I am very sorry for the mistakes I made. I request of the university that my sanctions now include five games so that the players and I can handle this adversity together."

Attempts to reach Tressel last night were unsuccessful.

"I have accepted his request and we are taking action to notify the NCAA," Smith said in the statement. "Until the NCAA has completed its investigation, we will not be publicly discussing the details of this case."...

Pompano Beach, Fla., attorney Michael Buckner, whose firm also helps schools deal with investigations, said Ohio State must have reconsidered. "I think them adding additional games strategically is the best move," Buckner said. "It will show to the committee on infractions (which must approve the action) they are taking the allegations quite seriously, and that they are going to treat the head coach with the same consistent punishment that they would apply to any student-athlete."..."




Tressel/Ohio State reaction:

'The Daily Hunter' blog: Tressel's five-game suspension ... justice or more spin?
March 18, 2011 Source: Columbus Dispatch - "...Like most newspaper people, my inner skeptic is always on the lookout for spin. So when Dispatch sports editor Ray Stein told me last night that Ohio State football Jim Tressel had "requested" that his two-game suspension be increased to five games so that he could share the same suspension as five of his players, the expression on my face had to be priceless. He what? What exactly was going on here anyway? Did Tresssel really want his players to see that he was just as accountable for his mistakes as they were?..."



SI.com's Andy Staples: "Thursday's move by Tressel can only help. The COI hammered USC in the Reggie Bush case in part because of the arrogance of USC athletics officials during the investigation. Instead of contrition, former USC athletic director Mike Garrett and company gave the NCAA nothing. In Ohio State's case, NCAA officials have to be furious about Tressel's actions because the NCAA cut a sweetheart deal with the Buckeyes that allowed the affected players to play in the Sugar Bowl. This at least gives the appearance of contrition, and on it's surface, it's a fairly serious upgrade in discipline..."



The Sporting News' Dave Curtis: "If Tressel wanted to show true remorse, he'd do more than remove himself from calling another dive play on second-and-8. He'd take himself out of recruiting, or stay away from practices as well as games. Or he'd resign to take a position higher in the university's administration, where he could continue to make a positive impact on OSU without staining its football program any more. But let's say that missing games is the most painful sanction the coach could receive. A problem remains: Tressel equating his suspension with that of his players implies that their crimes were equal, too..."



CBSsports.com's Dennis Dodd: "If you think these actions, in any way, mitigate the NCAA spanking awaiting Ohio State and Tressel, you've been smoking Brutus Buckeye's socks. In this game of Who Wants To Believe A Millionaire, the Ol' Stall Coach (at disclosing his e-mails) is running out of lifelines. This was not closure. The NCAA door on this investigation has barely opened. Think bigger, more damaging penalties. The NCAA might start at five games and scholarships, recruiting visits, maybe yank Tressel's PC. That eliminates any tough decisions on which e-mails to report. Thursday added to the layer of muck. Ohio State just admitted to the world they didn't go far enough when the coach was suspended for two games..."



FoxSportsOhio.com's Bruce Hooley: "The outlook isnít good for the Buckeyes having 2011 championship rings to sell if recent NCAA penalties for repeat violators is the standard. According to the NCAA web site, Ohio State seems a clear repeat violator. Its clock for that characterization started on March 10, 2006 when the NCAA levied penalties for violations involving former basketball coach Jim OíBrien and former player Boban Savovic..."




Webmaster Note: Outlook isn't good for Hooley who is no longer with the Buckeyes' flagship station 97.1 The Fan



The Cleveland Plain Dealer's Doug Lesmerises: "Ohio State should have made this Tressel's self-imposed penalty from the start. It hurts their cause that it took this long to stiffen what seemed absurdly light last Tuesday. But better late than never. None of us can get inside the heads of the people involved in these violations, though we've all spent a lot of time trying, beginning with why the six players involved sold memorabilia or took discounted tattoos in the first place. Helping their families? Really didn't know the rules? Just trying to make a quick buck? They know, we don't. Doesn't matter. You can't do that stuff. It's an NCAA violation..."



Putting A Wrap on It: Time For Us To Rally
March 14, 2011 Source: Duane Long Report - "I want to get away from this latest installment of Tattoogate but my mailbox is full of questions from fans about possible fallout from this. I will address the various issues related to what comes next...I think most of Buckeye Nation are Ohio people - grounded, common sense, salt-of-the-Earth folk. They accepted the reality of the situation. Coach is not a saint. He is a good man; an honorable man doing the best he can with the hand he was dealt...Time for us to rally around the team, warts and all..."


Chris Spielman talks about the lawyer who sent e-mails to Ohio State coach Jim Tressel which cited violations by players.



Defending OSU's Jim Tressel
March 8, 2011 Source: FOXSportsOhio.com - "...Even when the Buckeyes win, you kick us. There is nothing that this team can do without you attacking us for it. After a decade of that abuse, it has a tendency to bond us together and defend our own against anything you wish to throw at us. What you say about one of us, you say about all of us. We are Spartacus. We will stand together shoulder-to-shoulder in every instance, including this latest turmoil created by our field commander. We've been through it before, and we're preparing to do it again today...Right or wrong, he's our coach. He's the reason your team doesn't win championships, and we understand your hatred of him. But you will not make us join in your call for his public flogging..."


Matta on Coach Jim Tressel: "I know this: in the seven years Iíve been here I would consider Coach Tressel to probably be the biggest factor of outside influences for our programís success. Heís taught me a lot of things but the one thing that I know and have learned from him is to coach here, how much passion you have to have for the university. Iíve never met a man that this place means more to. Thatís something Iíve always tried to learn and emulate because of that."



Tressel said he kept the information to himself which violated bylaw 10.1
March 10, 2011 Source: Columbus Dispatch - "...Tressel said he kept the information to himself to protect the confidentiality of the federal investigation and for the safety of his players. The decision to not inform OSU or NCAA officials led to the punishment. The NCAA could choose to further punish Tressel and the football program. Ohio State's self-imposed penalties fall short of those faced by others who have broken the same NCAA bylaw in recent years, according to a Dispatch review of past disciplinary actions.

Since 2006, the NCAA has sanctioned 27 schools for violating bylaw 10.1, which requires coaches and others to be truthful and forthcoming about possible NCAA violations. Of the 12 coaches involved, only one kept his job. The others either resigned or were fired by their schools.

Former men's basketball coach Jim O'Brien, one of his assistant coaches and former football running back Maurice Clarett each faced unethical-conduct charges by the NCAA. It cost all of them their careers at Ohio State.

A person with experience in such NCAA matters said he thinks OSU might have been too lenient.

"Just looking at it, it may seem a little light, especially in light of the fact Tressel didn't report it to the university within a reasonable period of time," said Michael Buckner, who heads a law firm that helps schools deal with the NCAA..."




Coach Tresselís Hypocrisy, Deception Damaging To Ohio State
March 9, 2011 Source: Forbes - "...Though change wonít happen overnight and most certainly rests on the severity of any forthcoming sanctions imposed by the NCAA, the "informational improprieties" at Ohio State which have been revealed in the last 48 hours will weaken the integrity and credibility of the Buckeye program. This incident will leave a "black-eye" on the program, lessening the "Ohio State brand"... We wonít know the severity of the NCAAís sanctions for weeks. But we do know that they know that their ruling on this matter will be highly anticipated and scrutinized no matter the outcome...

Ultimately, the eventual impact that this matter will have upon the Buckeyes as the dominant football program within the Big Ten Conference depends upon whether the NCAA imposes sanctions that include scholarship reductions, bowl sanctions, and the like. The stiffer the penalties, the more immediate any negative impacts upon the Buckeyeís stronghold of the Big Ten conference.

For the record, I do foresee the NCAA adding to the self-imposed sanctions by (a) increasing the length of Coach Tresselís suspension to at least 5 games and (b) banning the Buckeyes from the 2011 Bowl Season. If this is the extent of the added sanctions, Ohio State should consider themselves lucky...Regardless of how the NCAA rules, the ďOhio State brandĒ takes a significant body blow here. And you better believe that rival coaching staffs at Iowa, Wisconsin, Michigan, Michigan St, and Penn St will play this up when pitching the virtues of their programs to prospective players and their families, coaches, and inner circles..."




Give Tressel the boot
March 8, 2011 Source: The Lantern (Ohio State) - "The NCAA shouldn't suspend Jim Tressel for more than two games. It shouldn't fine him more than $250,000 dollars. It shouldn't bar him from spring practice and summer workouts. After it finishes its investigation, the NCAA should recommend Jim Tressel's termination as head football coach at The Ohio State University.

This incident is further proof that college athletics is spinning out of control, and a message needs to be sent to university presidents and athletic directors who let rule-breaking coaches keep their jobs because they win games and sell tickets. And that's exactly why Tressel, who said he never considered resigning, didn't tell the athletic department that he had received an e-mail from an attorney indicating OSU football players were selling memorabilia to Edward Rife. Rife, the owner of Fine Line Ink tattoo parlor, is one of the focal points of a federal drug investigation.

Tressel's contract states that he is bound to report any possible violation immediately. He didn't. When Regular Joe with a normal job breaches his contract, he gets the boot. So should The Vest..."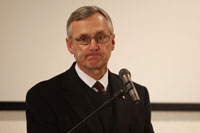 Ohio State suspends Tressel for two games, fines him $250,000
March 8, 2011 Source: Columbus Dispatch - "Ohio State has suspended football coach Jim Tressel for the first two games of the 2011 season for committing an NCAA rules violation by not revealing e-mails that indicated players had received improper benefits. Tressel also will be fined $250,000 and must attend an NCAA compliance seminar.

At a news conference tonight, Tressel acknowledged that for nine months he kept secret an e-mail from an attorney indicating that Ohio State players had sold memorabilia to Ed Rife, owner of Fine Line Ink Tattoos and Piercings. The attorney also indicated that the owner was the subject of a federal drug investigation and requested confidentiality from Tressel. But not reporting that information is a violation of NCAA Bylaw 10.1. Yahoo Sports reported the violation last night.

"I felt an obligation because I could feel in the e-mail the person had genuine concern for the well-being of our kids and for the gravity of a federal criminal drug trafficking ongoing investigation," Tressel said. "I guess I felt they were entrusting me to think that was important to keep that confidentiality."

Tressel did not divulge the e-mails, which were sent April 2 and 16 and June 6, even after a December investigation revealed that six Ohio State players had committed an NCAA violation for selling memorabilia and/or getting discounted tattoos. Terrelle Pryor, Dan Herron, DeVier Posey, Mike Adams, Solomon Thomas are suspended for the first five games of the 2011 season. Jordan Whiting must sit out one game.

Ohio State is appealing the suspensions, and the e-mails to Tressel came to light in January as the school gathered documents for their case..."





Actuals Emails between Jim Tressel & unidentified individual with relationship to Columbus Tattoo Parlor owner Edward Rife
E-mails begin on page 7. Source: Columbus NBC4 TV

Sources: Former Ohio State football player tipped Tressel to player investigation: A former Ohio State University football player has been identified as the lawyer who sent e-mails to coach Jim Tressel warning that some players were selling memorabilia to a tattoo-parlor owner under federal investigation.

Three sources confirmed to the Dispatch that the e-mails sent to Tressel - which he failed to disclose, leading to his proposed two-game suspension and a $250,000 fine - were written by Columbus lawyer Christopher T. Cicero.

Cicero issued a statement last night saying he was not the source Yahoo! Sports cited to report that Tressel had prior knowledge of his players' misconduct. Cicero said he has cooperated with Ohio State and NCAA investigators and had no other comment.

The e-mails between Cicero and Tressel, which were chummy in tone, were redacted by Ohio State officials to protect the lawyer's identity as well as the names of the football players. However, there is no exception in the state's public-record law that allowed Ohio State to withhold his name.

Cicero, 54, lettered in football at Ohio State in 1983, when Tressel was a first-year assistant coach under head coach Earle Bruce. Cicero apparently was a walk-on linebacker who did not command significant playing time. He earned his law degree at the University of Toledo College of Law after graduating from Ohio State..."

Source: Columbus Dispatch 3/9/11


March 8, 2011 Press Conference
with President Gee, AD Gene Smith & Jim Tressel



Inside the Tressel Press Conference
March 8, 2011 Source: The Ozone - "Yesterday's press conferences yielded some answers, but it also left open a lot of questions...With the dust temporarily settled, we take a look inside Tuesdayís press conference at what we know, and what still needs to be answered...What We Donít Know: Did Tressel forward any of those emails to anyone? When asked that same question Tuesday, Tressel started to nod yes before Gene Smith cut him off, saying that they couldnít talk about things pertaining to their conversation with the NCAA. If he did forward the emails, to whom did they go and when, and why was it covered up?..."




Sports columnists react to Ohio State's suspension of coach Jim Tressel
March 9, 2011 Source: Cleveland Plain Dealer - "A sampling of reactions from columnists across the nation to Ohio State's suspension of Jim Tressel. For Ohio State fans, it isn't pretty:..."




Jim Tressel's cover-up leaves a permanent stain on his coaching legacy: Doug Lesmerises analysis
March 8, 2011 Source: Cleveland Plain Dealer - "...His football coach had been caught in a cover-up, and Ohio State University president Dr. E. Gordon Gee was praising Jim Tressel's contributions off the field -- supporting the university library, university hospital and troops overseas with both his time and money. All true. Indisputable. And, in this moment, off point.

That's Jim Tressel, the person. This is about Jim Tressel, the coach, who lied to his school about knowing his players were involved with selling memorabilia to a suspected drug trafficker and tattoo parlor owner months before their actions were discovered.

He continued to put those players on the field while winning a Big Ten championship. When their violations were discovered in December, Tressel still didn't tell the truth.

There are three points here: Tressel's job status; his standing with the NCAA; and his reputation and his legacy. The first is safe, the second temporary and the last, forever and finally changed.

Tressel will keep his job, on that athletic director Gene Smith and Gee were emphatic. And Tressel said he never thought of quitting. He has been suspended for two games and fined $250,000 by Ohio State, though the NCAA is still finishing its investigation and can impose more sanctions. You must imagine the 2010 season will be vacated since players were on the field while their coach knew they'd broken NCAA rules, and Tressel and the university could face stiffer penalties ahead.

In the end, programs move on. But to any realist, anyone not clouded by an overriding Buckeye passion, this isn't the same Tressel..."




Some Plain Dealer Reader comments (

)

John in Columbus

As an Ohio State Alumni, a fan of the Football program, a father, and a coach myself, you could not be more wrong in your analysis of Jim Tressel -- and oh lord, the media analysis right now is flowing like oil through a Saudi pipeline. Columnists and talk-show hacks are falling all over themselves to see who can sound the holiest.

Tressel made one clear, unambiguous error - and that was not contacting the University Counsel immediately when he received the attorney email. This is where the Monday Morning Quarterbacks like yourself are straying far away from a critical point: The email told him to zip it because to do otherwise would be interfering with an ongoing Federal criminal investigation. So tell me Doug, how many of these emails do you get each week?

Had Tressel contacted his own University Counsel representatives, they would've likely told him to obey the Attorney's instructions. He was trapped. And to believe he knowingly engaged in something illicit is to believe that he ISN'T a man of integrity you supposedly believe he is?

And now the NCAA is about to levy a $250K against an American citizen who broke no laws nor did anything immoral.

I don't suppose you have any "analysis" about that Doug?





Cavsglee:

You are so stunningly wrong John, that it's hard to figure out where to start.

1) Tressel needlessly endangered his university and a multi-million dollar sports program by not doing the simple, obvious thing ... report the email to compliance officials and his boss. The request of confidentiality was to keep the story out of the public eye, NOT to keep his bosses in the dark.

2) The players should have been ineligible. Period. The season will almost certainly be voided ... and in an honorable world, would already be so voluntarily by OSU.

3) Tressel allowed his boss to state publicly on Dec. 23 that no one knew of this investigation until Dec. 7. He allowed his boss to state a clear untruth ... which only worsened the situation.

4) Tressel clearly had no intention to ever reveal what he knew, and only the school's email investigation proved otherwise. He didn't care that the players were likely ineligible, didn't care that the title was bogus, didn't care to do the right thing ... sit the players, even if it was for "conduct detrimental to the team". He took the coward's way out.

5) The NCAA DID NOT levy a $250,000 fine. OSU did. Tressel agreed to it. He broke a simple rule of his profession and dragged the Buckeyes into the mud. The NCAA may add to it, but please stop making it seem like Tressel is some sort of victim. It just makes your entire defense invalid.

It's ok to be an apologist for OSU. There's nothing wrong with wanting your school to be perfect always. But if OSU's Smith says the school was wrong, then why not agree with him?





anderson777

Hey Doug, you need to go into your closet and find yourself. And then you need to go somewhere esle and find some common sense. The reason Tressel kept his mouth shut is because some of his players were potentially involved in a federal drug trafficking investigation, which could lead to deadly consequences. He was concerned about his players' well-being. Tressel would rather get fired than risk the lives of his players. Hey Doug, the problem with you is that you may be well educated, but you don't have a degree of COMMON SENSE. This is why you keep writing horsecrap articles like this one.



Buckeye Nation Reacts To Tressel's Suspension, Fine
Source: NBC4 TV Columbus



Scandal tarnishes Tressel, Ohio State
March 8, 2011 Source: ESPN - "'The reputation of a thousand years may be determined by the conduct of one hour.' Ohio State coach Jim Tressel included that Japanese proverb on Page 193 of his book, "The Winners Manual For The Game of Life." Eight pages later, there's this nugget from Henry Wadsworth Longfellow: "It takes less time to do the right thing than to explain why you did it wrong." In 10 years as the Buckeyes' coach, Tressel has often showed us his teams can't win big games. On Tuesday night, Tressel showed us he can't win the big news conferences, either...On Tuesday night, we learned Tressel isn't any different from a lot of coaches in college football. He's apparently more concerned about winning games and championships than following rules and doing things the right way. In fact, Tressel might be even worse than other coaches who are corrupting college athletics. He won't admit he's wrong even after he has been caught..."






Jim Tressel and the NCAA: A timeline March 8, 2011 Source: Cleveland Plain Dealer





Ohio State's punishment for Jim Tressel is a joke
March 10, 2011 Source: Detroit News - "It's comical and fake and borderline insulting. Jim Tressel did about the worst job imaginable trying to explain his program's ugliest misdeed, quasi-apologizing for whatever it was he did, or didn't do, or should have done.

Ohio State football is reeling, and Tressel will need all the Teflon he can pack inside his sweater vest. The NCAA needs to keep looking and keep hammering, and keep asking why it was misled and duped about the involvement of five players in a memorabilia-for-tattoos setup.

The Buckeyes' 2010 season must be thrown under immediate scrutiny for the use of ineligible players, with all the victories possibly wiped out. Tressel has earned multiple layers of Teflon in 10 years with Ohio State. Winning does that, and beating Michigan does that..."




CFN Analysis: Should Tressel Have Been Fired?
March 8, 2011 Source: CollegeFootballNews.com - Ohio State head coach Jim Tressel will be suspended for two games next season and will be fined $250,000 for knowing about the "Tattoo Five" situation back in April of 2010. While the penalties are harsh by college football coaching standards, were they enough? Should he have been fired? Where does the program go from here? The CFNers weigh in on the controversy..."




Bob Hunter commentary: This was not the time for compliments March 9, 2011 Source: Columbus Dispatch










Football Buckeyes Up Bright and Early
March 7, 2011 Source: BuckeyeSports.com - "The majority of what will become the 2011 Ohio State football team assembled for the first time Monday for the first of a week's worth of 6 a.m. workouts at the Woody Hayes Athletic Center. Director of football performance Eric Lichter, to whom head coach Jim Tressel ceded the field for interviews when the activities were over, said he looks for the players to exhibit toughness, determination and character during the agility and conditioning drills.

"It's tough. You're going through physical exertion beyond what's normal, and we just want to see guys compete in every single drill, not quit and give their best effort," Lichter said.

He looks at the week of 6 a.m. workouts as a cap on the organized winter training period that started in late January after a three-week discretionary period in which the players work out on their own.

Team testing was last week, and many players showed progress.

"We had a lot of improved performances on vertical jump, broad jump, three-rep max and bench and those types of things," Lichter said. "Those are really individual goals and this is more of the team coming together and working on toughness and building that bond that gets you through tough times."

He has liked what he has seen from a ton of guys in the weight room, but the five freshmen who enrolled early - quarterback Braxton Miller, defensive lineman Joel Hale, linebacker Ryan Shazier, tight end Jeff Heuerman and defensive back Jeremy Cash - have particularly stood out.

"I'm really, really impressed with those guys, especially considering they're really only seniors in high school and they're up here competing and hanging with our veterans," Lichter said.

Still recovering from surgery on his right foot, quarterback Terrelle Pryor was part of the group working out on the side..."







OSU coach Jim Tressel oversees team pushups at the end of a 6 a.m. workout on Monday, March 7, 2011





Ohio State redshirt freshman running back Rod Smith, in white top, along with running backs Jordan Hall and Dan Herron, during morning workouts on March 7, 2011.





Ohio State quarterbacks Braxton Miller and Joe Bauserman at morning workouts on March 7, 2011





Ohio State quarterback Terrelle Pryor, coming off surgery on his right foot, was limited during team workouts on March 7, 2011





Ohio State senior offensive linemen Mike Brewster, J.B. Shugarts and Mike Adams during workouts on March 7, 2011





Ohio State safeties Tyler Moeller and C.J. Barnett, who both missed much of last season with injuries, working out on March 7, 2011



Source all videos: Cleveland Plain Dealer





7 Early Observations From Spring Practice
March 7, 2011 Source: Columbus Dispatch - "There's nothing like putting in 2 hours of work before 8 a.m., eh? The Ohio State football team is doing that these days, and reporters were invited in this morning for a peek. So, with a large Starbucks in hand (yes, I speak English, not Grande-Venti-whateveri), off I went. Here are some observations..."



Complete coverage of the Buckeyes beat down of Wisconsin 3/6/11 with video highlights and more...
Big Ten tourney bracket: Buckeyes play Friday 3/11 at Noon