Ohio State College Football Team Recruiting Prospects
Source: BuckeyeSports.com - Class of 2012 players, all recruits: Position, National Rank & Rating, Name,School, Hometown, Video, HT/ WT/ 40, Ohio State Interest Level, whether offered & schools of interest...

& 2012 Prospect Ranking; Ohio's Top 40 List Source: BuckeyeGrove.com




Recruiting strategy
February 27, 2011 Source: The Duane Long Report - "We don't know how many scholarships we are going to have available for the class of 2012. We do know it is going to take a small miracle to get to 25. What a terrible time to have a limited number. Somehow JT always comes up with 20 so that is the number I think we are working with. I want to look at the strategy, the thinking behind the numbers..."







Lineman follows Simon's example
February 22, 2011 Source: Columbus Dispatch - "Freshman hopes hard work leads to early playing time...Joel Hale already has made one great decision in his quest to earn playing time on the Ohio State defensive line as a freshman, defensive coordinator Jim Heacock said.

Hale decided to shadow John Simon. What Simon says, Hale does, and what Simon does, Hale tries to do, whether it's in the weight room, in workouts or in the film room. Barely on campus for two months and fresh out of Greenwood, Ind., as a member of the Buckeyes' 2011 recruiting class, Hale aims to accomplish what Simon did two seasons ago: become a contributor right out of the chute. Hale wants to be the latest first-year player to earn significant time in the defensive line rotation for the Buckeyes.

"Cameron Heyward, Nathan Williams, Johnny Simon and Big Hank (2010 freshman Johnathan Hankins) - they all came in and had an opportunity to compete as true freshmen, and I am looking to follow in their footsteps," Hale said. It's one reason he left high school as soon as he could, even if he was considered a mere three-star prospect (out of five) by most recruiting services.

"I am one of those under-the-radar guys right now, and I like it," Hale said. "Eventually, I plan on being one of the top dogs as a team. I care about how I compete personally, but being (part of) a great team is more the goal I'm looking for." Simon was a modest three-star recruit coming out of Youngstown Mooney two years ago, as was Hankins out of Detroit last year. "I'm just going to follow in their footsteps," Hale said.

Identifying Simon as a role model was the first sign to Heacock that Hale was serious. Simon was named by ESPN.com last offseason as one of the top-10 workout freaks in college football. Linebackers A.J. Hawk and James Laurinatis were much the same when they were at Ohio State, Heacock said, setting the tone when the coaches weren't around to crack the whip...

Hale said his first goal is matching Simon's intensity. "I'd heard some of the stories about him (before arriving), and he is just an animal in the weight room," Hale said. Not that Hale considers himself a vegetable in there. "Not at all," he said, laughing. "I'm falling in right behind him. I've just got to work hard to get to that level."..."



Cornerback Big Question Mark For Buckeyes In 2011
February 14, 2011 Source: Bucknuts.com - "Due to losing Chimdi Chekwa and Devon Torrence to graduation, Ohio State's starting cornerbacks in 2011 will likely be fourth-year junior Travis Howard and fifth-year senior Dionte Allen...The one thing fans want to know right now is whether (Doran) Grant or (DerJuan) Gambrell (or both) have the chance to come right in and help the Buckeyes as true freshmen..."




Jesse Owens third on list of 50 greatest Big Ten icons? That's outrageous
February 14, 2011 Source: Cleveland Plain Dealer - "...Owens handled Olympic pressure majestically, winning four gold medals, in the 100 meters, the 200, the long jump and the 400-meter relay. This magnificent performance occurred in Adolf Hitler's Berlin...The hate-filled doctrine made the Nazis consider the American Olympic team to be racial mongrels because it included African-American athletes. The Ku Klux Klan was nothing, compared to the lengths Nazi Germany would eventually go to achieve its mad racial agenda...For this, and many other astonishing feats, James Cleveland (J.C., hence Jesse) Owens has been named third on the Big Ten's list of the conference's 50 greatest athletic icons. This is utterly outrageous. The only top Big Ten athletes still unnamed on the list are Illinois' pioneering football great Red Grange; and Michigan State's multi-dimensional point guard Magic Johnson. Neither had close to the impact on humanity that Jesse Owens did in Berlin in 1936..."







Boarding House: What a head case
February 13, 2011 Source: Bucknuts.com - "… On this glorious Sunday morning, we ask to you join us on a trip via the way-back machine. Think Youngstown in the late 1980s-early 1990s.

It was the beginning of Jim Tressel's Youngstown State tenure and he had an option-style quarterback named Ray Isaac. Ol' Ray was smooth with the ball in his hands but had a knack for … uhhh … freelancing.

Now, this was back before concussions were such a prevalent worry among football cognicenti. It is now known how dangerous – and common – these head injuries are. But Tressel used to perform his own test for those who got dinged.

The story goes as such: Issac got drilled on a running play and came to the sidelines a little foggy. Team doctors Ray and asked him all the concussion questions. After a few moments, doctors told Tressel they were unable to determine if Isaac had a concussion because they could not understand a word he was saying.

Tressel then went over to Issac himself and asked his quarterback what the designed read was on a specific passing play. Ray answered that his read was the "x" receiver. Tressel replied, "Ray, you're wrong, it's actually the tight end."

As Tressel walked away, team doctors said, "So does it look like Ray has a concussion?"

Tressel's response: "Ray is fine. He has screwed that play up all week in practice."..."



Ranking the Big Ten by Position
February 11, 2011 Source: Rivals.com - "Rivals.com analyst Mike Farrell ranks (all) the Big Ten 2011 recruiting classes by position.

Quarterback: 1) Ohio State...The combination of Braxton Miller and Cardale Jones gives Ohio State the nod here...

Tight End: 1) Ohio State...With four-star Nick Vannett and three-star Jeff Heuerman, the Buckeyes top the charts at tight end...

Offensive Line: 5) Ohio State...Ohio State has the best center in the Midwest in Brian Bobek.

Defensive Tackle: 1) Ohio State...Michael Bennett is enough for Ohio State to take this battle over the rest of the Big Ten, but don't forget about Joel Hale who was also coveted by many schools...

Defensive End: 2) Ohio State...Ohio State isn't far behind with three players ranked as four-stars, led by Kenny Hayes...

Linebacker: 1) Ohio State...Luring the nation's No. 2 prospect in linebacker Curtis Grant to Ohio State gives the Buckeyes the top class in the conference and the No. 2 linebacker class in the nation overall. He is joined by four-star Ryan Shazier and a couple of talented three-stars

Defensive Back: 1) Ohio State...Ohio State owns its fifth position at defensive back led by in-state standout Doran Grant, who is flanked by three prospects ranked as three-stars..."

<






Hoke ain't no Joke
February 10, 2011 Source: The Duane Long Report - "Buckeye Nation has been reveling in the recent string of victories over Michigan. When Rich rodriguez was fired fans held their collective breath as Buckeye Nation waited out Jim Harbaugh's decision. Once that he decided to go to the NFL the party started here in Columbus. Brady Hoke's hiring had most Buckeye fans saying, Brady who? Usually followed by a head shake and a chuckle. I have been warning from the start that this was a far better hire than Les Miles would have been. Hoke has had an impact on every program he has touched...

The biggest factor in why I believe the Rivalry is back will show up in recruiting. Hoke is an outstanding recruiter. Buckeye fans are not aware of it because obviously Hoke was not recruiting the same players as the Buckeyes. I got to see how good he is because I was still tracking Ohio players and talking to their coaches after the players fell off the Buckeyes radar. He has Ohio roots and just a couple of years ago he was sweeping the state, impressing Ohio high school coaches along the way...

You say he will not be able to out recruit Jim Tressel? He won't have to. Not this year. There is so much talent in the state of Ohio next year that Ohio State will not be able to offer all the players who could be Buckeye caliber. Hoke is already being very aggressive..."



Patching the holes; We're Losing O-Line Numbers Game
February 8, 2011 Source: The Duane Long Report - "I can't get the numbers six and seven out of my head these days. The British use the terms, "being at sixes and sevens" to describe confusion or disarray. Nothing could be more accurate when detailing the offensive line situation entering next season...The Buckeyes continue to walk on the precipice when it comes to offensive line numbers, but that is not what this is about. This is about what you do to fix it. Yes, it has to be fixed now. You can't wait until injuries happen and then do something. Even those with most opaque Scarlet and Gray glasses can't say Antonio Underwood, Chris Carter or Tommy Brown will be ready to play as freshmen. They are all projects..."




Bollman Unfazed by Low Numbers on O-Line: "...The Buckeyes will head into next season a bit thin on offensive line depth. Is offensive line coach Jim Bollman worried? "Well, we're going to have to catch up sooner or later," Bollman said. "We only have seven guys returning, but they're seven pretty good guys. So we've got to mix and mash," Bollman said..."

Source: The Ozone 2/8/11

ESPN's First Take hosts Jay Crawford and Dana Jacobson
Dana Pays Up On Ohio State-Michigan Bet





National Signing Day 2011 has come and gone but for five Ohio State freshmen the time is now. We catch up with four players to get their post NSD thoughts:


Ryan Shazier

Source: BuckeyeGrove.com





Jeff Heuerman

Source: BuckeyeGrove.com





Joe Hale

Source: BuckeyeGrove.com





Jeremy Cash

Source: BuckeyeGrove.com







Ohio State recruiting wrapup: Buckeyes bring in an entire defense
February 3, 2011 Source: Cleveland Plain Dealer - "Ohio State may have signed its entire 2014 starting defense on Wednesday. With Michael Bennett, Chase Farris, Steve Miller, Kenny Hayes and Joel Hale on the defensive line, Curtis Grant, Conner Crowell, Ejuan Price and Ryan Shazier at linebacker, Doran Grant and Derjuan Gambrell at corner and Ron Tanner and Jeremy Cash at safety, the Buckeyes signed a balanced, highly-rated group of 13 defenders. A recap:

* Ohio State's defensive line group is pretty exceptional, and defensive coordinator Jim Heacock thinks there are several players who can play both defensive end on first and second down and then slide inside and play defensive tackle on third down or other passing downs the way Cameron Heyward, among others, did for the Buckeyes in the past. He thinks all five of the linemen the Buckeyes signed have that type of versatility...

When talking about Miller, there was one play that Heacock rewound several times on the screen that the coaches used to show highlights of each player Wednesday, and he said he watched the play probably 25 times in his office. On the play, Miller came off the edge and met the fullback so hard, he snapped the fullback's head back with the collision...

Heacock said he didn't know if he ever saw Miller smile when he had him at football camp and he called him a no-nonsense player and said he expects Miller to be "dominant" at Ohio State.

On Bennett, who fits best inside as a tackle, Heacock pointed out his explosion off the ball and his ability to get up the field and apply pressure from inside.

All in all, this probably was Ohio State's strongest position in this recruiting class, though the linebackers were close.

* Among the linebackers, Luke Fickell pointed out that two of the four players signed by the Buckeyes - Ejuan Price and Ryan Shazier - played more as defensive ends in high school but he doesn't see any problems with them making an adjustment...

Fickell said that Price, from near Pittsburgh, did have some second thoughts about his choice and considered staying closer to home at Pitt but Fickell said it was important to give Price space as he considered his options and just remind him that everyone questions themselves when making a big decision.

As has been mentioned everywhere, gettiing Grant, a five-star player, on Signing Day was huge for the Buckeyes.

* Cornerbacks coach Taver Johnson said one of the things that impressed him most about Akron cornerback Doran Grant was watching Grant at a track meet and seeing his focus as he prepared for his hurdles race.

He was also excited about the height of Toledo's 6-foot-2 DerJuan Gambrell, a player Johnson said reminded him of former OSU starting cornerback Donald Washington...

* Among the safeties, Jeremy Cash of Florida has already enrolled. He said he's working on his coverage skills, but he's a hitter first. "My main focus is, I'll come and take your head off," Cash said. Safeties coach Paul Haynes said both Cash and Ron Tanner are very smart, which should help them pick up the defense quickly and compete for playing time..."







Jim Tressel and the coaching staff talk about about the 2011 signees



Coach Tressel referenced, in video above, that the Buckeyes have the #1 FBS winnning percentage since 1904. See top 50 FBS & #Buckeyes all-time yearly records HERE.



Ohio State Coaches Break Down 2011 Class: Offense

Source: The Ozone 2/3/11



Buckeyes Sign 23 to National Letters of Intent: "Twenty-three (23) of the nation's top high school football players have signed to play at The Ohio State University, Coach Jim Tressel announced Wednesday afternoon.

"Our coaching/recruiting staff and our current players did a great job of attracting an outstanding group of young men," says Tressel. "We got help at a number of positions across the board and love the balance of this class."

The class includes 13 defenders, nine offensive players and one specialist. 13 of the signees are from the state of Ohio; seven other states are also represented in this recruiting class. "This is an excited and eager group of Buckeyes," says recruiting coordinator John Peterson. "We are eager for them to become part of our program." (w/ biographical information of each signee) Ohio State College Football Recruiting Commits

Source: OSU Official Site 2/2/11





How they rank the classes: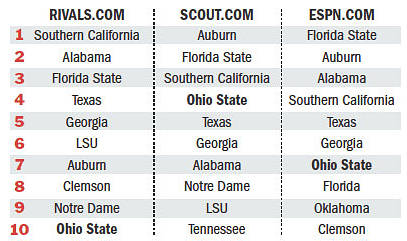 Source: Columbus Dispatch 2/3/11




The 2011 Ohio State Recruiting Class: "All of the NLIs are in and after a few late surprises, Ohio State finds itself with a class of 23, finishing in the top 10 of all three major recruiting services (we're being generous here and including ESPN in that group). Scout has the class as the 3rd-best in the country, Rivals puts it 10th and the Worldwide Leader has it 7th...Ultimately, this is about who we have, not who we don't have and once again, Jim Tressel and the staff have pulled together an impressive class, landing 23 of the 30 players they welcomed for official visits. (Video highlighlights of each player on Eleven Warriors-video highlights below added by The Webmaster from YouTube)

Mike Bennett (DT, Centerville HS, Centerville, Ohio): Talented lineman who has excelled on both sides of the ball … first team Division I all-Ohio, all-southwest Ohio … two-time GWOC conference player of year … team captain … helped Coach Ron Ullery's Elks post a 9-3 record and reach the regional semifinals … broke the school record for knockdowns by 150 in his career … U.S. Army All-American Bowl … 2011 Team USA vs. The World Game … USA Today all-USA … also a track and field letterman, making the state quarterfinals in shot put and discus … son of Mike and Connie Bennett


Brian Bobek (C, William Fremd HS, Inverness, Illinois): Skilled offensive lineman who was a three-year starter for Coach Mike Donatucci at Palatine's Fremd High … U.S. Army All-American Bowl … Parade All-America … first team all-state from Chicago Tribune, Champaign News Gazette, Rivals, Daily Herald … Chicago Sun-Times all-suburban Cook County … conference champion in shot put and discus … honor roll … son of Jeffrey and Therese Bobek … father was an Iowa lineman and mother played women's basketball for the Hawkeyes … brother Jeff is a Michigan State fullback

Tommy Brown (OL, Akron Firestone HS, Akron, Ohio): First team all-Ohio, all-city, all-district as an exceptional two-way lineman … recorded 58 tackles, 22 sacks, one safety on defense as a Falcon senior … all-academic and most valuable lineman for Coach Tim Flossie … city champion in shot put and discus … two-year bowling letterman … yearbook staff leader … son of Tommy and Theresa Brown … plans to enroll at Ohio State for the spring quarter

Jeremy Cash (DB, Plantation HS, Plantation, Florida): Hard-hitting free safety prospect from Florida … recorded 96 tackles, 23 TFL, 7 sacks, 5 forced fumbles as a junior for Coach Steve Davis … missed five games as a senior with a knee injury … Offense-Defense Bowl … also a track and basketball letterman … 4.0 student … son of Alisha and Byron Moore … enrolled at Ohio State in January


Conner Crowell (LB, North Point HS, Waldorf, Maryland): Outside linebacker with a number of athletic skills … totaled 212 tackles, 9 sacks, 5 interceptions during his junior and senior seasons … four-year varsity letterman who also played fullback for Coach Ken Lane's Eagles … Washington Post all-metro … son of Lori and Richard Crowell


Chase Farris (DE, Elyria HS, Elyria, Ohio): First team all-Ohio player on both sides of the football … team, county, conference, district defensive lineman of year … all-Lorain, all-northeast Ohio, all-district teams … recorded 95 tackles, 11.5 sacks, 31 TFL as a senior for Coach Steve Hamilton …defensive MVP of Offense-Defense Bowl … Ohio North-South Classic, Big 33 Game … also a basketball letterman … MAC Scholar … son of Dina Farris and Rodney Moore


DerJuan Gambrell (CB, Rogers HS, Toledo, Ohio): Speedy cornerback prospect from Toledo's Rogers High … first team all-city, all-Blade, all-district for Coach Rick Rios … missed four games as a senior due to injury, but still accounted for 551 yards, 7 TD rushing and 24 tackles … Offense-Defense Bowl, Ohio North-South Classic, Big 33 Game … regional champion at 400 meters … goes by the nickname "Peewee" … son of Wanda Gambrell and Darryl Elston … brother Darryl runs track at Arizona State


Curtis Grant (LB, Hermitage HS, Richmond, Virginia): Three-year all-Richmond metro defender … 134 tackles, 15 TFL, 6 sacks as a senior for Coach Patrick Kane … Parade All-America and USA Today all-USA … leading tackler for the East in the U.S. Army All-American Bowl … son of Gloria Grant and Curtis Raynard Grant


Doran Grant (CB, St. Vincent-St. Mary HS, Akron, Ohio): Versatile athlete who excelled as a receiver, corner and kick returner … two-time all-state honoree for Coach Dan Boarman … recorded 203 tackles, 6 interceptions for the Irish, along with 88 catches for 1,115 yards and 25 TD … Under Armour All-American Game, Ohio North-South Classic, Big 33 Game … USA Today all-USA … Dapper Dan selection … state champion in the 110m outdoor and 60m indoor hurdles … also a basketball letterman … son of Tonya Grant and Ted Jones … father was a receiver at Michigan State


Joel Hale (DT, Center Grove HS, Greenwood, Indiana): Outstanding defensive line prospect for the Buckeyes … recorded 40 tackles and 9 forced fumbles as a senior … defensive line Mr. Football for state of Indiana … all-county, all-MICC conference, all-state for Coach Eric Moore … also lettered in track … son of Dawn Whitaker and Khris Hale … enrolled at Ohio State in January

Kenny Hayes (DE, Whitmer HS, Toledo, Ohio): Rangy pass rusher who was district defensive player of the year at Toledo's Whitmer High … 47 tackles, 11 TFL, 7 sacks and a blocked kick for the 12-2 Panthers … all-state, all-Toledo City League, all-district, all-Blade for Coach Joe Palka … Offense-Defense Bowl … all-city in basketball … son of Talaya and Al Davis


Bryce Haynes (LS, Pinecrest Academy, Cumming, Georgia): Specialist who took top honors in long snapping at a number of national camps … rated as the nation's top prep prospect at that position … first team GISA all-region playing defensive end for Coach Charles Wiggins … also a basketball and track letterman … National Honor Society, Spanish honorary, school senate, newspaper … son of Laura and Billy Haynes

Jeff Heuerman (TE, Barron Collier HS, Naples, Florida): Tall tight end who is equally skilled at blocking and pass-catching … team captain for Coach Mark Ivey's Cougars … all-conference, all-area and all-district as a senior … his teams won 3 district 3A titles in 4 years … son of Melissa and Paul Heuerman … father played basketball at Michigan … enrolled at Ohio State in January


Cardale Jones (QB, Glenville HS, Cleveland, Ohio): Quarterback prospect from perennial power Glenville … 24-3 as a starting quarterback for Coach Ted Ginn … passed for 1,689 yards, 22 TD as a senior … 14 career rushing TD … MVP of the Offense-Defense Bowl … Big 33 Game … also a basketball letterman … son of Florence Jones


Braxton Miller (QB, Wayne HS, Huber Heights, Ohio): Highly-rated quarterback who led Wayne High to the Division I state title game … passed for 2,167 yards, 17 TD, and rushed for 658 yards, 17 TD, as a senior for Coach Jay Minton … career record of 31-7 over three seasons … Ohio Mr. Football finalist and first team all-state … Under Armour All-American Game … basketball letterman … son of Kelly Miller and Kevin Miller … enrolled at Ohio State in January


Steve Miller (DL, Canton McKinley HS, Canton, Ohio): Imposing defensive end who was an all-Ohio pick as a sophomore, junior and senior … recorded 260 career tackles, 28 TFL, 19 sacks, 7 forced fumbles for the playoff-bound Bulldogs … three-time all-Stark County, all-Federal League, all-Inland District defender for Coach Ron Johnson … Under Armour All-American Game, Ohio North-South Classic, Big 33 Game … also a basketball letterman … honor roll every quarter, academic champion … son of Josette Armstead


Ejuan Price (LB, Woodland Hills HS, Pittsburgh, Pennsylvania): Physical linebacker who packs a punch … with 100 tackles and 12 sacks as a senior, helped Coach George Novak's Wolverines to their second straight WPIAL championship game … Big 33 Game … serious weightlifter … honor roll … son of Michelle Price


Ryan Shazier (LB, Plantation HS, Pompano Beach, Florida): All-state outside linebacker from Florida … 87 tackles, 19.5 sacks, 4 forced fumbles, 4 blocked kicks for Coach Steve Davis … Broward County most outstanding player … 35.5 career sacks, a school best … Under Armour All-American Game … son of Shawn and Vernon Shazier … enrolled at Ohio State in January


Devin Smith (WR, Massillon Washington HS, Massillon, Ohio): Two-time first team all-Ohio offensive weapon … 110 career catches for 2,119 yards, 24 TD (second-best in school records) for Coach Jason Hall … all-county Independent player of year … state long jump champion and a state qualifier in the high jump and 4x200 relay … also a basketball standout … Ohio North-South Classic, Big 33 Game … son of Atina Smith and Andre Simpson


Evan Spencer (WR, Vernon Hills HS, Vernon Hills, Illinois): All-state offensive weapon with a Buckeye pedigree… scored 19 TD as a senior and 14 as a junior … helped lead Coach Tony Monken's Cougars to the state quarterfinals … son of Gilda and Tim Spencer … father is a former Ohio State running back and assistant coach now on the coaching staff of the NFL's Chicago Bears


Ron Tanner (DB, Eastmoor Academy, Columbus, Ohio): Talented free safety with versatile athletic skills … 104 tackles, 3 interceptions, 15 PBU as a senior … also passed for 1,100 yards and 14 TD … al-city, all-central district, all-metro for Coach Jim Miranda … Offense-Defense Bowl, Team USA vs. The World Game … basketball and baseball letterman … Ohio all-academic, honor roll, National Honor Society … son of Kim and Ronald Tanner … plans to enroll at Ohio State in the spring quarter


Tony Underwood (OL, Shaker Heights HS, Shaker Heights, Ohio): Offensive line prospect blessed with great leverage and power … Lake Erie League conference offensive lineman of the year … team captain and three-year starter for Coach Anthony Watkins … also played nose guard as a senior … Big 33 Game … son of Sharise Thomas

Nick Vannett (TE, Westerville Central HS, Westerville, Ohio): Tremendous receiver/blocker who earned all-Ohio recognition … all-metro, all-OCC, all-district honors … made 47 catches for 606 yards, 8 TD as a senior for Coach John Magistro … Offense-Defense Bowl, Ohio North-South Classic, Big 33 Game … also a basketball letterman … active in community service … son of Carol and Jim Vannett..."


Source: Eleven Warriors 2/2/11



Scout Team Rankings - Top 25: "...#3 #OhioState #Buckeyes Avg. Star Rating for Top 20 Commits - 3.90; Ohio State has quietly become the USC of the Midwest: a national power who has left its regional counterparts behind. The Buckeyes aren't so much recruiting players in the Midwest as they are selecting them. With traditional powers Michigan, Penn State, and Notre Dame struggling, Ohio State has found new opposition from Wisconsin and Michigan State, but no one in the North has been able to win as consistently as Ohio State. The Buckeyes have the most wins and the best winning percentage of any BCS school in the country over the course of the last six years. The Buckeyes have enough talent on hand to survive early season suspensions by some of its key players including quarterback Terrelle Pryor, but those suspensions may give Ohio State the chance to showcase Braxton Miller (6'2/195). Miller is a significantly better passer than Pryor and is a very good runner in his own right. Ohio State's class is well balanced, even without a running back commitment. The Bucks have already addressed that need with two Top 100 running backs for the Class of 2012. Ohio State got a pledge from 5-Star linebacker Curtis Grant (6'3/215) on Signing Day to solidify a Top 5 class for the Buckeyes...Ohio State College Football Recruiting Commits

Source: Scout.com 2/2/11







Rivals 2011 Team Rankings: #10 Ohio State; Ohio St. Football Commitment List

Source: Rivals.com 2/2/11





ESPN Class of 2011 Team Football Recruiting Rankings
Source: ESPN 2/2/11

Meet Ohio State's recruits; capsules on each, plus other news
Source: Columbus Dispatch 2/2/11



Ohio State 2011 Recruiting Timeline: "...we take a look back Ohio State's 2011 recruiting timeline, from the first verbal to National Signing Day. Aug. 31, 2009 — Toledo Whitmer DE Kenny Hayes receives his official Ohio State offer and becomes the first member of the 2011 class by verbally committing on the spot..."

Source: The Ozone 2/2/11



Video, evaluations, position & class rankings and more from Rivals, Scout and ESPN:

2011 Ohio St. Football Commitment List

Source: Rivals.com



Ohio State College Football Recruiting Commits

Source: Scout.com



2011 Ohio State Buckeyes

Source: ESPN



On National Signing Day, Wednesday, Feb. 2, OhioStateBuckeyes.com will be your home for "Official Signing Day Coverage".

OhioStateBuckeyes.com will be the first to post the "Official" press release from The Ohio State University Department of Athletics which will include the complete list of prospective student-athletes who have signed National Letters of Intent to play football at Ohio State beginning in 2011. OhioStateBuckeyes.com will also have biographical information and available headshots of each signee.