| | |
| --- | --- |
| | Preview and postgame sections for the 2009-10 season here. |




| | |
| --- | --- |
| | The (red) story links, or the 'read more' graphic, will open new (pop-up) windows to the source of the article, audio or video, so you can read/hear/see the rest. If your browser is set to block pop-ups, please set it to always allow them from our site. You will not get any annoying advertising pop-ups, of any kind, generated by this site...ever. |




SEC FB Recruiting Edge: Where 30 + 29 + 28 + 32 = 85
February 28, 2010 Source: Bucknuts.com - Mr. Bucknuts writes: "...Get thee behind me, Saban…We stumbled upon a fabulous cult recruiting site called oversigning.com the other day and they have a treasure trove of insights, facts, and nearly-unbelievable conclusions.

The oversigning.com motto is "Where 30 + 29 + 28 + 32 = 85" and that should tell you that they think the SEC – specifically - and the college recruiting hypocrites, in general, have made a mockery out of the recruiting rules.

Rules that only seem to apply to SOME schools. An interesting tidbit on which to ruminate - since the 2002 recruiting classes were signed, here's how many schollies were issued by certain schools by way of example of the insanity:

Ole Miss: 237
Auburn: 253
Alabama: 235 (with 113 in the last four years!)
Florida: 210
Ohio State 180

In light of this and other preposterous-ities, the site has created something they are monitoring and first started calling "The Saban Cup". Here's what it is and why:...Oversigning.com said it this way: "No one in the country is doing a better job at developing talent than Jim Tressel and his staff (despite the issues at OL)...granted, he's getting 180 really good players to work with, but when you consider someone like Les Miles has signed 222 in the same period of time...or Nick Saban with 193 players despite missing 2005 and 2006….Let that sink in for a minute. Saban signed 193 players from 2002 - 2010 and he wasn't even in the college game for two of those years. Tressel signed 180 and was there for all 9 years...

In light of this and other preposterous-ities, oversigning.com has created something they are monitoring and first started calling "The Saban Cup". Here's what it is and why: One idea we are kicking around here is the creation of The Saban Cup. An award for the team who overspends on their recruiting budget the most. We'll be collecting the raw data needed to determine what each school's pre-signing day budget is, and then we'll create a scoreboard. [But want fans to appreciate the Saban-isms as we go] When asked about his over-signing: Nick Saban: "It's none of your business. Allright? And don't give me this stuff about the fans need to know, because they don't need to know." When asked if he is worried about his numbers: Nick Saban: "I'm not worried about them. It'll all work out. I mean, the whole thing has a solution to every issue. You don't put yourself in a position where you don't know what's coming, then have to take it in the chops"..."



Navy, Ohio State to kickoff 2014 season in Baltimore
February 26, 2010 Source: Columbus Business First - "M&T Bank Stadium in Baltimore will host a game between Ohio State University and the Naval Academy on Labor Day weekend 2014 to open the football season for both schools. The game, a home contest for the Midshipmen from nearby Annapolis, is the latest move by the NFL's Baltimore Ravens to bring high-profile sporting events to the 71,000-seat stadium. Buckeyes fans have a history of traveling in big numbers, with as many as 30,000 heading to road games, Ravens executives say. "Ohio State is quintessential college football," said Mark Burdett, a vice president for the Ravens. "We see this as an interesting and very exciting opportunity." With the game being played on a long holiday weekend, it will give visitors more time to stay and spend money in Baltimore, officials said. The Naval Academy visited Columbus last September to open the Bucks' season..."




After bowl bonanza, Big Ten aims higher
February 26, 2010 Source: ESPN - "The Big Ten ended bowl season smelling like roses. It's looking to build on that momentum in 2010...The league's many critics had little ammunition after the bowl season. It's hard to knock a 2-0 mark in BCS games, four wins against top 15 opponents, the Big Ten's first winning bowl record (4-3) since 2002 and the league's first Rose Bowl championship since 2000...The next step is clear: compete at a championship level. The Big Ten has gone seven years without winning a national title, the true barometer for every conference. To completely restore respect, the league must win it all... "



Team by Team Previews: Ohio State - What to watch: Running back competition resumes. Brandon Saine and Dan Herron finished strong in 2009, but they can't get too comfortable. Several young running backs, including Jordan Hall, Jaamal Berry, Jermil Martin and Carlos Hyde, will be competing for carries this spring. Saine likely has the best chance to lock down a featured role at running back, but if the hype about Berry pans out, it'll be a dogfight.

Pryor's evolution. After Ohio State's victory in the Rose Bowl, both Terrelle Pryor and Jim Tressel talked about the game being a key juncture in Pryor's development. The junior quarterback must build on his performance this spring, especially from a passing standpoint. Ohio State can be a more balanced and more effective offense in 2010, but Pryor needs to keep making strides.

Safety squeeze. The Buckeyes didn't lose much from the 2009 team, but the safety spot took a hit as first-team All-Big Ten selection Kurt Coleman as well as key contributor Anderson Russell depart. Jermale Hines looks like the answer at one spot, and he'll enter the spring with high expectations. Ohio State needs to build around Hines and identify playmakers for an increasingly opportunistic unit.








Tressel's new calling: Ball control . . . passing?
February 25, 2010 Source: SmartFootball.com - "Buckeye Football Analysis recently broke down Ohio State's tactics in their Rose Bowl win over Oregon. The verdict? The Tresseller rose above his reputation as football dinosaur and outschemed famed schemer, Chip Kelly. Specifically, Tressel channeled his inner Bill Walsh by having Pryor use a lot of ball control passes, including one play Buckeye Football Analysis highlighted in particular, namely a packaged combination of "snag" to one side and "double-slants" to the other.

"Packaged concepts" refers to the fact that Tressel has put different route combinations to either side: To the left he has put the double-slant combination, while to the right he has the snag combo. As BFA points out: "First, it was part of the quick passing game so it allowed Pryor to throw before the blitz came. Second, putting these routes to each side actually provided three coverage beaters." ..."



No. 14 Ohio State Buckeyes (Big Ten No. 3)
February 23, 2010 Source: Athlonsports.com - "AC100 Prospects-27. Rod Smith, RB (Ft. Wayne, Ind., 6-foot-3, 220): The first two things that jump out about Smith is his production and his size. He rushed for more than 1,600 yards in all four of his seasons at Harding High School. As a freshman, Smith posted an 1,800-yard season en route to a 2A state championship. As a senior, Smith rushed for 1,855 yards and 19 touchdowns. He finished his career with 1,000 carries, an SAC conference career record 6,625 yards rushing and 66 touchdowns (8th best in Indiana prep history). He also ran track (4x100 relay) and was an all-conference basketball player...With the elusiveness, acceleration and bulk, Smith resembles former Ohio State runner Chris "Beanie" Wells...

The Scouting Report: There were not a lot of scholarships available for the Bucks, so creating solid depth across the board was the goal. No position received more than three signees (at the moment) in this class and all but one (tight end) was represented. Additionally, the eight nationally-ranked prospects will play six different positions, further illustrating the balance of the 18-man class..."






Big Ten Offseason Lookback & Lookaheads
February 21, 2010 Source: CollegeFootballNews.com - "Ohio State should be the favorite to win the Big Ten title, but John Clay and Wisconsin should be in the thick of things up until the end with a loaded team full of veterans. Check out the 2009 Lookback & 2010 early pre-spring Lookahead for each Big Ten team...Ohio State (Click for the Lookback & Lookahead): The average fan probably can't name a Buckeye defender, but seven starters are back from the Rose Bowl team and nine are back on offense including four linemen and everyone in the backfield. Remember, OSU had (arguably) the nation's No. 1 recruiting class in 2009 and will get an influx of supremely talented redshirt freshmen ready to provide solid depth. Basically, if you're waiting for the Buckeyes to slip, this isn't going to be the year..."



Be Aggressive, B-E Aggressive
February 18, 2010 Source: Eleven Warriors - "While many of the "recruiting pundits" out there criticized the slow, lengthy process in which the Buckeye coaching staff took to evaluate 2010 talent and offer scholarships, it seems things have changed a little bit in regards to the outlook on the 2011 recruiting class. JT and the staff have wasted no time in dishing out the offers to the next crop of potential Buckeyes, leading to a couple of early verbals from Top 60 players in Kenny Hayes and Steve Miller, and plenty of elite talent considering the Buckeyes at the top of their respective lists.

Clearly the staff has either learned from past mistakes, or just found this 2011 class to be more to their liking, especially in the home state, where the talent is much more plentiful than that of this past year's group. Either way, a new approach has been taken in regards to recruiting strategy and it's time to take a look at where the efforts stand at the current moment. On the offensive side of the ball the Bucks have wasted no time in targeting the offensive line and the quarterback position within state lines...On defense, the state is also very rich in talent and more specifically on the line. As mentioned before, the Bucks already have commitments from two of the nation's best ends in Hayes and Miller, but have also targeted...The Class of 2011 outlook is certainly seeming bright as of now and the staff's new found approach to be aggressive with offers could pay big dividends early on in the process..."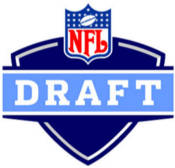 NFL Draft Dominated by Perennial Power Schools
February 18, 2010 Source: The Ozone - Tony Gerdeman writes: "A few weeks ago I took a look back at the Big Ten's NFL draft history over the last 20 years in order to find the most fortuitous path to the NFL for players in the Big Ten. The data from NFL.com showed that more Ohio State defensive backs (26) were drafted than any other position group from any other school in the conference since 1990...Since then I've received feedback asking how the draft numbers that Ohio State produced matched up against the other top programs in the nation...First (per my naked eye), here are the top-20 draft-pick producing schools since 1990: 1. Miami 121, 2. Florida State 120, 3. Tennessee 116, 4. Ohio State 114, 5. USC 113, 6. Notre Dame 110, 7. Nebraska 104, 8. Florida 101, 9. Michigan 92, 9(t). Penn State 92...Of the 114 draft picks for the Buckeyes, an amazing 69 of them have been since 2000. For comparison's sake, Miami has produced 62 draft picks in that same timeframe. USC produced 59 draft picks since 2000, and Florida State and Tennessee have both produced 54..."






James Louis: "Around The Block" With The 2010 Buckeye WR Recruit
February 17, 2010 Source: Bloc-O-Nation - "Most Buckeye fans that follow recruiting closely know that WR James Louis is one of the top prospects in the Ohio State 2010 class based on rankings from sites like Rivals and Scout. But we here at Block-O-Nation thought you might like to know a little more about James in his own words (and other players coming soon). We were fortunate enough to catch up with James recently, and assumed that Buckeye fans would be interested in what he had to say about his path to Columbus, among other things...

Q: James, thanks for taking the time to do this for the site. You originally verbally committed to Florida, then changed your verbal to Ohio State. There were some rumors as NSD neared that UF or Minnesota could still be options, but in the end you signed your LOI with Ohio State, and we are THANKFUL! So, what made Ohio State the right choice for you in the end? A: Yes, at one point I was very interested in Minnesota and Florida. Both were in my top. But Florida was always my number one. It was just that I really didn't want to be far away from home, but I came to realize leaving the state would be best thing for me and my family. So I stuck with Ohio State and I really loved the atmosphere over there and the coaching staff and the players are all great..."







Ohio State's Big OSU, Iowa getting most out of 2007 class
February 17, 2010 Source: ESPN - "We live in an age that demands instant analysis, so recruiting classes are evaluated before the proverbial ink is dry on National Signing Day. But in order to get a much better gauge of a class, check back three or four years down the line. SI.com's Andy Staples is re-ranking the 2007 recruiting classes based on how those players have helped their teams on the field. What a novel concept: actually evaluating recruits based on performance at the college level. As Staples writes, "There's a huge difference between an 18-year-old and a 21-year-old, and it's almost impossible to predict how a group of 18-year-olds will produce as 21-year-olds. Like grits or pot roast, the better recruiting rankings take a lot longer to produce." Amen.

Staples ranks the top 10 classes from 2007, and both Ohio State (No. 5) and Iowa (No. 8) made the list. Just for your reference, ESPN recruiting ranked Ohio State's 2007 class way down at No. 20, while Iowa's class came in at No. 24.

Ohio State's 2007 class includes key contributors like defensive lineman Cameron Heyward, linebacker Brian Rolle and wide receiver Dane Sanzenbacher. Staples writes of the group: "the fact that this class has produced seven starters is pretty amazing considering the Buckeyes only signed 15 players in 2007..."







Ohio State's Big Problem At Running Back Heading Into 2010
February 15, 2010 Source: Block-O-Nation - "Anyone not living in a cave that follows college football knows who Terrelle Pryor is...Clearly, he is the most known and recognizable player in the OSU backfield, but he's not the only guy who can carry the rock...The talent that Ohio State will field at RB this coming season will rival, and very well could—and should—surpass any stable Slippery Pete ever assembled in his tenure in LA (2001-2009 USC), before he scrambled out of town, just before the NCAA likely slams the sanctions hammer down on the Trojans. SIX NAMES TO KNOW:

1—Brandon Saine..."Zoom" was finally healthy for the majority of a season in 2009 and was able to show off the ability and speed...Even though he wasn't the full-time featured back in 2009, Zoom still scored six total touchdowns, and managed to gain over 950 total yards, while averaging over five yards per carry. A healthy senior season with more time as the featured back, just might help lead the Buckeyes back to another BCS title game...

2—Daniel Herron...In 2009, Herron was named the starter to begin the season. He himself missed some time due to injury which opened the door for the finally healthy Brandon Saine. Even so, Herron did rush for 600 yards and scored eight total touchdowns...

3—Jordan Hall...He's a bit on the small side height-wise, but he's also pretty fast when he hits the hole and gets through it where it opens. Hall could easily make a push for more playing time if there are injuries, if he impresses this Spring, or with plenty of hard work once Fall camp begins...

4—Jaamal Berry...somewhat of an unknown commodity at this point. He was considered the top prospect in the OSU 2009 recruiting class, but a leg injury forced him to redshirt and miss the entire season. With Saine and Herron returning, and Hall impressing the coaches when he saw the field in 2009, Berry, a four to 5-star rated prospect out of Miami (Florida) Palmetto HS may or may not have a shot to earn substantial playing time this coming season—if he can get, and remain 100% healthy that is. This will be a classic wait-and-see situation...

5—Carlos Hyde...attended Fork Union Military Academy in Virginia before enrolling at OSU this Winter...Eddie George attended Fork Union MA before coming to Columbus. Then he went on to win the 1995 Heisman Trophy, was named 1996 NFL Rookie of the Year, and played a total of nine seasons in the NFL (1996-2004). Carlos (6-1, 225) is not quite as tall as George (6-3, 240), but he has been compared to him based on his build and ability...

6—Roderick Smith...He is considered by many to be one of, the best football prospect ever to come out of Indiana, a state traditionally known for its' exploits on the hardwood rather than the gridiron..."



Who Will Be Ohio State's 1000-Yard Back? (College Football Spring Practice: 25 Questions Facing the Top Programs)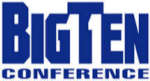 2010 Big Ten Composite Schedule & Top Games
February 14, 2010 Source: CollegeFootballNews.com - "The Ohio State-Wisconsin battle in Madison will likely be the Big Ten game of the year, but it's not like each team doesn't have other major games to worry about. Check out the 2010 Big Ten Composite Schedule and Top Conference and Non-Conference Games...Top Ten Big Ten Games : 1. Ohio State at Wisconsin, Oct. 16, 2. Penn State at Ohio State, Nov. 13, 3. Ohio State at Iowa, Nov. 20..."



2010 Big Ten Team-By-Team Schedule Breakdown: Ohio State Summary: It all sets up well for an unbeaten run, but there are just enough landmines to ruin a perfect season. Playing a loaded and athletic Miami team in Columbus will be a terrific early test, but the rest of the non-conference schedule is a breeze with two MAC teams (Ohio and Eastern Michigan) and Marshall. Missing Michigan State and Northwestern in Big Ten play might not seem like a big deal, but the two went to bowl games last year and each should finish in the conference's top five. There aren't two road games in a row, but while the trip to Wisconsin comes after a relative breather against Indiana, the showdown at Iowa comes a week after facing Penn State. Getting a November 6 week off is going to come in very, very handy down the stretch..."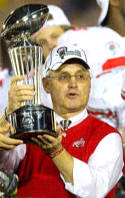 Tressel reflects on decade of success
February 14, 2010 Source: Columbus Dispatch - "Another couple of wins in some key games, and the last decade of Ohio State football would have been one for the ages. The past 10 years -- nine under coach Jim Tressel -- stack up favorably with any program's in the country, and stand head and shoulders above the rest of the Big Ten's. Ohio State had 102 wins, tied for fourth nationally with Southern California...The Buckeyes won the 2002 national championship and played for two other titles (2006 and '07); won six Big Ten titles (including the past five, the second-longest streak in conference history); and beat rival Michigan eight times, including a school-record six straight to end the decade. The Buckeyes got the next decade off to a winning start against Oregon in the Rose Bowl. Some six weeks after that win, Tressel took a few moments with The Dispatch to reflect:

Question: After enduring three straight bowl losses, does winning the Rose Bowl give the team momentum headed into next season? Answer: I think it does, but you have to make sure it is realistic momentum, because every play wasn't perfect. We have to get better at a lot of things. But I think it gives you momentum from the sense of we've got a chance. And hope is important.

Q: When you think of the 2000s, what's the first thing that comes to mind? A: The pride that swelled in Ohio State football. There's always been pride associated with this program because the Buckeyes have done great things for a long time. I think this past decade contributed to the swelling. ... We were able to provide more history, more tradition. It's a natural point when you start a new decade to look back and say, "Here's what was accomplished in the last decade. How does that compare with our program's history?" It gives you a chance to set goals. And we always say goals create energy.

Q: Does every generation of fans need the kind of boost that was provided by that 2002 national title?...Q: The flip side is that the standard was raised substantially by making the national title games in 2006 and '07. But where do you go from here if anything short of a championship will leave some fans disappointed?...Q: Your team ended the decade riding two incredible streaks: five straight Big Ten championships and six straight wins over Michigan. Did that exceed where you thought you could raise this program?...Q: Despite those streaks, there have been criticisms in recent years that your teams couldn't win the big games. How did you deal with that?..."



Mr. Bucknuts Goes Over The Top!!
February 14, 2010 Source: Bucknuts.com -&nbsp"...For those of you worried about…How good is our recruiting class this year? (And, yes, it is the 90% of you recruitniks that give the other 10% of us a bad name!). I have concluded that statistics are the perfect device to either prove that your team had a great recruiting haul. Or, with the same class, prove that they didn't...I wanted to present you with an interesting post from an LSU fan; a guy that ranked the recruiting classes from the last five years on an average-star-per-recruit basis (using Rivals' rankings). Ohio State is 5th in the nation, btw, when you combine those last five years. Our poster just took the average stars of each year's class and then ranked all teams based upon their cumulative average. Worth noting is that SEVEN of the Top 9 have either won or played in a national title game in the period (Georgia and Notre Dame being the only teams in the Top 9 that haven't played in a national title game). Also interesting is NO team outside the current Top 9 has even PLAYED in a national title game in the period.


| | | | | | | | | |
| --- | --- | --- | --- | --- | --- | --- | --- | --- |
| RANK | SCHOOL | 2006 | 2007 | 2008 | 2009 | 2010 | Total | AVG |
| 1 | USC | 3.96 | 4.22 | 3.89 | 3.89 | 4.20 | 20.16 | 4.032 |
| 2 | Florida | 3.89 | 3.89 | 3.82 | 3.94 | 3.89 | 19.43 | 3.886 |
| 3 | Texas | 3.60 | 3.79 | 3.55 | 3.85 | 3.92 | 18.71 | 3.742 |
| 4 | LSU | 3.64 | 3.88 | 3.58 | 3.79 | 3.59 | 18.48 | 3.696 |
| 5 | OSU | 3.60 | 3.80 | 3.79 | 3.76 | 3.39 | 18.34 | 3.668 |
| 6 | Georgia | 3.64 | 3.48 | 3.67 | 3.83 | 3.42 | 18.04 | 3.608 |
| 7 | Alabama | 3.61 | 3.28 | 3.72 | 3.81 | 3.62 | 18.04 | 3.608 |
| 8 | Notre Dame | 3.46 | 3.72 | 3.96 | 3.44 | 3.39 | 17.97 | 3.594 |
| 9 | Oklahoma | 3.54 | 3.38 | 3.81 | 3.43 | 3.55 | 17.71 | 3.542 |
| 10 | Michigan | 3.63 | 3.40 | 3.67 | 3.59 | 3.19 | 17.48 | 3.496 |

Of further note (so says Mr. B): 1) The four teams that "recruited better" than Ohio State all beat Ohio State. 2) Michigan only fell off badly the one year (2010!), according to this star method…3) Ohio State was the only B-10 team in the top ten; Penn State was 17th, Michigan State and Illinois were 33rd and 34th and Iowa was 50th (behind Minnesota). That might tell the tale as to why there has been a decline in Big Ten football AND tell you that Ferentz does a lot with a little…4) The Notre Dame talent problem was on the sidelines and not in-between the sidelines We concluded that the numbers of players can be important but the numbers PER player are paramount…











Griffin Signs with Buckeyes
Columbus (Ohio) DeSales running back/defensive back Adam Griffin has signed with the Buckeyes, becoming the 19th member of Jim Tressel's 2010 recruiting class. The 5-foot-9, 185-pounder can play multiple positions including running back, defensive back and return specialist. Scout.com's Player Evaluation: "Griffin has the initial quickness out of his stance you like to see and shows above average instincts and vision. While he's not built to be a pound it up the middle back he's willing to do so when called upon. What makes Griffin special is his outside ability to hit and turn the corner. The question that will always follow Griffin is his physical build and if he can hold up at the next level." Bill Kurelic's, of ESPN and Bucknuts, commented: "Tressel likes to bring players into the program who know what Ohio State football is all about and really want to play for the Buckeyes. Certainly Adam Griffin fits that description." Adam, the son of the President and CEO of Ohio State University Alumni Association Archie Griffin, the only two-time winner of the Heisman Trophy, had offers and interest from a number of schools including Air Force, Army, Eastern Illinois, Kent State and Navy . Welcome aboard, Adam!



Catching Up with Adam Griffin
February 12, 2010 Source: Eleven Warriors - "...We caught up with the versatile athlete who played offense, defense, and special teams for the local school and discussed how the OSU situation unfolded, what position he will play in college, if he will don his father's #45 jersey, and more..."



Buckeyes sign Archie's son
February 11, 2010 Source: Columbus Dispatch - "Ohio State somewhat unexpectedly added to its 2010 recruiting class today, signing Adam Griffin -- son of OSU legend Archie -- to a letter of intent. Adam Griffin is a 5-9, 185-pound running back and defensive back from Columbus DeSales High School. He was an all-district pick, but did not appear to be an OSU target before this announcement. Last week, Buckeyes coach Jim Tressel said he did not expect to add anyone else (besides possibly Seantrel Henderson) to this class. Archie's achievements don't need to be repeated for most OSU fans. He is the only two-time Heisman Trophy winner and the school's all-time leading rusher. "Adam Griffin has a passion to be an Ohio State Buckeye," Tressel said in a release. "He will add a great deal to our football family on the field, in the locker room and on our campus. Adam clearly understands the privilege of being an Ohio State Buckeye." Griffin is the 19th member of the 2010 class."








2010 Pre-Preseason Rankings Big Ten Teams
February 11, 2010 Source: CollegeFootballNews.com - "#4 (Nationally) #1 (Big Ten) Ohio State (2009 Final CFN Ranking: 7): The Buckeyes are the far-and-away favorites to the win the 2010 Big Ten title and will be in the mix for the national title from the start. Miami is coming to Columbus, but there isn't any USC to deal with this year. There are only two dangerous road games, Wisconsin and Iowa, but if the team really is national title-good, it needs to win those. The offense is loaded with experience and the defense should be solid once again as the tremendous recruiting classes of the last few years restock the shelves..."



NCAA proposes tough taunting, concussion rules
February 11, 2010 Source: SI.com - "...proposals were announced Thursday by the Football Rules Committee and must now be approved by the Playing Rules Oversight Panel. If passed, players who draw flags for taunting gestures on their way to a touchdown would have the penalty assessed from the spot of the foul, taking away the score. Penalties that occur in the end zone would continue to be assessed on the extra-point attempt, 2-point conversion try or ensuing kickoff...Concussion prevention and treatment has also been a hot topic in recent years...If approved, injured players -- including those with concussion symptoms -- would have to be cleared by a doctor before returning to competition...Other topics discussed at the meeting include: • Television monitors will be allowed in the press box coaches' booths beginning in 2011...• Requiring players who wear "eye black" to use solid black with no words, logos, numbers or other symbols. That will be effective next season. • Ending the requirement that players' pants always cover the knees. • Eliminating the intentional "wedge" on kickoffs and punts, a rule the NFL adopted last season. • Recommending conferences that do not have a pregame warm-up policy use a 10-yard, no-player zone between the 45-yard lines beginning 60 minutes before kickoff..."



Who will break out in the Big Ten?
February 11, 2010 Source: ESPN - "...Ohio State LB Brian Rolle: Cameron Heyward and Ross Homan will be the headliners for Ohio State's defense in 2010, but watch out for Rolle as well. Rolle already "broke out," in a sense, with 95 tackles (seven for loss) and an interception in 2009. But he could truly explode for the Buckeyes this coming fall..."




Big Ten Conference has contacted Texas about becoming 12th team
February 11, 2010 Source: Cleveland Plain Dealer - "Most of the attention about the Big Ten's planned expansion involves schools like Pittsburgh, Missouri and even Rutgers. But a surprising name has emerged, and according to LJWorld.com, the Web site for the newspaper in Lawrence, Kan., the Big Ten has made contact with Texas. "There have been preliminary exchanges between the Big Ten and Texas," the source told the Journal-World on Wednesday. "People will deny that, but it's accurate...Getting TV sets in the massive state of Texas tuned to the Big Ten Network would qualify as a home run for the Big Ten." The addition of Texas (or any other team) would give the Big Ten 12 teams. That would enable the conference to have a postseason title game (like other major conferences). The conference hopes to have expansion in place within the next year or two. But why would the Big Ten want a team that is so far away from the rest of the schools in the conference? Geographic concerns don't carry the weight they once did because TV revenues have grown so much, and this wouldn't be the first time Texas has considered such an odd geographic match. Before joining the Big Eight with three other schools from Texas, the Longhorns looked into joining the Pac-10..."

Texas headed to the Big Ten? Not likely
February 12, 2010 Source: Austin American-Statesman - "I'll put this as succinctly as possible: Texas isn't joining the Big Ten. No way, no how. So put down your Ohio State pompoms and that JoePa pennant. That straightforward enough? I've been assured by higher-ups at Texas that this is nothing more than a wishlist on the Big Ten's part. As one school official said, "We're the good-looking girl at the dance." Another even higher up the food chain told me, "It ain't going to happen."..."

Big Ten commissioner Jim Delany: BT hasn't contacted any schools
February 12, 2010 Source: ESPN -



Pryor has minor knee surgery
February 11, 2010 Source: Columbus Dispatch - "Ohio State quarterback Terrelle Pryor had arthroscopic surgery on his right knee this week, but he is expected to be fine for the start of spring practice, an athletic department spokeswoman said. Pryor suffered a partial tear of the posterior cruciate ligament Oct. 31 against New Mexico State. Although he was hampered by the injury, Pryor still led OSU to three vic-tories and a Big Ten title to close out the regular season, then had an outstanding game in the Rose Bowl with a career-high 266 passing yards in a 26-17 victory over Oregon.

Last week, coach Jim Tressel said the knee was "nothing that has to be attended to surgically." It appears the surgery might not have been medically necessary but was something Pryor wanted done, maybe for peace of mind. On his Twitter page, Pryor said he had to be off his feet for two weeks and then he would be "off to work." Spring practice begins April 1. Quarterbacks generally have been off-limits to contact for most or all of the spring. Pryor, who will be a junior in the fall, is one of nine returning starters on offense for OSU, which is considered the early favorite in the Big Ten and a national-title contender."




Pryor has surgery; back by April 1
February 10, 2010 Source: ESPN - "Ohio State quarterback Terrelle Pryor underwent arthroscopic surgery on his right knee earlier this week. Team spokeswoman Shelly Poe confirmed to ESPN.com that Pryor had a routine arthroscopic procedure and should make a speedy recovery. The team said the surgery was successful and expects Pryor to be back to 100 percent before spring practice, which begins April 1. Pryor revealed before the Rose Bowl that he had been dealing with a partially torn posterior cruciate ligament in one of his knees. The quarterback indicated the injury was in his left knee, though this week's procedure was performed on the right knee, Poe said. Pryor told reporters last month in Columbus that his knee was still hurting and he planned to have it re-examined by doctors. Pryor comes off the best performance of his career in the Rose Bowl, passing for 266 yards and two touchdowns and rushing for 72 yards in a win against Oregon.




Oh, BTW. Had Surgery Yesterday. No Big Deal.
February 10, 2010 Source: Eleven Warriors - "Terrelle Pryor casually informed his loyal following on Twitter Wednesday that he'd had a fairly noteworthy knee procedure done less than 24 hours prior. In fact, Pryor's indifference to the injury led to the repeated thought that his left knee had been bothering him for the last 3 months, only for us to find out yesterday afternoon that the right one had been the root of the problem...The knee experts at Athletic Advisor go on to emphasize that the after surgery rehab is often more critical than the procedure itself: 'Rehab after a PCL reconstruction is more important to a positive outcome than the surgery to repair the injured ligament. If the athlete does not regain strength, motion, and functional abilities the repair will be compromised.'...With a crack staff of some of the top level physical rehabilitation specialists in their fields at his disposal, if Pryor shows even 50% of the dedication he was widely said to in preparation for the Rose Bowl, any worries over his long term prognosis can likely subside.




Timing Of Pryor's Surgery Vital
February 10, 2010 Source: Bucknuts.com - "...By now you know Terrelle Pryor underwent arthroscopic knee surgery Tuesday. By medical standards, that's the equivalent of a Raisin Cane's drive thru version of a surgery. It takes about two weeks to fully recover and basically helps reduce scar tissue...Now knowing the pain through which Pryor played, it makes his MVP effort at the Rose Bowl even that much more impressive. As of two weeks ago Pryor said the knee was still ailing him, but that the key therapy for that injury is rest. Perhaps this procedure can help Pryor at least feel comfortable with that knee as offseason workouts really begin in the winter (not to say there was ever an off-season).

Here's why it was crucial for the Buckeyes to get this done now… a healthy Terrelle in spring practice is crucial. He took such a major step foward in the Rose Bowl that it's important to see progression through April, not regression like so many quarterbacks. He owns the talent and potential, and this spring could go a long way toward unlocking it..."




Tide, Buckeyes, Broncos set for '10 run
February 10, 2010 Source: ESPN - "...Here's a revised look at the best teams in the country for the upcoming season:...2. Ohio State Buckeyes Buckeyes coach Jim Tressel can only hope quarterback Terrelle Pryor turned the corner with his performance in a 26-17 victory over Oregon in the Rose Bowl. Entering his third season, Pryor is still trying to live up to the hype that made him the country's top high school QB prospect. The good news: Four starters will be back on the offensive line. The Buckeyes will have to replace left tackle Jim Cordle, and junior Mike Adams will be the top candidate to protect Pryor's blind side entering spring practice. Three tailbacks will compete for the starting job, including heralded freshman Jaamal Berry, who missed all of last season because of a hamstring injury. Six starters, including five seniors, are returning on defense. Junior end Thaddeus Gibson entered the NFL draft, but getting Cameron Heyward to come back to school was a major coup. Incoming freshman Christian Bryant might be able to help in the secondary right away..."




Big Ten pre-spring power rankings
February 10, 2010 Source: ESPN - "...Spring practice in the Big Ten officially kicks off March 13 at Wisconsin, so let's take a look at how the teams stack up heading into the spring. Please remember that the power rankings can -- and will -- change several times before the season begins Sept. 2. 1. Ohio State: The Buckeyes will be a consensus top 5 team and a legit national title contender entering the fall. Heyward's decision to return is huge for a talented defensive front. If quarterback Terrelle Pryor builds off of his Rose Bowl performance and Ohio State solidifies things at left tackle, safety and possibly running back, this team will be scary good.

2. Iowa: The NFL draft stung the Hawkeyes a bit, as both Spievey and left tackle Bryan Bulaga opted to turn pro. But All-America candidate Adrian Clayborn returns, and Iowa will be stacked at both running back and wide receiver in 2010. Rebuilding the offensive line will be Iowa's top priority as it aims for a Big Ten championship this fall.

3. Wisconsin: The mojo is back in Mad-town as Wisconsin returns the core players from a team that went 10-3 and finished 16th in the final AP Poll. Heisman Trophy candidate John Clay leads a balanced and efficient offense, while the defense boasts a lot of young talent but must replace star pass rusher O'Brien Schofield..."




Big Ten: Ranking the Conference's 11 Starting QBs for 2010
February 10, 2010 Source: Bleacher Report - "...1. Terrelle Pryor—Ohio State: The top-ranked player in 2008 recruiting was given the keys to the OSU offensive automobile for the full 2009 season with no true capable backup. And though he suffered many bumps in the road, including the loss at Purdue, Pryor kept improving as a QB and has become one of the best QBs in the country. His performance in the Rose Bowl earned him MVP honors, as he played on a torn PCL, but led the Buckeyes to a 26-17 win over Oregon. With a big arm and incredible speed, Pryor has all the tools to be an elite QB, and now he has the experience. And as a potential Heisman candidate, 2010 is Pryor's year to be a Buckeye legend. But he has the entire conference gunning for him, and trips to Camp Randall and Iowa City will make the road back to Pasadena very difficult. And if they are able to win the conference and both games, that could cement Pryor's legacy as one of the best QBs in OSU history..."




The Top 25 College Football Recruits for 2011
February 10, 2010 Source: Bleacher Report - "Braxton Miller, QB: Currently the nation's top QB prospect per Scout, Ohio native Braxton Miller is rumored to be an early lock for the Ohio State Buckeyes. That's good news for Tressel and company, who will need the next dynamic quarterback quickly if Terrelle Pryor enters the draft a year early. The Buckeyes didn't restock the QB position at all with this past class, so they'll be throwing everything they have at Miller..."

"Steve Miller, DE (Ohio State): The third-best prospect in the state of Ohio has already given his verbal to the Buckeyes for the 2011 season. His commitment shores up Ohio State's chances at keeping the in-state talent in-state in a year where the athletes run deep at many positions. He'll be a fringe five-star talent at strongside defensive end..."

"Trey DePriest, OLB: DePriest is the other candidate battling for top player in Ohio, and perhaps the Midwest. An outside linebacker, and one of the top defensive recruits, DePriest has the attention of a variety of schools and plans on taking his recruitment to the road this summer...if the Buckeyes lose another in-state stud linebacker to an out-of-state school, Jim Tressel will certainly be too upset to play Bridge online, or whatever else he does with his free time. It'll be a tight battle that might come down to the Buckeyes and Michigan—DePriest has attended camp in Ann Arbor, and grew up a Michigan fan, but doesn't like the losing trajectory of the past few years..."

"Ben Koyack, TE: Koyack, a Pennsylvania native, is a preemptive five-star talent. He's drawing praise for his pass-catching ability and athleticism, and has elite size and blue-chip speed for his position. The Nittany Lions will be pursuing him hard after missing out on top-tier tight ends the past year and losing AJ Quarless with this year's graduation. Other suitors include Ohio State, Notre Dame, and a host of Big East schools."..."

Rivals Watchlist
February 9, 2010 Source: Rivals.com - Two Ohio State commits for 2011, Steve Miller and Kenny Hayes, are on the list.




Sanctions at USC could influence recruit's decision
February 10, 2010 Source: Columbus Dispatch - "Seantrel Henderson remains committed to Southern California, but that doesn't mean the blue-chip tackle prospect has crossed Ohio State and a couple of other former suitors off his list...But is it wrong for Ohio State to think the tackle could still end up with the Buckeyes? "That's the thing. There is no false sense of hope at all, because he hasn't signed any paperwork," Sean Henderson said. "If he chooses to not pursue going to USC, then he would exercise his options, and if he ultimately chose to go to Ohio State, I would love for the fans there to accept him coming there with open arms and not feel slighted that he originally chose to go to SC."..."





Bookies like 'Bama to repeat
February 9, 2010 Source: CollegeFootballTalk.com - "Sure, the 2010 regular season is still seven months away, and the BcS title game a full 11 months down the road, but it's always the time of year and never to early to discuss gambling and NCAA football, right? So, just as we thought, and as expected by anyone with half a brain, defending national champion Alabama is the prohibitive favorite of SportsBook.com to hoist the BcS crystal yet again in January of 2011. Following right behind the Tide's 7:2 is Ohio State at 8:1. Oregon, thoroughly handled by the Buckeyes in the Rose Bowl, are next at 10:1, followed by Boise State and Nebraska (?) at 12:1. The Tide's title game opponent, Texas, stands at 15:1 along with TCU and Virginia Tech. Florida and USC are both at 20:1, as is Iowa. If you are degenerative interested enough, the full odds are right HERE. All I know is, I have a friend... ooops... what I meant to say was, if I had a friend heading to Vegas in, say two weeks, I'd give said friend one piece of paper with a picture of Benjamin Franklin on it with explicit instructions to let it all ride on Boise. Again, that's if I had a friend heading to Sin City. Which I don't."




Five Big Ten newcomers to watch in 2010
February 8, 2010 Source: ESPN - "...So who steps in this fall? Here are five newcomers to watch...Ohio State RB Jaamal Berry: Ohio State fans clamoring to see Berry since early last season will finally get their wish. A hamstring injury kept Berry from playing as a true freshman in 2009, but he'll be ready to push Brandon Saine and Dan Herron for the starting job this year. Though both Saine and Herron performed well down the stretch and in the Rose Bowl, Berry comes in with impressive credentials and could have what it takes to become a featured back for the Buckeyes...

Big shoes to fill in the Big Ten in 2010: "It's still early February, but signing day is over and you can officially start looking forward to the 2010 season. But before we look at who's back in the Big Ten, let's look at who will be missed the most when the teams return to the practice field this spring. Here are five players who leave big shoes to fill around the league:..."





SUPER BOWL XLIV COMMERICALS:
AdWeek: Watch all of the 2010 commercials, and vote for your favorite and least favorite spot; also Classics, '08 & '09 ads
CBS Sports: See 2010 commercials by quarters or advertiser
YouTube: Watch vote and share...2010 Super Bowl commercials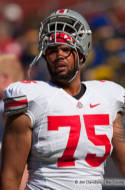 Adams left to fill big hole at tackle
February 7, 2010 Source: Columbus Dispatch - "...Ohio State certainly is leaving the door open for its potential left tackle of the future...Who is their left tackle of the present?...Left tackle was manned at first by former tight end Andrew Miller for three games, then Adams for four games, then for the final six games by former center and guard Jim Cordle, who has graduated...There's little question that Adams will get first crack at the spot. He was a highly touted recruit in 2008 out of Dublin Coffman, but his Ohio State career has been bumpy.

Entering his third season, it could be now-or-never time for Adams. "This is a big winter and big spring for him to develop strength-wise and get on the field and get himself established," Bollman said. "If you were to talk to him, I'm sure he'd be frustrated. But he has kept working at it and kept improving and is doing a good job right now, doing a lot of extra work."...It seems more likely that Miller and Hall will provide the competition for Adams. Hall was impressive as a true freshman last season, earning substantial playing time behind Shugarts. Bollman said that Hall might want to join the fray on the left side if he senses that Shugarts has the right side locked up..."




Dark Clouds On The Horizon For The Offensive Line?
February 4, 2010 Source: DuaneLongReport.com - Duane Long opines "...The offensive line...what a mess. The Buckeyes got one offensive lineman in this class. This is not about the fact that Morgan Moses decided at the last moment to go to Virginia. This is not about the fact that Matt James decided on Notre Dame after so much late buzz said he was going to choose Ohio State. This is about the fact that once again the staff has made a mess with the small unit principle with offensive line recruiting. Don't tell me that Andrew Donnal was not Ohio State caliber. He is good enough for Iowa, a staff doing a much better job of identifying and developing offensive linemen than the Buckeyes are. Don't tell me that Skyler Schofner is not Buckeye-caliber. I heard the same argument with Zebrie Sanders, now the starter at Florida State..."






Analysis: Ohio State's recruiting haul is solid, if unspectacular
February 3, 2010 Source: Cleveland Plain Dealer - "...THE FINAL GRADE Ohio State's 18-player recruiting class is smaller than most classes and suffers as a result in overall ratings. Overall, Ohio State was ranked No. 20 by Scout and No. 26 by Rivals. But going by the average rating of each player, Ohio State was ranked No. 7 by Scout and tied for 14th by Rivals. Two players, No. 59 Andrew Norwell and No. 65 Roderick Smith, were ranked among the top 100 players in the nation by Rivals. ...Generally acknowledged as the third-best class in the Big Ten behind Penn State...a class that features three receivers, three defensive backs and three defensive ends, among others, Cincinnati offensive tackle Andrew Norwell is the only offensive lineman..."I think whenever you decide to go after good guys, there's going to be great competition," Tressel said. "At the end of the day, the thing you don't want to happen is for someone to end up picking you and feeling as if they made a mistake and it wasn't the right place for them."...Not much buzz. But not so bad."



Ohio State 2010 Signing Day Analysis



Tressel talks about class of 2010
Source: BuckeyeGrove.com



The Staff Introducing the Class of 2010
February 5, 2010 Source: Eleven Warriors - The Ohio State coaching staff decided to shake things up a bit at this year's Signing Day press conference. Instead of the traditional presser in which The Senator gets up and discusses the newest members of the Buckeye family, Tressel had nine of his assistant coaches each introduce two players of the class. We were on hand to capture the words of wisdom about each of the 18 members of the recruiting class of 2010, and without further ado, here are the videos..."




Meet the newest Buckeyes
February 4, 2010 Source: Columbus Dispatch - Capsules on each member of the Buckeyes' 2010 Class...




February 3, 2010 Source: OSU Official Site - "Eighteen of the nation's top high school football players have signed to play at The Ohio State University, Coach Jim Tressel announced this afternoon."

Ohio State Football 2010 Signees





Big Ten: 2010 recruiting wrap
February 4, 2010 Source: ESPN - Adam Rittenberg's take on every Big Ten's teams recruiting classes, including recruits, top prospects, sleepers, needs met, analysis and more: "...Ohio State might not have hit a home run with this class, and the Buckeyes lost a few key in-state products to other teams, namely Jordan Hicks. But Jim Tressel and his staff brought in plenty of speed and versatility, and added several key wide receivers who could contribute early following graduation losses and Lamaar Thomas' transfer. Unless Henderson dumps USC in the coming weeks, Ohio State will need to add more offensive linemen in the 2011 class..."