MSU, December 7, 2013
TSUN, November 30, 2013
Indiana, November 23, 2013
Illinois, November 16, 2013
Purdue, November 2, 2013
Penn State, October 26, 2013
Iowa, October 19, 2013
Northwestern, October 5, 2013
Wisconsin, September 28, 2013
Florida A & M, September 21, 2013
California, September 14, 2013
San Diego State, September 7, 2013
Buffalo, August 31, 2013





| | |
| --- | --- |
| | The (red) story links, or the 'read more' graphic, will open new (pop-up) windows to the source of the article, audio or video, so you can read/hear/see the rest. If your browser is set to block pop-ups, please set it to always allow them from our site. You will not get any annoying advertising pop-ups, of any kind, generated by this site...ever. |

Bucks Lose to Clemson in Orange Bowl

40-35


"We're not a championship caliber defense right now. Although in these last two games, we were in position to go win (them). I'm not a big blamer. We have to get better. We have to go out and recruit our tails off, go develop players and work with real hard with scheme and we'll get there."
- Ohio State HC Urban Meyer


Ohio State Clemson Highlights




The Orange Bowl in GIFs
January 4, 2014 Source: Eleven Warriors -


Urban Meyer reacts to a penalty on Bell for a late hit.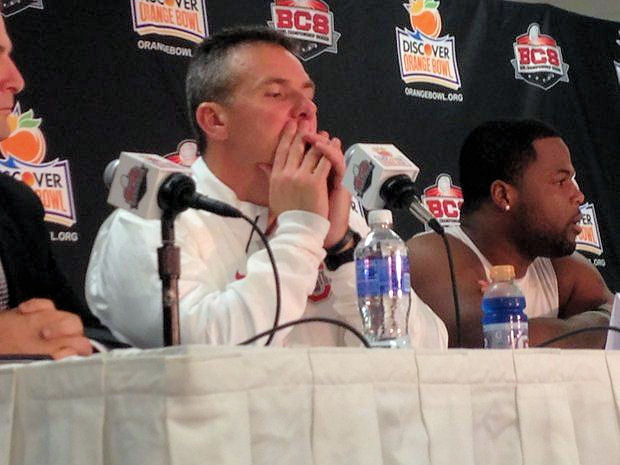 Urban Meyer's full transcript after the Orange Bowl, plus video of the drained Ohio State coach



Two Minute Drill - Orange Bowl Post-game
January 4, 2014 Source: The Ozone - Urban Meyer Updates

* Meyer said the last interception from Miller was a post route intended for Corey Brown. He said Miller's shoulder was hurting, and he under threw it.

* Meyer said he asked Miller if he could stay in the game, and Miller said "I'm fine."

* He said he can't imagine there is a better receiver in the country than Sammy Watkins.

* Meyer said he felt fantastic at halftime, despite his team giving up so many yards in the first two quarters.

* Meyer said they're not a championship-caliber defense right now.

Braxton Miller Updates

* Miller said he didn't see the defender on the interception on Ohio State's final drive. "I thought I had Philly wide open," he said.

* Miller said he was very confident that the Buckeyes could go in for the winning score until the defender stepped in front of the pass.

* He said he wasn't 100 percent healthy by the end of the game. But he said he never considered taking himself out of the game.

* Miller said he doesn't have a timetable for making a decision on his future and the NFL. He said he's not leaning either direction.

Ryan Shazier Updates

* Shaizer said they felt like they were going to win the game after C.J. Barnett grabbed the interception.

* He said he'll talk to his parents in the next couple days and make a decision about his future. He said he's not leaning one way or another.

* Shazier said the defense hasn't played like a national championship-caliber defense. He said the season didn't go as expected.

* He said the loss of Bradley Roby and Noah Spence can't be used as an excuse for the defense's struggles.

* Shazier called Clemson's passing game the best they had ever faced. He said Watkins is probably the best receiver in the nation.

Vonn Bell Updates

* Bell said the loss has him motivated for spring ball.

* He said the game was a life lesson. He said Meyer told them post game that it's not about football, it's about life.

* He said his time is coming. "It's time to go."

C.J. Barnett Updates

* Barnett said he thought it was "game over" when he intercepted the pass with less than two minutes remaining. "Our offense scores nine out of 10 times in that situation," he said.

* He said the loss hurts now because they couldn't finish like they wanted to, but when they look back they'll know they had a special team.

Jamal Marcus Updates

* Marcus said he learned a lot from the game.

* He said now the coaching staff knows what he can do. "I feel like I left a big impression," he said.

* He said the best is yet to come for Ohio State's defense.

Tom Herman Updates

* Herman said at no point did they consider pulling Miller from the game because of injury. "If he could walk, he was gonna be out there," he said.

* He said they thought if they had the ball last they would have a good shot at winning.





Urban Meyer Reacts To Orange Bowl Loss
January 4, 2014 Source: BuckeyeSports.com - For 24 consecutive games, there was one thing that couldn't be argued about the Ohio State program.

Urban Meyer did not have to give a postgame press conference after a loss.

Fans and reporters wondered how the intense, straightforward coach – one who let fear of losing and, even more, the fear of not doing a complete job – would handle a loss, especially in light of the health problems that forced him from Florida.

Now, Meyer has had to give two in a row. In the wake of Ohio State's 40-35 loss to Clemson in the Gator Bowl, the Buckeyes have dropped two contests in a row when the Big Ten title game loss to Michigan State is added into the equation.

As it turns out, losing still stings, but Meyer was still philosophical after the loss to the Tigers gave OSU just its third multi-game losing streak of the past nine seasons.

"Thank the Orange Bowl and congratulate our opponent," Meyer said. "They played really hard. That was a great coach and a great friend. Great game. Didn't finish the job."

The Buckeyes were still into the hunt with less than two minutes remaining when senior C.J. Barnett intercepted a Tajh Boyd pass and returned it to Clemson 48, but quarterback Braxton Miller was intercepted two plays later when his pass over the middle to Corey "Philly" Brown was short and intercepted by Stephone Anthony.

"He got hit in the shoulder, I think on one of the sacks," Meyer said. "He's a fighter. He fought through it. We can all get better. It was a post to the No. 2 receiver."

Meyer also refused to place blame for the loss on Brown, whose muffed punt with Ohio State holding a 29-20 lead in the third quarter led to a quick Clemson score that changed momentum.

"Philly is one of those guys I'd rather not do that," Meyer said. "He's one of those skilled athletes and really wanted to make a game-changing attempt to do something. Once again, he's not coached to do that. We're not playing the blame game, guys."

The second-year head coach also pointed to the other side of the ball when it came to giving credit. In particular, Meyer raved about the play of Clemson wideout Sammy Watkins, a future first-round draft pick who set Orange Bowl records with 16 catches for 227 yards, picking up two touchdowns while constantly beating the Buckeyes both over the top and in the screen game.

"They do a good job," Meyer said. "Whenever you have a guy that has that much vertical speed, it creates a cushion, and then you just keep flipping those bubbles to him, that's tough to defend. Obviously, we didn't do a good job, but I don't want to take anything away. I don't know all the receivers in the country, but I can't imagine any better than that guy."

In the end, it all added up to Ohio State's second consecutive loss after two straight campaigns that included perfect 12-win regular seasons. But considering Meyer took over a team coming off a 6-7 record that included a bowl loss in Florida to end the 2011 campaign, the head coach is still proud of the growth that has happened over the past two seasons.

"I made a comment, we had a team meeting two years ago, and if you'd have told me when I walked out of that team meeting that this group would buy in and we'd go on a nice run and have the highest scoring offense in program history and 24 straight wins and all that, I'd have looked at you and said you're out of your mind," Meyer said.

"Sometimes you have to go through things. I'd rather not, but that's part of – we played a good team in the Orange Bowl, and it was a high-scoring game with a lot of plays. We didn't finish it."





Buckeyes Fall to Clemson in Discover Orange Bowl
January 4, 2014 Source: OSU Official Site - Braxton Miller accounted for 269 yards and four TDs

Ohio State quarterback Braxton Miller writhed on the ground and clutched his right shoulder, a grimace of pain visible through his face mask.

A jarring hit had just caused Miller to lose a fumble, one of four turnovers by the Buckeyes in the final 20 minutes of the Orange Bowl, and they all hurt. Clemson took advantage in a game with four lead changes and won 40-35 Friday night.

The Buckeyes' final turnover was the most costly. They took over at midfield with 1:27 to go trailing by five points, and on second down Miller threw his second interception to seal the defeat.

"It's going to sting for a while, probably a long while because we didn't finish," coach Urban Meyer said. "It was right there."

No. 7 Ohio State (12-2) lost its second game in a row after winning its first 24 games under Meyer. No. 12 Clemson (11-2) achieved back-to-back 11-win seasons for the first time.

"That was a lot of fun, man," Tigers coach Dabo Swinney said.

The Buckeyes totaled 27 first downs and 427 yards, and they had a six-minute edge in time of possession. But they had twice as many turnovers as Clemson, embarrassed by West Virginia 70-33 in the Orange Bowl two years ago.

Miller said he played the last part of the game with a bruised shoulder and "slightly cracked rib," which may have affected his performance.

"He's a fighter," Meyer said. "He fought through it. I asked him and he said, `I'm fine.' He's a warrior."

The Buckeyes rallied from a 20-9 deficit against the high-powered Tigers and scored 20 consecutive points before the flurry of turnovers began when Corey Brown fumbled a punt return to set up a Clemson touchdown.

"We lost momentum after that one play," Miller said. "It's kind of hard to bounce back from stuff like that."

On the next series, Miller threw his first interception, and Clemson had to drive only 38 yards to score and lead 34-29.

The Buckeyes regained the lead when Miller led a 75-yard drive and capped it with a 14-yard touchdown pass to Carlos Hyde. Miller was shaken up when he was hit on the final play of the drive and came out of the game for the two-point conversion, which was unsuccessful.

After Clemson mounted a 75-yard touchdown drive and took the lead for good with 6 minutes left, Ohio State had two chances to rally. Miller fumbled when sacked and was again shaken up, but the Buckeyes got the ball back on an interception by C.J. Barnett.

On second down, Miller threw an ill-advised pass over the middle directly to linebacker Stephone Anthony, sealing the defeat. The intended receiver, Brown, was more than 10 yards farther downfield.

"The guy made a great play on it," Miller said. "I saw him at the last second."

Such mistakes were uncharacteristic of Miller and the Buckeyes. He threw only five interceptions during the regular season, and Ohio State had only 15 turnovers.

The loss was the first for Meyer in five BCS games, but his second defeat in a row after the Buckeyes were beaten by Michigan State in the Big Ten title game.

Porous pass defense - a season-long problem - hurt the Buckeyes. Clemson's Tajh Boyd threw for 378 yards and five touchdowns, and ran for 127 yards and one score. Sammy Watkins had 16 catches for 227 yards and two touchdowns.

Ohio State allowed 115 points in the season's final three games.

"We're not a championship-caliber defense right now," Meyer said.

The Buckeyes gave up 576 yards and 24 first downs, but managed to keep up with Clemson most of the night. Miller went 16 for 24 for 234 yards, Brown caught eight passes for 116 yards, and Hyde ran for 113 yards.

Swinney said turnovers were the difference.

"We talk about it all the time," the Clemson coach said. "When we win the turnover margin, we win."




Braxton Miller hurt throwing shoulder on Orange Bowl's fifth play, said pain was a 9.5...






It was over when... Clemson's Stephone Anthony intercepted a Braxton Miller pass over the middle with 1:18 remaining, capping a crazy series of events.

Gameball goes to... Sammy Watkins. Playing in what was in all likelihood his final college game, Watkins broke the Orange Bowl receiving record before the third quarter was over.

Stars of the game Clemson quarterback Tajh Boyd and receiver Sammy Watkins, who lit up the Ohio State pass defense. Boyd passed for 371 yards and five touchdowns, and ran for 128 yards and one TD. Watkins had an Orange Bowl-record 227 yards receiving and scored two TDs.

Stat of the game... 1,000. The two teams combined for more than 1,000 yards of total offense, though Clemson offset some of its advantage with 15 penalties for 144 yards.

Coming into the Orange Bowl, Ohio State ranked third in FBS with 318 rush yards per game. Against Clemson, the Buckeyes gained a total of 193 rush yards, their second lowest output of the season (vs Wisconsin, 192 yards). Ohio State led all FBS schools with 56% of its rushes gaining more than five yards. On Friday, 18 of the Buckeyes' 48 rushes (38%) were for at least 5 yards.

Ohio State's 40-35 loss to Clemson in the Orange Bowl was the Buckeyes first-ever loss in 281 games when scoring at least 35 points. In school history, Ohio State is now 279-1-1 when scoring 35 or more points.

Turning point Stephone Anthony's interception of Braxton Miller with 1:18 to play. C.J. Barnett had given OSU new life with an interception of an ill-thrown ball by Boyd just nine seconds earlier. Miller returned the favor with a throw that went straight to Anthony.

Repercussions The Buckeyes were riding a school-record 24-game win streak headed into the Big Ten title game a month ago. That might drift into the woodwork after they lost their last two games against the two best teams they played. It's quite likely they will drop out of the top 10.

Just wondering:Who will return next season and who will be gone? Braxton? Needs to improve as a passer. But has he reached his ceiling? Luke Fickell? Yes, there were injuries, but something seems to be missing. Offensive coordinator Tom Herman? Has he showed enough, consistently, to be a hot commodity? Stay tuned.

The view
How the team sees it: We went almost two years forgetting what it feels like to lose. Now we can't remember what it's like to win.
How the pollsters will see it: So now OSU can't beat the SEC or the ACC?
How Buckeye Nation will see it: Time to rename the Silver Bullets the "Like Hot Knives Through Butter."

Urban dictionary
His words: "They (Clemson) finished the job."
The definition: "And some other jobs might be finished, too."

Tajh Boyd's average pass traveled 2.9 yards downfield against Ohio State, 4.7 yards shorter than his average pass distance this season and his shortest throw distance average in any game during the last three seasons. He has attempted five passes that traveled more than 10 yards downfield, his fewest such attempts in the last three seasons. - Boyd was 8-for-9 (88.9%) against five or more pass rushers against Ohio State. In such situations, his average pass distance was 0.4 yards downfield, with six of his nine attempts going behind the initial line of scrimmage. Against the blitz, he had 14.6 yards per attempt compared with 8.0 against standard pressure.

Sammy Watkins set a career-high and Orange Bowl-high with 16 receptions and 227 receiving yards Friday against Ohio State. He gained 202 yards after the catch, eclipsing his previous career high of 137 yards after catch against Auburn in 2011. - Tajh Boyd threw a total of 15 screen passes, 10 of which were thrown to Watkins. His 10 receptions on screens are tied with Jordan Matthews as most such catches among AQ receivers in any game this season.

The nine BCS bowl game appearances by Ohio State ties Oklahoma for the most ever in the BCS era (does not include 2010 Sugar Bowl).

The 40-35 loss to Clemson drops Ohio State to 5-4 all-time in BCS bowl games.

Head coach Urban Meyer now is 4-1 all-time in BCS bowl games and 7-2 in bowl games overall.

Coach Meyer is now 26-12 all-time vs. Top 25 teams.

Carlos Hyde rushed for 113 yards and 1 TD, his ninth consecutive game with at least 100 yards and the 15th of his career. Hyde finishes his career with 3,198 career yards for sixth behind Keith Byars at No. 5 (3,200 yards from 1982-85).

Braxton Miller's 33-yard TD run in the first quarter was his 39th rush of more than 20 yards in his career and his sixth TD rush of at least 20 yards this season. Braxton Miller had 2+ TDs through the air and added two on the ground, marking the fourth time this season he has had a pair of each scores in the same game. That is the most in FBS this season. In his career, Miller has accounted for 84 total TDs.

Miller's two TDs passing moved him into sole possession of fourth all-time at Ohio State with 52 career scoring strikes. Troy Smith (2002-06) is third with 54.

The 49-yard TD run by Tajh Boyd in the first quarter was the longest against Ohio State this season.

The 57-yard TD reception by Jeff Heuerman from Miller in the second quarter was his career-long.

With eight receptions, Corey "Philly" Brown moved into fifth place on Ohio State's all-time receptions list, passing Santonio Holmes (140 from 2003-05). Brown finishes his career with 145 receptions.

Joshua Perry set a career-best with 10 tackles and seven solo stops. He added a sack as well.

Ryan Shazier finished the game with nine tackles – seven solo – upping to his season total to 143.

Vonn Bell recorded his first career INT in the second quarter inside Ohio State's 5-yard line.

Jamal Marcus recorded a career-high six tackles in his first career start at DE.

Joey Bosa finished the game with 1.0 TFL, giving him 9.5 TFL in the last six games.

Cameron Johnston pinned Clemson inside the 20 three times.

Ohio State now is 39-22 all-time in night games (games starting 5 p.m. local time or after).

Friday was just the second appearance for Ohio State at the Orange Bowl. The previous was in 1977 vs Colorado.

As heard from a Clemson fan: "This time, we Woody'ed them."

Numbers for dummies
$5: Price of tickets being scalped in parking lot before the game
52: Times ESPN analyst referred to partner Joe Tessitore
13: Players from both teams (eight Clemson, five OSU) who hail from Florida. Talent-rich state, indeed.
2010: The last time Urban Meyer lost consecutive games, against Mississippi State and LSU

Short-attention-span synopsis: 24-2 feels like the other way around at the moment. Eerie ending with Charlie Bauman-esque interception. It mostly was Carlos Hide. Silver Bullets deserve Golden Buckeye cards. Braxton mostly bottled up.

Pregame buzz: Ohio State fans knew they would be subjected to multiple replays of Woody's Punch, but they were more concerned with having to watch multiple replays of Clemson's passing game delivering a knockout blow. Alas, the Buckeyes hit the canvas and were not able to get back up.

Tweethearts Best responses to @rollerCD on Twitter:

@johnquinn95: Braxton Miller is hitting the grass more than the entire state of Colorado combined.

@BKerscher: OSU defense = No bathroom breaks!!!

@buckeyegdo: Philly Faux Pas



Sources: ESPN, Columbus Dispatch, OSU Official Site





Philly Brown's fumble of the Clemson punt was the momentum-shifting play of the game.

With the Ohio State leading 29-20 in the third quarter, following a TD from Carlos Hyde, and about to get the ball back in good field postion after the defense came up with a huge stop and forced the Tigers to punt, Brown didn't call for a fair catch on the punt and muffed it.

Clemson turned that turnover into a score, got a momentum boost and...



Ohio State coach Urban Meyer on the Philly Brown fumbled punt that helped turn the tide for Clemson in the Orange Bowl.






5 Thoughts - Orange Clemson 40, OSU 35
January 4, 2013 Source: CollegeFootballNews.com - 1. How does this bowl matter in the grand scheme of the world?

Ohio State might not have had Noah Spence on the defensive line, and the secondary was dinged with NFL corner Bradley Roby out, but there's still no excuses – Clemson, Tajh Boyd and Sammy Watkins were simply better. Does this mean that the Buckeyes really were overrated all season long? Does this mean the naysayers were right in saying Ohio State had no business being in the BCS championship after playing a wimpy schedule? Yup.

Can you imagine what Florida State would've done to these Buckeyes?

The future is bright for a loaded OSU program that's getting more, and Urban Meyer is going to win lots and lots of huge games, but now the Buckeyes have to actually beat a big-time opponents to start earning the respect back from the skeptical SEC heads who spent the year screaming. On the other side, Clemson has a Chick-fil-A win over LSU, a victory over a healthy and loaded Georgia, and an Orange Bowl win over Ohio State. Dabo Swinney's program has proved it belongs among the elite.

3. Why didn't Ohio State give the ball to Carlos Hyde a bazillion times?

Obviously he's a part of the grand scheme of the offense, but Braxton Miller was relatively ineffective running the ball and Hyde was at least ripping off close to five yards per crack. With a back like Hyde, it's not about the first few carries, it's about wearing down a D as the game went on, and with four turnovers and a defense that wasn't remotely close to stopping the Clemson attack, it's not like Meyer really gave his workhorse enough of a chance – the lessons of the Big Ten championship weren't learned. It was Hyde's last college game and it's a long offseason between now and NFL training camp. Ohio State's season ended with at least ten more unused Carlos Hyde carries in its pocket

4. What's next for Ohio State?

The greate recruiting classes are about to kick in, and they need to. Braxton Miller will be in the Heisman hunt from the start, but will Rod Smith be able to replace Carlos Hyde rinning the ball, or will Ezekiel Elliott and Dontre Wilson start to get a bulk of the workload? Four starters are done on the O line with only RT Taylor Decker back, but the receiving corps should be solid despite the loss of No. 1 target Corey Brown.

Ryan Shazier only got a second round grade from the NFL advisory board, but he'll be some pro team's leading tackler next year. All four starters are back up front, but end Noah Spence will be suspended for the first few games. The secondary is a problem losing CB Bradley Roby early and with safeties Corey Brown and C.J. Barnett done, but the linebacking corps should be sound with Curtis GRnat and Joshua Perry making up for the loss of Shazier. PK Drew Basil is done, but P Cameron Johnston is back...


Finally given a chance, Orange Bowl showed Vonn Bell's an 'elite' player...




Ohio State vs. Clemson: The Bottom Line
January 4, 2013 Source: Columbus Dispatch -

Offense (2 leaves)
It doesn't look that bad in black and white — 427 yards of offense and five TDs — but even those numbers aren't nearly enough in a shootout game against a gunslinger the likes of Clemson. Things never looked very cohesive, and the two second-half picks of QB Braxton Miller toppled the house of cards that was OSU's lead.

Defense (1 leaf)
Injuries and suspensions be damned — how many times did a Clemson player travel 5 to 10 yards downfield before any contact was initiated? OSU made a few plays — the safety and interceptions by Vonn Bell and C.J. Barnett — but those were too few and far between. Ugly.

Special teams (3 leaves)
Cameron Johnston continually bailed out the Buckeyes while the offense was in first-half idle mode, his punts including a 40-yarder downed at the 1-yard line (leading to a safety) and some boomers. But the game turned the wrong way for the Buckeyes when Philly Brown fumbled his punt, a huge momentum swing.

Coaching (2 leaves)
It's amazing how long ago it seems since that 24-game winning streak. Two duds to end the year will do that. The Buckeyes had that Alabama look — not thrilled about being in a game other than the championship and hence a step slow. They paid for it.

Fun quotient (4 leaves)
In terms of offensive football, the game was entertaining enough. But the play on the field had a video-game quality to it. Some of us still prefer a little hard-nosed defense. The fans were into it, though, and the Buckeyes had more of them in the stands. Yet the band's postgame Carmen Ohio was another empty dirge.

Opponent (4 leaves)
Tajh Boyd is a pitch-and-catch master, and he has tremendous chemistry with Sammy Watkins and the rest of his crew. Better yet was the Tigers' defense, which applied a heaping of pressure on Miller and mostly stacked the deck against Carlos Hyde, who busted only one play.

Officiating (2 leaves)
The officials from the American Athletic Conference considered penalty flags as they would stinky sweat socks, because they littered the field with laundry.





Jon Spencer's report card: Clemson 40, Ohio State 35
January 4, 2014 Source: Mansfield News Journal -

OFFENSIVE LINE
Braxton Miller thought he took too many hits before Friday? He absorbed tremendous punishment in a game that resembled last year's slugfest at Michigan State. Up against the beastly Vic Beasley and an inspired front seven, it was far from Jack Mewhort and Co.'s finest honor. Bet it looked familiar to Urban Meyer because his Florida defense did the same number on Troy Smith in the 2006 national championship game. It was all too clear why Clemson came in leading the nation in tackles for loss. GRADE: D

RUNNING GAME
Braxton Miller took too much of a pummeling to be an effective complement to Carlos Hyde, who went over 100 yards but was used more as a receiver than rusher down the stretch. In the third quarter, after Hyde's 31-yard run set up his short TD run, making it 29-20 OSU, the Buckeyes responded to a Clemson TD with a first-down incompletion and then a Miller interception when running Hyde and eating clock seemed a more prudent course of action. Didn't they learn anything from the Big Ten Championship Game? GRADE: C

PASSING GAME
Braxton Miller left Clemson coach Dabo Swinney and QB Tajh Boyd off the hook. He threw the clinching interception moments after C.J. Barnett picked off a pass, giving OSU new life when the Tigers should have been running out the clock. Clemson's relentless rush obviously rattled Miller, who had three second half turnovers and saw several of his passes batted down. Jeff Heuerman had a 57-yard TD catch and Philly Brown had 116 yards in receptions, but Devin Smith was essentially a no-show as his career-long inconsistency plagued OSU at the worst time. GRADE: C

DEFENSIVE LINE
The Buckeyes obviously missed the suspended Noah Spence. Replacement Jamal Marcus started fast, but couldn't keep up that pace, and banged-up freshman Joey Bosa could not match his outstanding performance against Michigan State in the Big Ten Chamionship Game, even though he and LB Josh Perry converged on QB Tajh Boyd for a safety. Boyd had shown a propensity for turning the ball over on the big stage, but the Buckeyes didn't do nearly enough up front to unnerve him and slow the Tigers' attack. GRADE: D

LINEBACKERS
Fans, analysts and All-America voters can talk all they want about how great Ryan Shazier was this year, but when the defense is giving up over 1,600 yards in the last three games, no one is blameless. Where was Shazier when Tajh Boyd ripped right up the middle on a 48-yard TD run to open the game? Shazier's second-round grade by the NFL advisory board suggests he should return for his senior season. I would suggest it as well hoping the Buckeyes can find him a suitable sidekick. GRADE: D

DEFENSIVE BACKS
What is it about the OSU backs and their refusal to turn and look for the ball? Doran Grant and Armani Reeves ran step-for-step with Sammy Watkins and Martavis Bryant, but got beat for TDs in the third quarter because they ran with their backs to the play the whole way. Reeves was starting for the injured Bradley Roby as the Buckeyes unveiled a new secondary with freshman Vonn Bell at nickle and freshman Tyvis Powell shifting from nickle to safety. Bell had an interception in the red zone,but game MVP Sammy Watkins (16 catches, 227 yards, two TDs) victimized him for an early TD and showed why he would look great lined up with Josh Gordon in a Browns uniform. Tajh Boyd accounted for 505 yards total offense and six TDs, but is anybody surprised? GRADE: F

SPECIAL TEAMS
A muffed punt by Philly Brown in the third quarter was the first of back-to-back turnovers by the Buckeyes in the third quarter that Clemson converted into touchdowns, wiping out a 29-20 deficit. The Buckeyes perfectly executed a fake punt on their first series, keeping alive a touchdown drive. Drew Basil had a PAT blocked, but Cameron Johnston had another outstanding game, with a 63-yard punt and three others that were dropped inside the 20, including one that was downed by Armani Reeves at the 1, leading to a safety. GRADE: B

COACHING
On the heels of his first loss as OSU coach, Urban Meyer has now lost for the first time in five BCS bowl games. With a month to prepare, there was hope that this innovative offensive coach could come up with a miracle game plan for the defense as well. But the loss of Noah Spence and Bradley Roby was a double-whammy the Buckeyes could not afford if they were to have any chance of containing Clemson's offense. Meyer's best hope now is that Braxton Miller and Ryan Shazier both come back for their senior seasons and that immediate defensive help is found in this next recruiting class. GRADE: C





Ohio State Stock Market Report: Clemson, Orange Bowl 2014
January 4, 2014 Source: Land-Grant Holy Land -

Blue Chip Stocks:

Jamal Marcus, DL: Played fierce in place of Noah Spence. Had some big tackles in the first half and put some pressure on Tajh Boyd.

Solid Investments:

Jeff Heuerman, TE: He had a tough drop in the first quarter (it would've been negated by a penalty, but still) but a HUGE 57 yard TD catch in the second quarter that got OSU within five points. All the more impressive when you considered he needed fluids before the game and still wasn't right from a 72-hour stomach flu/bug.

Carlos Hyde, RB: Hyde wasn't all world, but had what seemed to be a game changing moment with his 4th-and-1 dash down to the Clemson one. When he went over and OSU went up 29-20, I thought the Buckeyes were on the verge of taking the game over.

Junk Bonds:

Braxton Miller, QB: Miller played with guts, and made some typical Braxton 'OHMYGODDIDYOUSEETHAT' plays, but he threw two backbreaking, crippling interceptions that cost Ohio State the game. Miller took an absolute beating at the hands of the Clemson defense, and that last game ending interception was mind numbingly baffling. One of Miller's biggest reasons to leave for the NFL was because of the punishment he takes in this offense, but he has almost everyone telling him to return to school. The next week or so will be telling for the future of Miller, and the OSU football team, for that matter.

Buy/Sell:

Buy: Vonn Bell interception. When Vonn Bell was announced as a starter for the Orange Bowl, a lot of fans were excited to see the former five star recruit get rolled out to see what he could do. His first career pick couldn't have come at a better time. With Clemson up 14-9 and getting ready to score again, Bell made a huge pick that stopped Clemson from turning the game into a blowout by halftime.

Sell: Vonn Bell one-on-one on Sammy Watkins. Of course, one of the reasons Clemson jumped out to an early lead was a completely horrid defense. Clemson gashed OSU all night long, and by the time they had run 10 plays, they had 14 points on the board. The tenth play was a 32 yard strike to superhuman Sammy Watkins that Bell was badly beaten on.

Sell: Braxton's 68* yard sack on the opening drive: As smooth as Clemson looked on their opening drive, OSU looked completely disjointed. On third down, Miller took a big sack, but Clemson was called for an unsportsmanlike penalty that gave OSU new life. Still, it was a bad play by Miller that showed a serious lack of pocket awareness.

* = Obviously wasn't really 68 yards, it merely felt like it at the time.

Buy: Braxton's high step TD run on same opening drive. So with new life after the throat slash motion penalty, Ohio State still kind of bumbled and stumbled. They had a clipping penalty, a false start penalty, but still managed to overcome those and score a TD on Miller's Walter Payton/Adrian Peterson high step juke run.

Sell: Oh, the interceptions. God damn it. Just...god damn it, Braxton. Especially the game ending one. God. Damn. It.

Buy: C.J. Barnett's interception. When Miller fumbled on 4th down with just over three minutes left, it seemed over. Clemson had the ball, the lead, and all the momentum. But Barnett picked off Boyd and gave the Buckeyes the ball at midfield with a minute and a half left. It felt like it was going to be an OSU win. Yeah, whatever. I hate football.

Sell: Luke Fickell as defensive coordinator. There is too much raw talent on this team for this kind of defensive performance to be turned in week in and week out by Ohio State. There is no excuse, there is no rationalizing it away. Look, I like Fickell, and when Everett Withers left for James Madison, I was willing to give Fickell an opportunity to see what happened when it was 100% his show. He failed. Perhaps miserably. I figured Tajh Boyd would get his yards, as would Sammy Watkins – but not an entire season's worth in one game. Terrible.

Buy: Philly Brown's 100+ yards receiving. Philly Brown was making money all night on the quick WR screens. He was patient, read his blocking, and when it was all over, he had eight catches for 116 yards.

Sell: Philly Brown's punt return fumble. OSU shot themselves in the foot all night long, and Brown was the first one to cock the hammer and fire. In the third quarter, with OSU leading 29-20, it looked like the defense as finally pulling their head out of their ass. They forced a punt, and the OSU was decidedly with the Buckeyes. You kind of felt that if they could go down and score again, it would be really, really tough for Clemson to come back and win. But Brown muffed the punt, Clemson recovered, and three plays later Sammy Watkins made a sick catch for a TD. It was a new ball game.

POSTMORTEM: So Ohio State closes the BCS era without winning more BCS games than anyone else, or without winning all four BCS bowls. Urban Meyer also loses his first, and what will be only, BCS game with OSU. It was a bitterly disappointing two game thud to end the season, and you have to feel that there are a couple of dark clouds hanging over the program right now. For starters, what will Miller and Ryan Shazier do? Shazier most certainly will turn pro, and that leaves a defense dangerously bereft of playmakers down one more. If Miller leaves, that means Cardale Jones or J.T. Barrett will enter Spring Ball as the starter. With the new division alignments, OSU will have a far more difficult schedule, and with no Miller, I don't think you can count them as the favorites heading into next year.

And is there any way Meyer stands pat with the defensive assistants? What happens if Tom Herman somehow works his way into the mix at the soon-to-be-vacant Louisville gig? At the end of the day, OSU is still going to be a top program, but all of a sudden, they seemingly have a lot more troubling questions facing them than they did a few days ago.






Doran Grant Postgame



Turnovers Doom OSU In Orange Bowl
January 4, 2014 Source: Bucknuts - Unfortunately for seventh-ranked Ohio State the Buckeyes and their depleted defense could not stop Clemson. The 12th-ranked Tigers rallied in the second half for a 40-35 win in the Orange Bowl before 72,080 Friday night at Miami's Sun Life Stadium.

Ohio State (12-2) struggled to stop the Clemson offense, giving up 577 yards – 362 in the first half. The Buckeyes played without two of their three top defensive players in defensive end Noah Spence (suspension) and cornerback Bradley Roby (bone bruise).

"We're not a championship caliber defense right now," said OSU coach Urban Meyer. "Although in these last two games, we were in position to go win that game.

"I'm not a big blamer. We have to get better. We have to go out and recruit our tails off, go develop players and work with real hard with scheme and we'll get there."...





Tajh Boyd talks after Clemson's Orange Bowl victory.


Tajh Boyd talks after Clemson's Orange Bowl victory.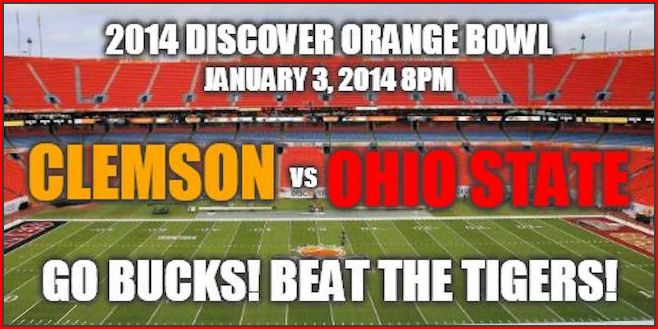 Clemson

Orange Bowl

Jan 3, 2014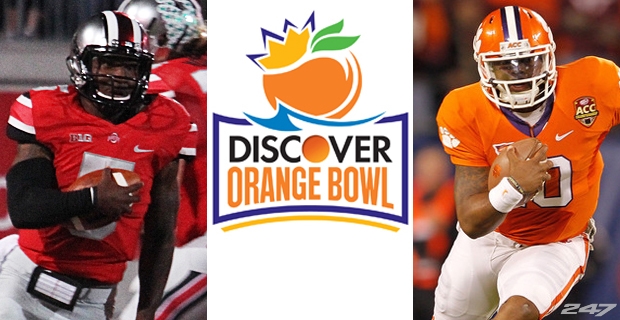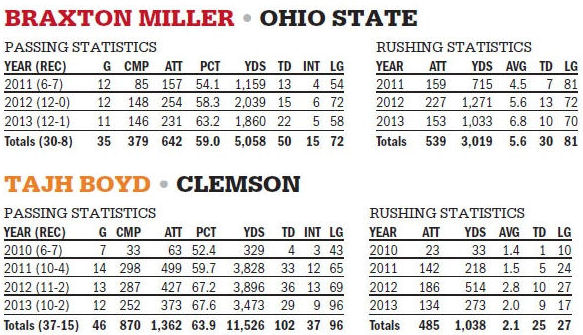 Braxton Miller: "I love competition; it makes me bring my game up a level, and it brings the level up for all my teammates. It makes you play a little bit harder; I like that."...




Ten Pressing Questions
January 3, 2014 Source: Bucknuts - As always, we have our Ten Pressing Questions feature to prepare you for today's game.

* 1. Can Braxton Miller rekindle the passing magic he had earlier in the year? – In the six games he played through the win at Purdue, Miller was on fire completing 70 percent of his throws. But over the last four games, he only averaged 130 yards passing. Whether it was the weather, the tough Michigan State defense, foibles by his receivers or any other reasons, he has to play and play well if the Buckeyes expect to have a chance to win the game.

My thought is he probably needs to rush for close to 100 yards, and running the ball hasn't been a problem much for him all year. But he likely needs to throw for 200 yards or more to keep the Buckeyes in the game. If he starts out with some bad incompletions early, it could be a long night.

* 2. Can Carlos Hyde dominate this game with his running? – Hyde averaged roughly 155 yards per game in Big Ten play and is one of the best running backs in college football. He plays his final game for Ohio State tonight. If he can continue the success he had over his last nine games and break tackles and finish plays and approach, say, 150 yards, then the Buckeyes should be able to control the clock and be in a position to win it at the end. It's simple: Dance with the one who brung you.

* 3. Can the Ohio State receiving corps get back to where it needs to be? – OSU's receivers have had some drops and have suffered likely from poor route running against good secondaries (and even some bad ones). Corey "Philly" Brown has been banged up, but he 14 catches over that four games.

Other than the touchdown catch he made against Michigan, Devin Smith has been largely muted. One catch for 11 yards against MSU? Over the last four games, he has four catches. Evan Spencer? One catch in that time, although I know he was also hurt. Chris Fields? Three catches in that time. These three have to step up and help Miller and Brown attack the Clemson offense.

Urban Meyer did say Spencer has been a nice surprise during bowl practice, for whatever that's worth.

* 4. Can the Buckeyes get the ball to Jeff Heuerman? – Heuerman has had five catches for 154 yards and a touchdown in his last three games. That is an average of 27 yards per catch! Hopefully, Miller can hit big No. 86 down the seam for a big play or two. It's simple: Use him.

* 5. Can the Buckeyes integrate Dontre Wilson and Jordan Hall? – Hall came in against MSU and had one carry for 13 yards and was never heard from again. He seems healthy and Meyer said he had his best practice in two years this week. Use him, too.

And Wilson has game breaking speed, but he can't use it on the bench. He had no offensive touches vs. MSU. Maybe the coaches didn't feel he'd make headway against that rugged MSU defense or they were worried about fumbling by the freshman. Use him, too. (Do you sense a theme? Yes, Miller is an amazing runner, but I think he and Hyde would be even better if they integrated others as well.)

* 6. Can the Buckeyes pressure Clemson QB Tajh Boyd without DE Noah Spence? – Spence will miss the Orange Bowl due to a suspension for reportedly taking a banned substance. That creates a huge hole at the Viper end spot. He led OSU in sacks with eight and has the speed to track down the rangy Boyd, who moves sideline-to-sideline keeping plays alive.

Again, this is all hands on deck. His replacements, Jamal Marcus and Steve Miller, have to step up. Joey Bosa and Adolphus Washington must continue their recent fine play on the other side and Michael Bennett must collapse the pocket up the middle. If they give Boyd five or six seconds, he will absolutely pick them apart.

* 7. How do the Buckeyes defend Clemson WR Sammy Watkins without CB Bradley Roby? – Two days ago, Meyer all but ruled Roby out of the game with a bone bruise that has not responded to aggressive treatment. Even if he is available, he doesn't figure to be at full speed.

Armani Reeves, who struggled against Buffalo in the opener when Roby was suspended, is the next man up. He and Doran Grant will have their hands full against Watkins and Clemson's other talented receivers. Watkins is an absolute load at 6-1, 205 pounds. If Grant or Reeves go down or get pulled, next up might be freshman Cam Burrows.

* 8. Can the OSU pass defense get off the mat? – The Buckeyes allowed their last four opponents to throw for 340 yards per game. Clemson is averaging 329 yards passing per game. The Buckeyes have pulled senior safety Corey "Pittsburgh" Brown and will go with redshirt Tyvis Powell at safety and true freshman Vonn Bell at the nickel. They already know they will be in the nickel most of the night.

This is another defining game for defensive coordinator Luke Fickell. Meyer said he and Fickell will get it fixed together. But if OSU gives up 500 yards and 45 points to Clemson, Meyer may be looking for not one but two new defensive assistants.

* 9. Will special teams have any impact? – The punt remains the most important play in football, whether you want to credit Francis Schmidt or Jim Tressel for saying it. OSU has blocked some kicks, but has yet to have that big return. Could this be the game and could Brown or Wilson be that guy?

* 10. Is this the last game for Miller and Shazier? – We know Roby is out the door. There are murmurs that both Miller and Shazier see themselves in the NFL next year. They have each had three amazing years as Buckeyes. If this is their last game, enjoy watching them play one last time and hope they have their best game yet.

* Bonus Question: Can OSU get a BCS-record seventh win and springboard into 2014 on a happy note? – This is the big question. Ohio State was a top-three team all year and would have played Florida State for the national title had they beaten Michigan State. Do they care? Do they want to be here? Yes, it sounds like most involved have bought in for this mission.

But they are fighting an uphill battle with two of their top three defensive players in Roby and Spence. It won't be easy, but nothing truly worth anything ever really is...




Five key factors for OSU victory
January 3, 2014 Source: Columbus Dispatch -

1. Contain Boyd
Ohio State has made workmanlike quarterbacks such as Wisconsin's Joel Stave and Michigan State's Connor Cook look like elite quarterbacks this season. Now the Buckeyes really are playing against one of the best. Tajh Boyd is a threat as a passer and runner. The Buckeyes must pressure Boyd, and pass protection has been an issue at times for Clemson.

2. Cover Watkins
Sammy Watkins is considered perhaps the top wide receiver prospect in the 2014 NFL draft if he enters. Blessed with superb speed and hands, Watkins has 85 catches for 1,237 yards and 10 touchdowns. The Buckeyes would like to match up Bradley Roby against Watkins as often as possible, but Roby's status is uncertain because of a leg-bone bruise.

3. Create turnovers
Clemson committed four turnovers against Florida State and six against South Carolina. Not surprisingly, those are the Tigers' losses. In Clemson's 10 victories, the Tigers turned the ball over only 12 times total. Ohio State has been only so-so at forcing turnovers with 22. Given the likelihood that Clemson will be able to move the ball on a Buckeyes defense that was shaky late in the season, being able to stop drives with takeaways could be crucial.

4. Crank up passing game
Ohio State's late-season passing woes were largely attributed to adverse weather. But the Buckeyes completed only eight passes against Michigan State in the Big Ten championship game at the domed Lucas Oil Stadium, which showed that the progress Braxton Miller and his supporting cast had made had stalled. The Buckeyes became predictable by becoming overly reliant on deep passes and swings. Throwing intermediate passes and using the middle of the field will be important.

5. Remember the workhorse
Carlos Hyde has been close to unstoppable this season, averaging almost 8 yards per carry. He got only 18 carries against Michigan State and many wondered why he didn't get more. Clemson's run defense is in the middle of the pack statistically, and using Hyde to maintain possession also might be the best way to neutralize Clemson's offense.



Who has the edge at the Orange Bowl?
January 3, 2014 Source: Miami Herald -

WHEN OHIO STATE RUNS
Junior Braxton Miller (6-2, 215) and senior Carlos Hyde (6-0, 235) were the most productive quarterback-running back tandem in the country, combining to rush for 2,441 yards and 24 touchdowns this season. The Buckeyes rank third nationally in rushing (317.5 yards per game). Only Wisconsin, whom Ohio State beat 31-24, held the Buckeyes under 200 rushing yards and without a rushing touchdown. Clemson ranks 51st against the run (152.5 yards per game) but 26th in yards per carry (3.7). The Buckeyes are huge up front and feature four seniors in the starting lineup: left tackle Jack Mewhort (6-6, 308), left guard Andrew Norwell (6-6, 316), center Corey Linsley (6-3, 297) and right guard Marcus Hall (6-5, 315). With sophomore right tackle Taylor Decker (6-7, 315), the Buckeyes average 310.2 pounds. Clemson, which led the nation in tackles for loss with 113, features a four-man front that averages 281.5 pounds. Edge: Ohio State

WHEN OHIO STATE THROWS
Miller is efficient, ranking 14th among all passers. He has completed 63.2 percent of his passes for 1,860 yards, 22 TDs and only five interceptions. Clemson has faced some of the nation's best quarterbacks, and the memories aren't fond. Florida State's Jameis Winston, Georgia's Aaron Murray and South Carolina's Connor Shaw — all ranked among the top 13 most efficient passers in the country —averaged 315 yards and combined for five touchdown passes against the Tigers' 15th-ranked pass efficiency defense (197.8 yards per game, 12 TDs allowed, 16 INTs). The key here, though, will be putting pressure on Miller and then not letting him escape the pocket for long runs. Led by defensive end Vic Beasley, who ranks third individually with a dozen sacks, the Tigers have racked up 33 sacks (27th nationally). Ohio State has allowed only 17 sacks all season. Edge: Ohio State

WHEN CLEMSON RUNS
The Tigers don't get a lot of attention for what they do on the ground (173.8 yards per game), but they still run it fairly well (51st nationally). Tailback Roderick McDowell (5-10, 200) has run for 956 yards and five scores, and quarterback Tajh Boyd, when he decides to take off and run, has tallied 284 yards and nine scores in 134 attempts. Ohio State, led by leading tackler and outside linebacker Ryan Shazier, ranks sixth (102.6 yards per game, 8 TDs) against the run and allows only 3.1 yards per carry. Left tackle Brandon Thomas (6-3, 315) leads a Clemson offensive line that averages 298 pounds. Ohio State's defensive front four, led by freshman Joey Bosa (6-6, 275), averages about 277 pounds. Edge: Even

WHEN CLEMSON THROWS
Boyd is the seventh-most efficient passer in the country (3,473 yards, 29 TDs, 9 INTs), and his favorite target, 6-1, 205-pound junior Sammy Watkins (85 catches, 1,237 yards, 10 TDs), is considered the best draft-eligible receiver by NFLDraftScout.com. The Buckeyes rank 105th in passing defense (259.5 yards, 26 TDs allowed) and have faced only one quarterback inside the top 30 in passing efficiency — Michigan's Devin Gardner, who threw for 451 yards and four touchdowns against them. Making matters tougher for the Buckeyes is that they will be without two of their best defensive players: All-Big Ten cornerback Bradley Roby, who leads the team with 16 pass breakups and three interceptions, and defensive end Noah Spence, who leads the team with eight sacks. If there is a weakness for the Tigers, it's pass protection. Clemson ranks 104th in sacks allowed with 33 this season. Ohio State has racked up 40 sacks, fourth most nationally. Edge: Clemson

SPECIAL TEAMS
Buckeyes kicker Drew Basil hasn't had to kick many field goals this season, but he has been accurate, making 9 of 10 attempts. Last season, he booted a career-long 52-yarder in a victory over Michigan. Clemson senior Chandler Catanzaro, who kicked the game-winning, 37-yard field goal in last year's bowl win over LSU, was 13 of 14 on field-goal attempts and a perfect 57 of 57 on extra points this season. He booted a season-long 51-yarder against Georgia Tech. Ohio State freshman punter Cameron Johnston averaged 43.5 yards (21st nationally) in his 44 kicks and had only half of them returned. He has been more consistent than Clemson's Bradley Pinion (39.5 yards per punt). The Buckeyes have blocked three punts this season. Neither team has returned a kick or a punt for a score. Edge: Even

COACHING
Clemson's last trip to the Orange Bowl two years ago was quite humbling, as it gave up 70 points in a loss to West Virginia. The Tigers rebounded by rallying to beat LSU last year in the Chick-fil-A bowl. This year's veteran group seems much more focused under Dabo Swinney, who has nine career wins against Top 25 teams but has lost his past two games against ranked foes. Ohio State coach Urban Meyer has lost just one game in his two years with the Buckeyes — to Rose Bowl winner Michigan State — and is 26-11 against Top 25 teams, 7-1 in bowl games and 4-0 in BCS games. Edge: Ohio State

PREDICTION: Ohio State 38, Clemson 34





KEY MATCHUP

Clemson DE Vic Beasley vs. Ohio State LT Jack Mewhort. This game might be Beasley's finale with the Tigers, and if he leaves, he might be leaving a game too late for the Buckeyes' liking. He's the prototypical disruptive defensive end, though will be lined up against an elite player in Mewhort.

PLAYERS TO WATCH

Ohio State: RB Carlos Hyde carried the ball 183 times this season for the Buckeyes. He lost yardage on exactly two of those carries. With more than 1,400 yards in just 10 games, and averaging nearly 8 yards per rush, Hyde will surely test the Tigers.

Clemson: QB Tajh Boyd makes everything on offense click for Clemson, and in his final collegiate game, he'll likely be inspired to make quite a finishing statement. He completes more than two-thirds of his passes, threw for 29 touchdowns and ran for nine more, and completes 73 percent of his first-down passes. Source: Associated Press





A 'legacy game' for Braxton Miller, too
January 2, 2014 Source: ESPN - ...like Manziel, Miller could possibly be playing his final college game this bowl season. The junior says he'll decide a few days after the Orange Bowl whether he'll head to the NFL early. He hasn't given any indications of where he's leaning yet, but he said last month that he was getting tired of taking hits as a runner and that he understands Ohio State loses four starting offensive linemen next season. So the Orange Bowl looms as an important game for Miller. Colleague Andrea Adelson wrote today about how the game could be a legacy-defining moment for Clemson quarterback Tajh Boyd, who can add a BCS win to his already-impressive résumé. The same can be said for Miller...




Five reasons Ohio State will beat Clemson in the Orange Bowl: Breaking down the game
January 2, 2014 Source: Cleveland Plain Dealer - Here are five reasons Ohio State will beat the Tigers.

Braxton Miller is motivated to put on a show – Let's not ignore it – the NFL is on Miller's mind. And right or wrong, Ohio State's quarterback has said that a big performance in the Orange Bowl could go a long way in proving that he's ready for the challenges of being a professional quarterback. That's not to say that he will definitely going pro with a big performance, but Miller was inspired watching Johnny Manziel put up 455 yards of total offense and five touchdowns in Texas A&M's thrilling come-from-behind 52-48 win over Duke in the Chick-fil-A Bowl on Dec. 31. Miller has been good for three touchdowns per game all year, but a little inspiration could be tough for Clemson's defense to handle.

"It makes you want to be much better than you are when you see another guy doing his thing like that (in the days) before your game," Miller said. "Everybody is going to be watching, so you have to be prepared and have fun with it."

Carlos Hyde hasn't been stopped all year – What is Ohio State's biggest regret of the Urban Meyer era? It's probably not handing it to Hyde on fourth-and-2 with the Big Ten title game – and a national championship game appearance – on the line. It's actually hard to imagine how Hyde didn't get the ball on that play, especially when considering he has been Ohio State's most consistent offensive weapon all season.

"I probably would have gotten it," Hyde said.

Hyde rushed for 1,408 yards and 14 touchdowns and averaged 7.7 yards per carry, and those numbers were stacked in only 10 games after he served a three-game suspension to start the season. Clemson hasn't faced a running back like Hyde this season, and the Tigers may be forced to play a physical type of football they haven't had to play in the ACC. Georgia's Todd Gurley rushed for 154 yards on only 12 carries against the Tigers defense and Syracuse's Jerome Smith had 125 rushing yards.

"I pray it's run-heavy," Hyde said. "That would be awesome if we ran the ball a lot more. I'm a running back. I'm always for it if we're going to run the ball. I'm never going to say no to running the ball, even if we're in third-and-forever."

Ohio State is hungry to validate its 24-game winning streak – Ohio State played one top-10 team all season and it lost. To many, the Buckeyes' loss in the Big Ten title game was just proof that their 24-game winning streak heading into that game was nothing but a result of consistently playing inferior competition. But now Ohio State faces No. 12 Clemson – a team that spent most of the season ranked in the top-10 – and the Buckeyes see an opportunity to not only win a BCS game, but to validate how impressive they've been over the last two years.

Ohio State swears it's focused and that it has put its missed opportunity for a national title game berth behind it. There is plenty of motivation against the Tigers, and the Buckeyes have the right coach to lead them into a game like this.

In 2009, Meyer's previously perfect Florida team lost to Alabama in the SEC Championship Game and saw its national title game berth disappear at the last possible moment. The Gators, however, bounced back and won the Sugar Bowl with a 51-24 victory over Cincinnati. That's a lot like what Ohio State is going through now, and Meyer said he used 2009 as a reference for how to approach preparing Ohio State.

Clemson shoots itself in the foot more – If this game indeed turns into a shootout, the winner will likely be the team that makes less offensive mistakes. Though both Ohio State and Clemson boast prolific offensive attacks, the Tigers have been more prone to turning the ball over. And in shootout like scenes, unforced errors are often the difference. Clemson has turned the ball over 22 times – which is tied for 69th nationally – including on the first play of its 51-14 loss to Florida State. The Tigers also lost six turnovers – and forced none – in its 31-17 loss to South Carolina to close the regular season. Clemson coach Dabo Swinney said avoiding costly turnovers has been a constant message.

"It was a horrific night as far as taking care of the ball and that's a major reason why we lost the game," Swinney said of the South Carolina loss. "We just do what we do. You coach every day in practice. You coach every play. And you coach the fundamentals, obviously. You prepare all year long (to avoid turnovers."

Youthful players could spark new energy – It could be a big detriment losing players like Noah Spence and Bradley Roby for the Orange Bowl, but it also could spark a new energy that could be the catalyst for impressive defensive results. Ohio State also made changes in the defensive backfield, starting safety Vonn Bell at the star and moving Tyvis Powell over to safety in place of Corey Brown. Though there is risk involved relying on new faces on such a big stage, Meyer is encouraged by what he's seen in practice. That's especially the case with Jamal Marcus, who will get most of the reps at defensive end in the place of Spence.

"Jamal Marcus is going to be a disruptive guy," Meyer said. "He's one of the more talented guys on our team. I'm anxious to watch him play. We had a staff meeting (Thursday) morning at 7:00 a.m., and Mike Vrabel made that comment to me. He's a quick twitch guy. This is his kind of game (he can have a lot of results in). Very talented guy. We're anxious to see him go."...


Five reasons Clemson will beat Ohio State in the Orange Bowl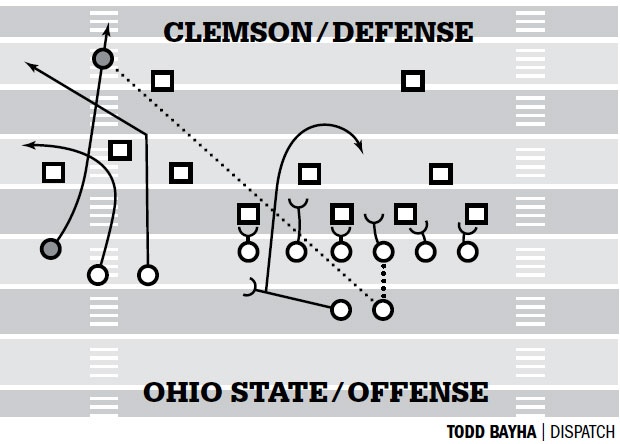 PLAY OF THE WEEK:
Trips left, X-jet
Source: Columbus Dispatch



Ohio State spotlight: DB Vonn Bell
January 3, 2014 Source: Columbus Dispatch - Vonn Bell wasn't available to the media this week, but his Ohio State teammate and fellow safety C.J. Barnett has an idea what the freshman might be thinking, heading into his first start in the Orange Bowl tonight against Clemson.

"As a freshman in the Orange Bowl, first start? It's kind of crazy," Barnett said. "But I also wasn't Vonn Bell when I came out of high school."

Bell, from Ridgeland High School across the Georgia state line from Chattanooga, Tenn., was one of the more sought-after safeties in the country in the last recruiting cycle. He picked the Buckeyes over Tennessee and Alabama on signing day in February and had been expected to contribute immediately.

But he saw special-teams duty primarily through the regular season, even after starting safety Christian Bryant suffered a broken ankle in the fifth game and was lost for the rest of the season. Senior Corey Brown took Bryant's spot, and reviews were mixed.

In the fallout from struggles in the pass defense during a win at Michigan and a loss to Michigan State in the Big Ten championship game, coach Urban Meyer vowed there would be a shakeup. It appears that means nickel back Tyvis Powell will move to the safety spot opposite Barnett, and Bell will start at nickel back, which promises to be an all-night position against Clemson.

During his stints on kickoff coverage, Bell showed no hesitation in sticking his nose into things. But in pass coverage on the back side of the defense, the expectations are going to be ramped up considerably as the Buckeyes try to control an offense that features one of the more dangerous players in the country in receiver Sammy Watkins.

"I think (Bell) has the talent to meet those expectations," Barnett said. "Hopefully in the game, he can prove he deserves to be out there."




January 3, 2014 Source: Columbus Dispatch


Clemson's Beasley promises to be handful for Mewhort
Meet a Buckeye: Kenny Guiton
Who has the edge: Ohio State vs. Clemson
Game predictions: Ohio State vs. Clemson
Rob Oller commentary: Meyer must prove to nation he can win big one at OSU
Two Florida bowls tell different tales
Recruiting: Future Buckeyes get acquainted & more...








Urban Meyer Pre-Orange Bowl Press Conference



Meyer Talks Orange Bowl, Distractions
January 2, 2014 Source: BuckeyeSports.com - From injuries to suspensions to redshirt denials, bad news has seemingly come in bunches for the Buckeyes this week. Urban Meyer, however, remains focused on Clemson and a chance to build his program's reputation in Friday's Discover Orange Bowl...




Lessons learned: Urban Meyer reflects on '09 as Ohio State prepares for Orange Bowl
January 2, 2014 Source: SI.com - It's easy to forget that Urban Meyer has been here before. In 2009, Meyer's Florida team entered the SEC title game with a No. 1 ranking and BCS championship aspirations. Alabama spoiled the Gators' hopes with a 32-13 upset, an outcome that effectively launched the Crimson Tide's recent run of dominance. Florida expected to contend for the crystal trophy, but instead landed in the Sugar Bowl opposite third-ranked Cincinnati.

Now at Ohio State, Meyer can relate to that scenario this weekend as his 12-1 Buckeyes face Clemson in the Orange Bowl on Friday night. For the first time since he took over in Columbus before the 2012 campaign, Ohio State will have to bounce back from a loss — the Buckeyes fell to Michigan State 34-24 in the Big Ten title game on Dec. 7. It's a bitter memory for Ohio State players as they prepare to take on the Tigers.

The Buckeyes became so accustomed to winning that players and coaches have had a difficult time adjusting to the reality of the situation.

"I think the worst part was probably the four days after," Meyer said on Thursday. "Three or four of us left Indianapolis and went out recruiting. I went back [to Columbus] then went out recruiting and came back. The feeling inside of you the whole three days, when you walk in with a smile, it's the most phony smile you've probably ever seen. Then you get back and you see the players you care about, and the pain on their face. We had a real emotional meeting — I don't know if emotional is the right word — like you would with any type of family members that are going through a hard time.

"From that point forward, we've been fine. And obviously the Orange Bowl has a lot to do with that. This is one of the most premier bowl games in college football."

The Buckeyes had good reason to be disappointed. Coming off a 24-game winning streak, they were one victory away from setting up a meeting with top-ranked Florida State in Pasadena. Ohio State went 12-0 in 2012, but had no shot at a national championship because of an NCAA bowl ban.

"It really stung, obviously," Buckeyes center Corey Linsley told reporters of the loss to the Spartans. "I think I can speak for everybody on the team when I say it really stung."

Meyer said he's reflected back to the end of that 2009 season while preparing for Clemson over the past month. As Ohio State worked out this week at Nova Southeastern University in Fort Lauderdale, Meyer unearthed many of his old practice notes from the weeks leading up to his Gators' Sugar Bowl appearance on Jan. 1, 2010 — "pretty detailed notes," he said. One of Meyer's players from that '09 Florida team, current Dolphins center Mike Pouncey, even swung by, so the coach picked his brain to recall particulars of that preparation.

Whatever Meyer did then, it worked: the Gators ripped through Cincinnati 52-24 to finish the season 13-1. On Thursday, the coach scoffed at the notion that his players would overlook a BCS game...

The better news for the Buckeyes, however, might be that Meyer knows a competitive team when he sees one. The results have been encouraging for Ohio State.

"The ultimate compliment, or the ultimate player is the competitive person," Meyer said. "We use the term 'competitive spirit.' If there's a competitive spirit, then they'll play their heart out. And I would anticipate, with everything I've seen from this team, the competitive spirit is there. Now it's just, are we good enough in certain spots to beat this team?"...







Urban Meyer Post-Practice Q&A 1/1/14



Meyer On Spence Action; Roby Out & More Quotables
January 1, 2014 Source: Bucknuts - Ohio State practiced through rain this afternoon at Nova Southeastern University in preparation for Friday's Orange Bowl against Clemson (8 p.m., ESPN)...



Braxton Miller Post-Practice Q&A 1/1/14

Carlos Hyde previews the Orange Bowl.
Heisman dreams erased, Carlos Hyde wants to end his Ohio State career by breaking the Orange Bowl rushing record.

Source: Cleveland Plain Dealer



Herman Highlights: Ohio State's OC Opens Up
December 31, 2014 Source: BuckeyeSports.com - Tom Heman's turn to talk to reporters prior to the Orange Bowl came Tuesday, and he had some enlightening thoughts on a variety of topics, including offensive philosophy, playing up-tempo and watching Urban Meyer coach. We highlight them for you here...




Ohio State football: Secondary remains a primary concern
January 1, 2014 Source: Columbus Dispatch - Ohio State's new-look secondary will find out whether the new year will be a happy one on Friday night against Clemson in the Orange Bowl.

"Throughout my career, I've been playing with a lot of different people," senior safety C.J. Barnett said. "It's just the nature of the beast. It's football, a tough, physical sport. Guys go down and other guys have to step up."

Or when someone doesn't step up, someone else has to step in. The secondary defensive backfield is dealing with a combination of injury and replacement situations as it prepares for the Tigers, who have the most polished passing game the Buckeyes have faced this season. A win would give the secondary a boost after a long, trying season.

The chain started on Sept.?28 against Wisconsin when senior safety Christian Bryant, a team leader, suffered a season-ending broken ankle on the next-to-last defensive play in the win over the Badgers. Senior Corey Brown took his place.

But after watching receivers break open the past three games, coach Urban Meyer said personnel changes were coming. Nickel back Tyvis Powell, who intercepted a two-point conversion pass to save a 42-41 win over Michigan, will replace Brown as a starting safety.

Freshman Vonn Bell, a jewel of the 2013 recruiting class when he picked Ohio State over Alabama and Tennessee on signing day, will replace Powell at nickel back. That means he will start against Clemson and its spread offense run by quarterback Tajh Boyd.

This week, it was learned that junior cornerback Bradley Roby is still hobbled by a bone bruise suffered on Dec.?7 in the Big Ten championship game. With Roby saying he will leave Ohio State for the NFL after the season, a key matchup in the Orange Bowl was expected to be him against Clemson receiver Sammy Watkins, who also is expected to turn pro.

Instead, it appears Roby's start will go to Armani Reeves, who started the first two games of the season when Roby was suspended and replaced him for a short but crucial time against Michigan State.

Barnett and cornerback Doran Grant are the only original starters still in place.

"I think we've practiced enough, these few more days of practice, I think our chemistry will get good," Barnett said. "And I think it's just up to us to go out there and execute."

Grant said, "It's all about reps, and communicating on the field. Tyvis has been playing all season, just at a different position. Vonn is a really confident young guy who has been wanting to play, has been hungry to play, and he finally gets his chance. I think he'll do fine."

Communication, especially before plays, is being stressed, and Barnett keeps reminding himself to speak up.

"When it was Christian out there, we were both veterans, we had that game experience, we knew what each other was thinking," Barnett said. "I've got to kind of tell Tyvis or tell Vonn some things. They don't talk as much because they're young.

"I know when I was back there as a sophomore, Jermale Hines was doing the same thing (showing the way) that I'm doing now. So it comes with the territory of being a senior leader. But I think Tyvis Powell and Vonn Bell are great players, and I think they'll show it come game time."




Urban Meyer spoke with reporters following practice for the Orange Bowl on Monday, December 30.
Defensive Coordinator/LB Coach Luke Fickell and Players spoke with reporters following practice for the Orange Bowl on Monday, December 30.


Co-Offensive Coordinator/Offensive Line Coach Ed Warinner spoke after practice about the last game with his offensive line and what is moving forward.



Ailing Buckeyes defense looks to get well
December 30, 2013 Source: ESPN - A stomach bug has made its way through part of the Ohio State football team. Head coach Urban Meyer said Monday about four or five players -- none of them starters -- have been quarantined, and the hope is that this is just a 24-hour type of virus.

If only the Buckeyes' defense could heal that quickly.

Ohio State's defense sure looked sickly in its last two games, against Michigan and Michigan State. If things don't turn around before Friday's Discover Orange Bowl, Clemson's high-powered offense could leave Buckeye Nation feeling ill again.

The defense will try to get well despite missing some important pieces. Cornerback Bradley Roby, who will be badly needed to help slow down Tigers star receiver Sammy Watkins, is dealing with a bone bruise in his knee that he suffered in the Big Ten title game. Meyer said Roby "practiced a little" on Monday at Nova Southeastern University, but Roby's status remains uncertain. Starting defensive end Noah Spence, the team's top pass rusher, still hasn't joined the team as he deals with a personal issue, and the Buckeyes are preparing Jamal Marcus and Steve Miller in his absence. Starting linebacker Curtis Grant is still dealing with back and ankle injuries that continue limiting him.

Not good news for a defense that's already had its share of problems.

"We've not been up to the standard," Meyer said. "It hasn't been the standard for a while."

Meyer said he's evaluating "the scheme, the development and the personnel" to try and figure out why the defense hasn't performed at a typical Silver Bullets level. But he said one thing he isn't considering changing is Luke Fickell, the co-defensive coordinator who calls plays on that side of the ball. ...






The Ozone had the opportunity to speak with HC Urban Meyer, QB Braxton Miller, and LB Ryan Shazier when they arrived in Florida on Sunday. Check out their Q&A videos:




Urban Meyer - Orange Bowl Arrival




| | | |
| --- | --- | --- |
| Braxton Miller - Orange Bowl Arrival | | Ryan Shazier - Orange Bowl Arrival |



Lots of media on Monday of Orange Bowl week
December 30, 2013 Source: OSU Official Site - Coaches Meyer, Fickell and Warinner, plus players met with the media on Day 2...



Some notes, quotes and thoughts on the day:

•Regarding a replacement for Everett Withers, who is off to coach James Madison after the Orange Bowl, Meyer said "we have to hit a home run."

•Meyer on the defense and Coach Fickell: "I have a tremendous amount of confidence in Luke Fickell. I think he's a very good coach. We're going to get this thing fixed."

•Fickell confirmed a number of notes about the safety position, including: freshman Vonn Bell would start at the nickel position with red-shirt freshman Tyvis Powell moving over to start at safety alongside senior C.J. Barnett.

•Meyer on Bell: "...Vonn Bell is a talented guy [who] is going to play a lot of ball here."

•It was learned that that all-Big Ten cornerback Bradley Roby is rehabilitating a knee injury and that his status is uncertain for the game. (Armani Reeves will step in if Roby is out.)

•Fickell said that middle linebacker Curtis Grant is still limited because of ongoing back issues.

•Regarding Clemson's talented corps of wide receivers, Fickel said "I don't know if we've seen a receiving corps the entire year like [Clemson's]."

•Devin Smith on the state of the team: "Everybody is fired up. We're ready."

•Jeff Heuerman on Braxton Miller: "He's ready. He's a tremendous leader and a unique player."




Ticket information HERE Source: OSU Official Site



The 12-1 Ohio State Buckeyes (No. 7 BCS) will take on the 10-2 Clemson Tigers (No. 12), from the Atlantic Coast Conference, Jan. 3 in Miami in the 2014 Discover Orange Bowl. Game time is 8:30 p.m. with ESPN carrying the broadcast from Sun Life Stadium (72,230).

Ohio State will be the home team.

The team hotel is the Westin Diplomat.

First official team functions are on Dec. 29.

This will be only the second appearance for Ohio State in the Discover Orange Bowl; the last coming 37 years ago and following the 1976 season when Woody Hayes' Big Ten champion Buckeyes defeated the Big Eight champion Colorado Buffalos, 27-10, after falling behind early, 10-0. Ron Springs (98 rushing yards), Rod Gerald (81) and Jeff Logan (79) keyed the offense, which netted 271 rushing yards.

Ohio State and Clemson have met just once: on Dec. 29, 1978, in the Gator Bowl in Jacksonville, Fla. Clemson prevailed, 17-15, when Charlie Bauman intercepted an Art Schlichter pass in the final seconds of a game that would be the final for Woody Hayes after 28 years as Ohio State head coach, 205 wins, five national championships and 13 Big Ten titles.

Ohio State is officially 5-3 in BCS bowl games and, with this ninth official appearance, the program will go down in BCS history as having the most BCS wins and the most BCS appearances. (Note: Ohio State's 31-26 win over Arkansas in the 2011 Allstate Sugar Bowl was vacated.).

Most BCS Bowl Games: Ohio State & Oklahoma tied with 9; Most BCS Wins 5 - Ohio State



The #OrangeBowl spoke with Coach Urban Meyer at the 2014 Discover Orange Bowl Kick Off Party at the Seminole Hard Rock Hotel and Casino.



No. 7 Ohio State vs. No. 12 Clemson Game Notes
December 18, 2013 Source: OSU Official Site - No. 7 Ohio State vs. No. 12 Clemson in Discover Orange Bowl Game...



First and 10

• Ohio State and Clemson are meeting for the first time since the 1978 Gator Bowl in Jacksonville.

• The Buckeyes are officially making their first BCS bowl appearance since the 2010 Rose Bowl.

• Ohio State is 5-3 all-time in BCS bowl games.

• This will be Ohio State's ninth BCS bowl appearance, which is tied with Oklahoma for the most appearances all-time in the BCS era.

• Ohio State is tied with USC and Florida for the most BCS bowl wins (5).

• Ohio State's offense set program records this season for points scored (602), points per game (46.3), TDs (82), passing TDs (36) and first downs (334).

• Eight different Buckeyes earned first team All-Big Ten honors this season.

• Senior RB Carlos Hyde is the first RB under Urban Meyer to rush for 1,000 yards in a season with 1,408 yards. He led the Big Ten in rushing in B1G play with 156.1 ypg.

• Hyde and junior QB Braxton Miller (1,033 rushing yards this season) have combined for 1,330 rushing yards with 15 TDs over the past four games.

• Junior LB Ryan Shazier leads the B1G in tackles (134) & TFL (22.5). He has 62 tackles in his last four games (16 at UI, 20 vs IU, 14 at UM & 12 vs. MSU).

No. 7 Ohio State vs. No. 12 Clemson Game Notes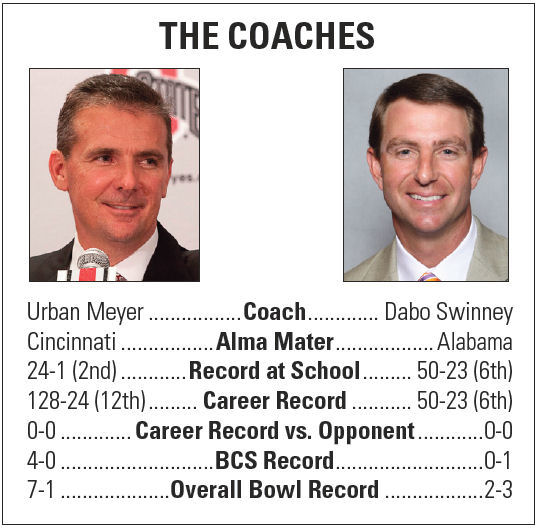 Urban Meyer confident Ohio State will rebound in Orange Bowl
December 9, 2013 Source: USAToday - It had been 705 days since Ohio State felt the pain of a loss. In the aftermath of an emotional loss to Michigan State in the Big Ten title game Saturday night, Urban Meyer opened up the Buckeyes' locker room to anyone who wanted to speak.

A few coaches and players took the floor to say words about finishing the season the right way. That finish won't include playing in Pasadena for a national title on Jan. 6, Instead, three days earlier, Ohio State will face Clemson in the Orange Bowl.

Meyer admitted Sunday his team was "heartbroken" after a run of 24 consecutive wins was ended by the Spartans after it lead in the fourth quarter.

The reaction is understandable. The team had harbored dreams of a national championship for 12 months after running the table in 2012 but being forced to watch the bowl season from the sideline due to an NCAA postseason ban from violations that occurred under former coach Jim Tressel.

The challenge for Meyer will be mending those broken hearts and channeling the disappointment. He noted Sunday night that his task isn't easy.

"Momentum is an extremely valuable thing, and when you lose a game, it's difficult," Meyer said. "I have great confidence. A lot of these players have been through a lot of stuff. Last year they went 12-0 and were unable to got play in a bowl game. Now their first chance to play in a bowl game, they're in a BCS game against a great team."

One advantage for Meyer is his experience at Florida four seasons ago. The Gators were the defending national champions and went 12-0 during the regular season before falling to Alabama in the SEC title game.

In the aftermath of the loss, Meyer was hospitalized and then three weeks later announced he was stepping down after the team's upcoming appearance in the Sugar Bowl. He changed his mind one day later, and Florida went on to rout Cincinnati 51-24.

The Tigers have an offense, led by senior quarterback Tajh Boyd, ranked 11th in scoring at 40.2 points per game. Boyd and explosive wide receiver Sammy Watkins will put pressure on a secondary that is the weakest part of an Ohio State defense that has allowed 76 points in its last two games.

Meyer got a first-hand look at the Clemson while serving as an ESPN announcer during the 2011 season. He left Death Valley impressed.

"Their athleticism at receiver is ridiculous and their quarterback," Meyer said. "The element of the quarterback run and the throw is something we've lived on for years. Their scheme is terrific."

Clemson also enters the game off a loss (its fifth consecutive to rival South Carolina) and brings memories of its last trip to the Orange Bowl from two seasons ago – a 70-33 loss to West Virginia.

Tigers coach Dabo Swinney wants to make better memories this time.

"We've never had back-to-back 11-win seasons," Swinney said. "There is a lot of opportunity. It's just our second BCS bowl. We want to play well. We want to represent the ACC well. ... You're playing very possibly the best team in the country."

The question is whether the Ohio State team that shows up to play resembles Swinney's opinion. Meyer is hoping so.

"Not many teams get a chance to win 13 games in a season and obviously finish ranked very highly, Meyer said. "So especially with a lot of these players and what they've gone through the last two years, they're very disappointed, but they understand the opportunity that's been given to them."

BOWL SCHEDULE: Dates, times and TV for every game





ORANGE BOWL: Ohio State (12-1) vs. Clemson (10-2), Jan. 3, ESPN, 8:30PM
With Braxton Miller on one side and Tajh Boyd on the other, this year's Orange Bowl won't lack for explosiveness. The game will be decided by quarterback play, with Miller spearheading Ohio State's ferocious running game and Boyd headlining the Tigers' top-ranked passing game. But even in a defeat to Michigan State in the Big Ten championship game, OSU proved that weapons other than Miller can carry the load offensively. Clemson's receiver corps, paced by likely All-American Sammy Watkins, might be too much for the Buckeyes' secondary to handle. Will the first team to 40 points win? Or will more be needed? Source: USA Today Breaking down BCS bowl matchups...




Quick take on Big Ten bowls:
Orange Bowl: Ohio State vs. Clemson: A great quarterback battle between Braxton Miller and Tajh Boyd. In fact, not many bowls will have a better matchup of signal-callers. The Buckeyes defense struggled down the stretch, allowing 603 yards and 41 points to Michigan and 438 yards and 34 points to Michigan State in the last two games. Clemson's offense will be another tough test for this maligned Buckeye defense, as the Tigers are 12th in the nation in passing (329.3 ypg) and 12th in scoring (40.2 ppg). Boyd is a special talent with 3,473 yards passing with 29 TD tosses. Long-time OSU fans will remember these schools met in the 1978 Gator Bowl, which became famous after Woody Hayes slugged Clemson linebacker Charlie Bauman—ending Hayes' illustrious career in a dubious fashion. Source: BTN...






Bradley Roby, rehabbing from a bruised knee he suffered in the Big Ten Championship game Dec. 7, is not expected to play in Friday's Orange Bowl, Meyer said Wednesday; Curtis Grant good to go; Noah Spence will not play, suspended three games for violation of Big Ten rule-Columbus Dispatch reported Wednesday that Spence used an "unapproved dietary supplement." Luke Fickell sad sophomore Jamal Marcus and junior Steve Miller would fill in for Spence.



Orange Bowl Game Data: OSU-Clemson
January 1, 2014 Source: Bucknuts.com - We have our patented Game Data page with pertinent info, depth charts, a ton of notables and a prediction for Friday's Orange Bowl with No. 7 Ohio State and No. 12 Clemson. More...


Indianapolis Weather Forecast





2014 Orange Bowl: Game time, TV schedule, preview for Ohio State vs. Clemson Source: Land-Grant Holy Land




Get a breakdown of Ohio State vs. Clemson in the Orange Bowl from USA Today.



Orange Bowl Preview Source: New York Times





Orange Bowl Preview - Clemson vs Ohio State Source: The Cleveland Fan



Andrea Adelson and Brian Bennett preview the coaching matchup in the Orange Bowl, as Urban Meyer puts his unbeaten BCS record on the line against Dabo Swinney, who is still looking for his first BCS win.



Orange Bowl preview: Ohio State vs. Clemson
Source: USA Today







Clemson HC Dabo Swinney: "We've become...more consistent than Ohio State"



Clemson's head coach told the media Friday he believed his program's been more consistent than Ohio State's. Well okay then... Dabo Swinney Part II HERE



To the uninitiated (which may certainly include many Ohio State partisans), Dabo Swinney may not strike them as a (noted Michigan Man) Les Miles type. But given the chance, the Clemson CEO will certainly come through with every bit as much aplomb. Sometimes con gusto.

When asked during a media session Friday about Clemson's perceived inconsistency in recent years, Swinney went on the defensive. The result was this gem (Emphasis ours):

"If you just judge us on the last five years I think that we've become one of the most consistent programs in the country. More consistent than Ohio State, if you will. There's a lot of teams out there that would love to have the accomplishments that this team has had in the last few years. And as far as consistently being ranked and school things that we've done here, records that we've set here at Clemson, and all that kind of stuff. But that's what you got to do."

Swinney went on to add, "This is our 6th top 12 matchup in our last 15 games."

Clemson's record in those contests? 2-4, with scores including a 51-14 loss to Florida State, and multiple two score losses to in-state rival South Carolina. The wins? A one-point Chick fil-A Bowl upset over LSU and the season opening 3-point home win over currently unranked Georgia (admittedly the current iteration of the 'Dawgs is far more injured than that one, but we digress).

Granted it's not like Ohio State's been beating world beaters; the loss to Michigan State certainly added fuel to the naysayers' argument that the Buckeyes' 24 consecutive victories were aided by only facing a small number of truly quality opponents. But if you go back even further, particularly over the five years Swinney specifically mentioned, Ohio State went 54-11 (83% winning percentage) including 2 BCS bowl wins while Clemson went 46-20 (70% winning percentage) with a 70-33 loss to West Virginia in the last BCS bowl they played in during the same stretch.

We get defending your own program's progress, but ol' Dabo might want to get his facts straight before making such a lofty claim next time. December 27, 2012 Source: Land-Grant Holy Land





Clemson (11 USA, 12 AP, 12 BCS) vs. Ohio State (6 USA, 7 AP, 6 BCS) Game Notes



The #OrangeBowl spoke with Coach Dabo Swinney at the 2014 Discover Orange Bowl Kick Off Party at the Seminole Hard Rock Hotel and Casino.



Clemson DC Brent Venables: Ohio St. offensive line will bloody your nose
December 17, 2013 Source: TigerNet.com - Brent Venables knows his defense will have its hands full against Ohio St. in the Orange Bowl, and that stopping the two-headed monster of quarterback Braxton Miller and running back Carlos Hyde will be his first priority...

| | | |
| --- | --- | --- |
| Brent Venables Dec 17 part one | | Brent Venables Dec 17 part two |