21-14 OT



Ohio State Wisconsin Highlights



Five Things: Wisconsin
November 18, 2012 Source: Eleven Warriors - Braxton Blues

For the first time all season, Braxton failed to find the end zone either through the air or on the ground and struggled to get anything going against a Badger defense that committed at least one, if not two, spies to slowing the catalyst of the Buckeye offense.

Touchdown Philly's Back Again
It's not often that a play occurring so early in the game is considered to be monumental but Philly's 68-yard punt return touchdown giving the Buckeyes a 7-0 lead with 1:58 left in the 1st quarter was absolutely gigantic.

Philly will be the first one to tell you it wasn't the most difficult or electrifying punt return of all time thanks largely to a line drive punt from Drew Meyer, but he showed great awareness in allowing the initial wave of gunners to fly by and reading one chip block before he juked Meyer to coast into the end zone for six.

The return was big in that it gave the Buckeyes an early lead on the road and the score only increased in value as it was clear the Ohio State offense was having a tough time getting anything going...

Just Win Baby
How lucky are we to have Urban Meyer in Columbus?!

I could write a few paragraphs every week on what he has done to re-energize the program and shift the culture to not just winning but being confident about it and making no bones about wanting to kick people's asses.

It's just such a different mindset as a fan watching the game. Even when Tress was cranking out wins, we didn't always feel confident about how things would unfold or if the team would take the opportunity to try and rip out the heart of the opponent, goodwill be damned.

Urban Meyer is simply one of those special personalities that young players gravitate toward and want to give their all for. He exudes a belief that failure is not an option but that winning only comes with being willing to put in the work...

Curious Play Calls
For one of the rare times this year, there was a ton of chatter during the game about the offensive play calling. Typically, such banter has been reserved for Fickell's schemes on defense though that group also drew the ire of fans, mostly late in the game as Wisconsin reached the two on their second-to-last drive in regulation before scoring a touchdown with :08 on the clock to force overtime.

Two of the more curious offensive calls occurred on 3rd downs on Ohio State's first two possessions of the game.

On OSU's opening possession, they had marched from their own 16 to the Wisconsin 37 before facing 3rd and 7. Against a seven-man front, Braxton audibled at the line and despite having only five blockers and an empty backfield, dialed up a QB keeper for no gain. A puzzling decision to say the least.

After the Bullets forced a Badger punt and the Buckeyes had moved from their own 20 to the Wisconsin 38, OSU again faced 3rd and 7. With the play clock almost exhausted and the Buckeyes again in shotgun with an empty backfield and five blockers against a seven-man front, Urban called timeout...

Simon Says Sack
John Simon was an absolute beast yesterday. The senior hasn't quite grabbed the headlines some envisioned heading into the season but he's still the inspirational leader of this team and is having a fine overall season highlighted by his four-sack performance last night.

Simon tied the school record with four sacks (-36 yards)

The four sacks not only tied a school single-game record already shared by himself, Jason Simmons, Big Vern and Bobby Carpenter, but the four TFLs moved him up to 8th in the history of Ohio State.

Simon was solely responsible for -36 yards on the day via the sacks and he threw in two other stops and a pass breakup taboot...




10 Things We Learned in a Gritty Victory in Camp Randall
November 18, 2012 Source: The Ozone - 1. Braxton Miller is still learning how to use his abilities. One of the biggest questions left unanswered from Saturday's win over Wisconsin is the play of quarterback Braxton Miller. It's clear the Badgers put together one of the best gameplans any team has had all season for defending Ohio State's dynamic Heisman Trophy candidate. They also have one of the better run defenses in the Big Ten, so it makes sense why they were able to slow him down, but Braxton looked more uncomfortable in this game than he has almost all season. He couldn't run or pass. He seemed to hold the ball too long and looked hesitant to run when there was space in front of him. Then he would run into a wall of Badgers. It just looked like Miller was off his game, but he's still young. He's still learning how to use his abilities and how to make defenses pay for playing him certain ways.

2. Buckeyes didn't put together their best gameplan on offense. I think this was the first time where I really came away underwhelmed with Tom Herman's ability to make adjustments. Certainly they did on that overtime drive, but why wait until overtime?...I feel like Wisconsin had so much attention on No. 5, it should have opened up some other things. That's what Herman gets paid to see, so maybe it just wasn't there. 3. Carlos Hyde needs the football. I thought this was the most obvious mistake the Buckeyes made on Saturday, and of course, Hyde agreed with me after the game. He was telling position coach Stan Drayton to give him the football, and Drayton should have grabbed Meyer by the collar and demanded he call some plays for No. 34. Hyde was the only consistent thing Ohio State had going on offense against Wisconsin... 4. We need to see more of the short passes and screens to Devin Smith. Where has that been all year? I'm not against running those plays for Corey Brown, but the Buckeyes have got to find ways to get the ball in the hands of No. 15, the fastest player on their offense...I thought the decision to get him involved in the short passing game was brilliant. I'm still not sure why they went away from it, but I'm sure we will see some of it next week against Michigan. 5. Ryan Shazier is becoming a football player right in front of us...It's absolutely amazing how far Shazier has come during the second half of his sophomore season, and it's scary to think how much better he might get. He has 110 tackles, 4 sacks and 14.5 tackles for loss this year, and I believe Shazier has only scratched the surface of what he's capable of. He's one of the fastest linebackers I have ever seen, but now he's learning how to play physical...

6. Zach Boren's toughness made a huge difference. Don't, for one second, dismiss the impact Boren's leadership and toughness have had on Shazier. It's not a coincidence Shazier has started to play the best football of his life since Boren came over to the defensive side of the ball. Ever since that disastrous performance in Bloomington, those two have found a rhythm we haven't seen from two OSU linebackers in a while...

7. Simon is playing grown-ass-man football. A year ago, when the Buckeyes were struggling for their season down the stretch, it seemed like John Simon disappeared. That's not to say he wasn't out there giving everything he has, I'm not sure Simon knows any other way. Maybe he was playing hurt – he's been known to do that – or maybe opposing offenses were game planning to stop him above everything else – they've been known to do that as well. Neither of those things have been able to stop Simon this year...The Badgers tried everything to limit Simon's ability to impact the game, but it was to no avail.

8. Corey Brown can make some plays...Brown didn't have to break a bunch of tackles on his 68-yard punt return Saturday, but he certainly used his speed and vision to get out in the open field. Give Sabino, Domicone and Taylor Rice credit for setting up a tunnel for Brown, but he made what turned out to be the play of the game to hit that hole and get to the end zone.

9. The receivers are still a work in progress. It's hard to say for sure whether the receivers were getting open and Braxton just wasn't seeing them, or if he was holding the football as long as he did because there simply wasn't anyone open. Probably a little bit of both, but it's clear the Badgers felt like they could win the game by playing man coverage against Ohio State's wide receivers on the outside. It worked, for almost the entire game...The receivers have come a long way since last season – a really long way – but they still aren't the gamebreakers this offense needs on a week-to-week basis.

10. Meyer's plan to win is in full effect. Play good defense? Check. Pack your toughness? Check. Win the special teams battle? Check. Don't turn the ball over? Check. We finally got to see an Ohio State victory that followed the script of Meyer's 'Plan to Win,' and it doesn't involve playing dynamic offense, just mistake-free offense. The Buckeyes were about as mistake free as they could have hoped for against Wisconsin, and in the end, it allowed their toughness and defense to carry them to victory in overtime...




Key to the game
• What we said before the game: Don't allow a big special teams play by Wisconsin in the first half.

•What happened in the game: The Buckeyes were the ones who made a play on special teams in the first half, and they wouldn't have won without it. With the offense struggling, Philly Brown broke open the scoring with a 68-yard return late in the first quarter, busting up the middle untouched. Walk-on Taylor Rice made the key block to let Brown get free.

If it had been Wisconsin making the same play to put the first points on the board, the Buckeyes may not have been able to recover.

"We knew we'd be able to break one on them this week," Brown said. "Anybody could have run through that hole."

It was Brown's second punt return for a score this season. Meanwhile, after opening the last showdown in Madison with a kick return for a touchdown in 2010, the Badgers ran the opening kickoff back to the 43-yard line, certainly a good return, but they didn't come close to a gamechanger.

"We always know special teams is going to win the game," Brown said, "especially in a game like this."

Source: Cleveland Plain Dealer







Defense wins this one for Ohio State
November 17, 2012 Source: BTN - It wasn't easy—nothing in life that is good ever is–but Ohio State's march to perfection continues. And the Buckeyes have their defense to thank.

Yes, that same defense that at times has been maligned this season—and allowed 206 yards rushing today–took this opportunity to stand and deliver when it mattered most, turning back Wisconsin in overtime to secure a 21-14 win...

Led by end John Simon and his four sacks, Ohio State needed its defense to step up, given how the Buckeye offense was being bottled up by Wisconsin on this day. Ohio State had just 236 yards—and notched just one offensive touchdown in regulation, as the other came on a 68-yard punt return by Philly Brown in the first quarter that opened the scoring...

The fact Ohio State is standing here at 11-0 in Meyer's first season is amazing. And today was perhaps the Buckeyes' best effort yet, as the victory allowed Ohio State to claim the outright Leaders Division title...

Wisconsin was 10-0 at home in November under Bielema. Make that 10-1. While the loss stings, the Badgers can take solace in the fact they still are headed to Indianapolis for the Big Ten championship game for a second season in a row.

But the trip to the title game rings a bit hallow, since the Badgers won't have the top record in the Leaders. Wisconsin didn't want to "back in" to the title game. It wanted to forge a tie, which would have meant beating Ohio State and then winning at Penn State next season, as well as Ohio State falling to the Wolverines. Well, it won't happen...




"We can talk about it now. I put a muzzle on everybody before." - Urban Meyer on perfect season






Urban Meyer Postgame Source: Columbus Dispatch



On the emotions going into overtime:
"I can't tell you our emotion was high, but we rallied them back. That's leadership on our team, and our coaches did a good job getting the guys going because we were sucking our thumbs after they scored with eight seconds left. It's over, no timeouts, the game is over. But I liked the way the offense just went in and attacked it. Carlos (Hyde) got a big run, Braxton Miller ran like Braxton Miller, we got him in some space and then we pounded it in there."





What We Learned: OSU 21, UW 14 (OT)
November 17, 2012 Source: Bucknuts -

We learned the shades of 2002 continue
Well, minus the whole "Being able to play for the national championship" part.

The week before Ohio State met Michigan in 2002, it won in overtime on the road against Illinois. Also during that season, the Buckeyes found a way to gut out several close wins. Not two or three; more like five or six. Sound familiar?...

We learned Simon was a nightmare for the Badgers
Well, the week off certainly did wonders for OSU senior defensive lineman John Simon. He was so banged up during the Penn State game three weeks ago he could barely pick himself up off the field after most plays.

A rejuvenated Simon played his best game of the season and probably his career as he dominated his man on nearly every snap and finished with four sacks and several other disruptive plays. Wisconsin began the game trying to block Simon one-on-one, but eventually decided to double team him on most plays.

Simon, known more for his run-stuffing skills than his pass-rushing, now leads the Buckeyes with nine sacks on the season.

It was also another excellent game for Ohio State sophomore linebacker Ryan Shazier who racked up 12 tackles, including two for loss. That gives him a team-leading 110 tackles and 13.5 TFLs on the year. Shazier had a great play near the goal line when he popped Montee Ball and forced a fumble.

We learned Philly continues to impress
What a game from Buckeye junior wide receiver/punt returner Corey "Philly" Brown who made the most out of the few chances he received. There's been a lot of talk about the offensive linemen – and rightfully so – but perhaps no individual player on OSU's roster has improved more from last year than Brown. He shows playmaking ability as a wideout and has now been a difference-maker on special teams in two of OSU's biggest games: the 63-38 win over Nebraska and today

We learned Buckeyes didn't go to Hyde enough in the middle part of the game
Despite playing without standout junior linebacker Chris Borland, Wisconsin's defense seemed to have a great feel for what OSU was doing for most of the game. The Buckeyes were content to run sophomore quarterback Braxton Miller who finished with very-pedestrian numbers (10-of-18 passing for 97 yards; 23 carries for 48 yards). However, it was junior running back Carlos Hyde that was hurting the Badgers the most and he didn't get as many touches as he should have, especially during the third quarter.

Hyde finished with good numbers – 15 carries for 87 yards and two touchdowns – but this is a game where he should have been over 100 yards.

We learned 'The Game' is shaping up to be a good one as usual
Ohio State will obviously be favored, but No. 21 Michigan (8-3, 6-1) has answered its glaring question at quarterback and it will be a tough game. Not only did Denard Robinson return for the Wolverines' 42-17 rout of visiting Iowa today (although he didn't throw a pass and actually started the game at RB), but Devin Gardner put on a show with six touchdowns (three passing, three rushing) and 351 yards of total offense (314 passing, 37 rushing). It's clear that UM has decided to play both quarterbacks moving forward and that gives OSU's defense something else to prepare for entering this matchup...






"We have a saying that the team that refuses to be beat, won't be beat," Meyer said. "Somehow, some way."

Ohio State's defense has allowed just 5 TDs in the past 13 quarters of play.

It was over when... Ohio State safety Christian Bryant broke up a fourth-down pass to Jacob Pedersen in overtime.

Gameball goes to... Ohio State LB Ryan Shazier and DE John Simon. Shazier had 12 tackles. Simon (four sacks) had his best game of the season.

Stars of the game...Carlos Hyde ran 15 times for 87 yards and two touchdowns, including a 2-yard run for the winning touchdown. John Simon led a cavalcade of defensive stars with a school record-tying four sacks and was part of an aggressive game plan that shut down the Badgers in overtime.

Turning point... Christian Bryant broke up a fourth-down pass from Curt Phillips toward tight end Jacob Pedersen on the final play. The Buckeyes defense had struggled defending the pass in the fourth quarter, but this time, as his teammates applied pressure with a blitz, Bryant applied the knock-away.

Stat of the game... 360-236. Wisconsin outgained Ohio State 360-236, but the Badgers kept stalling in the Buckeyes' territory.

Urban Meyer: "I can't stand watching it when we have no vertical threat."

Ryan Shazier went over 100 tackles for this season finishing the game with 12. Saturday's game marked his sixth game of the season with 10 or more tackles, while his fourth quarter forced fumble was his third forced fumble of the season and fifth of his career.

Just wondering: Watching Ryan Shazier turn his body into a battering ram, one must ask, "Who in his right mind would play this game?" The answer could be that the hitting is not what drives them to play, but the satisfaction that comes from withstanding the hit.

John Simon recorded 4.0 TFLs, moving him into 8th place on the all-time Ohio State TFL list. Simon also tied a career-high with four sacks matching the number he had against Illinois Oct 15, 2011.

Christian Bryant's fumble recovery for three yards in the fourth quarter was the first of his career.

The win clinches the 2012 Big Ten Leaders Division Championship outright for the Buckeyes.

Ohio State is just one of two unbeaten teams in the FBS (Notre Dame).

The 11-0 start by the Buckeyes is the best mark since 2006 team that went 12-0 in the regular season.

With 145 total yards of offense (97 passing, 48 rushing), Braxton Miller became the third different Buckeye to record at least 3,000 yards of total offense in a season (Hoying 3,290 in 1995; Germaine 3,247 in 1998). Miller now has (3,064) yards of total offense.

Miller also became the third different Big Ten QB to rush for at least 1,200 yards in a season.

Miller needs one more 300 yard game of total offense to set an OSU record. He has five now, tying Joe Germaine.

Numbers for dummies
5: Undefeated seasons in Ohio State history: 1916, 1944, 1954, 1968, 2002

4: Sacks by Ohio State lineman John Simon, tying a school record

7-2: Buckeyes in overtime games

The overtime win over Wisconsin was the 2nd for Ohio State this season (Also def. Purdue in OT on Oct. 20)... Meyer improves to 5-0 in OT as a head coach and 2-0 with the Buckeyes.

As heard on TV: Where to begin with Matt Millen? Maybe with "Shankadelic?" Or mispronouncing Ryan Shazier's name as Shay-zer? How about "Eveready Bunny?" Reid Fragg-el anyone? And boothmate Joe Tessitore seemed disappointed that a football game interrupted Montee Ball's bid to break the NCAA touchdown rushing record.

Sources: OSU Official Site, Columbus Dispatch, Cleveland Plain Dealer, ESPN, The Ozone



WEEK 12 GAME BALLS:

2. Ryan Shazier, LB, Ohio State: 12 tackles, 3 TFL, 1 FF – Shazier already was looking like a solid option to win Big Ten Defensive Player of the Week before he forced an outstretched Montee Ball to fumble at the goal line late in the fourth quarter (Watch the play). The hit and ensuing fumble, which was recovered by teammate Christian Bryant, was the gravy on a 12-tackle, 3-tackle-for-loss effort. Source: BTN




Ryan Shazier Postgame







3. John Simon, DE, Ohio State: 6 tackles, 4 TFL, 4 sacks – The last time this series was played at Camp Randall Stadium, former Wisconsin defensive end J.J. Watt terrorized the Ohio State offense en route to helping the Badgers upset then-No. 1 Ohio State. Saturday, Simon did his best Watt impersonation, registering a dominating four sacks in Ohio State's payback overtime victory. Source: BTN




John Simon Postgame







CFN Analysis: Ohio State's OT Win Over UW
November 17, 2012 Source: CollegeFootball News.com - The Buckeyes have to be delighted this evening. No hardware, but plenty of satisfaction in a season in which there'll be no second season. Kudos to Urban Meyer. The coach and his staff have magnificently navigated the choppy waters of a year with no carrot, bringing the program to within one more victory over Michigan from a spotless record.

There was a lot to like about Ohio State's win in Madison on Saturday. Nothing, though, was more impressive than the play of the D. In a game that the Big Ten's best offense didn't have anything on its fastball, the defense led the charge for a change. Curt Phillips' end of regulation drive aside, the Buckeyes were air-tight, with young LB Ryan Shazier playing brilliantly all afternoon...

Yet, it was as though Ohio State's offense, as soon as it was given a sniff of an opponent's end zone (not its own) by college football's overtime format, rediscovered itself. A team on the ledge found its way to a safe place. A defense that had been on its heels for 30 second-half minutes was able to attack on a fourth-down play and thwart the Badgers' last foray...Every response to in-game pressure by the Buckeyes this season has been magnificent. A win over Michigan will produce something that the NCAA can never take away from Ohio State, if achieved: perfection...

Nobody has been able to close out games better than Ohio State and Notre Dame this year. Period. What Urban Meyer has brought to Columbus is an attitude and air of confidence that was lacking last year. Many of these close games were lost last year, but it has been entirely different in 2012 despite not having much to play for...

And then it was Ohio State, going into overtime sans momentum, being concise and thorough on the ground, ripping Wisconsin for a 21-14 lead and giving the ball away to see if they could match.

Yet it was the much maligned Ohio State defnese early, and some curious play calling by Bret Bielema, forcing Montee Ball into the middle on a key third down and short in overtime that was stuffed, that did in Wisconsin, giving them rights to the B1G title game, but not the actual division trophy...

But it needs one more game. The Game. Michigan. Ohio State. If Meyer is indeed an Ohio lifer, this is what it comes down to. Michigan could save college football a lot of angst. Urban Meyer could continue to pour water on the cement of his legacy. It feels like the mid 90s all over again, doesn't it?...




No. 6 Ohio State Outlasts Wisconsin, 21-14 in OT
November 17, 2012 Source: OSU Official Site - Buckeyes win Big Ten Leaders Division outright, improve to 11-0

Ohio State clinched one title, and kept its slim hopes for another alive.

The Buckeyes (No. 6 AP) won the Leaders Division crown outright Saturday, beating Wisconsin 21-14 on Carlos Hyde's 2-yard scoring run in overtime. Buckeyes safety Christian Bryant batted down Curt Phillips' pass on fourth down to preserve the win.

Ohio State (11-0, 7-0 Big Ten) is ineligible for the postseason as part of its punishment for NCAA violations under former coach Jim Tressel. The best the Buckeyes can hope for is to finish the regular-season unbeaten, then have the teams above them all lose at least once to give them a shot at playing spoiler for The Associated Press title.

"We have a saying, 'A team that refuses to be beat, won't be beat,' " Ohio State coach Urban Meyer said. "Somehow, someway."

Wisconsin, meanwhile, blew its chance to show it deserves its spot in next month's Big Ten title game. The Badgers (7-4, 4-3) are third in the Leaders Division, but they'll be playing for a trip to the Rose Bowl because neither the Buckeyes nor Penn State are eligible for the postseason. No one else in the division will even finish with a winning record.

"I'm sure winning in Indy and going to the Rose Bowl and winning there would erase all the losses we've had," Montee Ball said. "Because that's our goal."

At least the Wisconsin fans got to see Ball get the major college record for career touchdowns in his final home game. Or, part of the record anyway. Ball scored his 78th TD in the second quarter, tying the mark set by Travis Prentice of Miami (Ohio) in 1999.

But he fumbled what would have been the record-breaker with 2:46 left in regulation. Ball held the ball in front of him as he leaped over the pile on the goal line, and Buckeyes linebacker Ryan Shazier met him with both fists and punched the ball loose.

"That's a dumb decision on my part," Ball said. "But I just felt like I needed to get the ball in the end zone."

And the Buckeyes felt just as strongly that they needed to keep him out.

"We knew that he needed two to break the record," Shazier said. "We were not going to allow him to break it on us."

Ball finished with 191 yards on a career-high 39 carries.

The Ohio State-Wisconsin rivalry hasn't reached the heights of "The Game" between the Buckeyes and Michigan. But it is not exactly warm and fuzzy, either, especially not after the previous two games.

Two years ago, Wisconsin ended Ohio State's hopes of a making a run at the national title, handing the then-No. 1 Buckeyes their first loss at Camp Randall. (Ohio State's 2010 season was later erased by the NCAA sanctions.) Last year it was the Buckeyes stunning the Badgers, with Braxton Miller dancing around like a jitterbug before launching a 40-yard, game-winning heave with 20 seconds left.

Though there wasn't any obvious chippiness Saturday, the brutal physicality of the game left no doubt the teams have begun to use each other as a measure. Wisconsin's defense was downright nasty, limiting the high-powered Buckeyes to a mere 236 yards of offense, more than 200 yards below their average. The Buckeyes crossed the midfield only once after halftime, and the Badgers largely kept the dynamic Miller in check.

But Miller made plays when he needed to, and Hyde continued to impress.

"We're certainly not a finished product on offense, and it showed," Meyer said. "But to come down in that overtime. I think we need to give (Hyde) the ball a little bit more."

After Ball's goal-line fumble, the Badger defense came up with one more big stop, a quick three-and-out that ensured the offense would have good field position. It was the first two-minute drill for Curt Phillips, the third-string quarterback who was making his second start, and he got off to a rough start, sacked on the first play.

He settled down from there, though, converting a fourth down with a 14-yard pass to Jared Abbrederis and finding him for another long gain to set up Jacob Pedersen's 5-yard scoring catch that tied the game with eight seconds left.

"Everybody kept the faith. We drove right down and scored," Phillips said. "I was very confident going into the overtime."

But overtime was all Buckeyes. Hyde ripped off a run of 11 yards on the first play and, two plays later, strolled virtually untouched into the end zone for the go-ahead score.

He also had a 15-yard scoring run in the second quarter, and finished with 87 yards on 15 carries. Miller was 10-of-18 passing for 97 yards, and had another 48 yards rushing. He also was sacked three times for a loss of 27 yards.

"We just wanted to pound the ball and give the ball to Carlos and let the O-line block for Carlos because we knew it was over," said Corey "Philly" Brown, who returned a punt 68 yards for a score. "That O-line is something else. We don't think there is any D-line that can stop them when you have a back like Carlos running the ball."

The Badgers have a good back of their own, but the Buckeyes knew the game was theirs.

"We knew that if our offense scored, we were going to win," cornerback Bradley Roby said. "The touchdown they scored (at the end of regulation) gave us motivation to win it in overtime."

Ball gained 6 yards on Wisconsin's opening play, but that was all the Badgers would get. Phillips threw an incompletion, Ball was hauled down for a loss and Bryant batted down a Phillips pass intended for Pedersen to end the game.

"We still have another game to go and obviously it's the biggest one," Brown said. "It's our last, so we're going to make it count."






"We still have another game to go and obviously it's the biggest one. It's our last, so we're going to make it count." - Buckeyes WR Corey Brown


Corey Brown 1 on 1



We have two!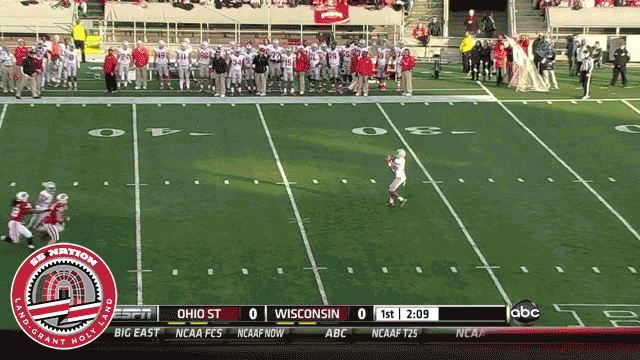 With 1:58 remaining in the 1st qtr, Drew Meyer's punt of 43 yards was returned by Corey Brown for 68 yards for a TOUCHDOWN giving the Buckeyes at 7-0 lead.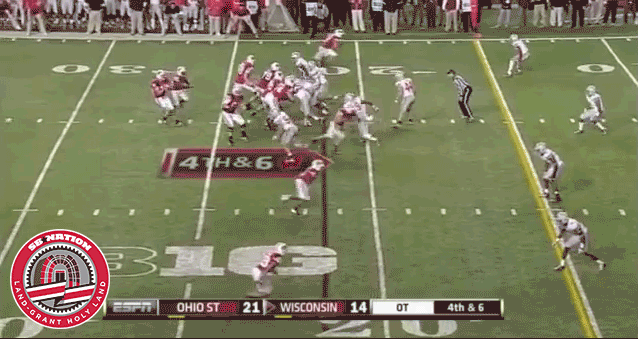 In OT, with the Badgers facing 4th and 6 at the OSU 21, Christian Bryant makes a GREAT play on the ball to break up Curt Phillips' pass to Jacob Pedersen that sealed the victory for OhioState.


Carlos Hyde 1 on 1



The Bottom Line
November 18 2012 Source: Columbus Dispatch - Offense (2 leaves): Over the course of the season, Braxton Miller has been Ohio State's MVP — hands down. But against Wisconsin he was more often in slow-motion hovering mode than attacking, and the Buckeyes went nowhere in the second half. Carlos Hyde ran hard, typically, but needed more than 15 carries.

Defense (4 leaves): The perfect, five-leaf score slipped away when the Badgers tied the score late in regulation, but the Buckeyes soon tied up their boots and again began kicking tail in overtime. Yes, Montee Ball finished with 191 yards — and he earned every one. John Simon is Beast 1, Ryan Shazier is Beast 2.

Special teams (3 leaves): The Philly Express might have been OSU's best-executed return all year — who goes untouched up the middle? The punting game pinned the Badgers deep a few times, but Ben Buchanan had some pooches when he needed boomers down the stretch, including a 34-yarder to set up the tying TD.

Coaching (4 leaves): Heads were hanging when the OSU defense allowed the tying TD, but momentum obviously didn't take up permanent residency on the Wiscy sideline. Is that attributable to the resiliency of youth, or might it be that the coaches are working mind-game wonders with these overachievers? Yes and yes.

Opponent (3 leaves): Whatever that certain something is, Wisconsin is missing it this year, to the point that its four losses are no plate of mystery meat. No way Montee Ball is the problem, and the defense clamped down on Braxton Miller. But something about Bucky Badger is slightly off, though they can still play in Pasadena.

Officiating (3 leaves): Referee Bill LeMonnier's crew mostly kept their hankies in their pockets and let the players decide things. Fine with that. The notable might-have-been-a-miss was the third-quarter Wisconsin catch that was ruled down before the ball popped free. Review made it seem iffy, at least it got a look...





Senior QB Curt Phillips On the drive in overtime:
"It was extremely disappointing. There was no doubt in my mind that we were going to score there; it was the same as a two-minute drive. I thought we left some plays on the field that we definitely should have made."

Junior RB James White On Wisconsin not being able to convert in OT when needed:
"It's pretty frustrating. We played well on offense, we played well on defense, but we didn't make enough plays to win. It especially sucks to lose in OT and at home, we usually don't lose at home."




Wisconsin vs Ohio State: Curt Phillips Postgame





Wisconsin

Nov 17, 2012 3:30PM


"I really don't like them. I'm sure they probably hate us, too, but I really don't care what they think." - DL Johnathan Hankins on Wisconsin



There's plenty of bad blood between the Buckeyes and Badgers
November 17, 2012 Source: The News Herald - There will be plenty of bad blood boiling on Saturday afternoon at Camp Randall Stadium in Madison, Wis.

Whether it be because of recent tight games between Ohio State and Wisconsin, a question of integrity between the coaches, or because of a head-to-head fight for supremacy since the Buckeyes and Badgers were both placed in the Leaders Division of the Big Ten, one thing has become clear.

Ohio State and Wisconsin simply don't like each other...

A lot of the animosity likely stems from the past two games.

In 2010, Ohio State was ranked No. 1 in the nation before its trip to Madison. The Badgers returned the opening kick for a touchdown, took a 21-0 lead and dashed the Buckeyes' hopes for a national championship with a 31-18 win.

OSU coach Urban Meyer wasn't even a Buckeye then, but used the word "stole" when describing the Wisconsin victory in 2010 and said his players have talked about the budding rivalry because of the game...






DE John Simon and DL Johnathan Hankins will try to knot things up in the middle to force Ball outside the tackles. Source: SI.com



Five key factors for OSU victory
November 16, 2012 Source: Columbus Dispatch -

Stack the line
The Badgers are no mystery: They want to run the ball, mostly between the tackles, and make opponents cry "Uncle!" They've done that against weaker Big Ten opponents this year, but Ohio State should be a different story. The Buckeyes want to force quarterback Curt Phillips, a former third-stringer, to try to beat them with his arm. So they will likely stack the line of scrimmage to prevent Montee Ball and James White from running it down their throats.

Sustain drives
Wisconsin's ball-control offense tires out defenses, and its defense has played its part. The Badgers have forced three-and-outs on 44 percent of opponents' drives, second-best among FBS teams. Ohio State's offense must be able to give its defense needed rest by maintaining possession. Carlos Hyde has become a workhorse running back, and he will have to be able to fight for first downs.

Take crowd out of it
Ohio State has been a slow-starting team most of the year. It would behoove the Buckeyes to start fast today because Camp Randall Stadium is among the most intimidating places to play. If Wisconsin starts strong, as it did two years ago, it can steamroll, as it did two years ago.

Steady on special teams
Wisconsin's upset in 2010 was sparked by return for a touchdown on the opening kickoff. Last year, Ohio State's last-minute, game-winning touchdown was set up by a 42-yard kickoff return by Jordan Hall. With the line of scrimmage likely to be a meat grinder, game-changing plays could come in the kicking game. Ohio State's has been notoriously inconsistent, much to the chagrin of coach Urban Meyer.

Stay even on turnovers
Wisconsin has lost only nine turnovers all season, tied for sixth-best in the country. On the other hand, the Badgers have only forced 12, but 11 have come in Big Ten play. Ohio State is even in turnover differential, losing 16 and getting 16. The Buckeyes can't lose the turnover battle and expect to win.



Leaner, more disciplined offensive line helps drive Buckeyes' success
November 15, 2012 Source: SI.com - At Urban Meyer's first team meeting as Ohio State's coach in January, five offensive linemen didn't show up. At the second meeting, two arrived late. "He looked at me, and I looked at him, and we were like, 'Oh jeez, here we go,'" said Ohio State strength coach Mickey Marotti, Meyer's longtime assistant.

So began the transformation of Ohio State football to fit Meyer's outsized personality, and no group epitomizes that change more than the offensive line. A unit that ranked No. 118 nationally in sacks allowed last year has developed into what Meyer now calls the team's identity.

"They were unmotivated guys," Meyer said. "Obviously, they weren't disciplined. They're our most productive group right now. They're completely different human beings."

The big problem, surprisingly, was that the Buckeyes' offensive line was too big. Meyer and Marotti both used the words "fat" and "sloppy" to describe the physical state of the linemen, part of which stemmed from Ohio State's smashmouth offensive scheme under Jim Tressel. But to play in a drastically higher-tempo spread offense, Meyer needed his linemen leaner, quicker and more disciplined. Along the way, he worked to transform the group's attitude as well.

"The way that they approach their whole world is completely different," Meyer said. "They're energy givers now. They sapped every ounce of energy we had back in January and February. They were overweight, sloppy guys."...


Less than three days before his team heads to Madison for a Big Ten battle with Wisconsin, Ohio State head coach Urban Meyer met with the media to provide an update on the Buckeyes. Speaking for less than five minutes following his team's practice, Meyer touched on a number of topics, including the health of his team and his thoughts on this Saturday's game.

At the top of the Buckeyes' priority list this week is stopping the Badgers' run game, which racked up 564 yards in Wisconsin's 62-14 win over Indiana last weekend. Meyer admitted that slowing down Badgers backs Montee Ball and James White is even tougher thanks to the multiple formations that Wisconsin attempts to run the ball out of.

"It's crazy the formations you'll see," Meyer said. "There's times there's six linemen in the game, and there's four or five to one side."

The first-year OSU coach said that the key to defending the run will be having his players maintain their gap assignments, and that not doing so could result in a repeat performance for the Wisconsin run game.

"That's fine if you get lined up. If you don't get lined up, you'll get embarrassed," Meyer said. "Some teams have gotten embarrassed recently against that."...

Source: BuckeyeGrove.com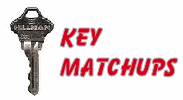 Ohio State Buckeyes vs. Wisconsin Badgers - Key Matchups November 14, 2012 Source: The Morning Journal -

OSU defensive linemen John Simon vs. Wisconsin QB Curt Phillips: Simon leads the Buckeyes in sacks. The Badgers probably aren't going to throw a lot, but when/if they do, Simon and the rest of the defense have to make life miserable for him with pressures and knock-downs.

OSU linebackers Etienne Sabino, Ryan Shazier and Zach Boren vs. Wisconsin RB Montee Ball: The Badgers' marquee running back can put up a 200-yard game at the blink of an eye. The OSU linebackers welcome back Sabino this week, and need a good week of play against the run, or the Badgers are going to give the Buckeyes big problems.

OSU running back Carlos Hyde vs. Wisconsin LB Chris Borland: At 5-11, 242, Borland is a tank and a hard-hitter. He's the Badger's second-leading tackler and was singled out by OSU coach Urban Meyer as a difference-maker. It's safe to say Hyde and Borland will meet often during the running game. Hyde needs to win this battle.

Devin Smith vs. Devin Smith: Look at this matchup two ways: OSU's receiver named Devin Smith vs. Wisconsin CB Devin Smith, or OSU's Devin Smith against himself. Either works. OSU's Smith caught one pass against Illinois and was held catchless against Penn State. The Buckeyes need better — or any — productivity from their second-leading receiver who averages 21.4 yards per catch.




John Kampf's countdown to Ohio State-Wisconsin: Buckeyes need a complete game November 14, 2012 Source: The News Herald - 10. Ohio State is going to need to play a full game in every aspect on Saturday if it is going to win its showdown against Wisconsin. That means the running game, the passing game, offensive line play, run defense and pass defense, even if Wisconsin doesn't throw the ball a lot. No facet can be skimped upon if OSU is to win at Camp Randall Stadium.

9. Particularly important will be special teams. The swing of emotion, not to mention field position, that can happen in special teams could be critical this weekend. It goes without saying the Buckeyes struggle in keeping the opposition from blocking punts. The Buckeyes have had three punts blocked this year, most recently in Week 9 against Penn State, one which was recovered for a touchdown.

8. Why the minute attention to detail this week more so than previous weeks? Because this game is being played in Camp Randall Stadium, where crazy things happen when the rowdy Wisconsin fan base gets into the game. Only 81,000 or so fans fit into the stadium, but the emotion their fans bring make Camp Randall Stadium one of the most difficult places to play in the league, if not the nation.

7. Remember back to 2010, when Ohio State entered Camp Randall with a 6-0 record and ranked No. 1 in the nation. Emotions were already piqued, but when David Gilreath returned the opening kickoff for a touchdown and gave the Badgers a seven-point lead 12 seconds into the game, Camp Randall was a zoo. The emotional swing from that play was partially responsible for the Badgers' 21-0 lead. OSU outscored Wisconsin, 18-10, the rest of the way, but the damage had already been done and OSU lost, 31-18.

6. OSU coach Urban Meyer used the term "stole" when referring to what Wisconsin did to Ohio State that year, knocking them out of the national championship picture. The Buckeyes need to do some stealing this weekend to return the favor — they need to steal the emotion in the game and take the capacity crowd of 81,000-plus out of the game. Or it could be a long day.

5. Hence, the importance of solid special teams play. Ohio State can't afford to give up a blocked punt — especially if it is deep in its own territory. Giving Wisconsin great field position in point-blank range of the end zone translates to major trouble. Giving up long kickoff returns or punt returns, too, is a huge emotional swing OSU needs to avoid. Few programs feed on emotion more than Wisconsin. When the Badgers are rolling, look out.

4. It's safe to say Ohio State is going to do everything short of selling out to stop the running game of the Badgers. Meyer gave credit this week to Wisconsin quarterback Curt Phillips for his athleticism and for Wisconsin for rushing for more than 500 yards against Indiana, while attempting only seven passes. Granted, a team doesn't have to attempt passes when they're averaging 8.8 yards per carry.

3. But if Ohio State can jam the line of scrimmage and force Wisconsin into third-and-long (6 yards or more) situations as often as possible and thus force Phillips to throw more than he or the Badgers would like, then the favor swings toward Ohio State. Michigan State did it on Oct. 27, holding Wisconsin to an unheard of 19 net yards rushing in a 16-13 win in Madison.

2. Of course, Ohio State is going to have to score some, too, and it should be noted that Wisconsin only gives up 103 yards rushing per game. Braxton Miller (116.6) averages more than that by himself, and Carlos Hyde (92.1) isn't far off from it. So something is going to have to give here. Whoever controls the line of scrimmages and runs the ball better is going to win.

1. But the great unequalizer is emotion. Ohio State needs to take Wisconsin's fans out of the game. Even doing that, it's going to be a tighter-than-tight game. Prediction: Ohio State 31, Wisconsin 30.




Bradley Roby with the media after practice Wednesday, November 14, 2012




Not Your Father's Badgers
November 14, 2012 Source: Eleven Warriors - Michigan week is still four days away. But that doesn't mean Ohio State has to wait to take on a rival. The budding distaste Ohio State and Wisconsin share for one another has given the Leaders Division showdown more flavor in recent years.

Historically, a one-sided affair – Ohio State leads the series, 54-18-5 – 1981 signaled a shift. Prior to that season, Earle Bruce's third at Ohio State, the Buckeyes held a 39-7-4 advantage in the Wisconsin series and had not lost since 1959. In other words, the Badgers were a pushover, a welcomed Homecoming opponent.

But things have changed dramatically since the '81 Badgers, coached by the late Dave McClain, upset the nationally-ranked Buckeyes. While the Ohio State-Michigan rivalry has featured one team dominating the other the past 25 years, the Wisconsin series has been relatively even. In the past 27 meetings, Ohio State holds a modest 15-11-1 lead over Wisconsin. Since 1999, Ohio State is just 6-5 against the Badgers.

Three times in the past 20 years Wisconsin has spoiled perfect seasons for the Buckeyes. In 1992, 2003 and 2010, it came in the form of a loss. The 2010 game featured the Badgers upsetting No. 1 Ohio State. The Buckeyes and Badgers tied in a memorable game in 1993. A win would have sent Ohio State to the Rose Bowl.

Now matched up in the same division, the intensity of the Ohio State-Wisconsin rivalry is almost certainly going to heat up. The other four teams in the division – Illinois, Indiana, Penn State and Purdue – aren't likely to be a threat anytime soon, meaning Ohio State and Wisconsin will likely represent the Leaders Division in the Big Ten championship game for the foreseeable future. The past two games – Wisconsin disrupting a perfect season in '10 and Ohio State winning on a Hail Mary in '11 – has added extra oomph, as well...




Give him a hand
November 14, 2012 Source: Columbus Dispatch - The offense can always count on Braxton Miller, but can it count on anyone else in the two biggest games of the season?

There's no debate that Braxton Miller is the show horse of Ohio State's spread offense, but as Wisconsin coach Bret Bielema pointed out yesterday, the Buckeyes' act is not a one-trick pony.

"Well, it starts with No.?5 (Miller), no doubt there, but the great thing he has is a lot of good players around him," Bielema said.

He named running backs Carlos Hyde and Rod Smith, and other players he knew more by their numbers than their name.

"No.?15 (receiver Devin Smith) makes a lot of really good plays, No.?10 (receiver Corey Brown) is very, very active. Braxton gets the tight end (Jeff Heuerman or Nick Vannett) involved."

That almost was the entire list of offensive skill players, except for starting receiver Jake Stoneburner and backups Evan Spencer and Chris Fields.

Although Miller has produced plenty of big plays and Hyde has emerged as a reliable threat, the reason Bielema and probably most everyone else still has trouble 10 games into the season putting names to numbers is that they have been hit or miss in the big-play department.

Take Devin Smith. He had a leaping, one-handed touchdown catch in the opener against Miami University and hauled in the winning touchdown pass at Michigan State, but otherwise has seven catches in six Big Ten games.

And Stoneburner has been blocking well all year but disappeared from the catch chart for almost a month before stepping up at Penn State with a 72-yard touchdown reception.

For his part, Brown leads the team with 48 catches, but just two for touchdowns.

Brown said it behooves all able-bodied personnel to try to jump into that center ring with Miller for the two-game stretch run against Wisconsin and Michigan.

"I think everybody around Braxton has to elevate their game," Brown said, "especially going to an away stadium and having everybody against us...


Urban Meyer weekly press conference; his thoughts on moving beyond the bye week and looking ahead to the Badgers. November 12, 2012





Two-Minute Drill: Meyer Talks Wisconsin on B1G Teleconference November 13, 2012 Source: The Ozone - Here's a rundown of what else Meyer had to say during his appearance on the Big Ten Football Teleconference Tuesday afternoon...




No. 6 Ohio State at Wisconsin Game Notes Source: OSU Official Site - Buckeyes claim Leaders Division outright with win; Badgers already in the B1G title game

Coach Urban Meyer's teams are 32-2 when having more than one week to prepare for an opponent (includes season-openers, after "off" weeks, and bowl games) and his teams have won 11 consecutive games with more than a week to prepare.

The game matches the Big Ten's No. 2 (Ohio State) and No. 4 (Wisconsin) rushing offenses against the Big Ten's top two rush defenses (Wisconsin is first at 103.4 yards per game with Ohio State second at 107.9).

The two-time defending Big Ten champion Badgers are 5-1 at Camp Randall Stadium this season.

Since 1999 on the playing fi eld, Ohio State holds a 6-to-5 edge in wins. And there have been some unexpected, and surprising, results in those last 11 meetings when one considers…

• Wisconsin held a 42:47 to 17:13 possession time advantage and outgained Ohio State, 368-184, in 2009, yet lost, 31-13, as Ohio State got 21 points from its defense and special teams.

• Ohio State snapped Wisconsin's 16-game home unbeaten streak with a 20-17 win in 2008.

• Wisconsin led in the third quarter of the 2007 game at Ohio Stadium, but Ohio State scored 28 consecutive points to win, 38-17.

• Wisconsin snapped a national-best, 19-game winning streak by Ohio State with a 17-10 win at Camp Randall in 2003.

• Unranked Wisconsin game back from a 17-0 deficit in 1999 at Ohio Stadium to record its largest margin of victory in the series – 25 points – with a 42-17 win.

• Wisconsin also came back from a 17-0 deficit at Ohio Stadium in 2001 to win, 20-17...


| | | | | |
| --- | --- | --- | --- | --- |
| Ohio State Buckeyes | | | | Wisconsin Badgers |
National
Rank
Actual
Category
National
Rank
Actual
8
256.10
Rushing Offense
17
218.80
98
189.20
Passing Offense
108
166.80
35
445.30
Total Offense
78
385.60
12
39.90
Scoring Offense
58
29.50
16
107.90
Rushing Defense
13
103.40
28
116.33
Pass Efficiency Defense
26
116.11
39
367.60
Total Defense
15
309.60
41
23.90
Scoring Defense
12
17.20
94
35.34
Net Punting
43
37.96
54
9.05
Punt Returns
36
10.20
75
20.68
Kickoff Returns
87
19.60
59
.00
Turnover Margin
46
.30
97
259.70
Pass Defense
34
206.20
48
138.31
Passing Efficiency
52
137.28
47
2.20
Sacks
53
2.00
93
4.80
Tackles For Loss
71
5.40
84
2.30
Sacks Allowed
70
2.005



Urban Meyer said senior linebacker Etienne Sabino should start at Wisconsin on Saturday after missing four games with a broken bone in his leg. That sticks with the return that was originally projected and reiterated last week.

Backup freshman running back Bri'onte Dunn is out this week because of a sprained knee ligament, but Meyer said he could be back for Michigan. Freshman Armani Reeves is expected back after missing several games. He was a key part of the Buckeyes' kickoff coverage and Meyer was excited for his return.

Meyer said that defensive lineman Michael Bennett is banged up still but could play. Called it a "tough year" for the Pickerington native.

Source: Cleveland Plain Dealer & BuckeyeGrove.com



Game Game Data: Game Data: Ohio State at Wisconsin
November 15, 2012 Source: Bucknuts - Braxton Miller became the first OSU quarterback to ever rush for 1,000 yards in a single-season in the win over Penn State. He joins Michigan's Denard Robinson and Indiana's Antwann Randle-El is the only ones to ever do it in the Big Ten.

The Buckeyes have had 27 70-yard drives this season – 18 more than the nine they had all last season.

OSU is 39 of 44 this season on scoring chances in the red zone. That includes 35 touchdowns and four field goals.

Wisconsin has won 10 straight home games in the month of November, dating back to 2005. Wisconsin is 10-0 under Bielema at Camp Randall in November and has scored at least 35 points in nine of those 10 games.

When Ohio State Has The Ball: It will be strength-on-strength with Ohio State's running game (second in the Big Ten, 256.1 ypg) going against Wisconsin's stingy run defense (first in Big Ten, 103.4 ypg). OSU rolled up 330 yards rushing in its last outing against Illinois. QB Braxton Miller and RB Carlos Hyde are both a threat to go over 100 yards in any game the Buckeyes play.

But Wisconsin, led by LBs Chris Borland and Mike Taylor has done a good job in keeping ground gains to a minimum. They have only allowed five rushing touchdowns all season. OSU must establish the run, however, to be successful.

Miller had one of his best days passing against Illinois, completing 12 of 20 passes for 226 yards and two touchdowns. Miller's top receivers, Devin Smith and Philly Brown, have been quiet in recent weeks, though, with a combined 10 catches in the last three games. This would be a good game to get them going again. Wisconsin is seventh in the Big Ten in pass defense (206.2 ypg)...





College Football Expert Picks - Straight Up - Week 12:


Dennis
Dodd

Bruce
Feldman

Tom
Fornelli

Jerry
Hinnen

Matt
Hinton

Chip
Patterson

Prediction
Machine


Against the spread, which is Wisc -3.5, Dennis Dodd & Chip Patterson pick Wisconsin.





No. 6 Ohio State (10-0) at Wisconsin (7-3)
November 14, 2012 Source: SI.com - College Football Pickoff: Week 12

The Badgers' normally powerful rushing offense has been boom or bust all season, in part because Wisconsin has lacked a legitimate passing threat. New quarterback Curt Phillips attempted just seven passes in last week's rout of Indiana. That won't fly against the Buckeyes' 24th-ranked rushing defense (3.5 yards per carry), which can load the box to stop Monteé Ball.

Ohio State 21 Wisconsin 16...




Week 11 - Ohio State at Wisconsin
November 14, 2012 Source: CollegeFootballNews.com - Why Ohio State Might Win: Playtime is over for the Badgers. Yeah, they're going to the Big Ten championship, and yeah, their three losses came by three points each and could've all gone either way, but they only played three really strong teams – Oregon State, Nebraska and Michigan State – and lost all three games. The record has been built up by beating Purdue, Illinois, Indiana, UTEP and other dregs; now it's time to face a strong, active run defense.

The Badger line isn't going to shove around Johnathan Hankins and John Simon up front like it did to Indiana, and there aren't going to be the big holes to fly through. Against the Hoosiers and Boilermakers and Gophers, Montee Ball and the other backs were able to get to the second level in a hurry and come up with big gains after big gains, but the Buckeyes, while they're not going to get into the backfield, will do a great job of plugging the holes. Wisconsin needs time to let the holes develop, and that's not going to happen.

Why Wisconsin Might Win: The Badgers are No. 1 in the Big Ten against the run. Le'Veon Bell and Michigan State finished with 61 rushing yards in the win, and in the last three games UW has failed to allow 100 yards on the ground and hasn't given up a touchdown. Even Nebraska, who tore off 259 yards, helped by a big day from Taylor Martinez, only ran for one score. Wisconsin's problems come against smart, quick-hitting passing games that involve the backs in matchup mismatches, and while Ohio State can throw a little bit, the passing attack usually works when Braxton Miller makes things happen on the move. The Buckeyes are efficient through the air, and they'll connect on at least one home run, but they need to run to win.

Defensively, Ohio State doesn't give up huge plays through the air on a regular basis, but it does give up yards. Indiana was able to mount a comeback with 352 passing yards and three scores, and Penn State threw without a problem rolling up 327 yards and two touchdowns. OSU has allowed 200 passing yards or more in every game except for last week's layup against Illinois, which means the spotlight will now be on …

What To Watch Out For: … the Wisconsin passing game. The Badgers aren't going to be able to hide Curt Phillips this week. Phillips took over for an injured Joel Stave and an ineffective Danny O'Brien to complete 4-of-7 passes for 41 yards and a touchdown against Indiana, but he also ran for 68 yards. Montee Ball, James White and the running attack set a school-record with 564 yards and seven scores, but this week, Phillips will have to connect on a few downfield plays and loosen things up a bit so Ryan Shazier and the OSU linebackers don't tee off. Shazier came up with 14 stops against Illinois last week and Zach Boren made eight tackles.

What Will Happen: Wisconsin will come up with its strongest performance of the year – considering the competition – but the rested Buckeyes will still come through with a tough win. Miller's speed will overcome the experience of the strong Badger linebacking corps that might not have star Chris Borland at 100% after suffering an apparent hamstring injury against the Hoosiers. It will be yet another close loss in a big game against OSU.

CFN Prediction: Ohio State 23 … Wisconsin 20...


Mark Schlabach looks to end his losing streak by going to the Big Ten where an undefeated team is the underdog on the road in Wisconsin.



Illinois at Ohio State Preview
November 15, 2012 Source: The Ozone - This game features the top two running teams in the Big Ten Conference. During league play, the Badgers are second in rushing, averaging 269.3 yards on the ground per game.

The Buckeye defense, meanwhile, is tops in rushing defense during conference play, holding opponents to just 101.5 yards per game, and a league-best 3.2 yards per carry.

With quarterback Curt Phillips making his second career start, expect the ball to stay on the ground whenever possible.

Tailback Montee Ball is averaging 144.3 yards rushing per game in Big Ten play, which is far and away the best in the conference. However, Michigan State held Ball to just 46 yards on 22 carries.

Ohio State gets linebacker Etienne Sabino back from injury this week and it doesn't come a moment too soon. This will be the first week with linebackers Ryan Shazier, Zach Boren and Sabino all on the field together.

The Buckeyes will play man-to-man on the outside with the receivers, which will allow the safeties to help out against Wisconsin running game.

While Ball gets most of the notoriety, he will not be the only Badger carrying the ball. James White has rushed for 647 yards this season, and Melvin Gordon has added 346 yards rushing as well.

Now with Phillips at quarterback, the Buckeyes will also have to watch for him running the ball. He will run the read option, and is a threat to keep the ball.

Along with the Badgers' normal threats running the ball, they will also bring a receiver in motion and either fake the jet sweep or hand it off. You can expect this to happen numerous times throughout the game.

Urban Meyer has talked all week about his defense remaining gap sound because of the variety of different looks that the Badgers will run the ball out of. If they stay disciplined, they've shown the ability to stop a running game that doesn't have a complementary passing game. Right now, that describes this Wisconsin offense...




Week 12: We predict all six Big Ten games
November 14, 2012 Source: BTN - Ohio State (10-0, 6-0) at Wisconsin (7-3, 4-2) – 3:30 p.m. ET, ABC/ESPN2

Tom Dienhart's pick: Ohio State, 29-24 – The Buckeyes' march to perfection continues with a big win in Madison. Too much Braxton Miller and too much Carlos Hyde. Badger quarterback Curt Phillips will struggle to pass, while the Wisconsin o-line won't be able to handle the Buckeye defensive front.

Brent Yarina's pick: Ohio State, 27-21 – Wisconsin's underrated defense vs. Braxton Miller is one of the better headlines of Week 12. Regardless of whether the Badgers can keep Miller from a big day, their offense is too one-dimensional to beat a team the caliber of Ohio State.





No. 6 Ohio State Buckeyes at Wisconsin Badgers: Preview, prediction, TV info
November 14, 2012 Source: CBSSports.com - Shining stars: Ohio State -- QB Braxton Miller and Carlos Hyde are as tough a rushing duo as any in the conference. They've each rushed for 13 touchdowns (tied for second in the conference) and combined for more than 1,900 rushing yards in 10 games. Hyde's punishing, down-hill style wears down defensive lines. Miller, who even in short-yardage situations, is elusive enough to shirk oncoming tacklers. Wisconsin allows just more than 100 rushing yards per game, best in the Big Ten, but it struggled to contain Nebraska's Taylor Martinez, the lone scrambling quarterback the Badgers have faced this year. Wisconsin -- Montee Ball and James White are equally as formidable a combination as Miller and Hyde, but because they rarely play at the same time, they can't divide a defense's attention like Ohio State's pair. In recent weeks, Ball has been a different running back, topping 166 yards three times in his past four games. He's been running "angry," as Bielema described him against Indiana last weekend, routinely engaging contact instead of speeding past it. His three longest runs of the season -- 67, 44, 49 -- have come in the past four games.

Who could steal the show: Ohio State -- LB Etienne Sabino has been out the past six weeks after breaking his leg Oct. 6 against Nebraska, but he has practiced during Ohio State's bye and should return Saturday. Sabino had 38 tackles, two sacks and an interception before the injury. Wisconsin typically doesn't mind that defenses stuff the box in anticipation of a heavy ground game, and Sabino, along with Zach Boren and Ryan Shazier, will be crucial in limiting its effectiveness. His return is "Huge for us," DE and captain John Simon said. "The leadership he brings for us on and off the field is tremendous." Wisconsin -- The forgotten man in Wisconsin's ground attack is WR Jared Abbrederis. Even though he has five touchdowns and is third in the Big Ten with 689 receiving yards, defenses typically give him single coverage while trying to neutralize the rushing attack. Buckeyes CB Bradley Roby, one of the best corners in the country, will likely draw the assignment. Abbrederis could benefit on play actions but fifth-year QB Curt Phillips, who'll be making his second career start, may be hesitant to air it out after just four completions for 41 yards last week vs. Indiana...

Magic number for Ohio State: 32. Urban Meyer's teams have won 32 of their past 34 games when given more than a week to prepare for an opponent. The Buckeyes' last game came two weeks ago against Illinois...

The game comes down to: Whichever defense can limit the other's rushing attack. Holding an opponents ground game starts at the line of scrimmage, so whichever defensive front is more physical should win.

Eye on College Football's take: Phillips didn't have to do much other than hand off to lead Wisconsin to a win against Indiana. Against this Ohio State team, though, he'll have to prove he can pass the ball, too. --Tom Fornelli

Prediction: Ohio State 27, Wisconsin 24...



November 16, 2012 Source: Columbus Dispatch


Cover Story: Johnathan Hankins; He's big on football; massive DT has a passion for, and is a student of, the game
OSU Spotlight: RB Carlos Hyde
On the edge: Ohio State vs. Wisconsin; Who has the edge
MEET A BUCKEYE: Zach Domicone
Teams' fates are settled, but win would mean a lot
Recruiting: New Jersey link
Play of the week: Wide-gap power & more...







Madison Weather Forecast


Bret Bielema press conference transcript

Montee Ball press conference transcript



MATCHUP Head to Head: Ohio State (10-0) at Wisconsin (7-3) Source: Milwaukee Journal Sentinel





Borland could be limited against Ohio State
November 14, 2012 Source: Milwaukee Journal Sentinel - After Wisconsin middle linebacker Chris Borland appeared to suffer a leg injury late in last week's game against Indiana, UW coach Bret Bielema explained that the junior was cramping.

But, according to a source Borland suffered a strained right hamstring that could limit him Saturday when UW hosts Big Ten Conference rival Ohio State, unbeaten and ranked No. 6 by The Associated Press.

Borland, who was walking without a limp after the 62-14 victory, leads UW in sacks (4 1/2) and is second on the team in tackles (82) and tackles for loss (nine). Marcus Trotter took over after Borland left the game. The redshirt sophomore has three tackles.

Although Borland might not be fully healthy, he has a history of playing through injuries and likely will try to play because UW (7-3, 4-2 Big Ten) must defeat Ohio State (10-0, 6-0) and Penn State (6-4, 4-2) to have a chance to win a share of the Leaders Division title.

Bielema made it clear Monday that he did not plan to hold players out to save them for the Big Ten title game Dec. 1...




Game 9 Notes: Illinois at #6 Ohio State
Source: Wisconsin Official Site - Senior RB Montee Ball needs one touchdown to match the NCAA career record of 78 set by Miami (Ohio) RB Travis Prentice. Ball has scored 13 TDs in his last six games. Two TDs by Ball would make UW the home of the NCAA's all-time leading rusher (1999 Heisman Trophy winner Ron Dayne) and its all-time leading touchdown scorer.

Wisconsin is riding a nine-game winning streak in the month of November. In those nine games, the Badgers have outscored their opponents 474-152....

The Badgers have won 17 Big Ten games since the start of the 2010 season, the most of any league school. Ohio State ranks No. 2 with 16 conference wins in that span.

UWs defense has forced opponents to go three-and-out on 44.1 percent of their drives this season, the second-best rate of any FBS defense. Over its past two games, UW has forced opponents to go three-and-out on a combined 12 of 24 drives...