35-23


OSU PSU Game Highlights



Five Things: Penn State
October 28, 2012 Source: Eleven Warriors - One to Grow On?

As usual, Braxton put up another gaudy stat line last night with 277 total yards – 73% of the team total – highlighted by 134 on the ground despite -25 yards on four sacks amidst a tough night throwing the football...

what impressed me the most about Braxton last night was his leadership.

Often a reserved guy on the sidelines, it seemed to me Braxton went out of his way to demonstrate more leadership in a tough environment. He was consistently in the ear of teammates in between possessions and even when he was staging his tribute to Bauserman in the 1st half, he had the same stoic look on his face as he did when he was breaking Lion ankles in the 3rd quarter...

Bullish on the Bullets

Despite the known trouble spots that we discuss week in and week out, the Buckeye defense continues to show a knack for making plays when it counts and controlling the line of scrimmage against the more physical teams.

Last night, the Buckeyes put their focus on stopping the run and did exactly that, holding Penn State to 32 net yards rushing on 28 carries, or 1.1 yards per rush. The stats are helped by four Buckeye sacks for -37 yards but even if you throw those out, the Bullets held PSU to 69 yards on 24 carries, or 2.9 yards per carry.

Along with five stops from Johnathan Hankins, former fullback Zach Boren and Ryan Shazier were spectacular in run support, among others...

Legacy Night
Big wins on the road typically see contributions from unexpected sources.

Last night, a couple key contributions came from Buckeye legacies Evan Spencer and Adam Griffin...

Stabilizing Force
An already struggling linebacker corps was thrown for a loop following the win over Nebraska when it was learned senior captain Etienne Sabino would be out 3-4 weeks with a broken fibula.

Sensing a need to do something drastic, Urban moved fullback Zach Boren to linebacker and the decision has paid off in spades.

That's not to say the position group has become world beaters because they are still a patchwork lot, but there's no question Urban's bold move has helped solidify the middle of Ohio State's defense.

For Boren's part, he's proven to be a solid run stopper, often knifing through traffic to bring down a ball carrier...

Between the Tackles
While the offense is clearly only going to go as far as Braxton takes it, there's no question Carlos Hyde is having a solid season doing dirty work between the tackles.

Hyde is providing inside runs that free up Braxton outside

It was tough sledding last night but Hyde did help take some hits off Braxton as he carried it 22 times for 55 yards and a touchdown.

Through nine games, that gives him an even 600 yards rushing on 126 carries, good for 4.8 yards a pop, with 10 rushing touchdowns. I think most of us would've gladly signed up for that to this point, especially when you look back on his strong efforts in key games like Nebraska (28/140, 4TD), @Indiana (22/156, TD) and the OT win over Purdue (19/91, 2TD)...



Urban Meyer points to the camera during TV Intro before OSU PSU game




10 Things We Learned from the Buckeyes' Win vs. Penn State
October 28, 2012 Source: The Ozone - It was supposed to be Bill O'Brien's last big stand.

Penn State had won five in a row coming into the game Saturday and the Nittany Lions were looking to stave off their execution with a program-building win over the Buckeyes in State College.

O'Brien filled Beaver Stadium with all kinds of prospects, but in the end, Ohio State came away victorious in a game that was tied at the half. Here's a look at the 10 Things We Learned from another big win for OSU in Nittanyville.

1. Delusion is a hell of a drug.
It's amazing what kind of potion can be created when delusion is mixed with blind loyalty. We got a whiff of that toxin on Saturday in Happy Valley, where apparently the memory of one man is still more important than the lives of countless others. From the moment we arrived on Penn State's campus, we saw fans impersonating Joe Paterno and others who were dressed up to look like the Paterno statue which was removed from outside the stadium.

Some fans wore 'I Heart JoePA' shirts outside the stadium, and inside, where Paterno let Jerry Sandusky cart around his Second Mile kids like a predator with its prey on the open plains, there were countless signs supporting the late Penn State coach. One said '408 Forever,' while another said "Thank You JoePA." One sign even lauded the idea Penn State was a better place because of Paterno, which seems to blissfully ignore all the irreparable damage that was done by his inaction.

2. Braxton Miller is one of the most exciting players you'll ever see.
Miller is one of those rare players where you actually hold your breath waiting for something magical to happen. Even when things aren't going his way, you always feel like he's just one big play away from bursting open the flood gates. That was certainly the case Saturday against Penn State. Just when it looks like the Nittany Lions might have him figured out – the same way they figured out Troy Smith in 2005 or Terrelle Pryor in 2008 – Miller broke loose for 33 yards. That was all the spark he needed, and it seems like every week now he does something we swear we will never see again, like his electrifying 1-yard touchdown run in the third quarter. Enjoy it, folks, because you may not see another one like him.

3. Miller still has a long way to go as a passer.
As good as Miller is with his legs right now, and he's as good as there is in college football, Ohio State's sophomore QB still has a long ways to go with his arm. All the God-given tools are there, but Miller has yet to put it all together as a passer. He missed on a couple of big ones Saturday and almost made two costly decisions that could have put the Buckeyes in a 14-0 hole early. His passing numbers were bolstered by the 72-yard pass to Jake Stoneburner – which was a perfect throw by Braxton – but he also left a bunch of yards on the field with misfires. Eventually, I think he will get that corrected, but it probably won't be until his junior season.

4. Urban Meyer already one step ahead of the Big Ten.
Who's going to be the first to beat Urban Meyer? So far, Mark Dantonio, Bo Pelini, Kevin Wilson, Danny Hope and Bill O'Brien have all tried and failed. Next week it's Tim Beckman and then Bret Bielema and Brady Hoke will each get a shot at Meyer and the Buckeyes in November. This is not going to be Urban's best team at Ohio State. Probably far from it. If these guys can't get to him now, in his first season at OSU, they could be in for a rude awakening over the next 5-7 years.

5. Jake Stoneburner has big boy wheels.
Who knew Stoneburner could motor like that? I guess it depends who you ask. To some, it looked like Stoneburner was moving in slow motion as he raced down the field for his 72-yard touchdown catch Saturday. To others, however, it looked like Stoneburner was moving at a pretty good pace for a guy used to be a tight end. Either way, he outran the defense and made it into the end zone, which is all that really matters.

6. Rod Smith and Carlos Hyde could be a dangerous 1-2 punch.
If only Smith could prove he can hold on to the football. He didn't have a fumble against Penn State Saturday, but he was really close to a bad one. The Buckeyes were down 7-0 on the blocked punt when the ball came loose from Smith's grasp. He was ruled down before the fumble, but it still had to make Meyer and Tom Herman second-guess Smith's reliability. He rewarded their faith with a key 28-yard run later in the game, but it was Hyde who ground out the tough yards against the Nittany Lions.

7. Luke Fickell and the staff put together the right gameplan.
Give some credit to Fickell and his staff for putting together an aggressive gameplan this week. Part of that was the fact it's a lot easier to be aggressive when you can make a team one-dimensional like Ohio State did Saturday. The Buckeyes allowed just 34 yards on the ground, which put the game squarely on the shoulders of senior quarterback Matta McGloin. With the pressure bearing down on him – both John Simon and Nathan Williams had tremendous days – McGloin made the costliest error of the game on his pass to the flat that was intercepted for a touchdown by OSU LB Ryan Shazier.

8. Shazier has a bright, bright future.
It's easy to criticize the flaws in Shazier's game – mainly that he doesn't always play with great leverage and tends to overrun plays on the perimeter – but it's important to remember this kid is only 19 years old. He's already the best linebacker this team has, easily, and while that might not say much, his play the last two weeks certainly has. The guy flies around like a missile out there, and when he remembers to break down and chop his feet, maintaining leverage on the outside, Shazier is a tackling machine. He always seems to be around the football and manages to come up with big plays when the defense needs them, and he's just getting started. Look out, Big Ten.

9. Michael Bennett is starting to look like himself.
Speaking of someone getting started, Bennett finally looked like the guy we all remember from the end of his freshman season a year ago. After playing a little bit here and there the last few games, Bennett was inserted into the starting lineup at defensive tackle Saturday against Penn State, and he played what had to be the best game of his OSU career. The decision to move Bennett inside allowed him to be incredibly active and it really helped to create opportunities for Simon, Williams and Noah Spence on the outside. Bennett is a guy who can really make plays when he's healthy, which it looks like he is finally getting there after battling through the groin injury for so long.

10. Punt team has major issues.
Meyer said the punt team was exposed a little bit in this game, and he's beyond 100 percent correct. Something just isn't right. It doesn't matter what Meyer tries, something always seems to go wrong. It looked like Zach Boren made another mistake in punt protection this week, as he took the outside guy and allowed Mike Hull to come right up the middle unblocked. It also looked like Ben Buchanan took an extra step at the end, but it's really tough to blame this one on the punter. Something is wrong with the blocking scheme right now and Meyer has got to get it figured out before it finally costs them a game.




Urban Meyer Talks discusses his team's 35-23 win over Penn State with ESPN


Urban Meyer Postgame



Research Notes: Braxton Miller ran for 134 yards against Penn State, his 6th game over 130 rushing yards this season. That ties for the most by an FBS quarterback in a single-season since 2004. The last QB with 6 games of 130 yards rushing in a single season won the Heisman Trophy (Cam Newton).

Source: ESPN







Snap Reactions:1. Ohio State imposed its will in the trenches to slowly take over the game. The Buckeye defensive line played especially well. And Braxton Miller bounced back from a neck injury to run 25 times for 134 yards and two scores and pass for 143 yards and a touchdown, as Ohio State remained unbeaten.

2. Give credit to an often maligned Buckeye defense that entered the game No. 9 in the Big Ten (393.4 ypg). The unit played well vs. Penn State, slowing down the running game and getting after Matt McGloin and allowing 359 yards. The defense needed an effort like this as Ohio State comes to the home stretch with games left vs. Wisconsin and Michigan.

Source: BTN






Braxton Miller's 1 yard TD run vs Penn State October 27 2012



Quick Hits: Ohio State 35 Penn State 23
October 27, 2012 Source: Eye on College Football - OHIO STATE WON: Though neither team is eligible for the postseason, there wasn't much doubt amongst Big Ten fans that Ohio State and Penn State were the two best teams in the conference before Saturday night's matchup in State College. And on Saturday night Ohio State proved that it's the conference's best.

The Buckeyes got off to a very slow start, trailing 7-0 until finally getting on the board with 34 seconds remaining in the first half to send both teams to the locker room tied 7-7. But the Buckeyes and Braxton Miller would take the game over in the second half.

WHY OHIO STATE WON: The Buckeyes won for pretty much the same reason they've won every one of their games this season. They have a quarterback named Braxton Miller and he is quite good at this football stuff. Miller finished the day with 277 total yards and 3 total touchdowns.

The Ohio State defense deserves some love too, however, as the Buckeyes made Penn State a one-dimensional offense, holding the Nittany Lions to 32 yards rushing on 28 carries.

WHEN OHIO STATE WON: After a Penn State touchdown cut Ohio State's lead to 28-16 with 10 minutes left Braxton Miller found Jake Stoneburner for a 72-yard touchdown to ice it. Penn State would score again, but it wouldn't matter.

WHAT OHIO STATE WON: The Buckeyes are clearly the best team in the Big Ten now, and an undefeated season is still in the cards. Which is the only thing Ohio State really has to play for other than pride.

WHAT PENN STATE LOST: I think the theme of this season for Penn State is that it has nothing to lose. So while the Nittany Lions would have loved to have beaten Ohio State on Saturday night, and the loss surely stings, Penn State's no worse for wear...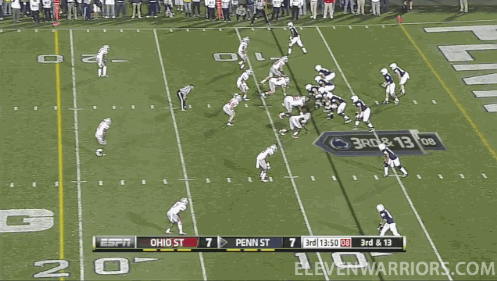 Q3|13:49 Ryan Shazier adds his name to the long list of Buckeyes to have victimized a Penn State quarterback with a pick six when he takes a Matt McGloin pass back 17 yards to put the Buckeyes up 14-7 early in the 3rd quarter. Source: Eleven Warriors- The Penn State Win in GIFs



Shazier's Big Night

* Meyer said Shazier was out of control early in the year...best two games the last two weeks.

* Asked about Shazier's pick-6 to start the second half, Stoneburner immediately said, "Game over."

* Stoneburner said Shazier's touchdown sparked their offense and they knew they could finish out the game and the D would do their part.

* Shazier said he played with a heavy heart tonight. His friend died over the summer, but he wanted to honor him.

* Shazier said his friend never got to play football because of Muscular Dystrophy, but he was always out there with them in spirit. Felt him tonight.

* Shazier said it felt so good to cross the goal line with the ball because he had dropped a bunch of picks this year. Source: The Ozone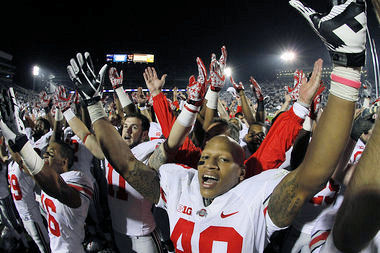 Ryan Shazier's big play joins Ohio State defensive lore vs. Penn State
October 27, 2012 Source: Cleveland Plain Dealer - Ohio State didn't make history against Penn State on Saturday night, the Buckeyes just built on their history with the Nittany Lions in a 35-23 win. For the eighth time in the last 11 games between these teams, the Buckeyes returned an interception for a touchdown.

In the last decade or so, Ohio State defenders have been some of the favorite targets of Penn State quarterbacks. Ryan Shazier added his name to the list with a game-changer in Beaver Stadium that flipped the momentum of a game that hung in the balance.

After sacking Penn State quarterback Matt McGloin on the second play of the third quarter, Shazier drifted in the middle of the field and intercepted McGloin and returned it 17 yards for a touchdown.

"The offense ran the play just how we practiced it and I got the sack," Shazier said. "And on third down, I didn't have any work on my side, so I worked back toward the middle and he threw it right to the curl and I took it to the house. It felt amazing, almost like a dream, because I dropped so many picks this year."

That gave the Buckeyes a lead at 14-7 that they never gave up and silenced the crowd of 107,818.

"At that point in the game, it was unbelievable," defensive coordinator Luke Fickell said. "We needed momentum and you can never account for those kind of things. Those are the things that just break the back of the other team."

It won't be forgotten. "Remember that Shazier pick in 2012?" will be added to the pick-six talk in this series that isn't going away. The list is impressive. Reminded of them, Fickell was saying, "oh yeah" and starting to list some himself.

2010: Cornerbacks Travis Howard and Devon Torrence both had fourth-quarter touchdown returns in a 38-14 win.

2007: Cornerback Malcolm Jenkins returned his interception in the fourth quarter of a 37-17 win.

2006: Cornerbacks Jenkins and Antonio Smith both had fourth-quarter scores in a 28-6 win.

2004: Cornerback Tyler Everett had a first-quarter interception return in a 21-10 win.

2002: Cornerback Chris Gamble intercepts Zach Mills and returns it for the game-changing score in a 13-7 win...

When Shazier's return goes into the highlight compilation of pick-sixes, his play may look a bit strange, not because of what he did but because of what he wore. The sophomore switched his number for the game, trading his usual No. 10 for No. 48. Shazier did it to honor his friend and former high school football team manager at Plantation High School in Florida. Gary Curtis suffered from muscular dystrophy and died earlier this year.

"I was thinking about him the whole game," Shazier said. "I knew I had his number on and I felt like he was playing through me and he had my back." ...




CFN Analysis: Ohio State Blows By Penn State
October 27, 2012 Source: CollegeFootballNews.com - Ironically it was the much verbally steamrolled Ohio State defense that really won the game. So much has been made of their tackling issues, so much of their lack of discipline, but when the offense sputtered against a deft game plan as Braxton Miller felt himself through his first really scary collegiate injury, the D allowed only seven in the first half and one upped their own excellence when Ryan Shazier took a pick to the house that broke the tie...




10 Things We Learned from the Buckeyes' Win vs. Penn State
October 27, 2012 Source: The Bleacher Report - 1. Penn State fans are loud.
It's safe to say most college football fans already knew this, but Saturday night's game proved that the NCAA sanctions that crippled this Penn State program haven't silenced its fans.

During the first half, it felt like part two of the 2005 Ohio State-Penn State game. That crowd was off the charts and really made things tough for the Buckeyes early.

2. Braxton Miller can silence a crowd.
Facing a seven-point deficit and a crowd that other Ohio State quarterbacks have failed to silence, Braxton Miller needed to make something happen to swing the momentum.

Like so many times before, Miller responded in a big way.

After gaining just 70 yards their first six drives of the game, Miller put together a 12-play, 75-yard touchdown drive right before the half ended to tie the game at seven.

After a Penn State field goal cut the Buckeyes' lead to four later in the second half, Miller put the game out of reach by orchestrating consecutive touchdown drives of 57, 85 and 92 yards.

By the end of the game, the small pocket of Ohio State fans in attendance were louder than the folks dressed in white.

3. Miller's injury didn't linger.
The sophomore quarterback looked hesitant in the first quarter, ignoring his usual running lanes on roll outs in favor of throwing wildly inaccurate passes.

But on Ohio State's late touchdown drive in the second quarter, Miller ripped off a 33-yard run that set the Buckeyes up inside Penn State's 10-yard line. From then on out, Miller looked like his old self running the ball, with the sole exception of a funky-looking slide at the end of some of his carries.

Miller finished the game with 277 total yards and three touchdowns (two rushing, one passing), and it was clear that the whiplash injury he suffered last week didn't effect his play against Penn State.

4. The offense executed the zone-read play better than it has all season against Penn State.
The base running play in Meyer's spread offense requires Braxton Miller to read a defensive end's movement and decide whether to keep the ball or hand it off to his running back.

Through the first half of the season, Miller struggled making the correct read at times. There was improvement in that area in recent weeks, but against Penn State, Miller was nearly flawless running the zone-read play.

Especially in the second half, Penn State defenders whiffed in almost comical fashion on some of Ohio State's zone-read plays. The best example—which can be seen at the 36-second mark in the video here—came when Braxton Miller pulled the ball from Hyde at the last second, made a defender miss, then dove over the line into the end zone.

5. Ryan Shazier is a bad dude.
Shazier shared the team lead with seven tackles against Penn State, but it was his ability to make huge plays in pivotal positions that deserves special mention.

Coming out of halftime tied at seven, Penn State was inside their own 20 after a bobbled kick return. Needing to set the tone, Shazier sacked Penn State quarterback Matt McGloin for a nine-yard loss to set up 3rd-and-long.

On the very next play, Shazier dropped back in coverage and picked McGloin off. The sophomore linebacker then darted 17 yards into the end zone for a touchdown, giving Ohio State a lead it would never lose.

The Buckeyes might be hurting at the linebacker position, but Shazier has been solid all year long.

6. Zach Boren is proving to be a serviceable linebacker.
As mentioned earlier, Shazier shared the team lead with seven tackles against the Nittany Lions.

Who, you ask, did he share that lead with?

Zach Boren, the converted fullback, also notched seven tackles Saturday night. This performance came just two weeks after leading the Buckeyes with eight stops against Indiana.

With how well Boren is starting to play on this side of the ball, you have to start asking yourself why it took so long for him to make the move.

7. The defense has improved drastically over the last two weeks.
Part of the credit does go to Boren, who has really helped Ohio State fill its biggest hole in the defense.

With the play of the linebackers improving, the coaching staff has done a fantastic job tightening up the Buckeyes' tackling issue.

At the beginning of the year, it didn't look like Ohio State could get anyone on the ground. Against Purdue and Penn State, the Buckeyes haven't missed many tackles and the unit isn't hemorrhaging points like it was earlier this season.

Aside from the opening play of the Purdue game, the Buckeyes haven't allowed many big plays. The defense was just as responsible for last week's come-from-behind victory over the Boilermakers as Guiton, and this week, the defense held Penn State's offense to just one field goal before two garbage-time touchdowns.

8. Jake Stoneburner is alive.
People were starting to worry about the senior receiver, but Stoneburner appeared against Penn State after weeks of mediocre play.

During the four games preceding this one, Stoneburner had just five catches for 58 yards. That lack of production is shocking when you recall Urban Meyer saying he and Jordan Hall were the only real playmakers on offense outside of Braxton during the offseason.

Against Penn State, Braxton threw a dart to Stoneburner, who ran a perfect post route that put him behind the Nittany Lions defense. Stonebuner outran every defender on his way to a career-long, 72-yard touchdown catch.

9. The specials teams will be hit or miss the rest of the year.
Ohio State's special teams have been up and down all year. Against Penn State, there wasn't an "up" to balance out the "down" that seems to be a weekly occurrence for this team.

Buried deep in their own territory in a scoreless game, the Buckeyes were forced to punt after Penn State's defense forced a three-and-out. Cameron Williams missed badly on a block and the Nittany Lions broke free to block Ben Buchanan's punt, which was recovered by Penn State in the end zone for a touchdown.

Plays like that usually lead to a loss, but Ohio State has dodged bullet after bullet this year. A lack of healthy bodies is really hurting the Buckeyes special teams unit, and until the team heals (which won't happen until the offseason), this group will struggle.

10. Ohio State is, without a doubt, the best team in the Big Ten.
There weren't too many people out there who thought otherwise, but Ohio State's victory over Penn State pretty much ends the debate. It wasn't just the 12-point victory, but rather the fact that the three other contenders—Penn State, Michigan and Wisconsin—all lost on Saturday.

The Buckeyes will ultimately have a chance to eliminate all these questions over the next four weeks. Ohio State will host Illinois next week, then finish the season against Wisconsin and Michigan after their much-needed bye week.




Miller to Stoneburner 72 yards for a TD

Jake Stoneburner speaks with the media postgame



Buckeyes Remain Undefeated, Down Penn State 35-23
October 27, 2012 Source: OSU Official Site - Braxton Miller was his usual self, running for 134 yards and accounting for three touchdowns a week after getting knocked out of a game, leading No. 9 Ohio State to a 35-23 victory against Penn State on Saturday.

Ryan Shazier returned an interception 17 yards for a score early in the third quarter that gave the Buckeyes (9-0, 5-0 Big Ten) the lead for good, and the Nittany Lions (5-3, 3-1) and coach Bill O'Brien had their five-game winning streak snapped in a matchup of the Big Ten's bowl-banned perennial powers.

Miller missed the fourth quarter against Purdue after a hard tackle sent him to the hospital with a case of whiplash. He declared himself good to go by the midweek.

Was he ever. The Heisman campaign can resume.

The sophomore quarterback reached 100 yards rushing for the sixth time this season, carrying 25 times, and only avoiding contact when it was convenient. He also passed for 143 yards.

Matt McGloin and the Nittany Lions had turned an 0-2 start into a reason for Nittany Lions fans to get excited about football again.

It felt like a big game in Happy Valley, something many thought wouldn't happen this year after Penn State was hit with crippling NCAA sanctions for the Jerry Sandusky child sexual abuse scandal.

But the Nittany Lions weren't quite ready to step up in competition.

Miller's second 1-yard touchdown run in the final 3:40 of the third quarter put Ohio State up 28-10.

McGloin and Penn State then rolled to an 18-play touchdown drive that he finished with a 2-yard pass to Matt Lehman to make it 28-16 with 9:49 left in the fourth quarter. The 2-point conversion try was stopped.

McGloin finished 27 for 45 for a career-high 327 yards.

With plenty of time to pull off a comeback, the Penn State crowd roared and waved pom-poms as Ohio State started its next drive backed up to its 8.

A couple of tough runs by Miller got the Buckeyes off the goal line. Then on third-and-3 from the 28, Miller hit Jake Stoneburner in stride over the middle, and the wide receiver was gone. The 72-yard touchdown made it 35-16.

The Nittany Lions added one more touchdown, almost as a thank you to all of the fans - and there were plenty in the crowd of 107,818 - who stayed to the end.

Ohio State's season of what-could-have-been rolls on, back home to play Illinois next week. After that the Buckeyes take a week off, and then finish the season at Wisconsin and home for Michigan.

The Buckeyes could have been thinking Big Ten championship, even BCS title.

But Ohio State's decision not to impose a bowl ban last season, when the Buckeyes went 6-6 and lost in the Gator Bowl, before the NCAA weighed in on the tattoo-for-memorabilia scandal, led to Urban Meyer's first team in Columbus, Ohio, being left out of the postseason.

The Big Ten will give the Buckeyes a trophy if they win the Leaders Division, a race which they have firmly under control.

Other than that, all Ohio State can do is win'em all and hope for the best when the final AP poll of the season comes out in January. Though an idle December would make it easier for Miller to get to the Heisman Trophy ceremony on Dec. 8

He added to his highlight reel with his first touchdown run.

Miller pulled the ball back just as teammate Carlos Hyde was engulfed by Penn State's Sean Stanley, did a two-step - one forward and jump back - to allude a defender, and then dived past another into the end zone. Officially, the play covered a yard, and it made the score 21-10 Ohio State with 3:30 left in the third quarter.

Before that, two of the better offenses in the Big Ten traded punts for most of the first half.

Penn State finally turned one of those punts into points.

Mike Hull cut through the Ohio State protection and blocked Ben Buchanan's punt a couple of yards away from the goal line. Hull tried to grab the ball that bounced on onto his chest as he lay on the ground, instead knocking it into the end zone where Michael Yancich recovered for a 7-0 lead with 6:15 left in the half.

Penn State forced another punt, but a holding penalty on the Nittany Lions converted the fourth down for Ohio State and Miller took advantage. His 33-yard keeper got the Buckeyes a first-and-goal at the 6. Three runs by Hyde made it 7-7 with 34 seconds left in the half.









Star of the game: Ohio State quarterback Braxton Miller finished what he started this time. He had his record sixth 100-yard rushing game and scored two touchdowns, one on a 1-yard keeper in which he juked one defender in the backfield and another in a midair leap to the end zone.

Turning point: Linebacker Ryan Shazier's interception returned for a touchdown early in the second half. It gave the Buckeyes their first lead.

Repercussion: After the great escape a week ago against Purdue, a beatdown of Penn State should reopen some eyes. The No. 9 Buckeyes are 9-0 and likely headed up in the Associated Press poll today as the best team in the Big Ten, in solid possession of the Leaders Division lead.

One-liner: New name for Penn State's suddenly toothless crowd? "White Noise."

Ohio State's defense held Penn State to 36 rushing yards and 23 points. Penn State's offense came into the game averaging 28.6 points per game.

Ryan Shazier recorded his first `Pick 6' of his career, a 17-yard INT return on PSU's first drive of the third quarter.

Shazier's pick-six touchdown was OSU's eighth in its last 11 games against Penn State.

OSU is 33 of 37 this season on scoring chances in the red zone. That includes 30 touchdowns and three field goals.

The Buckeyes have had 27 70-yard drives this season – 18 more than the nine they had all last season. In this game, the Buckeyes had touchdown drives of 75, 85 and 92 yards.

Bradley Roby is headed towards an All-American nod and eventually the NFL. The dude had an unbelievable game, largely shutting down PSU WR Allen Robinson in the 2nd half, particularly on an amazing pass break-up in the endzone. Just listen to former Buckeye Malcolm Jenkins: @MalcolmJenkins My boy @BradRoby_1 is building a lil island out there. Roby Island !!! Those wr's gotta wash off all that sand after this game lol

Ohio State moves into sole possession of the Big Ten lead in the Leaders Division at 5-0.

Braxton Miller became the third different Big Ten QB and the first OSU QB to rush for 1,000 yards in a season. IU's Antwaan Randle El & UMs Denard Robinson (2x) are the other two.

Both of Braxton Miller's 1-yard touchdown runs in the third quarter were his 11th and 12th of the season, respectively, moving him into a tie for second place on the Ohio State single-season rushing touchdown list by a quarterback with Cornelius Greene who rushed for 12 in 1973.

They said it:

"Simon says, 'No.'" — McDonough on Simon stopping Penn State's two-point conversion attempt.

As heard in the crowd: "Adrian, Adrian." — Penn State fan as Ohio State was pummeling the Nittany Lions' defense

"Their front seven was tremendous," said McGloin, who was sacked three times. "They applied pressure all night."

Numbers for dummies

8: Interceptions for touchdowns in the past 11 Ohio State-Penn State games

1st: Team coached by Urban Meyer to produce a 1,000-yard rusher. Miller has 1,093.

Just wondering: When has there been an Ohio State team so reliant on so few? Not to say the Buckeyes lack talent, but remove just two players — Miller and Roby — and this team might be 4-5 instead of 9-0.

Tweethearts:

@jwelle16: PSU = Pick Six University

@Matt44G: 107,000 in like lions, out like lambs #silenceofthefans

Sources: OSU Official Site, ESPN, Columbus Dispatch, Cleveland Plain Dealer, Bucknuts.com, Eleven Warriors


ESPN Buckeye Nations's Brian Bennett and Austin Ward discuss Ohio State's win at Penn State



The Bottom Line
October 28, 2012 Source: Columbus Dispatch - Offense (3 leaves): A Braxton Miller-led passing game is the weekend hack golfer whose litany of splayed shots is offset by the occasional pure drive or approach shot. Fore, fore, fore — and then six. So OSU still doesn't click through the air with any consistency, but its running game sure purrs like a brand-new Beemer.

Defense (3 leaves): No one is calling off the Worry Squad, but at least the Nation won't dither away another week freaking out about getting gashed and cracking pizza-delivery jokes. Purdue's first play went down like a sauerkraut shake, but the Buckeyes hung in and stayed just healthy enough to control OT.

Special teams (2 leaves): Freak show? More like a recurring horror show for OSU's punt unit. That makes three Ben Buchanan shots that didn't get off, and the second to produce a score for the opponent. Even bad high-school teams don't give up three in a year. At least this week OSU didn't get burned on a fake punt.

Coaching (4 leaves): Passing problems, punt blocks, penalties — pshaw! The Buckeyes faced a truly hostile environment for the first time and artfully maintained their poise. And here's a new one this season: Kudos to the defensive bosses for turning up the heat in Matt McGloin's kitchen.

Opponent (3 leaves): Nothing wrong with what coach Bill O'Brien is doing in Happy Valley, which is essentially making lemonade with his remaining lemons. McGloin is no Tom Brady, natch, but the NASCAR passing game moves the ball, even if the running game is behind the wall. There's no quit in Nittany, and that's a win.

Officiating (3 leaves): The parade of flags included 16 enforced penalties and a few declined. The crowd howled about a Rod Smith fumble that clearly wasn't and a mystery holding call on an OSU punt that gave the Buckeyes a key first down, but that was about it. Nothing new: A couple of late-hit calls seemed iffy...




Penn State Football - Bill O'Brien Postgame Remarks vs. Ohio State






@ PSU

Oct 27, 2012 5:30PM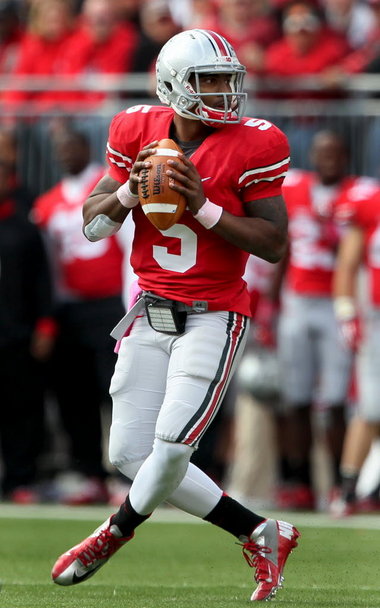 OSU needs to keep Miller at QB: Key to the Game
October 26, 2012 Source: Cleveland Plain Dealer - Keep Braxton Miller in the game: Not to rain on the parade, but Kenny Guiton isn't Braxton Miller.

The backup quarterback deserves all the credit in the world for leading the Ohio State comeback last week. His greatest attribute was that he stayed calm, which might be the most difficult thing for any college backup to do. Guiton wasn't overwhelmed. But if he has to play a significant amount at Penn State, the Buckeyes are in trouble.

I think Miller is fine to start the game. It seems that the greatest effect from his neck injury might be his reaction to another big hit.

Miller has left four straight games with what before last week were minor injuries. If he takes another blow to the head or neck against the Nittany Lions, will he be able to bounce back?

Without having to fear Miller in the run game, the entire defensive plan would change for Penn State. Carlos Hyde and the passing game would become the focus, because Guiton offers very little run threat. Coach Urban Meyer actually laughed at a question about his backup's legs.

"Let Kenny run it? Nah," Meyer said. "I love Kenny. Nope."

Before his late-drive heroics, Guiton handed off six times as the Buckeyes gained 19 yards. And he was 2 of 5 for 11 yards, with an interception, and ran once on a play in which a block in the end zone led to a safety.

Is Guiton cool? Yes. Does he know the offense? Yes. Is he smart? Yes. Is he trusted by his coaches and teammates? Yes. Is he a dynamic offensive threat? No.

Could the Buckeyes win at Penn State if he has to play a lot? Ohio State would rather not find out.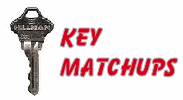 Ohio State Key Matchups October 24, 2012 Source: The Morning Journal -

OSU's offensive line vs. Penn State linebacker Michael Mauti:
Somebody wanna block this guy? If Ohio State has any hope of moving the ball consistently, Mauti is the guy to account for. He leads the Nittany Lions in tackles (65), has 31/2 tackles for loss, 21/2 sacks and three interceptions. He does it all. Ohio State needs to occupy him.

OSU receiver Devin Smith vs. Penn State cornerback Stephon Morris:
Smith had only two catches against Purdue. If the Buckeyes can get a matchup with the 6-foot-1 Smith on the 5-8 Morris, they need to recognize it and capitalize on it. Morris is feisty and among the Nittany Lions' better defenders, though.

OSU cornerbacks Travis Howard and Bradley Roby vs. Penn State quarterback Matt McGloin:
McGloin has been (surprisingly?) efficient this year, completing 63 percent of his passes for 1,788 yards with 14 touchdowns against only two interceptions. Ohio State was pretty solid last week against the pass, aside from one big play. This matchup is a biggie.

Ohio State's slow starts vs. Penn State's good starts:
Ohio State has a penchant for starting slowly and has been outscored, 56-51, in the first quarter this season. The Buckeyes have trailed after one quarter in four of eight games so far. Conversely, Penn State hasn't been scored on in the first quarter this season. OSU can't afford a horrific start at raucous Beaver Stadium, or it could be over early.




Ohio State at Penn State
Why you should watch:
This contest will have no bearing on the Leaders Division race, since each program is on probation. But it still will be a fun matchup to watch, as both are among the hottest teams in the Big Ten and among the best overall. This could be the first of many big games between first-year coaches Urban Meyer and Bill O'Brien.

Player on the spot:
The Penn State running backs. Zach Zwinak, Bill Belton … whomever. The Nittany Lions passing game is among the league's best, ranking No. 2 in the Big Ten (257.1 ypg). But Penn State needs to establish a ground game, which has at times been problematic. The Nittany Lions are just No. 9 in the league in rushing (149.3 ypg). Michigan's run defense is No. 7 (143.0 ypg).

Key matchup:
Ohio State QB Braxton Miller vs. Penn State front seven. Miller left last week's game vs. Purdue in the third quarter with an undisclosed injury. But he's been cleared and is apparently good to go. We shall see. Miller will need to be on his game, as Penn State has the No. 4 defense in the Big Ten (322.7 ypg), ranking No. 2 vs. the run (113.0 ypg) and No. 2 in scoring defense (15.7 ppg).

Key number:
79.0, plays per game for Penn State, which leads the Big Ten. The Nittany Lions "NASCAR" offense sets a fast pace.

Key note:
Penn State is among 17 teams in the country with an active winning streak of five games or more, while the Buckeyes are one of 11 undefeated teams and the nation's only 8-0 team. Source: BTN





Five key factors for OSU victory
October 26, 2012 Source: Columbus Dispatch -

Help Miller
Even if Braxton Miller believes he's 100 percent, it's tempting fate to expose him to injury risk any more than absolutely necessary. That means others must handle more of the load: The offensive line must control the line of scrimmage, running back Carlos Hyde must get chunks of yardage and the receivers must get open and catch the ball.

Quick start
Yes, this is a recurring theme, but it takes on added importance this week. Penn State has outscored opponents 66-0 in the first quarter this season, and Ohio State has been outscored by five points in the first 15 minutes. Falling behind in Beaver Stadium against a team that's treating this as its bowl game would present a huge hurdle. But take the 106,000-plus crowd out of the game, and the Buckeyes have the talent to prevail.

Win special teams
This should be an edge for the Buckeyes because Penn State has struggled in the kicking game: Their net punting is last among 120 schools with only a 30.2 average, and Sam Ficken's troubles as a field-goal kicker have been well-documented. Ohio State's special teams, meanwhile, have been hit-and-miss. The Buckeyes have blocked two punts, but also have had two blocked. Last week, they gave up a kickoff return for a score.

Pressure McGloin
Penn State's running game is mediocre, putting the onus on quarterback Matt McGloin, who has had a superb year. But the Nittany Lions haven't faced a pass rush as potentially imposing as Ohio State's. McGloin, who is invariably described as having "moxie," isn't particularly fast, so the Buckeyes should be able to chase him down. But he has been efficient; OSU must take him out of his comfort zone.

Win turnover battle
Ohio State has stayed undefeated despite committing three turnovers against Michigan State and four last week. Penn State has committed only seven turnovers this season, and has forced 15. The Nittany Lions are too solid defensively and the Buckeyes too inconsistent offensively to count on overcoming a deficit in turnover differential.



"We're 8-0, but we're working for every yard and every win. I've had teams, absolutely, that I've had to — I don't want to say the words 'break down' because that's kind of too harsh — but where you worry about overconfidence. That's not an issue with us right now." - Buckeyes HC Urban Meyer

Junior quarterback Kenny Guiton, junior wide receiver Chris Fields and senior defensive back Travis Howard recap the comeback win against Purdue and preview Penn State



KEY MATCHUP: Penn State QB Matt McGloin vs. Ohio State's secondary. McGloin has developed into one of the best passers in the Big Ten, a testament to O'Brien's system and coaching. McGloin is second in the Big Ten in yards passing (1,788) and touchdown passes (14). The Ohio State defense has given up lots of big plays, but cornerbacks Travis Howard and Bradley Roby have talent and have combined for five interceptions.

Source: AP






Ohio State players talk Penn State



Five predictions for Ohio State-Penn State
October 26, 2012 Source: BuckeyeSports.com - 1) Freshman tight end Kyle Carter will have a huge effect for the Nittany Lions. For those of you who don't know him, better start learning about him. With the depleted linebacking corps, Ohio State will have little to no options for covering the big guy. They can't use a linebacker on him - Ohio State's linebackers are not very good in pass coverage. Exhibit A, Storm Klein's debacle against Akeem Shavers last week. A safety is more likely, and Carter is going to break a safety's tackles more often than not. The best option to cover him, if they choose to do so, is to bracket him with a linebacker underneath and safety over the top. However, Matt McGloin has proven so far this year that he can finally find the open man if his other options are covered. Carter presents a matchup problem, and will either have a big game himself or open up opportunities for other receivers to make plays.

2) More sacks. Ohio State's defense has had some trouble rushing the passer, but Matt McGloin is a more traditional drop-back guy who has a little bit of trouble avoiding a strong pass rush. I think this game is set up for some splash plays by Big Hank, John Simon and the rest of the crew along the defensive front. Penn State has a good offensive line, but nothing like the players they've had in the past. There is nobody like A.Q. Shipley, Levi Brown or Stefen Wisnewski this year I fully expect Ohio State to have at least three sacks this week.

3) Braxton Miller will be a little bit skittish until he takes a hit. Then he'll be fine. Miller looked like he suffered from whiplash last week on that scary tackle, and despite what he says about being "good to go" I think he'll have a few issues throwing the ball, and taking off on a run might worry him a little. I don't expect him to get settled in until he takes a shot. At that point he'll know where his body stands and he will begin to realize if the injury is limiting him or not. That will help him get a little bit more comfortable. I think we'll see some early game jitters and then see Braxton settle down later on.

4) The spread will not be covered. I expect this to be another close one. Penn State has really shown up in Big Ten play so far, although their best win is probably against Northwestern at home. They have reeled off five straight wins and are playing with the confidence the streak would bring any team. This is by far their biggest test yet this season, and I think both the Nittany Lions and Buckeyes are ready for the challenge. A lot of folks see a close game, and I agree with them.

5) Big plays from the Buckeye receivers. As much of a question mark as they were coming in to the season, Devin Smith and Corey Brown have been quite good this year. Brown has been excellent as a possession receiver and coming out of the backfield, while Devin Smith (despite some bad drops) has made some big plays. I expect these two to have big games as Penn State loads the box to stop the Buckeye rushing attack. I think Brown and Smith can win some 1v1 battles against a middling Penn State secondary that hasn't really been tested by elite wideouts.

I'd be glad to hear any predictions from you guys, and your thoughts on mine. I think, despite many predictions to the contrary, that Ohio State wins by a field goal.





5 Questions: Ohio State at Penn State
October 24, 2012 Source: BuckeyeSports.com - 1. Can Ohio State get off to a quick start? This has been a problem for the Buckeyes all season, and it could be a bigger issue this week given the opponent. Ohio State has been outscored 56-51 overall in the first quarter while the Nittany Lions enjoy a 66-0 advantage in The Opening 15 minutes. Starting quickly this week could also help quiet what can be a raucous Beaver Stadium crowd...

2. Who wins the turnover battle?
This is often a pivotal part of a game, but this week in particular it could play a big role in determining the outcome.

The Lions lead the Big Ten in turnover margin and are tied for 12th in the nation in giveaways with seven. Key to that stat is the play of quarterback Matt McGloin, who has thrown only two interceptions this season despite leading the Big Ten in pass attempts. He was turnover-prone earlier in his career, including a loss at Ohio State in which he threw a pair of picks that were returned for touchdowns and a five-interception game against a Florida team coached by Urban Meyer. Both of those games came two years ago, however.

Ohio State has not protected the ball as well, having lost it nearly twice as many (13) times on the year. That hasn't bitten the Buckeyes in the win-loss column yet, but it could this weekend...

3. Can the Ohio State cornerbacks contain Allen Robinson?
Bradley Roby likes to pump up teammate Travis Howard by telling him they are the top two cornerbacks in the Big Ten, and they will get a good chance to prove it this week with Robinson. Robinson leads the Big Ten in catches per game (6.7) and is second in yards per game (80.4) after playing sparingly under the previous coaching staff...

4. How effective will Braxton Miller be?
The Buckeyes' star sophomore quarterback has answered the bell in previous big games, and they will need him to again this week...While he continues to develop consistency as a passer, Miller could be the most dangerous runner in the Big Ten. However, he has looked tentative to run at times, perhaps preferring to do damage with his arm. Striking a proper balance is key to the effectiveness of the Ohio State offense, but he has often proven the catalyst when the Buckeyes have it in gear.

5. Will Penn State try to scheme up the Buckeyes?
Nittany Lions head coach Bill O'Brien comes to Happy Valley from the NFL, where game-planning for specific players is more common than in college. It is not hard to imagine him trying to take advantages in any weaknesses he might perceive in the Ohio State defense, such as a banged up linebacker corps. O'Brien has multiple talented tight ends at his disposal, including Kyle Carter (29 catches for 364 yards) and Matt Lehman (13 catches for 163 yards), if he wants to attack the Buckeyes with the inside passing game...


CineSport's Brian Clark sits down with The Plain Dealer's Doug Lesmerises and The Patriot-News' David Jones to get the keys to both sides of the Ohio State vs. Penn State game.



Keys for Buckeyes to Beat Penn State in Happy Valley
October 24, 2012 Source: The Bleacher Report - Braxton Miller Must Start
Considering the circumstances, Guiton looked fine last week against Purdue. As the game wore on, he slowly became more comfortable in the offense, which was not a small feat considering the stakes.

Nonetheless, even the best possible performance from Guiton pales in comparison to what Miller brings to the offense. It's not just his gaudy statistics, but also the threat he imposes on the defense and the insanely higher confidence level the team plays with when he's under center.

This isn't the timid Penn State team that lost to Ohio and Virginia in the first two weeks of the season.

Without Miller, the Buckeyes chance of victory decreases almost infinitely.

Create Turnovers From Matt McGloin
Perhaps the most shocking part of the Lions' hot run this season has been the brilliance of quarterback Matt McGloin.

After being much-maligned in State College for his ineffectiveness as a sophomore and junior, head coach Bill O'Brien has worked wonders for McGloin in 2012.

Employing an offense mostly predicated on short and intermediate passes, the senior signal-caller is completing over 60 percent of his passes for the first time in his career and has 14 touchdowns against just two interceptions.

Nonetheless, there are still exploitable weaknesses in McGloin's game. His lack of zip on the ball sometimes leaves ducks floating on out-routes to the sideline and he still struggles with decision-making when under pressure.

Stop Bill Belton and Zach Zwinak The easiest way to get pressure on a quarterback is by forcing the offense into obvious passing downs.

To do that, the Buckeyes will have to stop the two hulking Lions running backs, who have been sensational as of late. Using their power to grind teams into a halt, Penn State has been able to set up countless short third-down plays for the offense.

Finding a way to run blitz on early downs and stopping Belton and Zwinak will be necessary to avoid similar situations on Saturday.

While the Buckeyes have struggled in run defense for much of the 2012 season, it has mostly been against the big play. Neither Zwinak nor Belton are guys who can reel off 75-yard touchdown runs at the drop of a hat...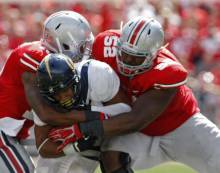 Defense a house of pain: Buckeyes' linebacking corps has been especially hard hit
October 26, 2012 Source:Columbus Dispatch - Coach Urban Meyer has made no secret that, heading into the ninth game of the season Saturday at Penn State, Ohio State's defense is "running on fumes."

The players see it, too.

"I feel like right now it's just a grind. It's the last four games of the season," defensive tackle Johnathan Hankins said. "Some guys are tired. So I feel like we're going to have to grind it out, work hard in practice so it will be easier in the games. We've got a tough one ahead of us Saturday, and I feel like we're working to it."Every defensive starter, including Hankins, has missed playing time in recent weeks. Hankins sat out the last play in overtime against Purdue on Saturday because of a blow to the head while making a tackle. Safety C.J. Barnett, cornerback Bradley Roby, defensive end Nathan Williams, and linebackers Storm Klein and Etienne Sabino have spent at least one game on the bench.

"It's week nine in the season, so I don't think anybody in America is (100 percent)," Barnett said. "I think everybody is pretty beat up."

"There's a lot of guys just banged up," said safety Christian Bryant, who sat out several days of practice recently just so he would be ready for the games. "Everybody's probably playing at about 90 percent right now."

Barnett added, "That's why you have about 100 people on the team. When guys go down, you've got to have people to replace them."

It's no bottomless well, though...




No. 9 Ohio State Travels To Penn State Source: OSU Official Site - Buckeyes, off to their best start since 2007, look to improve to 9-0 Saturday at Beaver Stadium

While neither team will play in the Big Ten championship game, both are eligible to win the Leaders Division.

The Buckeyes are 5-5 vs. Penn State in games played in State College and have won two consecutive and three of the last four there. Ohio State holds a slim, 8-7, lead in victories in games played in Columbus, including an 8-6 record vs. Penn State in Ohio Stadium. Penn State won the only game played on a neutral field: at the 1980 Fiesta Bowl in Tempe, Ariz.

For the fifth time this season and the seventh time in his 10 career starts, sophomore Ryan Shazier led the Buckeyes in tackles with 12 vs. Purdue, including 1.5 TFLs and a pass break-up. Right behind was senior leader John Simon with a season-high nine tackles (one off his career high). Johnathan Hankins and Christian Bryant had eight tackles apiece and C.J. Barnettintercepted a pass in the end zone...


| | | | | |
| --- | --- | --- | --- | --- |
| Ohio State Buckeyes | | | | Penn State Nittany Lions |
National
Rank
Actual
Category
National
Rank
Actual
10
249.63
Rushing Offense
77
149.29
101
189.00
Passing Offense
45
257.14
40
438.63
Total Offense
59
406.43
21
39.00
Scoring Offense
62
28.57
30
121.63
Rushing Defense
21
113.00
42
119.07
Pass Efficiency Defense
36
116.21
63
398.38
Total Defense
22
322.71
50
24.25
Scoring Defense
13
15.71
71
36.49
Net Punting
120
30.09
54
9.18
Punt Returns
91
5.59
68
20.90
Kickoff Returns
100
18.53
52
.13
Turnover Margin
14
1.14
105
271.75
Pass Defense
38
209.71
52
136.76
Passing Efficiency
60
133.83
53
2.00
Sacks
31
2.57
109
4.50
Tackles For Loss
84
5.14
65
1.88
Sacks Allowed
24
1.14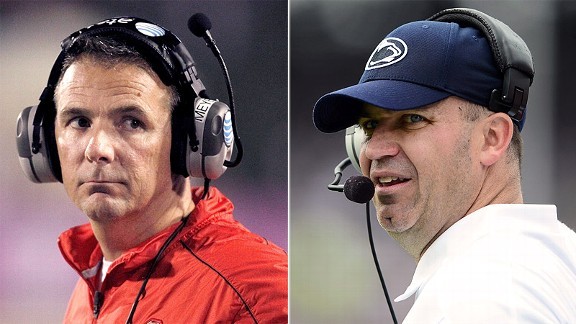 O'Brien, Meyer are right fits at right time
October 23, 2012 Source: ESPN - Well, this much we know is true: Both Penn State and Ohio State ended up with the right coaches at the right time.

Just try to name two better offseason coaching hires than Meyer and Bill O'Brien. They enter Saturday's game in State College, Pa., as two of the leading candidates for national coach of the year awards, and not even NCAA probation has slowed them down in their first year on the job.

Both schools got it right by going away from tradition.

Meyer was a no-brainer hire, an Ohio native with a pair of BCS championships and an undefeated season at Utah under his belt. Yet his arrival meant a departure from Ohio State's traditionally conservative style of play on offense, made famous by Woody Hayes and, more recently, Jim Tressel. Unlike the buttoned-down, senatorial Tressel, Meyer is a rock-star coach who's not afraid to give very blunt assessments of his team and players in the media...

Penn State's success was built on the loyalty of one man, Paterno. For decades, Nittany Lions fans speculated on who would succeed JoePa, often zeroing in on former assistants. Instead, in part because of the Jerry Sandusky scandal, the school hired a guy in O'Brien with no previous ties to Penn State.

The choice was a bold one in that O'Brien had never been a head coach at any level. He'd gone largely unnoticed as an offensive coordinator at Georgia Tech and Duke before deciding to work his way up the New England Patriots ladder. Yes, he'd gained attention as the Patriots' quarterbacks coach and eventually the play-caller for one of the NFL's best offenses. But former Patriots assistants haven't always worked out in their new gigs, and the last ex-New England offensive coordinator to land a major-college head-coaching job is known more for his spectacular failures than his early achievements.

O'Brien also had to deal with unprecedented NCAA sanctions handed down this summer...




* Meyer doesn't expect Sabino to "make the bell this week." Boren will stay on D.
* Meyer said Philly Brown got dinged a little bit but he's hearing he's fine and will be.
* Meyer said they have a "call to arms" with all the piranhas being out.
* Meyer said freshman DB De'van Bogard is out for the year with a torn ACL.
* LB Storm Klein is playing through a bulging disc in his back, but they need him right now.
* Meyer said DB Christian Bryant didn't practice one time last week because of an injury the week before. Still a little banged up, but he'll play.
* Second time this week Meyer has mentioned RB Carlos Hyde is a little banged up. Might be a new injury.

The Ozone


October 26, 2012 Source: Columbus Dispatch


Cover Story: Natural-born tackler; Playing linebacker has always come naturally for Zach Boren, whose father played the same position
OSU Spotlight: QB Braxton Miller
On the edge: Ohio State vs. Penn State; Who has the edge
MEET A BUCKEYE: Corey Brown
Success at Penn State catches OSU by surprise
Recruiting: Sprinkle brings pack of sacks to OSU
Play of the week: Shotgun bunch, wide right screen & more...





Game Data: Purdue at Ohio State
October 14, 2012 Source: Bucknuts - Three Penn State players are from Ohio.

Senior running back Michael Zordich helped Youngstown Mooney High School to the 2006 Division IV State Championship. Zordich and OSU's John Simon were teammates together at Mooney.

Two other Nittany Lions hail from Ohio, as junior OL Nate Cadogan went to Portsmouth High School and freshman OL Anthony Stanko went to Howland High School in Warren.

* Four Buckeyes are from Pennsylvania. They include DB Corey "Pittsburgh" Brown (Monroeville Gateway), WR Corey "Philly" Brown (Springfield O'Hara), RB Jordan Hall (Jeannette) and DE Noah Spence (Harrisburg McDevitt).

When Ohio State Has The Ball: It should be strength on strength as the Ohio State offense goes up against the Penn State defense. OSU's offense is second in the Big Ten in scoring (39.0 ppg) and third in total offense (438.6 ypg). PSU's defense is second in the Big Ten in scoring (15.7 ppg) and fourth in yards allowed (322.7 ypg).

QB Braxton Miller was knocked out of the Purdue game with a sore neck. He and Urban Meyer say he is fine and ready to go. He better be because Penn State boasts not one but two Butkus Award semifinalists at linebacker in Michael Mauti and Gerald Hodges. They don't let a whole lot get by them.

OSU's offense has been rolling pretty well, though. If Miller can pinpoint Philly Brown and/or Devin Smith for some big pass plays early (and PSU is just middle-of-the-road against the pass), it may help open up some running lanes for himself and RB Carlos Hyde. The Nittany Lions are second in the Big Ten in sacks at nearly three a game, so the OSU offensive line will need to be on its toes.

* When Penn State Has The Ball: Bill O'Brien has installed an up-tempo spread offense. And, after some early season hiccups in the losses to Ohio and Virginia, Penn State has picked up on it nicely. QB Matt McGloin is the trigger man and he's really come on. He leads the Big Ten in passing yards per game (255.4 ypg) and has 14 touchdowns against just two interceptions...





College Football Expert Picks - Straight Up - Week 9:


Dennis
Dodd

Bruce
Feldman

Bryan
Fischer

Tom
Fornelli

Jerry
Hinnen

Matt
Hinton

Chip
Patterson

Prediction
Machine


Against the spread, which is OSU -2.5, only Bryan Fischer, Jerry Hinnen and Chip Patterson pick Ohio State.

Hinnen leads in correctly picking the games after 8 weeks with a 135-24-0 mark; Patterson & Fischer are 3rd & 4.



Can Penn State use its so-called 'NASCAR' offense against a solid Ohio State defense? How will the Nittany Lions defend Ohio State quarterback Braxton Miller? The Inquirer's Joe Juliano looks ahead to Saturday's game in a chat with Cinesport's Brian Clark.



Ohio State at Penn State Preview
October 26, 2012 Source: The Ozone - When Penn State Has The Ball

While not employing a spread offense, Penn State will certainly spread the ball around to a bevy of weapons. The Nittany Lions have run nearly 95 plays per game the last two weeks, and even though they are in a hurry between plays, they are very patient once the ball has been snapped.

Coming from the New England Patriots, head coach Bill O'Brien loves to use the tight ends in the passing game, and he has brought that with him to the Nittany Lions. In last week's 38-14 win over Iowa, the tight ends caught eleven passes.

All told, tight ends have caught over 50 passes and five touchdowns this year for Penn State.

Redshirt freshman Kyle Carter has 29 receptions for 364 yards and a touchdown. He is an athletic target who is a mismatch against linebackers, and a struggle for safeties. He can also run after the catch, and he will line up out wide as well. Whoever matches up against Carter for the Buckeyes will need to play their best pass defense game of the year.

Wide receiver Allen Robinson is the top target for the Nittany Lions. His 47 receptions (563 yards) leads the conference, as do his eight touchdown catches. When Penn State goes deep, it is usually Robinson on the receiving end.

Pulling the trigger for the Penn State offense is fifth-year senior Matt McGloin. McGloin is leading the Big Ten in passing, averaging 255.4 yards per game. He has thrown 14 touchdowns and just two interceptions.

When he is in the pocket, McGloin will generally look for the shorter targets, it is when he rolls out on bootlegs, however, that he tends to look downfield for his receivers...



Source: York Daily Record



Preview: Ohio State vs. Penn State
October 26, 2012 Source: Dayton Daily News - Stat pack: Penn State QB Matt McGloin 162-of-259 passing (62.5 percent), 1,788 yards, 14 TDs, 2 ints.; RB Zach Zwinak 369 yards, 4.4 avg., 3 TDs; RB Bill Belton 233 yards, 4.8 avg., 3 TDs.

OSU QB Braxton Miller 105-of-179 passing (58.7 percent), 1,384 yards, 11 TDs, 5 ints., 959 rushing yards, 6.8 avg., 10 TDs; RB Carlos Hyde 545 yards, 5.2 avg., 9 TDs; WR Philly Brown 44 catches, 447 yards, 1 TD; WR Devin Smith 23 catches, 505 yards, 6 TDs.

Worth noting: The Buckeyes blocked two kicks against Purdue, a field goal and an extra point, and both were critical in the overtime win. That's been a trademark of Urban Meyer-coached teams. In his 11 seasons, his squads have blocked 57 punts or kicks.

Pressure is on: Ohio State's offensive line. The unit is vastly improved from last year but didn't get its customary push against Purdue. Penn State has an imposing front seven, including the Big Ten defensive player of the week, defensive tackle Jordan Hill, and linebacker Michael Mauti, whom Meyer heavily recruited while at Florida.

Storyline: Braxton Miller is one of the most dynamic players in the nation, but the sophomore has been knocked out of the last four games after taking hard blows. He was able to return in the first three, but he wound up in the hospital last week.

Can the Buckeyes keep him upright for a full game against a rugged defense? They may have confidence in back-up Kenny Guiton, but he's probably more effective coming out of the bullpen in "save" situations than playing for long stretches.

Edge goes to: Ohio State. Barely. Penn State will have 100,000-plus fans creating a din that could drown out a heavy-metal band. And the Buckeyes have enough limitations were they could be vulnerable if the Nittany Lions avoid mistakes.

But the loss of 18 players for Penn State after the Jerry Sundusky scandal has to start to surface in the Big Ten. What the Nittany Lions have done so far is admirable, but they're probably be too lean to hold up against top competition.

Prediction: OSU 21, PSU 17





Purdue at Ohio State Preview
October 26, 2012 Source: Eleven Warriors - Ohio State's secondary is also better than any unit Penn State has gone against this season. McGloin has two interceptions in 255 attempts on the season. But he also hasn't gone against Bradley Roby. It's not just him, though. Travis Howard and the safeties also provide solid coverage for the Buckeyes. The thing that sticks out about them is their physicality.

The special teams play of the Buckeyes could also be a gamechanger. Ficken's miscues are well documented. But something that has flown under the radar is Ohio State's propensity to block kicks. Six have been deflected so far. It's an area of emphasis by Meyer, who has turned into the current generation's Frank Beamer when it comes to special teams.

Meyer says you win a game 90 percent of the time when you block a kick. In a close game on Saturday, a special teams miscue could loom much larger than a 50-yard touchdown pass...




No. 9 Ohio State (8-0, 4-0) at Penn State (5-2, 3-0 Big Ten)
October 24, 2012 Source: CBSSports.com - Shining stars: Ohio State -- QB Braxton Miller suffered a minor concussion in last week's overtime win over Purdue but is expected to start against the Nittany Lions. Miller has passed for 1,384 yards with 11 touchdowns and five interceptions. He's rushed for a team-high 959 yards with 19 touchdowns. Miller is one of the best open-field runners in the country, but if he can't go, junior Kenny Guiton should start in his place. Penn State -- QB Matt McGloin has emerged as the top drop-back passer in the league, completing 62.5 percent of his passes for 1,788 yards with 14 touchdowns against two interceptions. He also has five rushing scores and has thrown for two touchdowns against three interceptions in two career games against the Buckeyes.

Who could steal the show: Ohio State -- DB Bradley Roby might be the best defensive player in the league. Roby has 38 tackles, a sack, 14 passes defended, two interceptions, a fumble recovery and a blocked kick. He will get chances to make plays in space against the Nittany Lions. Penn State -- LB Michael Mauti continues to steal the show as he leads the team with 65 tackles, including 3.5 for loss and 2.5 sacks. He also is tied for second in the conference with three interceptions and is one of the top players at his position in the country.

Magic number for Ohio State: 6. Blocked kicks for the Buckeyes this season -- three extra points, two punts and a field goal.

Magic number for Penn State: 0. Points allowed by the Nittany Lions in the first quarter this season. Penn State has outscored opponents 66-0 in the first quarter and 100-23 in the first half.

The game comes down to: Can Penn State contain Miller? The sophomore is one of the most dynamic players in the country and averages 292 yards of offense per game. Mauti and fellow standout LB Gerald Hodges must contain Miller while also helping generate a pass rush. Penn State yielded 28 points against a similar offense in Northwestern and lost 24-14 to Ohio's spread attack in the season opener.

Prediction: Ohio State 34, Penn State 28...




Week 9 - Ohio State at Penn State
October 24, 2012 Source: CollegeFootballNews.com - Why Ohio State Might Win: The Buckeyes have an interesting way of taking each game on its own merits and playing up or down to the competition. It doesn't matter if it took a grinding performance in a physical battle with Michigan State, or a wild shootout against Nebraska, or a wee bit of a struggle with mediocre Indiana and UAB teams; Ohio State sort of plays the game and then turns it on when it needs to in crunch time – there's a proven track record of performing well when things get tight, evidenced by last week's miraculous comeback against Purdue. Penn State is 0-2 this season when it's had to come up with a big finish. The Northwestern game was a good battle, but between the Sam Ficken game in the loss to an awful Virginia team, or the defensive gag against an overranked Ohio, the Nittany Lions have yet to show they can win the tight ones.

For an Ohio State team that doesn't have the most consistent of offenses, field position matters. The Buckeye special teams haven't exactly been a prize, but the Penn State punting game has been miserable, ranking dead last in the nation averaging a pathetic 30.19 yards per kick.

Why Penn State Might Win: The Buckeye secondary could be picked apart. Even with NFL talent across the defensive front, the pass rush is spotty and there aren't enough big plays happening behind the line. Penn State quarterback Matt McGloin is getting terrific protection, and he's doing a great job on his reads and getting the ball out of his hands in a hurry. It's not like Ohio State has faced a slew of high-octane Big 12 passing teams, but it's still having major problems allowing 230 passing yards or more against everyone but Nebraska, partly because the Huskers spend most of its time running for 223 yards in the blowout loss. There might not be a slew of huge plays, but McGloin should be able to pick his way down the field.

Penn State isn't beating itself. There might have been two lost fumbles against Iowa, but the offense has turned it over just four times since the opener against Ohio when it gave it up three times. Meanwhile, the Buckeyes have given it up nine times in the last four games and have had problems with penalties. There were only four last week, but three times this season OSU has been nailed ten times or more, and it was flagged nine times against Nebraska.

What To Watch Out For: Can Braxton Miller really be Braxton Miller? He has been cleared after getting crushed in the Purdue game and knocked out with a concussion, but he's starting to take a big pounding and it seems like the blows are starting to add up. Solid last year in the loss to the Nittany Lions – rushing for 105 yards and a score while throwing for 83 yards and a touchdown – he can still make some noise in the Collin Klein Heisman Invitational with a big game and a win. However, it's not a sure thing that he'll play the whole game, and just in case, Kenny Guiton is being prepared to step in at a moment's notice.

When Miller takes off, he'll meet up several times with Michael Mauti, Penn State's leader and top tackler. One of the most vocal players during the offseason, he has brought his fire and anger to the field with a whale of a season making 45 tackles with two picks and 2.5 sacks. While he might not put up the huge numbers of other top linebackers, he's proving to be a heart-and-soul type of playmaker for a defense that has been terrific since the problems in the opener against Ohio.

What Will Happen: Penn State is playing better right now than a Buckeye team that seems to be living on borrowed time. Give the Buckeyes credit for making the plays they need to in their close wins, but the Penn State defense is too strong, and McGloin is playing too well. The crowd will be into the game with Urban Meyer and the Buckeyes raising the intensity level, and the team will come up with an inspired performance.

CFN Prediction: Penn State 31 … Ohio State 26...



State College Weather Forecast


Head coach Bill O'Brien previews Penn State's matchup against Ohio State with GoPSUsports.com's Tony Mancuso



4 Keys: The Penn State plan to knock off unbeaten Ohio State
October 26, 2012 Source: PennLive.com - The recipe for a win over Urban Meyer's Buckeyes? It's a four-step plan, beginning with

1. THE HARD WAY. Ohio State dual-threat QB Braxton Miller, one of the country's most dangerous players, figures to be sore after leaving the Purdue game with a neck injury. He will have some success. But the Lions' defense must be physical with Miller and make him earn most of his yards.

2. CLEAN IT UP. Penn State's special teams are the Lions' biggest liability. Name a unit and chances are it's made a big mistake at some point. Ohio State has generated big plays in the kicking game. One mistake by the Lions could prove fatal.

3. KEEP AWAY. There is another way Penn State can limit the damage done by Ohio State QB Braxton Miller. Hog the ball. Time of possession will be key.

4. FOLLOW THE LEADERS. Expect PSU OLBs Michael Mauti and Gerald Hodges to deliver their 'A' games against the potent Buckeyes. Can the rest of the Lions match their intensity?





Empathy for the Buckeyes? "Absolutely not," PSU QB Matt McGloin says
October 24, 2012 Source: themorningcall.com - "No, absolutely not. After what we've gone through, I don't feel bad for anybody or any program. That's it."...




Mike Mauti continues to speak his mind
October 24, 2012 Source: themorningcall.com - "LB Michael Mauti "We didn't do anything to help our program cheat. I'm not saying (OhioState) are cheaters...




Penn State spotlight: LB Michael Mauti
October 26, 2012 Source: OSU Official Site - Among those Penn State players who re-pledged their allegiance to the Nittany Lions this season, linebacker Michael Mauti stands out as the flag bearer. Mauti could have transferred out in the wake of the NCAA sanctions brought by the Jerry Sandusky scandal. Instead, he has been a major player during Penn State's five-game winning streak, which has them 3-0 in the Big Ten Leaders Division entering a showdown today against ninth-ranked Ohio State... Mauti was a force in a 35-7 victory over the Illini on Sept.29, grabbing two interceptions, forcing a fumble and making six tackles to earn Big Ten defensive player of the week award for the second time this season. There was more to it, however, than just the numbers. "He loves the game, he plays it very intense," Beckman said. "Of any of the games I've coached in the Big Ten this year, he's been the most intense player I've seen out there on the football field... "I recruited him hard at Florida," said Ohio State coach Urban Meyer, previously at Florida from 2005 to 2010. "Loved him as a high-school athlete."...




PSU Head Coach O'Brien Previews Ohio State
October 23, 2012 Source: PSU Official Site - Big Game Mindset

All 12 games on the schedule are equal when it comes to wins or losses. As Coach O'Brien says time and time again, Penn State approaches the season as 12 one-game seasons. But this week's matchup against No. 9 and unbeaten Ohio State is a notch above most weeks. Anticipation is always high for night games in Beaver Stadium, and with this season's lone home night game against an undefeated border rival it certainly adds to the atmosphere leading up to kickoff.

"Well, I think you're right, like you said, it's 12 one game seasons," said O'Brien. "And this is a big game. For me to sit up here and say it's not a big game, that's crazy. This is Ohio State, a great tradition, great players, great head coach, great coaching staff."

"But as far as playing football goes, this is a great college football game in what will be a great college football atmosphere against a team that has the same type of tradition and history as Penn State. So to me that's what college football is all about, the game itself."

Slowing Down Miller

Penn State has played its fair share of athletic, dual-threat quarterbacks in 2012, but Saturday will be the Lions' biggest challenge on defense. Ohio State signal-caller Braxton Miller is a quarterback with a running back's mentality. The sophomore has rushed for 959 yards and 10 touchdowns (119.9 ypg). Miller has also thrown for 1,384 yards and 11 touchdowns. Miller's athleticism will be a big challenge for the Nittany Lion defensive ends and linebackers on Saturday night...





No league title but lots else at stake for PSU vs. OSU
October 22, 2012 Source: PennLive.com - But the fact is, if Penn State can beat Ohio State, it will have ramifications far beyond this season. It will be yet another sign to recruits – the most emphatic yet – that the PSU staff is able to coach-up the mutts and motivate the stars and weave them all into a unit. A win over the unbeaten Buckeyes could be powerful stuff, an indicator to elite high school players that, even with depleted numbers over the next three years, they can hope to have ample support should they commit to Penn State.

More than ever before, recruiting now tends to be viral. The best players don't simply want to be well-coached. They want to play with their own strata of high-quality of athlete...




PSU OSU Game Notes
October 23, 2012 Source: PSU Official Site - Penn State has out-scored the opposition, 66-0, in the first quarter this season, and 100-23 in the first half. The Nittany Lions allowed just three, first half field goals in their first five games before Northwestern tallied a pair of touchdowns during the second quarter on Oct. 6. The Nittany Lions have put points on the scoreboard in the first quarter of all seven games, scoring a least one touchdown in the first quarter of their first five games...

LIONS SECOND IN BIG TEN IN SCORING DEFENSE: The Penn State defense has been stout, entering the eighth week of the season ranked second in the conference in scoring defense. The Nittany Lions are 13th nationally in scoring defense at 15.7 ppg and trail only Michigan State's 15.2ppg in the conference. A big reason for the limited points per game is their Red Zone defense. The Blue and White have allowed opponents to convert just 60 percent (12 of 20) of their red zone chances this season, which leads the Big Ten and is No. 6 nationally.

Penn State also leads the conference in turnover margin (+1.14), is second in time of possession (32:31) and sacks (19). They also allow the second fewest rushing yards and second fewest first downs per game in the Big Ten...