63-38


OSU NEB Highlights Source: ESPN


LB Ryan Shazier postgame with the media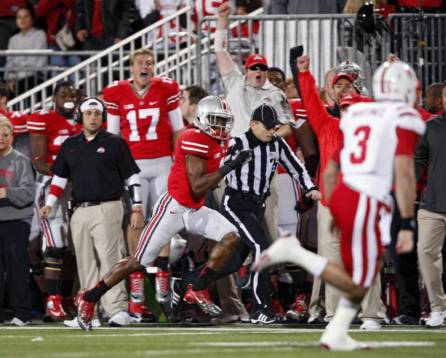 "We're trying to go 12-0, win every single game. We're trying to get that AP No. 1 and win a national championship. They can't take that away from us." - OSU CB Bradley Roby, who returned one of his two interceptions for a touchdown.



5 Answers: Nebraska at Ohio State
October 7, 2012 Source: BuckeyeSports.com - 1. Can Ohio State put together two good halves?
This seemed unlikely after 15 minutes, but the Buckeyes indeed bested Nebraska before and after intermission. The home team did not even gain a first down in the first quarter, but 28 points in the second more than made up for that. Ohio State finished the first half with 35 points (including a defensive touchdown in the first quarter) and 259 yards...

2. Will the Buckeyes be able to slow down the option?
Although the night overall belonged to Ohio State, the Cornhuskers certainly had their moments. They made some hay with their inverted veer option play, including a 73-yard run by I-back Rex Burkhead that set up a game-tying touchdown in the first quarter after Ohio State had drawn first blood with Bradley Roby's pick-six. Burkhead's run was actually defended well at the initial point of attack, but he was able to cut back and find a seam thanks in large part to great blocking on the backside...

3. Which quarterback will have a better passing day?
Martinez threw for 214 yards on 15 completions, including a touchdown, but his three interceptions proved costly. Roby returned the first for a 41-yard touchdown, and the Buckeyes later regained the lead with a 20-yard touchdown drive set up by another Roby interception.

"We saw a lot of opportunities to make big plays because he's a really good quarterback, but he loves to run the ball," OSU linebacker Ryan Shazier said. "His feet is his main weapon and his arm the secondary weapon, and we took advantage of it today. And we seen some things we could jump on and some kind of pass combination that we could take advantage of."

Miller was a pedestrian 7 for 14 passing for 127 yards with a touchdown, an 18-yarder to tight end Jeff Heuerman two plays after Roby's second pick. The Buckeyes' quarterback did more damage on the ground as he piled up an Ohio State quarterback record 186 yards on 16 carries. That included a 31-yard touchdown and another gallop of 72 yards.

4. Who will win the turnover battle?
This killed the Cornhuskers. The visitors lost the turnover battle 4-1 and were outscored 21-0 after said miscues...

5. What about the kicking game?
This was another major win for the Buckeyes as Corey "Philly" Brown was the man of the match. His 76-yard punt return for a touchdown might have been the knockout blow as it gave Ohio State a 49-31 lead with 5:50 to go in the third quarter. That extended the Buckeye advantage to three scores for the first time. Brown also had the longest Ohio State kickoff return of the season with a 35-yarder...




Five Things: Nebraska
October 7, 2012 Source: Eleven Warriors - Tim Brewster Would Be So Proud
After years spent clamoring for an Ohio State offense to use the tight end to exploit the middle of the field instead of being reduced to nothing more than a glorified tackle, both Jeff Heuerman and Nick Vannett made huge plays through the air last night. The duo combined for three catches and 85 yards with a touchdown against Nebraska. On the surface, that might not seem like much but for context, Heuerman and Vannett accounted for nearly half the catches and 67% of the passing yards...

Gashed Yet Opportunistic
The Silver Bullet defense continued to give up big yardage including another 437 to Nebraska, with 223 coming on the ground at 4.8 per carry but at the same time, they made their share of big plays on a night in which they yielded a season-high 38 points. Amid giving up 13 plays of 10 yards or more, including five plays of 20+ and two for over 70 yards, the defense also racked up three interceptions, a fumble recovery, nine TFL and four sacks...

An Evening in the 'Shoe
As someone who typically avoids going to the 'Shoe based on a few too many bad experiences, whether it be being repeatedly yelled at to sit down, listening to idiots that I pray don't ever find 11W and dilute our community with their constant screaming of ridiculously stupid things or being forced to hold my urine for 3.5 hours because I refuse to miss a play, I gave it another try - for my 1st night game - and I must say I had a blast...



Urban Meyer Postgame OSU NEB October 6, 2012



Buckeyes Run Over Cornhuskers, 63-38
October 7, 2012 Source: OSU Official Site - Ohio State racks up 371 yards and 6 touchdowns on the ground...Urban Meyer promised a hurry-up, high-scoring offense.

Six games into his Ohio State coaching career, the Buckeyes came through.

Braxton Miller rushed for 186 yards, zig-zagging 72 yards for one score and passing for another, to lead No. 12 Ohio State past No. 21 Nebraska 63-38 on Saturday night before the largest crowd ever at Ohio Stadium.

Miller broke his own QB rushing mark at Ohio State (6-0, 2-0 Big Ten). Corey Brown returned a punt 76 yards for a TD, Bradley Roby brought back an interception 41 yards and Carlos Hyde scored on four runs before a raucous (& record) crowd of 106,102 in the Horseshoe's 90th season. (The previous record attendance was 106,033 in an 18-15 loss to Southern California in 2009.)

Taylor Martinez ran for two scores and completed 15 of 23 passes for 214 yards and a score but was intercepted three times for defenseless Nebraska (4-2, 1-1). Leading rusher Rex Burkhead injured his left knee early in the third quarter after rushing for 119 yards on 14 carries, but did not return...

It was the most points given up by the Cornhuskers since a 65-51 loss at Colorado in the final game of the 2007 season - also the last game of the Bill Callahan era.

The Buckeyes hadn't had so much production since beating Eastern Michigan 73-20 two years ago. The combined 101 points was the most in a Big Ten game involving Ohio State since an 83-21 win over Iowa in 1950. It was the most points scored by the Buckeyes in a conference game since a 69-18 win over Minnesota in 1983.

The win extended Ohio State's fast start in its first year under Meyer, winner of two national titles during his six years at Florida. The Buckeyes, still eligible to win a Big Ten division title even though on NCAA probation and banned from the postseason, are tied with Penn State atop the Leaders Division standings.

Ahead by 11 points at the half, the Buckeyes watched the Huskers cut the lead to 35-31 on Martinez's 3-yard pass to tight end Ben Cotton, but countered on Hyde's third TD run and Brown's lightning-fast burst through traffic on the punt return to build the lead to 49-31...

Rod Smith also rushed for a 33-yard touchdown and Miller completed 7 of 14 passes for 127 yards.

The first half - really the second quarter - was the determining factor for the Buckeyes.

They didn't have a first down in the opening period, gaining just 17 yards on 13 plays while falling behind 14-7 as the crowd went quiet.

In the second quarter, however, they amassed 242 yards and scored 28 points.

Down 17-7 after a Nebraska field goal, the Buckeyes scored on their next four possessions.

It all started when Miller was confronted by Courtney Osborne in the backfield but juked him and then raced down the right sideline for a 72-yard gain, pushed out of bounds at the Nebraska 3. Miller limped off the field and was replaced by Kenny Guiton, who handed off twice to Hyde, the second resulting in a 1-yard dive for the score.

Martinez, who worked extensively on his passing during the offseason, had been intercepted by Roby on the Huskers' second possession, with Roby bringing it back 41 yards for the Buckeyes' only points of the first 19 minutes.

On third and 5 at the Nebraska 20, Martinez threw the ball directly to Roby. His 8-yard return put the Buckeyes right back in business at the Nebraska 20. Two plays later, with Miller now back in, he had a nifty play-action fake before tossing a short pass in the right flat to Jeff Heuerman for an 18-yard score and Ohio State's first lead on a cool, crisp night, 21-17.

Despite starting their next drive with two false-start penalties, the Huskers came right back. Martinez was hit late but completed a post pass to Kenny Bell, who twice straight-armed defenders on a 74-yard gainer. Martinez stayed in and ended up scoring on a 9-yard run to make it 24-21.

But the Buckeyes weren't done.

Sticking mainly to the ground, they rolled downfield. The key play was Miller's 32-yard hook-up with tight end Nick Vannett for 32 yards. Hyde finished it off with a 7-yard TD run, bouncing outside to skirt right end for a 28-24 Ohio State lead.

After a Nebraska punt, the Buckeyes moved to a fourth and 1 at the Nebraska 30. Miller followed a big block by Hyde, skipped around the outstretched arms of a defender and coasted untouched the last 30 yards to make it 35-24 at the half.

The Huskers drew close but never found a way to stop the Buckeyes.

Miller was 1 for 4 for seven yards passing and lost nine yards on his four carries in the opening quarter. In the second period, he was 4 of 7 for 71 yards through the air and rushed for 146 yards on just six carries.

Despite the huge second quarter, the outcome wasn't assured. Last season the Buckeyes dominated the first half and built a 21-point lead before the host Huskers ran off the last 28 points for a 34-27 win. It was Nebraska's biggest comeback ever. Just last week, the Huskers trailed by 17 before roaring back to beat Wisconsin 30-27...




Braxton Miller postgame OSU NEB October 7, 2012




Carlos Hyde broke out against No. 20 Nebraska, piling up 140 rushing yards and scoring four touchdowns to lead No. 12 Ohio State to a 63-38 victory on Saturday at Ohio Stadium. Defense was an afterthought, as both teams lit up the scoreboard. The teams went wild on the attacking side of the ball, racking up 935 total yards combined.

Home run plays keyed the Buckeyes' scoring attack. The Cornhuskers' defense gave up seven plays of at least 20 yards. With 11:59 to go in the second quarter, Braxton Miller scrambled 72 yards, Ohio State's biggest gain of the game. Later in the drive, Hyde turned a handoff into a one-yard touchdown, which cut Nebraska's lead to 17-14.

Miller threw for 127 yards while going 7-14 for the Buckeyes. He tossed one touchdown and no interceptions. Miller also ran for 186 yards and one touchdown on 16 attempts.

Bradley Roby showed good hands on defense for Ohio State, picking off two Nebraska passes. His biggest play came on a critical drive in the second quarter, when he intercepted Taylor Martinez on third-and-5.

The Buckeyes racked up 498 total yards. Ohio State's rushing attack contributed 371 yards on 48 carries in addition to Miller's passing effort.





Dienhart: 'I'm not sure if anyone can beat Ohio State'
October 7, 2012 Source: BTN - 1. I'm not sure if anyone can beat Ohio State. After this effort, led by Braxton Miller and his 186 yards rushing, I'm beginning to wonder if the Buckeyes can be topped. Trips to Penn State and Wisconsin may be dicey. And the season-ending visit from Michigan could be. But, wow, this team looks untouchable right now.

2. How much better would this Ohio State attack be if Jordan Hall was healthy all season? Could it really be any better? Regardless, it's fun to think about. Hall was the guy who was supposed to Urban Meyer's version of "Percy Harvin" for the Buckeyes. As it is, Ohio State still is thriving with minimal contribution for Hall. Amazing for an offense that supposedly has "no playmakers" to help Miller.





With Sat's win, Ohio State stayed perfect under Urban Meyer...
October 7, 2012 Source: ESPN - and left no doubt as to who is the Big Ten's top team in 2012, writes Adam Rittenberg...




Postgame Quotes From Ohio State vs. Nebraska October 7, 2012 Source: OSU Official Site







Turning point ... Ohio State's touchdown just before halftime. On fourth-and-1, Miller kept over the right side and ran 30 yards untouched, thanks in part to a block by Carlos Hyde, giving Ohio State a 35-24 halftime lead.

It Was Over When ... Nebraska kept it close through three, but a 76-yard punt return for a score by Philly Brown inspired 14 4th-quarter points.

Game Ball Goes To ... Braxton Miller broke his career rushing record with 186 yards and a rushing TD. He also threw for 127 yards and score.

Stat Of The Game ... 1. With Northwestern's loss to Penn State, the Ohio State Buckeyes are now the only undefeated team in Big Ten.

Ohio State did not have a first down in the first quarter ... In the second quarter, the Buckeyes gained 242 yards total offense — compared with 17 in the first quarter

An Ohio Stadium record 106,102 fans were in attendance for the game against Nebraska.

Miller's 186 rushing yards set a single-game record by an Ohio State quarterback. Miller set the previous record with 161 earlier this season against Miami.

The Buckeye defense collected two third-down turnovers (four total) vs. Nebraska. Ohio State posted 18 points off turnovers.

Bradley Roby claimed a career-high two interceptions vs. the Cornhuskers and now has five career interceptions. Roby took back an interception for a touchdown at 8:29 in the first quarter for 41 yards. The interception was his first of the season.

LB Ryan Shazier notched a team-best 11 tackles with a sack. He leads the team with 59 stops in 2012, his second game with 10 or more tackles this season

S Christian Bryant posted a season-high nine tackles vs. Nebraska.

DL Garrett Goebel had a career-high eight tackles.

WR Corey Brown took a 76-yard punt return down the left sideline for a touchdown at 5:50 in the third quarter.

Numbers for dummies

271-0-1: Ohio State's record when scoring 35 points or more. The one blemish was 35-35 against SMU in 1978

17: Yards for the Buckeyes in the first quarter.

242: Yards for the Buckeyes in the second quarter.

Tweethearts ... @OhioFan07 Sophomore Braxton Miller > Sophomore Terrelle Pryor

They said it ... As heard from an usher: "Only the band should be able to script anything." — a reference to the Buckeyes' scripted offense that produced zero first downs during the first quarter

Repercussion ... In successive weeks, the No. 12 Buckeyes have defeated the No. 20 team (Michigan State) and the No. 21 team. With three in the top 10 losing, Ohio State should find itself in the top 10, and might be the only Big Ten team in the Top 25.

Sources: OSU Official Site, ESPN, Columbus Dispatch, Cleveland Plain Dealer



With 11:59 remaining in the 2nd quarter, and Ohio State trailing 17-7, it was 1st & 10 for the Buckeyes at the OSU 25. Braxton Miller, on a draw play, rushes for 72 yards to the Nebraska 3. Two plays later OSU scored cutting the margin to 17-14. Miller's run was the spark the offense needed.






NEB

Oct 6, 2012 8PM


5 Questions: Nebraska at Ohio State
October 5, 2012 Source: BuckeyeSports.com -

1. Can Ohio State put together two good halves?
Perhaps it is not fair to compare one team to the next, but it is hard to think about OSU-Nebraska without remembering the Buckeyes' collapse in 2011. After building a 27-6 lead, they gave up 28 unanswered points and went home on the wrong end of a 34-27 score. That represented the biggest lead ever surrendered by Ohio State and in some ways served to represent the up-and-down nature of the team's season.

This season the Buckeyes have often suffered through fits and starts balanced by big quarters to take control of or rally in games.

Nebraska showed last week it still knows a thing or two about rallying as the Cornhuskers shook off a disastrous first half to clip Wisconsin 30-27 in Lincoln.

2. Will the Buckeyes be able to slow down the option?
Nebraska will enter Ohio Stadium on Saturday leading the Big Ten in total offense and scoring, and they mostly have a powerful running game to thank for that.

The Huskers average 305.8 yards per game on the ground using a blend of zone reads and more traditional option plays triggered by dynamic junior quarterback Taylor Martinez. He has a pair of dangerous options in the backfield with senior Rex Burkhead, a returning All-Big Ten first-teamer, and sophomore Ameer Abdullah.

An athletic line that features cut blocking also presents a challenge for the Buckeyes, who yielded 119 yards to Burkhead and 102 to Martinez last season.

Ohio State is 19th in the nation and third in the Big Ten against the run (100.8 yards per game) after shutting down Michigan State last weekend.

3. Which quarterback will have a better passing day?
Martinez and Ohio State quarterback Braxton Miller are two of the best running quarterbacks in college football, but neither is a one-trick pony.

Both are enjoying much better seasons throwing in 2012 than they did in 2011. After spending the summer working on his throwing motion, Martinez is leading the Big Ten and 12th in the nation with a passer efficiency rating of 169.6. He has thrown for 1,059 yards with 11 touchdowns passes and only one interception, although that pick was a costly one in the fourth quarter of Nebraska's 36-30 loss at UCLA in week two.

Miller has thrown for 933 yards, already nearing his total passing output of last season, and has eight touchdowns to go with three interceptions. He will have to deal with a Husker secondary that can be tough to read because of its practice of pattern matching, something the Buckeyes have not seen this season.

4. Who will win the turnover battle?
This could be an advantage for the Buckeyes, who are plus-2 on the year in turnovers despite finishing minus-3 last week at Michigan State.

Nebraska heads to Columbus minus-3 on the season, and the Huskers' tendency to put the ball on the ground nearly cost them their Big Ten opener. They fumbled six times last week, losing two that led to 14 Wisconsin points as the Badgers built their first-half lead.

Nebraska's nine lost fumbles are the most in the nation, and potential rain in the forecast might not make hanging onto the ball any easier.

5. What about the kicking game?
Urban Meyer stresses winning the kicking game as part of his plan to win, but the Buckeyes have had a few adventures in this department in the first half of the season.

They have blocked two PATs and got to a punt last week, but Ben Buchanan had one of his punts blocked the week before by UAB thanks to a blown blocking assignment.

Ohio State has not gotten much out of its return game yet this season with no kickoff returns longer than 26 yards and a punt return average of 6.1 that is 83rd in the country and ninth in the Big Ten.

For Nebraska, wide receiver Kenny Bell leads the Big Ten in kickoff return average (29.7 yards) and Abdullah is second in the conference in punt return average (15.0). Abdullah returned a kickoff 83 yards to set up a Nebraska field goal last week and took a punt back 81 yards for a score against Idaho State the week before...





John Kampf's 10 points for the Nebraska game
October 3, 2012 Source: The News-Herald - 10. A big question going into this season was whether Coach Urban Meyer could win with Jim Tressel's players. At issue wasn't the caliber of player, because talent was never an issue during Tressel's tenure. The question was whether Meyer could win by taking players who were recruited to play one system and plugging them into a different set.

9. This doesn't have anything to do with defense, but rather offense. The players who were recruited by Tressel and his staff were by and large brought in to play more of a conventional pro-style offense — two-back, tight end type of stuff. It doesn't always work when players are asked to go from running one type of offense to a polar opposite set.

8. The answer to the big question is yes, Meyer is able to win with players brought in for a different purpose. But to Meyer's credit, he has tweaked things some so as to accentuate the strengths of the players he has. He hasn't tried to jam square pegs into round holes and basically say, "Look, this is the offense I ran at Florida and we're going to run it no matter what your strengths are." He has adapted to his personnel.

7. A few times in the past couple weeks has Meyer alluded to such an adaptation, such as Monday when Meyer said, "We're not what we want to be. I think that's rather obvious. We're not built for that yet. So our job is to go find a way to win a game. If that means ham and egg and doing whatever we have to do, that's who we are. So we're not this high flying, high octane offense yet. We're working awfully hard to become that."

6. In the meantime, don't be surprised if Ohio State does more of what it did in the final four minutes of the game against Michigan State — run the ball with Carlos Hyde hammering away between the tackles and Braxton Miller pulling it and skirting outside. When Jordan Hall went down with a knee injury, OSU spent the second half in that type of mindset and it resulted in a victory.

5. Ohio State should continue to hang its hat on the running game that it used last Saturday for 204 yards against Michigan State. The quick passes to the flat to Corey "Philly" Brown are technically passes, but are a function of the running game, as well, and are similar to pitch sweeps in the hopes of getting outside, making someone miss and breaking a big-gainer.

4. Smith didn't break any big-gainers against the Spartans on his 12 catches, and Meyer joked about it, saying, "Yeah, he's allowed to make a guy miss once in a while." If Brown does that and goes for a touchdown or a big gainer, then that serves OSU's purposes well. If not, then the 7-yards-per-catch average Brown had on those screens are just as good as drive-sustaining run plays.

3. Meyer stressed again on Tuesday the importance of taking shots downfield. It worked once for a touchdown against Michigan State. Just showing a willingness to make that throw can keep defenses honest. And there are good enough playmakers on the outside to make things happen now and then in the passing game. OSU probably doesn't have the guns on the outside to turn games into a pass-a-thon, but they can be effective with their throws.

2. The second half at Ohio State might have convinced OSU's staff, "this is what we are." Meyer has said a number of times his offense's running game isn't that different than conventional run plays. They are just run out of the shotgun formation. And right now, that is what Ohio State is doing best. There will come a time when Meyer has the "high-flying, high-octane" offense of which he spoke earlier this week, but he will need a few recruiting classes to bring in those types of players.

1. Meyer knows what he has with this team, and it was put on display in the second half — particularly in the last four minutes — against Michigan State. The Buckeyes need that type of performance against a hard-nosed Nebraska team.

Prediction: Ohio State 20, Nebraska 17






Five key factors for victory
October 5, 2012 Source: Columbus Dispatch -

Keep Miller upright
It's well-known what happened last year when Miller was injured against Nebraska. Kenny Guiton is a far better backup than Joe Bauserman was last year, but there's a reason that Miller is in the Heisman Trophy conversation. Miller will have to do a better job picking his spots to run than he did last week against Michigan State.

Avoid negative plays
The Buckeyes aren't talented enough to overcome bad down-and-distance situations consistently — other than relying on Miller's feet to bail them out (see above). The reason Ohio State hasn't taken more downfield shots is that coaches don't want to have unproductive downs. It's important for each down to get something, to have second-and-5 instead of second-and-10. But Nebraska's defense ranks fifth in the country in tackles for loss (8.6 per game). It will be a challenge for the Buckeyes to avoid plays that put them in a hole.

Limit Huskers' runners
The Cornhuskers have the fifth-most prolific run game in the country, averaging 305.8 yards. Quarterback Taylor Martinez is on par with Miller and Michigan's Denard Robinson as game-breaking runners. Senior Rex Burkhead, who helped rally the Huskers over Ohio State last year, is back from a knee injury, and sophomore Ameer Abdullah, who filled in for Burkhead, also is dangerous.

Pressure Martinez
Known for his unorthodox throwing motion, Martinez has improved dramatically as a passer this year: He has 11 touchdown passes with only one interception. But he hasn't faced a defense as potentially disruptive as Ohio State's. If the Buckeyes can pressure Martinez and take away his scrambling lanes, they'd prefer to take their chances with Nebraska's passing game.

Win turnover battle
Ohio State committed three turnovers last week and didn't create one, yet still won. But that's not a recipe for success. Nebraska is minus-3 in turnover differential, including nine lost fumbles.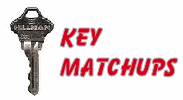 OSU linebackers Etienne Sabino and Ryan Shazier vs. Nebraska QB Taylor Martinez: As Martinez goes, so go the Huskers. He can pass (1,059 yards, 11 TDs) and run (298 yards, three TDs). Whether they are tracking him down in the running game or getting pressure on him in the passing game, Sabino and Shazier have a big responsibility Saturday night.

OSU defensive lineman Johnathan Hankins vs. Nebraska RB Rex Burkhead: Thanks in part to Hankins blowing up any block Michigan State tried to throw at him last weekend, the Buckeyes kept Michigan State RB Le'Veon Bell from doing anything meaningful. Burkhead is no Bell, but he can take over a game. He ran for more than 1,300 yards last year. Hankins has been a wrecking ball all year, and he will need to be again this weekend.

OSU receiver Corey Brown vs. Nebraska cornerbacks Andrew Green and Ciante Evans: Brown had 12 receptions last weekend in East Lansing, but for only 84 yards. Most of his catches came on screens, but Brown was unable to shake tackles for big-gainers. OSU will take 12-for-84 any day, but if Brown can get past Green and Evans on such plays, the Buckeyes can break off some long-gainers. OSU's offensive line vs. Nebraska's defensive line: The Huskers held Wisconsin to 56 yards rushing on a 1.4-yard-per-carry average last week. The

Badgers customarily get 56 yards rushing per drive. Obviously, the Huskers are doing something right on the defensive front. Ohio State passed a big test last week vs. Michigan State. Can they do it again? The News-Herald


Urban Meyer answers questions from reporters following practice on Wednesday.



"Mainly, everybody has to do their job. If everybody does their job, if everybody is in the right place, then he can't run that far. He can't bust a wide-open gap like that. When that happens, it's because somebody is not doing their job, or somebody's slacking. So that's why we're going to approach this game as everybody do what you have (been assigned to do)." - Bradley Roby on Nebraska QB Taylor Martinez



Vrabel Hoping Bennett Adds Usable Depth on D-Line
October 4, 2012 Source: The Ozone -&nbspWith the entire defensive line returning from a year ago, including John Simon and Johnathan Hankins, this was supposed to be one of the deepest defensive fronts Ohio State has had in years.

In many ways it is deep, especially with impact freshmen like Noah Spence, Adolphus Washington and Tommy Schutt already seeing more time on the field this season than most of the freshmen did a year ago.

But there was one freshman who played a whole bunch of football for the Buckeyes last season on the defensive line, and the return of Michael Bennett could give Ohio State some sustainable, real depth on the defensive line until those young guys are ready.

"I think Michael was OK," OSU defensive line coach Mike Vrabel said this week.

"He was rusty. Unfortunately, he hadn't been out there for a while. We hadn't had him since training camp, but he's going to provide some depth for us – some much-needed depth. He had a lot of game experience last year

The sophomore out of Centerville became the de facto starter on the defensive line towards the end of last season. He played a little inside and a little outside, but settled into his role as the starting strongside defensive end during fall camp.

He was just starting to find a groove when he injured his groin muscle. That caused him to miss the back half of preseason camp. He was on the field during warm-ups for the opener against Miami (Ohio), but re-injured the groin, which caused him to miss all of Ohio State's non-conference games.

With the unexpected departure of Adam Bellamy during camp, the Buckeyes have been rolling with basically four guys...



Braxton Miller after practice Wednesday, October 3, 2012 Source: Scouting Pennsylvania



Buckeyes learned from 2011 collapse at Nebraska
October 3, 2012 Source: Columbus Dispatch - A funny thing happened to Ohio State on the way to a blow-out win at Nebraska last year, something all involved have rememebered going into Saturday night's rematch in Ohio Stadium. When quarterback Braxton Miller had to leave the game early in the third quarter, the entire team's steam went with him.

Offense, defense – the Buckeyes who had been up 27-6 at one point, wound up getting beat 34-27. It was at the same time to greatest comeback in the history of Nebraska football and the greatest blown lead in OSU history...




Two-Minute Drill: Meyer Provides Updates on B1G Teleconference
October 2, 2012 Source: The Ozone - The Buckeyes got a big win over Michigan State on Saturday, but it won't mean a whole lot if they turn around and lose to Nebraska under the lights at home this week.

Ohio State head coach Urban Meyer talked about his team, and the matchup with the Cornhuskers, during his appearance on the weekly Big Ten Football Teleconference Tuesday...




Meyer says line no longer stumbling block
October 3, 2012 Source: Columbus Dispatch - Urban Meyer figures his first Ohio State offensive line has progressed sufficiently that it can handle a little praise without regressing.

Remember, though, the words are coming from the man who declared the line to be "nonfunctional" last spring as it dealt with conditioning rigors and learned the new up-tempo spread offense.

But the linemen had a fairly successful game last Saturday against Michigan State, which sports arguably the best overall front seven in the Big Ten. The line showed its mettle after Meyer leaned into the sideline huddle just before the offense took to the field, clinging to a one-point lead with just over four minutes left. He challenged the offense to kill the clock and ordered the linemen to make it happen. They did.

Which is why, headed into another test on Saturday night at home against No.?21 Nebraska, Meyer had no qualms praising his linemen for obvious progress without fear of the fellows gaining the big head.

"The praise they received was for more than just one drive," Meyer said yesterday. "They ran the ball against one of the nation's best run defenses for 200 yards...As far as he's concerned, the linemen deserve praise just as they deserved criticism in the spring...




Taylor Martinez and Nebraska's three-man running attack offer new challenge to Ohio State Buckeyes' defense
October 2, 2012 Source: Cleveland Plain Dealer - The Cornhuskers offer a three-pronged running attack, with quarterback Taylor Martinez, power back Rex Burkhead and the cutback ability of smaller back Ameer Abdullah.

They've combined for 1,057 rushing yards, with Abdullah averaging 6.2 yards on 79 carries, Martinez 6.0 yards on 50 carries and Burkhead 9.4 yards on 29 carries.

In comparison, Ohio State's Braxton Miller is averaging 6.4 yards on 90 carries; Jordan Hall 5.5 yards on 40 carries; and Carlos Hyde 4.5 yards on 35 carries, as they have combined for 953 rushing yards.

"He's one of the best runners I've ever seen at the quarterback position," Meyer said of Martinez. "We're going to see two of the finest athletic quarterbacks in America on the field this weekend."...

"Give him a small crease and he can take it and run with it," OSU linebacker Etienne Sabino said. "He's a fast guy and he's pretty decisive. When he wants to run, he's going to run, and if not he can hurt you with his arm sometimes."

Martinez leads the Big Ten is passing efficiency, is completing 68 percent of this throws and has 11 touchdown passes against just one interception. He showed that last week in leading a comeback from a 17-point deficit in the second half of Saturday's win over Wisconsin...




No. 12 Ohio State hosts No. 21/20 Nebraska in primetime Source: OSU Official Site - The game will be the first time Ohio State and Nebraska will meet as ranked teams.

The game will be the 11th night game in Ohio Stadium history. Ohio State is 7-3 all-time in home night games, including a 33-29 win over Wisconsin last year in a game where 31 fourth quarter points were scored.

ABC will televise the game with Brad Nessler and Todd Blackledge in the booth and Holly Rowe on the sidelines.

The game Saturday represents the fourth in the series between the Buckeyes and the Cornhuskers and the second Big Ten contest. Ohio State, under coach Woody Hayes, won both previous meetings in Columbus: 28-20 in its 1955 season opener and 34-7 in 1956 in front of a record Ohio Stadium crowd of 82,153. Last year in Lincoln, and in the first Big Ten game at Memorial Stadium, Ohio State led 27-6 in the third quarter but gave up the fi nal 28 points and lost, 34-27. The 21-point lead was the largest ever surrendered by a Buckeye team in a loss.

Nebraska is making its first visit to Ohio Stadium in 56 years, or since the Cornhuskers came to Columbus consecutively in 1955 and 1956. Way back then. The games vs. Nebraska were the season openers in both years...


Ohio State Buckeyes
Nebraska Cornhuskers

2012 Totals (NCAA Ranking)






33.6 (43) ...   Scoring  ...  (10) 44.8
224.2 (21)  ... Rush Yards  ...  (5) 305.8
194.0 (98) ...  Pass Yards  ...  (77) 215.6
114.1 (35)  ... Pass Efficiency...(11) 167.6
418.2 (54)  ... Total Yards  ...  (13) 521.4
376.4 (57)  ... Total Defense  ...  (35) 340.8
100.8 (19)  ... Rushing Defense ...(62) 152.8
275.6 (94)  ... Pass Defense ...  (27) 188.0
17.0 (25)  ...  Scoring Defense...(T-36) 20.6
37.0 (65)  ...  Net Punting ...  (67) 36.9
6.1 (83)  ...   Punt Returns ... (20) 14.2
21.0 (60)  ...  KO Returns  ...  (19) 26.4
+.40 (T-45) ... TO Margin  ...  (T-86) -.60
2.4 (41)  ...   Sacks  ... (8) 3.8
4.0 (113)  ...  TFL  ...  (5) 8.6
1.6 (T-50)  ... Sacks Allowed...(T-50) 1.6




Big Ten Post-Week 5 Power Rankings
October 2, 2012 Source: Athlon Sports - Big Ten Post-Week 5 Power Rankings

Post-Week 5 Offensive Player of the Year Standings

1. Braxton Miller, QB, Ohio State - He fumbled twice and threw an interception, but Miller was once again the best player on the field. He simply won't allow his team to lose and continues to be one of the toughest leaders in the nation. He ran for 136 yards on 23 carries and added a beautiful game-winning 63-yard scoring touchdown late in the third.

2. Taylor Martinez, QB, Nebraska - The Huskers quarterback threw for 176 yards, 0 TD and 3 INTs in the ugly loss to Wisconsin last fall. He got his revenge Saturday night. The league's most efficient passer threw for 187 yards, rushed for 107 and accounted for three touchdowns.

Post-Week 5 Power Rankings

1. Ohio State (5-0, 1-0)
Previous rank: 1
Week 5 result: Beat Michigan State 17-16

As long as No. 5 is under center, the Buckeyes will have a chance to run the table. However, staying on the field for the Big Ten POY front-runner is looking more and more like a long shot. Braxton Miller had to leave twice due to injury, after another 23 carries took its toll on his body. At the end of the game, however, when Ohio State needed clutch decision making, Miller was there to lead his team to yet another hard-nosed win. So was OSU's defense. They held the league's leading rusher Le'Veon Bell to only 45 yards on 17 carries. This was a physical battle that left both teams battered and bruised. It personified Big Ten football and was a great showcase for a league that needed a good showing.
This week: Nebraska (4-1)

2. Nebraska (4-1, 1-0)
Previous rank: 4
Week 5 result: Beat Wisconsin 30-27

The Huskers got off to a slow start and fell behind 20-3 in the second quarter. But another efficient performance from quarterback Taylor Martinez gave Nebraska sweet revenge over Wisconsin. T-Mart led four straight second-half drives resulting in points that took a 27-10 deficit and turned it into a three-point lead with 9:41 left in the game. The Huskers defense never looked back, holding the Badgers scoreless for the final 25 minutes of play, including those final 10. Will Compton led a unit that knocked starting Wisconsin quarterback Joel Stave out of the game and held Montee Ball to 2.8 yards per carry on 32 attempts. This team leads the Big Ten in rushing, scoring, total and pass efficiency offense.
This week: at Ohio State (5-0)...




RB Jordan Hall suffered, partially torn PCL against MSU, doubtful & S C.J. Barnett, who missed the past two games with an ankle injury, is probable. Michael Bennett still not 100%, but he's ready to play.

Update: On his radio show Thursday, Meyer for the first time called the injury to starting safety C.J. Barnett not just an ankle sprain, but a high ankle sprain, which is a different and more serious injury. It sounds as if Barnett will miss his third straight game.

Source: Cleveland Plain Dealer


October 5, 2012 Source: Columbus Dispatch


Cover Story: After microfracture knee surgery, defensive end Nathan Williams feels blessed to be playing again
Ohio State spotlight: QB Braxton Miller
On the edge: Ohio State vs. Nebraska; Who has the edge
MEET A BUCKEYE: Bryce Haynes
Nebraska will test defense
Slide show of some of the biggest hits delivered by the Buckeyes on their opponents this season
Play of the week: Saturday night special
& more...





Bruce Feldman: Buckeyes stay undefeatedOhio State 24, Nebraska 17:
October 4, 2012 Source: CBSSports.com - Good match-up of dangerous dual-threat QBs. I flip-flopped on this pick several times before opting to go with the home team.





Game Data: Nebraska at Ohio State
September 26, 2012 Source: Bucknuts - Ohio State and Nebraska are two of the top five winningest programs in college football history. Ohio State is fifth all-time with 830 wins. Nebraska is just ahead of OSU with 850 wins. (The top three winning programs are Michigan at 897, Texas at 862 and Notre Dame at 858.)

When Ohio State Has The Ball: The Buckeyes will try and establish the run. Coming off a 204-yard rushing performance against Michigan State's stingy defense, the Buckeyes should be feeling good about themselves. Nebraska's rushing defense is middle of the road, allowing 152.8 ypg (62nd nationally). OSU is up to 21st nationally in rushing (224.2 ypg).

When Nebraska Has The Ball: The Huskers are putting the pieces together. When it all clicks, this team could be as explosive as any in college football. OSU saw that firsthand last year when Nebraska scored four touchdowns in the game's final 23 minutes to steal that win in Lincoln.

QB Taylor Martinez has upped his completion percentage and become more of a distributor – even as he has also improved as a runner. He had a 92-yard TD run against UCLA. RB Rex Burkhead missed time with a knee injury, but is back to full-go. Ameer Abdullah filled in while he was gone and they hardly missed a beat. WRs Quincy Enunwa and Kenny Bell are also coming into their own.

Nebraska is fifth nationally at 305.8 rushing yards per game. OSU just solved MSU's bullish Le'Veon Bell, holding the Spartans to 34 yards rushing on 22 attempts. The difference is Nebraska will be attacking the edges with Martinez running the zone read. Nebraska had 232 yards rushing against OSU last year, although it took 51 carries to do it.

* How It Will Go:... I've got it Ohio State 31-23...





College Football Expert Picks - Straight Up - Week 6:

Line

Dennis
Dodd

Bruce
Feldman

Bryan
Fischer

Tom
Fornelli

Jerry
Hinnen

Matt
Hinton

Chip
Patterson

Prediction
Machine


Against the spread, which is OSU -4.5, only Prediction Machine goes with NEB





Nebraska at Ohio State Preview
October 5, 2012 Source: The Ozone - The Buckeyes are currently 19th in the nation in rush defense, allowing 100.8 yards rushing per game. They held Michigan State to just 34 yards on the ground last week, but they were more suited for stopping the Spartans running game than this one.

Nebraska will run various zone reads, and they will also look to run the ball wider in an effort to force the Buckeyes to make one-on-one tackles, which they have struggled with this season.

The Ohio State defensive line will do their jobs well, and if the defense as a whole has a good day tackling, they will win. If they miss in space, then this could turn into somewhat of a shootout regardless of how well the defensive line plays.

Nebraska is very good up front and their deception with the ball will make it a difficult day for the Buckeye linebackers. They will need to play their best game of the year if they are going to contain the Huskers' running game.

To counter Nebraska's spread, the Buckeyes may simply choose to play more nickel, thereby taking middle linebacker Storm Klein off of the field and getting as much speed on the field as they can.

Linebacker Etienne Sabino played his best game as a Buckeye last week and needs to continue that trend in this game as well...




Week 6 - Nebraska vs Ohio State
October 1, 2012 Source: WhatIfSports.com - Every week WhatIfSports.com simulates thousands of college football games. This week the Ohio State Buckeyes win 59.9% of the time by an average score of 26.6-23.7. The stats in the box score below represent the average outcomes of those simulations...




No. 21 NEBRASKA at No. 12 OHIO STATE
October 4, 2012 Source: ESPN - Prediction time ...

Brian Bennett: It seems like most weeks I'm wondering how Ohio State just won. The Buckeyes have been getting by on a little good fortune and a whole lot of Braxton Miller in their 5-0 start. Nebraska will be by far the best offense Ohio State has faced. But the Huskers still seem a little too loose with the ball and too susceptible to mobile quarterbacks. Miller gets it done again with 350 yards and four total touchdowns as the Buckeyes work their magic once more. ... Ohio State 31, Nebraska 30

Adam Rittenberg: Ohio State took a nice step in Week 5, but the Buckeyes have been a pretty fortunate team so far this season. They've survived turnovers on the road and defensive breakdowns at home. Saturday night, their luck runs out as Nebraska records its first true signature road win in the league. Miller does his thing and records two rush touchdowns and a passing touchdown, but he also throws a costly interception in the fourth quarter. Taylor Martinez rebounds from an early turnover to spark the Huskers against the Buckeyes, who haven't seen an offense like this. Martinez records his second consecutive 100-yard rushing performance and Brett Maher nails a 50-yard field goal to win it for Big Red. ... Nebraska 30, Ohio State 28





Week 6 – Nebraska at Ohio State
October 3, 2012 Source: CollegeFootballNews.com - Why Nebraska Might Win: Ohio State has one pitch and dares teams to hit it. With running back Jordan Hall hurting with a knee injury suffered against Michigan State, the offense will be even more Braxton Miller, Braxton Miller and more Braxton Miller. Last week against Wisconsin, Nebraska loaded up to stop Montee Ball and dared Joel Stave to try making the passing game go. Ball ended up with 90 yards and three scores, but he only averaged 2.8 yards per carry. The defensive front is doing a fantastic job of getting into the backfield, leading the Big Ten in both sacks and tackles for loss, and it's aggressive enough and good enough to get to Miller before he can get started.

Offensively, Nebraska might have the balance needed to keep the Buckeyes off balance. Cal, despite all of its troubles, is the one team on the slate that can do a little of everything offensively, and it showed in the battle with OSU getting 288 passing yards and 224 on the ground. Nebraska still wants to run the ball whenever it can, but the improved passing of Taylor Martinez has changed the equation. The Huskers have the Big Ten's most efficient passing game, and if the Buckeye safeties cheat up, Martinez can strike.

Why Ohio State Might Win: 22 carries, 34 yards, no rushing first downs. That's what Michigan State's supposedly vaunted ground game came up with last week with the offensive line not generating any push whatsoever. The Buckeyes might not be getting into the backfield, and they might have been gouged by Cal's ground attack, but they're improving and they showed last week that they can control the line. Martinez might be an improved passer, but OSU will take its chances with the Nebraska air attack rather than dealing with him running through the second level.

Nebraska has had a fumbling problem lately, and it helped give the Badgers a big early lead. With a whopping 14 fumbles over the last four games, losing nine of them, the Huskers have ball security issues and OSU will try to take advantage of them. While the Buckeye D hasn't been great at taking the ball away, the offense needs the breaks and needs the short fields as much as possible. If OSU can be +2 in turnover margin, it should be in good shape.

What To Watch For: It's the Taylor vs. Braxton show, but Nebraska has two more weapons to utilize in Ameer Abdullah and Rex Burkhead, who came back from injury to shine over the last two weeks. Abdullah is bringing the speed and versatility as a receiver and a kickoff returner as well as a runner, while Burkhead brings a bit more power. Last year, Burkhead rumbles for a tough 119 yards and one score in the win, but it was Martinez who took over running for 102 yards and throwing for 191 more and two touchdowns. While No. 3 is getting more credit for his improved passing skills, throwing 11 touchdown passes so far after pitching 13 all of last year, he's just as effective on the ground running for over 100 yards against both UCLA and Wisconsin.

While Martinez has been great, Miller has been phenomenal. He got banged up against MSU, but he managed to fight through the problems to finish with 136 rushing yards while completing 16-of-23 passes for 179 yards and a touchdown with a pick. He only attempted eight passes in last year's loss, but he ran for 91 yards. If he doesn't hit the 100-yard mark and doesn't hit on at least one big scoring play, OSU will have a hard time keeping up.

What Will Happen: Nebraska is getting too much out of its passing game and the defensive front has been playing too well for the Buckeyes to pull this off. Ohio State is finding ways to pull off wins, but Michigan State isn't getting into the backfield and isn't getting to the quarterback – that helped Miller get by. He won't have the same luck against the Nebraska D.

CFN Prediction: Nebraska 27 … Ohio State 23...





Preview: No. 21 Nebraska Cornhuskers at No. 12 Ohio State Buckeyes
October 2, 2012 Source: CBSSports.com - Who could steal the show: Ohio State: WR Devin Smith has been in the highlights in three of the Buckeyes' five games so why not once more? Smith's one-handed touchdown grab was the play of the year so far and his 63-yard touchdown grab last weekend against Michigan State was the turning point in the game. Even though he doesn't crack the top-10 in receptions with 19, he averages 18.5 yards per catch, fifth best in the conference. Nebraska: Linebacker Will Compton has been the defensive leader of the Huskers throughout the first five games. Against Wisconsin, he recorded his third game of at least 10 tackles and logged his third sack of the season. The 6-2 linebacker also broke up two passes from Badger quarterback Joel Stave. Compton will need to track Miller everywhere he goes and be careful not to over pursue because that's when the Buckeyes' quarterback is most dangerous...

Magic number for Nebraska: 67.8. Martinez has completed 67.8 percent of his passes, 2.2 percent away from his stated goal of 70 percent for the season. That number is the best among regular starting quarterbacks in the conference. His 11 touchdowns lead the conference, which is even more impressive when you factor in that the Huskers have the fifth-best rushing game (305 ypg) in the country.

The game comes down to: Containing Miller. He's been the catalyst for every Buckeye win this season. If Hall can't go, the majority of the rushing will fall to Miller, who is capable of improvising losses into significant gains. The Nebraska defense needs to keep him inside the pocket and force him to win the game with his arm...




Preview: #22 Nebraska at #12 Ohio State
October 5, 2012 Source: Eleven Warriors - The offensive plan of attack for the Buckeyes starts with the guy who touches the ball on every play. Miller has been the heart and soul of the offense in the first five games. But to win Saturday, the Buckeyes will need more help.

The rushing totals get the most attention, but Miller hasn't been a slouch throwing the ball, either. He's completed 76 of 121 attempts for 933 yards and eight touchdowns. With only three interceptions to his credit, Miller has shown to be a good decision maker with improved accuracy.

A freshman year that matured Miller combined with a coaching staff tailor-made for the sophomore have contributed to his rise. So, too, has the emergence of wide receivers Corey Brown and Devin Smith. A season ago 14 catches led the team. Through five games, Brown has 32 and Smith has 19. Brown nearly topped that 14 last weekend alone, hauling in 12 receptions against Michigan State...




Preview: Nebraska Cornhuskers
October 5, 2012 Source: Men of The Scarlet and Gray - When the Buckeyes have the ball:

Last year, the Buckeyes came out of the gate firing on all cylinders. They lead Nebraska 27-6 in the 3rd quarter before a Braxton Miller fumble and it all fell down hill from there. The 'Huskers completed their biggest comeback in school history, defeating the Buckeyes 34-27. Carlos Hyde had a big game, rushing for 104 yards on 13 carries and he also added two touchdowns.

Hyde will have to shoulder the load again with Jordan Hall out with a slight PCL tear, leaving him doubtful for Saturday night. It has been a rough year medically for the Buckeye backfield, as Meyer has not been able to utilize both of his running backs at full strength all season. It would be great to see some of the wrinkles that Meyer had in mind in the preseason using both a slasher (Hall,) and an in-between the tackles runner (Hyde,) next to Miller.

When looking through offenses that the 'Huskers defense has played against this season, one could compare UCLA's to Ohio State's spread and running tendencies. UCLA quarterback Brett Hundley was able to rack up a lot of passing yardage by executing quick passes and letting his receivers make plays after the catch. Hundley threw for 305 yards and 4 touchdowns on the day...

Meyer has to be salivating when watching the UCLA film and has to be expecting a big day in the option game. Also, look for Philly Brown to make plays after the catch and expect him to be motioning in and out of the backfield in the first quarter to see if Bo Pelini has adjusted since the UCLA game. It will also be important to get into 3rd and short situations, as the 'Huskers defense has been pretty good at getting off of the field on 3rd down. They have limited opponents to a 35% conversion rate on 3rd down.

Prediction: Ohio State takes advantage of a sloppy tackling secondary and they put points on the board early. Miller and Hyde both rush for over 100 yards as the crowd is in it from kickoff. The improving Buckeye defense forces a few turnovers and makes Taylor Martinez beat them. He is not successful. Ohio State 31 Nebraska 20...





OSU keys to victory and HOL staff predictions
October 6, 2012 Source: Husker Online - Starting fast
This one is an obvious for Nebraska. The Huskers have been a slow starting team at times under Bo Pelini, especially on the road. That was never more apparent last week when NU fell down 20-3 to Wisconsin.

If the Huskers want to have any chance of winning tonight on the road they're going to have to get their offense going early. The offense is the strength of Nebraska's team and they need to establish their identity very early in this ball game.

Containment of Braxton Miller
Ohio State quarterback Braxton Miller accounts for nearly 70 percent of the Buckeyes offense. Everything they do goes through No. 5.

How Nebraska chooses to defend and contain Miller will ultimately decide the fate of the defense tonight. One thing to watch early is how well Miller runs, because he hyper extended his knee a week ago against Michigan State.

If Miller is even slowed down a little by his knee this will greatly help NU's chances of keeping him in check.

Loosen up OSU's run defense
A week ago Ohio State really overcommitted to slow down Michigan State's running offense. I expect them to do commit an eighth man in the box to force quarterback Taylor Martinez into obvious throwing downs.

This Buckeye defense is faster and more athletic than a year ago, and Tim Beck needs to do what he can to loosen them up early so Nebraska's offense can stay balanced. Create more turnover opportunities
So many times this year Nebraska's defense has had opportunities to create turnovers, but they've come up empty handed.

If the Huskers want to go on the road tonight and get a win, they have to force some turnovers and not let any opportunities slip out of their hands.

Staying poised
An overall lack of poise has been a big thing that's hurt Nebraska on the road. Just go back to NU's losses at UCLA, Michigan and Wisconsin. There were meltdown moments in those game where Nebraska lost their poise and let the entire game get out of hand in a matter of a few plays.

This has to get better tonight for Nebraska. Ohio State is going to make some big plays. Miller is going to turn out a few big runs, but NU still has to keep their poise in these situations. Offensively Martinez needs to do the same.

There are going to be some rough drives that could lead to quick punts, but that's totally fine. Martinez needs to be ok with punting the ball away on fourth down instead of forcing plays that aren't there on second or third down.

Callahan's weekly predictions Ohio State 34 Nebraska 30...



Bo Pelini post practice report October 4, 2012



Blackshirts Look to Contain Ohio State, QB Miller
October 2, 2012 Source: Nebraska Official Site - Defensive Coordinator John Papuchis addressed media following practice Tuesday, focusing on Ohio State's explosive sophomore quarterback, Braxton Miller.

"We have to always know where he is. He's about 67 percent of their total offense," Papuchis said. "He does a great job making plays, improvising, and making something out of nothing. He's obviously a talented runner, but he throws the ball well too. We have to always know where he is, we have to always have eleven guys flying to the football, and we have to make sure we tackle well when we get our shots."

Papuchis is rightfully concerned with Miller's rushing ability, as he has compiled 577 yards and 7 touchdowns on the ground so far this season. However, Papuchis also noted the Buckeye quarterback's ability to throw the long ball.

"Probably the thing that impresses me more than anything in his throwing game is his ability to throw the deep ball. He does a good job with that, and we have to limit their big plays," Papuchis said...



Bo Pelini Press Conference October 2, 2012 Source: Nebraska Official Site




Game Notes Game 6: Nebraska at Ohio State Source: Nebraska Official Site - Bo Pelini is in his fifth season as Nebraska's head coach and owns a 43-17 record with the Huskers. Pelini helped Nebraska to at least a share of three straight Big 12 North division titles, becoming the first coach in the history of that league to win at least a share of a division title in each of his first three years. He has guided Nebraska to at least nine wins in each of his first four seasons.

Pelini is a 1990 graduate of Ohio State with a degree in business marketing. He was twice named academic all-Big Ten. Two year starter at S for OSU and was a team captain his senior season.





Players from Ohio on Nebraska Roster:
Pelini, Mark OL 6-0 285 So. Youngstown, Ohio (Cardinal Mooney)
Gabriel, Aaron LB 6-0 210 Fr. Marion, Ohio (Harding)
Heard, Braylon IB/CB 5-11 185 So. Youngstown, Ohio (Cardinal Mooney)
Marlowe, Tim WR 5-10 175 Sr. Youngstown, Ohio (Cardinal Mooney)
McMullen, Greg DE 6-3 280 Fr. Akron, Ohio (Hoban)
Pirman, Max LB 6-5 220 RFr. Orrville, Ohio (Orrville)
Williams, Kevin DT 6-2 265 RFr. Holland, Ohio (Springfield)
Alexander, LeRoy DB 6-0 185 Fr. Toledo, Ohio (Whitmer)
Marrow, Mike FB 6-2 250 Jr. Holland, Ohio (Eastern Michigan) (Central Catholic)
Roster Nebraska Official Site




Columbus Weather Forecast