17-16


Urban Meyer MSU Postgame Source: Bucknuts


OSU MSU Game Highlights Source: ESPN



OHIO STATE WON: It's starting to look like the best team in the Big Ten this season is one of the teams that won't be allowed to reap the rewards. Ohio State improved to 5-0 on the season and 1-0 in the Big Ten with a win against Michigan State in East Lansing on Saturday. It wasn't the best offensive performance for the Buckeyes this season, but it was enough.

Braxton Miller finished the day with 315 total yards -- Ohio State had 383 as a team -- and a touchdown, but he also turned the ball over twice: once on an interception forced into traffic, and once when he fumbled after he appeared to hyper-extend his left knee on a run. His biggest play of the game came when he found Devin Smith for a 63-yard touchdown less than two minutes after Michigan State had taken a 13-10 lead in the third quarter.

WHY OHIO STATE WON: The Buckeyes turned the ball over three times on Saturday while Michigan State didn't turn it over once, which is rarely the case when you win a one-point game. However, what Ohio State did do extremely well was stop the run. Michigan State is a one-dimensional offense, and Ohio State took that dimension away by holding Le'Veon Bell to only 45 yards on 17 carries.

That forced Michigan State to try to win this contest through the air, and if not for some comically bad attempts at tackling by the Buckeyes on Keith Mumphrey's 29-yard touchdown catch, the Spartans passing attack probably never scores. It also didn't hurt when Dan Conroy -- who made kicks from 50 and 48 yards -- misses a 42-yard field goal like he did at the end of the first half. Those three points loomed large.

WHEN OHIO STATE WON: Carlos Hyde converted a third-and-4 with a 5-yard run with two minutes remaining to give Ohio State a first down. Michigan State had no timeouts left and Braxton Miller took a few knees to end it.

WHAT OHIO STATE WON: We all know that Ohio State can't go to the Big Ten Championship Game or the Rose Bowl this season, but that doesn't mean it isn't going to try to finish with the best record in the conference. Winning a tough road game like this is an excellent start... Quick Hits: No. 14 Ohio State 17, No.20 Michigan State 16 Source: CBSSports.com





CFN Analysis - Ohio State's win over MSU
September 29, 2012 Source: CollegeFootballNews.com - Matt Zemek:

Midway through the fourth quarter in a four-point game, Michigan State head coach Mark Dantonio opted to kick a long field goal instead of going for a first down. The decision was not an aggressive one, but since Michigan State is a defense-first team with a very good kicker (Dan Conroy) and a suspect quarterback (Andrew Maxwell), the move was defensible. Even if you disagreed with the move, it owned a considerable amount of logic. Dantonio has taken big risks in spotlight games before; he doesn't arrive at a conservative decision in a casual manner.

The calculus was obvious: Dantonio expected his defense to change the game, and he also realized that his offense was not very likely to score a touchdown. Dantonio felt he needed the field goal so that, if his offense stalled at the 30 on yet another drive, it could get three points and a 19-17 win.

Ohio State's offensive line had other ideas.

The fact that the Buckeyes won this game on the road is important enough for Urban Meyer in his attempt to lift the OSU program back to sustained greatness. The fact that Ohio State won the game the way it did will do even more to bolster the Buckeyes' belief in themselves. Despite a mild injury to quarterback Braxton Miller and despite the formidable strength of Michigan State's front four, Ohio State's big uglies blew the Spartans off the ball in the final four minutes, running out the clock in the process. The Buckeyes didn't just win; they beat Michigan State at the Spartans' strongest point. That's how you renew a program. That's how you re-announce yourself to the college football world after the disaster of 2011...



SI.com's Andy Staples analyzes Urban Meyer's first Big Ten win -- a 17-16 victory over the Spartans.



Five Things: Michigan State
September 30, 2012 Source: Eleven Warriors - Answering the Bell
The biggest concern heading into the game was whether or not the Buckeye front seven would be able to slow the B1G's leading rusher, Le'Veon Bell...Bell rushed 17 times for 45 yards (2.6 per carry). The 45 yards represent his lowest output since he had just 20 last year against Michigan (7 carries)...

Imposing Their Will
Just like their trench counterparts, the Buckeye offensive line came into the game with a chip on their shoulder. Clearly, those guys remembered how Sparty's defensive front bullied them a season ago, racking up nine sacks and holding the Buckeyes to 0.9 yards per rush thanks to -64 sack yards.

In hostile territory, the entire group responded, helping the Buckeyes rack up 217 rushing yards on 5.3 yards per carry after you subtract Braxton's three kneel-downs for -13 yards. Additionally, they gave up just one sack and one hurry, allowing Braxton to complete 16 of 23 passes...

Fanning the Flames
After an offseason of Urban drawing the ire of both Dantonio and his DC Pat Narduzzi, things kicked up another notch yesterday after Narduzzi commented post game that the tapes Ohio State sent Sparty didn't have the entire pre-snap footage, thus omitting visuals of motions and personnel shifts...

A Tip of the Cap
Not that I've been a lone voice on this but as someone who has been pretty blunt in assessing Etienne Sabino's often underwhelming play over the years, I want to give credit where credit is due.

There've been other times when I gave him some love for strong efforts and I've always known him to be a class act as a person but after just one watch of the game, I'm inclined to say he probably played his finest game in Scarlet and Gray yesterday.

He didn't set a career high but he did record eight tackles along with a TFL, a sack, a pass breakup and two hurries in a spirited effort. More importantly, many of his plays were timely and he came up huge in the 2nd half of a dogfight on the road...

Risk vs. Reward
What a conundrum for Urban Meyer and anyone who pulls for the Buckeyes.

Yesterday gave us a glimpse of what we can likely expect to see many more times during the conference slate - Braxton Miller missing plays due to injury.

The fact of the matter is that while the B1G is comprised of some pretty mediocre to awful teams, it's also a physical league full of teams smart enough to realize the best way to beat Ohio State is to not only try to force Miller to throw but to get as many shots on him as possible - clean or otherwise.

The problem for Meyer is that while he's keenly aware his peers will adopt the same "cut the head off the snake" approach to stopping his offense, he also knows this team is likely short on playmakers that can consistently help shoulder the offensive burden...




Michigan State's Le'Veon Bell held in check against Buckeyes' defense: Much of Ohio State's defensive success on Saturday was predicated on containing Michigan State's most prolific offensive player, Le'Veon Bell. The 6-2, 238-pound bruising running back was held in check throughout the afternoon, rushing for just 45 yards on 17 carries, as the Buckeyes won 17-16. He was largely ineffective on the ground but did have eight catches for 58 yards as Michigan State's second-leading receiver.

The Ohio State front seven, led by defensive tackle Johnathan Hankins, routinely got more leverage than their opponents, and crashed into the backfield, leaving Bell with nowhere to run. Making matters worse for the Spartans was that their center, Travis Jackson, left the game in the first half with a broken leg and an injured MCL.

Bell came into the game averaging 5.2 yards per carry and was rushing for 152 yards per game. The Ohio State linebackers (Ryan Shazier and Etienne Sabino in particular) stuffed Bell around the corners and kept him from breaking free into the next level of the Buckeyes' defense. His longest run of the day was just eight yards.

In limiting Bell, Ohio State forced Michigan State to alter its game plan and throw for 42 attempts, Andrew Maxwell's second-most passes on the season. Source: CBSSports.com





10 Things We Learned from Meyer's First Big Ten Victory
September 29, 2012 Source: The Ozone - 1. The Buckeyes wanted this one...

2. This team has some heart...That wasn't true of the group that took the field to the tune of 6-7 a year ago. It starts at the top, with Meyer and with Miller, but these guys left it all on the field Saturday. And what they found in the process could be the guts they needed.

3. Urban Meyer is having fun...It wasn't hard to tell that Meyer really wanted to win that game, and the players saw a different side of him in the locker room. They saw a guy who was having fun.

4. Braxton Miller is tougher than we thought...

5. It's apparently acceptable to mock injured players. Braxton Miller took a late hit out of bounds and ended up hitting his helmet on some metal box along the Michigan State sideline. For those who have been to Spartan Stadium, there is very little room in the bench area. There are fans and media basically walking in between players right behind the bench, so that might explain why Miller was playing dodgems over by the OSU bench. What it doesn't explain is when it became acceptable for fans to mock an injured player after he hits his head on something because their player took a cheap shot at him out of bounds. It wasn't a ridiculous cheap shot, but that's hardly the point. What if Miller had been seriously injured? What if he had to be carried off on a stretcher? I guess those fans would have had to live with the fact they were chanting "he's a p***y" on his way out...

6. You can get the wind knocked out of you…from a helmet to helmet hit. I don't know what happened with William Gholston on Saturday...

7. Ohio State's line came to play, on both sides of the ball. This probably should have been higher on the list, but make no mistake about it, the Buckeyes won this game in the trenches. That's where this game is always won, especially in a matchup like this. The Spartans completely dominated the line on both sides of the ball a year ago, but this time it was the Buckeyes who controlled things up front. It's too bad that part of it was the injury to center Travis Jackson, but it wouldn't have made much of a different...Fragel and Jack Mewhort limited Gholston's effectiveness, and when the game was on the line, these guys bullied the Spartans up front to close out the game.

8. This defense really is built for power more than speed. Meyer said his defense was better suited to stop an offense like Michigan State's and boy was he right...

9. Devin Smith is the most exciting receiver in the Big Ten. I dare you to name someone else in the conference who is more dynamic, more explosive and more dangerous when the game is on the line...

10. Bradley Roby is a difference-maker. The same could be said for Orhian Johnson, who played maybe his best game as a Buckeye Saturday. Johnson was on the right end of three big pass break-ups down the field, but it was Roby who allowed the Buckeyes to bring Christian Bryant down into the box as an extra defender. Roby's return from injury gave Meyer the faith that his corners could handle the MSU receivers in man-coverage. Roby also comes through with the blocked punt after telling his head coach to go after it...




Game Recap: No. 14 Ohio State Holds Off No. 20 Michigan State, 17-16
September 29, 2012 Source: OSU Official Site - Urban Meyer's first Big Ten game as Ohio State coach turned out to be a classic welcome to the conference.

His quarterback got shaken up twice, but Braxton Miller kept coming back on the field, and in the end the Buckeyes played just well enough defensively to come away with a bruising victory.

"This was a war. This was two sledgehammers going at each other," Meyer said. "I know the Big Ten has taken some heat. That was a great game. Great atmosphere, a bunch of great players on the field that are going to be playing at the next level, and that was good for college football and good for the Big Ten."

Miller threw for 179 yards and ran for 136, and No. 14 Ohio State held off No. 20 Michigan State 17-16 on Saturday. Miller put Ohio State ahead 17-13 with a 63-yard touchdown pass to Devin Smith in the third quarter, and the Buckeyes' maligned defense held Le'Veon Bell and the Michigan State running game in check.

Meyer becomes the third coach to start 5-0 in his first season at Ohio State. Carol Widdoes and Earle Bruce also did it in 1944 and 1979, respectively.

Michigan State (3-2, 0-1) has lost four home games in a row against Ohio State...


Team Stat Comparison
| | OSU | MSU |
| --- | --- | --- |
| 1st Downs | 21 | 17 |
| Total Yards | 383 | 303 |
| Passing | 179 | 269 |
| Rushing | 204 | 34 |
| Penalties | 6-65 | 4-35 |
| 3rd Down Conversions | 6-13 | 4-15 |
| 4th Down Conversions | 0-0 | 0-0 |
| Turnovers | 3 | 0 |
| Possession | 30:27 | 29:33 |





It Was Over When ... Ohio State, which had stopped Michigan State moments earlier, ran out the clock with about 2 minutes left.

Game Ball Goes To ... Ohio State quarterback Braxton Miller. He committed three turnovers but fought through some tough hits.

Stat of the game ... 4.6 Ohio State averaged 4.6 yards per carry on 44 attempts. Michigan State had just 1.5 yards per carry.

Turning point ... The 63-yard touchdown pass from Miller to Devin Smith at 3:05 of the third quarter. Michigan State had just taken its first lead, but Miller and Smith answered to grab it back for good.

With the 5-0 start, Meyer becomes the third first-year Ohio State coach to start their career 5-0. Only two other first-year coaches have started a season 5-0: Carol Widdoes went 9-0 in 1944 and eventually won his first 12 games; and Earle Bruce opened 11-0 in 1979.

Braxton Miller rushed for over 100 yards on designed running plays for the fourth time in his career. After rushing for a career-low -2 yards against Michigan State on these rushes in a 10-7 loss last year, Miller averaged 5.8 yards per rush and a first down every 2.2 rushes on designed running plays on Saturday.

Hankins will take the 'W' ... Johnathan Hankins has a friendly rivalry with former Detroit Southeastern High School teammate William Gholston, defensive end for the Spartans. Hankins said they compare stats every week. Gholston had four tackles yesterday to three for Hankins, but Hankins was happy about the big picture. "We got the win, and we held them under 50 yards rushing," he said. "That's all I know."




Hankins Postgame



Ohio State came into the game ranked 12th in the Big Ten in total defense, allowing 394.8 yards per game. But the Buckeyes allowed MSU 303 yards, including just 34 yards rushing on 22 attempts. The Buckeyes allowed MSU to convert just 4 of 15 third-down predicaments.

Defensive Notes ... The Ohio State defense held MSU's Le'Veon Bell, the nation's third-leading rusher with 152.5 yards per game, to a season-low 45 yards on 17 carries. He had just 24 yards on eight carries in the first half. The Ohio State defense did not allow Michigan State to gain a first down rushing. The Buckeyes had 14 rushing first downs to finish with 21. MSU had 17 total, three by penalty.

Le'Veon Bell was hit within two yards of the line of scrimmage on 15 of his 17 rushes against Ohio State. Entering Saturday, Bell made it more than two yards past the line before being hit on 48 of his 117 rushes (41 percent).

Le'Veon Bell failed to rush for a first down for the first time since his freshman season. The longest run that Bell could muster against Ohio State's defense was an eight yard rush in the second quarter as Ohio State held Bell to three rushes that gained five or more yards.

Special Teams Notes ... Bradley Roby blocked his first career punt late in the second quarter. The last time Ohio State blocked a punt was Ryan Shazier last season in the win over Wisconsin.

Numbers for dummies

0: First downs rushing for MSU, which entered with 7.8 per game

2: Collective sighs of relief by Buckeyes fans, for each time Miller returned to the game after injuries

Just wondering: Can Ohio State run the table? A week ago it seemed a long shot, but if Michigan State is the best the Big Ten has to offer, and if the Buckeyes can beat the best on the road, then 12-0 should no longer elicit snickers and rolling of the eyes.

Repercussion ... With voters in the Associated Press poll being fickle this season, it will be interesting to see whether the Buckeyes climb from No.?14. But considering that Michigan State was the next highest-ranked team in the Big Ten (No.?20), Ohio State took a grip on the claim of being the best team in the league.

Sources: OSU Official Site, ESPN, Columbus Dispatch, Bucknuts



Instant analysis: OSU 17, MSU 16: Game ball goes to: Ohio State quarterback Braxton Miller. He committed three turnovers (2 fumbles, 1 interception) but made more big plays than Michigan State and fought through some tough hits. The sophomore completed 16 of 23 passes for 179 yards with a touchdown and an interception. Miller also recorded game-highs in both carries (23) and rush yards (136), displaying tremendous footwork to keep Michigan State's defense off balance.

Stat of the game: Ohio State averaged 4.6 yards per carry on 44 attempts. Michigan State, despite boasting the Big Ten's top rusher in Le'Veon Bell, had just 1.5 yards per carry (just 22 attempts).

Worst call: The officials at Spartan Stadium weren't replacements, but they made a rookie mistake early in the fourth quarter after Miller fumbled near the sideline. The officials ruled Miller down and blew the whistle, ending the play. The replay crew correctly reversed the call and awarded the ball to Michigan State, but the blown whistle prevented the Spartans from potentially scoring a touchdown on a fumble return. Michigan State had other chances to win, but the blown whistle really hurts in a 1-point game.

Unsung hero of the game: Ohio State senior linebacker Etienne Sabino. The former blue-chip recruit, who admits he has underachieved a bit in his career, stepped up in a big way Saturday. He recorded a second-half sack of Andrew Maxwell and pressured Maxwell on a third-and-9 play in the closing minutes, forcing a punt. Michigan State never regained possession.

What it means: Ohio State showed it can win on the road and overcome a lot of adversity. It's not easy to win when you're minus-3 in turnovers, but the Buckeyes received a better defensive effort than they've had in recent weeks, shutting down Bell, and their offensive line stepped up big late to salt away the game. Miller once again showcased big-play ability, making a perfect throw to Devin Smith for a 63-yard touchdown after Michigan State had taken the lead. The Spartans showed improvement in their passing game and generated more takeaways on defense, but they simply haven't put it all together against good teams. It has to be frustrating to lose on your home field when you're plus-3 in turnovers. Bell was a surprising nonfactor in the game, and the defense couldn't get a stop in the closing minutes. Michigan State can still make a run in the Legends division, but it will need to do well on the road after dropping two marquee home games. Source: ESPN





"That was a great game. This ranks as one of the great ones I've [ever coached]; I'm very lucky to have been around some great players, some great teams...this ranks as one of the top wins. This is fantastic." - Urban Meyer



Postgame Quotes From Ohio State vs. Michigan State September 29, 2012 Source: OSU Official Site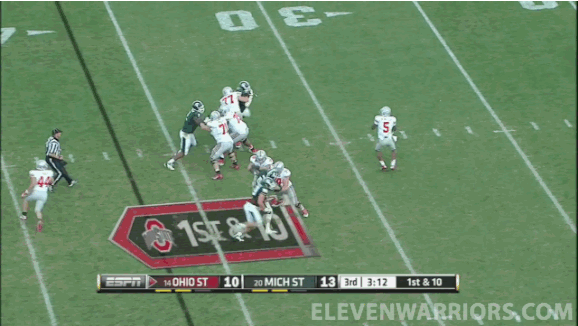 Source: Eleven Warriors



Braxton Miller puts Ohio State ahead 17-13 with this 63-yard TD pass to Devin Smith in the 3rd quarter

Smith seizes moment: Devin Smith seems to have a knack for the dramatic. He showed it again, gaining a step on a defender down the right sideline to haul in a 63-yard touchdown pass from Braxton Miller that regained the lead for good for the Buckeyes.

Smith has 19 catches on the season, four for TDs.

"I'm just going out here making plays for this football team, helping my brothers out," Smith said. "We're a tight group, we love each other and we're going to fight to the end."

With the Michigan State safety dealing with a receiver running a post route underneath, Smith beat press coverage from the Spartans' top cornerback, Johnny Adams.

"I gave him a little move at the line, then just ran fast," Smith said. "Braxton threw me a nice ball, I caught it and just took it to the end zone."

The longest previous completion against the Spartans this season was 40 yards by Boise State in the opener. Source: Columbus Dispatch




Devin Smith talks after OSU's win at Michigan State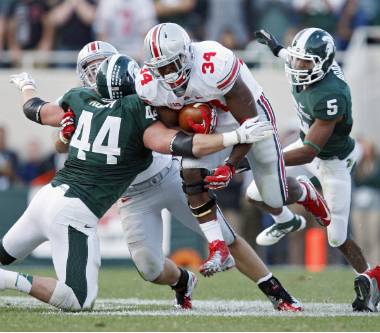 Hyde refuses to be stopped on big run
September 30, 2012 Source: Columbus Dispatch - Ohio State faced third-and-4 with a little more than two minutes left, and coach Urban Meyer had a simple message for Carlos Hyde.

Michigan State had called its final timeout, and Meyer told his running back what was at stake — not that Hyde needed the reminder.

"Coach called my number and told me if I get this first down, this game is over," Hyde said. "I was determined to get that first down. No one was going to stop me."

Hyde ran between the punishing blocks of right tackle Reid Fragel and fullback Zach Boren and bulled ahead for 5 yards to seal Ohio State's 17-16 victory.

"We ran that same play a couple of times before that," Hyde said. "I knew I'd have to jump-cut the back and get up the field now. That's exactly what happened."

It was a satisfying ending to an up-and-down September for Hyde. He began the season as the starter because of Jordan Hall's foot injury, but he suffered a sprained medial collateral ligament in his right knee in the second game against Central Florida.

Hyde missed the next two games, but when Hall suffered a knee injury in the second quarter yesterday, it fell on Hyde to take over.

At 232 pounds — big enough to move the pile against a tough Spartans defense — he was up to the task. Hyde ran 11 times for 49 yards. Before the game-clinching first down, he ran twice for 13 yards to start the drive.

"They kept giving me the ball," Hyde said. "That's all I want to do — run the ball."





The Buckeyes converted a trio of first downs on their final possession, the final one on a third-and-4 as Hyde followed a block from right tackle Reid Fragel and then sliced through a would-be tackler for a 5-yard gain. That gave OSU a first down with 1:29 remaining and three kneel-downs later, the Buckeyes had the victory. Buckeyes Pull Out 17-16 Squeaker Over Sparty




Reid Fragel Postgame: What Coach Meyer said to the offense on last timeout.







Dienhart: These 5-0 Buckeyes are very good
September 29, 2012 Source: BTN - We interrupt your week filled with Big Ten bashing to tell you that Ohio State is good. It's very good, in fact. Probably the best team in the Big Ten and reason to emote some conference pride.

The Buckeyes looked the part of a very good team in methodically dispatching Michigan State, 17-16, today in East Lansing vs. a Spartan team that was desperate to show it was legit after looking inconsistent the first four games.

"I know the Big Ten has taken some heat; I thought that was a great game, great atmosphere, bunch of great players on the field," Urban Meyer said. "We played at the next level and that was good for college football and good for the Big Ten."

No, it wasn't a perfect performance by the Buckeyes. But it was the best effort of the season for Ohio State, which played four solid quarters and made some big plays to escape with its eighth win in nine games vs. MSU, avenging last year's 10-7 loss to the Spartans...

Michigan State finished with 303 yards, running 22 times for 34 yards. That comes out to a scant 1.5 yards per tote. The Buckeye defense was geared to stop star Spartan running back Le'Veon Bell. And, it worked. Bell ran just 17 times for 45 yards (2.6 yards per carry). His long run? Eight yards. Bell came into the game averaging 29.3 carries and 152.5 yards rushing...

"I think it was just an attitude thing and a revamped program," said Ohio State center Corey Linsley. "As Coach Meyer puts it, if you get kicked enough times, you are going to respond eventually. That was us today. I am proud of our guys."...



John Simon Postgame

MSU Postgame: Braxton Miller, offensive coordinator Tom Herman, WR Devin Smith, DT and Michigan native Johnathan Hankins and RB Carlos Hyde. Source: BuckeyeGrove.com







MSU

Sept 29, 2012 3:30PM

Urban Meyer One-On-One talks OSU MSU


Players & Coaches Talk MSU



KEY TO THE GAME

Get more than one huge play from Braxton Miller: Expect this to be a refrain throughout the Big Ten season, when the Ohio State quarterback should be the most dangerous big-play threat on the field. If Miller can break the back of a defense two or three times, he can win the game.

Don't expect offensive consistency from the Buckeyes -- not against the Michigan State defensive line and a secondary led by All-Big Ten corner Johnny Adams.

"It's no secret what they're doing. They walk up on you and say, 'I got you,' and the other guys go stomp something else," OSU coach Urban Meyer said.

So can Miller create drives on his own, with plays of 40 yards or more? Two weeks ago against Cal, Miller ran the ball 12 times for 75 yards. Most of that came on a 55-yard touchdown run. The rest of the time, he was bottled up. In four games, Miller has four runs of at least 30 yards and fives passes of at least 30 yards.

Let's set the huge-play mark at 40 yards. If the Spartans limit Miller to only one of those, Ohio State will have a tough go. If Miller hits that mark at least three times, the Buckeyes are in business. September 29, 2012 Source: Cleveland Plain Dealer>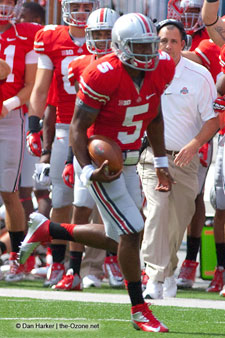 Looking at Saturday's Biggest Matchups
September 28, 2012 Source: The Ozone - 1. RB Le'Veon Bell vs. Ohio State's front seven.: This could be the matchup that single-handedly determines the outcome of Saturday's game in East Lansing. It's not just about Bell. He will have the rock in his hands 25-30 times at least against the Buckeyes, but this is also about Michigan State's offensive line being able to handle Ohio State's defensive front in order to get Bell to the second level...

2. Braxton Miller vs. Max Bullough and Denicos Allen: On the flip side, Michigan State will face an equally, albeit different, threat in OSU quarterback Braxton Miller. If they think they know anything about Miller from this game a year ago, they had better think again. That game will probably go down as the worst of Miller's OSU career, at least in terms of production...

John Simon and Nathan Williams vs. RT Skyler Burkland: There aren't a lot of big names on this Michigan State offensive line, but the one guy to watch is Sunbury, Ohio, native Skyler Burkland. The 6-7, 315-pound sophomore out of Big Walnut High School has dealt with some injuries at Michigan State, but he's healthy now...

DE Williams Gholston vs. OT Reid Fragel: Gholston will probably move around a lot on Saturday as they try to confuse sophomore quarterback Braxton Miller, but it's going to be interesting to see how Reid Fragel handles the freakish pass-rusher whenever he lines up across from Ohio State's right tackle...

Corey Linsley vs. MSU nose tackle James Kittredge: This was another area where the Spartans dominated the Buckeyes a year ago. Handicapped by the lack of a passing attack, and a archaic snap count, Michael Brewster had a nearly impossible time keeping Jerel Worthy out of the OSU backfield. Worthy is now in Green Bay, but Kittredge has filled in nicely this season as a transfer from Vanderbilt...

Ohio State's WRs vs. CB Johnny Adams: There is no question Michigan State will load the box against Ohio State on Saturday, and they will probably spy Miller most of the day. That means the Buckeyes will have to find a way to throw the football, so it's going to be another big test for Devin Smith, Corey Brown, Jake Stoneburner and Evan Spencer...Adams is an Ohio guy who plays with a chip on his shoulder in this matchup because he was overlooked by the Buckeyes. Nobody is overlooking him anymore, as Adams has become one of the best man coverage corners in the country...




Five key factors for victory
September 28, 2012 Source: Columbus Dispatch -

Control Le'Veon Bell
The Groveport graduate, the latest workhorse running back for the Spartans, is third in the nation in rushing (153 yards a game). Bell has the size to punish between the tackles and the agility to avoid defenders. The Buckeyes have not been sure tacklers, and Bell has the talent to make them pay.

Make Maxwell throw
Containing Bell would put the game in junior quarterback Andrew Maxwell's hands, and that's where OSU wants it. Maxwell, who replaced three-year starter Kirk Cousins, threw three interceptions against Boise State in the opener. He hasn't been picked off since, but his numbers are ordinary (57 percent completion rate). He's not a running threat, so OSU can commit to its pass rush.

Win special teams
The Buckeyes' breakdowns in the kicking game last week against Alabama-Birmingham were intolerable for a team and coach that prides itself on dominating this phase. OSU has relied heavily on freshmen, something that coach Urban Meyer acknowledged to be a problem and said he will change. With the Buckeyes healthier, look for more starters to fill roles.

Run inside
Carlos Hyde is expected back this week, and he should give a boost to a between-the-tackles running game that has been sporadic this season. Jordan Hall is more effective on the perimeter, and the Buckeyes don't want Braxton Miller running into the teeth of the Spartans' defense too often. Michigan State prides itself on its run defense. A key matchup will be OSU right tackle Reid Fragel against William Gholston, an elite defensive end.

Hit big passes
The Spartans trust cornerbacks Johnny Adams and Darqueze Dennard to play a lot of tight, man-to-man coverage on opposing receivers. The Buckeyes have to make Michigan State pay. Devin Smith has game-breaking speed, but he has been susceptible to dropped passes. Corey Brown must be able to fight for separation on pass routes. Jake Stoneburner wasn't thrown to last week against UAB; he could be essential against the Spartans.



Bucks to watch vs. Spartans
September 27, 2012 Source: ESPN Buckeye Nation - A look at three Ohio State players who will be critical in the Big Ten opener on Saturday against Michigan State and how they might be able to impact the outcome.

BRAXTON MILLER
•The basics: At times it seemed as if the Buckeyes were saving the sophomore quarterback for the start of Big Ten play with Miller not even rushing for the first time until midway through the second quarter against UAB. That ultimately didn't keep Ohio State from keeping its record perfect, but if it's going to stay that way, Miller's multi-purpose skills will almost certainly have to be on display early and often.

•By the numbers: So far, the sophomore's scoring has been perfectly balanced. Miller has racked up 14 touchdowns for Ohio State through four games, just six shy of the total he posted during his true freshman campaign. Half of them have come through the air, and his seven rushing touchdowns have already matched his total on the ground from last season -- getting there on 92 fewer carries.

•Opportunity for impact: Miller will have both of his top sidekicks at running back healthy for the first time, which should help as he runs the spread-option rushing attack. But what the Buckeyes will really need is for their passer to show off his improved accuracy and poise throwing the football, because the Spartans are going to dare Miller to beat them deep. And when Devin Smith or Corey "Philly" Brown get behind the defense like they did on occasion last week, Miller can't miss them...

JOHNATHAN HANKINS
•The basics: The junior is clearly getting more comfortable as the season progresses, and he has been stacking improved performances on top of each other heading into Big Ten play. The potentially scary thing for the big man in the middle is that he's been having an impact against teams trying to spread the field, and with league play ready to kick off, there should be even more chances to make a mark against more traditional offenses.

•By the numbers: After a sluggish statistical start to the season, Hankins has exploded in the middle of the line with double-digit tackling performances in each of the last two games to move into a tie for third on the team with 25 takedowns. He also has chipped in at least half of tackle for loss in each of the last three games thanks to the impressive penetration he has been getting in the backfield.

•Opportunity for impact: There's not much of a secret what the Spartans want to do offensively with bulldozing tailback Le'Veon Bell, but an old-school, power rushing attack could play right into Ohio State's hands with Hankins patrolling the line of scrimmage. Michigan State has had a few lapses and also hasn't quite lived up to expectations on the offensive line, which could open up some cracks for Hankins on the interior and defensive end John Simon on the edge...

CHRISTIAN BRYANT
•The basics: By his own admission, Bryant battled through an inconsistent season a year ago. But he has become a steady presence in the backend and made contributions all over the field. As long as Bryant is keeping his emotions in check and avoiding penalties like the taunting call he drew against UAB, he's becoming a much more reliable playmaker.

•By the numbers: The junior has built himself into much more than a feared hitter in the secondary, though that skill does still come in handy. Bryant forced his first fumble of the season last week against UAB to help swing field position and set up a score in a tight game before halftime, and the Buckeyes could use a few more loose footballs on the ground after forcing a total of just three fumbles through four games -- recovering two of them.

•Opportunity for impact: Fellow starting safety C.J. Barnett was downgraded by Meyer to questionable on Thursday, which will put more pressure on Bryant to deliver in the secondary for the second consecutive week. Whether it's arriving to help against the run and bring down Bell, helping in coverage against athletic Michigan State tight end Dion Sims or reading where an inexperienced quarterback like Andrew Maxwell is going with the football, Bryant will have to be active with the secondary planning on taking a more aggressive approach collectively this week...



Urban Meyer answers questions from reporters following practice on Wednesday. Source: The Ozone



Wednesday Practice Updates: Michigan State
September 26, 2012 Source: Eleven Warriors - • Meyer said he is very excited about Saturday. He said he's loved road games since he was a graduate assistant at Ohio State in the 80s.

• That was Meyer's first experience at Spartan Stadium. He became much more familiar with East Lansing when he was an assistant at Notre Dame.

• Meyer said it's a hostile environment with the fans right on you. But in a play to his crowd, he said the MSU fans aren't as loud as Ohio State or Notre Dame fans...

• Four Buckeyes that will travel to East Lansing: Carlos Hyde, Michael Bennett, Bradley Roby and CJ Barnett.

• Hyde is ready to go and WILL play. Meyer said he's looked good in practice this week.

• The full backfield should be a huge boost to the offense. Meyer lauded running backs coach Stan Drayton for the job he's done with the backfield and preparing them each week...

• Bennett's status is still uncertain. No word of if he will play or not.

• In the secondary, Roby is looking good, but Barnett's situation is more murky. Meyer said he could possibly miss the game.

• In practice this week, all facets of the game – offense, defense and special teams – have been emphasized. The Buckeyes need to improve at everything, Meyer said.

• Meyer said offensive lineman Marcus Hall is getting better, but he is still nowhere near where he can be. Hall has a lot of potential, Meyer added.

• Ohio State has been practicing with crowd noise all week. Today the Michigan State fight song could be heard loud and clear in the media waiting area...

• Rod Smith and Bri'onte Dunn have acted as Le'Veon Bell on the scout team. Meyer said they've been running hard right into the defense all week...

• Last week, Braxton Miller gained more responsibility, being able to call audibles at the line of scrimmage. Meyer called it a normal progression and said by next season he hopes Miller can have the full playbook in his mind and go to the line with options to run any play.

• The freshmen have to step up this weekend, Meyer said. They aren't freshmen anymore. "It's not Week 1," Meyer said.

• Miller said last season's Michigan State game is a blur. The Spartans had nine sacks.

• After watching film, Miller couldn't believe how skinny he looked. He said he's much more developed this year physically and as a QB.

• The Michigan State defense uses a lot of disguised coverages, Miller said. They also use a lot of man converages on the wide receivers...

• On offense, Miller said he feel like a leader now, especially since he gets the ball on every play.

• Doran Grant's dad was an All-Big Ten wide receiver at Michigan State. Grant said his dad would definitely be wearing Green and White on Saturday. Asked whom his dad would be rooting for, Grant laughed and said he didn't know...

• Last season, Michigan State's defense dominated Ohio State, but this is a new offense, Stoneburner said. He said Ohio State runs a unique version of the spread offense not seen in the Big Ten...

•"They have a lot of preparing to do." – Stoneburner on the MSU defense...

• Old-fashioned, Big Ten slugfests are the type of games Hankins prefers...

• Hankins said he and high school teammate William Gholston talk every week...



OSU players talk MSU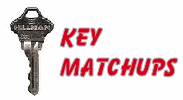 OSU receiver Devin Smith vs. MSU cornerbacks Darqueze Dennard and Johnny Adams: Urban Meyer praised Smith for stepping up his game in the nonconference schedule. It's time for the sophomore to do it again. Smith was ordinary against UAB, with four catches for 39 yards. Michigan State's corners are a tougher test. He has to shine.

OSU safeties Christian Bryant and C.J. Barnett vs. MSU tight end Dion Sims: If Ohio State is in its base 4-3 defense, there are going to be times where the safeties cover the tight end in passing routes. At 6-5, 280, Sims is a tank with a significant size advantage on the OSU safeties. Sims is Michigan State's leading receiver with 22 catches, so he doesn't just stay in and block.

OSU safeties Christian Bryant and C.J. Barnett vs. MSU tight end Dion Sims: If Ohio State is in its base 4-3 defense, there are going to be times wherOSU defensive linemen Johnathan Hankins and John Simon vs. MSU quarterback Andrew Maxwell: The Buckeyes' first focus is to limit Michigan State running back Le'Veon Bell. But Ohio State must get pressure on Maxwell, preferably without shooting linebackers and safeties on blitzes. That means Hankins and Simons, the leaders of OSU's front four, must front that charge.

OSU safeties Christian Bryant and C.J. Barnett vs. MSU tight end Dion Sims: If Ohio State is in its base 4-3 defense, there are going to be times wherOSU running backs Carlos Hyde and Jordan Hall vs. MSU's front seven: The Buckeyes cannot survive with Braxton Miller being the only playmaker on offense. The return of bruising Hyde to the backfield is huge. Michigan State's front seven is big and physical. Hall might not have as much success between the tackles as the past two weeks. Hyde might need a big game for OSU to win. The News-Herald


Braxton Miller after practice Wed September 26, 2012 Source: ScoutingPennsylvania



John Kampf's 10 key points for the Michigan State game
September 26, 2012 Source: The News-Herald - 10. Ohio State's defense has seen it all through the first month of the season. First it was Miami (Ohio) with its three-step, quick-strike passing. Then came pass-happy Central Florida, whose 249 yards passing didn't hold a candle to Miami's 313. Cal attacked the perimeter with its speed and then UAB dinked-and-dunked 259 passing yards on the Buckeyes.

9. While Saturday's trip to East Lansing will be the toughest test yet for the 4-0 Buckeyes, a return to normalcy will be welcome. Instead of playing teams that think up every gadget trick possible offensively, the Buckeyes will face a more traditional football team in the 3-1 Michigan State Spartans.

8. Traditional in this case means more pro-style sets. Not the three-step quick-hit passes that are designed to take Ohio State's pass rush out of the equation. And certainly not the spread-the-field sets the Buckeyes will employ against the Spartans. Michigan State is meat-and-potatoes Big Ten power football.

7. That fits Ohio State's defense better. Coach Urban Meyer knows it. "I think our defense is kind of built for this. It's not built for sideline-to-sideline dinks and dunks."...

6. This is not an excuse for the Ohio State defense. They shouldn't use the Silver Bullets term OSU defenses have used over the past few decades, because they haven't packed much of a wallop...

5. What does Ohio State's defense hang its hat on? Good question. Tackle Johnathan Hankins is head and shoulders the best player on the defense. Etienne Sabino and Ryan Shazier have been solid at linebacker. John Simon (13 tackles) has been so-so. The defensive backfield has given up big plays and has missed tackles.

4. The point is, the Buckeyes' defense has an awful lot to prove on Saturday...

3. The point is, Ohio State hasn't stopped many people this year...

2. Because Ohio State's offense, unlike that of Michigan, isn't built to win shootouts with both teams scoring in the 30s or 40s. The return of Carlos Hyde to the OSU backfield this week is huge. But Michigan State's defense is going to gear up for Braxton Miller as much as Ohio State is gearing up to stop Le'Veon Bell...

1. There are just too many questions to side with Ohio State this weekend. If the Buckeyes struggled moving the ball on UAB, what are they going to do against a more formidable Michigan State defense? Prediction...



Jonathan Hankins after practice Wed, September 26, 2012 Source: ScoutingPennsylvania



Michigan State University Media Conference
September 26, 2012 - Dantonio on Braxton Miller: "he's like a tailback in the backfield that can throw it"...




Dantonio Sees Immense Growth in Buckeye QB
September 26, 2012 Source: The Ozone - Last year the MSU defense made life miserable for a young Braxton Miller. MSU Head Coach Mark Dantonio says that will be much tougher for his defense this year...

The Spartans have already faced a dynamic running quarterback this season in Notre Dame's Everett Golson. They are also quite familiar with Michigan's Denard Robinson, but Miller brings a little something different to table than either of those two.

"A different dynamic that Everett Golson didn't do as much in our Notre Dame game. He's a different type of quarterback," Dantonio added.

"Where Golson may look to throw first, (Braxton Miller) may look to run first. He's a tailback that can throw in the backfield. He can make you miss, do a lot of different things, run with power and then throw it. He'll be a tough guy to defend."...





Two-Minute Drill: Meyer Provides Tuesday Updates (via teleconference)
September 25, 2012 Source: The Ozone - The offense isn't as diversified as Meyer would like, but he sees glimpses... Meyer also alarmed by the fact Ohio State is dead-last in the Big Ten in defense right now. "That has to change real fast."... more...




Urban Meyer recaps the UAB game and looks ahead to Michigan State. September 24, 2012 Source: Bucknuts



BEST MATCHUP: Ohio State QB Braxton Miller vs. Michigan State linebackers. Max Bullough, Denicos Allen, Chris Norman, it's up to you to try to contain Miller, who may be the top dual-threat quarterback in the nation. The Spartans, who looked lethargic in a 23-7 win over Eastern Michigan last week may have the best collection of linebackers in the conference. This is pure strength on the strength. Who is going to prevail? The winner of this battle within a battle figures to take the game. September 25, 2012 Source: BTN





Special-teams breakdown haunts Ohio State coach Urban Meyer
September 25, 2012 Source: ESPN Buckeye Nation - Meyer takes special-teams breakdowns seriously, might change up personnel. The scheme might be complex, but the assignments and the math are simple. The blockers on Ohio State's punting unit just have to count the guys coming, and then all they have to do is block them...




No. 14 Ohio State Travels To No. 20 Michigan State Source: OSU Official Site - Ohio State is playing its first game in Spartan Stadium in four years, or since the 2008 season.

Ohio State won the last meeting in East Lansing, 45-7 in 2008.

This is Ohio State's fi rst game on grass this year. Ohio State was 0-3 on grass fields in 2011 (losses at Miami, Purdue and Florida at the Gator Bowl)

Television: ABC will televise the game with Brent Musburger and former Buckeye Kirk Herbstreit in the booth and Heather Cox on the sidelines...

FIRST VISIT FOR VIRTUALLY EVERY BUCKEYE
Not only will the game be the first road test of the season for Urban Meyer's Ohio State team, it will also be the first visit to Michigan State for virtually every player on the team with these two exceptions: Sr. DE Nathan Williams played as a true freshman in the 2008 game and made one tackle; Sr. LB Etienne Sabino also played in that 2008 game on special teams as a true freshman...


Ohio State Buckeyes
Michigan St. Spartans

2012 Totals (NCAA Ranking)






   Offense   
37.7 (24) ......... Scoring ......... (102) 21.0
229.2 (24) ......... Rush Yards ....... (53) 176.2
197.7 (96) ......... Pass Yards ....... (61) 229.0
140.6 (49) ......... Pass Efficiency ... (108) 110.6
427.0 (52) ......... Total Yards ....... (65) 405.2
   Defense   
394.7 (71) ......... Total Defense ....... (6) 233.5
117.5 (33) ......... Rushing Defense ..... (10) 69.2
277.2 (104) ......... Pass Defense ....... (13) 164.2
18.0 (36) ......... Scoring Defense ..... (11) 11.7
36.2 (79) .........  Net Punting ......... (66) 37.0
2.5 (T-105) ......... Punt Returns ....... (54) 9.4
21.0 (66) ......... KO Returns ......... (51) 22.2
+1.25 (T-17) ......... TO Margin ....... (T-74) -.25
2.5 (T-34) ......... Sacks ......... (T-110) .75
4.0 (112) ......... TFL ........... (T-75) 5.25
1.7 (T-56) ......... Sacks Allowed ...... (25) 1.0



Keys to Victory for Buckeyes vs. Michigan State
September 25, 2012 Source: The Bleacher Report - Ohio State has the talent to defeat Michigan State, but it won't be easy. Here are three keys to victory on Saturday.

Wrap 'Em Up
Ohio State's defense is supremely talented, but its struggled to wrap up ball-carriers in its first four games.

If those same issues continue against Le'Veon Bell and the Michigan State offense, the Buckeyes will be in for a long day. Bell has steamrolled his way to 610 yards and five touchdowns so far this season, using his powerful build to gash opponents consistently...

Pressure Andrew Maxwell
The Spartans have the 104th-best scoring offense for a reason. Andrew Maxwell hasn't been ideal as Kirk Cousins' replacement, and Michigan State's offense has suffered accordingly.

Maxwell has over 800 yards and three touchdowns through the air this year, but he's also thrown three interceptions. Playing well against Central Michigan and Eastern Michigan is fine; playing poorly against Notre Dame and Boise State is not.

Ohio State needs to crank up the pressure on Maxwell every chance it gets...

Start Fast
The Buckeyes were down to UAB 6-0 at the end of the first quarter last week. They bounced back to win the game, but a slow start against a better opponent could doom them on Saturday.

Michigan State will try to control the clock with Bell, allowing its defense to win the game. Ohio State's frenetic attack must score early and put the Spartans defense back on their heels...



September 28, 2012 Source: Columbus Dispatch


Cover Story: Reid Fragel credits his family — especially his two brothers — for helping him get to where he is today
Ohio State spotlight: LB Ryan Shazier
On the edge: Ohio State vs. Michigan State; Who has the edge
MEET A BUCKEYE: Ben Buchanan
Is Ohio State ready for Big Ten?
Play of the week: Shotgun flood right
& more...





Cornerback Bradley Roby (shoulder) and safety C.J. Barnett (ankle) sat out the UAB game. They are expected to return this week, and confidence is high that running back Carlos Hyde (knee), who has missed the past 21/2 games, will be back, too. Source: Columbus Dispatch

It appears that Ohio State sophomore defensive end Michael Bennett will make the trip to East Lansing and could play against Michigan State in the teams' Big Ten opener on Saturday. Source: Bucknuts



Game Data: OSU at Michigan State
September 26, 2012 Source: Bucknuts - This is the eighth team Meyer has led to a 4-0 start in his 11th year as a head coach. Only two first-year OSU coaches have started 5-0. Carroll Widdoes was 9-0 in 1944 and eventually won his first 12 games before a loss. Earle Bruce posted an 11-0 record to open the 1979 before a Rose Bowl loss to USC.

The best bet is that the Buckeyes find a way to contain Bell and exert pressure on Maxwell, who is still learning the ropes at quarterback. OSU's defense is rated 12th (that's dead last) in the Big Ten in yards allowed at 394.7 per game. They must do better against Michigan State, although this is the kind of offense the Buckeyes are built to stop (i.e. not a spread).

* How It Will Go: If you asked me last January, I would have said Michigan State would win this game. Heck, if you asked me two weeks ago at this point, I would have said Michigan State would win this game...



ESPN's Game Day Ohio State-Michigan State; The Big Ten Race Begins




College Football Expert Picks - ATS - Week 5:

Line

Dennis
Dodd

Bruce
Feldman

Bryan
Fischer

Tom
Fornelli

Jerry
Hinnen

Matt
Hinton

Chip
Patterson



College Football Predictions: 10 Key Games in Week 5
September 25, 2012 Source: Athlon Sports - Ohio State (+3) at Michigan State

After opening the Urban Meyer era with four straight wins at home — some closer than the natives would have liked — the Buckeyes make the short trip to East Lansing for the Big Ten opener for both schools. Ohio State has struggled on defense the past two weeks, giving up 512 and 403 yards to California and UAB, respectively. The major issue has been stopping the pass; the Bucks currently rank 104th in the nation in pass defense, allowing 277.3 yards per game. Good thing for Ohio State that Michigan State has so much trouble with the forward pass. Andrew Maxwell's numbers aren't horrible, but MSU ranks 108th as a team in passing efficiency and doesn't really have many proven downfield threats. Le'Veon Bell has been the primary weapon for the Spartans' offense, but he hasn't exactly been a model of consistency. The junior has two games with over 200 yards and two games with under 100. Slowing down Bell will be the key for the Ohio State defense. Ohio State 17, Michigan State 13





#14 OHIO ST AT #20 MICHIGAN ST
September 25, 2012 Source: PhilSteele.com - Ohio St had won 7 in a row in this series until last year. The Spartans led 7-0 at the half (170-87 yard edge). In the 2H OSU QB Miller was benched and MSU missed a 51 yard FG and from the 6 was intercepted in the EZ. With 1:51 left OSU went 62/6pl avoiding the shutout with a 33 yard td pass with :10 left as the Spartans had 9 sacks. MSU last beat OSU 2 years in a row in '98 & '99. OSU is 6-1 in its last 7 trips to East Lansing including 3 straight wins by an avg of 38-11. Both teams went through the motions last week as MSU trailed EM 7-6 at the half and failed to score a td vs the Eagles until 7:19 was left. RB Bell (610, 5.2) has had two 200 yard games this year despite QB Maxwell (217, 57%, 3-3) failing to find a compliment to TE Sims (277, 12.6). Sloppy OSU was outgained 403-347 by a UAB tm that took a 9-0 lead thanks to a blocked P returned for a td. OSU scored three 2Q td's in 2:42 and after the Blazers cut it to a 6 point lead early 4Q OSU scored a td & 2 point conv to put it away. QB Miller's (189 ypg, 61%, 7-2, 441 rush) carries have been cut in the last two games with the return of RB Hall (192, 5.6). MSU has the schedule edge with Indy on deck while this is OSU's first road game and they have Neb on deck. Both D's are tops in the Big 10, but while I think OSU can limit Bell like ND did, OSU QB Miller is an "X" factor that can beat you with his arms and legs. PHIL'S FORECAST: OHIO ST 16 MICHIGAN ST 13





Preview: #14 Ohio State at #20 Michigan State
September 28, 2012 Source: Eleven Warriors - Ohio State is 1-5 in its past six games when allowing a 100-yard rusher. On the other side, Michigan State is 20-1 since 2010 when outrushing its opponent. When they rush for 200 yards or more as team, the Spartans are 16-2 since 2007. Ohio State owns the 33rd-best defense against the run, surrendering 118 yards per game.

The dominant Ohio State defensive line – or so everyone was told – has not been so intimidating through four games. Now they will go up against an offensive line that has opened up holes the size of Crater Lake. Meyer said he felt like Michigan State's offense was a better-suited opponent for the defense because of its power style.

Ohio State will be in its base defense much of the day. Storm Klein and Curtis Grant could each play, but the expectation based on the past two weeks is that Klein will get a majority of the snaps at middle linebacker.

The Buckeye corners will play more man-press coverage this week, which should limit the number of short-yardage passing gains. That was something that plagued the Ohio State defense the first four games. Whether it was screens or dinking and dunking their way down the field, opponents have been able to gash the defense on short-yardage pass plays.

"I think our defense is kind of built for this," Meyer said. "It's not built for sideline to sideline and dinking and dunking."...




Ohio State-Michigan State Preview Capsule
September 25, 2012 Source: Washington Post - KEY MATCHUP: Ohio State quarterback Braxton Miller vs. Michigan State's pass rush. It wasn't pretty for the Buckeyes last year, when they allowed nine sacks in a 10-7 loss to the Spartans. Ohio State's defense is currently ranked last in the Big Ten, so Meyer's offense may need to score some points to win this one...




Week 5 - Ohio State at Michigan State
September 25, 2012 Source: CollegeFootballNews - Why Ohio State Might Win: The Michigan State passing game isn't working. Andrew Maxwell is getting time to work, and he threw for decent yards in the first two games, but he was shut down cold by Notre Dame throwing for 187 yards on 45 attempts, and he was surprisingly awful against Eastern Michigan, completing 16-of-29 passes for 159 yards and a score. Ohio State's pass defense has been a disaster at times, and it gives up a ton of yards, but it makes up for it with big plays picking off seven passes and allowing just four scoring throws. Ohio State is going to load up everyone and Brutus to stop Bell and the Spartan ground game, and in the face of a strong pass rush, Maxwell will have to force a few plays. The opportunities will be there to come up with a few game-changing picks...

Why Michigan State Might Win: So the Spartan defense has to shut down one guy? Okay.

It's a new year and a more mature Miller, but last year he was held in relative check by the Spartans finishing with -27 yards on nine carries and throwing for 87 yards and a score in relief of Joe Bauserman. The Buckeyes are trying to get more out of the supporting cast with Jordan Hall running for 87 yards against Cal and ripping off 105 yards against UAB, but MSU is phenomenal against the run and should be able to contain the ground game to make Miller a passer. He has been efficient and effective so far, but that's because defenses are selling out once the OSU running game starts to work. MSU won't have to do anything out of the ordinary up front, and the secondary should be able to handle itself against the mediocre Buckeye receiving corps.

Ohio State might not be bad when it comes to turnovers with just four so far, but it's committing way too many penalties. The seven last week against UAB weren't bad, but the combined 21 sins against UCF and Cal were a problem. Michigan State was flagged ten times in the opener, but has been nailed just 14 times since.

What To Watch Out For: This might be a Heisman elimination game. The field is wide open, and while Braxton Miller and Le'Veon Bell might not be front-runners at the moment, it's still early and they can still be in the hunt to at least get to New York. However, one bad game here probably ends the possibilities.

Bell was needed way too much against Eastern Michigan, running 36 times for 253 yards and a score, and while he wasn't bottled up by Notre Dame, he couldn't get rolling with 19 carries for 77 yards. He's currently on a pace to finish the regular season with 1,830 yards and 15 scores, but he's also on pace to carry the ball more than 350 times. Last year he ran for 50 yards on 14 carries against the Buckeyes.

There might not be a more valuable player right now than Miller, who leads the Buckeyes with 441 rushing yards and seven scores, while completing 61% of his passes for 754 yards and seven scores with two picks. He has been magnificent, but like Bell, he won't last in the long term if he's taking the big shots he's receiving week after week. There's no questioning how dynamic he is, and he's an undeniable talent who'll have a great next few years under Meyer, but he's about to be challenged for the first time since the bowl loss to Florida.

What Will Happen: Miller will be bottled up and the Ohio State offense won't go anywhere, but Michigan State won't get much out of its attack, either. The defenses will own the offenses, and the Michigan State defense will be a wee bit better. Maxwell won't be great, but he'll be effective enough in a few key drives to get MSU the key win.

CFN Prediction: Michigan State 17 … Ohio State 13...




Opponent Preview: Michigan State Spartans
September 28, 2012 Source: BuckeyeSports.com - Ohio State has its first road test and begins Big Ten play this weekend at a ranked Michigan State team coming off consecutive outstanding seasons. BSB takes a look at the Spartans in this preview with notes, quotes, team facts and a scouting report...

First-year starting quarterback Andrew Maxwell still has the support of the staff, but he has struggled. The junior is 12th in the Big Ten in passing efficiency so far, as he's completed 81 of 143 passes (56.6 percent) for 869 yards, three touchdowns and three picks, including one returned for a touchdown. His backup is redshirt freshman Connor Cook of Hinckley, Ohio.

Offensive coordinator Dan Roushar said the wideouts practiced well before struggling vs. EMU, and he admitted the team is searching there. The team's top target is massive tight end Dion Sims, who has a team-high 22 catches and 277 yards and also had six grabs for 100-plus vs. EMU. Sophomore Keith Mumphery leads the wideouts with 15 catches, while Bennie Fowler has 14 and a touchdown. Tony Lippett has 10 more grabs, while MacGarrett Kings and DeAnthony Arnett provide depth.

The offensive line has been average on the year, and it is missing senior right tackle Fou Fonoti, who has a foot injury...





Preview: Michigan State Spartans
September 28, 2012 Source: Men of The Scarlet and Gray - Urban Meyer is still going to try to establish the run with both Jordan Hall and Carlos Hyde. Ohio State's offensive line will have a lot to handle with this front seven. As I said in the previous section, this is also where the game is going to be one and like I said before, I think the balance may tip (ever so slightly) in the defense's favor. Michigan State's defensive line is going to present the biggest challenge Ohio State's offensive line has faced thus far.

With the emergence of burgeoning stars in "Philly" Brown and Devin Smith, Ohio State probably has an edge in terms of offensive talent and will be needed for moving the ball down the field. With a solid performance so far by Stoneburner, Miller has had targets. Michigan State hasn't given up a lot of yards through the air but they haven't exactly pressured any passing games, either. With only three interceptions and three sacks, the Spartans could be ripe for a passing attack while they concentrate so heavily on keeping Braxton Miller bottled up in the pocket, committing extra players to stopping him instead of dropping back in pass coverage...




Ohio State at Michigan State Preview
September 28, 2012 Source: The Ozone - The Spartans' offense will go as far as running back Le'Veon Bell takes them. He already has 117 carries on the season for 610 yards and five touchdowns...

Much of the concern this week for the Buckeyes is their ability to tackle Bell, but the good thing for them is that Bell isn't necessarily a big-play threat, and one missed tackle shouldn't lead to an 80-yard touchdown run.

In fact, against Central Michigan, Bell's longest run was just eight yards. The Ohio State defense should be able to swarm him in order to bring him down, but if they end up bringing him down six or seven yards down the field, then that's still a win for the Spartans...




Preview: No. 14 Ohio State Buckeyes at No. 20 Michigan State Spartans
September 25, 2012 Source: CBSSports.com - Who could steal the show: Ohio State: LB Ryan Shazier leads the Buckeyes with 40 tackles, including 27 in his past two games. Ohio State has played teams that are more isolation-oriented in terms of their passing games and didn't feature big, dominant running backs. With Bell, Michigan State's offense is more typical of what the Big Ten is known for. The Spartans will have to finish their blocks and create seams against Ohio State's front seven, unlike what they did in the loss to Notre Dame two weeks ago. "This will be a different type of game," Meyer said on Tuesday's teleconference. "Is he ready? This will be a great test for him." Michigan State: Junior LB Max Bullough is literally and physically at the heart of Michigan State's defense. He leads a unit in tackling (26) that's ranked 10th in the country at pass defense (154 ypg) and rush defense (69 ypg). Defensive coordinator Pat Narduzzi's 4-3 defense is geared toward stopping the run and that puts the onus on LBs Bullough, Chris Norman and Denicos Allen to contain Braxton Miller and Jordan Hall should either scramble out of the pocket...

Magic number for Ohio State: 35. As in the number of points they've scored this year off opponents' turnovers. Ohio State is plus-5 in turnover margin and tied with Minnesota for the best in the conference. The Buckeyes have yielded no points off turnovers four games into the season and Michigan State has turned the ball over at least once every game.

Magic number for Michigan State: 17. The Spartans have won 17 of their past 18 games when they win time of possession. The Spartans are atop the Big Ten and sixth in the country, averaging 34:36 per game. Ohio State is averaging 28:54. If the Spartans can win the battle of possession, it will likely mean Bell is finding seams through Ohio State's defensive line, which has allowed 117 ypg.

The game comes down to: Defense. The team that can contain the other's prolific rushing game. Bell has the third-most yards of any back in the country (152 ypg) and Ohio State's rushing offense is second in the Big Ten with 229 combined rushing yards. The major discrepancy is on defense, where the Buckeyes rank last in the conference, allowing 394 total yards...




Ohio St.-Michigan St. Preview
September 24, 2012 Source: Associated Press - Despite playing four nonconference home games, the Buckeyes have looked more like the 2011 team that lost seven games - matching the program's most since 1897 - than the new-look, fresh-start team anticipated under Meyer.

The Buckeyes have been rocked by penalties, an inability to make tackles in the open field, giving up big plays and an erratic offense that has trouble putting together first downs for long spans of time.

Meyer said he was pleased with his players' effort, but they didn't sound like they were...





Breaking down pivotal MSU vs. Ohio State matchup
September 27, 2012 Source: The State News - MSU rushing offense (55) vs. Ohio State run defense (34)
MSU averages 176.25 rushing yards per game, while Ohio State surrenders 117.5 rushing yards per game

Le'Veon Bell has been the Spartans' offensive workhorse, punishing opposing defenses for the second-most rushing yards in the country. The junior running back and his productive offensive line will have their hands full with an Ohio State front seven that's holding opponents to an average of less than four yards per carry.

Advantage: Michigan State

MSU passing offense (61) vs. Ohio State pass defense (107) MSU averages 229 passing yards per game, while Ohio State surrenders 277.3 passing yards per game.
Ohio State has one of the country's worst pass defenses, with opposing quarterbacks completing nearly 63 percent of their passes. It should be a welcome sign for junior quarterback Andrew Maxwell and the Spartans' receivers, who struggled to find a rhythm during the nonconference season.

Advantage: Even

Ohio State rushing offense (24) vs. MSU run defense (10)
Ohio State averages 229.25 rushing yards per game, while MSU surrenders 69.25 rushing yards per game

Sophomore quarterback Braxton Miller leads a potent Buckeye rushing attack capable of going the distance on every play. The Spartans have been strong against the run this year, but they haven't faced a threat similar to Miller. MSU will be able to contain the sophomore, but one big run from Miller could change the game.

Advantage: Ohio State

Prediction
A matchup of the Big Ten's highest-ranked teams will be very close, especially with both defenses performing at such a high level. MSU has the better defense, but this game will come down to explosive plays, which the Spartans have been unable to generate, and the Buckeyes have the game's most explosive player. One big play from Miller swings a close game to the Buckeyes.

Prediction: Ohio State 13, MSU 9...




Michigan State head coach Mark Dantonio held his weekly press conference Tuesday in the Huntington Club at Spartan Stadium.





Groveport's Bell held out for Michigan State; now he's nation's third-leading rusher
September 27, 2012 Source: Columbus Dispatch - It was December 2009 and Le'Veon Bell was ready to get on with his life. He would have his diploma from Groveport High School soon enough, graduating at midyear so he could enroll in college early. He did not yet have the scholarship offer he wanted, from a major program, but he had one from Bowling Green, and he was tired of waiting. He was ready to settle for what he had.

Fortunately, he also had Donis Toler, his principal, to advise him on the virtue of patience. And now Bell is the nation's third-leading rusher as Michigan State prepares to play Ohio State on Saturday

To improve Le'Veon Bell's chances of landing an offer he wanted, Toler persuaded him to take online courses that summer so he could graduate in December because programs sometimes have openings midyear that they don't the next fall.

That's how Michigan State got involved.

Shortly after the 2009 season, a fight involving football players resulted in Dantonio dismissing or suspending more than a half dozen of them, including two running backs. So the Spartans, who had not been looking for another back, suddenly were.

Dantonio said he heard about Bell from his former defensive coach at Ohio State, Luke Fickell. The Buckeyes were interested in Bell as a strong safety, but he wasn't interested in playing defense. Dantonio and a couple of his assistants watched tape of Bell, saw him play a couple of basketball games and liked what they saw...




Game Notes: No. 20/18 MICHIGAN STATE (3-1) vs. No. 14/NR OHIO STATE (4-0)
Source: MSU Official Site - • Michigan State is 1-4 in Big Ten openers vs. Ohio State, including an 0-1 mark in games played in Spartan Stadium. The Spartans open Big Ten play against the Buckeyes for the second-straight season.

• Over the last four years, Michigan State has won more Big Ten games (24) than any other conference team. (Note: Ohio State also won 24 games, but had to vacate seven victories following the 2010 season.)

• Michigan State's 2012 roster features 28 players from Ohio, including seven of the Spartans' 24 probable starters for Saturday's game against the Buckeyes: junior left tackle Dan France (North Royalton); sophomore center Travis Jackson (New Albany/St. Francis DeSales); sophomore right tackle Skyler Burkland (Sunbury/Big Walnut); junior running back Le'Veon Bell (Columbus/ Groveport Madison); sophomore defensive end Marcus Rush (Cincinnati/Archbishop Moeller); junior linebacker Denicos Allen (Hamilton) and fi fth-year senior cornerback Johnny Adams (Akron/Buchtel High School)...




Dantonio Answers Questions about Ohio State
September 25, 2012 Source: The Ozone - Michigan State coach Mark Dantonio tends to get a little surly whenever his team is preparing for a game against Ohio State.

Dantonio coached the Buckeyes as a graduate assistant back in 1983-84 – just before Earle Bruce added Urban Meyer to the coaching staff. He also served as the Buckeyes defensive coordinator from 2001-03, helping Jim Tressel to an undefeated national championship in 2002.

Dantonio won't make any of his players or assistants available to the media this week, but he did answer questions about facing Ohio State during his weekly press conference on Tuesday...


East Lansing Weather Forecast