52-22


Braxton Miller answers questions from reporters following the Buckeye's 52-22 vs Illinois



10 Things We Learned from the Most Convincing Win of the Year
November 4, 2012 Source: The Ozone - 1. When his mechanics are right, Braxton Miller can really throw the football.
If you were starting to worry about Braxtonís future as a passer after the last couple weeks, fear no more. He still has a LONG way to go in terms of consistency and ability to throw tight spirals down the field, but he looked like a different player throwing the ball Saturday than he did a week ago. His footwork was much improved and he was putting the ball on the money for most of the afternoon. His 226 passing yards were his most in the Big Ten this year and second most of the season. He also had his highest QB rating of the year in the first game where he didnít throw a pick since the Nebraska game. He also had a couple passes dropped by Jake Stoneburner and just missed on a long ball to freshman Michael Thomas down the sideline.

2. Corey Brown borrowed some of Braxtonís moves.
How about those moves from Corey ďPhillyĒ Brown on Saturday? Who knew he had that kind of wiggle to go with his straight-line speed? Brown has been criticized at time for his inability to break tackles and get up the field this season, but it looked like he borrowed a few of Braxtonís moves on his 37-yard touchdown catch against Illinois. He even told Miller he was going to use some of his moves, and it took every one of them to break the five or six tackles he had to get out of in order to get across the goal line. If he can do that more often, it might change the entire dynamic of the offense over the last two weeks.

3. Carlos Hyde is a force to be reckoned with.
Heís not going to break off a ton of 50-yard touchdown runs in his career at Ohio State, but Carlos Hyde is exactly what this football team needed. His toughness, aggression and relentless running style sets the tone for the offensive line and heís able to finish off runs as well as any back I can remember in a while. He keeps his legs moving and seems to run the ball with equal parts passion and hate. Since missing two games with that knee injury, Hyde has scored 12 touchdowns and heís still within reach of 1,000 yards this season, which give the Buckeyes two of them. Their contrasting styles makes it really tough to handle both Braxton Miller and Carlos Hyde.

4. Rod Smith is still on the verge.
Meyer has to be clenching his knuckles every time he puts Rod Smith in the game, just waiting and hoping Smith will finally put it all together. The talent is there. Itís apparent almost every time he touches the football, and his emergence as a third option to go with Hyde and Miller might make this OSU offense unstoppable. Unfortunately, Smith is still lingering on the verge of both greatness and disappointment. His fumble against Illinois was a better play by the defender than it was a mistake by Rod Ė itís hard to keep that ball from popping out with a direct hit from the helmet Ė but itís impossible to ignore the fact Smith is constantly struggling to maintain possession of the football. If he can figure that out, Meyer has big plans for this kid over the next two years.

5. Briíonte Dunn can run the ball hard.
Itís not going to happen this year for Dunn, but itís hard not to feel more optimistic about the freshman tailback after the way he ran the football at the end of the game Saturday. Until now, we had only seen glimpses of Dunn early in the year, and he looked more tentative than anything else. That was certainly not the case against Illinois, where Dunn ran for 73 yards and a touchdown on just 13 carries. Yes, it came in garbage time against a pretty bad Illinois defense, but it also came behind Ohio Stateís entire second-team offensive line. He ran the ball hard and ran with authority. He seemed much more comfortable with the football and it looks like his future is bright.

6. Ohio Stateís offensive line is now the strength of the team.
All the talk this far has been about Ohio Stateís skill players, but everything they did Saturday was made possible by the work done up front. Ohio Stateís front five has been nothing short of spectacular this season, at least by comparison to last year. Even Meyer said it was unfathomable how far this group has come since the spring, and thatís a credit to the work theyíve put in and the work by line coach Ed Warinner. He really re-shaped this group, in more ways than one, and deserves as much credit as anyone for the undefeated season this team has put together. The offensive line has been criticized as the weakness of the team in the past, but they have been a major strength for the Buckeyes all season long.

7. John Simon showed he can take over a football game.
The Buckeyes were equally impressive on the other side of the ball, where the John Simon, Johnathan Hankins, Garrett Goebel and Nathan Williams really controlled the Illinois offense. They had Nathan Scheelhaase running scared most of the day and Simon in particular seemed to dominate the game up front. No. 54 was all over the place, hitting Scheelhaase and making plays in the backfield. Whenever he was lined up next to Williams, it was basically chaos for the Illini on the other side of the ball. Heís starting to look healthy and should be even better in a couple weeks.

8. Zach Boren is the perfect compliment to Ryan Shazier.
Talking about blessings falling out of the sky, where would this team be without Shazier and Boren right now? Shazier appeared out of thin air after he de-committed from Florida and Boren has been a fish in water the last couple weeks since making the switch from fullback before the Indiana game. He looked a little out of place early on, but No. 44 has really settled in to his new role. He brings much-needed leadership and toughness to the position, but more importantly, he brings his instincts to a position that desperately needed it. The two of them combined for 22 tackles Saturday against Illinois and they seemed to compliment each other perfectly. The return of Etienne Sabino should make this group as good as itís been in two years.

9. Adolphus Washington is starting to look comfortable.
I'm not entirely sure what was up with Ohio Stateís rotation on the defensive line Saturday. After starting at tackle last week against Penn State, Michael Bennett barely played in the first half. Same with Noah Spence, as Steve Miller and Adolphus Washington saw the most early playing time they have all year. If they Buckeyes have all four of those guys coming off the bench, along with Tommy Schutt, this team might finally have the depth it wanted at the beginning of the year. Washington hadnít seen the field much since he had a couple bad penalties against Cal, but he looked good in this one. He got a sack at the end of the game, but didnít see to be out of place in the first half either.

10. The Buckeyes are as shaky as ever on special teams.
If there is one area that still causes great concern for a 10-0 football team, it has to be special teams. The Buckeyes didnít have any complete meltdowns on Saturday, but they barely avoided disaster on the first punt. Ben Buchanan nearly stepped right into a guy who came through unblocked, and it just seems like at some point these special teams miscues have to cost this team a football game.




Game Highlights OSU ILL



Five Things: Illinois
November 4, 2012 Source: Eleven Warriors - To Air Is Human, To Be Accurate Is Divine
After completing just 41% of his passes combined (16/39) in wins over Purdue and Penn State, Urban touched on Miller's poor outings throwing the football in last week's presser, noting the kid's footwork was out of whack which clearly had a negative effect on his accuracy.

Yesterday, Miller looked much more poised in the pocket as he ran through his progressions and the improved results were glaring...

Nick Vannett caught a short pass near the sideline that the replay refs whiffed on and Jake Stoneburner dropped two well-placed tosses from Braxton, one of which was destined to be about a 30-yard catch and run so Miller's line really should've been closer to 15/20 for about 260ish yards. Of course, drops are part of football so it is what it is. Obviously, the Illini pass defense was a joke but the takeaway here is that Braxton looked much more comfortable in the pocket and really unleashed some lasers on throws down the field...

Bottom line, Miller's solid day throwing the football should give him and Urban a shot of confidence as it pertains to the passing game and should remind Bielema and Hoke that this team can do some occasional damage through the air, meaning planning to stack eight in the box could come with consequences.

Bullets Riddle Illini
Building off a solid defensive performance last week at Penn State, the Bullets kept their momentum, completely overwhelming an undermanned Illinois offense all day long.

Finding a groove since Meyer paired him with a serviceable linebacking mate, Ryan Damn Shazier has been nothing short of spectacular in recent weeks and yesterday's effort was another impressive showing for the true sophomore. Shazier led the Buckeyes with 14 stops along with two TFLs and a pass breakup...

RDS had plenty of help yesterday as the front four dominated the line of scrimmage led by Big Hank (4 stops), John Simon (sack, constant pressure) and Adolphus Washington (3 stops, 1.5 TFL, sack).

The line's ability to get pressure and take on blockers allowed Shazier and Boren (8 tackles) to roam free for much of the afternoon.

In the secondary, CJ Barnett had another strong game with six stops, OJ also had six before knocking himself out with a hit and Roby had five, though Nathan Scheelhaase avoided his side of the field as often as possible...

In total, in six possessions, the Bullets held the Illini to 36 yards on 25 plays including three 3-and-outs as the Buckeyes stretched their 7-6 lead to 38-6.

The Bullets were also dominant on 3rd down, allowing the Illini to convert just two of 14 3rd-down conversion attempts while holding them to a longest rush of eight yards and a longest pass of 12 yards...

It Takes All Three Phases
Special teams haven't cost the Buckeyes a game yet but they are clearly playing with fire.

By now, we all know how injuries have ravaged the special units but the bottom line is that Urban has to find a way to shore things up. He's clearly doing all he can from a personnel standpoint as the units continue to be littered with starters thanks to guys like Bogard, Domicone, Reeves, Murray and Wood all going down, but the execution remains a huge concern...

The kickoff coverage unit struggled at times again, surrendering a 45-yard return after Ohio State had just scored to take a 7-3 lead. The kickoff itself reached the goal line but Pittsburgh Brown missed a tackle and there was nobody to clean it up, allowing Terry Hawthorne room to near midfield...

Hyde Continues To Deliver Body Blows
I'm going to throw love toward Hyde in a second because I think his emergence as a trusted offensive threat alongside Braxton has really been the most important development in Ohio State's run to 10-0, but I can't do that without first tipping my hat to the offensive line.

The hogs up front opened huge holes against an outclassed Illini defensive front, helping the Buckeyes rack up an impressive 330 yards on the ground at a 5.8 per carry clip.

This dude has been nothing short of oustanding and yesterday was more of the same as he racked up 18 carries for 137 yards and three touchdowns...

Teaming with Braxton, he gives the Buckeyes the 2nd most lethal 1-2 rushing combo in the country and I don't think many people predicted that back in August...

If Hyde can keep up this kind of production, softening middle of the defense in the process, and Meyer adds more of the new wrinkle featuring Smith and Hyde in the same backfield with Braxton, 12-0 grows all the more realistic.

Urban Attraction
So, I was at the new Columbus casino early this morning and stumbled across a Michigan fan that despite his shockingly bad taste in fashion (ripped black trench coat three sizes too big, high tops and a throwback Denard jersey) came off as particularly knowledgeable on both Ohio State and Michigan.

In the spirit of a friendly chat with a rival, I shared with him my thoughts on Urban versus Hoke as it relates to long-term recruiting and on which of the two is really doing the heavy lifting at their respective school.

With Urban, you get a guy that not only has proven to be a ridiculous recruiter but also has a knack for getting the absolute most out of the quarterback Ė aka the most important position in college football by a mile...

Meanwhile, that coach up north acts as more of a CEO. No question he's doing a hell of a job on the recruiting trail but while there's value in letting your coaches coach, he seems almost too reliant on them for a guy in charge of the whole shootin' match. That's not meant as a criticism as there are many ways to skin a cat. I'm just saying that I much prefer a coach that is truly in the middle of more decisions on gameday and is seen as an active specialist in at least one aspect of coaching.

The Michigan fan I ran into rightfully defended his coach, arguing there's nothing wrong with relying on his assistants while noting Hoke was a very successful assistant coach on the defensive side of the ball under Gary Moeller and Lloyd Carr.

I countered that while that could very well be true, Greg Mattison is by far the most superior defensive mind on UM's staff, Hoke included, while Meyer is without question the superior offensive mind on OSU's staff even with Tom Herman's incredibly capable, MENSA-driven strategies...




"I've been fortunate to have a couple of top five teams. And this probably has more holes than those other ones. However, there's also some great performances. So we are going to do dwell on the weaknesses, because those weaknesses get exposed when you play two good teams like we have to finish the season." - Buckeyes HC Urban Meyer after Ohio State win over Illinois




Carlos Hyde scores 3 TDs as Ohio State rolls Illinois
November 3, 2012 Source: ESPN - : Now Urban Meyer has some time to prepare an unbeaten yet flawed Ohio State team for what he calls "the two big ones left."...



RB Carlos Hyde answers questions from reporters following the Buckeye's 52-22 win



Key to Ohio State-Illinois
November 3, 2012 Source: Cleveland Plain Dealer - What we said before kickoff: Take Illinois linebackers Jonathan Brown and Mason Monheim out of the game. ź

What happened: Brown was knocked out in the first quarter after making four tackles and the Illini didnít really stop the Buckeyes at all. Monheim finished with seven tackles, Illinois did record four sacks and the Illini scored on a 77-yard return of a fumble recovery against the second-team offense, but when it mattered, they didnít stop Ohio State. ź

After the Buckeyes went three-and-out on their first possession, they scored the next five times they touched the ball, putting up four touchdowns and a field goal. Illinois came in with the worst scoring defense in the Big Ten, giving up nearly 31 points per game, but the 52 points tied the most points they had given up this year, matching a 52-24 loss to Louisiana Tech. ź

ďBraxton Miller is a fantastic football player,Ē Illinois coach Tim Beckman said after the loss. ďHe fuels this Ohio State team with his ability to make guys miss and that is how he hurt us. He also made big plays with his arm and exposed some coverage issues in our secondary.Ē ź

There wasnít anything Brown, Monheim or anyone else was going to do about that.


John Simon postgame Illinois



Postgame Quotes OSU Official Site





Quick Hits: No. 6 Ohio State 52, Illinois 22
November 3, 2012 Source: CBSSports.com - OHIO STATE WON: Ohio State has had a tendency to play down to opponents this season. Just look at its games against Purdue, Indiana, Cal, UCF ... the list goes on and on. That wasn't the case today, though, as the Buckeyes used a 24-point second quarter to put Illinois to bed early in Columbus and improve to 10-0 on the season.

As has been the case for most of the season, it was Braxton Miller and Carlos Hyde doing most of the damage for the Ohio State offense. Hyde scored three touchdowns in the first half and finished the day with 137 yards rushing. Braxton Miller threw for 226 yards and two touchdowns while rushing for 73 yards and a third score. While Illinois managed to score 22 points, one of its two touchdowns came on defense, and the Illini managed only 170 yards of offense on the day.

WHY OHIO STATE WON: Ohio State is just a much better football team than Illinois, and for once it played like it. There's no one area to point out as the reason the Buckeyes won this game. They played well on both sides of the ball, though I'm sure Urban Meyer will let his team hear about the two turnovers that led to Illinois touchdowns.

WHEN OHIO STATE WON: When Braxton Miller hit Rod Smith for a 51-yard touchdown pass with just under 6 minutes left in the first half to make the game 24-6, you knew Ohio State would be keeping the coveted Illibuck Trophy...






One-liner: Buckeyes always playing ketchup ó slow to get moving but hard to stop once they begin pouring it on.

Stars of the game: Quarterback Braxton Miller, criticized for inconsistency in his passing, threw for 226 yards and two touchdowns. Running back Carlos Hyde, with 137 yards rushing, had his third 100-yard game in the past five, and his three TDs increased his season total to 14.

In his last five games, Carlos Hyde has carried the ball 109 times for 579 carries and 11 touchdowns.

Game ball goes to: After a relatively ugly outing throwing the ball the week before, Miller heard plenty about how he needed to clean up his fundamentals and deliver an accurate football for the Ohio State offense to reach its potential. Apparently that message was received loud and clear as he routinely made the proper read and drilled his targets on the way to 226 yards and two touchdowns without an interception.

Stat of the game: The Buckeyes kept the Illini in bad situations on third down, but it hardly seemed to matter how far the latter needed to go to move the chains -- Illinois couldnít do it. In all, the Illini picked up just two conversions in 13 attempts on third down when the Ohio State starters were in the game, struggling mightily to mount a consistent threat in the process.

How the game was won: The Buckeyes controlled the line of scrimmage on both sides of the ball, consistently opening huge holes for running back Carlos Hyde and blowing up a handful of plays in the Illinois backfield with another aggressive defensive game plan. Ohio State had shown flaws in previous games while rolling to nine consecutive wins, but the 10th of the year was perhaps its most complete outing in every phase.

Turning point: A 10-play, 79-yard drive for Ohio Stateís first touchdown, a 3-yard run by Hyde, to take a 7-3 first-quarter lead that the Buckeyes never relinquished. They scored on their next four possessions to lead 31-6 at halftime.

Urban Meyer said his offensive and defensive lines took over the game after the first quarter. Meyer said itís almost overwhelming to think where the O-line was in spring compared to now.

Repercussion: No. 6 Ohio State clinched at least a share of the Big Ten Leaders Division title. With no bowl game, thatís the only team prize for which the Buckeyes are eligible. A spot in the top five in the Associated Press poll this week is a possibility.

Ohio State leads the Big Ten with 34 rushing touchdowns this season. It is only the third time in the last 29 years that the Buckeyes have scored at least 30 touchdowns on the ground

With the 52 points, Ohio State scored 50 points or more four times in a season for the first-time ever.

With his three touchdowns today, Hyde is now tied with teammate Braxton Miller and Wisconsin's Montee Ball with 13 rushing touchdowns this year and leads the league with 14 touchdowns overall. Hyde also leads the league in scoring (10.5 points per game).

Rod Smith's 51-yard touchdown reception in the second quarter was his first touchdown catch of his career and his first reception of 2012. The touchdown reception was Braxton Miller's fifth touchdown completion of 50 yards or more in 2012.

Carlos Hyde has done so well, and backup Rod Smith has progressed enough behind him, that the Buckeyes deployed two tailbacks at the same time Saturday more than at any point all season. Smith and Hyde are both big enough to block, and tough enough to run.

Miller faked an inside handoff to Hyde and then pitched the ball to Smith on the option a couple times. Ohio State's big touchdown throw came when those backs were split on either side of Miller, and Smith raced past a linebacker on a wheel route and was wide open for a 51-yard score. It was the type of look that was expected earlier in the season with Hyde and Jordan Hall and never happened because they weren't healthy at the same time.

"It's a great look," Meyer said. "That has always been in the playbook. But we never had enough confidence. Now we do. We're trying to find the way to get the best 11 players on the field. And we ran a bunch of unique plays out of that set. That set gives you that because you have two runners that can go either way. I think it was a productive set and I think you'll see more of that."

Carlos Hyde said their two-RB set with him and Rod Smith is dangerous because both guys are playmakers.

Sophomore linebacker Ryan Shazier collected a team-high 14 tackles, including two tackles for loss (ties career-high) vs. the Fighting Illini. Shazier has had five double-digit tackle performances this season. He set a career best with 11 solo tackles, passing the 10 he had vs. California earlier this season.

Travis Howard claimed the game's first turnover at the end of the second quarter and now has a team-high four interceptions. The OSU defense has had one interception in the last four games.

Braxton Miller said Corey Brown keeps saying he wants to steal his moves. After the TD, he came off and said "that was B.Miller right there."

Meyer said Adolphus Washington has wiped the baby look off his face. (Washington had a sack against the Illini)

Numbers for dummies
1944: Last time Ohio State finished a season without a loss or tie (9-0) and did not win a national championship

1979: Last time the Buckeyes began a season 10-0 under a first-year coach (Earle Bruce)

4: Games this season that Ohio State has scored 50 points; the first time that has happened in school history

Tweethearts: @jaycliffordlaw: my favorite day of the year, Michigan sucks for 25 hours.

A win is a win, but Illinois could run for election unopposed and still lose.

Just wondering: What is Urban Meyer thinking when, bent over and hands on knees, he stares at the ground? You can bet itís not, ďI know I dropped that nickel here somewhere.Ē

Bradley Roby: "This hasn't surprised me at all because I see the potential in our team everywhere. Maybe it surprised the fans and everybody else, but that's because they don't know what's really going on inside here. Last year we were a way better team than the way we played. We lost seven games, and these are the same players and we were winning. It just shows that we were missing something last year that now we have. I have confidence that we'll win every game this year.

Offensive line coach Ed Warinner said Reid Fragel was just momentarily stunned and could have come back into the game and that he is fine going forward.

Sources: OSU Official Site, Columbus Dispatch, Cleveland Plain Dealer, ESPN, The Ozone



No. 6 Ohio State Handles Illinois, 52-22
November 3, 2012 Source: OSU Official Site - The combination of Carlos Hyde and Braxton Miller was more than enough for No. 6 Ohio State.

Hyde rushed for 137 yards and three touchdowns and Miller burnished his Heisman credentials by passing for two scores and running for another in the Buckeyes' 52-22 victory over Illinois on Saturday.

The Buckeyes (10-0, 6-0 Big Ten) maintained the upper hand in the Leaders Division heading into a bye week. They have games remaining at Wisconsin on Nov. 17 and against rival Michigan at home a week later.

Miller carried 18 times for 73 yards, and completed 12 of 20 passes for 226 yards.

It was the sixth consecutive loss for the Illini (2-7, 0-5) and their 11th consecutive Big Ten loss.

Little went right for the Illini and first-year coach Tim Beckman, a former assistant to Ohio State's Urban Meyer when Meyer was the head coach at Bowling Green from 2001-2002.

Beckman was also a former Ohio State assistant under Jim Tressel, forced out in the wake of a memorabilia-for-tattoos scandal that ultimately led to Meyer taking over the Buckeyes last November.

After racing to quick touchdowns with short drives while outscoring the visitors 24-0 in the second quarter, the Buckeyes stretched their lead to 38-6 in the third quarter by taking their time, going 73 yards on 11 plays, capped by Miller's 2-yard scramble.

Miller tossed TD passes of 51 yards to Rod Smith and 37 yards to wide receiver Corey Brown.

Illinois quarterback Nathan Scheelhaase, dogged all day by Ohio State's aggressive front line, completed 19 of 34 passes for just 91 yards with one interception. He also led the Illini in rushing with 15 carries for 36 yards. But there wasn't much else going on for the Illini, who finished with only 170 total yards.

Ahead 7-6 after a quarter, they blew the game open with four scoring drives.

Drew Basil's 31-yard field goal made it 10-6 before a short Illinois punt gave the Buckeyes decent field position at their 36. Five plays later, Hyde's second short TD run of the day made it 17-6.

Illinois, which settled for Nick Immekus field goals after first downs at the Ohio State 29- and 10-yard lines in the first quarter, wasn't able to get anything going on offense as Scheelhaase was continually harassed and forced to run wide before picking his options.

After another punt, Miller's pass was nearly intercepted before Hyde gained 10 yards. Miller then rolled right and then looked back to the left sideline where backup running back Rod Smith was several yards behind safety Supo Sanni. Smith pulled in the pass to complete the 51-yard score.

An 18-yard punt and a penalty put the Buckeyes right back in control at midfield. On consecutive plays, Miller juked and spun for 11 yards, Hyde picked up 11, Miller found tight end Nick Vannett for 14 yards, Miller scrambled for 11 more and Hyde then collected his third score of the day on a sweep around right end.

Ohio State will have plenty to work on during its week off. The Buckeyes had several costly personal-foul penalties, surrendered yardage on kickoff and punt returns and also gave up a big play off a turnover.

The Buckeyes gave up the ball on Smith's fumble, with the Illini getting help from two Ohio State late hits to score on Jon Davis' 1-yard run.

The Illini's defense, allowed 567 yards (7.2 per snap) did come up with one big play. Ashante Williams picked up Ohio State backup quarterback Kenny Guiton's bad option pitch and raced 77 yards for the touchdown in the final minutes.

The Illini had won three of the past five and seven of the past 11 meetings at Ohio Stadium.









When Braxton Miller hit Rod Smith for a 51-yard TD pass with just under 6 minutes left in the first half to make the game 24-6, you knew Ohio State would be keeping the coveted Illibuck Trophy.

Smith's 51-yard touchdown reception in the second quarter was his first touchdown catch of his career and his first reception of 2012. The touchdown reception was Braxton Miller's fifth touchdown completion of 50 yards or more in 2012.





The Bottom Line
November 3, 2012 Source: Columbus Dispatch - Offense (4 leaves): The Buckeyes might well have earned a full complement of stickers were it not for a couple of fumbles and a few sacks. Besides those few sins, there was much to love. The passing game smartly produced at least six big plays, and Carlos Hyde took another firm step on the road to football manhood.

Defense (4 leaves): Whatever the message after the debacle at Indiana ó and it might have involved the removing of heads from, uh, tight spots ó the OSU defense has played mostly lights-out. That Illinois managed a mere 170 yards is impressive; that the Illini had only three plays of 10 or more yards is unbelievable.

Special teams (2 leaves): No punts were blocked in the making of this victory, which is a minor victory in itself. That said, the Buckeyes didnít get much out of their punting game (33.7-yard average on three punts), and the kickoff coverage team allowed a few breakout returns. Mostly, this was a case of no harm, no foul.

Coaching (4 leaves): One need watch or hear only a little of Urban Meyer to understand that he still doesnít like everything he sees from his team. Fair enough, one supposes, because the tear-íem-down tough love has come up a winner 10 times and counting. The next trick will be healing the troops for the tough stretch run.

Opponent (1 leaf): Unfortunately for Illinois, the rumors were true. Even down Illini teams of the past had capable athletes, but this group is bereft of playmakers except for QB Nathan Scheelhaase and LB Jonathan Brown, whose early exit allowed the defensive floodgates to open. Tim Beckman had better be able to recruit.

Officiating (2 leaves): Itís not every day you see a late tackle out of bounds result in a delay of game for the defense. This crew, though, made a few equally curious calls that included a ticky-tack roughing-the-passer penalty and a running-into-the-punter call that had Beckman howling. OSU personal fouls: earned or rep?...



Fighting Illini head Football Coach Tim Beckman postgame press conference following the 52-22 conference loss at No. 6 Ohio State, Nov. 3, 2012


QB Nathan Scheelhaase postgame interview after Illinois' 52-22 loss at Ohio State






Illinois

Nov 3 3:30PM


Ohio State vs. Illinois
November 2, 2012 Source: Cleveland Plain Dealer - Take Illinois linebackers Jonathan Brown and Mason Monheim out of the game:

The two stars of the Illinois defense could still put up big tackle numbers if the Ohio State offense has the ball a lot, but the Buckeyes just can't let two of the few Illini bright spots create any momentum by making big stops on third down or creating turnovers.

Brown, a junior, leads Illinois with 55 tackles and had a career-high 17 against Ohio State last season. Monheim, a freshman from Orrville, leads all Big Ten freshman with 52 tackles.

Penn State linebackers Mike Mauti and Gerald Hodges played well in the first half last week, leading the way while holding the OSU offense to seven points before the Buckeyes started rolling in the second half.

The easy solution today is for Ohio State to throw over the top of the linebackers and hit some deep passes, or allow QB Braxton Miller to juke his way around them on the run, or get the offensive linemen to the second level to make blocks and clear space for running back Carlos Hyde.

It shouldn't be difficult. But if you see any Illinois defenders jumping around and celebrating a few big stops, then that probably means the Buckeyes are off to another slow start against a lesser opponent.



Five key factors for OSU victory
November 2, 2012 Source: Columbus Dispatch -

D-line domination
Illinois has struggled at most positions, but the offensive line has been a particular sore spot. The Illini start two sophomores and a freshman. Ohio Stateís defensive line has been bolstered by the play of Michael Bennett, who missed the start of the season with a groin injury. Adding him to Johnathan Hankins and John Simon, along with Garrett Goebel, makes for an imposing front four that should control the line of scrimmage.

Sustain drives
Once the Buckeyesí offense gets rolling, it tends to stay rolling. But it is still prone to too many three-and-outs, mostly early in games. Surprisingly, Illinoisí defense is 11th nationally with 4.6 three-and-outs per game. It would behoove the Buckeyes to sustain drives early so that Illinoisí defense doesnít gain confidence.

Rev up passing game
Illinois has not allowed Ohio State to throw for 100 yards in any of the past four meetings between the teams. Last year, the Buckeyes completed only one pass against the Illini ó a touchdown catch by Jake Stoneburner. Braxton Millerís mechanics were off in the first half last week against Penn State. He needs to be sharp from the start.

Shore up special teams
Illinois doesnít have the talent to play with Ohio State. Its best hope for hanging with the Buckeyes is to make some plays in the kicking game. The Buckeyes have certainly been prone to special-teams gaffes, especially blocked punts. Ohio State has had to mix and match in the kicking game because of injuries and youth, but itís time for the Buckeyes to play a complete game in that phase.

Contain Scheelhaase
It has been a disappointing and injury-marred season for the Illini junior quarterback. But he is a poised and resourceful player who on a good day is capable of causing defenses fits. True, he doesnít have much help. But a good quarterback can overcome weaknesses elsewhere. Ohio State must make sure he doesnít find a comfort zone.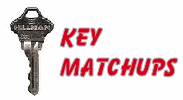 Ohio State Key Matchups November 2, 2012 Source: The News-Herald -

OSU cornerbacks Travis Howard and Bradley Roby vs. Illinois QB Nathan Scheelhaase:
Travis Howard and Bradley Roby vs. Illinois QB Nathan Scheelhaase: The Illini aren't a great team. Imagine where they might be without their 6-3, 200-pound junior quarterback. If the Illini have any prayer of staying close in this game, Scheelhaase (839 yards passing, four TDs) needs to stay on the field and play well.

OSU defensive linemen John Simon and Johnathan Hankins vs. Illinois running backs Donovonn Young and Josh Ferguson:
The Illini only average 3.4 yards per rush this season. The Ohio State defensive front has been pretty good at stopping the run. The Buckeyes would be well served to just take the running game out of the equation here.

OSU running back Carlos Hyde vs. Illinois linebackers Jonathan Brown and Mason Monheim:
Illinois is decent against the run, giving up 152 yards per game there and a respectable 4.0 yard average. OSU averages 248 yards a game and has a 5.5-yard average. Hyde against Illinois' top two tacklers is a big head-to-head.

OSU receivers Devin Smith and Corey Brown vs. Illinois DB Ashante Williams:
Williams, a Mayfield product, is everywhere. He is third on the team in tackles, has three pass breakups and four passes deflected, plus and interception and 1 1/2 sacks. Whoever Williams locks up with, Smith or Brown, might have his hands full.


Head Coach Urban Meyer spoke with reporters following practice on Wed October 31, 2012


QB Braxton Miller spoke with reporters following practice on Wed October 31, 2012


CB Bradley Roby spoke with the media following practice on Wed October 31, 2012


RB Rod Smith spoke with the media following practice on Wed October 31, 2012


DL Noah Spence spoke with the media following practice on Wed October 31, 2012



5 Questions: Illinois at Ohio State
October 31, 2012 Source: BuckeyeSports.com - 1. Will there be any letdown for Ohio State?
This looked before the season like a potential trap game with the Buckeyes coming off an evening game at Penn State and a week off lurking behind the game against Illinois.

The odds of Ohio State losing focus certainly seem to have grown with the type of season the Fighting Illini are having. At 2-6 overall and winless in the Big Ten, Illinois has lost five in a row. All of their defeats are by at least 14 points, and head coach Tim Beckmanís team has given up at least 31 in every game of the losing streak.

Meanwhile, the 9-0 Buckeyes have already shown a tendency to play up or down to their competition this season despite their perfect record.

2. Can Illinois force the Buckeyes to go to the air?
Ohio State enters the game second in the Big Ten and 21st in the nation in scoring (38.6 points per game), but the Buckeyes are a relatively one-dimensional offense at this point. While head coach Urban Meyerís spread has cranked out 247.9 yards per game on the ground (second in the Big Ten and 10th nationally), the passing game has lagged at 183.9 (ninth and 102nd, respectively).

A smattering of long pass plays has helped the efficiency rating of 134.2 check in at fifth in the Big Ten and 57th nationally, but there is no doubt the Buckeyes are easier to stop by air than by land.

Defensively, Illinois has been better against the run than the pass so far in 2012.

3. Will either quarterback get into a rhythm?
To that end, both quarterbacks have had ups and downs throwing the ball this season.

Ohio Stateís Braxton Miller is 112 for 198 passing (56.6 percent) for 1,527 yards with 12 touchdowns and six interceptions while Nathan Scheelhaase of Illinois is 84 for 137 (61.3 percent) for 839 yards with four touchdowns and five interceptions. He missed two games because of injury and has rarely appeared comfortable in the new spread offense being installed in Champaign.

Both quarterbacks are threats on the ground, particularly Miller. The Buckeyesí sophomore signal caller enters the game leading the Big Ten in rushing (121.4 yards per game) and total offense (291.1 ypg.). Scheelhaaseís rushing numbers (26.8 yards per game) are pedestrian, but he has been hurt by a struggling offensive line.

4. Can Ohio State make it through a game without a special teams error?
Special teams are supposed to be Meyerís baby, but they have left him frowning more than smiling so far this season.

Penn Stateís blocked punt last week was the third of this season and the second to lead directly to a touchdown.

Even when Ben Buchanan manages to get a punt off, Meyer has not been thrilled with the results as the team ranks only 88th in the nation and ninth in the Big Ten with a net punting average of 35.5 yards.

The kickoff team was making the coaches proud early in the season, but it is decimated by injuries and gave up a 100-yarder for a touchdown two weeks ago.

On the bright side, Ohio State has blocked two punts, two point-after kicks and a field goal. On top of that, Illinoisí kick return and punt return units are among the worst in the nation.

5. Will Ohio State take care of the ball?
Illinoisí best chance to score an upset would seem to be by winning the turnover battle.

Ohio State is sixth in the Big Ten and tied for 62nd in turnover margin, but the Buckeyes saw just two weeks ago how turnovers can turn a game when they had four against heavy underdog Purdue the last time they played at Ohio Stadium.

The bad news for the Fighting Illini is they have been much worse in this department. Illinois is tied for last in the Big Ten and 120th in the country in giveaways with 20. On top of that, Illinois opponents have scored on 14 (or 70 percent) of those turnovers.

The Buckeyes and Illini are nearly even in takeaways with 15 and 14, respectively.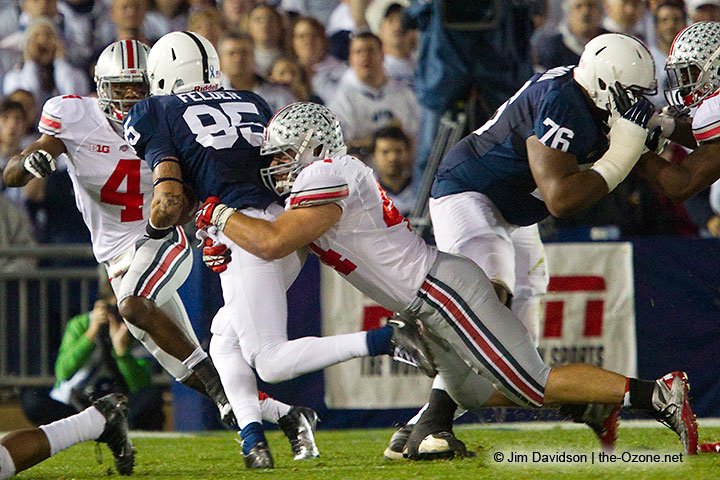 Boren natural at LB
October 31, 2012 Source: ESPN - The two-way action Mike Vrabel was famous for as a pro didn't require him to make a full-time switch in the middle of the season.

But the Ohio State defensive line coach at least knows a thing or two about what it takes to line up on both sides of the ball thanks to brief, highly successful appearances in short-yardage work on offense he used to make with the New England Patriots and Kansas City Chiefs.

"I ran two routes and I didn't block," Vrabel said. "So that didn't take me very long."

Boren has a lot more on his plate trying to absorb the concepts, game plans and responsibilities as a defensive player -- and that is obviously taking up a lot more time to prepare. But with three games under his belt, his transition appears to be progressing just as smoothly as Vrabel made it seem years ago.

A respected captain with a strong work ethic, Boren wasn't opposed to doing extra homework in the past, either on film or in Ohio State's meeting rooms. But he obviously wasn't spending that time learning the defense, and suddenly he was starting from scratch for a team that was trying to stay undefeated and win a division trophy.

"I knew the offense like the back of my hand," Boren said. "Defense, obviously, has been a lot harder, and there's just been a huge learning curve for me. I do need to put in more time.

"I would say the first two games, there were times where I was just kind of running around and not really knowing what I was doing all the time. Against Penn State, I was finally a lot more confident in what I was doing and stuff started slowing down for me and I kind of knew what everyone around me was doing. I'd say each week the growth is there a lot more than in the past weeks."

"We're excited and happy to have Zach," Vrabel said. "I think he continues to get better every snap, every time he sees another rep. He's doing a great job, and it's an inspiration for us.

"The play he made the other night on a screen pass, just putting his head down, going and running, ran by a blocker and ran through a tackle. Those are the kind of plays that we need our inside linebackers to make."...




Shining stars: Illinois -- The Fighting Illini have a formidable rushing tandem in QB Nathan Scheelhaase and Donovonn Young. In last weekend's loss to Indiana, Scheelhaase's ran 26 times for just 32 yards but that number includes the seven sacks that the Illinois offensive line conceded. Young, however, finished with a career-high 124 rushing yards in the losing effort. Ohio State -- Not much more can be said about the impact Braxton Miller is having on the Buckeyes this season. Week in and week out, he's saving Ohio State's perfect season. Last weekend, he accounted for three more touchdowns (one passing, two rushing) as he upped his touchdown total to 12 on the season, second in the conference to Montee Ball's 13. The Illini defense has given up an average of 187 rushing yards per game during their five-game losing streak but given Miller's injury history, he should me mindful that his health comes first.

Who could steal the show: Illinois -- If there's one place where the Buckeyes have looked suspect, it's in their secondary. Illinois wide receiver Ryan Lankford is far and away the team's biggest deep play threat with 29 catches for 413 yards and five touchdowns on the season. Ohio State -- Linebacker Ryan Shazier earned defensive player of the week honors after logging seven tackles, two sacks, and a pick-6 against the Nittany Lions last Saturday night. After Etienne Sabino broke his leg three weeks ago, Shazier emerged as the Buckeyes' best linebacker. He'll be tasked with containing the mobile Scheelhaase...

Source: CBSSports.com






No. 6 Ohio State vs. Illinois Game Notes Source: OSU Official Site - Braxton Miller (1,093 rushing yards) is the first Ohio State QB and just the third different Big Ten QB to rush for 1,000 yards in a season. Miller needs one more rushing TD to tie the Ohio State record for rushing TDs by a QB in a single season.

Dynamic Rushing Duo: The tandem of Braxton Miller and junior RB Carlos Hyde is the most productive rushing duo in the Big Ten with a combined 207.1 yards per game with 22 rushing touchdowns

The Buckeyes are one of only six unbeaten FBS teams and the only team 9-0 (5-0 Big Ten).

Unranked Illinois came into Ohio Stadium in 2007 and snapped the No. 1-ranked Buckeyes' 10-game winning streak, 28-21. The Ohio State winning streak was the most recent of 14 such streaks of 10-or-more games.

Illinois has won seven of the last 11 games in Ohio Stadium. Over the length of the series, the Fighting Illini actually have a better winning percentage and record (.408; 18 wins; 27 losses; 4 ties) in Ohio Stadium than in games played in Champaign (.260; 12 wins; 34 losses). Illinois was a 28-21 winner as recently as 2007 in Columbus (when the Buckeyes were No. 1 in the nation).

The winner of the Ohio State/Illinois game is awarded with the Illibuck, a wooden replica of a turtle. The tradition began with a live turtle in 1925. Illibuck is the second oldest trophy exchanged in the Big Ten, behind the Little Brown Jug trophy played for by Minnesota and Michigan.

Illinois head coach Tim Beckman is one of 10 former assistants of Urban Meyer who have become a head coach. He is the second who will coach against Meyer as a head coach (Dan Mullin; Mississippi State)...


| | | | | |
| --- | --- | --- | --- | --- |
| Ohio State Buckeyes | | | | Illinois Fighting Illini |
National
Rank
Actual
Category
National
Rank
Actual
10
247.89
Rushing Offense
88
132.50
102
183.89
Passing Offense
101
184.88
45
431.78
Total Offense
109
317.38
21
38.56
Scoring Offense
115
18.00
20
111.67
Rushing Defense
55
152.63
40
120.20
Pass Efficiency Defense
109
149.14
59
389.56
Total Defense
45
365.88
50
24.11
Scoring Defense
86
30.75
88
35.45
Net Punting
34
38.98
52
9.18
Punt Returns
117
1.77
79
20.48
Kickoff Returns
115
16.15
62
.11
Turnover Margin
99
-.75
107
277.89
Pass Defense
44
213.25
57
134.23
Passing Efficiency
87
123.70
46
2.22
Sacks
86
1.50
107
4.56
Tackles For Loss
102
4.63
76
2.11
Sacks Allowed
117
3.75



LB Etienne Sabino is DOUBTFUL for the Illinois game.
DB Zach Domicone won't practice today, but is expected to play Saturday.

Source: The Ozone



Game Game Data: Illinois at Ohio State
October November 2, 2012 Source: Bucknuts - The Buckeyes will be shooting to reach 10-0 to start a season for the 10th time in school history and third time in seven years, dating to 2006. OSU has reached at least 10-0 on nine occasions: 1954 (started 10-0), 1968 (started 10-0), 1975 (started 11-0), 1979 (started 11-0), 1995 (started 11-0), 1996 (started 10-0), 2002 (finished 14-0), 2006 (started 12-0) and 2007 (started 10-0).

This is the third team Meyer has led to a 9-0 start in his 11th year as a head coach. His 2004 Utah team finished 12-0, while his 2009 Florida team started 12-0.

Only two first-year OSU coaches have started 9-0. Carroll Widdoes was 9-0 in 1944 and eventually won his first 12 games before a loss. Earle Bruce posted an 11-0 record to open the 1979 before a Rose Bowl loss to USC...

When Ohio State Has The Ball: The Buckeyes struggled for a half last week at Penn State before the floodgates opened. OSU is among the nationís best rushing teams at 247.9 yards per game (10th nationally). This may not be the game where OSU wants to put QB Braxton Miller in harmís way, however. There are two games left against top competition and they may want to save hits on Miller for those two games.

That means you could see a lot of Carlos Hyde and Rod Smith running the ball. Also, Illinois is a dismal 109th nationally in passing efficiency defense. Miller struggled throwing last week (7 of 19 vs. Penn State) and they may view this game as a chance to get that part of the offense going. Neither Philly Brown nor Devin Smith caught a pass last week. Evan Spencer and Jake Stoneburner each stepped up, though. Hopefully, they can get all four of them into the flow at the same time.

Illinois has surrendered 31 or more points in all six of their losses. OSU has had 31 or more points in six of their nine wins. My guess is you see the Buckeyes somewhere in the low 40s when the dust settles...





College Football Expert Picks - Straight Up - Week 10:


Dennis
Dodd

Bruce
Feldman

Bryan
Fischer

Tom
Fornelli

Jerry
Hinnen

Matt
Hinton

Chip
Patterson

Prediction
Machine


Against the spread, which is OSU -25.5, Bruce Feldman & Tom Fornelli pick the Illinois.





Illinois at Ohio State Preview
November 1, 2012 Source: The Ozone - Illinois is throwing for 184.9 yards per game, and would be throwing for more if the offensive line could keep their quarterback upright.

The Illini are 121st in the country in sacks allowed, having given up 30 (3.75 per game) this season. The Buckeye defensive line will know these numbers and will want to add to them.

With Nathan Williams able to play some strong side linebacker, that will allow for some unique pass rushing from the Buckeyes. It will also allow freshman defensive end Noah Spence to continue to try and find himself. Even though he is playing more than ever, he still hasn't recorded a sack since the season opener.

Defensive end John Simon should have success forcing Scheelhaase out of the pocket, but Illinois will also move the pocket voluntarily in hopes of keeping Simon away from Scheelhaase...




Preview: Illinois at #8 Ohio State
November 2, 2012 Source: Eleven Warriors - On defense, the Illini are historically bad. They are giving up more than eight yards per pass play and four yards per run. Whatís more, theyíre surrendering over 35 points in Big Ten games.

The bright spot on defense, and even that is dim, is the run defense, which ranks 55th in the country, giving up 152.6 yards per game. Most of the talent Illinois has had on its defense in recent seasons has matriculated to the NFL.

Defensive end Akeem Spence is trying to add to a long line of top-flight ends to play for the Illini. He has 37 tackles and a forced fumble. The linebacker corps is the strength of the defense, and it starts with Butkus Award semifinalist Jonathan Brown. Heís the most productive member of the Illinois defense with 55 tackles, 8.5 tackles for loss, 2.5 sacks and a forced fumble. Heís done all of that despite battling an ankle injury. Mason Monheim has 52 stops, two forced fumbles and an interception and Ashante Williams adds an additional 52 tackles and an interception return for a touchdown.

The injuries suffered by the Illinois secondary are almost beyond belief. Cornerback Terry Hawthorne and safeties Steve Hull and Supo Sanni have all been hurt at some point this season. Justin Green, who was once headed to Ohio State, has helped alleviate the pain with 22 tackles and three pass breakups at corner, while safeties Earnest Thomas and Pat Nixon-Youman have combined for 65 stops....




Illinois vs. Ohio State: Complete Game Preview
October 31, 2012 Source: The Bleacher Report - What It Means to Both Teams

For Illinois: The Illini want to get former Toledo coach Tim Beckman his first win in the Big Ten on Saturday, which will be no small task in Columbus. Illinois needs a big win to inspire some confidence and convince fans that the program is rebuilding the right way.

For Ohio State: Another win means the Buckeyes will be a win closer to winning the Leaders Division championship. They won't get to play in the postseason, obviously. But the goal going into a long-awaited bye week is to improve to 10-0 with a two-game season coming up, starting with a road trip to Wisconsin in two weeks and the season finale against the hated Michigan Wolverines. This is a game that Ohio State should win easily. They need to prove that by not overlooking the Illini...

Key Player for Illinois: WR Ryan Lankford Illinois offense may be No. 118 in scoring, but the Illini do have a solid go-to threat in Ryan Lankford. The junior receiver is, far and away, the team's leading receiver, with 29 receptions for 413 yards and five touchdowns. The Illini's QB situation has been a concern, but whoever plays between Nathan Scheelhaase and Reilly O'Toole will have a guy they want to get the ball to in Lankford.

Key Player for Ohio State: RB Carlos Hyde >Everyone knows what Braxton Miller can do, but Carlos Hyde has been just as good in the last four weeks as anybody on the team. Hyde may not have had a big yardage game against Penn State, but he found the end zone for the fourth straight game, recording nine touchdowns in the past four games. He seemed like a weird fit for Urban Meyer's spread offense but has fit in very well and grown up greatly throughout the year...




November 2, 2012 Source: Columbus Dispatch


Cover Story: John Simon; the DE has taken to heart the lessons of sacrifice and teamwork he has learned through avid study of military history
OSU Spotlight: WR Devin Smith
On the edge: Ohio State vs. Illinois; Who has the edge
MEET A BUCKEYE: Chris Fields
Ohio State out to shake trend of shaky games vs. underdogs
Recruiting: Class of 2013 already forming bonds
Play of the week: Shotgun, five wide, choice & more...







Columbus Weather Forecast




Illini HC Tim Beckman's post-practice interview from Tuesday, October 30, 2012.


Fighting Illini QB Nathan Scheelhaase's interview on Monday, October 29, 2012.



Game 9 Notes: Illinois at #6 Ohio State
Source: Illinois Official Site&nsp;- Illini Head to Columbus Looking for First Big Ten Win

Illinois is holding opponents to a third-down conversion rate of just 30.0 percent (30-of-100), which leads the Big Ten and ranks 12th in the nation.

Junior LB Jonathan Brown is one of 12 semifinalists for the Butkus Award, which goes annually to the nation's top linebacker. Brown leads the team with 55 tackles, 8.5 TFLs and 2.5 sacks on the season. He is coming off a season-high 11 tackle game, including two TFLs and one sack, against Indiana

Junior QB Nathan Scheelhaase is among Illinois' career leaders in several categories. He's fourth in passing effeciency (129.2); sixth in total offense (6,427); eighth in TD passes (34); ninth in passing yardage (4,774), completions (423) and attempts (692); and 20th in rushing yardage (1,653).

LB Mason Monheim leads all Big Ten freshmen and is tied for second on the team in tackles with 52...