By
Steve Helwagen
November 24, 2010
They have a standing date, usually at high noon on the fourth Saturday in November.

The location rotates between two of college football's most revered venues, Michigan Stadium and Ohio Stadium.

The nation, courtesy of ABC, is usually watching.

Of course, we are speaking of the Ohio State-Michigan series, which was named as the greatest sports rivalry of the 20th century in balloting conducted on ESPN.com.

Yes, Ohio State-Michigan was ahead of Muhammad Ali-Joe Frazier, Duke-North Carolina, Wilt Chamberlain-Bill Russell, Canadiens-Maple Leafs, Jack Nicklaus-Arnold Palmer and Yankees-Red Sox on the continuum of sports' top head-to-head match-ups.

This year will mark the 107th meeting between the Buckeyes and Wolverines on the college gridiron. The feelings of enmity and respect continue to flow on both sides of this tradition-laden rivalry.

"To me, Michigan is the team you set out at the beginning of the year to beat," said two-time Heisman Trophy winner Archie Griffin, whose OSU teams posted a 3-0-1 record against UM from 1972-75. "Certainly, you want to win them all, but that is a special game. It is our rival. We want to play a great game against the University of Michigan.

"It's at the end of the year and you have all year to improve to be at your best by the time you come to play the Michigan football team."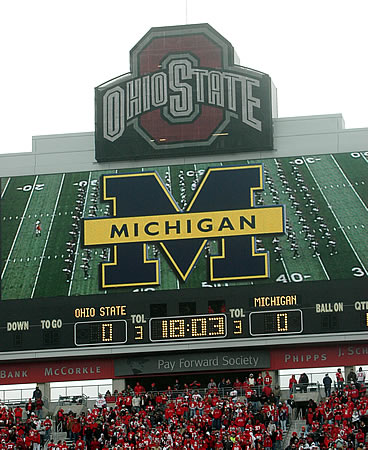 Former OSU head coach Earle Bruce was an assistant under Woody Hayes for seven seasons before leading the Buckeyes to a 5-4 mark against Michigan as the head coach from 1979-87.

"If you don't win the Michigan-Ohio State game, that's a problem," Bruce said. "You're not going to be recognized for too much success. We've had 11-1 and 10-1 football teams that lost to Michigan and they're not even mentioned in the second breath."

With 106 previous meetings, the Ohio State-Michigan rivalry ranks 16th among the most-played rivalries in Division I-A history. Michigan leads the all-time series 57-43-6.

"It is hard to believe there are other ones that are longer, but this one reached 100 (in 2003)," said renowned OSU football historian Jack Park, author of "The Official Ohio State Football Encyclopedia". "They have played every year since 1918. The only reason they didn't play between 1913-17 is because Ohio State joined the Big Ten in 1913.

"Michigan had withdrawn from the Big Ten and the Big Ten did not allow any of its members to play Michigan. Finally, Michigan rejoined the Big Ten in 1918 and resumed the series with Ohio State.

"Now, it is Ohio State's longest continuous series. Ohio State had played Illinois every year since 1914. But because of the Big Ten schedule with 11 teams, they didn't play Illinois (in 2003-04)."

The 92-year streak of games between the schools ranks 10th in NCAA Division I-A for the longest uninterrupted series.

The Game, as the rivalry has become known, was moved to the final week of the regular season in 1935. Since then, it has had a major impact on the Big Ten championship race -- and, in many cases, also the bid for the Rose Bowl -- no fewer than 48 times.

Make it 49 times: Ohio State can secure nothing less than a share of the Big Ten title with a win over Michigan on Saturday (noon, ABC) at Ohio Stadium.

On 23 of those 48 previous occasions, the teams have decided the title between themselves.

Since 1927, the teams have been so evenly matched that neither side has enjoyed anything more than a six-game winning streak. In fact, in the last 12 meetings in which one team came in unbeaten, that team has left unblemished just six times (OSU in 1979, 2002 and 2006; Michigan in 1971, '92 and '97).

On 18 occasions since 1936, The Game has matched teams both ranked in the top 10 of the Associated Press poll. OSU's record in those games is 8-8-2, although Michigan had won the last six times that has happened (1976, '77, '80, '86, '97 and 2003) before the unprecedented one-versus-two match-up in 2006. OSU won that game 42-39 in Columbus to advance to the national championship game.

That game is one of three occasions where both teams have been unbeaten and untied. The others were 1970 (OSU won 20-9) and 1973 (a 10-10 tie).

With an NCAA record crowd of 112,118 for the game in 2003 in Ann Arbor, the total attendance figure for this series -- at least since Ohio Stadium opened in 1922 – has moved past the seven million mark.

This year's game will mark the 60th time in 88 years that the game has sold out, including the last 42 in a row.

Although Michigan enjoys a 14-game lead in the overall series -- think about that: OSU has to win the next 14 games just to even the series, and the earliest that can happen is 2023 -- there are other ways to twist the numbers.

If you deduct UM's 13-0-2 advantage in the first 15 games of the series, the Wolverines have just a 44-43-4 edge.

And, over the last 50 years, Ohio State now owns a 26-23-2 edge.

You look at the coaches who have had the most success in The Game. On the OSU side, everybody looks to Hayes. He was 16-11-1 against Michigan. His is by far the best mark against UM among any of the six former OSU coaches who lasted at least five years on the job. The current OSU coach, Jim Tressel, is now 8-1 against Michigan.

On the Michigan side, most see Bo Schembechler as the standardbearer. But he was just 11-9-1 against Ohio State. Fielding Yost, who benefited from UM's early dominance, was 16-3-1 against OSU. Fritz Crisler was 7-2-1, while Lloyd Carr who retired in 2007 was 6-7.

Here are some more OSU-Michigan factoids:

All-time points: Michigan leads, 1,771-1,383.

Record in Ann Arbor: Michigan leads, 30-20-4.

Record in Columbus: Michigan leads 27-23-2.

Record when both teams ranked: Michigan leads, 20-17-4.

Games decided by three points or less: Ohio State leads, 6-5-6.

Games decided by seven points or less: Ohio State leads 17-16-6.

Biggest Michigan win: 86-0 in 1902.

Biggest Ohio State win: 38-0 in 1935.

With Park's assistance, we will navigate through the most meaningful moments in the first 106 OSU-Michigan games, a span covering 113 years.

Michigan Dominates Early Years

Ohio State and Michigan met for the first time ever on Oct. 16, 1897, at Regents Field in Ann Arbor. Michigan, in its 18th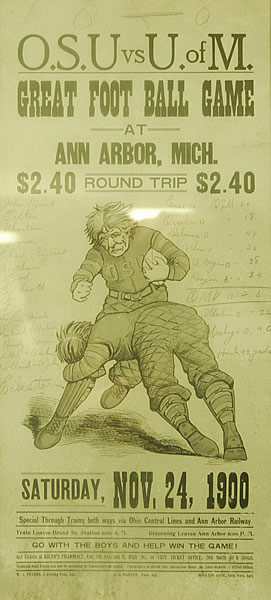 season of intercollegiate football, prevailed 34-0. OSU was fielding just its seventh team.

OSU again visited Michigan in 1900, playing the Wolverines to a scoreless tie. A year later, OSU hosted Michigan at Ohio Field for the first time ever, falling 21-0. In 1902, UM dealt OSU an 86-0 drubbing, the school's worst loss ever.

This would be a recurring theme as Michigan never lost in the first 15 meetings between the schools.

"Michigan outscored Ohio State 369-21 in the first 15 games and you have to remember that in some of those games touchdowns were only worth four or five points, so it's really even worse than it sounds," Park said.

OSU did not score its first points against Michigan until their sixth meeting, still a 31-6 UM rout. The feat was so remarkable, however, The Detroit News blared a headline, "Ohio Scores on Michigan."

OSU ended 22 years of frustration with its 13-3 win over UM on Oct. 25, 1919. The Buckeyes won with a touchdown off a blocked punt and another on a 42-yard run by star Chic Harley.

"I think it started to become a big deal early on, although Ohio State lost 13 of the first 15 games and the other two were ties," Park said. "Ohio State's first victory in the series was 1919, the 16th game in the series. Chic Harley played one of the finest games of all time and Ohio State won 13-3.

"There were 25,000 fans at Michigan that day at old Ferry Field. There were 5,000 Ohio State fans there that day. That was quite a win. With that loss, Michigan was 3-4 that year. That was Fielding Yost's only losing season at Michigan."

Yost tipped his hat to the winners that day, visiting the OSU dressing quarters to congratulate the Buckeyes.

Ohio Stadium Era Begins

It was the exploits of Harley that led OSU to build massive Ohio Stadium. The Horseshoe-shaped stadium opened in 1922, and Michigan was on the docket for the stadium dedication game.


But UM, behind star and later coach Harry Kipke, spoiled the dedication game with a 19-0 win. An overflow crowd of 72,500 attended the game. The loss spoiled OSU's modest three-game winning streak in the series.

The 1926 game, won by Michigan 17-16 after OSU missed a late extra point, still stands as the only game in the series decided by a single point. An announced record crowd of 90,411 attended the game as the Buckeyes attempted to remain undefeated.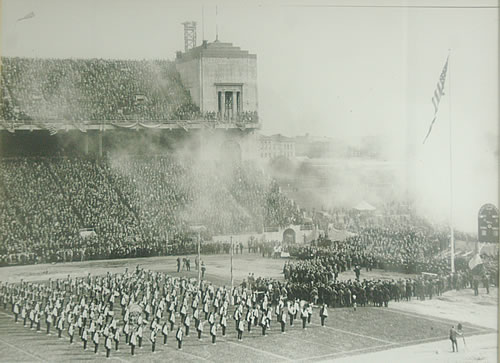 A look at the scene in Ohio Stadium on dedication day.



A year later, UM opened Michigan Stadium. Ohio State played the dedication game there on Oct. 22, 1927, but the Wolverines prevailed 21-0 before a capacity crowd of 84,401.

As the country moved into the Great Depression, even college football was not immune. The Game had been averaging crowds of 75,000 or better. But in 1932, just 19,500 could afford tickets to see Michigan win 14-0 in Columbus.

Better times were coming, though, for the nation and Ohio State. Francis Schmidt took over as the OSU coach in 1934 and proceeded to see his teams rip off four straight shutout wins over UM from 1934-37 (34-0, 38-0, 21-0, 21-0).

"Francis Schmidt had great success against Michigan, winning his first four years," Park said. "That is one of only three four-game winning streaks over Michigan, and they shut them out all four years."

Schmidt was credited for starting the tradition of awarding a pair of Gold Pants -- a tiny pendant -- to members of OSU teams that defeated Michigan.

Michigan gained a measure of revenge in 1940 as All-American Tom Harmon ran for three touchdowns, passed for two more and kicked four extra points in a 40-0 win in Columbus.

UM's next two trips to Ohio Stadium did not go quite as well, though. With former Massillon High School coach Paul Brown at the helm, OSU defeated UM 21-7 in 1942 on its way to clinching its first national championship. Les Horvath and Paul Sarringhaus each threw and caught TD passes in the win.

Two years later, OSU denied UM a piece of the Big Ten title with an 18-14 win.

"There were two games in the 1940s that stood out," Park said. "In 1942, the win helped Ohio State win its first national championship.

"Then, the 1944 game was the first time the Ohio State-Michigan winner would be the outright Big Ten champion. Ohio State won 18-14 in a game where the lead changed hands on all five of the touchdowns. Les Horvath was outstanding that day. He scored the winning touchdown and went on to win the Heisman Trophy."

Michigan blasted OSU 58-6 in 1946, Paul Bixler's only year as the OSU head coach. That remains OSU's worst loss in Ohio Stadium history.

One of the most memorable games in OSU history occurred in 1950 as the Buckeyes hosted Michigan in the Snow Bowl. A paralyzing blizzard and near-zero temperatures gripped central Ohio. But 50,503 showed up to see Michigan win 9-3.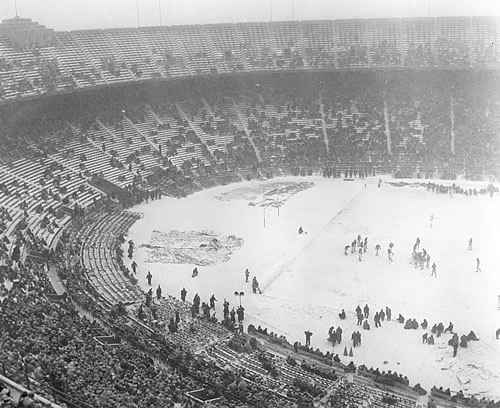 The game that "never should have been played"



The Wolverines won despite running for just 27 yards, never completing a pass and never achieving a first down. The teams punted a combined 45 times in an effort to win the field position battle. OSU led 3-2 late in the first half on a Vic Janowicz field goal. But UM blocked a Janowicz punt and recovered it in the end zone for what would be the winning touchdown. OSU was denied a Big Ten title and head coach Wes Fesler resigned his post under fire weeks later.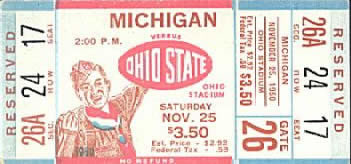 Not many people used this ticket.



"The Snow Bowl game never should have been played," Park said. "Ohio State really had the better team. They should have won big over them. Michigan was having a bad season, yet they beat Ohio State. Northwestern upset Illinois that same day, opening the door for Michigan to go to the Rose Bowl."

Hayes Era Comes Next

Ohio State had been through four coaches in just the 10-year period between 1941-50. It had earned the nickname as the Graveyard of Coaches.

But Hayes, the coach at Miami (Ohio), stepped into the vacancy and became a legend.

"Woody Hayes was pretty successful against Michigan," Park said. "It took them 27 years to beat him two years in a row. He was 16-11-1 against them. Michigan only won eight of the first 25 games he coached against them."

Hayes' first OSU team fell 7-0 in Michigan in 1951. UM entered that game 3-5, while Ohio State was 4-2-2. That stands as the most recent time a team with a losing record defeated a team with a winning record in this rivalry. That is also the only time it has happened since The Game moved to the final week of the regular season in 1935.

The Buckeyes rolled 27-7 in Columbus in 1952. Then, in 1954, OSU secured a national championship and moved toward a perfect 10-0 season with a 21-7 win.

This dramatic victory saw the OSU defense mount a huge goal-line stand with the game tied at 7-7 in the fourth quarter. Quarterback Dave Leggett then drove OSU 99-1/2 yards the other way for the go-ahead touchdown. Howard "Hopalong" Cassady tacked on an insurance score late in the game.

A year later, OSU blanked UM 17-0 in Ann Arbor to repeat as the Big Ten champions. Cassady had 146 yards and a score in that win.

OSU's Dick LeBeau scored a pair of touchdowns in his team's 31-14 rout of the Wolverines in 1957, a win that propelled the Buckeyes to another national title. In that win, OSU piled up 372 yards rushing on 70 attempts. Bullish Bob White led the way with 165 yards on 30 carries. A crowd of 101,001 witnessed the game at Michigan Stadium. The officials had to stop the game in the final three minutes when OSU fans got loose on the field and tried to rip down the goal posts.

Michigan defeated OSU 23-14 in 1959, capping the only season since 1935 where the schools played where each side ended the year with a losing record (UM was 4-5; OSU was 3-5-1).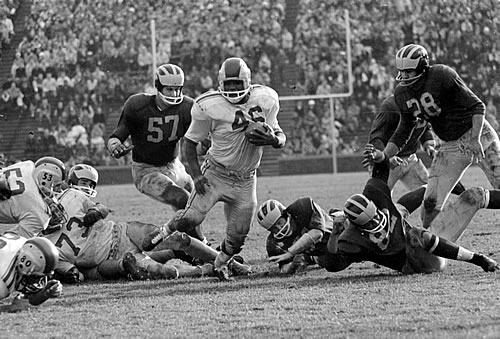 Bob Ferguson in 1961



Hayes twisted the knife in Ann Arbor in 1961, leaving his starters in late in the game to blow out the Wolverines 50-20 and earn another conference crown. The joke was on him, though, when OSU's faculty council turned down the Rose Bowl bid, saying football was simply becoming too big at the school. The decision triggered riots on campus.

OSU and Michigan managed just one Big Ten title between them -- UM's 1964 crown -- from 1962-67.

In 1968, an Ohio Stadium-record crowd of 85,371 and 10,000 more watching on closed circuit in Ann Arbor saw the Buckeyes rout UM 50-14. Jim Otis had 142 yards and four touchdowns for the second-ranked Buckeyes, who advanced to the Rose Bowl and moved a step closer to another national championship.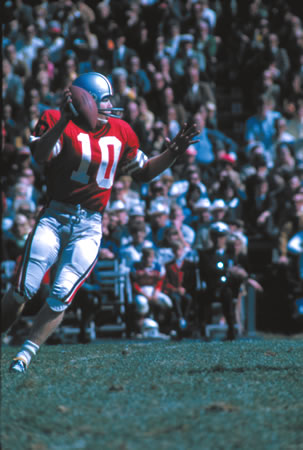 Rex Kern in 1968



Woody And Bo

In 1969, a Hayes protégé named Glenn "Bo" Schembechler made the jump from Miami (Ohio) to Michigan, replacing longtime coach Bump Elliott.

OSU came into the 1969 game in Ann Arbor looking for a school-record 23rd straight win and, although it could not go to the Rose Bowl due to the no-repeat rule, a likely second consecutive national title.

But Michigan pulled off one of the biggest upsets in Big Ten history. Fullback Garvie Craw scored a pair of touchdowns and Michigan feasted on six OSU interceptions in a 24-12 win over the Buckeyes before a Michigan Stadium-record crowd of 103,583. The teams shared the Big Ten title and UM went to the Rose Bowl.

The win was the first blow in what would become known as the "Ten Year War" between Hayes and Schembechler.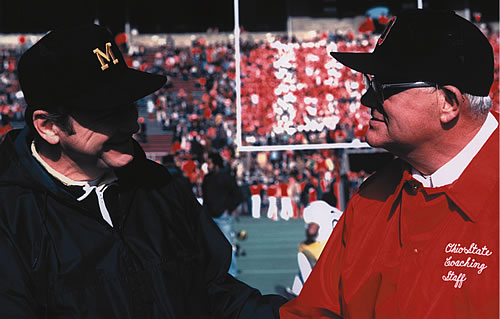 Bo and Woody



"It really was a great rivalry before Hayes and Bo Schembechler came along," Park said. "But it is hard to think any series had the build-up, impact and emotion connected to those 10 years between 1969-78.

"The Big Ten was really weak other than those two schools. They were fighting it out for a chance at the national championship every year. Bo was a protégé of Woody's and he defeated Ohio State in his first game, breaking Ohio State's all-time winning streak of 22 games."

OSU got its revenge in 1970, winning 20-9 behind the steady play of quarterback Rex Kern and a strong defense that limited UM to just 155 yards (37 rushing). Leo Hayden rushed for 118 yards for OSU. The win sent the Buckeyes to the Rose Bowl and earned them a piece of another national title.

"In 1970, they met for the first time when both teams were undefeated and untied," Park said. "I think that 1970 game may have been the biggest. Year in and year out, it is hard to think of any bigger, maybe the 2002 or 2003 games with a lot at stake. There was a book 'One Game Season' and that was pretty much what it was."

OSU's 10-7 loss at Michigan in 1971 was not remarkable, particularly with OSU finishing the year 6-4. But it was marked by huge outburst from Hayes after UM's Thom Darden intercepted a pass intended for OSU's Dick Wakefield. Hayes stormed on to the field asking for a pass interference penalty. Instead, he was penalized. He retreated to the sideline, where he ripped up down markers. UM came into the game 10-0 and wrapped a perfect regular season.

Griffin's four years at OSU came next. In 1972, UM was 10-0 and pointed toward the Rose Bowl. But OSU mounted two huge goal line stands in a 14-11 win, marked by Griffin's 30-yard TD run. OSU advanced to the Rose Bowl instead.

When asked why he didn't attempt a field goal either time his team threatened, Schembechler replied, "We should have scored from the 1."

The 1973 game marked the second time the teams met with unbeaten records (10-0 each). UM's Mike Lantry missed two field goals in the final two minutes of what ended up a 10-10 tie. Big Ten athletic directors voted the next day to send OSU to the Rose Bowl, sending Schembechler into a rage.

Soccer style kicker Tom Klaban booted four field goals a year later as OSU nipped UM 12-10 in Columbus. Lantry missed a 33-yard field goal to win it with 18 seconds left. Because OSU had lost an earlier game at Michigan State, the ADs had to vote again, and again they sent OSU to Pasadena. This marked the only game where OSU defeated UM without scoring a touchdown.

In 1975, the top-ranked Buckeyes rallied from a 14-7 deficit to win 21-14 and claim a fourth straight Rose Bowl. Griffin's 31-game string of 100-yard games was snapped, but his brother, defensive back Ray Griffin, had 14 tackles and the interception that set up the game-winning score. Hayes called the win "the greatest game I've ever coached."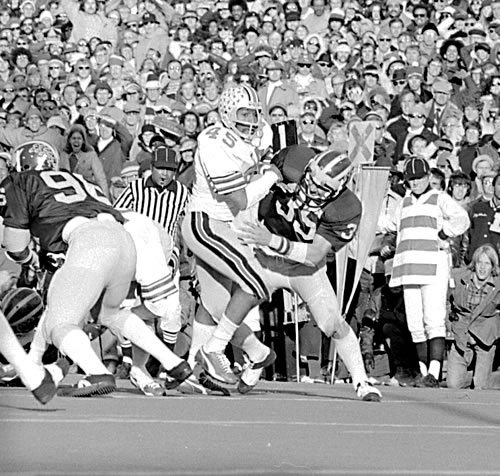 Archie Griffin in 1975



It would also be the venerable coach's last win over UM, which would post three consecutive wins over the Buckeyes from 1976-78 (22-0, 14-6, 14-3). Hayes was fired after the 1978 Gator Bowl loss to Clemson.

Park put that whole period of time in proper perspective.

"Between 1968-80, over those 13 seasons Michigan only lost five games in the Big Ten to teams other than Ohio State," he said. "Ohio State only lost five games to schools other than Michigan in the Big Ten.

"In that same period, they were 6-6-1 against each other. Think about that -- each team lost more to each other than they did to the rest of the Big Ten combined. Those two teams were so evenly matched -- and they were so much better than the rest of the league."

Bruce Takes Over

Bruce came on the scene and led OSU to an unbeaten regular season in his first year on the job in 1979. That feat was capped by an 18-15 win in Ann Arbor. That win has come to be known far and wide as the "Buckeye Block Party" as Jim Laughlin blocked a UM punt and Todd Bell returned it for the winning score.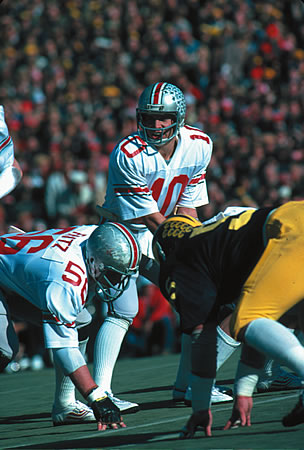 Art Schlichter in 1979



Quarterback Art Schlichter was carried off the field in Ann Arbor two years later after engineering a 14-9 win over the Wolverines. Schlichter scored two touchdowns, including the 6-yard game winner behind a key block by fullback Vaughn Broadnax with 2:50 left. The loss knocked Michigan out of the Rose Bowl.

OSU clinched a Rose Bowl bid in 1984 with a stirring 21-6 win over UM in Columbus. Keith Byars scored three times in that win.

Two years later, brash UM quarterback Jim Harbaugh guaranteed victory and delivered it as the Wolverines stunned the Buckeyes 26-24 in Columbus to steal the Rose Bowl bid.

"We're going to be jacked up and we're going to win," said Harbaugh, who threw for 261 yards. Tailback Jamie Morris added 210 yards on the ground to blunt OSU linebacker Chris Spielman's 29-tackle effort. UM rolled up a series record 529 yards total offense.

The 1987 game was marked by Bruce's firing on the Monday prior to the game by OSU president Ed Jennings. Athletic director Rick Bay resigned in protest. Bruce was permitted to coach the UM game and the team, just 5-4-1 after a crushing loss to Iowa, responded. Sporting "EARLE" headbands they upset UM 23-20 in Ann Arbor. Matt Frantz, who missed a kick to win the game in 1986, booted the game-winning 26-yard field goal here with 5:18 left. Bruce was carried off the field.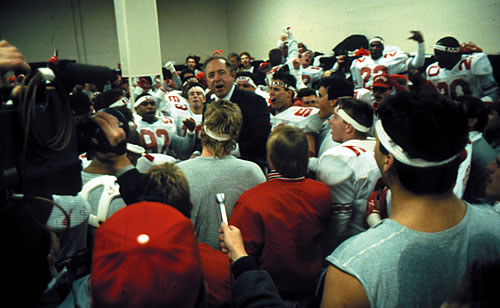 Earle Bruce and his team celebrate



Cooper Comes Next

Ohio State went after Arizona State's John Cooper in large part because he had led the Sun Devils to a win over Michigan in the 1987 Rose Bowl.

Unfortunately, Cooper rarely recaptured that magic in his 13 years as the OSU coach, going 2-10-1 against UM.

Michigan reeled off four straight wins to greet the almost instantly embattled Cooper. OSU fell behind 20-0 at halftime at home in 1988, but rallied to take the lead before Demetrius Brown hit John Kolesar for a 41-yard touchdown with 1:37 left in a 34-31 Michigan win. The loss dropped OSU to 4-6-1 – its first losing season since 1966.

Two years later, UM's J.D. Carlson kicked the game-winning 37-yard field goal as time expired to give first-year UM coach (and OSU alum) Gary Moeller a 16-13 win in his first head coaching stint in The Game.

In 1991, UM's Desmond Howard struck the Heisman pose after his school-record 93-yard punt return stunned OSU in a 31-3 win.

A 13-13 tie in 1992 -- called one of OSU's "greatest wins" by then-president Gordon Gee -- saved Cooper's job.

A year later, though, OSU went to Ann Arbor at 9-0-1 and in search of the Rose Bowl bid. But UM played inspired football and blanked the Buckeyes 28-0, denying OSU a trip to Pasadena and a possible national championship.

Cooper punched a blackboard at halftime of his team's memorable 22-6 win over the Wolverines in 1994 in Columbus. It was OSU's first home win in the series in 10 years.

But that only set the stage for three more defeats, all with either Big Ten, Rose Bowl or national championship implications on the line.

In 1995, UM tailback Tim Biakabutuka rolled for 313 yards in his team's 31-23 upset of the No. 2-ranked Buckeyes, who were 11-0 coming in. UM was fueled by comments from OSU's Terry Glenn, who said, "Michigan is nothing."

The stakes were the same a year later as 10-0 OSU hosted Michigan. But OSU cornerback Shawn Springs slipped on a pass coverage, allowing a 69-yard TD pass from Brian Griese to Tai Streets in a 13-9 Michigan win. UM's inspiration for this game came from, of all places, Bruce, whose stirring Senior Tackle speech before 20,000 at Ohio Stadium was broadcast live -- right into the hotel rooms of the UM players.

The Rose Bowl bid was on the line in 1997, but Michigan, riding the three-way play of Heisman Trophy winner Charles Woodson, pulled out a 20-14 win on its way to a national title. UM had touchdowns on Woodson's 78-yard punt return and a 43-yard interception return by Andre Weathers.

The Buckeyes finally got the monkey off their back in 1998, defeating UM 31-16 to claim a piece of the Big Ten title. Quarterback Joe Germaine threw for 330 yards and three touchdowns, while David Boston -- whose own comments about Woodson before the 1997 game got him in hot water -- had 10 catches for 217 yards and two TDs. The win snapped UM's 16-game conference winning streak and spoiled a 375-yard passing effort by Tom Brady.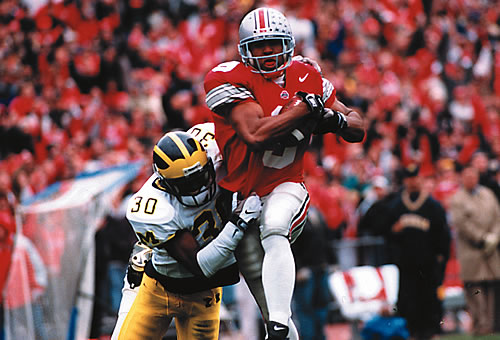 David Boston in 1998



But two more disappointing losses (24-17 in 1999 and 38-26 in 2000) rounded out Cooper's stay as the OSU coach.

All told, Michigan denied OSU five Big Ten titles, four Rose Bowl berths and legitimate chances at three national titles in Cooper's 13 years.

"I think part of it was mental," Park said. "Some of those Michigan teams were very, very good. A break or two just went their way. In some cases, Ohio State was almost beaten before they played the game.

"In the 1995 game, they spread us out and Tim Biakabutuka just ran wild. The real sad one was the 1996 game. Michigan should not have been on the same field with Ohio State. Ohio State was up 9-0 at halftime on three field goals. That's where the game was lost. They had a first down at the 2-yard line and ended up kicking a field goal.

"I'm sure they were pretty pumped up in the Michigan locker room at halftime. Then, they came out and scored to cut the lead to 9-7. I think most Ohio State fans knew at that point that Michigan was going to win the game."

Tressel Sets The Tone

OSU turned to Youngstown State's Jim Tressel, a former OSU assistant under Bruce, to replace Cooper. On the day he was introduced as the coach, appeared at halftime of the OSU-Michigan basketball game at Value City Arena.

He told the crowd: "I can assure you, you will be proud of our young people in the classroom, in the community and, most especially, in 310 days in Ann Arbor, Mich., on the football field."

Tressel's team backed up the talk as the Buckeyes upset UM 26-20 to deny the Wolverines a share of the Big Ten title.

But that was part time compared to the 2002 game, where OSU rallied for a 14-9 victory that sent the Buckeyes to the national championship game at the Fiesta Bowl.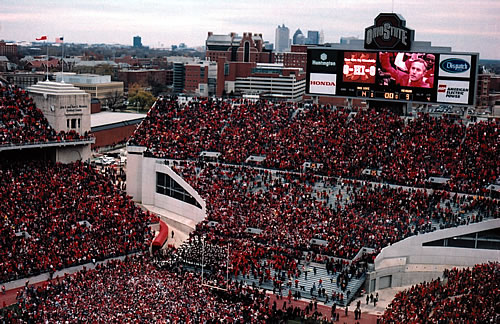 The crowd goes wild in 2002



"I think one way Jim Tressel is like Woody Hayes is that he really points toward certain games," Park said. "He has never told me that, but that is just my opinion. Hayes always pointed toward the Michigan game. He knew you can't get a team sky high every Saturday.

"That might have been part of the problem in the 1990s. They maybe tried to treat it as just another game.

"I think Tressel made the point from the time he was introduced at the Schottenstein Center with his '310 days' speech. He sent the message right there that this is going to be a high priority for us."

In 2003, Michigan cruised to a 35-21 victory in the historic 100th meeting between the two schools. Quarterback John Navarre threw for two touchdowns to Braylon Edwards, while Chris Perry rushed for two scores as well. The win gave UM an outright Big Ten title and the Rose Bowl berth and likely denied then-No. 2 OSU a spot in the national title game at the Sugar Bowl.

In 2004, Michigan already had the Big Ten title clinched when it visited OSU. But the Buckeyes, behind a career day by Troy Smith, upset Michigan 37-21. Smith threw for 241 yards and two touchdowns and also rushed for 145 yards and a score.

At Ann Arbor in 2005, Ohio State mounted one of the best comebacks in the history of the rivalry. The Buckeyes rallied from down nine in the final 7:49 to win 25-21. Smith threw for 300 yards and a touchdown and also ran for a score. He hit Anthony Gonzalez on an amazing 26-yard pass down to the UM 4, setting up Antonio Pittman's 3-yard game winning touchdown with just 24 seconds left. The win gave OSU a share of its 30th Big Ten title.

In 2006, one more historic chapter in this rivalry was written. The teams met as the top two teams in the Associated Press poll for the first time ever. When the dust settled, No. 1 Ohio State had turned back No. 2 Michigan 42-39 to advance to the BCS national title game. Smith, who would win the Heisman Trophy, became the first quarterback since Tippy Dye in the 1930s to lead OSU to three straight wins over UM. Smith threw for 316 yards and four TDs to four different receivers, while Chris "Beanie" Wells and Pittman had TD runs of 52 and 56 yards, respectively.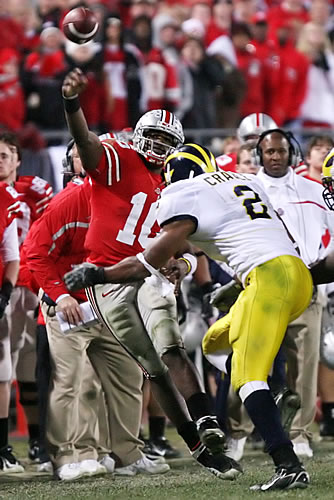 A personal foul call on this play helped seal the deal for Ohio State in 2006



An Ohio Stadium-record crowd of 105,708 was on hand and a national television audience on ABC estimated at nearly 22 million people – the largest regular season college football broadcast in 13 years – was tuned in. The game was dubbed as the Game of the Century.

Ironically, the game the game gained even more significance when, on the eve of the meeting, Schembechler passed away. Schembechler was honored with a video tribute at Ohio Stadium as well as a moment of silence before kickoff.

In 2007, Ohio State went to Michigan and pulled out a 14-3 win in a game played in a steady rain. Wells was the star for the Buckeyes as he rumbled for 222 yards and two touchdowns on 39 carries. His yardage total is the most ever by an OSU back in The Game.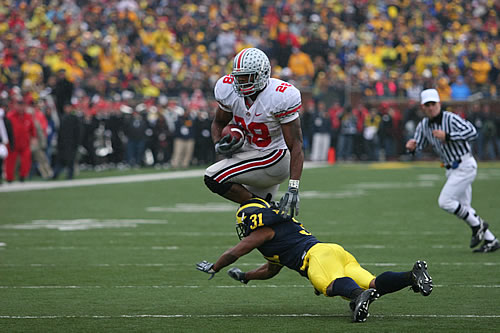 Chris Wells in 2007



That win propelled Ohio State, which improved to 11-1, to the Big Ten title and another berth in the BCS national title game. Carr announced his retirement as the UM coach two days after the game.

In 2008, Michigan endured its worst season in school history with a 3-9 mark for first-year coach Rich Rodriguez. Ohio State capped that season with a dominating 42-7 win over UM. That was OSU's largest win in the series in 40 years and also gave OSU five consecutive wins in the series for the first time.

Wells churned out 134 yards rushing on 15 carries, including a 59-yard touchdown. Quarterback Terrelle Pryor threw a pair of touchdown passes and former starter Todd Boeckman threw one. Brian Hartline had a pair of TD catches for the Buckeyes, who broke open a 14-7 game at the half with a 28-0 second half.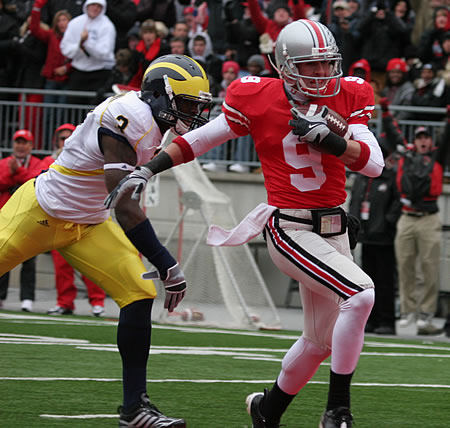 Brian Hartline scores in 2008



Last year, Ohio State already had the Big Ten title and Rose Bowl berth in its hip pocket. That did not stop OSU from taking a 21-10 win in Ann Arbor -- a decision that denied Michigan (5-7) a bowl bid and gave OSU six straight wins over its rival for the first time in the history of the rivalry.

OSU benefitted from five UM turnovers, including a Cam Heyward fumble recovery for a touchdown and four interceptions by UM quarterback Tate Forcier. Safety Kurt Coleman had two of those picks.

Brandon Saine had a 29-yard TD run and Boom Herron caught a 12-yard TD pass from Pryor. OSU went on to defeat Oregon in the Rose Bowl to finish 11-2.

One Man's Opinion

Nobody asked, but here is my list of the top 12 Ohio State-Michigan games. Here goes:

1. 2002: Ohio State 14, Michigan 9 -- Others can disagree, but I think this was the biggest win in the history of Ohio Stadium. OSU finally got the UM monkey off its back and became the first Big Ten school to play in the Bowl Championship Series national title game.

2. 1968: Ohio State 50, Michigan 14 -- OK, it was lopsided, but how many times do you get a chance to hang 50 on UM and move a step closer to a national championship? That's what you call a dream day.

3. 1970: Ohio State 20, Michigan 9 – Some say this should be No. 1. Buckeyes got revenge for 1969 loss in Ann Arbor and clinched Rose Bowl bid.

4. 1950: Michigan 9, Ohio State 3 – The renowned Snow Bowl, won in a blizzard by UM almost as a fluke.

5. 1969: Michigan 24, Ohio State 12 – Woody Hayes had to give the devil – in this case, former protégé Bo Schembechler – his due after UM snapped OSU's 22-game winning streak. One of the biggest upsets in Big Ten football history.

6. 2006: Ohio State 42, Michigan 39 – The first-ever match-up in the series between the nation's top two teams ended with OSU on top and headed to the BCS national title game.

7. 2005: Ohio State 25, Michigan 21 – This is probably OSU's most dramatic win in The Big House with a touchdown in the final minute. A great comeback.

8. 1954: Ohio State 21, Michigan 7 – Great goal line stand preserved tie in fourth quarter. Win helped lead to school's second national title.

9. 1942: Ohio State 21, Michigan 7 – Paul Brown's troops upset favored UM and won Big Ten, national titles.

10. 1973: Ohio State 10, Michigan 10 – Two unbeatens play to a standoff. How God intended it, I'm sure.

11. 1979: Ohio State 18, Michigan 15 – Dramatic Buckeye Block Party win in Ann Arbor.

12. 1975: Ohio State 21, Michigan 14 – Late rally sends OSU to fourth straight Rose Bowl.

Others Of Note: 1944 (OSU 18-14; Les Horvath wills OSU to win), 1955 (OSU 17-0; maybe OSU's best defensive showing ever), 1972 (OSU 14-11; Buckeyes mount two great goal-line stands), 1986 (UM 26-24; an incredible ride; Jim Harbaugh guaranteed victory), 1987 (OSU 23-20; Earle Bruce's last stand); 1998 (OSU 31-16; Germaine-to-Boston lethal); 2001 (OSU 26-20; Jim Tressel wins debut).

The Great Traditions

The Ohio State-Michigan game has spawned its own set of traditions for the Buckeyes, including:

* Gold Pants – Francis Schmidt came up with the idea in 1934 of awarding players on OSU teams that defeat Michigan with a pendant depicting a pair of gold pants. "They put their pants on one leg at a time," Schmidt reasoned.

* Senior Tackle – This tradition began in 1913 where seniors hit the blocking sled one last time before the final game. Since the Michigan game became the final regular season game in 1935, this tradition has typically fallen a day or two before The Game.

* Tunnel of Pride – This tradition began for the 1995 OSU-Notre Dame game, but has continued for every OSU-Michigan game in Ohio Stadium since. Former players form a tunnel for the team to pass through on its way to the field.

The Great Performances

Here is a look at the some of the top individual performances by players on both sides in this rivalry:

Rushing – Ohio State: Chris Wells (2007, 39 carries, 222 yards), David Francis (1962, 31 carries, 186 yards), Carlos Snow (1988, 25 carries, 170 yards), Archie Griffin (1973, 30 carries, 163 yards), Bob White (1957, 30 carries, 163 yards). Michigan: Tim Biakabutuka (1995, 37 carries, 313 yards), Jamie Morris (1986, 29 carries, 210 yards), Rob Lytle (1976, 29 carries, 165 yards), Jim Pace (1957, 22 carries, 164 yards), Tom Kuzma (1941, 30 carries, 162 yards).

Passing – Ohio State: Joe Germaine (1998, 16 of 28 passing, 330 yards), Troy Smith (2006, 29 of 41, 316 yards), Troy Smith (2005, 27 of 37, 300 yards), Mike Tomczak (1983, 21 of 40, 298 yards), Bobby Hoying (1995, 22 of 45, 286 yards). Michigan: Tom Brady (1998, 31 of 56 passing, 375 yards), Chad Henne (27 of 54, 328 yards), Drew Henson (2000, 14 of 25, 303 yards), John Navarre (2003, 21 of 32, 278 yards), Chad Henne (2006, 21 of 35, 267 yards).

Receiving – Ohio State: David Boston (1998, 10 catches, 217 yards), Michael Jenkins (2003, 9 catches, 132 yards), John Frank (1983, 10 catches, 123 yards), Santonio Holmes (2003, 8 catches, 121 yards), Brian Stablein (1992, 12 catches, 111 yards). Michigan: Braylon Edwards (2004, 11 catches, 172 yards), Marquise Walker (2001, 15 catches, 160 yards), Braylon Edwards (2003, 7 catches, 130 yards), Anthony Carter (1979, 2 catches, 125 yards), Tai Streets (1998, 9 catches, 118 yards), Roy Roundtree (2009, 9 catches, 116 yards).















Follow US on Twitter.