50-28





How did Cincinnati hit three big pass plays against Ohio State? Chris Ash breaks it down
September 28, 2014 Source: Cleveland Plain Dealer - Chris Ash isn't worried.

Ohio State's co-defensive coordinator saw correctable issues that led to the three big pass plays Cincinnati hit during the Buckeyes' 50-28 win on Saturday in Ohio Stadium.

All three of the Bearcats big scoring plays went to receiver Chris Moore. How was Moore able to torch the Buckeyes' defense? Ash broke down each play after Saturday's game:

The play: Moore runs by Ohio State safety Von Bell, adjusts to an underthrown ball and makes a circus catch over Bell, who never turned around to find the ball. The play went for a 60-yard touchdown that gave the Bearcats a 7-0 lead on the game's opening drive.

Ash's take: "The first with Von Bell, the guy made a play. He was there and didn't get the ball out. The quarterback threw it up and the guy made the play. He let the guy get behind him a little bit. I have to watch the film to find out why the guy got behind him."

The play: Nothing too fancy here. Moore just runs by Buckeyes' corner Eli Apple for an 83-yard score that cut Ohio State's lead to 30-21 just before the half.

Ash's take: "The next one with Eli Apple, the guy ran away from him. The guy got down behind him and got away from him."

The play: Cincinnati caught Doran Grant cheating. Grant stepped up to defend a fake bubble screen, and Moore ran by him, going 78 yards untouched to make it 33-28 Buckeyes in the third quarter.

Ash's take: "The last one they were running bubbles, bubbles, bubbles and then they ran a bubble-and-go. Doran Grant bit on the bubble."

Ash was adamant that all three plays were mental errors, and not the result of holes in Ohio State's new pass defense. The new defense puts more pressure on the Buckeyes' defensive backs to win in one-on-one coverage.

Moore won those battles Saturday.

"They knew everything Cincinnati was going to do tonight, there's no issues with the calls or rotation," Ash said. "Football is a game of one-on-one battles, and in each one of those situations we lost those one-on-one battles. We won won some, but we lost some, and unfortunately the ones we lost turned into big plays."







Urban Meyer Postgame Press Conference Transcript
September 27, 2014 Source: OSU Official Site





Career Days For Barrett, Elliott Vs. UC
September 27, 2014 Source: Bucknuts - Just weeks after the Ohio State offense sputtered against Virginia Tech, the Buckeyes hit on all cylinders in Saturday's 50-28 rout of Cincinnati...


J.T. Barrett Postgame Source: Bucknuts

Ezekiel Elliott Postgame Source: Bucknuts



Two-Minute Drill: Updates from the Cincinnati at Ohio State Postgame
September 27, 2014 Source: The Ozone - Buckeye coaches and players spoke with the media following OSU's 50-28 win over Cincinnati. Here are the highlights.

Urban Meyer Updates

+ Meyer started by thanking the students for showing up and sticking around. He tells his players all of the time that he doesn't ever want to hear about them treating the students improperly.

+ On the offensive line: "They won the game for us." Meyer said other than Devin Smith's drop on third down and Curtis Samuel's fumble, he liked the offense.

+ Of the pass defense, Meyer said it's "back to the drawing board." He said they've got to get it fixed because they are not a championship team with a defense like that.

+ Meyer said he told the defensive coaches to pull the cornerbacks off of the line of scrimmage a bit because they were getting beaten. On how he felt about the UC cutting it to 33-28, he said he was "pissed".

+ He said this was the best throwing team they've faced since he's been at Ohio State.

+ Meyer said it's not like they haven't tried to get Ezekiel Elliott going before. He thinks he'll be one of the great RBs at Ohio State before he leaves.

+ Meyer said he isn't surprised by J.T. Barrett's development. Regarding the false start penalties, the offensive line said they were having trouble hearing Barrett, so Meyer was yelling at him to take control of the offense.

+ Asked if they have the defensive personnel to play bump and run like he wants, he said, "I really think we do, but I saw what you saw."

Tom Herman, Luke Fickell, Ed Warinner, Evan Spencer, Michael Bennett, Ezekiel Elliott, J.T. Barrett & Jeff Heuerman Updates...




Barrett, Elliott lead Buckeyes by Bearcats, 50-28
September 27, 2014 Source: OSU Official Site - Buckeyes hold Cincinnati scoreless in final quarter; improve to 3-1

COLUMBUS, Ohio (AP) - J.T. Barrett passed for 330 yards and four touchdowns and Ezekiel Elliott ran for 182 yards and a score to lead No. 22 Ohio State past Gunner Kiel and Cincinnati 50-28 on Saturday night.

Kiel, the acclaimed passer for the Bearcats (2-1), completed 21 of 32 passes for 352 yards and four scores in a game of wild momentum swings before a stadium-record crowd of 108,362.

The Buckeyes (3-1), who won their 40th consecutive game over an in-state opponent, totaled 710 yards. But their defense couldn't stop the Bearcats, who had wide-out Chris Moore catch three passes for 221 yards and three TDs.

Not until Barrett hit Devin Smith with a 29-yard scoring pass early in the fourth quarter was it clear the Buckeyes would survive. The score made it 50-28 and finally eased the anxiety of the huge crowd.

A freshman who took over after two-time Big Ten offensive player of the year Braxton Miller was lost for the season after shoulder surgery, Barrett hit on 26 of 36 passes and also ran for 79 yards on 14 carries.

It was the first time Ohio State had topped 700 yards in offense since totaling 715 against Utah on Aug. 27, 1986.

The Buckeyes picked up field goals of 25 and 42 yards by Sean Nuernberger on the first two touches of the second half. But in between Moore was completely alone on a simple crossing pattern and he went 78 yards for his third score.

Down 36-28, Cincinnati had a chance to pull even on its next possession but Johnny Holton was called for offensive pass interference. Replays showed a defender was holding onto his jersey as he swatted his hand away.

The Bearcats were forced to punt, and that proved to be the last opportunity for the visitors to catch up.

With Elliott and Rod Smith doing most of the damage on the ground, the Buckeyes came right back to cover 62 yards in six plays to push the lead to 43-28 before Barrett's final TD pass put it out of reach.

The Buckeyes led 30-21 at the half, but neither coach Urban Meyer nor Cincinnati's Tommy Tuberville could have been happy in the locker room. Coming in, Tuberville was 2-0 against Meyer when both were bumping heads in the SEC, Tuberville at Auburn and Meyer at Florida.

The Bearcats scored stunning TDs on their first and last possessions of the half. The first covered 60 yards from Kiel to Moore on the fourth play from scrimmage and the last was an 83-yard bomb that Kiel lofted to Moore, who was running clear on a post pattern.

In between, Ohio State dominated. The Buckeyes scored on their first four possessions - 3-yard runs by Rod Smith and Elliott and 19-yard completions by Barrett to Devin Smith and Evan Spencer - and also notched two points when Joey Bosa sacked and stripped Kiel, resulting in a safety.

But with the Buckeyes leading 30-7 and at the Cincinnati 38 midway through the second quarter, Jeff Luc knocked the ball loose from Ohio State's Curtis Samuel and Leviticus Payne recovered for the Bearcats. Kiel, who sat out a series in favor of Jarred Evans, then led a six-play, 58-yard march capped by a 19-yard TD pass to Holton.

Cincinnati had trouble stopping the Buckeyes all half but was able to force a punt and Kiel then tossed the long pass for Moore's second TD.

It could have been even closer. On the series Evans was in, he rolled right and just as he was being hit lofted a 45-yard scoring pass to Moore. But it was brought back due to an ineligible receiver downfield. Moments later, the Bearcats were forced to punt.

One of the highlights of the half had little to do with the game action.

A fan ran on the field late in the half and Ohio State staffer Anthony Schlegel, a former linebacker in 2004-05 who is now a strength coach, caught him and threw him to the turf while the crowd roared its approval. The fan was led off the field as Buckeyes players and coaches slapped Schlegel on the back.

Ohio State/Cincinnati Postgame Quotes Source: OSU Official Site

Ohio State/Cincinnati Postgame Notes Source: OSU Official Site

Ohio State Gameday Magazine - Cincinnati
A look inside tonight's game against the Bearcats at the Shoe Source: OSU Official Site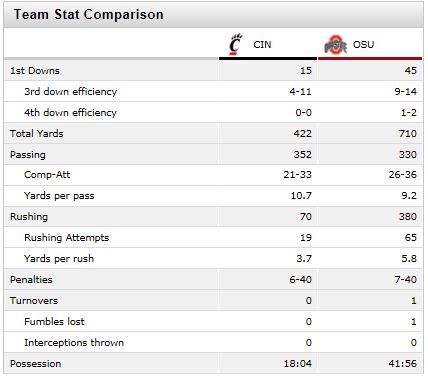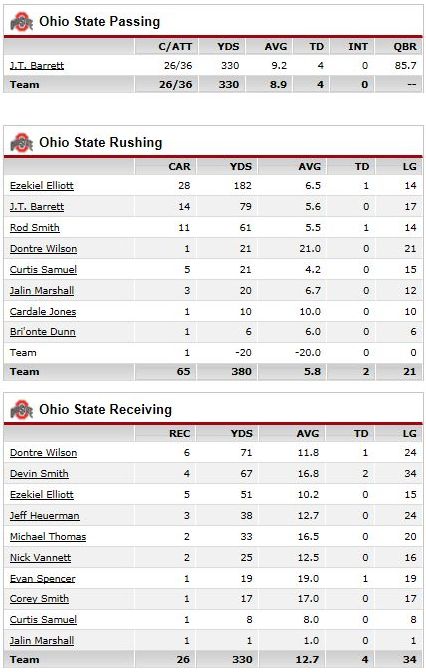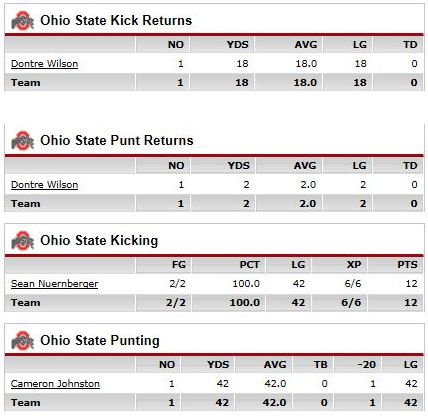 Source:

ESPN



Cincinnati vs Ohio State (Sep 27, 2014) Source: OSU Official Site
Scoring Summary, Team Statistics, Individual Statistics, Drive Chart, Defensive Statistics, Game Participation,
Box Score, Play-by-Play, Play breakdown







It was over when... Cincinnati stayed close until the middle of the third quarter. From then on, the only name in the scoring column was Ohio State.

Gameball goes to... Ezekiel Elliott's 182 rushing yards are the most by an Ohio State player in a nonconference game since 2002.

Stat of the game... 93 years. Ohio State hasn't lost to an in-state team since 1921. In those 93 years, the Bucks are 40-0.

Star of the game... J.T. Barrett, though running Ezekiel Elliott gave the quarterback a run for the honor. Barrett topped 300 yards passing for the second straight game (330), completing 26 of 36 with four touchdowns while rushing for 79 yards.

Turning point... Barrett's 24-yard touchdown pass to Dontre Wilson with 1:18 left in the third quarter. The Buckeyes jumped a 30-7 lead, then watched the Bearcats throw their way back into it, cutting the lead to 33-28.

Repercussions... Some national pundits were predicting an upset, and many Ohio State fans were nervous because of Cincinnati's ability to pass. The former were proved wrong, the latter were proved right, though the Buckeyes made plays on defense when it counted.

720 – 20 + 10 = ouch: the Buckeyes momentarily broke the school record for total yards (718) until a bad shotgun snap and sack on the next-to-last play dropped them back to 700. Quarterback Cardale Jones gained 10 back on the final play.

38: women waiting in one restroom line during halftime. That's more than Michigan gets at its games these days.

•The 108,362 attendance marked an Ohio Stadium record.

•The 45 first downs by Ohio State set a program record. The previous record was 39 against Drake in 1935.

•The game marked the fifth time the Buckeyes have topped 600 yards of total offense under head coach Urban Meyer.

•The Buckeyes had 710 yards of total offense, ranking third all-time behind the 718 against Mount Union in 1930 and 715 vs. Utah in 1986.

•J.T. Barrett threw for a career-high 330 yards, completing a career-best 26 passes on a personal-high 36 attempts. He completed passes to 10 different receivers in the game. He also rushed for a career-high 79 yards.

•With 330 passing yards and 79 rushing yards, Barrett's 409 yards of total offense ranks second all-time, behind only the 412 posted by Art Schlichter against Florida State in 1981.

•Barrett's back-to-back 300-yard passing games marked the first time a Buckeye has had two-consecutive 300-yard games since Troy Smith in the 2005 season. Smith threw for 300 at Michigan and 342 against Notre Dame in the Fiesta Bowl. Smith was inducted into the Ohio State Athletics Hall of Fame this weekend.

•Barrett has thrown for 10 touchdowns in the last two games. Kenny Guiton threw for 10 over two games last season against California and Florida A&M,

•Joey Bosa has forced three fumbles this season. All have led to points for Ohio State. The fumble vs. Cincinnati led to a safety, the first for the Buckeyes since the bowl game vs. Clemson.

•Urban Meyer-coached teams are 38-3 when they have more than one week to prepare for an opponent (includes season-openers, games after an "off" week and bowl games).

•Evan Spencer's 19-yard touchdown reception in the second quarter was his first of the year.

•Elliott's 182 rushing yards on 28 carries each marked a career high. It was the second 100-yard rushing game of Elliott's career (162 vs. Florida A&M in 2013).

•Dontre Wilson set a career high with six receptions for 71 yards after catching just five passes in the first three games combined. He had his first touchdown of the season vs. the Bearcats.

•Vonn Bell led Ohio State with a career-high tying seven tackles on the night.

•Ohio State dominated time of possession vs. Cincinnati, 41:56-18:04. It was the highest time of possession for an Ohio State squad since at least 1984 and the first time over 40 minutes in a game since the 2010 Rose Bowl vs. Oregon (41:37).



Sources: ESPN, Columbus Dispatch, OSU Official Site







Pass Defense Still a Question
September 27, 2014 Source: Eleven Warriors - In addition to Meyer's concern about the offensive line, he's also been very vocal about this team's pass defense.

Against the Bearcats, Ohio State faced its first real challenge in that regard, as well, and the Buckeyes did not look particularly strong in that department.

Cincinnati quarterback Gunner Kiel went 21 for 32 for 352 yards and four touchdowns and wide receiver Chris Moore caught three passes for 221 yards. All three catches went for touchdowns. Ohio State couldn't seem to limit the Bearcats from making the big play.

"When you do what we do, you're gonna put yourself in one-on-one situations and you've gotta win those one-on-one battles," Ohio State safeties coach and co-defensive coordinator Chris Ash said. "Right out of the gate, Vonn (Bell) didn't win his one-on-one battle and then I thought we played pretty well until the last touchdown there at the end of the first half really hurt where Eli (Apple) got beat over the top."

Cincinnati also had a long touchdown reception at the beginning of the third quarter, but Ash said the big plays aren't a result of a lack of effort from the Buckeyes.

"There's nothing wrong with the effort," he said. "We're putting guys in one-on-one situations and we've gotta win some of them. Can we coach up or clean up a couple of things with the technique? Absolutely. But there's nothing wrong with the effort." From Cincinnati Notebook Eleven Warriors...




Three things we learned from OSU's 50-28 win
September 27, 2014 Source: Land-Grant Holy Land - 1. Ezekiel Elliott isn't a star in the making; he's already here. The unquestioned player of the game finally had his breakout performance that Buckeye fans were looking for all season from the young running back. Elliott had 182 yards with 1 touchdown on 28 carries. Elliott was the clear-cut workhorse of the night, finally separating himself from the rest of the pack of Ohio State's running backs, including Curtis Samuel, who as mentioned had a costly fumble. Elliott had a slower start to the season than perhaps expected, but with his performance against the Bearcats, it could open up the floodgates for the rest of the season to have him serve as more of a feature back.

2. Ohio State's secondary is so 2013. Just when you think the secondary could be slowly improving, they revert back to what is quickly becoming the norm in recent years at Ohio State. The Buckeyes faced a good quarterback in Gunner Kiel, who ended up throwing over 300 yards passing for 4 touchdowns. Chris Moore also hauled in a handful of receptions for over 200 yards, averaging over 70 yards per reception. Vonn Bell looked lost at times, while Eli Apple was in charge of covering Moore on several occasions and struggled for much of the night. Chris Ash and the defensive coaching staff are going to have to find something that works, otherwise history will continue to repeat itself.

3. The offense is getting better each game. It feels like ages since the debacle against Virginia Tech. The Ohio State offense has been progressing through each game in all aspects. From J.T. Barrett continuing to gain confidence in control of the offense, throwing for four touchdowns and over 300 passing yards again, to the offensive line making large leaps and bounds from their dismal performance against the Hokies. With an amazing 45 first downs (a school record) the offense simply rolled with ease against Cincinnati, finishing with 710 yards of total offense. With the Big Ten schedule looming, the Buckeyes couldn't have picked a better time to get things rolling.





Ohio State WR Dontre Wilson doesn't think about Oregon, but he wants more touches: 7-point breakdown
September 28, 2014 Source: Cleveland Plain Dealer - Wilson waited for this game, hopes this becomes the norm: Wilson may not wish he was at Oregon, but he certainly wishes he could touch the ball more. It's in every offensive playmaker's mind.

Part of the reason it has taken this long is because he's a smaller player who is making the transition from running back to wide receiver. He needs to learn new responsibilities, understand the offense and, well, block.

"I knew I had it in me," Wilson said. "It was just a transition I had to make. I played running back primarily my entire life, and getting to college and setting up what I can do in the NFL, I had to learn how to play receiver. I knew I had this kind of game in me."...




Grading the Buckeyes vs Cincinnati
September 28, 2014 Source: The Ozone - The Ohio State Buckeyes turned in an impressive offensive performance on Saturday against the Cincinnati Bearcats, and a defensive performance that could have been so much more. Instead, the questions that we had about the pass defense prior to OSU's 50-28 win have possibly been answered, but not in the fashion that Urban Meyer would have hoped.

How did the Buckeyes grade out? Let's look...




Ohio State Stock Market Report: Cincinnati
September 28, 2014 Source: Land-Grant Holy Land - Blue Chip Stocks:

Ezekiel Elliott, RB: Elliott was the player of the game for the Buckeyes. The narrative flipped this week, with Elliott finally looking like the best back in OSU's stable. Curtis Samuel previously made a case for that title, but Elliott was downright burly this week. He went over 100 yards for the first time this season, adding a touchdown to his 188 yard total. Adding a consistent power run dimension to this offense will be huge in the long run, so here's hoping this is a harbinger of things to come for the ground game. Elliott added 45 yards receiving to top things off.

Joey Bosa, DE: Spoiler alert: Joey Bosa is really good at football. Like, scary good. Bosa's strip sack of UC QB Gunner Kiel pushed the Buckeyes to a 16-7 lead in the first quarter, and he continued to hound the Bearcats' quarterbacks all evening. It's a good thing for OSU fans that Bosa still has to play a third year of football before becoming eligible for the draft, because he's going to make himself some serious money at the next level. This was Bosa's third forced fumble of the year, and all three have resulted in Ohio State points.

J.T. Barrett, QB: Barrett threw for 185 yards in the first half on his way to 330 pass yards overall. He was 26/36 passing with 4 TDs, good for a 72.2% completion rate. Barrett looked extremely comfortable in the pocket for the majority of the evening, and made consistently good reads throughout the game. The young QB made good use of his legs, too, finishing with 14 carries for 79 yards. Barrett really seems to be claiming ownership of an offense that looked lackluster and leaderless just a few weeks ago.

Solid Investments:

Dontre Wilson, WR: The shifty Wilson looked like the Harvin-esque hybrid we've been promised on Saturday. He tallied 1 carry for 21 yards and 6 receptions for 71 yards, including a nifty big gain on a double reverse that allowed Wilson to showcase his speed. Ohio State scored a few plays after Wilson took a carry inside the 15 and got a late hit tacked on for good measure. He also found the end zone once on a pass play.

The offensive line: An early false start notwithstanding, the O-line played pretty well all evening--and certainly better than they did in the Virginia Tech game. They kept Barrett's jersey clean and gave him time to throw (or occasionally tuck and run), which proved to be huge.

Junk Bonds:

Ohio State's secondary: A fun stat: with 9:00 to play in the 3rd quarter, Cincinnati's Chris Moore had 221 receiving yards..on 3 catches. All 3 were touchdowns. Burn this secondary to the ground and start over. Gunner Kiel was a prized QB recruit out of high school, but this was Michigan-level bad. Eli Apple, in particular, took a lot of abuse from the Bearcats' passing game.

Buy/Sell:

SELL: Receivers getting hit in the hands. Towards the end of the first half, when Ohio State looked to be firmly in the driver's seat, Buckeye receivers had two awful drops that ended up mattering a lot more than we thought they would. First, Dontre Wilson took one off the hands on a beautiful Barrett bullet that ended up on the turf. Shortly thereafter, Devin Smith dropped a ball that could have been caught by creatures lacking opposable thumbs, much less a collegiate wide receiver. OSU punted after that play, and Cincinnati went 97 yards in a handful of plays that resulted in a huge Bearcat touchdown.

BUY: The offense's ability to get first downs. The Buckeye offense rolled to a a record 45 first downs on Saturday. That was more than enough to keep the ball away from the Bearcats and give the beleaguered defense a rest. The Buckeyes dominated time of possession, 41:56 to 18:04, and this was a big reason why. It's good to see this dynamic unit fire on all cylinders--they would have set a record for offensive yards gained, were it not for the comic stylings of one Cardale Jones on the team's 2nd-to-last play...



Ohio State Marching Band "The Wizard of Oz" - Halftime vs. Cincinnati (9-27-2014) Source: The Lantern
Asssitant Strength Coach Anthony Schlegel tackles a fan on who rant onto the Field during the Ohio State UC game Source: The Lantern










UC

Sept 27, 2014

Source:
CBSSports.com



Game Matchup: Ohio State vs. Cincinnati
September 27, 2014 Source: BuckeyeSports.com - Game Breakdown

OHIO STATE RUSH OFFENSE vs. CINCINNATI RUSH DEFENSE
The Buckeyes found their groove some against Kent State, rushing for 284 yards behind good days from both Curtis Samuel and Ezekiel Elliott, who combined for 165 yards rushing on 22 carries. The offensive line was much more assertive in that game and showed it could also handle a stacked front when Kent State tried to copy Virginia Tech's game plan at times. Cincinnati, meanwhile, got off to an inauspicious start in this arena against Toledo, allowing 240 yards rushing and 6.2 yards per carry, though things got better against Miami. EDGE: OHIO STATE

CINCINNATI RUSH OFFENSE vs. OHIO STATE RUSH DEFENSE
Cincinnati really isn't about the running game, though it does have two OK backs in Hosey Williams and Tion Green, while quarterback Gunner Kiel can run, though the team has just 4.1 yards per carry thus far. Right now, this is a passing offense, though, under the rocket-armed Kiel. Ohio State has been solid against the run thus far this year, especially when facing conventional offenses, as facing teams going downhill is a strength of this defensive line and linebacker corps. EDGE: OHIO STATE

OHIO STATE PASS OFFENSE vs. CINCINNATI PASS DEFENSE
Ohio State showed what its offense can look like when it spread things out and threw six touchdown passes vs. Kent State, but obviously the difficulty challenge jumps up a notch vs. the Bearcats. Cincinnati had a fair bit of trouble against Toledo's passing offense, though, ceding 322 yards and three scores. The Rockets were able to turn short screens into longer gains thanks to missed tackles and then hit Cincinnati over the top once it started to press forward. Ohio State can use this game plan with its skill position options as well. EDGE: OHIO STATE

CINCINNATI PASS OFFENSE vs. OHIO STATE PASS DEFENSE
This will be perhaps the most intriguing matchup of the day. Kiel is the starter, having tied a school record with six touchdown passes in his first start, and the Bearcats the seventh-most efficient passing offense in the nation thus far. Ohio State's new-look aggressive scheme was hit or miss in the loss to Virginia Tech, and the Buckeyes admitted afterward it was taking a natural amount of time to get used to running the style on the field. Add in Cincinnati's deep stable of receivers, including the explosive MeKale McKay, and Cincinnati could have an advantage here. EDGE: CINCINNATI...




5 games you need to watch on Saturday
September 26, 2014 Source: The Score - Cincinnati (2-0) at No. 22 Ohio State (2-1) on Big Ten Network at 6 p.m. EST

After an eight-year hiatus, the battle of Ohio is back, shaping up as one of the week's best matchups.

After a weirdly-placed two-week bye at the beginning of the season, Tommy Tuberville's 2-0 Bearcats have looked impressive, none more so than sophomore quarterback Gunner Kiel. In the first two starts of his college career, Kiel has thrown for 689 yards and 10 touchdowns with only two interceptions. Another impressive performance coupled with a win against a ranked team could see the Bearcats reach the Top 25 for the first time this season.

Anyone who follows college football knows it's been a tough start to the season for Urban Meyer and co., but winning Saturday night's game would go a long way in proving that the Buckeyes are still one of the nation's top teams. We should also get a chance to see more of five-star recruit Raekwon McMillan, four-star running back Curtis Samuel, and a number of Ohio State's other talented freshmen playing an expanded role.

Fun Fact: The last time these two teams met was in 2006, when quarterback Troy Smith and wide receiver Ted Ginn Jr. led the No. 1 ranked Buckeyes to a 37-7 win against the Bearcats.





Gameday Morning: Ohio State vs. Cincinnati
September 27, 2014 Source: The Buckeye Battle Cry - Every Saturday before kickoff, tBBC staff corals all the reading material and information you need to get ready for the game. From our workings throughout the week to the internet and beyond — here are the articles and media you need to get caught up on as you enjoy your Week 6 tailgate...




Five key factors for OSU victory
September 26, 2014 Source: Columbus Dispatch -

1. Keep Kiel in check
Cincinnati quarterback Gunner Kiel is going to rack up the yardage. He's that good and has excellent targets. It's not the end of the world if he passes for 300 yards. If he surpasses 400 in the midst of a tight game, that could be a big problem. Getting third-down stops, forcing turnovers and making Kiel uncomfortable in the pocket will be crucial.

2. Take away UC run game
Ohio State has traditionally been stout against the run, and the Buckeyes should be able to keep the Bearcats' running game from being a major problem. Michael Bennett and Adolphus Washington are good enough to keep Cincinnati from running effectively between the tackles, and Ohio State's speed should limit runs to the outside. But if that doesn't happen, it could be a long night.

3. Gouge Bearcats 'D'
Although UC's offense is formidable, its defense has been porous. The Bearcats are giving up 463.5 yards a game. Ohio State should be able to move the ball consistently if it doesn't hurt itself with turnovers, penalties and dropped passes. The Buckeyes need to hit big plays, but they also need to be able to sustain drives to give their defense a break.

4. Wear 'em down
The biggest difference between the teams might not be among the starting 22 players but among reserves. Ohio State has much better depth than the Bearcats, who have been beset by injuries. Over the course of the game, the Buckeyes should be able to take advantage of that by keeping players fresh. At running back, for example, Ezekiel Elliott, Curtis Samuel and Rod Smith can rotate. OSU also can utilize its depth at most positions on defense.

5. Clean up special teams
After a strong performance in the opener against Navy, the Buckeyes' kicking teams were a disaster against Virginia Tech. They were better against Kent State, but the Golden Flashes were overmatched. The return game could be key in this game because both teams have the athletes to break long ones.



On the edge: Ohio State vs. Cincinnati
September 26, 2014 Source: Columbus Dispatch -
When Buckeyes run . . . Edge – OHIO STATE
Two weeks ago, there were signs of life in the running back room. Freshman Curtis Samuel became the first to hit the 100-yard mark in the post-Carlos Hyde era. Quarterback J.T. Barrett had led the team in rushing the first two games. Perhaps it is Ezekiel Elliott's turn behind an increasingly experienced offensive line. Cincinnati has yielded an average of 171 yards rushing in two games.

When Buckeyes pass . . . Edge – OHIO STATE
Barrett is second in the Big Ten in passing efficiency, averaging 252.3 yards with a .595 completion percentage. Michael Thomas (four touchdowns) has proved to be a playmaker among the receivers, while big things still are expected from hybrid backs Dontre Wilson and Jalin Marshall. Cincinnati likes to mix things up, but it has given up an average of 292.5 yards passing.

When Bearcats run . . . Edge – OHIO STATE
The Buckeyes rank only 87th nationally in run defense (180.7 yards a game), but that is misleading because triple-option Navy stuck almost exclusively to the ground game in the opener. Ohio State is yielding 4.3 yards a carry, which is respectable but not up to OSU's standards. Cincinnati's running game has been a secondary part of its offense. Hosey Williams and Tion Green have combined for 201 yards on 41 carries.

When Bearcats pass . . . Edge – CINCINNATI
Gunner Kiel has lived up to his billing and seized what once was an open fight at quarterback for the Bearcats. He has good size and can make all the throws. He has completed 50 of 76 passes, with 10 touchdowns and two interceptions. The Bearcats have several capable receivers, led by Mekale McKay (12 catches for 215 yards and three touchdowns). The Buckeyes' new-look secondary has not been tested much in three games. This will serve as a major exam.

Special teams . . . Edge – OHIO STATE
Ohio State punter Cameron Johnston's two shanks aside, he still is averaging 41.9 yards a punt. UC's Sam Geraci is at 38.4. Dontre Wilson has knocked on the door of a breaking a punt return, and Jalin Marshall took one 51 yards against Kent State. OSU's Sean Nuernberger is 3 of 5 on field-goal attempts, with both misses coming against Virginia Tech. UC's Andrew Gantz is 2 of 2.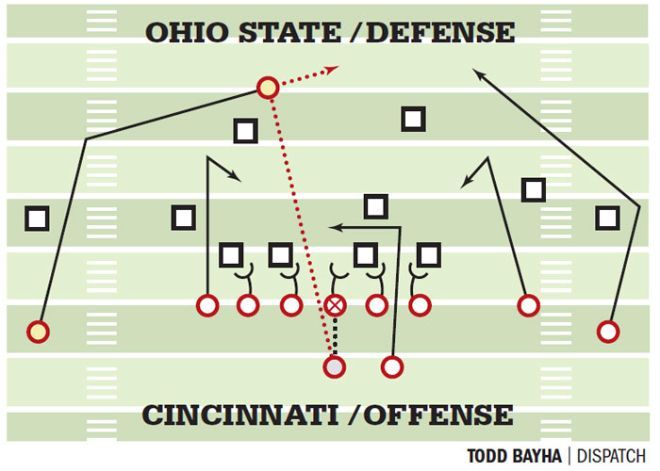 Twin curl, twin post



When things go according to plan for a pass-first offense such as Cincinnati's, the game often turns into target practice for the quarterback.

No doubt the Bearcats are hoping for such a scenario tonight for their accurate quarterback Gunner Kiel, a transfer from Notre Dame and once a highly sought player nationally. Giving Kiel plenty of targets and plenty of time to choose will be Cincinnati's primary goal against the Buckeyes in Ohio Stadium.

With that in mind, keep an eye out for this play if the Bearcats venture into the red zone.

They used it to score a touchdown — Kiel to 6-foot-6 receiver Mekale McKay — in a victory over Miami University last week.

Let's call it "twin curl, twin post choice." Deploying three wideouts — two to the right and one to the left outside the tight end — this play is all about attacking the middle of the field and trying to entice the safeties to cheat forward.

Toward that goal, the inside receiver on the right and the tight end run straight up the field and turn in unison toward the quarterback on curl routes. The running back releases into the middle, then stops and turns to the quarterback.

Meanwhile, the wideouts on either side run post patterns. If the safeties stay home in the deep middle, Kiel checks down to the best choice of the curls. If somehow they are both covered, he checks down to the running back.

In this case last week, the safety to McKay's side had stepped up to take on the curler, leaving the tall McKay in a mismatch with the shorter cornerback. Kiel fired the ball high to the back of the end zone for an easy touchdown.
Source: Columbus Dispatch








Urban Meyer Post-Practice Q&A 09-24-14 Source: The Ozone



Two-Minute Drill: Post-Practice Updates from Wednesday Sept 24
September 24, 2014 Source: The Ozone - Meyer said that he was well aware of the problems that Ohio teams have given the Buckeyes in the past.

Of Tommy Tuberville's penchant for risky plays, Meyer quipped "He's got a reputation." He said the Buckeyes have to be prepared for the unexpected.

Meyer said that Adolphus Washington has gotten some reps at defensive end this week, and that will likely continue. He also said freshman Sam Hubbard has also practiced at defensive end, after spending the last few weeks at linebacker and tight end. He said redshirt freshman defensive end Tyquan Lewis gets good burst.

He said he is more confident in the offense than he was three weeks ago. He sees the improvement in practice. The confidence of the quarterback and offensive line have grown. He has also seen good stuff from the secondary to give him confidence.

Meyer said Cincinnati's defense is very good. They are athletic and they blitz in the redzone with zero coverage, so it's all one-on-one battles. OSU has struggled against that a bit previously, so this will be a test.

He said that the offensive line is getting close and Chase Farris is "surfacing" as the sixth offensive lineman at both right guard and right tackle.

Vonn Bell, Nick Vannett, Jacoby Boren Updates...


Sophomore Safety Vonn Bell, Junior DT Tommy Schutt, RS Junior TE Nick Vannett, RS Freshman H-Back Jalin Marshall and Junior Center Jacoby Boren spoke with reporters following practice on Wednesday.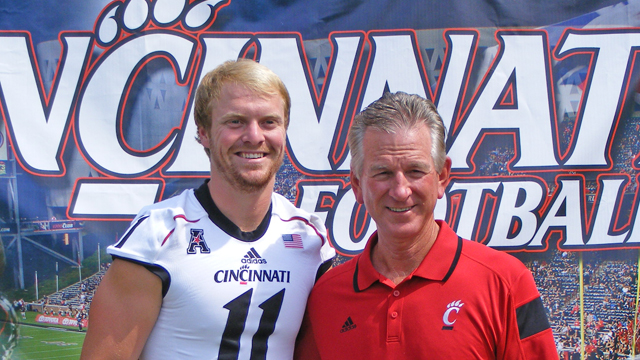 Ohio State Football: Scouting Cincinnati
September 26, 2014 Source: BuckeyeSports.com - The Bearcats bring a big challenge to Ohio Stadium on Saturday night. We examine where Cincinnati is strong and where Ohio State might attack in a game that could see the scoreboard lit up...




Cincinnati vs. Ohio State: 5 Bold Predictions
September 23, 2014 Source: Rant Sports - In OSU's final non-conference game this season, the Buckeyes host the undefeated Cincinnati Bearcats. Ohio State has had two weeks to prepare for Cincinnati, while the Bearcats struggled to defeat Miami (Ohio) last week. Ohio State coach Urban Meyer is 0-2 in his career against Cincinnati coach Tommy Tuberville. On the other hand, Ohio State hasn't lost to an in-state opponent since 1921. Something has to give.

5. Cincinnati Receivers Will Struggle Against Ohio State's Press Coverage
Cincinnati wide receivers were able to get downfield with ease against Toledo and Miami. Through two games, Cincinnati QB Gunner Kiel has already thrown 28 passes intended for receivers more than 15 yards downfield. On those 28 passes, Cincinnati has gained 278 yards and scored six touchdowns. Mekale McKay, Kiel's favorite target, stands 6-foot-6 but weighs only 195 pounds. Being physical is not a strong point for Cincinnati's receiving corps.

4. Ohio State's Offensive Line Won't Be Able to Protect J.T. Barrett
Ohio State has had trouble finding the right group of players to start on the offensive line. Instead, the Buckeyes have used a six or even seven man rotation. The lack of a solid line was evident in the loss to Virginia Tech. In that game, Ohio State averaged just 2.7 yards per rush and allowed seven sacks. Cincinnati can create havoc up front as the team averages 5.5 sacks per game, and LB Jeff Luc leads the nation with 15 tackles per game.

3. The Best Matchup to Watch Will Be Eric Lefeld vs. Joey Bosa
Cincinnati LT Eric Lefeld has been better than advertised so far this season. Lefeld will face a tough challenge when he matches up with Ohio State DE Joey Bosa. With Noah Spence suspended, Bosa has been double-teamed a lot this year. Still, Bosa has managed to lead the Buckeyes with five tackles for a loss and is second with 1.5 sacks. The line needs to give Gunner Kiel time to throw the deep ball if Cincinnati is going to pull off the upset.

2. Michael Bennett Will Shut Down the Cincinnati Run Game
Ohio State DT Michael Bennett may be the best at his position in college football. He has outstanding speed and range for a defensive tackle. Due to Bennett's presence, Cincinnati will rely more on stretch runs and quick screens rather than a traditional ground game. That means less Tion Green and more Ralph David Abernathy, which may actually be a good thing for Cincinnati. Abernathy is a playmaker who can score on any given play.

1. Ohio State Wins Close Game
Like Virginia Tech, Cincinnati will create turnovers to keep this game close. In the end, the talent gap is too much for the Bearcats to overcome. Both teams are expected to struggle on offense, with Ohio State's inexperience and Cincinnati's timing being thrown off due to the press coverage. Ohio State's in-state winning streak will extend to 40 games as the Buckeyes win 27-21.






Urban Meyer Press Conference Transcript - 09/22/14 Source: OSU Official Site

Meyer Monday: Sept. 22
September 22, 2014 Source: BuckeyeSports.com - Ohio State head coach Urban Meyer's weekly newsconference returned this week as Meyer discussed the upcoming game with the University of Cincinnati as well as the status of his 2-1 squad...




Assistant Coaches Kerry Coombs and Tim Hint, players Joshua Perry, Adolphus Washington, Michael Thomas and Doran Grant answered questions from reporters at the weekly media luncheon Monday September 22, 2014



Coaching Links Run Deep Between Ohio State and Cincinnati
September 23, 2014 Source: The Ozone - Like every time the Buckeyes take the field at Ohio Stadium, Saturday's contest under the lights will be a battle. For a few members of the Buckeye coaching staff, it will not just be an ordinary night.

"Very strong emotional attachment," Ohio State head coach Urban Meyer said when asked about the University of Cincinnati.

"My sister is associate provost at Cincinnati. My other sister was a homecoming queen there. Obviously my dad, my grandfather just strong history at UC."

The connections don't stop there for Meyer, who graduated from Cincinnati in 1986 after playing defensive back for the Bearcats.

"I played professional baseball out of high school, and did that for a couple of years and made a decision to play football," Meyer said.

"Cincinnati, I probably wasn't a good enough player to go there, but I did play a little bit and went right into coaching right afterwards. It wasn't a great experience. We weren't very good, but I still have great friends and good memories from my time there."

Meyer went on to begin his coaching career as an intern at St. Xavier High School in Cincinnati before his coaching career took him around the country. Eventually he found his way back to Ohio as the coach of the Buckeyes.

It is not just Meyer who has fond memories of UC. After accepting the job as head coach in Columbus, Meyer turned to assistants with similar Cincinnati experiences...




Adolphus Washington Excited for Opportunity to Take on Hometown School
September 23, 2014 Source: Eleven Warriors - Adolphus Washington grew up in the heart of the Queen City.

He played his high school football at Cincinnati Taft, just a short 2.2-mile drive from the University of Cincinnati's Nippert Stadium. He went to UC basketball games as a kid. His grandfather even worked at the university for years.

So when it came time for Washington to earn his very first Division I football scholarship offer, there was no surprise when it came from the Bearcats, who offered him as just a freshman.

It was just the first of what would be many offers for the now Ohio State junior defensive lineman, but when it was all said and done, Washington decided to leave home and head north on I-71 to Columbus and play for the Buckeyes...




No. 20/22 Ohio State vs. Cincinnati
September 22, 2014 Source: OSU Official Site - Game to be televised on BTN at 6 p.m. under the lights at Ohio Stadium ...



First and 10

• Ohio State and Cincinnati are meeting for the 16th time with the Buckeyes leading 13-2.

• Urban Meyer has faced Cincinnati just once in his head coaching career, a 51-24 Florida win over the Bearcats in the 2010 Sugar Bowl.

• Ohio State has not lost in 44 consecutive games vs. in-state opponents, including 39 straight wins.

• Ohio State is 75-8 overall at Ohio Stadium since the start of the 2002 season.

• Ohio State is 39-23 all-time in night games (games 5 p.m. or later) and has won five of its last six night games at Ohio Stadium.

• Ninty-seven (97) of Ohio State's 121 points scored this season have been by freshmen and sophomores (true & redshirt).

• Ohio State has recorded 11 pass plays of 20 or more yards through three games.

• Redshirt freshman J.T. Barrett threw for 312 yards and tied a school record with six TD passes in the win over Kent State.

• Head coach Urban Meyer is 49-5 in his career in games played in August/September.

• Buckeyes Joe Burger, Sam Hubbard, Joe Ramstetter and Adolphus Washington all hail from Cincinnati.

• Including this year, seven of the most recent eight games in the series have been played in Ohio Stadium. The only exception: the 2002 game was played in Cincinnati at Paul Brown Stadium.

• Ohio State TE's coach Tim Hinton was Cincinnati's RBs coach (under Mark Dantonio) for the 2006 Ohio State/UC matchup.

• CB coach and special team's coordinator Kerry Coombs spent his first five years as a collegiate coach (2007-11) at UC. Coombs was DBs coach in 2007-08 under Brian Kelly; he was assoc. head coach, DBs coach and special team's coordinator in 2009 under Kelly and from 2010-11 under Butch Jones.

• Jon Carpenter, one of the Buckeyes defensive graduate assistants, is a 2008 graduate of Cincinnati with a degree in industrial management and mathematics and a master's in education administration. He played for the Bearcats between 2004-07 and helped the team to three bowl victories. He also coached there under Brian Kelly, helping the Bearcats to a 23-3 record and to back-to-back BCS bowl games.

• Assistant AD for sports performance Mickey Marotti was UC's strength and conditioning coach for nearly nine years, from 1990-98.

• This will be the second game Urban Meyer has coached against his alma mater (2010 Sugar Bowl between Florida and UC; a 51-24 UF victory).

Game No. 16 Between OSU and UC

The Ohio State Buckeyes and the Cincinnati Bearcats will meet for the 16th time on the gridiron and the first time since 2006 when the two teams collide Saturday in Ohio Stadium. This will be the fifth meeting between the two teams since 1999. Before that season, the teams had not played since 1931, or a span of 68 years without meeting.

Last Meeting: Ohio State 37, UC 7

Cincinnati led 7-3 after the first quarter against No. 1-ranked Ohio State, but the Buckeyes outscored the Bearcats 34-0 the rest of the way for a convincing 37-7 victory. Antonio Pittman rushed for 155 yards and Troy Smith threw for 203 yards and two touchdowns. James Laurinaitis led a defense that allowed just 212 total yards, including minus-4 rushing yards, with nine tackles, a sack and an interception.

Urban Meyer: Bearcat Grad

Ohio State coach Urban Meyer is a 1986 graduate of the University of Cincinnati with a degree in psychology. He played football there under Dave Currey, lettering in 1984. Meyer's family, in fact, has a long-standing and still current history with the U of C. Consider:

• His paternal grandfather, Urban, received his associate's degree from Cincinnati;

• His father, also named Urban but known as "Bud," graduated from Cincinnati with a degree in chemical engineering;

• Both of Meyer's sisters - GiGi and Erika - are UC graduates with degrees in physics and mathematics, respectively;

• GiGi has been on the faculty and administrative staff at UC since 1991 and she is currently vice provost for undergraduate affairs; and

• Wife, Shelley, has her degree in nursing from Cincinnati.

Versus Tommy Tuberville

Second-year Cincinnati coach Tommy Tuberville is 2-0 vs. Urban Meyer. His 2006 and 2007 Auburn teams each defeated Meyer's Florida teams, by scores of 27-17 and 20-17, respectively. Florida was 6-0 and No. 2 in the nation when No. 11 Auburn toppled them in 2006. Florida was No. 4 and Auburn unranked for the 2007 contest. Only one other coach who has coached opposite Meyer on more than one occasion has a winning record against him: Nick Saban (2-1).

More at Ohio State vs. Cincinnati Game Notes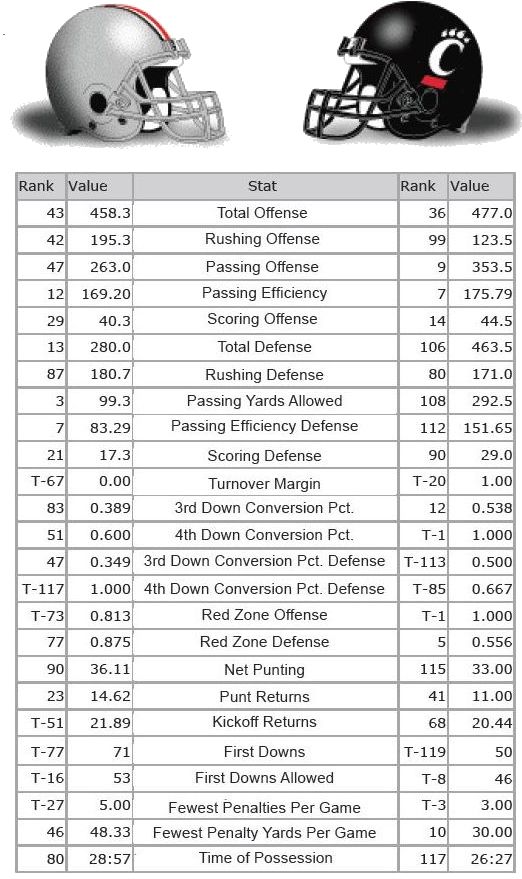 Game Data: Cincinnati at Ohio State
September 25, 2104 Source: Bucknuts.com - The Buckeyes are looking for consistency out of the revamped O-line (Billy Price and Pat Elflein are switching sides) as well as QB J.T. Barrett. They should fare pretty well against a Cincinnati defense that was gashed pretty good by both Toledo and Miami (Ohio). Truly, I question whether UC will be able to stop the interior run or defend over-the-top passes from Barrett to Touchdown Maker Michael Thomas and Devin Smith. ...


Columbus Weather Forecast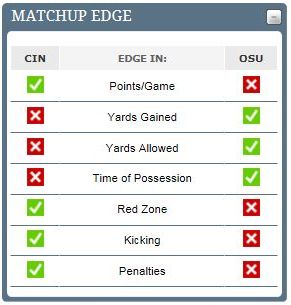 Source:
Covers.com



Ohio State vs. Cincinnati: Easy Call game preview, predictions
September 25, 2014 Source: Land-Grant Holy Land





Preview: No. 22 Ohio State vs. Cincinnati
September 25, 2014 Source: Eleven Warriors





Ohio State vs. Cincinnati: Game Preview With TV Schedule
September 26, 2014 Source: Rant Sports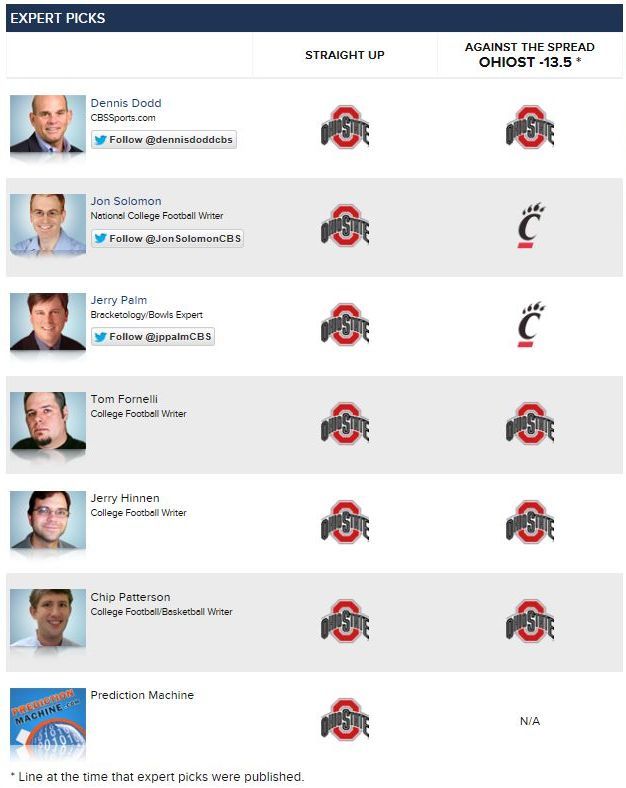 CBSSports.com




UC-Ohio State scouting report
September 27, 2014 Source: Cincinnati Enquirer - When UC runs
Hosey Williams (57 yards per game) and Tion Green (43.5 ypg) are the top backs. Williams has 19 carries, Green 22. Someone needs to have a breakout game, but UC has some offensive line injuries. Right tackle Cory Keebler (foot) returns this week, with Dominic Mainello starting again at center for Deyshawn Bond (knee).

When UC passes
Gunner Kiel is throwing for averages of 344.5 yards and five touchdowns per game. That was against Mid-American Conference teams. Kiel now steps into a stadium of 105,000 fans, about 100,000 of which will be pulling for OSU. Mekale McKay (12 catches, three TDs) and Shaq Washington (11 catches, one TD) are the top receivers.


Cincinnati vs Ohio State Game Notes




After bouncing around from school to school, once-heralded recruit Gunner Kiel has finally found a landing spot. As Brian Bennett found, the new Cincinnati quarterback is thriving in his new home.





First Look Bearcats - Buckeyes
September 12, 2014 Source: Bearcat Insider