Ohio State running back Ezekiel Elliott out runs Michigan defenders to score a touchdown during the fourth quarter of an NCAA college football game Saturday, Nov. 29, 2014, in Columbus, Ohio. Ohio State beat Michigan 42-28. (AP Photo/Jay LaPrete)

It was the call of the game, triggered the play of the game, and the Ohio State coaching staff orchestrated it with the aggressiveness that Urban Meyer constantly preaches.

Facing a 4th-and-1 at the Michigan 44 with just over five minutes remaining, and clinging to a 28-21 lead, the safe strategy would've been to pin the Wolverines with a punt and force them to go the length of the field to tie the game.

Despite playing with reserve Cardale Jones at quarterback, Meyer rolled the dice.

"Coach Meyer went over to coach (Ed) Warriner and said 'Ed, can we get this?' " offensive coordinator Tom Herman revealed. "Coach Warriner looked him dead in the eye and said 'Yes we can.' Then coach Meyer said to me on the headset 'Tom, what's the playcall?' "

The Buckeyes fooled Michigan with a bit of misdirection. As the Wolverines' defense flowed toward Jalin Marshall angling right, the hand-off went back to the left with sophomore Ezekiel Elliott. The St. Louis native broke linebacker Jake Ryan's tackle in the hole, and scooted 44 yards for the game-winning score.

"It worked, so I'll take credit for that. That was mine," Meyer said with a wry smile. "A lot of conversation went into the play call about who we're going to run behind and you run right behind (Billy Price) and Taylor (Decker) and they're good players ... had all the confidence in the world."

Michigan coach Brady Hoke quickly noted that play in his postgame press conference.

"We misfit on the run and overplayed the formation," Hoke said. "They executed and it was a good call." Source: Mansfield News Journal




Video: Elliott's TD run


Key Fourth Down for Buckeyes Propelled by Confidence in Offensive Line ...






Urban Meyer Postgame; talks Barrett, win vs. Michigan and more Source:

BuckeyeGrove



Coaches & Players Postgame Updates
November 29, 2014 Source: The Ozone -

Urban Meyer Updates

+ Meyer started by addressing the situation with defensive lineman Kosta Karageorge, asking for thoughts and prayers as the search continues for the missing Buckeye.

+ "We lost a Heisman candidate today." "He's for sure out." Meyer said of quarterback J.T. Barrett and his broken right ankle. They are confident in Cardale Jones, adding that he's been around the program "for 120 years".

+ Meyer said that quarterbacks are a product of those around him, and Cardale Jones has a lot of talent around him. "He has all of the talent in the world."

+ Asked about the call on fourth down that Ezekiel Elliott scored on, Meyer said since it worked, he would take the credit for it. He said he turned to Ed Warinner and asked if they could get the first down and Warinner didn't hesitate to say yes.

+ Meyer said they'd enjoy this win for about 22 hours.

+ It was very key scoring in the two-minute drill at the end of the first half.

+ Asked if OSU should no longer be considered a playoff option, Meyer said that they won the game, but that won't be determined until after next week.

+ Jalin Marshall will be more involved at quarterback moving forward.

+ "That was a sick feeling" seeing Barrett injured. They have more leaders than a year ago, so he expects the team to react better than last year when Christian Bryant went down.

+ On Barrett: "That kid's a frickin' warrior, man."

+ Meyer said the Buckeyes can certainly be expected to be a great team even with their third quarterback.



• • •


Tom Herman Updates

+ Herman said he has complete confidence in Cardale Jones and the only reason they were conservative with him in this game was because of the score and the situation.

+ Herman said it was good for the team to see J.T. Barrett after the game and be able to talk to him.



• • •


Ed Warinner Updates

+ Warinner said Meyer looked right at him and asked if the Buckeyes could pick up the fourth down and he said, 'Yes sir." He had confidence in his offensive line to get the job done, and they did it.

+ Warinner said the team has plenty of confidence in Cardale Jones, but he knows that everybody else on the team has to pick it up now without Barrett.



• • •


Luke Fickell Updates

+ Fickell said the defense was in the offensive huddle encouraging them before the fourth down play.

+ When Barrett went down you could feel the air go out of the stadium, but that's when the defense and everybody has to step up. That's where the senior leadership has to step in and take care of business.

+ This is a tight-knit group because they've been through so much this season. This was just another test.

+ He said the seniors on defense have so much respect for J.T. Barrett because of the way he has stepped up this season.



• • •


Doran Grant Updates

+ Asked about the emotions in the locker room after the win, "We just beat the team up north. We were happy in the locker room."

+ Looking forward to next week, Grant said they were only going to worry about themselves and what they can handle. "We'll get after it starting tomorrow and be ready on Saturday."



• • •


Joey Bosa Updates

+ Bosa said that Michael Bennett gave another of his speeches during the game when Michigan had been moving the ball. Bosa said that teammates were saying that Michigan's offense was tricking them, but Bennett said that Michigan wasn't tricking them, they were beating them. They needed to step up on defense and stop letting that happen.

+ Bosa said he knew he had to make up for his personal foul, which he did with the strip sack that Darron Lee scored on. "I was waiting for it all game. I had one that was called back and that just killed me."



• • •


Darryl Baldwin Updates

+ "This is my last game here. Just winning like that made it really special."



• • •


Nick Vannett Updates

+ On his touchdown: "It was an awesome feeling. Growing up as a Buckeye fan, I obviously watched The Game every year. Just to be able to get the first touchdown was a blessing and a huge privilege.

+ Vannett said records never matter in this game because it is always going to be hard fought, and today was no different.



• • •


Jeff Heuerman Updates

+ "I don't think any one player makes a whole team." Heuerman said OSU has an outstanding defense and a lot of talented guys on offense. "We're going to have to turn it up a notch and prepare even harder."

+ On the emotions of today: "It's a weird feeling. It's senior day and you just beat the team up north. You're headed to the B1G championship, but it still feels like something is missing when your starting quarterback goes down. We just have to keep moving forward and get ready for next week."



• • •


Taylor Decker Updates

+ On moving forward with Cardale Jones at quarterback: "It's honestly going to be a transition because we weren't expecting that change. It's just the next man in. We have to prepare him and rally around him just like we did with J.T. earlier. Cardale has all the talent in the world and I know the coaches will have him prepared for a good game."

+ On attempting a fourth down conversion: "Coach was all for it. That's good to have your coach believe in you like that."



• • •


Darron Lee Updates

+ On defensive leadership in the second half: "In the second half, we had a better handle on their offense and you have to credit that to Michael Bennett in the third quarter. He is a vocal leader in telling us we're not doing our job. He's a great captain. We all needed that as a defense."

On Cardale Jones taking the quarterback role: "I trust our coaches. Cardale knows the system and the routine. Trust me, he's matured as much as J.T. has. J.T. has been a warrior for us all year, but I trust the coaches to put Cardale in the best position to help us win football games."



• • •


Michael Bennett Updates

+ On J.T. Barrett: "He's an incredibly humble guy. He told our team it's not about me, it's about winning this game. That really hit us. He stepped in when Braxton went down and remained humble throughout the whole process. To completely support us even though he went down shows the type of character he has."



• • •


Vonn Bell Updates

+ On winning for the seniors: "It was a big week for the seniors. All of the emotion with their last game in The Shoe with the team up north. We did it for them and we had to take care of business."

On J.T. Barrett's mindset post-injury: "[Barrett] just told us it's all about the win, it's all about us. We're going to pushing on. He'll be there cheering us on. We'll keep him up, and it's going to be all right. We'll keep going."








Ohio State defeats Michigan, 42-28
November 29, 2014 Source: OSU Official Site - Buckeyes score 21-straight to pull away from the Wolverines late

For Ohio State, the thrill of beating rival Michigan was tempered by an injury to star quarterback J.T. Barrett.

Ezekiel Elliott scored untouched on a 44-yard run on fourth-and-1 with 4:58 left to help Ohio State, which lost Barrett early in the fourth quarter to a leg injury, beat the Wolverines 42-28 on Saturday.

With no postseason, the only thing left to be decided for Michigan (5-7, 3-5 Big Ten) is the future of coach Brady Hoke. Interim AD Jim Hackett will make the call on whether the coach stays or goes.

Barrett threw for one TD and ran for two before his right leg crumpled underneath him when he was tackled on a run.

Cardale Jones came in for the Buckeyes (11-1, 8-0, CFP No. 6) to lead the drive that culminated in Elliott's long run. Darron Lee returned a fumble 33 yards for a touchdown to add to the lead.

Many in a crowd of 108,610 rushed the field after the final seconds ticked off. State highway patrol officers encircled the goalposts to prevent anyone from tearing them down after the 111th meeting of the rivals.

Hoke's job status has been in question as the Wolverines have sagged since his 11-2 start at Michigan in 2011. The Wolverines have gone 8-5, 7-6 and 5-7 to give him a 31-20 record.

Before the game, walk-on defensive lineman Kosta Karageorge, who has been missing since earlier in the week, was recognized along with 23 other Buckeyes scheduled to appear at their final game in Ohio Stadium. A police poster showing Karageorge, with the word MISSING stamped across it in vivid color, was shown on the large video board at the south end of the field.

Barrett, a Heisman Trophy contender, completed 13 of 21 passes for 176 yards and a touchdown and also ran for scores of 25 and 2 yards while gaining 89 yards on 15 carries.

On second-and-1 at the Ohio State 33 on the first play of the fourth quarter and with the Buckeyes leading 28-21, he got twisted at the line and his right leg bent back beneath him at an odd angle. As he was on the field, and after he was helped onto a cart with a temporary air cast on his leg, he was greeted by teammates and Michigan quarterback Devin Gardner.

Cardale Jones, a seldom-used sophomore, took over. The Buckeyes punted but the defense stiffened against a much-maligned Michigan offense playing one of its best games of the season.

The next time the Buckeyes had the ball, they took over at their own 20. They ended up facing a fourth-and-1 at the Michigan 44. After a timeout, Elliott, who had 75 yards on 15 carries, took a handoff from Jones and surged through a big hole at left tackle with 4:58 left. The touchdown gave the Buckeyes breathing room at 35-21.

They got more moments later when defensive end Joey Bosa stripped the ball from Gardner and linebacker Darron Lee picked it up and ran the remaining 33 yards to make it 42-21 with 3:58 left.

The Wolverines added a late score on a 3-yard pass from Gardner, who ended up 22 of 32 for 233 yards and two scores with an interception to Freddy Canteen.

Tied at the half, the Buckeyes took the second-half kickoff and wasted little time.

Barrett's spiral to Devin Smith on a post pattern was good for 52 yards. From the Michigan 2, Barrett won a footrace to the corner for the touchdown.

Michigan then went 75 yards to tie it again. On third-and-6 at the Ohio State 29, Gardner was sacked and fumbled and Ohio State's Curtis Grant recovered.

However, Buckeyes defensive end Bosa was flagged for being offside. After converting the short first down, Gardner pitched to Johnson who threw the ball back to his quarterback for an 18-yard gain to the 4. Johnson then took it in from there.

The Buckeyes resorted to their running game for big gains of their next possession, tossing in a 22-yard Barrett-to-Nick Vannett pass. Aided by a pass-interference call in the end zone, the Buckeyes retook the lead on Elliott's 2-yard score late in the third.



• • •



Ohio State vs. Michigan Postgame Quotes Source: OSU Official Site

Ohio State Gameday Magazine - Michigan Source: OSU Official Site



• • •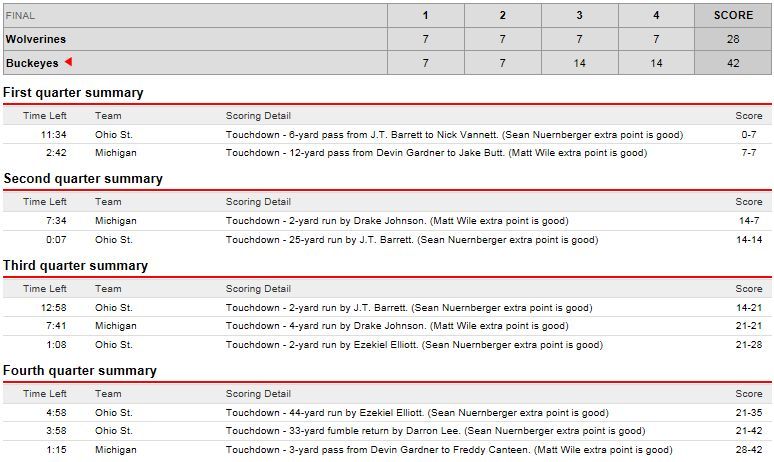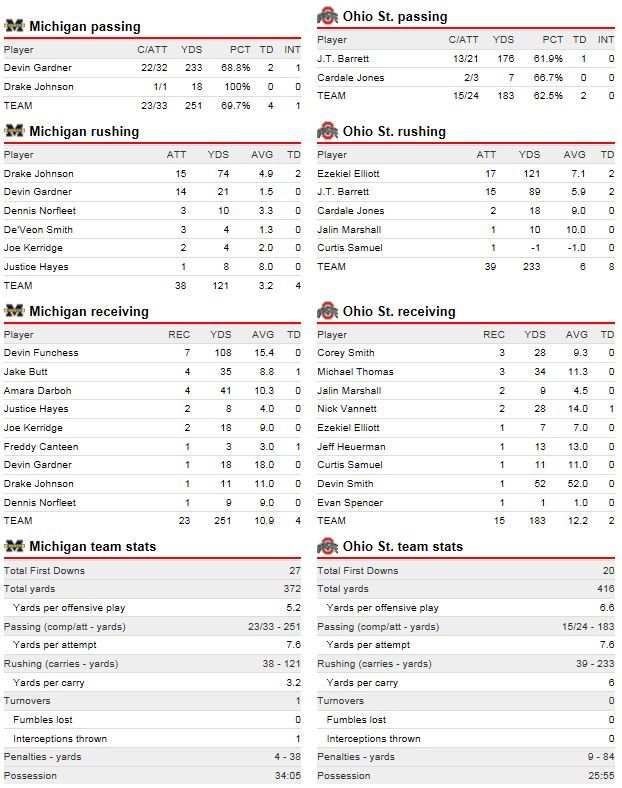 Source:

USA Today



Michigan vs Ohio State (Nov 29, 2014) Source: OSU Official Site
Scoring Summary, Team Statistics, Individual Statistics, Drive Chart, Defensive Statistics, Game Participation,
Box Score, Play-by-Play, Play breakdown







It was over when... Ohio State's Darron Lee returned a Devin Gardner fumble 33 yards for a TD, putting the Buckeyes up by 21 with 4:58 left to play.

Gameball goes to... Ezekiel Elliott. The Buckeyes RB rushed for 121 yards and 2 TDs, including a 44-yard TD run on a fourth-down play in the fourth quarter.

Stat of the game... 24-0. That's Urban Meyer's Big Ten record in the regular season in his three seasons as the Buckeyes' head coach. Is that any good?

J.T. Barrett's TD pass in the 1st quarter was his 43rd TD Responsible For this season. It broke a tie with Drew Brees in 1998 for the most TD Responsible For in a single season in Big Ten history.

Ohio State ran for 159 yards on designed rushes inside the tackles Saturday, the most the Wolverines have allowed this season. The Buckeyes had as many touchdowns on such runs Saturday as the Wolverines have allowed coming into the game.

Ohio State's 42 points against Michigan marks the first time in the history of the rivalry that either team scored 40 in back-to-back games (OSU scored 42 last season).

The Buckeyes' success in rushing the ball contributed to J.T. Barrett's success on play-action passing. Even though Barrett's passes on average traveled 8 yards farther after a play fake than without, his completion percentage was better on play action.

Including today, the combined score of the 4 MICH-OSU meetings under Brady Hoke: Michigan - 116, Ohio State - 116



• • •



• Ohio Stadium, leading the nation in average home attendance, packed in a facility record 108,610 people against Michigan.

• Ohio State, on a 10-game winning streak overall, extended its Big Ten record to 24 consecutive regular season conference wins. Florida State has the longest current win streak at 27 victories overall entering Saturday's slate of games.

• Urban Meyer is the first coach in Big Ten history to go undefeated in regular season conference play three seasons in a row. Ohio State is the first team since Minnesota in 1933-35 to go undefeated in regular-season conference play and the Buckeyes are the first team in league history to win every game in Big Ten regular season play three consecutive years.

• Ohio State has won a Big Ten-record 24 straight regular season conference games

• Under Urban Meyer, Ohio State is undefeated in November (12-0). The Buckeyes' last November loss was a 40-34 defeat at Michigan on Nov. 26th, 2011.

• With the win, head coach Urban Meyer improved to 39-3 in the month of November since the start of the 2003 season.

• J.T. Barrett's pass to Vannett marked the 43rd touchdown he was responsible for this season, breaking Drew Brees' Big Ten record of 42. Barrett extended his Ohio State record for total offense in a season to 3,683 yards.

• Vonn Bell's first-quarter interception was his team-high fourth of the season and fifth of his career.

• Nick Vannett's six-yard touchdown catch in the first quarter was his fourth touchdown reception of the season and fifth of his career.

• Barrett's two rushing touchdowns extended his team high to 11 on the season.

• Darron Lee had a career-high nine tackles after a pair of seven-tackle performances (last vs. Virginia Tech). Lee had two tackles-for-loss, including a sack.

• Lee's fourth-quarter fumble return for a touchdown was his second this season and the Buckeyes' third of the year. Lee also scored vs. Navy and Eli Apple took one back against Rutgers.

• Bell's nine tackles set a career high, topping the eight he had vs. Indiana last week.

• Ezekiel Elliott's 44-yard run for a touchdown in the fourth quarter was the longest run allowed by the Wolverines this season. He rushed for 121 yards in the win, his seventh career 100-yard game and sixth this season.

• Ohio State scored 40-plus points in the last two games vs. Michigan, the first time in the series between the teams either program scored 40 points in back-to-back games.

• Joey Bosa, a Lombardi finalist and Bednarik semifinalist, added to his Big Ten best totals with two tackles-for-loss (both sacks) on the day. He has 20 TFLs and 13.5 sacks this season.

• Ohio State scored twice in a minute in the fourth quarter to stretch a seven-point lead to 21. Elliott rushed for a score at 4:58 and Lee's fumble recovery came at 3:58.



• • •



One-liner: That tricky Brady Hoke. When asked to explain why the Wolverines lost their last three to Ohio State, the coach can answer, "Huh? I never lost to Ohio."

Just wondering: How much will losing quarterback J.T. Barrett hurt the Buckeyes' chances with the College Football Playoff committee? Will it matter how OSU looks against Wisconsin in the Big Ten Championship game? Best guess: a lot and a little.

TV talk: S&GM gets suspicious any time ABC assigns a former Michigan or Ohio State player to The Game, but former Wolverine quarterback Brian Griese mostly played it down the middle, except when he sounded like his dog had just died after the Buckeyes made it 35-21 with 4:58 to play. Here's a thought: Next year, pair Griese with former Ohio State linebacker Chris Spielman. And (hopefully) watch the sparks fly. The only real quibble was that the booth kept getting the name of Michigan's coach wrong. Since when did he become Brady Hokeinwhatcouldbehislastgame?

As "typed" on Michigan side: Talk about awkward. Cameras caught Michigan interim athletic director Jim Hackett typing away on his cellphone, which of course prompted questions of whether he was texting Hoke his walking papers, or maybe Hoke's potential replacement?

Numbers for dummies

57: Michigan fans in stands wearing maize-colored tops

55: Ohio Highway Patrol members wearing maize-colored vests who surrounded both goal posts after the game

1934-36: The last time, until Urban Meyer just matched it, that an Ohio State coach (Francis Schmidt) went 3-0 against Meeshigan

Star of the game: It was going to be J.T. Barrett until he suffered a right-ankle injury in the fourth quarter after producing three of Ohio State's first four touchdowns. Up stepped running back Ezekiel Elliott with the play of the game while rushing for 121 yards and two touchdowns.

Turning point: Facing fourth-and-1 at the Michigan 44-yard line with 5:05 left and leading 28-21, the Buckeyes went for it. Taylor Decker, Billy Price and Jacoby Boren bored a hole in the left side of the Michigan defense, and Elliott ran to the end zone for the clinching TD.

Repercussions: The College Football Playoff guidelines say it will consider injuries to key players among many factors in setting its final four a week from today. Barrett was key, no doubt. But the Buckeyes will prepare quarterback Cardale Jones for the Big Ten championship game.



Sources: ESPN, OSU Official Site, Columbus Dispatch






TBDBITL Halftime Show: West Side Story



Ohio State vs. Michigan final score: 3 things we learned from OSU's 42-28 win
November 29, 2014 Source: Land-Grant Holy Land - 1. Nothing at this point is certain. With J.T. Barrett gone for who knows how long, expect to see a lot more Jalin Marshall out of the Wildcat, and a lot more vanilla plays designed to minimize mistakes overall. How far that gets them is one thing, but whether the committee can even make any kind of certain assessments of a one game and change Ohio State team without their heart-and-soul is another all together.

The College Football Playoff committee is pretty clearly just much making it up as they go along, but how much will their decision making mirror the NCAA basketball tournament's after Kenyon Martin was lost for Cincinnati for the season, knocking the Bearcats down a seed line?

Unfortunately for the Buckeyes, if the incredibly small sample isn't inherently self evident, it's going to be difficult for the committee to give them the benefit of the doubt. And the margin of error in the Buckeyes' case might be the difference between making the playoff and not.

2. Sustained focus remains this team's Achilles' heel. The Buckeyes started this game like they were playing Michigan, but similar to so many other times this season, after getting a quick start, OSU seemed to lose their mental edge.

Given how intense Urban Meyer is, that kind of approach can act as a double edged sword. Though it can pull guys from nearly dialed in-to-laser focus in certain instances, when the goings get tough, it can also tighten the collar and make a team play anxious or tight.

When Ohio State plays focused for four quarters, they can play with anyone in the country. When they act like they've won a game after just one drive, even a 2014 Michigan team can take them to the wire.

3. ...and Michigan still sucks. Well, clearly not literally. The team's roster is still littered with 5-star talent and will almost assuredly be ushering in an entirely new coaching staff next year, but in a rivalry sense, it's [insert time] ... and you know the rest.

The Wolverines' brutal 2014 is mercy killed and at 5-7, there won't be a postseason in what has the makings of Brady Hoke's final season at the helm.

The Game remains The Game, however. No matter the records, no matter what preconceptions we have going into it, what we continue to see year in-year out is that anything can and will happen in rivalry games. Michigan was extremely game on Saturday, and with Devin Gardner having arguably the best game of his final season in maize and blue proceeded to give Ohio State all they could handle. The respectful rivalry aspect of said rivalry necessitates tipping the hat. Michigan played maybe their best game Saturday, and that's not for nothing.





Jon Spencer's OSU-Michigan report card
November 29, 2014 Source: Mansfield News Journal -

OFFENSIVE LINE GRADE: A-
Ohio State coach Urban Meyer put incredible faith in his front five on the play of the game: fourth-and-1 from Michigan's 44-yard line with the Buckeyes nursing a 28-21, fourth-quarter lead and playing without the injured J.T. Barrett. With two backs (Ezekiel Elliott and Jalin Marshall) lined up behind backup quarterback Cardale Jones, Marshall and the tight end went right and Elliott took the hand-off through a wide-open gap for the game-sealing touchdown. Despite what looks like Barrett's season-ending ankle fracture, his protection was fine. He seemed overwhelmed by the setting until finally taking advantage of the wall in front of him to score just before halftime on a 25-yard run. That scramble changed the complexion of a game that had been dominated by Michigan. Ohio State finished with 416 yards of total offense.

RUNNING GAME GRADE: B
Elliott had two huge TDs in the second half, one of which gave Ohio State the lead. The second, a 65-yarder, broke the Wolverines' back. Before getting hurt on a keeper, Barrett rushed for 89 yards, including the 25-yard TD scramble before halftime. Up to that point, Michigan's defense had Barrett guessing, and he guessed wrong for much of the first half on bad reads.

PASSING GAME GRADE: B
Devin Smith's 52-yard catch on a perfectly-thrown bomb from Barrett to start the second half was just what the doctor ordered. Until then, the shots downfield were in short supply, and so was the passing attack. There were no Smith, Marshall or even Jeff Heuerman receptions in the first half as Barrett was limited to 7-of-14 attempts and 65 yards. He finished 13-of-21 for 176 yards. You have to wonder if the Buckeyes will have that much success through the air next week with their third-string QB.

DEFENSIVE LINE GRADE: C-
Bad news (Joey) Bosa. How often do you hear that? The frontrunner for Big Ten Conference Defensive Player of the Year honors was flagged for being offsides, which negated a fumble recovery by Curtis Grant. Michigan converted that mistake into a game-tying TD in the second half. Bosa also was flagged for ripping Devin Gardner's helmet off at the end of a play, wiping out a third-down sack and keeping alive a fourth-quarter drive. He got bailed out that time on a pass breakup by Vonn Bell on third down. Bosa redeemed himself with a strip-sack that Darron Lee converted into the knockout blow — a 33-yard fumble return for a touchdown. It was hard for anyone on this side of the ball to gloat after Michigan put together TD drives of 75, 75, 80 and 90 yards.

LINEBACKERS GRADE: C
In some corners, limiting the Big Ten's worst-scoring offense to 14 points in each half is a victory, especially when the last TD essentially did nothing but eat clock. Still, Ohio State has had this annoying way of bringing out the best in Gardner, and the Wolverines got big chunks of yardage up the middle. It's one thing to get past Michael Bennett and Adolphus Washington. Where were the linebackers to seal things off on a day when Michigan amassed 27 first downs and had an eight-minute edge in time of possession? Linebackers Josh Perry and Darron Lee led the Buckeyes with nine tackles apiece, and Lee notched his second defensive TD this season.

DEFENSIVE BACKS GRADE: C
Bell made an interception on a ball thrown right to him on the first series, setting up a quick Ohio State touchdown. But things went downhill from there as Gardner completed 22-of-32 passes for 233 yards and two TDs. His 45-yard strike to 6-foot-5, 230-pound Devin Funchess (7 catches, 108 yards) beat Doran Grant and set up Michigan's first TD. Gardner's 18-yard catch on a razzle-dazzle play set up another TD. Safety Tyvis Powell, the hero in last year's game, whiffed on a possible interception. Good thing the opponents' passing attack will be the least of Ohio State's concerns in the Big Ten Championship Game.

SPECIAL TEAMS GRADE: C
Marshall's fielding woes returned Saturday as Michigan's first punt went right through his hands. Luckily, it bounced right back to him. His 23-yard return was negated by a holding call — on the punter! Cameron Johnston was solid yet again, averaging 49 yards on four punts, which included a 67-yarder that was nearly stopped from trickling into the end zone. Curtis Samuel still is a work in progress on kickoffs, getting only 17 yards on each of his two returns.

COACHING GRADE: B
Meyer became the only Ohio State coach other than Francis Schmidt in the 1930s to win his first three games against Michigan (Schmidt started 4-0). However, it all rings hollow with the loss of Barrett. Even if the Buckeyes somehow win the Big Ten championship next week without him, it's hard to imagine the College Football Playoff committee considering a team down to its third-string QB as one of the four best in the country. And that status was shaky anyway with the way the Buckeyes played defense for long stretches Saturday. It's easy to complain about the conservative, ball-control play calling by Meyer, but he simply was trying to keep his defense off the field.



• • •



Ohio State vs. Michigan: The Bottom Line
November 30, 2014 Source: Columbus Dispatch -

Offense (4 leaves)
Even with J.T. Barrett at the controls, there were some flaws in OSU's game, but the lack of turnovers makes this a superior grade. And without Barrett, the dual-threat touchdown machine? Saddle up the horses and ride, gentlemen. The longest pass from here out might be a jet-sweep shovel.

Defense (3 leaves)
The unit charged with chasing, tackling and general havoc-making still displays a pliability that allows opponents to look more dangerous than they actually are. That can be troubling, but these Buckeyes can also land some leather, like Darron Lee's scoop-and-score.

Special teams (3 leaves)
The game turned twice — against OSU when Kyle Clinton again shanked a kickoff out of bounds and for it when Cameron Johnston somehow killed a line-drive punt at the 1. Soon thereafter, Jalin Marshall took a return to the house and OSU's listing ship was upright for good.

Coaching (4 leaves)
With his starting QB in an air cast and his team's playoff chances in the balance, Urban Meyer faced a mini-stress test as his team faced fourth down in a seven-point game with five minutes left. But he coached to win, and it paid off. Now comes the hard part.

Opponent (3 leaves)
Who said these Wolverines were without claws? Michigan played a game befitting the history of The Game, but it doesn't have a squad with enough oomph to stand in and engage for 60 minutes. Let's hope the next coach can raise the talent level — and isn't afraid to wear a headset.

Officiating (3 leaves)
Some fans voiced their displeasure over an offside call that negated a Michigan fumble and a punt that barely reached the end zone, but those were probably just the nerves yelling, because both of those calls and most others were legit. And review worked well.



• • •



Ohio State Stock Market Report: Michigan
November 30, 2014 Source: Land-Grant Holy Land -

Blue Chip Stocks:

J.T. Barrett...

Ezekiel Elliott, RB: The Buckeyes needed to reestablish the ground game after a decidedly mediocre showing against Indiana last week. Elliott gave them that spark. His most important run of the day came on a crucial 4th-and-1 after Barrett's injury, during which the Buckeyes opted for a shotgun read-option play. The man with the half shirt busted loose for 43 extra yards and cruised into the end zone. That run, accounting for 44 of Elliott's 121 yards, put Ohio State up by 14. They never looked back. Elliott tacked that score onto an earlier touchdown, making it two on the day.

Darron Lee, LB: The baddest man in the history of New Albany struck again on Saturday. Lee played a solid, consistent game, not getting lost in run coverage like many of his teammates appeared to in the first half. He also racked up a massive sack on Devin Gardner early in the game, to go with his second career scoop-and-score touchdown. Lee doesn't get a lot of hype, and hasn't even been playing linebacker for a particularly long time, but he has been one of the most reliable pieces on the Buckeye defense all season. It's going to be a treat watching him hold down an outside linebacker spot for the next three years.

Solid investments:

Ohio State's Senior Class: In the class of 2014's last game in Columbus, they made their presence count. Guys like Steve Miller and Michael Bennett kept the aggressive Buckeye pass rush alive, while deep threat Devin Smith made a statement to NFL scouts with a 52-yard grab to put Ohio State in striking distance midway through the game. Jeff Heuerman was also held to one grab, but it was a thirteen-yarder that converted a third down for the Buckeyes. Much of the hype this season has been directed towards the youngest members of the team in 2014, but we have been so fortunate to have this group of guys providing veteran leadership and direction. Here's to you, seniors.

Junk bonds: None: In a game like this, it's almost inevitable that one or two guys will stand out as goats. That wasn't really the case on Saturday. The Buckeyes didn't look great until the end of the first half, when J.T. Barrett busted out a couple of long runs to put Ohio State into the end zone, but it's hard to pinpoint a single player for more than the usual criticism. It certainly wouldn't apply to Joey Bosa, who had possibly his worst game as a Buckeye and still came up with two sacks and a forced fumble. Bosa committed several costly penalties on Saturday, but when someone makes as big of a splash as Bosa does, it's hard to ding him overmuch.

Buy/Sell

SELL: Ohio State's rush defense. This is starting to feel like a broken record, but Ohio State has a troubling tendency to let opposing rushers dominate in the early going. Melvin Gordon is coming next week, and he is going to cause some serious matchup problems for this Buckeye defense.Urban Meyer said coming into this game that tackling is something his guys need to work on, and he was proven right in the first half. And that was against a Michigan team that has struggled at times to run the ball this year. I shudder to think about what Gordon might do given the same opportunities. The Buckeyes let the Wolverines dominate the time of possession for much of the game, and had a hard time getting the necessary stops on third down against the run. Drake Johnson in particular ran like a man possessed -- his final yardage total, 74, isn't impressive in a vacuum, but he lowered his head and picked up an extra few yards on seemingly every attempt in the first half. Whether this is a schematic issue and the Buckeyes need to retool their approach to be less aggressive against the pass, or they just need to start standing guys up and making tackles, there is some serious work to be done before Wisconsin comes knocking.

SELL: Injuries. It seems cosmically unlikely that one team could lose two viable Heisman trophy candidate quarterbacks in one season, but that's where the Buckeyes stand after Saturday's win. There are some things beyond a team's control, and this is one that sucks especially hard given everything that's on the line. This team has fought back from an incredible amount of adversity and found ways to win in spite of it. There's a lot to be said for that. Here's hoping that J.T. Barrett, Braxton Miller, Dontre Wilson, and all the other injured Buckeyes find their way to speedy recoveries and strong comebacks.

BUY: Ohio State's outside playoff chances. I am anything but rational, but indulge me, if you would, as I attempt to rationalize this claim. Caveats: We still have to beat Wisconsin, obviously, and the committee has indicated that it will pick "the best teams" over the most deserving teams. With Cardale Jones rather than J.T. Barrett at the helm, we probably don't look like one of the four best teams in the country. And yet.

Florida State won ugly again on Saturday, overcoming a four INT performance from Jameis Winston to beat the unranked Florida Gators by five. They have to face a Georgia Tech team next week that has been clawing its way up the rankings all season and upset No. 9 Georgia on Saturday. This will be the stiffest test faced by the Seminoles all season, and since they've looked decidedly lackluster, it's a good bet that a loss would dump them from the top four.

Fourth-ranked Mississippi State fell to rival Ole Miss on Saturday, which should hopefully help the Buckeyes inch into the fifth spot in the rankings. Ohio State was threatened by Baylor, but the Bears only squeaked out a two point victory against lowly Texas Tech and do not play in a conference championship game. Ditto for TCU, who hold the spot just ahead of Ohio State and boatraced Texas on Thursday night to keep their own playoff hopes alive.

It's a long shot, to be sure, but it's not impossible that the Buckeyes could slide into the picture as smoothly as Dontre Wilson slides into DMs. Fingers crossed, y'all.



Brady Hoke faces questions surrounding his status as Michigan coach



Ohio State loss fits Brady Hoke's Michigan run, it started bright and steadily fell apart
November 29, 2014 Source: mlive.com - For a hot second there, Brady Hoke had you smiling again.

Admit it.

Just like he did when he took over as Michigan's coach in 2011, a year after the Rich Rodriguez experiment came to a halt, leaving Wolverines fans completely fried, wiped and exhausted, Hoke made them all smile.

He went 11-2. He beat Ohio State. He won the Sugar Bowl. He said all the right things. For the first quarter or so of his tenure, he had you believing.

Sort of like Saturday afternoon in Columbus. For the first quarter or so, you were hooked. Michigan entered Ohio Stadium buried in turmoil, given zero chance by anyone to have a shot in this game, and somehow found itself up 14-7 about 23 minutes in.

But then, just like they have in a big-picture sense during Hoke's tenure at Michigan, things slowly but surely fizzled.

In many ways, Saturday was Brady Hoke's tenure at Michigan.

The first act had you on the edge of your seat.

But the final three quarters had you shaking your head...






Brady Hoke Updates

+ Hoke said Ohio State came out in the perfect play to combat their defense on that fourth down touchdown run.

+"I thought our kids came to play. I would expect them to do so with this football game. It's like that every year."

+ Hoke said the Wolverines didn't execute as well as they could have in a few areas, and that they need to take care of the football better than they did. "I'm disappointed for them, but I'm proud of how they hung together as a group."

+ "I told them I was proud of them. I told them I was proud of how they went to work."



Jack Miller Updates

+ On the game today vs. Ohio State coming down to the fourth quarter: "I don't know if anyone can put that into words but it always comes down to the fourth quarter it seems like. Both teams bring their A game, and there's just a different energy before and during the game. It's the greatest rivalry in all of sports and we're fortunate both us and Ohio State can play in a game like this that can be so fun, and it always seems to come down to the wire."

Devin Gardner Updates

+ On supporting J.T. Barrett through his injury: "I've talked to him a little bit through the season, and you hate to see a player, especially a guy like him – a great guy, a high character guy, a hard worker [get injured]. He's been called upon and he didn't know he was going to get a shot, and he's executed and done it humbly. It's like having a little brother out there get hurt. I didn't like seeing that at all, so I let him know I'm praying for him and told him to keep praying and everything will be all right."





MICHIGAN POSTGAME NOTES

• Left tackle Mason Cole has started more games than any other true freshman offensive lineman in program history.

• Freshman left tackle Mason Cole became the first Michigan true freshman to start 12 games in a season at U-M since Tate Forcier and Craig Roh in 2009, and the fifth student-athlete in program history to accomplish the feat (Chad Henne, 2004 and Charles Woodson, 1995).

• Junior wide receiver Devin Funchess has caught at least one pass in 25 straight games, tying David Terrell for the 8th longest streak in program history.

• Junior wide receiver Devin Funchess led U-M in receptions (seven) and receiving yards (108). Funchess' 45-yard reception in the first quarter is a season long. His career-long catch is 59 yards, which he recorded last season at Penn State.

• Junior wide receiver Devin Funchess posted the 5th 100-yard receiving game of his career, moving into a tie for 12th with Mercury Hayes (5, 1992-95) and Marcus Knight (5, 1996-99) on Michigan's all-time list.

• Sophomore tight end Jake Butt notched his second touchdown reception of the season in the first quarter, hauling in a 12-yard pass from Devin Gardner.

• After completing 22-of-32 passes for 233 yards and two touchdowns, senior quarterback Devin Gardner (6,336 passing yards) surpassed Denard Robinson (6,250, 2009-12) for 4th on Michigan's all-time career passing yardage list.

• Senior quarterback Devin Gardner owns 22 150-yard passing game, tying Denard Robinson (22, 2009-12) for 5th on Michigan's all-time list.

• After throwing two touchdown passes at Ohio State, senior quarterback Devin Gardner owns 44 career passing touchdowns, surpassing Steve Smith (42, 1980-83) for 6th place on U-M's all-time passing TD list.

• Senior quarterback Devin Gardner (22 completions) surpassed Todd Collins (457, 1991-94) for 4th on Michigan's all-time list completions list.

• After posting 1.0 TFL at Ohio State, senior linebacker Jake Ryan (45.5) moved into sole possession of 6th place of Michigan's all-time career TFL list, surpassing Glen Steele (45, 1994-97).

• Ryan notched one TFL yard vs. the Buckeyes, tying Ron Simpkins (168, 1976-79) for 12th on Michigan's all-time list.

• Sophomore running back Drake Johnson registered the second multi-touchdown performance of his career. He posted a two-yard rushing touchdown in the second quarter and notched a four-yard TD scamper in the third quarter.

• Johnson completed an 18-yard pass to senior quarterback Devin Gardner midway through the third quarter. The play marked Gardner's first reception since hauling in a 15-yard pass at Nebraska on Oct. 27, 2012.

• Junior fullback Joe Kerridge has posted a reception in four consecutive games.

• Sophomore defensive tackle Ryan Glasgow has posted a TFL in three of Michigan's last four games.

• Junior linebacker James Ross III posted his third TFL of the season vs. the Buckeyes.

• Junior wide receiver Dennis Norfleet (2,313 career kickoff return yards) surpassed Dorien Bryant (2,125, Purdue, 2004-07) for 5th on the Big Ten's all-time kick return yardage list.

• Norfleet owns 94 career kickoff returns, passing Mel Anderson (93, Minnesota, 1983-86) and Derin Graham (93, Indiana, 1998-2000) for 5th on the Big Ten's all-time list.

• Freshman Freddy Canteen scored the first touchdown of his career at the 1:15 mark of the fourth quarter on his only catch of the day. The reception was a three-yard catch.

• Today's game captains were junior linebacker Joe Bolden, junior center Jack Miller, senior linebacker Jake Ryan and junior safety Jarrod Wilson.

• Michigan leads the all-time series 58-47-6, including 27-26-2 in Columbus

• Ohio State has won a Big Ten-record 24 straight regular season conference games

• Under Urban Meyer, Ohio State is undefeated in November (12-0). The Buckeyes' last November loss was a 40-34 defeat at Michigan on Nov. 26th, 2011.









TSUN

Nov 29, 2014

Ohio State Football: OSU vs That Team Up North Trailer Source: OSU Football Official Channel
• • •
Ohio State HC Urban Meyer: "Players will get tired of hearing the song that I always play this week"
LISTEN
• • •
• • •


Source:

CBSSports.com



WHAT'S AT STAKE
The Buckeyes have already secured a spot in the Big Ten title, but loss would cost the Buckeyes a shot at being in the College Football Playoff. The Wolverines are trying to salvage a dreary year and get bowl eligible. Maybe that could save coach Brady Hoke's job. Probably not.

KEY MATCHUP
Michigan QB Devin Gardner against Ohio State's secondary. A year ago, Gardner passed for 451 yards and four TDs and ran for a score. It was the start of a defense tailspin for the Buckeyes, hired a new defensive coordinator to shore up the secondary (Chris Ash).

PLAYERS TO WATCH
Michigan: DE Brennen Beyer and MLB Jake Ryan lead a defense which has held six opposing teams to under 100 yards rushing this year. WR Devin Funchess has caught at least one pass in his last 24 games.

Ohio St.: QB J.T. Barrett, a star so far with a school-record 33 TD passes and 3,507 total yards, will be playing in the most pressure-packed game the freshman has seen. DE Joey Bosa leads the Big Ten in tackles for loss (18) and sacks (11.5).

FACTS & FIGURES
It's a statistic that has been lost in Michigan's stumbles this year, but the defense is among the best in the Big Ten. The Wolverines allow just 2.94 yards per rush, seventh best in the nation. ... Streaking: Ohio State has won its last nine games, and 23 consecutive Big Ten regular-season games. ... The Buckeyes can become the first Big Ten team to win every game in conference play three years in a row. ... Hoke is 31-19 in his fourth season, but his record has gone from 11-2 in 2011 to 8-5, 7-6 and now 5-6. ... QB Troy Smith, who won the 2006 Heisman Trophy, will be the eighth former Buckeye to have his number enshrined in lights during a halftime ceremony. ... This is the 97th consecutive year the teams have met. ... S Tyvis Powell intercepted Gardner's two-point conversion pass with 32 seconds left in 2013 to preserve Ohio State's 42-41 victory.





OSU-Michigan Game; Ten Pressing Questions
November 29, 2014 Source: Bucknuts - * 1. How will J.T. Barrett react in his first start against Michigan? – Barrett has led OSU to a 10-1 record as the starting quarterback this year. But he has thrown three interceptions in OSU's last two wins over Minnesota and Indiana. Is that a sign he is hitting the freshman wall? Or will he approach 400 yards total offense as he has each of the last three weeks?

* 2. How will Ohio State attack Michigan's stingy defense? – The Wolverines are ninth nationally in total defense (301.8 ypg). The Buckeyes have faced some tough defenses previously such as Virginia Tech, Penn State, Michigan State and Minnesota. Other than the loss to Virginia Tech, OSU found ways to move the football and score points against the others. Perhaps there will be new wrinkles or variations off some of OSU's most popular plays. It helps, however, that standout UM DE Frank Clark will not play after he was dismissed from the team.

* 3. Can the Buckeyes establish the run with Ezekiel Elliott? – Elliott has been OSU's workhorse at running back as he went over the 1,000-yard mark last week against Indiana. He broke a 65-yard touchdown run in that win. Michigan is ninth nationally, however, against the run at just 107.2 ypg. Those yards will be tough to come by between the tackles, particularly with LBs Joe Bolden and Jake Ryan filling the lanes. RB Carlos Hyde had 226 yards against Michigan last year, but that was not the same defense UM puts on the field this year.

* 4. What will Jalin Marshall do for an encore? – Marshall sparked OSU's comeback last week with a third-quarter punt return touchdown and three touchdown catches in the fourth quarter against the Hoosiers. Can he spark a big play against UM's stellar defense? You know the Buckeyes will be force feeding the H-back early and often to see if he can.

* 5. Which receivers will come through? – Devin Smith caught a 53-yard touchdown against Michigan last year, while TE Jeff Heuerman also had a TD catch in that game. Barrett could look to his veterans in this big game.

* 6. Can the Buckeyes win the turnover battle? – OSU has had eight turnovers in the last three games. But the Buckeyes are still fourth in the Big Ten in turnover margin (plus-3 for the year) and Michigan is 14th (dead last) at minus-14 for the year. QB Devin Gardner has thrown 14 interceptions.

* 7. Can the OSU offensive line protect Barrett? – Michigan does miss its best pass rusher in Clark. But DT Willie Henry and DE Brennen Beyer are also very capable. Michigan is sixth in the Big Ten in sacks at 2.64 per game. OSU is eighth in the Big Ten in sacks against at 2.09 per game.

* 8. Can the Buckeyes stop Devin Gardner from having another career day? – Gardner threw for 451 yards and four touchdowns against OSU's terrible pass defense a year ago. The Buckeyes have shored up that part of their defense as they rank eighth nationally in pass efficiency defense. Gardner's main target is WR Devin Funchess. He must be blanketed. Gardner has also thrown 14 interceptions, so safeties Vonn Bell and Tyvis Powell should be on guard for errant spirals.

* 9. Can Ohio State figure out its run defense? – Michigan lost starting RB Derrick Green to injury a month ago. UM platoons De'Veon Smith and Drake Johnson at RB. OSU allowed Minnesota and Indiana to each go well over 200 yards rushing the last two weeks. If they have the same poor schemes, angles and tackling next week against Wisconsin (most likely), they can probably forget the Big Ten title and any shot at the CFB Playoff final four.

* 10. Will Ohio State get a motivated Michigan team? – Michigan was playing at home last week for a bowl bid, but lost to Maryland 23-16. That can't happen, period, if you're Michigan. You need to have more pride than that. But honestly, since 2006 there hasn't been a lot of the Michigan pride we had become accustomed to throughout the 1970s, '80s and 90s. Ohio State has won 11 of the last 13 meetings with Michigan. Will the Wolverines roll over and allow OSU to make it 12 out of 14? Some would say the ship has sailed for Brady Hoke after four years as the UM coach. Do his players want to try and gut this one out, just so they can play in a crappy bowl game for an interim head coach? I tend to doubt it, but stranger things have happened.

More with Michael Bennett & Joshua Perry videos...




Five key factors for OSU victory
November 28, 2014 Source: Columbus Dispatch -

1. Avoid turnovers
This is the obvious one. No defense has really stopped Ohio State since the Penn State game, but the Buckeyes have stopped themselves with turnovers — eight in the past three games. Michigan's defense is good enough to make Ohio State earn what it gets On the other side of the ball, Michigan also has been turnover-prone, particularly quarterback Devin Gardner, who has thrown 14 interceptions.

2. Win in trenches
Michigan's offensive line has improved but still isn't up to standards of the past. Ohio State's progressed quickly to become a dominating unit, though the Buckeyes had trouble running up the middle for most of the Indiana game. Ohio State's linemen must clear out Michigan's defensive line and be able to block linebacker Jake Ryan, the Wolverines' best defensive player.

3. Control emotions
Urban Meyer has stoked emotions this week, making sure that no Buckeye treats this as anything less than a standard Michigan game. With so many young players, including redshirt freshman quarterback J.T. Barrett, it will be important to temper those emotions in the Horseshoe. The Buckeyes will be playing in front of a crowd that wants Michigan blood. Players just have to concentrate on doing their job. Last year, the fight culminating with Marcus Hall's infamous exit changed the dynamic of the game. The Buckeyes don't want that happening again.

4. Watch for trickeration
Michigan caught Ohio State off guard last year with a lot of misdirection plays, including screen passes, that took advantage of the Buckeyes' aggressiveness. Ohio State's defense must remain disciplined and not try to do too much. Michigan likely will take chances; the Buckeyes have to be ready.

5. Win special teams
The kicking game has been both a blessing and a curse for the Buckeyes. They've fumbled kicks, put six kickoffs out of bounds and missed six field-goal tries. They've also made big plays, none bigger than last week's punt-return touchdown by Jalin Marshall. Michigan has struggled in the kicking game, too.



Urban Meyer Updates from the B1G Teleconference
November 25, 2014 Source: The Ozone

Urban Meyer Updates

+ Meyer said practice this week is pretty much the same. What is different this week is the education of the rivalry and things around the facility.

+ "I'm very concerned" about the run defense. "Very, very concerned about that." They will obviously work hard to correct that. They have tackled very well this season, but the run defense is definitely a concern.

+ "I'm not amazed anymore" by J.T. Barrett. He is not surprised by the success, but when he found out Barrett had put up the touchdown numbers that he had, he was surprised by that aspect of it.

+ Meyer said he feels better about the defense this year as compared to last year at this time. He likes the system, the communication between the staff, and he sees them getting better and better each year.

+ Meyer said he is not involved with Noah Spence's reinstatement hearing today. Gene Smith will keep him apprised of the situation.

+ Putting Ezekiel Elliott and Curtis Samuel in the backfield together was a product of Samuel's week of practice as well as the loss of Dontre Wilson. Meyer liked the production that those looks gave the Buckeyes.

+ Antonio Underwood and Chris Carter, a pair of fourth-year juniors, will be honored on Senior Day and play their last game in Ohio Stadium. "These were player decisions. They're going to graduate and move on with their life."

+ Jake Ryan is a tough guy and Meyer loves the way he plays. He doesn't know him, but he knows about him because he recruits Ryan's high school.

+ "This is as hard-playing a defense as we'll see all year."

+ Meyer said he holds the position coaches accountable for turnovers because fundamentals aren't being properly taught, or players aren't being properly prepared. "Very alarming."

+ Meyer watches Sean Nuernberger in pregame to see how he does. He has confidence in him, but every situation brings about its own decision about kicking or going for it.

+ "It certainly does." Meyer said making a play like Tyvis Powell made in last year's game boosts their confidence greatly. He said Powell is a little banged up right now, but he'll be okay for Saturday. He wants Powell playing like an All-Big Ten safety, but he's not there yet.







Monday Nov 24 Updates From Urban Meyer
November 24, 2014 Source: The Ozone -

Urban Meyer Updates

+ Champions for last week were Taylor Decker, Pat Elflein, Evan Spencer, Devin Smith and Corey Smith. Player of the Game was Ezekiel Elliott and Jalin Marshall. Defensively, Vonn Bell, Josh Perry, Joey Bosa, Adolphus Washington and Raekwon McMillan. Michael Bennett was player of the week. Marshall was the special teams player of the week.

+ The Indiana game was put to bed quickly. On to the rivalry game.

+ Meyer said that he hears people say that this is another game, but they don't take that approach at all. When hiring coaches he makes sure that they understand that this is not another game. "We just make a huge deal out of rivalry games." He wants players to take ownership of that fact. "I want to have some fun with it, but when you say 'have fun', I'm not sure how to have fun with it." He said fun is being in the locker room after winning this game. "This game is The Game."

+ Meyer is expecting Michigan's best game, just like that year. "Their personnel will play their very best against us."

+ "There's no fun in a rivalry unless you're singing the fight song after the game."

+ Meyer said he was blown away by the leaders on the 2012 game. Last year the leaders were pretty good, but losing Christian Bryant was a big loss. "This year is still to be determined." "This book's not written yet. I'm pleased with it, but these next couple, that's going to be our legacy."

+ Meyer said there are some things to clean up on the team, but they're doing well.

+ He said Jalin Marshall has some wear and tear, so they can't use him in as many different ways as they'd like. Evan Spencer and Corey Smith will help at the H-back spot some.

+ Meyer said it doesn't matter if Michigan is having troubles because when you look at the tape, you see the talent. Plus, motivation will not be an issue for the Wolverines.

+ Meyer said he had a talk yesterday with his team about intensity this week and fighting is not acceptable in this game. "A lot of lessons were learned" last season.

+ "This whole year" has been how Meyer has wanted to implement the H-back into the Ohio State offense. "These guys are built the way we want them."

+ Meyer said they need to embrace the moment, love it and take advantage of it, regardless of having another game next week.

+ Meyer said he doesn't worry about making too much of the game because it is something that needs to be appreciated.

+ Meyer said the rotation at middle linebacker is good for the team because it's two good players. One is a great leader who has improved and the other is the future at the position.

+ Meyer said everyone is healthy.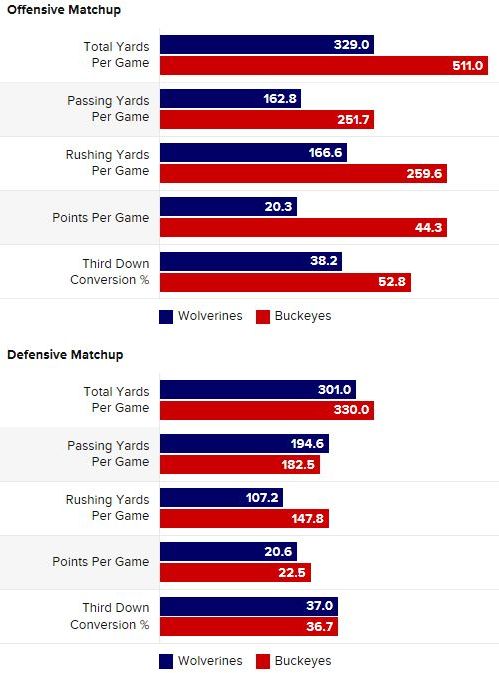 Source:
CBSSports.com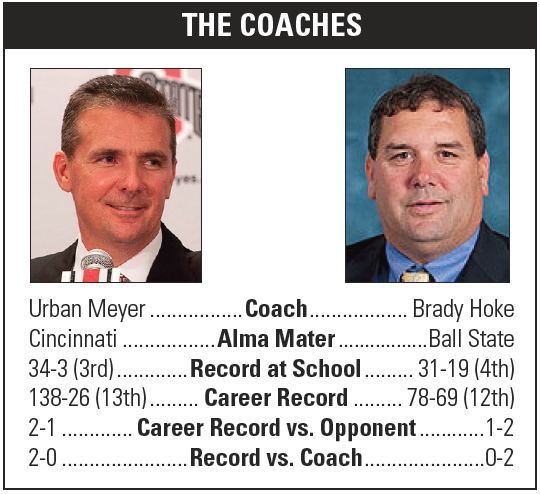 #6 Ohio State vs. Michigan Game Notes
November 24, 2014 Source: OSU Official Site - 111th meeting to be televised at Noon ET on ABC...



First and 10

• Ohio State enters the game having won a Big Ten record 23 consecutive regular season B1G games.

• Ohio State is looking to become the first Big Ten team to go undefeated in regular-season conference play in three consecutive years since Minnesota did so from 1933-35.

• No Big Ten team has ever won every game (undefeated and untied) in Big Ten regular season games three consecutive years.

• Ohio State ranks 10th in the NCAA in total offense with 511.4 yards per game and is fifth in scoring offense at 44.3 ppg.

• J.T. Barrett has been responsible for a school-record 42 touchdowns this season, tied for the most in the FBS with Oregon's Marcus Mariota.

• Barrett has set school records this season for TD passes (33) and total offense (3,507 yards).

• Two weeks ago at Minnesota, Barrett set Ohio State records for longest run by a QB (86/TD) and rushing yards in a game by a QB (189).

• Joey Bosa, a Lombardi finalist and Bednarik semifinalist, leads the B1G with 18.0 TFL & 11.5 sacks.

• Urban Meyer is 38-3 in the month of November since the start of the 2003 season.

• The Buckeyes, 34-3 (.918) overall under Meyer, have the second-highest winning percentage among FBS teams since the start of 2012.

THE GAME
Ohio State, Big Ten Conference divisional champion for a third consecutive year, hosts Michigan in a 12 noon (EST) game Saturday at Ohio Stadium in the 111th edition of the greatest rivalry in sports. Ohio State is 10-1 overall and 7-0 in the Big Ten Conference East Division. Michigan enters the game with a 5-6 overall record and a 3-4 mark in the Big Ten East and needing a victory to be bowl eligible. ABC will televise the game to a national audience with Dave Pasche, Brian Griese and Tom Luginbill describing the action.

THE SERIES ... SINCE 1919 & WOODY
Michigan won 19 of the first 24 games (with two ties) in the series. But since Ohio State's first win in 1919, the series is even: 45-45-4. And since the 1951 season and the arrival of Woody Hayes, Ohio State leads the series 33-27-2 (Note: Ohio State's 2010 victory over UM in Columbus, 37-7, was vacated. All series records, streaks, etc., in this release do not include the result of the 2010 game).

SOME SERIES STREAKS
When Michigan defeated Ohio State, 40-34, at Ohio Stadium in 2011, it snapped a six-game Ohio State winning streak in the series. Those six consecutive wins by the Buckeyes represented the longest winning streak for Ohio State against Michigan. The streak also tied the second-longest winning streak for either team in this series and it was the longest streak in 84 years. Michigan owns the longest such streak: nine games between 1901-09.

HOME vs. AWAY
Ohio State is 21-31-4 vs. Michigan in Ann Arbor and 24-27-2 in Columbus. The Buckeyes have won five consecutive games at Ohio Stadium, including a trio of close, tense affairs - 14-9 in 2002, 42-39 between No. 1 Ohio State and No. 2 Michigan in 2006 and 26-21 to cap an unbeaten 2012 season - and a couple not-so-close games (37-21 in 2004 and 42-9 in 2008).

SENIOR SALUTE
Recognized before the game will be 24 Ohio State seniors who have been a part of 34 victories in the last 37 games - since 2012, the start of the Urban Meyer coaching era at Ohio State - including a school-record 24-game winning streak and a Big Ten Conference-record 23-game league winning streak. The seniors haven't lost a Big Ten game since the last game of the 2011 season and are looking to complete a third consecutive 8-0 campaign in Big Ten play with a win Saturday. The senior class includes:

76 - RT, Darryl Baldwin - Solon, Ohio
63 - DT, Michael Bennett - Centerville, Ohio
72 - DT, Chris Carter - Cleveland
39 - K, Kyle Clinton - Dublin, Ohio
32 - LS, Russell Doup - Mt. Vernon, Ohio
17 - DE, Rashad Frazier - Middletown, Ohio
14 - LB, Curtis Grant - Richmond, Va.
12 - CB, Doran Grant - Akron, Ohio
87 - WR, Peter Gwilym - Freeport, Maine
51 - OG, Joel Hale - Greenwood, Ind.
5 - TE, Jeff Heuerman - Naples, Fla.
46 - TE, Devin Hill - Columbus, Ohio
98 - DL, John Holman - Riverdale, Ga.
53 - DL, Kosta Karageorge - Columbus
88 - DE, Steve Miller - Canton
8 - TE, J.T. Moore - Youngstown, Ohio
44 - TE, Chris Rock - Columbus
14 - K, Jake Russell - Twinsburg, Ohio
18 - CB, Nic Sarac - Cleveland
9 - K, Tim Scott - Norton, Ohio
9 - WR, Devin Smith - Massillon, Ohio
46 - LB, Nick Snyder - Columbus
6 - WR, Evan Spencer - Vernon Hills, Ill.
73 - OL, Antonio Underwood - Shaker Heights, Ohio

TROY SMITH HONORED IN LIGHTS
Troy Smith's name and his jersey number "10" will be honored and enshrined in lights in Ohio Stadium at halftime of the game this week against Michigan. Smith, 25-3 as a starting quarterback, including a 3-0 record vs. Michigan, won the 2006 Heisman Trophy after guiding the Buckeyes to a season-long No. 1 ranking, a 12-0 regular season and a berth in the BCS national championship game. He led Ohio State to Big Ten championships in 2005 and 2006 and he closed an exceptional career with 5,720 passing yards while completing 62.7 percent of his passes (second-best at Ohio State) with 54 touchdowns (third behind Bobby Hoying and Joe Germaine). His career passing efficiency mark of 157.1 is a school record.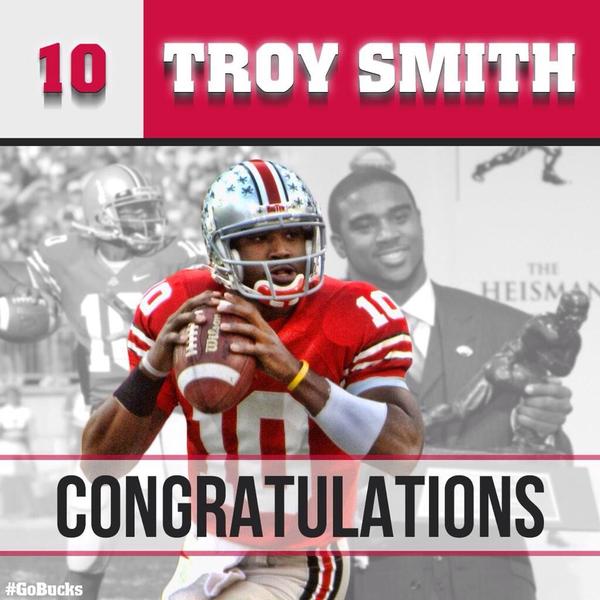 Smith, the 2006 Heisman Trophy winner who was 3-0 against Michigan, will be the eighth former Buckeye to be honored in the stadium after the school's five previous Heisman Trophy winners -- Les Horvath, Vic Janowicz, Howard "Hopalong" Cassady, Archie Griffin and Eddie George -- Chic Harley, the school's first three-time All-American; and Bill Willis, an All-American and member of four Halls of Fame who was one of four African-Americans to reintegrate professional football.

More at #6 Ohio State vs. Michigan Game Notes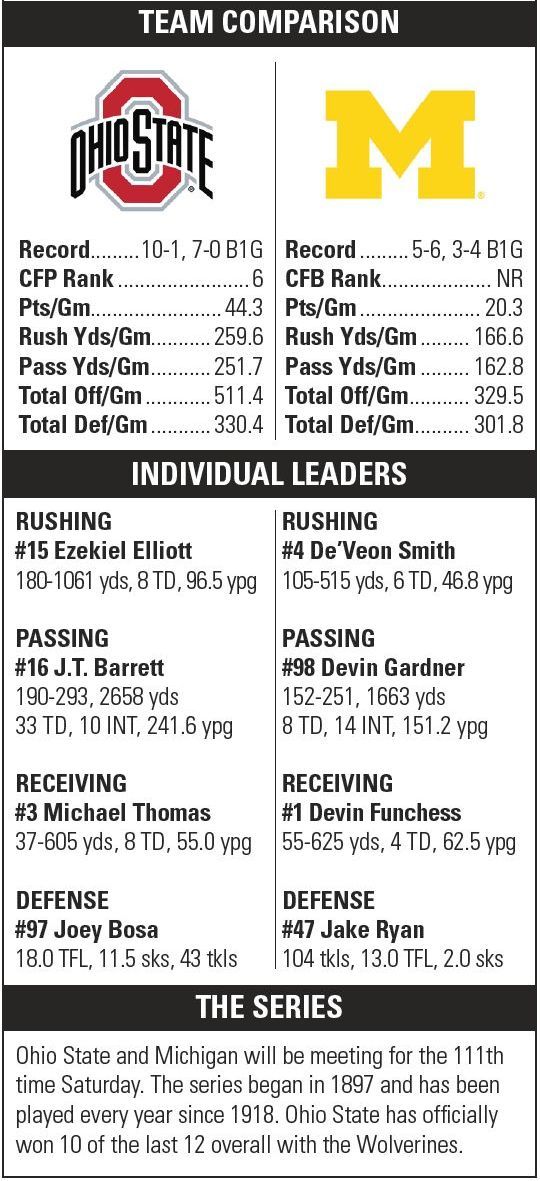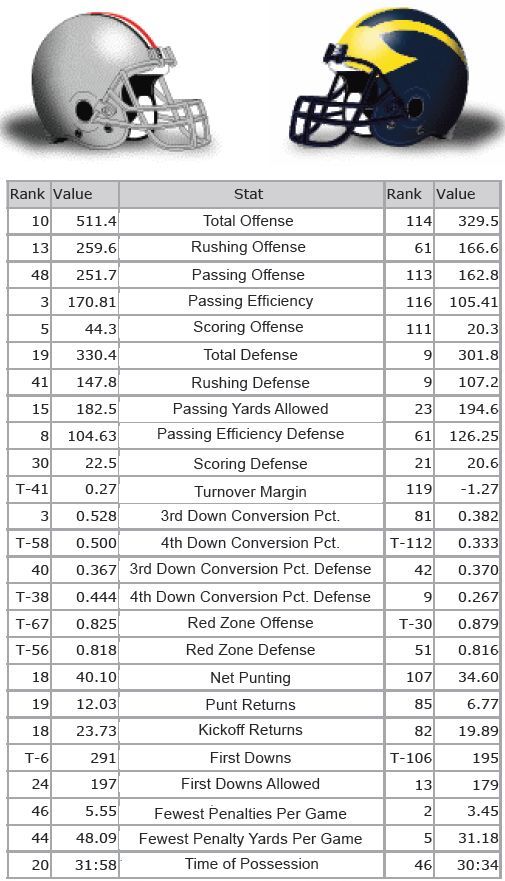 With one more touchdown responsible for this season, J.T. Barrett will own the Big Ten record for a season by himself, breaking his current tie with Drew Brees' 1998 season.

With a win on Saturday, Ohio State will become the first Big Ten team to go unbeaten in three straight regular seasons in conference play since Minnesota from 1933-35 (includes four ties). No Big Ten team has ever posted three straight unbeaten/untied regular seasons in conference history.

J.T. Barrett has been responsible for a school-record 42 touchdowns, tied with Marcus Mariota for the most in the FBS. He ranks second in the FBS with 33 passing touchdowns despite ranking 87th in pass attempts per game J.T. Barrett, 2014 Season: Total QBR 84.2 4th, TD resp for 42 T-1st, Yds per att 9.1 6th, Pass TD/pass att 11% 1st

Will this be the final game for Michigan head coach Brady Hoke? Hoke is 1-2 against Ohio State and -- with a loss on Saturday -- would join Rich Rodriguez as the only Michigan head coaches to ever lose as many as three of their first four meetings with Ohio State (Rodriguez went 0-3 against the Buckeyes from 2008-10 and was fired after his third season as head coach).

According to FPI, Michigan has a 12 percent chance to win Saturday afternoon in Columbus. The Wolverines have been a reasonable underdog against the Buckeyes in each of the last few years (except 2011) but have managed to keep it close the last two meetings. Despite being projected as a mismatch, last year's game came down to Michigan losing by one after a failed go-ahead two-point conversion attempt with 32 seconds left.

In five starts in 2012, Devin Gardner posted a 91.0 Total QBR, the highest that season for a player with at least 150 action plays. In each successive year, however, Gardner's QBR has regressed. Devin Gardner, Last 3 Seasons: 2012 91.0 QBR; 2013 65.0 QBR; 2014 45.5 QBR



"With an obvious decline in talent, the Wolverines have lost five or more games in five of the past six seasons after having done so only twice from 1968 to 2007."

Ohio State vs. Michigan: Wolverines' steady decline can be traced to loss to Buckeyes in 2006
by Todd Jones, November 28, 2014 The Columbus Dispatch

This article takes a look at the steady decline of Michigan football over the last 8 years, after the Wolverines' national title hopes were smashed at the hands of Ohio State in November of 2006. Jones argues that it was this game, the No.1 vs. No. 2 showdown that vaulted the Buckeyes to the national title game, that broke the back of the Michigan football program.

It's easier to trace that path than you might think. After falling in Columbus, Michigan went on to lose the Rose Bowl. They opened the following season with a famous upset loss to Appalachian State. The program might never have recovered from those three consecutive defeats. The 2007 season was Lloyd Carr's last, as the man who bedeviled John Cooper retired under programmatic pressure after going 9-4 (a record most UM fans would kill for at this point). The rest, as they say, is history. The Wolverines hired outsider Rich Rodriguez, who never found success in 3 seasons at the helm (unless you count the Josh Groban singalong). Brady Hoke, regarded as a true Michigan Man because of his experience as an assistant under two former UM coaches, initially looked to be the man who would turn this all around. He went 11-2 and won a bowl game in his first season, and collected Michigan's only victory in the rivalry since 2003. Things have been downhill ever since.

Hoke has lost more games than the previous year in each of his last 3 seasons. Hoke is essentially a "dead man walking," according to Jones, which is probably unsurprising -- the statistic quoted above about the number of five-loss seasons Michigan has endured is staggering. Saturday could very well be Brady Hoke's last game as the coach of the Wolverines. Source: Land-Grant Holy Land




Columbus Weather Forecast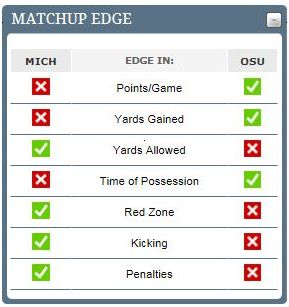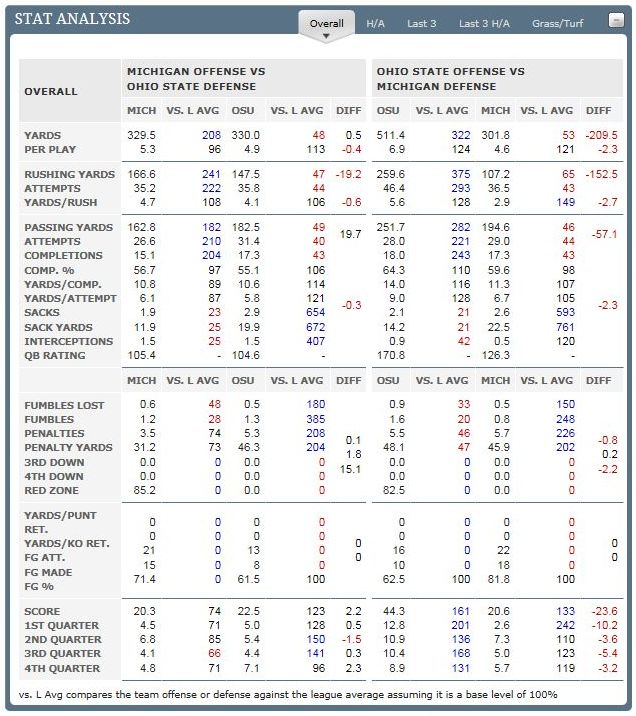 Source:
Covers.com



On the edge: Ohio State vs. Michigan
November 28, 2014 Source: Columbus Dispatch -

When Buckeyes run . . . Edge – OHIO STATE
RB Ezekiel Elliott and QB J.T. Barrett have presented a 1-2 punch that still might be a tad light compared to Carlos Hyde and Braxton Miller a year ago, but still is getting the job done. Elliott is over 1,000 yards, and Barrett on the hoof has been much better than most expected. OSU has averaged 259.6 yards, 13th in the nation. Michigan, led by LB Jake Ryan, counters with the nation's ninth-best defense against the run (107.2).

When Buckeyes pass . . . Edge – OHIO STATE
Barrett is third nationally in passing efficiency, and he averages 241.6 yards a game. Although he has thrown 10 interceptions, his 33 touchdown passes are a school record. The emergence of hybrid back Jalin Marshall in recent weeks has augmented WRs Michael Thomas and Devin Smith, and TE Jeff Heuerman, who had a season-high five catches last week. Michigan is 23rd nationally against the pass (194.6-yard average).

When Wolverines run . . . Edge – OHIO STATE
Michigan's run game has gotten better the past three games, capped by a 292-yard performance against Maryland last week. De'Veon Smith is Michigan's leading rusher, gaining 515 yards and averaging 4.9 a carry behind an offensive line that has slowly improved. Sophomore Drake Johnson has emerged lately. He ran for 94 yards on 14 carries against Maryland.

When Wolverines pass . . . Edge – OHIO STATE
Senior quarterback Devin Gardner has not shed his label as a mistake-prone player, though he was brilliant in last year's Ohio State game playing with a broken bone in his foot. This season, he has been much better in home games than on the road. He hasn't thrown a touchdown pass away from Michigan Stadium this year. Devin Funchess has the body of a tight end and the skills of a wide receiver, but he has had a disappointing season despite catching 55 passes. Michigan ranks 113th nationally in passing. Ohio State's pass defense ranks 15th in yards allowed.

Special teams . . . Edge – OHIO STATE
Ohio State and Cameron Johnston are second in the Big Ten in net punting (40.1-yard average), and Michigan and Will Hagerup are 10th (34.6). Jalin Marshall got OSU's first punt return for a touchdown last week; Michigan has scored on a blocked punt. UM's Matt Wile is 15 of 21 on field-goal attempts, and OSU's Sean Nuernberger is 10 of 16.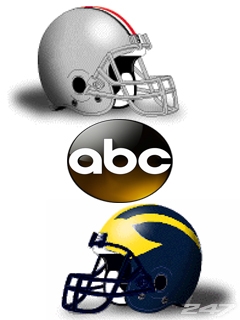 Game Data: Michigan at Ohio State
November 26, 2014 Source: Bucknuts.com - When Michigan Has The Ball: Michigan has been nothing short of miserable on offense this season. The Wolverines are 114th in total offense (329.5 ypg), 111th in scoring offense (20.3 ppg), 119th in turnover margin (minus-1.3 per game) and 81st in third down conversions (38.2 percent).

QB Devin Gardner has reached the end of his line as the UM starter. He's had some high points, but has also thrown 14 interceptions this season. Devin Funchess moved from TE to WR to replace Jeremy Gallon, who torched OSU last year. Michigan has only thrown for 200 yards in a game twice all season.

And the running game has not picked up the slack, either. UM lost RB Derrick Green to an injury, leaving De'Veon Smith and Drake Johnson to carry the load. In 11 games, UM has reached 275 yards or more in rushing just three times. That's not Michigan football.

Ohio State has had issues stopping the run the last several weeks. And if they don't get those issues fixed, the Buckeyes will probably lose if they play Wisconsin next week. Luckily for them, Michigan's offense has shown no ability to produce...




tBBC Preview: The Game
November 26, 2014 Source: The Buckeye Battle Cry





Preview: No. 6 Ohio State vs. Michigan
November 28, 2014 Source: Eleven Warriors





Ohio State vs. Michigan 2014: Preview, odds, predictions
November 28, 2014 Source: Land-Grant Holy Land





Ohio State Buckeyes vs. Michigan Wolverines Complete Game Preview
November 24, 2014 Source: Bleacher Report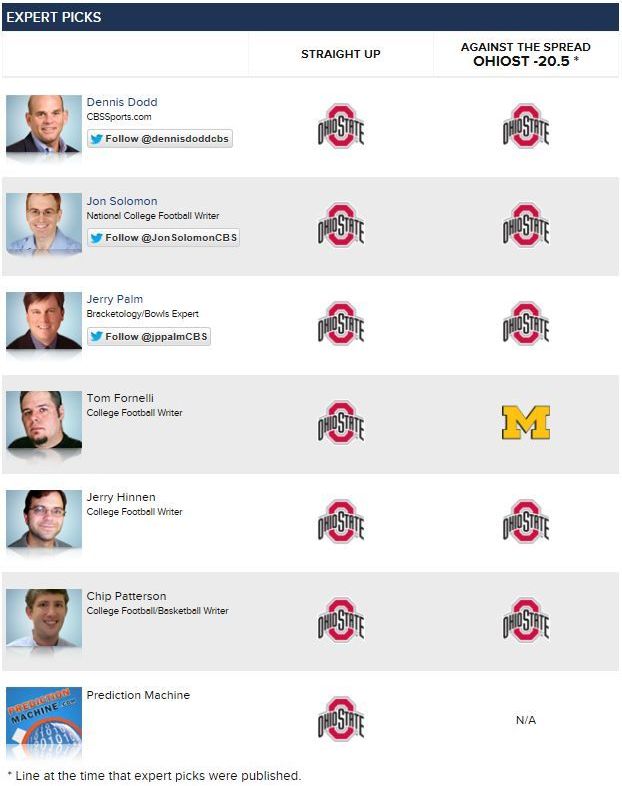 CBSSports.com




5 Michigan keys: Wolverines would have to play like someone else to beat Ohio State (with predictions)
November 28, 2014 Source: mlive.com - So, here you go. Take every bad habit you've developed over the past two seasons, and quit them cold turkey in one week...

Forget about "5 keys" at this point. For Michigan, there's only one key Saturday if it hopes to have a chance in this football game.

Play like someone else. And do it for 60 minutes.

Maybe that's impossible. Maybe it's not.

We're four quarters away from figuring it out, once and for all...




Jack Miller's girlfriend goes to Ohio State, but because of the Miami Hurricanes, he can't stand the Buckeyes
November 26, 2014 Source: mlive.com - Like a lot of Michigan players over the years, Jack Miller can't stand Ohio State.

But his path to Buckeye hatred is a tad different than your average Wolverine's.

Miller's late father, P.J., grew up in Ohio and became best friends with former Cleveland Browns head coach Rob Chudzinski -- who was eventually the best man in P.J.'s wedding. But Miller's dislike for the Buckeyes has nothing to do with the state of Ohio.

And everything to do with, you guessed it ...

The Miami Hurricanes.

"I think I'll say it in the most diplomatic way I can: I'm not a big fan of Ohio State," Miller said earlier this week. "I never have been, ever since they beat Miami in the 2002 national championship, I've disliked them.

"I don't like The Horseshoe. I don't like 'Carmen Ohio.' That's kind of how I feel."

Chudzinski, of course, was Miami's offensive coordinator at the time. Miller went with the family allegiance over home state pride.

And never turned back...




Can Michigan repeat offensive explosion against OSU?
November 26, 2014 Source: Detroit Free Press - Last year, at least they had done it. Michigan had scored more than a couple of measly touchdowns in a game before it hung 41 on Ohio State at the end of the regular season and came within a two-point conversion of beating the Buckeyes.

This year?

U-M has scored more than 30 only three times … against Appalachian State, Miami (Ohio) and Indiana. Otherwise, against everyone else, the offense has struggled. Badly.

So when Brady Hoke and his players were asked this week whether the offense can repeat the offensive explosion it did a year ago against the Buckeyes, the question wasn't entirely fair.

Yes, last year's performance against Ohio State was a surprise, but only in the context of what the offense had done the previous month, with a hobbled Devin Gardner. U-M, you may recall, dropped 41 on Notre Dame, 42 on Minnesota, 40 on Penn State (though that included overtime) and 63 on Indiana.

The Hoosiers are not a good defensive team. Still, those performances at least suggested the Wolverines were capable of explosive plays. The numbers beyond the point total backed this up.

U-M ranked fourth in scoring offense in the Big Ten a year ago. The Wolverines rank last this year...




Brady Hoke Updates from the B1G Teleconference
November 25, 2014 Source: The Ozone

Brady Hoke

+ "Obviously this is an exciting week around here, preparing for a great football rivalry." It's fun to prepare for and it's one of the best rivalries in sports. Ohio State is very balanced and very good in all areas. He said Michigan needs to improve on what they aren't doing well and what they are doing well, they need to make even better.

+ Jake Ryan has shown tremendous growth this year moving to middle linebacker.

+ If you boil the season down to one statistic it would be their turnover margin. They have turned the ball over less of late, but they aren't creating enough turnovers to help the offense.

+ Hoke said you have to have poise and composure in this game, but you want that intensity as well. It's a fine line, but you don't want your team peaking early. They need to be ready at noon when the ball kicks off.

+ Both sides of the football for the Buckeyes are impressive. J.T. Barrett has improved and the offensive line has come together. The skill level is high. Joey Bosa and Michael Bennett are readily noticeable on defense and when you watch them, you know why they are where they are right now.

+ Asked about the additions of Maryland and Rutgers into the Big Ten, Hoke (who is 0-2 against those two teams this season) replied, "For us it hasn't been very good."





Devin Gardner had 451 passing yds last season vs Buckeyes are most for a TTUN player against Ohio State in program history.

The Wolverines have allowed nine points, and zero touchdowns, in the first half over their last three games. Michigan's defense has allowed opponents to score a touchdown on 47.37 percent of trips inside the Red Zone (18-of-38), the 2nd-lowest percentage in the Big Ten and tied for 14th lowest in the NCAA.

The Wolverines rank 4th in the Big Ten and 9th in the NCAA in total defense, allowing an average of 301.8 yards per game. That total includes 107.2 yards of rushing defense, which ranks 4th in the conference and 9th in the nation, and an average of 194.6 yards of passing defense that is 6th in the Big Ten and 23rd in the country.

The Wolverines rank 3rd in the Big Ten and 13th in the NCAA with an average of 4.61yards allowed per play.

Michigan is holding its opponents to an average of 2.94 yards per rush, which ranks 3rd in the Big Ten and 7th in the NCAA. The Wolverines have held six of their 11 opponents to an average of 2.5 yards per carry or less.

U-M's nine rushing touchdowns allowed are the fewest in the Big Ten and tied for the 7th-fewest allowed in the NCAA. The Wolverines have allowed four rushing touchdowns on the road, the 3rd-lowest total in the conference and tied for 9th lowest in the country.

The U-M defense's 79.0 tackles for loss rank 3rd in the Big Ten and tied for 18th in the NCAA. That total is the program's highest through the first 11 games of a season since 84.0 in 2006.

The Wolverines' 55.0 tackles for loss and average of 7.86 TFLs per game in conference games are tied for 1st in the Big Ten. U-M's 246 tackles for loss yards in conference games are the most in the Big Ten.

More at TSUN vs Ohio State Game Notes

TSUN Team stats through 11 games





November 24, 2014 Source: TSUN Official Site - TTUN head coach Brady Hoke meets with the media on Monday of Ohio State week.





November 24, 2014 Source: TSUN Official Site - TTUN Wolverines Brennen Beyer, Jack Miller and Jarrod Wilson meet with the media on Monday of Ohio State week.





Will this be Brady Hoke's final Michigan-Ohio State game? Coach says he's not focused on future
November 24, 2014 Source: MLive.com - Embattled Michigan coach Brady Hoke has said for weeks that, despite rampant speculation about his future at the school, his focus is solely with his football team.

That stance didn't change Monday afternoon as Hoke had his first media availability of Ohio State week, the final regular season game of the year.

But at the same time, Hoke wasn't speaking with any type of delusional tone when it came to the speculation about his job status. He knows an evaluation with interim athletic director Jim Hackett is coming.

And he knows it's coming soon.

Asked Monday if he believes a victory over the heavily-favored Buckeyes on Saturday (noon, ABC) in Columbus would be enough, in his mind, to ensure he returns as the program's head coach in 2015, Hoke wasn't over the top with his answer.

"Oh, I don't know, I don't know about that," Hoke said. "There's always an evaluation. And I respect those evaluations.

"We all have them."...




As Ohio State game approaches, Miller expresses dislike for Buckeyes
November 24, 2014 Source: The Michigan Daily - Jack Miller, starting C from Perrysburg OH, hasn't liked Ohio State since 2002, and the Michigan football team's redshirt junior center isn't afraid to say so.

It's rivalry week, after all.

"I'll say it in the most diplomatic way I can: I'm not a fan of Ohio State. I never have been," Miller said. "Ever since they beat Miami in the 2002 National Championship, I always disliked them. I don't like The Horseshoe, and I don't like 'Carmen Ohio.' "

And yes, that was the diplomatic statement. He saved the other version for his teammates...